Online Poker in Missouri – Is it Legal?
Shawn West has been involved with college basketball, NFL and college football and MLB since he left his job as bank vice president two decades ago. He lives in North Carolina with his wife, children, two dachshunds and a variety of turtles.
Missouri state law allows people to play poker for money, but only in one of the state's 15 land-based or riverboat casinos. Companies based in the state, including the casinos, cannot offer online poker games with cash changing hands. That doesn't mean that residents of the state who want to play poker without heading to a casino are out of luck.
There are online options to play straight poker, Texas Hold'Em, Caribbean Stud, or any of the numerous other variations of the popular game. Offshore sportsbooks give Missouri residents the opportunity to play for money online.
Because they aren't located in the United States, they don't fall under the jurisdiction of Missouri state law or U.S. federal regulations on gambling. Missouri residents have been using them for years, and they have a long history of safe, trustworthy operation.
Offshore sportsbooks offer gamblers the chance to compete in poker tournaments, but there are also a wide variety of online gambling options, all in one place. These sites offer casino gaming like slots and table games, as well as legal wagering on sporting events, horse racing, and more.
There are plenty of offshore betting sites to choose from, and it can be difficult to decide which one is a good option. Luckily, we're here to help. Our gambling experts have reviewed dozens of online betting sites available to gamblers in Missouri and come up with our comprehensive rankings of the best online poker sites in Missouri.
Missouri Betting Guides
We recommend checking out our detailed look at the top Missouri betting sites or our in-depth guides to the state's various online betting markets if you want to learn more.
The Best Missouri Online Poker Sites
We have looked at all the online betting sites available to Missouri bettors that offered an online poker room. Our team of experts evaluated and reviewed them based on a number of rating criteria and came up with our recommendations for the four best sites for online poker in the state of Missouri.
All four sites offer poker rooms with a variety of tables for players of different levels of experience. They also offer tables with different betting limits to allow users to find one that best fits their ability and risk tolerance and a safe, private playing environment with quick, reliable payouts when a bettor wins and wants to cash in.
Missouri Online Poker Sites Reviewed
There are plenty of factors that make one online poker room better than another. To help you find the one that best suits your personal needs and preferences for poker play, we present detailed reviews of each site, including the pros and cons of playing at one of their tables.
1. Bovada: Most Popular Poker Room in the U.S.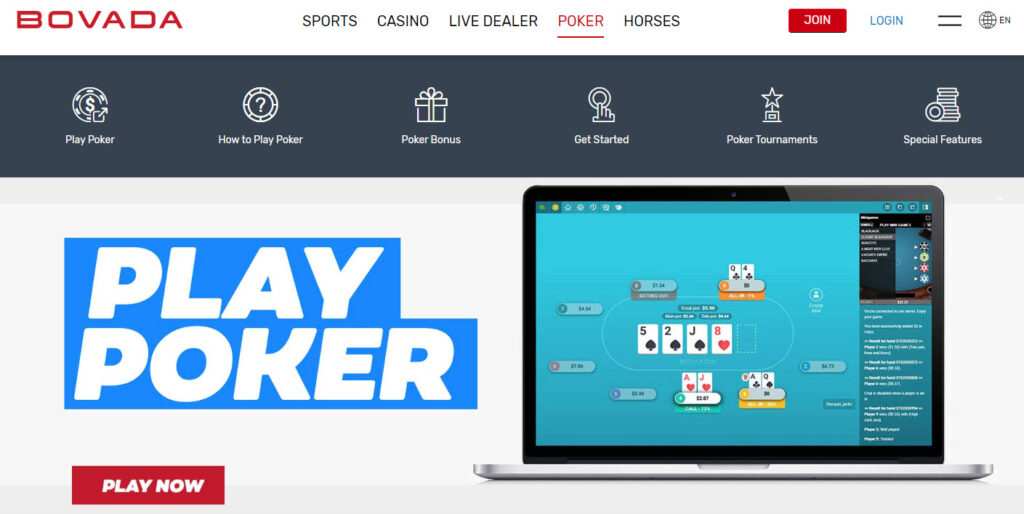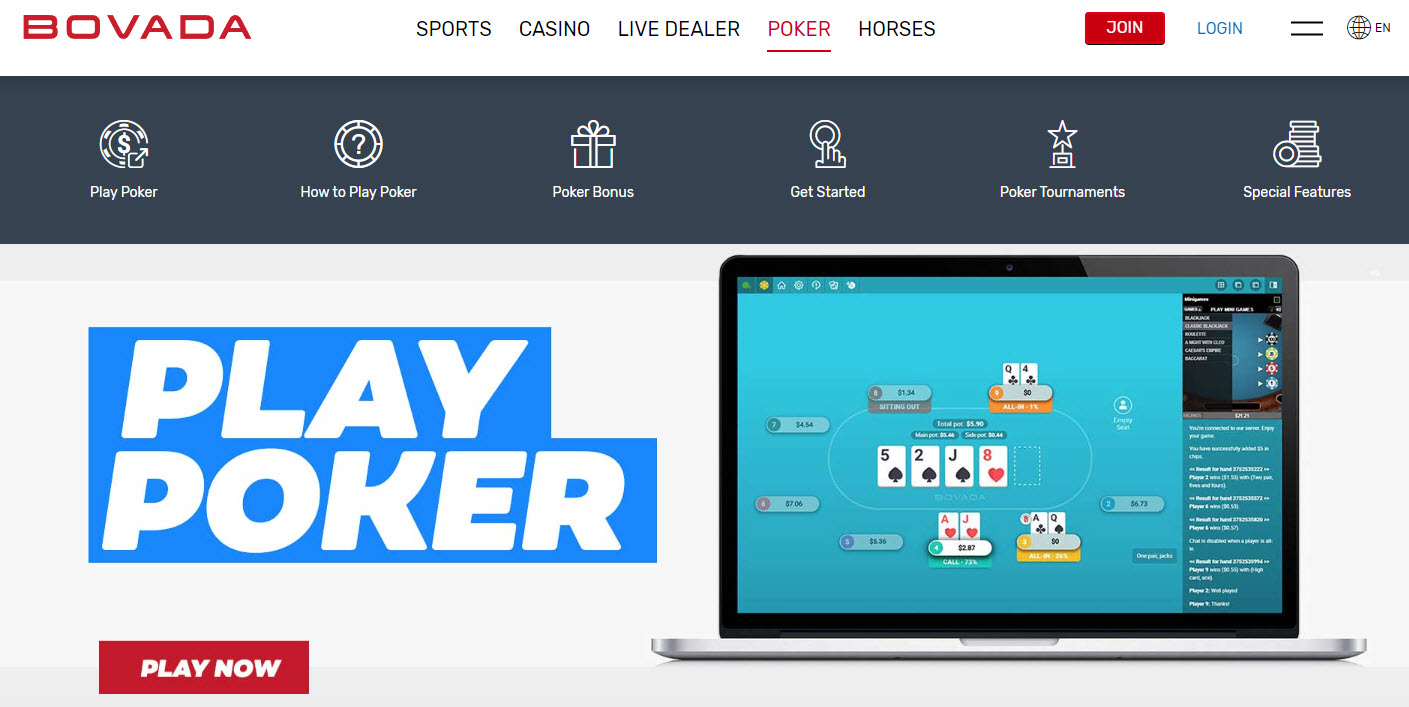 Bovada finishes first on our list—the choice of our experts as the top overall online poker site in Missouri. It features America's busiest poker room. Bovada is one of the members of the PaiWangLuo network, which also includes BoDog and Ignition Poker, among other sites. PaiWangLuo is the sixth busiest poker network in the world, and none of the five above it accept players from the United States. That means that you'll find a game about to start regardless of the time of day, and there will be plenty of competitors who are a good match for your skill level.
Bovada has more than $2 million in weekly guaranteed prize pools, and, with more than a hundred tournaments a week, they have the busiest multi-table tournament schedule in the country. There are plenty of poker variations, including Texas Hold 'em, draw poker, Omaha, and Omaha Hi-Lo. Tournament options include sit 'n' go, knockout, turbo, and fast fold. Plus, Bovada offers zone poker, quick seats and anonymous tables if you want them.
Bovada's poker room has a generous bonus for new customers, matching 100% of your first deposit up to $500. And unlike most other sites, there's no rollover requirement at all on the bonus money. There's also a loyalty program that offers points for activity and also rewards betting on Bovada's sportsbook, casino, and racebook, all of which are world-class.
Pros:
The busiest poker room in America
More than $2 million in guaranteed prizes each week
Busiest tournament schedule in the U.S. with more than 100 a week
Wide variety of poker variations and strong loyalty program
Cons:
Rake is relatively high compared to other sites
Welcome bonus is lower than other sites
2. BetOnline: Best Welcome Bonuses for Players in Missouri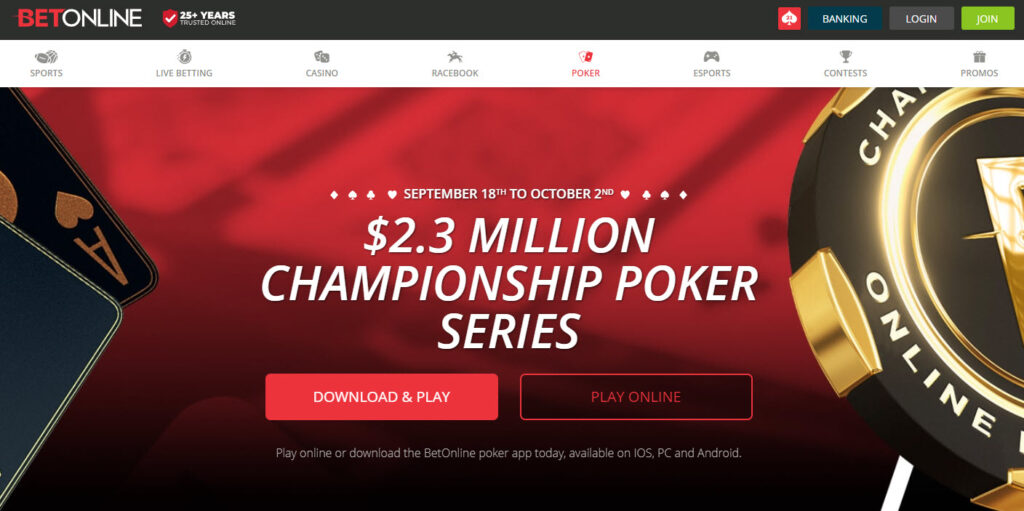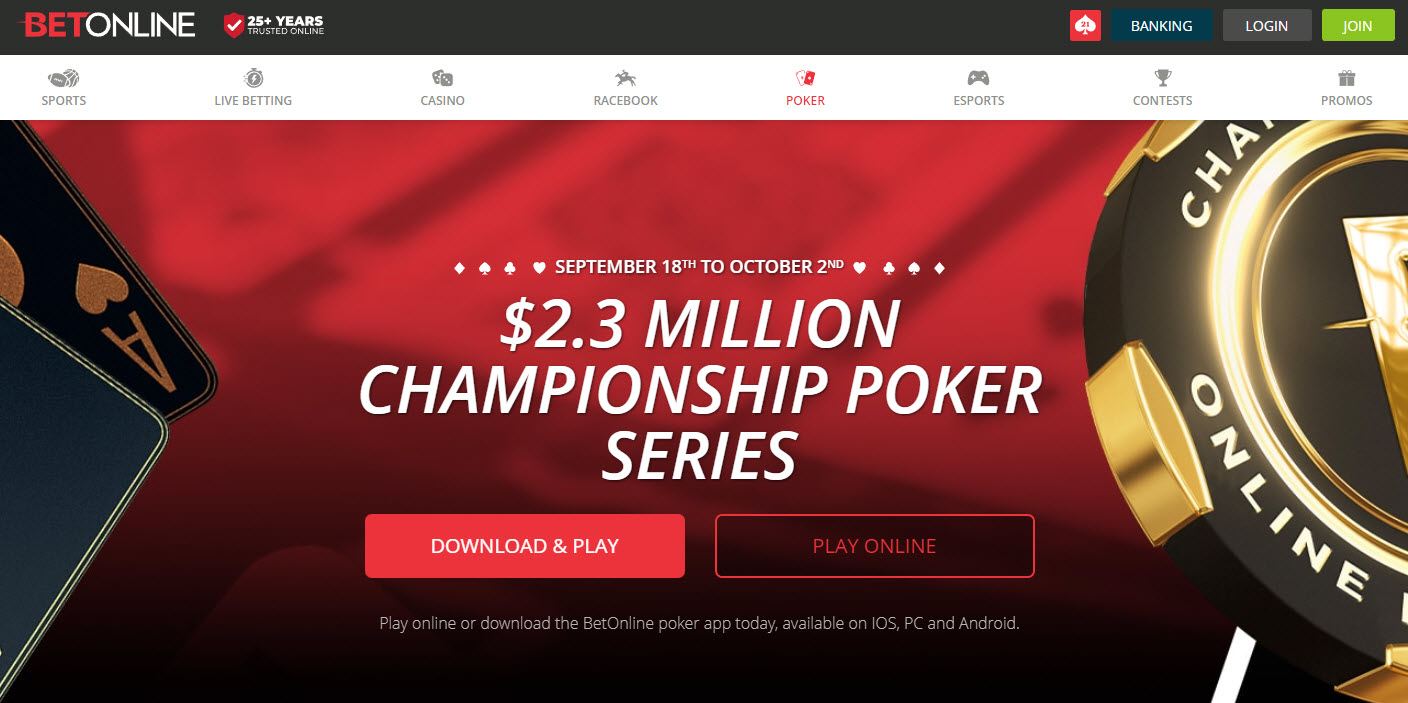 BetOnline has a busy poker room, which puts it in the second spot in our rankings of top online poker rooms in the state. It belongs to the Chico Poker network, which also includes SportsBetting and Tiger Gaming. Chico is the third busiest poker network in America and one of the world's top 15 busiest. About half of the players on the network are from the U.S. Chico has better liquidity than many other online poker networks. BetOnline claims to offer more than a million dollars a day in poker tournament prizes.
You'll find a nice range of skill levels in BetOnline's poker rooms, allowing you to find a table that fits your own level of experience and skill. It also offers low tournament buy-ins, and many tournaments allow re-entry.
BetOnline has a variety of tournament options, including bounty-limited tourneys and shootouts, among others. There are also Omaha tournaments, progressive bounties, rebuy frenzies and sit 'n' go. There's also a wide variety of individual poker games going on at any time, including Texas Hold 'Em, Seven Card Stud, Mississippi Stud and more.
BetOnline offers welcome bonuses of up to $1,000 for new players and $350 for reloads, as well as other generous promotions for loyal customers.
Pros:
Large welcome and reload bonuses for new players
A million dollars in tournament prize money awarded daily
Busy poker room with players from around the world and good liquidity
Wide variety of tournaments
Cons:
No VIP loyalty program
Some users have complained about BetOnline's poker room
3. SportsBetting: Highest Limits for Online Poker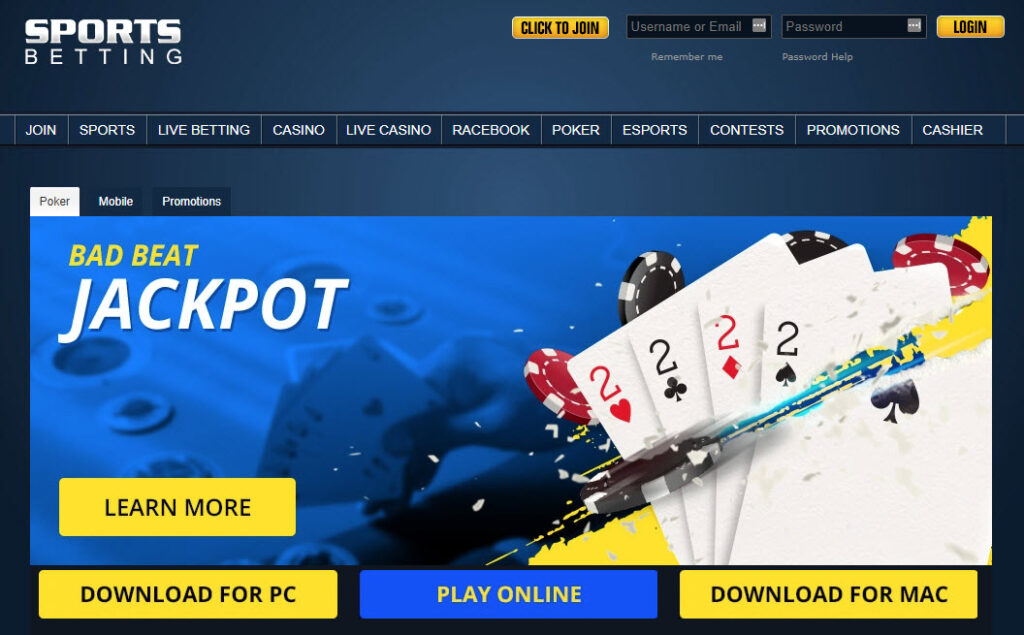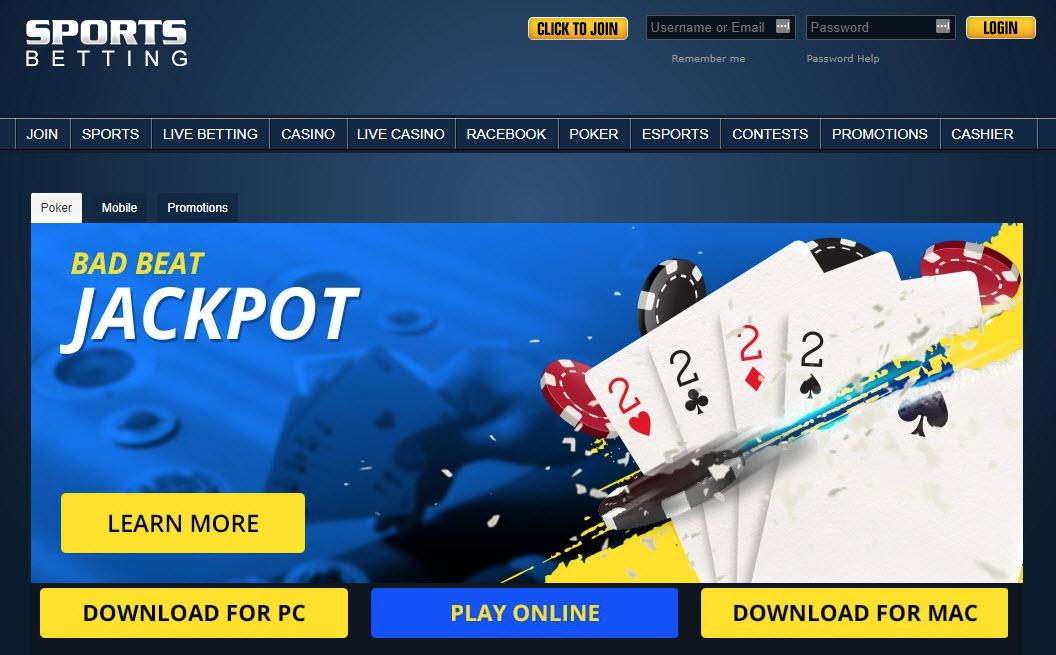 SportsBetting is also on the Chico poker network, just like BetOnline, which took the No. 2 site in our rankings. The two sister sites offer a similar poker play experience on the third-busiest poker network in the United States and one of the 15 busiest worldwide.
SportsBetting also shares similarities with BetOnline when it comes to high welcome bonuses, a very busy tournament schedule with numerous options, and a nice variety of payment methods. Both sites also use the same upgraded software to run the poker room, which means you'll have a smooth, easy user experience.
There are daily tournaments at SportsBetting and plenty of different variations of the game. In addition to poker, you can participate in several other types of gambling, making SportsBetting a one-stop shop for your betting needs. It has a high-quality sportsbook, racebook, esports, and online casino. They offer 24/7 customer support with very short wait times and professional agents to help you. Their payouts are fast and have low rakes compared to the competition.
Pros:
Similar gambling experience to No. 2 ranked BetOnline
Third busiest poker network in the country
Diverse offerings of poker variations and tournaments
Quick payouts and low rakes
Cons:
Not as many features as BetOnline's user interface
Charges fees for credit card transactions
4. Everygame: Best Rakebacks in Missouri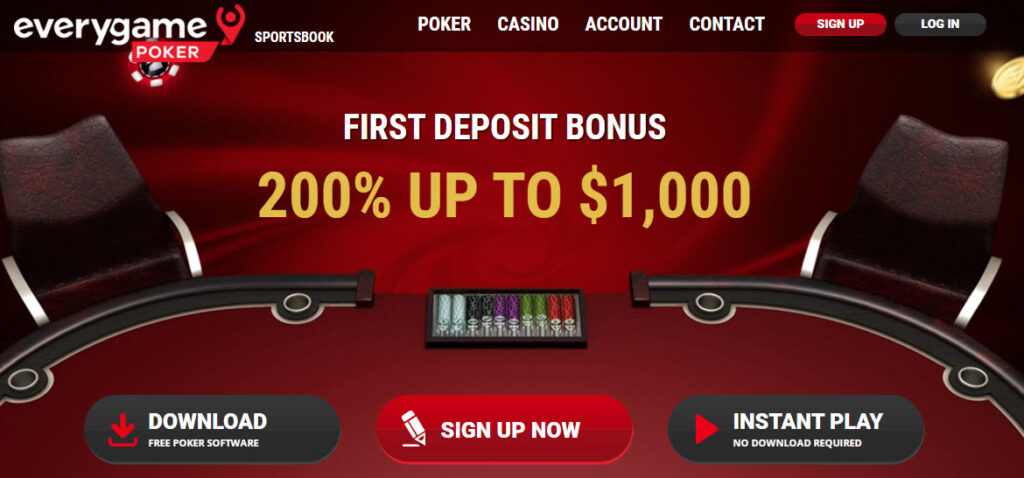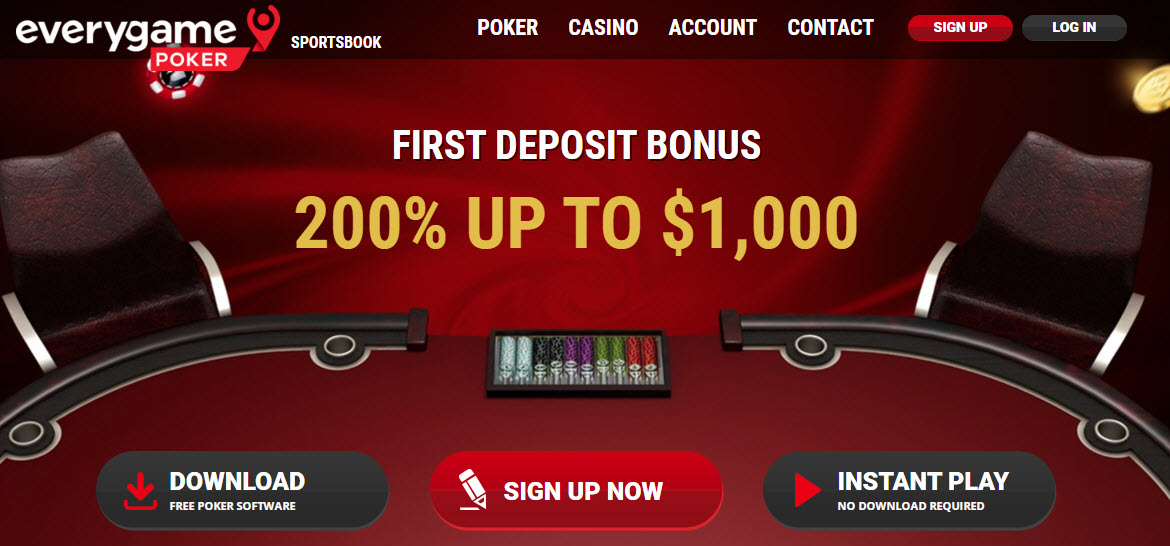 In poker, the rake is a fee that is charged to players to participate in a game or tournament. When a site offers to refund some, or all, of the rake fee to a player, it's known as a rakeback.
Obviously, poker players looking to maximize their bankroll will look for sites that offer low rakes and high rakebacks, and you won't find a higher rakeback in Missouri than Everygame.
Everygame refunds up to 36% of the rake, which is higher than the other online poker rooms in Missouri. It also offers a generous welcome bonus, matching 200% of your first deposit, up to $1,000. It also gives you 25 free plays in their online casino, which is excellent. Loyal customers can also take advantage of Everygame's cashback program.
Everygame is on the Horizon Poker Network and has high-quality software running the games. There are many different types of tournaments and games, including sit 'n' go events, freerolls, and ring games.
Pros:
Top rakeback rate in Missouri returns your money to you
Welcome bonuses match 200% of your first deposit
High-quality software running the poker room
Variety of tournaments and games
Cons:
Poker room not as busy as some of its competitors
Poker room interface isn't as slick and stylish as other online options.
Is online poker legal in Missouri?
One of the questions we get all the time is, "Is online poker legal in Missouri?" The answer is that it depends.
The state has not passed any laws legalizing online poker, so, if you're wondering if one of Missouri's 15 legal casinos, where you can play poker in person, also offers online poker, the answer is no.
There are no companies or organizations based in the state that are allowed to offer online poker play for cash prizes.
The state has come close to passing laws that would legalize companies in the state to offer sports gambling online, and some of the compromise bills have also referred to mobile casino games. None of those laws have passed yet, however, and none have mentioned live dealer poker rooms as part of what would be legalized.
That doesn't mean you can't play online poker in Missouri, however. It just means that organizations located in the state can't offer it. The four online poker rooms in our rankings are all offshore sportsbooks, which are located in foreign countries.
That means they aren't subject to Missouri state laws or U.S. federal regulations on gambling. Missourians have been playing at offshore sites for years, and there is no law in Missouri or in the U.S. federal code preventing you from playing and winning money at an offshore online poker room.
Video Poker
Video poker is a computer simulation of a poker game. It was originally played at a gaming kiosk, but many online betting sites now offer it as part of their casinos. It uses random number generators to "deal" virtual cards and can be described as a cross between 5-card poker and a slot machine.
Many of the online poker rooms on our list, including Bovada and BetOnline, offer video poker in their online casinos, as well as a live poker room. Other highly rated offshore gambling sites that don't have live poker rooms, like Bookmaker, Heritage Sports, and BetUS, do offer several versions of video poker in their online casinos.
Casual Poker
Playing poker with friends at a table in Missouri is a fun way to spend an evening. But, technically, if money is changing hands, it's illegal throughout the state.
Under the current gambling legislation, the only legal way to play poker in person in Missouri is at one of the state's 15 casinos. Police may not raid your small, informal game and shut it down, but they always could.
Missouri Poker Laws
Poker is only legal in the state of Missouri in the state's 13 casinos. All versions of online poker, both video poker, and live dealer games are illegal; although online casinos located offshore are available to Missouri residents since they're located outside the jurisdiction of U.S. and state law.
Land-Based Poker Rooms in Missouri
Gambling in person is legal in Missouri at casinos. The state legalized casino gambling on riverboats with a law passed in 1992, and the first boats were on the water and taking bets within two years.
Currently, the state has 15 casinos in operation; here are the Missouri casino locations where you can find poker table games:
Ameristar Casino Resort Spa St. Charles—Has a poker room and 813 video poker terminals
Ameristar Kansas City—Has a 15-table poker room and hundreds of video poker games
Argosy Casino, Riverside—Its eight-table poker room closed recently, and it currently only offers video poker
Bally's Kansas City—Has hundreds of video poker options but doesn't appear to currently offer a live poker room
Century Casino Cape Girardeau—Has a four-table poker room
Century Casino Caruthersville—Has a four-table poker room
Harrah's Kansas City—Offers a 13-table poker room
Hollywood Casino St. Louis—Their website claims that their poker room will have 20 tables.
Horseshoe St. Louis—Has a 10-table poker room and has hosted World Series of Poker events.
Isle of Capri, Boonville—Offers video poker, but their poker room appears to have closed.
Mark Twain Casino, La Grange—Specializes in video poker and slots. Doesn't appear to have a live poker room.
River City Casino, St. Louis—Closed its 8-table poker room in 2018 and has no plans to reopen.
St. Jo Frontier Casino—Has 11 live poker tables
Playing Legal Online Poker In Missouri
The only way to legally play online poker as a resident of Missouri is at an offshore sportsbook like the ones in our top four rankings.
These online betting sites aren't subject to Missouri state gambling law, which prohibits online poker games for money if hosted by a company located in the state.
Tips for Online Poker With Real Money In Missouri
Here are a few tips on playing online poker:
Stick to reputable sites – Part of our review of online poker rooms was to determine which ones were safe, secure, and trustworthy. We have vetted all of the online poker sites in our rankings. They all have a long history of secure, safe, dependable pay and timely payments in full.
Have a strategy before you begin playing – We recommend a tight-aggressive strategy for inexperienced players. Don't play many hands, but when you do, be sure to take control.
Be selective – A key to success in online poker is learning when to play and when not to. Don't play every hand you're dealt. Pick and choose your moments.
Don't be led by emotion – Have a system and follow it. Don't give in to momentum changes in either direction. Don't let annoyance with other players or frustration cause you to diverge from your plan.
Master bluffing – But don't bluff too often. A common mistake is to bluff too much.
Be responsible – Know when to stop, and don't get in over your head.
How to Play Missouri Online Poker
It is fast and easy to register for an account at one of the best sportsbooks in Missouri. The entire process takes just a few minutes, and then you'll be ready to start playing.
Step 1: Register for the Poker Site
Once you've chosen where you're going to play, go to the site's home page. Look for the 'Join Now' or 'Register' button.
Step 2: Enter Your Personal Details
You may have to create a user ID and password. You'll also have to fill out a sign-up form with basic personal information like your email address. After you enter the info, click the button to create an account.
You may be required to authenticate your account by responding to a code sent to your phone.
Step 3: Make Your Initial Deposit
Now that you have an account, you need to deposit money to play with. Choose your payment method from the list provided on the site and enter the information. Many welcome bonuses require a promo code, so make sure to find and enter the correct bonus code. Some poker bonuses also have playthrough requirements, so make sure you're aware of them before claiming any offers.
Step 4: Join a Poker Ring Game or MTT
That's it. You're ready to start. Find a room and table that fits your experience level and the risk you're ready to take on.
You can access casino gaming via your browser, or many sites allow you to download an app to play on mobile devices. Don't forget to check out other types of gambling, too, like online slots and online sports betting.
Banking Methods at Online Poker Sites
All of our highest-rated offshore poker sites accept a wide variety of withdrawal and payment options, including debit cards, bank wire transfers, credit cards (Mastercard, Visa, American Express, Discover) and even crypto options (Bitcoin, Bitcoin Cash, Ethereum). The flexibility of online poker gambling when it comes to payment options is one of the benefits that offshore gaming sites have over commercial venues in the gambling industry. This is in addition to the sheer variety of different forms of gambling that is on offer through online casino operators.
Playing Online Poker in Missouri – Conclusion
Even though the state doesn't offer any resident online options for poker, there are plenty of ways to play online poker and other online casino games in Missouri. If you choose one of the online betting sites that we have rated and recommended in this guide, you should have a safe and entertaining online casino experience, win or lose.
FAQs – Real Money Poker Online in Missouri
How do I bet online in Missouri?
If you are of the legal betting age (18), then all you need to do to bet online in Missouri is create an account with the offshore online gambling site of your choice, verify your identity, fund your account and then start placing bets.
Does Missouri allow online gambling?
Other forms of online gambling have the same legal status as poker in Missouri. While you can engage in all of them at offshore gaming sites; betting on sports, betting on horse racing and playing online casino games are all prohibited with companies located in the state.

There have been some efforts to pass successful sports betting legislation over the past few years but so far, nothing has gotten off the ground which means your only online betting options are with offshore betting sites.
Is online poker legal in Missouri?
Companies based in Missouri currently can't offer real-money poker, or any other form of gambling, online; there have been no recent efforts to change the gambling laws to allow them, either.

However, online poker players in the Show-Me State can enjoy a game of poker using online betting sites that are not under the authority of local and U.S. federal law, such as offshore poker sites.

What online sportsbooks are legal in Missouri?
All of our top-rated online sportsbooks are legal for use in Missouri. This is because they are located offshore, so they do not need to follow Missouri's gambling laws. You can learn more about these online sites in our online poker site reviews above.
Can you play Bovada in Missouri?
You can absolutely use Bovada in Missouri. In fact, Bovada is one of our top-rated reputable poker sites for the state.
Where can you gamble in Missouri?
In addition to online casino companies located offshore, you can gamble at the 15 land-based casinos that are located across the state. Betting on horse racing is also legal but, there are no horse tracks operating in the Show-Me State.