Online Poker in Alabama – Is it Legal?
Alabama has some of the most restrictive gambling laws in the country. There has been a push in recent years to legalize Alabama sports betting but at the moment, that is little more than a conversation as bills have never even made it past the House of Representatives to be heard by the Senate. Alabama is one of only eight states in the country without a state lottery so gambling of any form is not on the horizon for the next few years according to lawmakers.
There are three land-based casinos in the state that are owned and operated by the Poarch Band of Creek Indians. Table games are not legal in Alabama so none of the classic casino games are available, including poker. This leaves offshore sportsbooks as the only alternative for Alabama residents looking to play online poker games.
Offshore betting sites are not located in the U.S. and therefore do not fall under state and federal jurisdiction. Online poker players have been using these online gambling sites for decades and in this guide, we will highlight the best of the bunch. Our betting experts will share the criteria they used to pick the best poker sites in Alabama as well as provide a summary of the pros and cons for each.
All of these sites provide various gambling services including sports wagering, online casinos, and pari-mutuel betting on horse racing along with poker. Each of them has a fantastic reputation in the online gambling space and provides elite-level service to Alabama poker players.
Alabama Betting Guides
We have a number of other online betting guides that are designed to help Alabama bettors learn everything they need to know about specific betting markets in the state.
The Best Alabama Online Poker Sites
The best brand is a matter of personal preference. Since offshore sportsbooks are the only option for online poker in Alabama, there are several things to consider. Unlike regulated sites, offshore sportsbooks offer all gambling services in a single account. That means you can play poker but still get action on sports, bet on horses at the online racetrack and also play slots and table games like blackjack and roulette. If you were to sign up at a regulated site, you would need an individual account for all of these services.
That means that the best online poker site in Alabama offers you amazing poker games and a whole lot more. Our betting experts will walk you through the various services these sites have to offer. We've also included a more in-depth look at each of these brands with links to our sportsbook reviews. We have 100+ sites ranked from A+ to F to help you decide which one is best for you.
Here are the top online poker sites in Alabama according to our betting experts:
Alabama Online Poker Sites Reviewed
Poker is one of the few forms of gambling that you can find regularly broadcast on T.V. which tells you all you need to know about its popularity. In the last two decades, offshore sportsbooks had to adjust their business models to include online poker. One of the benefits of that is that online poker players get more chances to play and win.
There are no in-person poker games available in Alabama so online betting sites are the only available alternative. Below we have provided a summary of why each of these brands is among the industry's best when it comes to online poker in Alabama. We will also discuss the other gambling services these sites provide so you can choose the right one for you.
1. Bovada: America's Busiest Poker Room Is Not Just a Slogan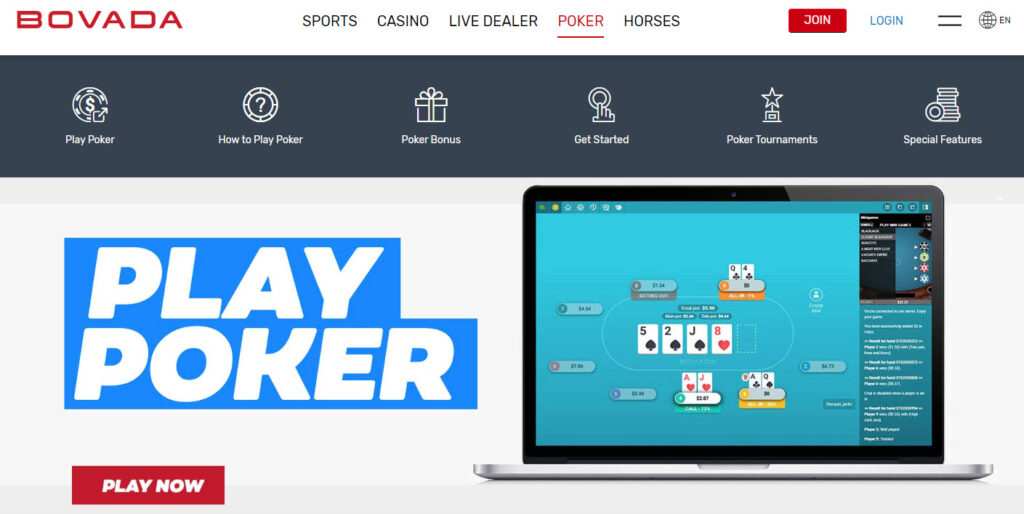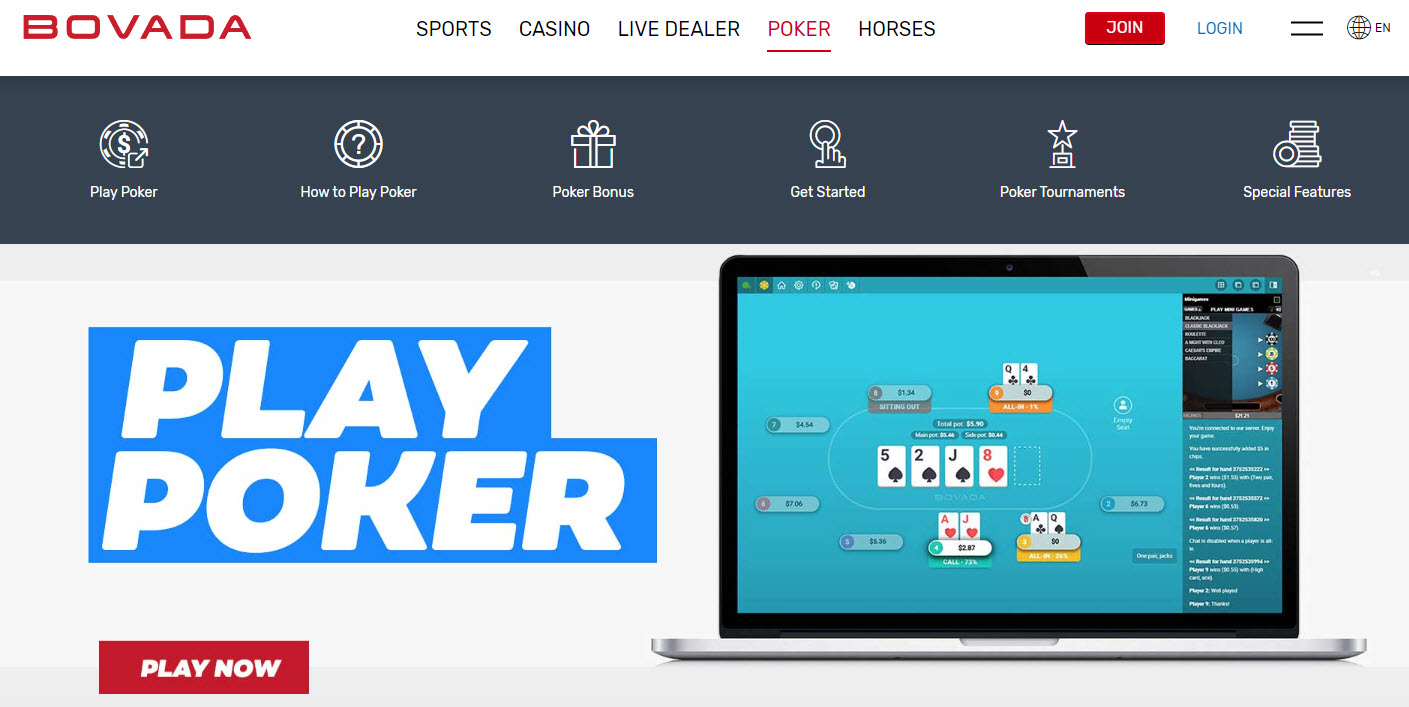 Busiest Poker Network in America
Bovada is a brand that is recognized as one of the best sportsbooks in the world. Their slogan "America's Busiest Poker Room" reads more like a statement than a slogan. Make no mistake about it, Bovada's poker room is in fact the busiest in the country. This is due to a combination of things, most importantly the poker network that they are part of.
Bovada is part of the Paiwangluo Poker Network which is the busiest U.S.-facing poker network despite being based in Hong Kong. The company was only recently bought out and rebranded and they've chosen to keep the current business model which includes U.S. poker players. The thing that makes them the busiest network is the fact that they service 12 countries around the globe. These countries are located in various time zones which means anytime you log into Bovada's poker room, there will be action. America's busiest poker room isn't just a slogan, it's a fact.
HUDs Not Allowed
HUD technology is very popular among veteran online poker players. At most poker-only sites, these are widely used. HUD stands for "Heads Up Display" which is an indication of the type of information it provides. This technology allows you to track how other online poker players perform via statistical analysis. Once you get the hand of HUDs, they can give you valuable information about player tendencies.
For veteran poker players, HUDs help you find weaker players. As you might imagine, these veteran online gamblers hunt weaker players so they can maximize their profits.
Fundamentally, this is what poker is about. You don't need to be a good player to win, you just need to be better than the people at the table. For recreational players, this can take all the fun away from playing poker online.
Bovada understands this because they are a brand that offers a lot more than just poker. What that means is that while they might have some poker-only players, they are the exception. If recreational players aren't enjoying their experience, having the busiest poker room doesn't mean as much. For that reason, HUDs are not allowed at Bovada which is a big deal. Not only are they the busiest poker room in the United States, but they might also be the fairest as well.
Pros:
Busiest poker network in America
Cons:
Multi-table option not available on mobile
2. BetOnline: One of the Industry's Most Trusted Brands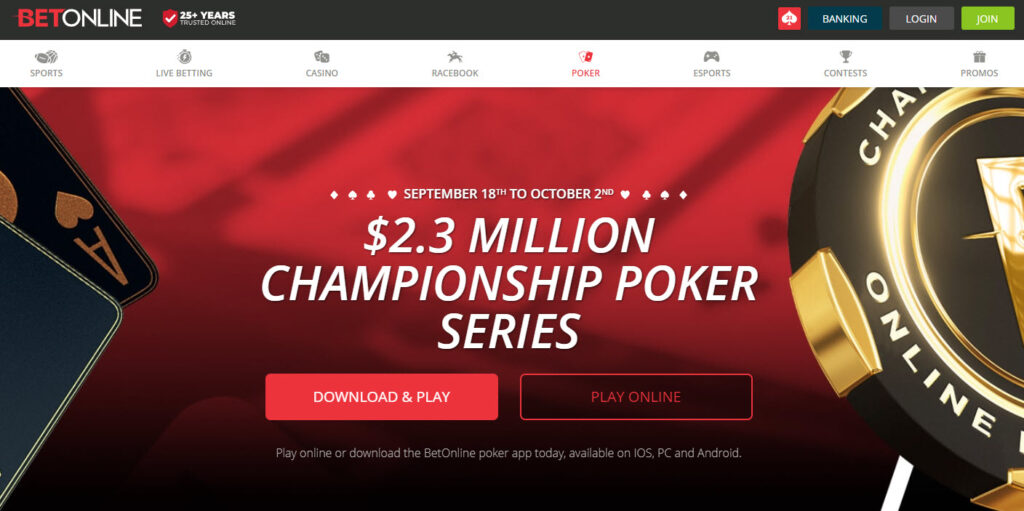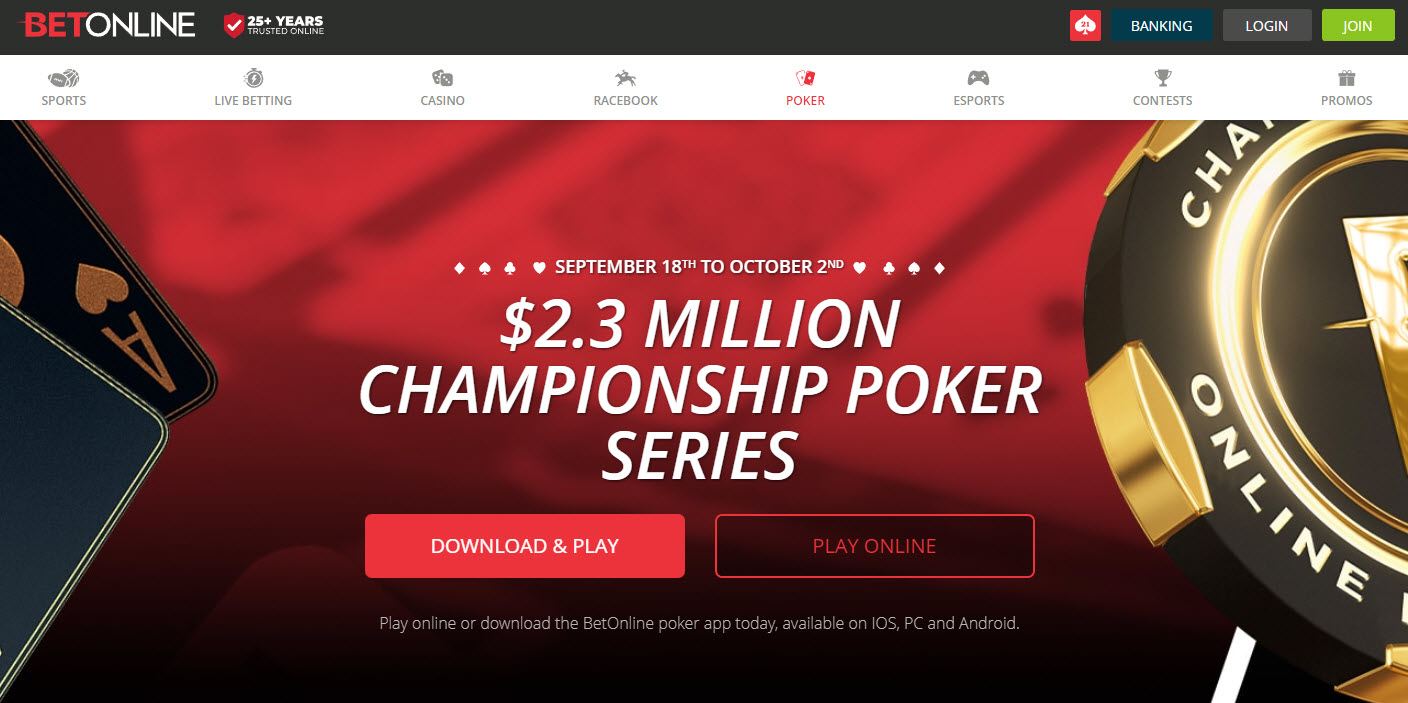 One of the Most Respected Brands in the Industry
BetOnline is known in the online betting industry as a leader when it comes to its odds market. With the NFL being one of the biggest markets in the world, BetOnline consistently provides its players with early odds. There are very few sportsbooks that set the market in any sport so the fact that most other sites copy BetOnline's NFL odds is all the proof you need about their place as an industry leader.
As such, they have to maintain a level of service that caters to professionals also known as sharp players. Those players do not settle for anything less than excellent service on all offerings. This is something you will benefit from as a poker player at BetOnline. Their poker room maintains that service level with a strong selection of tournaments for you to choose from.
Amazing Selection of Poker Tournaments
BetOnline has an amazing tournament called the Championship Poker Series. This tournament allows Alabama players that sign up with BetOnline poker to get more poker action than most other sites with the access they have to this tournament. The more you play, the more free tournament tickets you get which keeps you in the action.
Tournaments are by far the most popular way to play poker with the alternative being cash games. Later on in this guide, we will go into more detail on the different strategies that should be used for each. Cash games require a higher level of strategy since more online gamblers usually participate in each hand for a variety of reasons.
Alabama online poker players enjoy the Championship Series because it rewards them for their previous participation. While you play, you get free tournament tickets where you get to play against other players that have been active during the series. In these tournaments, your starting stack is based on the previous action in the tournament. With over $2 million in prizes, there are a lot of opportunities for players to make a profit while having fun.
Pros:
One of the best poker tournaments in the industry
One of the most respected brands in the online gambling community
Cons:
Anonymous tables not available
3. Everygame: Rakeback and Reduced Juice Means Big Savings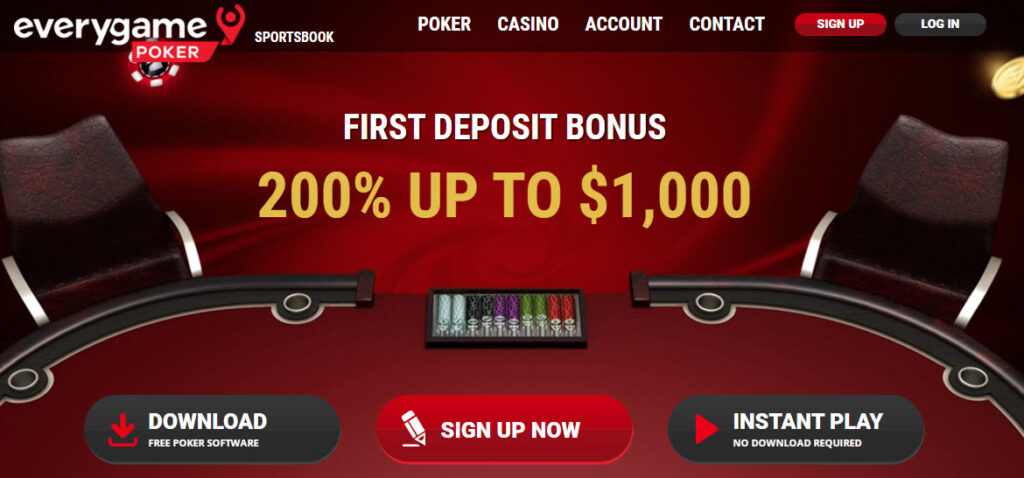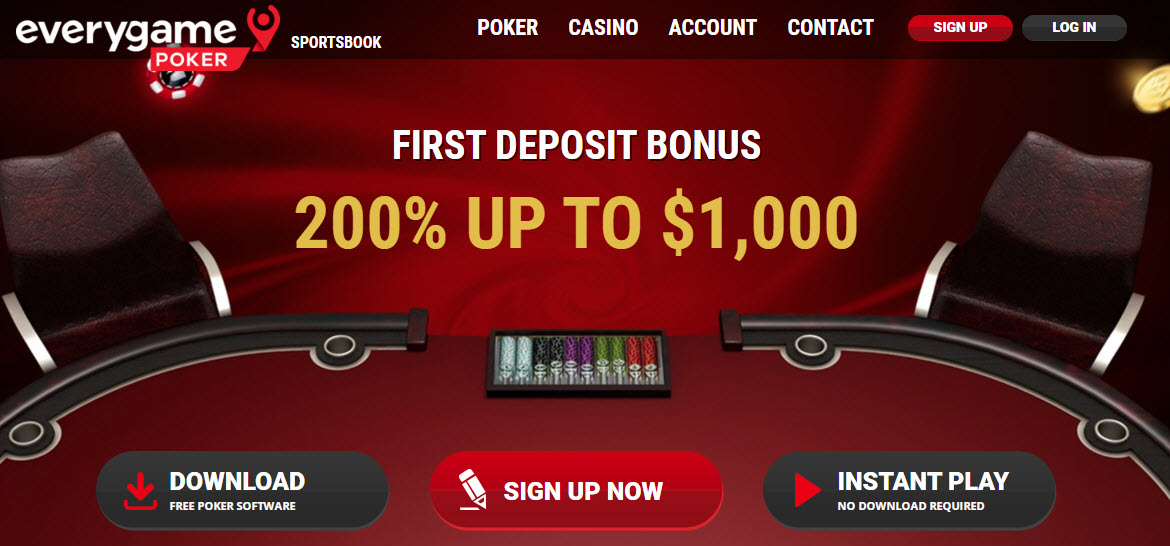 Rakeback Promotion Saves You Money
Rakeback is a promotion offered by some casinos as a rebate. It is similar to cashback bonuses that can be found at some sports betting sites. In case of Everygame, they give you a percentage of the rake that you put forth in the form of free play. In order to understand the value of rakeback, you need to know what a rake is.
Poker is different from other forms of gaming in the sense that you are playing against other online poker players and not the house. For that reason, poker rooms have to institute a rake so that they can make a profit. The rake is the percentage taken by the poker room off every hand played.
That amount is usually 2.5% but can climb as high as 10% depending on the poker room. The amount that can be taken from each hand played is usually capped at a certain dollar amount. Paying the rake isn't optional so if you are actively playing in the poker room, you will be eligible for a rakeback bonus. The rakeback bonus at Everygame is a very generous 36% of the rake you've contributed while playing.
Take Advantage of Reduced Juice
As previously mentioned in this guide, one of the benefits of playing at an offshore site is the fact that you have access to all online betting services under the same roof. With Everygame, Alabama poker players can save 50% while making sports bets.
The industry standard juice is -110 at most sports betting sites. Everygame offers their players a reduced juice odds of -105. That is 50% better than the competition and allows you to get more bets with less money spent. Everygame provides great overall gambling services to Alabama poker players.
Pros:
Excellent 36% rakeback promotion
Cons:
Poker room not as busy as some competitors
4.SportsBetting: Great Bonuses and Strong Mobile Platform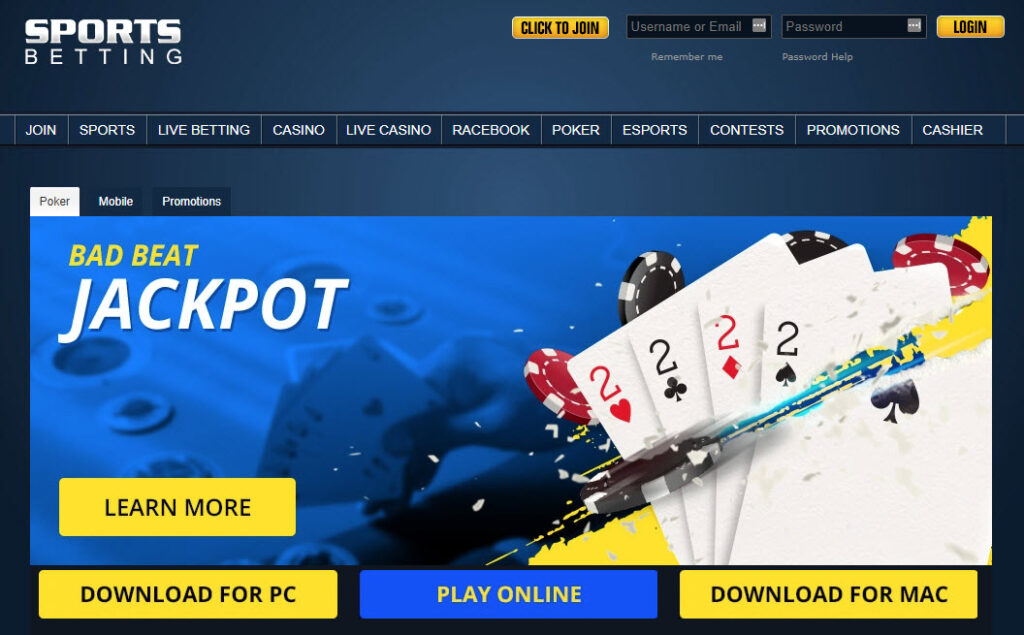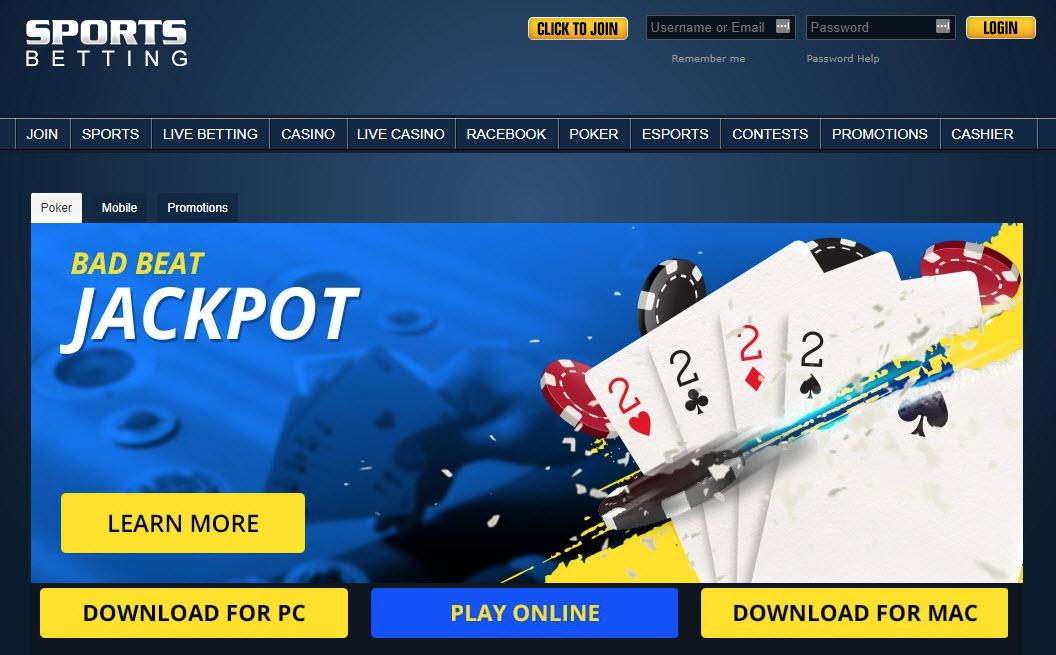 A Lot of Bonuses to Choose From
SportsBetting has some great poker bonuses for Alabama online poker players to choose from. One of their most popular bonuses is the 100% bonus up to $2000. If you claim that bonus, you get $5 in bonus money for every $15 worth of cash games you play. As previously mentioned in this guide, tournaments are the most popular way to play poker. We strongly recommend that you gain some experience playing cash games if this is a bonus that you are interested in.
If you prefer playing in tournaments, you can claim a 100% bonus of up to $1000. Players have 30 days to clear that bonus before it expires. They also offer a rakeback bonus that gives you a percentage back of the rake you put forth while playing on the site.
Fantastic Mobile Platform
SportsBetting has one of the best mobile platforms in the industry. In fact, they are one of the few sites that can claim to have a better mobile product than their desktop offering. This is very important for online poker players as the ability to play on the go is an essential part of what makes online poker so much fun. Alabama poker players really love the user-friendly mobile platform on SportsBetting.
Pros:
Strong variety of bonuses
Cons:
They allow the use of HUDs
Is online poker legal in Alabama?
The only legal form of gambling available in Alabama is dog racing in very limited quantities. At the dog track, you can also bet on simulcasts of horse racing. All other forms of gambling are not currently legal in Alabama.
Alabama has a contentious history of gambling. Today, the only legal form of gambling available in Alabama is dog racing in very limited quantities. At the dog track, you can also bet on simulcasts of horse racing. All other forms of gambling are not currently legal in Alabama.
Online poker players will find plenty of poker variations, as well as other casino gaming options like online slots, and blackjack. These sites operate full offshore online casinos, and they also offer a wide variety of sports betting markets.
Alabama Poker Laws
In-person poker is not available in Alabama. There are no regulated forms of online gambling in Alabama at the moment. Alabama poker players have been playing at offshore sites for decades. This is currently the only available option in the state.
Alabama Poker – Live and In-Person
Most forms of gambling are not legal in Alabama including casino table games and the state lottery. There is no live poker available in Alabama.
Poker Variations
The most popular poker variations are available at the top offshore online casinos.
Five Card Draw
This is the original form of poker gambling.
Players start with five cards each.
Players can discard up to 3 cards.
You can take as many cards as needed from the deck to make a hand.
Seven Card Stud
This was the most popular version of poker before the explosion of Texas Hold'Em.
Players start off with two cards face down. There is one more card face-up before the first round of betting begins.
After the first round of betting, each player is dealt three more cards face up and with another face down. There is another round of betting in between.
The last betting round begins after the last down card has been dealt.
The player with the best 5-card hand wins
Omaha High
Considered by many as the second most popular form of poker.
You start with four-hole cards.
You must use two hole cards as well as three from the board to make a hand.
The betting rounds are similar to Texas Hold'Em (flop, turn, river)
A hand is made by using two of your hole cards with three cards from the board. A hand is made by using at least 2 of your hole cards and three cards from the board.
Texas Hold'Em
The most well-known and popular version of poker.
All players start with two hole cards.
There is a big blind and a small blind that must be put up to start a hand. The small blind is 50% of the big blind.
The first round of betting starts before any cards are dealt on the board, otherwise known as "pre-flop."
The flop comes after all cards have been dealt to the player and each player either puts up the equivalent of the big blind to participate in the hand or folds. Players can choose to raise their bet to an amount exceeding the big blind.
The flop involves three cards being dealt on the board. After the flop, the second round of betting starts.
After the second round of betting is done, then comes the turn which means an additional card is dealt on the board. After the turn, the third round of betting starts. The last card is then dealt on the board which is known as the river and the final round of betting happens.
You can use any combination of your hole cards and the board cards to make the best possible 5-card hand.
Other Versions of Poker
Omaha Hi/Lo
5 Card Omaha
5 Card Omaha Hi/Lo
6 Card Omaha
6+ Hold'Em
7 Card Stud Hi/Lo
7 Card Stud Low (Also known as Razz)
Showtime Hold'Em
Split Hold'Em
Swap Hold'Em
How to Play Online Poker in Alabama
Below we will cover the generalized steps required to play online poker.
Funding Your Account
The most convenient way to fund your account is via credit card, but you can also fund with debit cards, bank wire transfers or even crypto (including Bitcoin, Bitcoin Cash and Litecoin). While that is a fact, it isn't the best way to gamble online. You will notice as you navigate the different online betting sites, there is a strong push in the industry toward cryptocurrency. There are several reasons for that including the fact that credit card transactions require bank approval whereas crypto transactions are only dependent on whether or not the funds are available.
If you choose to deposit via credit card, please understand that before you can cash out any winnings, you will have to complete an identity verification process. Most sites will allow you to deposit without completing one for the sake of convenience. You will be requested to complete the identification process, either before you cash out or after you've made a certain amount of transactions. It's not all bad news as the identity verification process only needs to be completed once per card used. Whatever way you choose to fund your poker account, both banking methods are safe and easy.
Tips for Online Poker Real Money Alabama
Below are common tips and strategies for playing real-money poker.
Basics of Tournament Play
When you catch a game of poker on TV, play at a casino in person, or game between friends, the majority of the time, these games are in the form of a tournament. That means everyone starts off with the same amount of chips and the blind raise incrementally in predetermined intervals.
For this reason, poker tournaments are less about taking your opponent's money and more about surviving until you reach the "final table." Since poker tournaments can involve hundreds of players in some instances, survival is the name of the game with the individuals at the final table taking the prize money. Even if you're talking about a game with friends that only involves one table, not everyone playing will win money making the objective to last as long as possible.
One of the most important things to understand when playing in a poker tournament is the ratio of your stack to the blinds. Once your stack is less than the equivalent of 10 big blinds, you should only be playing premium hands. The reason for this is players are much more likely to call with weaker hands because they can see that you are not betting from a position of strength.
Once you are down to 5 big blinds or less, you should be prepared for players with bigger stacks to push you all in. If you aren't familiar with what premium poker hands are, you can find a list of the top ten pre-flop hands on the internet. As a general rule of thumb, when you are new to poker, these are the hands you should be looking to play while you learn the different strategies surrounding the game.
Cash Games Require a Different Strategy
Cash games usually attract more veteran poker players. They require a higher level of strategy because you will generally get more players participating in hands as well as more hands being determined on the turn and river. Since your stack represents actual money unlike a tournament where you can buy in for as little as $1 but get thousands of chips to start off with, your mindset about your stack will inevitably be very different.
The blinds in cash games stay the same and the size of the big blind often determines how much the buy-in will be for the cash game in question. Many poker players will buy in for 100 times the big blind. While that isn't necessary, it is a strong strategy in the sense that will allow you to participate in enough hands to allow you a chance to make money. If you buy in for too few big blinds, you might make bad decisions based on a lack of betting power.
We suggest you buy in at low stake games so that you don't have to make a big financial investment while you learn. If you buy into a tournament where the blinds are 5 cents and 10 cents, if you buy in for 100 times the big blind, it will only cost you $10. Once you feel more confident in your abilities, you can move on to bigger tables.
Tips to Go From Recreational Player to Pro
There are a few things that separate casual bettors from pros.
How much is your bankroll?
This piece of advice really applies to all forms of gambling. The biggest difference between recreational players and professionals is how they manage their bankrolls. For starters, very few recreational players start off with a predetermined bankroll which is a huge mistake. If you are looking to make money playing poker, you can't take the recreational approach because that instantly means that making money isn't your priority.
If you treat playing poker like a job, you need to choose a starting bankroll. This amount should be the most money you are willing to lose without it affecting your day-to-day life like paying rent and buying food. Once you figure out what that amount is, you should reduce it by another 10 percent just to be safe as a beginner.
By starting with a bankroll, you get to see if your betting strategy is working or not by the size of your bankroll. When you buy into a tournament or cash game, you should not be buying in for anything more than 1%-5% of your bankroll. This is basic bankroll management that again applies to all forms of betting. For example, professional sports bettors bet a maximum of 5% on a game that they have a very strong feeling on. Their normal bet size is usually closer to 1% because it allows them more chances to mitigate losses. If you start off with this basic strategy, it will help you reach your goal of making a profit while playing poker.
Track Your Results
This is just as important as bankroll management in the sense that it allows you to have a bird's eye view of who you are as a player. See what works and do more of that while also observing what doesn't so you can make fewer of those mistakes.
Just remember that small sample sizes are very flawed. What we mean is, if you are extremely successful after 10 games, it really has less value than your results after 100 games. The more online poker games you play, the more information you can take from the patterns that start to emerge. With these two basic pieces of advice, you should be on the path to making money online playing poker.
Playing Poker in Alabama
The only option for Alabama poker players looking to enjoy online casino games is to play online via offshore sportsbooks. These offshore gambling sites offer more than just poker, however. You can engage in various types of gambling, such as a wide range of slots, online sports betting, poker and race betting.
FAQs – Alabama Online Poker
Is online poker legal in Alabama?
Online gambling is not legal in Alabama and that includes poker. The only option for poker players in Alabama is offshore sportsbooks.
Where can you gamble in Alabama?
There are three tribal casinos in Alabama located in Montgomery, Wetumpka, and Atmore (All are the Wind Creek Casino). Alabama has very restrictive gambling laws which means traditional slots and table games are not available. These three tribal casinos are the only physical casinos in operation, as there are no commercial casinos in the state. These are more like bingo halls than casinos, however, as only bingo games are available. While electronic bingo machines are fun, they do not really provide the same casino experience.
What gambling sites are legal in Alabama?
You can legally use any offshore gambling sites as an Alabama resident due to the state's gambling laws which disallow games of chance and only allows residents to engage in a game of skill for monetary prizes.
What gambling apps are legal in Alabama?
Any mobile apps or mobile-optimized online sites that are operated by offshore casinos are legal for use in Alabama. This is the only legal gambling and online gaming for money available. It's easy to engage in casino gambling on your mobile device with these apps and sites, however. It's important to note that you can play Daily Fantasy Sports with apps like FanDuel or DraftKings.
Is Alabama going to legalize gambling?
Unfortunately, it does not look like legalized gambling will happen any time soon in Alabama, meaning your best bet is using offshore casinos and sportsbooks. Gambling expansion has been blocked by politicians in the state at almost every turn, from their sports betting legislation to state lottery legislation. Thanks to the state's near blanket ban on gambling, there are very few gambling opportunities for Alabama bettors outside of offshore sites.

Can you play Bovada in Alabama?
Alabama residents can legally use Bovada. In fact, Bovada Casino is one of our top picks for the best online poker sites for Alabama residents.