Wyoming Online Casinos – The Top Online Casinos Available in Wyoming
Shawn West has been involved with college basketball, NFL and college football and MLB since he left his job as bank vice president two decades ago. He lives in North Carolina with his wife, children, two dachshunds and a variety of turtles.
Fans of playing slot machines and casino table games for real money have limited options in Wyoming. For much of the 20th century, all forms of gambling were banned in the state, and Wyoming didn't even have a state lottery until 10 years ago.
With the turn of the millennium, the state began to loosen up gambling restrictions. First, it allowed tribal casinos, which remain the only place to play casino and slot games in the state. Recently a law was passed allowing online sports betting sites in Wyoming, but there appears to be no movement building to do the same with online casino games.
However, you can play table games like blackjack and baccarat or a variety of slot machines and win real money at online gambling sites located offshore. Because they are located outside of state jurisdiction, they have been serving Wyoming customers for years.
Which one should you use? Read on to find out.
Our Highest-Rated Online Casino Sites
Top-Rated Online Casinos for 2023
We pulled together a panel of gambling experts to evaluate more than a hundred offshore casino sites on a number of factors. They compiled the following list of the top 10 online casino options for Wyoming gamblers.
Are online casinos legal in Wyoming?
Over the last 20 years, Wyoming has softened its stance on many forms of gambling, but online casinos are still not legal under state law. Wyoming has cleared the way for in-person casinos on tribal lands, as well as online sports betting. Currently, there does not appear to be a push in the legislature to extend the loosening of restrictions to online casino games.
However, fans of table games and slots can still play them online at offshore sites, which are located in other countries and follow the rules of those nations, not Wyoming state law, meaning they can and do cater to Wyoming residents and pay out real cash prizes.
Comparing the Best Wyoming Casino Sites
Everyone has different preferences when playing online casino games. That's why there are hundreds and hundreds of different variations of slot games, not to mention all the different types of table games available online. Each site in our top 10 has different specialties. So, our experts decided to help you find the one that best matches your own individual likes and wants. We've put together in-depth descriptions of each site, including pros and cons lists.
1. Bookmaker: Top Casino Site Welcomes All Types of Gamblers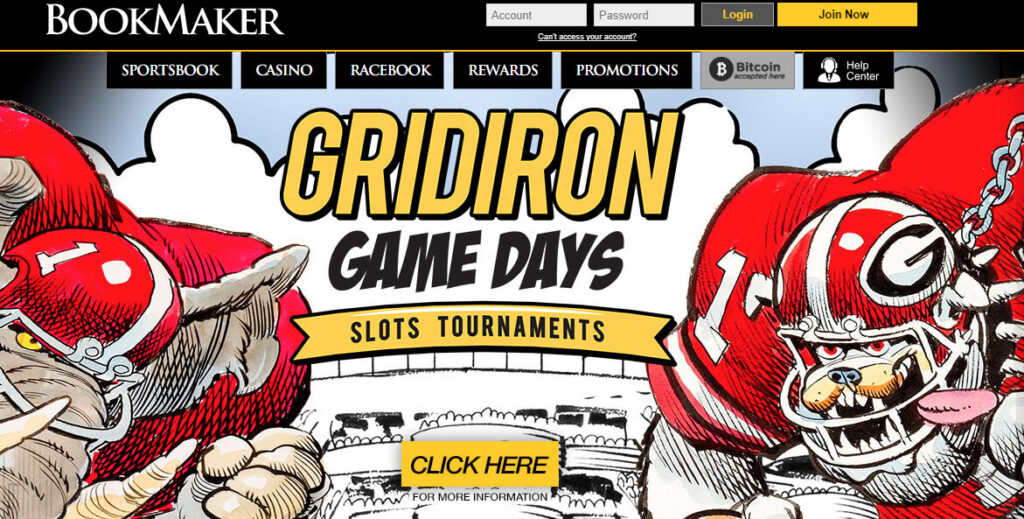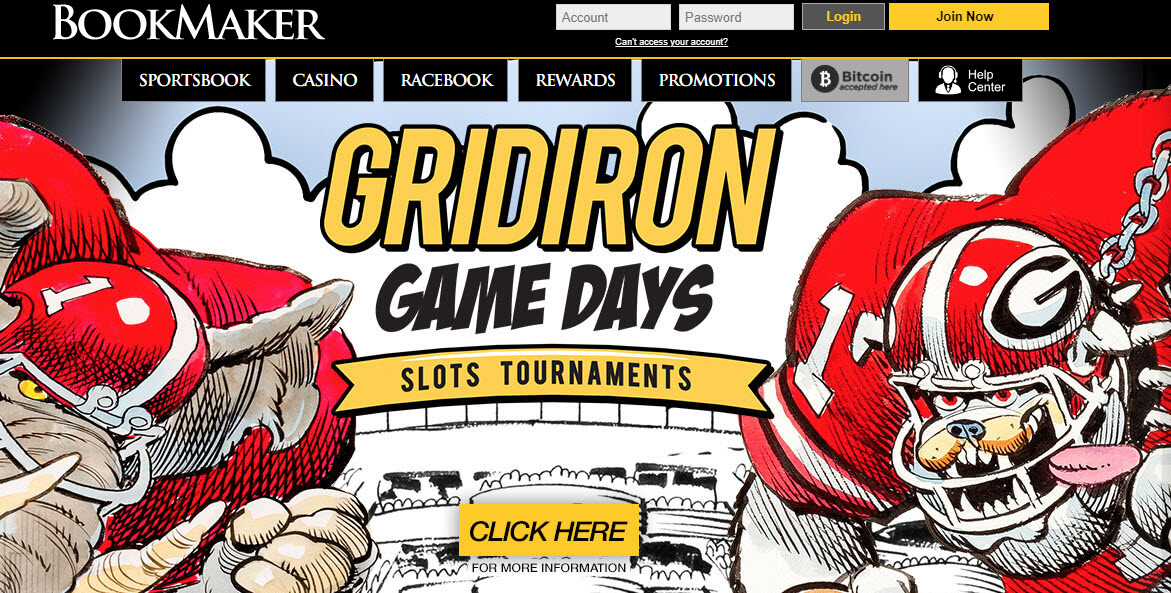 Our experts chose Bookmaker.eu as the best all-around casino gambling site in Wyoming. This site offers all the favorite casino games, such as blackjack, three-card poker, craps, roulette and Pai Gow. There's also a lottery/casino game section with games like bingo and keno.
Bookmaker is known for catering to all gamblers, regardless of experience level, bankroll size or risk tolerance. Limits are high and minimums are low, allowing everyone to find a place to play that meets their financial needs. They also never shut down a gambler who gets on a roll, and their loyalty program is structured so that everyone can earn rewards, not just high rollers.
Bookmaker's welcome bonus matches your initial deposit up to $500. Unlike many sites, the bonus money can be used in the casino, not just the sportsbook. Reload bonuses can go as high as $2,500.
Pros
Welcome bonus and reload bonuses can be spent in the casino
Offers slots, table games and lottery games like bingo and keno
Loyalty points program structured to reward all bankroll sizes
Free casino helps newcomers learn the games before they play with real money
Cons
No live online poker room, just video poker
Not as many table game variations as other sites
2. HeritageSports: Best Online Casino for New Gamblers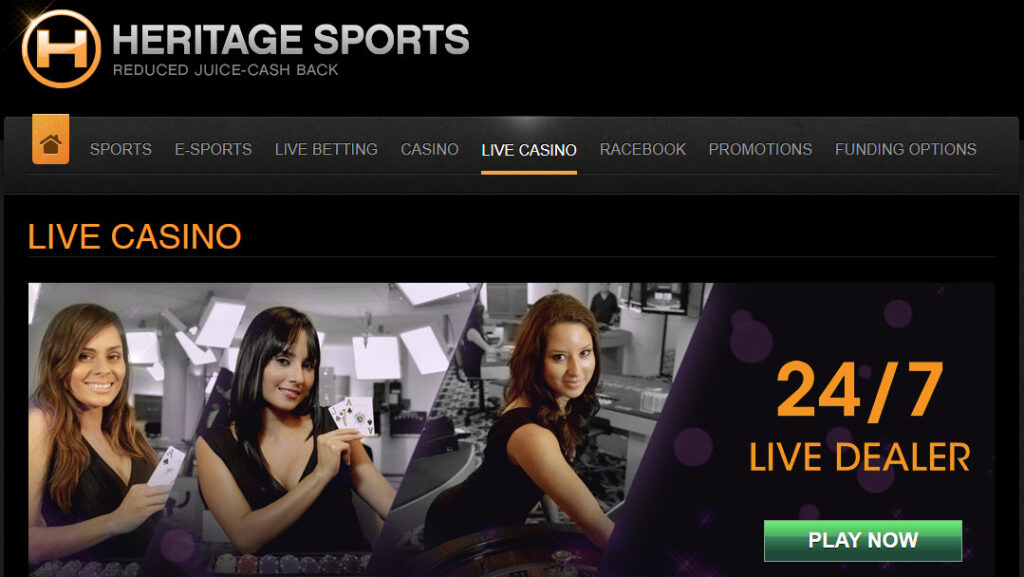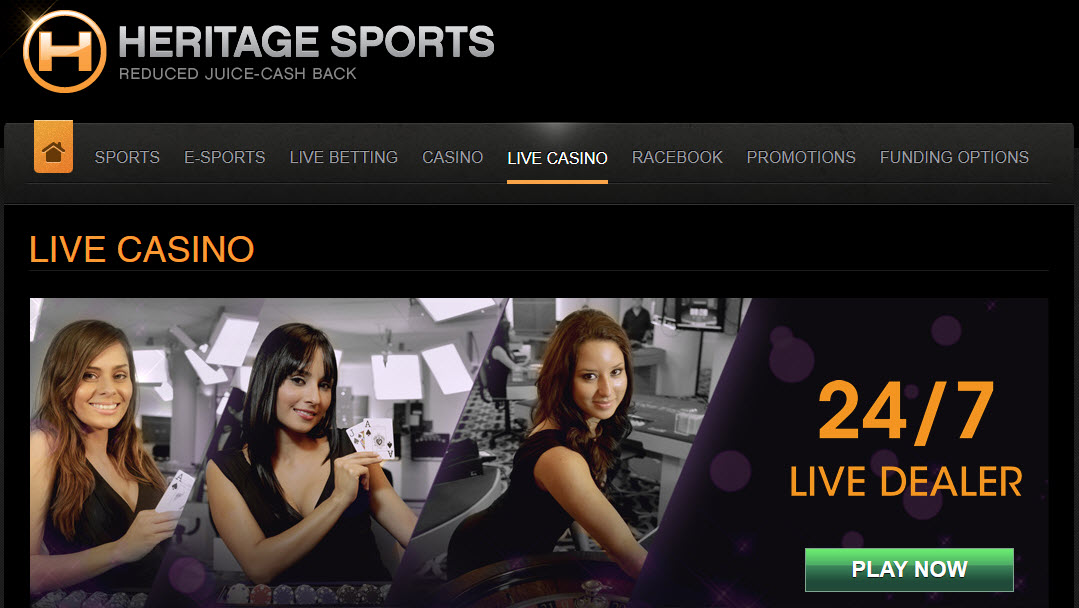 Coming in second in our top 10 is Heritage Sports. Our panel of experts singled Heritage Sports out for how well it treats new online casino customers. Heritage Sports began as an invitation-only site for the elites, so it knows how to roll out the red carpet for gamblers. It has top-notch customer service and promotions and a user-friendly interface that even newcomers can easily navigate.
Heritage Sports' casino specializes in online slots. Its large selection of variations includes casino classics like three-reel games up to the most modern 5-reel, 9-line games as well as 3D slots.
There are also plenty of table games. Heritage has 27 versions of online video poker, plus blackjack, roulette and baccarat. There's a separate live dealer section with plenty of games, as well.
Pros
Outstanding customer service and user-friendly interface makes it the best site for new bettors
Cashback casino rebate program with no rollover
Large selection of variations of online slot games
Over two dozen video poker variations and live dealer casino
Cons
No online poker room for live play, just video poker
Offers less in welcome bonus funds than competing sites
3. Bovada: Wyoming's Best Mobile Casino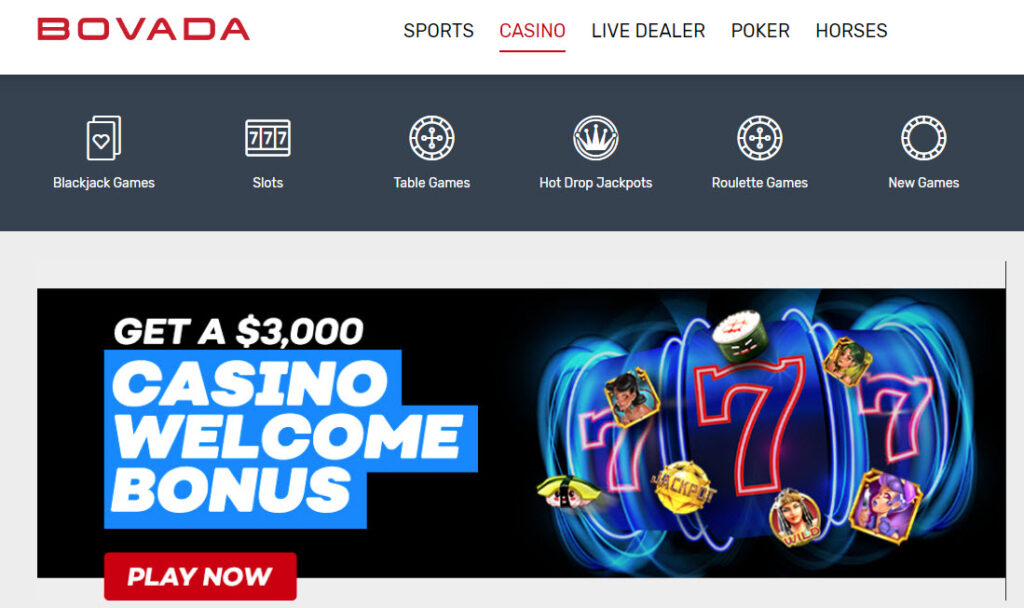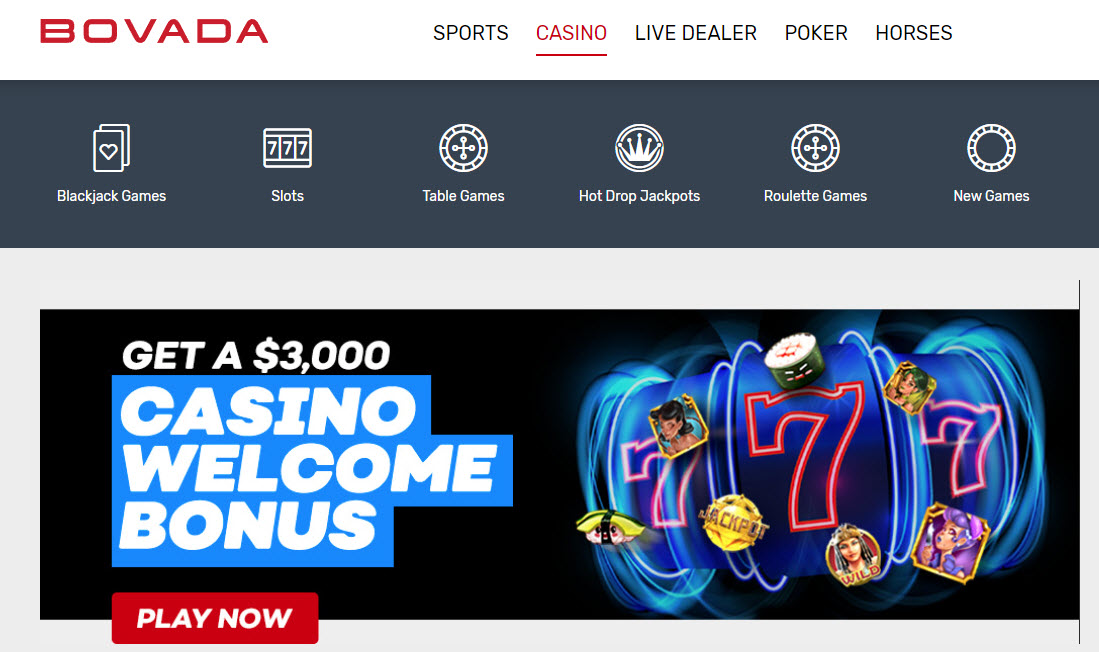 More online bets are placed using mobile devices, such as phones and tablets, than on computers. That's also true for online casino plays. So, a gambling site's mobile interface should no longer be an afterthought – a boiled-down, bare-bones version of the main site.
Bovada was one of the first sites to recognize this and took the time to design a mobile site that gives mobile device users the same user experience as the main site. The site has the same look and feel and all the functionality, so users get the same gambling experience.
Bovada prides itself on offering variety to gamblers, and the casino is no exception. They have over 100 different versions of online slot machines, including video slots, 3D games, progressive slots and five-reel games. There are also more than 200 table games, with multiple versions of blackjack, roulette and baccarat. Their live casino is the biggest in Wyoming, with 30 different real-time gaming options and table limits that go up to $2,500.
Pros
Wyoming's best mobile casino interface
Has 100 varieties of slot games and 200 table games
The largest live dealer casino
Limits on table games go up to $2,500
Cons
Betting limits are not as high as some other offshore gambling sites
Number of different game manufacturing companies is limited
4. BetOnline: Largest Library of Online Casino Games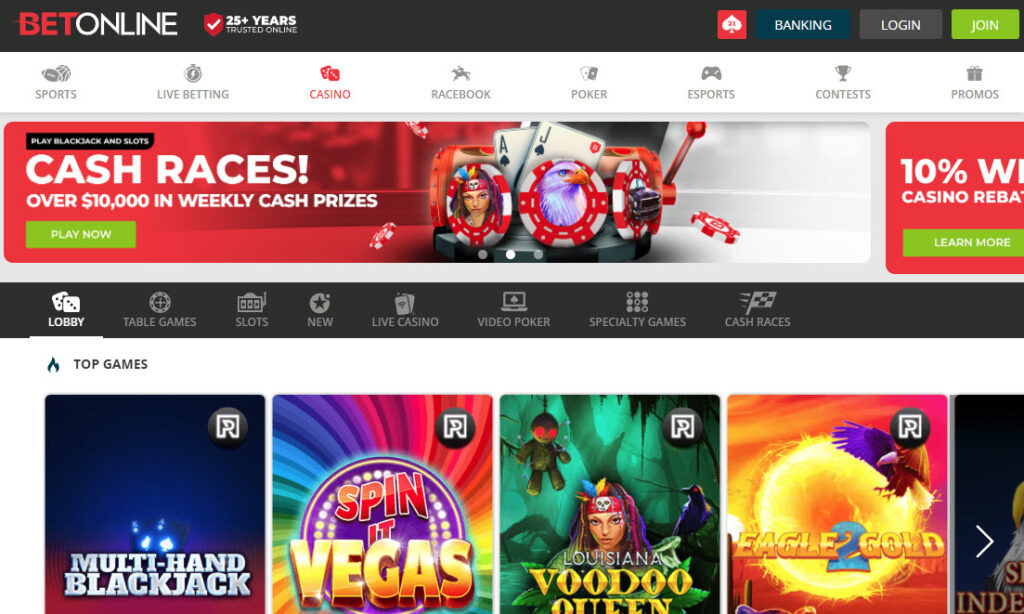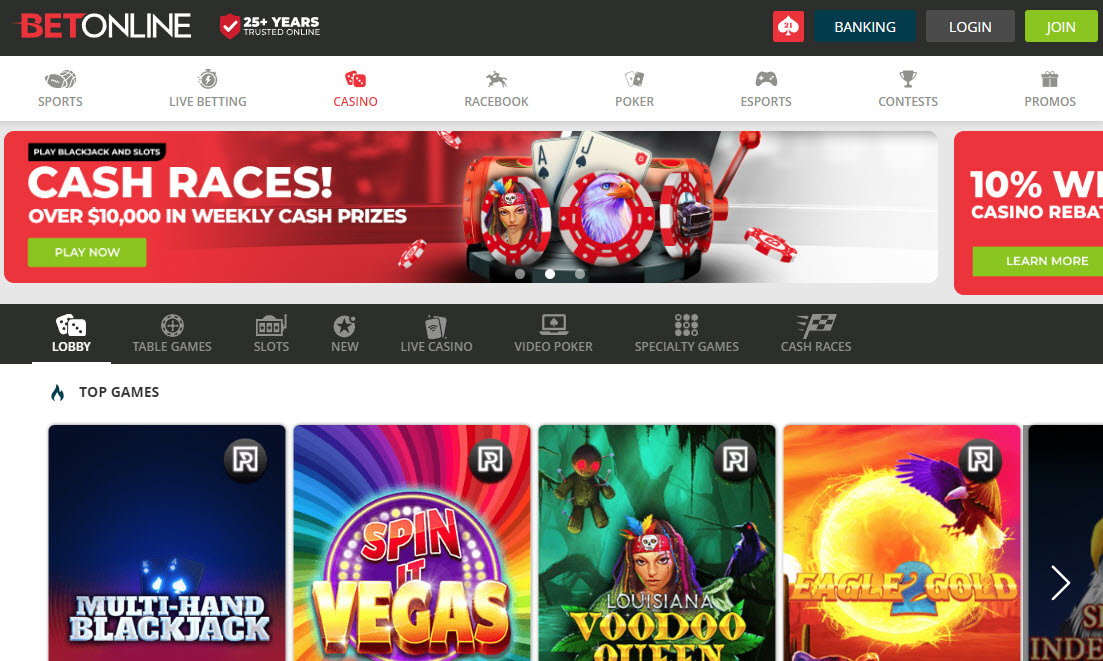 Walking through an in-person casino, you are bombarded by flashing lights, ringing bells and the sheer number of different activities and options going on around you. BetOnline tries to replicate that experience with a dazzling variety of different casino game titles in its online library. Our experts cited BetOnline for having the most different games and variations in Wyoming. They offer more than 380 different variations of online slots, and they pull games from a wide selection of software companies, including games from all seven of the top manufacturers.
The slot variations include progressive games and RTP slots, as well as an exclusive to BetOnline slot game: Buffalo Bounty. BetOnline also offers 50 table games including video poker, craps, baccarat, multi-hand casino war and 3-card rummy, plus 18 different versions of blackjack. There are also two live dealer areas and a selection of high-limit tables which go up to $10,000 a hand.
Pros
The largest library of casino games
Offers games from all seven of the top game manufacturers
Two separate live dealer casinos
Has a 10% casino cash-back rebate program
Cons
Has a busy live poker room, but it's drawn complaints from some users
Some types of transactions have fees associated with them
5. BetAnySports: Featured Hundreds of Games and Multiple Casinos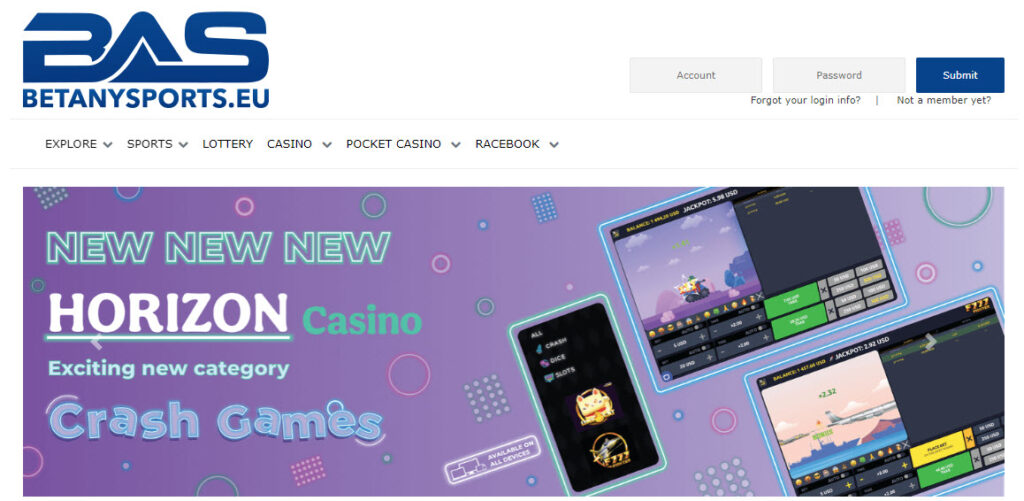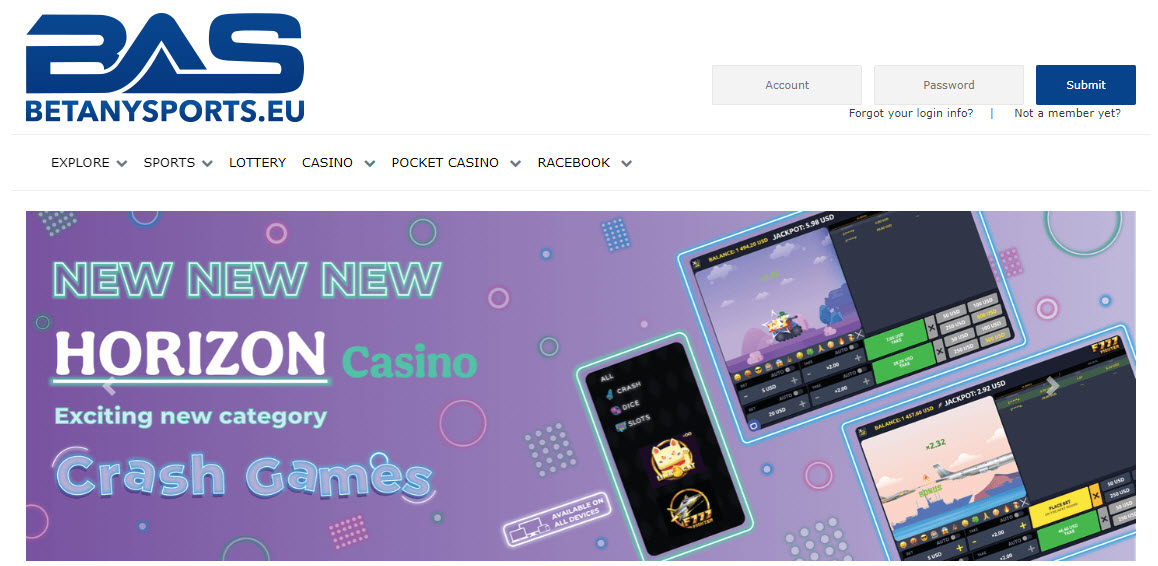 BetAnySports goes with the more-is-more approach to casino gaming options. They don't just have one online casino; they have more than a half dozen, all in one location. BetAnySports customers can visit the 3D Casino, Classic Casino, Diamond Casino, Fortune Casino, Horizon Casino and Star Casino, and each of them has its own library of games and variations, adding up to a huge library of titles.
The live dealer casino has a similar setup, with multiple live casinos under one online umbrella. They have Lucky Dealer Live, Euro Live and Vegas Live, and each casino has its own set of games.
Pros
Half a dozen different casinos, each with its own separate library of game titles
Three separate live dealer casinos
Pays out quickly, easily and in full
Home to a top-rated reduced juice book for sports betting
Cons
Can be tough to navigate with so many different casinos and a bare-bones user interface
Bonuses and promotions are lower than competing sites
6. BetUS: Offers the Most Generous Casino Bonuses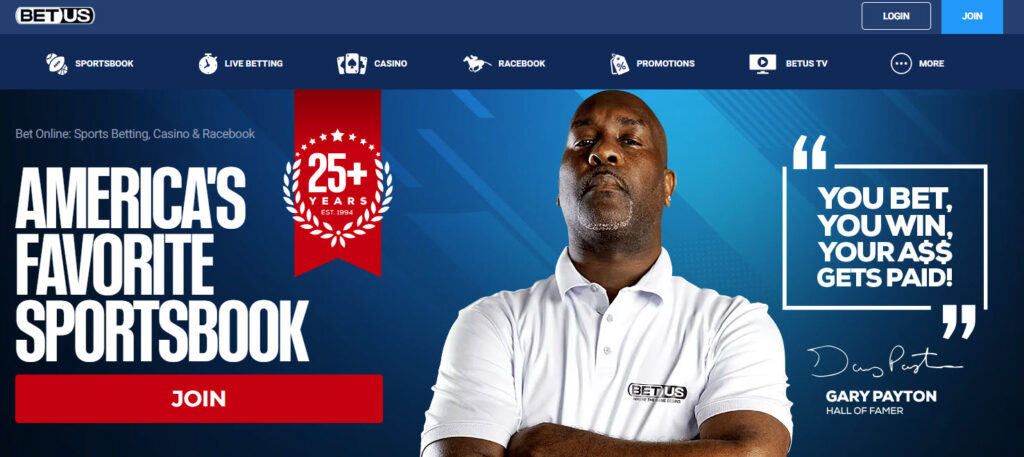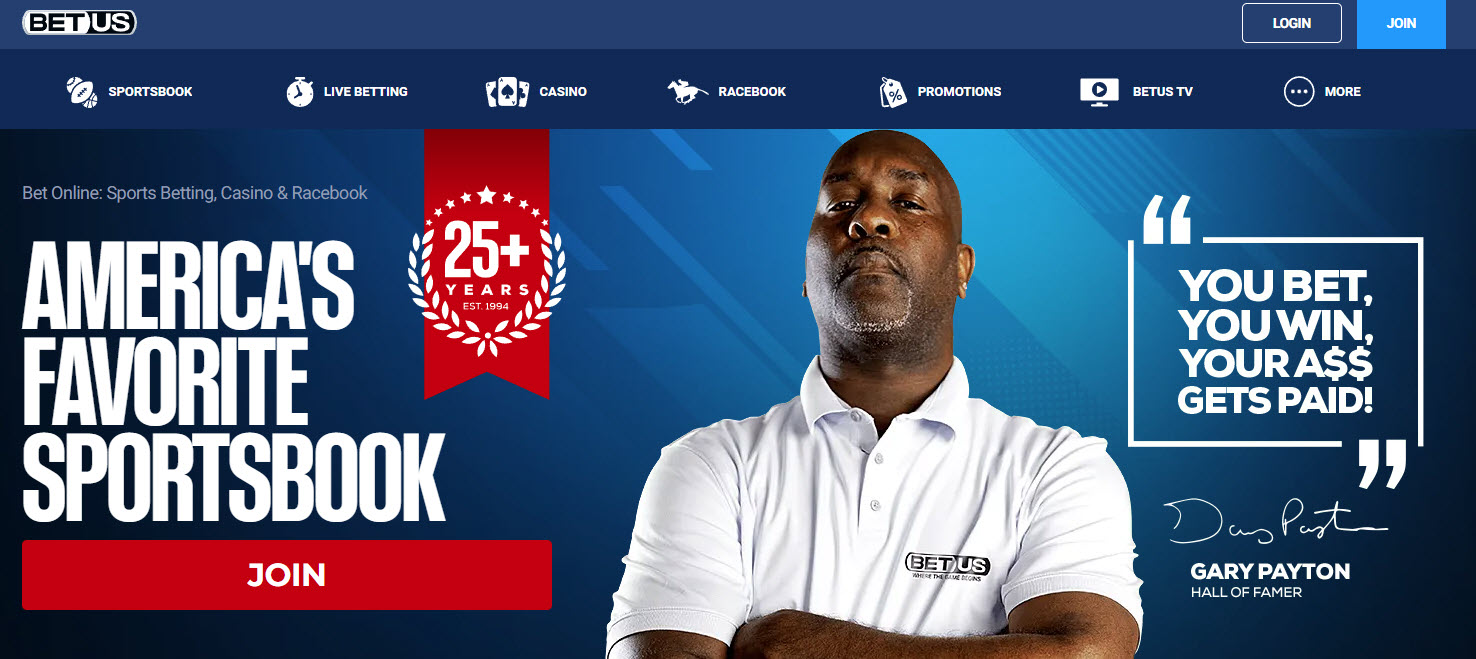 The online gambling industry is a competitive one, and sites are willing to spend to get and keep customers. BetUS is one of the most generous sites in Wyoming when it comes to offering perks to get you gambling with them. They pay the highest welcome bonuses in the state, according to the analysis by our blue ribbon panel of experts. BetUS matches initial deposits at 250% up to $5,000.
What that means is that, when you deposit money to fund your account, they put in more than twice as much as you do. If you deposit $1,000, they "match" it with another $2,500. So you start off with $3,500 in your bankroll and a tidy profit before you've spun your first wheel or been dealt your first hand.
The casino offers 16 different variations of blackjack variations, and also has video poker, keno and bingo. There's a live dealer casino as well. Loyal customers also can benefit from bonus money. They have a VIP program and several casino-specific bonuses for customers.
Pros
Pays a 250% match on initial deposit
VIP program with casino-specific bonuses
Large video casino with separate live-dealer casino
Casino games include bingo, keno and 16 versions of blackjack
Cons
Bonus money has large 30x rollover requirement attached
Fewer game titles than other online casinos' libraries
7. WagerWeb: Best Casino Cashback Rebate Program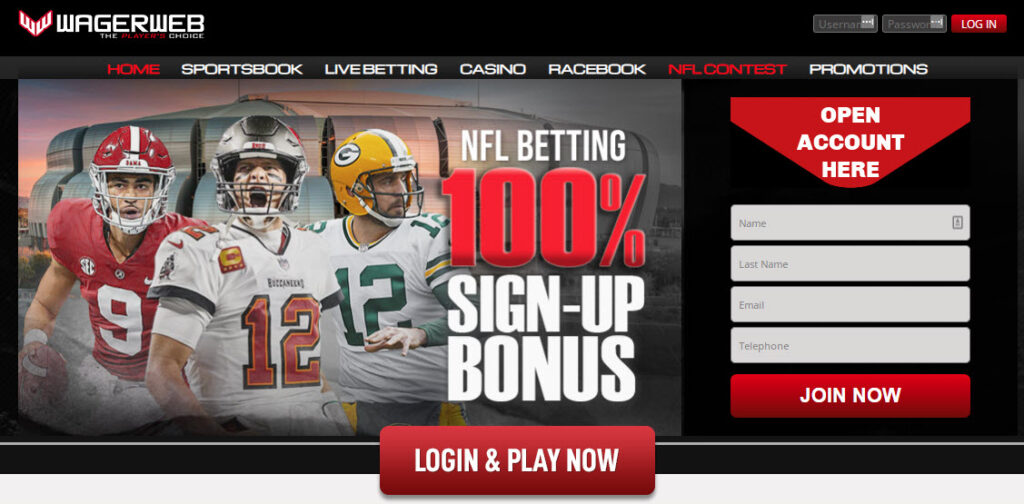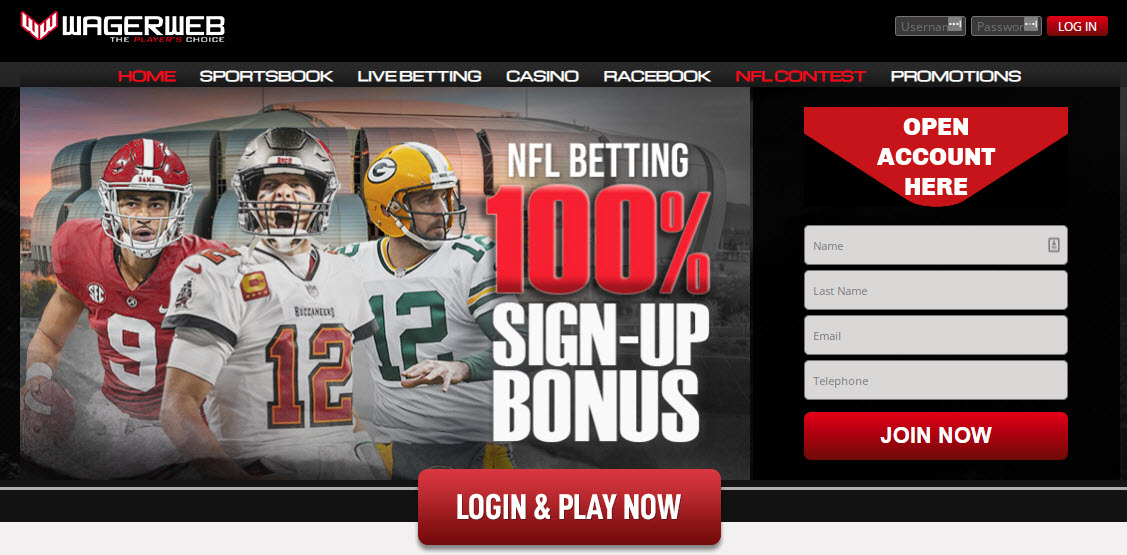 WagerWeb is known as "The Player's Choice," and it lives up to that name with its cashback program. Our experts crowned it the top one offered at Wyoming online casinos, and it's hard to choose against a 5% rebate on net casino losses—the highest rate offered in the state.
The casino has a nice selection of table games, including blackjack, roulette, craps, Hold 'Em and Stud, and most of them have multiple variations available. There are also harder-to-find game titles like Sic Bo, Pontoon and Casino War.
WagerWeb is one of the oldest casino sites around and has a long track record of trust and dependability.
Pros
Home to the best cashback rebate program
Long track records of fair treatment and dependable play
Nice selection of popular table games and harder-to-find titles
Full casino experience, with a racebook and reduced juice sportsbook
Cons
Only 80 casino game titles, fewer than most other sites
Doesn't have any live dealer games or live poker tables
8. JustBet: High Limits and Low Minimums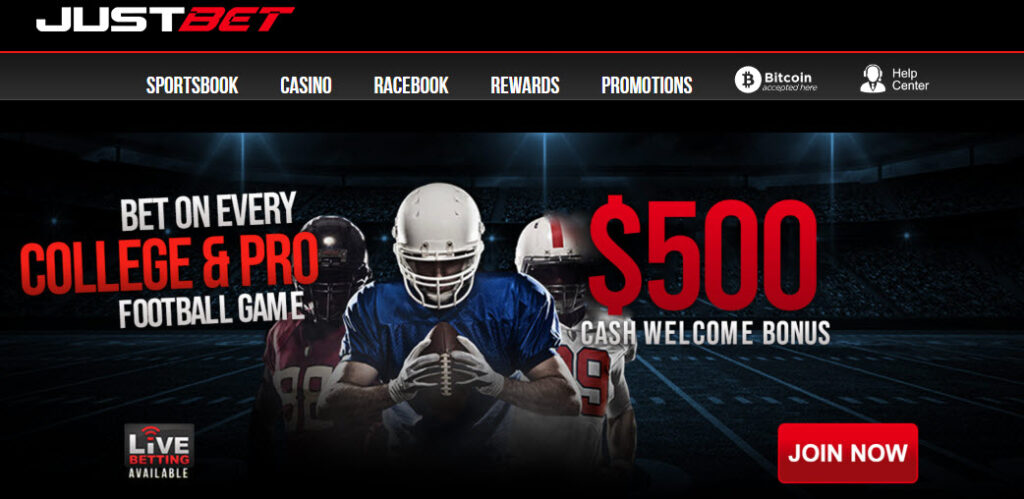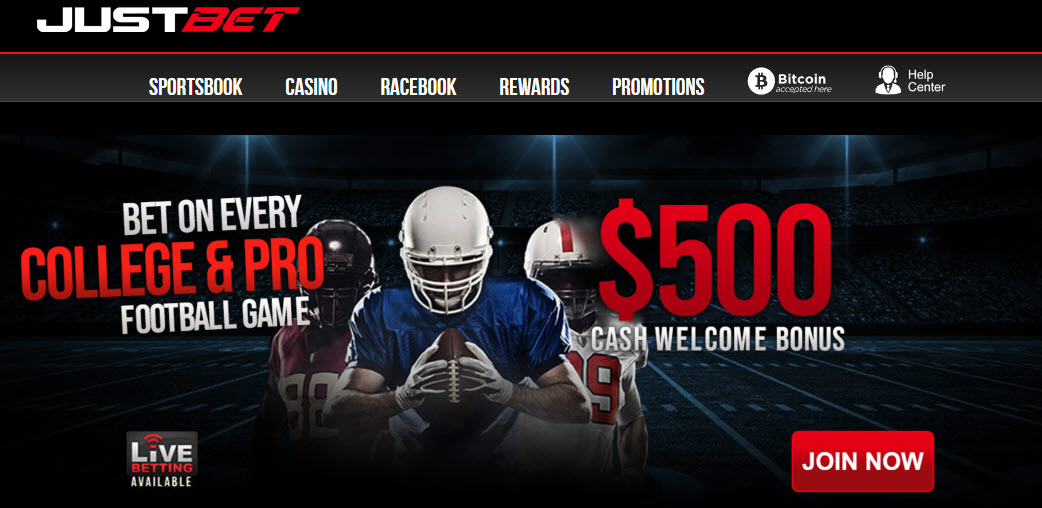 JustBet is a partner site of Bookmaker.eu, and much of what earned that site the top spot in our rankings can also be found at JustBet. They offer high betting limits and low minimum bets, meaning that any gambler can find a table that suits their risk tolerance level. JustBet caters to all experience levels and bankroll sizes and has a user-friendly interface that is easy for everyone to navigate.
JustBet doesn't go overboard with its game library, opting for a more uncluttered approach. It doesn't have hundreds of different slot variations or dozens of different types of one single game, but JustBet gives a good range of different options, including all the most popular games. The library is also easy to browse and find what you want since it isn't choked with large lists of similar games.
They also offer a free casino to let new players learn the games before they start putting up money.
Pros
Appeals to all experience levels, bankroll sizes and risk tolerances
Free casino lets new players learn the games
Fast, efficient user interface and uncluttered game library
High betting limits and low minimum bets
Cons
No live online poker room
Smaller selection of game titles than most other casinos
9. Everygame: The Oldest Online Casino on the Internet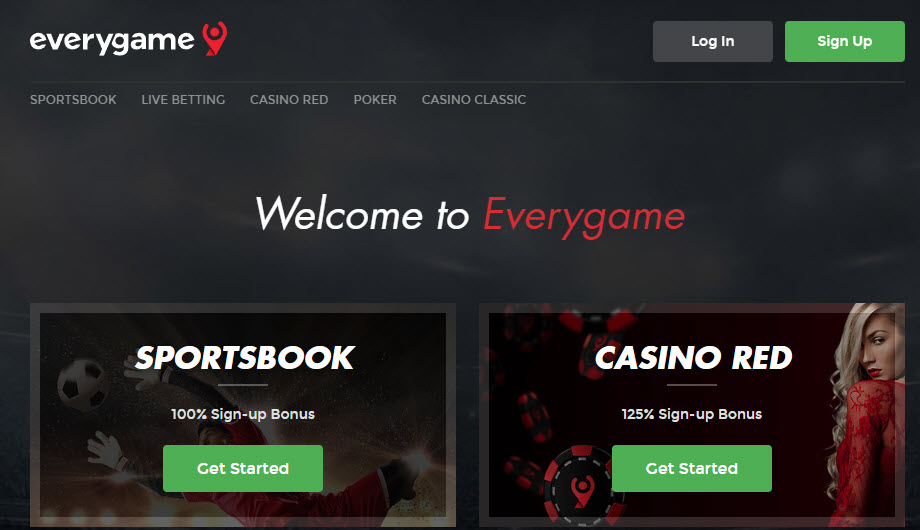 Everygame is the oldest online casino still in operation, dating back to the early 1990s. That means that for 30 years, they've been treating gamblers right, paying out on time and in full and protecting financial information. They wouldn't have made it this long otherwise.
That's not to say Everygame has an old outdated casino. They boast over 300 different game titles, including baccarat, blackjack, hold 'em, stud, Caribbean Stud and rummy. They also have hundreds of different variations of video slots, including classic 3-reel slot games, 3D slots and progressive jackpot slot games. They pull games from all of the major software providers, giving bettors more diversity in style of play as well. They don't currently offer a live dealer casino, but there are rumors they might in the future.
Everygame has also gone through an extensive site overhaul and rebranding, upgrading the operating software with a brand new cutting-edge user interface that our experts cited as one of the best mobile casino experiences in Wyoming.
Pros
State-of-the-art mobile casino interface
More than 300 game titles and hundreds of slot machine variations
Live online poker room
Welcome bonus matches initial deposit at 100%
Cons
Doesn't have as extensive a table game menu as other casinos
No live dealer casino
10. SportsBetting.ag: One of the Best Live Dealer Casinos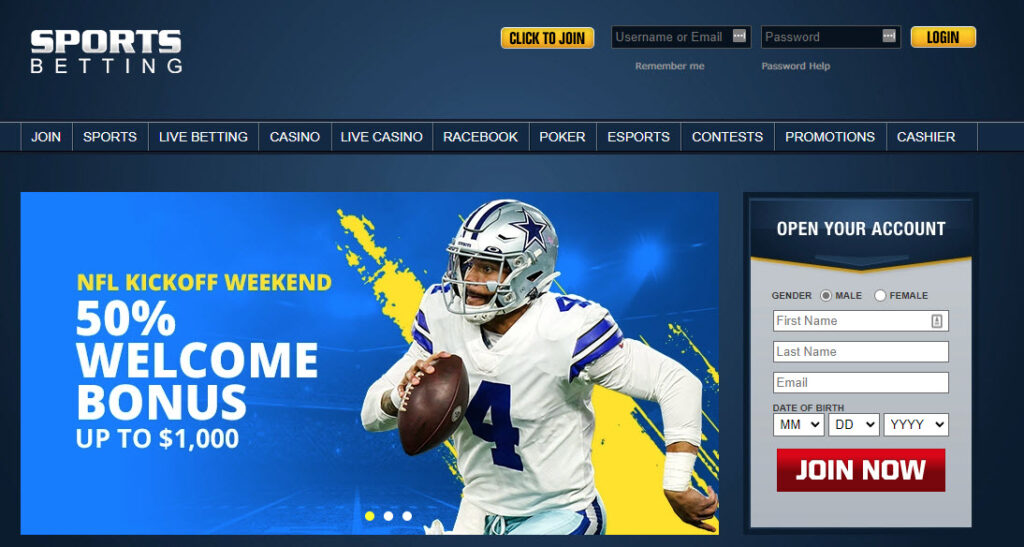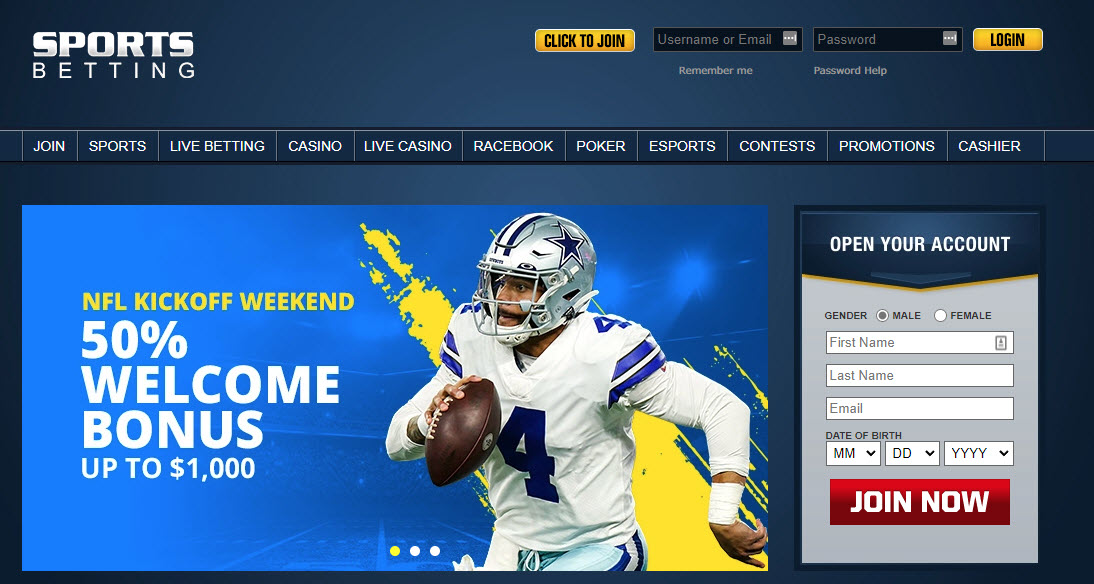 SportsBetting.ag is the final site to make our top 10 online casino sites available in Wyoming. It earned our experts' attention with one of the best live dealer casinos in the state. Their live offerings ‌include blackjack, roulette, baccarat and other specialty games. The live interface is also smooth with no lags or other technical issues.
The video game casino is also well-curated. They don't have hundreds of different slot variations, but they chose well with the 140 that they do offer. The library includes a good variety of styles, including brand-new 5-reel games, 3D slots and classic old-school games. Their table games are just as well-curated, with 20 variations of blackjack and many options for video poker. They also made sure to include games from many different software developers.
Pros
One of the best live dealer casinos
Good mix of different styles and types of games and variations
Pulled games from a wide range of software developers
20 different types of blackjack and several variations of poker
Cons
Amount of games and variations isn't as large as many competitors
Site's graphics and appearance are plain and not as modern as many others
Our Rating Methodology
Our experts had a number of different factors they weighed when compiling the top 10 list of best online casinos for Wyoming. They looked at the size of the game library at each site but also at the mix of games contained in that library. Did they offer a good mix of software manufacturers or were they slanted heavily toward one or two companies?
The best sites had a good mix of casino classics and modern new games and plenty of slot games and casino table games to give a full casino experience. We also looked at each site's promotions and bonuses offered, the quality of their customer service and what customers said about each site in online reviews.
Wyoming's History of Gambling Laws
Wyoming's gambling history goes back to the state's earliest white settlers, back in the Old West of the 1800s, when gambling was just one of many vices found in Wild West saloons.
Things tightened up quickly in the 20th century, as a 1901 law declared gambling to be evil and banned all forms of it in the state. It was another 66 years before the first cracks appeared in that ban. The state legalized pari-mutuel wagering on horse races in 1967. Then it was another 33 years before the next development.
Native American tribes sued for the right to open tribal casinos on their land, as had been done in other states. It resulted in legal battles lasting five years, but eventually, they were victorious and opened a handful of casinos on reservation land.
The next change came in 2021 with the legalization of sports betting. The legislature passed a law allowing legal sports betting online.
Timeline of Gambling in Wyoming
2021: Regulated sports betting launches, regulated by the Wyoming Gaming Commission.
2014: Two horse racing tracks reopen in the state.
2013: A state lottery is approved.
2010: The last horse racing track in the state closes.
2005: The Northern Arapaho tribe wins in appeals court to open a casino.
2003: Racetracks are allowed to install instant racing terminals for virtual race betting.
2000: The Northern Arapaho tribe sues the state for the right to create a casino.
1967: The Wyoming Pari-Mutuel Commission is formed to regulate horse racing betting in the state
1901: All forms of gambling are banned by the McGill Act.
Features to Look for in an Online Casino
The casino sites in our top 10 offer wide varieties of different playing experiences, but there are certain characteristics that all of them have. Our experts looked for a list of "must have" factors that are necessary in a top-rated online casino.
Competitive Gambling Odds
The odds of winning video versions of casino table games and slots should be similar to those in a real brick-and-mortar casino. Gamblers should have a fair shot of making a profit.
Betting Markets Available
There should be a wide range of betting options, including sportsbooks, racebooks and poker rooms in addition to the online casino. Within the casino, there should also be plenty of options from different versions of online slots to a wide variety of table games. There should also be both video versions and a live dealer casino version of many games.
Multiple Accepted Banking Methods
The best casinos offer several different ways to pay and withdraw money, including traditional banking methods like wire transfers, credit cards –including American Express– and debit cards. There should also be newer methods like cryptocurrency and e-wallets. Fees and delays should be kept to a minimum with all methods.
Promotions & Bonuses
Top sites should be competing to get you and keep you as a customer. New users should be offered a deposit match bonus, accessible with bonus codes or a promo code. Ongoing customers should be offered a loyalty program, cash-back rebates or other perks.
Live Dealers Available
Playing video versions of casino games is fun, but to get the true in-person casino experience, it helps to have actual cards or wheels with a human dealer. The best casinos have live dealer sections that connect you with an actual dealer and table through a video hookup.
User Interface
Playing casino games should be exciting, and nothing prevents that like technical problems such as lags, pages crashing or other glitches. The user interface should provide a smooth playing experience and should allow you to easily find the games you want to play and place your bets.
Mobile Site Quality
The mobile version of an online casino should not be an afterthought. After all, more people play games on their phones and tablets than on the full-blown site on a computer. Mobile sites and casino apps should have all the functionality of the full-blown site and be just as attractive and user-friendly.
Customer Support Options
When problems or questions come up, the online casino site should be able to resolve them quickly and efficiently. Customer service should be available around the clock and in multiple languages. There should be several ways to get help, including phone, live chat and email.
Security & Safety Features
When you are sending money online to an offshore gambling site, you should expect it to be protected. We considered this factor to be non-negotiable. Any sit with security issues was immediately disqualified from consideration by our expert panel.
Popular Casino Games in Wyoming
Most online casinos, and their retail counterparts, have a wide variety of games available, but there are a few standbys you're sure to find in any respectable casino.
Slots
The most recognizable game at a physical casino is the slot machine, with its huge wheels and flashing lights. Players spin wheels—traditionally three of them—labeled with different symbols and win jackpots if the symbols match. More modern slot games have more wheels, 3D versions and all sorts of other twists.
Roulette
Another wheel-based game. Players guess where a ball will land on a wheel while it's spinning. Possible landing spots are labeled with numbers and colors and bettors can guess an individual number, range of numbers or other combinations like odd/even numbers, high/low or the color.
Poker
The most popular card game. Players bet on who has the best hand. Play can vary based on the number of cards in each hand, the number of cards visible to opposing players or whether cards can be replaced in the hope of improving your hand.
Online poker can be a video version with computer-simulated cards and possibly opponents or a video version with a live link to human dealers and players and actual cards.
Blackjack
One of the most popular casino table games. You compete against the dealer –even if there are other players at the table with you– to see whose hand can get closest to a point total, usually 21, without going over.
Bingo & Lottery-Style Games
These games involve drawing numbers, like in large multi-state lotteries like Powerball or Mega Millions. In Bingo, players are given a card labeled with numbers and place markers on each number as it is drawn, looking to make a pattern (usually a straight line in some direction).
Keno has more numbers with 20 numbered balls drawn that players try to match. Slingo is a combination of slots and bingo, and there are even online versions of lotteries and scratch-off games.
Live Casino Games
Most online casino games are computer versions of the real-world game, with simulated cards or wheels. But many online casinos offer live table games, with video hookups connecting players with an actual human dealer and actual cards or wheels to give a more complete casino experience and add a social aspect to the game.
Commercial Land-Based Casino Gambling in Wyoming
In 2000, the Northern Arapaho Tribe sued the state of Wyoming for the right to open tribal casinos on their land, as Native American tribes had done around the country over the previous few years. After five years, the tribe won its suit and was able to open casinos on its tribal lands. They are currently the only brick-and-mortar casinos in the state of Wyoming. No other businesses or groups other than Native American tribes are allowed to open a commercial casino.
Here's a look at the top land-based casinos in Wyoming.
Wind River Hotel & Casino: The Wind River Casino opened near Riverton in 2008. It features nine table games on the casino floor, as well as a poker table. There are also 800 gaming machines, including slot games, video poker and more.
Shoshone Rose Casino: Located near Lander, it opened in 2007 and was renovated and expanded in 2015. It has five table games and 400 slot machines.
Rock Springs Horse Palace: Located in Rock Springs, it is a live racing track that also features 90 historical horse racing games.
Wyoming Downs: With a live track and several OTB locations around the state, Wyoming Downs also offers historical horse racing game terminals at many locations.
How to Create an Online Casino Account
It's easy to get started on casino gaming in Wyoming. Creating an account takes only a few minutes.
Step 1. Signing-Up
Go to an offshore casino site from the 10 we recommended and click on the button to create a new account.
Step 2. Verifying Your Details
Fill out the registration form. You will likely have to respond to a code texted to your phone to verify your information.
Step 3. Depositing Your Funds
Now that your account is created, you need to fund it. Choose a deposit method from the cashier page and enter the amount and your financial information. This is also when you enter your bonus promo code to collect your welcome bonus.
Step 4. Place Your Wagers
You're done! Now the fun begins. Find a game and get started
FAQs – Online Casino Gambling in Wyoming
What gambling is legal in Wyoming?
State law permits in-person gambling at tribal casinos, betting on horse races and the use of online sportsbooks. The best way to find more gambling options, such as online poker rooms, online casino games, etc. is at an offshore sportsbook.
Can you gamble online in Wyoming?
You can gamble online in Wyoming in a number of ways. The best way is using offshore gambling sites that offer sports bets, horse racing bets and real money casino games.
How many casinos does Wyoming have?
The only brick-and-mortar casino options in Wyoming are tribal casinos on Native American land. The Northern Arapahoe Tribe won a lawsuit in 2005 to earn the right to run them. There are two main tribal casinos, both on the Wind River Reservation: Wind River Casino and Shoshone Rose Casino.
What online casinos give you free money for signing up?
The vast majority of online casinos will give you free money for signing up. It usually comes in the form of a deposit match, meaning the more you put in, the more bonus funds they give you. 
What casino has the highest no-deposit bonus?
No deposit bonuses change frequently and, in general, are nowhere near as high as deposit match bonuses. Currently, the highest no-deposit bonus can be found at Bovada, the No. 3 online casino in our top 10. Bovada offers a $100 no-deposit bonus to new customers.
In what can only be described as a seminal pact between adversaries, Governor Newsom has signed a bill into law that both the California Native American tribes, as well as cardroom operators, support – no additional cardrooms in the state for two more decades. In turn, this collaboration between Native American tribes and gambling hall

---