Oregon Horse Race Betting – The Best Racebooks for Oregon Bettors in 2023
Oregon has long been one of the friendliest states towards horse race betting. You can legally do online betting with the biggest names in the online horse racing betting industry like TwinSpires and TVG. DraftKings is also expected to launch DK HORSE soon for horse racing fans, and DraftKings is already the go-to online sportsbook for those in Oregon State.
But what if bettors in the Beaver State want more options now for sites for horse racing betting? In this guide, we will show you the best Oregon online betting sites located offshore that offer racebooks and you can join today, what makes them our top choices, and the history of horse racing in the state.
We also explain how the odds work in horse racing, get you caught up on the betting types available at many racebooks, and we'll add some jargon to your vocabulary to get you ready before the Kentucky Derby in May.
Oregon's Top Online Racebooks
The Highest-Rated Online Horse Betting Sites for 2023
Our top 10 online horse betting sites are from Costa Rica, Panama and Antigua where online gambling is legal. These sites are not licensed or regulated by the Oregon Racing Commission, but they are all reputable and have a history of paying out winning customers. You should feel free to join any of them from Oregon.
Is horse race betting legal in Oregon?
Yes, Oregon State has had legal horse racing betting for decades, including an online platform that was legalized in 1997. Horse racing fans can enjoy wagering at the numerous off-track betting locations, the licensed online horse racing betting sites, and you can also use the offshore racebooks we are about to review below.
The Top Oregon Racebooks: Compared
We have included an in-depth review, including the pros and cons, of our top five racebooks for Oregon users looking to bet on horse racing. Keep in mind these sites are also very good for sports bettors with a wide variety of sports leagues. They also have online casino gaming that you will not find elsewhere in Oregon right now.
1. Bookmaker: Fixed Odds Racebook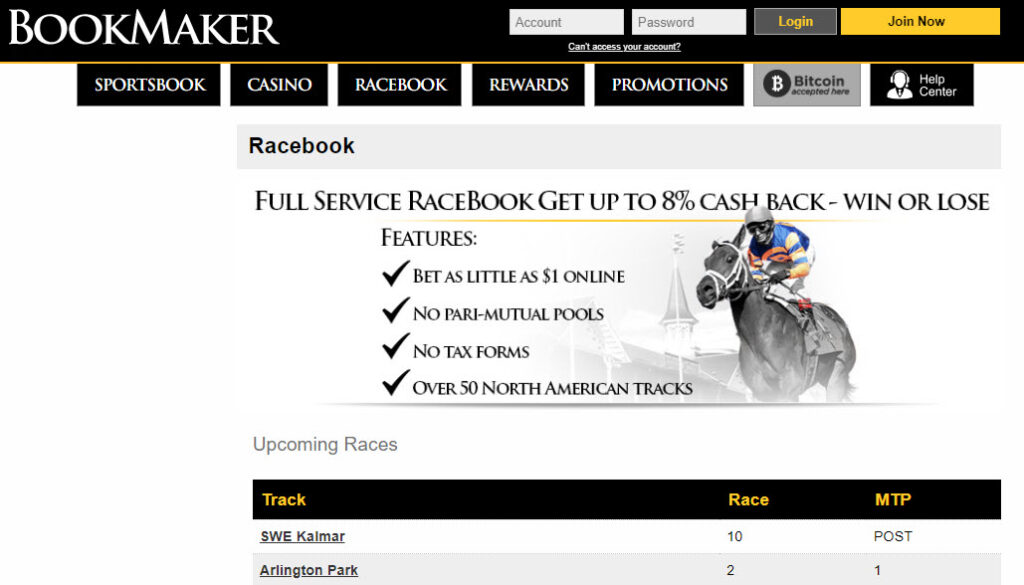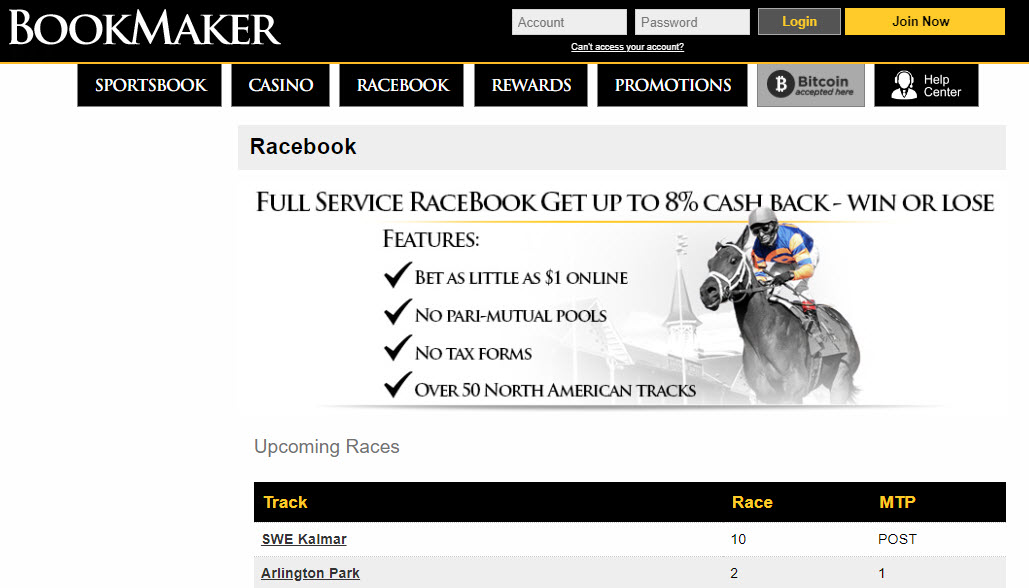 Bookmaker.eu is known best for offering the earliest lines on its sportsbook, but you can also enjoy the respect it has as a racebook platform where they again are content with setting their lines. All the horse racing at Bookmaker is fixed odds rather than using a pari-mutuel system, meaning you will know exactly how much you stand to win after staking your bet. No matter what happens between then and the start of the race, you are locked into those odds on the horse.
Horse racing bettors at Bookmaker can get up to 8% daily cashback on the racebook. This is based on your total volume of bets and not the outcome of them. Bookmaker has dozens of international tracks, and the biggest races in the calendar year have very high betting limits, making it an ideal spot for high rollers.
Bookmaker also has an excellent loyalty program with great reload bonuses. The program has three tiers, and those who reach the final tier (Diamond level) will get a 20% cash bonus on deposits up to $2,500.
Pros
All betting is fixed-odds betting
Offers 8% daily rebates on horse racing volume
Over 50 racetracks available
Elite sportsbook and reward program
Cons
Certain tracks have smaller limits
Could use more racing info (jockey weight and name)
2. Heritage Sports: Daily Rebates for Racing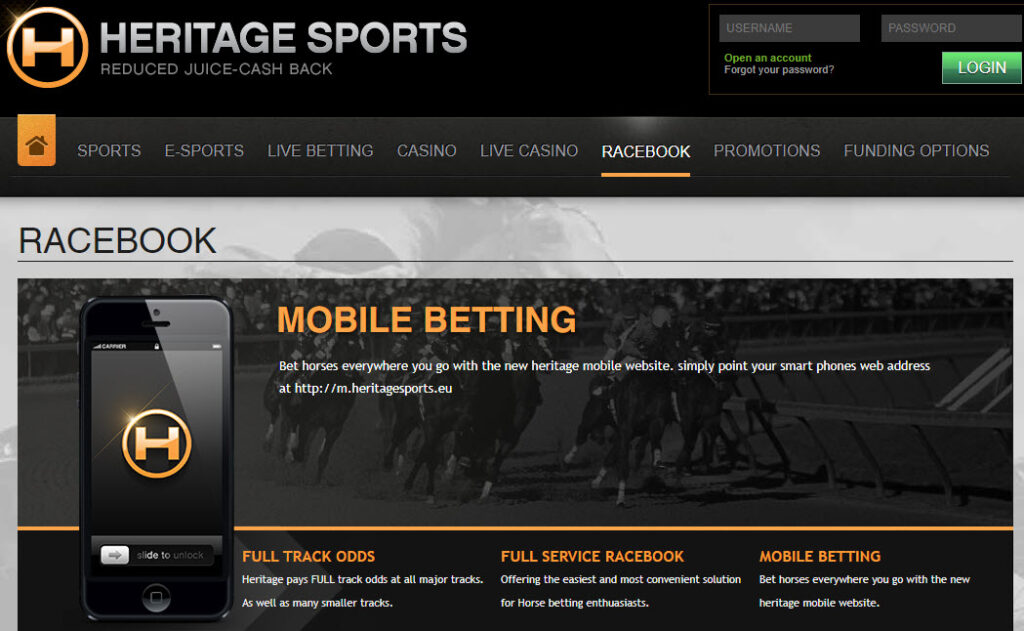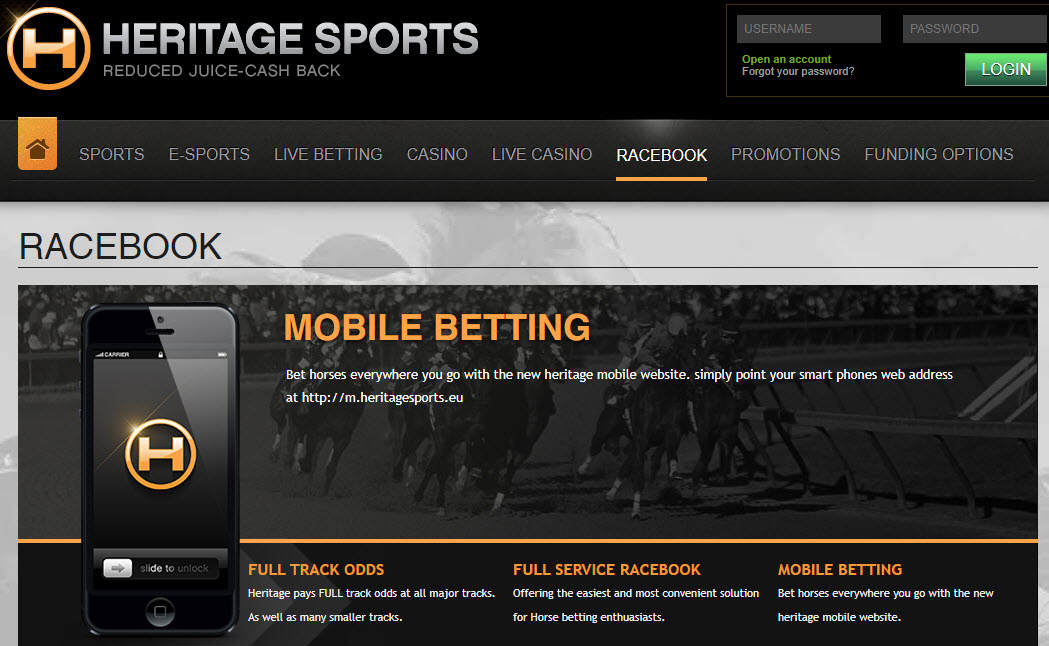 Heritage Sports always does a great job with cashback programs, and the racebook section is no different. With over 60 tracks available in multiple countries, bettors can receive up to 8% daily rebates on their horse bets. The bonus funds have a 4x rollover requirement, which is reasonably low, and you can always use the bonus funds anywhere you want on Heritage Sports.
The major tracks at Heritage Sports have payouts up to $10,000 for normal races and much higher for the big Triple Crown events. Smaller tracks pay out $5,000 per race.
There is a good design with the racebook at Heritage Sports. Each race provides additional info like the horse's trainer and jockey with the jockey's weight listed. This is great info for the die-hard online horse racing betting fans who know that some jockeys win more often than others. This is not info you will find at most of the competitors.
Heritage Sports does not live stream any races, but it is a great site for live betting on the sportsbook.
Pros
Daily rebates on racebook (8%)
Great mobile site design
More detailed race notes than Bovada, Bookmaker, and other competitors
Can use your bonus funds anywhere on site
Cons
8% rebate only offered on major tracks
Does not have live streaming of racing
3. Bovada: Great Racebook Design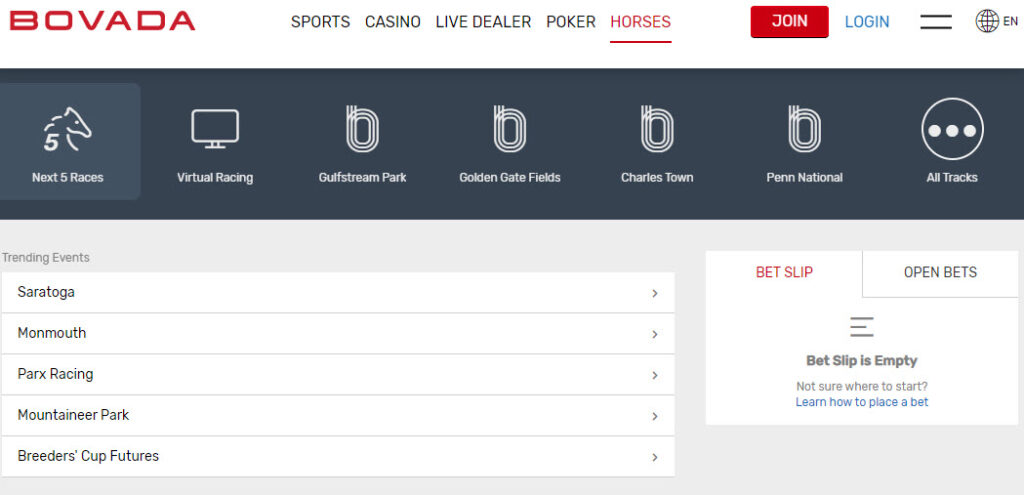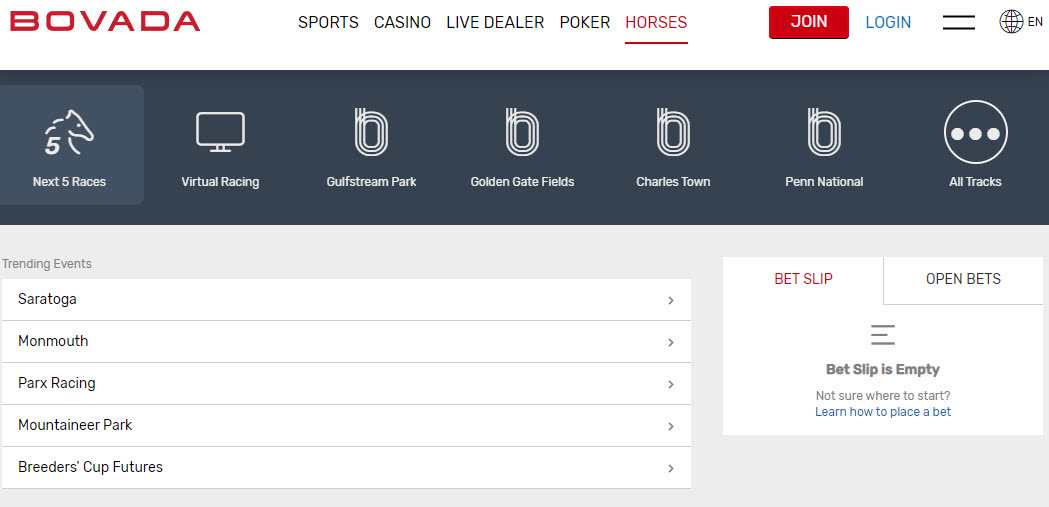 We are going to break down the Bovada racing section into three parts.
The good: Great design with the use of drop-down menus to allow users to easily place bets on different races and use the various betting types (win/place/show and exotics). Virtual racing is also the best at Bovada as you can bet on virtual greyhounds, horses, camels, and supercars before watching the race play out virtually.
The bad: Sleek racebook design does cut some corners by not introducing more information for each race such as the jockey and trainer info.
The ugly: Bovada does not have any daily rebates for its racebook while all other competitors do. Not even 6%. At the very least, you will be able to accumulate more points in the reward program by betting, which will lead to you being able to redeem them for bonus bets. But they really should consider a racebook rebate to get in line with the rest of the sites.
Pros
Superior design in racebook
Great crypto bonuses
Your go-to site for virtual racing games
Best poker tournaments
Points do not expire in reward program
Cons
No rebates in racebook
No jockey or trainer info for races
4. BetOnline: Try First Horse Race Bet Risk-Free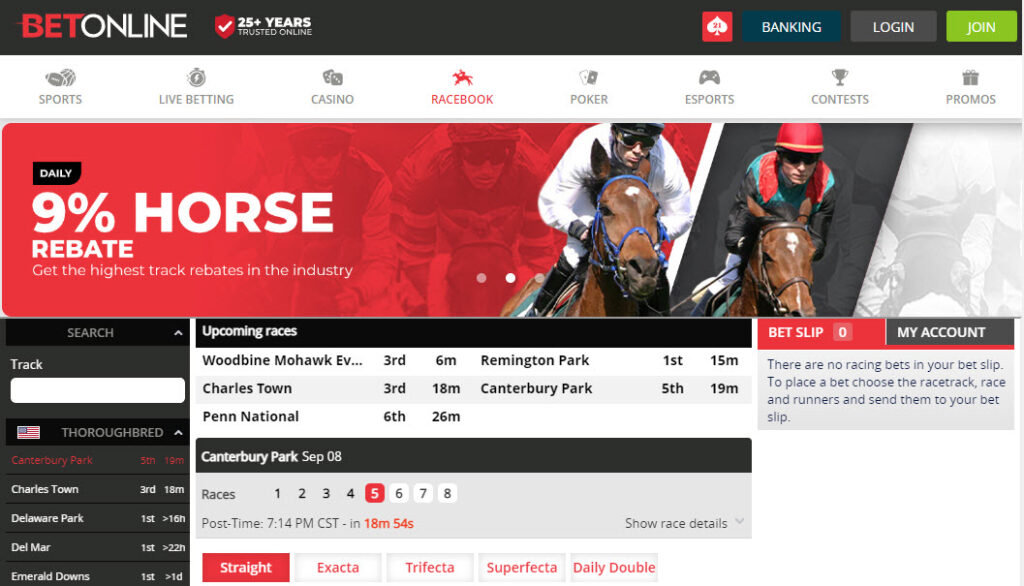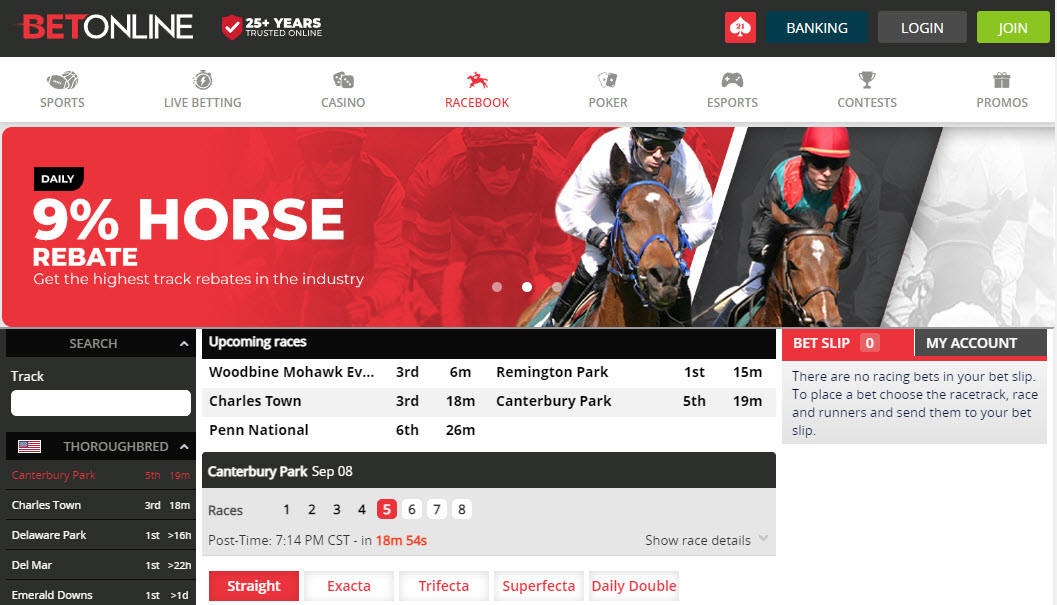 BetOnline may be best known for its poker room and online sportsbook, but they also do a fine job with the racebook where you can find dozens of available tracks. The 9% daily rebate for exotic wagers is the highest racebook rebate on our list, and it does not have a limit. It does have some restrictions on which races are eligible for a rebate. Fixed odds and prop bets also do not qualify for a rebate.
There are Thoroughbred and Harness races available at BetOnline from the United States, Australia, England, Italy, and more. You can try your first bet on the racebook risk-free for up to $25. Users will receive $25 in free bets that expire in 30 days. Just keep in mind that promotion does not apply to any bets placed on the Breeders' Cup or any of the three Triple Crown races (Kentucky Derby, Preakness Stakes and Belmont Stakes).
Pros
Try your first racebook bet risk-free ($25)
Largest daily rebate (9%) for exotic wagers
Some of the highest limits in the industry
Solid racebook design
Cons
Does not stream any racing events
Daily rebates do not include any fixed-odds wagers
5. BetAnySports: Plenty of Tracks Available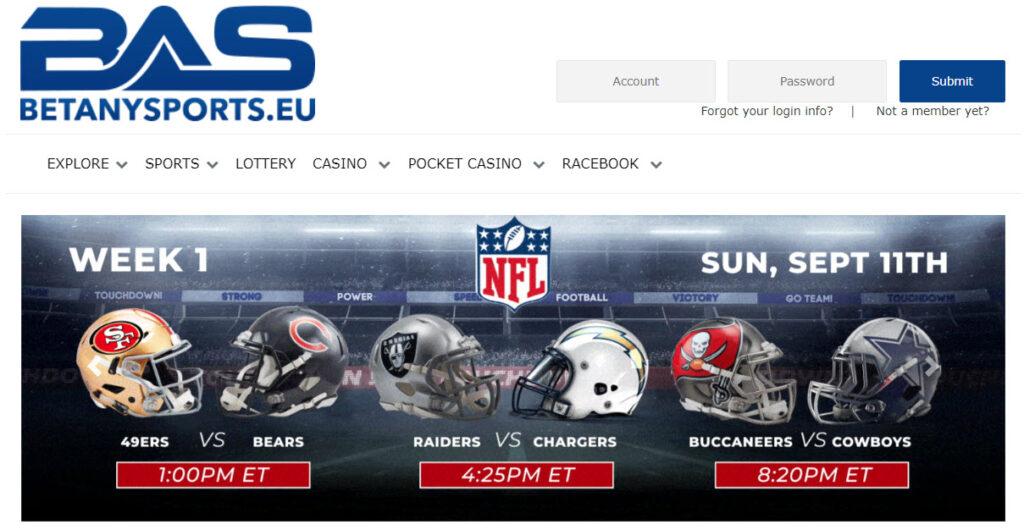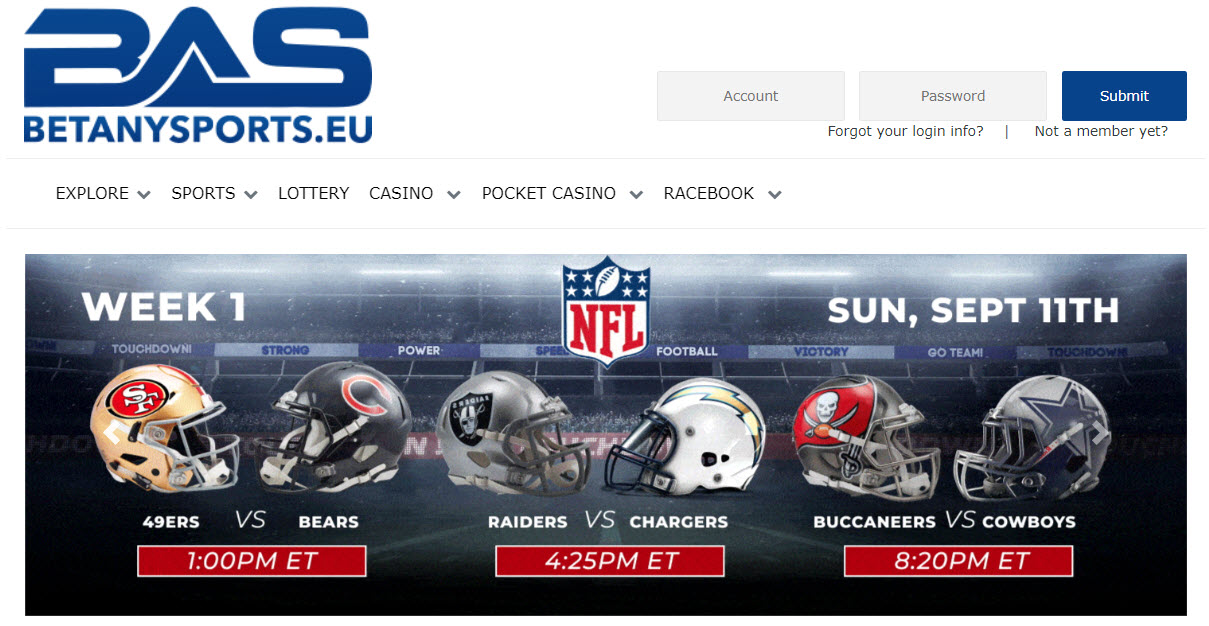 A small daily rebate on the racebook still beats not having one at all. BetAnySports is not as popular as Bovada or Bookmaker, but horse racing fans can get up to a 6% daily rebate using the racebook. For any bet that qualifies for a rebate, the most you can wager is $500 for win/place/show and $200 for any exotic wagers. This is why high rollers may not be impressed with BetAnySports' racebook, though new users may appreciate the smaller limits as they learn the game.
But you can still bet and win more money on the horse races at BetAnySports. Those limits were for the rebate-qualified bets. For any Triple Crown event or the Breeders' Cup, you can make up to $100,000 per race. The other popular races played at Track A racetracks pay up to $30,000 per race. Track B races are $15,000 and Track C is $10,000. The Australian Tracks have the lowest payouts at $1,000.
BetAnySports is still a great all-around choice for an online gambling site with great reduced juice and props on the sportsbook, seven different casinos to choose from with live dealer games too, and a unique lottery section.
Pros
Get a daily racebook rebate of up to 6%
Sportsbook is great for reduced juice and props
Offers dozens of global horse racing tracks
Higher limits for bigger races
Great casino variety plus live dealer games
Cons
Lower limits on racebook
Racebook rebate is smaller than rivals
Our Rating Methodology
When it comes to winning money on sites for horse racing betting, we expect a quality user experience from the racebook having a variety of betting markets and racetracks, quality site design, generous bonuses, good customer service, and diverse payment methods.
The History of Oregon's Gambling Laws
Oregon State has long been a proponent of horse racing with races held at the fair in Tillamook way back in 1891. But it was not until 1933 when the Oregon Racing Commission was formed and pari-mutuel betting on horse racing and greyhound racing was legalized.
The opening of Portland Meadows in 1946 helped popularize horse racing in the state as it had a full season of Quarter Horse and Thoroughbred racing. In fact, Portland Meadows is known as the country's first Thoroughbred track to host night-time racing events under the lights. But as we have seen in many states, interest in horse racing declined over the decades, and in 2019, Portland Meadows held its final events before it was demolished in February 2020.
But Oregon has been one of the earliest states to adopt other forms of gambling to help embrace online horse betting. In 1997, Oregon became one of the only states to legalize online horse wagering, which has led to many Advanced Deposit Wagering companies having licenses in the state today, including TwinSpires, TVG, and Xpressbet.
After PASPA was overturned by the Supreme Court in 2018, Oregon passed sports betting laws in 2019 and launched that service that year. You could visit a tribal casino to do retail sports betting, or you could join the state-licensed Scoreboard app. Scoreboard was replaced by DraftKings in January 2022 as the only state-approved online sportsbook. DraftKings, in partnership with Churchill Downs, expects to launch its DK HORSE brand of racebook before the Kentucky Derby in May 2023.
Timeline of Gambling in Oregon State
The following timeline shows the key events in the history of horse racing in Oregon State:
2023: DraftKings is expected to launch DK HORSE as its own brand of racebook in conjunction with Churchill Downs.
January 2022: DraftKings Sportsbook takes over for Scoreboard as the only licensed sportsbook app for Oregon users.
2019: Legal sports betting launches in Oregon with retail sportsbooks at tribal casinos and the Scoreboard app for online wagers.
2019: Portland Meadows was closed for good and later demolished in February 2020.
2004: The last greyhound race in Oregon was held.
1997: Oregon becomes one of the first states to legalize online pari-mutuel wagering on horse racing.
1946: Portland Meadows opens with a full season of Quarter Horse and Thoroughbred racing. It is the first Thoroughbred track in the country to have night-time racing.
1933: Pari-mutuel betting on horse racing and greyhound racing is legalized in Oregon. The Oregon Racing Commission is formed to oversee these activities.
1891: Horse racing is featured at the fair in Tillamook.
Key Features of the Best Online Racebooks
In the following sections, we are looking at the key features that go into our grading of the best online racebooks for Oregon State users.
Betting Odds
Whether it is fixed odds horse racing like at Bookmaker or pari-mutuel wagering, we expect competitive odds to be available on a variety of different races. We also want high limits for payouts on the biggest races like the Triple Crown and Breeders' Cup.
Betting Markets
Just like with placing sports bets, we expect a wide range of betting markets on the racebook. They all have win/place/show bets, but we also want to see the exotic wagers, including Exacta, Trifecta, Superfecta, Daily Double, Pick 3/4/5/6, Quinella, and more. We also expect to see dozens of tracks from around the world ranging from the big Triple Crown races to the smaller, more obscure tracks that still hold racing events for wagering.
Banking Options
The banking options are very important for users looking for a diverse set of payments they usually cannot get at a casino or off-track betting location. A good racebook should offer the most traditional payment methods (credit cards, debit cards, bank transfers) and they should have more modern methods (eWallets and crypto).
Promotions & Bonuses
People love bonus bets, and that is exactly what you can get from these online gambling sites when you sign up as a new user. Those welcome bonuses are usually the biggest bonuses you can get, but ongoing promotions for returning customers are also very important. Maybe you can get reload bonuses, boosted odds, or parlay insurance bets. A good refer-a-friend program and loyalty program to accumulate points to redeem more perks are also key in offering a quality racebook experience.
Live Betting & Event Streaming
Live betting is certainly having a big change on these online gambling sites, but horse racing is a tricky endeavor to offer because of how fast the races go. Horse races pass much faster than sports action, so having the ability to live stream the races can really improve the experience.
User Interface
For a good online racebook, the user interface should utilize a variety of tabs or drop-down menus to make it easy to choose between betting types (win/place/show vs. exotic) and between different races at other tracks. It is good to see detailed race information like the weight and height of the jockey and who the trainer is. It should also be simple to go to the cashier and make a deposit or request a withdrawal.
Mobile Interface
A good mobile site is key as many people are using their mobile devices on the go to visit these online gambling sites. We want a site that is optimized for use with a mobile device (smaller screen) so that it is easy to read and place our bets before a race starts. A good streaming service would also be nice to see, though the offshore racebooks have not secured rights to stream the big races just yet.
Customer Support
It is always important to have quality customer support service because sometimes users are going to need help with a promotion or getting their winnings. We judge the best racebooks to have customer service that is offered 24/7 with the most variety in ways of contacting them (emails, messaging system on the site with the ability to attach files, phone calls, and live chat).
Security Features
If you want to win real money online with a racebook, you must enter personal details and allow these sites to connect with your bank account if necessary as a payment option. This is why we need to be able to trust these sites have the most up-to-date security features to protect our user data from harm. We only recommend trustworthy sites that have a long track record in the industry of protecting customer data and paying out winners on time.
Understanding Horse Racing Betting Odds in Oregon
In horse racing, the betting odds are usually presented in one of two ways: Fixed odds and pari-mutuel betting. We explain each system in the next sections.
Fixed Odds
If you have experience with sports betting, then you are already familiar with fixed odds betting. This is the number that comes from the sportsbook, and once you bet on it, you are locked into that number no matter what happens between now and game time. You know exactly how much you stand to win based on the odds and your wager amount.
Pari-Mutuel Betting
Pari-mutuel wagering, also known as pool betting, is a system where bettors are betting against each other instead of the bookmaker. Their bets are all placed in a pari-mutuel pool, the house takes its cut, and the remaining prize money goes to the winners.
This type of betting system works best for events like horse racing that are short and the ranked order of finishers matters. The size of the betting pool matters in judging how much you can expect to win because unlike fixed odds betting, you will not know that exact amount until the event is over.
If you are the only person in the entire pool to bet on a longshot, then you could get a very nice payout if you are lucky enough to win. But usually, the bettor will have an estimate of what they can win, because the horse racing odds will be posted for each horse after all the bets are in.
Pool Betting
Pool betting is essentially just a fancier way of saying pari-mutuel betting. Prize money comes from the entire pool of bets after the house take is removed, and everyone in the betting pool is betting against each other rather than the bookmaker like it is with fixed odds betting.
Calculating Horse Race Betting Odds
Horse racing odds are often presented differently from sports betting odds. Instead of saying a team is -200 on the moneyline, the horse will have 1/2 odds. This means for every $2 wagered on that horse, you will win $1. The first number becomes larger than the second number when the horse is an underdog and has odds above +100 to win the race.
The following chart shows a variety of horse racing odds, their payout for a $2 wager (including the stake returned), and the implied probability of winning.
| Horse Racing Odds | $2 Wager Payout | Implied Probability of Winning |
| --- | --- | --- |
| 1/5 (-500) | $2.40 | 83.33% |
| 1/4 (-400) | $2.50 | 80% |
| 1/3 (-300) | $2.60 | 75% |
| 1/2 (-200) | $3.00 | 66.67% |
| 4/6 (-150) | $3.33 | 60% |
| 1/1 (-100) | $4.00 | 50% |
| 2/1 (+200) | $6.00 | 33.33% |
| 3/1 (+300) | $8.00 | 25% |
| 5/1 (+500) | $12 | 16.67% |
| 10/1 (+1000) | $22 | 9.00% |
| 50/1 (+5000) | $102 | 1.96% |
These numbers will always have an inverse relationship. As the payout increases from higher odds, the probability of a win decreases.
Oregon's Commonly Placed Types of Horse Racing Bets
In the following section, you will be shown a list of the most common types of bets people place on horse racing. The breakdown is essentially win/place/show bets or exotic wagers.
Win: A single wager on the horse that will win the race.
Place: A single wager on the horse that will finish first or second in the race.
Show: A single wager on the horse that will finish first, second or third in the race.
Exacta: Pick the two horses that will finish in the exact positions of first and second.
Trifecta: Pick the three horses that will finish in the exact positions of first, second and third.
Superfecta: Pick the four horses that will finish in the exact positions of first, second, third and fourth in a single race.
Daily Double: Instead of making double wagers, choose the winning horse in two consecutive races on the same bet slip for a bigger payout.
Pick 3/4/5/6: Same idea as the Daily Double, but you will be picking the winner in three, four, five or six consecutive races.
Horse Racing Betting Terms
It is important to understand the different betting terms and jargon used in horse racing, so we are going to quickly explain some of the most common terms you will come across.
Ante-Post: This is a horse racing bet that has been placed before the market opens and before the final field of runners in the race is even confirmed.
Drifter: A drifter is a horse that continues to see its odds get longer and longer before a race starts as not many people are placing bets on it.
Dead Heat: This is when multiple horses finish a race at the same time, a tie.
Dutch: This is a betting strategy where you make multiple bets on the same race to minimize losing. Instead of just betting on a heavy favorite to win the race, you may also put a decent-sized wager on a longshot you like. While both of your bets cannot hit at the same time, you give yourself a better chance of getting a win with multiple bets.
Exotic Bet: This is a type of horse racing bet that is more than just a win/place/show bet. This can be an Exacta, Trifecta, Superfecta, Daily Double, Pick 3/4/5/6, or Quinella.
Favorite: The horse with the highest odds of winning the race is the favorite.
Furlong: This is the unit for distance in horse racing. One furlong is equal to one-eighth of a mile.
Longshot: A longshot is a heavy underdog with a low probability of winning the race. But the odds pay the most in the event that they do win by upset.
Morning Line: The bookmaker will set their estimate of the final odds for the horses on the day of the race.
Odds: In betting, the odds represent the likelihood of the event you are betting on happening weighed against how much money people are wagering on that pick.
Pari-Mutuel: A popular betting system in events that are short and ranked order of finishers matters. Players bet against one another with the money going into a pool, the house takes its cut, and the remaining amount pays out the winners.
Stake: This is the amount you risk when making a bet.
Virtual Horse Racing Betting in Oregon
If you cannot wait for the next real horse race to start, there are fun virtual horse-racing terminals found at a site like Bovada. These are virtual races that you can stream the video for after you have placed your bets on the race. Exotic wagers are available too with Exacta, Quinella, Trifecta, and more. They have horses, greyhounds, supercars, and even virtual camels that you can watch for a different take on race wagering in Oregon State.
How to Create a Racebook Account
There are many sites for horse racing betting, but no matter which you choose, you can expect the sign-up process to be quick and easy. We will walk you through it in four steps.
Step 1. Sign-Up With a Racebook
Choose the racebook you wish to join and go to the site. Start the registration process by creating your account. Expect to use a unique password that you are not using on any other sites.
Step 2. Verify Your Racebook Account Details
Your account will need to be verified, so be sure to provide accurate information for your name, email, address, and phone number. You may be contacted by email or text to verify your account before you can use it.
Step 3. Deposit Your Funds
Fund your account with money. Before doing this, be sure to read about the welcome bonus for new users, because your first deposit will usually be tied into that bonus amount. Once you are ready, head to the cashier and make your first deposit using the deposit method that works best for you.
Step 4. Place Your Wagers
Now that your account is verified and funded, you are ready to do online betting on horse racing. Head to the racebook and start finding the races and horses you want to wager on.
FAQs – Online Horse Race Betting in Oregon
Is horse racing legal in Oregon?
Yes, horse racing betting is legal in all forms in Oregon State. The Oregon Racing Commission, which has been established since 1933, oversees all aspects of pari-mutuel betting in the state, including licensing, regulation, auditing, and more. 
Can I bet on horse racing online?
Yes, online betting on horse racing has been permitted in Oregon since 1997. You can choose from a variety of licensed horse racing sites, or you could also open accounts at offshore gambling sites that have a quality racebook like the ones we reviewed in this guide. 
Where can I bet on horse racing?
In Oregon, you can bet on horse racing at many off-track betting locations throughout the state. You can also use the Advanced Deposit Wagering companies that are approved in the state, including TwinSpires and TVG. There are also offshore racebooks such as Bovada and Bookmaker. 
What app lets you bet on horse racing?
There are several apps you can download from your mobile device's app store to use for horse race betting in Oregon. Some of the downloadable, free apps include TVG, TwinSpires and Xpressbet. You can use these on an Android or iOS device. 
Where can I bet on the Kentucky Derby in Oregon?
For this year's Kentucky Derby, you can bet on it from off-track betting sites, at licensed horse racing apps, offshore racebooks or in person at an off-track betting parlor.
A sports betting bill in North Carolina, which had not made any progress for almost two months, will likely be discussed and possibly voted on by the entire Senate this week. Earlier this week, the Senate Committee on Commerce and Insurance reviewed the sports betting bill and gave it a positive assessment, recommending it to

---