Montana Horse Racing Betting – 2023's Best Online Racebooks for MT Bettors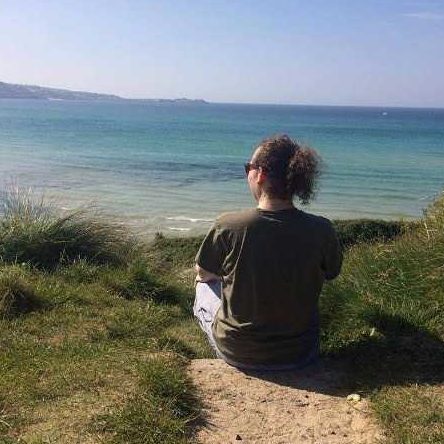 David is a freelance sports journalist who comes from West Midlands. He specializes in sports content, both written and visual. With an impressive record in pre-fight predictions, David is quickly becoming recognized in his field for his in-depth fight analysis and impressive contender & fight history knowledge.
Horse racing in Montana has a rich history, and it can be dated back to the 17th century. However, Montana in 2023 doesn't have the same bustling horse racing industry anymore; its decline has been evident for many years. For this reason, most MT horse racing enthusiasts have turned to the top Montana online betting sites for their dose of fixed and pari-mutuel wagering.
Excellent odds, U.S. and international race tracks and generous bonuses and promotions are some of the standout attributes offered by Montana's best online horse betting sites. We'll dig deeper into this subject with today's comprehensive guide.
Montana residents looking to learn about horse racing betting in the Big Sky Country need not look any further, as we'll dive into multiple topics of conversation regarding this activity, including its history, legality, the best horse betting sites and more.
The Top Racebooks for Horse Betting in Montana    
Our Highest-Rated Online Racebooks for 2023
Our industry insiders, handicappers and racebook reviewers have come together and provided you with Montana's top 10 horse betting sites. These sites have been chosen based on their horse racing betting services and site features.
Is horse gambling legal in Montana?
Yes, betting on horse racing in Montana is legal, and the gambling laws regarding this topic can be found under sections 23-5-11/23-4-101 of the State Statutes. The Montana Board of Horse Racing (MBHR) oversees horse racing betting in the state. Under the current Montana gaming laws, pari-mutuel betting at the track and off-track betting at an authorized retailer is allowed.
These laws specify that horse racing betting can only occur at establishments with a Montana horse racing license presented by the MBHR. Bill BH390 was introduced in 2007, and it passed, legalizing internet gambling on horse races.
There are not many available operators and they do not offer multiple forms of gambling as offshore sites do, so offshore horse betting sites remain the best option for residents of the Treasure state.
Comparing the Top Montana Racebooks
You've already discovered our top 10 ranked Montana horse racing betting sites. But for those wanting a more detailed explanation of why these operators provide the best online gambling experience, you can find detailed reviews of the top five Montana horse racing betting sites below.
1. BetOnline: The No. 1 Horse Racing Betting Site in Montana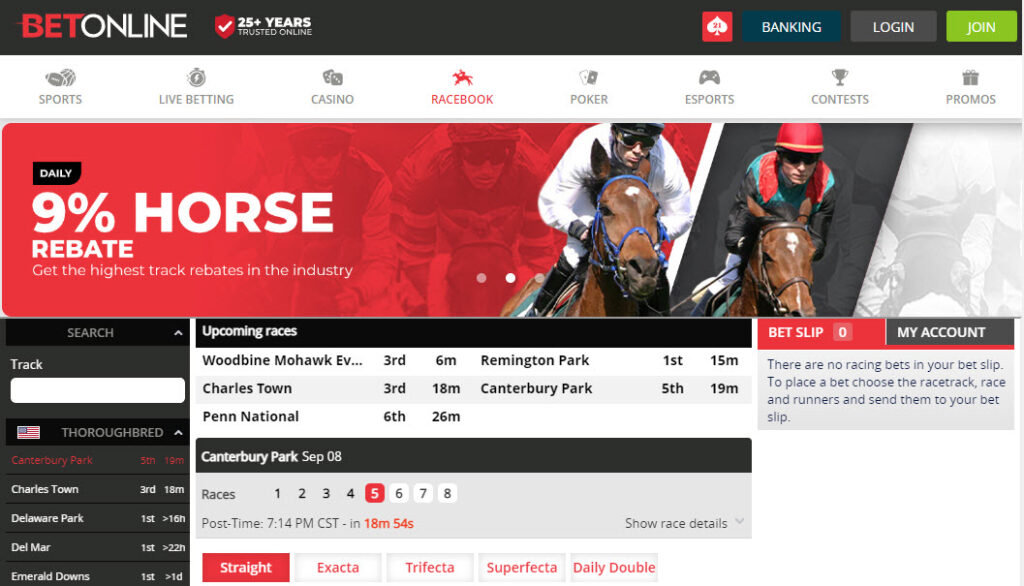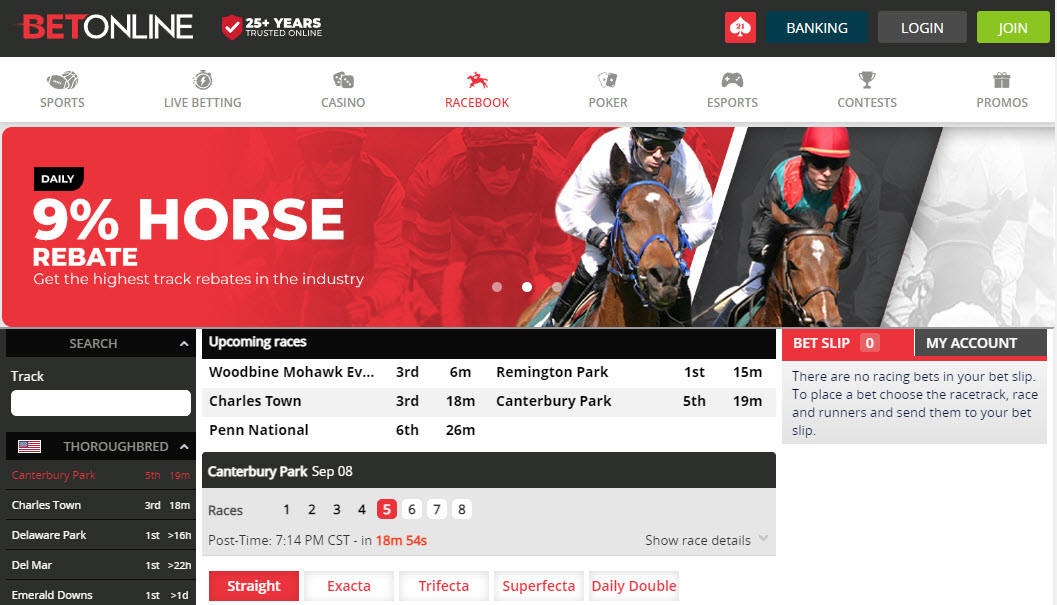 When discussing sports wagers and horse racing betting services in the United States, no one compares to BetOnline. With over two decades of experience, BetOnline has rapidly become a market leader for site traffic and is one of the most reputable and most-known brands in gambling today. And with an extensive catalog of U.S. and international horse markets, excellently priced odds and a simple-to-use horse racing lobby, it's easy to see the success of this Montana betting site through its racebook.
BetOnline's racebook presents unique features to horse racing, and instantly you'll notice its attractive layout and well-presented markets within the racebook. Customers can make use of the multi-view feature, where they can read, study and wager on multiple racecards simultaneously. The interactive form guide is perfect for bettors looking to study a race, jockey or horse and allows for overall research to be completed all under one roof.
Variety arrives in abundance at BetOnline, as punters will find more than 600 racetracks. The horse-racing-specific tools are great features, too, like the conditional wagering limit that allows you to set a desired price on a horse, and your wager won't be confirmed until the price is reached. BetOnline also covers the basics, such as generous bonuses, regular horse racing promotions, speedy payouts, instant deposits and a mobile app that works seamlessly on all mobile devices.
Pros
Fast payouts and instant deposits
Interactive form guides
Betting odds released early before race dates
More than 600 racetracks
Free $25 bet and a 9% rebate
Cons
Post morning line odds instead of live odds
Credit card deposit fees
2. Bovada: A Huge Selection of U.S. Horse Racing Betting Markets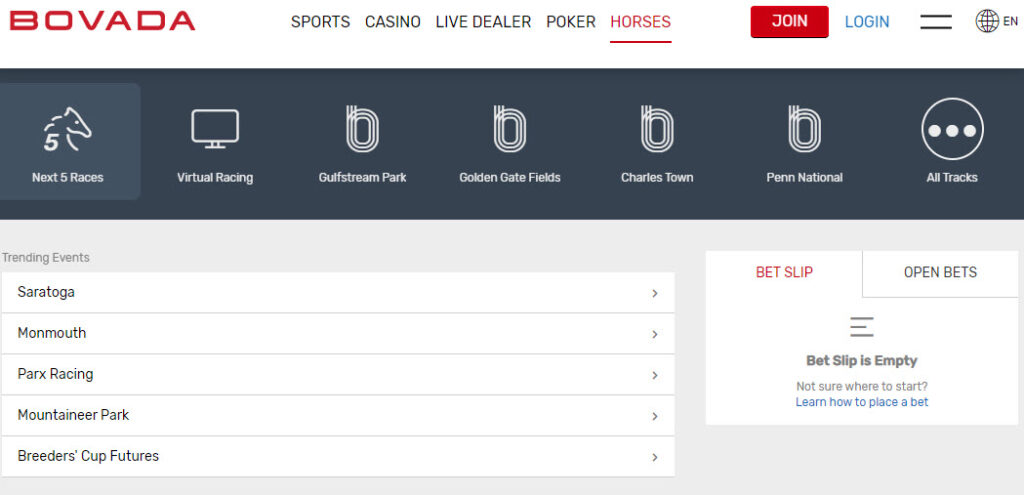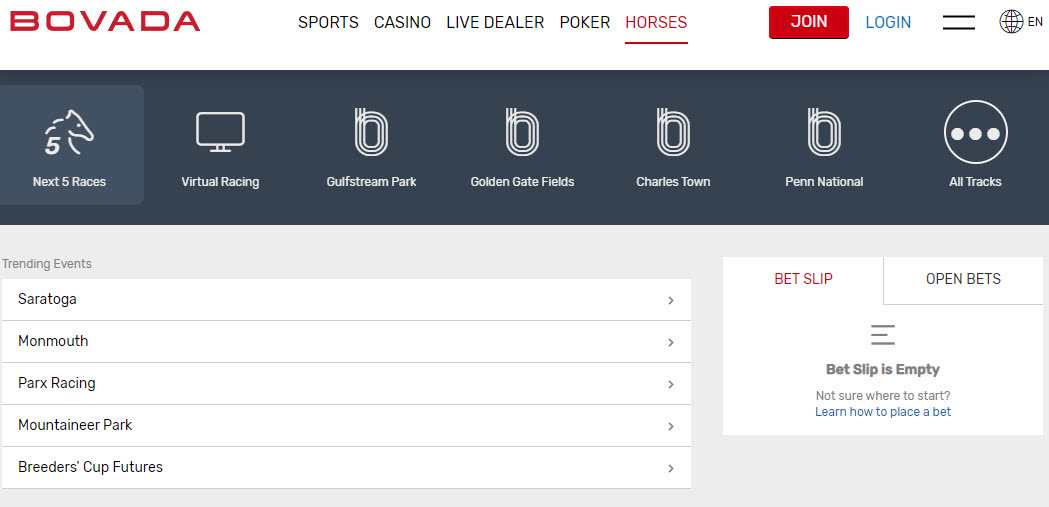 Bovada's no stranger to high praise, and although it's swept up the competition regarding its sportsbook offering, the devoted horse racing lobby at Bovada has steadily reached similar heights.
Customers at Bovada will struggle to find an operator with a more attractive and easy-to-use site. The site design is intuitive with navigability so that even the most inexperienced online bettors can function.
Bovada covers a range of racecourses internationally, but they undoubtedly put the focus on U.S. race meets. The biggest events, such as the Kentucky Derby, are often covered with excellent promotions and deals, and the odds found on outsider horses at Bovada present industry-leading value. New customers can deposit as low as $10, so breaking the bank isn't necessary.
Pros
Horse racing promos
Wide coverage of U.S. racecourses
Highly competitive odds on outsider horses
$10 minimum deposit
Attractive site layout
Cons
Some deposit fees are high
More horse-betting-specific tools are needed
Odds on favorites are higher than some rival gambling operators
3. Bookmaker: Find Extensive U.S. and International Racetrack Coverage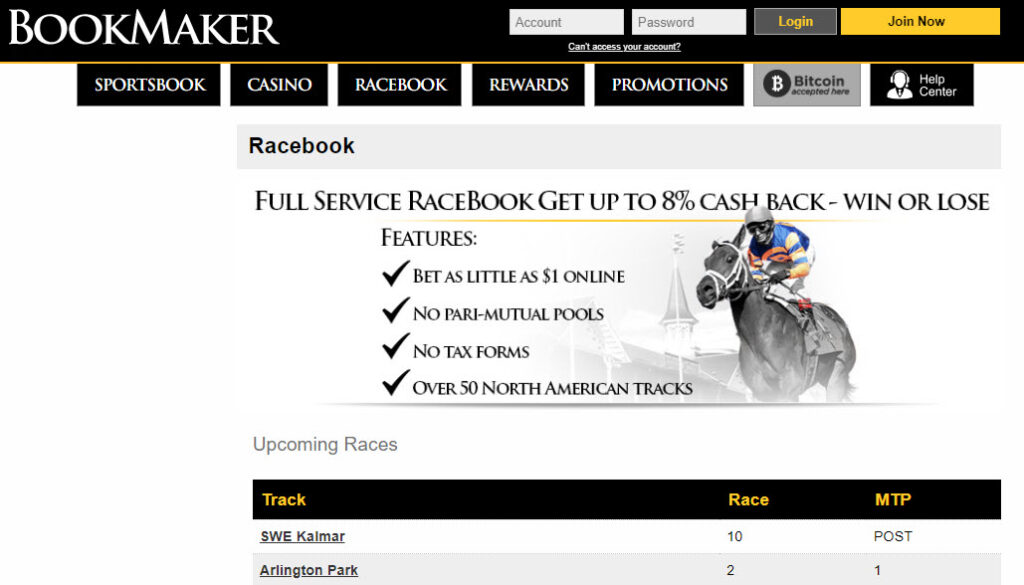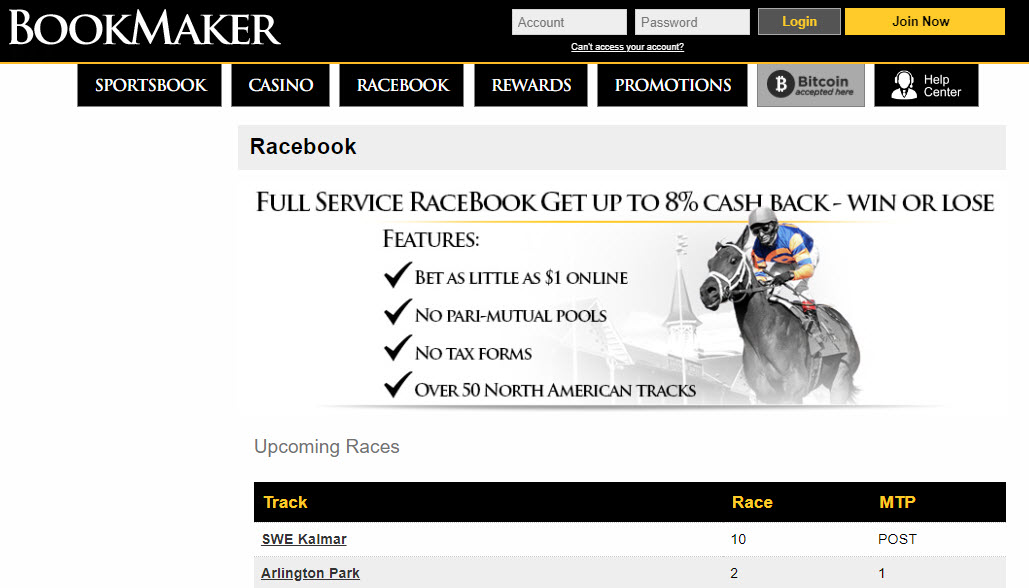 Bookmaker.eu is one of the most recognizable and trustworthy online betting operators in the United States. With more than 100 racecourses, its horse racing selection for U.S. and international tracks is perfect for Montana punters.
Horse track options aren't an issue at Bookmaker; this operator is most renowned for its no-ban policy. Many decades ago, Bookmaker decided never to ban, suspend or limit the stakes of winning bettors. They're the only online betting site in the world holding this stance. With early-released horse betting odds and some of the highest betting limits in the USA, they're a top racebook for professionals and newcomers alike.
A solid reputation within the gambling space is hard to come by, but Bookmaker has held its position as a popular online betting site since the 1990s. And with horse-specific site features, a wide selection of racecourses, early released lines, several banking options, a responsive customer service, it's difficult to challenge the status of this operator as it continues delivering a top-tier online horse racing betting experience.
Pros
Early released odds and high betting limits
Over 100 racecourses to wager on
Horse betting rebates
No-ban policy on winning bettors
Cons
Winning bettors are excluded from the loyalty program
Welcome bonuses could be higher
4. Heritage Sports: A Reputable Montana Racebook With Great Odds and High Betting Limits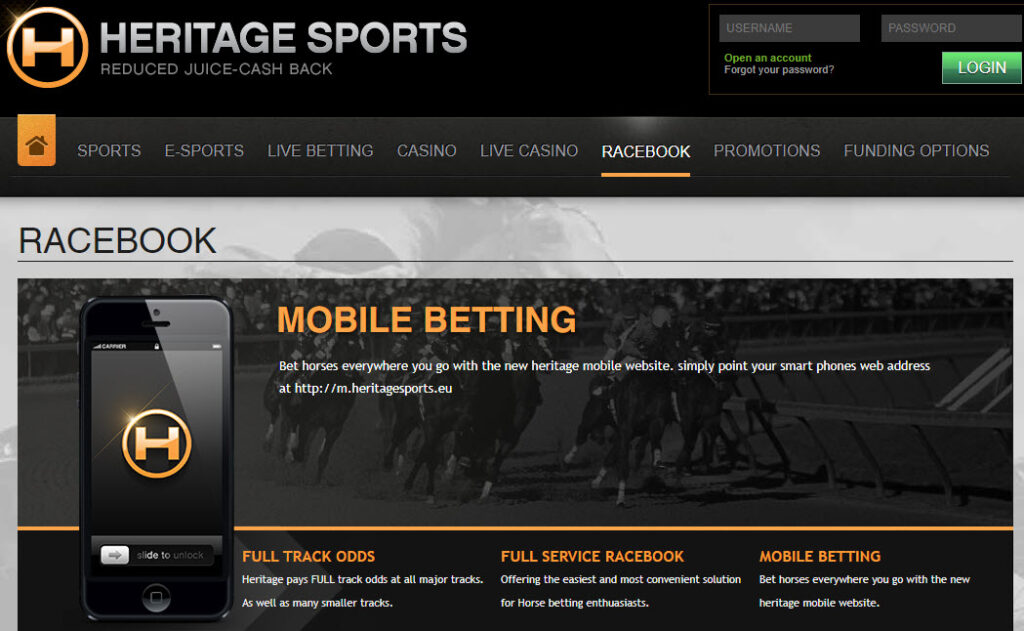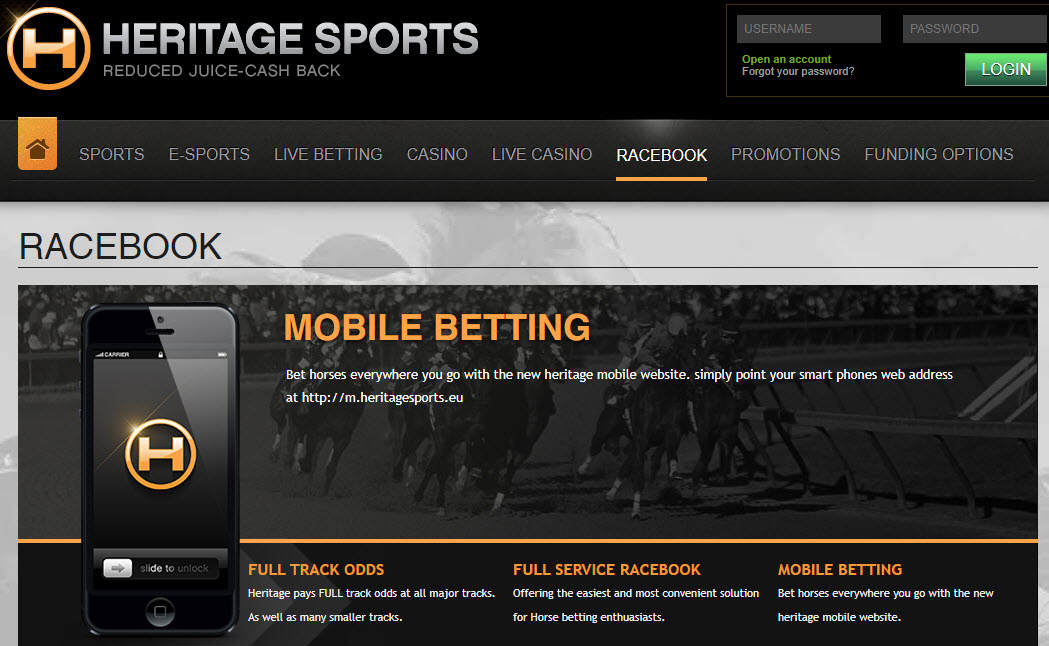 Sitting proudly with over 25 years of experience in the business, Heritage Sports is the perfect all-rounder for online wagering. Whether you're looking to place a sports wager, hit the casino or bet on the ponies, this operator has it all.
Horse racing enthusiasts can choose from 60 U.S. and European thoroughbred and harness racetracks, so punters are spoilt for choice in this regard. More impressively, horse bettors can claim a daily rebate of up to 8%, and this offer is still presented whether you win or lose. There is an x4 rollover requirement on bonus funds, but Heritage Sports allows you to complete this rollover anywhere on the site, whether it's back on the horses, at the sportsbook or in the casino.
Studying the latest horse races while placing a wager has never been simpler, as horse and jockey information is readily available for each race. Betting limits at Heritage Sports are also noteworthy, as $200 on exotics and $1,000 limits on win, place and show wagers are perfect for anyone looking to stake a little higher than the average.
Pros
Daily 8% rebate
Live betting available
High betting limits
Excellent racebook, sportsbook and casino
Cons
Online horse betting is restricted to U.S. and Canadian residents
Welcome bonuses could be higher
No live streaming
5. BetAnySports: Montana Racebook With Cashback Rebates Whether you Win or Lose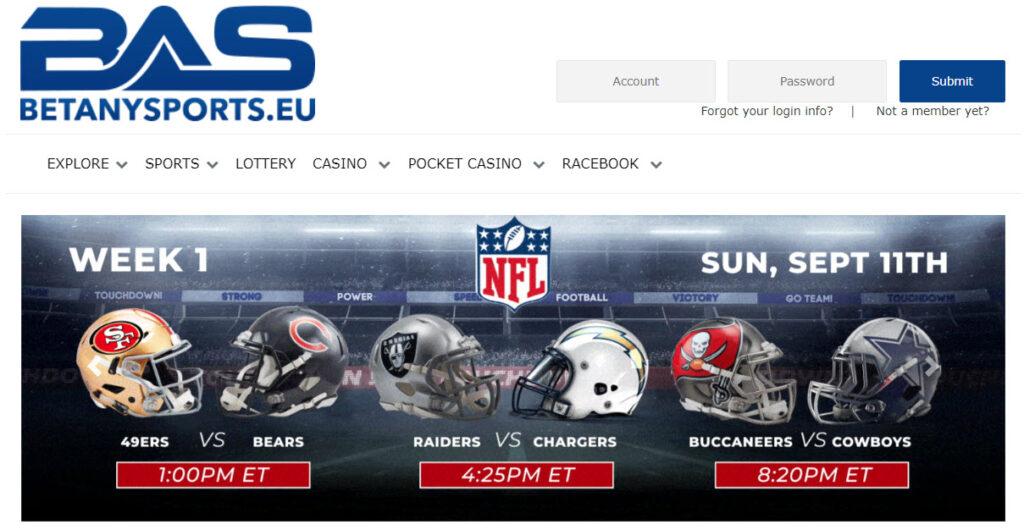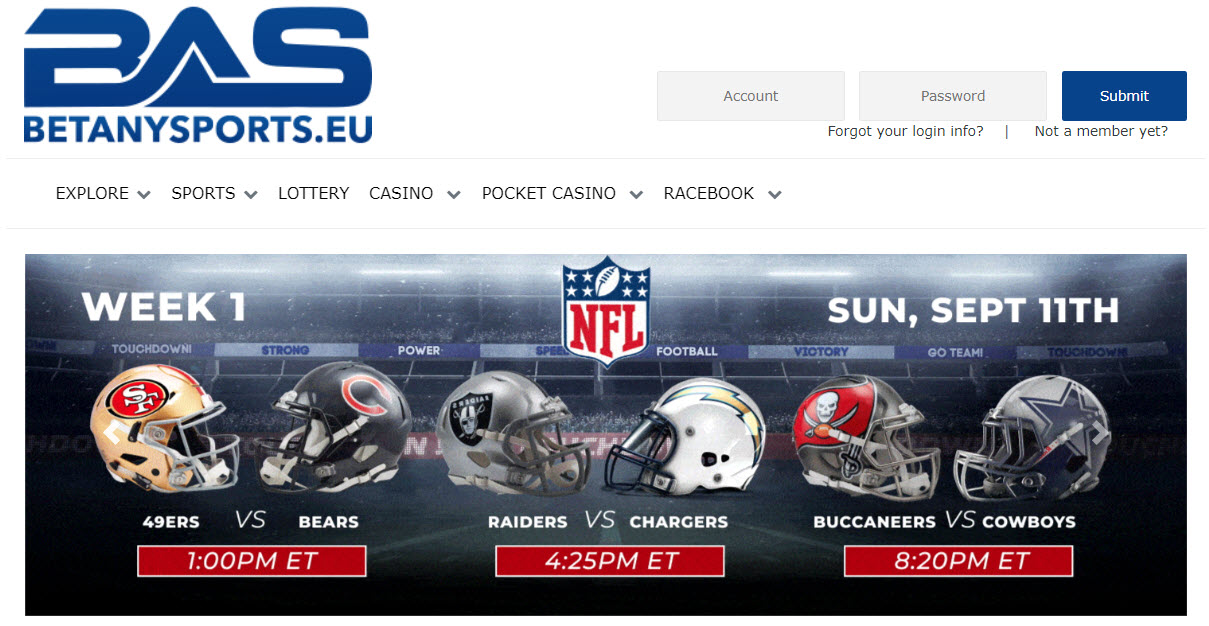 BetAnySports is a reputable and diverse sportsbook operator, but we wouldn't oppose calling it BetAnyHorse because of its excellent racebook offerings. BAS strives for greatness and provides unique site features such as its industry-leading rebate percentage.
With many U.S. and international racecourses to wager on, bettors can find excellent betting value with the BAS racebook, where 9% cashback rebates are given on horse bets. You won't find a higher rebate in our top 10 rankings, and it's gifted out whether your bets win or lose. And in special circumstances, this rebate is raised to 10% for specific races!
BAS does a great job providing a horse bettor basic needs without cluttering the site layout. Its overall functionality and navigability offer a smooth experience for bettors using desktop or mobile devices. Combining the aforementioned attributes with highly competitive odds, a secure site with responsive customer service, and an extensive sportsbook for good measure makes it easy to see how our experts positioned BetAnySports in the top five offshore sites for online horse betting in Montana.
Pros
Wide selection of U.S. and international racecourses
9% horse racing rebates
Specific horse events have 10% rebates
Cons
Welcome bonuses could be higher
No live streaming
Our Racebook Rating Methodology
Before concluding the top-rated racebooks in Montana, our team of experts meticulously test each brand. Our racebook rating methodology comprises the following:
Overall racecourse coverage (U.S. and international)
Betting odds value
Horse racing bonuses/promotions
Payment methods available
Site security and safety
Brand recognition/industry reputation
Customer service features
The History of Horse Racing Gambling Laws in Montana State
Like many states in North America, horse racing was once a prominent pastime, and this equestrian performance sport reached its peak during the 1980s. Unfortunately, as gambling laws were altered and new regulations were ushered in, the landscape of horse racing witnessed a significant decline in wagers at the track. By the 2000s, it was a distant memory.
Take a glimpse into the historical moments of Montana horse racing with our timeline below.
Timeline of Horse Racing in Montana State
2019: Most racecourses in Montana have closed. Great Falls Turf Club and Miles City are the lone horse racing tracks in the state.
2017: Montana's Attorney General reinforces that Montana gambling laws only allow live horse racing betting and historical horse racing is prohibited.
2007: Online horse betting is legalized.
1990s: The peak of horse racing during the 1980s starts to dwindle in the mid-nineties. By 2000, race days in Montana are scarce.
1965: The Montana Board of Horse Racing is established.
1933: Montana state law witnessed a push toward legalizing many gambling activities.
1700s: Deer Lodge became the home of horse racing as Native Americans brought horses to Montana for the first time.
Key Features of Online Horse Racing Betting Sites
We previously discussed some of the important factors in our decision-making regarding Montana's top-ranked horse betting sites.
Below we've highlighted some key features that a reputable and noteworthy online horse-racing betting site will offer, with a brief explanation to help you find a high-quality horse-racing betting operator.
Gambling Odds
Horse racing betting odds stripped bare is no different than a price label at a local store. If a can of coke is $1 in shop A, but $1.50 in shop B, only a fool would decide to purchase from shop B. The same fundamentals should be implemented when looking for odds. You should always look for the best available odds, especially if you're planning on wagering over the course of the year or even decades. A small price discrepancy doesn't seem like much at first, but when calculated over a lengthy period, you could leave a lot of money on the table.
Betting Markets
Finding bookmakers with various racecourses –U.S. and international – is important, and you shouldn't settle for less. Racebooks should present an extensive selection of racetracks, allowing punters to browse through multiple markets and have a broader selection of races, thus resulting in more opportunities.
Banking Methods
Traditional banking methods such as credit and debit cards are found at most Montana sports betting sites, but we look for operators that additionally cater to modern-day payments also. We like to see traditional deposit options, but cryptocurrency and e-Wallets are becoming more common and should be an option.
Promo & Bonus Offers
Most horse racing betting sites use sign-up bonuses to entice new customers. However, are these bonuses substantial enough, and what is the rollover requirement? Does the racebook continue to offer regular promotions for its loyal customers? Do they have a loyalty program? These are just a few factors we question before claiming an operator has noteworthy promo and bonus offers.
Live Betting
In recent years, with the technological revolution, live betting has begun to match the popularity of pre-game wagering. While it's more challenging and less approached within horse racing – due to the speed of a race – we still like to see sites offering this service.
User Experience
When an operator takes care of its appearance and site navigation, it's a good sign they're considering its customer's needs. Visually pleasing landing pages, horse racing lobbies and non-cluttered racebooks are always positive. But we put the overall functionality of a site before looks because there's nothing more important than operating your racebook account without any complications such as lag or glitches.
Customer Support
Customer complaints are unavoidable, but the top online racebooks in Montana will ease customers' minds with accessible support. A 24/7 live chat option is perfect; most sites we recommend provide this option. However, we also like to see alternative contact points like email and phone.
Security & Safety Features Available
We never overlook the security of a site with online sportsbooks. We're depositing money and sharing our data, after all. An operator must be licensed and regulated by a reputable gaming board, providing specific security features such as high-end encryption protocols and trusted payment providers.
In-Person Horse Betting in Montana
The Great Falls Turf Club is Montana's primary horse racing location, but this non-profit organization – like most tracks in MT, past and present – has been on the decline for many years. Events like the Montana state fair horse racing are still an excellent way to unwind and place a few wagers, but the number of thoroughbred, mixed-breed and quarter-horse racing events is the lowest they've ever been.
Great Falls Turf Club
The Great Falls Turf Club is Montana's primary horse racing location, but this non-profit organization – like most tracks in MT, past and present – has been on the decline for many years. Events like the Montana state fair horse racing are still an excellent way to unwind and place a few wagers, but the number of thoroughbred, mixed-breed, and quarter-horse racing events is the lowest they've ever been.
Horse Racing Betting Odds in Montana Explained
Betting odds are the backbone of horse racing betting, as they dictate how much a bettor can win wagering on a market and show which horse is the most likely to win.
Horse racing betting in Montana is separated into three types of betting odds. The formats include fixed-odds betting, pari-mutuel betting and pool betting.
Fixed Odds in Montana
Fixed odds are nothing new for regular sports bettors, as it's the most common odds type found at land-based and online sportsbooks. Fixed odds display the price in American, Fractional or Decimal formats; the favorite has the lowest price. As the name suggests, these odds are set, and once your wager is placed, the price you receive is guaranteed.
Pari-Mutuel Betting in Montana
Pari-mutuel betting is the most popular way to bet on horses in Montana. Wagers are taken from multiple punters and placed into a pool. A dividend is formed through calculations, and the profits are paid out depending on the size of your stake.
Pool Betting on Montana Horse Races
Pool betting is almost identical to pari-mutuel wagering and holds the same sentiment, except that pool betting focuses on exotic wagers. It follows the same pari-mutuel system when paying out winners.
Calculating Horse Racing Betting Odds in MT
Simple calculations regarding your fixed or pari-mutuel betting odds aren't complicated. However, the odds formats used in Montana horse racing betting can confuse novices, so we've provided a simple comparison chart below.
| Horse Racing Odds | $2 Wager Payout | Implied Probability of Winning |
| --- | --- | --- |
| 1/5 (-500) | $2.40 | 83.33% |
| 1/4 (-400) | $2.50 | 80% |
| 1/3 (-300) | $2.60 | 75% |
| 1/2 (-200) | $3.00 | 66.67% |
| 4/6 (-150) | $3.33 | 60% |
| 1/1 (-100) | $4.00 | 50% |
| 2/1 (+200) | $6.00 | 33.33% |
| 3/1 (+300) | $8.00 | 25% |
| 5/1 (+500) | $12 | 16.67% |
| 10/1 (+1000) | $22 | 9.00% |
| 50/1 (+5000) | $102 | 1.96% |
The implied probability column gives you a percentage view of how likely your bet is to win. More valuable odds will provide greater profits, but your implied probability of success gets lower.
Horse Racing Bet Types in Montana
Casual horse racing bettors in Montana often pick a horse to win and keep things simple. However, with more experience, you'll discover the profitability obtainable in alternative horse betting markets. We've listed the most popular below:
Win: Pick the horse you expect to win.
Place: Pick a horse you believe can finish in first or second place.
Show: Pick a horse; if it places first, second or third, you win.
Exacta: Pick two horses in the exact finishing order.
Trifecta: Pick three horses in the exact finishing order.
Superfecta: Pick four horses in the exact finishing order.
Daily Double: Pick the winning horse from two events.
Pick 3/4/5/6: Pick 3, 4, 5 or 6 winning horses from 3-6 consecutive races.
Horse Racing Betting Terms
If you're tired of hearing all the horse racing jargon but feeling left out and unable to understand this newfound language, we've listed some of the most commonly used horse racing betting terms below.
Ante-Post: Horse wagers placed before race day arrives.
Drifter: Horse odds that increase in value due to lack of public interest.
Dead Heat: A rare situation horse race result where the winner cannot be determined.
Dutch: This describes the backing of more than one outcome in the same event.
Exotic Bet: These horse bets involve multiple wagers on various horses, unlike straight wagers covering one bet on one horse.
Favorite: The horse is expected to win the race with the lowest-priced betting returns.
Furlong: A unit of distance equal to one-eight of a mile.
Longshot: An outsider horse that isn't expected to win; its lucrative betting odds reflect this.
Morning Line: Professional handicappers estimate the odds on each horse before they're released.
Odds: A betting price is available on each horse based on its likelihood of success.
Pari-Mutuel System: A form of wagering where the odds of each horse aren't known when placing a bet, and payouts won't be determined until the race has concluded.
Stake: The amount of money you place on a horse wager.
Creating an Online Racebook Account in MT
By now, you should be fully prepared to tackle the Montana online horse racing betting action confidently. However, if you're unsure how to get started, we've highlighted the four simple steps to placing your first online horse bet in Montana.
Step 1: Signing-Up
Pick one of the reputable and trustworthy horse racing betting sites; you can find many of these above. Head to the operator's landing page, where you'll find a "join" or "sign-up" button, click it, and complete the registration form.
Step 2: Verifying Your Account
Following step 1, the sportsbook will send a confirmation email. Click the link in your inbox to confirm the account.
Step 3: Depositing Your Funds
Your account should now be activated, and you can head to the cashier. Select your desired payment and much money you'd like to deposit and confirm.
Step 4: Placing Your First Wagers
Funds should arrive instantly, and you've created a racebook account with funds readily available for all the horse racing events you desire. Locate the horse racing section of the site, pick a horse, enter your stake, and enjoy the online action.
FAQs – Online Horse Race Betting in Montana
Can you bet on horse racing in Montana? 
Yes, horse racing is available in person at one of two physical racecourses and online through one of the top-rated offshore operators mentioned in this guide. 
What gambling is legal in Montana? 
There are a few types of gambling that are legal in Montana. Residents can visit land-based casinos and also place sports bets if they are at a licensed betting location. There is also legal betting on horse races. 
How do I bet online in Montana? 
Find a reputable and trustworthy offshore sports betting operator such as BetOnline or Bovada. For a more comprehensive look into Montana's best online betting sites, see our extensive guide above.  
Can you bet on the Kentucky Derby in Montana?  
Major events such as the Kentucky Derby or Churchill Downs events are readily available at the top offshore racebooks. 
Does anyone make a living betting on horses? 
Yes, there are professional bettors who make a living on horse racing betting. It is not an easy feat, but once you have mastered the art of figuring out a horse's chance of victory, you can bet on odds that offer value compared to your research. 
In what can only be described as a seminal pact between adversaries, Governor Newsom has signed a bill into law that both the California Native American tribes, as well as cardroom operators, support – no additional cardrooms in the state for two more decades. In turn, this collaboration between Native American tribes and gambling hall

---