Pennsylvania Sports Betting – Best Legal Sportsbooks in 2023
Pennsylvania sports betting has been legal since 2018, which means sports bettors in the Keystone State have plenty of options.
In our guide, we'll explore one of the first states in the U.S. to pass sports betting legislation, and the best offshore sites residents can sign up for today.
The Best Sportsbooks in Pennsylvania
List of the Best Pennsylvania Sports Betting Sites
Here at Bookmakers Review, we have spent years reviewing and rating the best online sports betting sites so we are uniquely situated to provide the best options for bettors to take their business to the most reputable offshore sportsbooks within the state.
Bovada – Competitive odds & customizable parlays
Heritage Sports – Great live betting platform
BetOnline – Endless props to choose from
BookMaker – A market leader in online sports betting
BetUS – Large bonuses on offer
SportsBetting – 100% cash bonus
JustBet – Odds posted earlier than most
BetAnySports – Reduced juice on offer
WagerWeb – Same-day Bitcoin payouts
Everygame – A wide choice of bonus options
Is sports betting legal in Pennsylvania?
Pennsylvania sports betting is legal, both at online sportsbooks and retail sportsbooks in the state. In fact, it was one of the earliest states to enter the national sports scene when the Supreme Court overturned PASPA.
Retail sports betting has been available since November 2018. Online sportsbooks and mobile apps were given the green light a few months later in May 2019.
Pennsylvania sports betting is subject to some of the highest taxes in the country at 36%; but, there are fewer restrictions than in other states. Local online sportsbooks are allowed to take bets on college sports in the Keystone State.
If you're looking to place payer props bets on your favorite college teams, though, you're still better suited with offshore sites.
1. Bovada: Best All-Around Site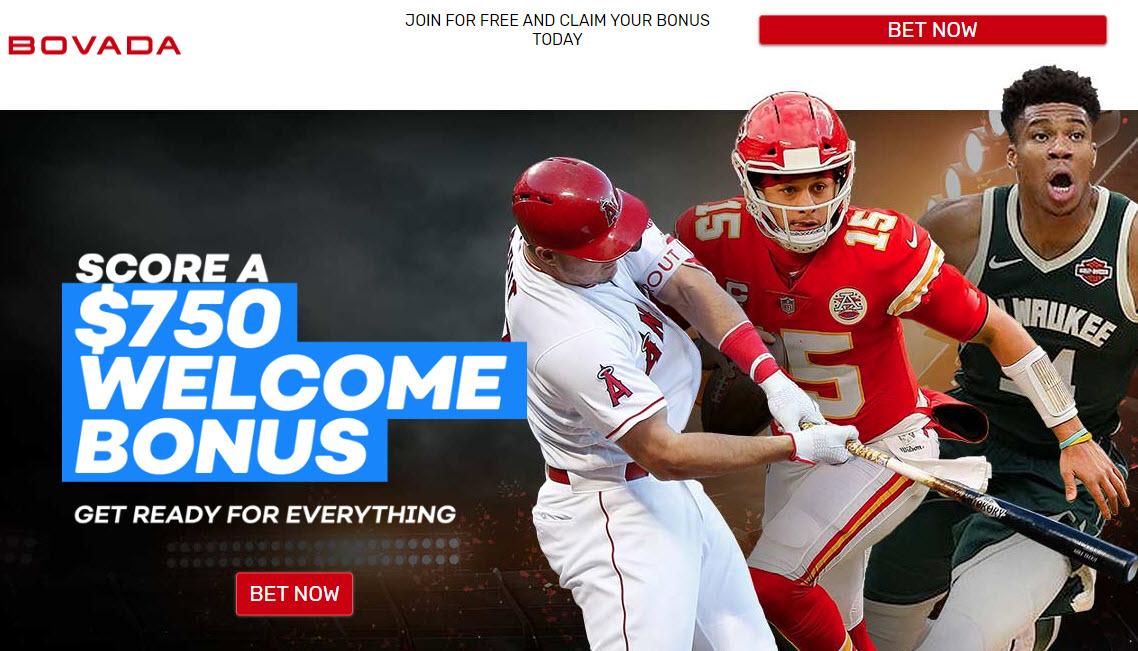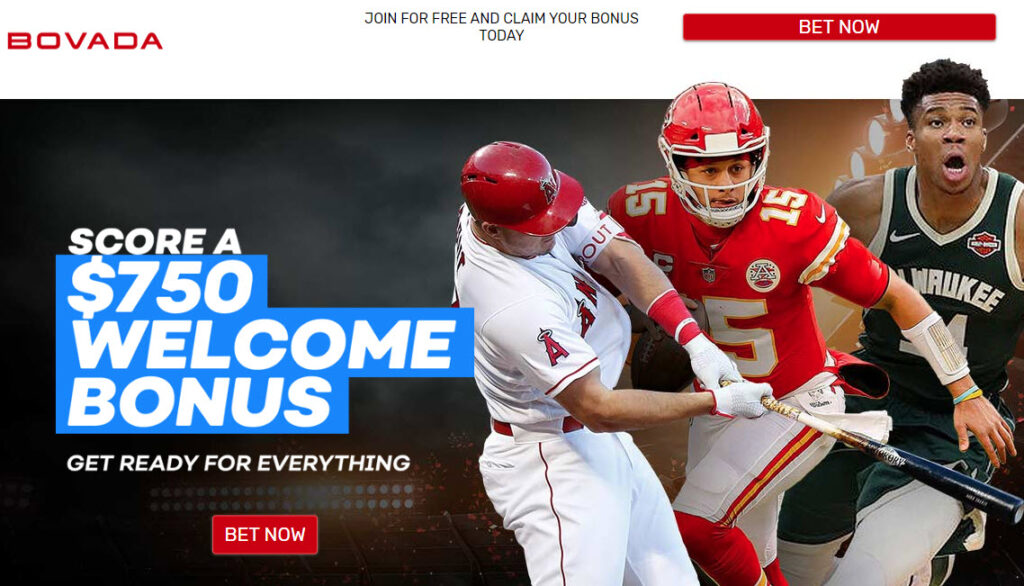 Opening in 2004 originally as the poker site Bodog, Bovada has strong roots in the online betting space and has been established since the end of 2011. With such experience, they have come to offer an easy-to-navigate site that is very user-friendly.
They offer an incredible selection of different sports with hundreds of prop betting markets on each of them, from first TD scorer in football to 1st round leader in golf and anything and everything in between.
With Bovada you'll be able to build your own bets using their prop-builder; choose from a wide range of player props on the game you want to target, pick your bets and get a price straight away to add to your bet slip.
As well as the prop builder and the huge variety of sports available Bovada offer a "what's ya wager" option where you can request a price on something you think will happen. Ask them and they'll get you a price on that.
If that wasn't enough, Bovada offers you the ability to log in while on the road, place live bets and watch events unfold as they happen. With Bovada you know you're getting a trusted online sports betting website with all the options you could wish for.
If you decide to open up a new account, you can claim a 75% welcome bonus which is worth up to $750. This is a little smaller than the BetOnline crypto bonus mentioned below, but it also comes with a lower rollover requirement. There is also a selection of promo codes at Bovada which users can take advantage of.
Bovada also has available other options like cryptocurrency payouts on the same day, a very impressive mobile platform and an excellent loyalty program for their Pennsylvania customers.
Pros:
A huge selection of different sports and more options than the others offer
Live streaming and in-play betting on most major sports
No app required, a well-developed site that works on any device when you're on the move
Low rollover requirements on bonuses
Cons:
Lower limits on bets
Tends to wait for other sites to price lines first
2. Heritage Sports: Live Betting Leader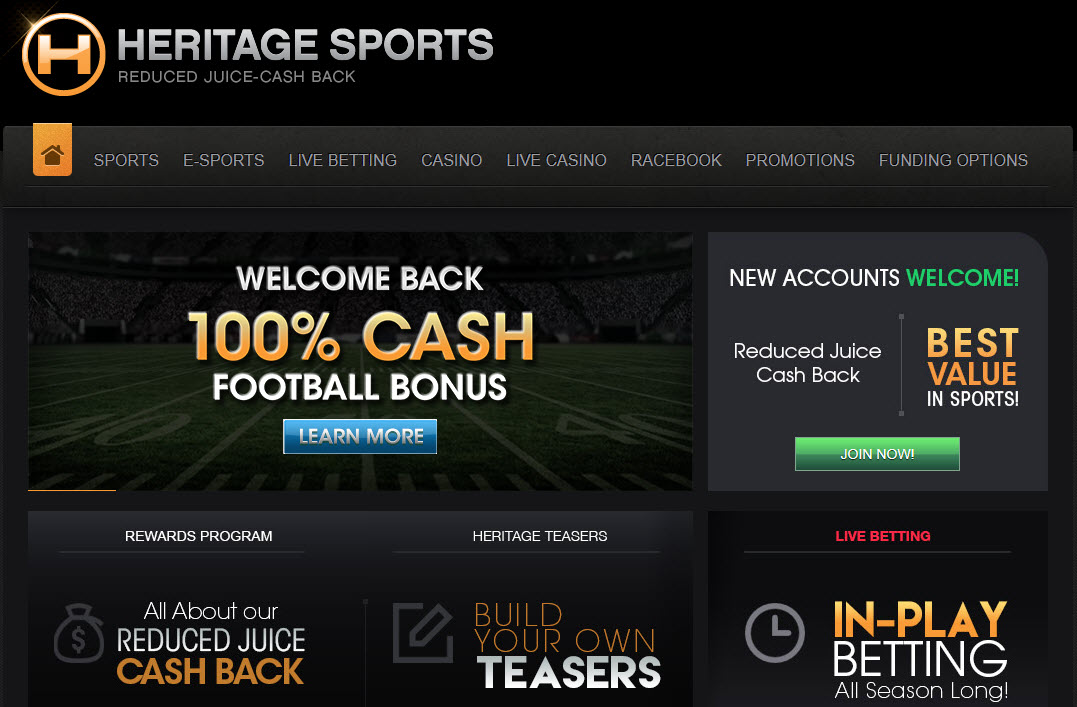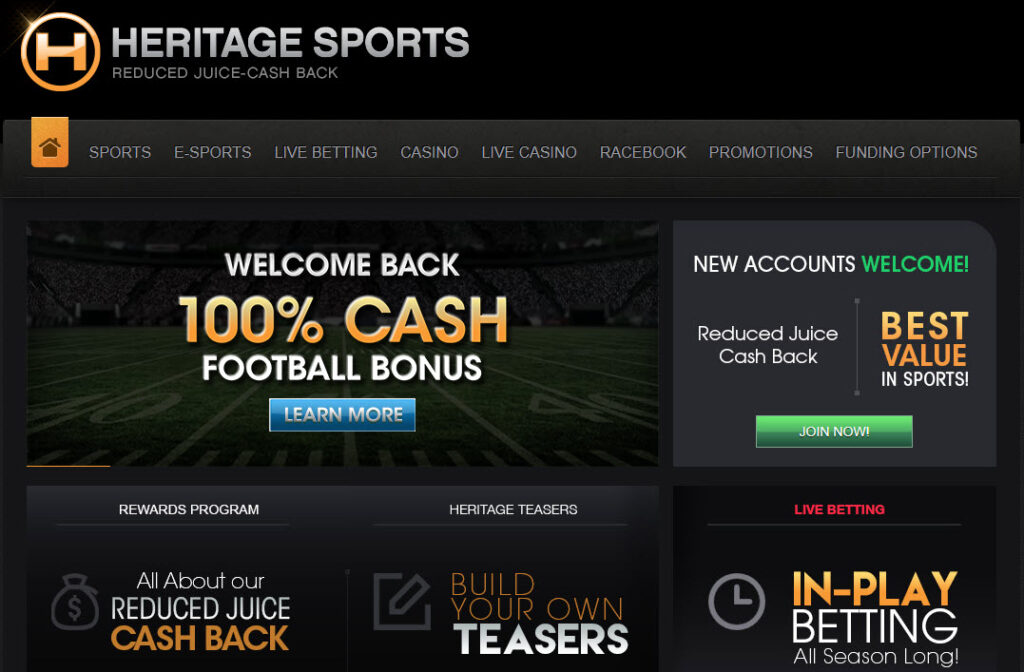 Opening in 2001 and based in Costa Rica, Heritage Sports has a long history in the online sports betting space and has proven itself a market leader by concentrating on the U.S. and Canadian markets while offering sports from around the world.
They have created a solid landing page with a large amount of betting markets to gamble on, Heritage Sports has it all and offer market-leading live betting markets with the best odds guaranteed.
When visiting Heritage Sports you'll note that the pricing for NFL lines is -108 instead of the standard -110 which is their reduced juice promotion. That might not seem like the biggest difference but over the course of the NFL betting season, every cent counts, and getting the best line available is always a smart option.
On the larger sports, namely football and basketball, there's a huge range of options to bet on. Even niche sports will have lines available, but won't be as varied.
Additionally, Heritage Sports offers betting anywhere in the country through their mobile site, so whether you're out and about, or lounging by the pool you'll be able to visit the sportsbook, casino or poker room.
Pros:
Best odds guaranteed; reduced vig lines on all sports offered
Large selection of live betting options on major sports
Big choice of bet options including fantasy football props
Bet anywhere, anytime by visiting their mobile site
Cons:
Smaller bonuses available than competitors
Poker is only available through a separate app
3. BetOnline: Best for Player Props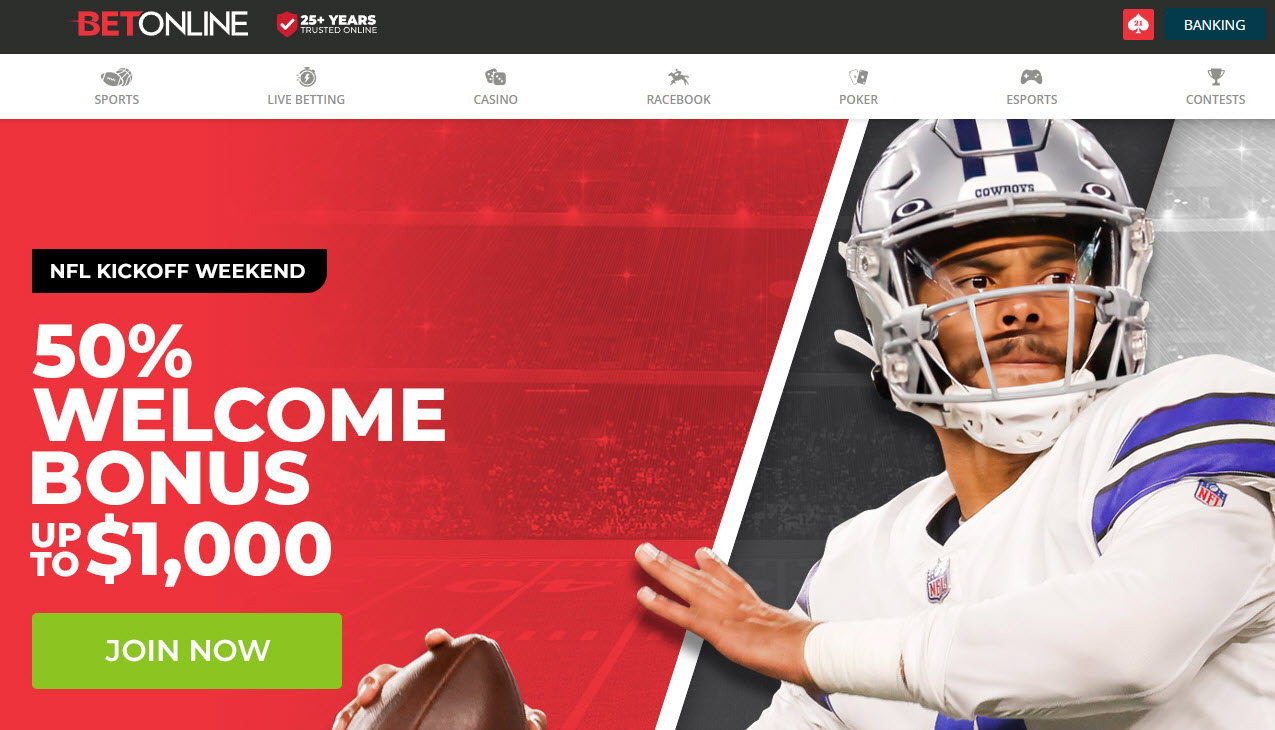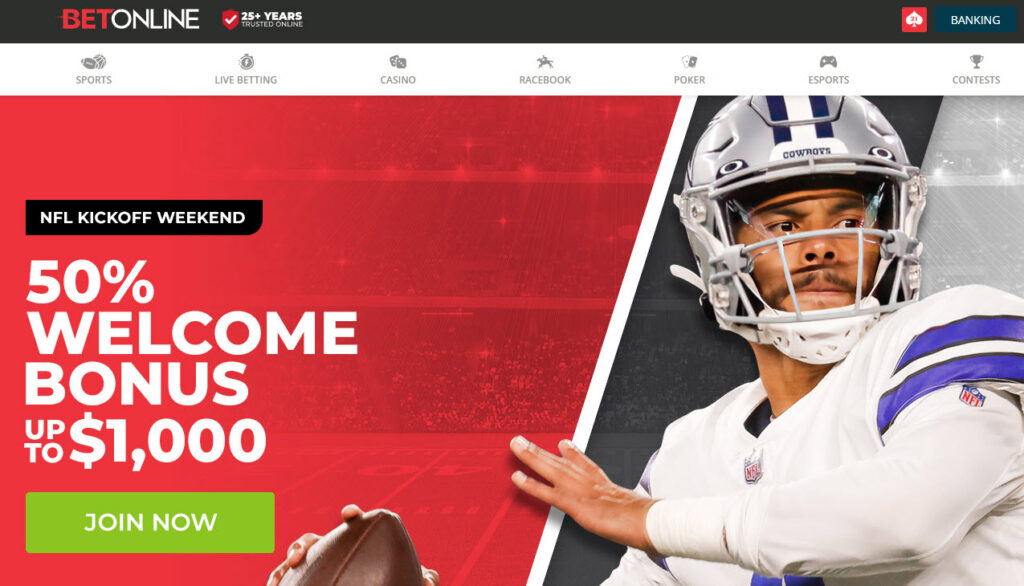 BetOnline has been providing its own lines on a large range of sports since going online in the early 2000s. The site has recently undergone a complete revamp offering a modern-looking interface, but they have kept an option to revert to the old site which is a nice touch for those who have used it for years.
They provide their own lines, and they get them up early in the week which allows you different options and a chance to get ahead of line moves.
Using their site is a breeze and the player props section on the sidebar is a godsend if you want to find lines easily from multiple games and across multiple sports; click on the player props and you can quick and easy navigation between different games allowing you to find the props you want in less time than ever.
As well as the speed this function provides, you can also select a specific player and see all props available on them in one drop-down menu. Fancy seeing what Travis Kelces's odds are to score? Select him and you'll get that as well as menus for parlays involving that player where you might find something you like more at better odds.
BetOnline also offers a re-bet option where you can max bet up to $50,000 Thursday to Sunday on main NFL lines. Click on re-bet and you'll be able to back it again meaning that you can place down a large amount with ease. As well as this, they offer fast and reliable payouts, along with a variety of promos.
There's a bigger variety of betting markets available ranging from major sports to election betting, exotic bets and even wrestling should it take your fancy. You won't find many books that allow you to bet on Wrestlemania. As if all of that wasn't enough, BetOnline Poker is some of the best online poker offerings available.
Pros:
Create their own lines meaning you will find value compared to other sites
Huge, easily navigated player props section
Big limits and ability to quickly double down
More events available to competitors
Cons:
Poker section was poorly run and has history of complaints
4. BookMaker: Best for Early Lines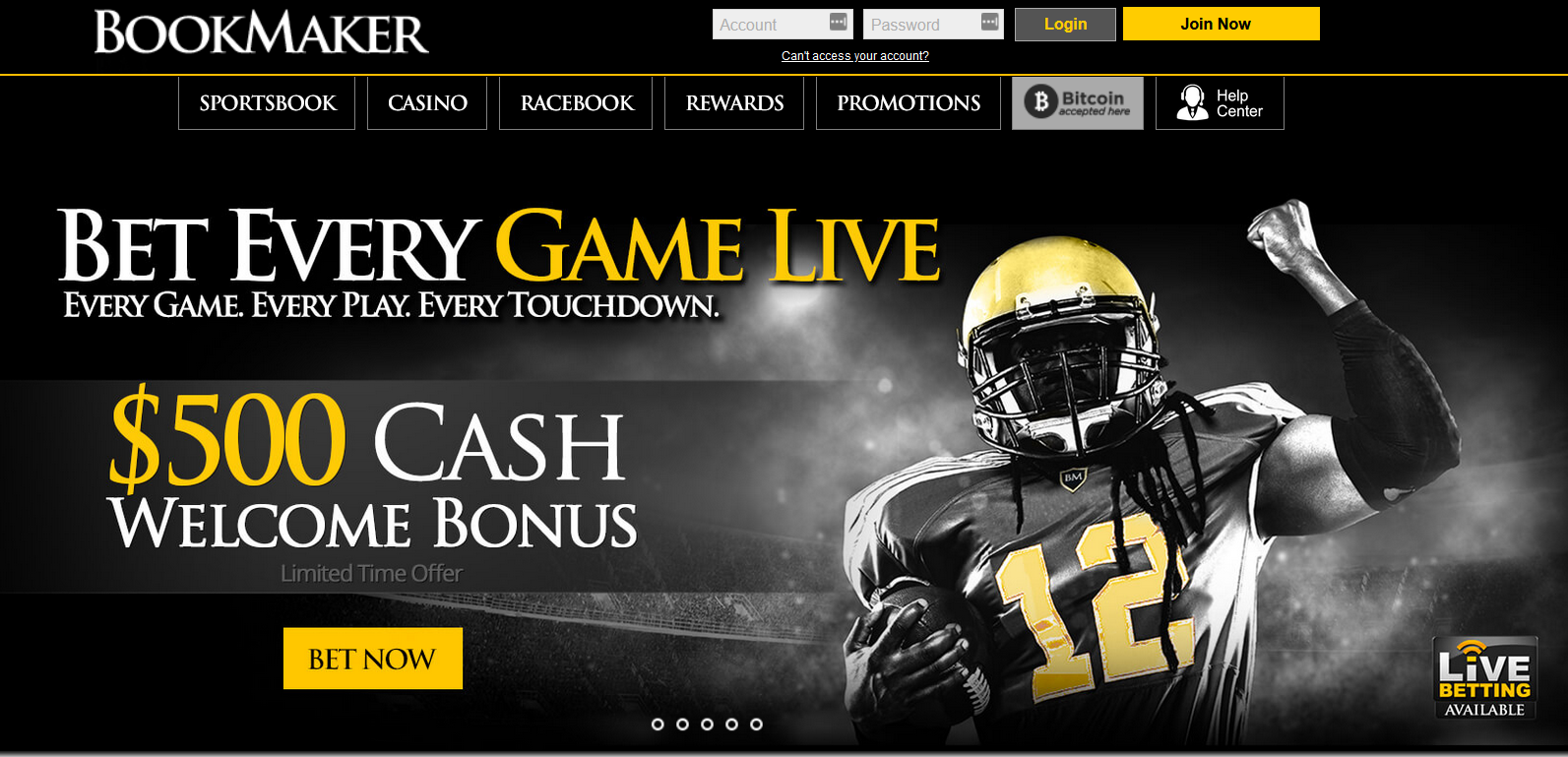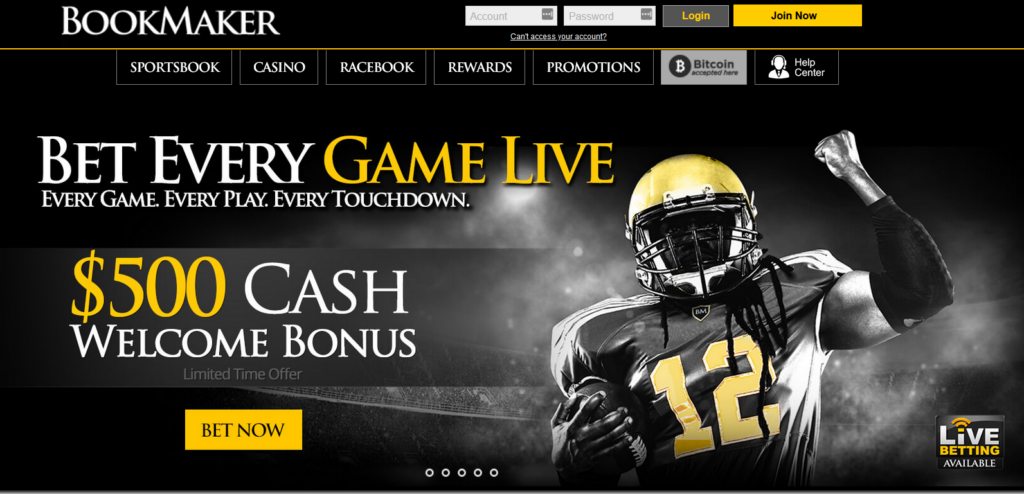 BookMaker has been providing the sharpest lines on the internet since 1996. Loved by sharp bettors for offering early, competitive lines that they can place down a lot of money on before they are softened by bettors allowing for edges to be gained early in the week and increasing the chance of knowledgeable bettors winning.
They have a relatively simplistic layout on the sportsbooks, but they know their market; there are no gimmicks, just a quick and easy-to-use site with the best lines available allowing bettors to get their wagers placed as speedily as possible. The loyalty program rewards you for every bet.
There's not a huge range of player props like most other sports betting sites, but clicking on a team name takes you to their page gives an expert preview of the game and a history of how they've done in recent years to help you make your selections. BookMaker also features many generous bonuses that users can enjoy.
Pros:
Early lines with high limits
Live, in-play betting
Fast payouts
Cash back rewards
Cons:
Lack of prop betting options
Loyalty program cut for pros
5. BetUS: Large Bonuses on Offer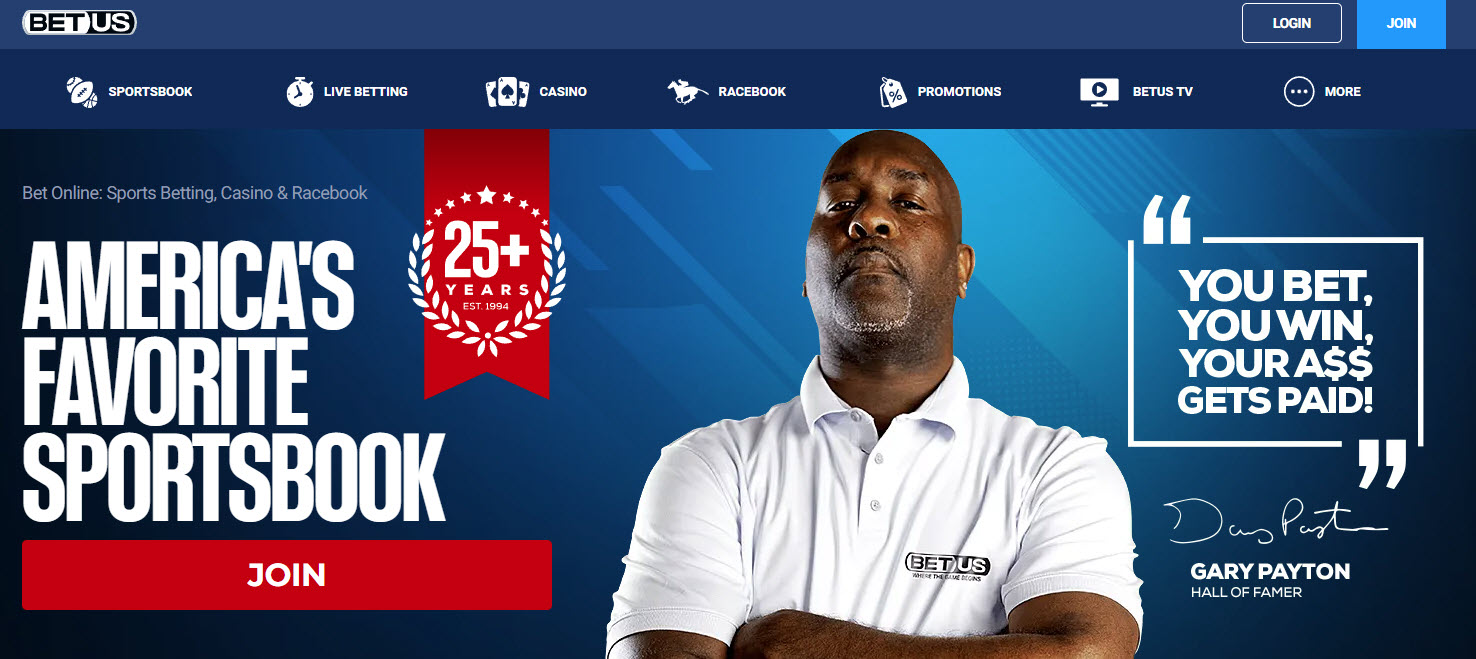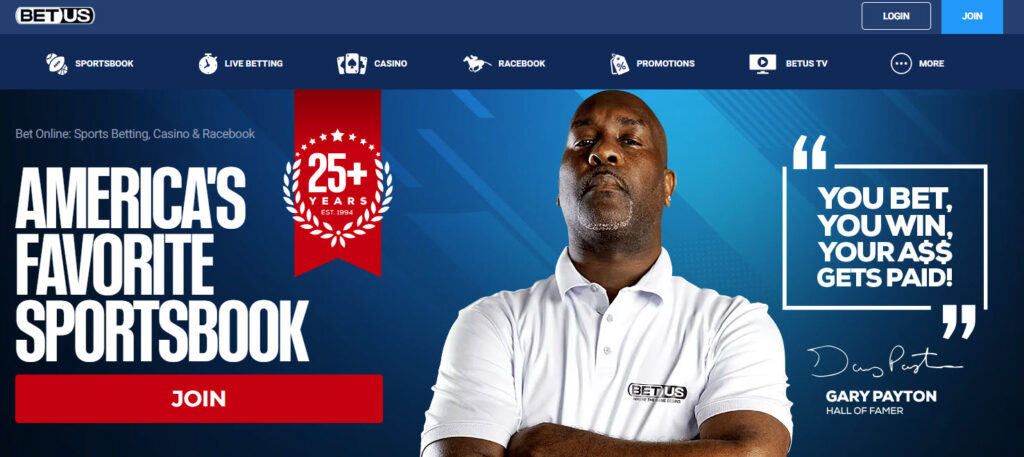 Online since 2000, BetUS has recently had a re-vamp and worked on getting their customers more involved including providing their own weekly podcast where Warren Sapp and Colin Jones go through some bets for the week on YouTube.
Taking advantage of the various bonus offers is the best way to maximize the possibility of winning in sports betting as more and more states become legal and BetUS offers some of the finest options when opening a new account.
You can get up to a 150% bonus when you deposit with Bitcoin which includes a 100% bonus on the sportsbook and a 50% bonus on the casino, meaning that you can immediately double your money as you place your bets on site. There is a relatively high rollover requirement so make sure you read the small print.
They offer a huge range of game and player props on football markets in an easily navigable drop-down menu, from TD scorer to the number of tackles a player will make. There are a lot of choices to spend your bonus money on.
Pros:
Huge bonuses on offer
Wide selection of prop bets
Lots of sports covered
Cons:
High rollover requirements on bonuses
6. SportsBetting: 100% Cash Sign-up Bonus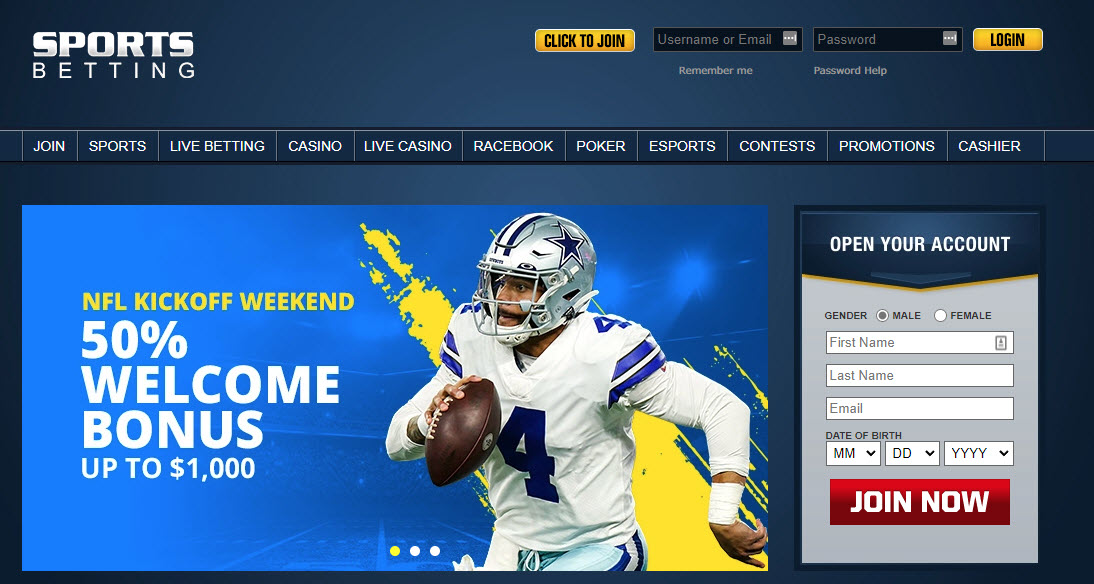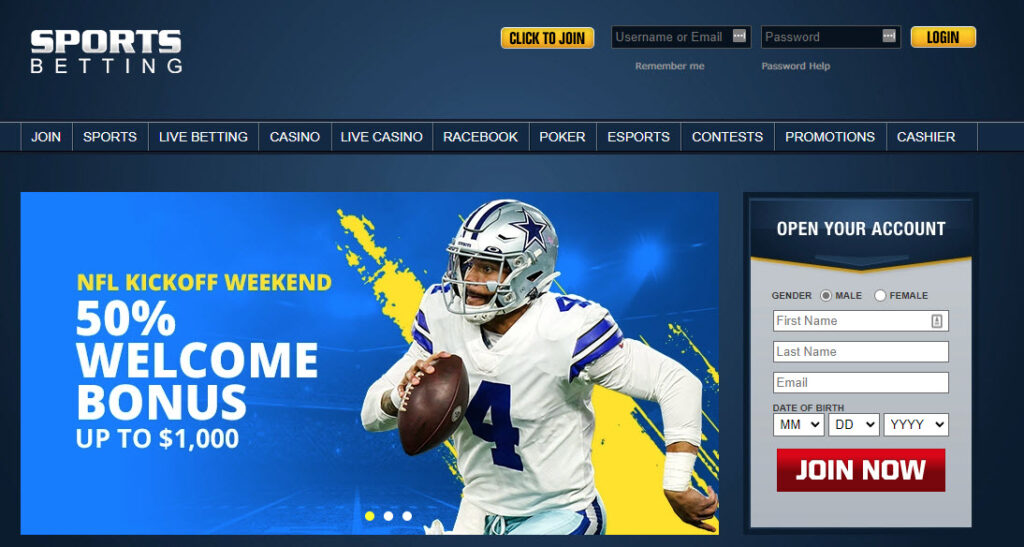 If you're used to BetOnline then you'll recognize and appreciate the layout of SportsBetting as it runs on the same software. Great news for those who want multiple accounts to ensure they can get their money down on the bets they like at the best prices.
The homepage gives options for sportsbook, casino, live casino, esports and shows their recent contests as well as ongoing offers, including a 100% bonus on offer for depositing via crypto; although the 14x rollover requirement is quite high.
There's a very wide range of sports on offer ranging from lacrosse to Aussie rules, but the main U.S. sports have the most options available. Clicking on an NFL game for the week gives an easily navigated drop-down menu offering a myriad of props including prop parlays organized by odds if you fancy trying to get rich quickly.
They cater to anyone wanting to place a bet whether you're looking to build from a little to a lot. You can place from $1 all the way up to $20,000 on football.
Pros:
Clean interface makes betting process quick
Good bonus options
Cons:
Have been known to limit accounts in the past
7. JustBet: Odds Posted Earlier Than Most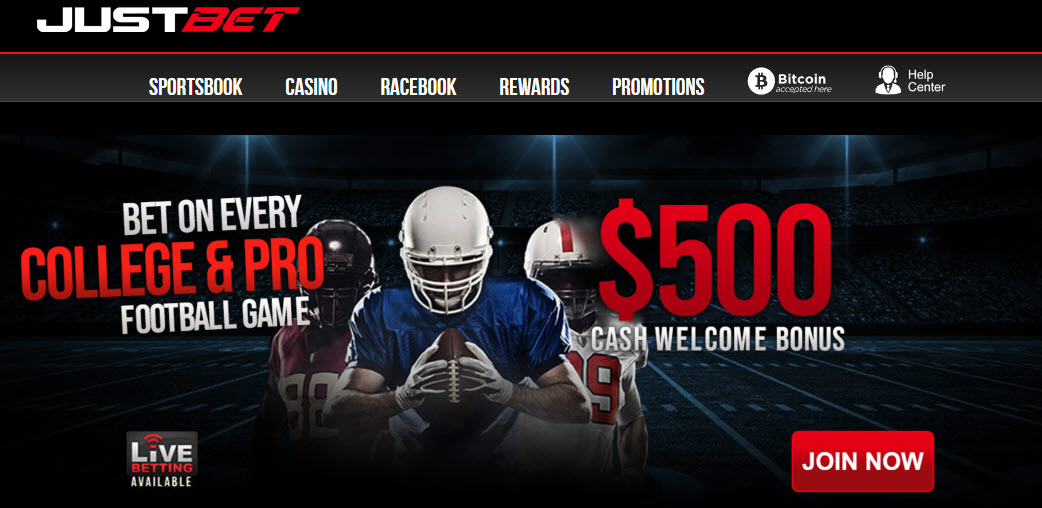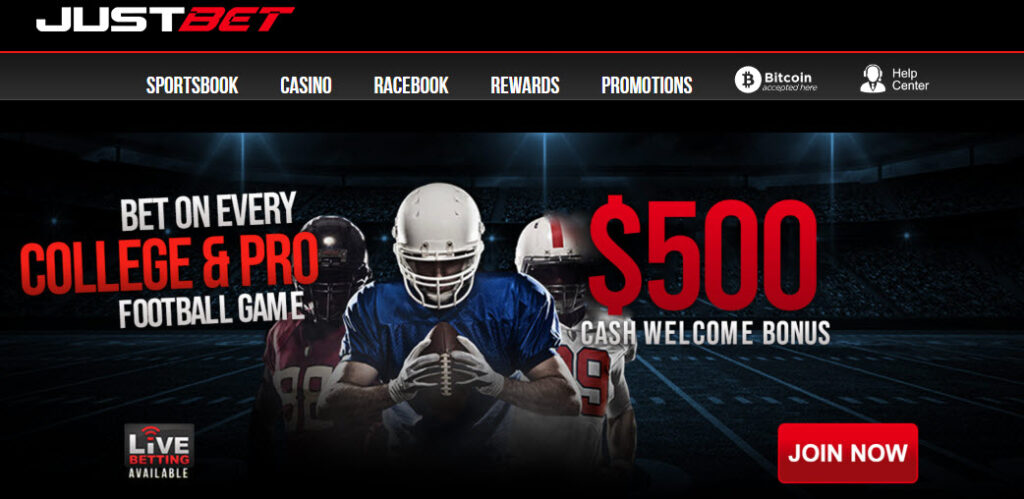 JustBet has been operating online since 2000 and currently offers a sportsbook, racebook and casino as well as esports betting opportunities. As with most other books these days, you can deposit via crypto.
It's a simple-looking interface offering a smaller range of sports than most on this list; for example, there's no volleyball, snooker or politics betting sections available. This isn't a negative for 99% of sports bettors but is something to note when comparing books.
There are a couple of bonus promotions from JustBet on offer with a 25% cash bonus on first-time cash deposits (requiring a 10x play-through) or if you want to use crypto for your first deposit, a 20% bonus with a higher rollover requirement.
There's a lack of prop betting on JustBet, just the main lines on offer for most sports. So it provides a less cluttered betting experience than many of the other sports betting sites.
The big positive for this sportsbook is that they release their odds early in the week allowing sharps to get down early, and from Thursday to Sunday they allow $50,000 on NFL sides, which is definitely one of the main attractions of betting with JustBet.
Pros:
Odds released early in the week
Simple, clean interface
High limits on NFL
Cons:
Limited bet type offerings
8. BetAnySports: Reduced Juice on Offer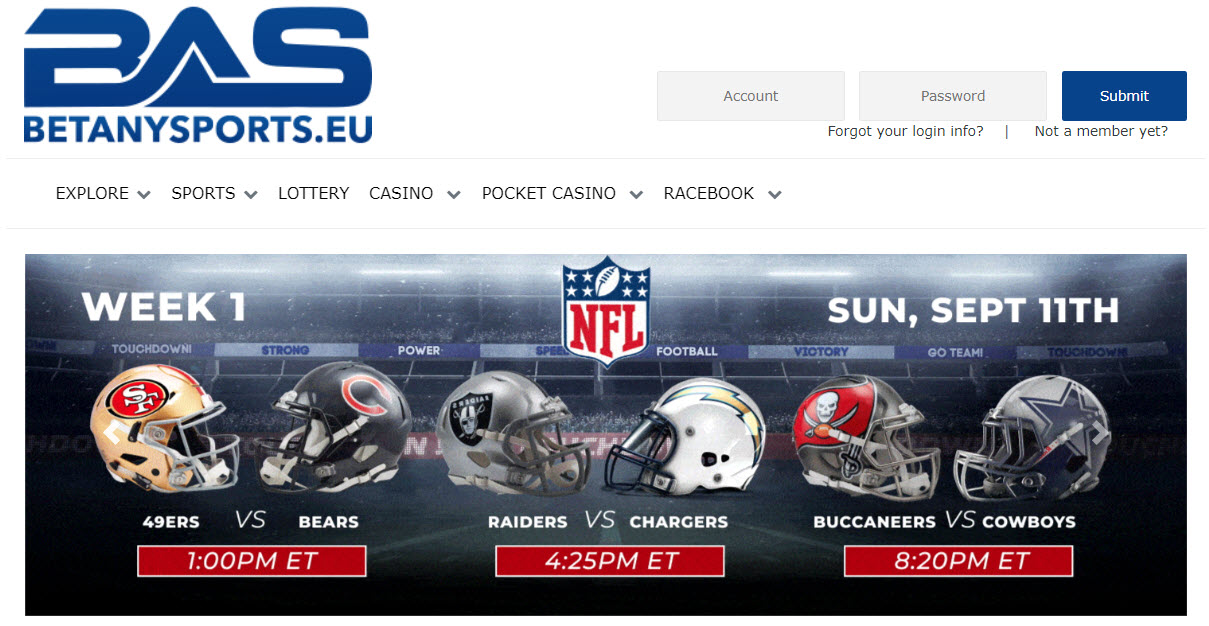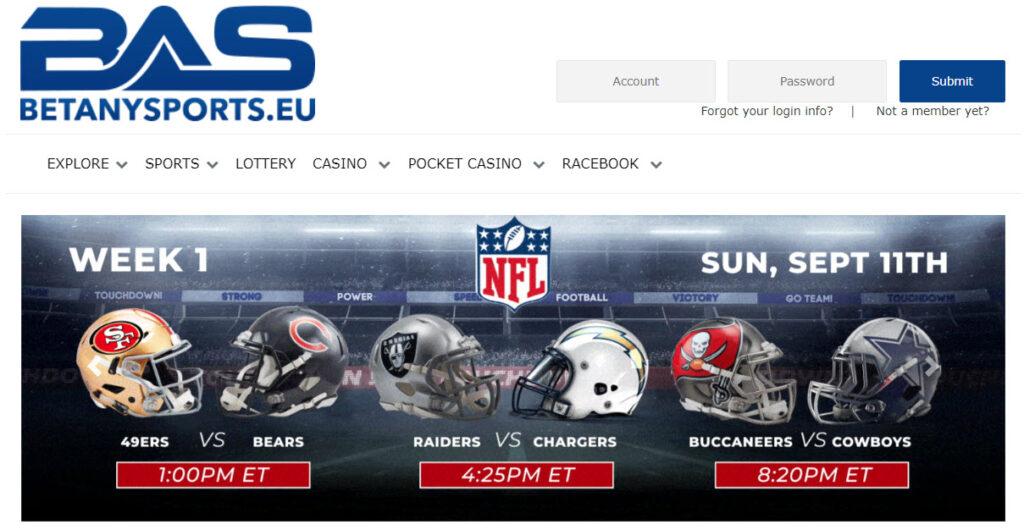 As with most of the best sports betting sites available in Pennsylvania, BetAnySports offers a sportsbook, casino and a racebook. But unlike a lot of the others here, they also offer low vig lines meaning you get more bang for your buck, something that's always vital to add to your sportsbook portfolio.
They offer a clean layout that is easy to navigate, a drop-down menu on sports offers betting lines for the major sports as well as a prop-builder option which is becoming increasingly popular as more people start betting.
Of course, the NFL section has a lot of variety with game betting, props, futures and player futures all available. And for fans of college sports, they offer a similar selection on college football as well.
BetAnySports has a 25% cash bonus on your first deposit up to $500 with just a 6x rollover requirement meaning you can withdraw your winnings faster than most similar deposit bonus promotions offered elsewhere.
Something not seen at many other online sportsbooks is a 25% rebate program which you can request to be put on and earn up to 25% back on losses over a 30-day period. A nice way of limiting your losses each month.
Pros:
Low rollover on first-time deposit bonus
Reduced vig lines on game day
Good rebate program
9. WagerWeb: Create Your Own Spread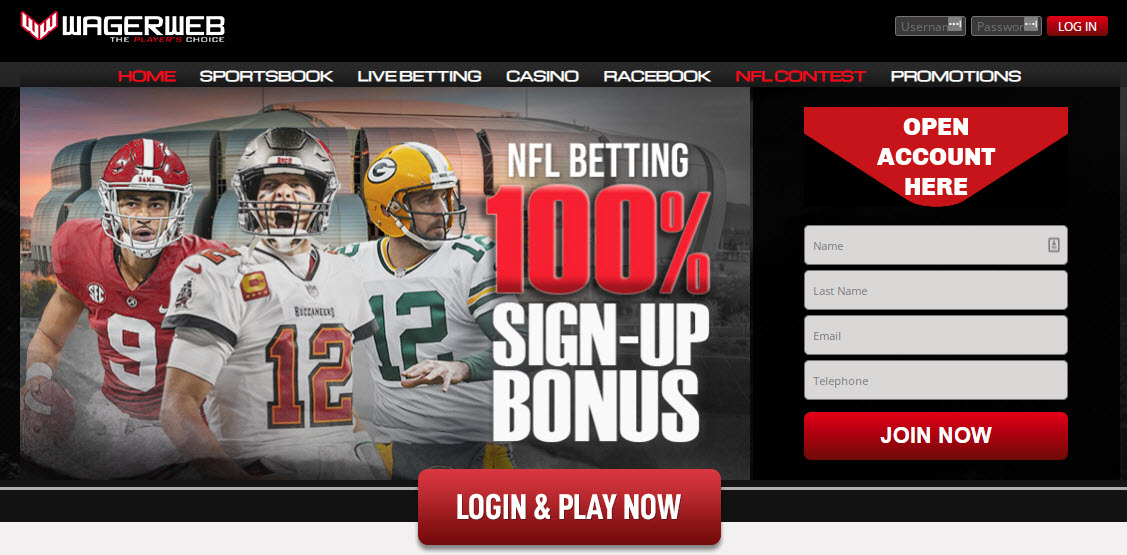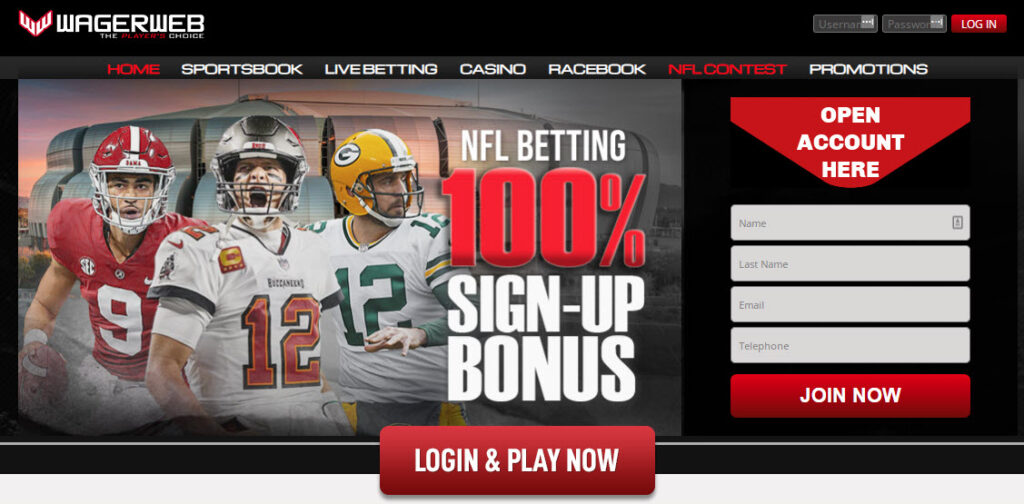 Having launched in 1994 WagerWeb is one of the older sports betting websites and you don't go that long without being reliable and offering a competitive range of options. WagerWeb is part of the same group as Heritage Sports and offers lines at -108 instead of the usual -110 which is always a nice touch.
There's a wide variety of welcome promo codes available offering differing bonus amounts. You can currently get up to $500 at 15x rollover, or if you want a lesser rollover amount then you can choose 10% cash for free with just 6x rollover. A nice way to give new bettors some options on how they want to start their journey with WagerWeb.
WagerWeb offers a big selection of options on every game, including the ability to buy or sell up to 5 points on NFL games which allows you to set your own spreads easily. There are multiple in-play options for most big sports. Alongside the sportsbook are a casino, racebook and a weekly free-to-enter NFL contest where prizes can be won.
Pros:
Wide range of bonus options
Large selections of sports
Reduced vig lines
10. Everygame: A Wide Choice of Bonus Options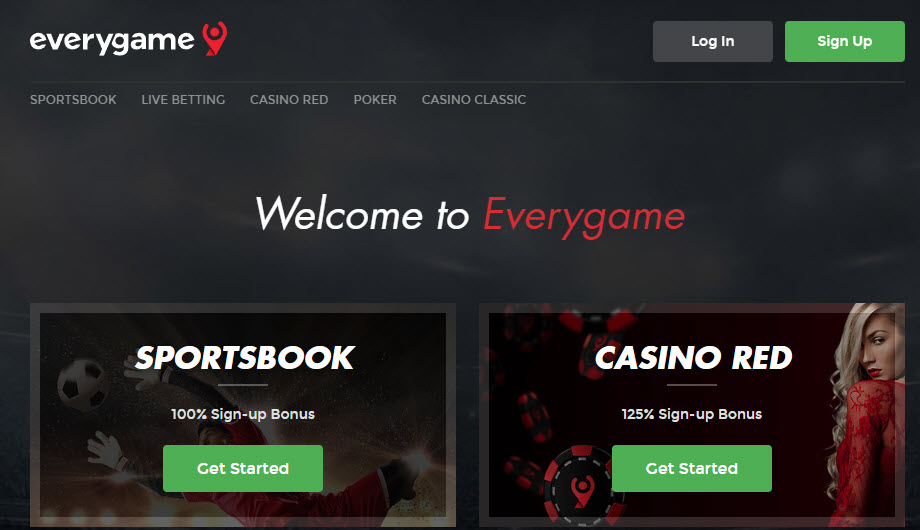 Everygame has been online since 1996 and, due to that, has been able to offer a streamlined desktop and mobile experience allowing you to get in on the action quickly. They know the game and they offer a choice of deposit options whether you deposit with crypto or with cash.
Currently on offer in Pennsylvania is a 100% football bonus of up to $100 with an 8x rollover requirement when you open an account and deposit with cash, or an opportunity to get up to $750 in bonus cash when you deposit 3 times in your first 100 days on the site. This is one of the easiest bonuses on this list with just a 4x rollover requirement. Users can also enjoy the benefits that come from using a promo code at Everygame, such as additional bonus funds.
Everygame has a smooth layout with popular bets shown in the main section as well as a hot bet section on the right. There's a good selection of sports on offer and the markets on the NFL are especially varied with player props on each game, futures; including season-long team and player props and many others.
Pros:
Easy-to-use layout
Choice of promotions
Low rollover Crypto bonus
Latest Pennsylvania Sports Betting News & Developments
From its humble beginnings in October 2017, when legal sports betting was first announced in the state, to its recent successes in August 2022, the journey of Pennsylvania's sportsbooks has been marked by significant milestones.
August 2022: Pennsylvania sportsbooks reported a 10.5% year-on-year rise in, which is up 10.5% from last July. Revenue was $33.2 million with $9.2 million paid in taxes.
July 2022: $393.5 million is wagered during June. down 6.4% from the previous year, meaning the lowest handle since August 2021.
June 2022: New York State overhauls PA as providing the largest amount taken in taxation from Sports betting.
May 2019: First online sportsbook is launched in PA.
November 2018: Retail sportsbooks are cleared to open in PA.
October 2017: Legal Pennsylvania sports betting is announced, with a tax rate of 36% and applicants will need to pay $10m application fee.
The fluctuations in wagering figures and revenue streams, such as the notable 10.5% year-on-year rise reported in August 2022, demonstrate the state's resilience and potential to shape the future of sports betting. With each milestone achieved, Pennsylvania solidifies its position as a key player in the ever-evolving world of sports wagering.
Pennsylvania Sports Betting Teams
There are, of course, many successful and widely supported teams in Pennsylvania which allows for a lot of betting action. In the NFL, there are the Pittsburgh Steelers and Philadelphia Eagles. For NHL are the Pittsburgh Penguins and Philadelphia Flyers. Baseball has the Pittsburgh Pirates and Philadelphia Phillies. Basketball is played by the Philadelphia 76ers, and of course, in college football, Penn State and Pittsburgh are the recognizable names.
Whether you support one of these teams or not, there's a whole host of teams for game bettors to bet on in this area for both in-person sports betting and online wagering at online sports betting sites.
Compare the Best Pennsylvania Betting Sites & Sportsbooks
In the table below you can easily compare some key features of each of our top-rated offshore sportsbooks:
| Sportsbook | Rating | Online Since | Payment Methods | Read Review |
| --- | --- | --- | --- | --- |
| Bovada | A+ | 2011 | Credit Card, Bitcoin | Bovada Review |
| Heritage Sports | A+ | 2001 | Credit Card, Bitcoin, Cashiers Check, Bank Transfer, P2P | Heritage Sports Review |
| BetOnline | A+ | 2001 | Credit Card, Bitcoin, Crypto, Cashiers Check, Bank Transfer, P2P | BetOnline Review |
| BookMaker | A+ | 1996 | Credit Card, Bitcoin, P2P, Crypto | Bookmaker.eu Review |
| BetUS | A | 2000 | Credit Card, Bitcoin, Bank Transfer, P2P | BetUS Review |
| SportsBetting | A | 2002 | Credit Card, Bitcoin, Crypto, Cashiers Check, Bank Transfer, P2P | SportsBetting Review |
| JustBet | A | 2000 | Credit Card, Bitcoin, P2P, Crypto | JustBet Review |
| BetAnySports | A+ | 2002 | Credit Card, Bitcoin, Electronic Check | BetAnySports Review |
| WagerWeb | A | 1994 | Credit Card, Bitcoin, Cashiers Check, Bank Transfer, P2P | WagerWeb Review |
| Everygame | A | 1996 | Credit Card, Bitcoin, Skrill, Neteller, Bank Transfer, P2P | Everygame Review |
As you can see, Bovada, Heritage Sports, BetOnline and Bookmaker.eu all have earned an A+ rating from our industry experts due to the benefits that they offer to their customers. These are our recommended sites regardless if you want to bet on the Philadelphia Phillies, the Steelers or a different state's teams altogether or if you want to enjoy casino-style gambling.
Features to Look for at the Best Pennsylvania Sportsbooks
When looking for the best online sportsbooks in Pennsylvania there are a number of things you want to look for:
Plenty of Betting Options
If you're a new bettor then you may want to stick to the standard betting markets, but the more options available to you the more ways you can win money wagering on events. It's also true that the main markets will be the most bet on by pros and therefore become tougher to win.
In recent years game and players props have become increasingly popular ways to win money in betting. Below is a list of bet types to look for at your sportsbook.
Game props
Player props
Alternate lines
Same game parlays
Live Betting
Futures
Parlays
Teasers
Pleasers
Progressive parlays
Reverse bets
If bets
Round robins
Quick Payments
The best way to find out which offshore sportsbooks offer the fastest payouts is to use our sportsbook comparison tool which will give you an easy-to-view table highlighting the pros and cons of each book in certain categories.
Most sportsbooks now offer crypto deposits and withdrawals which tend to be immediate; a great addition to any sports betting portfolio. If you check the sportsbook reviews on this site then you'll find handy tables showing how long each method of withdrawal takes.
Competitive Wagering Odds
The best way to make money in the long term is to find the best odds available every time you want some betting action. You can search around each sportsbook individually or you can use our odds section which will show the lowest odds.
On the whole, odds are set at -110 on each side but from the descriptions above you'll see that there are a handful of books that offer anywhere from -105 to -109 for sides and totals on sports.
Mobile-Friendly Betting Options
Any solid sportsbook will have a clean mobile interface. Even offshore online sportsbooks that aren't able to offer mobile apps in the U.S. should offer fully optimized mobile sportsbooks.
Strong Customer Service
If you ever have any issues while using your sportsbook, be it from depositing to placing or settling bets to withdrawing your cash, then you're going to need good customer service and most sportsbooks have used recent years to focus on such. Whether it's a live chat on your desktop or mobile device or 24-hour phone lines, you can find which sportsbooks offer what using our sportsbook reviews.
Bonuses and Promotions
If you're in Pennsylvania and not already betting then you are in luck as every sportsbook offers bonus schemes when opening an account. They vary from book to book but with the best sportsbooks you can get 4-figures in bonus money to use for more online betting.
Always be careful to check the rollover requirements when opening an account, this is the amount (usually including your original deposit and the bonus cash) that you'll have to wager to be able to withdraw any winnings. It can range wildly so make sure you check the terms and conditions before opening any account. Most sportsbooks offer rebate bonuses and some even offer risk-free bets.
Pennsylvania Betting Guides
Our experts have done the research to provide Pennsylvania residents with comprehensive guides for every type of online gambling in the state.
FAQs – Pennsylvania Online Sports Betting
Can you bet on sports in Pennsylvania?
Yes, sports fans in Pennsylvania have a variety of legal sports betting options. Pennsylvania sports betting legislation was signed into law in 2019, shortly after the Supreme Court opened up the national sports scene by overturning PASPA. 
Can you sports bet online in PA?
Yes, Pennsylvania made online sports betting legal in 2019. Now, there are a variety of online betting platforms and mobile sportsbooks that players can choose from in Pennsylvania. 
Is FanDuel allowed in PA?
Yes, FanDuel Sportsbook is one of the sports betting options in Pennsylvania. Players can also use the platform to enter daily fantasy sports contests. 
Can you bet on NFL games in Pennsylvania?
Yes, any online sports betting sites in Pennsylvania will make it easy to bet on your favorite teams all football season long. 
Can you mobile sports bet in Pennsylvania?
Yes, mobile sports betting has been legal in Pennsylvania since 2019. 
Can I bet on Bovada in Pennsylvania?
Yes, Bovada is one of the best online sports betting sites for Pennsylvania players thanks to its wide variety of sports betting markets and simple interface. New users can get a nice welcome bonus worth up to $750.
Per Nevada Gaming Control Board data, the state achieves $2 billion in adjusted gross revenue, joining an elite group. October's $68.1 million contribution underlines offshore sportsbooks' success, affirming Nevada's robust sports betting industry and its positive trends. Silver State Strikes Gold The state that is home to North America's gambling mecca, Las Vegas, now joins

---