Vermont Sports Betting – The Top Online Sportsbooks for VT in 2023
Shawn West has been involved with college basketball, NFL and college football and MLB since he left his job as bank vice president two decades ago. He lives in North Carolina with his wife, children, two dachshunds and a variety of turtles.
Vermont appears poised to be the next state to legalize sports betting. In fact, as the state legislature debates a legalization bill, Governor Phil Scott has already included $2.6 million in potential revenue from sports wagering in this year's state budget.
That doesn't mean that sports fans in Vermont need to wait for the politicians. Online betting on sports is available and paying out real money right now. Current options for bettors include dozens of offshore sports betting sites that can legally offer online wagering to Vermont residents. Since the sports betting sites are located outside the United States, they don't fall under the jurisdiction of any state or the U.S. Federal government.
Our panel of experts ranked the top online bookmakers for sports betting. We'll also run through what you need to know to start betting today. Plus, we'll take a look at the history of Vermont gambling regulation and the future of sports betting in the state.
The Best Online Sportsbooks for Vermont Bettors
Our Highest-Rated Online Sportsbooks for VT
Our panel of experts evaluated hundreds of offshore sportsbooks and came up with the following ranking of the 10 best online sports betting sites in Vermont.
Is sports betting legal in Vermont?
One of the most common questions we get is, "Is sports betting legal in Vermont?" The answer is, "almost."
Governor Phil Scott has been a proponent of legal sports betting, pushing for legal betting since 2020.
The state legislature, thus far, has not been cooperative. Current state laws prohibit all gambling other than the lottery. Several potential sports betting laws have been proposed since 2020, but the bills have all stalled at some point in the process.
The push is gaining momentum, however. The state released a report in December recommending legal sports bets, and the governor has put revenue from legal betting in his budget for this year. A new bill has already passed one committee but still has a ways to go.
Until the law is passed and a process set up for legal sports betting, the only option for Vermont residents is at online sportsbooks located offshore.
Comparing the Top Vermont Online Sportsbooks
Each of our top 10 sites does different things well. So, to help you find the best match for your own needs and preferences, our experts provided in-depth looks at each of them, complete with pros and cons lists to help you pick the one that's right for you.
1. Bookmaker: Vermont's best sportsbook overall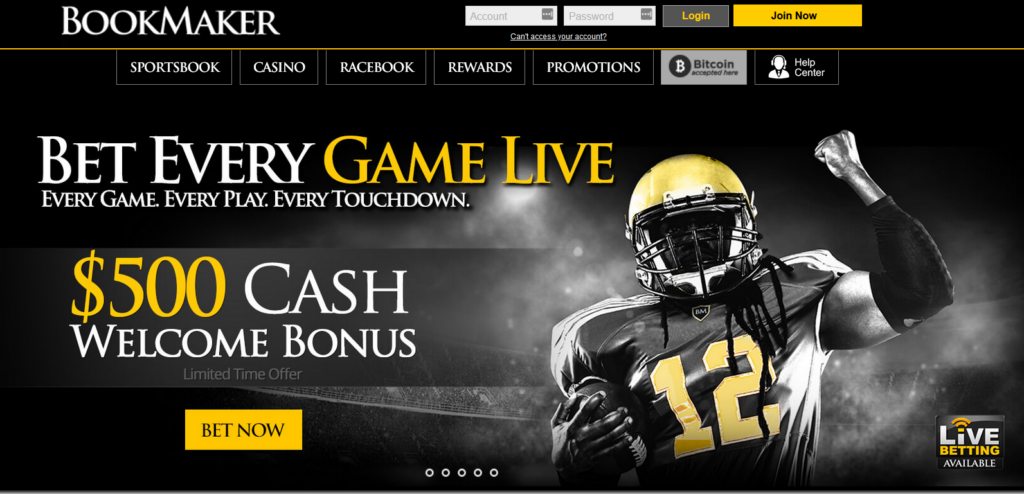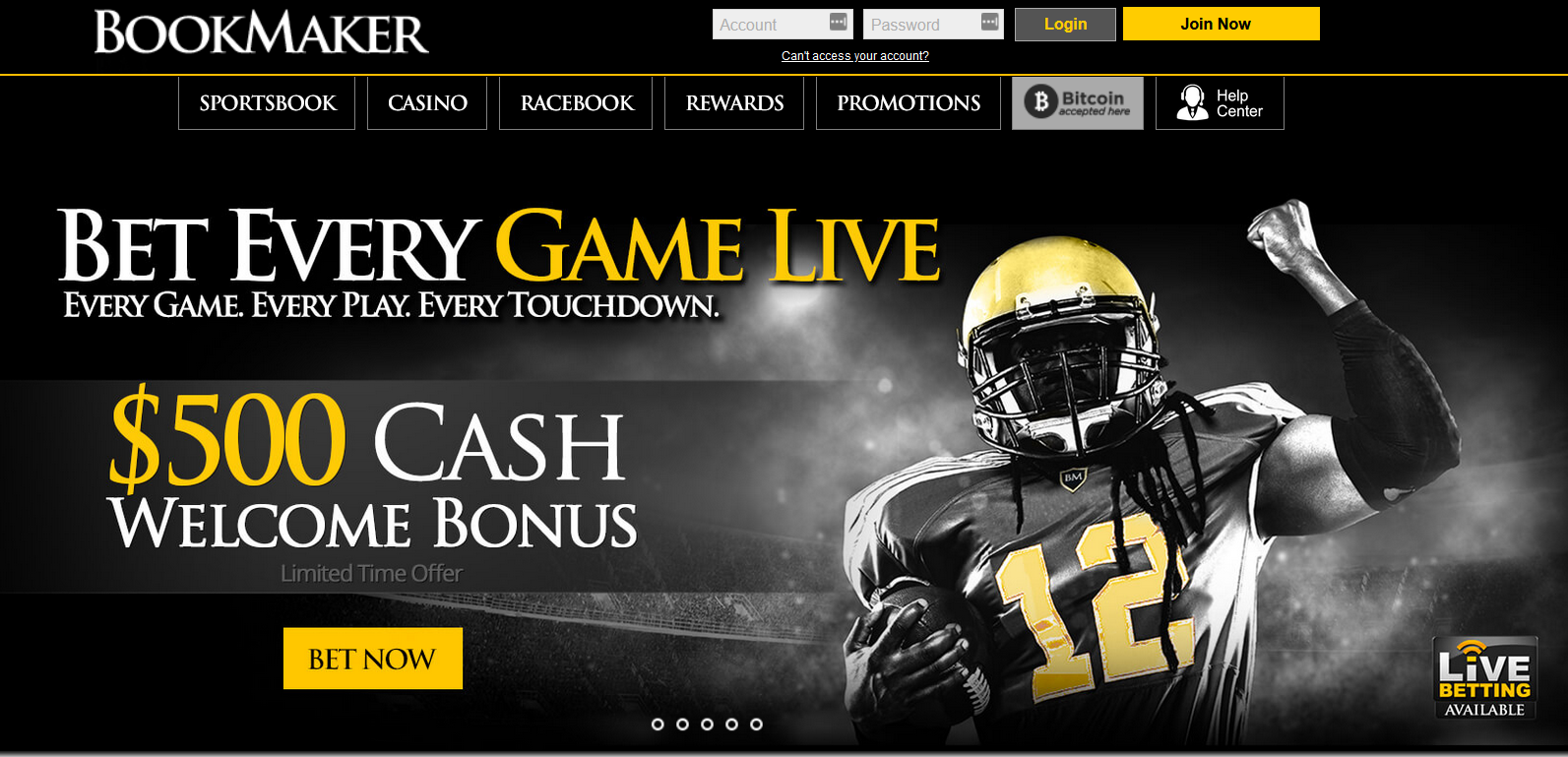 Our experts chose Bookmaker.eu as the best online sports betting site in Vermont. There's something for all levels of gamblers at Bookmaker, from high rollers to conservative bettors and from grizzled veterans to cautious newcomers.
Bookmaker features some of the highest betting limits in the state, and its lines and odds are posted earlier than anywhere else, so experienced gamblers will find it easy to use the site for their needs. Plus, Bookmaker has earned the reputation of never shutting down a gambler who gets on a roll.
Newcomers will be able to learn the ropes without being intimidated. Bookmaker has very low minimum bets, and its user interface is easy to use, allowing bettors to navigate the site and find what they need.
Pros
Caters to all experience levels and risk tolerances
High betting limits and low minimums
Loyalty program rewards all bettors, not just high rollers
Allows gamblers to ride their hot streak without being shut down
Cons
No online poker room
Welcome bonuses aren't as high as some offshore sportsbooks
2. Heritage Sports: Provides royal treatment to all players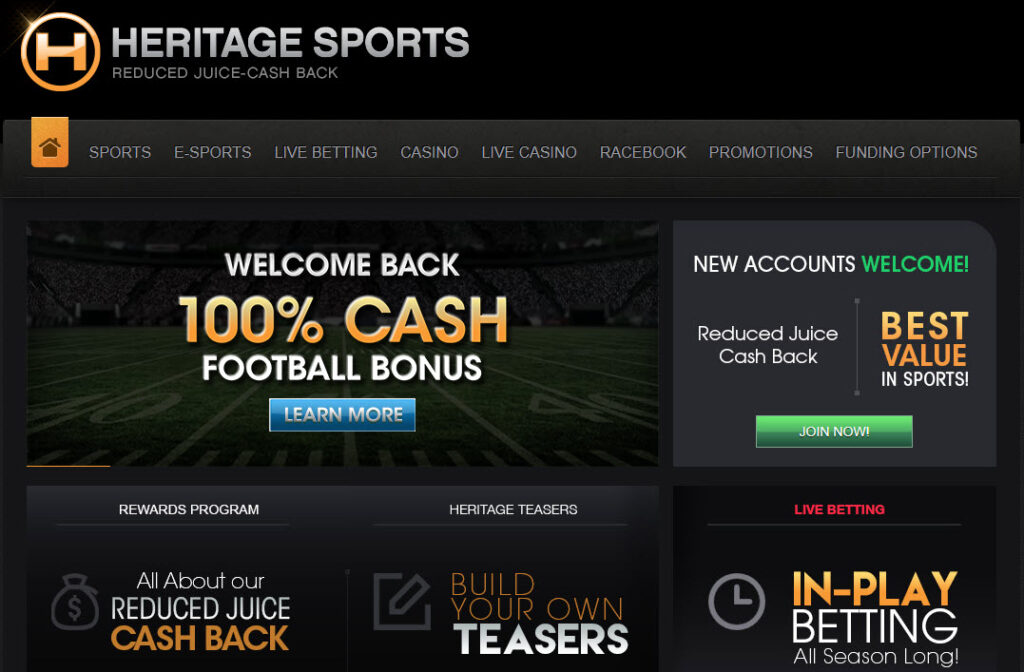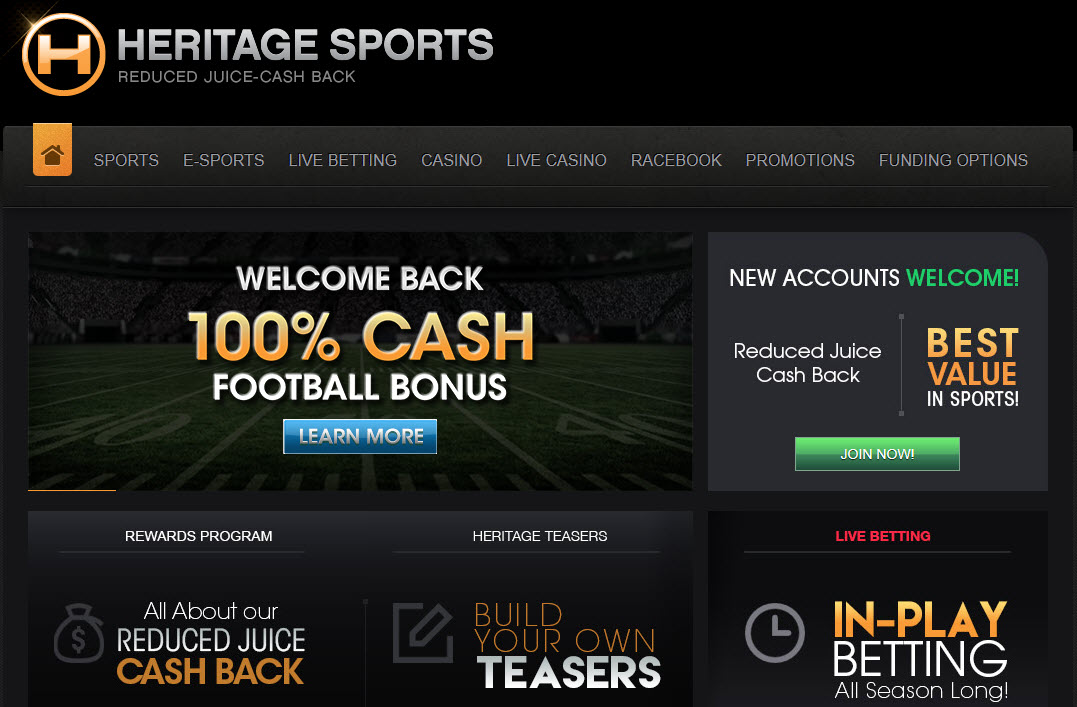 Heritage Sports came in second in our rankings. It started out as an invitation-only site for VIPs and, even though it's now open to all comers, it still rolls out the red carpet for its customers. It offers generous cashback rebates and welcome bonuses as well as other perks for loyal customers.
Heritage Sports was also the choice of our expert panel as the best site for live betting. It has a fast, easy-to-navigate interface that allows you to find and place bets quickly, a necessity when betting on games in progress.
It also offers reduced juice lines.
Pros
Reduced juice on lines gives gamblers a discount
Top choice for live betting in Vermont
Red carpet treatment for all customers
Offers a cashback rebate program
Cons
Does not have an online poker room
Some competing sites offer higher bonuses
3. Bovada: Has the most prop wagers available in Vermont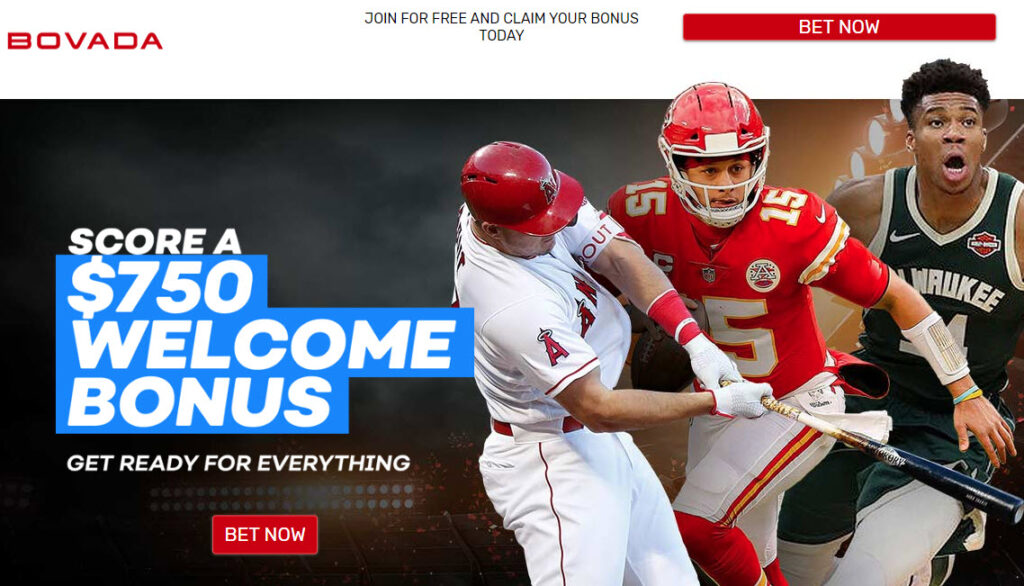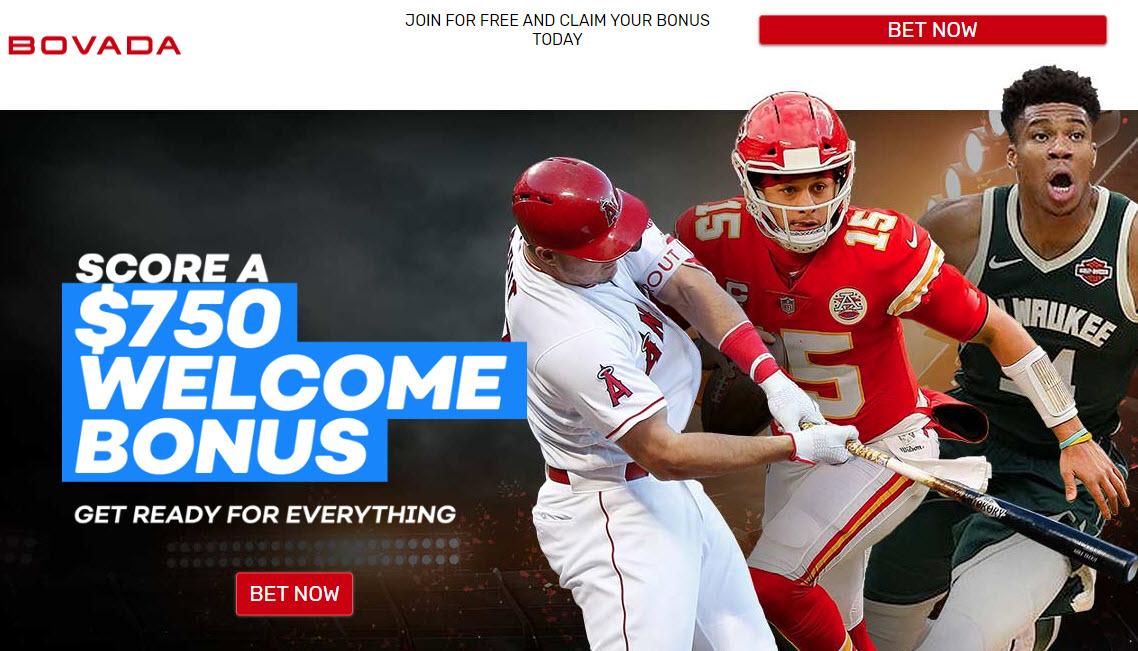 Bovada placed third in our rankings, and its legion of loyal customers are testament to why it placed so high. It offers a full casino experience with a world-class sportsbook, as well as casino gaming, betting on horse racing, and America's busiest online poker room.
Bovada also earned a nod from our expert panel for having the best mobile betting interface. The majority of online bets are placed on phones and tablets, and Bovada's mobile site is as easy to use as the full-blown web version.
The sportsbook at Bovada has a huge array of prop betting options, including low-risk bets that help get you started on the right foot with some easy wins.
Pros
More prop betting options than anywhere else
Busiest online poker room in the country
Vermont's best mobile betting interface
Full casino experience with world-class racebook and casino as well as sportsbook and poker room
Cons
Some competitors post odds earlier
Some competing sites offer higher bonuses
4. BetOnline: Fast payments and the best opinionated lines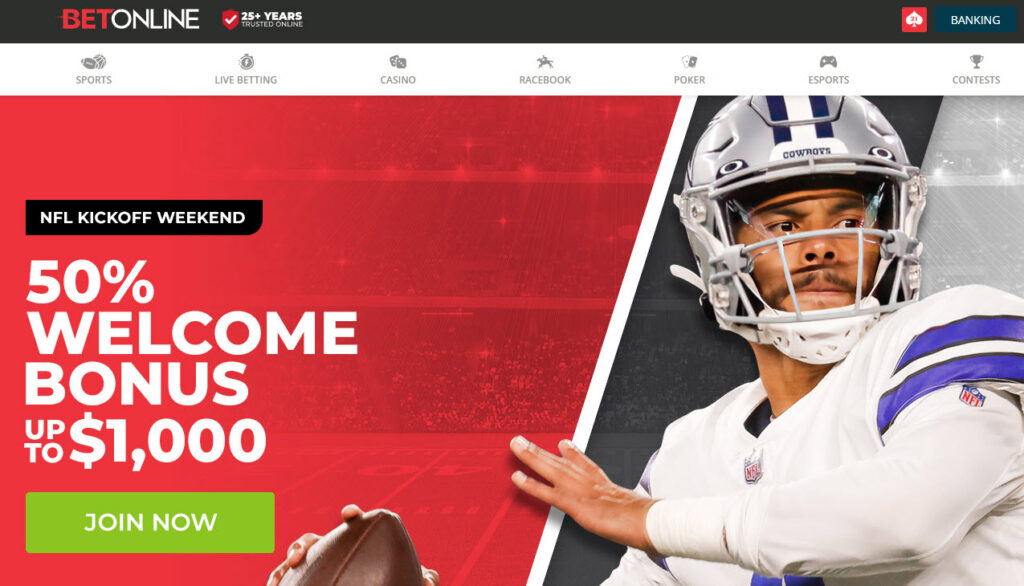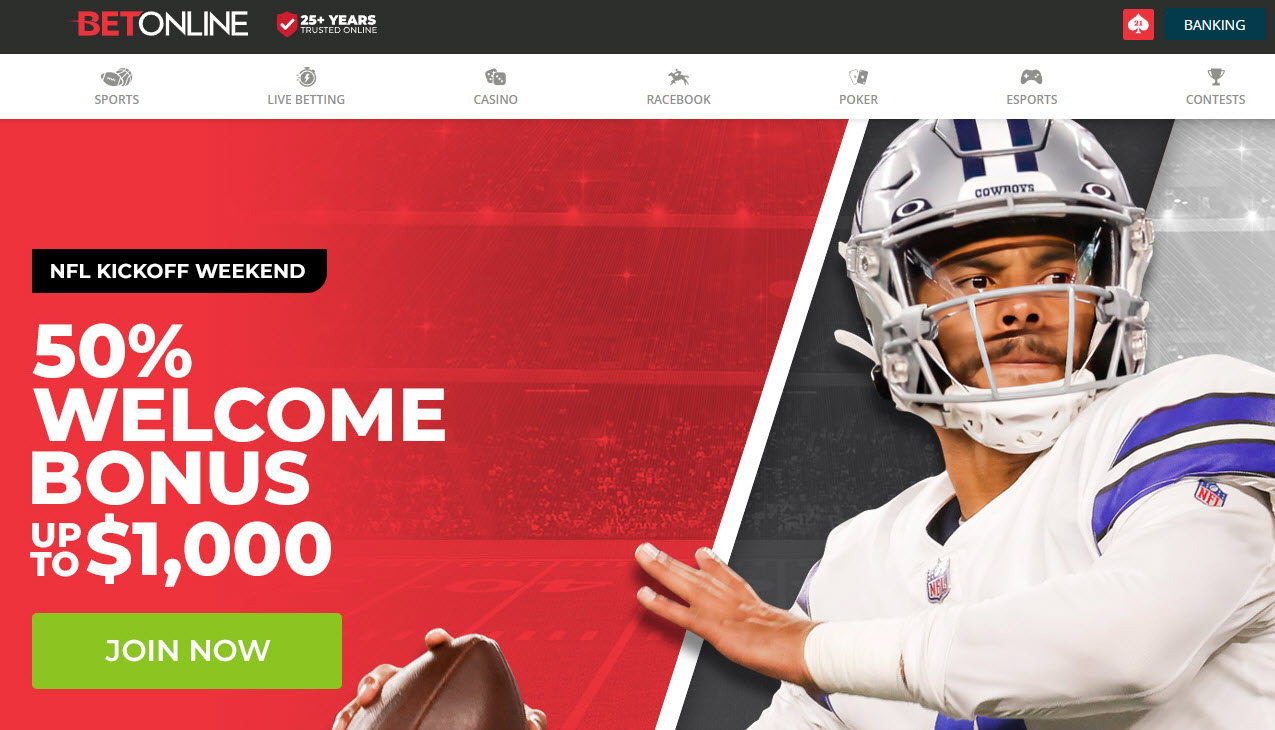 BetOnline is one of the few sportsbooks that offers Vermont bettors opinionated lines. Most sites set the same odds on either side of a point spread or total, usually -110 / -110 or, if it's reduced juice, -108 / -108. Opinionated lines offer different lines on each side of the cutoff, -112 / -108, for instance, or -113 / -107. That gives gamblers some variety and the opportunity to turn a profit if they shop around and choose wisely.
There are plenty of other reasons to like BetOnline besides the opinionated lines, including a welcome bonus that matches your first deposit at 50%, bonuses for using crypto, and a fully optimized mobile site.
Pros
Opinionated lines offer variety and the chance to boost profit
Higher betting limits than most sites
Matches first deposit at 50%
Crypto users get bonuses, including 100% first deposit match
Cons
Doesn't offer reduced juice except for on hockey bets
Prop betting options are limited
5. BetAnySports: The best reduced juice lines Vermont has to offer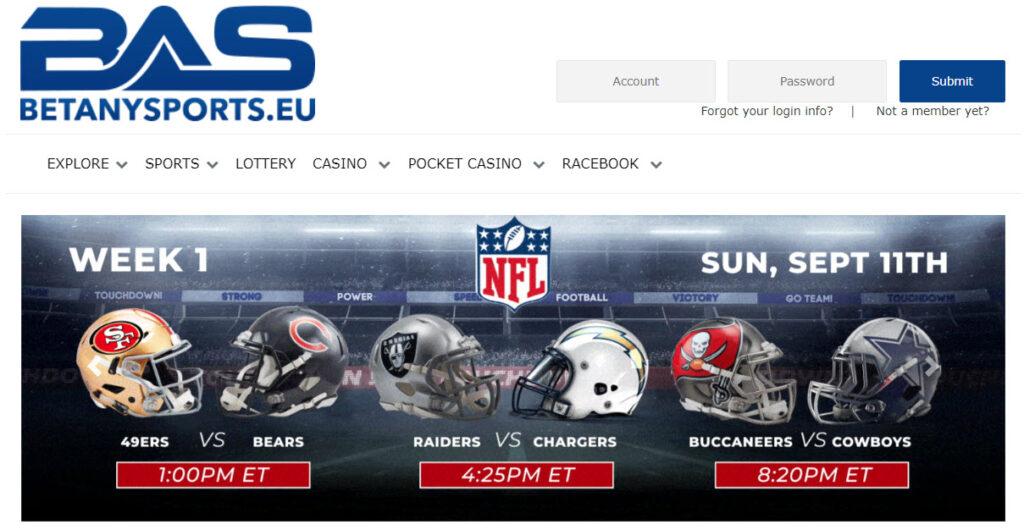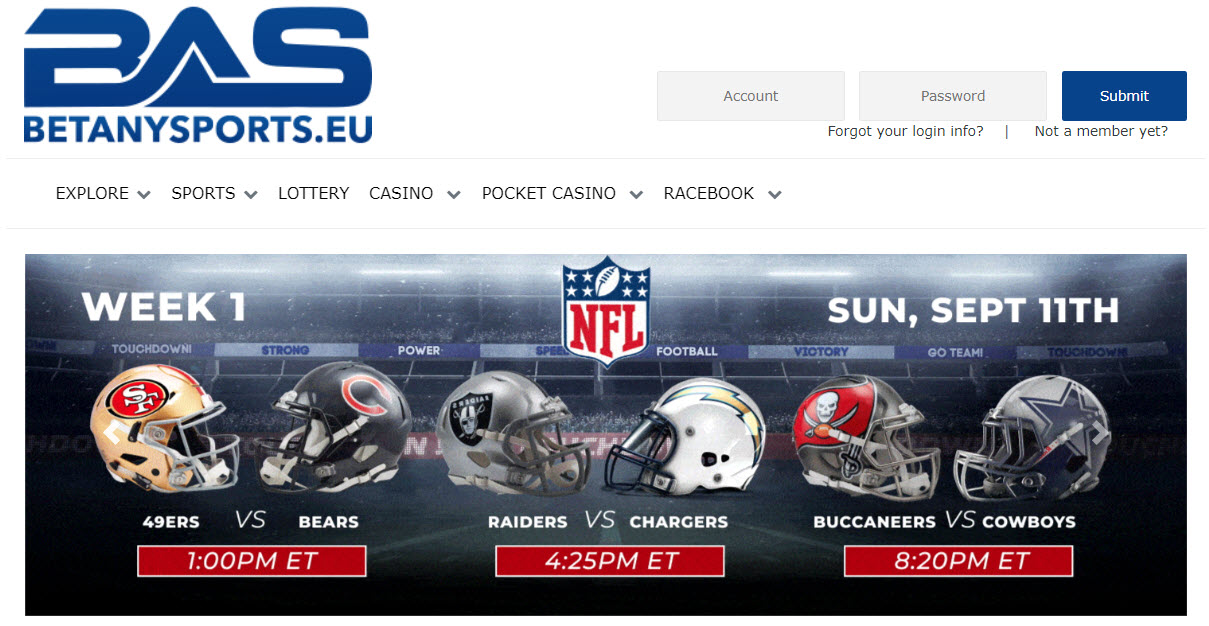 BetAnySports doesn't have all the bells and whistles of other sites. Their user interface is bare bones, and their welcome bonuses and loyalty programs are smaller than at competing sportsbooks. That's because BetAnySports has carved out a niche as the top value sportsbook in Vermont.
They offer the most generous reduced juice lines in the state, setting lines at -105 / -105, which is equivalent to a 50% discount compared to the industry standard. That adds up quickly and puts more money in gamblers' pockets. Their other odds and lines are also some of the most gambler friendly you'll find.
Pros
Best value sportsbook around with generous reduced juice lines
Moneyline, props, and futures odds are also gambler friendly
Pays out quickly and in full
Cons
Not as user-friendly as other sites due to the sparse interface
Lower bonuses than other sites
6. BetUS: Biggest bonus payments of any VT sportsbook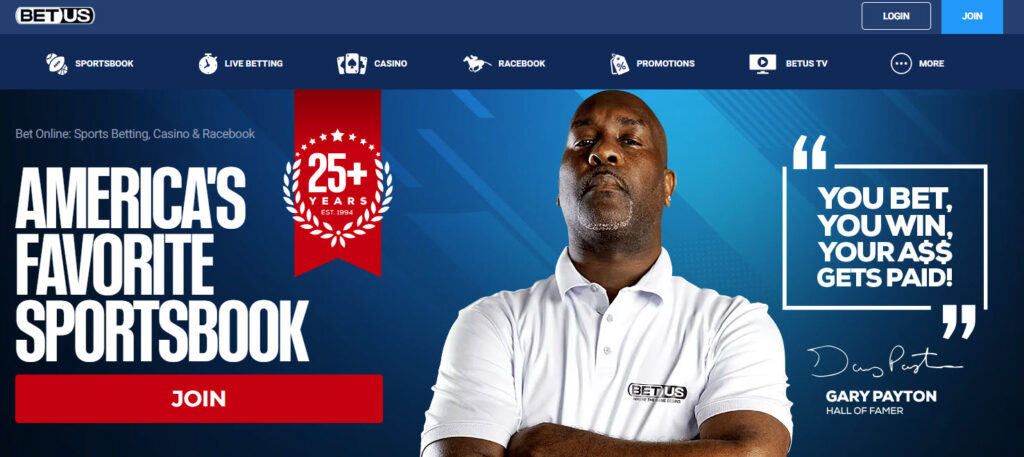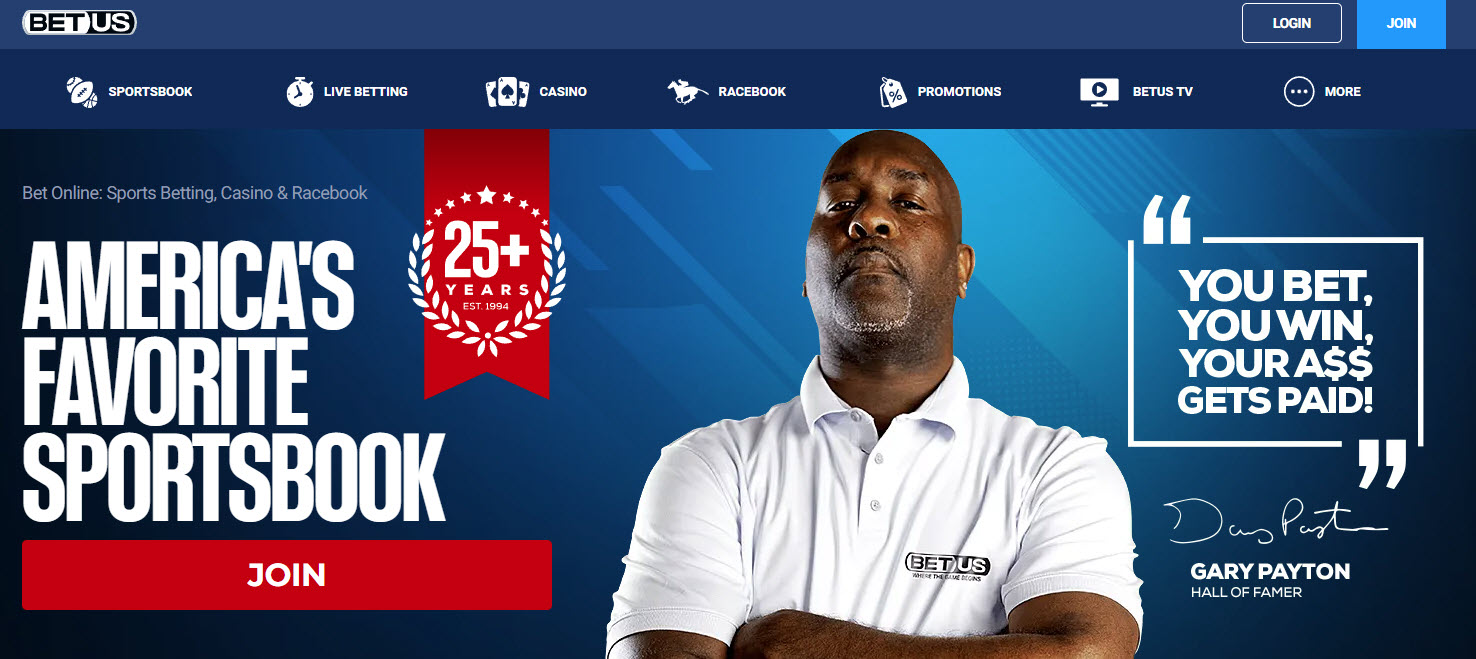 If you like doubling your money before you even start, BetUS may be the place for you. The site offers a welcome bonus that matches your first deposit at 125%, up to $2,500. That means if you deposit $1,000, you're starting with $2,250. They also have a separate match for deposits in the online casino.
They also have upgraded software after a site upgrade and a social media presence, including weekly podcasts and videos.
Pros
Best deposits in Vermont, matching at 125%
Site has new, upgraded software
Outstanding VIP program
Video previews and weekly podcasts give the sportsbook a personality
Cons
Play-through and rollover requirements on bonus money are high
Doesn't publish odds and lines as early as other sites.
7. WagerWeb: Bitcoin users receive same-day payouts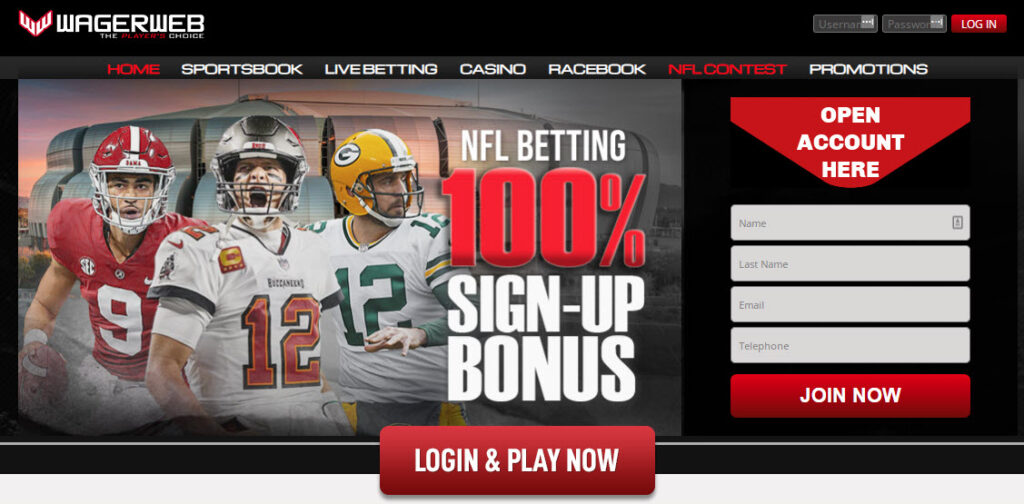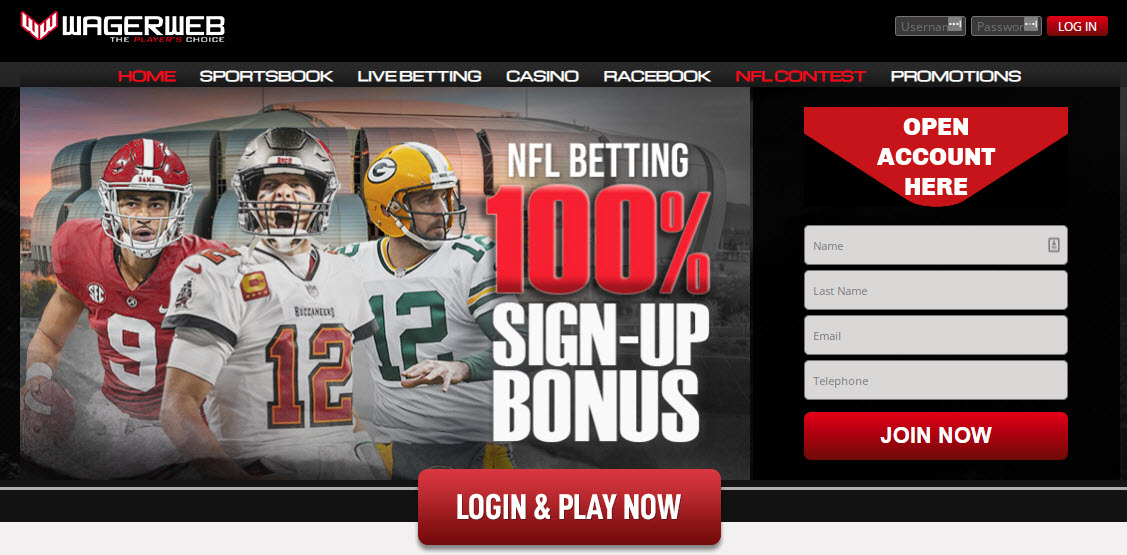 WagerWeb is one of the OGs in online gambling. They started in 1994 and have a track record of nearly three decades long of treating customers fairly. They've also changed with the times, including embracing cryptocurrencies. Bitcoin users can get same-day payouts.
It's a sister site with Heritage Sports, which is also placed in our top 10, and the two sites share many characteristics, including VIP treatment for all customers and outstanding live betting interfaces.
Pros
Long reputation and track record of trust
Sister site with No. 2 ranked Heritage Sports
Cashback rebate for race betting and casino games
Crypto users get same-day payout
Cons
Can only make one free withdrawal a month
Betting limits are relatively low
8. JustBet: Accommodates bettors of various expertise levels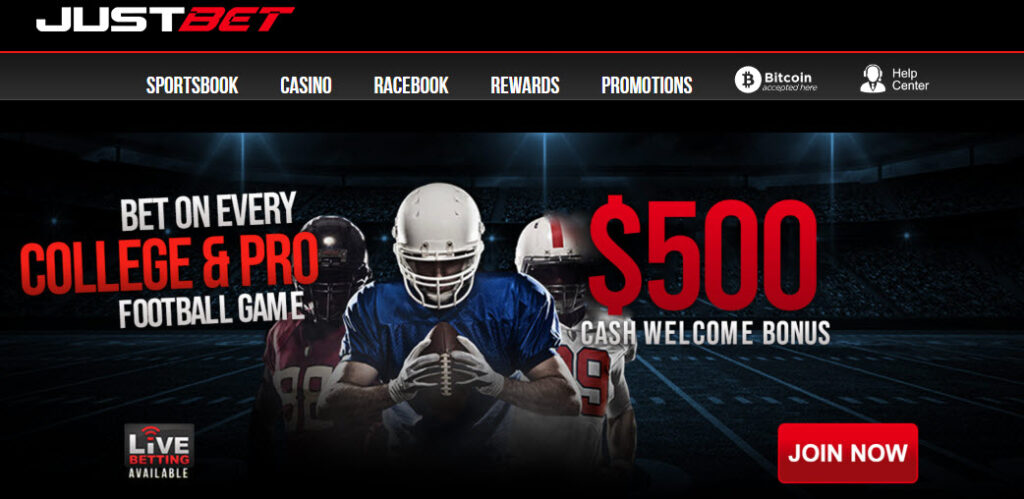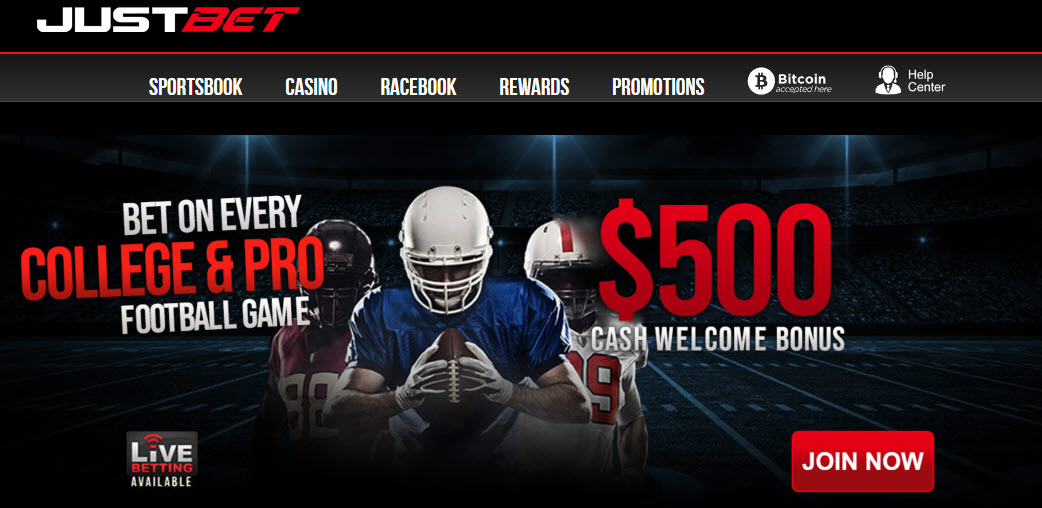 JustBet is a partner site with Bookmaker.eu, which took the top spot in our rankings. The two sister sites have a lot in common, including creating a betting environment where all levels of experience and appetite for risk are welcome.
JustBet also offers a minimalist user interface, which means there won't be a lot of unnecessary bells and whistles getting in the way. That makes it fast and easy to place bets and makes JustBet an ideal spot for live betting.
Pros
Uncluttered interface makes live betting easy
High limits and low minimum bets
Lines and odds are among the earliest to be published
Sister site and shares characteristics with Bookmaker
Cons
Doesn't have reduced juice lines
No live online poker room
9. Everygame: The broadest selection of international sporting events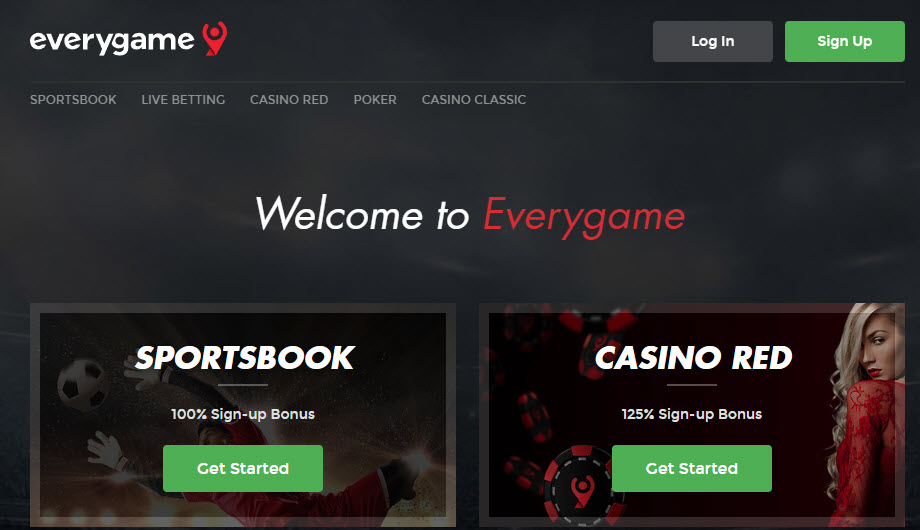 Everygame is the granddaddy of them all—the oldest online betting site still in operation. That gives them a track record of dependability and trust no one else can match.
Everygame has kept up with the times, however, including a massive site upgrade recently that gave it state-of-the-art operating software, meaning that using the site will be a slick, attractive experience.
Pros
Worldwide menu of sporting events bigger than anyone else
Best mobile casino interface in Vermont
Oldest, most reliable site still in operation
Slick, cutting-edge software
Cons
Account verification takes longer than at many other sites
Bonuses have high rollover requirements
10. SportsBetting.ag: Substantial bonuses and large betting limits are available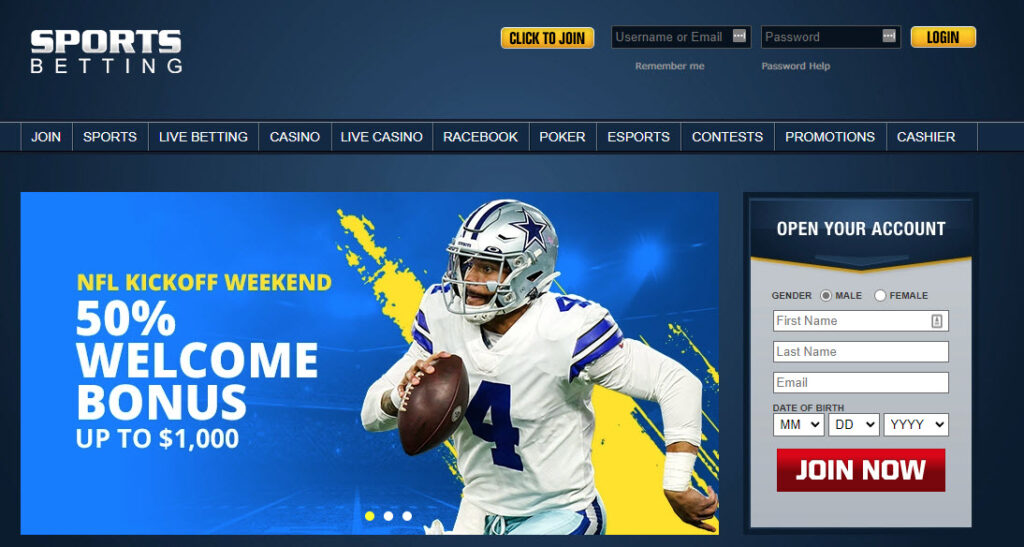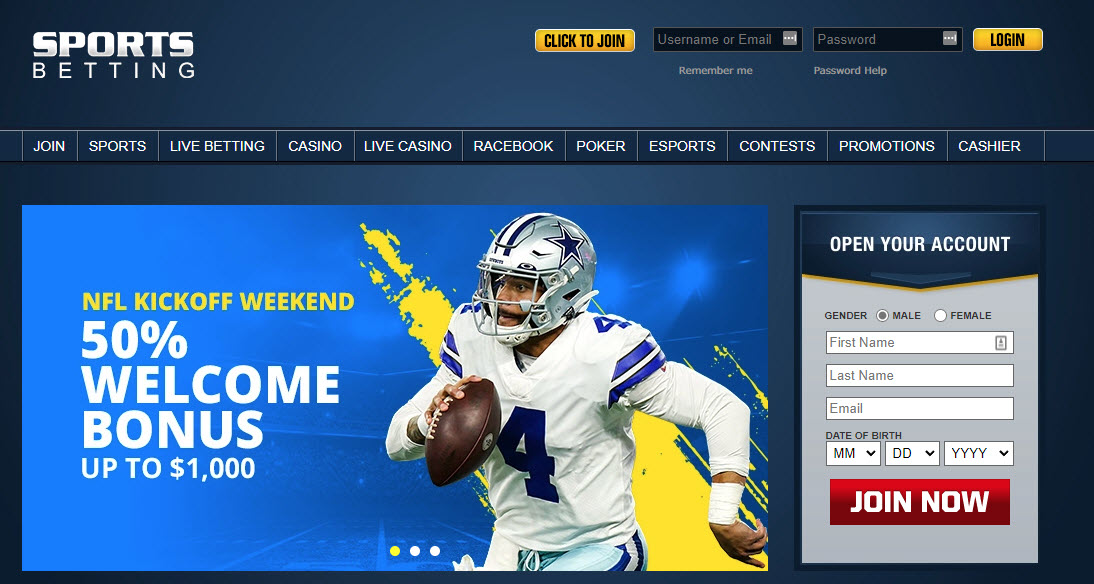 SportsBetting rounds out our top 10 with a very businesslike approach. It doesn't have unnecessary graphics or other furniture on its interface. Instead, it lets you get your bets placed fast. Our experts were able to bet on a mobile device in about 10 seconds, which is one of the fastest times around.
They also offer high deposit limits and high five-figure limits on NFL and NBA bets, as well as minimum bets as low as $1. So everyone will feel comfortable there.
Pros
Fast, efficient user interface
Mobile site allows you to place bets in 10 seconds
High deposit limits
NFL and NBA limits are in the high five figures
Cons
Site looks outdated and unattractive
Casino game menu not as deep as other sites
Details About Our Rating Methodology
Our experts looked at a number of different factors when evaluating the offshore sites on our list. The best sites should have a flexible set of promotions for sports bettors, both new ones and loyal customers. They also looked at the site's customer service, to make sure that customers will be able to have issues responded to quickly and efficiently. Our experts used each site to bet in a variety of ways and also looked at customer reviews.
Best Vermont Betting Sites & Sportsbooks
| Sportsbook | Rating | Online Since | Payment Methods | Read Review |
| --- | --- | --- | --- | --- |
| Bookmaker | A+ | 1996 | Credit Card, Bitcoin, P2P, Crypto | Bookmaker Review |
| Heritage Sports | A+ | 2001 | Credit Card, Bitcoin, Cashiers Check, Bank Transfer, P2P | Heritage Sports Review |
| Bovada | A+ | 2011 | Credit Card, Bitcoin | Bovada Review |
| BetOnline | A+ | 2001 | Credit Card, Bitcoin, Crypto, Cashiers Check, Bank Transfer, P2P | BetOnline Review |
| BetAnySports | A+ | 2002 | Credit Card, Bitcoin, Electronic Check | BetAnySports Review |
| BetUS | A | 2000 | Credit Card, Bitcoin, Bank Transfer, P2P | BetUS Review |
| WagerWeb | A | 1994 | Credit Card, Bitcoin, Cashiers Check, Bank Transfer, P2P | WagerWeb Review |
| JustBet | A | 2000 | Credit Card, Bitcoin, P2P, Crypto | JustBet Review |
| Everygame | A | 1996 | Credit Card, Bitcoin, Skrill, Neteller, Bank Transfer, P2P | Everygame Review |
| SportsBetting | A | 2002 | Credit Card, Bitcoin, Crypto, Cashiers Check, Bank Transfer, P2P | SportsBetting Review |
History of Gambling Laws in Vermont
Currently, all forms of gambling other than the Vermont lottery are currently considered illegal. The state's only horse track, Green Mountain Park, closed, and there are no tribal casinos in the state. The state legislature has been considering legal sports betting in recent years and hopes to pass a bill this year that would open the door to sports betting revenues of more than $2.5 million.
The Vermont Sports Betting Study Committee released the results of a years-long study in December 2022 recommending that the state allow legal sports wagering. A bill is currently under consideration, but the legalization process is expected to take a while even if the bill passes before sports bets can be placed in the state.
Timeline of Gambling in Vermont
2023: A retail sports betting bill is presented and many believe it could pass. The governor includes sports betting revenue in his budget for the state.
2022: The study is completed and presented in December, recommending that the state create a regulated sports betting market.
2021: A study on the feasibility of sports betting is begun. A bill is presented but doesn't pass the committee.
2020: Two sports betting bills are presented. One passes the senate but not the house.
2019: A bill that would legalize in-person and online sports betting is read in committee but never advances.
1978:. The Vermont State Lottery begins, still the only form of legal gambling in the state.
1977: The last horse race is run at Vermont's only track: Green Mountain Park
1959: The first year that Vermont allowed any kind of gambling—on horse racing
What the Best Sportsbooks Should Offer
While the top sports betting sites differ in many areas, there are some things all of them should offer:
Competitive Gambling Odds
Gamblers should have a legitimate chance to turn a profit with favorable odds Reduced juice and opinionated lines are two ways that sites can make their odds more favorable to bettors.
A Variety of Betting Markets
All major sporting events should be available for wagering, and there should be different ways to bet them, including spreads, moneylines, props, futures, and live betting.
Various Accepted Deposit & Withdrawal Methods
There should be a number of different ways to deposit and withdraw money, including bank cards, wire transfer, e-wallets, and crypto. Fees and delays should be kept to a minimum.
Generous Promos & Bonus Codes
New customers should receive a welcome bonus, and existing customers should get promotions and bonuses that reward loyalty, including reload bonuses, cash-back rebates, and other perks.
Live Betting & Event Streaming
Live betting on in-progress events has become more popular in recent years. Sportsbooks should have fast, responsive, dependable live betting interfaces. Live streaming of events, especially overseas sports, and obscure games, should also be available to let gamblers track their bets.
A High-Quality User Interface
User interfaces should load pages quickly without crashes and glitches. The interface should be easy to navigate and shortcuts should be available to quickly find games and markets.
A Smooth Mobile Experience
The majority of bets are placed on phones or tablets, so the mobile wagering experience should be as smooth and efficient as using the full-blown site on a computer.
Multiple Customer Service Contact Options
When issues arise, gamblers should have a number of different ways to reach customer service, including phone, live chat, and email. Customer service should be available 24/7 in multiple languages.
Strong Security Features
The protection of gamblers was one of our non-negotiable factors. If any of the sites under consideration had any problems with the security of financial or personal information, it was immediately removed from our list
Vermont Sports Betting
NFL Betting
NFL betting includes point spread and moneyline bets on games, futures betting on players and teams as well as parlays and player props for given games.
NBA Betting
NBA betting includes point spreads, moneylines, futures, and player props. Live betting is a popular way to enjoy the NBA with the ability to place bets on halves, quarters, and other subdivisions of games.
MLB Betting
Moneyline betting is popular in Major League Baseball and run lines are also available, as well as a variety of player props.
College Sports Betting
March Madness is one of the biggest betting events of the year but college sports betting lasts all year long with football and basketball options throughout both seasons.
Niche Sports Betting
There are a number of other sports available for betting including hockey—both at the NHL and college level. Soccer betting is popular for a growing number of fans, and many sports fans enjoy betting on fight night—either boxing or mixed martial arts, with major cards being held somewhere almost every weekend.
Vermont's Sports Teams
Vermont doesn't have many professional sports teams located in the state, but it is part of the Northeast corridor, which has some of the most fervent sports fans in the country.
Football Teams
The New England Patriots are one of the most successful football teams of recent years and are located in neighboring Massachusetts. The New York Giants and Jets are also not far away.
Basketball Teams
Boston, close by, is home to the illustrious NBA team known as the Celtics. The state's eastern borders are shared by the Brooklyn Nets and New York Knicks.
Baseball Teams
While there are minor league teams in the state, the Boston Red Sox are the closest team, with the New York Yankees and Mets also not far away.
College Sports Teams
At the college level, the Vermont Catamounts are a Division I team that has been a regular visitor to the NCAA Tournament. For football, Vermont is at a lower level, but neighboring Boston College, UConn, and Syracuse are not a long drive.
Other Sports Teams
Vermont is home to minor league teams in several sports, as well as lower-level college teams. Nearby New York and Massachusetts have MLS soccer teams, WNBA franchises, and a variety of other sports viewing and betting options.
How to Create an Online Sportsbook Account
Creating an account at an online sportsbook is fast and easy, with the whole process taking a few minutes, start to finish.
Step 1. Sign-Up at a Sportsbook
Choose one of the ranked sportsbooks in our top 10 and click on the create account button to get started. Enter your personal information to register.
Step 2. Verify Your Sportsbook Account Details
You may need to do a two-step verification to get started. This means the site will send a code to your phone by text message so you can prove that you're who you claim you are.
Step 3. Deposit Your Funds
Now that you've created an account, you need to fund it. Go to the cashier section and choose your method of deposit. Enter your financial information. If your welcome bonus requires a promotional code, this is when you would enter it.
Step 4. Start Betting on Sports
You're all set. Choose a sport and betting market and get started. Good luck!
Vermont Betting Guides
FAQs – The Legality of Online Sports Betting in Vermont
Is sports betting legal in Vermont?
Sports betting is not legal for companies based in Vermont. The state hopes to pass a law as soon as this year making it legal. For now, however, the only way to bet on sports in Vermont is at an offshore sportsbook. 
Does Vermont allow online sports betting?
All forms of sports betting are illegal at providers located within the state. Offshore books are located outside the country, however, meaning that they are not under the jurisdiction of state law. So they can take bets from Vermont residents and payout with real money. 
What sportsbooks are legal in Vermont?
The state of Vermont does not specify any legal sportsbooks, at least for the time being. However, state law has no control over sportsbooks located outside the country, like the offshore betting sites that make up our top 10 list. 
What sports betting apps are legal in Vermont?
Sports betting apps and mobile sites have the same legal standing as online sportsbooks. That means that state law does not specify that any of them are legal. However, residents can use offshore sites that operate mobile sportsbooks. 
Can I play DraftKings in Vermont?
Technically, yes; daily fantasy sports are legal in Vermont and available on DraftKings. However, DraftKings Sportsbook, which offers actual sports wagering, is not yet available.