New Mexico Horse Racing Betting – The Best Racebooks in New Mexico 2023 Compared
There are five horse racing tracks in the state of New Mexico. Unfortunately, none of them accept in-person bets. Since online betting is also not legal in New Mexico, horse racing enthusiasts can't bet at local tracks. Fortunately, New Mexico horse racing betting fans have been able to make bets on tracks from all over the world by signing up at offshore sportsbooks.
These online betting sites are not located in the U.S. and do not fall under state and federal jurisdiction. You will have access to the top horse racing tracks as well as the ability to make future bets on the biggest horse racing events of the year. The added bonus of betting horses at offshore sites is that these brands offer several gambling services with just one account. You can bet on horses, sports, casinos and poker. In states that have regulated online horse betting, you would need to open several accounts to get access to all of those gambling services.
In this dedicated guide, we will go over the best New Mexico gambling sites for horse racing betting as chosen by our betting experts. We will highlight the criteria they've used to pick these brands as well as give a summary of what each of them has to offer. We will also give you links to get more in-depth on the brands on this list as well as access to 100+ reviews of offshore betting sites.
The Best New Mexico Sportsbooks in 2023
New Mexico Betting Guides
We have multiple in-depth guides to New Mexico's other online betting markets, or a dedicated page with more information about New Mexico's best gambling sites for bettors that want to learn more.
Top 10 Horse Racing Betting Sites in New Mexico Ranked
These brands are all located offshore, which is why New Mexico gamblers have been using them for years. They also provide access to other forms of gambling besides horse racing, so you're getting top-of-the-line service across several different offerings.
Reviewing the Best New Mexico Horse Racing Betting Sites
1. Bookmaker: Racebook Has Great Deals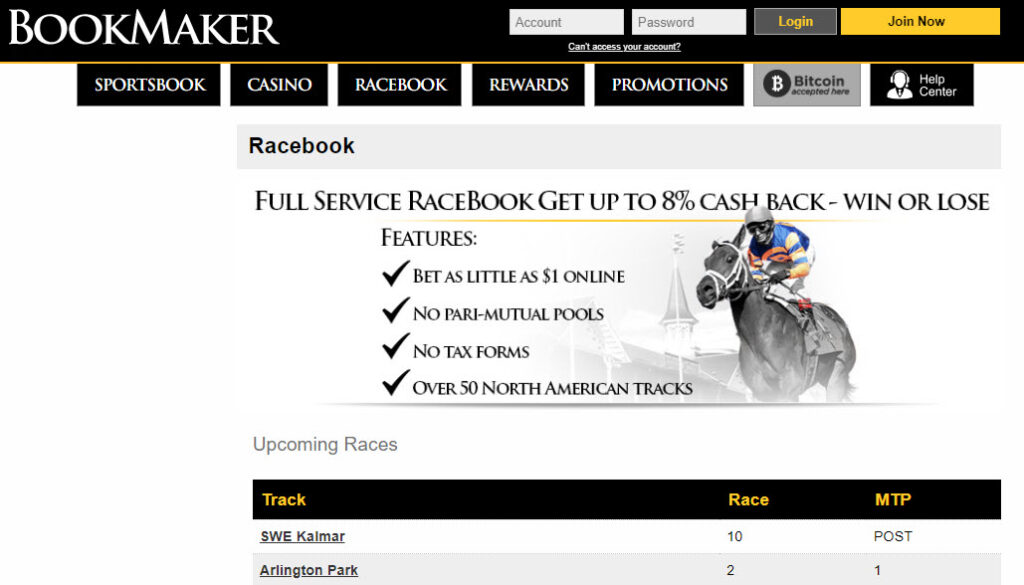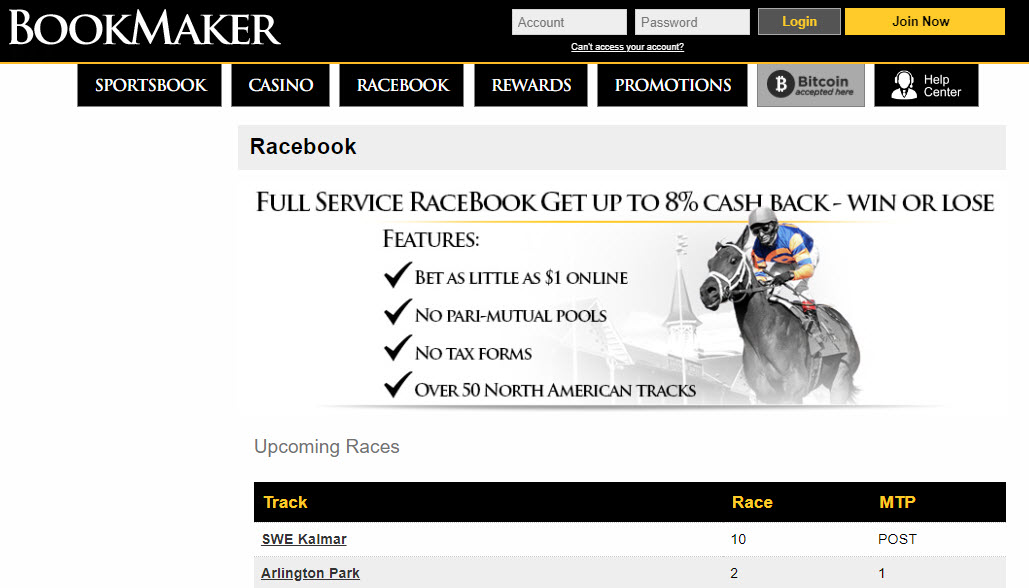 Bookmaker.eu is one of the most well-known brands in the online gambling industry. It is one of the most popular sites for New Mexico horse racing bettors, and with good reason. The reputation across all of their gambling services is top notch and you will enjoy the horse racing bonuses that they offer.
At the Bookmaker racebook, horse racing bettors in New Mexico can get an 8% cash rebate for win, place and show bets. The best thing about this bonus is that it comes in the form of cash, which has more value than bonuses that are given as free plays. Bookmaker will also get you access to over 100 racetracks in the U.S. and around the world.
It's impossible to talk about Bookmaker and not mention how good their sportsbook is as well. Most horse racing bettors like to make sports-related bets from time to time and Bookmakers has one of the best odds markets in the business. Their slogan "where the line originates" is a nod to the early odds they offer. Those early odds get you better prices than the competition, which is one of the many perks New Mexico gamblers love about their Bookmaker experience. All of this is complemented by one of the best loyalty programs in the industry.
Pros:
One of the most reputable brands in online gambling
Offers fixed odds in horse racing
8% cash rebate
Cons:
Historic race track information is not available
2. Heritage Sports: Full Track Odds a Great Feature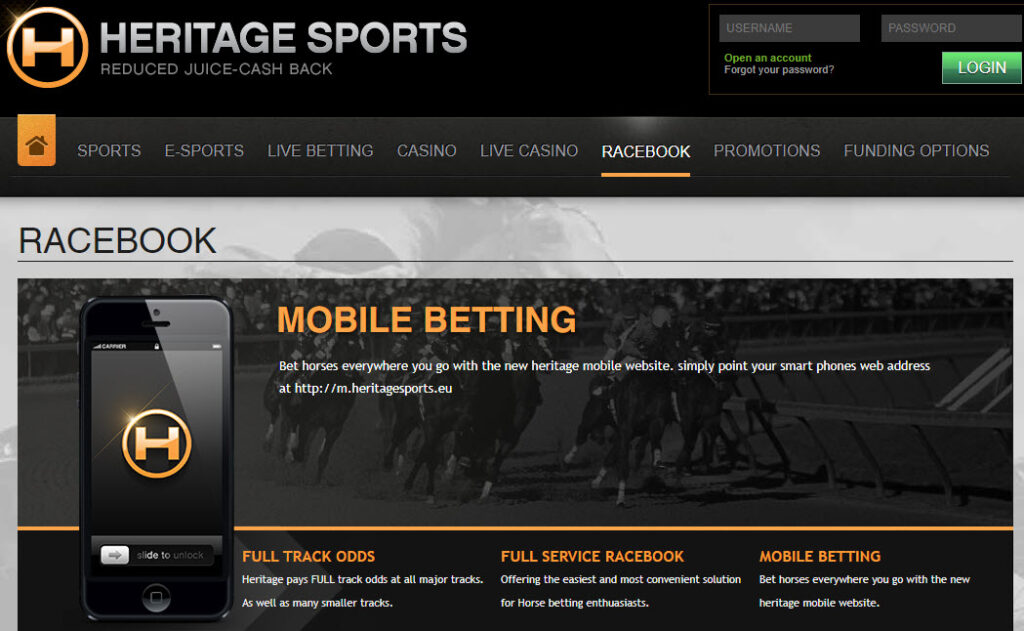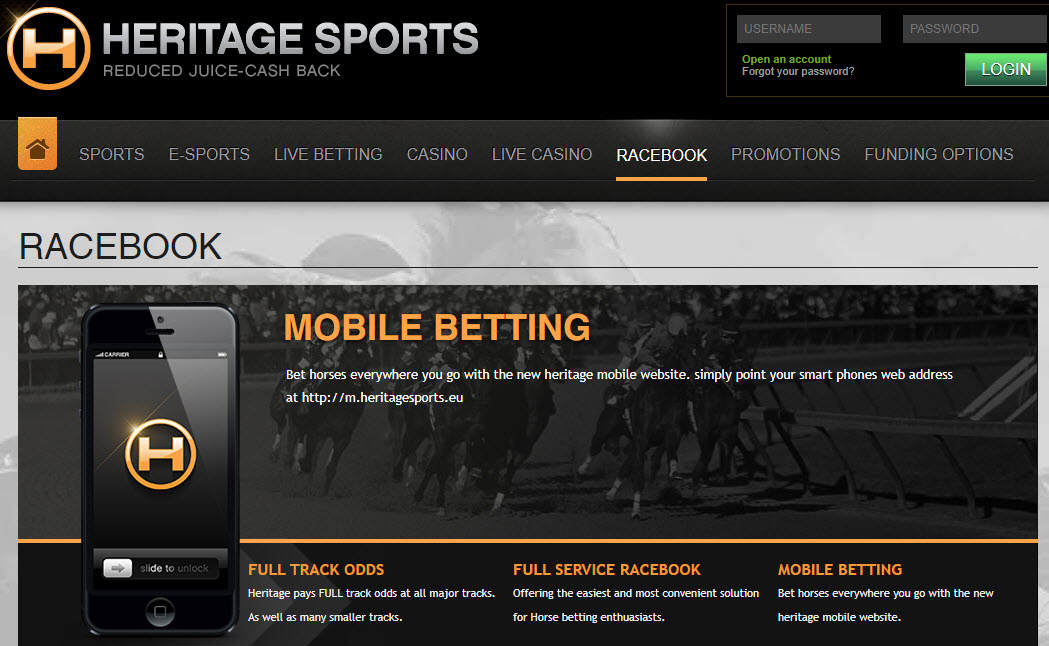 The horse racing offering at Heritage Sports is very strong. They are a brand known for reduced juice, which applies to sports betting. One of the great things about betting on horses at Heritage Sports is they pay full track odds. Most horse racing websites pay adjusted track odds, which are much different, and usually not in your favor.
As with all of the brands on this list, you will really enjoy Heritage Sports' sports betting offering, where you get 20% off spread and total bets. That is due to their reduced juice model that charges -108 juice instead of -110, which is the industry standard. On top of that, they have one of the best live betting markets, which is slowly becoming one of the most popular ways to bet.
The reputation that Heritage Sports has been able to build in the industry comes from the consistency of its service across all offerings. New Mexico horse racing bettors that come to get action at the track often end up having just as much fun getting in on the casino games or betting on their favorite live sporting event.
Pros:
Heritage pays full track odds
Mobile platform makes betting on horses really user-friendly
3. BetOnline: Get Fixed Odds on Important Races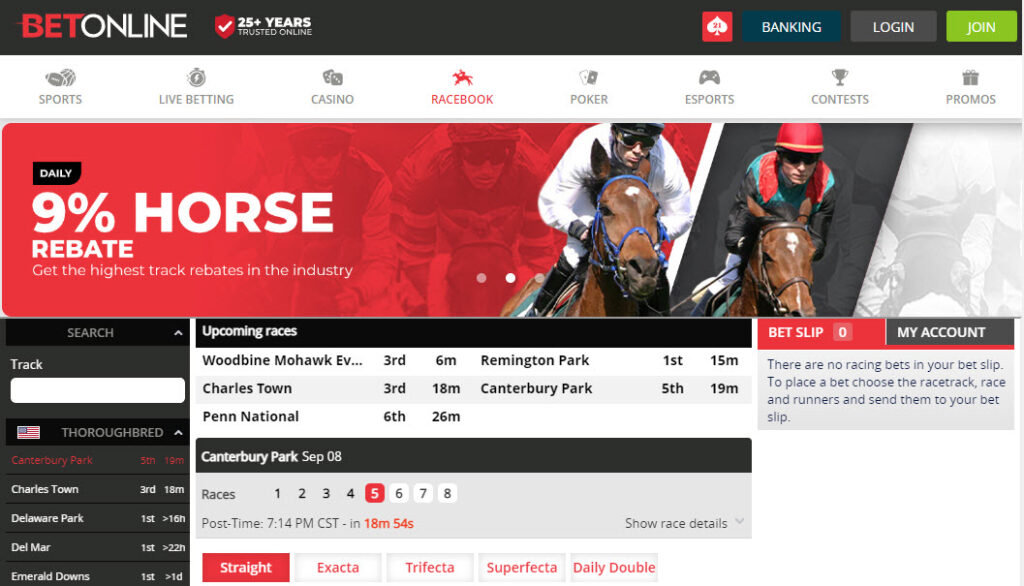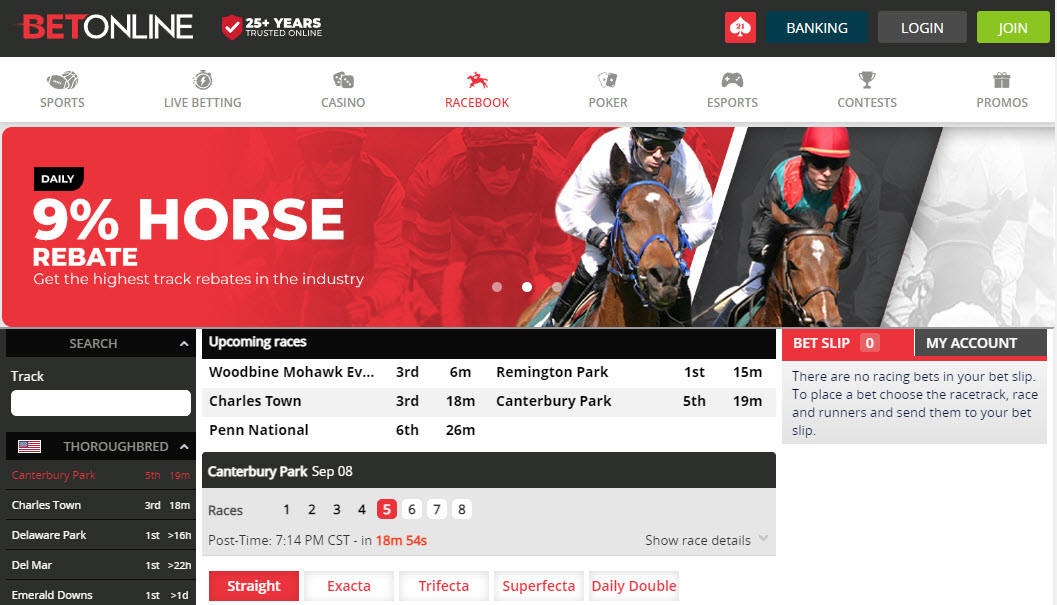 To understand why fixed odds are so important, you need to understand that most horse racing betting in the U.S. is paid on a pari-mutuel basis. That means that you don't get the true odds of your payout until after the race has been completed. Pari-mutuel betting means that all of the money that has been bet on a race is put in a pot where the racetrack takes its cut.
Once they get their piece of the action, the remaining money in the pot is divided up among players with winning bets. The reason that payout odds are not available before the race is that the bets are being taken up until the race starts, so the amount of money is unknown until it has been counted after the race starts.
BetOnline offers more fixed odds bets than most competitors. Fixed odds are the opposite of pari-mutuel in the sense that you get the odds before making the bet. This is one of the key features that New Mexico horse racing bettors love about BetOnline's racebook. The fixed odds on the big races like the Breeder's Cup and the Triple Crown allow New Mexico bettors to get action well ahead of time with BetOnline's horse racing futures, which are all fixed odds.
Pros:
Get access to fixed odds for big races
Save money on exotics
Cons:
No welcome bonus specific to the racebook
4. Bovada: Known for Great Betting Options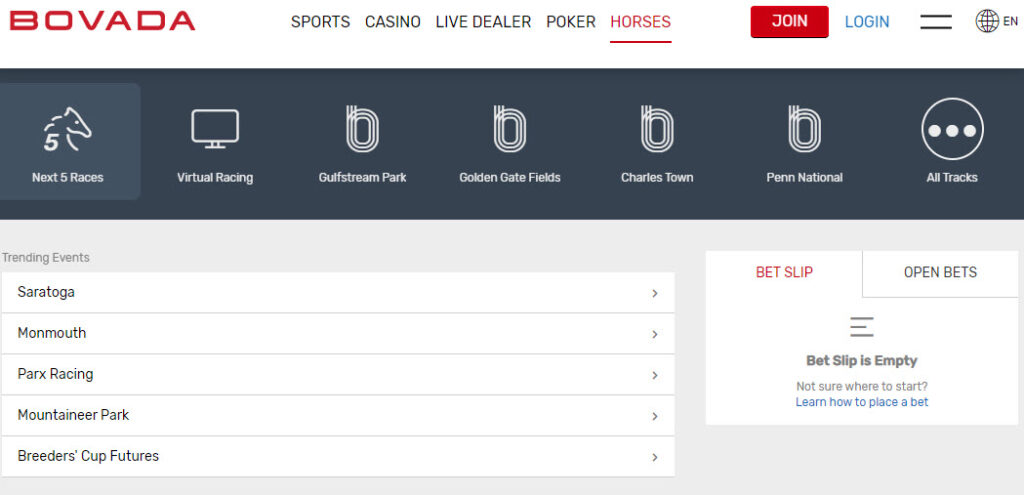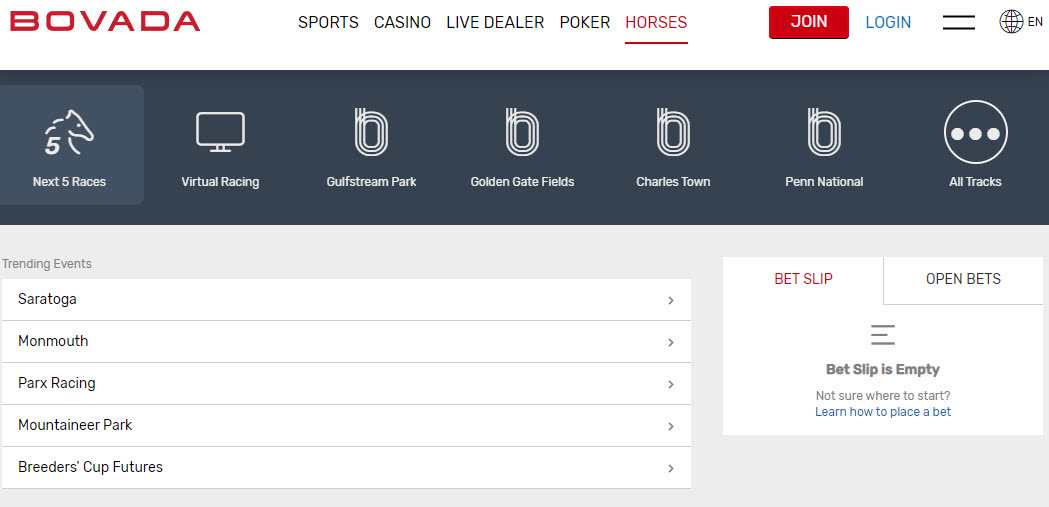 Bovada offers their players a weekly rebate of 3% on win, place and show bets. They also give you a 5% rebate on exotic bets including exacta, trifectas, superfecta and pick 6. To be clear, that's a lot of savings across multiple bet types, which means your money goes further when you're betting horses with Bovada.
The other major perk for horse racing bettors in New Mexico is that Bovada provides live streams of races from most major tracks. Considering in-person betting at horse racing tracks in New Mexico is illegal, this feature will give you the closest thing to that experience that you can get in the state. You can stream races on both the desktop and mobile versions of the site as well.
Speaking of mobile, Bovada also has one of the best mobile platforms in the industry. It makes placing horse racing bets really easy with a very user-friendly interface. Add to that the quality of their sportsbook and poker room and it's no wonder it's such a popular brand among New Mexico gamblers. Poker fans will really enjoy the fact that Bovada is part of the busiest U.S.-facing poker room in the world. That means you can get in on some poker action at any time of day or night.
Pros:
Welcome bonus available for horse racing
Access to one of the country's busiest poker rooms
Cons:
Early odds not always available
Lower betting limits
5. BetAnySports: Racebook Discounts a Favorite of New Mexico Bettors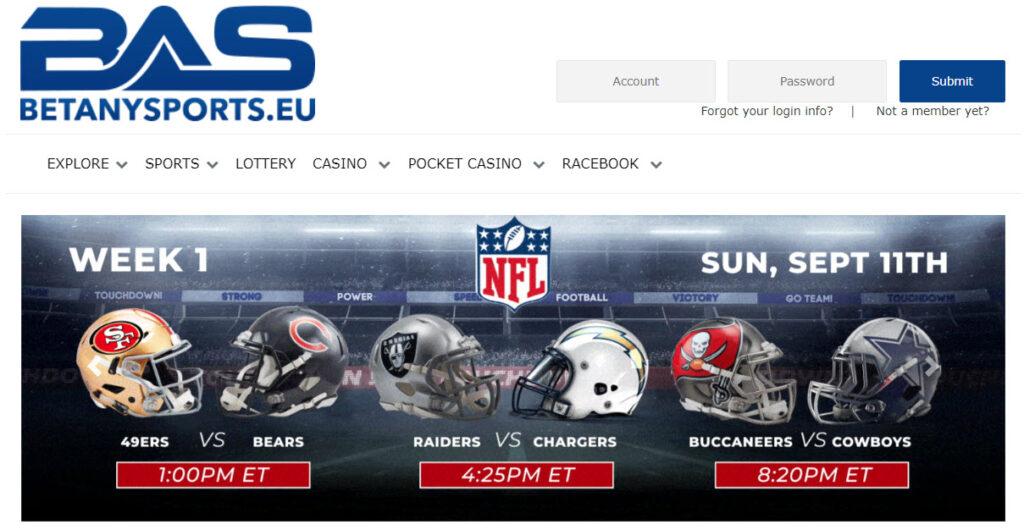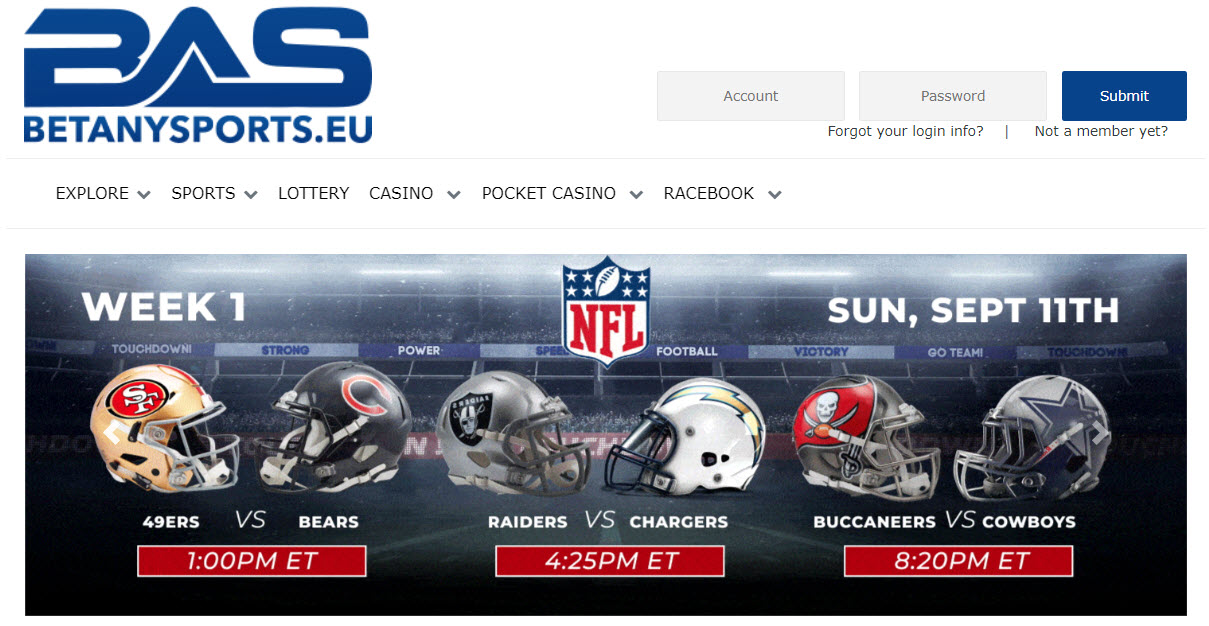 The name BetAnySports might lead you to believe that their racebook is an afterthought, but that is definitely not the case. The first thing you'll notice is that they offer a deposit-related bonus of 25% that can be used in the racebook. Most online horse betting sites only offer bonuses in the form of rebates. The 25% bonus has a maximum deposit of $2,000.
If you prefer rebates, there is a 3% discount on straight bets and an additional 6% on exotics. Whatever type of bonus you choose, you'll get a lot of betting power with the different offers that BetAnySports has. Another feature that New Mexico horse racing bettors love about BetAnySports is the speed of their payouts. Fast payouts are always a priority among gamblers and in that respect, BetAnySports has a very solid reputation.
Pros:
Both racebook discounts and traditional bonuses available
Save money on straight bets and exotics
Cons:
Website interface is a little bit outdated as compared to some competitors.
Best Horse Racing Sites for New Mexico Compared
There are a few things to keep in mind when comparing horse race betting sites:
Fixed Odds in Horse Racing
The only time you will usually get fixed odds when betting on horses online in New Mexico is when making future bets. The only other time fixed odds are usually available is for the big races like the Triple Crown or Breeder's Cup.
In most other instances, horse races will be paid based on a pari-mutuel system, meaning the true payout odds won't be available until the race has concluded.
Betting Markets in Horse Racing
Most sites that provide horse racing services use the same providers, so the interface and the tracks offered will be relatively similar across the board. The tracks that you will have access to will depend largely on the site you choose to sign up with.
Bonuses in Horse Racing
Most bonuses for horse racing come in the form of rebates. Horse racing is very different from sports betting, where a lot of the bonuses offered are deposit-related. The rebate bonuses are a great way to get a little bit of extra action based on your previous activity.
Tools for Horse Racing
The most commonly used tool in horse racing is historical track data. You can also find historical information on the horses as well as the jockeys.
Welcome Bonus in Horse Racing
If you are claiming a deposit-related bonus when you are looking to bet on horses, you need to be cautious. The size of the bets in horse racing could make it hard to complete the terms and conditions of certain bonuses. The majority of horse racing bonuses come in the form of a rebate. We strongly suggest speaking to a customer service agent about the terms and conditions of all deposit-based bonuses as they relate to betting on horses.
User Experience at Betting Sites
On top of the access to tracks from around the world, fixed odds on future bets are available at big tracks as well. The added feature that gives New Mexico bettors a great user experience is the all-around gambling services that offshore sportsbooks offer. You can enjoy several different types of gambling from the comfort of one account.
These sites also offer top-of-the-line customer service because their agents have to be well-versed in several aspects of the industry. They need to be able to handle questions about horse betting, sports, casino and poker. For that reason, you can expect an elite level of customer service with these brands.
Live Streaming of Horse Races
Some of the brands in this guide like BetOnline and Bovada do offer live streaming of horse races. In this case, you can also access simulcast wagering on these sites.
Best Betting Sites for Horse Racing in New Mexico
As mentioned earlier in this guide, we'll break down the criteria used by our betting experts when choosing the best horse racing site in New Mexico. These are what we believe you should always take into consideration when choosing the right place for you.
Brand Prestige
One of the most important things to any online betting site is its reputation. This is especially true with offshore companies because they usually operate in a different jurisdiction than their customer base. This can lead to some hesitancy from new customers looking to sign up. Brand reputation is one of the strongest selling points for any offshore site. It is also one of the most important criteria for our betting experts when making this list.
Deposits and Withdrawals
Getting money in fast and getting it out in a timely manner is of the utmost importance when trying to decide where to sign up. Horse races are time sensitive and any delays with being able to get a deposit in could result in you missing out on a race you wanted action on. The same goes for withdrawals in terms of the speed at which they are processed and the options available to make that happen.
All of the recommended sites in this guide offer lots of banking options and payout fast. Just remember to do your part by completing the identity verification process.
Safety & Security
With the amount of personal information at an online gambling site, cyber security is one of the top priorities of all of these companies. This goes hand in hand with their overall reputation and is something you can be sure all of the sites in this guide do well.
Online Interface
The online interface is certainly important, especially when it comes to mobile betting. With a large majority of wagers being made online these days, it is crucial that these brands have an interface that is easy to navigate.
Customer Support
We prefer that customer support be available 24 hours, but the quality of that support is just as important. Customer support should be judged on problem resolution and their ability to clarify things you don't understand. If they can do that as well as provide consistent service levels, that will go a long way towards the quality of your user experience.
Overall Value on Offer
Here is a list of things to consider when trying to determine the value on offer:
Do they offer races at tracks I like?
What is the size of their market?
Are there bonuses for horse racing specifically?
Do they offer promos for specific events?
Is horse racing betting legal in the state of New Mexico?
While horse racing is available in New Mexico, betting on them in person or online is not legal.
New Mexico horse racing bettors use offshore sportsbooks to bet on horses due to the fact that they are not located in the U.S. and do not fall under state and federal jurisdiction.
Betting on Horse Races in New Mexico
The only option for betting on horses in New Mexico is via an offshore site. These sites allow you to bet on over 100 tracks from around the world online.
How does horse racing betting work in New Mexico?
All forms of gambling in New Mexico are controlled by Native American tribes; tribal casinos can operate retail sportsbooks but there are no gambling establishments that take horse bets anywhere in the state.
You can bet on horses via an offshore site where races are paid out via pari-mutuel betting. Pari-mutuel wagers are paid out in prize pools. Fixed odds for horse races are generally reserved for big races or futures where available.
Betting Odds in Horse Racing
Horse racing odds in the U.S. appear in the American odds or fractional odds formats.
Fixed-Odds Betting on Horse Races in New Mexico
Fixed odds can be displayed in both fractional and American formats. Horse races don't always have an overwhelming favorite, so most odds will have a plus sign in front of it when dealing with American odds. Under normal circumstances, odds with a minus sign indicate a favorite.
If all of the odds being displayed have a plus sign in front of it, the lowest number among them would be the favorite.
If your odds are +500, a $100 bet would earn you a profit of $500
If the odds are -500, a $100 bet would earn you a profit of $20
An example of fractional odds and their payouts:
If your odds are 1/5 , a $100 bet will earn you a profit of $20
If your odds are 5/1, a $100 bet will earn you a profit of $500
Pari-Mutuel Betting
Most horse races are paid via pari-mutuel betting. This means that the payout odds are not available until after the race. All of the money from bets made on the race is put into a pool. After the track has taken its cut of the action, the remaining money is divided up among the winners.
Some tracks will have what is called a tote board that displays payouts for the market.
Here is the tote board for the 2022 Kentucky Derby:
A $2 win bet on Rich Strike paid $163.60
A $2 place on Rich Strike paid $74.20 and a $2 show paid $29.40
A $2 place on Epicenter paid $7.40 and a $2 show paid $5.20
A $2 show on Zandon paid $5.60
A $1 exacta paid $2,050.60
A $0.50 trifecta paid $7,435.35
A $1 superfecta paid $321,500.10
New Mexico Horse Races and Pool Betting
Pari-mutuel wagering is one of the most popular bet types in horse racing; this type of bet is also known as a pari-mutuel pool wager or just pool betting.
Types of Horse Racing Bets in New Mexico
Win: Betting on a horse to finish in 1st place
Place: Betting on a horse to finish in 1st or 2nd place
Show: Betting on a horse to finish in 1st, 2nd or 3rd place
Exacta: These are considered exotic bets. In order to win, you need two horses to finish in the exact order you chose.
Trifecta: Just like an exacta but with three horses instead of two.
Superfecta: Similar to an exacta and trifecta, but you pick four horses.
Daily Double: An exotic bet that lets you attempt to predict the winners of two horses on that day.
Pick 3/4/5/6: A bet where you try to predict the winner in 3-6 consecutive races.
New Mexico Horse Racing Glossary
Here is some important horse racing lingo that you should familiarize yourself with:
Across the board: Three bets in total: win, place and show.
At the post: A last-minute bet. When the horses are lined up to start the race, most tracks stop taking bets, though some tracks offer live bets.
Blinkers: Headgear that restricts the horse's field of vision.
Claiming Race: All horses in the race are up for sale.
Dead Heat: A tie between two horses.
DQ: A horse that has been disqualified.
Exotic bet: Bets that involve multiple outcomes. Exactas and trifectas are the most popular exotic bets.
Favorite: The horse with the best odds to win. This horse also pays out the least amount of money for a winning bet.
Fixed Odds: The opposite of pari-mutuel betting. The odds are set pre-race which lets you know how much you profit from a win.
Furlong: An eighth of a mile on a racetrack.
Length: A term used to describe both the margin of victory and the length of a horse. In close races, a specific body part may be used to describe how much the race was won by.
Morning Line: Track handicappers provide predictions on the odds for a pari-mutuel race. These are rarely 100% accurate.
Pari-Mutuel Wagering: All money from bets on a specific race goes into a pool. The track takes a cut and the remaining money is distributed among the winning bettors.
Purse: Reward issued to the owners of the participating horses. The owner of the winning horse earns the largest purse.
Tote Board: Displays each market's payout and all of the races for the day.
Triple Crown: The most well-known and important races in the U.S. The three races consist of: the Kentucky Derby, Preakness Stakes and Belmont Stakes.
Wager: Another word for a bet.
Calculating Horse Racing Betting Odds
You won't be expected to do this because there is a bet slip that will calculate the odds for you for fixed odds. In terms of pari-mutuel odds, track handicappers usually give out track odds before the races, but these are an estimate and are rarely one hundred percent accurate.
New Mexico Horse Racing Odds Chart
Our odds chart provides you with some insight into how payouts look as well as win probability, which is what these odds ultimately represent. The reason we use $2 in these examples is that that is usually the track minimum.
| Horse Racing Odds | $2 Wager Payout | Implied Probability of Winning |
| --- | --- | --- |
| 1/5 (-500) | $2.40 | 83.33% |
| 1/4 (-400) | $2.50 | 80% |
| 1/3 (-300) | $2.60 | 75% |
| 1/2 (-200) | $3.00 | 66.67% |
| 4/6 (-150) | $3.33 | 60% |
| 1/1 (-100) | $4.00 | 50% |
| 2/1 (+200) | $6.00 | 33.33% |
| 3/1 (+300) | $8.00 | 25% |
| 5/1 (+500) | $12 | 16.67% |
| 10/1 (+1000) | $22 | 9.00% |
| 50/1 (+5000) | $102 | 1.96% |
As you can see, odds of (-500) are the most likely to win but have the smallest payout, whereas odds of (+5000) have the highest payout but the lowest chance of winning.
New Mexico Horse Race Tracks
Horse racing fans in New Mexico have five tracks to choose from:
The Downs At Santa Fe
The Downs Racetrack & Casino
Ruidoso Downs Race Track & Casino
Sunland Park Racetrack & Casino
Zia Park Racetrack
New Mexico is a key part of the horse racing industry; the highest-paying American quarter horse race in the world is held at Ruidoso Downs.
Betting Bonuses for Horse Racing in New Mexico
Knowing what perks each of the different types of bonuses and promotions can be beneficial when deciding which online horse racing site to use:
Welcome Bonus
Welcome bonuses for racebooks are different from sportsbooks and casinos in the sense that most of the promos involve rebates. This is a better way to receive bonuses when betting on horses considering the bet sizes and frequency are very different from those other forms of gambling.
If you do claim a bonus for betting on horses that is deposit-related instead of a rebate, make sure to confirm the amount of required action before taking it. All bonuses come with a certain amount of required action before you can cash out.
Risk-Free Bet
Risk-free bets don't come along too often, and when they do, they usually carry terms and conditions on the back end. What a risk-free bet actually means is that if you make a wager and lose, you will get the risk amount back in the form of free bets. These bets can sometimes come in the form of cash, which has a lot more value than free bets.
Loyalty/VIP Program
Loyalty programs reward you for your activity. Most include a tier system that rewards you for your loyalty by giving you points that can be redeemed for free bets.
Racebook Rebates
Most horse racing bonuses come in the form of a rebate. These rebates are based on a percentage of the action that you've put forth in the racebook.
Terms and Conditions at New Mexico Horse Racing Betting Sites for Bonuses
This is one of the most fundamental parts of your user experience. For new players, the failure to understand terms and conditions is usually the difference between a good and bad user experience. Most players see bonuses being offered and take them without understanding what is required to comply with the terms and conditions.
The most important thing to know is that if you take a bonus, you will have a minimum amount of required betting that needs to be completed before you can cash out. Other bonuses also include a maximum cashout amount, meaning that no matter how high your balance gets, you can't cash out more than the predetermined amount.
When deciding whether or not you should take a bonus, you need to ask yourself how often you plan on cashing out. If you prefer to cash out often, bonuses might not be for you since they restrict your ability to do so. It doesn't mean you should never take a bonus, it means you need to be extra careful with the wagering requirements before you do so.
If you know that you don't cashout out very often, then the required play-through shouldn't really affect you because the action will take care of itself. Please choose wisely when claiming any bonuses.
Rollover Requirements
"Rollover requirements" is just another way to refer to playthrough requirements. This can be based on your bonus itself multiplied by a certain amount of the bonus plus the deposit amount. Whatever the formula is, the predetermined amount of required rollover means that until you've put that much money at risk, you are not eligible to ask for a payout.
Virtual Horse Racing Betting in New Mexico
Virtual horse racing is not currently available in New Mexico.
New Mexico Horse Racing Betting Apps
Offshore sports betting sites are not operated or regulated in the United States. Because of that, online horse racing betting apps are not usually available. When New Mexico warms up to the idea of mobile sports betting, that could change.
For now, offshore online sportsbooks have expertly-designed mobile sites that you can access from your browser that will help you see the latest betting lines, check the results of a game or race, place sports bets and bets on horse races, and more.
New Mexico Horse Racing Betting Apps for iPhone
Many offshore sportsbooks have mobile platforms that are compatible with the iPhone. Because these online sportsbooks aren't locally regulated, many of them can't offer a native app for the iPhone; instead, they have streamlined mobile sites that make online wagering from your phone smooth and simple.
New Mexico Horse Racing Betting Apps for Android
Horse racing fans can easily bet on horses using the mobile platform of any of the sites recommended in this guide. However, legal sports betting is restricted to tribal casinos in the state of New Mexico.
The limitations of the legal framework prevent offshore horse racing betting sites from having their own native apps but the mobile versions of the site provide an identical experience.
Start Betting at Horse Racing Sites in New Mexico
It's easy to get started wagering on horse racing in New Mexico.
Review our guide carefully before choosing the best New Mexico racebook.
You will see a "Join Now" or "Sign Up" button. Click the one you see and complete the registration form.
Review the terms and conditions of your bonus before completing your deposit.
Pick a deposit method and fund your account.
Horse racing will have its own section. It is usually referred to as the "Racebook" although it could also simply be titled "horse racing."Review available races and odds
If you want a straight bet, pick a win, place or show.
Exotic bets are made separately. You'll need to create a tab for your exacta, trifecta or superfecta.
Put your risk amount in the bet slip to see what your potential profit is. If you like what you see and want to make the play official, click "Place Bet."
You should see your pick under pending wagers.
Other Types of Gambling in New Mexico
All forms of gambling in New Mexico are controlled by local tribes.
There are a total of 23 casinos in the state which are owned by 14 tribes. These casinos are spread out over 10 counties. There are also five state-licensed racetracks that offer casino gaming as well.
What is the best site for horse racing betting in New Mexico?
This is a matter of personal preference since every horse racing betting site excels at a different aspect of the business. We did however ask our betting experts to narrow down their top picks and these five were the consensus picks:
Heritage Sports
Bookmaker
Bovada
BetOnline
BetAnySports
Each of these offshore sports betting sites offers a great racebook; horse racing fans can easily access online horse racing betting, sports wagering and many other forms of gambling with these sites.
FAQs – New Mexico Horse Racing Betting
Can you bet online in New Mexico?
Under the state's gambling laws, online gambling with a state-regulated provider is not possible. This is why many bettors in the state turn to offshore gambling sites. Bettors can enjoy online sports betting, horse race betting and even plenty of options to gamble on online casino games (such as slot machines, poker and table games) with these sites as long as they are of the legal gambling age (which is 18 at these sites).
How do you gamble in New Mexico?
You can place in-person sports bets or enjoy casino-style gambling with one of the state's tribal casinos which are operated on tribal lands. You can also participate in the New Mexico state lottery by purchasing lottery tickets. For online or mobile gambling, you will need to use an offshore casino site or offshore sportsbook.
Is horse racing betting legal in New Mexico?
Horse race betting is not legal in New Mexico. Instead, residents have been using offshore horse racing betting sites to place bets on races for decades.

These sites are best known for sports wagering; however, horse racing fans can also bet on domestic and international races at these online betting sites.
 
What is the big horse race in New Mexico?
The All-American Futurity at Ruidoso Downs is not only the largest race in New Mexico, but it is also the richest Quarter Horse race around the world.

The Kentucky Derby, the largest event in the entire horse racing industry that's annually held at Churchill Downs, has a purse of $3 million. The same is true for the All-American Futurity that's held at Ruidoso Downs each year.
How many horse tracks are there in New Mexico?
There are five horse tracks in New Mexico. These are:

Downs At Santa Fe
The Downs Racetrack & Casino
Ruidoso Downs Race Track & Casino
Sunland Park Racetrack & Casino
Zia Park Racetrack
Is TVG legal in New Mexico?
TVG is legal in New Mexico. However, you can not place wagers on horse race tracks that operate in the state. If you would like to use a site that allows you to bet on these horse tracks, in addition to horse races worldwide, we suggest using one of our top-rated offshore sites.
Does New Mexico tax winnings from bets?
Bettors in New Mexico will need to keep track of all of their gambling winnings and will need to report them at the end of the year. They will need to pay both federal and state taxes on these winnings.