Iowa Online Casinos – The Best Online Casinos for Iowa Gamblers in 2023
For casino players in Iowa, the laws have not changed yet to bring about any licensed online casino games in the state. Sure, you can visit one of the more than 20 retail casinos to enjoy classic casino games like blackjack and roulette, but the legal online betting platform is simply not there yet in the Hawkeye State.
But we have good news. With the use of offshore casino sites, you can enjoy casino gaming to win real money today within the borders of Iowa. You just have to find the right sites to use, and that is why we have our top 10 list below in this guide on the best online casinos for Iowa gamblers.
Read on to find out what makes these Iowa online betting sites the best and why the recent gambling history in the state looks promising for the future of online casino gaming.
Iowa's Top Online Casino Sites
Our Top-Rated Online Casinos for 2023
Our top-rated online casinos for Iowa users are all located offshore, in countries where online betting is perfectly legal. This is why you can use these sites in Iowa even though they are not regulated by the state. They are following the local laws of their jurisdictions. These sites will all accept Iowa users who are at least 18 years old.
Is online casino gambling legal in Iowa?
No, the legal forms of gambling in Iowa from an online standpoint include sports betting, daily fantasy sports and horse racing. The legal gambling age is 21, but the only casino-style games you can legally play in the state are at ‌retail casinos.
Iowa residents do still have options under the current online gambling laws. If you want to win money online with online casino gaming in Iowa, you can join one of the top-rated offshore casinos featured in this guide.
The Highest-Rated Online Casinos Reviewed
We have included detailed reviews, including pros and cons, for our top five online casinos for Iowa casino players. We believe all these sites are worth your time, and your personal preference will decide which ones you ultimately end up using.
1. Bookmaker: Great Sportsbook and Reward Program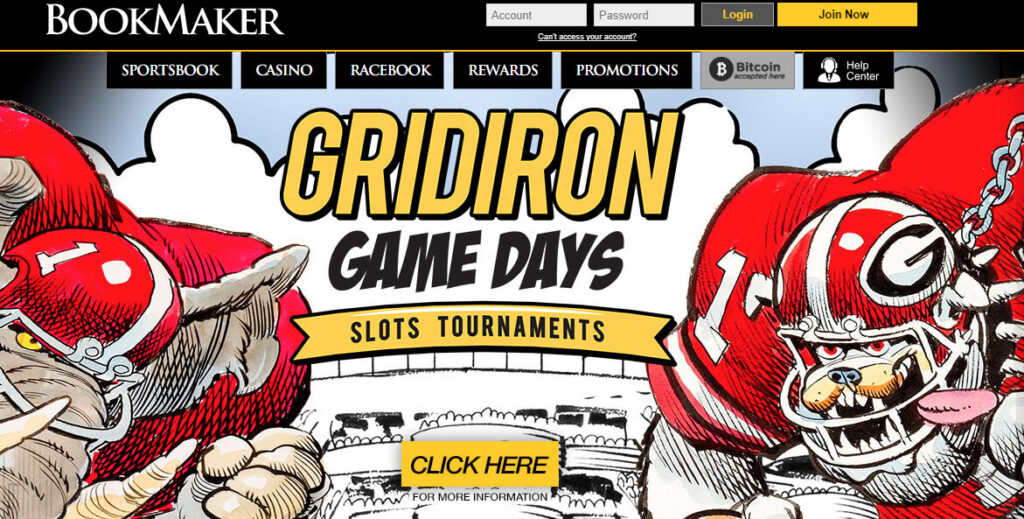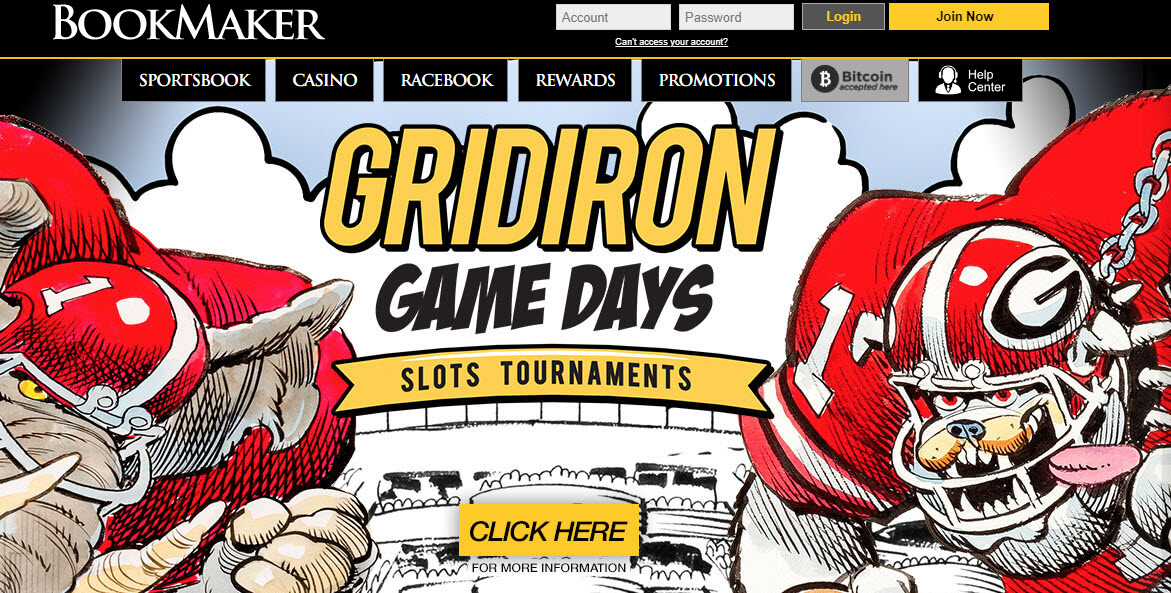 Bookmaker.eu is known best for its sportsbook, because it gets the betting lines out the fastest, making it a favorite choice among sharp bettors and anyone seeking value in their sports betting.
But Bookmaker is also a full-service online casino with over a dozen table games, as well as online slots and specialty games (Keno) available. The nice thing about the casino is that every game shows the Return to Player (RTP) rate, which is how much on average the player will get back for every $100 wagered. The closer to 100%, the better that game will be to play over the long run. This is the only site in our reviews that has this piece of info available to players.
You also get great deposit bonuses and cashback with the reward program at Bookmaker, which is a three-tier system. New users are automatically placed in the first tier of it.
Bookmaker is a great choice for someone who is an experienced online gambler, just as it is great for someone in Iowa just starting out with online casino gaming.
Pros
Earliest lines in online sports betting 
Offer newer casino games and an exclusive Blackjack game
Casino games have RTP info
Winning players not limited 
Very good reward program
Cons
Highest tier of reward program is for recreational accounts only
Not as many casino games as most rivals
2. Heritage Sports: Free-to-try Casino Library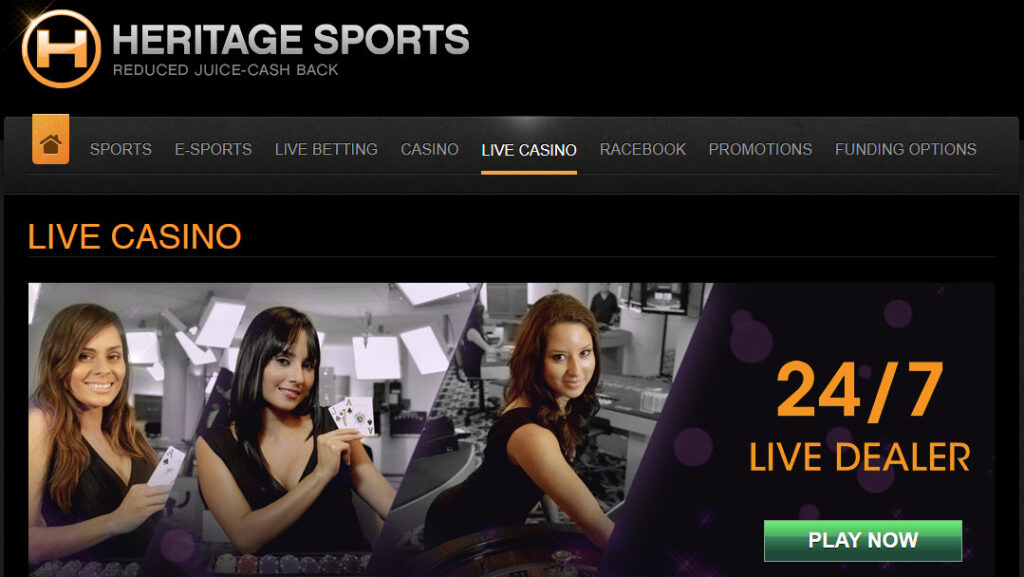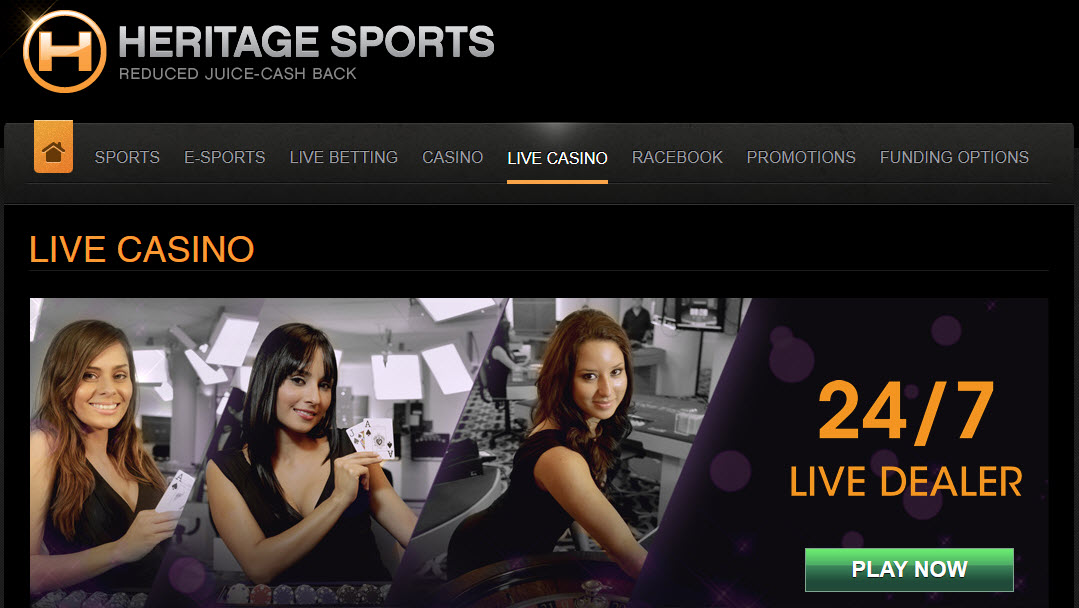 Heritage Sports offers a weekly rebate for your net losses on the casino, which is just one of the great cashback programs on the site. You can also get daily rebates on the racebook and a quarterly rebate for your total betting volume on the sportsbook.
There are unique perks at the site like a free birthday parlay or getting every eighth deposit for free based on the average of your previous seven deposits. You also get a sportsbook with reduced juice (-108 lines) and some early lines in popular markets.
The casino does not come with a poker room, but there are plenty of video poker variants available. The casino has try-for-free versions of every game, which is a feature you will not find at our other four choices in the top five online casinos. This is a great way to test games without real money to see which ones are worth playing.
Pros
Great cashback programs
Bonus funds have no restrictions
Free birthday parlay
Good video poker selection
Casino games are free to try
Good for reduced juice on sportsbook
Cons
Smaller bonuses than offshore sites
Does not feature a live poker room
3. Bovada: Great Poker Tournaments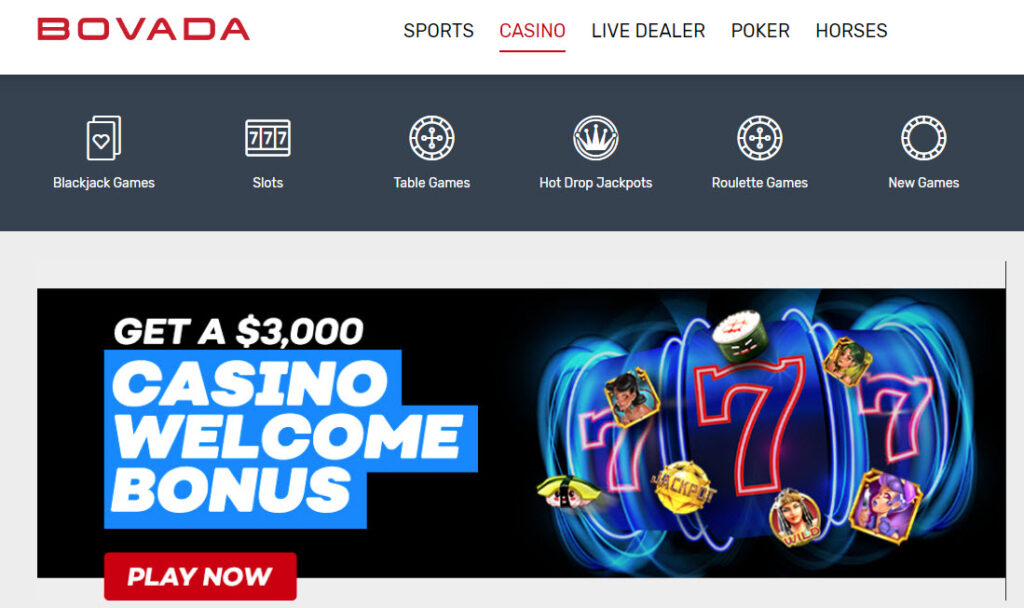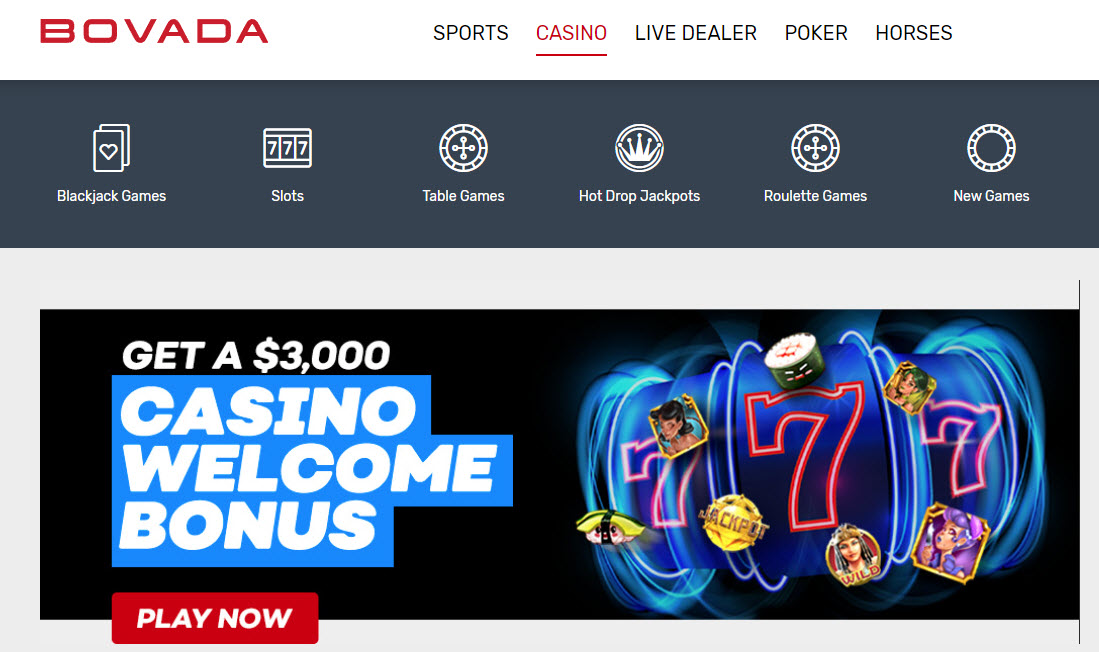 Bovada is part of the No. 1 poker network for American players. You will find plenty of poker tournaments and cash games to play. You can also play anonymously to not tip your opponents on your playing style, a nice feature only found with the Bovada poker room.
But beyond poker, Bovada also has plenty of table games, slots and live dealer games. They also have their own numbers game similar to roulette where you can bet on the next number drawn from a variety of markets every 40 seconds of the day. Bovada is also the king of virtual racing markets with slot-like games where you can bet on a race with virtual cars, horses or even camels and watch the stream of it.
New users at the casino get an outstanding offer where your first three deposits using crypto can earn $3,750 thanks to the deposit match bonus. This makes up for the lack of ongoing promos for loyal users, but there is a good reward program where the more you bet, the more points you accumulate.
Pros
Huge sign-up bonus using crypto
Plenty of table games
Best for poker players
Sportsbook has great prop builder
Best site for virtual racing
Cons
Needs more recurring promos
Limited casino game options
4. BetOnline: Biggest Library for Slots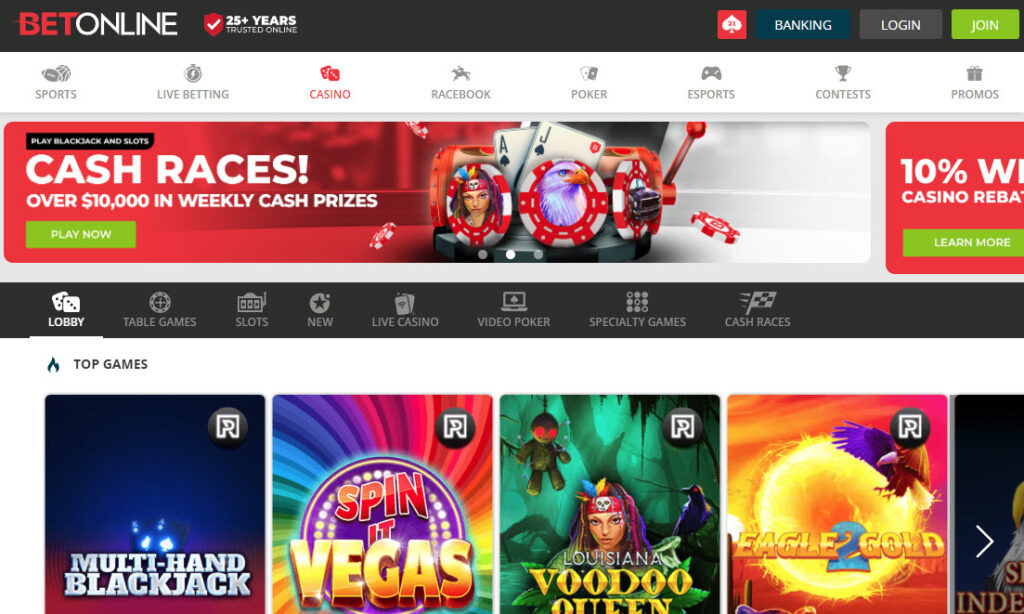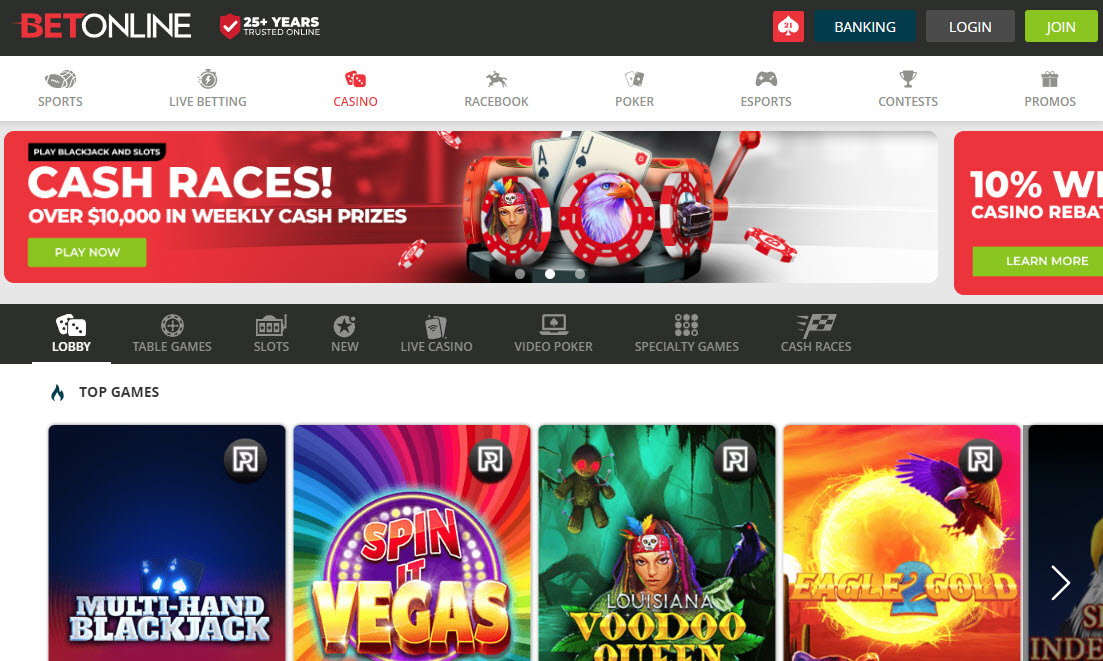 BetOnline is a great choice for the Iowa user who wants an all-around gambling experience. You get a racebook with 9% daily rebates (the highest for exotic wagers on the list), a very good sportsbook with opinionated lines and a casino with more slots than anyone. You also get poker tournaments and cash games that only Bovada can beat.
Bovada also has some of the fastest payouts and highest limits around. The generous welcome bonus is a great way to get started on the site. The casino section has hundreds of slots, many of which are exclusive to BetOnline. You will also find specialty games like Keno and scratch card games.
Our only complaint, and it is a fairly big one for the casino, is that none of the casino games have a demo version. That would be a great bonus to try out so many different games to see which ones will be best to spend real money on. But you can always just set the spin amount to the lowest total and try games that way to find your favorites.
Pros
Great welcome bonuses 
Sportsbook has opinionated lines
Over 500 casino games
Fastest payouts on most banking methods
Online poker tournaments and real money games
Cons
No demo mode to test casino games
Some credit card fees on deposits
5. BetAnySports: Seven Casinos and Lottery Games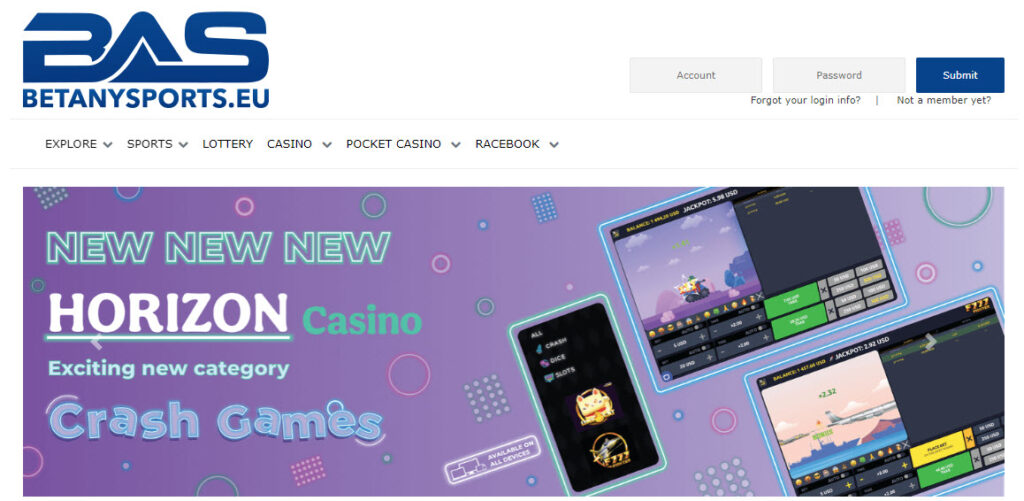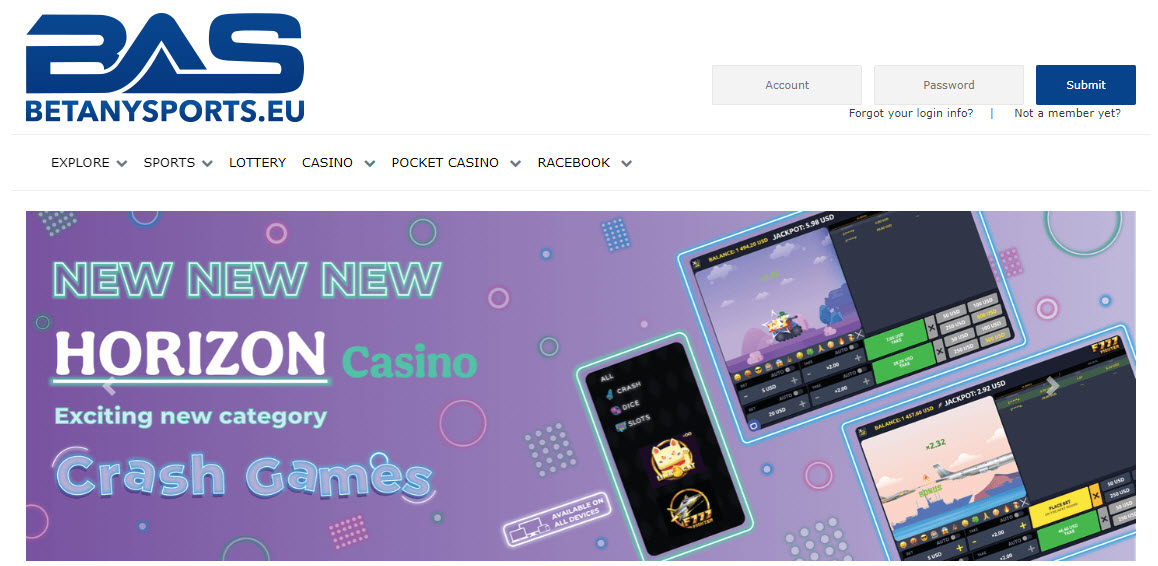 BetAnySports is the underdog in our group of A+ rated online casinos from Costa Rica. It may not have a poker room or huge bonuses, but you get a very functional sportsbook (once you learn how to use it). You also get a great casino with seven different options. Some overlap obviously exists, but each of the seven casinos has a diverse set of games available, including slots, 3D slots, video poker and table games.
You also get live dealer games with reasonable limits. The lottery section is very unique, as you can play Iowa's Pick 3 and Pick 4 drawings as well as many other state drawings each day. Winners get 80% better payouts, too.
Do not expect big bonuses as the site runs on a smaller budget, but you can get a rebate up to 25% on your net casino losses every 30 days.
Pros
Unique slot variety with 3D slots and more
Great for lottery fans
Cashback on casino
Best reduced juice (-105)
Live dealer games available
Cons
Sportsbook design is not very user-friendly
Smaller bonuses than other casino sites
Our Rating Methodology
We will get more into our rating methodology below, but we believe any good online casino operator should have generous bonuses, good customer service, a wide variety of popular games, diverse banking options and a strong mobile experience. The same can be said of online sportsbooks and online racebooks.
The History of Iowa's Gambling Laws
In the last 40 years, Iowa has been one of the best states in the Midwest at legalizing various forms of gambling. It may have started out of necessity in the 1980s when the farming crisis threatened the state's economy. It was in that decade that Iowa passed horse and dog race betting (1983), and the Iowa lottery (1985) and became the first state in the country to approve riverboat casino gambling (1989), with the country's first riverboat casinos opening in 1991 in a place like Dubuque, Iowa.
Eventually, the racetracks would get the okay for slots and table games, turning them into full-service casinos and moving them into land-based casinos. The state also has four tribal casinos to go along with the commercial options.
Sports betting also got a new life in the state after PASPA was overturned by the Supreme Court in 2018. Iowa was able to pass its sports betting law, signed by Gov. Kim Reynolds in May 2019, and sports bets started taking place in August of that year. Since then, users can register remotely to use a wide array of licensed online sportsbooks or go to retail locations to do in-person betting. In February of 2023, the Blackbird Bend Casino was Iowa's first tribal casino to feature in-person betting.
There is still no law for legal online poker or casino gaming, but that could change as Iowa thrives with these other forms of legal gambling.
Timeline of Gambling in Iowa
The following timeline shows the most important gambling moments in Iowa's history:
February 2023: Blackbird Bend Casino is the first tribal casino in the state to have an in-person sportsbook. 
2021: From January 1st, the in-person registration requirement for Iowa sports betting is over, allowing for more remote registration to make sports betting easier during the pandemic. 
August 15, 2019: Iowa becomes the first state in the upper Midwest (11th in the country overall) to go live with sports betting. Users initially have to register at a casino in person to do online betting.
May 2019: Gov. Kim Reynolds signs bill SF617, making it legal for sports betting (in person and online) in Iowa.
2018: The Supreme Court rules PASPA as deemed unconstitutional, giving states the right to choose to legalize sports betting.
2004: Table games are now allowed at racetracks, converting them into full-service casinos as the riverboats soon convert into land-based establishments for gambling. 
1994: Slot machines are now allowed at the racetracks.
1991: The first riverboat casinos open in the United States in Iowa in Dubuque and Scott Counties.
1989: Iowa becomes the first state to pass legislation for riverboat casinos.
1985: The Iowa state lottery begins selling tickets to customers.
1983: The Iowa Racing and Gaming Commission is formed to help oversee the pari-mutuel horse and dog racing that was approved this year.
Important Features of the Best Online Casinos
In the following sections, we are looking at the important features of the best online casinos. These factors will lead to the best online gambling experience possible for casino players in Iowa.
Competitive Gambling Odds
A quality sportsbook should have competitive odds, whether it be through reduced juice, odds boosts or opinionated lines. These sites do a good job of being competitive, but some offer better prices in certain markets. It is generally a good idea to have an account with multiple sites to make sure you are getting the best odds on a consistent basis.
Multiple Betting Markets
The more available betting markets, the less likely we are to leave that online casino for the services of another provider.
A good sportsbook should have plenty of college, professional and international leagues, in addition to many sports betting options (singles, parlays, same game parlays, round robins, teasers, pleasers, live bets, props, etc.).
The online casino should be loaded with slot machines, table games, video poker variants, live dealer games, specialty games (Keno and scratch cards), etc.
Deposit & Withdrawal Methods
A good online casino will make it simple to get your money in with diverse payment options and you also want to get your money out quickly with great banking options. They should range from regular payment methods like credit cards (American Express included) and debit cards to more modern banking methods like eWallets and crypto. We also do not want to see high fees or low limits on these different options.
Generous Promotions
There are two types of promotions at online casinos: Welcome bonuses and ongoing promos for returning customers. The welcome bonuses are usually a deposit match of up to 100% (or higher) of your initial deposit, so that can be a great way to get a lot of bonus funds quickly. However, you will have to satisfy a rollover requirement by betting that money several times over before any of the bonus funds can be withdrawn as real money.
That is why the ongoing promos may be even better for users who want to consistently use one online casino over the rest. The more you bet, the more points you can earn in a loyalty program, which can earn you great deposit bonuses (Bookmaker.eu) or the ability to redeem bonus bets and poker entries (Bovada). You could also get cashback for net losses or your total betting volume, risk-free bets, enhanced odds and parlay insurance bets.
Live Dealers Available
If you are skeptical of just how random an electronic table game is at an online casino, there is usually the choice of live dealer games thanks to companies like Visionary iGaming, who power the live dealer games at several top online casinos.
You will see a real person at a table dealing the cards or spinning the roulette wheel while you place your bets for the closest thing you can get to an in-person casino experience on your mobile device. Choose from your favorite games like blackjack, roulette or Mississippi Stud as you play with the dealer and other players.
Quality of the User Interface
We always expect to see a good user interface where it is easy to find the cashier to deposit and withdraw money, find the available list of sports in a neatly organized list, jump from section to section seamlessly, and check out live bets.
Mobile Site Quality
Since most people are using their mobile devices to bet these days, the quality of the site is important since these offshore casinos lack a downloadable app. You will have to visit the mobile site and add it to your phone's home screen to make it act like an app, which it will since the sites are optimized for use on small screens.
This is good news because most people want to do live betting on the go or play casino games on their phones. We want a lag-free experience that can handle high-traffic hours with good graphics and sound to mimic the real casino experience the best it can.
Customer Support Contact Options
When you need help, you need a good customer service team that can resolve your issue quickly. This is why we look for ‌sites that offer 24/7 support, which is usually achieved by a live chat option. They should also have traditional methods of contact like being able to leave a message with attachments if necessary, send an email or talk to someone on the phone.
Security Features
When playing for real money online, you will end up sharing some personal and financial info with these sites. That is why they must be trustworthy with years of experience in the business. We need to see that our connection is secure and the data is encrypted from our online sessions. We should never share our accounts with anyone at these online casinos. We only recommend the ones that have years of service and have built up a good reputation.
Iowa's Favorite Casino Games
In this section, we are looking at the most popular games you can expect to find at online casinos. This includes slots, table games, poker and more online games you will find you can win real money on today.
Slot Machines
Slot machines are one of the most common online casino games found at all sites. You can find dozens or hundreds of variants of these games, which can get addictive in a hurry. The good news is many offer low minimums like 10 cents, so you could play them for a long time without spending much money. Some even offer a demo mode that allows you to try the game for free to see if you think it would be worth spending your hard-earned money.
Table Games
Any good online casino will have a variety of table games to choose from, including blackjack, roulette, craps, baccarat and more. You can expect different variants of these games too, such as Spanish 21, European Roulette and Pai Gow Poker.
Poker
Online poker is still extremely popular despite very few states in the country having legalized it as of 2023. But with offshore casino sites like BetOnline and Bovada, you can play in a wide variety of cash games and poker tournaments with other American players. You can win big prizes in these games, and choose from a variety of poker favorites like Texas Hold'em and Omaha.
You will usually have to download poker software on your device to start playing poker at these sites, but it is an easy install and learning curve to use the software. Poker itself is a difficult game to master, but it is a great bonus to see it offered at some sites beyond just the video poker versions, which require less skill.
Other Games
You will find other games available at online casinos such as live dealer games where you can play table games with a real person running the table. You can also play specialty games, which are usually forms of Keno, Bingo, or scratch card games. Check the "specialty games" section of an online casino to find these types of games.
How to Create an Online Casino Account
In this section, we are going to show you how simple it is to create your online casino account. These steps will work at any online gambling site you choose to join.
Step 1. Sign-Up
You will need to visit the site you wish to join and start creating your account the way you would at any other site on the internet. Start by giving your account a good password that you will not be using or sharing elsewhere.
Step 2. Verify Your Details
Your account information needs to be verified, which is another quick process. Just enter your name, address, email address and a phone number. Be sure to provide accurate info so you can be reached by the site for future promos.
Step 3. Deposit Your Gambling Funds
Your account needs funding with real money. Before doing this, read about the deposit bonuses you get as a new user, because that usually only applies to your initial deposit. You always want to read the full terms and conditions of each welcome bonus to make sure you can meet any minimum deposit requirements. Once you do that and are ready to fund your account, head to the payment options and choose your preferred deposit method.
Step 4. Enjoy Online Casino Gambling
Your account is logged in and you have money in it. You are ready to start gambling at the casino. Head to your favorite casino games, find your new favorites or maybe you have a game of choice in mind to bet on the sportsbook at these sites too. Just remember to have fun and bet responsibly.
Differences Between Online and In-Person Casinos in Iowa
There are some obvious and not-so-obvious differences between playing an online casino vs. going to an in-person casino for gambling:
Ease of use: Online casinos will save you on travel time and gas money as you can open them up on your mobile device or computer and play at any time of day you want.
Banking methods: Online casinos will accept a wider range of banking methods for both deposits and withdrawals. Most retail casinos will not accept cryptocurrency, for example, but crypto transactions are among the fastest and they are free at online casinos. However, it would be much easier to walk out of a real casino with cash in hand from your winnings.
Variety of games: Online casinos should have more gaming types offered, as you can play online slots, poker, video poker, table games, live dealer games and specialty games such as Keno.
Generous bonuses: Online gambling sites do a good job of giving you a huge welcome bonus, existing promos for returning users that lead to more bonus bets, and a great reward program. Brick-and-mortar casinos will usually have a reward program too, but the bonuses are not as profitable or frequent.
Of course, online gaming may not be for everyone, so some will still want to experience the sights, sounds and smells of a real casino for their gambling needs.
Commercial Casinos in Iowa
Iowa is home to more than 20 casinos. Most are land-based casinos, including the Diamond Jo Casino, Horseshoe Council Bluffs, Hard Rock Sioux City, Q Casino, Prairie Meadows, Catfish Bend Casino, Isle Casino Waterloo, and more.
But Iowa does still sport some riverboat casinos and it has four tribal casinos, including Meskwaki Casino, Prairie Flower Casino, WinnaVegas Casino Resort and the Blackbird Bend Casino. Riverboat casinos began in Iowa in 1991 and they still have a few in service today with the Ameristar Casino Hotel in Council Bluffs and the Lakeside Hotel & Casino in Osceola. The Casino Queen Marquette has always offered riverboat gambling, but it is expected to move to land by the end of 2024.
Iowa also has a couple of social casinos that are free to play, such as Chumba Casino and LuckyLand Slots.
The casinos in Iowa are always filled with slot machines, video poker machines and table games (blackjack, craps, roulette, etc.). Most have a poker room and retail sportsbook as well.
FAQs – Online Casino Gambling in Iowa
What gambling sites are legal in Iowa?
The legal online gaming sites in Iowa include sites like FanDuel Sportsbook and DraftKings Sportsbook. For online slots, live dealer table games and other casino gaming, Iowa residents have to use offshore sites. 
What casinos can you play online for real money?
While not regulated in Iowa, you can play at offshore casino sites to win real money. You can do this at the sites we reviewed above, including Bookmaker, Bovada, BetOnline, Heritage Sports and BetAnySports. Iowa does not have any licensed online sites with casino-style games.
Can you play blackjack online for real money in Iowa?
Yes, but you must do this at an offshore casino such as Bovada or Bookmaker. At these sites, you can play blackjack in various forms and any winnings can be withdrawn for real money. You have to be at least 18 years old to join these sites.
What online casino is the best?
This will come down to your personal preference, but we like Bookmaker for its great sportsbook with the earliest lines in the industry, a very good racebook, some newer casino games with RTP info, high limits and a great reward program.
How many casinos does Iowa have?
There are roughly 23 casinos in Iowa, including Horseshoe Council Bluffs, Diamond Jo Casino, Blackbird Bend Casino, Hard Rock Sioux City, Q Casino, Prairie Meadows, Meskwaki Casino and Casino Queen Marquette (riverboat moving to land). There is a mixture of commercial casinos, tribal casinos and riverboat casinos.