Online Poker in Wisconsin – Is it Legal?
Wisconsin poker players have the option of choosing from several offshore sportsbooks. Legal sports betting launched in November 2021 in Wisconsin but with one important stipulation: it is only available at brick-and-mortar casinos because online gambling has not yet been legalized in Wisconsin, which includes poker.
For that reason, Wisconsin poker players have been using offshore sites for years to fulfill their poker needs. In this guide, we will provide you with the best online poker sites in Wisconsin according to our experts. Another reason online poker players in Wisconsin enjoy playing at online betting sites located offshore is that they offer several services under one roof. You can play poker, bet on sports, get some action in the casino and bet on horses if that's something you enjoy.
These sites have decades of industry experience in several facets of gambling. Our experts have provided summaries of what these sites offer in terms of bonuses, customer service as well as deposit and withdrawal options.
Best Sportsbooks in WI 2023
Wisconsin Betting Guides
For a more in-depth look at Wisconsin's best gambling sites or for guides to Wisconsin's other online betting markets, we suggest checking out our pages on those topics.
The Best Wisconsin Online Poker Sites
The brands in this guide were chosen by our betting experts based on their reputation and quality of service. Although we will provide a summary of what these brands have to offer, we will also provide links to our in-depth reviews. There you will find reviews of 100+ offshore betting sites rated from A+ to F. Not only will you be able to see in-depth reviews of the sites in this guide, but you can also go beyond that and review the poorly graded ones so you know who not to sign up with.
While there are poker-only sites online, they are home to a lot of pro and semi-pro players. If you are a recreational player, which most are, then you'll enjoy your experience on the sites we recommend far more. On top of that, if you do like betting on sports or casinos, you can't do that on a poker-only site. There are several reasons to play at these online betting sites, which we will go into detail about as this guide unfolds.
Here are the top online poker sites in Wisconsin, according to our betting experts:
Wisconsin Online Poker Sites Reviewed
Poker is one of the most popular forms of gambling. In fact, it's really the only form of gambling that you regularly see on T.V, which speaks volumes. With that in mind, offshore sportsbooks changed their business model to incorporate poker rooms and it has proved to be the correct decision.
This is why we recommend offshore sites for poker players in Wisconsin. With online gambling still not being legalized and no timetable, this is the only choice available at the moment. By signing up at one of the brands that we recommend in this guide, you will have access to poker and several other forms of gambling.
Legal sports betting launched in Wisconsin back in November 2021, but it is only available in one location in Green Bay. That is because online gambling was not included in the launch. If you sign up with one of the sites in this guide, you'll have access to sports betting as well.
1. BetOnline: Big Sign-Up Bonus for New WI Poker Players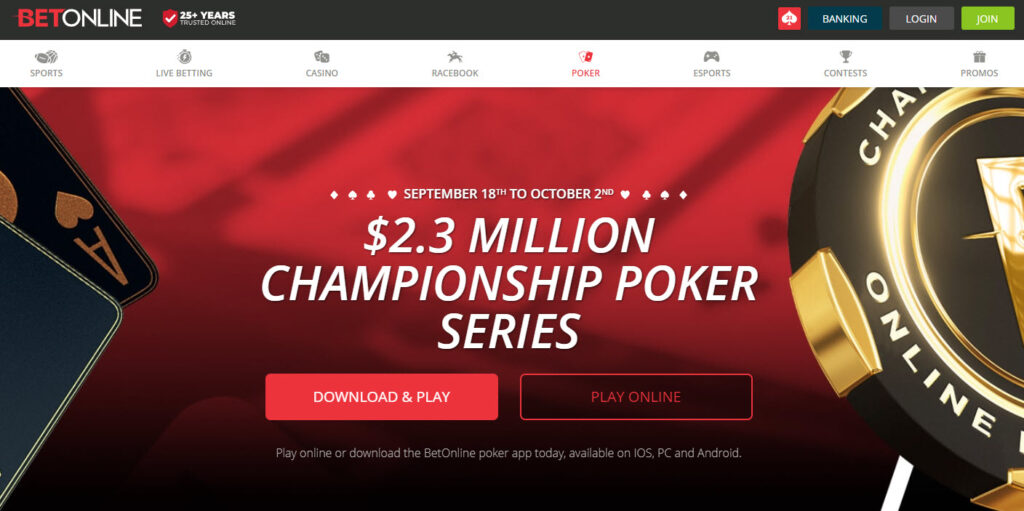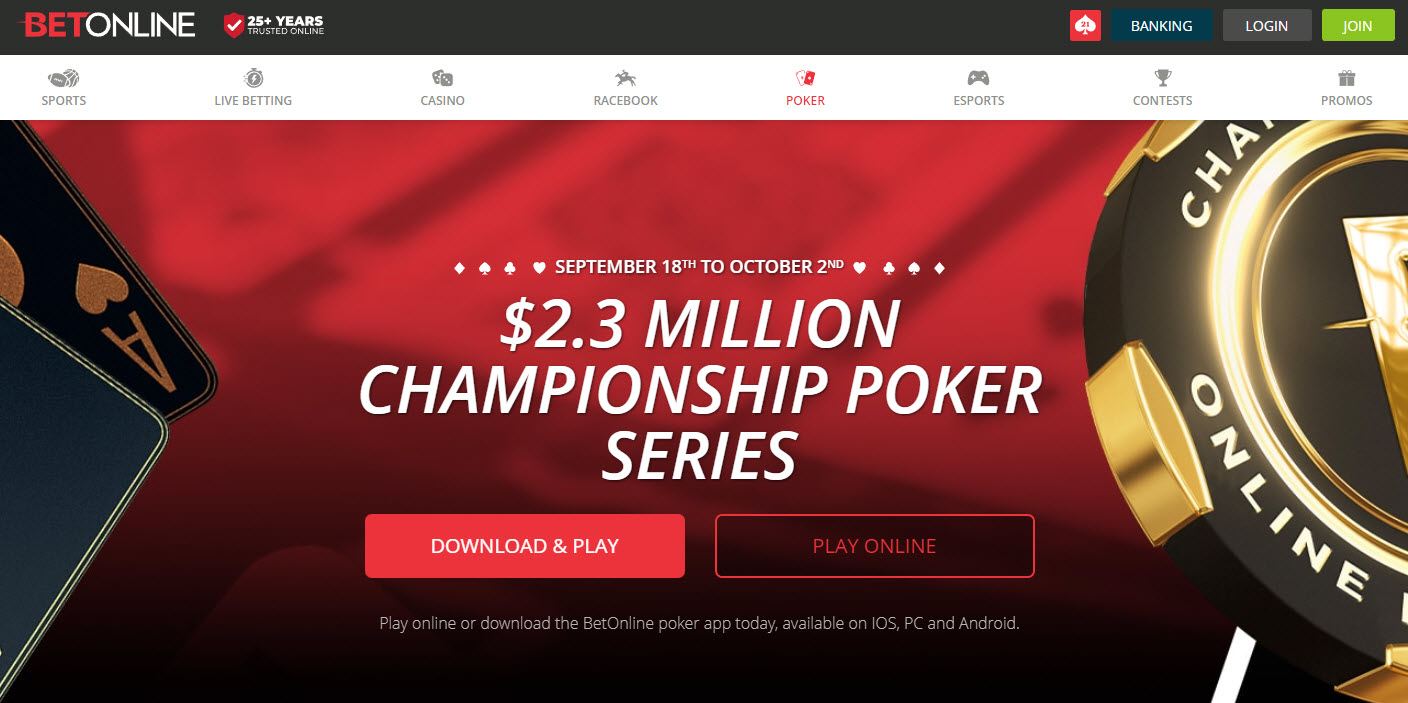 Great Industry Reputation
Although their reputation in the industry was originally built on their sports offering, BetOnline has been in the poker business for long enough that they can also offer world-class service in this aspect as well.
Wisconsin players love that BetOnline's sportsbook releases some of the earliest lines in the industry on top of having a poker room with a great selection of tournaments.
Amazing Selection Of Poker Tournaments
BetOnline has something called the Championship Poker Series. It is easily one of the industry's best tournaments in the sense that you get access to a lot of action and you get rewarded the more you participate.
There are two ways to play poker: tournaments and cash games. Tournaments are by far the most popular and the Championship Poker Series provides you with an elite version.
The prize pool for the tournament is over $2 million, which is one of the many reasons Wisconsin poker players love it so much. While you're active in the tournament, you will be rewarded with free tournament tickets. Participating in tournaments of this caliber gives you valuable experience that will go a long way in making you a better player.
They have another great tournament called the All-In Shootout, which you can access if you have been active in the Championship Series. In this tournament, your starting stack will be based on your previous participation in the series.
All in all, registering for an account with BetOnline will get you access to some of the best overall gambling services with one account.
Pros:
Some of the industry's best poker tournaments
Welcome bonus for new customers
Part of the third busiest poker network
Cons:
Anonymous tables not available
2. Bovada: America's Busiest Poker Room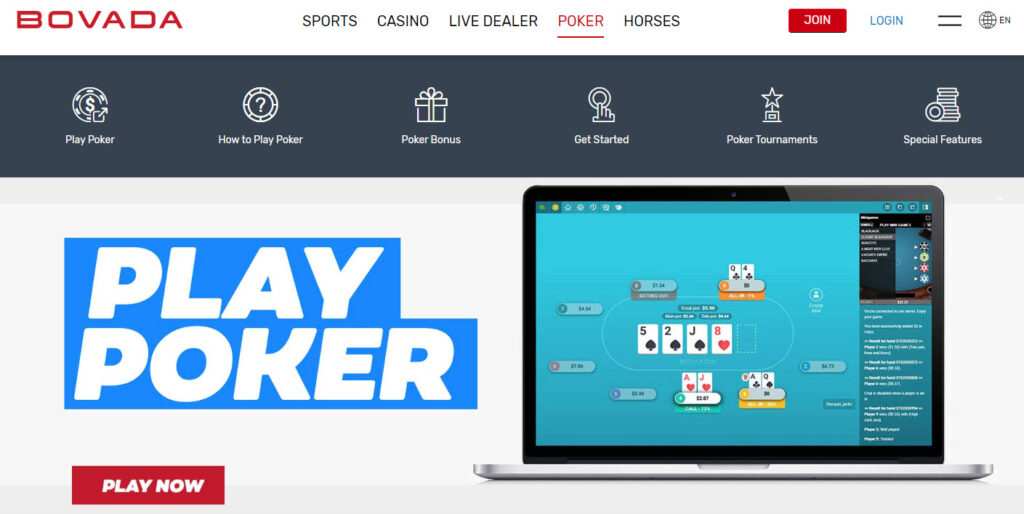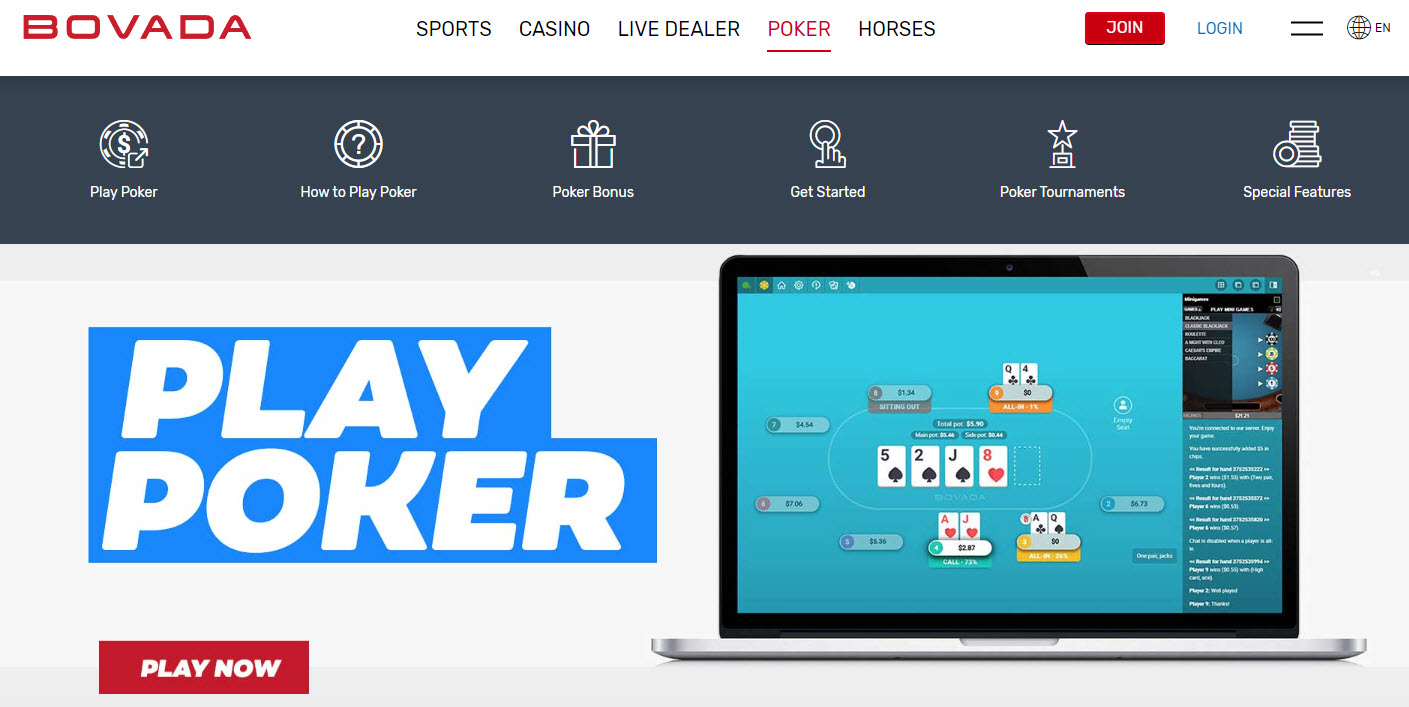 Busiest Poker Network in the Country
Bovada's poker room is part of the PaiWangLuo Poker Network. Don't be fooled by the name though, as this company was based in the U.S. until just recently when they were bought out and moved their headquarters overseas.
What has not changed is their business model, which is offering poker to U.S. clients. In fact, they offer poker in 12 markets around the globe, with the U.S. and Australia being the two biggest of the bunch. This is why Bovada can say that they are America's busiest poker room, because they are a part of the country's busiest network. They are one of many brands affiliated with the network and have been providing high-quality poker offerings to Wisconsin players for years.
With Australia being the second busiest market they offer their service to, this helps keep the poker room busy around the clock. Thanks to Australia being 15 hours ahead, the poker room will still be packed with action in the middle of the night in the U.S. Also, there are several more overseas markets that they serve, so you will be able to play poker at any time of day or night.
HUDs Not Allowed
HUD stands for Heads Up Play. This is a piece of technology that keeps track of how others play. It gives you this information in the form of statistics that really allows you to see what level of experience a player has. While this might seem like a good thing, it depends on who has access to this information. As a new player, it can certainly be helpful as you get to look at the game in a completely different light and get a better understanding of what statistics are important.
For an experienced player, especially a pro, this is essential in spotting weaker players. As previously mentioned in this guide, most poker-only sites are home to professional players, and with that comes predators who prey on weaker players with the help of HUDs.
Poker is a game where you don't have to be good to make money. That might seem counterintuitive, but it's the truth. To make money playing poker, you just need to be better than your opponents. Pros understand that fundamental point very well, and this is why HUDs consistently help them make money over time.
This is where Bovada's service stands out, as using HUDs is not permitted. Although there are a lot of players that don't like this, they are probably not recreational players. For you, this is a good thing and will allow you to play knowing you aren't falling victim to someone that plays poker for a living.
Pros:
Busiest poker network in the country
HUDs are not available
Great bonuses
Cons:
Multi-table option not available on mobile platform
3. SportsBetting: Great Bonuses Get You More Action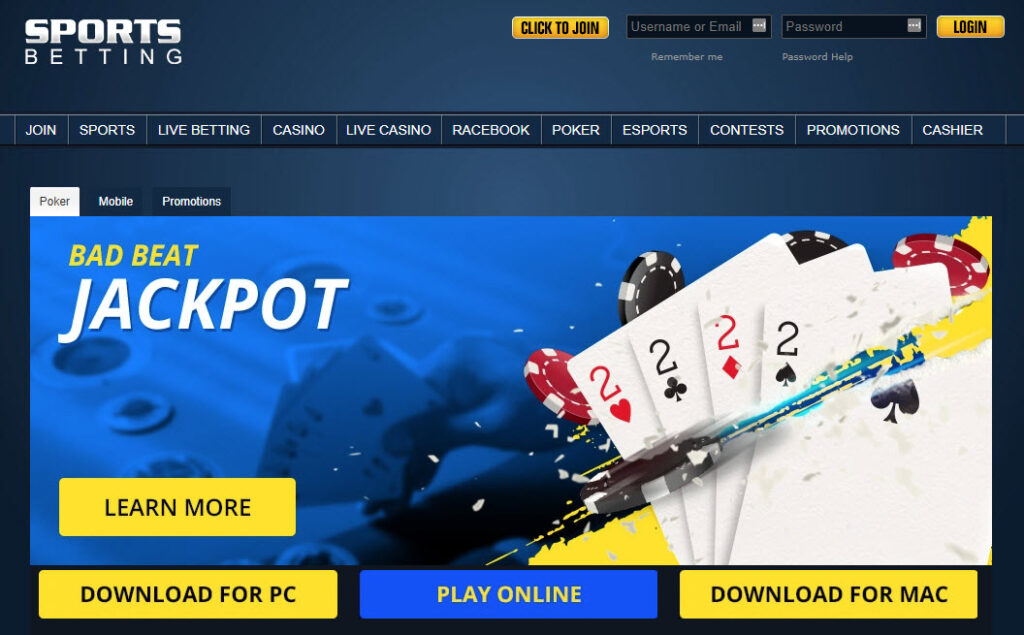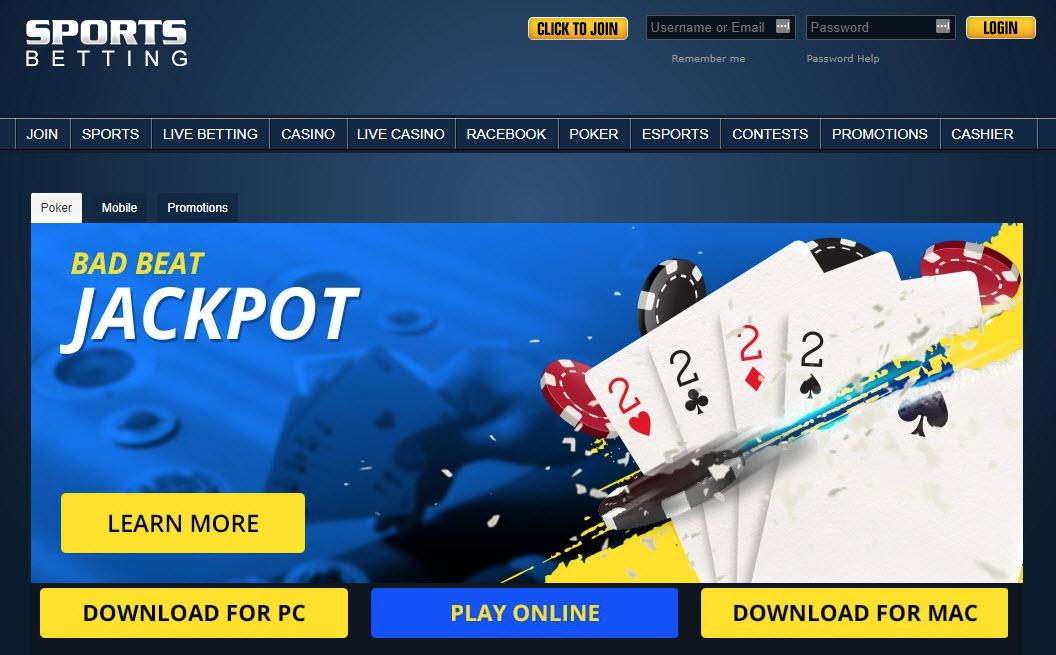 A Lot of Bonuses to Choose From
As a new player with SportsBetting, you have the option of getting started with some extra money. They have several types of bonuses that appeal to all players which is one reason players in Wisconsin enjoy their user experience so much with SportsBetting.
One of the most popular bonuses is the 100% bonus up to $2500. With that bonus, you get $5 in bonus money for every $15 worth of cash games you play. As with most poker bonuses, what you receive is based on the action you put forth. Another thing we must mention is if you don't have experience playing cash games, you would be wise to test them out before taking this bonus.
Later in this guide, we will go over the differences between cash games and tournaments, but the point here is, you should not take a bonus that does not allow you to play how you want. If you only play tournaments, then this bonus isn't for you. They have a different bonus where you can get 100% up to $1000 which you have 30 days to clear.
Finally, they have another promotion that comes in the form of a rakeback. With this bonus, you get a percentage of the rake that you've paid previously in the form of free play. No matter what type of bonus you prefer, SportsBetting has something that you will enjoy. 
Pros:
Different types of bonuses for all players
Rakeback promo
Fast payouts
4. Everygame: Rakeback for Online Poker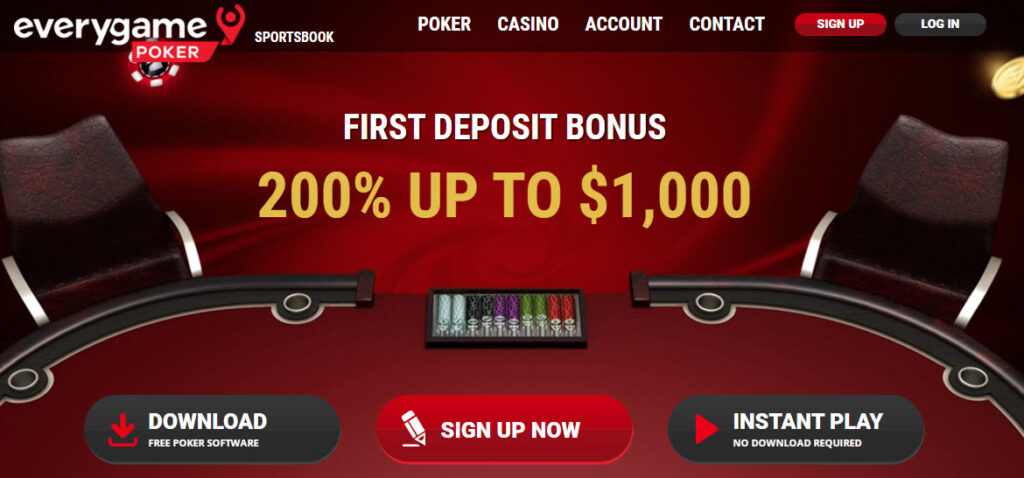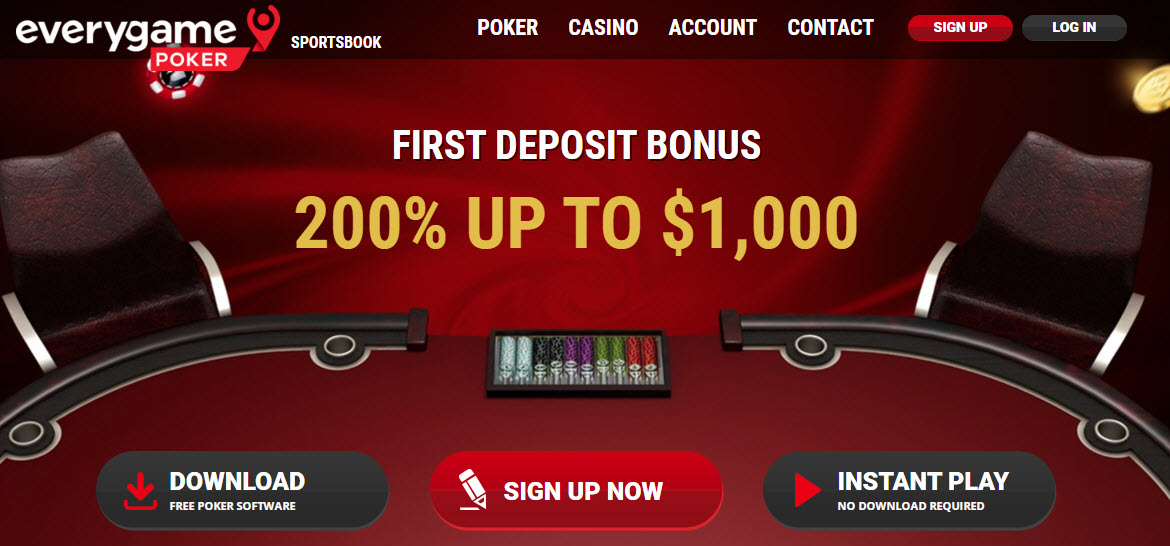 Poker players in Wisconsin that sign up with Everygame get bonuses based on their action. To understand why that's a good thing, we need to understand how poker rooms make money. All poker rooms have something called a rake. A rake is a percentage of each pot taken by the poker room. Since in poker, players lose money to each other, the rake is how poker rooms make their money.
The rakeback offer that Everygame gives their players is similar to the cashback you see in sports betting. Everygame's rakeback is 36% of the rake you've put forth while playing. You will receive the rakeback in the form of a bonus that comes with terms and conditions.
Generous Welcome Bonus
Welcome bonuses are very popular with players and Everygame does not let you down in this respect. New players get 200% up to $1000. This is one of the most generous bonuses in the industry. As we recommend with all bonuses, please read and understand the terms and conditions before claiming any bonus.
Pros:
200% Welcome Bonus
Highest rakeback offer
Great mobile platform
Cons:
Poker Room not as busy as some competitors
Is online poker legal in Wisconsin?
All forms of online gambling are not currently legal in Wisconsin.
Anyone in Wisconsin looking to play poker online can do so at an offshore sportsbook, as recommended by our betting experts.
The sites are not located in the U.S., so they do not fall under state or federal jurisdiction.
You can only play in-person poker in Wisconsin at four locations across the state.
Wisconsin Poker – Live and In-Person
Tribal casinos are plentiful in Wisconsin, but the same can't be said for poker tables. Many of the tribal casinos have hundreds of slot machines to choose from; however, only a few offer this popular card game.
Here is a list of some of the live poker games available in the state:
Lake of the Torches Casino – Lac Du Flambeau, WI
Potawatomi Hotel & Casino – Milwaukee, WI
St. Croix Casino Turtle Lake – Turtle Lake, WI
Sevenwinds Casino – Hayward, WI
Oneida Casino – Green Bay, WI
Oneida Casino is home to the only retail sportsbook in Wisconsin, after placing wagers on sports was legalized in November 2021.
How to Play Online Poker in Wisconsin
There's a handful of steps that you will need to take when you first start playing poker online in Wisconsin.
Signing-Up
You will first need to create your account and verify your identity when signing up with your offshore poker site of choice.
Funding Your Account
One of the main reasons most of the online gambling sites in this guide were chosen by our betting experts is that they have several ways to get money in and out of your account. We always suggest that players use crypto to deposit because it has the highest success rate.
You can fund your account with a wide variety of payment options, including bank transfers, debit cards, credit cards (Mastercard, Visa, American Express) and even crypto options (Bitcoin, Bitcoin Cash and Ethereum).
Start Gambling
Choose what casino game or sporting event you would like to place wagers on, decide how much you want to bet and have fun.
Tips for Online Poker Real Money Wisconsin
Below we will outline some of the most common tips for players that are new to playing a game of poker online:
Basics of Tournament Play
The most popular way to play poker is via a tournament. You can buy into a tournament with $1 or hundreds of dollars. Of course, the bigger the buy-in, the bigger the prize pool at the end. There are usually 9 places paid in a tournament but there are exceptions. Some tournaments allow you to buy back in, while others allow late registration.
Be careful registering late for a tournament because not only will most players have significantly more money than you, the blinds are probably so high by the time you start playing that you don't have much choice but to play weaker hands than you normally would.
The tables are usually divided up between 8-10 players until you get to what is called the "final table," with only the remaining players left. All players start with the same starting stack and the blinds are raised every 15 to 30 mins. 
Cash Games Require a Different Strategy
If you want to try your hand at cash games, there are a few things that you need to consider before you start your journey. First of all, the money you're playing with is real money, unlike a tournament. For example, you can buy into a tournament for $ but start off with thousands worth of chips. In a cash game, you're playing with the money you deposited, which means your losses can happen fast.
That makes the mindset of cash games totally different to tournament play. Also, unlike most tournaments, there is no limit to how many times you can buy back into a cash game if you've lost. This also makes it more dangerous in terms of players chasing their losses. Remember, poker is not about being the best player, it's about being better than the people that you're playing against. Sometimes, you'll simply sit at a table where everyone is just better than you and that's ok. What you need to do in this case is pick a different table.
Cash games are inherently more aggressive than tournaments because players aren't trying to "survive until the end," they're just trying to take your money. There's a lot less pre-flop folding, which means you'll need to play with more strategy post-flop. By playing cash games, you'll get more chances to play until the turn or even the river, which will help you improve your overall skills. 
Playing Poker in Wisconsin
You can play poker in Wisconsin online or in person. If you want to play in person, there are a few places you can go, which we highlighted earlier in this guide. There are also online options, although there are no regulated online poker sites in Wisconsin.
Variations of Poker
The best sportsbooks available to players in Wisconsin offer these variations:
Five Card Draw
The original form of the game.
You start with five cards. You have the option of getting rid of 3 cards.
In order to make a hand, you can take as many cards from the deck as needed.
Seven Card Stud
Before the rise of Texas Hold'Em, this was the most popular form of poker.
All players begin with two cards that are laying face down. There is another card face-up before the first round of betting starts.
After that, each player is dealt three additional cards face up and one more face down. There is a round of betting in between.
The last betting round starts after the last down card has been dealt out.
The best 5-card hand wins
Omaha High
The second most popular form of poker at the moment.
You start with four hole cards. You have to use two of your hole cards and three from the board to make a hand.
The betting rounds are the same as Texas Hold'Em (flop, turn, river)
You make a hand by using two of your hole cards and three cards from the board. A hand is made by using at least 2 of your hole cards and three cards from the board.
Texas Hold'Em
By far the most popular version of poker.
Everyone starts with two hole cards The first round of betting starts before any cards are dealt on the board. This is known as "pre-flop."
After the first round of betting, then comes the flop. The flop involves three cards being dealt on the board. After the flop, the second round of betting begins.
After the second round of betting is done, then comes the turn, which means one more card is dealt on the board. After the turn, the third round of betting starts. The last card, known as the river, is then dealt on the board and the final round of betting happens.
You can use any combination of your hole cards and the board cards to make the best possible 5-card hand.
Other Versions of Poker Include:
Omaha Hi/Lo
5 Card Omaha
5 Card Omaha Hi/Lo
6 Card Omaha
6+ Hold'Em
7 Card Stud Hi/Lo
7 Card Stud Low (Also known as Razz)
Showtime Hold'Em
Split Hold'Em
Swap Hold'Em
Instead, Wisconsin poker players have been signing up at offshore sportsbooks and betting sites. You can play poker, bet on sports or play your favorite casino games These sites are not located in the U.S. and therefore do not adhere to state or federal gambling laws.
Can you really make money online gambling?
If you're playing poker to make money, in other words, non-recreationally, then there are a few things that you need to consider. There's nothing wrong with playing poker recreationally and, in reality, most players play for fun. If they can make money, great, but that isn't the reason they play.

Some might disagree, but the reality is that if you aren't treating poker like a job, then you are automatically a recreational player by default, regardless of how you feel. With that in mind, that's the first step in terms of making money playing poker. We aren't saying recreational players can't make a profit. What they are saying is that only players that treat it the same way professionals do can make money in the long run.

Below we give you some tips to help you go from a recreational player to a pro:
Manage Your Bankroll
This first point is something recreational players fail to understand. All players should start with a bankroll. The amount of that bankroll is up to you, but it is usually an amount of money that you can stand to lose without it affecting the rest of your life.

For example, if you can't buy groceries or pay your rent because you lost your bankroll, then it was obviously too big. One suggestion is that you choose an amount you're comfortable with losing and then start with a little bit less than that to be safe.

Another thing is that you should be spending more than 1-5% of that bankroll in a single event. This actually goes for all forms of gambling, including sports and casino games as well. If you stick to this rule, you'll have enough to mitigate your losses, which is a part of any gambler's journey.
Track Your Results
Tracking your progress will help you understand what you do well and the things you need to improve on. You have no chance of making money playing poker or gambling of any kind if you do not track your results.
Take Advantage of Promotions for Bonus Cash
Many online casinos offer exclusive bonuses to entice players to sign up. However, you usually have to put up some of your own real money and meet some additional requirements before you can cash out your bonus funds. Some common bonuses include the popular deposit match bonus or welcome bonuses.
In-Person Gambling in Wisconsin
If you like playing poker in person, there are a handful of land-based casinos in the state that offer poker games.
Lake of the Torches Casino – Lac Du Flambeau, WI
Potawatomi Hotel & Casino – Milwaukee, WI
St. Croix Casino Turtle Lake – Turtle Lake, WI
Sevenwinds Casino – Hayward, WI
Oneida Casino – Green Bay, WI
Of course, if you're not interested in traveling to a brick-and-mortar casino, you can visit one of the online poker sites we've reviewed instead, where you'll also find online sports betting.
FAQ – Online Poker Websites in Wisconsin
Is online poker legal in Wisconsin?
Online gambling is not legal in Wisconsin. This includes online poker sites. Also, only in-person sports betting is allowed at land-based casinos.

Instead, Wisconsin players have been signing up with offshore poker sites where they can play poker, bet on sports and play a variety of table games and online slots all with one account.
Is online gambling legal in Wisconsin?
Offshore gambling sites are not located in the U.S. and therefore do not fall under state or Federal jurisdiction.

Because of that, they can offer online casino gambling, online poker games, poker tournaments, and more to Wisconsin players.
What apps can you bet on in Wisconsin?
You can use any offshore mobile site or offshore gambling app as a resident of Wisconsin if you are of the legal gambling age (18 at these sites).
Is Bovada Poker legal in Wisconsin?
Bovada Poker is absolutely legal in Wisconsin. In fact, it is one of our top picks for the best Wisconsin online casino sites.
How much can you win at casinos without paying taxes in Wisconsin?
You will need to keep track of your gambling winnings, all of which will need to be reported to the IRS. You will need to pay taxes on any cash prizes that you have won. This includes any winnings that you get from one of the state's commercial casinos that operate on tribal land or from offshore casino sites.