Online Poker in Kentucky – Is It Legal?
Shawn West has been involved with college basketball, NFL and college football and MLB since he left his job as bank vice president two decades ago. He lives in North Carolina with his wife, children, two dachshunds and a variety of turtles.
Other than horse racing, which has been a part of Kentucky's history for more than 250 years, the state is one of the least gambling-friendly places in the country. While Kentuckians can bet on horses at tracks and off-track betting parlors, as well as online, just about every other form of gambling is illegal in the state, including poker. This means that the best option for residents of the Bluegrass state is to use Kentucky sports betting sites that offer poker.
In fact, the state's governor at the time declared war on poker in 2008, attempting to seize several domain names from online poker providers. While that campaign was unsuccessful, the state has not done much to promote poker since, and some politicians claim that a legal online poker industry would harm the state's horse racing industry.
However, the state only has control over the companies based in Kentucky. Residents of Kentucky are still able to play online poker and win real money. All variations of the game—Texas Hold'Em, Caribbean Stud, and many others are available, both in video poker form and with live dealers via video. Kentuckians just need to go to one of the dozens of offshore sportsbooks to play poker for cash prizes and access other gambling options.
Since these online betting sites aren't located in the United States, they are not under the jurisdiction of Kentucky state law or U.S. Federal law related to gambling. Many of these sites have been serving gamblers—including online poker players in Kentucky—for decades and have shown themselves to be safe and trustworthy.
Online poker rooms at offshore sportsbooks offer the opportunity to play in poker tournaments, but there are also plenty of non-poker options, giving bettors the chance to fill all of their gambling needs in one convenient place. Online betting sites offer casino games like slots and table games, legal sports betting, online horse betting, and more, including novelty betting markets like entertainment and politics.
There are dozens of offshore betting sites in operation, making it overwhelming and difficult to decide where you should play. However, we've assembled a blue-ribbon panel of gambling experts to help guide you through the crowded field. Our expert panel reviewed the best sportsbooks available to Kentuckians and has come up with rankings and recommendations of the best online sites for poker in Kentucky.
Kentucky Betting Guides 
If you're new to the betting scene or just curious about other types of gambling, like Kentucky online sports betting, you've come to the right place. Our team has created insightful guides that won't leave you wondering about how or where to place your bets.
The Best Kentucky Online Poker Sites
We looked at all the online betting sites that are available in Kentucky and feature an online poker room. Our team of experts evaluated and reviewed each of them in several important categories and came up with our recommendations for the top four sites for online poker in Kentucky.
All the online betting sites have poker rooms with a variety of tables allowing players to find a group of opponents at the same level of experience as theirs. They also offer tables with different betting limits so users can find one to fit their ability and appetite for risk. They also provide a safe, private environment and make quick payouts in full when a bettor tries to cash in.
Kentucky Online Poker Sites Reviewed
Our expert panel ranked the four best online poker rooms in Kentucky, but there are a number of variables involved in coming up with ratings of poker sites. Some gamblers may value one variable, like betting limits or bonuses for new players, more than others. So they may find another site that is a better fit for them.
We feel that any of the top four online poker sites would provide an excellent online gambling experience, so we offer detailed reviews of each of the sites, pointing out the pros and cons of each, and highlighting their wide range of features, so you can decide which offshore sportsbook is best for you.
1. Bovada: Most Popular Poker Room in Kentucky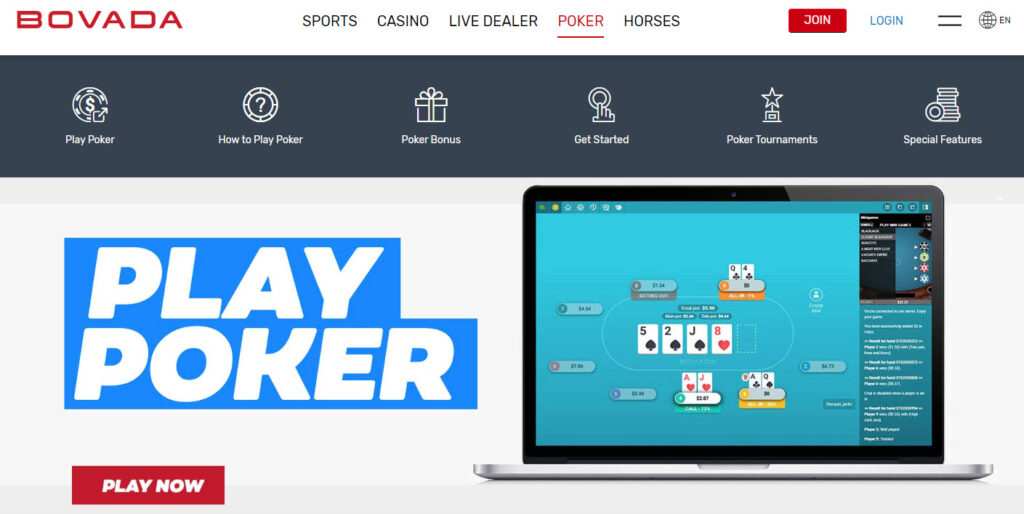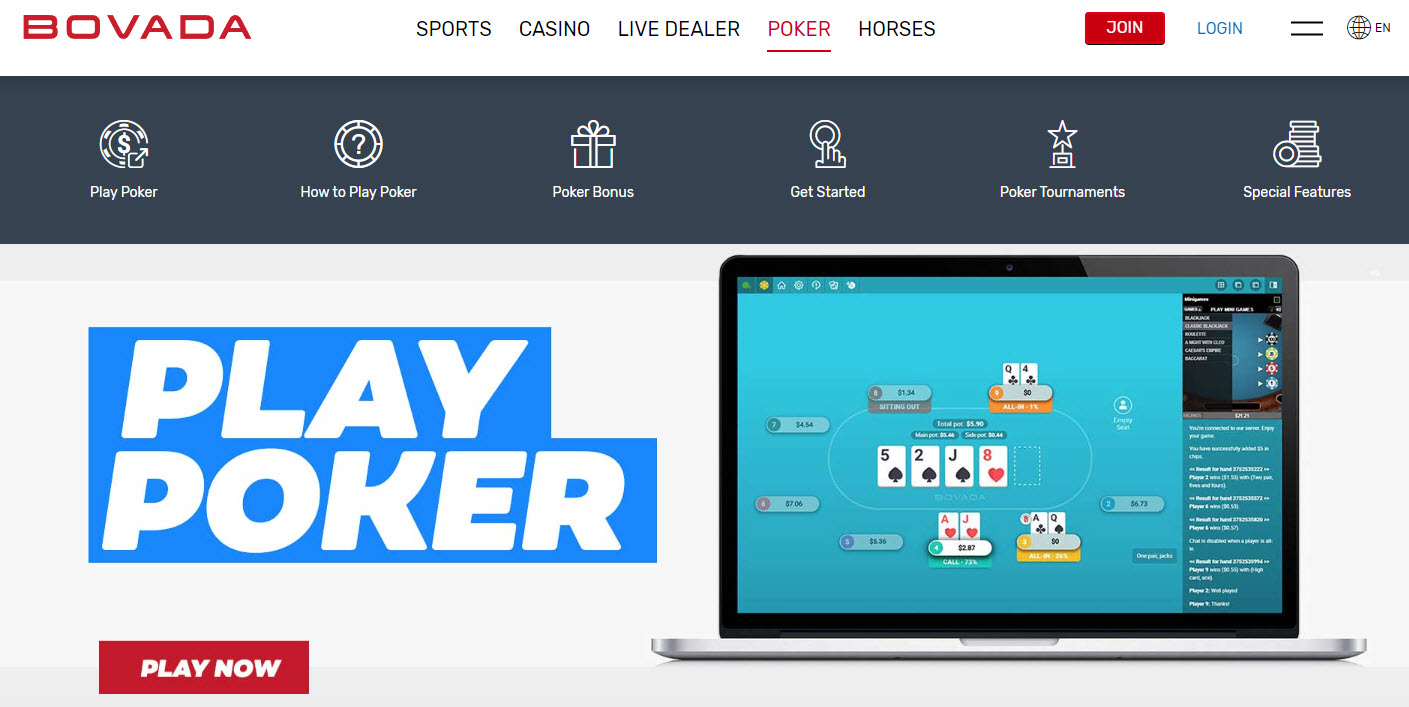 Bovada offers poker players more than $2 million a week in guaranteed prize pools, and their schedule features more than a hundred tournaments each week. So you'll definitely find plenty of action on our experts' choice for the best online poker site in Kentucky.
In addition to the busiest multi-table tournament schedule in the country, Bovada is home to America's busiest poker room. It's a member of the PaiWangLuo network, which is the sixth busiest poker network in the world and also includes Bodog and Ignition Poker, among other sites. None of the five poker networks that are busier than PaiWangLuo accept American players, making Bovada part of America's busiest room.
There are games starting at all times of the day and plenty of players, so it will be easy to find a group who are a good match for your skill level.
Bovada offers a wide range of poker variations, including Texas Hold'Em, draw poker, Omaha and Omaha Hi-Lo. The tournament schedule includes competitions of sit 'n' go, knockout, turbo and fast fold. You can also take advantage of zone poker, quick seats and anonymous tables, all of which are available at Bovada.
Bovada's welcome bonus for new poker customers matches 100% of your first deposit up to $500. There's no rollover requirement at all on that bonus money, which is a rarity among gambling sites. Bovada also offers a loyalty program that awards points for activity and also gives points for using Bovada's sportsbook, casino and racebook.
Pros:
Home to America's busiest poker room
Pays out more than $2 million in guaranteed poker prizes each week
Busiest poker tournament schedule in the country, with more than 100 a week
Top-notch loyalty program
Cons:
Rake is relatively high
Welcome bonus not as high as other top-rated sites
2. BetOnline: Best Welcome Bonuses for Players in Kentucky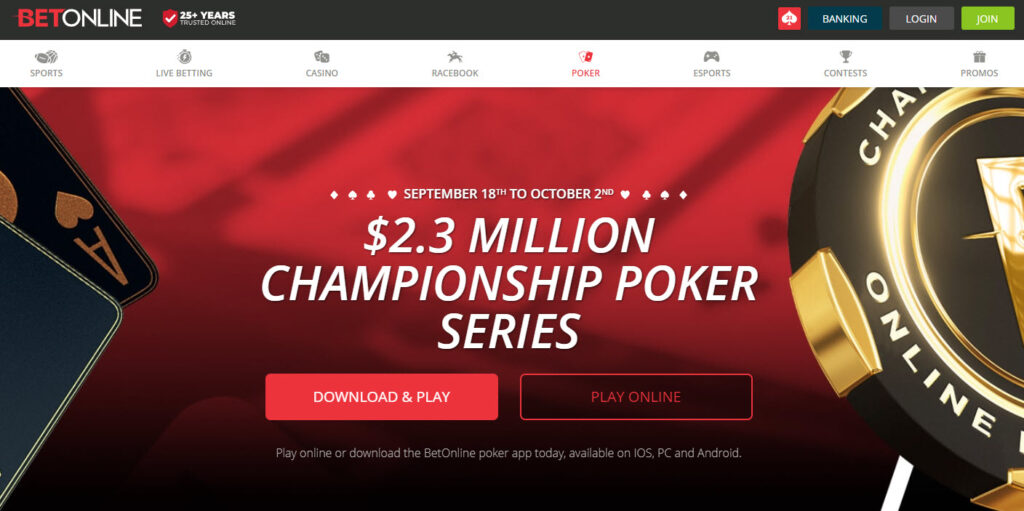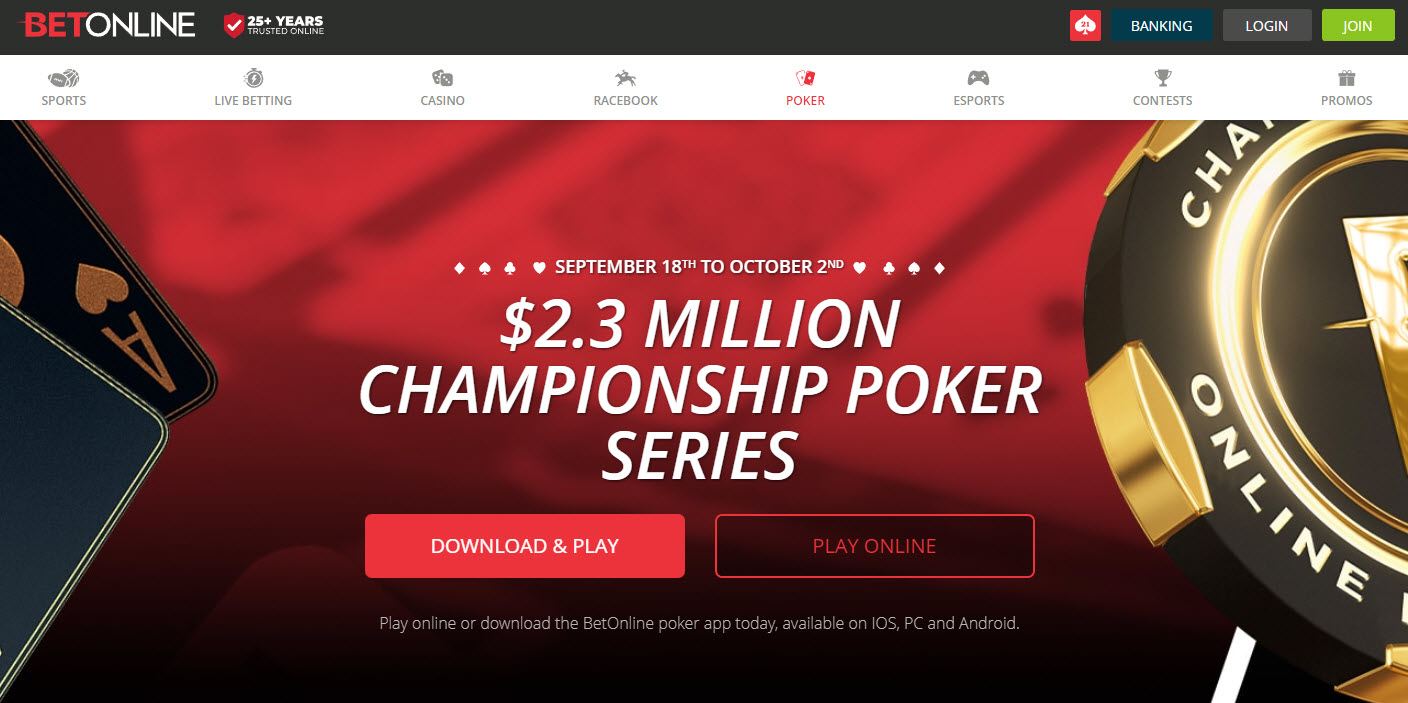 BetOnline has the third busiest poker room in the country and lands in the No. 2 spot in our rankings of the best online poker sites in Kentucky. BetOnline is part of the Chico Poker network, which also includes SportsBetting and Tiger Gaming. Chico is one of the 15 busiest poker networks on earth and is the third-busiest that includes American players, who make up about half of the players on the network. The network has better liquidity than most other online poker networks, and BetOnline offers more than a million dollars a day in poker tournament prizes.
BetOnline offers the biggest poker welcome bonuses in Kentucky, up to $1,000 for new players. It also offers a reload bonus of up to $350 for existing customers, as well as a number of other loyalty promotions.
The BetOnline poker rooms have a wide variety of skill levels and betting limits, meaning you'll be able to find a table that fits your own level of experience, skill and bankroll. It also has low tournament buy-ins and features many tournaments that allow re-entry.
There are a number of different types of tournament options at BetOnline, including bounty-limited tourneys and shootouts. They feature progressive bounties, rebuy frenzies, sit 'n' gos, and Omaha tournaments. BetOnline also has plenty of individual games going on at any given moment, including poker variations like Texas Hold'Em, Seven Card Stud, Mississippi Stud and more.
Pros:
Largest welcome bonus in Kentucky
Also offers reload bonuses and ongoing loyalty promotions
Awards a million dollars in tournament prize money daily
Busy poker room with players from around the world and good liquidity
Cons:
No VIP loyalty program
Some users have had complaints about BetOnline's poker room
3. SportsBetting: Highest Limits for Online Poker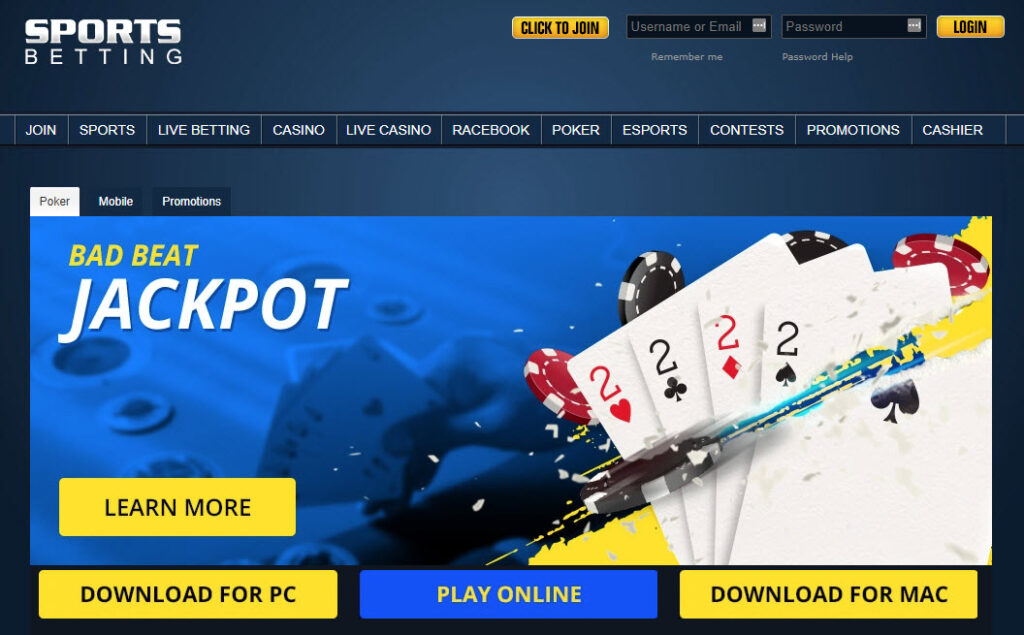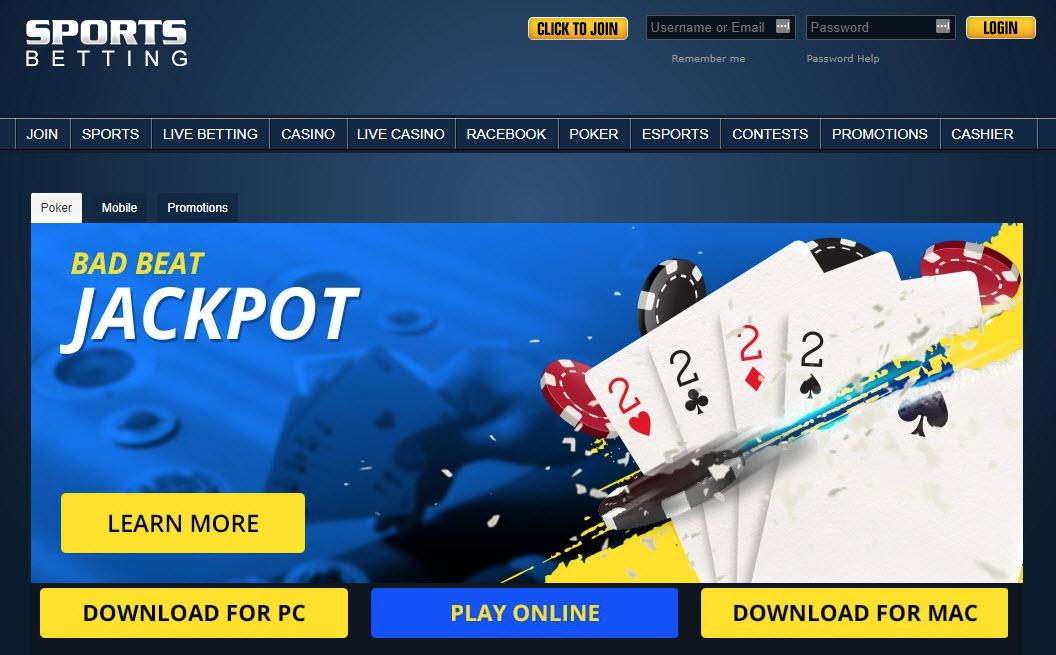 SportsBetting is on the Chico poker network, which is the third busiest network in America. That's the same network as our No. 2 poker room in Kentucky, BetOnline. The two sister sites offer a similar poker room experience, with a wide variety of games and tournaments, high liquidity and millions of dollars in prizes. It also has a busy tournament schedule with many different varieties of poker represented.
SportsBetting also offers high welcome bonuses and a nice variety of payment methods. It runs its poker room with the same software as BetOnline, and that software has just recently been upgraded, so you can expect a smooth, stylish poker experience with no delays or glitches. While it is an attractive site, it doesn't have a lot of unnecessary furniture, allowing you to choose your game and pick your bets quickly and efficiently.
In addition to poker, SportsBetting offers many other types of gambling, allowing you to do everything in one convenient place. As the name implies, it has an excellent sportsbook. It also features a racebook, esports, and online casino. You can also bet on a variety of fun novelty markets like the Eurovision song contest, the Powerball drawing and the closing price of the stock market. They offer 24/7 customer support with very short hold times, and they pay out quickly. Their rakes are also lower than other similar sites.
Pros:
Low rakes compared to competitors
Third busiest poker network in the country
Plenty of non-poker gambling options, including casino games, sports, races and novelty markets
Quick payouts
Cons:
Not as many features as BetOnline's user interface
Charges fees for credit card transactions
4. Everygame: Best Rakebacks in Kentucky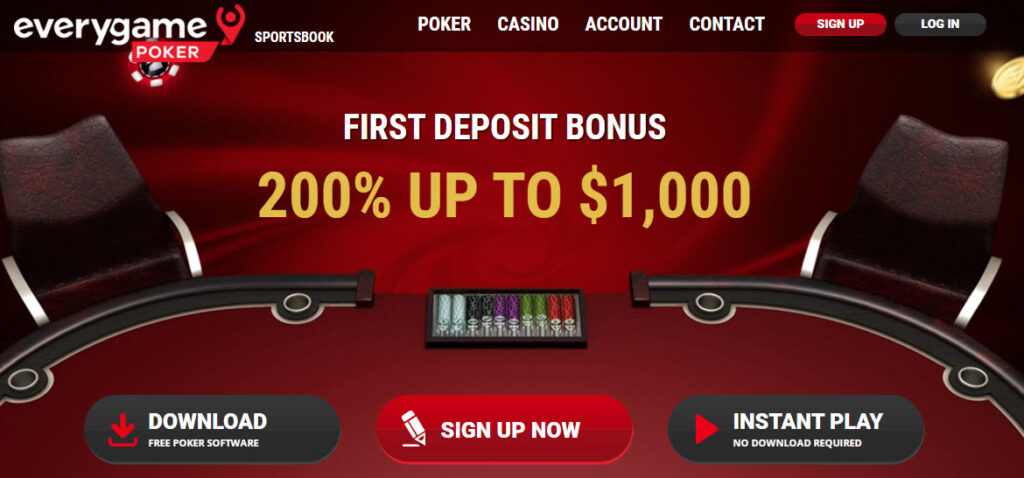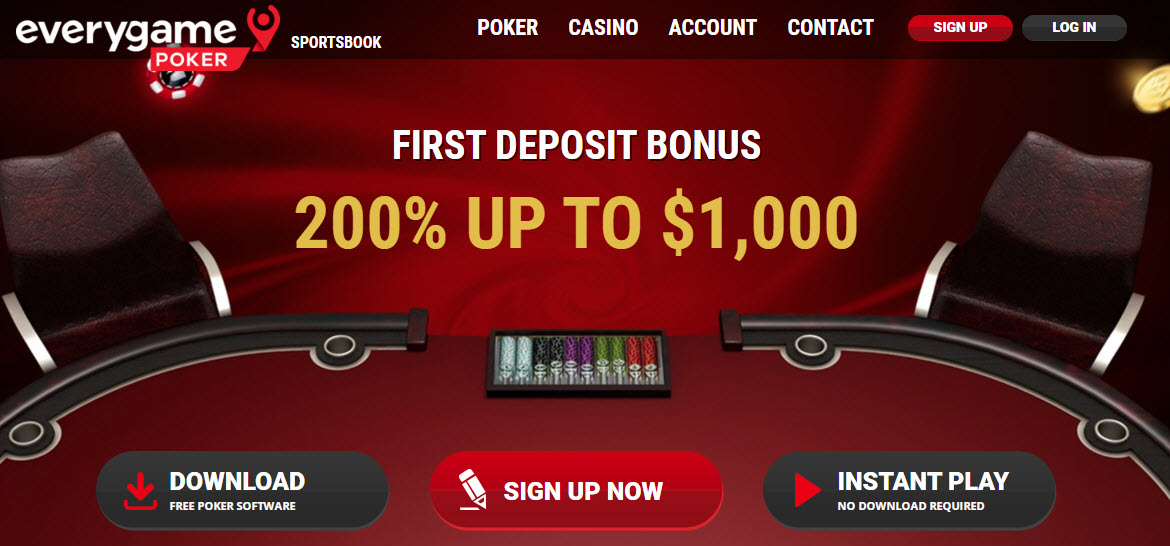 In our reviews, we've mentioned the rakes and rakebacks of various sites. A quick primer: Rake is a fee that is charged to poker players, kind of like a "cover charge" to allow them to play in a game or tournament. Obviously, low rakes are better, because who wants to pay a high cover charge? Sometimes, a site will refund some or all of the rake fee. When that happens, it's known as a rakeback. Obviously, you want to get as much of the money you paid back as possible, so you're looking for high rakebacks.
With that in mind, Everygame is the online poker room that pays the highest rakebacks in Kentucky. They refund up to 36% of your rake, which gives you more money to bet on your next hand.
Everygame also offers a welcome bonus that matches 200% of your first deposit, up to $1,000. So you are tripling your money right off the bat before the cards are even dealt. It also gives you 25 free plays in their online casino, which is also one of the best in Kentucky in that category. Everygame's cashback program also helps reward you by returning some of what you lose.
Everygame is on the Horizon Poker Network. They have a variety of tournaments and individual games, including sit 'n' go events, freerolls, and ring games.
Pros:
Best rakeback rate in Kentucky at 36%
Welcome bonuses triple your money, matching 200% of your first deposit
High-quality software running the poker room makes it easy to play
Offers free casino plays as part of poker welcome bonus
Cons:
Poker network isn't as busy as some of the other sites on the list
Range of different poker variations isn't as wide as other sites.
Is online poker legal in Kentucky?
One of the most common questions we get is, "Is online poker legal in Kentucky?" The answer is "it depends." 
The state certainly has done everything it can to make sure that poker players do not feel welcome in the state. In 2008, then-state governor Steve Beshear declared war on online poker, calling poker providers "leeches" and claiming that it harmed the state's horse racing industry. He even tried to seize several of the most popular poker domain names to block these online poker sites from operating.
Kentucky was not successful, but it's clear that with the state's history of gambling and sports betting bills, there is much to be done before anything other than horse betting and lottery games become legal. It's illegal to play poker for money in the state, and promoting an in-person poker game could be punishable by a class D felony.
It's also illegal for any online poker sites to operate locally in Kentucky and offer real money poker. The state has come close to passing laws that would legalize sports betting, but none have gotten across the finish line.
At the moment, if Kentuckians would like to gamble in person, they can do so at one of the state's horse tracks; they can also access locally regulated online horse betting sites.  This comes as no surprise since the state hosts the world's most famous horse race.
That doesn't mean you can't legally play online poker in Kentucky, though. The law just prevents providers located in the state from offering it. The four online poker rooms in our rankings are all offshore sportsbooks. Since they're all located outside the U.S. borders, it means they aren't subject to Kentucky state law or U.S. Federal code related to gambling. And there are no laws at the state or federal level that prevent Kentuckians from playing poker at these sites or winning money online with them.
Video Poker
Video poker is a computer simulation that is similar to a poker game. It uses a random number generator to "deal" out virtual cards. Some people call it a combination of 5-car poker and a slot machine. Originally, there were stand-alone kiosks that allowed people to play video poker (although not in Kentucky) but now many offshore gambling sites offer it as part of their casino gaming area.
In addition to a live poker room, Bovada and BetOnline, offer video poker in their online casinos. Some other online betting sites that are highly thought of but don't offer a live poker room, like Bookmaker, Heritage Sports, and BetUS (which all receive high overall grades as online gambling sites from our experts) offer several versions of video poker in their online casinos.
Casual Poker
Playing poker with friends at a table in Kentucky is a fun way to spend an evening. If you're playing for money, however, it is illegal in the state. If you profit from illegal gambling, state law says you're guilty of a misdemeanor, and if you make more than $500 from it, you can be charged with a felony.
Would police raid the game in your dining room? Maybe not, but it's going to happen anywhere, Kentucky is a pretty good guess, based on the state's aggressive stance against poker in the past.
Kentucky Poker Laws
All versions of online poker, both video poker and live dealer games are illegal at Kentucky-based companies, as are live dealer games and video poker machines. However, online casinos located offshore are not subject to Kentucky law, and the state's residents are able to play them on their computers or mobile devices without fear of negative consequences.
Land-Based Poker Rooms in Kentucky
Gambling in person is illegal in Kentucky. The state has no stand-alone casinos, and its five racetracks only allow "games of skill," so testing the element of chance in this state is a little trickier. There are also no Native American tribal casinos located within the state, where poker would also be legal since Native American land is not subject to U.S. or state laws. That is why most residents seek alternative options to play for real money online instead.
Playing Legal Online Poker In Kentucky
Since the Bluegrass State doesn't have land-based casinos or native poker providers, the only way to legally play online poker in Kentucky is at an offshore sportsbook that offers a live poker room, like the ones in our top four rankings.
These online betting sites aren't under the jurisdiction of Kentucky state gambling law, which prohibits online poker games for money if hosted by a company located in the state.
Instead, these sites not only offer a great online poker experience but also the opportunity to enter online poker tournaments, online horse betting and sports wagering.
Tips for Online Poker With Real Money in Kentucky
Here are a few tips on playing online poker:
Stick to reputable sites – Part of our review of online poker rooms was to eliminate any sites that we determined were not safe, secure or trustworthy. Each of the sites in our rankings has been thoroughly vetted and has years of history providing secure, safe, dependable poker play and a well-earned reputation for paying out on time and in full.
Have a strategy before you begin playing – The best strategy for inexperienced players is a tight-aggressive approach. Be very selective about playing hands. Don't play very many, but when you do, be sure to take control of the betting.
Be selective – One of the keys to poker is learning when to play and when to pass it up. Do not play every hand you are dealt. You want to pick and choose the moments when you are most likely to succeed.
Don't be led by emotion – Make a plan and stick to it. Don't let momentum shifts in either direction alter your strategy. Don't chase early losses, and don't take unnecessary risks when you're doing well. Don't let frustration or annoyance with other players get you off of your strategy.
Master bluffing – Make sure you're able to pull off a successful bluff, but leave that tool in your toolbox more often than you use it. A common mistake of inexperienced players is to bluff too much.
Be responsible – Know when enough is enough. Don't get in over your head.
How to Play Kentucky Online Poker
The process for registering for an account at one of the best sportsbooks in Kentucky is fast and easy. The entire process takes just a few minutes, from start to finish. Here's a walk-through of what you'll do.
Step 1: Register for the Poker Site
Once you've chosen which poker room you're going to use, go to the site's home page and click the "Join Now" or "Register" button.
Step 2: Enter Your Personal Details
Create a user ID and password and fill out a sign-up form with basic personal information. When you create a new account, the site may ask you to verify your identity by responding to a code sent to your phone.
Step 3: Make Your Initial Deposit
Next, you need to deposit money to play with. Choose your payment method from the list provided on the site and enter your information. Be sure to choose your welcome bonus. It may require you to enter a promotional code in order to qualify for the bonus money.
Step 4: Join a Poker Ring Game or MTT
That's it. You're registered. You have a bankroll, and you're ready to play. Find a room and table that fits your experience level, with a betting limit that you're willing to risk. You can play via your browser, or many sites allow you to download a mobile app to play on your phone or tablet. Don't forget to check out other types of gambling offered by the site, too, like online slots and online sports betting.
Playing Poker in Kentucky
Even though the state doesn't have a locally-regulated online poker industry, there are plenty of ways to play in Kentucky. If you choose one of our recommended poker rooms, you should have a safe and entertaining experience, win or lose.
FAQs – Real Money Poker Sites in Kentucky in 2023
Can you play online poker in Kentucky?
You can play online poker in Kentucky, but only at offshore sportsbooks since there are no native companies in the state. To get started, revisit the online gambling providers listed in our ranking. 
Does a VPN allow you to play online poker in Kentucky?
Despite poker and most forms of gambling being banned in the state, you do not need a VPN to play any games of chance online in Kentucky. Your IP address will not be an issue for most offshore poker operators because they accept players in the United States.
Can you play online poker on an app in Kentucky?
If you prefer playing poker on your phone or tablet, you can rest assured that there are many mobile options that are provided by numerous offshore companies. 
Where can you play poker in Kentucky?
Though there are no land-based casinos in the state, you can play poker in Kentucky online at one of the several offshore sites we've listed above.
Where is the best place to play online poker in Kentucky?
The best place to play online poker in Kentucky is Bovada. Not only is it the most popular choice in America in terms of poker rooms, but it also has over 100 tournaments a week and a hefty welcome bonus.