Horse Racing Betting Online in Nevada – Reviewing the Best Online Racebooks in 2023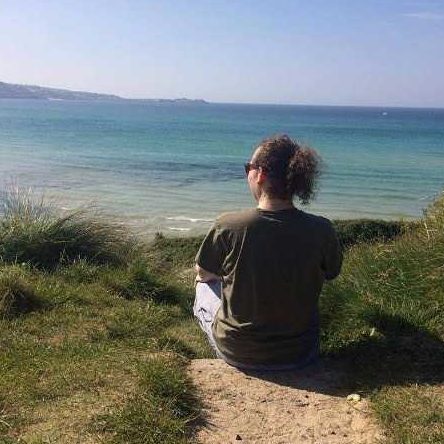 David is a freelance sports journalist who comes from West Midlands. He specializes in sports content, both written and visual. With an impressive record in pre-fight predictions, David is quickly becoming recognized in his field for his in-depth fight analysis and impressive contender & fight history knowledge.
Procrastination about visiting one of the famed gambling spots in Las Vegas or Reno has been present in the minds of gamblers for a lifetime. Gambling and sports betting in Nevada are number one in the country; therefore, it's no surprise that horse racing betting has been a staple in the state since the early 1900s.
Regarding daily horse racing betting in the United States, there's no better place than Nevada. Bettors who want to try their luck with the ponies can easily achieve this, whether in-person or with an online horse racing betting site. Today's guide will provide valuable information to ensure your time gambling on Nevada horse racing is spent well.
The Top Racebooks in the Silver State   
Top-Rated Online Horse Race Betting Sites in NV
Horse racing betting sites in Nevada are easy to come by, but finding the most trustworthy and notable operators takes time and patience. To save you the hassle, our dedicated team has combed through them all and come up with a list of the ten best racebooks for Nevada residents.
Can you legally bet on horses online in Nevada?
Yes, horse racing betting in Nevada has been legal since 1949, when wagering was allowed for horse racing & professional sports at turf clubs – locations independent of casinos. However, from 1975 onwards, Nevada lawmakers authorized horse and sports betting at Nevada casinos. 2010 marked the year when online wagering of all forms was legalized in the Silver State – the first of its kind and eight years before any other state.
Unlike most gambling-friendly states, Nevada doesn't issue licenses to horse-specific operators such as TwinSpires and TVG. However, residents of the Silver State have a huge choice of racebook apps to choose from, including the top 10 operators we've ranked above.
Comparison of the Best Racebooks
We've separated the highest tier online horse race betting sites from our top 10 rankings and delivered you with the five most elite operators providing horse betting services in Nevada alongside a short review describing their highlight features.
1. Bookmaker: A Huge Variety of U.S. & International Horse Betting Markets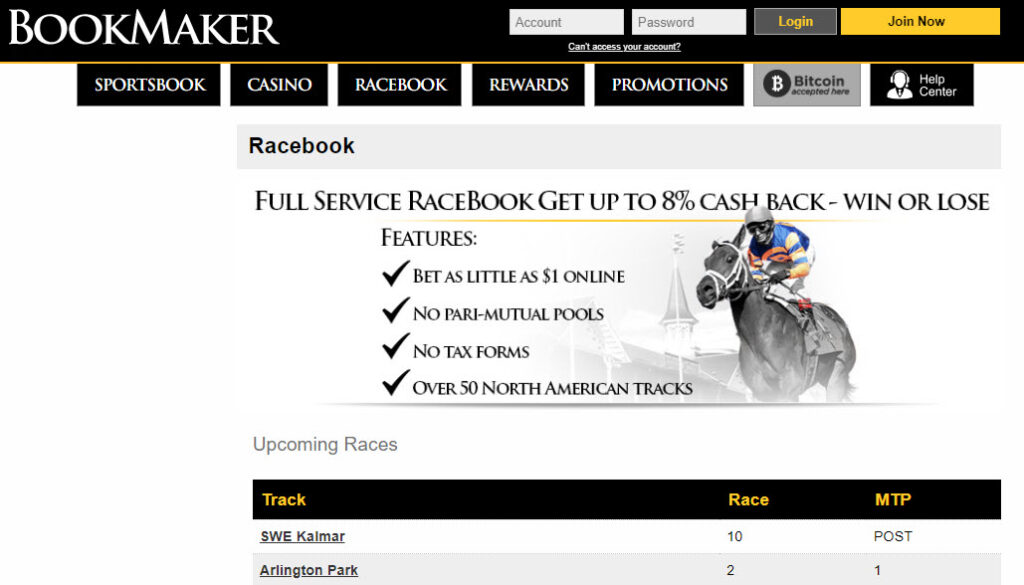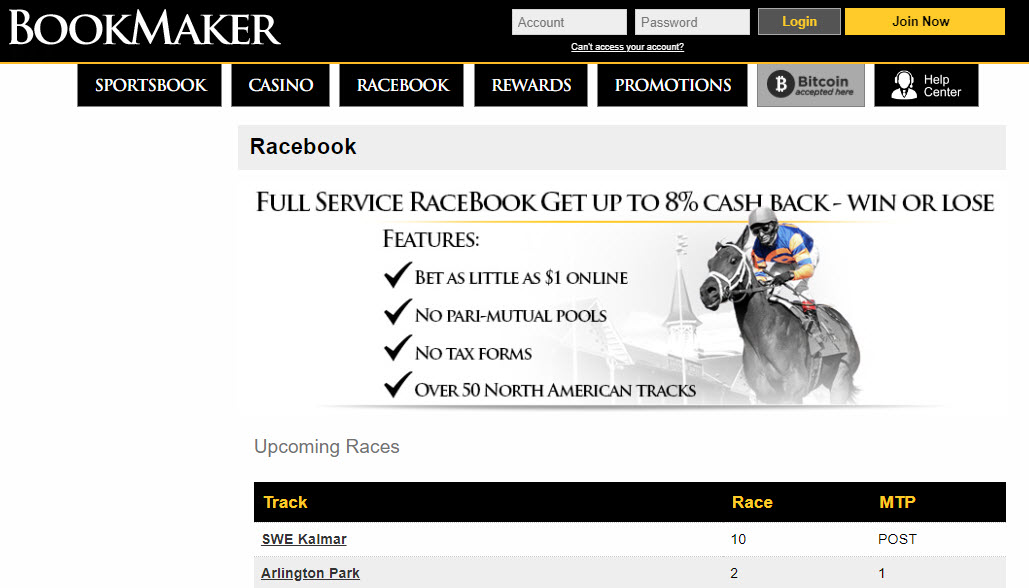 With over 100 horse racing tracks available to wager on at Bookmaker.eu, this operator gives its customers a diverse selection of local and international tracks to bet on.
Another highlight feature of Bookmaker racebook is their no-ban policy on winning bettors, as they're the lone gambling operator with this commendable feature. Furthermore, Bookmaker is known for its early released odds and high wagering limits. Because of the aforementioned attributes, this top-rated Bookmaker has become the home of professional bettors.
With industry experience dating back to the mid-nineties, horse-specific features, early released betting lines and an extensive choice of horse racing tracks to bet on, it's hard to neglect Bookmaker's presence as they deliver unique offerings most competitors can't rival.
Pros
Early released odds
Some of the highest betting limits in Nevada
More than 100 racetracks to wager on
Horse betting rebates
Cons
Limited information on performance history of horses and jockeys
Not all tracks qualify for rebates
2. Heritage Sports: An Experienced Racebook with High Betting Limits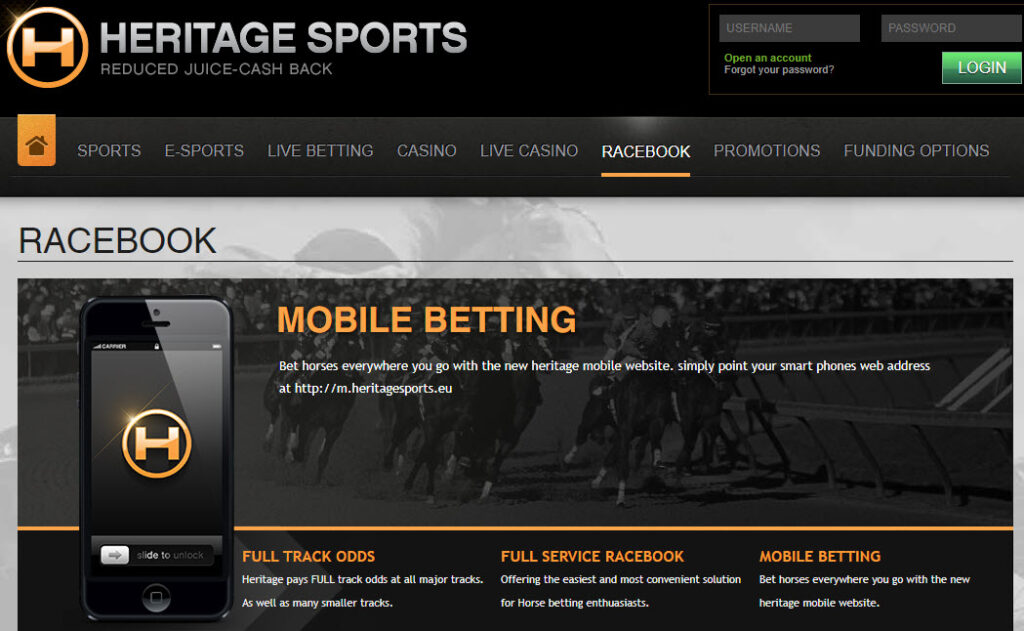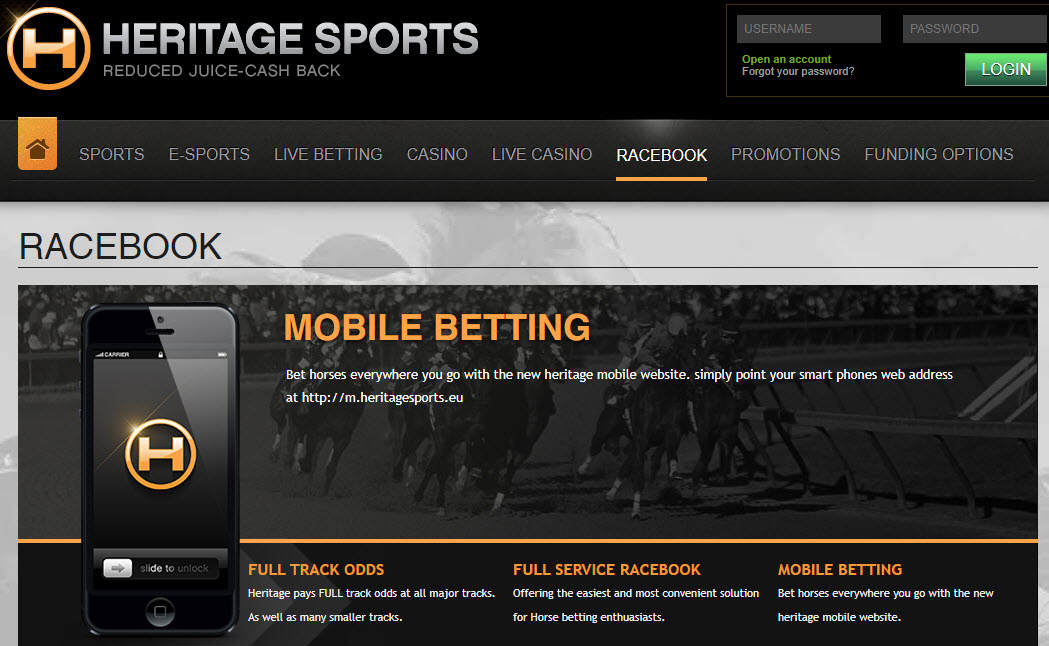 Heritage Sports is no stranger to bookmaking, boasting more than 25 years of experience. This all-in-one racebook, sportsbook and casino has delivered a top-tier service for decades and offers multiple highlight features to position it within our top-five rankings.
Providing horse betting markets for over 60 U.S. and European thoroughbred and harness racetracks, variety is never an issue at Heritage Sports. And whether you win or lose, daily horse bettors can receive a daily rebate of up to 8% when betting on major tracks. And while a notable x4 rollover requirement has been implemented on these bonus funds, Heritage Sports allows you to accomplish this rollover at the racebook, sportsbook or casino.
Horse and jockey information is available for each competitor in each race, as veteran horse handicappers make their lives simpler behind this feature. And most notably, a $200 betting limit on exotic wagers alongside a $1,000 or higher limit on win, place, and show bets positions delivers some of the highest online horse racing betting limits in Nevada.
Pros
Daily 8% rebate for horse bettors
High betting limits than most rival sites
Excellent racebook, sportsbook and casino
Use your deposit bonus however you want
Cons
Horse race betting platform is exclusive to residents of the United States and Canada
Welcome bonuses are smaller than other online horse race betting sites
No live streaming
3. Bovada: Offers a Dedicated Horse Racing Betting App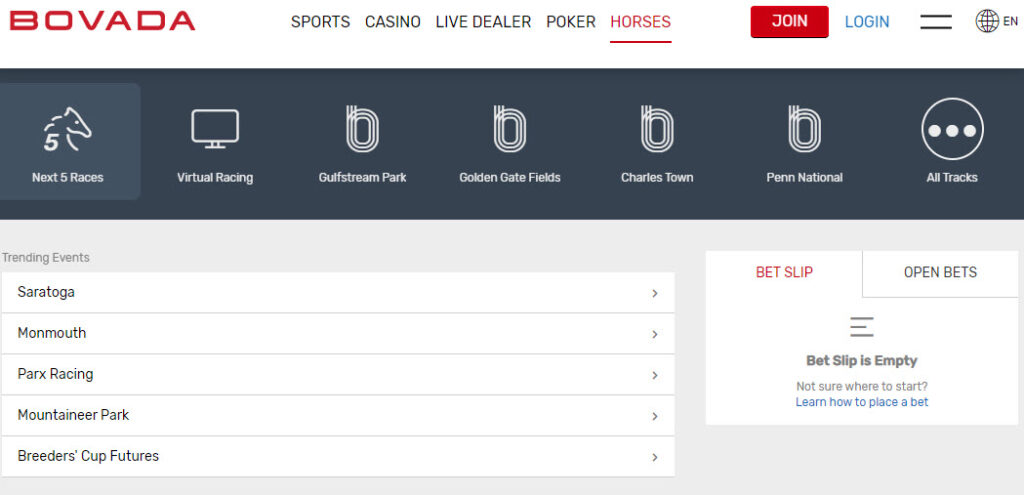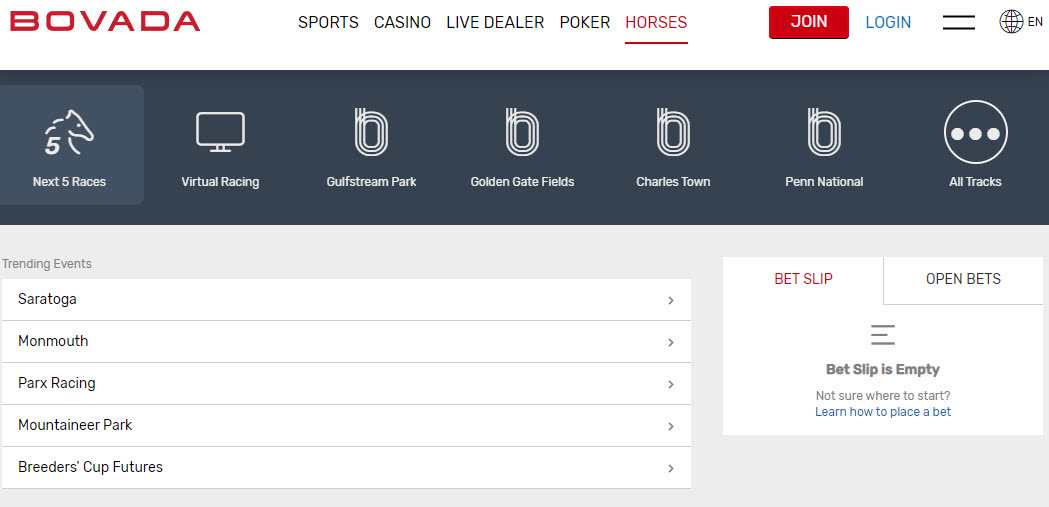 Bovada's long-standing position within the online gambling world doesn't need added praise from reviews like ours, as its reputation as a top-tier online gambling operator speaks for itself. However, horse racing betting enthusiasts may not be aware of the excellent services on offer from the Bovada racebook.
Not only does Bovada deliver one of the most functional and attractive online betting site layouts, but its customers can also use a dedicated app strictly for its racebook – no more cluttered pages and alternative wagering options getting in the way of your horse betting duties.
While international horse betting markets can be found, Bovada specializes in delivering extensive coverage of U.S. race meets. All premier events like the Kentucky Derby are broadly covered. Although odds on betting favorites can be slightly lower priced than some competitors, the prices on longshots present industry-leading value.
Pros
Horse racing-specific promos
Wide range of United States horse tracks
Highly competitive odds on longshot horses
One of the lowest minimum deposits ($10)
Attractive site layout & dedicated app
Cons
Horse race betting platform needs more handicapping tools
Odds on favorites are higher than some rival racebooks
4. BetOnline: The Best Daily Rebates on Horse Racing Markets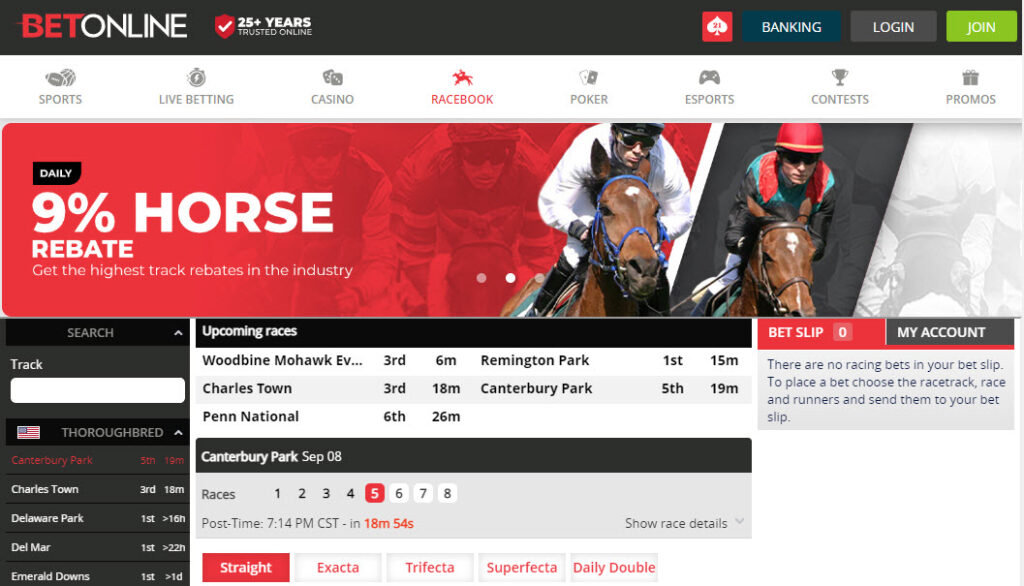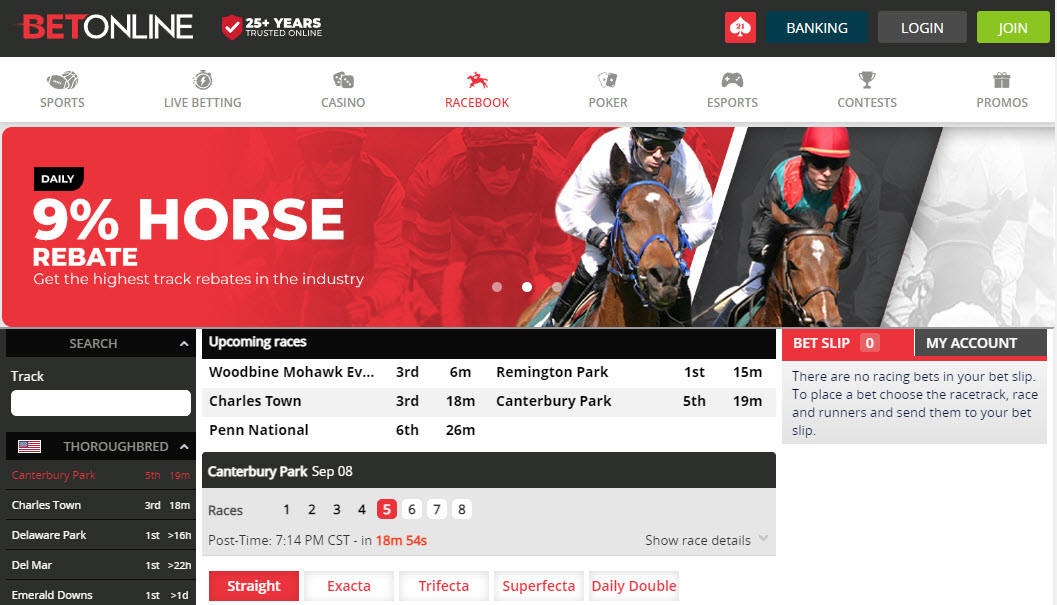 We'd be surprised if anybody reading this review didn't hear of BetOnline before arriving at this review. Wagering enthusiasts have held this sportsbook, racebook and casino in high regard for decades. Boasting over two decades of experience in the business, BetOnline notably offers one of the most comprehensive racebooks in Nevada.
Behind its dedicated portal to horse racing betting, BetOnline customers can discover a plethora of national and international horse racing tracks – over 600. In addition, this operator's desktop and mobile-optimized site equally provides an attractive layout that's simple to navigate. The racebook has its section on the site, so finding the extensive list of daily horse races is easily achieved.
Once customers at BetOnline have found a race card worth wagering on, all of the typical bet types can be found, such as straight, exacta, trifecta, superfecta, daily double, pick bets and more. Furthermore, BetOnline goes the extra mile regarding race information, such as the morning odds prices that are conveniently displayed to give bettors an overview of how the market lines have changed.
Specific tools that assist horse bettors also give BetOnline the edge. The multiview tools mean you can search through a wide range of races while placing multiple bets, and the conditional wagering tool lets you choose a desired price range that automatically places your bet once the requested odds have been reached.
Pros
Horse-specific betting tools and guides
Early released lines
More than 600 racetracks
$1,000 welcome bonus that applies to online horse race betting
Free $25 bet and a 9% rebate
Cons
Limited odds at some lesser-popular tracks
Post morning line odds on race day instead of live odds
Charges fees on credit card deposits
5. BetAnySports: Cashback Rebates on Horse Wagers Whether you Win or Lose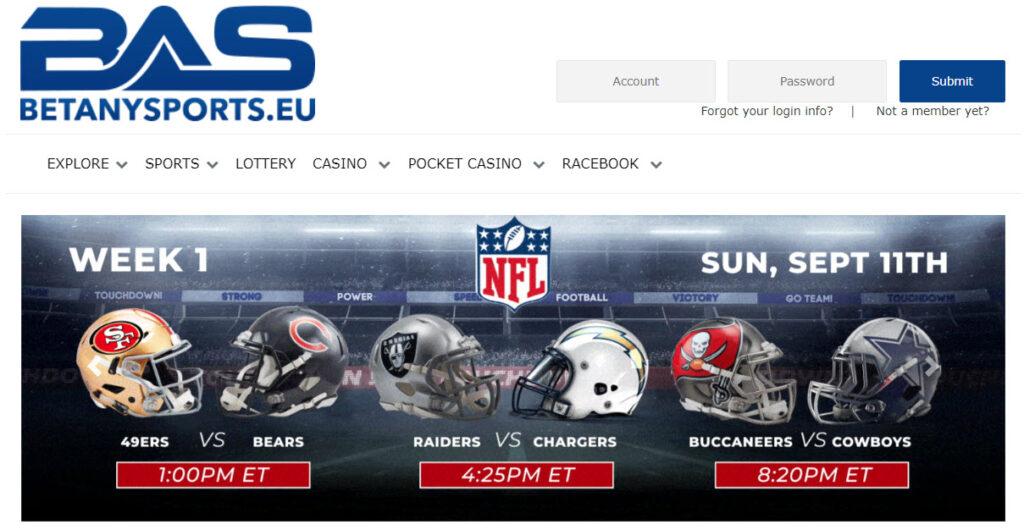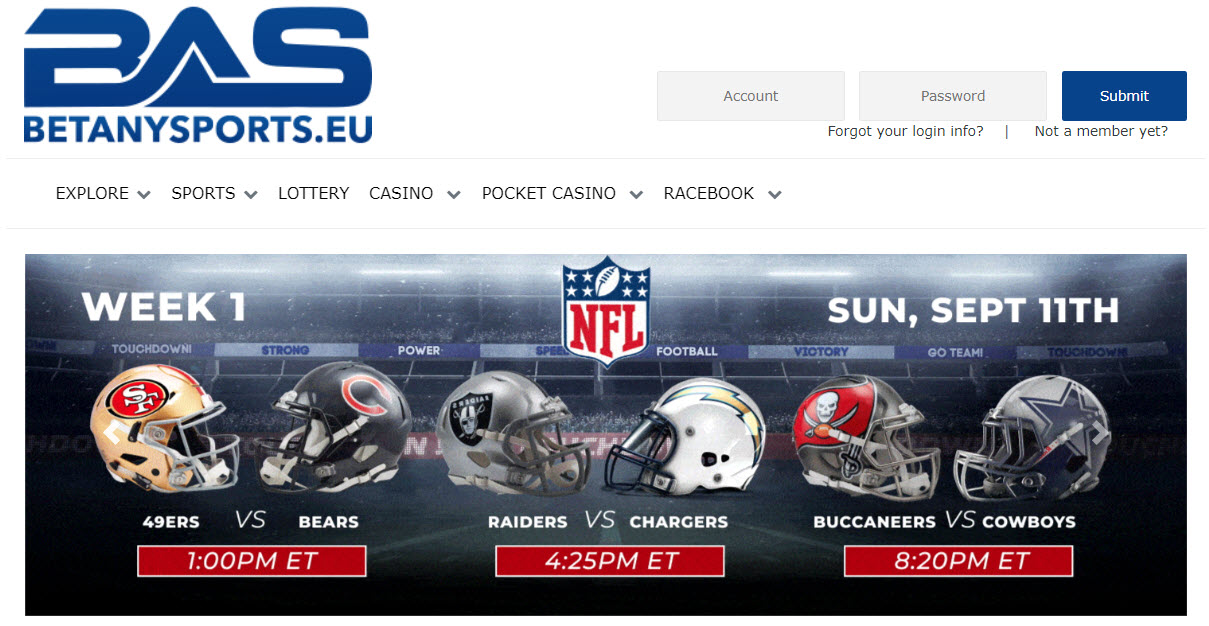 Behind the branding BetAnySports, you should already be curious about this operator's racebook as it offers unique services in an attempt to compete with Nevada's top horse racing betting sites.
With wide coverage of national and international race tracks, bettors can find additional positives and take advantage of some excellent betting value behind a 9% cashback rebate on horse wagers. We couldn't discover a more substantial rebate, and bettors receive this perk on winning or losing bets.
BetAnySports does an excellent job of delivering a simple but effective layout. The site's functionality makes the online horse racing betting experience pleasurable. Combining the previously mentioned positives with great customer service and competitive odds makes it easy to understand why BAS is a top-five racebook in Nevada.
Pros
9% rebates for online horse race bettingSpecific horse events have 10% boost
Welcome bonus applies to racebook
Cons
Bonuses and deposited money have rollover requirements
Horse race betting platform lacks live streaming
How We Rated Nevada's Online Horse Race Betting Sites
Our team of devoted racebook experts meticulously reviewed every horse race betting platform in Nevada before compiling the top-rated list. Some of the predominant features taken into consideration are as follows:
Overall racetrack coverage (national and international)
Betting odds
Bonuses/Promotions
Payment methods
Site security
Brand recognition
Customer service
Nevada's History of Gambling Laws
Most forms of gambling were legalized in Nevada in 1931, thus making it the capital of wagering in the United States, as most states prohibited this activity. However, as horse racing betting and most gambling variations have spread throughout the U.S., the Silver State – specifically Las Vegas – has evolved into a tourism destination while maintaining its gambling prestige.
Nevada allows multiple forms of legalized gambling, including pari-mutuel horse wagering, casinos and sports betting. eSports was the latest addition to Nevada's long list of legalized wagering activities, but the Silver State has never supported a state lottery.
Timeline of Gambling in the Silver State
2018: Supreme Court abolishes PASPA, which imposed a federal ban on sports wagering.
2013: A pact agreement with NJ and Delaware offers online poker.
2011: The Justice Department rewrites the Federal Wire Act of 2011, extending its rules to online wagering.
2001: Nevada legalizes college sports wagering.
1975: The first Las Vegas-based land-based sportsbooks open.
1955: The Gaming Control Act was launched.
1951: The federal government imposes a 10% tax on money earned by legal wagering in Nevada, intending to discourage spread of gambling games outside of the Silver State.
1931: Nevada legalizes gambling, including sports wagering and horse betting.
What Features the Best Racebooks Have
Newcomers to the world of horse racing betting must expand their knowledge to garner long-term profits. But before diving into the world of a specialist handicapper, you must know the basics. We've highlighted the basic features a top-rated racebook should have before you consider using its services.
Competitive Horse Betting Odds
Research is an imperative part of online horse race betting. This doesn't just revolve around horse and jockey form, but also line shopping. Intelligent bettors will know which sportsbooks provide the best odds on longshots and favorites.
Large Variety of Betting Markets Available
Racebooks offering just a handful of racetracks and types of bets aren't good enough. An operator should provide an extensive selection of racetracks, both national and international, allowing bettors a broader selection when attempting to place the most valuable wagers.
Deposit & Withdrawal Methods
Credit and debit card transactions are some of the most popular banking methods. However, looking for the best horse racing betting sites in Nevada, we want to see a wide selection of banking options, including modern payment methods like cryptocurrency.
Generous Promo Codes & Bonuses
Sign-up bonuses are a huge marketing strategy for racebooks, sportsbooks and casinos. Operators compete to provide the most lucrative welcome bonuses to draw in new customers. However, we look beyond the face value of these bonuses and inspect the terms and conditions attached to these offers, such as the rollover requirements.
Live Betting & Race Streaming Available
Modern-day bettors demand a notable live betting market, and despite the difficulty of live wagering on horse races, we still like to see operators providing this service.
Quality of the User Interface
Visually appealing layouts can deliver a stress-free experience when using an online racebook, and there's nothing worse than stumbling across a cluttered and outdated site. However, the overall functionality of a site on both desktop and mobile versions is imperative, as a lag-free simple-to-navigate site is crucial.
Customer Service Options
Disputes within online gambling are inevitable. The house can always make mistakes, and customers should be free to complain when their bankroll is questioned.
The best customer service doesn't solve every issue, but it should always be available and be able to investigate a problem when it arises. Most top-rated sites will provide a 24/7 live chat option, where an operator can resolve issues anytime.
Security & Safety Features Available
The most reputable racebook operators regularly advertised on TV aren't always the most trustworthy regarding money, payoffs and site security. When we evaluate the best Nevada online betting sites, we always ensure security to protect a customer's funds and sensitive information.
Nevada Horse Racing Betting Odds
Unlike your typical sports betting odds, there's more than meets the eye with horse racing odds. We've gone into detail below if you're unfamiliar with the various horse racing odds.
Fixed Odds in Nevada
Fixed odds allow bettors to receive the exact price when a wager is made. So, if a horse is listed at 14-1 when a wager is placed, and the odds plummet to 10-1 by race time, bettors still receive the original price of 24-1
Pari-Mutuel Betting in Nevada
Pari-mutuel wagering is the most common format for horse racing odds at racetracks. Instead of receiving fixed odds, every bet impacts the final paying odds. The more bets made will see the odds fluctuate, and the bettor gets the price of what the closing odds finish at.
Pool Betting on Nevada Horse Races
Pool betting is an alternative terminology for pari-mutuel wagering, as a collection of bets are put into a pool, and the number of wagers will determine the final price received.
Calculating Horse Racing Betting Odds
The comparison table below will assist you in understanding the potential profit you can make from various odds. Unlike most Nevada sports wagers that use American odds, horse betting prices are often calculated with the fractional odds format.
| Horse Racing Odds | Payout from a $2 Wager | Implied Probability of Winning |
| --- | --- | --- |
| 1/5 (-500) | $2.40 | 83.33% |
| 1/4 (-400) | $2.50 | 80% |
| 1/3 (-300) | $2.60 | 75% |
| 1/2 (-200) | $3.00 | 66.67% |
| 4/6 (-150) | $3.33 | 60% |
| 1/1 (-100) | $4.00 | 50% |
| 2/1 (+200) | $6.00 | 33.33% |
| 3/1 (+300) | $8.00 | 25% |
| 5/1 (+500) | $12 | 16.67% |
| 10/1 (+1000) | $22 | 9.00% |
| 50/1 (+5000) | $102 | 1.96% |
The implied probably column displays your percentage chance of bet winning based on its available odds. The higher the odds, the more substantial your payout will be; however, the % chance of the bet winning is lower.
Commonly Placed Types of Horse Racing Bets
Before placing a wager on ‌horses, you must understand the various bet types available. Below we've listed the most commonly approached horse racing betting markets.
Win: Pick a horse to win; your horse must finish first.
Place: Pick a horse; to win your bet, it must place first or second.
Show: Pick a horse, and to win your bet, it must place first, second, or third.
Exacta: Pick two horses; they must finish in the order you select to win the bet.
Trifecta: Pick three horses; they must finish in the order you select to win the bet.
Superfecta: Pick the four top finishing horses; they must finish in the desired order.
Daily Double: Pick the winning horse from two separate races.
Pick 3/4/5/6: Bettors must pick 3,4,5 or 6 winning horses from 3-6 consecutive races.
Common Horse Racing Betting Terms
When you enter the world of horse racing wagering, be prepared for the extensive terminology used by horse handicappers. Below you'll find several key terms utilized in horse racing.
Ante-Post: Wagers made on a horse race before the day of the race.
Drifter: A horse whose odds increase before a race due to the lack of market support.
Dead Heat: A rare situation when the winning result of a race cannot be determined because the finish is so close – the result ends in a tie.
Dutch: The term used to describe the backing of more than one outcome in the same event.
Exotic Bet: These are wagers involving multiple horses, unlike straight wagers covering one bet on one horse.
Favorite: The horse most expected to win based on form or public betting interest.
Furlong: A unit of distance equal to one-eight of a mile.
Longshot: A horse that's perceived with a small chance of winning – odds are always some of the most profitable on longshots.
Morning Line: A list of entries for a race meet and the probable odds on each printed before the betting lines open.
Odds: The chance of a horse to win based on the pari-mutuel wagering of the general public.
Pari-Mutuel: A form of horse racing wagering where the odds of each horse aren't known when placing a bet, and payouts won't be determined until the race has concluded.
Stake: The amount of money a bettor places on a horse wager.
Virtual Horse Racing Betting in Nevada
Horse racing enthusiasts can build their bankroll of the racecourse by partaking in virtual horse races. These real-money horse betting races are uniquely generated by a computer every two minutes.
How to Sign-Up with Online Racebooks
Nevadans looking to place online horse wagers can begin the betting fun within minutes. Here are the four steps to start wagering today, whether you're using a phone, tablet, PC or laptop.
Step 1: Create Your Racebook Account
Select one of the top-rated Nevada horse racing betting sites from this guide and enter the site address in your mobile device or computer browser. Fill out the registration form with basic details such as name, address, and email – you'll need a valid form of identification.
Step 2: Verify Your Newly Created Account Details
Once you've completed step 1, locate the confirmation link in your email. Click the link to confirm your account.
Step 3: Deposit Funds into Your Racebook Account
Your account is now activated and you can make an initial deposit. Ensure you've read the terms and conditions of the welcome bonus – a promo code might need to be entered during steps 2 or 3. Choose a payment method and enter the amount you wish to deposit.
Step 4: Place Wagers on Races
You can now browse the horse racing betting markets and select the first race you want to wager on.
FAQs – Online Horse Racing Betting in Nevada
Is online betting legal in Nevada?
Yes, all forms of betting, including online sports betting and online horse race betting are legal in Nevada.
Where can I bet online in Nevada?
There's a vast number of online racebooks available to Nevada residents. However, we recommend choosing an operator from our top-rated list, as our team of experts has vetted these racebooks to ensure reputability.
Can you bet on horse racing in Nevada?
Yes, Nevadans can attend one of the local horse racing tracks for pari-mutuel betting. Alternatively, horse bettors can wager on any race worldwide by using offshore online sportsbooks. 
Can I bet on the Kentucky Derby in Nevada?
Yes, premier horse racing events such as the Kentucky Derby have an extensive market selection at sites such as BetOnline or Bovada. Many sites allow horse racing bettors to stream the race from Churchill Downs. 
How do I place a bet in Nevada?
Find a reputable online gambling site – like those mentioned in this guide – and register an account.
When did Nevada legalize online gambling?
The first legal online wager in the United States was placed in Nevada in 2010.
In what can only be described as a seminal pact between adversaries, Governor Newsom has signed a bill into law that both the California Native American tribes, as well as cardroom operators, support – no additional cardrooms in the state for two more decades. In turn, this collaboration between Native American tribes and gambling hall

---