Sports Betting in Wisconsin – Legal Updates & Best WI Sportsbooks
Wisconsin has legalized sports betting, but sports bettors will find that there are a lot more restrictions at legal Wisconsin sportsbooks than there are at sportsbooks in other U.S. markets that offer legal betting options.
For sports fans and bettors in Wisconsin who want more betting market options and bet types, they can use one of the top offshore sportsbooks covered in this guide to sports betting in Wisconsin.
Best Wisconsin Sports Betting Sites 2023
Our betting experts have done the legwork for you by signing up at all of the top-rated offshore sportsbooks. Later in this guide, we will give you access to our more in-depth ratings of these brands. You will also get access to ratings for 100+ sportsbooks in case you want to get more information about the sites recommended by our guides as well as explore some more for yourself.
Our guide has a rating system from A+ to F so not only will you see which are the top recommended online betting sites, but you'll also get a heads-up as to which ones you need to stay away from.
Below are the top ten sites as chosen by our experts:
Is sports betting legal in Wisconsin?
In-person sports betting is legal in Wisconsin under the state's gambling laws. Wisconsin legal sports betting made its debut at Oneida Casino in Green Bay in November 2021. Wisconsin residents are able to place legal sports bets in person at tribal casinos around the state. Online options are trailing behind statewide.
Oneida Casino officials said in early 2022 that hopefully residents will soon be able to place bets on their mobile devices. For now, retail sports betting is all that has been legalized. Wisconsin bettors who are not interested in in-person betting usually turn to offshore sports betting sites.
These sites offer the opportunity to place all types of bets on your favorite professional sports teams and college teams. The wide range of betting markets and bet types available means there is plenty of online action.
The Best Wisconsin Sportsbooks Reviews
From the signup process to depositing, claiming bonuses and cashing out, our betting experts have gone over all of these accounts carefully as players themselves.
They've used these experiences to provide us with feedback as to who they believe are the best sites for sports betting for players in Wisconsin. There is no one site that is better than the rest because every player prioritizes different aspects of the industry.
Later in the guide, we'll go into greater detail as to what criteria were used by our experts when choosing these offshore sports betting sites.
With that in mind, the core services that all of these sites must provide are various deposit and withdrawal options, fast payouts, competitive odds, a variety of bonuses and good customer service. Those are all a prerequisite for making the cut for this guide.
1. Heritage Sports: Reduced Juice Saves You Money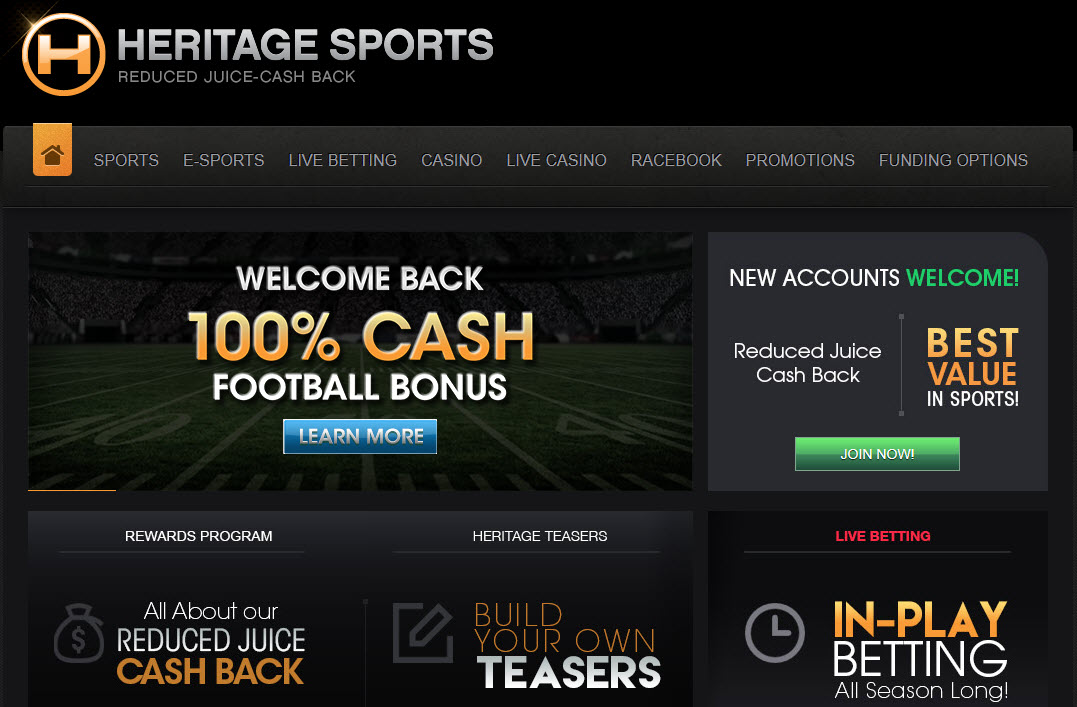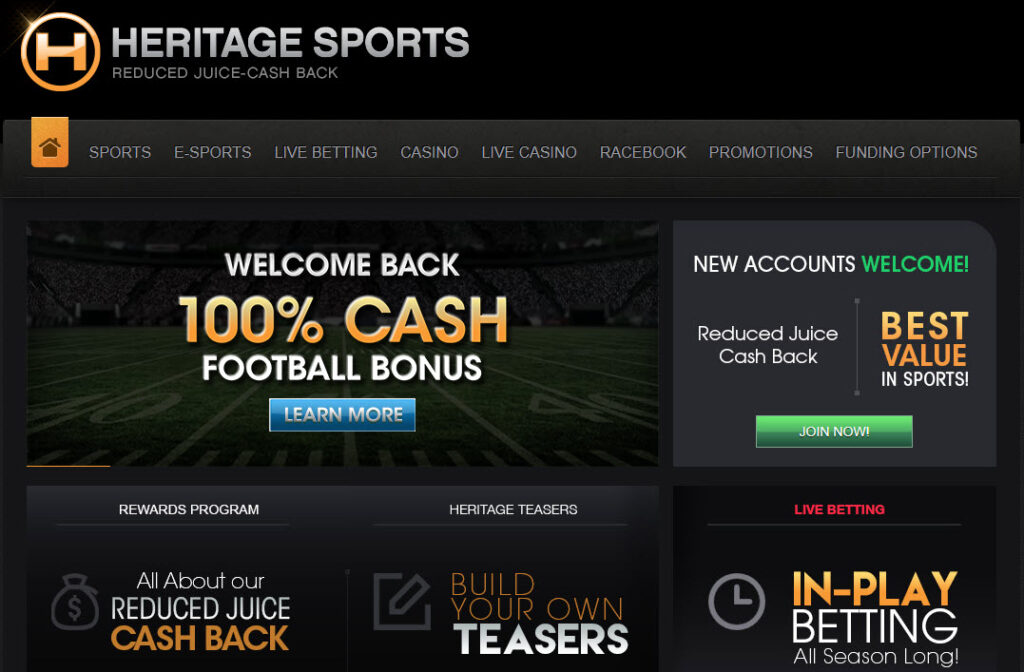 Heritage Sports is considered one of the top offshore sportsbooks to use in Wisconsin for several reasons. Heritage Sports offers a range of enticing bonuses to enhance the betting experience. These include free bets, matched deposits and no-deposit bonuses, which provide customers with added value and more opportunities to win. This bonus incentive is particularly appealing as it allows users to maximize their betting potential.
In addition to the attractive bonuses, Heritage Sports also offers a comprehensive casino section. This means that users can not only enjoy sports betting but also indulge in various casino games, adding excitement and variety to their online gambling experience. The casino section provides a wide selection of games, including popular options like slots, poker, blackjack and roulette. With the combination of sports betting and casino games, Heritage Sports ensures that users have a diverse range of options to keep them entertained and engaged. This makes it a preferred choice for those seeking both sports betting and casino gaming on one platform.
Pros:
Reduced juice cashback promo
One of the best in-game betting platforms available in Wisconsin
Cons:
Fewer bonuses due to reduced juice
2. Bovada: Mobile Platform is a Favorite of Wisconsin Players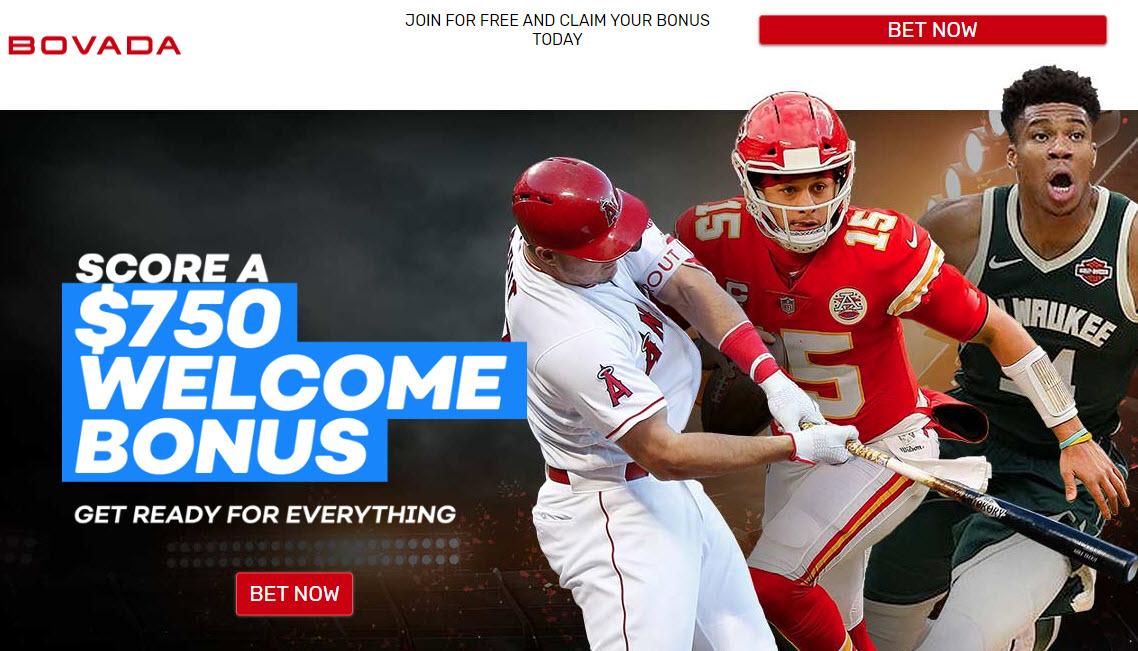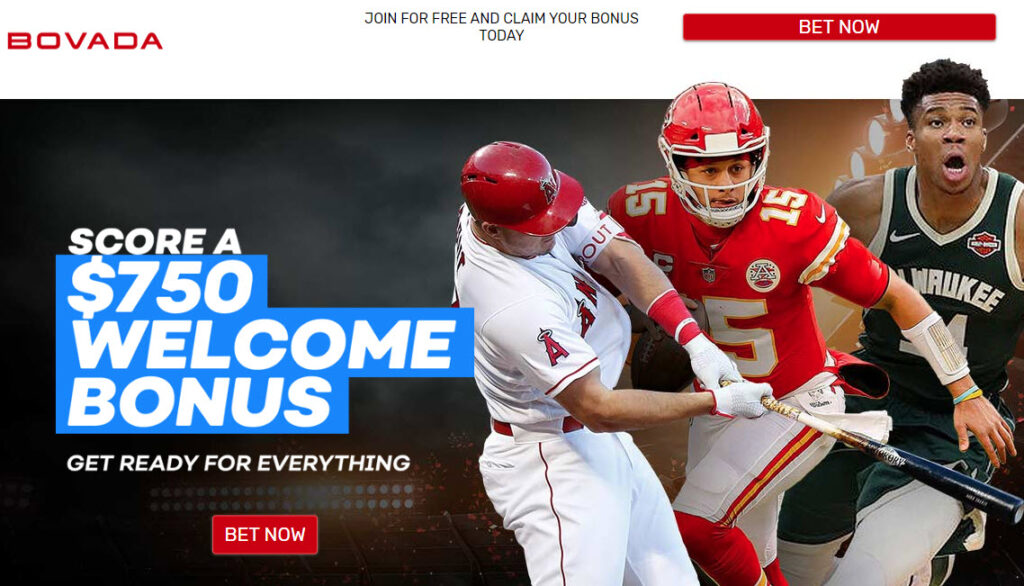 Bovada is a leading offshore sportsbook that stands out as one of the top choices for sports betting enthusiasts in Wisconsin. With its extensive range of betting options and user-friendly interface, Bovada offers an exceptional betting experience. One of the standout features of Bovada is its generous bonuses and promotions. New users can enjoy a lucrative welcome bonus, allowing them to maximize their betting potential right from the start. Additionally, there are regular rewards and promo codes at Bovada, ensuring that users are constantly rewarded for their loyalty.
In addition to its sports betting platform, Bovada also offers an impressive online casino. Players can indulge in a wide variety of casino games, including slots, table games and live dealer options. Bovada is also home to the busiest poker rooms in the United States.This adds an extra layer of entertainment for users who appreciate both sports betting and casino gaming. With its reliable and secure platform, diverse betting options, and enticing bonuses, Bovada is undoubtedly a top choice for Wisconsin residents looking for a comprehensive offshore sportsbook experience.
Pros:
Most popular poker room in the United States
Mobile offering is top of the line
Cons:
Lower limits for betting
Odds not offered as early as some competitors
3. BetOnline: One of the Industry's Leaders in Competitive Odds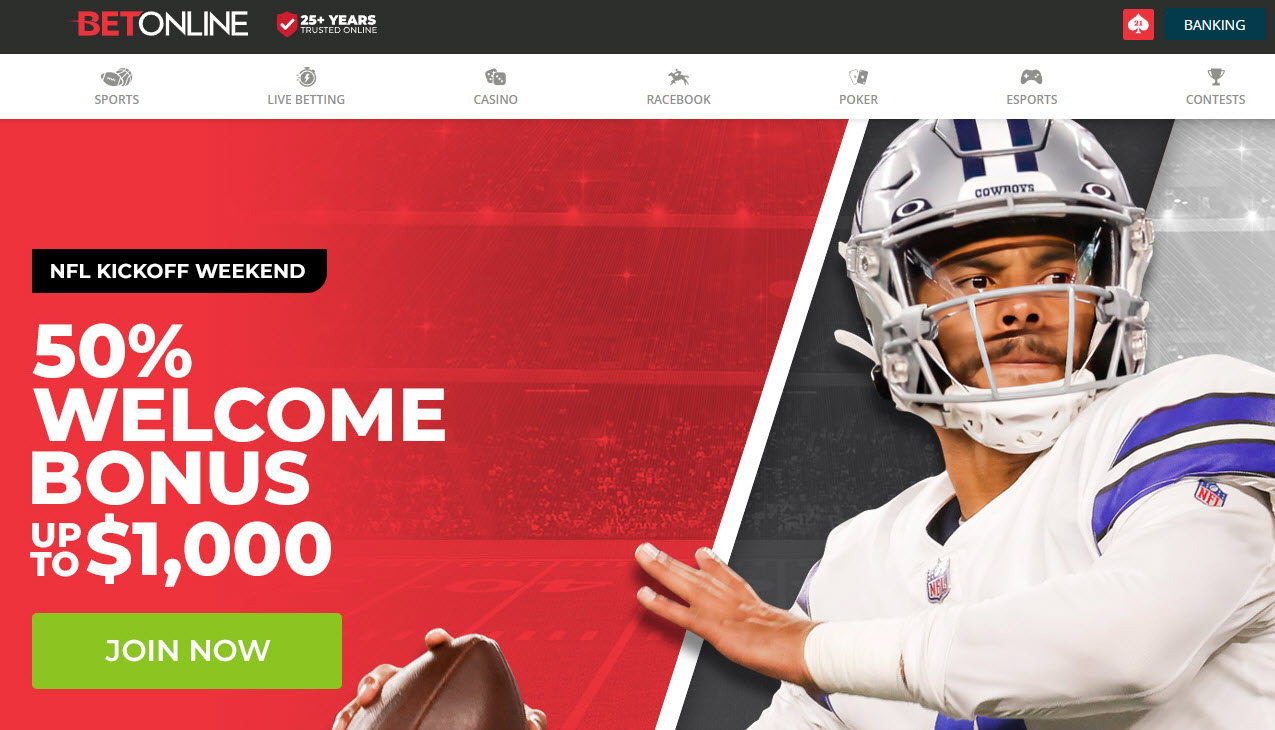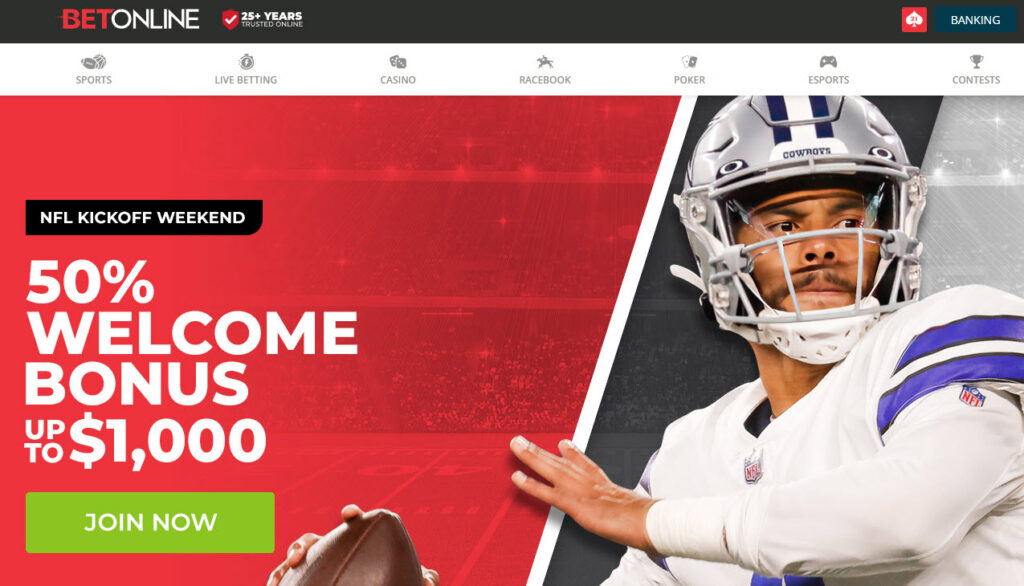 BetOnline is a top offshore sportsbook that has been accepting bets for over 20 years. With a strong reputation and track record, it has become a trusted name in the industry. One of the key reasons for its popularity is the extensive selection of over 400 casino games it offers. From classic table games to slot machines and live dealer options, BetOnline ensures that every player can find something to suit their preferences. The live dealer games, in particular, provide an immersive and authentic casino experience from the comfort of your own home.
In addition to its impressive casino offerings, BetOnline also stands out in Wisconsin for its wide variety of promotions. The sportsbook regularly offers bonuses and jackpot prizes, giving players the chance to boost their winnings significantly. These promotions can include deposit bonuses, free spins, cashback offers and more. Furthermore, BetOnline provides early NFL lines, which is a significant advantage for NFL bettors in Wisconsin. By offering early access to betting lines, bettors can take advantage of favorable odds and make informed decisions before the rest of the market catches up. Overall, BetOnline provides a reliable and legit platform that offers a great casino experience and competitive advantages for NFL bettors.
Pros:
Early odds available in NFL
Higher betting limits
Outstanding mobile platform
Cons:
Some payout methods include a fee
Fee for deposits with credit cards
4. BookMaker: Sharp Players Not Turned Away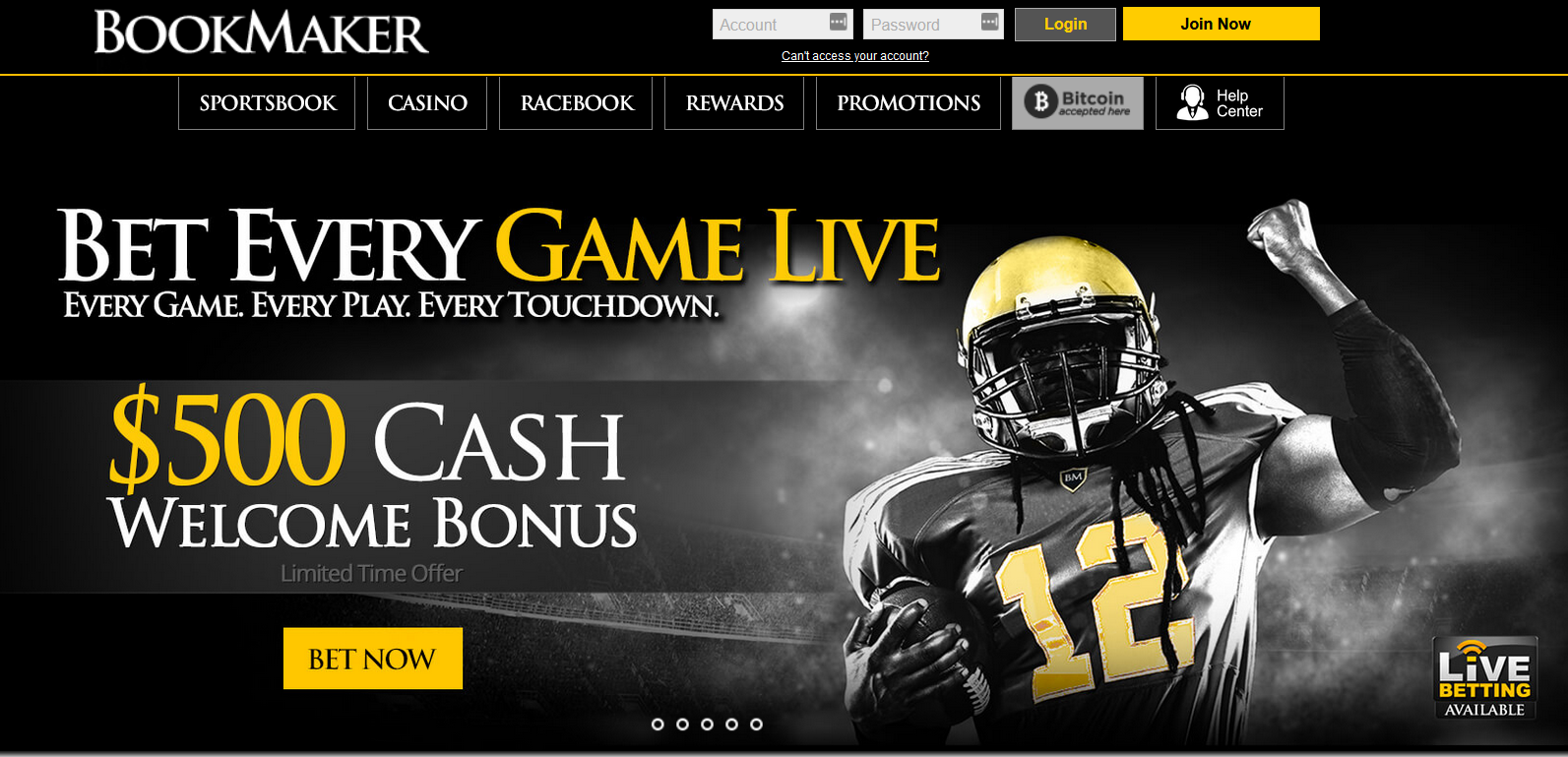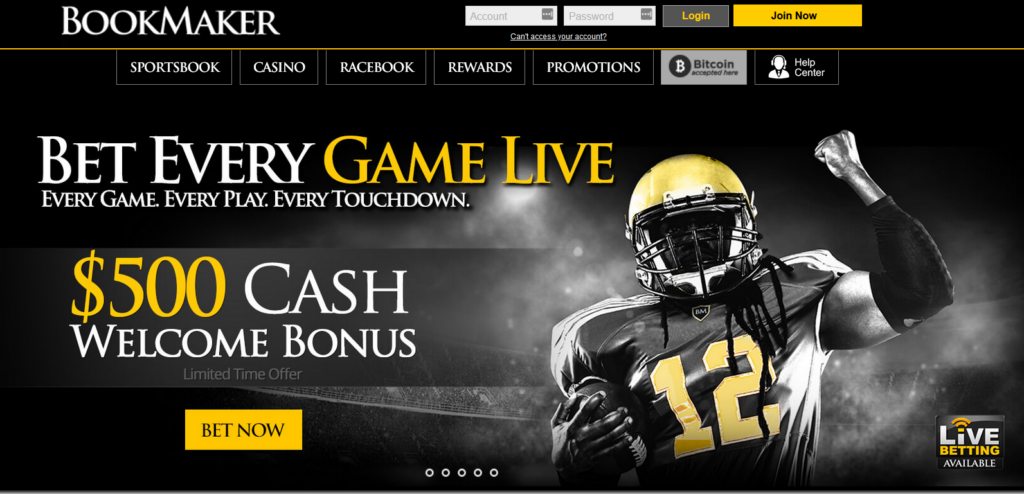 With decades in the industry, Bookmaker.eu is one of the favorites of Wisconsin sports bettors. They offer several top-of-the-line services under one roof. Sharp bettors from all around the world use BookMaker because of their competitive odds and fast payouts.
As a recreational player, it is comforting to know that the site you play on is good enough to meet the standards of players that bet for a living.
If bonuses are important to you, then you'll be pleased with BookMaker's promotions in that regard. They have welcome bonuses as well as reload bonuses for whenever you decide to re-deposit into your account. They also have one of the best loyalty programs in the industry. Every time you bet, you'll be rewarded with points that can be redeemed for free play.
The main difference with these bonuses, besides the percentages that you receive, is the required action. BookMaker has lower rollover requirements than some competitors. Another reason that BookMaker comes so highly recommended by our betting experts is that their customer service is top-notch and they offer a wide variety of online casino games for those who want a full online gambling experience.
Pros:
Lower rollover requirements
Home to sharp players which means competitive odds
Cons:
Fees associated with payouts via cashier's checks
No poker available
5. BetAnySports: Reduced Juice Gets You More Betting Power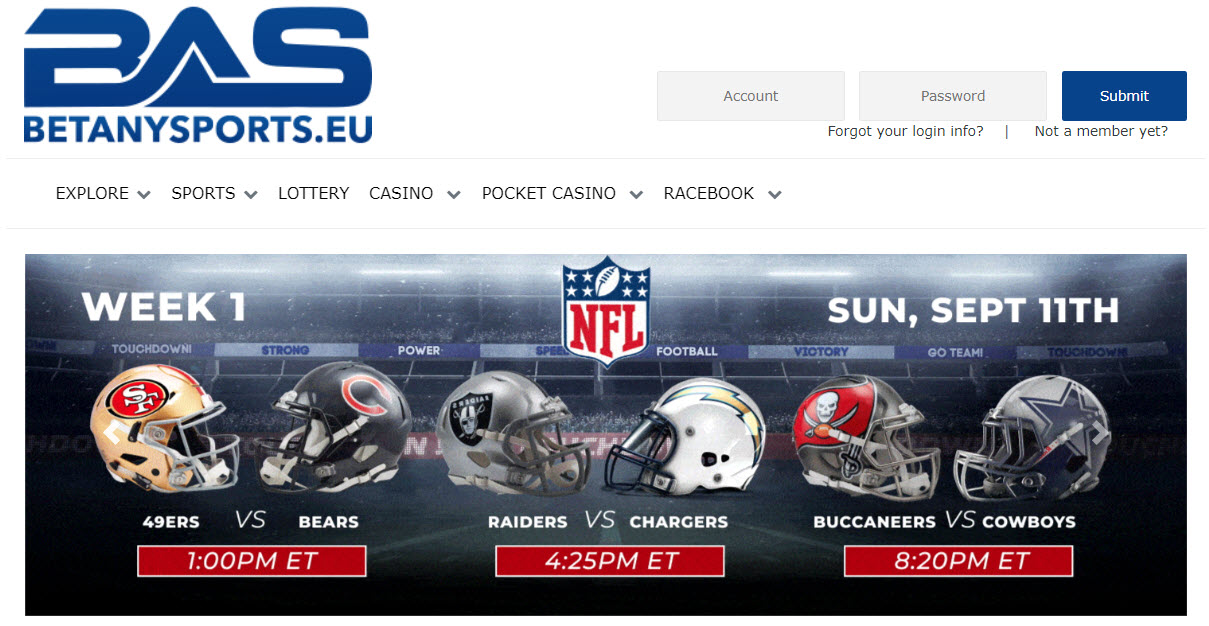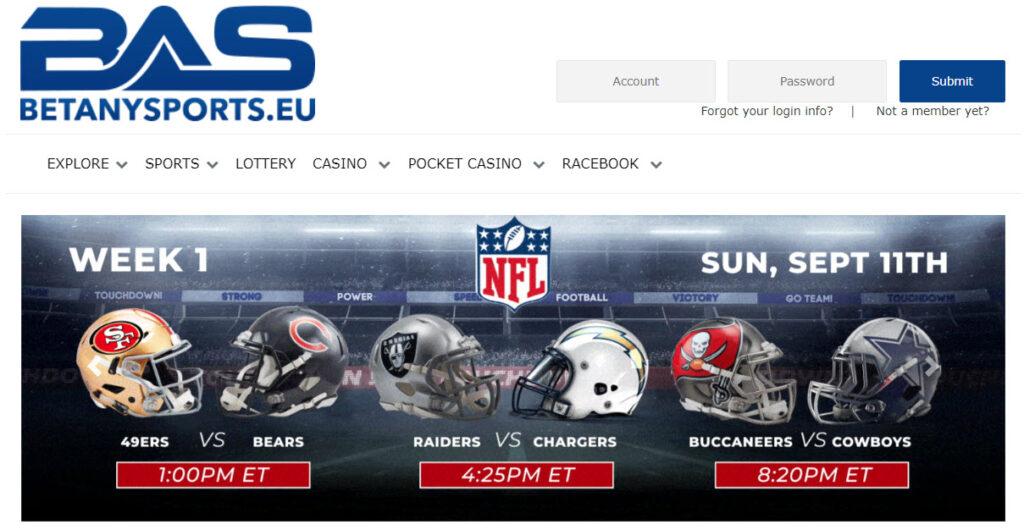 BetAnySports is a legitimate online sportsbook and casino site that offers a unique and exciting online gaming experience to its users. The platform provides a wide selection of sports leagues and special lines, including different categories for betting, such as sports, casino, lottery and horses. Additionally, BetAnySports offers various wager types and payoffs, as well as links to view rules and payoffs for different types of bets, such as straight bets and totals. One of the highlights of BetAnySports is its reduced juice offerings, which provide users with better odds and lower juice on select games.
Moreover, BetAnySports offers its customers a full sportsbook, poker room, bingo and lottery, as well as a variety of casino games. The platform has reasonable banking options and provides users with generous bonuses and payouts. Users can easily sign up for an account, access the rules and policies, make deposits, and view payouts and promotions. Overall, BetAnySports is one of the top offshore sportsbooks to use in Wisconsin, offering a unique and exciting online gaming experience with reduced juice offerings, a full sportsbook, and a variety of casino games.
Pros:
50% savings on spread and total bets
Fast payouts reputation
Cons:
Reduced juice means fewer bonuses compared to some other sites
6. BetUS: Elite Customer Service Available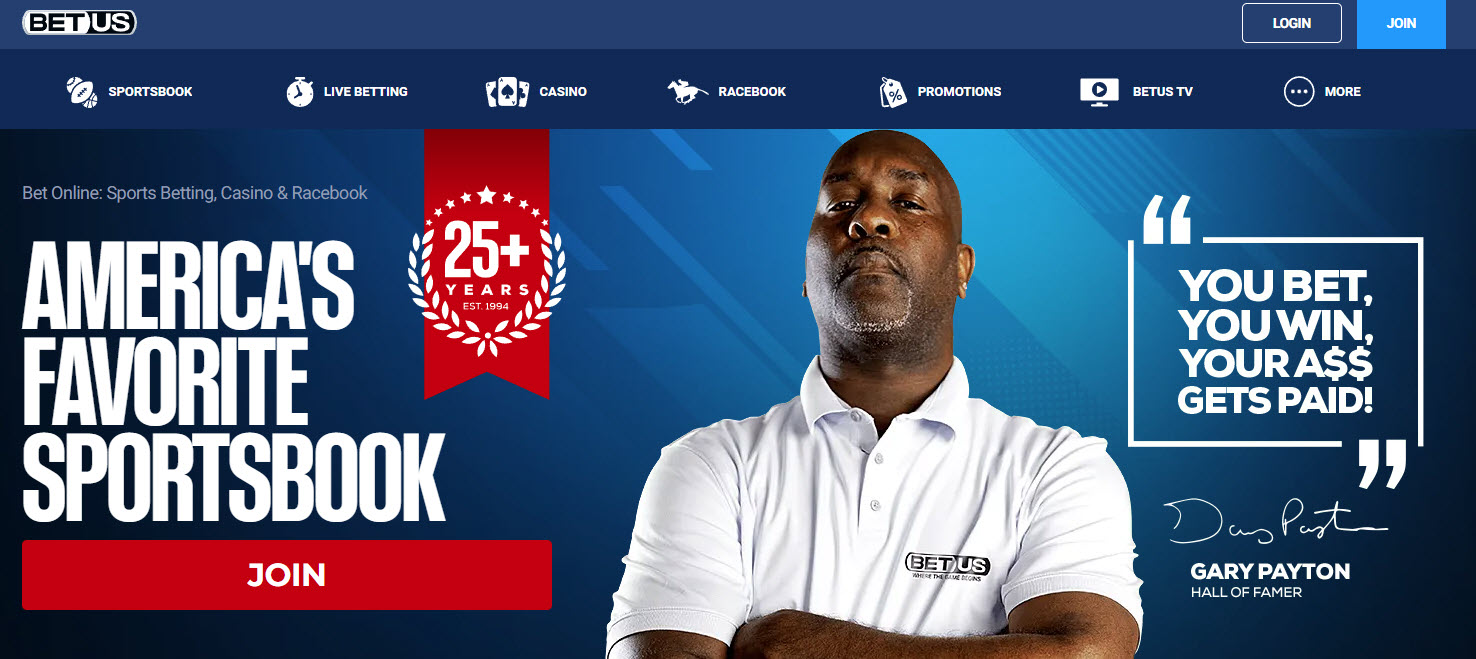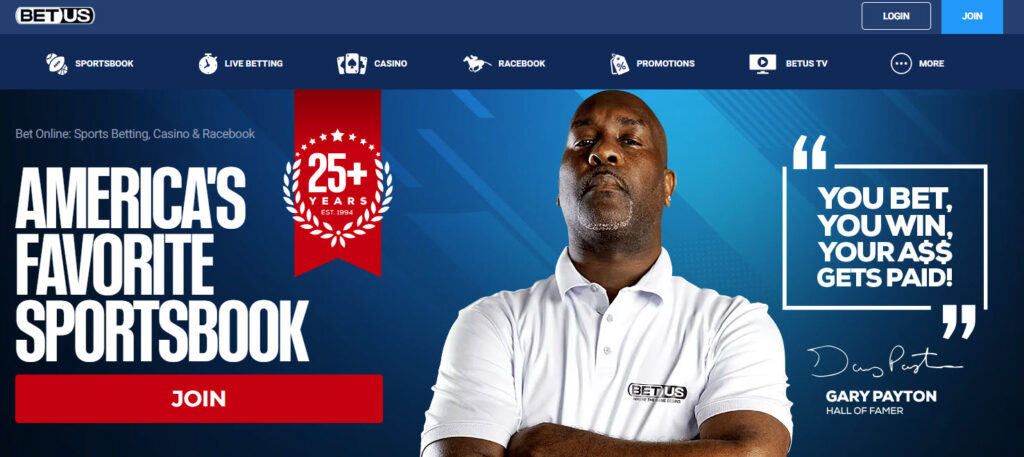 BetUS really knows how to take care of their customers. They offer personalized service which is not common in the sports betting industry. One of the ways that BetUS has been able to stand out from the crowd is with how they service players. Once you have an account and are regularly depositing, you can ask for your own personal agent.
What that means is that when you call in, you'll be transferred to that agent if they are on duty. When they aren't, their colleagues will be aware of your relationship and will know how to provide you with what you are looking for. This takes your user experience to a whole new level.
One thing they'll definitely get you is some of the industry's best promotions. You don't need a host for that but it still helps to have one. BetUS not only has the biggest bonuses in the market, but they also have the most variety. We've already mentioned earlier in this guide that you should speak to customer service agents about the terms and conditions of these bonuses.
Pros:
Personalized customer service available
A wide variety of bonuses and promotional offers
Cons:
Play-through requirements for bonuses are high compared to some competitors
7. WagerWeb: Fast Payouts for Crypto Users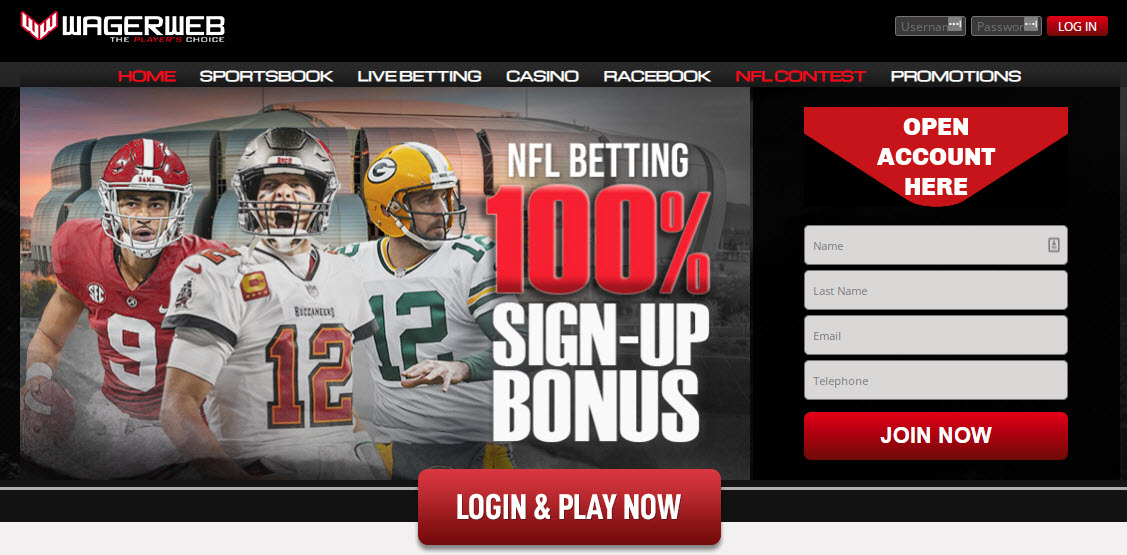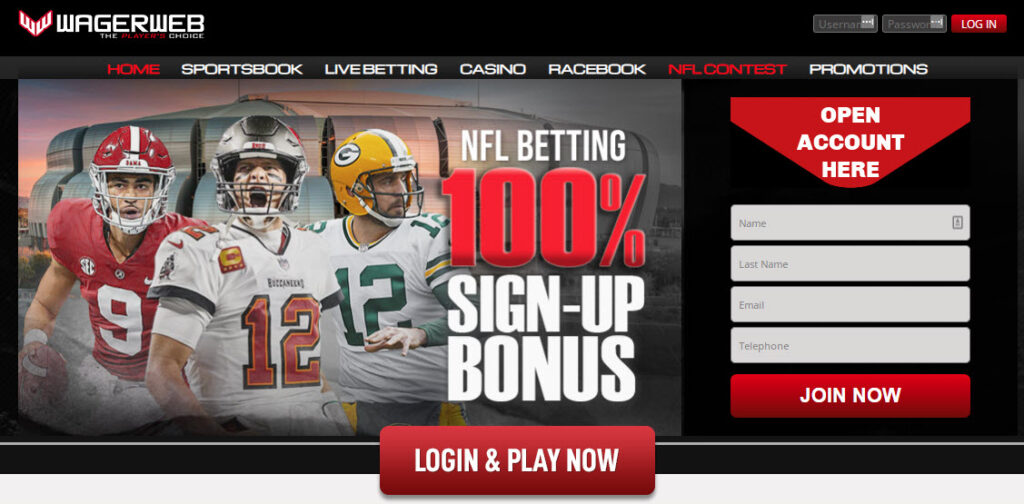 WagerWeb is a top offshore sportsbook that offers a range of benefits for users in Wisconsin. With its attractive bonuses and promotions, WagerWeb provides an enticing incentive for bettors. The WagerWeb Casino also boasts a diverse selection of casino games, allowing users to enjoy the thrill of gambling beyond just sports betting. Additionally, WagerWeb is known for its user-friendly interface and reliable customer support, ensuring a seamless betting experience for Wisconsin users. Whether it's placing bets on popular sports or exploring the casino offerings, WagerWeb stands out as a reputable offshore sportsbook option for Wisconsin residents.
WagerWeb's appeal goes beyond its bonuses and casino options. The sportsbook offers a wide range of betting markets, including major sports leagues and niche events, catering to the diverse preferences of Wisconsin bettors. Moreover, with its offshore status, WagerWeb provides accessibility to all users in the state, allowing them to enjoy online betting without restrictions. With a reputation for reliability and a strong track record, WagerWeb has become a go-to choice for Wisconsin residents looking for an offshore sportsbook that offers a comprehensive and enjoyable betting experience.
Pros:
Strong mobile offering
Crypto-friendly bonuses and fast payouts
Cons:
Sharp players may be limited
8. GTbets: Wisconsin Residents Get 10% Weekly Rebate at Casino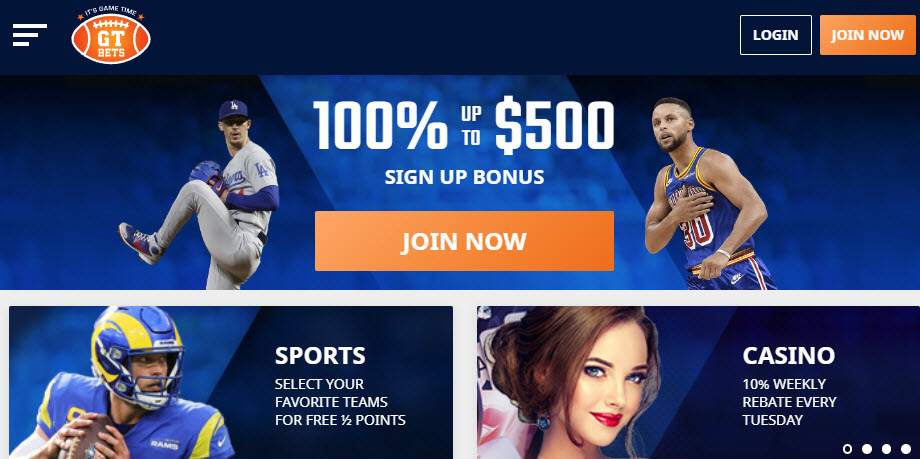 Cash bonuses are not the norm in the sports betting industry. Wherever you choose to play in Wisconsin, if you get a bonus, expect it to come in the form of free play. The difference between free play and cash bonuses is very important to understand so you can see the value of what GTbets is offering.
With free play, when you lose the money you risked is gone. The important note is when you win a free play bet, you do not get the risk money back, you only get the profit. This is a point that most inexperienced players do not always notice right away.
It also highlights the benefit of GTbets' cash bonus structure. This is one of the many reasons GTbets is so popular with Wisconsin sports bettors. Another interesting perk is that you can choose a favorite team and get a free half-point when you bet them on the spread.
Pros:
Cash bonuses are a great perk
Great bonus offerings
Casino offers a weekly rebate
Cons:
Odds not as competitive as other brands in this guide
9. JustBet: Bigger Betting Limits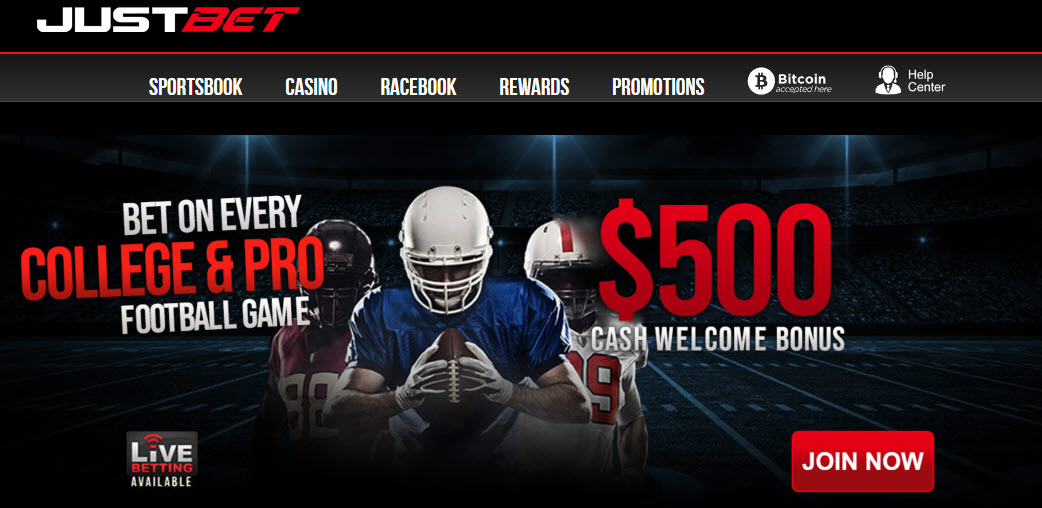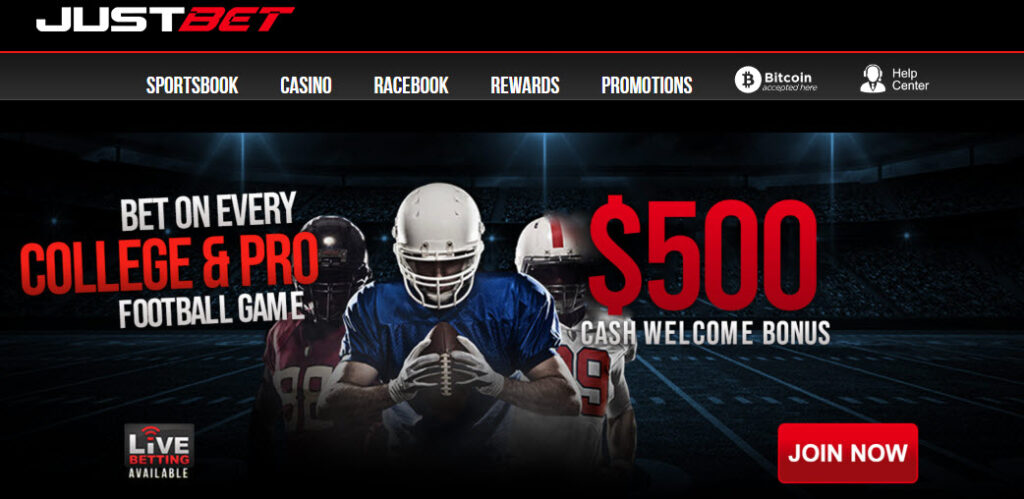 The sports betting industry for the most part has a standard set of limits for how much you can bet per sport. Every sportsbook is different and depending on your deposit history and tenure with a site, they might make certain exceptions for you as a player. For new players, there is a standard bet limit across the industry.
That range is somewhere between $2,500-$5,000 depending on the site and the sport. The league with the highest betting limits tends to be the NFL. That is generally followed by the NBA and then NCAA football, MLB, NCAA basketball and the NHL.
The sports and leagues not named like soccer, tennis or the WNBA and MLS for example might have even lower limits. This is not something you need to worry about at JustBet as they have some of the industry's biggest limits. While this does attract sharp action due to the fact that those players need a large betting volume to make a profit, it also attracts wealthy recreational players.
Regardless of which end of the spectrum you fall under, JustBet caters to VIP-type players meaning high-level offerings and dedicated customer service. As a player in Wisconsin with a JustBet account, you will enjoy VIP perks and promos without having to spend the type of money necessary to be considered one.
Pros:
Ability to make big bets on events you feel strongly about
Bonus options plentiful
Cons:
While there are lots of bonuses, terms not as favorable as some other brands
10. Everygame: Mobile Betting Experience is Excellent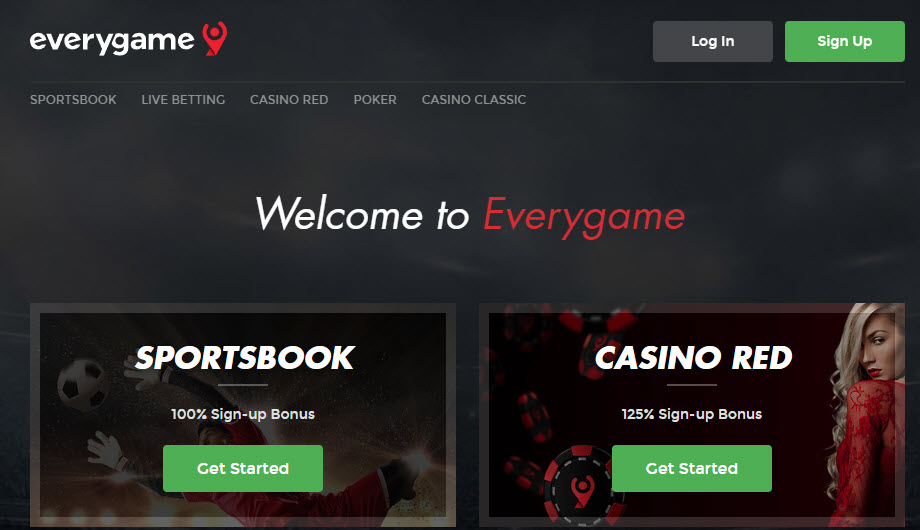 As previously mentioned, it is quite rare for any business to have a mobile platform as good as their desktop offering. Everygame is one of the few sites you'll find that can say they have a better mobile offering altogether. Luckily for Wisconsin sports betting fans, Everygame also offers competitive odds with all-around services like casino and poker as well. The Everygame Casino features a wide selection of online casino games and their poker offerings are some of the best available in the industry.
They have a great live betting market which goes hand in hand with a strong mobile platform. The majority of bets are made on online mobile platforms and that is emphasized even more when it comes to live betting. To complement the solid offerings of the sportsbook and casino, there are numerous bonus offers and promo codes at Everygame that can help bettors grow their bankrolls faster.
Pros:
Mobile offering is elite
Live wagering market is strong
One of the best online casinos
Cons:
Bonuses offered lacking compared to some competitors
Latest Wisconsin Sports Betting News and Developments
Sports betting is legal in Wisconsin, but it is on a quite limited basis compared to other states. Although legal sports betting launched in Wisconsin in 2021, there is still only one retail sportsbook located in the state, at Oneida Casino in Green Bay.
Online sports betting is not legal in Wisconsin. With this in mind, the best place to bet in Wisconsin is via an offshore sportsbook. Due to the fact that they are not located in the United States, they are outside of state and federal jurisdictions.
Timeline of Sports Betting in Wisconsin
The timeline of sports betting in Wisconsin reflects the state's recent developments in the world of sports wagering:
2022: The Sokaogon Chippewa Community agrees to a gaming compact that will allow them to offer sports betting at their Mole Lake Casino & Lodge.
2022: Betway signs a deal to become the official betting partner of the Milwaukee Bucks of the NBA in February.
2021: In December, another gaming compact is signed by Governor Evers with the St.Croix Chippewa Indians. This will allow them to offer sports betting at their three casinos.
2021: The Oneida Nation launches their retail sportsbook at Oneida Casino in November of this year.
2021: In July, sports betting is legalized in Wisconsin. Gov. Evers signs a gaming compact with the 11 federally registered tribes in the state to allow sports wagering at tribal casinos. Plans for the state's first sportsbook are announced. The Oneida Nation casino will offer in-person sports betting only. They also have live poker available as well.
2019: New Wisconsin Governor Tony Evers begins his term and immediately begins working on a gaming compact that would legalize sports betting. This new sports betting market would be controlled by the local Wisconsin tribes.
Wisconsin's timeline of sports betting showcases the state's recent efforts to embrace the world of sports wagering. From the initiation of gaming compacts with federally registered tribes to the signing of agreements that allowed sports betting at various tribal casinos, Wisconsin has worked diligently to establish a regulated sports betting market.
Wisconsin Sports Betting Teams
Green Bay Packers: One of the most storied franchises in all of professional sports. They have 4 Super Bowl titles and are the pride of Wisconsin. Many Wisconsin bettors who enjoy placing football bets choose to bet on the Packers.
Milwaukee Bucks: The Bucks gave Wisconsin a reason to fall in love again after winning their second championship in 2021. Their only other title was back in 1971. The entire time, Bucks fans have been one the best fanbases in the league and fully deserved their championship run.
Milwaukee Brewers: The new kids on the block so to speak, having joined Major League Baseball in 1969, one year after the Bucks joined the NBA. The Brewers played in the American League until 1998. They won the American League pennant once back in 1982. That is the only World Series for the Brewers where they lost in Game 7 to the eventual champions St. Louis Cardinals.
Milwaukee Admirals: The Admirals are Wisconsin's professional hockey team and they are a member of the AHL (American Hockey League). They play at the University of Wisconsin – Milwaukee Panther Arena.
University of Wisconsin Football: The University of Wisconsin Badgers football team has been around for over 100 years so it's safe to say this is the original team from Wisconsin. That said, once the Green Bay Packers got rolling, they became the default team in the state. The Badgers have never won a national championship but they are a good college sports program that regularly appears in the top 25 rankings.
University of Wisconsin Basketball: Another college sports team that has been around for over a century, they are probably last on this list in terms of popularity. That said, the University of Wisconsin Badgers college basketball team is very well supported and has been successful in the last quarter century. After not making any tournament appearances for almost 50 years, they've made it to the Final Four twice in the last decade, having lost in the final back in 2015. They've also won the Big Ten tournament three times with their most recent regular season title this past year.
Each of these college and professional teams offers sports fans and bettors in the state many sports betting opportunities.
How to Bet on Sports in Wisconsin
Even though sports betting is legal in Wisconsin, it is one of the most restricted markets in the country. There are no legal online options for sports gambling, instead, residents are limited to in-person sports betting at Oneida Casino in Green Bay. That's approximately a two-hour drive from Milwaukee one way which is hardly a convenient option.
The best option for Wisconsin sports bettors is to use an offshore sportsbook. They give you access to online/mobile betting options while also providing several services. These online betting sites also offer online poker, casino games and horse racing as well in addition to a huge selection of casino-style games. Since offshore betting sites are not located on U.S. shores, they fall outside of state and federal jurisdictions and are generally the best legal sports betting options.
Compare the Best Wisconsin Betting Sites & Sportsbooks
Below you can quickly and easily compare our top-rated gambling sites:
As you can see in the table above, we have given BookMaker, Heritage Sports, Bovada, BetOnline and BetAnySports an A+ rating.
Key Features of the Best Wisconsin Sportsbooks
Below you can see some of the key features we look at when rating a sportsbook:
Outstanding Reputation
Due to the fact that offshore sportsbooks are not based in the U.S., it's crucial to understand the importance of reputation. In fact, these sites cater to players from all over the world which means that they are considered offshore to the majority of their customers.
This means without their reputation, these online sports betting sites would have nothing. With that in mind, our betting experts would not recommend any site that has anything but an outstanding reputation.
Fast and Reliable Payouts
This is a deal breaker for most customers as it should be. If you aren't sure about getting your money out, there is less incentive to deposit. Every site on this recommended list has a reputation for paying out customers. We advise you to inquire about getting paid the day you sign up for an account.
There might be some steps involved that you can get done immediately. This way, when you do win, you've already gone through the process which will speed up your payout processing time.
Size Of Betting Market and Quality of Odds
This one sometimes goes unnoticed by less experienced players since most online betting sites in Wisconsin have very similar offerings across the types of gambling markets that are available. That said, the size of the market is very important especially since it is directly related to the price you get.
Competitive Odds
Price shopping is an important part of making money when engaging with online sports betting. Your odds need to be in line with the rest of the market. If the Green Bay Packers are -7 at your sportsbook but -5 everywhere else, you are less likely to bet and more importantly, less likely to win if you do unless you have competitive odds.
Mobile-Friendly Sports Betting Interface
Considering over 80% of the money bet on sports nationally comes from mobile wagers, this is something our experts took very seriously when evaluating these brands. If a sportsbook does not offer a standalone mobile betting app, then it needs to provide a mobile-optimized site that can be easily used on a mobile device.
Sportsbook Banking Methods
Getting money in fast and consistently with the ability to get it back quickly are essential services in the sports betting industry. All of the sites in this guide have a wide variety of banking options for you to get your account funded and get paid quickly, including debit cards, credit cards (American Express, Visa, Mastercard), bank wire transfers and even crypto options (Bitcoin, Bitcoin Cash and Ethereum).
Bonuses & Promotions
Although this one does not apply to all players, for the ones that it does, it is usually the main reason to sign up for an account in Wisconsin. We take this into consideration but we always advise every player to make sure they understand the terms and conditions before agreeing to any bonus. Some commonly offered bonuses include deposit match bonuses (sometimes only on your initial deposit), welcome bonuses and risk-free bets for sports wagers or free spins for online casino games.
Wisconsin Betting Guides
Learn more about online gambling in Wisconsin with our in-depth betting guides.
FAQs – Wisconsin Online Sports Betting
Can I bet on sports in Wisconsin?
Sports betting has been legal in Wisconsin since 2021. Currently, there are only legal options for in-person sports betting under the state's sports betting laws.
What gambling is legal in Wisconsin?
You can bet on dog races and enjoy casino-style gambling at riverboat casinos. There is also the state lottery that is available. These are the only forms of legal in-person gambling in the state. For all forms of online gambling, you will need to use an offshore online gambling site.
Is online gambling legal in Wisconsin?
Online gambling is not legal in Wisconsin meaning there are no regulated sportsbooks that offer it.

Wisconsin players have been using offshore sportsbooks for years. They are not located in the U.S. which means they fall outside of state and federal jurisdiction.
When will sports betting be legal in Wisconsin?
Sports betting launched in Wisconsin in November 2021, however, it only allows for in-person wagers.
What online sportsbooks are legal in Wisconsin?
Currently, there are no state-regulated online sportsbooks in Wisconsin. However, online gambling with an offshore sportsbook is legal. We recommend using one of our top-rated offshore sites for this.
What are the best sportsbooks in Wisconsin?
The best sportsbook is a matter of personal choice since every player values different services. According to feedback from our experts, the four that got the most votes were BookMaker, Heritage Sports, Bovada and BetOnline.
Is it safe to play with sportsbooks in Wisconsin?
It is safe to play with offshore sportsbooks in Wisconsin if they have been scrutinized such as the online betting sites mentioned above.
Per Nevada Gaming Control Board data, the state achieves $2 billion in adjusted gross revenue, joining an elite group. October's $68.1 million contribution underlines offshore sportsbooks' success, affirming Nevada's robust sports betting industry and its positive trends. Silver State Strikes Gold The state that is home to North America's gambling mecca, Las Vegas, now joins

---