Online Gambling in Vermont – Best Online Gambling Sites in 2023
Shawn West has been involved with college basketball, NFL and college football and MLB since he left his job as bank vice president two decades ago. He lives in North Carolina with his wife, children, two dachshunds and a variety of turtles.
If you're looking to win money online, whether playing poker or other gambling options, Vermont is not the most helpful state for you. The state outlaws online betting and gambling at land-based casinos. In recent years, Vermont has been open to changing that. The state legislature has debated bills to legalize sports betting several times and a similar bill is working its way through committee. At the moment, however, the only state-sanctioned way to gamble in Vermont is by buying a lottery ticket.
That doesn't mean state residents are out of luck. You can play poker online, bet on sports and horse racing, or play casino games to win real money at Vermont sports betting sites located offshore. Our panel of experts evaluated the options and ranked the best sources for online gambling in Vermont. We'll look at each site in detail and also look at the changing picture of Vermont gambling law.
The Top Online Gambling Sites in Vermont
Top-Rated Online Gambling Sites in 2023
After evaluating dozens and dozens of offshore gambling sites, our panel of experts compiled the following ranking. 
Is online gambling legal in Vermont?
We get asked all the time whether online gambling is legal in Vermont. The answer is not as straightforward as it might seem.
The quick answer is, "No." Vermont law prohibits all forms of gambling, except for lottery tickets. That includes online gambling as well as in-person at brick-and-mortar casinos. Just because the state doesn't provide for legal sports betting doesn't mean Vermont residents are out of luck. Perhaps a better question to ask, instead of "is online gambling legal" is "can I gamble online in Vermont?" And the answer to that is "yes."
Offshore sites, such as the 10 online gambling sites in our top 10 list, are located outside of Vermont's jurisdiction, so state law doesn't apply to them. That means that, until state law is changed, offshore sites are the only legal gambling options in Vermont.
Comparing the Highest-Rated Online Gambling Sites
No two gambling sites are exactly the same. So your own personal preferences and priorities may match up better with one site than another. To help you find the best match for you, our experts present an in-depth look at each site in the top 10.
1. Bookmaker: Best All-Around Online Gambling Site in Vermont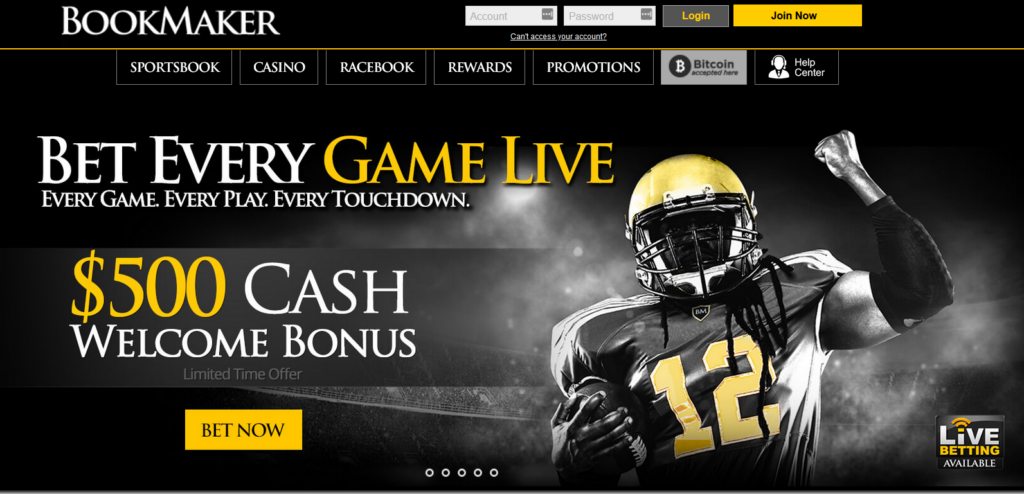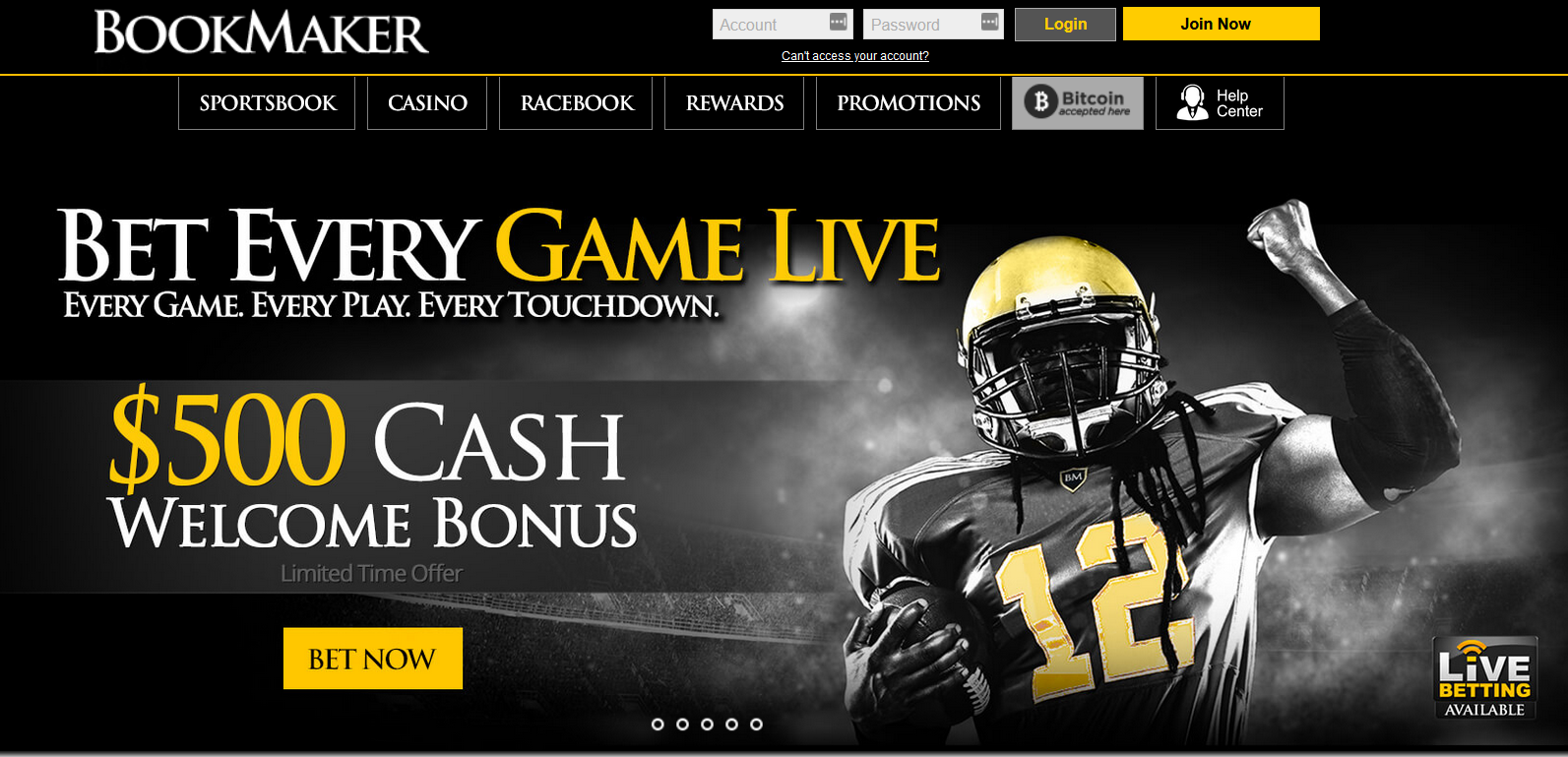 Bookmaker.eu finished atop our rankings as the best all-around online betting site in Vermont. It doesn't matter whether you're an experienced gambler or a newcomer, whether you have a big bankroll and want to put down big bets or more conservative. Bookmaker is able to cater to all types of bettor. Bookmaker also publishes its lines and odds earlier than anyone else, and it's famous for never shutting down a gambler who gets on a roll.
The user interface is easy to use, both on the full site and on mobile devices. You'll be able to easily navigate it and get your bets placed in a hurry. Bookmaker doesn't have a stand-alone live poker room, but its world-class online casino features a wide variety of video poker games.
Pros
Bettors of all experience levels and risk tolerances will feel welcome
Betting limits are very high, but minimum bets are low
Casino has variety of online games, including video poker
Gamblers on a hot streak don't have to worry about being shut down
Cons
Doesn't have an online poker room
Welcome bonuses are relatively low
2. Heritage Sports: Live Betting And Vip Service Are The Best In The State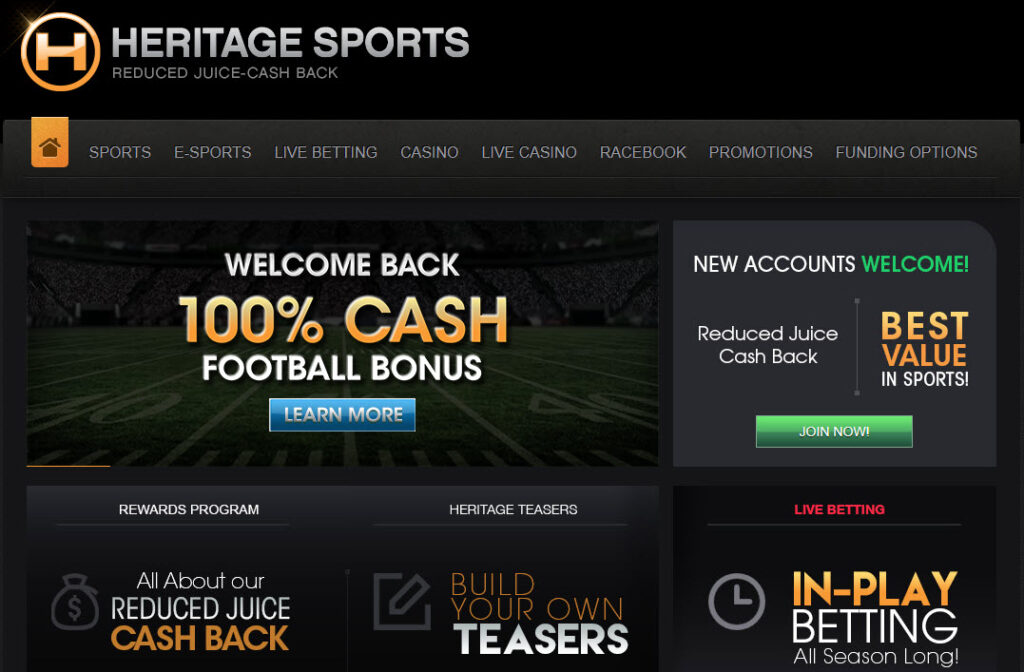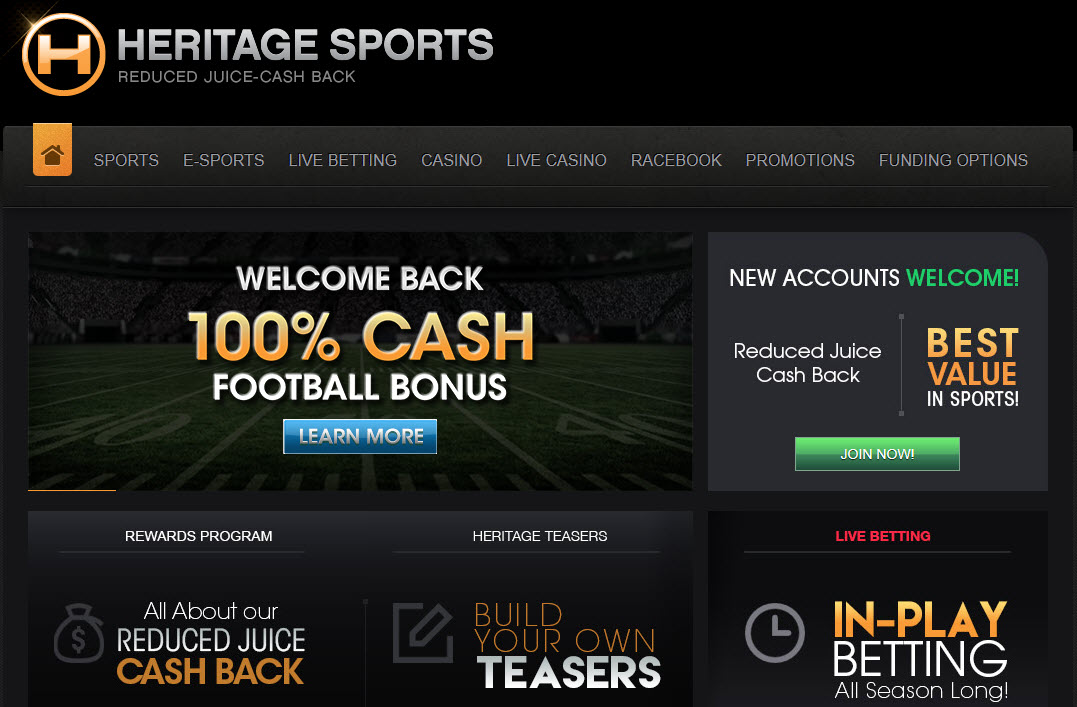 Heritage Sports took the second spot in the top 10, but our panel of experts was impressed by a couple of aspects of the site. They recognized Heritage Sports as offering the best VIP treatment for customers.
That's not a big surprise. Heritage Sports began as an invite-only gambling site for the elites, and the lessons they learned about treating customers back then have held over to today when everyone is welcome through their doors.
Heritage Sports was also our experts' choice as having the best live betting interface in Vermont, with a fast, efficient user interface that responds quickly, allowing you to get your bets placed fast.
Like Bookmaker, there's no live online poker room, but it offers video poker as part of the online casino.
Pros
Offers red carpet treatment to all customers
The best site in Vermont for live betting
Has a cashback rebate program for loyal customers
Sportsbook offers reduced juice lines to give bettors a discount
Cons
No online poker room
Low welcome bonuses compared to other sites
3. Bovada: The Most Diverse Menu Of Betting Options In VT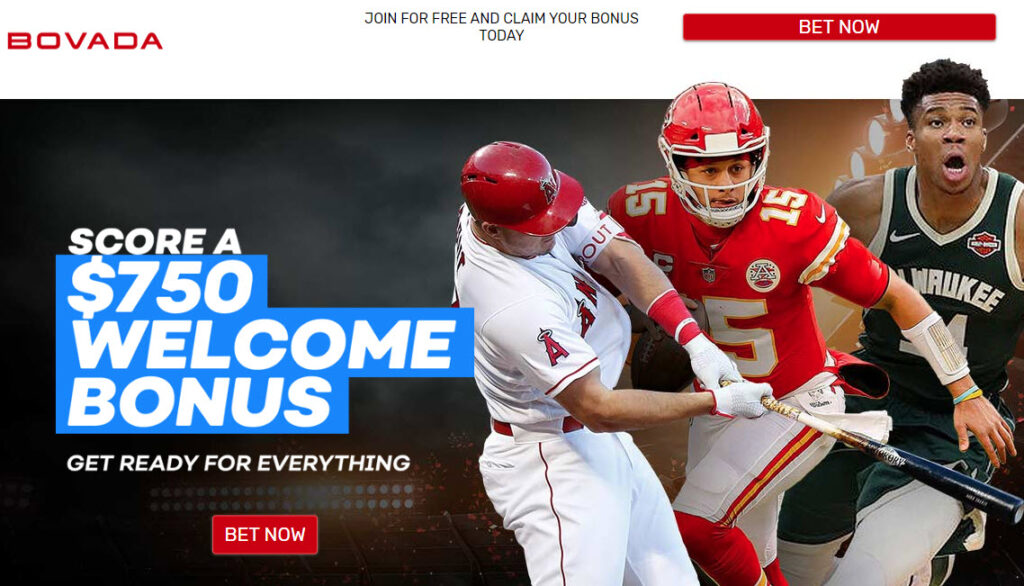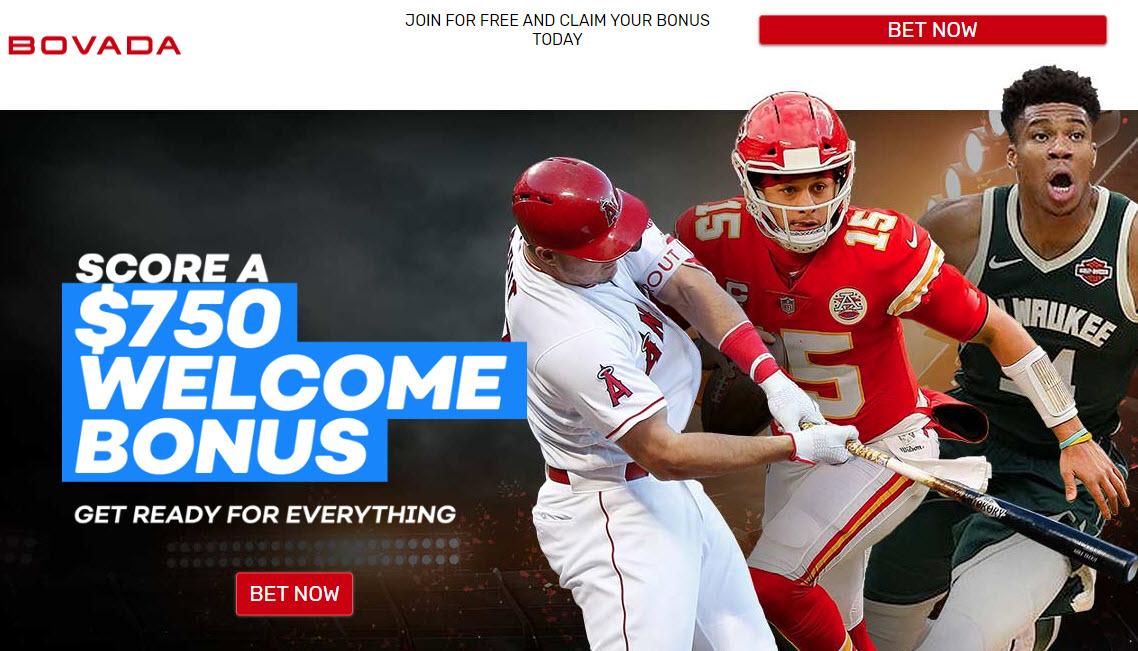 Bovada took the third spot in our rankings by offering more variety than any other online gambling site in Vermont. There are more different ways to bet in Bovada than anywhere else. Its sportsbook offers a bigger menu of prop bet options than anyone else, and the casino has a large library of titles.
There are also plenty of tables in the online poker room, which earned this site the title of America's busiest destination for online poker players.
Bovada also got a special notice from our blue-ribbon panel of experts for being the best mobile gambling site. More bets are placed by phone and tablet than any other online method, so it makes sense that a site would pay attention to its mobile interface, and Bovada's is the best one in Vermont.
Pros
Has a larger menu of prop betting options than any other site
Home to America's busiest online poker room
The best mobile betting interface in the state
Also has a large online casino with deep menu of real money games
Cons
Lines aren't published as early as at other sites
Betting limits are not as high as competitors
4. BetOnline: Quick Payouts and Opinionated Lines Give Bettors Variety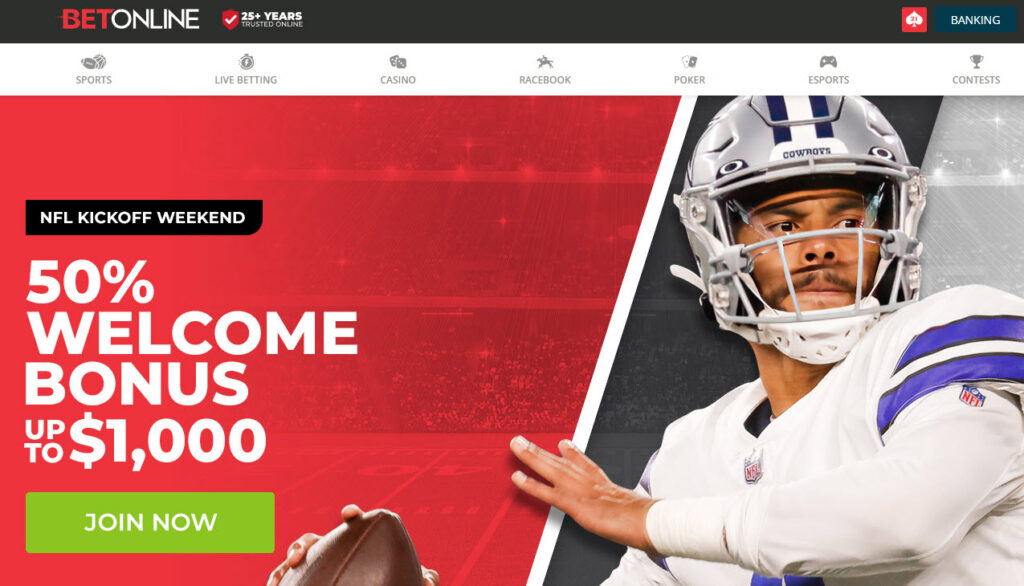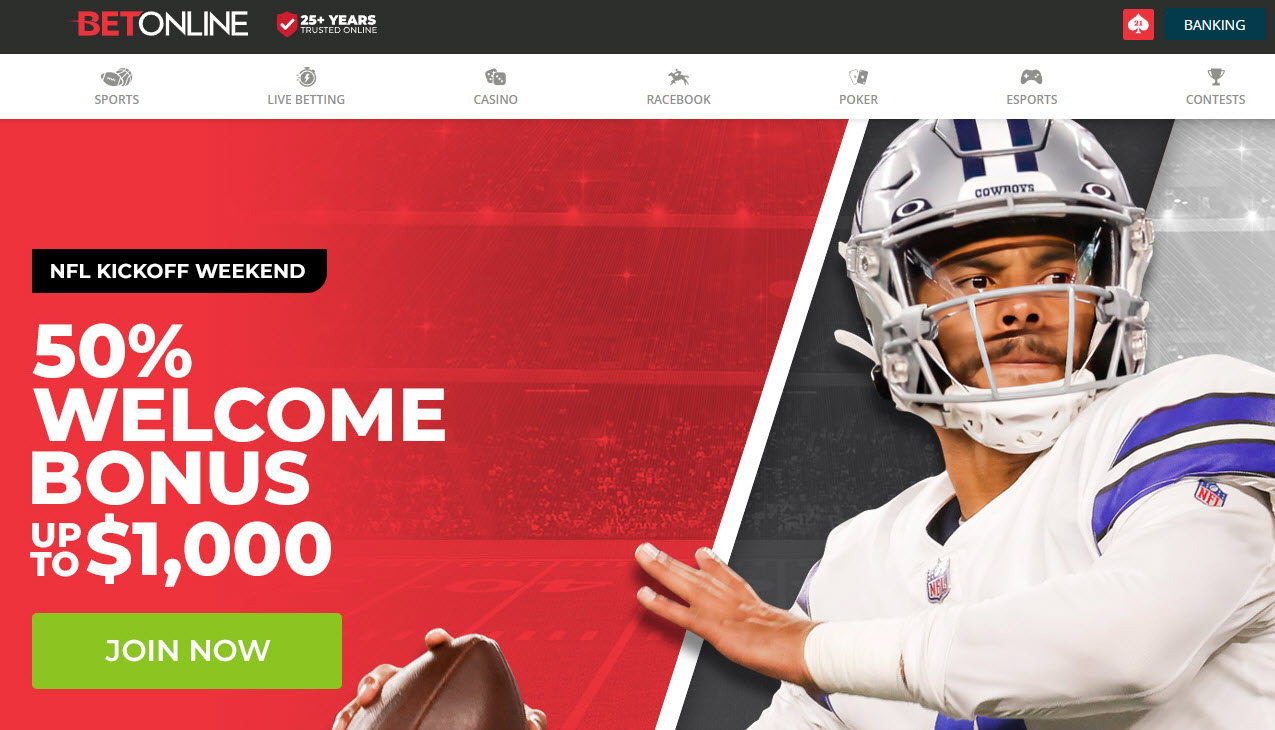 One of the best things about online gambling is winning real money, and when you do get a few wins under your belt, you'll probably want to take that money and spend it on things. Surprisingly, many gambling sites make it very difficult to do that, with fees, delays, and hoops to jump through before you can get the money you won.
BetOnline earned the fourth spot in our rankings, and our experts cited them for being one of the quickest sites to pay out. If you want your money, they'll make sure you get it, fast, easily, and in full.
BetOnline also has an outstanding betting experience, with a busy online poker room and a sportsbook with opinionated lines.
Pros
Sportsbook is one of the few with opinionated lines
Has a busy poker room and online casino
Payouts are quick, easy, and in full
Welcome bonus matches first deposit at 50%
Cons
Sportsbook only has reduced juice on NHL bets
Doesn't offer reduced juice lines
5. BetAnySports: Offers Vermont Gamblers The Best Value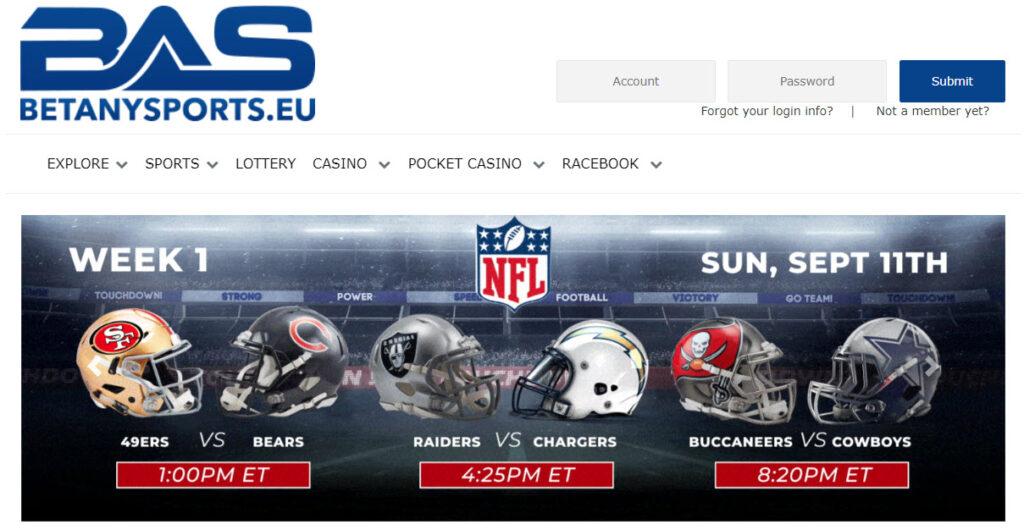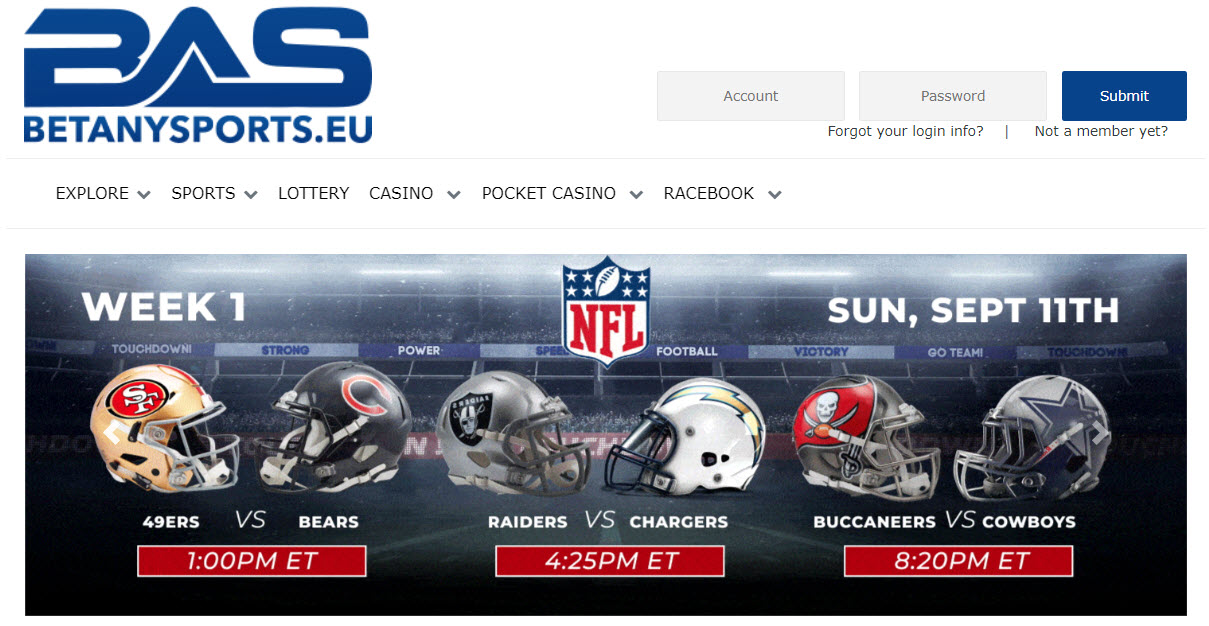 Whether you're betting at an online gambling site or an in-person casino, you know that the house always wins. That's because the odds of all possible outcomes of a card game, casino table game, or sports bet don't quite add up to 100%. The difference is called the house edge, and it guarantees that over the long haul, the house will make a profit.
For instance, when betting a point spread or over/under total, the odds on each side of the cutoff are usually -110, meaning you have to risk $110 to win $100. That $10 difference is the house edge.
Some sites give bettors a discount by cutting their house edge. This is known as reduced juice, and no one does it more than BetAnySports. They set their lines on either side of a cutoff at $105. That means they've cut their house edge in half, and that means you have a better chance of breaking even.
BetAnySports has gambler-friendly odds elsewhere, as well, so it's the place for gamblers who prioritize value.
Pros
Offers the best value to bettors by slashing house edge
Most lines and odds are very gambler friendly
Interface is uncluttered, making it easy to navigate
Fast payouts get you your winnings without headaches
Cons
Site isn't as user-friendly as others
Bonuses and promotions are relatively low
6. BetUS: Home Of The Highest Welcome Bonuses In VT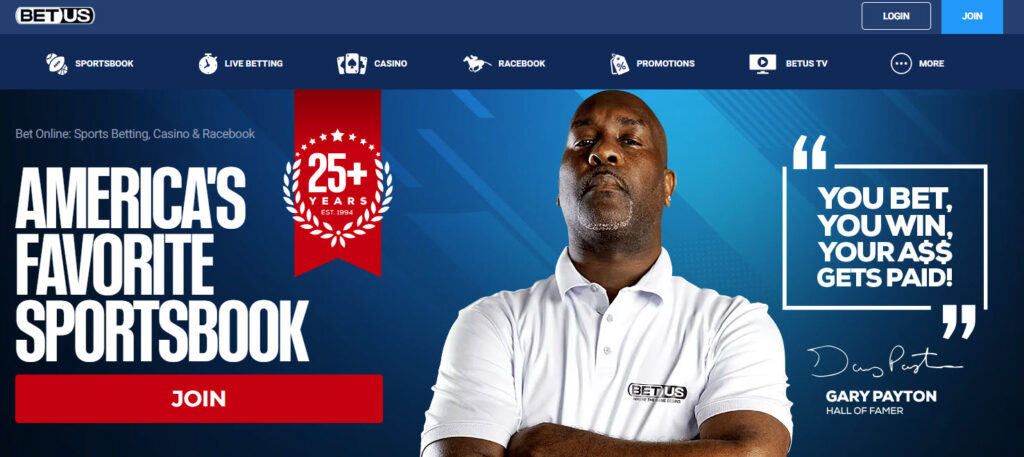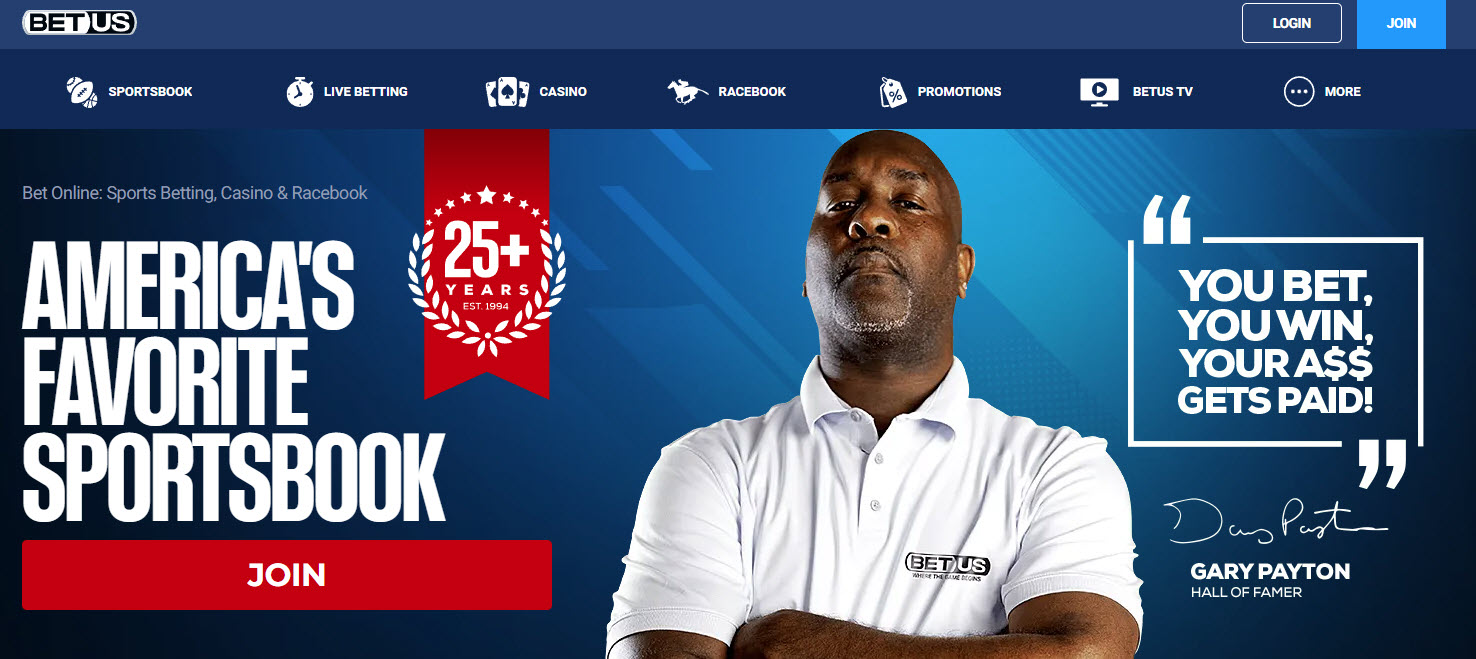 Nothing beats winning money… except maybe having it handed to you without doing anything. That's what you get at BetUS, which earned a spot in our top 10 and special notice from our expert panel for having the highest welcome bonuses in Vermont.
Before you place your first bet, deal your first poker hand, or give your first casino game a spin, you've already doubled your money at BetUS, thanks to a sign-up bonus that matches your first deposit at 125% up to $2,500. That means that BetUS gives you more free money than you put in on your own.
Pros
Highest welcome bonuses in the state, matching at 125%
New upgraded software gives an outstanding gambling experience
VIP program is one of the best in the state
Has a fun social media presence with weekly podcasts and videos analyzing upcoming events
Cons
Bonus money has rollover requirements attached
Odds and lines are posted later than at other outlets
7. WagerWeb: Provides Same-Day Payments For Bitcoin Customers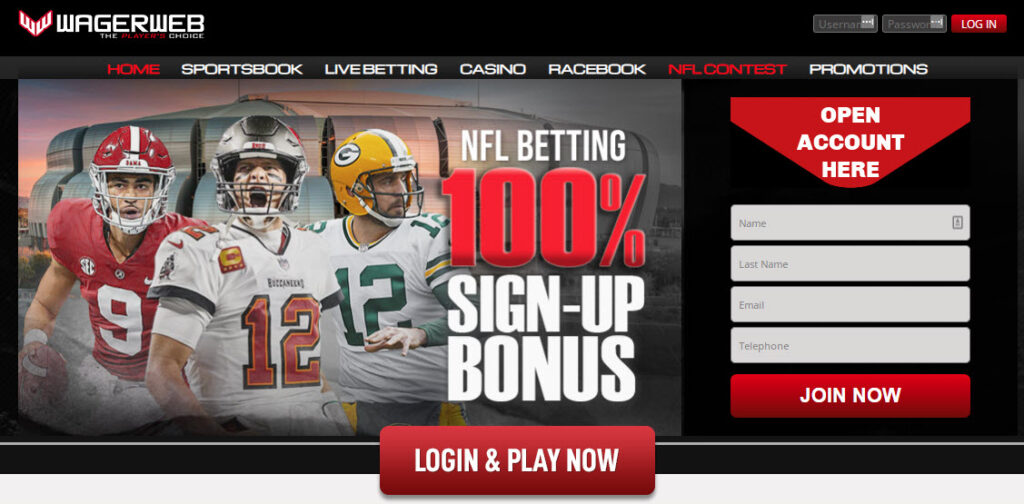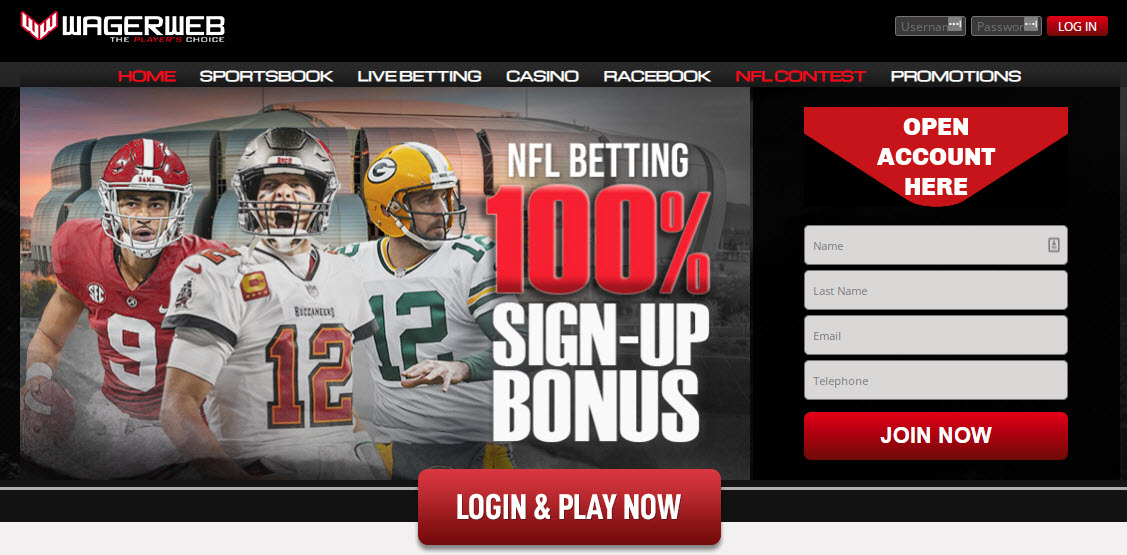 It can be nerve-wracking to send your financial information to a gambling site located offshore and trust that they'll keep everything safe and treat you right. And, granted, not all offshore sites are dependable and trustworthy. Our panel of experts made sure to hand-pick sites with a pristine track record of safety, accumulated over years.
At WagerWeb, it was accumulated over decades. They have nearly 30 years in the business, meaning that very few sites can point to as long a resume of dependability and trustworthiness. That doesn't mean WagerWeb hasn't kept up with the times, though. They embrace cryptocurrency, offering same-day payouts to Bitcoin users. They also have one of the best live betting interfaces you'll find.
Pros
Nearly three decades of treating gamblers fairly and paying out on time
Partner site with No. 2 ranked Heritage Sports and shares many of the same characteristics
Bitcoin users can get same-day payouts
Offers cashback rebates for racebook and online casino
Cons
Only allowed one fee-free withdrawal each month
Doesn't have a live online poker room
8. JustBet: All Gamblers Are Welcome, Regardless Of Bankroll And Experience Level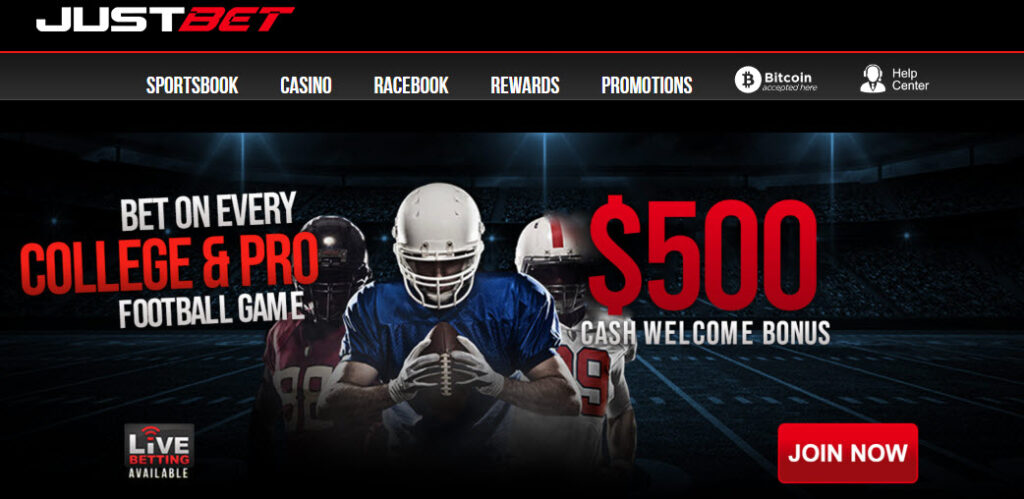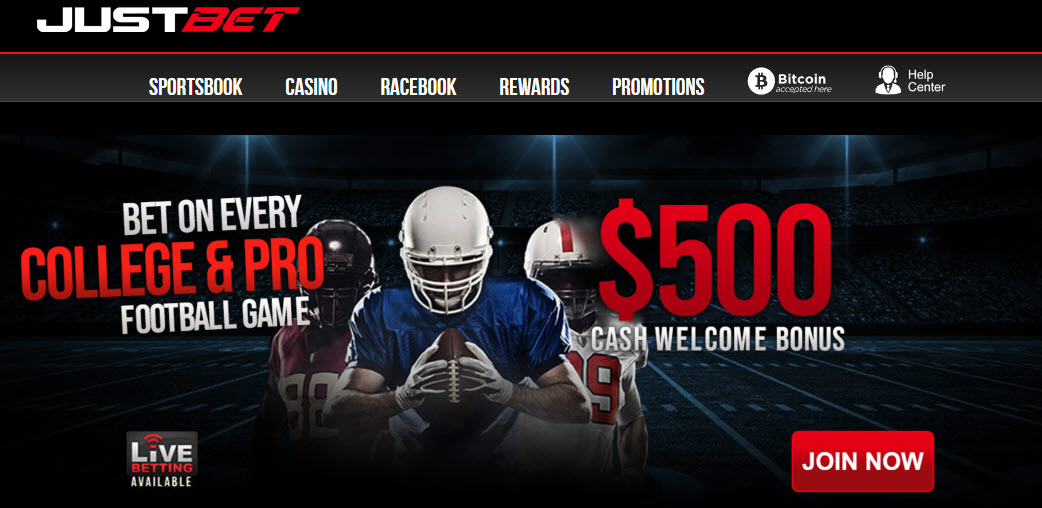 JustBet is a hidden gem of a gambling site. It doesn't have the well-known name of some other sites, but it is a sister site of Bookmaker, which took the top spot in our rankings. The two sites share many of the same characteristics.
JustBet has high limits and low minimum bets, so all gamblers will feel welcome, regardless of their bankroll size and appetite for risk. They also have lines that publish early and a user interface that's fast and efficient.
Pros
Fast, responsive user interface is ideal for live betting
Has high betting limits and low minimums
Lines and odds are published earlier than most sites
Similar user experience to top-rated Bookmaker
Cons
Doesn't have a live poker room
Sportsbook doesn't offer reduced juice
9. Everygame: Longest-Running Gambling Site on the Internet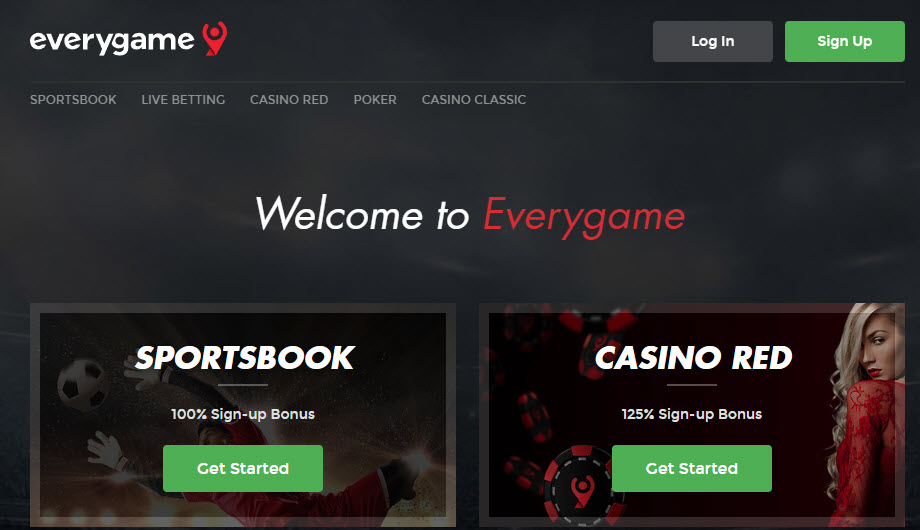 Everygame began operation in the early 1990s, making it the longest-running gambling site on the internet. That means customers can rely on three decades of history of treating customers fairly, keeping financial information secure, and paying out on time. No other site can match that track record.
Everygame isn't old and outdated, though. It recently went through a rebranding and overall site upgrade. So it now features cutting-edge software that provides gamblers with a slick, attractive gambling experience as well as fast, responsive interactions.
Pros
A track record of safety and trust no other site can match
The top mobile casino in Vermont
Offers more games and sporting events from around the globe than anyone else
State-of-the-art software makes an outstanding gambling experience
Cons
Users have complained about delays in user verification process
Welcome bonuses and promotions aren't as generous as elsewhere
10. SportsBetting.ag: Bonuses And Betting Lines Are Both Very High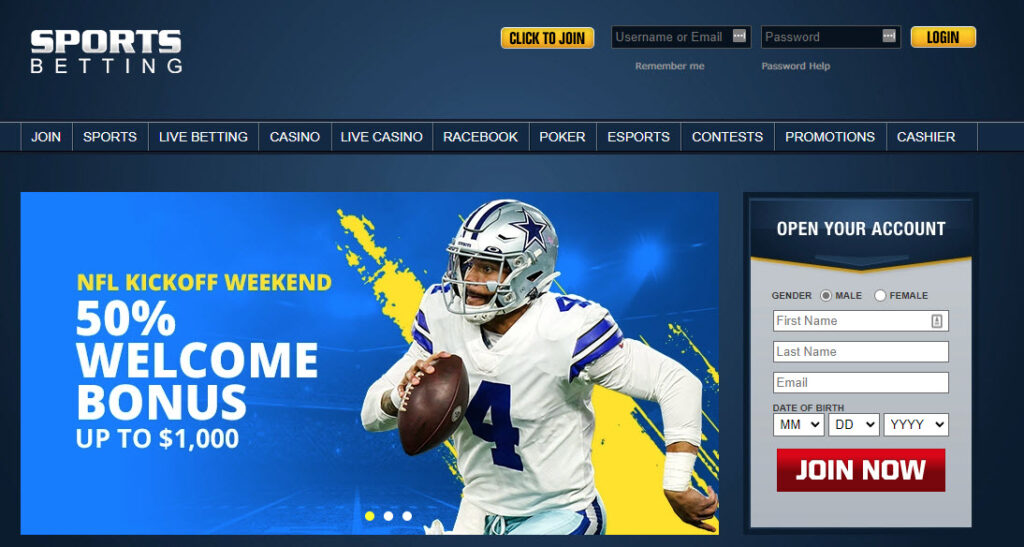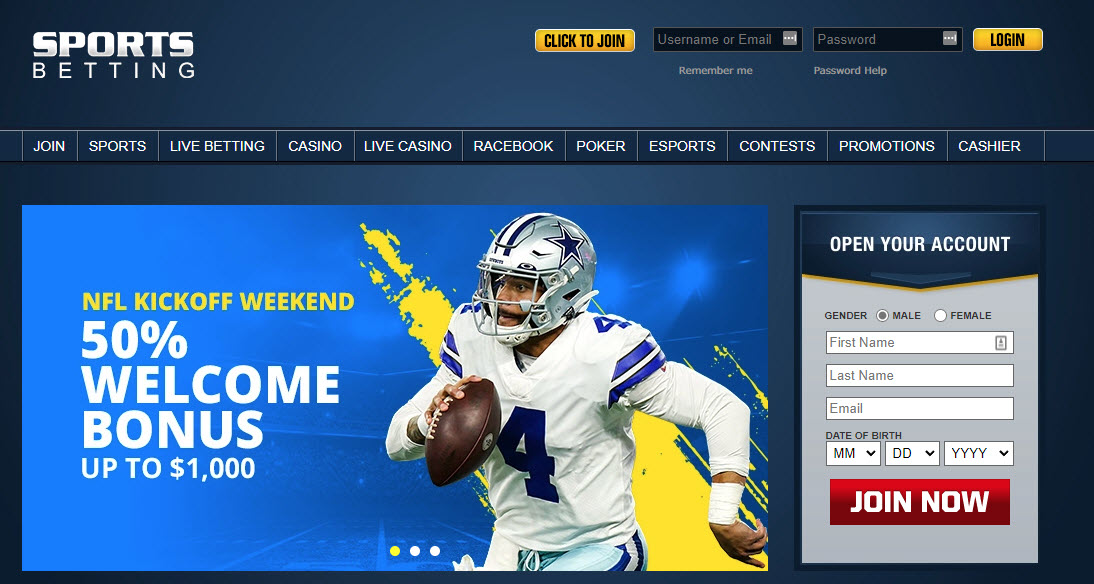 Sportsbetting.ag's businesslike approach earned it a spot to round out our top 10. There are no flashy graphics or unnecessary bells and whistles in the user interface. It's very simple and uncluttered, which means you can find what you're looking for without a lot of hunting around, and you can get your bets placed quickly. Our experts were able to use a mobile phone to place bets within 10 seconds.
They offer high welcome bonuses to new customers, and their betting limits on major sports are impressive, reaching high five figures for NBA and NFL games.
Pros
User interface is fast and efficient
Mobile site can place bets in less than 10 seconds
Deposit limits are high, as are welcome bonuses
NFL and NBA betting limits are high five figures
Cons
Site doesn't put a priority on appearance
Online casino doesn't have as many titles as other sites
Our Rating Methodology
Our panel of experts took several different aspects of each online betting site into account when compiling the top 10 list, to make sure they were recommending the best gambling options for sports fans in Vermont. Among the aspects of each site, they took into consideration were welcome bonuses offered, the ongoing promotions to loyal customers, the betting lines, and the quality of customer service they provided. We also took customer reviews into consideration to make sure that gamblers were happy with their experience at each of the top 10 sites.
Vermont's History of Gambling Laws
Over the years, Vermont was one of the states with the strongest stance against gambling. While most of its neighbors in the northeast have taken steps toward legalizing some forms of betting, Vermont is the lone holdout in the region. There are no legal forms of gambling other than lottery tickets. Currently, there are no tribal casinos, no legal sports betting market, no online betting options approved by the state, or even any racetracks or off-track betting parlors. The state had a horse racing betting market for about a decade and a half, but that ended when the last race in the state was run during the 1970s.
Currently, the state is giving signs that it may be softening. The legislature has considered bills that would lead to legal sports betting each of the last few years, and the governor has been very vocal about wanting to sign such a bill into law. The Vermont Sports Betting Study Committee ended several years of analysis by releasing a report in December that recommended legalizing sports betting. The legislature is considering it once again and hopes are high among many observers that it may break through this year.
Timeline of Gambling
2023: A measure is being considered, and many people believe it will pass. Sports betting money is included in the governor's budget for the state.
2022: The state is urged to start a regulated sports betting market when the Vermont Sports Betting Study Committee's report is finished in December.
2021: The feasibility of sports betting is currently being studied. A measure is presented, but the committee doesn't approve it.
2020: There are two introduced legislation related to sports betting. One makes it through the Senate but not the House.
2019: An online and retail sports betting bill was read in committee but never moved further.
1978: The Vermont State Lottery, which remains the sole legal gambling option in the region to this day, held its inaugural drawing.
1977: The final horse race is held at Green Mountain Park, which is the only track in Vermont.
1959: Horse racing wagering of any type was permitted in Vermont.
Standout Features of the Best Online Gambling Sites
Each of the sites in our top 10 has different strengths and weaknesses, but there are some factors that all of them have. Our panel of experts had some "must have" characteristics that the best online gambling sites need to demonstrate.
Competitive Gambling Odds
Betting lines should be fair and give gamblers a legitimate shot at making money. Odds should be an accurate reflection of how likely the event betting on is to occur. While the house will always have an edge, reduced juice and opinionated lines are two ways to tilt the odds a little more in favor of the gambler.
A Variety of Betting Markets Are Available
An in-person casino has something different in every direction you look, and online betting sites should be no different. There should be a number of different ways to bet, including sportsbooks, racebooks that offer betting on horse racing, online casino games —both video versions and live dealer games— and even poker rooms. Each of those different areas should also present a variety of options. For instance, the sportsbook should allow you to bet on college and professional sports teams from leagues around the world, and a wide array of different types of bets should be available, from spreads to moneylines to props and futures. Casinos should have a large library of titles and variations of slot and table games.  
Deposit & Withdrawal Methods
Since the sites in our top 10 are all located offshore, financial transactions involve multiple countries. As a result, there should be a variety of deposit and withdrawal methods available, so users can avoid delays and fees associated with certain types of transactions. Sites should accept traditional payment methods like all major credit cards and bank debit cards as well as bank transfers. They should also accept new payment methods, such as e-wallets and cryptocurrency.
Generous Bonuses
Online gambling is a competitive market, and customers should be able to benefit by receiving benefits for signing up for an account and remaining loyal to a betting site. There should be a variety of bonus codes offering you a selection of welcome bonuses, as well as promo codes rewarding you for reloading your account with more money. Bonus money should also not have excessive rollover and play-through requirements.
Live Gambling Is Available
Gone are the days when bettors put down their money before the start of a game and waited until it was over. Live gambling on in-progress events is a fast, exciting new way to enjoy watching and betting on sports. Sites should offer live betting interfaces that are fast and glitch-free so that you can find and place the bet you want quickly, while the game is going on.
High-Quality User Interface
It doesn't matter how many betting options and favorable odds a site has if you can't find the betting market you want to play. User interfaces should be easy to navigate without a lot of unnecessary clutter. Pages should load quickly without crashing. Bets should be placed quickly—in a matter of seconds—without glitches.
More bets are placed with mobile devices than with any other method. So an online book's mobile sports wagering interface should be at least as good as the full online version of the site, if not better. The mobile site shouldn't just be a bare-bones version of the main site. It should have all the same functionality and be easy to read on a phone or tablet screen.
Customer Support Options
No site is perfect, and issues may come up from time to time. When they do, you want an online betting site to be able to resolve them quickly. Customer service should be available 24/7 in a variety of languages. Hold and wait times should be minimal, and there should be a number of ways to contact them, including phone, email, and online chat.
Security Features
You are sending your financial and personal information to an offshore gambling site. They have a responsibility to protect that information. Security is a non-negotiable factor. Any sites that showed any type of security problem were immediately removed from consideration by our expert panel.
Online Gambling in Vermont
The term "online gambling" is a very broad umbrella that includes many very different activities. Most sites have multiple areas for different forms of gambling ranging from betting on sporting events to playing online casino games to live dealer rooms and poker rooms. Here's a look at the different types of gambling you can engage in online.
Vermont Sports Betting
Betting on games and matches is one of the most popular forms of online gambling. Sports fans spend millions of dollars a year betting on their favorite pro and collegiate teams. There are betting markets for just about every sport imaginable, around the world, and most sites have leagues and teams from Europe, Asia, and Australia, in addition to the United States. Fans can try to make money on sports by betting on professional and collegiate games as well as individual sports like golf, tennis, boxing, and MMA.
Vermont Online Casino Sites
When you go into land-based casinos, one of the first things you notice is the flashing lights of the table and slot games spread out across the casino floor. It's also one of the most visited areas of online gambling sites. Online casino gambling offers all the same games as in-person casinos, including poker, blackjack, roulette, baccarat, and slot machines.
Online casino games can either be video simulations—where a computer-generated slot machine, roulette wheel, or hand of cards is played using random number generators to determine whether you win or lose—or live dealer options, where you are connected to an actual table with a real-live dealer by video feed.
Online Poker in Vermont
Poker is the single most popular gambling activity in the world. Many, but not all, of the sites in our top 10 have live online poker rooms. These live dealer games connect players by video feed, and, since players from around the world can participate, there are games starting at all hours of the day and night. There are also online games that simulate poker with computer-generated cards.
The Vermont State Lottery
The Vermont State Lottery is the only form of gambling currently legal under state law. You can buy a lottery ticket at many retail outlets, from supermarkets to convenience stores and either match numbers in one of the multi-state lotteries with jackpots in the tens of millions or you can get a scratch-off Vermont Lottery ticket and find out immediately whether you've won.
How to Choose the Best Site for You
We've given you our ranking of the 10 best online sportsbooks for all your gambling needs. But everyone's preferences and priorities are different. We're confident that any of the sites in the top 10 can provide you with an outstanding gambling experience, but in order to make sure you find the very best one for you, there are some tips you can follow.
Take Your Time When Looking
It's not a race. You don't need to pick your favorite site right off the bat. You can read through our reviews and then see them for yourself by visiting some of the sites. You don't want to deposit your money at a site and then realize that it doesn't have the betting markets you want to play or that the graphics or user interface just don't work for you.
Join Multiple Online Gambling Sites
It's not a race, and it's also not a lifelong partnership. You don't need to pick one exclusive gambling site to use forever. Feel free to join a few and play each of them for a while. You can read all the reviews in the world, but it's no substitute for actually seeing what the experience is like for yourself.
Keep Your Options Open
Whatever you're planning to spend on gambling for the near future, don't deposit it all in the first site you join. There's no sense in making a long-term commitment to a site you may not enjoy as much as others. "Play the field" and decide which site is the best match.
Try a Site's Free Games
Many sites have free casinos to let you learn the ropes of an unfamiliar game before you start risking real money. It's also a way to see what the playing experience is like at that site.
How Vermont Residents Can Create an Account
It's remarkably fast and easy to set up an account at a betting site for online wagering. It takes a few minutes of your time to get a new account up and running.
Step 1. Sign-Up With an Online Gambling Site
Choose one (or more) of the sites we recommended in our top 10 and click the "join now" button on their site. You'll need to fill out a form with simple personal information to create your new account.
Step 2. Verify Your Account Details
In order to prove you are who you say you are, most sites ask you to go through a two-step verification process. They'll text a code to your phone that you enter online.
Step 3. Deposit Funds
A betting account isn't of much use unless you have money to wager. Choose a deposit method from the list on the site's cashier page, and enter the amount you want to deposit as well as your financial information. If your welcome bonus has a promo code, be sure to enter it now, since it likely involves a match of your first deposit.
Step 4. Enjoy the Site's Gambling Options
You're good to go. Start exploring all the different ways to gamble and pick a sporting event, horse race, casino game, or poker table to try out. Good luck!
FAQs – The Best Sites for Online Gambling in Vermont
Is gambling legal in Vermont?
Vermont state law does not allow companies based in the state to offer any form of gambling. However, offshore sportsbooks like the ones in our guide are outside the jurisdiction of state law, meaning they can take bets from Vermont residents and pay out in real money.
What sportsbooks are legal in Vermont?
Vermont has yet to make sports betting legal; however, there are online sportsbooks operating offshore that accept Vermont residents. They offer online casino gambling and poker as well as online sports betting.
Does Vermont have DraftKings?
Vermont does have DraftKings and other Daily Fantasy Sports companies. Playing fantasy sports does not meet the definition of gambling under Vermont's laws. That means you can play fantasy sports and even win real money. However, you can not access DraftKings for casino gaming or use DraftKings Sportsbook. 
Can I use FanDuel in Vermont?
It is legal to use FanDuel in Vermont since daily fantasy sports contests do not fall under the anti-gambling laws in the state. However, using FanDuel Sportsbook is prohibited.
Do you have to pay taxes on gambling winnings in Vermont?
Gambling winnings are subject to state taxes in the jurisdiction where they were earned. However, offshore casino sites do not report to the IRS. Instead, it is the player's responsibility to report any prize money or winnings.