Online Poker in Washington – Is it Legal?
Washington is home to one of the highest counts of gambling establishments in the country. Given that fact, it may come as a surprise that no state is more draconian when it comes to laws prohibiting online poker.
Poker has long been the most popular card game in America. "Poker night" is basically a children's play date for adults. It is often played on TV, either in real games on ESPN with massive winnings, or it is written extra dramatically in some classic films. A lot of people enjoy poker, making it one of the most popular forms of gambling.
But if you live in Washington State, you might be committing a C-Class Felony by playing poker online. Those are punishable by up to five years in prison and/or $10,000 in fines. Fortunately, things are not as bleak as this sounds. There are ways for you to play online poker in Washington with no fear, as no one has been prosecuted or jailed for this law in the state.
You just have to join an online betting site that offers poker. Granted, some have stayed away from accepting Washington players because of these laws. But that is why the best places to join are offshore sportsbooks that do not need regulation from Washington and only have to abide by the laws in their territories. Finding the best one to join is a tough task, so we have prepared a guide for you to find the best for you as well as the land-based poker places you can visit in Washington. 
The Best Washington Online Poker Sites
Washington players will be happy to see there is an abundance of options for online poker via these offshore sportsbooks. However, some hold tournaments while some have just a few video poker options.
The following options are readily available for Washington State residents, with all of them offering secure payouts and a trustworthy gambling experience
Washington Online Poker Sites Reviewed
We have prepared five in-depth reviews of the best sportsbooks for you to judge which online poker experience suits you best. Feel free to try all of them.
1. BetOnline: Great Online Poker Room for Tournament Play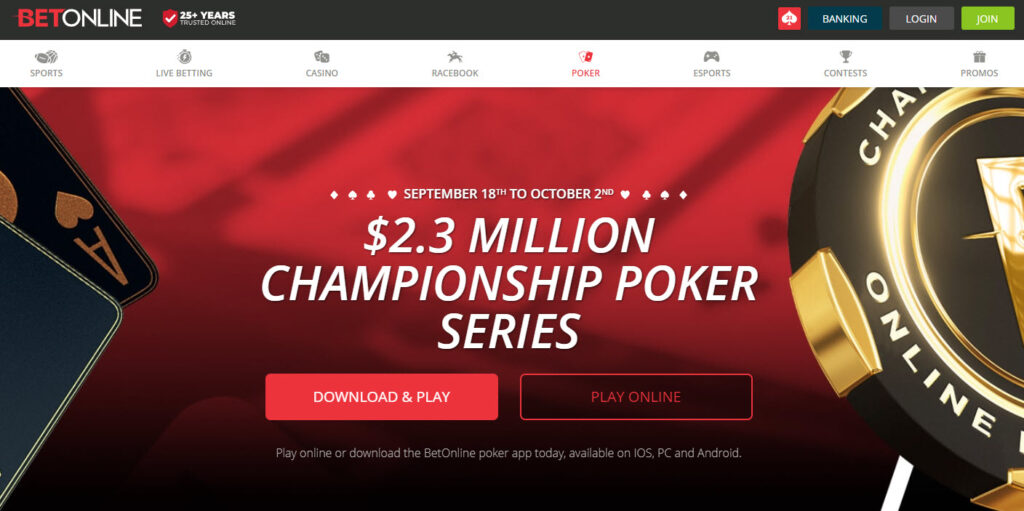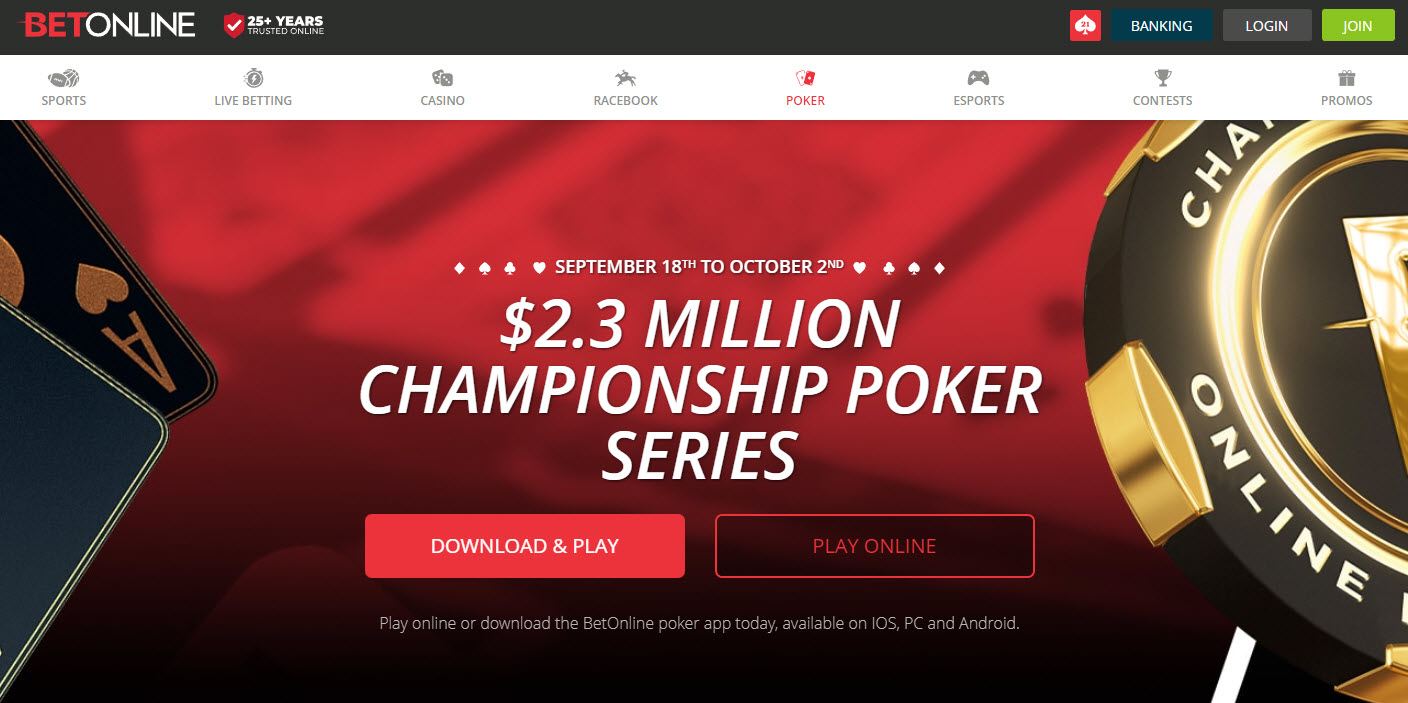 Few online poker experiences will rival BetOnline, which is a site in the Chico Poker Network, the third-largest online poker room for Americans. Sportsbetting.ag and Tiger Gaming are also part of this network, but BetOnline is your best choice as they do everything well from the sportsbook to the racebook to a huge number of online slots.
Poker players will love BetOnline for the variety of tournaments, ranging from Sit 'n Go tables to Omaha, to Sunday Majors. There is also a Tournament Request feature where you can offer your feedback or ideas for what you want to see as tournaments on the site. Every weekend has big tournaments with deep prize pools of $150,000.
BetOnline is also currently offering a 100% first deposit bonus for poker players. For every $50 earned in rake, you will get $5 of your bonus money (up to $1,000) released. There is also a promotion called Bad Beat Jackpot where you can still win a share of jackpot money at certain tables if you suffer a bad beat.
Pros:
Downloadable poker app for your phone or PC
Some of the largest welcome bonuses (100% poker bonus match)
Over 80% of users use crypto, so it is very crypto-friendly
Trustworthy company in business for 25+ years
Cons:
Some users may not want to download additional poker software
Less traffic than Bovada's poker rooms
2. Bovada: America's Busiest Poker Site and More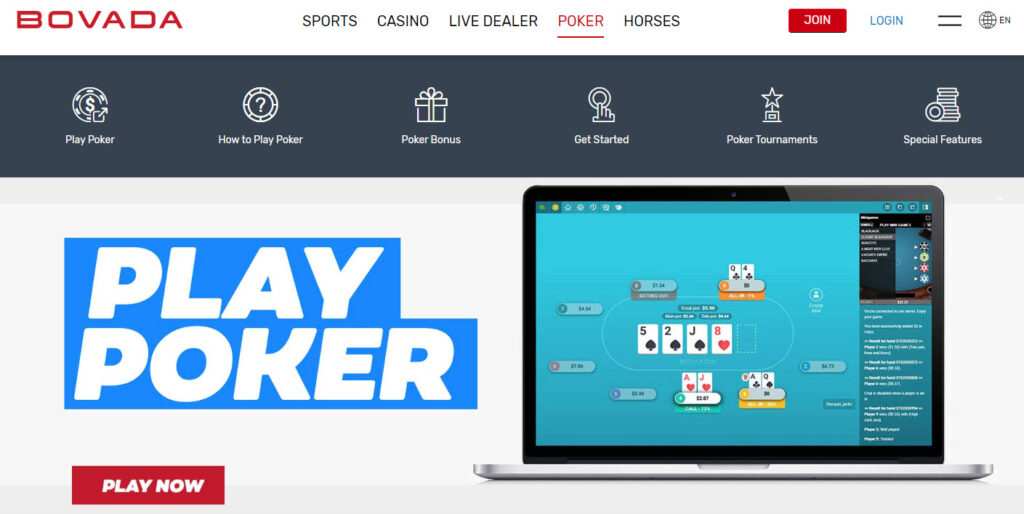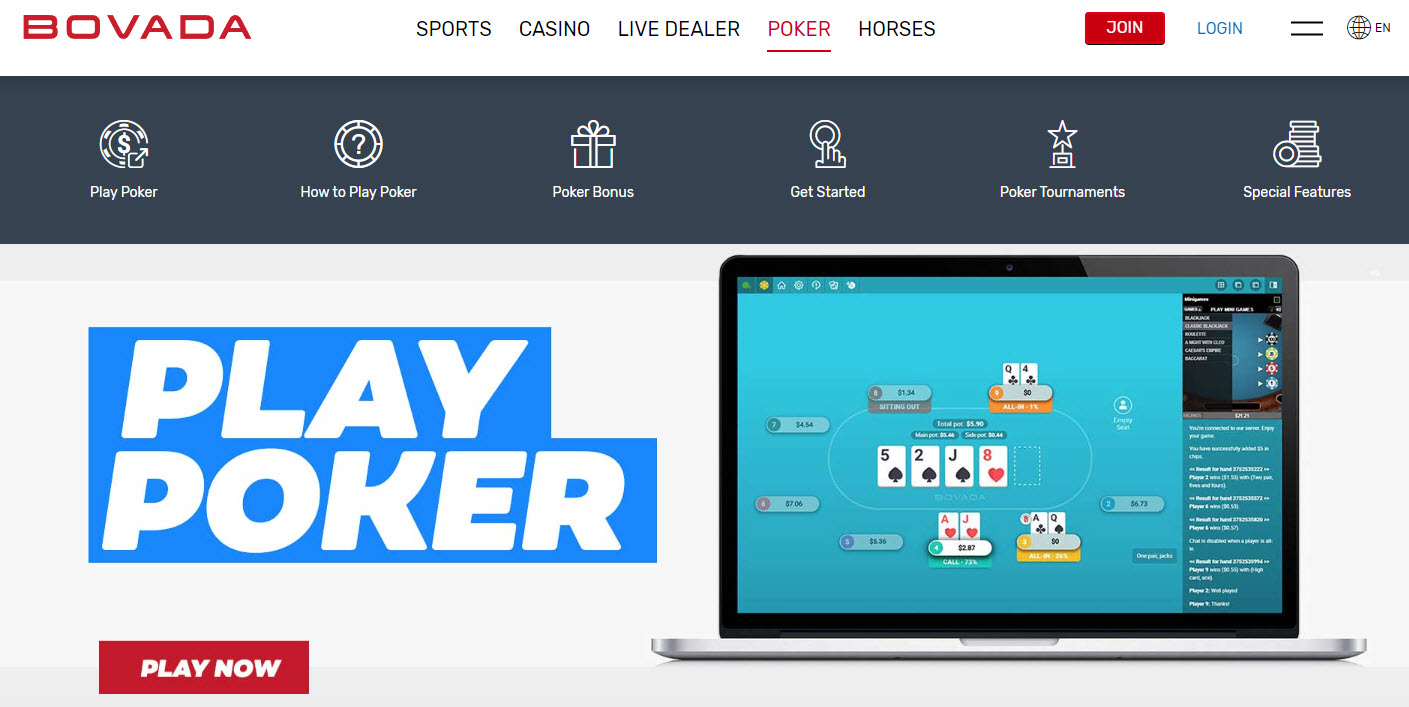 Bovada is a very popular sportsbook and online poker site. Players new to offshore sportsbooks will find it to be an easygoing experience with a simple site design. Along with Bodog and Ignition, Bovada is part of the PaiWangLuo Poker Network, the largest in America.
They offer a wide variety of cash games and tournaments for poker players. You can also play using the Quick Seat feature that gets you in a game in two simple steps. There are knockout tournaments, sit-and-go tournaments, and $150k guaranteed tournaments, and you can play anonymous tables where every user gets a clean slate, and no one knows your playing style.
Bovada currently has a Poker Welcome Bonus (code "PWB500") where your first deposit can earn up to $500 in bonus. As is standard for these types of poker bonuses, the funds will be released in $5 increments as you earn 150 Reward Points by playing poker games.
Bovada also runs one of the best sportsbooks in the business with a detailed prop builder. The racebook is one of the best to use because of its easy drop-down menus to build bet slips.
Pros:
Excellent choice of poker tournaments
Plentiful crypto options
Great sportsbook and racebook as well
Earn reward points in loyalty program
Play anonymously so users don't get used to your style
Cons:
Site is a bit generic looking
Non-crypto welcome bonuses are small
3. Everygame: Play Poker on a Sleek Site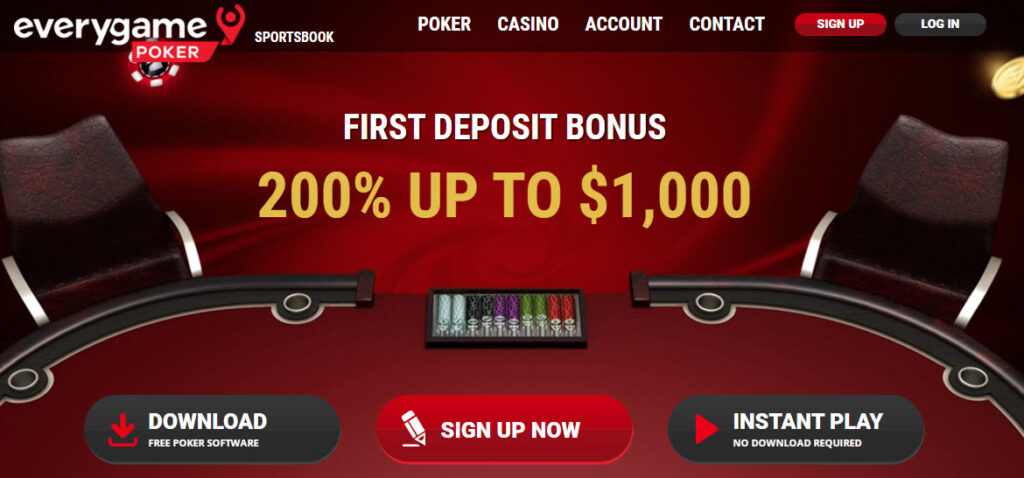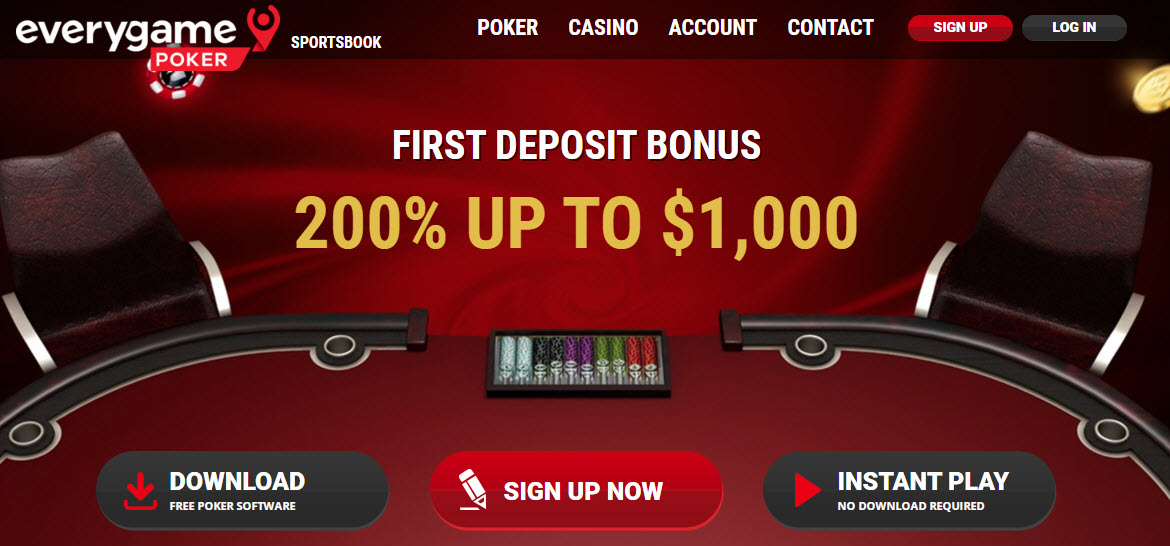 Everygame is a vibrant-looking site with downloadable software that can be played on mobile or computer for further fun. The video poker section is filled with fan favorites, including Deuces Wild, Joker Poker, and Jacks or Better. The site promises a high Return to Player (RTP) rate near 100%, meaning you can play for an extended period and often finish very close to where you started. You want a high RTP or else you'll be often losing most of your money, but that is not the case at Everygame.
Everygame has the two most popular cash games, Omaha and Texas Hold'em. They also feature tournaments, including a Sundown special that runs each Sunday with a grand prize of $10,000. With your first deposit, you can expect a 200% match up to $1,000, plus 25 free spins to use on the casino. Everygame also prides itself on offering an industry-leading 36% rakeback rate.
Pros:
200% welcome bonus for poker players
Wide variety of deposit methods
No-limit games for high rollers
Highest rakeback rate at 36%
Sharp interface and downloadable poker app
Cons:
Not as busy as Bovada and BetOnline poker networks
Not all users want to download software
4. Heritage Sports: Wide Array of Video Poker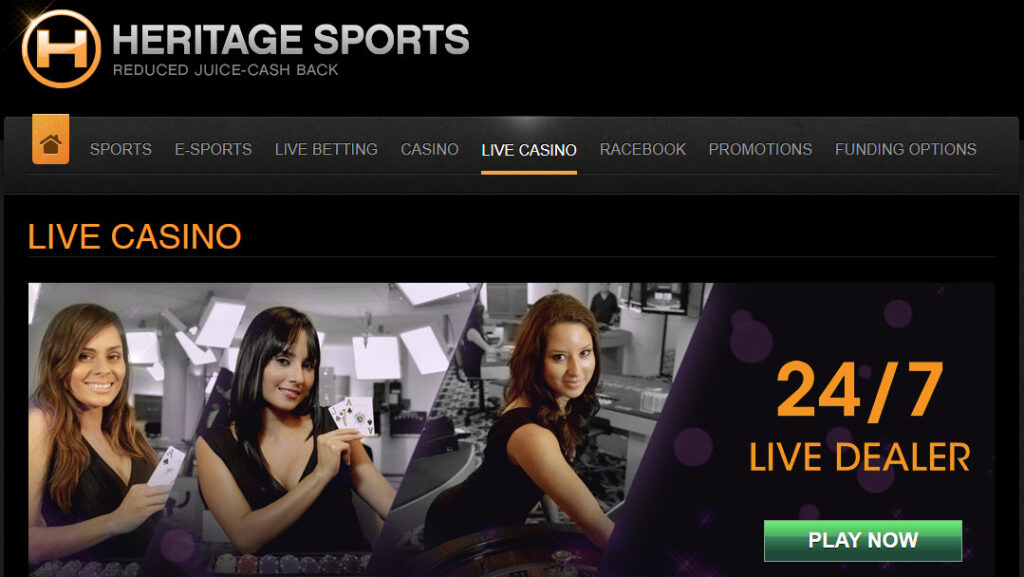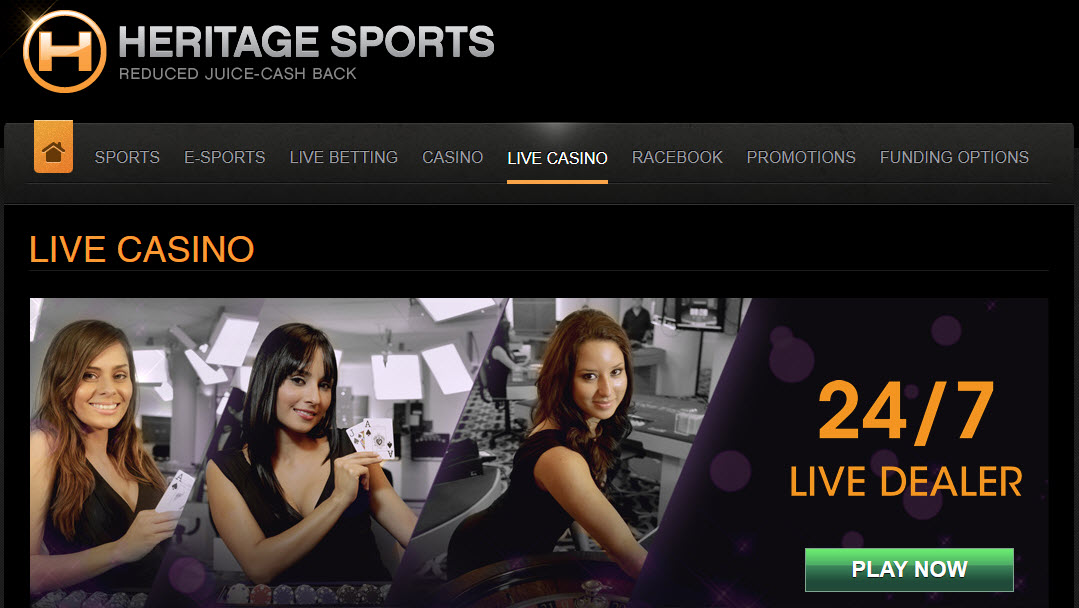 Heritage Sports used to be an invite-only site based out of Costa Rica, but everyone is free to join it today, including players in Washington State.
The sportsbook is one of the best for reduced juice, but poker players will also find a solid selection of video poker:
Deuces Wild
VP Aces and Faces
VP Joker Wild
VP Deuces Wild
VP Tens or Better
VP Jacks or Better
VP Aces and Faces
Triple Edge Poker
Oasis Poker
Caribbean Poker
Pai Gow
All games can be played for money, or you can try them all for free to practice. At Heritage Sports, you will get every eighth deposit on the house as calculated by the average of your previous seven deposits. That's just one of the many promotions available for Heritage Sports users.
Pros:
Reduced juice and cashback bonuses
Every eighth deposit is free
Free demo versions of all casino games
Site is easy to navigate
Cons:
No poker tournaments
No downloadable apps
Smaller sign-up bonuses
5. BetAnySports: Poker and Every Sport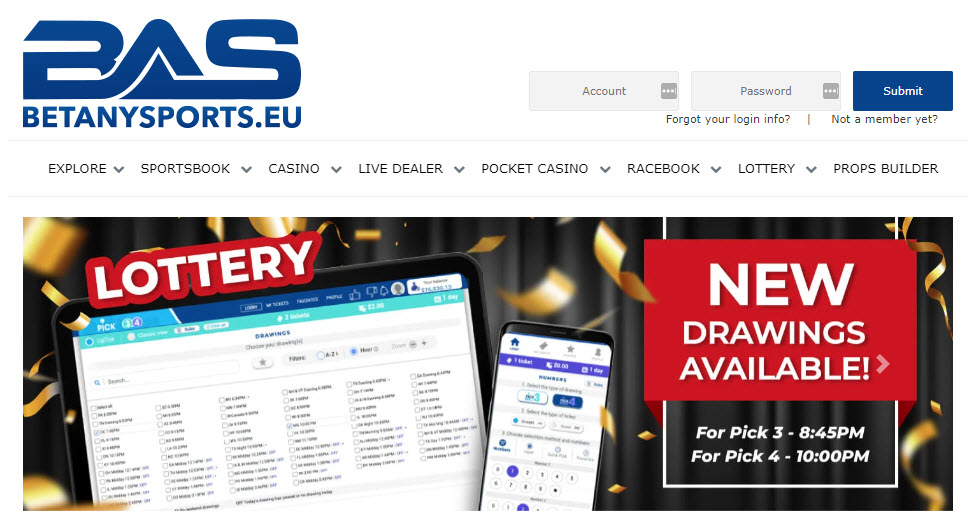 BetAnySports is a Costa Rica site with an A rating from BMR. When it comes to the casino section, you will find access to seven different casinos, with each having its own game selection:
3D Casino
Star Casino
Horizon Casino
Diamond Casino
Fortune Casino
Classic Casino
Pocket Casino
In those casinos, you will find your usual assortment of video poker games, such as Oasis Poker, Pai Gow, Caribbean Poker, Jacks or Better, Deuces Wild, and Joker Poker.
BetAnySports also has the best reduced juice (-105 odds) sports line in the business, and it is the only place you can wager on the lottery online in many states. They have the daily Pick 3 drawing in Washington State, and you can win 80% better payouts than from your state lottery.
Pros:
Seven different casinos and live table games
Play state lotteries (WA included)) with 80% better payouts
Solid prop builder for sports
Customer service includes live chat
Cons:
No tournaments (only video poker)
Pick 3 is only Washington State lottery game offered
Site looks cheaper than Everygame and BetOnline
Is online poker legal in Washington?
Remember in the intro when we mentioned a C-Class Felony for online gambling in Washington? As you can imagine, it is not legal to play online poker in Washington.
The good news is the laws in Washington do not apply to offshore legal poker sites, which do not require regulation in American territories. You can join one of the offshore sportsbooks and play poker or other gambling options today to win real money.
Video Poker
Video poker is a fun alternative to the regular game that requires more skill and patience. Video poker is basically like playing a video slot where the cards are drawn by a random number generator to ensure you get a fair shake at variance.
You will not legally be able to play video poker games in Washington, but you can play them on offshore sites such as Bovada and BetOnline.
Casual Poker
Washington has some tough anti-gambling laws, but it is not full-blown crazy enough to break up your casual poker games with friends. Whether you call it casual poker or social gambling, it is legal in Washington as long as a few conditions are met:
All players play the game on equal grounds
No one acts as the "house" or "bank" to gain an advantage over the field of players
No entry fee or commission paid to participate in the game
The game is not publicly advertised
Washington Poker Laws
Poker players in Washington do have plenty of options for legal games, including those hosted at tribal casinos and card rooms that have operated for decades. We also already talked about casual poker games among friends, but charity poker games where a cut of the winnings is donated to a charity, are also legal in Washington.
The area that the law frowns on is playing online poker for money, or any form of online gambling for money. In June 2006, the state passed a law to make online gambling illegal and a C-Class Felony, which can carry penalties of up to five years in prison and $10,000 in fines.
This is considered the most extreme move against online gambling in the country, and despite some court challenges, it is still in effect today in Washington State. Fortunately, there is no record of anyone in Washington ever being charged with a felony for online gambling or online poker play at an offshore site like Bovada.
But when Sean from Seattle just wants to play some poker on his phone using his BetOnline account, that is not going to stir up any legal issues.
With the state of Washington recently allowing some sports betting at tribal casinos, you could say things are slowly moving in the right direction for gambling, and maybe down the road, we will see a legal, regulated form of online gambling and poker in the state of Washington.
But for now, the laws make it very clear that you will need to join one of the online betting sites we have reviewed if you want to play online poker, gamble, and have some fun in your leisure time.
Washington Poker – Land-Based Gambling
Maybe playing online is not your speed for poker, and going to a place where you can sit at a table and look people in the eye is what you really desire. Fortunately, there are several land-based gaming venues for you to do this throughout the state of Washington.
Here are some of the best spots in Washington to visit and play poker games at physical poker tables:
Little Creek Casino (Shelton, WA)
Western Washington's best poker room offers daily games, including No-Limit Hold'Em and Omaha games.
Emerald Downs (Auburn, WA)
Home to the best racetrack in the state, Emerald Downs also has a casino with table games, including Three Card Poker Prime, High Card Flush, Emperor's Challenge Pai Gow, and Heads-Up Hold'em.
Red Dragon Casino (Mountlake Terrace, WA)
They offer plenty of Hold 'em and Omaha games, including no-limit games, and also hold poker tournaments.
Fortune Casino (Renton, WA)
The best spot in Renton for Pai Gow poker is Fortune, which also offers plenty of baccarat and blackjack games.
Snoqualmie Casino (Snoqualmie, WA)
Advertised as Seattle's closest casino, Snoqualmie closed its poker room in 2018, but you can play video poker like Fortune Pai Gow.
7 Cedars Casino (Sequim, WA)
From Wednesday thru Sunday, sign up for poker games at one of the best-looking casinos in the state.
Tulalip Resort Casino (Tulalip, WA)
Featuring 37 table games, the latest one is called "I Luv Suits Poker" game where the player's objective is to get a flush with more cards than the dealer.
Washington Poker Online Payment Options
Before playing any real money poker games online, you have to add money to your account. You can do this with a huge range of different payment methods. Most of the top online poker websites will have the following options:
Credit/debit card (Visa, MasterCard, Discover, American Express, etc.)
Person 2 Person (PayPal, Venmo, CashApp, Zelle, etc.)
Cryptocurrency (Bitcoin, Ethereum, Litecoin, etc.)
Money orders
Voucher/gift card
Wire transfer
Each site will list the fees (if applicable) for any deposit or withdrawal methods that have them. Crypto transactions are usually without any fees and move the fastest, but crypto is not for everyone, so find what method works best for you.
Tips for Online Poker Real Money Washington
We have included a few helpful tips and pointers to succeeding at online poker in Washington:
Prepare to lose – You cannot expect to win all the time, especially when you are starting out. Learn how to cut your losses on the bad nights and understand that folding and logging off is sometimes the best thing you can do.
Bet responsibly– Never bet more than you can afford to lose and start with smaller stakes so that you can build up your bankroll for future poker games and tournaments.
Find your style – A lot of people love Texas Hold 'em, but maybe you enjoy 7-Card Stud the most. Experiment with the different types of poker games before settling on your best game and try mastering that one.
Embrace the math – Poker is both a game of skill and luck. Variance can get you on a bad losing streak, but it won't last forever if you are making mathematically-sound decisions based on the odds. There are many helpful odds calculators on the internet for poker.
How to Play Online Poker in Washington
We have compiled a quick guide to lead you through the simple steps to set up your account at an offshore site so you can start playing poker. You can follow these steps for just about any site whether it is Bovada, Heritage Sports, or BetOnline.
Step 1: Visit the Web Site
Choose the site you want to join and go to its mobile site. There will be a "sign up" or "join" option, often located in the top-right corner. Click there to begin creating your account.
Step 2: Complete the Registration Process
Submit your personal information and be sure to create a strong password. There may be a need for additional documents to be sent later to get payments, such as your social security number or a copy of your photo identification card. This is common practice to verify your identity on these sites.
Step 3: Make Your First Deposit
After registering your account, log in and make your first deposit. Before you do that, you will want to read up on what the first-deposit bonus is so you can take full advantage of that as it will often be the biggest bonus you get from the site.
Step 4: Start Playing Poker Games
Just like that, your account is live with money, and you are ready to gamble. Go to the site's poker section and find your desired game to start playing. Take some time getting used to how the game works on the site before you start risking large sums of cash.
FAQs – Online Poker Gambling Sites and Legal Status
Can you legally bet in Washington State?
You can legally bet in-person at one of the state's various tribal casinos or bet on horse races at a horse track. The state also has a state lottery. Outside of that, your only other options are online betting at an offshore casino. Washington State's online gambling laws are very restrictive, but offshore online poker websites offer a wide range of poker variations, casino games and sports betting options.

Is online poker legal in Washington?
No, any online poker game for cash in Washington is illegal. In Washington State, it is a class C felony to knowingly transfer or receive gambling information by the internet or similar methods. The state considers something as gambling when three elements are present:

An offer of value (your wager) in a game of chance (poker) with the promise of a prize (cash) to the winner.
What gambling sites are legal in Washington?
There are plenty of tribal casinos and gambling establishments to visit in person, but those seeking an online gambling experience are largely out of luck unless you enjoy horse racing at race tracks, which is among the only legal forms of internet gambling in the state.

Users in Washington State cannot even play Daily Fantasy Sports, either. In order to bet online, you have to go through the retail sportsbooks provided by tribal casinos, and you can only do so on casino property. Online poker players are mostly forgotten by these laws. Any offshore casinos or offshore sportsbooks are legal to use, however.
Where can I play Texas Hold'em in Washington?
Despite the strong gambling stance in Washington state, there are as many Native American gaming facilities as in Florida.

There are roughly 30 tribal casinos in the state. Some of the most popular options are the Muckleshoot Casino, the Tulalip Resort Casino, and the Emerald Queen Casino. You can play Texas Hold'em at these facilities, or with an online offshore casino.
Is Bovada poker legal in Washington State?
Bovada poker is completely legal for Washington State residents to enjoy. In fact, Bovada is one of our top-picks for the best online poker sites in the Evergreen State.
A sports betting bill in North Carolina, which had not made any progress for almost two months, will likely be discussed and possibly voted on by the entire Senate this week. Earlier this week, the Senate Committee on Commerce and Insurance reviewed the sports betting bill and gave it a positive assessment, recommending it to

---