Online Poker in Illinois – Is It Legal?
Shawn West has been involved with college basketball, NFL and college football and MLB since he left his job as bank vice president two decades ago. He lives in North Carolina with his wife, children, two dachshunds and a variety of turtles.
If you're an online poker player in Illinois, you're in luck. Not only is it legal at dozens of offshore sportsbooks that have been operating outside of state and federal laws, but there are now native casinos and tracks that operate their own online poker sites legally within the state as well.
If you're wondering which one is the best, we present our guide to online poker in Illinois. Our experts reviewed the various online betting sites in the state to put together a list of the best poker sites in Illinois. They also detail some of the bonus information as well as other perks from each poker site.
Illinois and the Best Sportsbooks in 2023
Illinois Betting Guides
We have many other online betting guides for how and where to gamble on different betting markets as an Illinois resident.
Best Online Poker Sites in 2023 for Illinois
Poker players in Illinois have plenty of options for real money gaming. However, our team narrowed it down to the following top four.
These sites will offer you a secure environment to bet and a busy, competitive group of players to go against. They'll also have a variety of bonuses and promotions as well as a plethora of safe banking options.
Illinois Online Poker Sites Reviewed
Illinois' best poker rooms have different strengths and weaknesses. Our experts identified which factors were key for placing each site on our list. Here is an in-depth review of each of the online sportsbooks that made our top four.
1. Bovada: America's Busiest Poker Room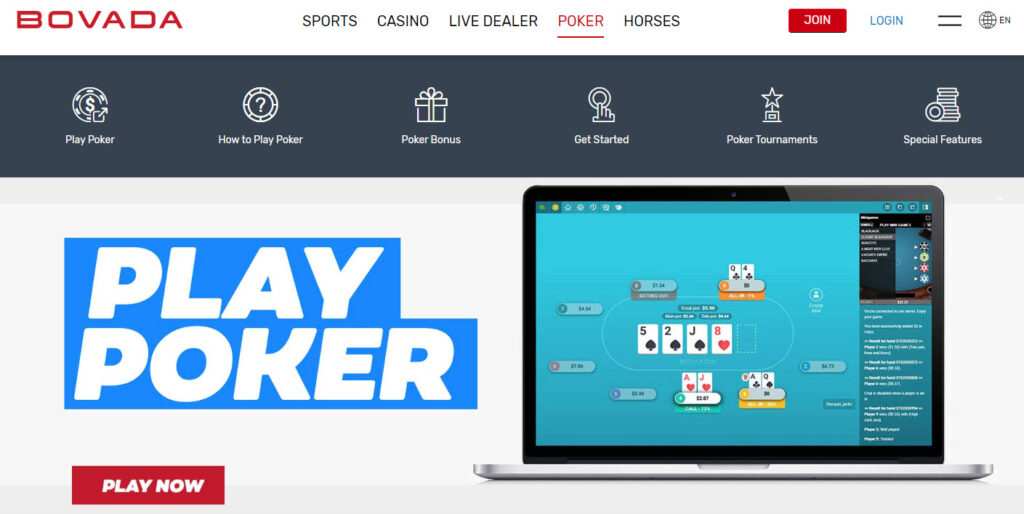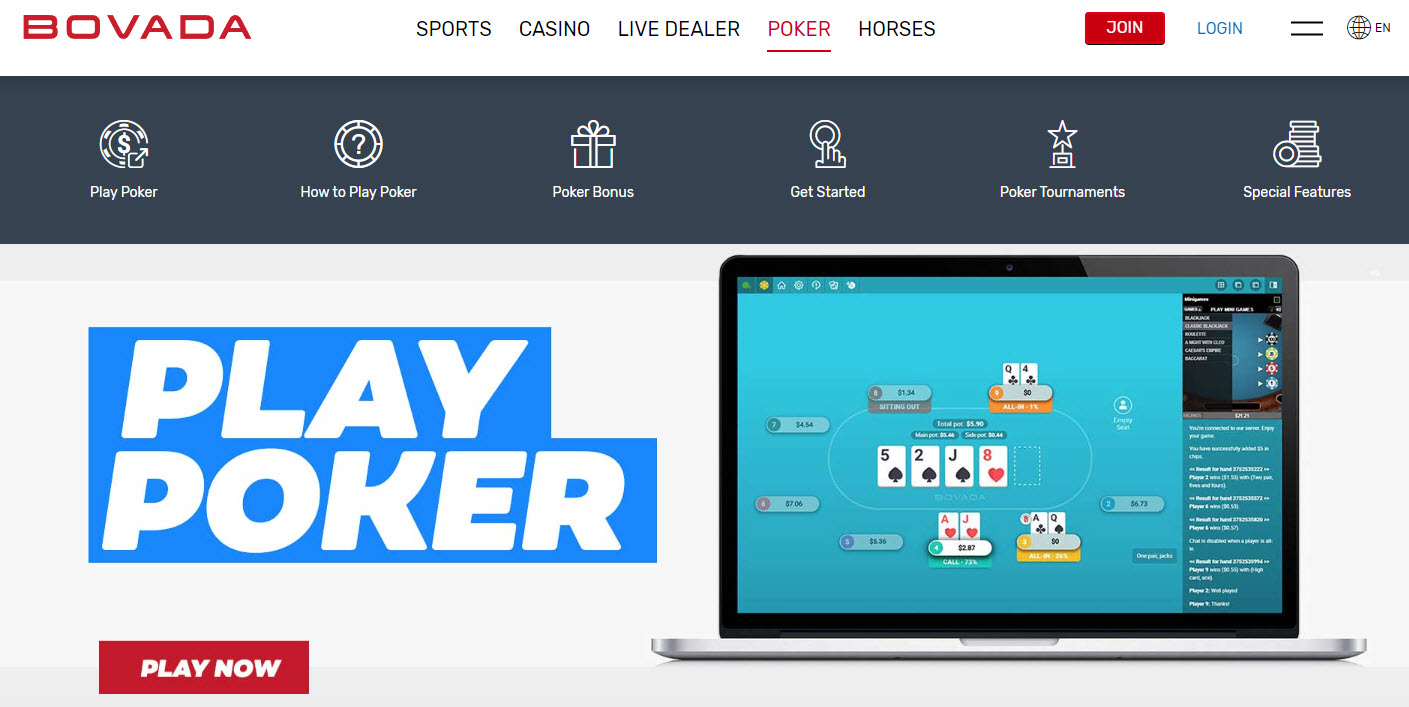 If you're looking for competition then Bovada is the right spot. It is home to the busiest online poker room in America. Bovada's poker runs on the PaiWangLuo network, which includes players from around the country and the world. PaiWangLuo is the sixth busiest network in the world, and the top five don't accept players from the United States.
The large network means that Bovada offers plenty of traffic and plenty of prize money. They give away about $2 million in an average week. They have a multi-table tournament schedule and are easy to navigate with a top-notch user interface.
Bovada offers a wide menu of variations, including Texas Hold 'em, draw poker, Omaha, and Omaha Hi-Lo. You can play sit 'n' go tournaments, knockout, turbo tournaments, and fast fold.
Bovada has a generous welcome bonus for new customers and rewards points to help existing customers earn perks.
Pros:
America's busiest poker room
$2 million in prizes each week
Outstanding user interface
Wide variety of poker variations and tournaments
Cons:
Rake is on the high side
Welcome bonuses are higher elsewhere
2. BetOnline: Best Welcome Bonuses in IL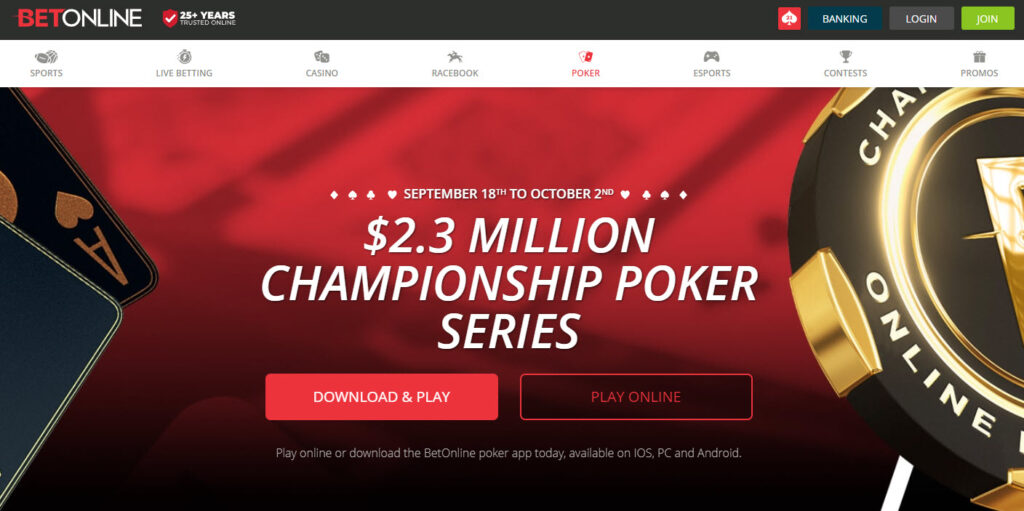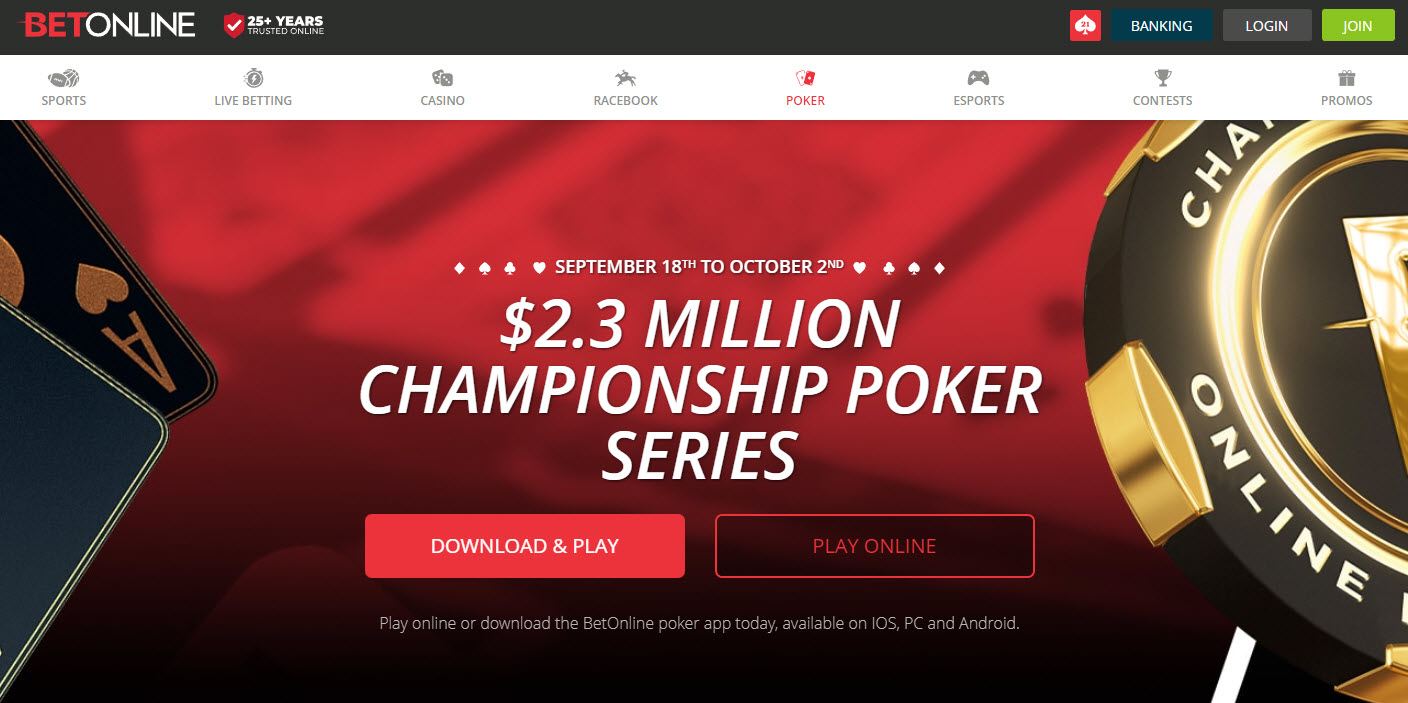 BetOnline is our choice as the second-best online poker room in Illinois. This platform features a busy room that has players from across the United States. BetOnline is a member of the Chico Poker Network, along with SportsBetting and Tiger Gaming. It's the third busiest poker network that includes American players. About half of the players on the network are from America, while the rest are spread around the globe. BetOnline has a wide variety of experience and skill levels, allowing you to find the level that best fits your needs.
BetOnline offers a variety of different poker games, as well as a busy schedule of tournaments. Tourney players can compete in the $1 Million Windfall, Nightly Monsters, Sunday Majors, and a steady stream of progressive bounties, rebuy frenzies, sit 'n' go's, and Omaha tournaments.
BetOnline's bad beat jackpots also can hit six figures, and the site offers generous promotions for new players.
Pros:
Large welcome bonuses for new players in IL
Bad beat jackpots can top $100,000
Excellent user interface
Wide variety of tournaments
Cons:
No VIP loyalty program
Not as busy as our top-rated site
3. SportsBetting: Highest Limits for IL Online Poker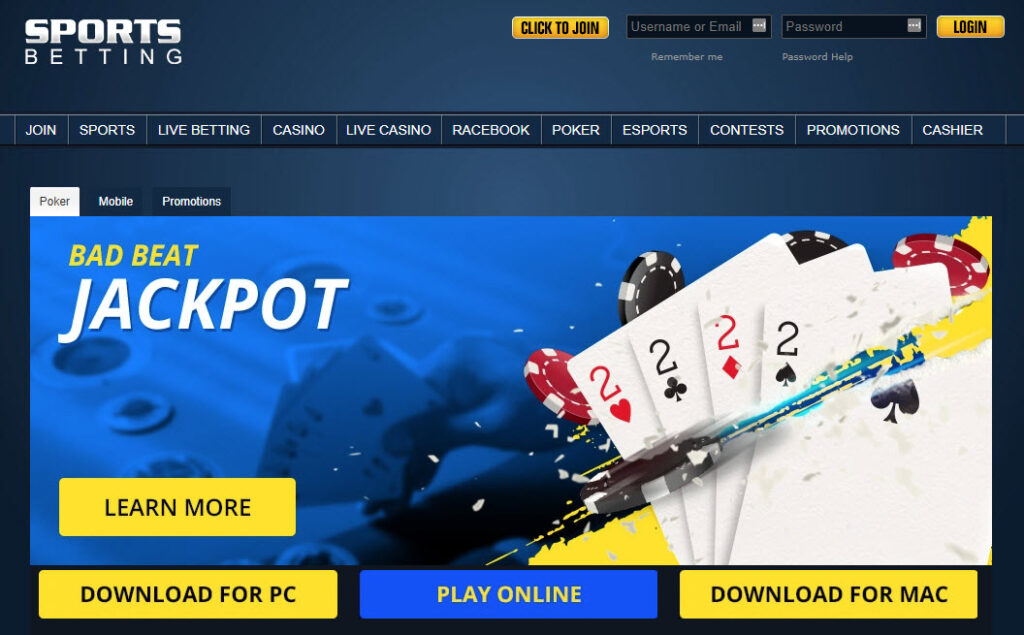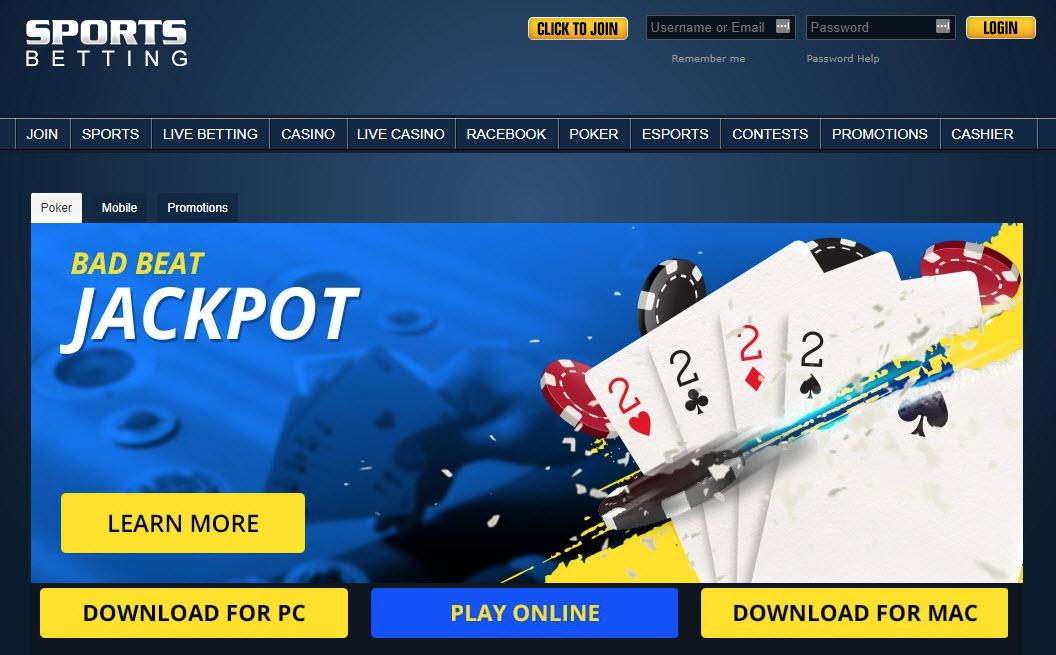 SportsBetting is a sister site to BetOnline, and it shares the same network as the number two site in our rankings, the Chico Poker Network. SportsBetting has many of the same generous welcome bonuses, tournament options, and payment methods as BetOnline. It also has upgraded software running the site, guaranteeing an outstanding user experience.
SportsBetting has a diverse menu of poker variations and tournaments, outstanding 24/7 customer service, and offers quick payouts to winners. As its name implies, it also has a busy sportsbook, as well as a racebook, esports betting section, and a wide array of online casino games.
Pros:
Many of the same benefits as No. 2 ranked BetOnline
Upgraded user interface and operating software
Diverse offerings of poker variations and tournaments
Quick payouts
Cons:
Not as slick as sister site's user interface
Charges fees for credit card users
4. Everygame: Best Rakebacks in IL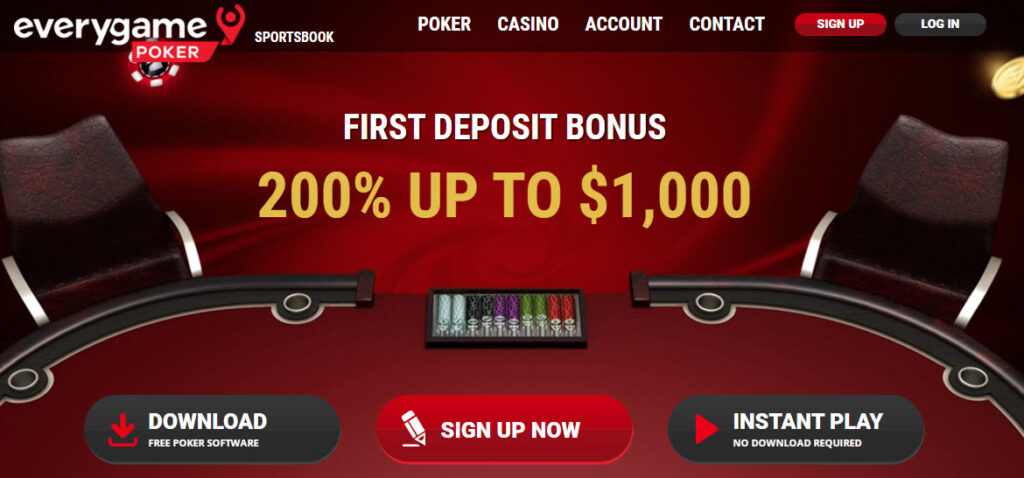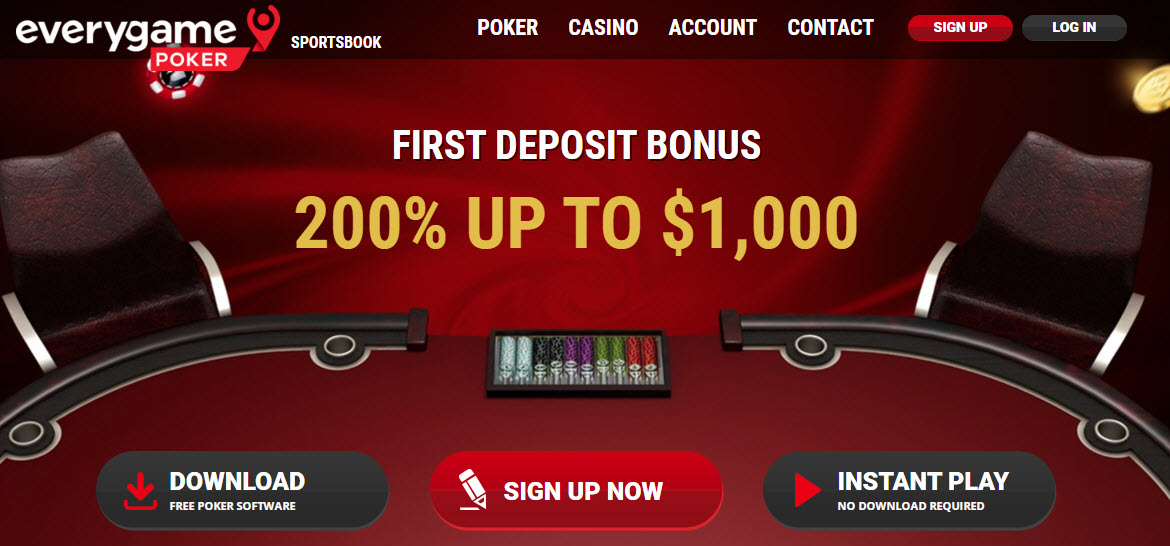 In poker, the rake is the commission fee you pay to participate in a hand, game or tournament. When a site refunds some or all of that fee to a player, it's known as the rakeback. And no one offers a more generous rakeback than Everygame.
Up to 36% of your rake can be refunded to your account, which is higher than anywhere else in Illinois. The site also offers a competitive welcome bonus to new customers and gives you cashback for frequent play with a points system.
Everygame runs on the Horizon Poker Network, along with sites like JuicyStakes. It offers different types of tournaments and games, including sit 'n' go events, freerolls, and ring games.
Pros:
Top rakeback in Illinois
Welcome bonuses are among the highest around
Loyalty system features points for frequent players
Variety of tournaments and games
Cons:
Not as busy as other top sites
Site isn't as slick as competitors
Legal Status of Online Poker in Illinois
One of the most common questions we get is "Is online poker legal in Illinois?"
The answer is yes. The state's online poker laws allow you to play for real cash in two different ways: Legal poker sites that operate out of the state of Illinois or online gambling sites that operate offshore.
Starting March 2022, online gambling, including poker and other online casino games, is legal throughout the state of Illinois, without any need to register in person at a brick-and-mortar location. For more than a year, online gambling had been legal after first appearing in person to go through the registration process. That requirement was waived in March, however.
Before the recent gambling expansion, many gamblers in Illinois enjoyed playing in poker tournaments at offshore sportsbooks, which were not beholden to state and federal laws related to gambling.
Even though gambling is now legal, these online betting sites have not gone anywhere and are still viable options. In fact, as gambling booms across the state with land-based casinos opening their doors, and nearly any location with a sports betting license opening up shop online, offshore sites still present themselves as the better choice.
Video Poker
Video poker has traditionally been played from a gaming kiosk, instead of online on your own computer or mobile device. It is usually a mix of slots and 5-card poker, with the video poker machine drawing cards randomly.
Many offshore poker sites now offer video poker as an option in their online gaming offerings. Bovada and BetOnline offer it in their casino sections. Several other sites with excellent reputations that aren't typically known for their online casino gaming sections, such as Heritage Sports and Bookmaker.eu, also feature video poker tables.
Casual Poker
Playing casual poker games with friends at a table in Illinois is legal, although, unless you're hosting, you probably won't be able to vouch for the security and fairness of the game being provided. A casual poker game with friends is a great way to spend an evening out, have fun and improve your skills. Any time you can practice playing land-based poker tournaments or games, you're sharpening your strategy to play better poker online, too.
Illinois Poker Laws
Illinois has an interesting history of gambling. Poker was legalized as part of the state's recent move to legalize gambling. It is now legal both online and in casinos and card rooms across the state. The Illinois legal gambling age for playing online poker games or any other legalized gambling is 18.
Timeline of Illinois Gaming Laws
August 2018: The state begins holding hearings to discuss the feasibility of adopting legalized gambling in Illinois. Stakeholders in the state meet with members of the gaming industry to determine what the gambling expansion plan would be.
June 2019: Law legalizing sports betting in Illinois is passed on June 3 as part of a 900 page capital improvement bill. Governor J.B. Pritzker, who spurred the legislature on in adopting legalized gambling by including gaming revenue in the state's budget, signs it into law on June 28.
March 2020: Rivers Casino was the first land-based establishment to receive its casino license. The state's first legal wager is placed on March 9, a big moment that came four days before casinos, and the world is shut down due to COVID-19.
June 2020: The first sports betting apps are authorized in the state on June 18, although any online sports betting required a person to first register at a gaming location in person, a process made more difficult by the pandemic.
April 2021: After a period of time where the governor allowed online registrations due to COVID, the requirement to do so in person is instituted again. Anyone interested in online sports betting must first visit one of the state's land-based casinos or track betting facilities to register.
December 2021: The governor announced that he would allow the in-person registration requirement to expire in March of 2022.
March 2022: On March 5, the in-person requirement expires and Illinois residents no longer have to visit licensed gaming establishments and can sign-up directly online.
July 2022: The state hits the 10-figure milestone as more than a billion dollars have now been bet on sports legally in the state of Illinois.
September 2022: Ten casinos, three tracks, and seven sports arenas are looking to be approved as in-person gambling sites, joining the dozen or so tracks and casinos currently approved.
Land-Based Poker Rooms in Illinois
You can play poker at casinos across the state of Illinois. Here are some of the top-rated land-based poker rooms you can visit.
Rivers Casino Des Plaines
Address: 3000 S. River Road, Des Plaines, IL 600118
This is the most popular of all the land-based casinos in Illinois. This location features 22 different poker tables across its 5,600-square-foot poker room. You can play Hold'Em, Omaha, and Stud, among other games.
Grand Victoria Casino
Address: 250 S. Grove Ave. Elgin, IL 60120
This 14-table room offers Hold'em, Omaha, and offers weekly tournaments. It has also hosted stops on the World Series of Poker.
Hollywood Casino Aurora
Address: 1 W New York St., Aurora, IL 60506
Hollywood Casino is another popular choice for land-based poker in the Chicago area. This location has 13 tables.
How to Play Online Poker in Illinois
If you don't want to drive to a casino and play in person, opting for an online poker platform is a wildly popular option for Illinois gamblers. It is quick and easy to sign up for an account online at any of the best sportsbooks.
The sign-up process at any online poker platform is virtually the same and it is a simple process. You will simply need to provide a few details like your name, date of birth, and email address. Once you register, you will need to fund your account so you can start playing real money games.
Offshore poker sites offer a variety of payment options. Customers can fund their accounts through bank transfers, wire transfers, debit cards, credit cards, and eWallet services like PayPal. The most recent development for online sportsbooks is moving to allow cryptocurrency transactions.
You can choose to sign up at Bitcoin poker sites if you'd like to benefit from the anonymity and faster payout speeds that crypto allows.
Playing Legal Online Poker Illinois
There are legal online poker options based in Illinois, but since it was just fully legalized in 2022. Offshore sportsbooks are available as an option, as they have been for years.
Tips for Playing Online Poker With Real Money in Illinois
Here are a few tips on real money gaming at legal poker sites.
Stick to reputable sites – Look for sites with a long history of dependable play and security for your personal information. We've vetted all of the offshore poker sites that we ranked to make sure that you have a list of dependable options.
Have a strategy before you begin to play – Many newcomers are best served with a tight-aggressive strategy.
Be selective – You don't need to play every hand you're dealt. Learning when to play and when not to is a key skill to master.
Don't be led by emotion – Frustration and anger can be powerful, but successful players don't let that sway their decision-making.
Master bluffing – Don't bluff too often. Good players know when to use the bluff.
Be responsible – Don't bet more than you can lose and know when to stop.
How to Play Online Poker in Illinois
You can get started playing online poker quickly. The sign-up process only takes a few minutes and is easy. The details of the sign-up process may differ slightly from site to site, but in general, this is what you will need to do to create a new account.
Step 1: Start the Registration Process
Once you've chosen the right online poker room for you, go to the site's home page. Look for the "Join Now" or "Register" option on one of our suggested online betting sites.
Step 2: Complete the Registration Form
The sign-up form is straightforward and asks for basic personal information. Fill out the form and click the button at the bottom to create an account. You may be required to authenticate your account with documentation or by being sent a code to your phone before withdrawing.
Step 3: Make the First Deposit
Once you've signed up for an account, you can fund it. Choose your payment method and enter the information. Many sign-up bonuses require a promo code, so be sure to enter that to get all the freebies coming to you.
Playing Poker in Illinois
There are a wide variety of online poker options in Illinois, in addition to retail sportsbooks and commercial casinos. If you choose one of our rated and recommended offshore casinos, you should have a safe and entertaining experience no matter what forms of gambling are your preference.
FAQ – Using Online Poker Sites in Illinois
Can I gamble online if I live in Illinois?
There is a fast-growing online gambling industry in Illinois. About a dozen locations offer it, with at least that many in the process of being approved.
What gambling apps work in Illinois?
Any gambling apps can be used legally in Illinois. However, we suggest you use one of our top-rated online poker sites. They each either have a standalone mobile app or a site that is optimized for mobile use.
Where can you gamble in Illinois?
In Illinois, you can play poker and bet on sports for real money online. There are also tons of options for online casino gaming, like slots, and a large variety of table games, that are available at offshore sites.
Offshore sites have the most long-standing reputation among gamblers; however, many land-based poker rooms, casinos, and track betting facilities have opened, as well.
Can I use Bovada in Illinois?
You absolutely can. In fact, Bovada is one of our top picks for the best online poker sites for Illinois bettors.
Do you have to pay taxes on online poker winnings in Illinois?
Any winnings that you get from gambling need to be reported to the IRS and you will need to pay taxes on them. Your tax rate will depend on a number of factors, such as what county you live in and your tax bracket.