Milwaukee Casinos – How to Gamble Online & In-Person in Milwaukee, WI
Milwaukee is likely not the city that comes to mind when you're trying to consider a casino destination in the United States. That said, there are almost two dozen tribal casinos across the state of Wisconsin.
At them, you can find slot machines and casino tables and, as of November 2021, legal sports betting. Currently, sports bettors have to travel to the Oneida Casino in Green Bay, and they are still subject to a variety of limits.
If you're looking for online casino gambling in Milwaukee, you'll have to sign up at an offshore sportsbook. As of now, online gambling is not legal in Wisconsin That's why online gamblers in Milwaukee have been using offshore betting sites for years.
In this guide, we will go into detail as to which online betting sites are best for players in Milwaukee as well as provide an overall update on the gambling scene in Wisconsin.
List of Casinos in Milwaukee
Below we will cover all of the closest casino options for Milwaukee residents, including the single casino property that is within the city limits:
Ho-Chunk Casino Madison
Ho-Chunk Gaming Madison is a premier casino located just outside of Madison, Wisconsin. With a massive casino floor spanning over 60,000 square feet, visitors have plenty of options to choose from. From slot machines, video poker and other popular electronic gaming machines to table games like blackjack tables and roulette, there's something for everyone here.
The casino also offers a high-stakes bingo hall and a rewards program for frequent visitors. Guests can dine at the Gamers Grill or grab a drink at the full-service bar. Plus, the venue hosts regular events and live entertainment, making Ho-Chunk Gaming Madison a top choice for those seeking thrilling gaming action and entertainment in the area.
Oneida Casino
Oneida Casino is a popular gaming destination located near Green Bay, Wisconsin. With over 2,000 slot machines and 30 table games, including classics like blackjack tables, craps and roulette, visitors are sure to find their favorite games. The casino also offers off-track betting on horse and dog races, as well as a poker room for serious players.
Oneida Casino features several dining options, including the full-service restaurant, Vince Lombardi's Legendary Sports Bar & Grill and the snack bar, The Food Court. Additionally, guests can enjoy live entertainment and special events throughout the year, such as concerts and UFC fight nights. With plenty of gaming and entertainment options, Oneida Casino is a must-visit destination in the Green Bay area.
Potawatomi Casino Hotel Milwaukee
Potawatomi Hotel and Casino is a premier gaming destination located in downtown Milwaukee, Wisconsin. Boasting over 2,500 slot machines, 100 table games, and a 20-table poker room, visitors have an abundance of gaming options to choose from. The casino also features a high-stakes bingo hall, off-track betting on horse and dog races, and a luxurious high-limit gaming area for VIP guests.
Dining options at the Potawatomi Casino include a variety of restaurants, from casual options like The Fire Pit Sports Bar & Grill to upscale choices like Dream Dance Steak. Guests can also catch live music and comedy shows at the Northern Lights Theater or dance the night away at the intimate club, The FireKeepers. With its variety of gaming options, dining choices and entertainment offerings, Potawatomi Hotel & Casino Milwaukee is a premier destination for those seeking a thrilling night out in Milwaukee.
The Best Online Casinos in Milwaukee
Below are the ten best online casino sites in Milwaukee according to our betting experts. We want to emphasize that every player is different which means that it isn't for us to tell you which offshore casino is the best. Instead, we can give you a selection of the best ones that have top-tier casino offerings and provide a multitude of gambling services. The services that are important to you will determine the best Milwaukee casino.
The only thing that we can guarantee is that all ten of these online casino sites have fantastic reputations within the industry as well as a consistent level of service. They offer several types of gambling under one roof which is something that you will benefit from, as retail casinos simply don't possess the same features.
Best Online Casinos in Milwaukee Reviewed
The best online casino in Milwaukee depends on the playing experience and casino offerings you're looking for. All players have different services that they prefer and will prioritize which brand they choose accordingly. Our betting experts provided us with summaries of why they included each of the below online casino sites.
In this guide, you will also be given access to our more in-depth review of each of these online casino sites. There you will get additional information that will help decide which online casino is right for you. You can read more about these premium online casinos for U.S. players below.
1. Bovada: Elite All Around Services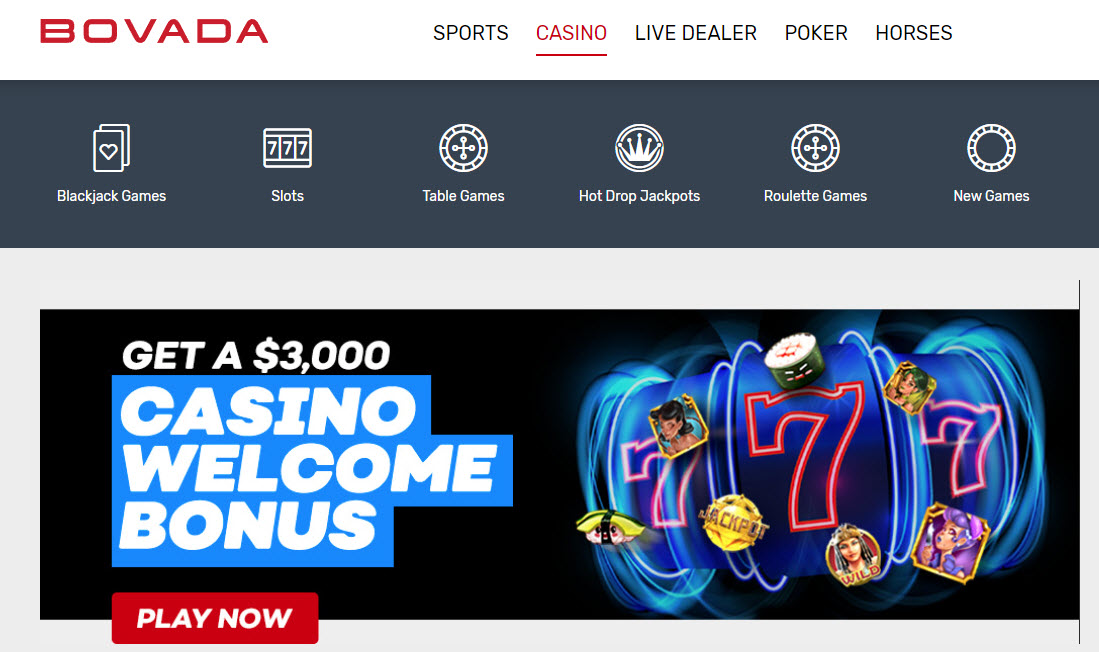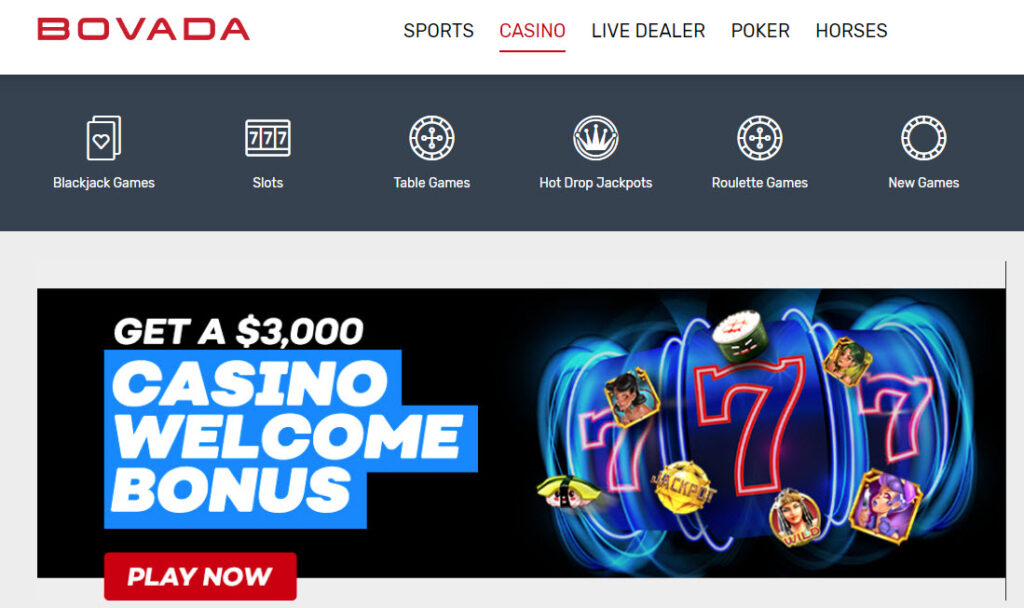 Bovada has been a favorite of online casino players in Milwaukee for a long time. They are most famous for their sportsbook but also have America's busiest poker room as well. They are part of a network that services over a dozen countries around the world. Whenever you choose to log in to your Bovada account you can be sure there will be action in the poker room which features live dealer table games. You can find poker tables where you can play multiple variants of the popular card game, such as 3-card poker, Texas Hold'em and pai gow poker.
They have a nice and easy-to-use mobile platform. There you can place bets on the go at some of the biggest betting markets in the world. Bovada also offers their players very competitive odds. On the mobile platform, you can take advantage of all the fantastic live betting odds that Bovada has to offer.
Milwaukee players certainly love the bonuses they get by using promo codes at Bovada. We've mentioned the poker room where they have tons of great promos. Of course, there are a lot of bonuses to choose from if you prefer sports betting. If casino gambling is your thing, you can get some nice casino bonuses to have fun when playing slots. Bovada is a great all-around choice for any online casino player.
Pros:
Big brand name with great reputation
One the busiest poker rooms in the country
Cons:
Casino game options not as extensive as some offshore casinos
Site design is not that good looking
2. BetOnline: Competitive Odds on Several Markets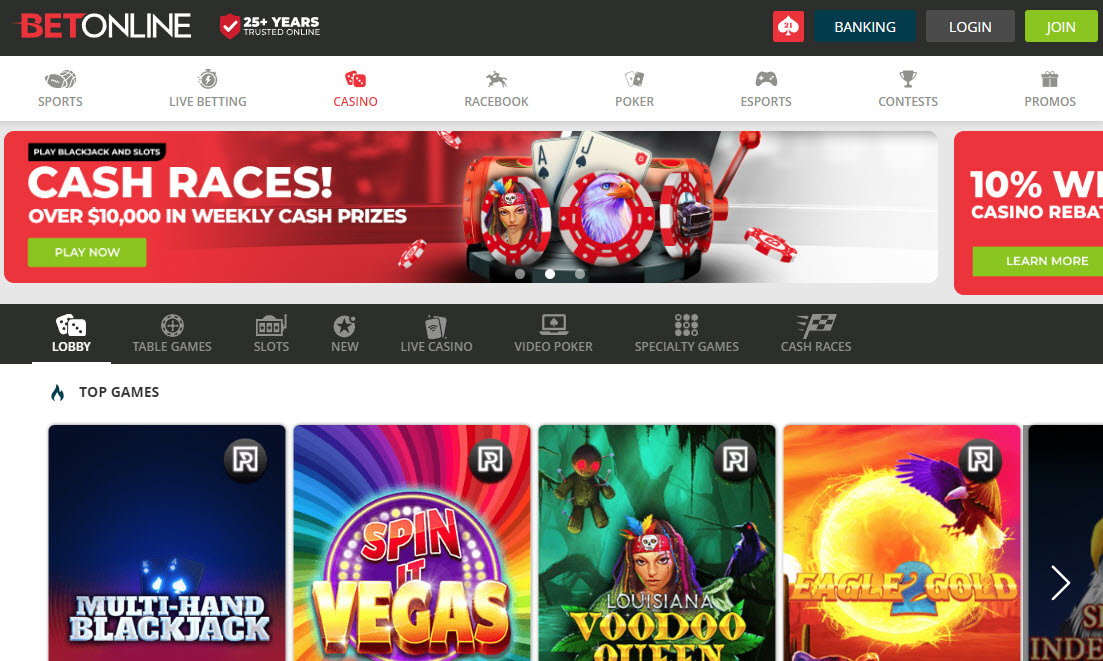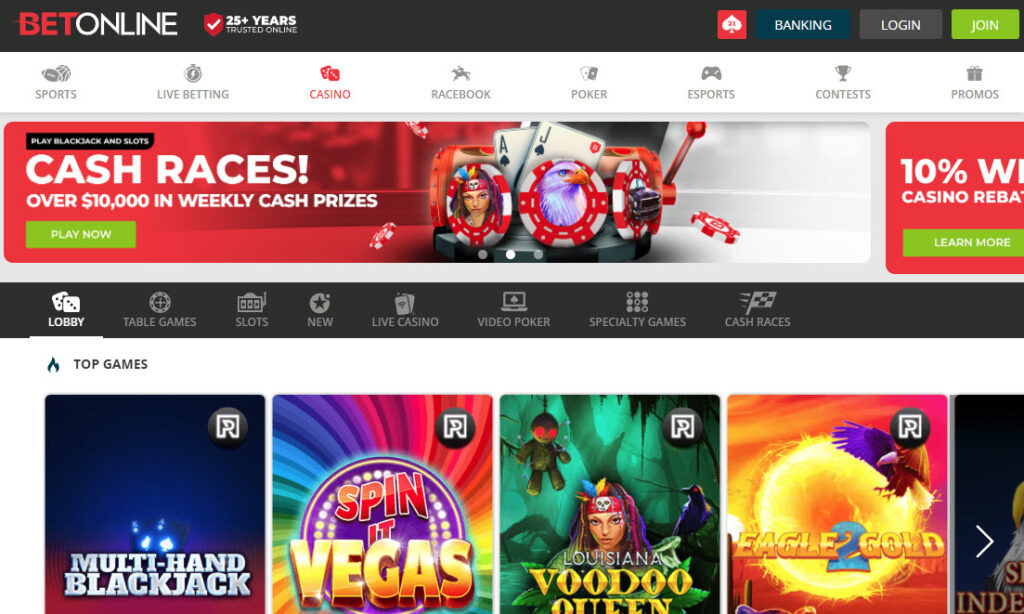 BetOnline is a big name in the industry with the early odds they provide to their customers. They welcome a lot of sharp action which means online casino gamblers in Milwaukee that play with them are getting VIP services. Sharp players don't just settle for any online casino site. They need competitive odds and quick payouts.
BetOnline can offer you both and more with a casino boasting over 350 slots, making it a great casino choice for slot machine fans. Their library of 3D casino game options is one of the most popular features for players that sign up with them. All of the old classic slot games are there as well with the table games you come to expect with your online casino experience.
If casino bonuses are what you value most, there's a 100% bonus of up to $1,000 on your first three deposits after signing up with BetOnline. That is a deal you should take advantage of but make sure you read and understand the terms and conditions. Most welcome bonuses are only good for one deposit so this is an example of the types of generous bonuses they have.
Pros:
A lot of casino gambling bonuses to choose from
Slots enthusiasts can choose from 350+ games
Cons:
Playthrough requirements higher than some competitors
Some users have complained about the poker room
3. Heritage Sports: Rebate Bonuses a Favorite of Milwaukee Gamblers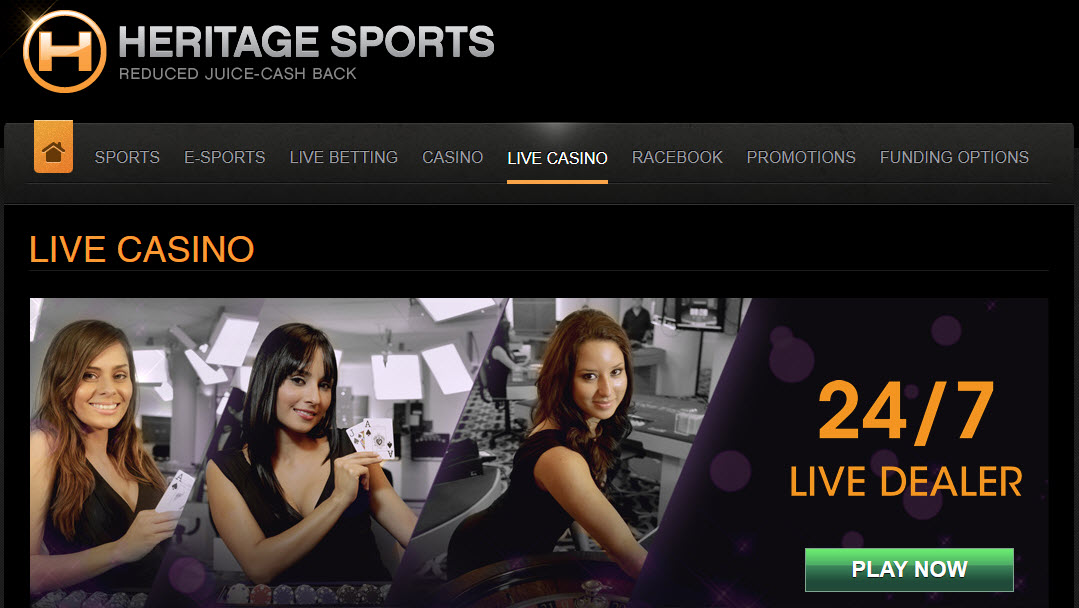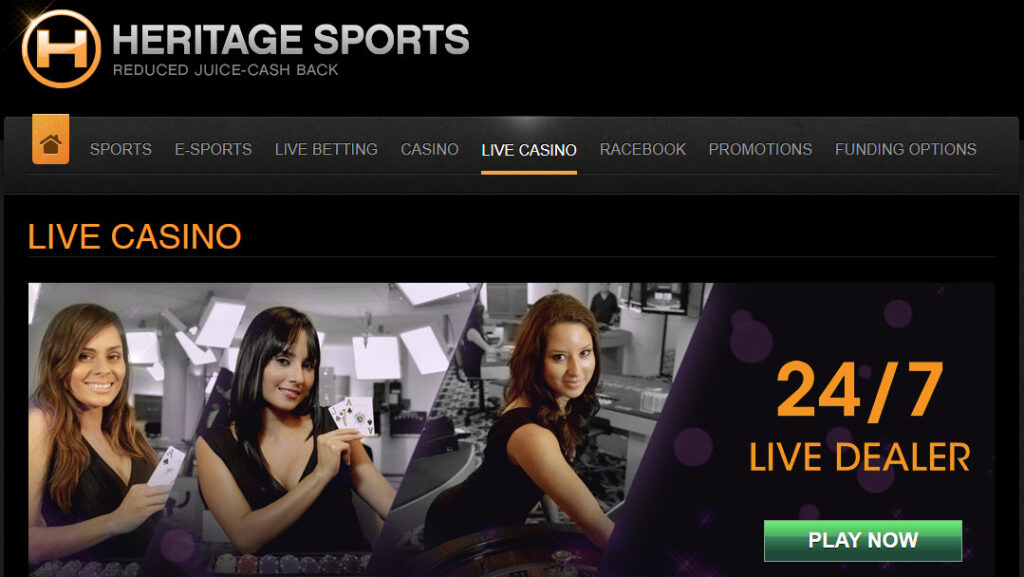 Heritage Sports is a favorite of online casino players in Milwaukee because you save money on so many of their casino offerings. Most online betting sites attract players by offering them additional chances to play in the form of bonuses. These bonuses are extra money that you can play with but they come with terms and conditions. These terms require certain amounts of additional risk known as required playthrough before you can cash out.
They do things a little differently at Heritage Sports by saving money when you play. When betting on sports, players pay 10% juice represented by the price -110. That is the standard price in the industry when betting on spreads and totals. With Heritage Sports, you pay -108 on spreads and totals which saves you 20% on those wagers. Saving money on every bet means your money goes further when making sports bets with this offshore casino.
If you want casino game options, Heritage Sports saves you money there too. They have a rebate on your monthly losses. If you have a winning month then of course you don't need one but if you don't have any luck, you get back 8% of your net losses for the previous month. The minimum you can receive is $20 and the maximum is $2,000. It's a great deal, especially with the very low 4x time playthrough requirement.
Pros:
Reduced juice saves you 20%
Monthly casino rebate saves you 8%
Cons:
No casino sign-up promotion
Bonuses limited due to reduced juice model
4. BookMaker: Reputation for Excellent Service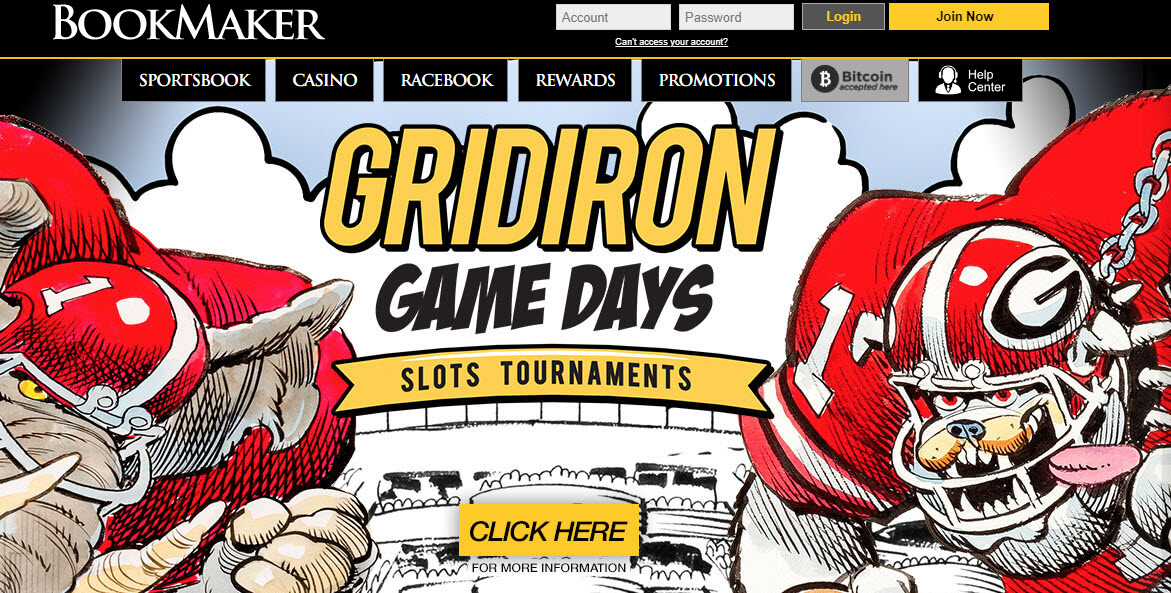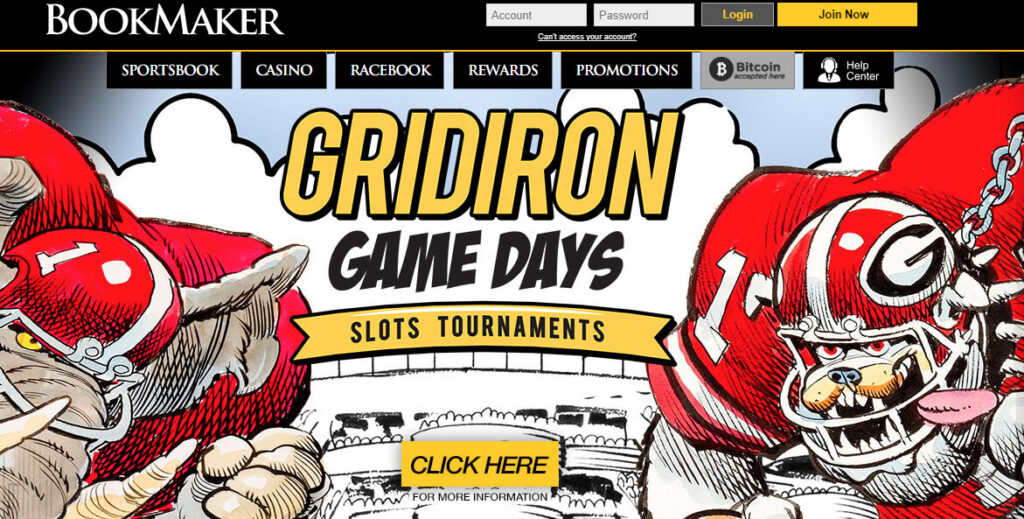 BookMaker is a favorite of Milwaukee players. Its reputation in the online gambling industry goes back decades and with that, its offerings are consistent across the board. Their online casino may not be as developed as others, but other features such as the early odds will give you access to the market's best prices. In fact, BookMaker sometimes offers odds weeks in advance.
You can find lines for your favorite NFL games before they are available at most of the rival online betting sites. This means competitive prices that are going to save money over the course of a long season. These early odds also attract a lot of sharp action which BookMaker does not shy away from. It's always a sign of a quality offshore casino when they welcome all players.
The loyalty program that features a three-structure tier system allows you to get even more action based on previous activity. The first tier is called the Loyalty tier before you move up to the Platinum level. The highest tier in the system is Diamond where you earn the most BetPoints which is what BookMaker calls them. This offshore casino knows how to keep customers coming back for more because all of their services are done at the highest level.
Pros:
Good reload bonuses
Juicy rewards in their loyalty program
Cons:
Bonuses not as generous as some competitors
No online poker room 
5. BetUS: Best Bonuses for Milwaukee Players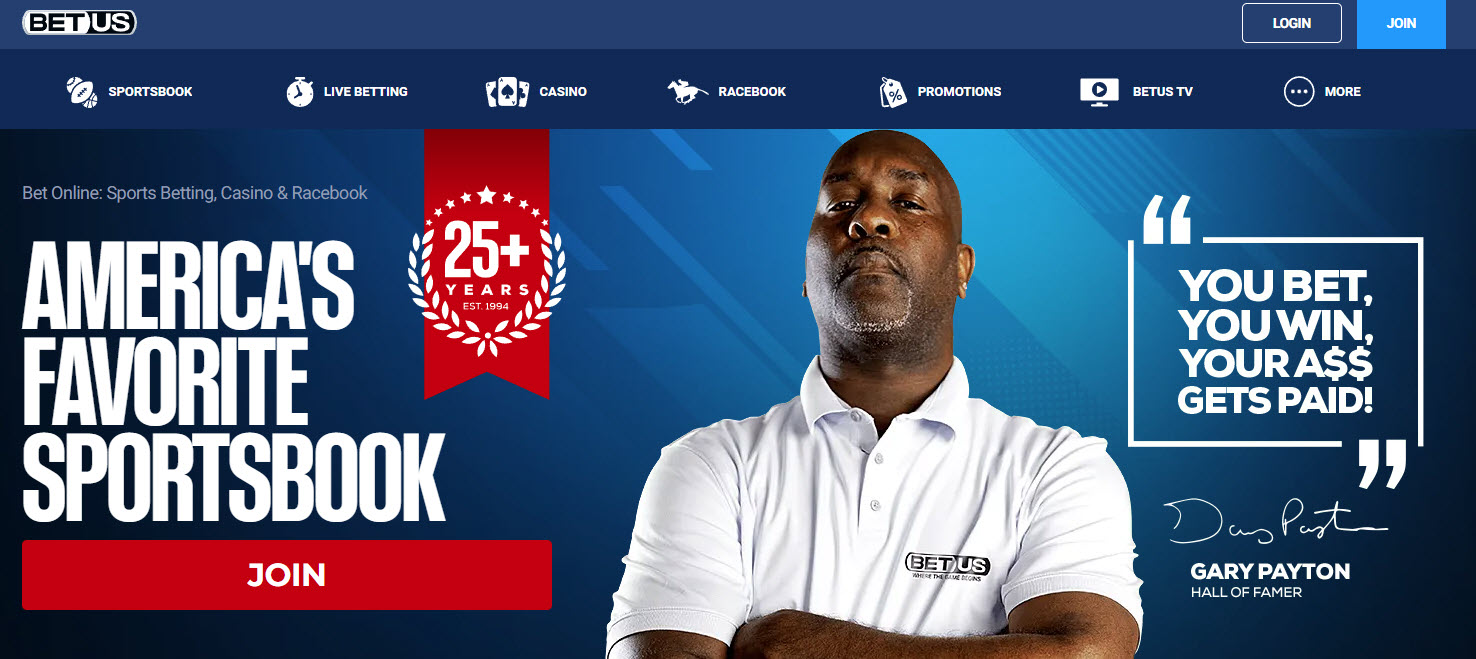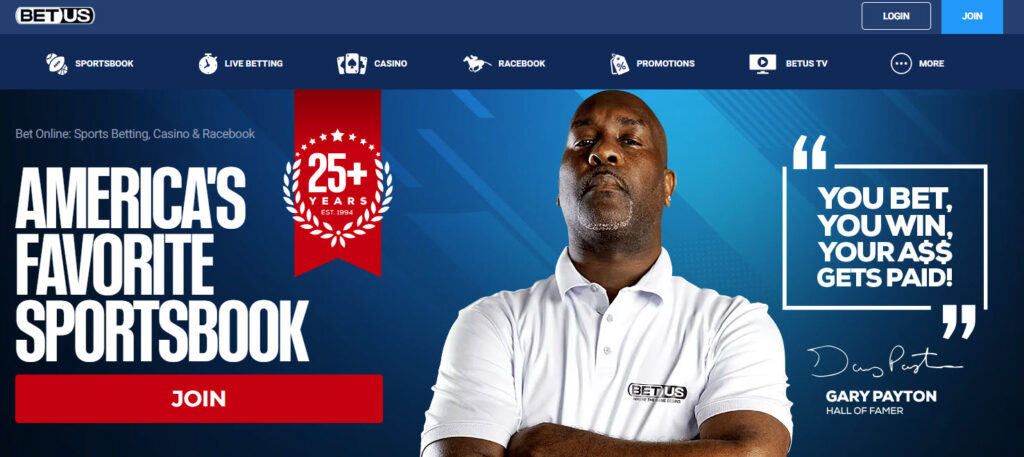 Big bonuses are what Milwaukee players love most about BetUS. Most brands simply can't compete with the quantity or the quality of the bonuses they offer. For a lot of players, this is the main reason they choose an online casino brand. As long as you read and understand the terms and conditions, you'll find a bonus with BetUS that you will like.
They even combine bonuses in between their different services which is another interesting twist to their bonus structure. There's the 125% bonus that can be used in both the casino and sportsbook as well. Most of the bonus is for the sportsbook where you get 100% up to $2,500. It comes with a ten-time playthrough. The 25% up to $625 is for casino gambling and has a thirty-time playthrough and a $2,500 max cashout.
Most online casinos in Milwaukee are making a big push toward crypto deposits. While they understand that credit cards are the most convenient way for customers to deposit, for security and efficiency, crypto is the best way to go. They have a much higher success rate and online casinos don't have to worry about making customers go through an identity verification process to make sure they are using their own cards.
BetUS incentivizes customers to deposit this way with crypto-specific bonuses. You can get a very generous 200% bonus that can be used in the sportsbook and casino. The larger portion of the bonus (150%) is for sports and the rest (50%) is for casinos. For a casino-only bonus, you can take advantage of the 250% up to $500. Casino table games are excluded from this bonus.
This is just the tip of the iceberg and if you need help navigating all these great offers and all of their services, BetUS has a great customer service team. They are on duty 24/7 and can be reached by phone, live chat or email. Ideally, you don't need to speak to anyone when playing online. If everything is going well, you can deposit directly on the website and take advantage of multiple casino game options without ever talking to an agent.
If you want that personal touch though, BetUS does offer individual account managers. As long as you're a regularly depositing player, you can be assigned an account manager that gets you bonuses, assists you with deposits and payouts and gives you general advice about things you can take advantage of as a customer.
Pros:
Elite customer service teams
Industry's best bonuses
Cons:
Higher playthrough requirements than some competitors
Gambling Laws in Milwaukee – Is gambling legal in Milwaukee?
If you're wondering about the legality of gambling in Milwaukee, you're not alone. Gambling laws in Milwaukee, and across Wisconsin, are complex and can be difficult to navigate. In general, gambling is legal in Wisconsin, but there are some restrictions that apply.
First, certain types of gambling, such as casino-style games like slot machines and table games, are only allowed in licensed tribal casinos. The state does not allow commercial casinos.
Second, there are restrictions on where other types of gambling can take place. For example, charitable gambling, such as bingo and raffles, can only be held at certain locations and under specific conditions.
For online casino gambling and sports betting in Wisconsin, you will need to use an offshore gambling site, such as one of our highest-rated sites in the casino reviews above.
History of Casino Gambling in Milwaukee
August 2019: The Potawatomi Hotel & Casino announces an $80 million expansion project that includes a new hotel tower, additional gaming space and a new restaurant.
March 2019: The Menominee Nation holds a public referendum on a proposed casino in Kenosha, but the project is rejected by Governor Tony Evers.
August 2017: The Forest County Potawatomi Community opens a new $80 million hotel at the Potawatomi Hotel & Casino.
December 2014: The Menominee Nation announces plans for an $808 million casino and entertainment complex in Kenosha, but the project faces legal and political challenges and is ultimately rejected by Governor Scott Walker.
June 2011: The Potawatomi Hotel & Casino completes a $240 million expansion that includes a new hotel, conference center and additional gaming space.
June 2008: The Ho-Chunk Nation opens the Ho-Chunk Gaming Madison, becoming the second tribal casino in the state.
May 2008: The Potawatomi Hotel & Casino breaks ground on a $240 million expansion project.
March 1994: The Potawatomi Bingo Casino opens in Milwaukee as a bingo hall and later expands to offer other forms of gaming. It is now known as the Potawatomi Hotel & Casino.
FAQs – Online & In-Person Casinos in Milwaukee
What is the best online casino in Milwaukee?
The best online casino in Milwaukee is down to personal preferences. To choose the best one for you, think about what services you value most. We asked our betting experts for their opinions and the four names that stood out were Bovada, BetOnline, Heritage Sports and BookMaker.
Will I face trouble for playing at online casinos in Milwaukee?
The offshore casinos we recommend in this guide are not located in the United States, so you will not face trouble. They do not fall under state and federal jurisdiction. Online gambling in Wisconsin has not yet been legalized.
How do I stay safe playing casino games online in Milwaukee?
The casino offerings we have covered here have a solid history when it comes to providing quick payments and resolving customer issues. The best way to stay safe playing at online casinos is to pick safe casinos in the first place. Only sign up with a site that you trust.
Are online casinos legal in Milwaukee?
There are no licensed casino sites in Milwaukee. Players in Milwaukee and the rest of Wisconsin play at offshore sportsbooks. Offshore sportsbooks have a wide range of gaming options for slot enthusiasts, card players, sports bettors and more.
Can I win real money at online casinos in Milwaukee?
You can win real money at online casinos in Milwaukee. Once you have chosen the one you feel most comfortable with, you will need to fund your account with your most trusted payment method. We recommend using crypto if possible because it is the best way to deposit and withdraw your money.
Is there a casino with slots in Milwaukee?
There is one land-based casino in Milwaukee, the Potawatomi Hotel & Casino near the downtown area. There are plenty of casino game options, including 3,000 different gaming options for slot enthusiasts.
Are there casinos in Milwaukee?
The only casino in Milwaukee is the Potawatomi Hotel & Casino. The next closest casino is the Oneida Casino in Green Bay, which also offers legal sports betting.
Maverick Carter, LeBron James' manager, admitted to making 20 illegal bets on the NBA with Wayne Nix, a former minor league pitcher. The extensive investigation uncovers connections between Nix and sports figures, with Carter clarifying his involvement and denying any charges. Yasiel Puig faces trial in January.

---