Online Gambling in Ohio – Legal at OH Gambling Sites?
Shawn West has been involved with college basketball, NFL and college football and MLB since he left his job as bank vice president two decades ago. He lives in North Carolina with his wife, children, two dachshunds and a variety of turtles.
With the start of 2023, the gambling market in Ohio took a step forward after the local sports betting market went live. However, other forms of gambling like online poker or online casinos are still unregulated.
Nonetheless, Ohio gamblers have plenty of options available to them when it comes to online casino sites.
The number of online betting sites that are willing to take action from Ohio residents can be overwhelming. It can be tough to figure out how to tell them apart and choose which one is the best to trust with your money online.
That's where we come in. We've looked at dozens and dozens of online gambling sites and evaluated them to come up with our top 10 most recommended options. The best sites in Ohio have a wide range of gambling platforms, including sportsbooks, racebooks, casino games, and online poker.
The online sports betting sites we round up have years of experience and are trusted and dependable, giving you an environment to enjoy multiple types of gambling, knowing that your money is safe and your personal information is secure.
We evaluated the various offshore sportsbooks on a number of different factors, and we go through the top-rated sites on our list in detail, explaining what they do well and where they might not be as impressive. We'll also take a look at gambling regulations in Ohio—what's legal and what's changing in the future thanks to the new sports betting law, and more.
The Best Ohio Sportsbooks in 2023
Ohio Betting Guides
If you're interested in the best Ohio betting sites or how to enjoy Ohio State's various gambling markets, we suggest giving one of our other comprehensive online betting guides a read.
Best Ohio Online Gambling Sites 2023
We present our rankings of the 10 best online betting sites in Ohio. Each of the sites on our list below is experienced and dependable with trusted reputations for secure wagering.
They offer a wide variety of betting markets, including teasers, props, live betting. Many also feature casino games, poker, and a racebook.
Each of the gambling sites in our top 10 is located offshore. That means they are outside the jurisdiction of U.S. federal law and state regulations on gambling. So, even though online gambling may not be legal for companies located in Ohio, it's perfectly legal to use these sites to play real-money casino games. They've been in operation for years, many of them for decades, and they've each built a reputation.
Online poker and casino games are still prohibited, even now that sports gambling has been legalized. That means that gamblers in Ohio will need to continue using offshore sportsbooks for a full array of gambling options.
The Best Ohio Sportsbooks Reviewed
Below we go through each of the sites in our top 10 in detail, to explain what they do well and what we found faults with.
1. Bookmaker: Top Overall Online Gambling Site in OH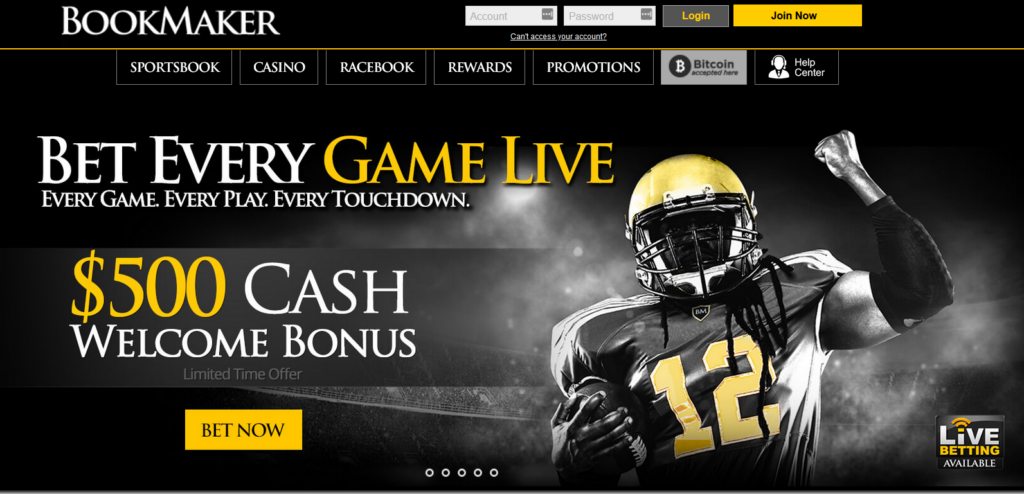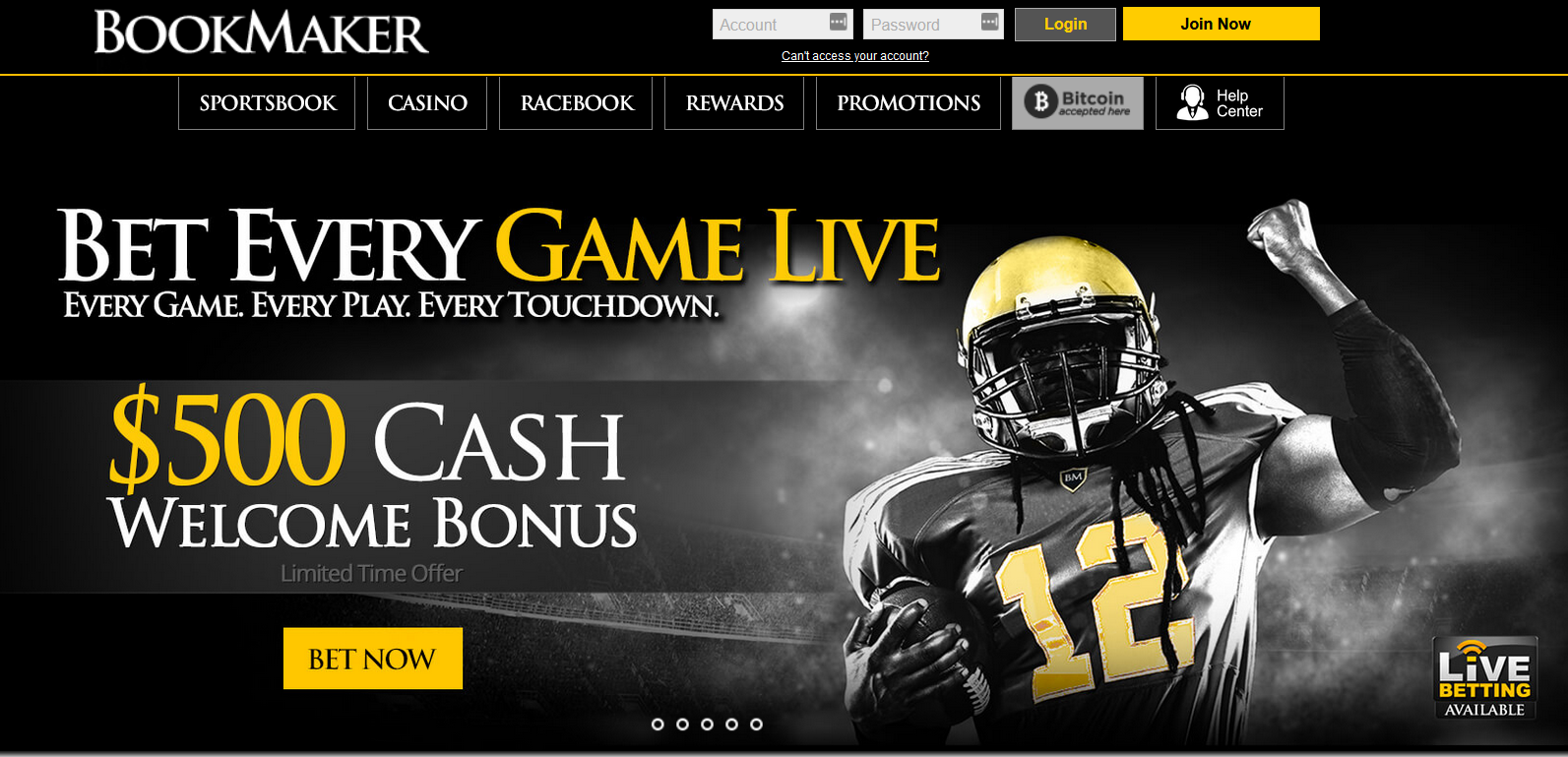 Bookmaker.eu gets the nod from our team of experts as the best all-around online gambling site in Ohio. It appeals to gamblers of all skill levels, experience levels, and appetites for risk. Professional gamblers will like the fact that Bookmaker has some of the highest limits in the state and releases its lines earlier than most of the competitors.
Newcomers will benefit from the user-friendly interface that makes it easy to navigate and place a bet, even if you haven't done it before. They'll also like the low minimum limits for betting. The only drawback is the lack of online poker rooms. However, the online casino is outstanding and fully optimized for mobile betting
Bookmaker features flexible promos and a loyalty program based on a points system that rewards loyal customers who can earn bonuses and other special prizes.
Pros: 
The earliest to release lines and odds
Appeals to experienced pros and new bettors 
Loyalty program and bonuses earn praise
Limits are high and minimum bets are low 
Cons: 
Professionals can't use the loyalty program
Doesn't have an online poker room 
2. Bovada: Best for Prop Betting and Online Poker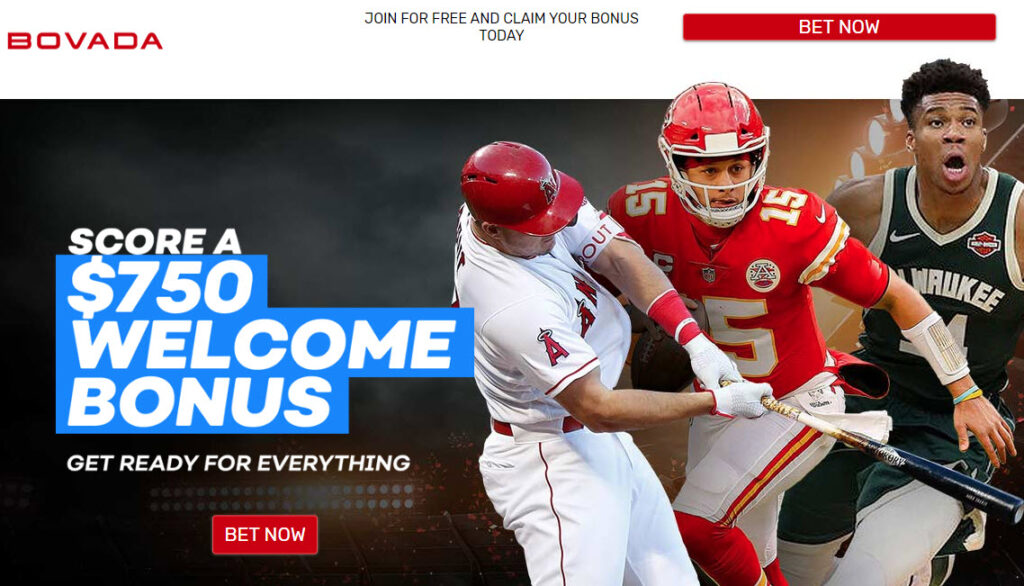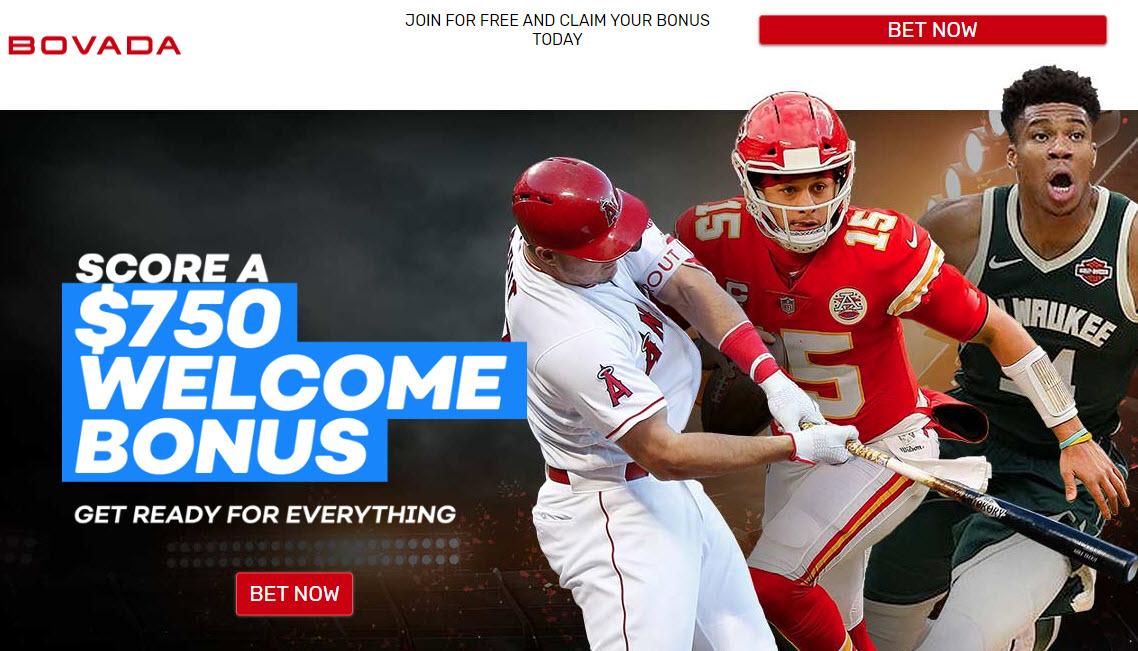 Bovada has been around for about 10 years, relatively young considering some of the sites in our top 10 started in the early 1990s. Over that time, however, it's built a large following of rabidly loyal customers.
There are plenty of reasons for the loyalty they inspire. Bovada has outstanding software that works well, regardless of whether you're using a mobile device or the full-blown site on a computer. It gives you a smooth, stylish user experience, and it's easy to win money at Bovada, with a wide array of prop bets, including some that are extremely low-risk, basically luring you in with some nearly free winnings.
Bovada offers casino games, a racebook, and the busiest poker room in America, in addition to a world-class sportsbook. Bovada is also home to some of the juiciest welcome bonuses in the industry, however, they tend to have high rollover requirements.
Pros: 
More prop bets than anyone else 
America's busiest poker room
Mobile platform is as good as the full site
Large online casino with wide variety of games 
Cons: 
Limits are lower than at some competitors
Doesn't release lines and odds as early as other sites
3. BetOnline: Offers Opinionated Lines in Ohio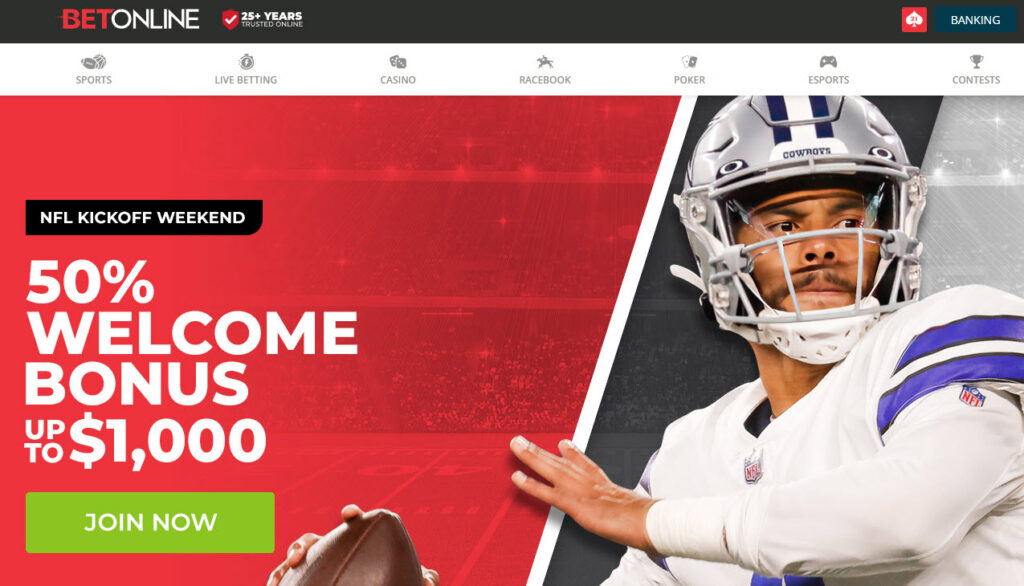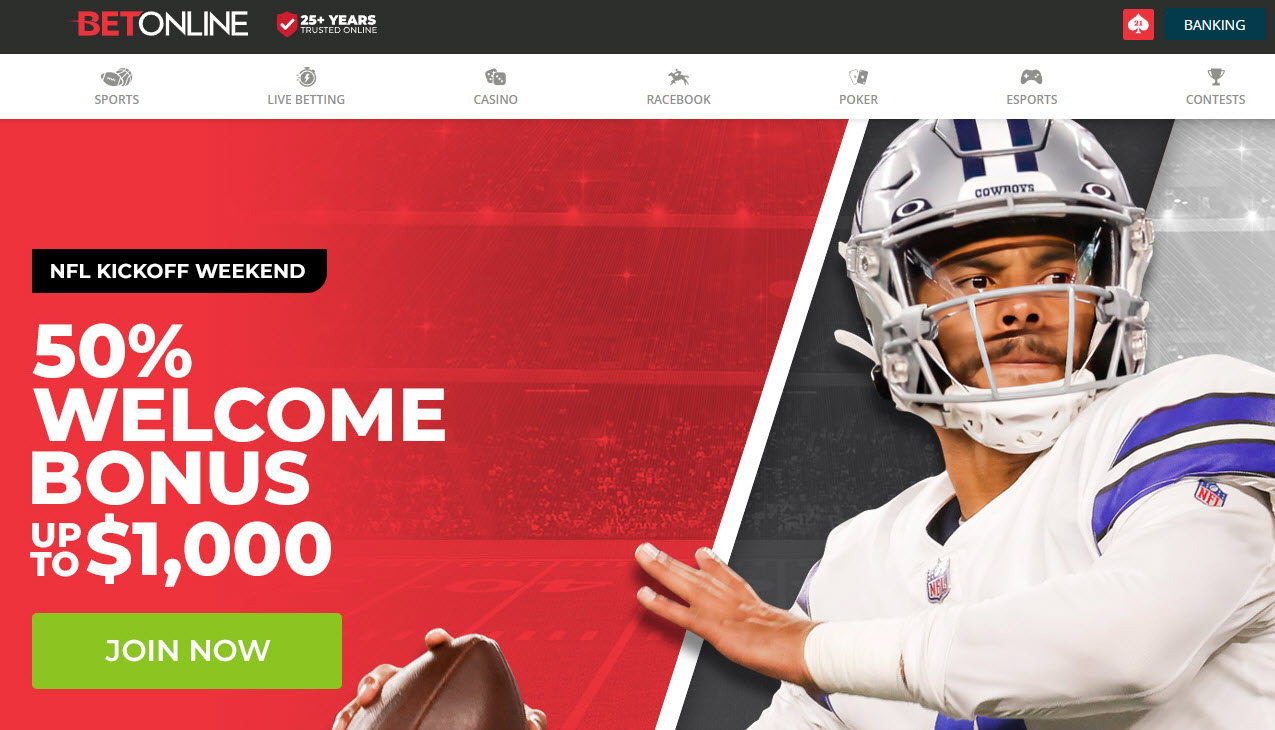 BetOnline is another site that appeals to gamblers of all experience levels. Pros will be comfortable with the high limits and will try to take advantage of BetOnline's betting odds and their opinionated lines on select sporting events.
Newcomers will find the site easy to use and will browse the large menu of sports betting options available. BetOnline is also known to offer more novelty markets than other competitors so if you are interested in betting on politics, the Oscars, or other mainstream events, you can do so here.
People of all experience levels will appreciate that BetOnline is one of the quickest sites to pay out in Ohio. The customer service, should you need it, is also very professional and responsive to your needs. Their mobile software is one of the best, allowing them to offer an outstanding online casino as well as poker rooms on the go.
Pros: 
Huge sports betting menu, including opinionated lines
You won't find a faster payout 
Betting limits are very high
Customer service and user interface are world-class 
Cons: 
Charges fee on some types of withdrawals
Poker room has generated complaints from some users 
4. Heritage Sports: Great for Live Gambling in OH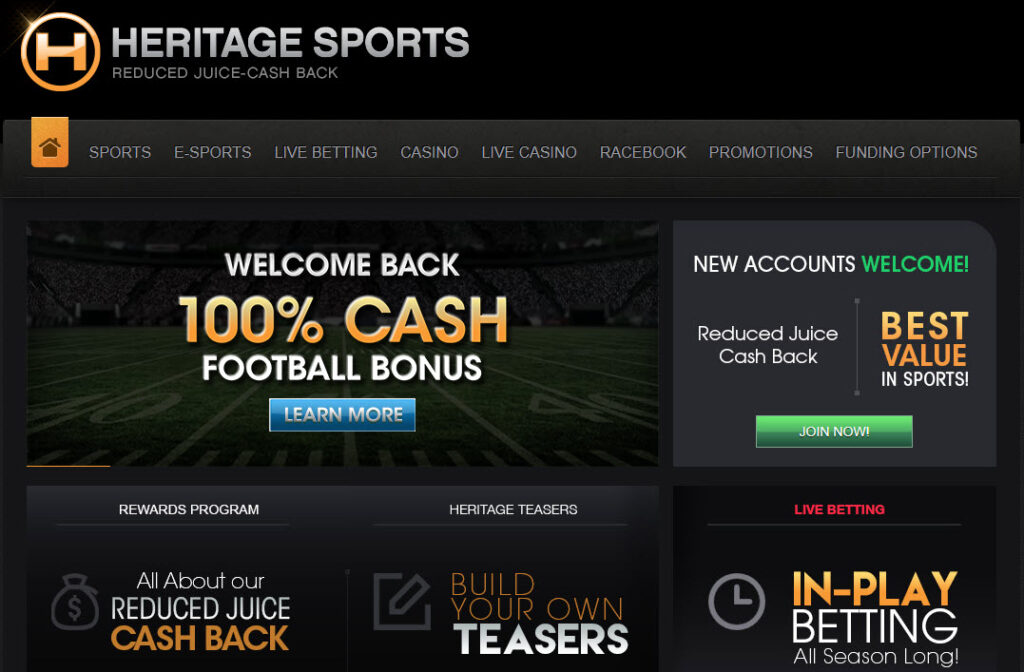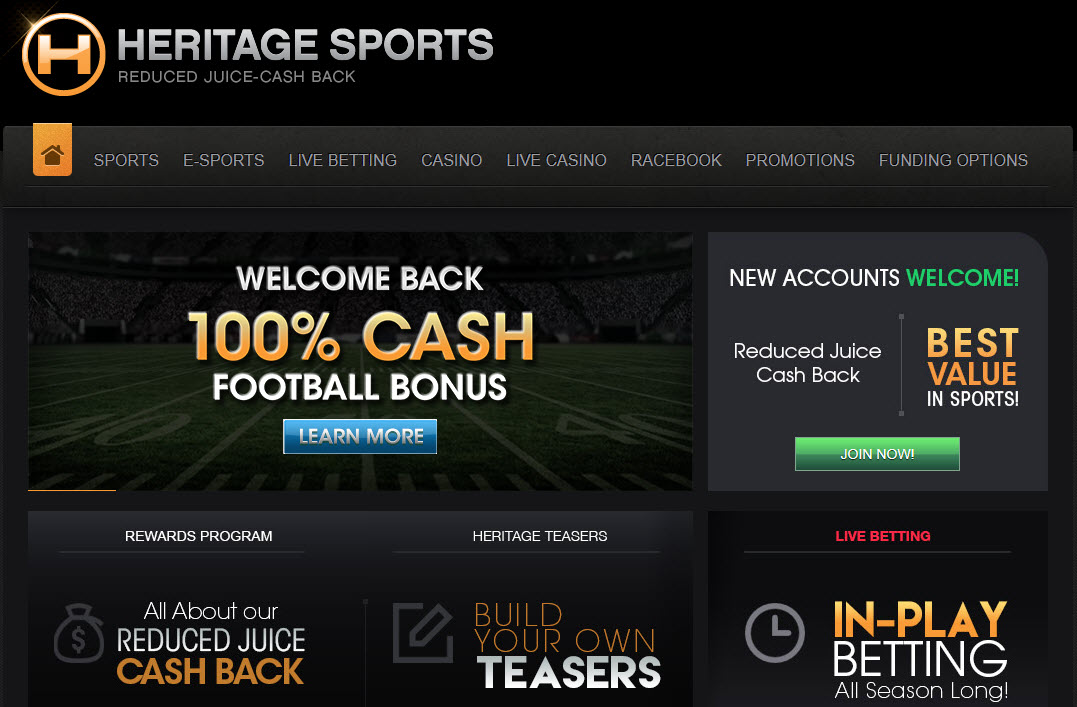 More and more gamblers are participating in live betting on sporting events while they're in progress, rather than just putting in a bet on the outcome before it starts.
Heritage Sports is a good choice if you plan to do a lot of live betting. It has a user-friendly live-betting interface that makes it easy to find the bets you want to make and get your money down quickly.
That's important when you're trying to place a bet as the action is going on. On top of that, users will also be able to access an online casino fully optimized for mobile betting, including games with live dealers.
Heritage Sports also offers several promotions like a rebate program and is known for its quick payouts when you win. They also boast an outstanding customer service team.
Pros: 
Live betting interface is best in Ohio
Cash back rebate program for loyal customers
Offers reduced juice lines on sporting events
Quick payouts in full 
Cons: 
Smaller welcome bonuses than other sites
Doesn't feature an online poker room 
5. BetAnySports: Best in OH for Reduced Juice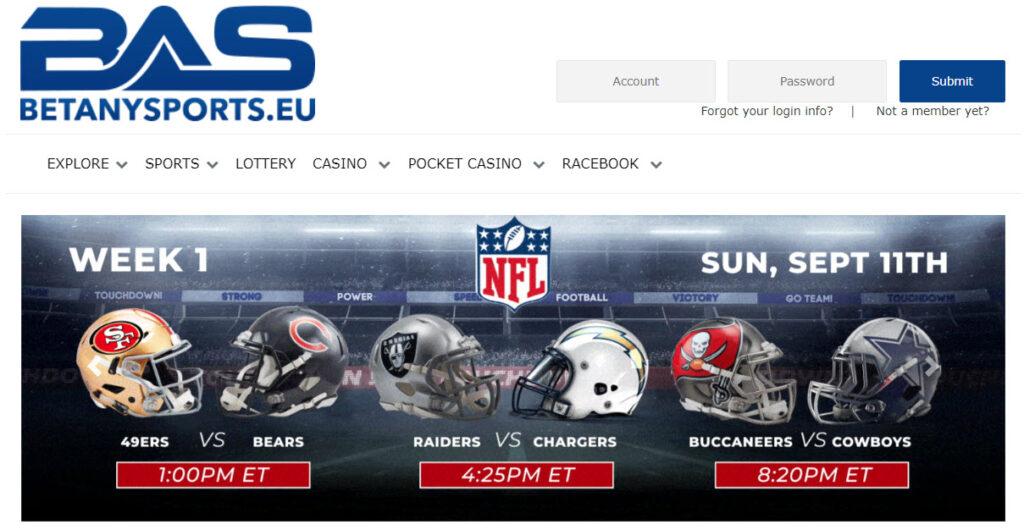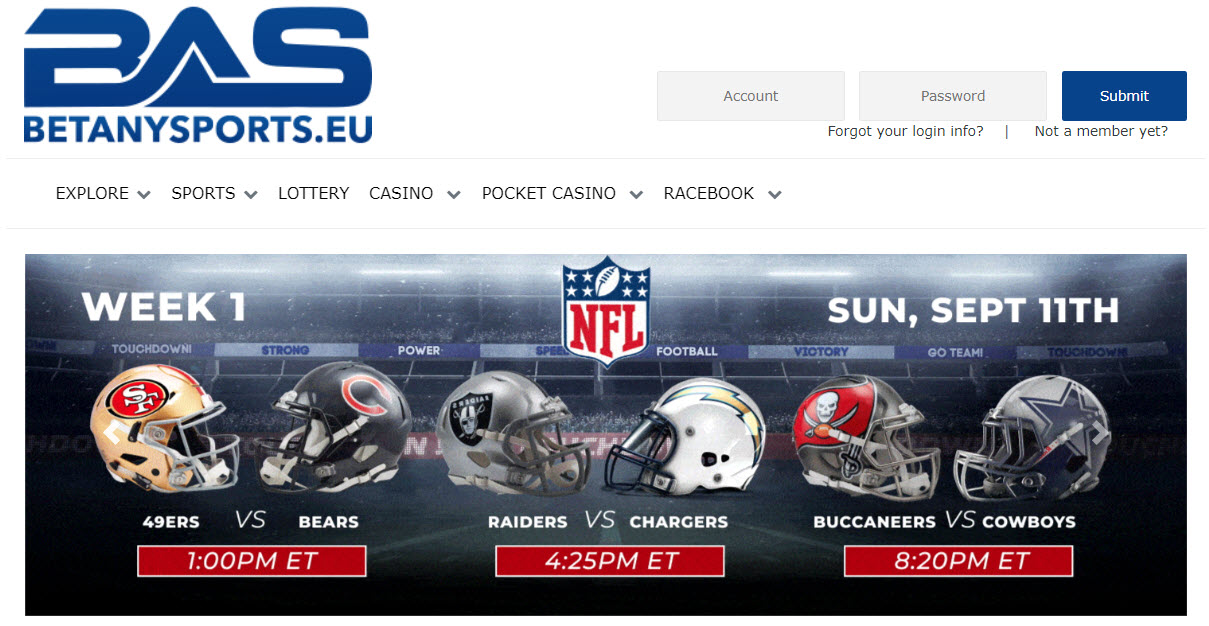 If you're looking for value, BetAnySports is probably the online gambling site for you. Their reduced juice is more generous than any other site in Ohio.
Instead of offering the standard -110 odds on either side of a point spread or over/under total, BetAnySports offers -105. That means the edge you need to turn a profit shrinks from about 53% for standard juice to about 51.5% at BetAnySports.
It also offers an extremely low house edge on moneyline bets and many other markets, making it still easier to cash in.
In order to provide this value to customers, BetAnySports eliminates some of the frills. Is user interface isn't as slick as other sites, and welcome bonuses are smaller.
Pros: 
Reduced juice is the best in Ohio, making it easier to profit 
Odds on moneylines, props, and futures are generous as well 
Payouts are fast, reliable, and easy 
Live betting platform is user friendly 
Cons: 
Interface isn't as stylish and smooth as other sites
Small welcome bonus compared to others
6. BetUS: Biggest Bonuses in Ohio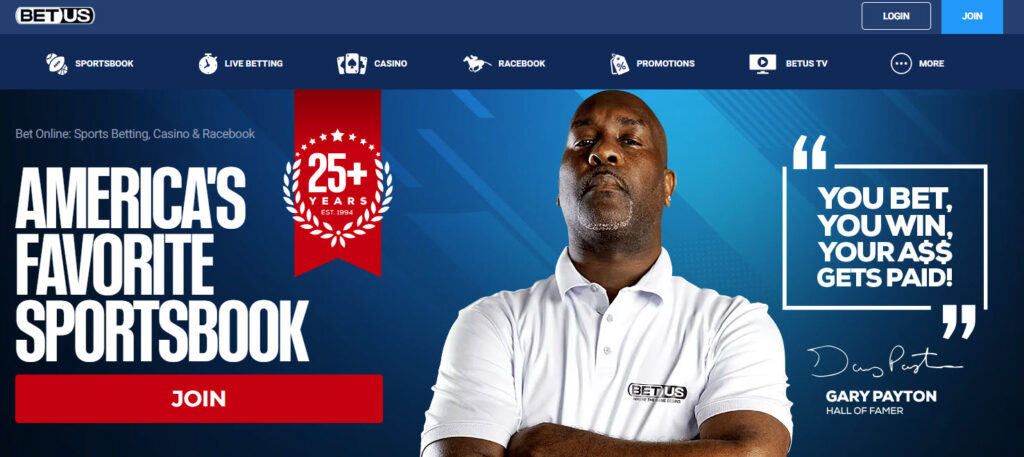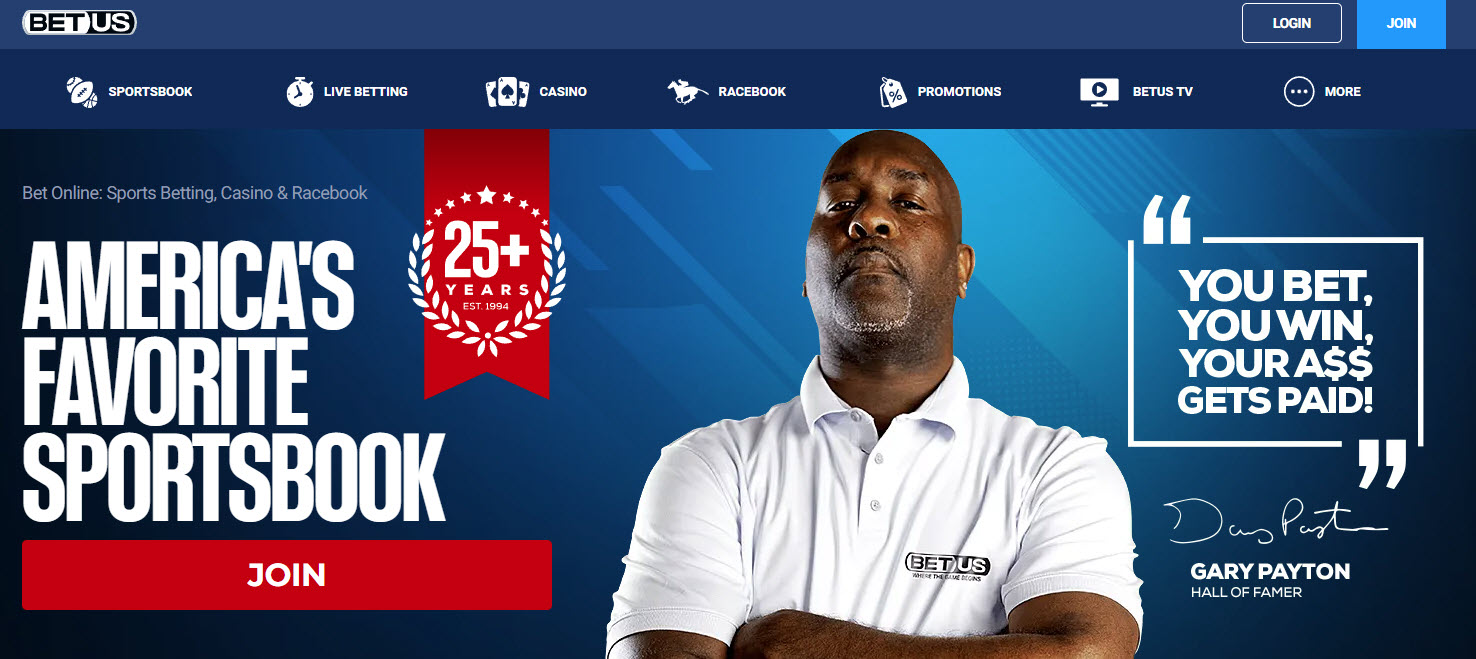 If you're looking for bonus funds, you're going to be happy with BetUS. They're traditionally the most generous site in Ohio when it comes to rewarding new and existing customers. Currently, new customers can more than double their money just for opening an account. BetUS is matching your first deposit at 125%, up to $2,500 at the sportsbook and $625 at the casino. Both bonuses have rollover requirements, but you're still deep in the black before you place your first bet.
BetUS also has reload bonuses and ongoing promotions for existing customers, as well as a VIP service. It has also embraced video more than other sites, featuring BetUS TV with previews and analysis of upcoming events.
Pros: 
Consistently has largest welcome bonuses in Ohio
Video previews and analysis on BetUS TV 
VIP program and reload bonuses for existing customers
Comprehensive esports betting area 
Cons: 
Bonuses have steep rollover requirements
Doesn't release lines and odds as early as other sites 
7. WagerWeb: Most Dependable Site in Ohio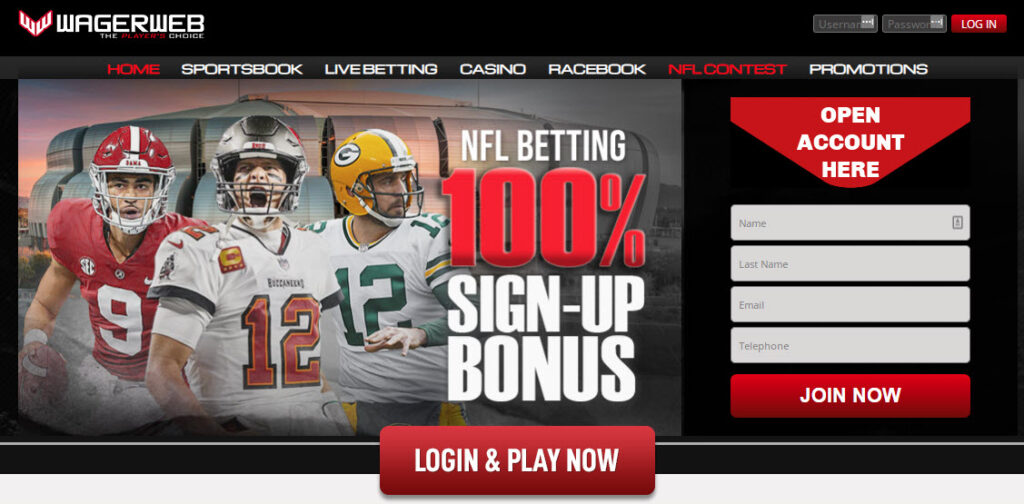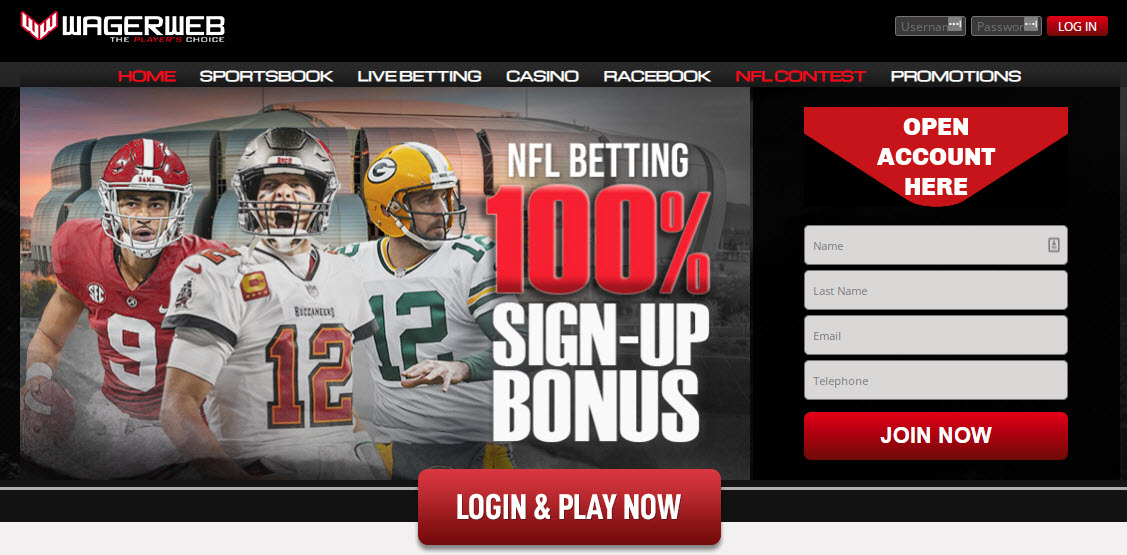 WagerWeb has been around since 1994. In a state where sports betting is about to become legal, and more than 3.000 companies are lining up to be the first to get licenses to begin taking bets in Ohio, it's important to find someone who has done this before. And WagerWeb has done it longer than just about anyone. They have three decades of dependable play and on-time payouts and will be an island of stability in the chaos of all the newcomers to the state.
WagerWeb offers reduced juice lines and a variety of different bonuses, many with relatively low rollover requirements. It has a racebook and online casino, which both offer rebates, in addition to the sportsbook.
Pros: 
Reduced juice lines in sportsbook 
Bonuses are high with low rollover requirements
Long history of dependable payouts
Rebate programs
Cons: 
Free withdrawals limited to one per month
Lower betting limits than many competitors 
8. JustBet: Ohio's Diamond in the Rough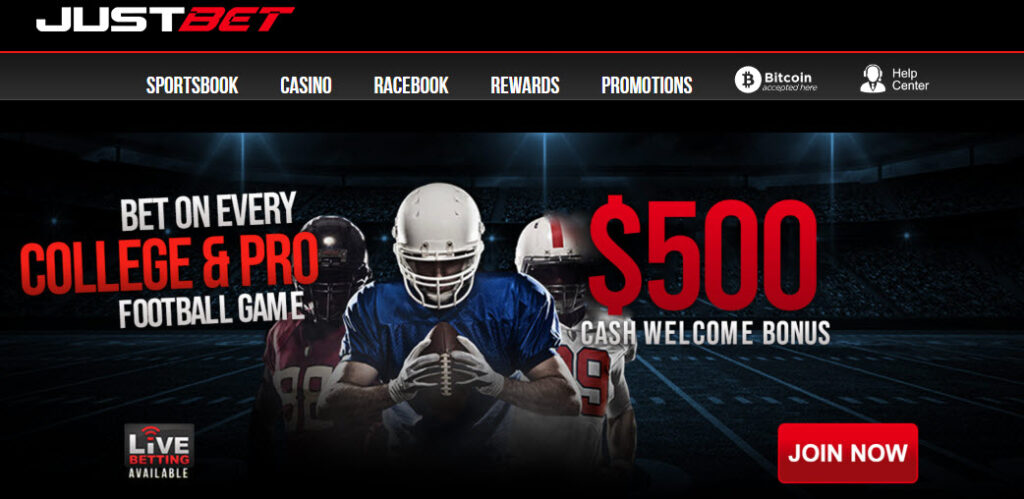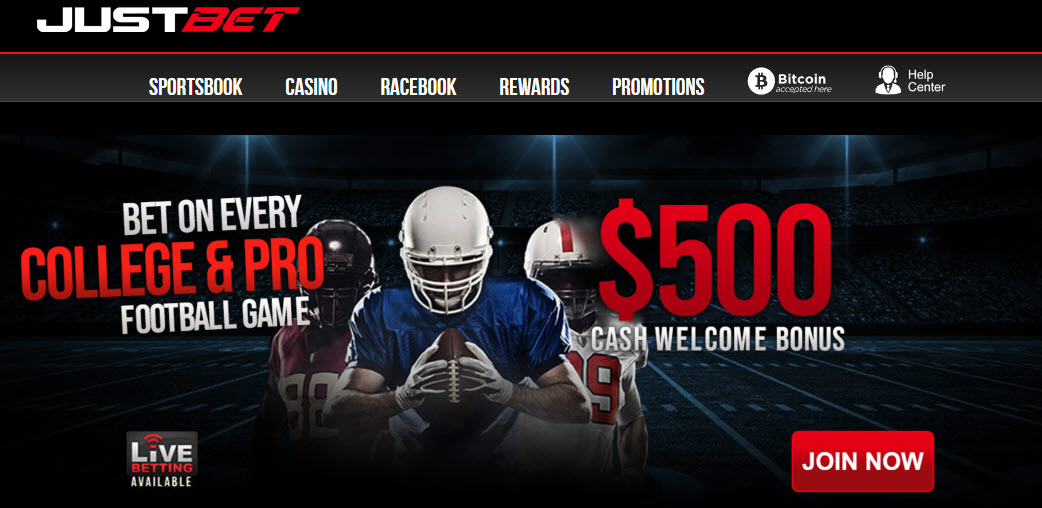 JustBet doesn't have the name recognition of some of the other sites on our Top 10, but it may be the most underrated online gambling site in Ohio. It is a sister site of Bookmaker.eu, which finished at the very top of our rankings, and it shares many of the same characteristics.
JustBet is easy to use, has high limits, and posts its lines earlier than most other sites. It also has a well-developed live betting interface with pages that load quickly, and it's easy to navigate the betting slip, allowing you to bet on in-progress events, where time is a factor. It also offers a welcome bonus of up to $500.
Pros: 
Top live betting platform
Many of the benefits of top-rated Bookmaker 
High limits, early lines
$500 welcome bonus
Cons: 
Rollover requirements on bonus money are high
No online poker room 
9. Everygame: Best Mobile Casino Games in OH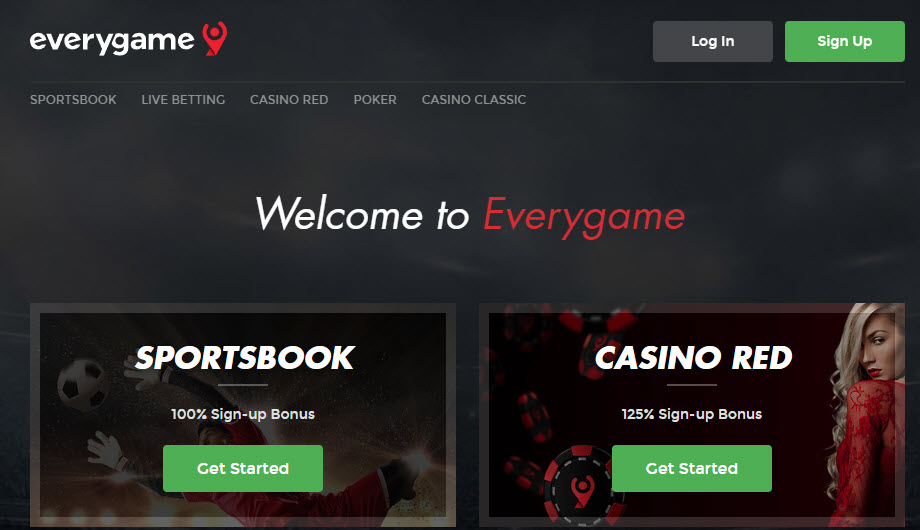 Everygame has the honor of being the oldest online sportsbook in the world. It began its life as Intertops and was recently rebranded, but it has a long history of stable, dependable gambling and payouts.
Old doesn't mean outdated, however. The site has been rebranded and updated over the years and, in fact, has one of the best mobile platforms in the state, particularly for its casino games. Everygame has more casino game options than any other site in the state, and it seamlessly transfers from the full site on a computer to your mobile device.
Everygame also has a wide menu of sports betting options, including more games and events from around the world than anyone else.
Pros: 
Long-earned reputation for dependability
More games and sports from around the world than anyone else 
Mobile interface is the best in Ohio for casino gaming
Online poker room 
Cons: 
Delays sometimes crop up in account verification
Small bonuses compared to other sites
10. GTbets: Best Home Team Advantage in OH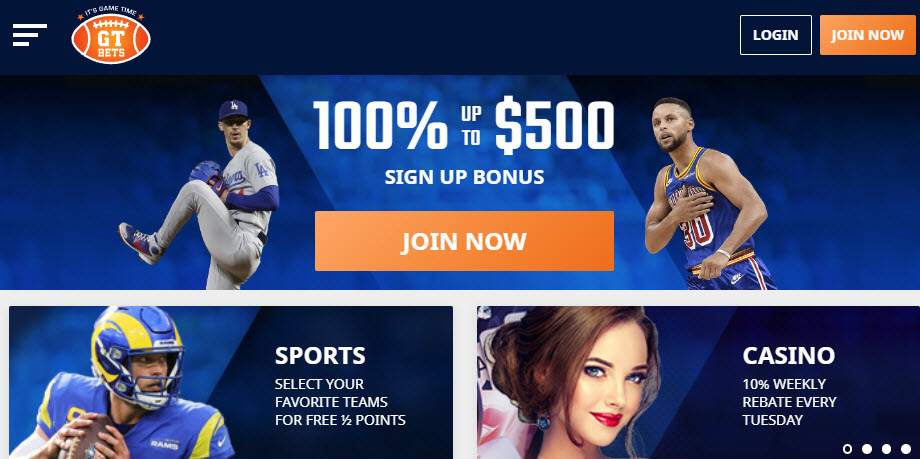 GTbets has one of the most creative features in the state of Ohio. If you register your favorite teams in a variety of sports, GTbets will reward you when you bet on games involving them.
The favorite team feature gives you an extra half point in your team's direction on the point spread. So if you root for the Bengals, and they're favored by three points in a game you can bet them at -2.5.
The site also offers a big welcome bonus, currently set at $300 and has reduced juice on college and pro football games. It also has better moneyline odds than many competitors.
Pros: 
Welcome bonuses are very generous
Reduced juice on football, both NFL and college
Favorite team feature gives you a reward for betting your heart
24/7 customer service 
Cons: 
Withdrawal fees are frustrating
High rollover requirements on bonus money 
Ohio Online Gambling – The Top Online Casino Sites Compared
We have full reviews of each site in our top 10. The table below summarizes some information you'll want to know about each site, including a link to the full-blown analysis of each site.
| Sportsbook | Rating | Online Since | Payment Methods | Read Review |
| --- | --- | --- | --- | --- |
| Bookmaker | A+ | 1996 | Credit Card, Bitcoin, P2P, Crypto | Bookmaker Review |
| Bovada | A+ | 2011 | Credit Card, Bitcoin | Bovada Review |
| BetOnline | A+ | 2001 | Credit Card, Bitcoin, Crypto, Cashiers Check, Bank Transfer, P2P | BetOnline Review |
| Heritage Sports | A+ | 2001 | Credit Card, Bitcoin, Cashiers Check, Bank Transfer, P2P | Heritage Sports Review |
| BetAnySports | A+ | 2002 | Credit Card, Bitcoin, Electronic Check | BetAnySports Review |
| BetUS | A | 2000 | Credit Card, Bitcoin, Bank Transfer, P2P | BetUS Review |
| WagerWeb | A | 1994 | Credit Card, Bitcoin, Cashiers Check, Bank Transfer, P2P | WagerWeb Review |
| JustBet | A | 2000 | Credit Card, Bitcoin, P2P, Crypto | JustBet Review |
| Everygame | A | 1996 | Credit Card, Bitcoin, Skrill, Neteller, Bank Transfer, P2P | Everygame Review |
| GTbets | A | 2011 | Credit Card, Bitcoin, Crypto | GTbets Review |
Above you can see that Bookmaker.eu, Bovada, BetOnline and Heritage Sports have all earned an A+-rating from our industry experts.
Online Gambling in Ohio: Legal Status
Our readers ask us all the time: Is online gambling legal in Ohio? The short answer is "it depends". It depends on what you want to bet on, for one thing.
Betting on horse racing has been legal in Ohio since 1933, and there are a number of racing betting sites that operate in the state. The state also passed a law legalizing casino gambling in person in 2009, and four land-based casinos began operating within the state within three years.
Other types of gambling, such as online casino games and online poker, however, are still illegal under state law. This is why players turn to offshore sites for online slots, table games, poker tournaments, and more.
As for sports gambling, well, that depends too—on what the date is. Currently, the Ohio sports betting law says it's still illegal. A pivotal piece of sports betting legislation was passed at the end of 2021 legalizing sports betting in the state, but it doesn't go into effect until January 1, 2023.
The state took all of 2022 to prepare for the advent of legal sports gambling by enacting rules and distributing licenses to proprietors. That process is still ongoing, and more than 3,000 companies have applied for the 50 gaming licenses the state plans to give out initially.
Throughout the whole process, betting with offshore sportsbooks, which are not under the jurisdiction of local laws, was still legal for Ohio residents and will continue to remain so.
Online Sports Betting in Ohio
Under the new Ohio sports betting bill, the state will distribute 25 in-person gaming licenses for sports betting—to tracks, casinos, and arenas.
Another 25 mobile licenses will be given out, for online sports betting apps. Each in-person proprietor can partner with up to two mobile providers. Not all the licenses are expected to be distributed in time for the law to go live at the start of 2023, and everyone with a license is not expected to be ready to go on that date.
There will also be sports betting licenses distributed that cover sports betting kiosks, which can be found throughout larger cities like Cincinnati, in bars and restaurants.
Offshore Gambling
As you can tell, there is a crowded scene as horse racing venues, commercial casinos, and professional sports teams line up to try to get in on the sports betting game. Some of the licenses will go to establishing gambling proprietors, but other newcomers to the scene will be learning as they go, and the early days of legal gambling in the state promise to be chaotic.
Until in-state gambling goes live in January, anyone in Ohio wanting to bet on sports will need to rely on offshore sportsbooks, and those sites aren't going anywhere.
They may want to avoid the madness of everyone starting from square one within the state and stick with the offshore companies, who will be operating business as usual, as they have for years.
Payments at an Online Gambling Site in Ohio
Most online betting sites offer a variety of ways to deposit funds in your gambling account. Payment methods for Ohio residents include
Credit and debit cards (Visa, MasterCard, Discover, American Express)
Bank transfer, wire transfer, P2P transfer
Digital wallet providers like Skrill and Neteller
Bitcoin, Bitcoin Cash, Ethereum, and other cryptocurrencies
Since offshore sportsbooks are located outside U.S. borders, there may be additional fees or charges for sending money overseas, and the process could experience delays as your money crosses national borders.
Many gamblers at offshore sites have turned to cryptocurrency, which is designed to easily and seamlessly cross national borders.
Many of these sites offer another way to get in on the casino game action using crypto, including Bitcoin, Litecoin, Bitcoin Cash, Ethereum, and others, many sites offer same-day payouts.
Online Gambling Laws in Ohio
The gambling laws in Ohio are in a period of flux as the state is making its first major change to sanctioned gambling options in nearly 90 years.
The Ohio Casino Control Commission painstakingly laid out the regulatory framework, and now the launch of legal sports betting in the Buckeye State is just a few months away.
It was a long road, though. Since 1933, horse racing was the only legal gambling available to Ohioans. Horse racing tracks have been taking wagers since as early as the 1800s.
Now, starting at the beginning of 2023, it will be legal to bet on sports in Ohio. State officials have spent the year preparing for sports gaming to go live, and companies are scrambling to get ready to meet the needs of Ohioans waiting to place bets at in-state companies.
Timeline of Ohio Gaming Laws
1933: Ohio legalizes pari-mutuel betting on horse racing.
1992: PASPA (Professional and Amateur Sports Protection Act), a federal law banning commercial gambling on sports in every state except Nevada, is passed.
2009: Ohio legalizes in-person casino gambling. Four casinos had opened by the year 2012.
2018: In Murphy vs. NCAA, the U.S. Supreme Court ruled that PASPA was unconstitutional, opening the door for states to decide whether to legalize gambling on sports.
2019: State senator John Eklund proposes SB111, which would regulate sports wagering in Ohio.
2020: The state legislature closes its final session of the year without voting on SB111, essentially leaving it to die without approval.
2021: HB29 is passed after negotiation. The Ohio state senate approved one bill, which was then amended and replaced. The law was approved on December 8 and signed by the governor, Mike DeWine, on December 22.
2022: Ohio begins setting rules for sports betting, passing the first set in January, followed by one in March. The state begins accepting applications from companies wishing to offer sports betting. Officials expect to receive 3,000 applications. The first proprietors' licenses are granted. Up to 50 could be approved, 25 in person and 25 mobile, although all are not expected to be ready for Jan. 1, 2023. 
Advantages of Offshore Gambling Sites in Ohio
As long as you're 18 years old and physically located in Ohio, you can bet online in Ohio using offshore sportsbooks. There are many benefits to using these online betting sites in Ohio, including:
More Gambling Options
Ohio is legalizing one form of betting at a time, and it's taken them 90 years to get to two—horse racing and sports. Offshore sites give gamblers a wide variety of betting markets. You can bet on just about any game or match of any sport, around the world, from football to darts to rugby to snooker and all other types of sports betting.
You can also bet in a number of ways, including point spreads, moneylines, point totals, prop bets, and live betting for in-progress events. Offshore sites also offer online casino games, online poker rooms, racebooks, entertainment, and political betting as well as esports in addition to the most popular sports.
Less Hassle and More Privacy
You can bet from anywhere, and, with every site in our top 10 offerings some type of app or mobile-optimized site, you can bet from your phone literally anyplace that has service, and you'll have all the benefits of in-person betting without having to go anywhere.
Our top-rated sites are also completely secure. You can also play in complete privacy. No one will have access to your information.
Online Casino Bonuses Codes & Promo Codes
All the online gambling sites want your business, and they're willing to pay. Every site offers promotions, bonuses, and other perks to bring you in and keep you betting. Among the bonuses and other promotions you'll find at online sportsbooks are:
Welcome bonuses
Deposit matching
Reload bonuses
Free bets & bonus bets
Risk-free bets
Rebates and cash back
Odds boosts, profit boosts, and parlay boosts
Reduced juice
Loyalty programs
Ohio Gambling Online – Conclusion
Ohio has in-state providers of online racebooks and soon online sportsbooks will join them. Residents can also use offshore sportsbooks for online gambling—racebook, sportsbook, casino games, and poker. Our top 10 sites in Ohio are the best offshore sites, that have decades of dependable, stable operation.
FAQs Online Gambling in Ohio: Is it legal?
What is the legal gambling age in Ohio?
Residents of Ohio must be 18 years old to gamble legally in Ohio. For retail casinos and other retail locations where alcoholic beverages are served, you will need to be 21 to enter.
Can I gamble online if I live in Ohio?
Residents of Ohio can gamble online, either by betting at an Ohio gambling provider or an offshore sportsbook. In-state providers only offer horse racing bets and sports betting since the launch of sports betting in January of 2023. Online betting sites have a full range of gambling options.
Can you gamble for real money online in Ohio?
You can gamble for real money online as a resident of Ohio State depending on the gambling market in question. For online sports betting and betting on horse races, you can enjoy this online with state-regulated online sportsbooks. However, for online casino gambling, you will need to use an offshore site to legally gamble.
Is any online gambling legal in Ohio?
Residents of Ohio can bet on horse racing. As of January 1, 2023, they can also enjoy online wagering on sports. Online poker and online casino games with a regulated online casino is currently not available and there do not appear to be any plans to change that in the near term. However, you can use an offshore casino or offshore mobile gambling app to enjoy casino-style gambling.
What site can I gamble on in Ohio?
You can enjoy online wagering with any legal state-regulated sportsbook or offshore sportsbook in Ohio State. Offshore sportsbooks offer more betting markets than regulated sportsbooks, however.
What app can I gamble on in Ohio?
Sports fans and sports bettors can use popular mobile sports betting apps or mobile sportsbook sites like DraftKings Sportsbook, Caesars Sportsbook or FanDuel Sportsbook (in addition to other sportsbook apps) for mobile sports betting or to enjoy Daily Fantasy Sports.

For other markets, such as casino gambling (including dealer games and slot machines), you will need to use offshore sportsbook apps or a mobile-optimized casino site.