Alabama Horse Racing Betting – The Best Racebooks in Alabama 2023 Compared
The best way to bet on horses is with Alabama sports betting sites, as in-person options are very limited in the state. In fact, gambling of any kind is quite restricted in Alabama which is why most residents gamble via these online betting sites. There isn't even a state lottery in Alabama, so it should be no surprise that Alabama horse racing betting doesn't have many in-state options.
Alabama has an odd history of horse racing and gambling. Pari-mutuel betting was legalized in 1973 when Greenetrack Dog Track was opened. The first thoroughbred pari-mutuel facility opened in 1987, which is very recent when compared to most other states. As of today, there are no horse racing tracks in Alabama but this is one of the few states where you can still find a greyhound racing operator. The dog track, located on the outskirts of Birmingham, does provide simulcasts of thoroughbred racing.
Luckily for Alabama residents, offshore sites provide a plethora of online horse racing betting options from some of the most popular tracks around the country. In this guide, we will provide insight as to what makes these online sportsbooks the best option for wagering on horse racing in Alabama.
Best Sportsbooks in Alabama for 2023
Alabama Betting Guides
If you want to learn more about the betting markets available in Alabama, we suggest reading one of our other Alabama betting guides for bettors.
Top 10 Horse Racing Betting Sites in Alabama Ranked
Here are the top ten sites for horse racing betting according to our experts:
These sites are located offshore and provide Alabama horse racing bettors with several gambling services in one account. We will focus on what they offer in terms of horse racing, but it's impossible to ignore that they also offer sports, casino gaming and online poker as well. It's one of the reasons Alabama bettors enjoy their experience playing at offshore sportsbooks so much. With so many forms of gambling to choose from, you can bet on horses and still enjoy the full casino experience on the go or from the comfort of your home.
Our betting experts will also reveal the rating criteria they've used later on in this guide for transparency. In addition to the summaries we've provided for each site, we will also include a link with more in-depth reviews. There, you will have access to all ten brands, in addition to 100+ ratings of sites that we recommend and those we advise you to stay away from. They're all ranked from A+ to F, so you will know which ones you can trust and those you should avoid at all costs.
Reviewing the Best Alabama Horse Racing Betting Sites
1. Bookmaker: Racebook Has Great Deals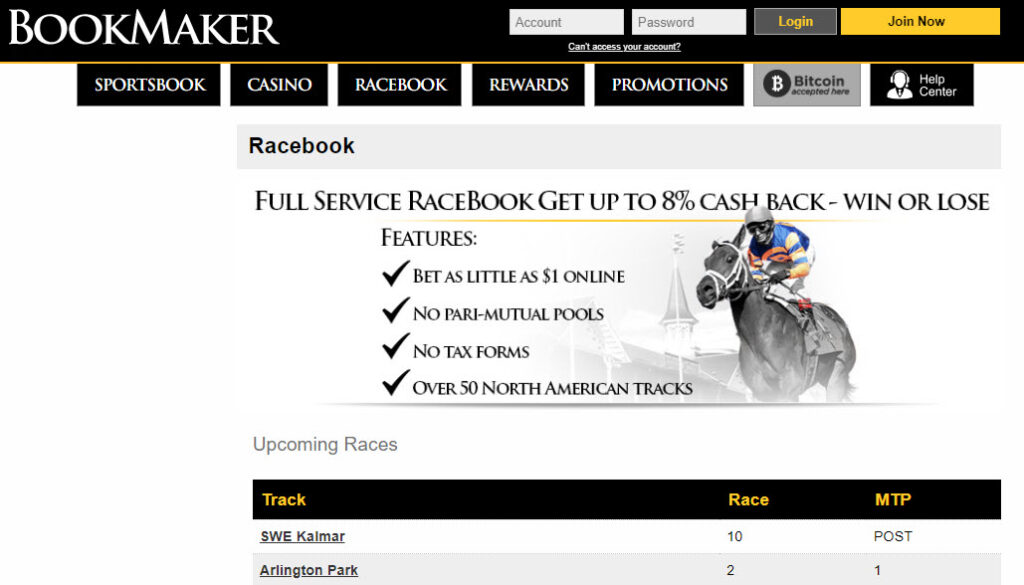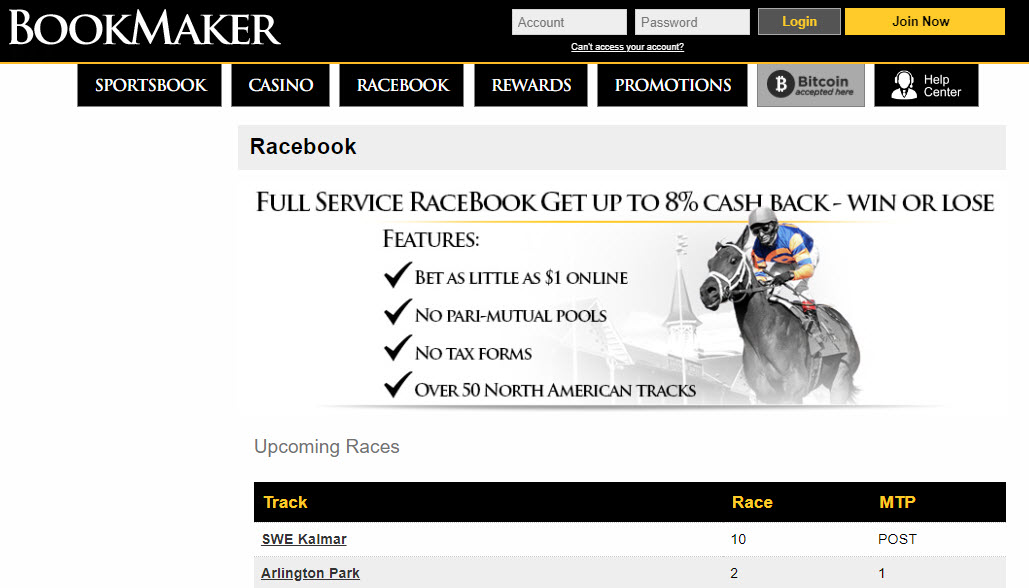 Bookmaker.eu is a brand that is synonymous with online gambling. Horse racing bettors in Alabama know this very well as they've been using them for horse racing, poker, sports and casino action for years. As far as the racebook, you will have access to the top tracks from around the world.
Bookmaker offers 8% in daily rebates on your action on the track. Many racebooks offer promos based on your action so the more you play, the bigger bonus you will be entitled to. They also offer full track odds at most tracks up to post time. Bookmaker is known as a home for sharp bettors, something very uncommon in the industry. As such, they have to maintain a certain level of service to keep these high-maintenance customers happy.
One of the things you will get access to that you won't see at most other brands is head-to-head matchups between horses. Bookmaker is always at the forefront of innovation in the online gambling space and if you choose to sign up with them, you will have a great time regardless of what type of action you are looking for.
Pros:
Early release of horse racing fixed odds
Racebook offers 8% discount on previous action
Cons:
Historic race track information not available
2. Heritage Sports: Full Track Odds a Great Feature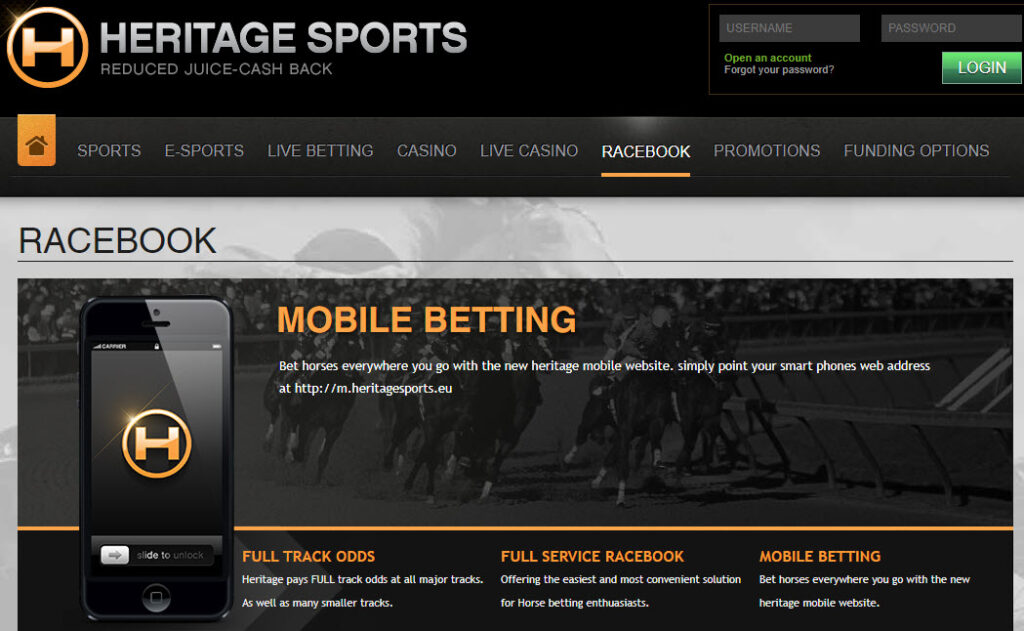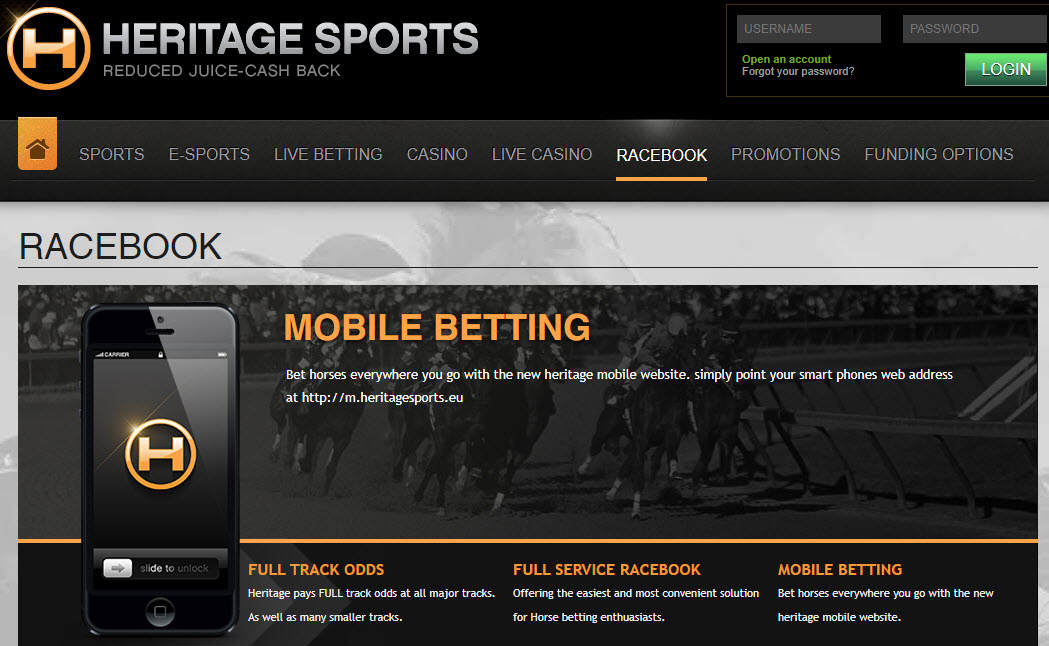 Heritage Sports offers full track odds on races. This is something that you won't find at a lot of online brands. Most sites pay adjusted track odds, which makes a big difference to your bottom line when you win. They offer races on over 60 tracks from around the world so you will always be able to get in on the action.
Heritage Sports also offers a monthly casino bonus that is credited on the first day of every month. You will receive a 4% rebate on the total that you bet on horse racing from the previous month. The maximum rebate you can receive in terms of dollar amount is $2000. Keep in mind that the 4% rebate comes with a 4-time playthrough requirement.
Heritage Sports has built its reputation off of its reduced juice model which saves you 20% on spread and total bets as compared to most of the competition. Usually, brands that offer reduced juice don't offer much in the way of bonuses because of the savings they already offer with that betting model, but Heritage Sports makes the cut for our betting experts because they still offer customers great deals like the 4% rebate.
On top of that, they have a very unique offer where you get an eighth deposit free. Essentially, if you make seven deposits and don't manage to make any profit, you will get the equivalent of the average of those seven deposits as a free bonus. The most you can receive is $5000 and the bonus comes with an 8-time playthrough requirement. As an Alabama customer playing at Heritage Sports, you will quickly see that your money goes a lot further with them than it does at most other brands.
Pros:
Amazing discounts on wages and bonuses
Players are rewarded for being active
Cons:
Only cryptocurrency deposits are free
3. BetOnline: Get Fixed Odds on Important Races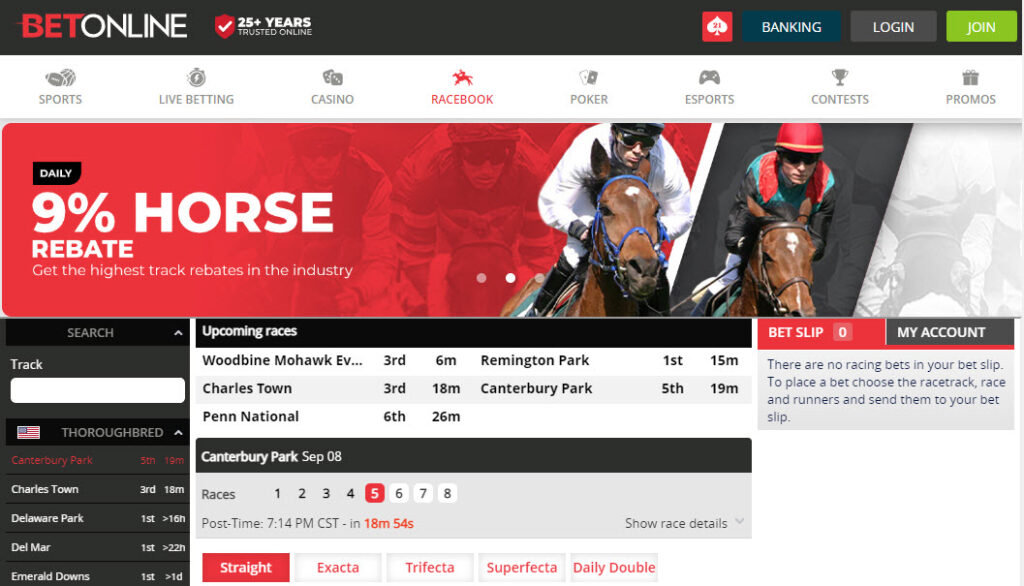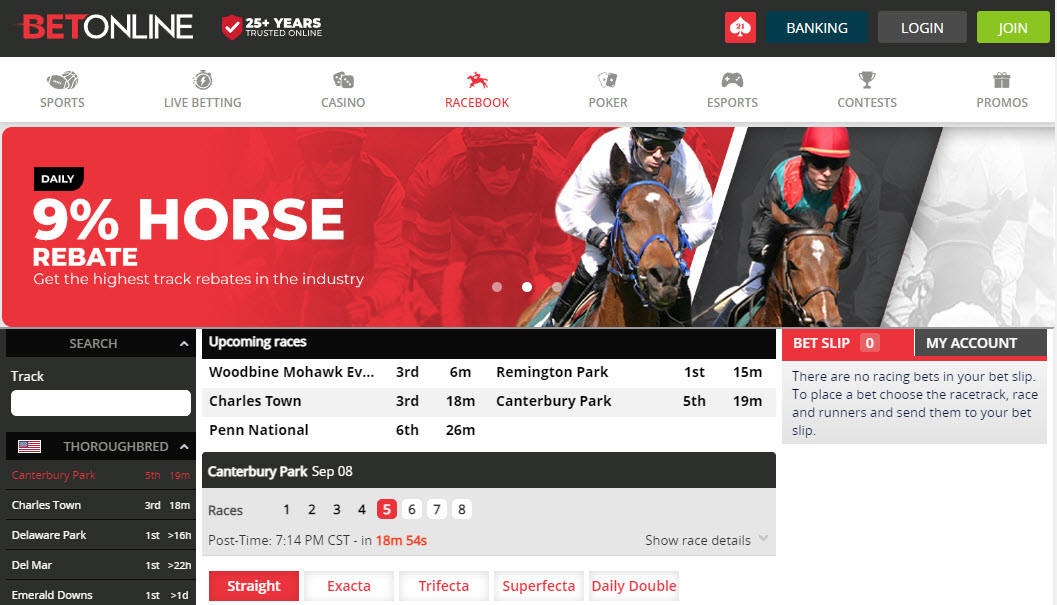 BetOnline is an industry leader when it comes to sports betting. They attract sharp action from around the world with their early odds, especially in the NFL, where they are known as market setters. When it comes to their racebook, Alabama horse betting fans really enjoy the size of their odds market and props.
A perfect example of that is their Breeder's Cup props contest. The contest offers $5000 in cash prizes for those that enter. Race-specific contests and bonuses are one of the features that Alabama horse racing bettors love. This is just one of many examples of the type of innovative bonuses they offer to keep customers coming back.
BetOnline offers a daily 9% rebate for online wagers. That's a very important distinction because if you make your wagers over the phone, the rebate is 5%. There is no minimum or maximum amount of action to qualify. There are certain terms and conditions that apply so we suggest you speak directly to their excellent customer service team to find out what wagers qualify. You can also find that information directly on their website as well. BetOnline is one of the best all-around online gambling sites in the industry, which is why it is so popular among Alabama players.
Pros:
Daily 9% rebate on your action in the racebook
Contests and props available on the biggest races
Cons:
Racebook does not have deposit bonuses
4. Bovada: Known for Great Betting Options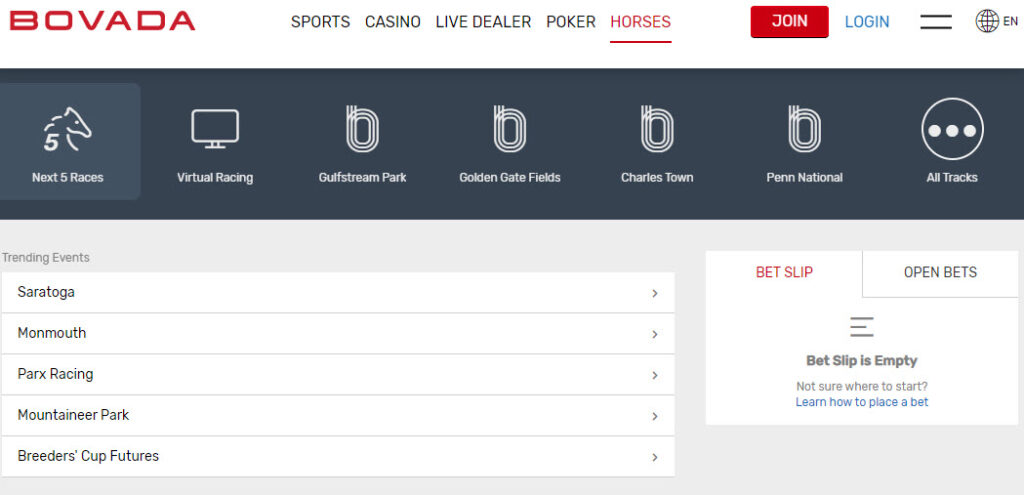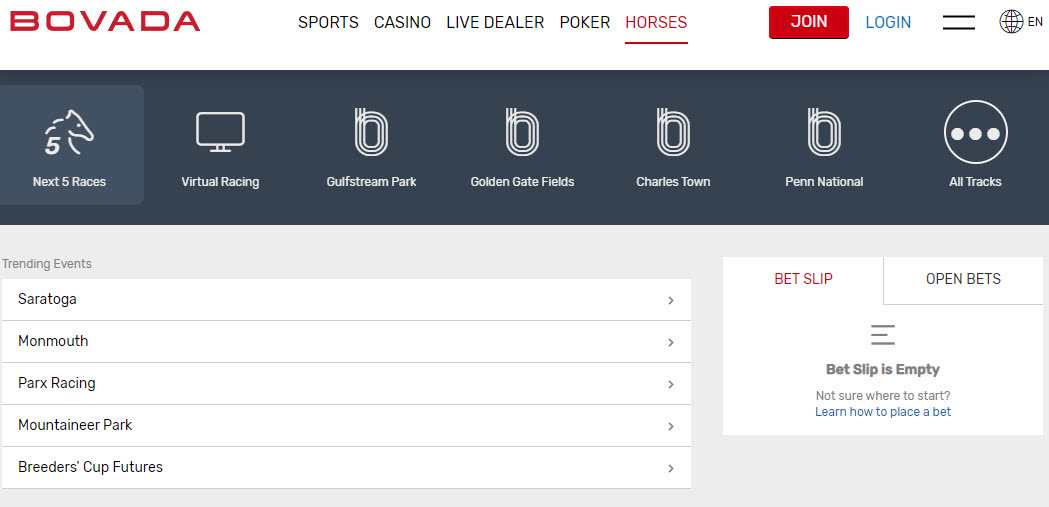 Bovada is one of the brands in the industry that players trust the most. They have been in the online gambling industry for decades and their ability to keep customers loyal stems from the quality of their offerings. In their racebook, they offer players amazing discounts on all types of horse bets.
Alabama players that bet on horses with Bovada can get 3% back on all win, place or show bets. When it comes to exactas, quinella, trifecta, superfecta, daily double, pick 3, pick 4, boxes and wheels, you can get a 5% rebate. The rebate bonus comes with a one-time playthrough requirement. This is a racebook-specific bonus, but Bovada has several different types of bonus offers for all players.
There's the sign-up bonus where you can get 50% up to $1000. You can redeem that bonus by using the code BVD1000 and comes with a five-time playthrough requirement. This bonus can also be used in the racebook.
The welcome bonus is even more generous for crypto depositors. If your first deposit is done via crypto, you can get 75% up to $750. Bovada has bonuses for all of their offerings and it's just a matter of your preferences. The thing that Alabama bettors enjoy the most about having an account with Bovada is the consistency across all of their gambling services.
Pros:
Variety of bonuses that can be used on horse racing
Additional bonuses available for crypto players
Cons:
Odds are not released as early as competitors
5. BetAnySports: Racebook Discounts a Favorite of Alabama Bettors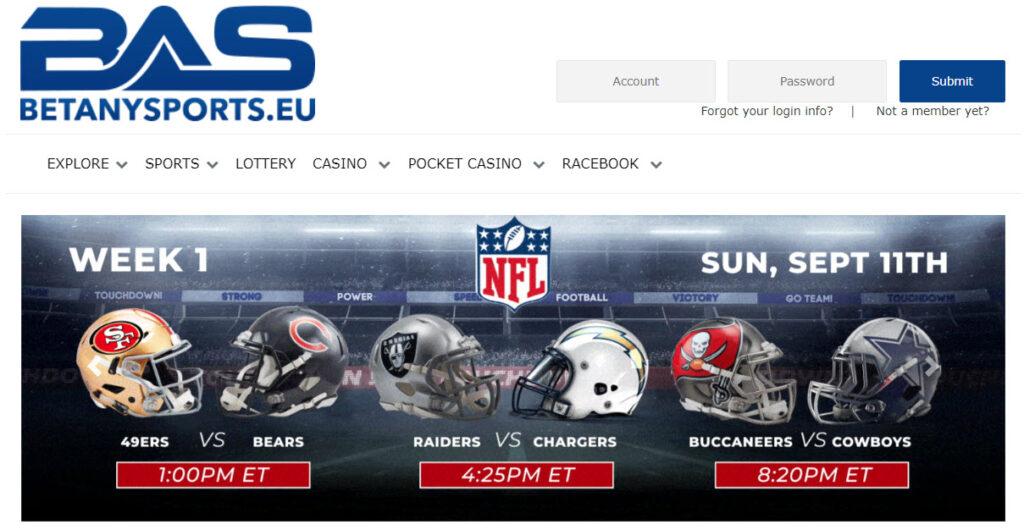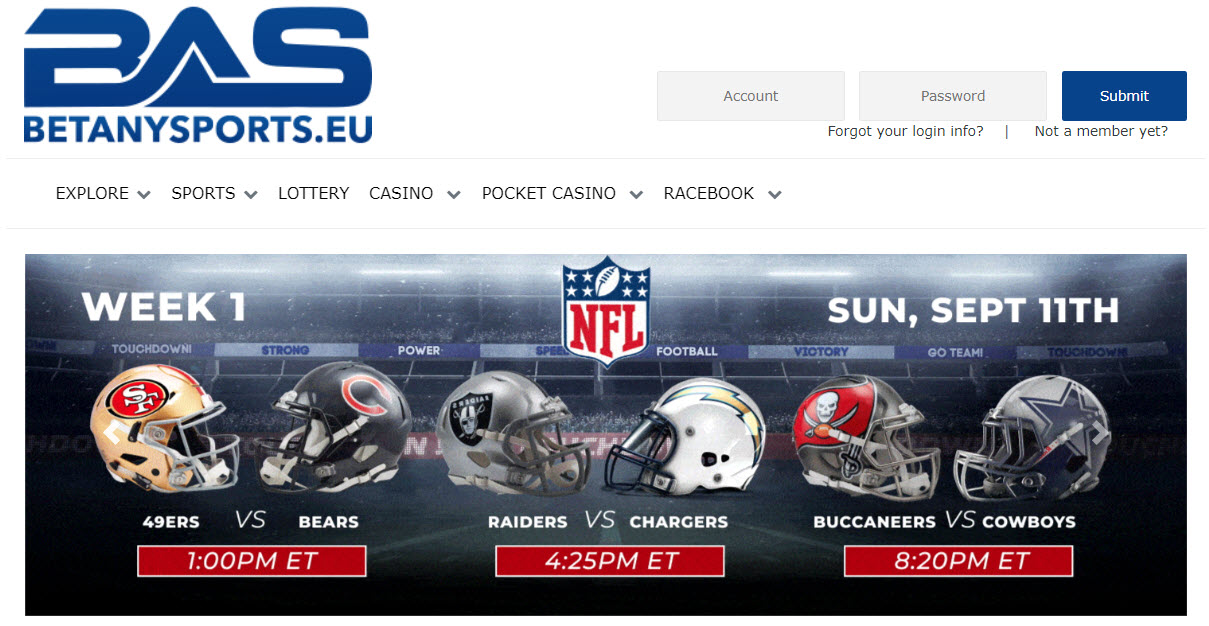 BetAnySports is known in the industry for their reduced juice model. Alabama players that have signed up with BetAnySports are saving up to 50% on spreads and totals. They also offer cash bonuses, a very rare feature for a brand that offers reduced juice. When it comes to horse racing, customers get rebates as opposed to upfront bonuses.
When it comes to rebate bonuses, these are counted on your net losses. If you have a good run and earn a profit, then of course there is no bonus. If you don't have any luck for a certain time period, you can get a 25%, 10% or 5% cash rebate. If you pick 25%, then the bonus is credited every 30 days. If you go with the 10%, the rebate is credited once a week. Finally, if you go with the 5%, that is credited on a daily basis at 10 AM.
Regardless of the bonus that you choose, playing at BetAnySports will get you more action at the track than most competitors.
Pros:
Monthly, weekly and daily rebates available
Cash bonuses available despite reduced juice model
Cons:
Smaller welcome bonuses than competitors
Best Horse Racing Sites for Alabama Compared
There are a number of factors that you should keep in mind when it comes to picking an online gambling site for betting on horse races.
Fixed Odds in Horse Racing
Horse racing betting sites for customers in Alabama pay via pari-mutuel wagering. That means that the race odds aren't available until after the race has been completed. All of the money that has been wagered is put in a pari-mutuel pool and the track (or horse betting site) takes its cut. After that, the remaining money is split among bettors with winning tickets.
Most tracks do have track odds but those are rarely accurate. They are simply an estimate of the payouts as per track odds. The only time you should expect fixed odds would be on future bets and the big races like the Triple Crown for example.
Betting Markets in Horse Racing
Horse racing is a global sport and as such, the best online sportsbooks in Alabama will get you access to the best tracks here in the U.S. and all around the world. The one thing that tends to differ is the exotic bets that are being offered, as well as props bets that each site's handicappers put up.
Bonuses in Horse Racing
Most horse racing bonuses are given based on the action you put forth. These bonuses are usually rebates, meaning if you do not make a profit for a specific period of time, most of the top horse racing brands in Alabama will give you a certain percentage of that money back in the form of a bonus.
The most important thing to understand with bonuses is the playthrough requirements that come with them. Playthrough refers to the amount of money you have to risk in order to cash out your winnings. If you are unsure about exactly how that works, all of the recommended online betting sites in this guide have excellent customer service teams that will walk you through the process.
Tools for Horse Racing
Much like sports betting, historical data can help you pick winners for upcoming races. These tools can be found online and provide you with data on the track, the jockeys and the horses themselves.
Welcome Bonus in Horse Racing
While rebates are the norm with horse racing sites, there are several brands in our recommended list that will offer you a welcome bonus. These bonuses tend to be significantly more generous than reload bonuses. That said, they usually come with higher playthrough requirements than normal.
The best advice we can give to any player in Alabama looking for the best online horse racing site is to review reload bonuses before claiming a sign-up bonus. Unless you only plan on making one deposit, then you are likely to want reload bonuses.
While a lot of welcome bonuses are very intriguing, if earning a bonus on every deposit is a feature that you value, then the welcome bonus isn't nearly as important as the reload bonuses or even future rebates that you may get. You should always be thinking long-term instead of short-term.
User Experience at Betting Sites
The major perk of betting horses at offshore sportsbooks is the user experience. The reality of horse racing betting is that most brands use the exact same software provider, which means the actual user experience is quite similar across the board. What separates offshore sites from regulated ones, are the services they provide.
Offshore sites offer all forms of gambling under one roof, which is something regulated online sportsbooks can't offer. If you bet on horses via an offshore site, which is the only available option in Alabama at the moment, you can bet on horses, poker, casino and sports.
Live Streaming of Horse Races
Only a few offshore sites, such as BetOnline, offer live streaming of horse races depending on where the track is. With so many streaming services available nowadays, Alabama bettors can find their favorite races online.
Best Betting Sites for Horse Racing in Alabama
As we've mentioned previously, the best horse racing betting site in Alabama is a matter of personal preference, though our favorite ones are Bookmaker, Heritage Sports, BetOnline, Bovada and BetAnySports.
What we've done in this section of the guide is provide you with the rating criteria that our betting experts used to make this list of recommended sites.
Brand Prestige
Offshore brands can only survive by making sure that their reputation stays intact. Due to the fact that they serve an international clientele, these sites are located in a different jurisdiction than most of their client base. This obviously leads to a certain amount of wariness on the part of new customers who might fear that these sites could be untrustworthy.
Our reviews include over 100+ online sportsbooks ranked from A+ to F because it is important to us to let customers know about both the good and bad of online sports betting. All of the brands in this guide have impeccable reputations in the online gambling community.
Deposits and Withdrawals
This is one of the criteria that should be nonnegotiable for you as a player. Horse racing is time sensitive and you need reliable banking options to make sure you don't miss out on any of the available action. The same thing goes for when it's time to take money out. You need to make sure that there are several options for each so that getting money in and out is more of a formality than a headache.
Safety & Security
With every passing year, cyber security becomes more important in the world we operate in. With so much personal information in each player's account, online betting sites can't afford to spare any expense when it comes to cyber security. This subject is at the forefront of every recommended site in our recommended list.
Online Interface
This is something that every online betting site continues to work on diligently. This applies to both the desktop and mobile versions of these brands. Especially when it comes to horse racing, the site you choose needs to have an easy-to-use interface across all platforms.
Customer Support
We've chosen sites that provide elite customer service across all offerings. We prefer sites that have 24-hour coverage, especially over the phone or via live chat. You can reach all of these sites this way or via email. Quick response times as well as problem resolution are a big part of what makes a quality customer support team.
Overall Value on Offer
Here is a checklist that will help you determine the value on offer:
Do they offer races at tracks I like?
What is the size of their market?
Are there bonuses for horse racing specifically?
Do they offer promos for specific events?
Is horse racing betting legal in the state of Alabama?
There is no in-person horse racing in Alabama. There are no regulated forms of online wagering in the state at the moment. Anyone in Alabama looking to bet on horse racing can do so via an offshore sportsbook.
Betting on Horse Races in Alabama
Anyone looking to bet on horses in Alabama can do so via an offshore website. These sites are not located in the U.S. and therefore do not fall under state and federal jurisdiction.
How does horse racing betting work in Alabama?
Horse racing betting in Alabama works on a pari-mutuel basis. There is no live horse racing available in Alabama, so the only option is via an offshore account.
Betting Odds in Horse Racing
Odds are displayed in either traditional American odds or fractional odds.
Fixed Odds for Horse Racing Betting in Alabama
Fixed odds that are displayed in the fractional format will have the smaller number first when it is a favorite. An underdog would have the bigger number displayed first in the fraction:
If your odds are 1/5, a $100 bet will earn you a profit of $20
If your odds are 5/1, a $100 bet will earn you a profit of $500
Fixed odds that are displayed in the American format have a minus sign in front of it for a favorite and a plus sign in front of it for an underdog:
If your odds are +400, a $100 bet would earn you a profit of $400
If the odds are -400, a $100 bet would earn you a profit of $25
Pari-Mutuel Betting
The majority of Alabama horse racing sites payout via a pari-mutuel pool.
Unlike fixed odds, pari-mutuel betting does not display the odds until all of the bets on the race have been made. After the track takes their cut, the rest of the money in the pool is divided among the winners in the pari-mutuel pool.
An example of that is the tote board for the 2022 Kentucky Derby:
A $2-win bet on Rich Strike paid $163.60
A $2 place on Rich Strike paid $74.20 and a $2 show paid $29.40
A $2 place on Epicenter paid $7.40 and a $2 show paid $5.20
A $2 show on Zandon paid $5.60
A $1 exacta paid $2,050.60
A $0.50 trifecta paid $7,435.35
A $1 superfecta paid $321,500.10
Alabama Horse Races and Pool Betting
This is another term that may be used to describe pari-mutuel betting because all of the wagers go into a pari-mutuel pool.
Types of Horse Racing Bets in Alabama
Here is an overview of the types of bets you can place with a horse racing operator.
Win
A bet on a horse to win the race (finish in 1st)
Place
A bet on a horse to finish 1st or 2nd
Show
A bet on a horse to finish 1st, 2nd or 3rd
Exacta
An exotic bet where you need two horses to finish in the exact order you choose. Unlike win or place, the order does matter, which is why these horse racing bets pay more if you win.
Trifecta
Similar to an exacta, with the difference being three horses instead of two.
Superfecta
Similar to an exacta and trifecta with the difference being it involves picking four horses.
Daily Double
Another exotic bet that lets you try and predict the winners of two horses on that day.
Pick 3/4/5/6
A bet where you try to predict the winner in 3-6 consecutive races.
Alabama Horse Racing Glossary
Here is some important horse racing lingo that you should familiarize yourself with:
Across the board – Three bets in total. The three best are: win, place and show.
At the post – A last-minute bet. Usually, when the horses are lined up to start the race, most tracks stop taking bets. There is a possibility that the track might take live bets as well.
Blinkers – Headgear that is used to restrict the horse's field of vision.
Claiming Race – Every horse in the race is up for sale.
Dead Heat – This refers to a situation where two horses tie.
DQ – A horse that has been disqualified from a race.
Exotic bet – Bets that involve multiple outcomes. Exactas and trifectas as the most popular exotic bets.
Favorite – The horse expected to win by the oddsmakers. This horse also pays out the least amount of money for a winning bet.
Fixed Odds – The opposite of pari-mutuel betting. The odds are set pre-race which lets you know how much you profit from a win.
Furlong – An eighth of a mile on a racetrack.
Length – Describes both margin of victory and the length of a horse. In close races, specific body parts are used to describe how much the race was won by.
Morning Line – Track handicappers provide predictions on what they believe the odds will be on a pari-mutuel race. These are usually not 100% accurate.
Pari-Mutuel Wagering – All money from bets on a specific race goes into a pool. The track takes a cut and the remaining money is divided by the winning bettors.
Purse – Prize money issued to the owners of the various horses. The owner of the winning horse earns the largest purse.
Tote Board – Displays the payout for each market and all of the races for the day.
Triple Crown – The most famous races in the U.S. and the most important. The three races consist of: the Kentucky Derby at Churchill Downs, the Preakness Stakes at the Pimlico Race Course and the Belmont Stakes held at Belmont Park.
Wager – Another word for a bet.
Calculating Horse Racing Betting Odds
For fixed odds, there isn't any calculation needed as the bet slip at the site of your choice will show you the payout according to the odds being offered.
As for pari-mutuel wagering, you will not have access to the odds until after the race. There are track odds available but they are simply an estimate.
Alabama Horse Racing Odds Chart
The odds chart below provides insight into how various odds are paid out. The chart displays both American and fractional odds.
The implied odds are simply the American and fractional odds being displayed as odds to win, which is the original form of all odds in gambling. These implied odds are then converted to prices for players to be able to wager on. These will help you understand the true value of the prices being displayed.
| Horse Racing Odds | $2 Wager Payout | Implied Probability of Winning |
| --- | --- | --- |
| 1/5 (-500) | $2.40 | 83.33% |
| 1/4 (-400) | $2.50 | 80% |
| 1/3 (-300) | $2.60 | 75% |
| 1/2 (-200) | $3.00 | 66.67% |
| 4/6 (-150) | $3.33 | 60% |
| 1/1 (-100) | $4.00 | 50% |
| 2/1 (+200) | $6.00 | 33.33% |
| 3/1 (+300) | $8.00 | 25% |
| 5/1 (+500) | $12 | 16.67% |
| 10/1 (+1000) | $22 | 9.00% |
| 50/1 (+5000) | $102 | 1.96% |
Alabama Horse Race Tracks
There currently is no live horse racing available in Alabama. The last horse racing operator in the state closed in 1995.
With that said, however, there are three greyhound racing operators located across the state that accept a variety of bets on greyhound racing events.
Betting Bonuses for Horse Racing in Alabama
Savvy bettors will want to keep an eye out for any good bonuses and promotions offered by an online gambling site. Some of the most common types of bonuses include:
Welcome Bonus
Welcome bonuses are how sites attract new players. These are usually the biggest bonuses that a site will offer you. The most important thing to consider is the terms and conditions that come with it. Not all horse racing sites offer welcome bonuses that are specific to the racebook so if this is a priority for you, this is something to look out for.
Risk-Free Bet
These are not usually available for horse racing events. When they are, you will get them for the biggest races on the calendar, like the Kentucky Derby at Churchill Downs. We suggest speaking to a customer service agent to find out when these will be available.
Loyalty/VIP Program
This is a reward given by the site of your choice for your loyalty and the action you put forth. Every time you make a wager, you will receive points that can be redeemed for free bets.
Racebook Rebates
This is the usual bonus you receive from horse racing sites. Another bonus that rewards you for previous activity, these rebate bonuses are either credited daily, weekly or monthly depending on the site you choose.
Terms and Conditions at Alabama Horse Racing Betting Sites for Bonuses
When claiming a bonus for horse racing, you must be aware of the terms and conditions that come with it. The reason being is that these terms prevent you from cashing out until the terms are met. The standard condition of a bonus is how much money you risk once the bonus has been claimed.
Until that playthrough amount has been risked, you are not able to cash out. If you are a player that wants to cash out at your own discretion, bonuses might not be for you. Of course, there are a plethora of bonuses across all of the online brands. Some come with very low playthrough requirements while others are really high. Some only apply to the bonus while most include the amount you deposit plus the bonus you claimed.
Always read the terms and conditions before claiming any bonus. We also suggest speaking to a customer service agent to get advice on which one might be best for your particular playing style.
Rollover Requirements
This is the same as playthrough requirements. Rollover is a term that is usually reserved for sports betting, but essentially, it is the amount of money you are required to put at risk before you may request a cashout.
An example of this would be a 100% bonus with a 10-time rollover requirement. If you deposit $100, you would get $100 in free play which would make your starting balance $200. That $200 would have to be put at risk 10 times, so until you've risked $2000 in wagers, you will not be able to cash out.
Virtual Horse Racing Betting in Alabama
Unfortunately, there are currently no ways to watch or bet on virtual horse races in Alabama, except with an offshore gambling site.
Alabama Horse Racing Betting Apps
All offshore providers have a mobile betting platform that is compatible with iOS and Android, but they do not have dedicated online gambling apps.
Start Betting at Horse Racing Sites in Alabama
It's easy to get started wagering on horse racing in Alabama.
Choose the best Alabama racebook after carefully reviewing our guide.
You will either see a "Join Now" or "Sign Up" button. Click whichever one you see and complete the registration form.
Please review the terms and conditions of your bonus before completing your deposit.
Pick a deposit method and fund your account.
There will be a specific section for horse racing. It is usually referred to as the "Racebook" although it could also simply be titled "horse racing".
Review available races and odds.
If you want a straight bet, pick a win, place or show.
Exotic bets are made separately. You'll need to create a tab for your exacta, trifecta or superfecta.
Put your risk amount in the bet slip to see what your potential profit is. If you like what you see and want to make the play official, click "Place Bet.".
You should see your pick under pending wagers.
Other Types of Gambling in Alabama
There are no other forms of gambling available in the state. In fact, Alabama is just one of five states in the United States that do not even offer a state lottery.
What is the best site for horse racing betting in Alabama?
There is no one site that stands above the rest. We did however ask our betting experts to narrow the field down and these are the five they've chosen as the best for online wagering:
Heritage Sports
Bookmaker
Bovada
BetOnline
BetAnySports
FAQs – Alabama Horse Racing Betting
How many horse tracks are there in Alabama?
There are currently no horse race tracks in Alabama.
Where can I watch live horse racing?
You can watch live horse races with online streaming sites (such as Racetrack Television Network) or televised events to get live coverage of horse racing. There is currently no physical location to watch live horse races in Alabama.
Why is a race called a bumper?
The term bumper came into existence because in the distant past only amateur riders were allowed to compete in these types of horse races and had an ungainly "bumping" style whereas professionals did not. Bumper races are commonly run over distances of between 13 and 20 furlongs.
What distance is a furlong?
A furlong is one-eighth of a mile. Five-and-a-half yards is equal to a pole (or perch/rod), 40 poles are a furlong and 3 miles (or 24 furlongs) is equal to a league.
What is the oldest racetrack in the United States?
The Pleasanton Fairgrounds Racetrack located in Pleasanton, California and held at the Alameda County Fairgrounds is the oldest horse racing track in America dating back to its founding in 1858.