Minnesota Horse Racing Betting – Comparing the Best Horse Racing Betting Sites in Minnesota 2023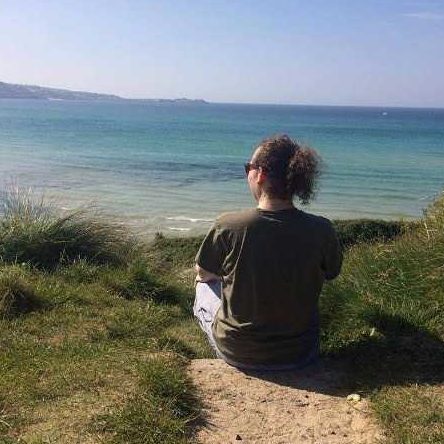 David is a freelance sports journalist who comes from West Midlands. He specializes in sports content, both written and visual. With an impressive record in pre-fight predictions, David is quickly becoming recognized in his field for his in-depth fight analysis and impressive contender & fight history knowledge.
Our guide on Minnesota horse racing betting provides a top-rated list of sites that offer excellent features, sign-in bonuses and fast payouts. Join us as we dive into the top offshore sportsbooks that provide horse racing betting in Minnesota as we break down the pros and cons. With our highly researched information, you can evaluate which racebook best suits your needs. We will teach you the intricate details of how to place a bet at a racebook and the types of online horse racing betting options readily available in Minnesota.
Our carefully crafted guide below covers various Minnesota horse racing betting areas. Including the best horse racing betting sites, horse racing history, current laws and much more. Whether you're scouting information on the North Star State's physical racetracks like Canterbury Park or simply looking for the best options for wagering on horses in MN, we'll have you covered. Let's begin our top 10 online betting sites for horse racing betting in Minnesota.
Minnesota Betting Guides
We offer other online betting guides to Minnesota bettors that are looking for more ways to get in on some quick online betting action.
Ranking the Top 10 Betting Sites for Horse Racing in Minnesota
Reviewing the Best Minnesota Horse Racing Betting Sites
Our aforementioned top 10 betting sites for horse racing in Minnesota are judged on multiple factors. Let's take a more in-depth look into the leading five operators providing horse racing betting in MN. The offshore sportsbooks below have been reviewed by our experts and are accompanied by a brief explanation as to why they've reached our top-rated list.
1. BetOnline: A Well Established Racebook with the Fastest Payouts in Minnesota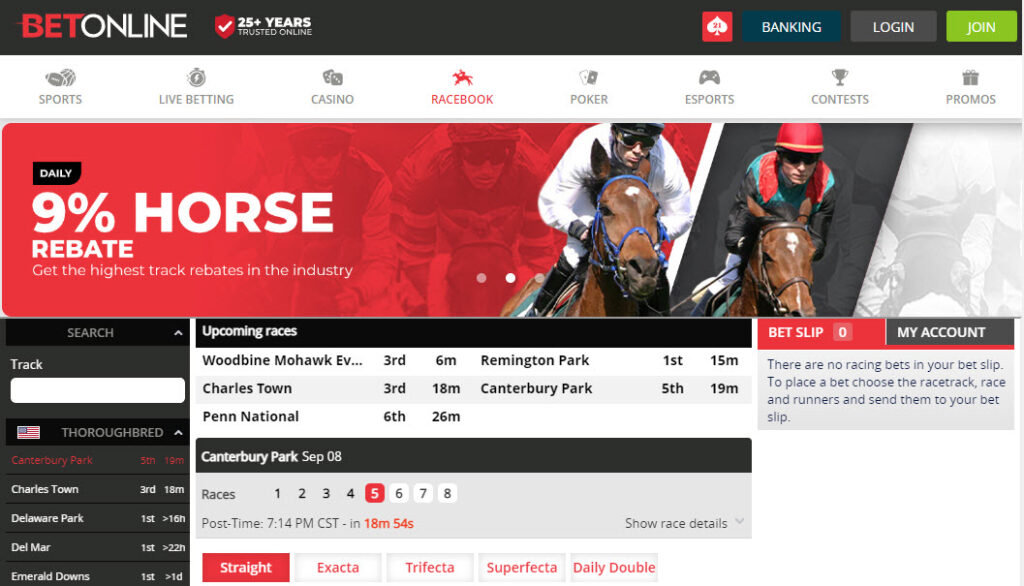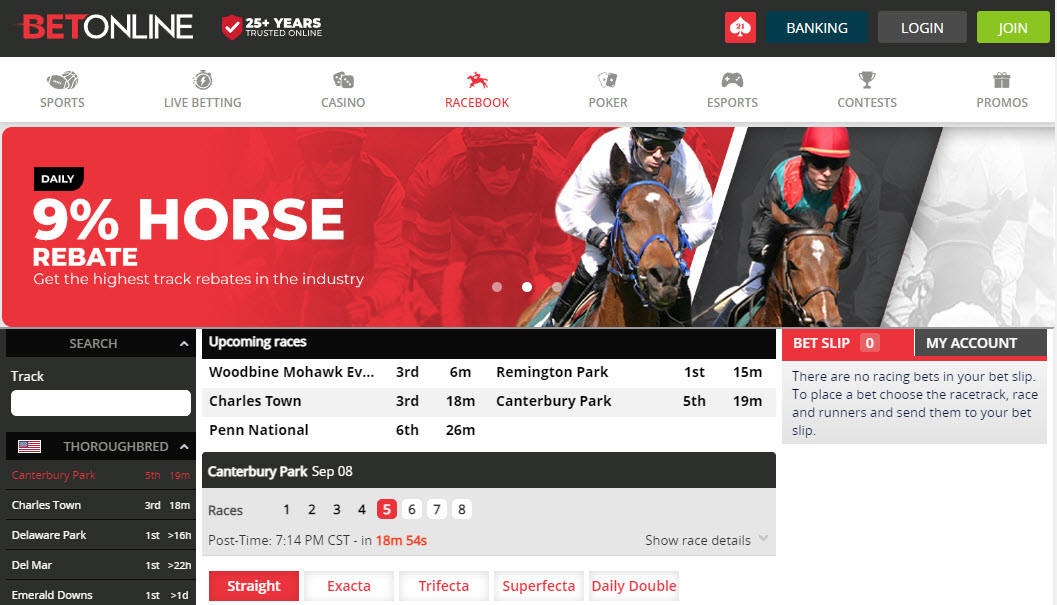 With decades of experience in the sports betting industry and a plethora of horse racing betting on offer, BetOnline is a no-brainer decision for Minnesota bettors looking to wager on horse races. The horse racing options at BetOnline are endless, as the racebook presented by this provider offers a wide selection of markets and races from the United States and international waters.
BetOnline is a trustworthy sportsbook and racebook operator and is notably one of the oldest establishments accessible by Minnesotans. Not only do they deliver a live betting service and the ability to stream live events, but they also allow U.S. bettors to legally place bets, as states such as Minnesota prohibit mainstream operators from providing a service within state borders.
Alongside the ever-growing BetOnline racebook, customers will find an excellent sportsbook, casino and poker room. And if you aren't a fan of placing horse racing bets online, you can place wagers at the racebook via telephone. Further adding to the wealth of positives at BetOnline, they've garnered a reputation for being one of the quickest bookmakers at paying their customers without hassle.
Pros:
Desktop and mobile friendly
Incredible matched sign-up bonus of up to $2,500
Pays customers in full and promptly
Professional interface
Large betting limits
Cons:
Fees for credit card deposits
Lacks proposition bets compared to rivals
$50 fee on certain withdrawals
2. Bookmaker: Fast Payouts & Experienced Racebook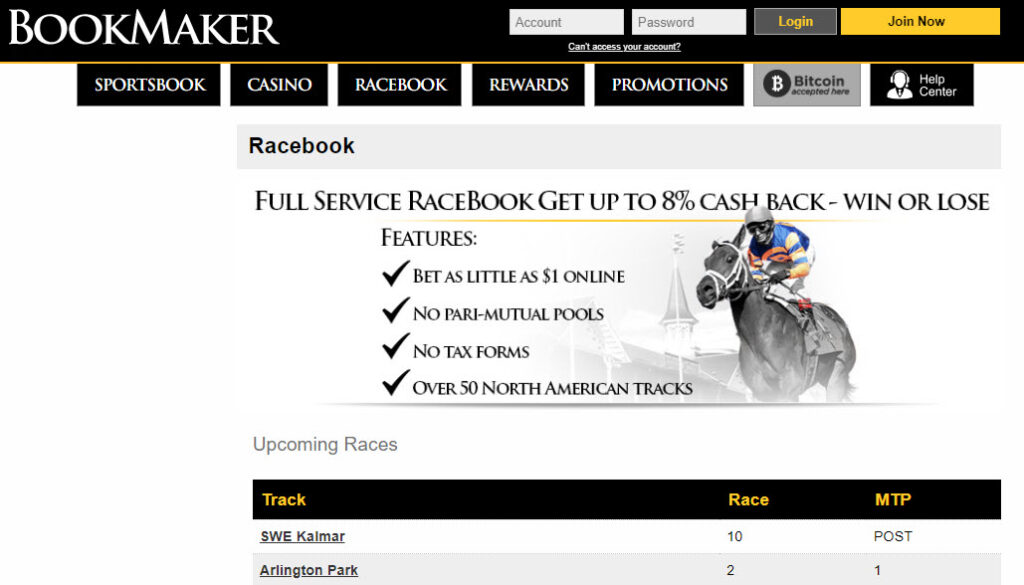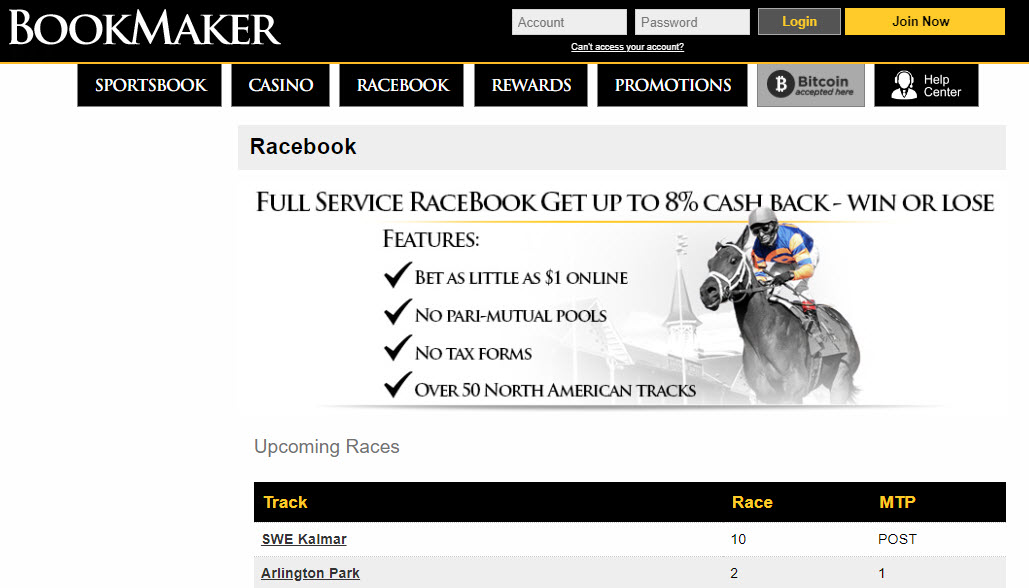 The team at Bookmaker.eu makes up one of the most respected groups in the sports betting and horse racing betting industry. With close to 30 years in the business, Bookmaker has long provided Minnesota bettors with horse racing betting options. Whether you're looking for local races in Minnesota or want to wager on the nation's most popular events, such as the Kentucky Derby, Bookmaker's racebook will have you covered.
With various sign-up bonuses for new customers and promotional offers to keep loyal users happy, they also match BetOnline's motto of paying customers in full and promptly. Bookmaker provides an exceptional racebook with multiple markets and is an excellent option for Minnesota bettors looking to find reputable sites that offer horse racing betting.
Bookmaker's reputation of supporting winning bettors has drawn many professional bettors to their site. With high betting limits and a no-ban policy, even on winning bettors, they've done a great job at separating themselves from the casual bookmakers and are now one of the best racebooks in Minnesota.
Pros:
High withdrawal and betting limits
Rebate on racebook wagers of up to 8%
Decades of experience in the sports betting business
Early releases on betting lines
Cons:
Professional bettors are removed from the loyalty program
No reduced lines
3. Heritage Sports: Excellent Live Betting Services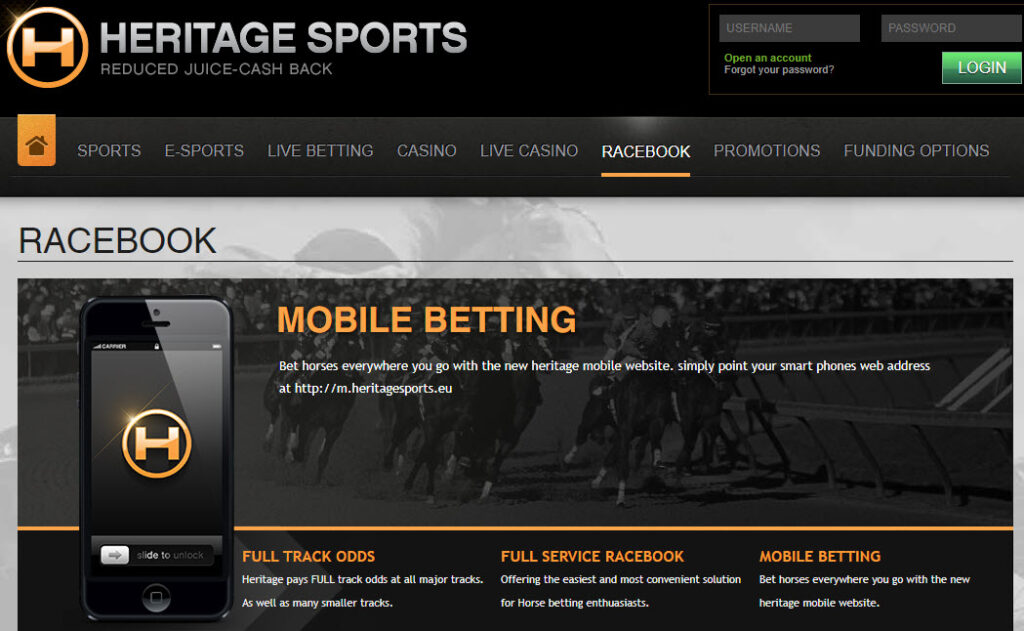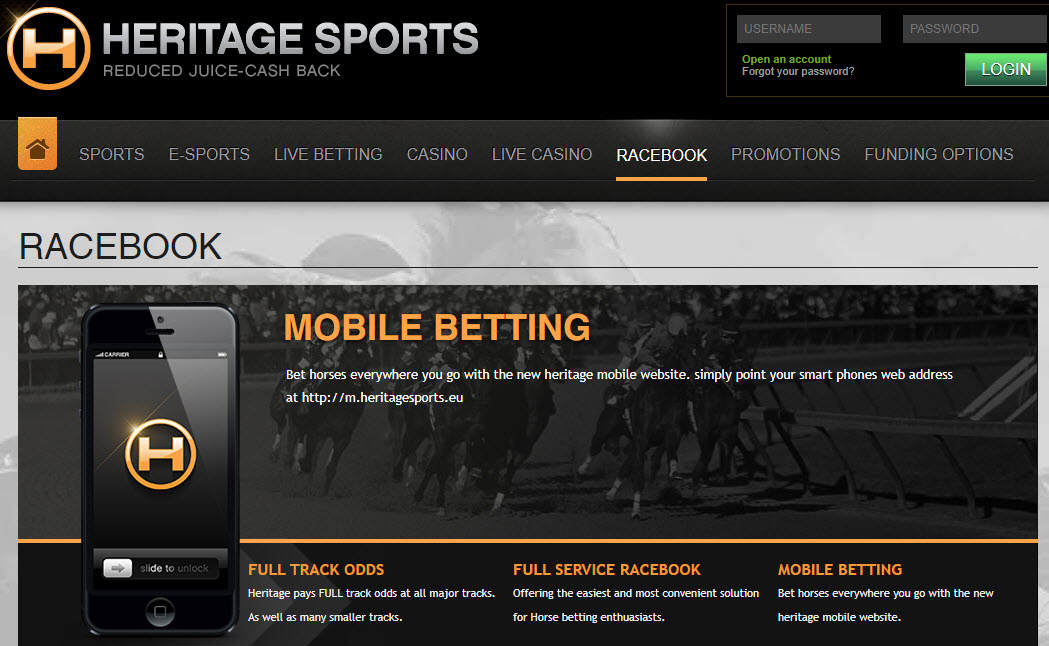 Heritage Sports boasts a huge customer base due to its incredibly-priced odds, making them one of Minnesota's best horse racing betting platforms.
In addition to its vast selection of sports betting markets and reduced juice lines, Heritage Sports prides itself on the 60-plus thoroughbred and harness racetracks available to bet on through its racebook. With a minimum of 16 significant racetracks, horse racing bettors from Minnesota are exposed to one of the most diverse racebook selections in the industry.
Horse racing betting limits are significantly high, as Minnesota bettors can place up to $1,000 on win, place and show markets. However, exotic prop betting limits are reduced to $200, but this is primarily for the user's safety, as wagering on low-probability odds can sometimes lead to a damaged bankroll.
Heritage Sports boasts an A+ rating from our expert reviewers. It presents an impeccable racebook, but they also provide excellent services for sports bettors and casino enthusiasts, as well as a variety of promos like the cashback offer.
Pros:
One of the best live betting services
Simple to navigate sports betting and racebook interface
Reduced juice betting lines and excellent promotional offers
A wide selection of live betting options
Cons:
U.S. and Canadian residents only
Lower sign-up bonuses than competitors
4. Bovada: Excellent Bonuses & Racebook Rebates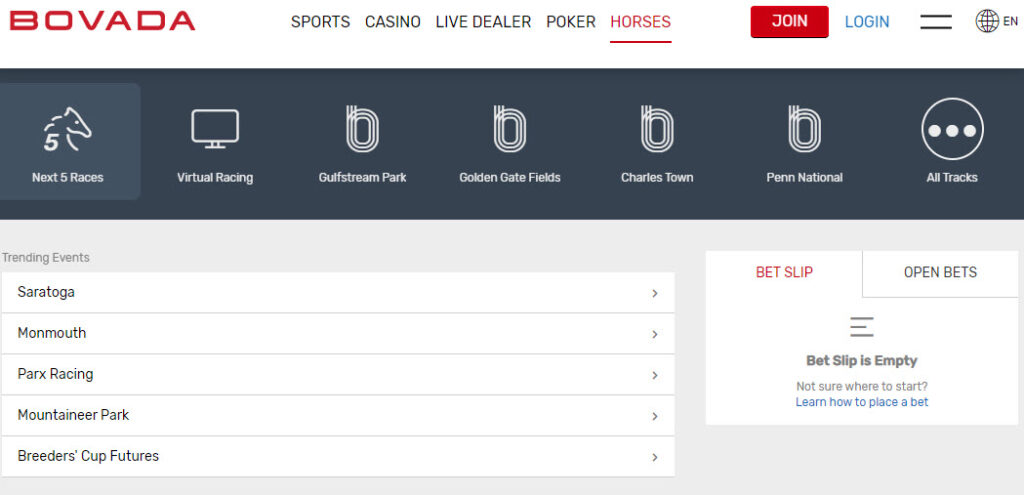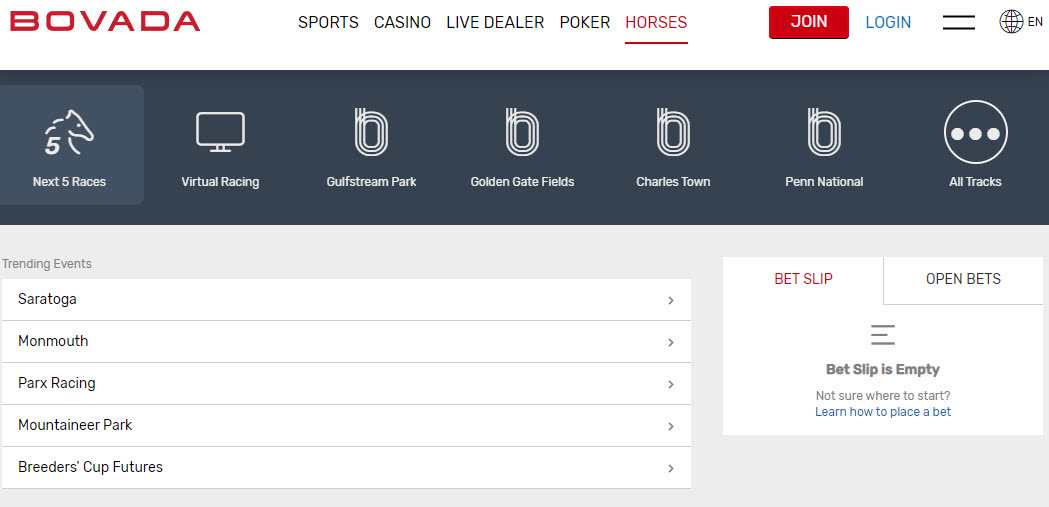 With over 60 North American racetracks engrained into its racebook, Bovada is a cut above the rest regarding online horse racing betting in Minnesota. In the world of offshore operators, Bovada receives high praise from Minnesota horse racing fans. Alongside its highly respected sportsbook, they also present one of the most popular online casinos and racebooks in the United States.
When creating their racebook, Bovada solely focused on the desires of U.S. horse racing bettors. New customers searching through the 60 North American tracks and markets will also be presented with a welcome gift in the shape of a 50% welcome bonus on head-to-head, Triple Crown and other proposition horse racing markets. Lastly, horse bettors can get 5% rebates on exotic wagers and 3% rebates on straight bets.
Pros:
Horse bettors receive lucrative rebates
More North American racebook markets than most of their competitors
Mobile-friendly website
Small rollover requirements for bonuses
Cons
Betting limits can be lower than competitors
Slower betting lines than other sites
5. BetAnySports: Fast Payouts & The Best Reduced Juice Lines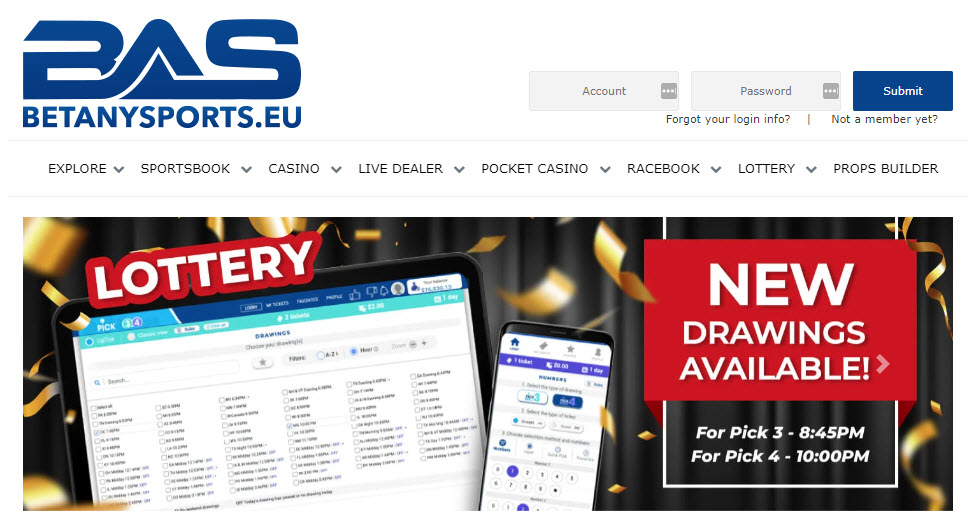 Long-term bettors will find excellent value at BetAnySports as they pride themselves on low house edges on straight wagers. With reduced juice for Minnesota horse racing bettors, value hunters needn't look any further because BetAnySports is the perfect racebook that suits their needs.
In addition to their attractive prices, BetAnySports excels in customer service; they present an easy-to-navigate desktop and mobile-optimized website. It's a Minnesota horse racing betting site that is fast and secure, and you can always trust the withdrawal/deposit system.
Pros:
Reduced juice betting lines
Great customer service
Some of the best betting odds in the business
Speedy payouts and a trustworthy reputation
Cons:
Not available in every country
Smaller bonuses than other sites
Interface could be improved
Comparing the Best Sites for Horse Racing Minnesota has to Offer
At Bookmakers Review, our experts have carefully selected the best horse racing betting sites in Minnesota to provide you with an elite list of operators. However, our selection process factors in many reasons when deciding which racebook/sportsbook should earn the right to receive a top rating. Each customer will have their preference when deciding which horse racing betting platform best suits them. Still, we recommend you consider each category below when determining which operator is the best for you.
Below you'll find a list of reasons for deciding which online betting sites in Minnesota deserve a top-rated ranking and how we determine our top-ranked operators.
Horse Racing Odds
BetOnline is an excellent example of how a bookmaker should present its available horse racing betting odds. Why? Because in the United States, many races are decided on a pari-mutuel basis. This is where the money bet on horse races enters a pool and after the race, the wagered money is given to the winning horse teams. This can often present lower-priced odds and less value.
For this reason, it's imperative to find an offshore sportsbook that offers fixed odds. Most sites will provide fixed odds for major events like the Kentucky Derby, but operators such as BetOnline give average fixed odds on many more races.
Why is this important? Well, suppose you're a long-term bettor. In that case, you'll want to receive the best possible long-term profit available. This won't surface unless you increase your probability by wagering on fixed odds instead of pari-mutuel offerings alone.
Horse Racing Betting Markets
With such a vast amount of horse races taking place each day, you shouldn't struggle to find an offshore sportsbook that provides wagers on the following:
Win
Place
Show
Exacta
Quinella
Trifecta
Superfecta
In addition, the best offshore racebooks in Minnesota will allow customers to create exacta, trifecta and quinella boxes and place multiple wagers like a daily double or Pick 3, 4, 5, or 6. For significant national or international events, you'll stumble across horse markets where you can wager on individual matchups between certain horses. Our top-rated list of Minnesota horse racing betting bookmakers provides the above-mentioned betting opportunities.
Horse Racing Betting Promotions
Minnesota horse racing betting offshore operators often compete to give customers the best available bonuses in such a highly competitive market. BetOnline has some excellent bonus offerings, where you'll find first-deposit matched bonuses and money-back specials.
All of our top-rated sportsbooks boast a racebook with excellent promotions. Although BetOnline is ranked amongst the best, many other options exist, like Bookmaker.eu, Bovada, Heritage Sports and BetAnySports.
Choosing the Best Minnesota Horse Racing Betting Sites
Now that you're more than halfway into our extensive guide on Minnesota horse racing betting, you should be more familiar with what it takes to pick the best operator. We've added a few more pros you may want to consider before deciding which racebook best suits your needs.
Brand Recognition
We'd never recommend placing bets with inexperienced, non-recognized brands. That's why the sportsbooks/racebooks in our guide have been widely respected in the industry for no less than a decade. Minnesota horse racing betting sites that have established their position in the market, with loyal customer bases and give users a fast and prompt method when dealing with payouts, are always at the top of our lists.
Payment Methods
Our top 5 Minnesota horse racing betting sites provide all the popular payment methods that customers commonly use. That said, some racebooks vary in payment methods, so it's imperative to check the site you're considering offers the payment method you require.
Safety & Security
The best offshore sportsbooks provide their customers with a highly trusted and reputable security system. When deciding on the best horse racing betting site in Minnesota, bookmakers providing the latest encryption tools are of the utmost importance, including other security features like two-factor authentication.
Speed & Design
With a wide selection of horse races to bet on each day, horse bettors will often wager on a high number of races. This is why a perfectly designed online racebook is crucial, allowing users to place their bets fast and efficiently. Operators like BetOnline, Bovada, Bookmaker and Heritage Sports excel in this field, with software designed to keep operations smooth so you won't miss the next bet.
Customer Service
Customer service that is offered 24 hours a day, seven days a week, throughout the entire year is what we look for. And again, BetOnline provides excellent customer service that reaches these standards.
Overall Value
Finally, it would help if you looked into the value offered by a Minnesota horse racing betting site. Earning profit is the primary goal of most bettors; therefore, considering a site's welcome bonuses, risk-free bets, rebates, loyalty programs, excellent odds and money-back specials is usually the precautions to take.
Is horse racing betting legal in Minnesota?
Wagering on horse racing in Minnesota is one of the only legal gambling activities in the state. Locals can place bets at physical Minnesota racetracks and casinos on reservations and online. However, using offshore sites like BetOnline, Bovada, Heritage Sports and Bookmaker is the most common practice used by Minnesotans.
Minnesota Horse Racing Betting Guide – How to Bet on Horse Races in Minnesota
The top-rated online betting sites for Minnesota horse racing enthusiasts give customers a choice to frequently wager on races throughout the day. Aside from betting on local Minnesota horse racing tracks, the best operators provide horse racing markets from the UK, Ireland, Japan, Australia and the rest of the United States.
It's simple to begin wagering on horse racing betting sites in Minnesota. Find a reliable and trustworthy offshore place from our recommended list and continue reading our guide below for other tips and hints on how to become an intelligent horseplayer.
How does horse racing betting work in Minnesota?
The main objective of placing bets on horse racing in Minnesota is to predict the race's outcome. Studying past performances, run times and historical victories can assist you in determining which horse is likely to win.
Multiple alternative variables exist, such as the jockey, trainer and track length. However, you don't have to pick a 1st place winner, as place or show bets cover 2nd and 3rd-place finishes.
What are the different types of horse racing bets?
Below you will find some of the most common bet types in horse racing:
Win
Simply predict the winner of the race when betting on this market.
Place
A place wager will win if your horse places in first or second.
Show
A show wager extends the place wager, and your bet will win if the horse places first, second, or third.
Exacta
Exacta wagers require you to predict the winning horse and the horse that will finish in second place. You must give the exact order. Look for a quinella bet if you want to predict the two finishing horses without the precise order.
Trifecta
Often supplying highly priced odds, a trifecta prediction involves the first three horses that show. Again, you need to predict the exact order in which the horses finish.
Superfecta
Superfectas takes it one step further and requires bettors to predict the exact order of the top four finishers.
Daily Double
Known as a double, you must predict a horse that will win two consecutive races at a racetrack to win this bet.
Pick 3/4/5/6
A parlay of predictions that cover three, four, five, or six races.
Odds Chart for Online Horse Racing Betting in Minnesota
The History of Horse Racing in Minnesota
Pari-mutuel betting on horse racing in Minnesota was first approved in 1982. In 1985, Canterbury Downs racetrack opened its doors.
Suffering multiple setbacks, the track closed in 1992 until 1994 due to lackluster attendance and was forced to close by the government in 2011.
However, the track has thrived since the Canterbury Park Holding Corporation took over. Running Aces became Minnesota's second racetrack and has been standing strong since 2008.
Currently, the track accepts wagers on local races and allows customers to download a mobile betting app. It's legal to wager from your mobile device, but only on local races.
Comparing Betting at the Racetrack with Online Horse Racing Betting
Wagering online and in-person at horse racing venues reveal their particular pros and cons. Some bettors will enjoy the comfort of their homes, but others want to socialize and watch a live horse racing event while placing their wagers. The biggest benefits that these two ways of betting on horse races will ultimately come down to personal preference.
Other Forms of Gambling in Minnesota
Minnesota's leading horse racing betting sites have accessible sportsbooks and online casinos for their customers, making it easy to access another form of gambling as well.
The top-rated examples include Bookmaker, Bovada, Heritage Sports and BetAnySports. In addition, you'll also find online poker tournaments at BetOnline and Bovada.
You aren't required to make another account to use these services; your sports betting, card playing, and pari-mutuel wagering are all housed under one account.
What is the best site for horse racing betting in Minnesota?
We've positioned BetOnline as the best horse racing betting site in Minnesota. Between their excellent odds, responsive customer service and tempting bonuses, they're also one of the most experienced bookmakers in the business.
Recent Timeline of Sports Betting Situation in Minnesota 
January 3, 2023 – Representative Zack Stepheson, who played an important part in 2022's attempt to legalize sports betting, confirmed Minnesotans should expect a mirror of sports betting-related bill HF 778 in 2023, after the opening of this year's Minnesota's legislative session.
December 2022 – Minnesota ends the year with no sports betting after the Senate could not agree on a sustainable way to legalize sports betting without generating conflict between local tribes and racetracks.
October 2022 – Locals chose to travel to neighboring states to place legal wagers. Minnesota's neighbor state Iowa, for example, reported a total of $200 million in wagers in September's report. 
September 2022 – A poll held by the Star Tribune, MPR New, and Kare 11 revealed that almost 50% of Minnesota locals want sports betting legalized in the state. 
August 2022 – The Media outlet MinnPost discussed that a compromise between tribes and horse racing tracks is needed for anything positive to surface. 
July 2022 – Minnesotans spent over $4 billion on pull-tabs since July 2021, according to the Minnesota Gambling Control Board, showing that gambling is already part of many locals' entertainment.
Minnesota Horse Racing Betting FAQ
Is horse racing betting legal in Minnesota?
Wagering on horse races in Minnesota is legal under the state's gambling laws, but it's constrained, and you're required to place live wagers at one of the selected horse tracks at least until the Gambling Control Board in the state passes laws that will lead to the expansion of gambling options in the state.
Online sports betting and betting on horse racing have not been legalized, but citizens of MN can use one of our highly-rated, trustworthy offshore sportsbooks to get involved in the action.
What is the biggest horse race in Minnesota?
Minnesota doesn't currently host any major races; however, there is a wide range of thoroughbred events that take place at Canterbury Park, which used to be called Canterbury Downs.
Pari-mutuel betting is offered at both horse racing tracks in the state, but they only allow track betting for local races, not major horse racing events.
Does Minnesota have horse racing?
There are two active horse racing tracks in the state. Canterbury Park originally opened in 1985 as Canterbury Downs and today, it usually hosts live racing from May through September.
Running Aces was the second track to open in Minnesota, with their season starting in May, until September, with the 'Night of Champions' being their annual penultimate race.
Both of these tracks are authorized to offer pari-mutuel betting.
Where are the 3 major horse races?
The Triple Crown of Thoroughbred Racing, which is commonly referred to as the Triple Crown, is a series of three-year-old thoroughbred horse races, and which consists of the Kentucky Derby, the Preakness Stakes and the Belmont Stakes. These three legs are the major horse races in the United States.
What is the biggest horse race in America?
The first leg of the Triple Crown of Thoroughbred Racing, known as the Kentucky Derby, is the United States' most attended and viewed horse racing event.