Online Gambling Oregon – Which Online Gambling Sites Are the Best for Oregon Gamblers?
Those in Oregon have a good range of gambling options from legal sports betting to horse racing to a lottery and to in-person poker and casino games. Right from your home using your favorite mobile device, you can place sports bets using DraftKings, one of the top online sportsbooks in the market.
But for those craving more online action, you are rather limited in 2023. Online casino games are not legal yet, so if you want to do online betting, you have to visit Oregon online betting sites located offshore.
With so many to choose from, which ones can you trust? Fortunately, our guide goes over the best offshore betting sites for Oregon-based players. We show you how to join them, what makes them a top site, and we go over the history of gambling in the Beaver State.
Oregon's Top Online Gambling Sites in 2023
Our Highest-Rated Online Gambling Sites
When it comes to choosing our highest-rated online gambling sites, we go by the performance metrics we will detail later in this guide. Our top 10 sites happen to be from countries where online gambling is legal, so you should feel comfortable with using a site that accepts Oregon users and is following the laws in its local jurisdiction.
Is online gambling legal in Oregon?
In Oregon, there are gaming laws that allow for online sports betting and horse racing with licensed operators like DraftKings and TwinSpires. However, other forms of gambling have not been greenlit yet from a legal standpoint. Your online options for playing casino-style games and poker are going to be the offshore betting sites we will review below.
Comparison of the Top Online Gambling Sites
We have included in-depth reviews of our top 10 online gambling sites, including pros and cons and a breakdown of the range of gambling options they have available. All 10 sites will offer you a good range of gambling options, including online sportsbooks, online casino games, online horse betting and more of your favorite games.
1. Bookmaker: Great Sportsbook and Reward Program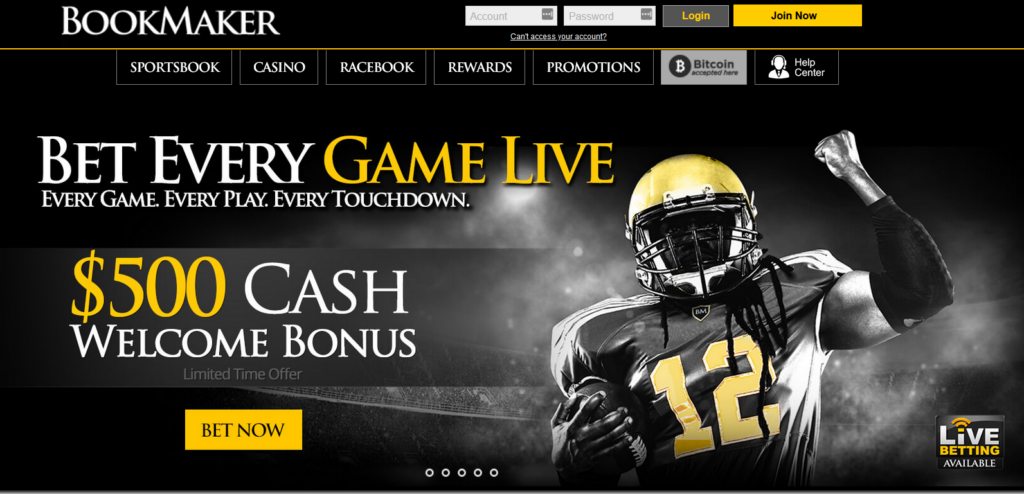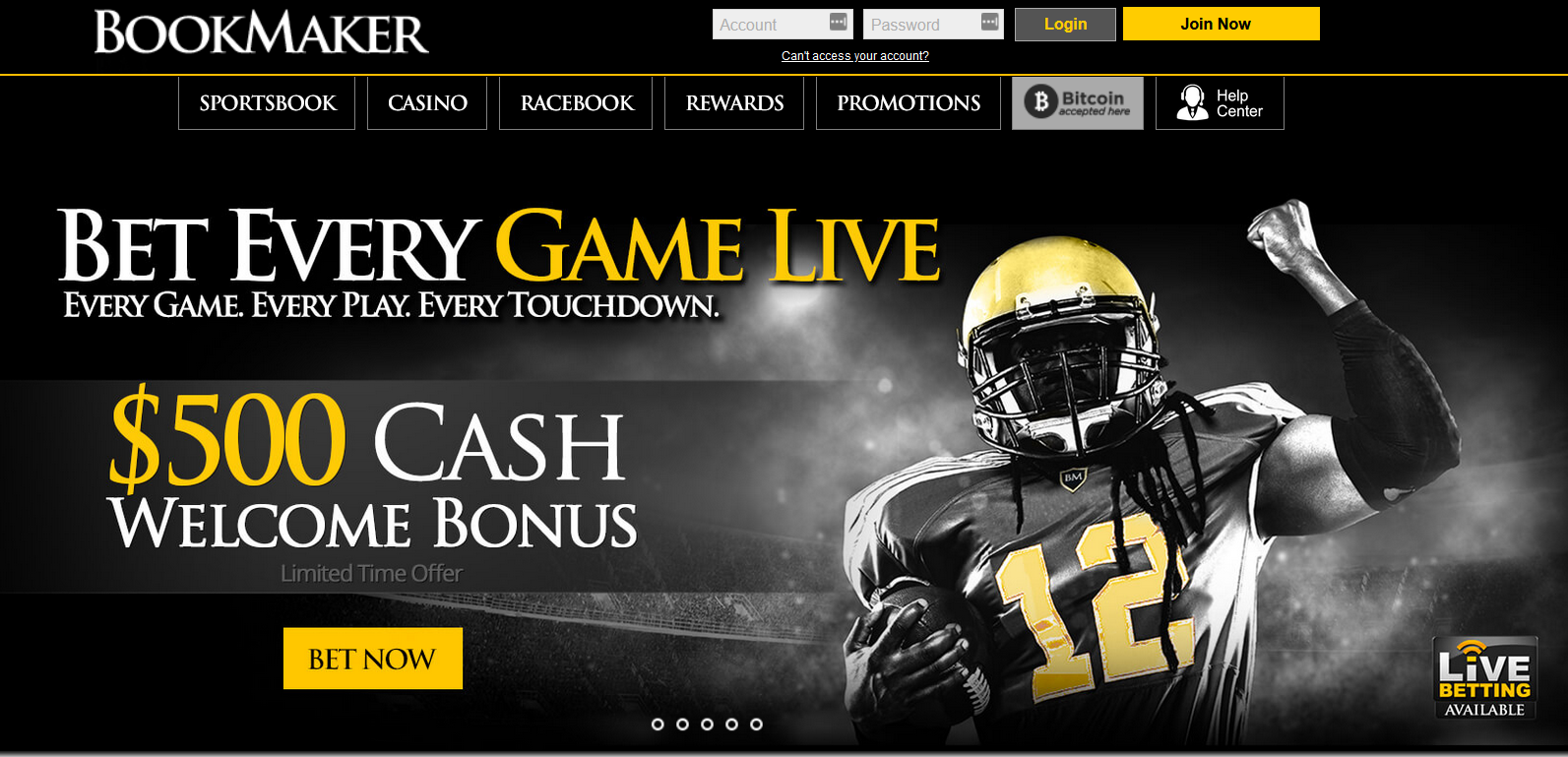 Our No. 1 rated online gambling site is Bookmaker.eu, which has been operating in Costa Rica since 1996. In that time, it has deservingly been called the site where the line originates. You get the earliest sports betting lines at Bookmaker, which is why sharps love them. They also love high limits and not being limited as winning players like what happens at other sportsbooks when you win too often.
But the sides and totals betting is superb at Bookmaker, and it is a great site for users who are new at sports betting to join too. You get a great reward program where you can advance to the third tier and earn the best deposit bonuses.
You also get a quality racebook with fixed-odds wagering, and you can play a casino where every game has RTP info, letting you know how good the game is at paying customers back. The casino games are fresh and sharp graphically, and you also can enjoy live dealer casino-style gambling with Bookmaker's live casino.
There is something here for everyone to enjoy, including a solid welcome bonus for new users. Bookmaker also offers fast payouts and a diverse group of payment methods. The customer service is very good as well if you have a problem that needs to be resolved.
Pros
The best value in early sports betting lines
Great mobile site and live betting
A top-tier loyalty program
Top choice for single-game betting
Casino games have RTP info
Winning players do not get limited
Cons
Lacks a poker room
Not as many casino games as rivals
2. Heritage Sports: Best Cashback Programs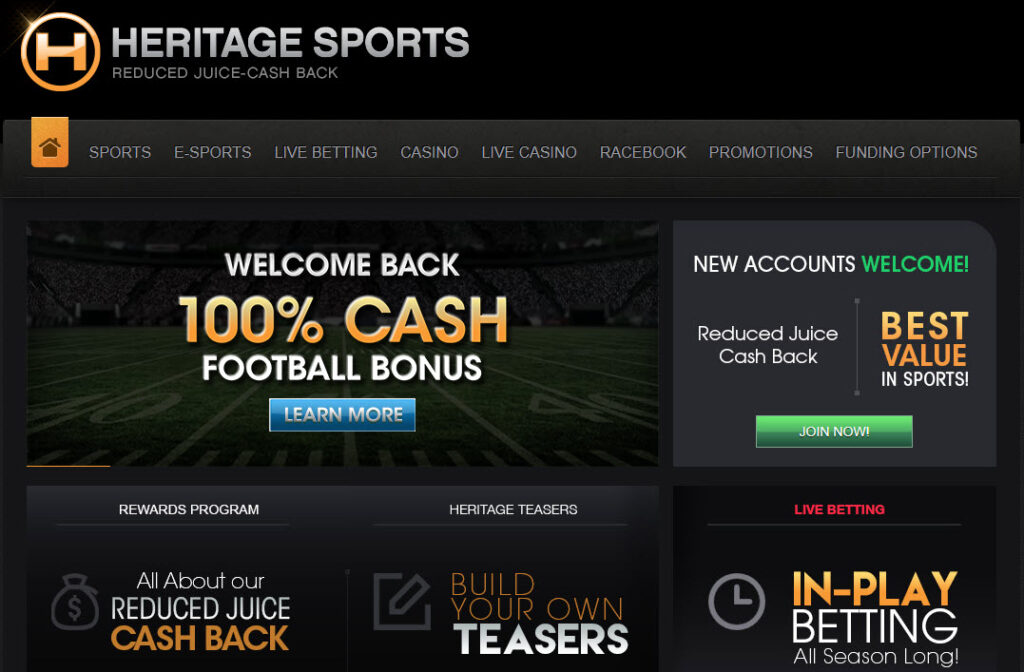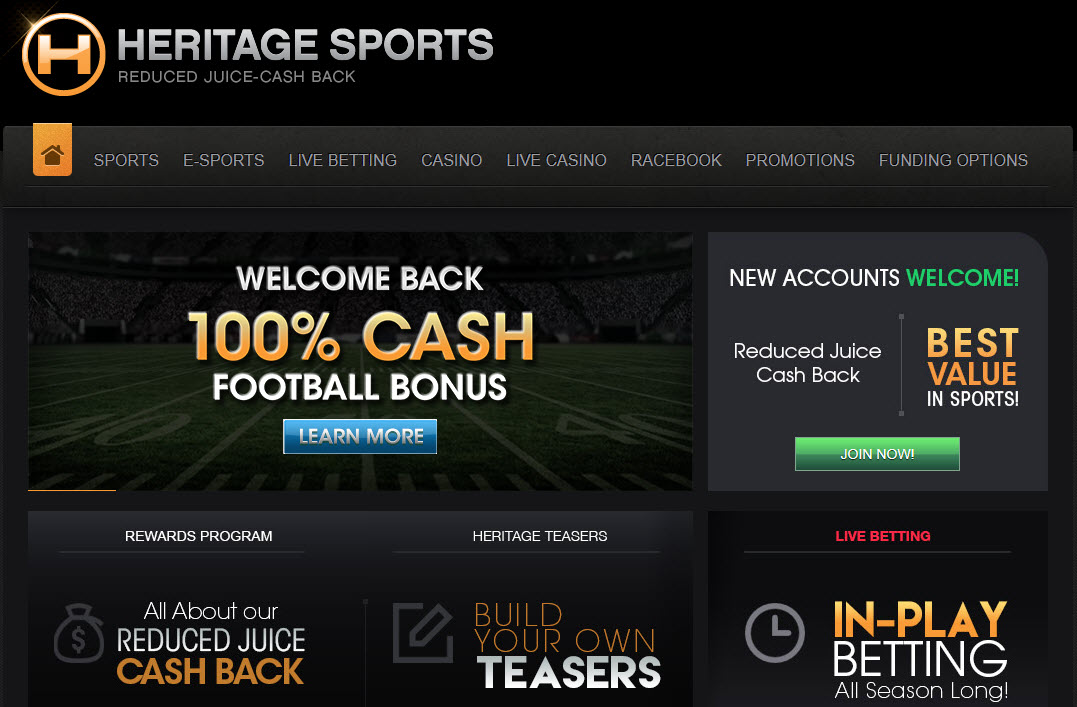 Since 2001, Heritage Sports has been another A+ graded online gambling site from Costa Rica. They excel at live betting, cashback programs, reduced juice (-108) on the sportsbook, offering free-to-try casino games, and allowing users to spend their bonus funds anywhere they want on the site with no restrictions.
There is no poker room, but you can play many video poker variants. The welcome bonus is relatively smaller, but the ongoing cashback programs and perks offered at Heritage Sports make up for that. Users can get a free parlay for their birthday, worth up to $500, and every eighth deposit is on the house if you have a losing streak without any payouts in seven tries.
There is even some of the best esports coverage around at Heritage Sports. You also get early lines for popular sports markets like NFL and MLB.
Pros
Good sportsbook with reduced juice (-108)
A favorite mobile site to do live betting with
Respects esports
Great for cashback programs
Unique perks like a free birthday parlay
100% of casino games have demo versions
Cons
No poker tournaments available
Less parlay flexibility than some rivals
Smaller bonuses than rivals
3. Bovada: Great Prop Picks and Poker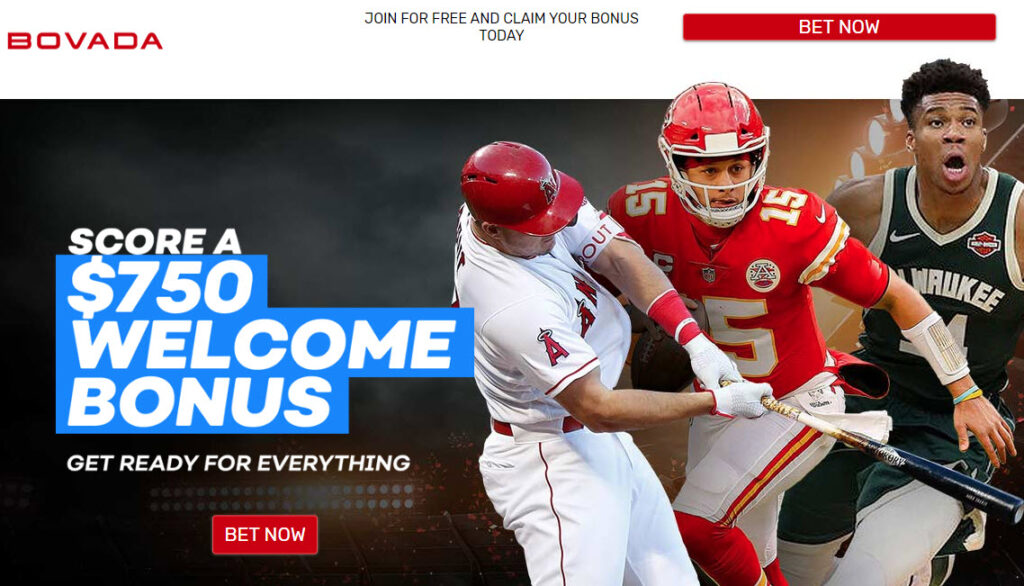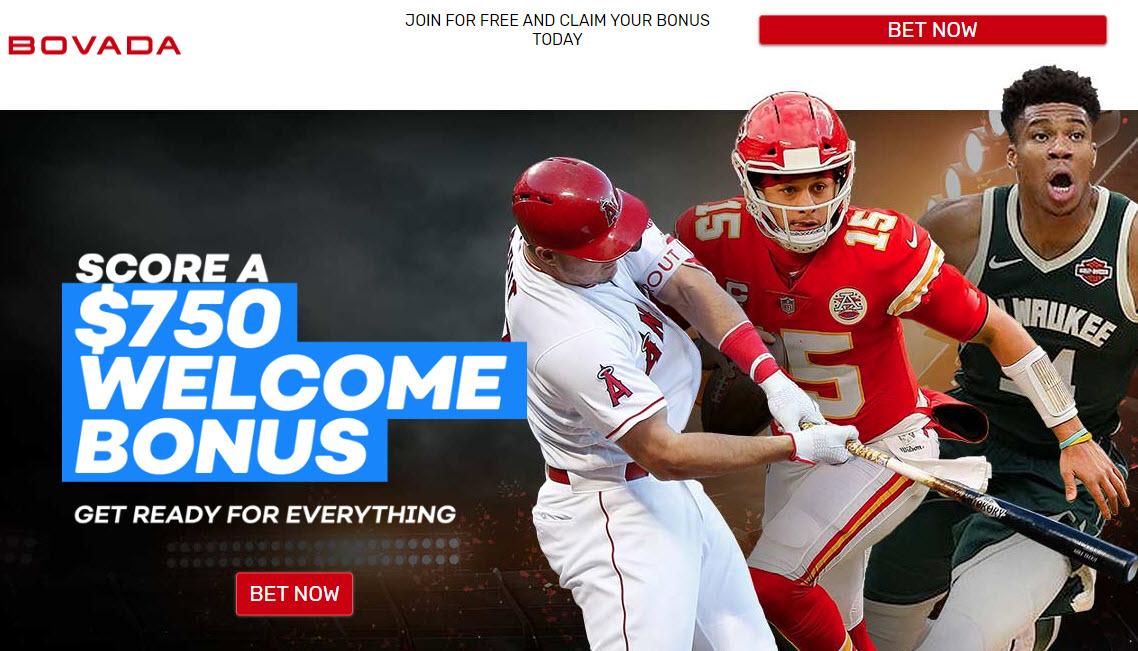 Bovada stands out for offering poker tournaments and cash games on the No. 1 poker network for North American users. They also have a sportsbook with our favorite prop builder, making it easy to build parlays across different games and leagues with a wide range of prop bets.
If you use crypto, you can get one of the biggest welcome bonuses around, a total of $3,750 in bonus funds for the casino over your first three crypto deposits. Bovada is one of the most crypto-friendly sites around for that reason, and they even have a crypto casino with gamers allowed to play classic table games using Bitcoin or other altcoins.
The racebook design is also great, and no one does virtual racing better than Bovada. Bet on horse, camel, greyhound, and supercar races that you can then watch virtually to see how they turn out.
Our only real knock on Bovada would be that you do not get the ongoing promos like odds boosts, bonus bets, risk-free bets, and more like you see at the other sites. They also do not have any daily rebates on the racebook. However, the more you bet, the more points you earn in the reward program. Those points never expire, and you never lose your tier regardless of how long your account has gone since placing a bet. Those points can then be turned in for bonus bets or something like a poker tournament entry.
Pros
No. 1 choice for poker players
Great mobile site
Elite prop builder in sportsbook
No. 1 choice for virtual racing
Huge crypto bonuses for new users
Very good reward program where points do not expire
Cons
Does not offer many promos to existing users
Not as many casino games as BetOnline or competitors
4. BetOnline: Great All-Around Casino for Oregon Fans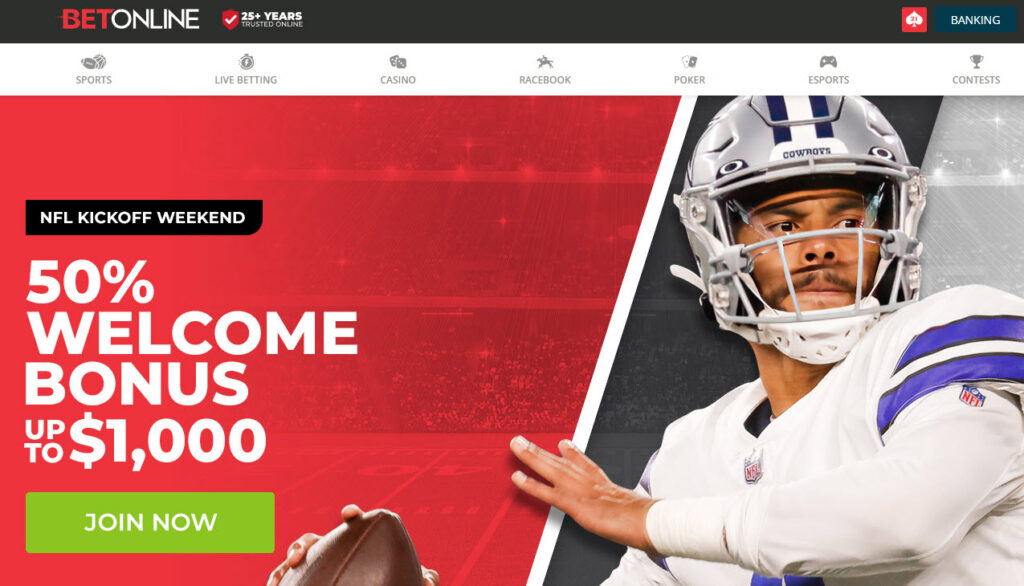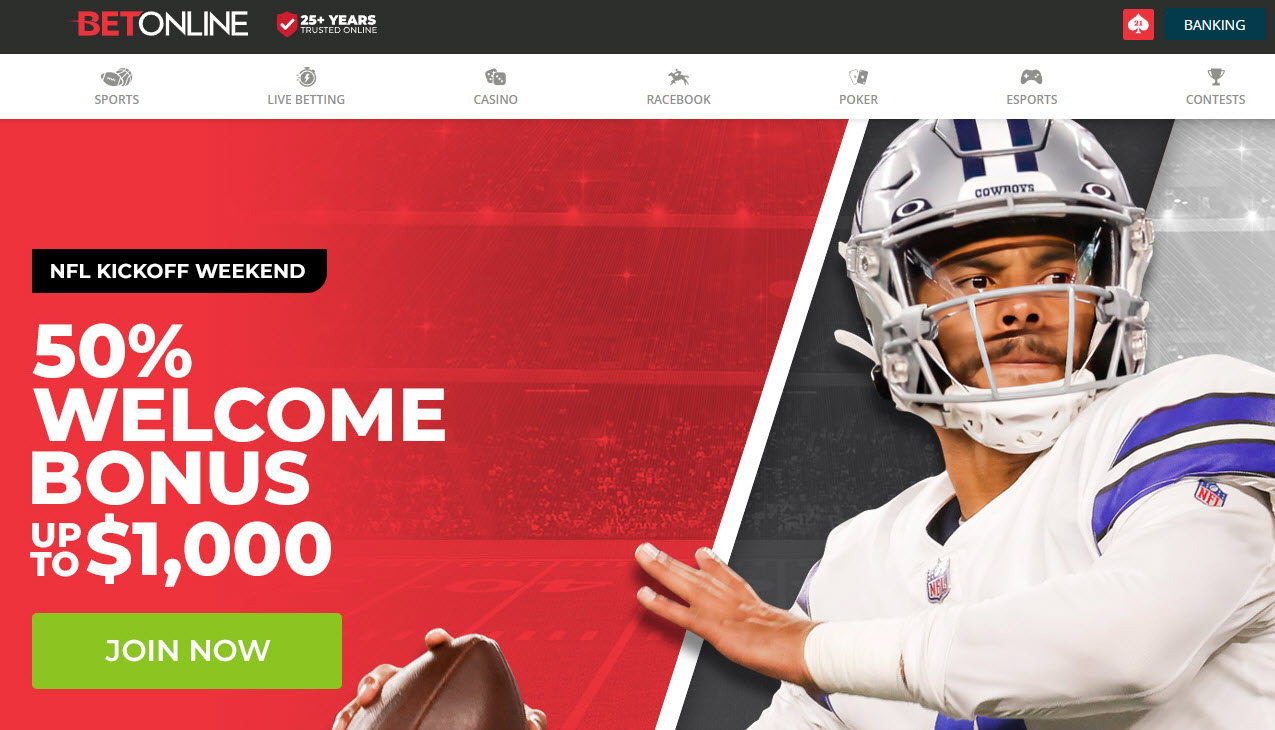 BetOnline is a superb all-around online gambling site with a racebook that has the highest daily rebate (9%), a sportsbook with opinionated lines and reduced juice for the NHL, a casino with hundreds of exclusive games, and a poker room that is only outdone by Bovada on our list.
The other features that make BetOnline great are the high limits, fast payouts, and wide diversity in banking methods. The site is designed well to find the promos you want to use, including some of the most unique sports promos around. Get your moneyline bet back up to a certain dollar amount if your NBA team blows a 15-point lead after halftime, for example. You also can get bad-beat jackpots in the poker room.
While the casino is loaded with hundreds of games, we wish there were demo versions available as we see at Heritage Sports and BetUS. There are so many games to play that you will just have to settle for playing the low minimum to try them out to find your favorites. But you will need a long time to explore all that BetOnline has to offer for internet gambling.
Pros
Sportsbook offers competitive odds
NHL markets have reduced juice
Unique sports promos and many contests (some free)
Try betting markets risk-free
Hundreds of casino games
Poker tournaments and cash games available
Cons
Lots of fees on payment methods
No demo versions on casino
Not the best prop builder layout
5. BetAnySports: Best for Reduced Juice and Lottery Games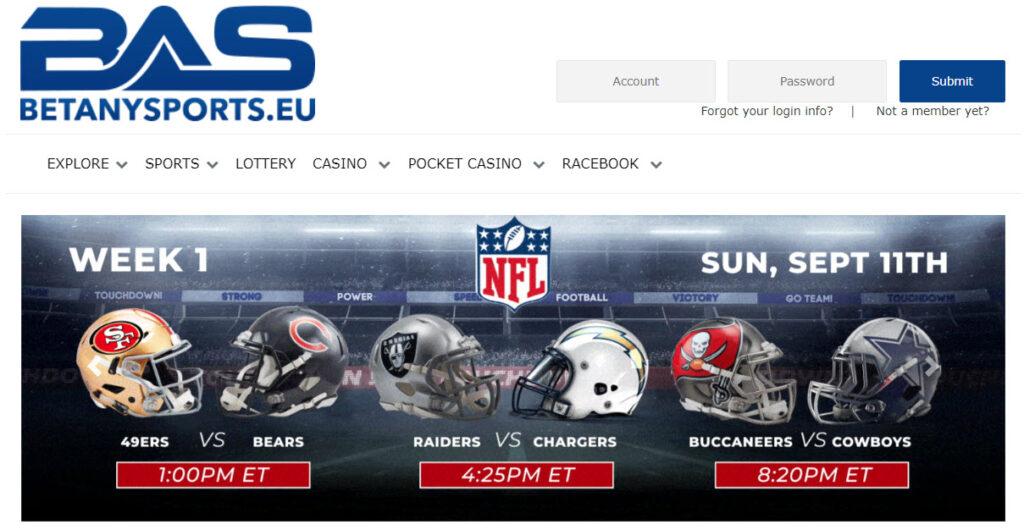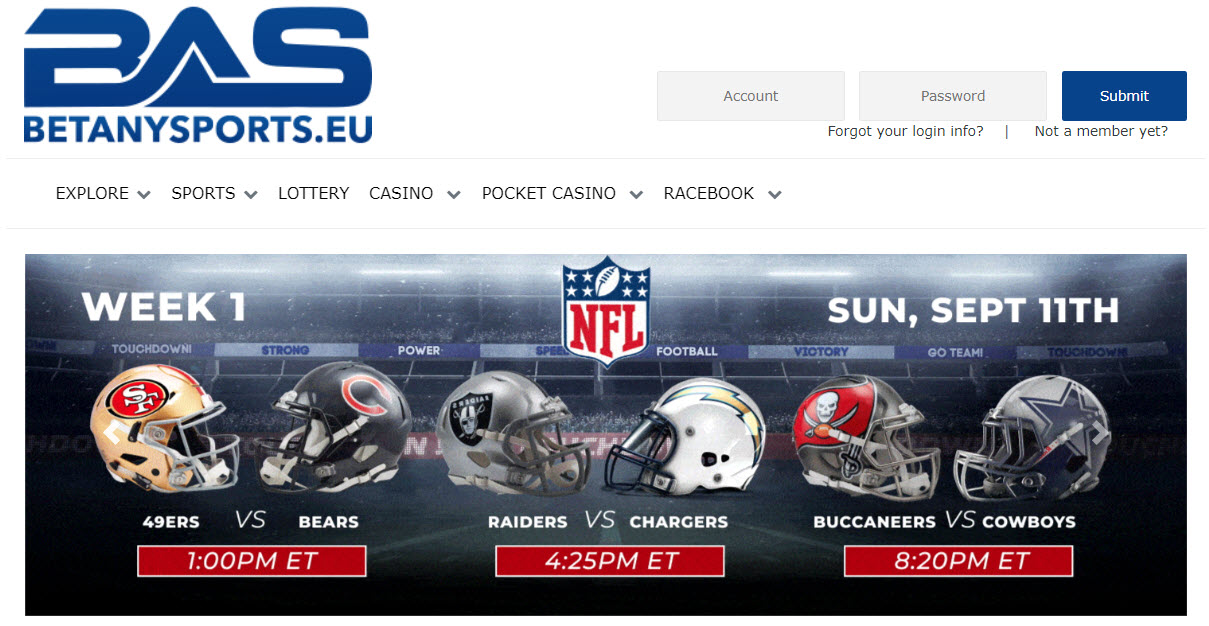 Not to sugarcoat things, but we wish BetAnySports had a sexier site design, because people would better appreciate the quality gambling markets offered here. You can get the best reduced juice in the sportsbook (-105 lines). You just have to find it first as the sportsbook can be confusing with five different sets of betting lines offered. But it is a good site for live betting and choosing from a variety of international leagues and the most popular leagues with your favorite teams.
Variety is key to BetAnySports as there are seven different casinos to try with three more on the way. The games do have overlap as you would expect, but each casino has its own diverse group of games to choose from. You also get one of the best live betting experiences as the dealer will even address you by your name if you want. It might be the closest live betting experience you can get to feeling like you are at a real casino.
This is also the best site for lottery fans because they allow you to play your favorite numbers (with 80% better payouts) on a wide variety of state drawings each day. You can play Oregon's Pick 4 from home using BetAnySports.
Pros
Top pick for reduced juice (-105)
Underrated player prop builder
Best choice for lottery fans
Great variety in casino gaming
Get cashback programs
Live dealer games are great experience
Cons
Sportsbook needs a better layout
Not as many promos as other competitors
6. BetUS: Best for Expert Analysis and Picks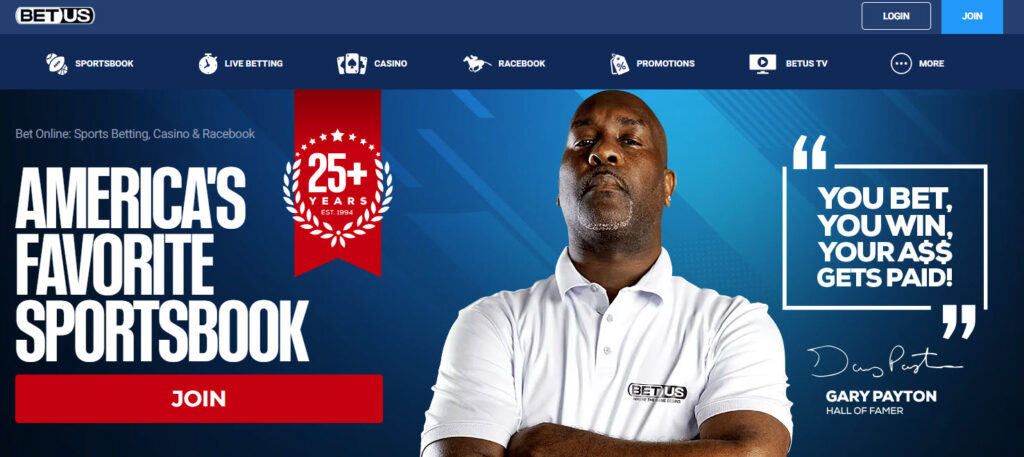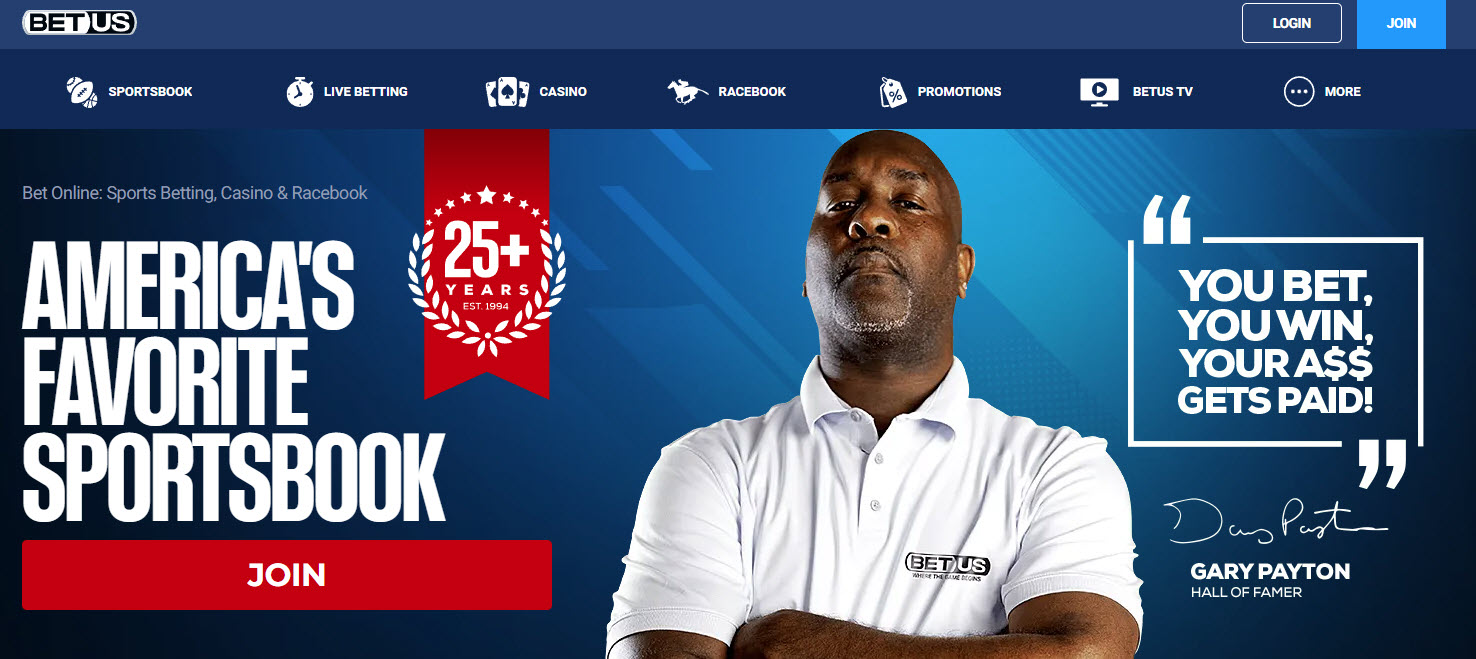 BetUS separates itself from the pack in a few ways. First, they offer more original content and analysis to help you get better at gambling than anyone. You can find informative guides on the site for using crypto, playing blackjack, and how to get started with horse racing. You also can watch experts give picks and analyses on BetUS TV, a YouTube channel that has original programming for just about every sport you could name.
Beyond being more informed, you can get unique bonuses as a new user as BetUS will offer bonus funds of more than 100% of your initial deposit. They will be split between the sportsbook and casino, imploring you to try the best of both worlds. The casino selection is very good too with plenty of newer games, and unlike BetOnline, there are demos to try for free.
What keeps BetUS out of our top five is that the rollover requirements are among the highest around for the bonus money. You also get a serviceable prop builder in the sportsbook instead of a great one.
Pros
Great for getting original content to help with gambling
Unique sign-up bonuses
Great casino library with demo versions
Longstanding reputation in the industry
Plenty of sports markets available
Cons
High wagering requirements on bonuses
Needs a better prop builder
7. WagerWeb: Very Good for Crypto Users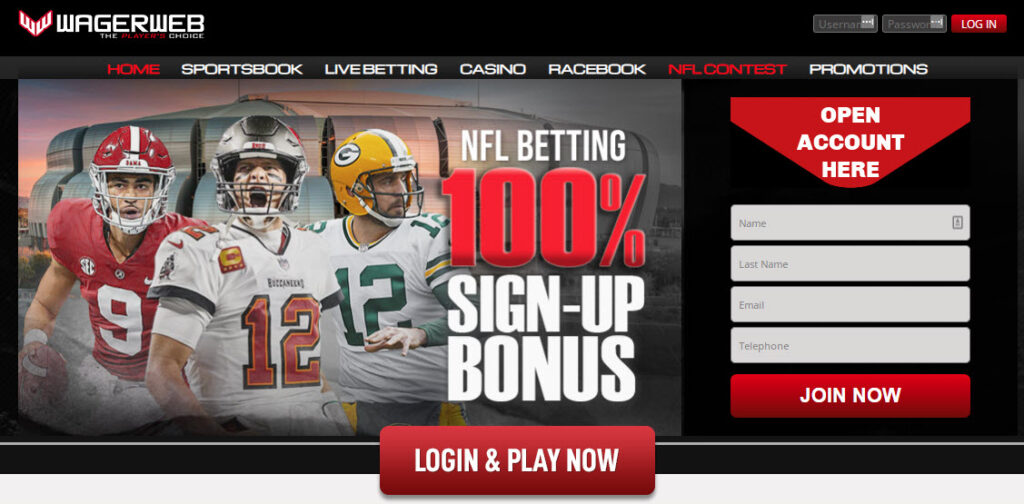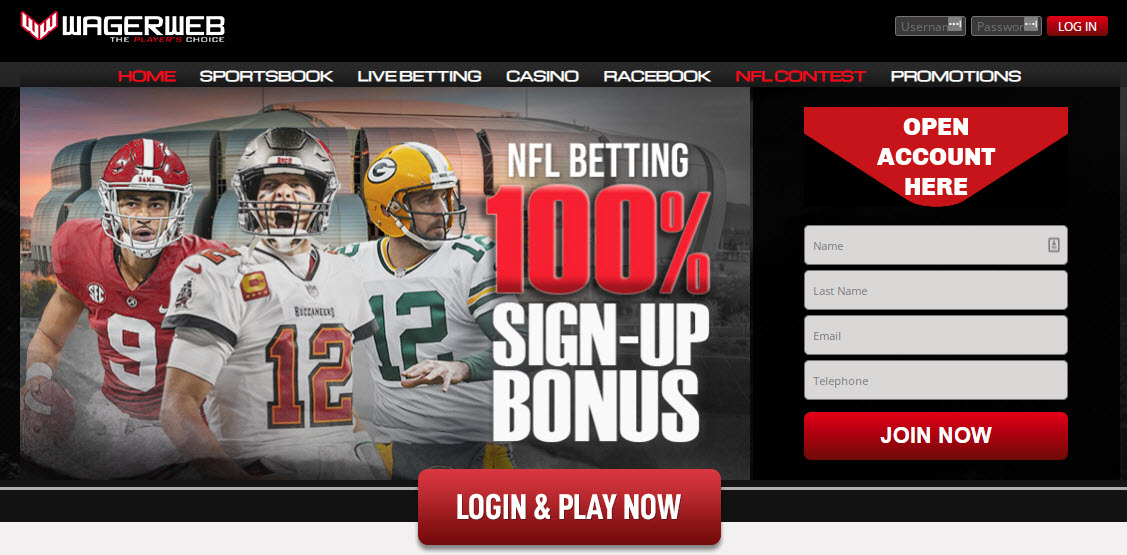 WagerWeb does a very good job of offering many of the things Heritage Sports does, including quality live betting, esports coverage, cashback programs, some reduced juice, and live casino games with decent limits.
But we prefer the way bonuses are handled at Heritage Sports. WagerWeb's bonuses are the best if you use Bitcoin or MoneyGram, but that alienates users who may use their bank transfer or a debit card or a form of crypto like Litecoin for their deposits. You also do not get 24/7 customer support at WagerWeb as they open at 10:00 AM ET.
But if you do use Bitcoin or MoneyGram and enjoy the set up at Heritage Sports, then you will love the flavor that WagerWeb brings to that model here.
Pros
Cashback programs
Does justice to live betting
Fun sports contests and esports markets
Great bonuses if you use crypto
Live dealer games available
Cons
Heritage Sports has better promos
Customer service is not 24/7
8. JustBet: Quality Racebook and Sportsbook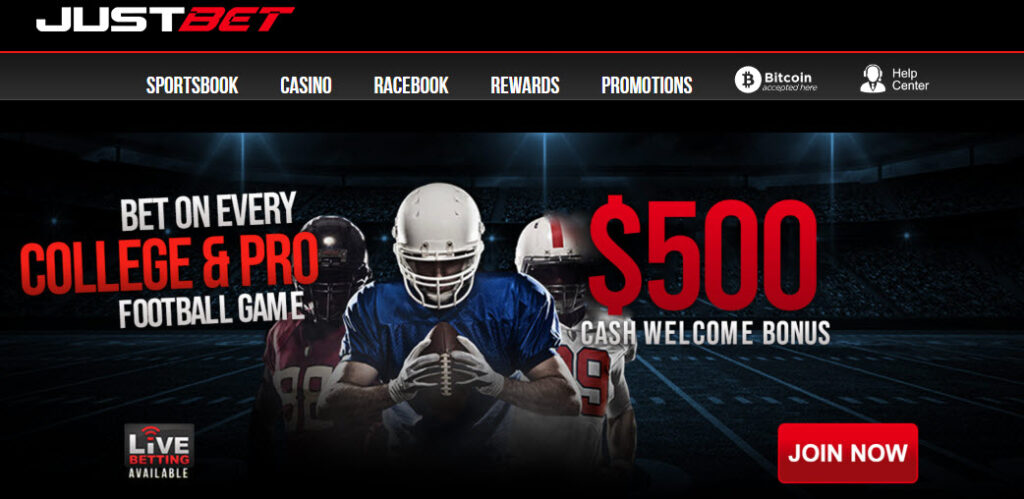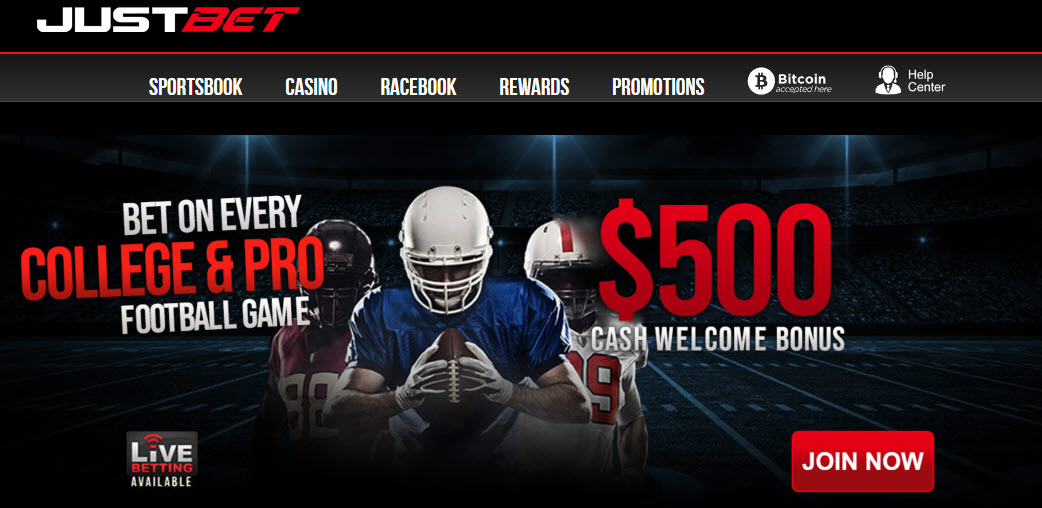 Since 2013, JustBet has acted as a sister site to Bookmaker.eu. That means you get those industry-leading early sports betting lines for the best value picks around before the market shifts the lines. You get a very good variety of sports and leagues to bet on with fair odds. The live betting works well on the mobile site, though we do prefer the design of the Bookmaker site despite it being around longer.
That really is our biggest complaint with JustBet. It is newer than Bookmaker, but it does not bring us anything new like a poker room or a different set of promotions. Even the reward program is a copycat with the three-tier approach. It is a good system to emulate since Bookmaker is our No. 1 choice, but users may struggle to see a good reason to have accounts with both beyond exhausting any welcome bonus funds from JustBet.
Pros
Sister site to Bookmaker
Quality live betting experience
Good combination of slots
Great reward program
Earliest lines in sports betting
Cons
Site lacks improvements to Bookmaker
Still no poker room
9. Everygame: Great Site Design and Casino Choices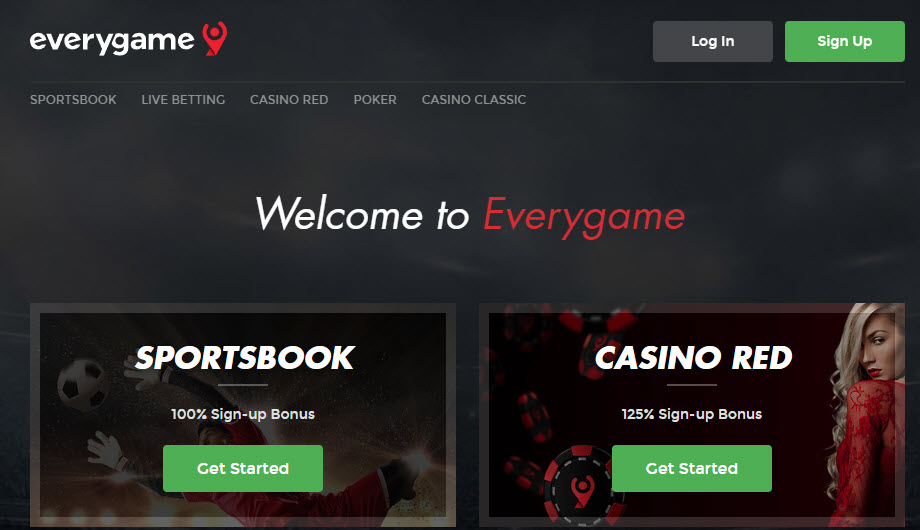 Everygame was called Intertops for 25 years before rebranding. It is based in Antigua where online gambling is legal, and the site is licensed by Curacao.
You get some of the best site designs as Everygame just looks sharp. The casino games are smooth, look sharp, sound great, and do the best job of giving you an experience like you are really there in a casino. There is a lack of live dealer games, but Everygame is one of just four sites in our top 10 with a poker room with downloadable software to play poker tournaments and games for considerable cash prizes.
If you want a great online casino with games you can try for free and some of the best poker online then Everygame Casino is certainly worth a look. But if you are more into sports betting and a racebook, a section Everygame lacks, then you will be better off with a Bookmaker or Bovada.
Pros
Excellent site design and software
Wide range of casino games offered
One of the best for online poker
Niche betting markets available
Decent bonus money for new user promos
Cons
Lacks a separate racebook
More for the casual sports bettor
10. SportsBetting.ag: Hundreds of Casino Games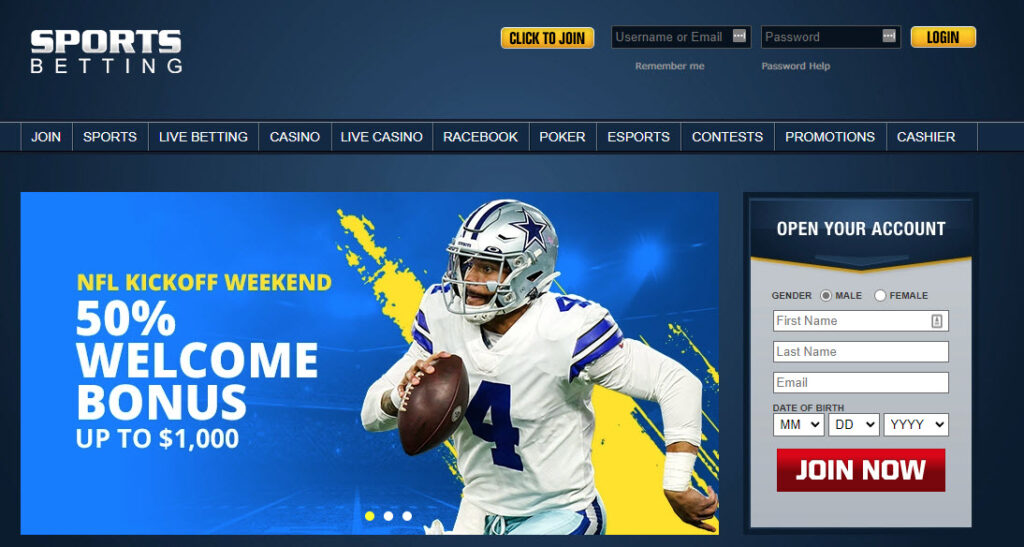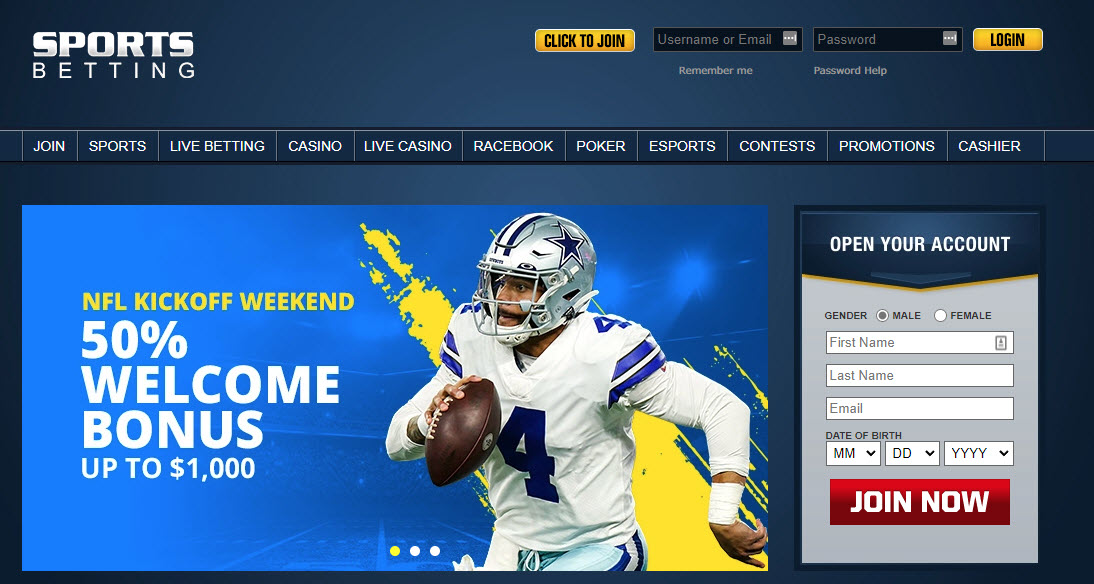 The sister site to BetOnline is SportsBetting.ag, giving them two online gambling sites that would not win any awards for most creative names. But despite the name, some of the best elements of SportsBetting are the non-sports markets.
Since it is so similar to BetOnline, you get hundreds of newer, exclusive casino games to choose from, great video poker and casino poker variants, table games, slots, and live dealer games. You also get opinionated lines on the sportsbook, unique sports promos and contests, and you can expect some of the highest limits and fastest payouts around.
You also will get a poker room via downloadable software that runs on the same network as BetOnline for the No. 3 traffic-ranking poker network for American players. You can play in tournaments and cash games there.
SportsBetting is very good and of course great if you are a fan of BetOnline, but we only ranked it at No. 10 since it does not bring new ideas to the table. But the welcome bonuses are very good, so you could take advantage of that if you wanted to create an account despite using BetOnline more.
Pros
Tons of sports action with contests and promos
Good poker network
Respectable limits
Large library of slot machines
Cons
Does not improve BetOnline's model
All those casino games but zero demo versions
Our Rating Methodology
We will get into our rating methodology in greater detail below, but our metrics for judging the best online options for a quality gambling experience involve sites that offer a great range of gambling options in each section, diverse banking options, generous bonuses, helpful customer service, and a good mobile site design. These metrics tend to hold up whether you are judging a site for its sports betting experience or its casino game offerings.
The History of Oregon's Gambling Laws
Oregon has a very interesting history of gambling laws given its placement in the Pacific Northwest where California is surprisingly not that pro-gambling in 2023, and Washington State still thinks gambling is a felony. In that regard, the Beaver State looks more like Las Vegas, but it has been a long process to get to this point.
Oregon has been friendly towards horse racing for 90 years with the legalization of pari-mutuel betting on horse and greyhound races in 1933, the same year the Oregon Racing Commission was formed.
Things got moving more in the 1970s as charitable gambling was allowed in 1971 with casino nights getting approval as long as money was not exchanged. In 1973, social gaming was also permitted at businesses and private clubs throughout Oregon. Eventually, video lottery terminal machines (1992) and even charitable Texas Hold'em games (2005) would be allowed in the state.
But a big addition was the approval of the Oregon Lottery in 1984 with the first tickets sold a year later. Through the lottery, Oregon approved Sports Action in 1989. This was a sports betting game that allowed Oregon residents to bet $1 to $20 on a parlay of NFL teams each week by picking the winners against the spread. This angered the professional leagues, and soon an NBA version of the game was quickly discontinued.
But the NFL version of Sports Action was a popular hit among bettors for years in Oregon, and it even received an exemption from the PASPA ruling of 1992 that effectively banned sports betting in most places in the country. But the NBA and NFL were not pleased with Oregon over this game, and Oregon only gave up Sports Action for good in 2007 as part of an agreement to become a hosting site for the NCAA Men's Basketball Tournament.
Around the same time, poker rooms started to open around the state as a good alternative to the tribal casinos that started opening in 1994 with the Cow Creek Tribe opening the first in the state. But in 2012, 70% of voters rejected building commercial casinos off tribal land in Oregon.
The next big step towards Oregon becoming a friendly gambling site was in 2018 when the Supreme Court overturned PASPA, citing it was unconstitutional. States now had the right to choose if they wanted legal sports betting. Oregon passed legislation on this in 2019, and sports betting was launched at retail locations in the tribal casinos and with the use of an online app called Scoreboard, which was licensed by the state lottery.
Oregon bettors were faced with a ban on college betting when using Scoreboard, and that has continued today after DraftKings replaced Scoreboard in January 2022 as Oregon's lone online operator for legal sports betting. Oregon Gov. Kate Brown even tried introducing a bill in 2021 to expand Oregon's sports betting to change the tax rates, lower the legal gambling age to 18, and bring in a more fair market of online operators. But this bill was never brought to a vote.
Oregon waits for the days when online casino gaming and online poker are made legal, but for now, users can enjoy offshore gambling sites to fulfill those needs.
Timeline of Gambling in Oregon
The following timeline shows the key gambling events throughout the history of Oregon State:
2022: DraftKings replaces Scoreboard as Oregon's only licensed online sportsbook.
2021: Oregon Gov. Kate Brown introduces a bill to expand online and retail sports betting in the state, but it never reaches a vote.
2019: Oregon passes sports betting bills and begins to allow in-person sports betting and online sports betting through the use of a lottery-backed app called Scoreboard.
2018: The Supreme Court reverses the PASPA ruling of 1992, allowing states the right to choose legislation for legal sports betting.
2012: 70% of Oregon voters reject building commercial casinos in the state.
2007: Sports Action is discontinued, allowing Oregon to host games in the NCAA Men's Basketball Tournament as part of an agreement.
2007: Licensed poker rooms start to open around Oregon.
2005: Charitable games of Texas Hold'em poker are authorized in Oregon.
2004: Oregon holds its last greyhound race.
1997: Oregon is one of the earliest states to legalize online horse race betting.
1994: Oregon's first tribal casino opens thanks to the Cow Creek Tribe.
1989: The lottery creates a Sports Action game that allows users to bet on NFL point spreads, drawing some anger with the professional leagues.
1984: Oregon approves a state lottery with the first tickets sold in 1985.
1976: Voters pass an amendment to legalize charitable bingo and raffles.
1973: Social gaming is permitted at businesses and private clubs in Oregon.
1971: Charitable gambling (table games at "casino nights") is approved for events with non-money winnings.
1933: The Oregon Racing Commission is created to oversee the newly legal pari-mutuel horse and greyhound racing in the state.
What the Best Online Gambling Sites Should Offer
In the following sections, we are looking at the key metrics that go into our grades for the best online gambling sites. If you want the best online action around, you want sites that will excel in these areas.
Competitive Gambling Odds
When it comes to online betting, we want the best prices on the market on the sportsbook. This is why many sports bettors will have an account with multiple sportsbooks to make sure they are getting the best value for a side or prop. Some sites do a better job than others of offering reduced juice or opinionated lines. The better a site is at doing that, the more likely we are to stick with using them over a competitor.
A Variety of Betting Markets
No matter which section of an online gambling site is your favorite, you will want the most betting markets possible so you can maximize your betting choices with that site and rack up the most loyalty points there. Here is the range of gambling options we have in mind for different parts of an online gambling site:
Sportsbook: a wide variety of sports, leagues, and betting types (singles, parlays, same game parlays, teasers, pleasers, round robins, live bets, props, futures, etc.)
Casino: table games, online slots, poker, video poker, live dealer games, specialty games, etc.
Racebook: a wide variety of tracks, thoroughbred tracks, harness racing tracks, and many exotic wagers offered.
Multiple Banking Methods
It is always very important to have a site that makes it easy to put money in our account and request winnings. We expect a diverse group of payment methods, including credit cards, debit cards, bank wire transfers, eWallets, and crypto (Bitcoin, Bitcoin Cash, Litecoin, etc.). We also make note of the different fees, processing times, and limits associated with the different banking methods.
Promotions & Bonuses
Every gambler loves bonus money going into their account, and this is a huge draw for joining a site when they give you a deposit match in bonus money for your initial deposit as long as you meet the minimum deposit requirements. Some payment options even trigger a bigger casino bonus like crypto.
But there is more to this than just a good welcome bonus. Loyal, returning customers should also be rewarded with risk-free bets, boosted odds, reload bonuses, parlay insurance bets, parlay boosters, free spins, double reward points, and other ongoing promos. We also expect a friend referral program and a good loyalty program where the more you spend, the more points you get for further perks.
Live Dealers & Betting Available
Live betting is a huge deal now that most people are using mobile devices to place their bets on these online gambling sites. With live dealer games in the casino, you can watch through video chat a human dealer actually deal with your cards or spin the roulette wheel while you make your bets. This is a great alternative for those who do not like electronic table games and instead want the real-time gaming experience that land-based casinos provide.
Sports bettors also love live betting as you can easily hedge a pre-game bet or make a better, informed bet after getting to see the game play out a little. This also is a very fun way to make a boring game interesting by placing a live bet. Any good sportsbook will have a live betting platform with plenty of options available, including props for popular markets like the NFL and NBA.
High-Quality User Interface
The online gambling site should look good and sound good to keep us coming back. The design of the site should make it easy to find the betting markets we want action on, and we should be able to add our favorite casino games to a list for quicker access. A search function on the sportsbook is also a nice touch to help us find our match quicker. If we have to enter promo codes in the cashier, then we expect that to be clearly labeled in that section.
Most of us are using mobile devices when we use these sites now, but offshore casino sites lack a downloadable sportsbook app or any casino apps you can find on your smartphone's app store. This is why you will be relying on mobile sites that are optimized for mobile sports betting and casino gaming with your favorite device.
They should be easy to navigate through the various sections and to share your active bets with friends and social media. You also want to see a site that runs lag free and can handle the high-traffic server times without a problem. Live betting platforms can be made or broken this way with a good site design and mobile sports betting performance.
A Range of Customer Service Contact Options
Whether you need help with a payment option, a bonus, or a general question, you will need a good customer service team. We judge the best to have 24/7 coverage with the ability to send an email, send a message on the site with attachments if necessary, call a phone number, or engage in live chat. A wide variety of contact options is the key to getting help the fastest.
Strong Security & Safety Features
To place your real money bets, you will have to share plenty of personal info with these online gambling sites, including parts of your identity and a connection to your payment accounts. For this reason, it is very important that these sites are keeping up to date with the latest security features to keep our data safe. This is why we only pick trustworthy sites with many years in the industry.
Online & In-Person Gambling Options in Oregon
In the following sections, we are going to look at the various online options and land-based options you have for different gambling markets in Oregon. There are many ways for you to win money online and in person by gambling in the Beaver State.
Oregon Sports Betting
Those looking to get in on the sports activities have a variety of ways to place their bets. You can visit select tribal casinos and do in-person sports betting at their retail sportsbooks:
Chinook Winds Casino Resort (uses its own sportsbook)
Spirit Mountain Casino (BetMGM Sportsbook)
Three Rivers Casino Resort (uses its own sportsbook)
The Mill Casino & Hotel (uses its own sports betting kiosks)
At those locations, you can bet on the Portland Trail Blazers and you can also do wagering on college sports. Betting on college sports is not allowed with the DraftKings Sportsbook app, which is the only state-licensed app for online sports betting in Oregon. But you can bet on a variety of other sports and leagues using DraftKings.
As always, offshore gambling sites like the reputable ones we reviewed above are available to Oregon users for even more sports betting options.
Casino Gambling in Oregon
When it comes to casino-style gambling in Oregon, all the land-based casino options are tribal casinos located on tribal lands as no commercial casinos have been approved yet by the state. But some of the best tribal casinos in Oregon include:
Kla-Mo-Ya Casino
Wildhorse Resort & Casino
Seven Feathers Casino Resort
Cow Creek Band
Chinook Winds Casino Resort
Spirit Mountain Casino
At these land-based options, you will find a casino floor with many slot machines, video poker games, table games (blackjack, roulette, craps, baccarat, etc.), and even poker rooms with tournaments available if you check the website's schedule.
When it comes to online casino sites, Oregon has not yet legalized this form of gambling, so you cannot play DraftKings Casino, for example. Your best bet is to join offshore casino sites like the ones reviewed earlier. With those sites, you can expect a wide variety of online slots, video poker variants, table games, specialty games (Keno), live dealer games, and more.
Daily Fantasy Sports Betting in Oregon
Daily Fantasy Sports (DFS) has been popularized by FanDuel and DraftKings over the years, but you may be shocked to learn that DraftKings does not offer its DFS product in Oregon, one of only six states without it available. This comes as a surprise when DraftKings is the lone sportsbook operator in Oregon, but it will not allow you to use your account to play DFS.
However, you can play FanDuel's DFS offerings in Oregon. You just cannot join the FanDuel Sportsbook to do sports betting. In a strange situation, Oregon fans will not be left in the dark when it comes to having a top daily fantasy sports option available.
Horse Race Betting in Oregon
Pari-mutuel betting on horse racing has been legal in Oregon for 90 years now. It was one of the first states to legalize online pari-mutuel wagering for horses in 1997. There are roughly nine sites that offer licensed Advanced Deposit Wagering to Oregon-based players, including TwinSpires, TVG, and Xpressbet.
You can also visit several off-track betting locations in the state to do simulcast betting on horse races from many different tracks.
The Oregon Lottery & Lottery-Style Games
The Oregon Lottery was approved in 1984 and started selling tickets in 1985. It has since introduced a number of different games, including video lottery terminal games that act like slot machines.
Here are some lottery games offered by the Oregon Lottery today:
Jackpot Games (Powerball, Mega Millions, Raffle, Oregon's Game Megabucks, etc.)
Keno
Scratch-its (tickets range from $1 to $20)
Second Chance (included on every Scratch-its ticket)
Video Lottery games
Tickets for Oregon's Game Megabucks can be bought online too. At the offshore casino sites, you can use BetAnySports' lotto section to play your numbers at a variety of different state drawings. You can also play Keno at several sites, and Bovada has a lottery-style numbers game with bets on the next number drawn every 40 seconds all day long.
Social Gaming & Charitable Gambling
Oregon has been allowing social gaming and charitable gambling for 50 years now. You can join social poker clubs and play a social game of poker as long as the house is not serving as a bank or charging players a fee to play. Charitable gaming such as bingo and raffles is also fine, and in 2005, Texas Hold'em poker games were also allowed at charitable events.
Niche Gambling Options
Beyond gambling on the most popular sports, horse races, and casino games in the world, you will also find plenty of obscure and niche gambling options at these offshore gambling sites. We have included some of those options below:
Obscure sports (chess, snooker, handball, darts, curling, etc.)
Non-sports betting markets (stock market, politics, Oscars, etc.)
Esports (many popular games available)
Casino games (Keno, Bingo, numbers games, mini-games, 3D slots, lottery drawings)
Virtual racing markets (horses, greyhounds, supercars, camels)
How to Create an Online Gambling Account in Oregon
If you want to get started betting on offshore casino sites and online sportsbooks, then you need to create your account and fund it with money. We walk you through the simple registration process below, and it will be the same steps regardless of which site you end up choosing for your online action.
Step 1. Signing Up
Visit the site you wish to join and start the registration process. You should use a good password that you are not using elsewhere, and you should never share your password with anyone.
Step 2. Verifying Your Account
Your account will need to be verified in the system before it is officially active. Do this by entering accurate information, including your name, email, address, and phone number. The online casino may contact you by email or text to verify your account by clicking a link or entering a code.
Step 3. Depositing Your Funds
Now your account needs money. Before you make that initial deposit, be sure to read the details of the sign-up bonus for new users, because that bonus money is going to depend on the size of your first deposit. Once you know how much you want to deposit, head to the cashier and make that first deposit by using your preferred payment options.
Step 4. Begin Gambling
Your account is verified and funded, so you are ready to explore the wide range of gambling options and start betting to win real money today. Remember to have fun and bet responsibly.
FAQs – Online Gambling in Oregon
Is it legal to online gamble in Oregon?
Yes, legal online betting in Oregon includes sports betting and horse racing wagering. It is not yet legal to play online casino gambling (slots, table games, specialty games) or online poker, but that does not mean you will be penalized for doing so with offshore sites.
What kind of gambling is legal in Oregon?
There is a wide range of gambling options that are legal in Oregon, including sports betting (online and retail), horse racing (online and retail), the lottery, and you can also play casino-style games and poker in person. Charitable gambling and social gaming are also legal. 
When did online gambling become legal in Oregon?
Online wagering on horse races was approved in 1997 in Oregon, making it one of the earliest states to do that. Online sports betting was legalized and launched in 2019. We are still waiting for online casino games and online poker to be legalized by the state.
Can I use Bovada in Oregon?
Yes, Oregon-based players are free to enjoy the online action found at Bovada, including online sports betting with a great prop builder and many available betting markets, a casino with over 100 games and the busiest poker network for North American players.
Are gambling winnings taxable in Oregon?
Yes, the amount paid in taxes on gambling winnings will depend on the amount and type of winnings. Generally, offshore sites do not report to the IRS, so it is the player's responsibility to do so. Locally-regulated operators will automatically report any winnings. 
A sports betting bill in North Carolina, which had not made any progress for almost two months, will likely be discussed and possibly voted on by the entire Senate this week. Earlier this week, the Senate Committee on Commerce and Insurance reviewed the sports betting bill and gave it a positive assessment, recommending it to

---