Georgia Sports Betting – Which are the Best GA Sports Betting Sites & Sportsbooks?
The best online gambling sites in Georgia have everything you're looking for as a bettor including amazing bonuses, competitive odds, tons of games to bet on and of course quick payouts. In this article, we will provide you with all of the information you need to pick the right sportsbook for you.
We will also explain what is going on in Georgia in regard to sports betting from a legal standpoint, checking out the different sports betting bills that have been introduced in the state. You will also get an explanation as to why your bets will have to be made with offshore sportsbooks while lawmakers in Georgia continue the inevitable push toward legalization.
Georgia Betting Guides
Best Georgia Online Sports Betting Sites 2022
In order to give you the insight you need to find the right book for you, our experts signed up with as many sportsbooks as they could find. After a ton of research, we are confident that our specialists have found the top online gambling sites available for sports fans in Georgia with these reputable sportsbook operators.
The one thing these online sportsbooks have in common is that they are offshore. For that reason, they are able to offer online sports betting to anyone in Georgia. Being offshore means that state and federal regulations are outside of their jurisdiction; however, these are still legal sportsbooks. You can go ahead, sign up and start playing at any of these online sportsbooks while in Georgia.
Top Georgia Sportsbook Reviews
Every site has their strengths and our top 10 online sports betting sites highlight the best perks of being a customer. Take a look at our reviews of the best offshore sportsbooks for those of you looking to place bets in Georgia.
1. Bookmaker – Best for Big Bettors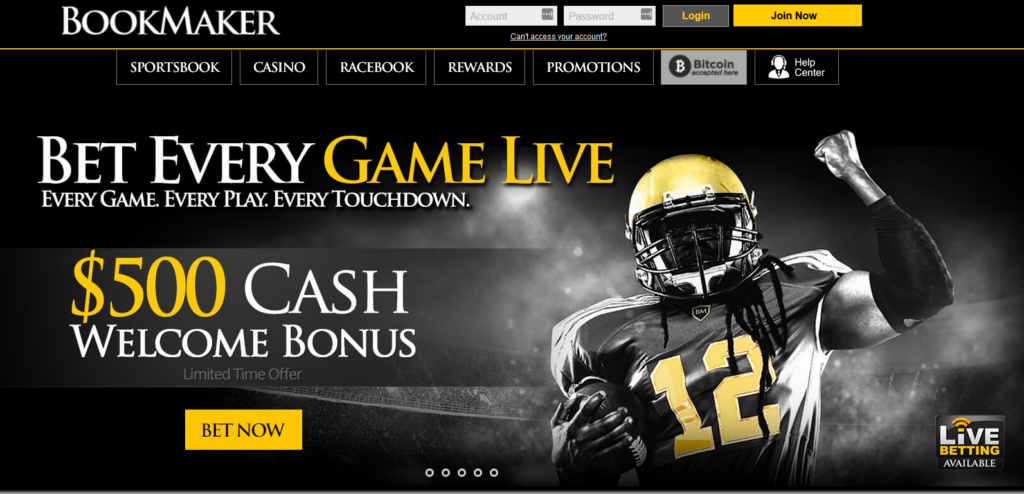 Not all sportsbooks are created equal and Bookmaker.eu is a perfect example of how big time online gambling sites do business. Most sportsbooks anywhere have a wager limit. That limit can apply to single games or entire sports.
Bookmaker.eu has built a reputation for accepting all players, regardless of their bet size. If it's good enough for the pros, then you can be confident that it'll be the right place for you. Due to the fact that they are offshore, there are no restrictions on what type of sports they can offer so you can be sure to have one of the most sturdy betting markets in the industry.
Of course signing up with an online gambling site this big comes with perks as well. Crypto depositors get that extra special treatment as well so make sure to review their website to see how to get the most bonus for your deposit.
Pros
Great reputation in the online betting industry after years of service
Welcomes all action instead of limiting winning players
Large betting limits
Early lines and competitive pricing
Cons
Does not have live poker room
Professional players not eligible for loyalty program
2. Heritage Sports: Best for Live Betting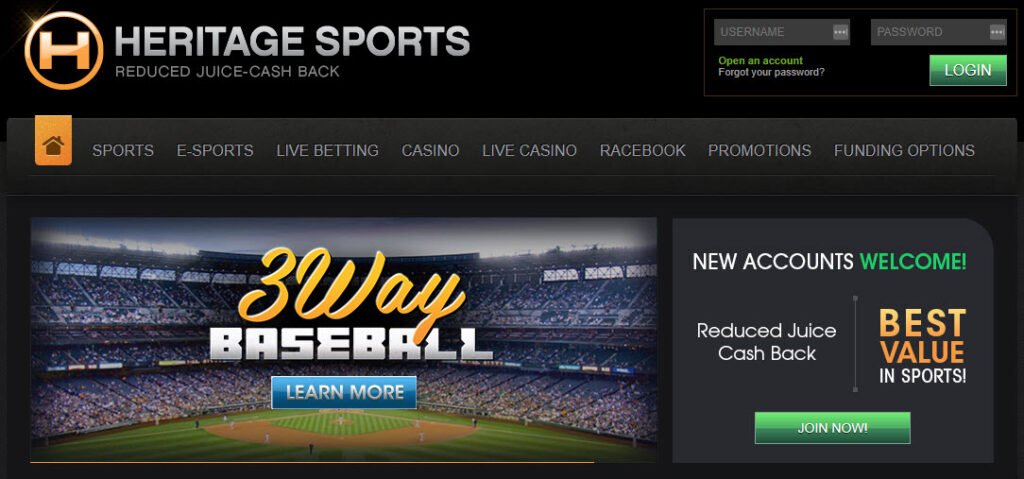 One of the things that Heritage Sports is known for is their competitive lines and reduced juice. You'll often find your favorite game at a better price at Heritage Sports than the majority of other online gambling sites. What that means for you as a customer is that in the long run, you'll save money.
When shopping for what game to bet on at Heritage Sports, you'll notice that a lot of their games will be priced at -108 instead of the standard -110. While that might not seem like a lot when placing one bet, if you calculate over a season or a calendar year, that's 20% that you're saving on the amount of juice you pay. That makes a huge difference to your profit margin. If you're looking to gamble online in Georgia, Heritage Sports is one of the best places to sign up. On top of the reduced juice, you get a sign-up bonus as well as generous perks for VIP players like cashback.
Pros
Reduced juice odds
Tons of live betting options
Easy-to-use betting interface
Cashback and additional promos
Cons
Does not have live poker room
Signup bonus not as competitive due to reduced juice
3. Bovada: Best for Mobile Platform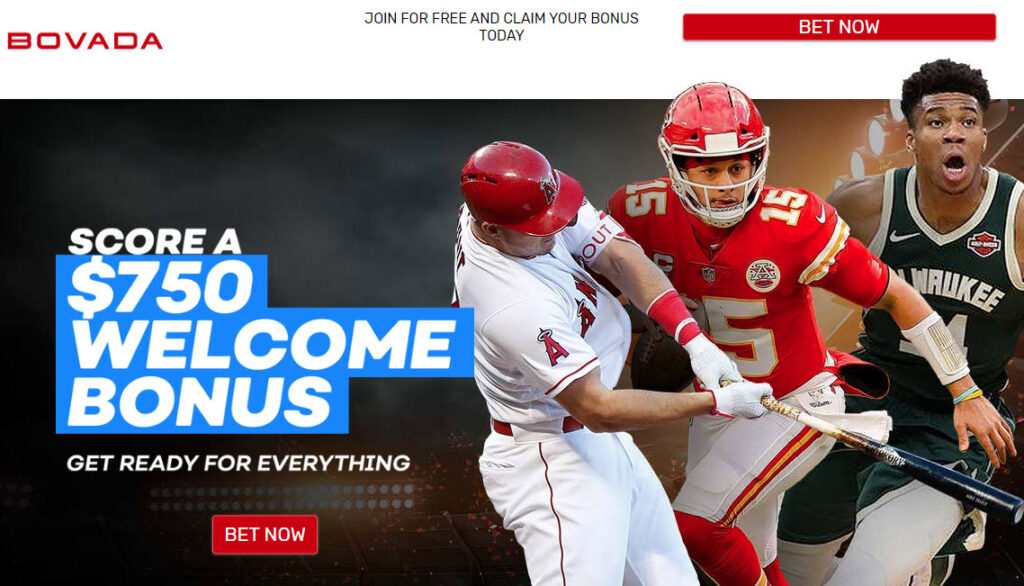 One of the things that makes Bovada one of the top choices for online gambling in Georgia is the variety of their offerings. Of course, they have one of the most trusted sportsbooks in the industry with very competitive lines. They have one of the best poker rooms of any sportsbook in the industry.
Unlike casino gambling, you've got to wait a while for the results of a sports bet. For that reason, it's very popular at brick-and-mortar casinos that customers will head over to the table games to pass the time. With Bovada, you get the opportunity to gamble online in Georgia from the comfort of your home at a sportsbook, casino and even an online racetrack. All of that action is available to you on mobile as well which makes Bovada one of the biggest names in the industry.
Pros
One of the best poker rooms of any online sports betting site
Mobile offering one of the industry's best
One of the biggest betting markets in the industry
Cons
Betting limits are lower than some online betting sites
Early betting lines always available
4. BetOnline: Access to Early Lines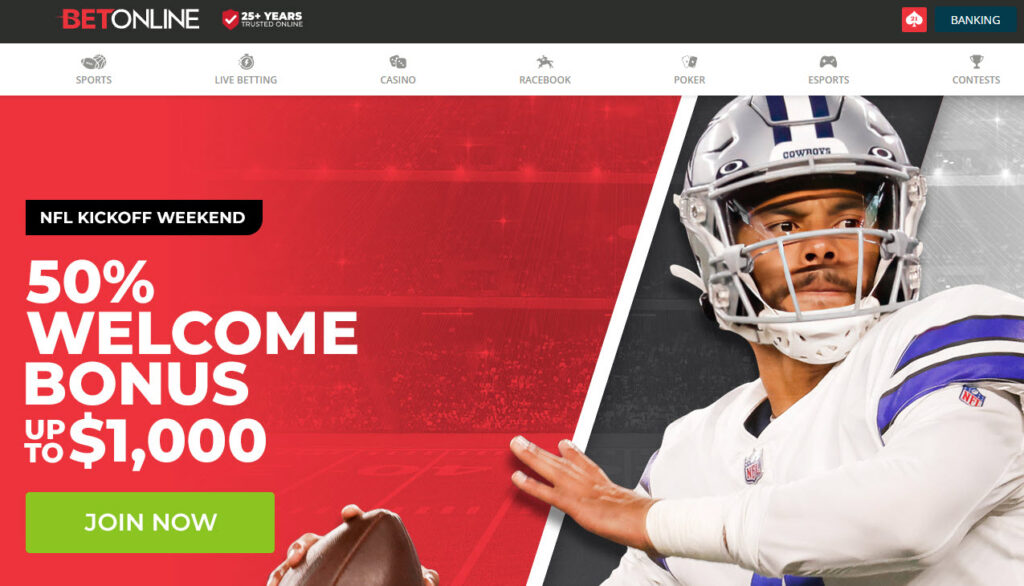 A very underrated feature of a sportsbook is how early they release their lines and that is one of the advantages of BetOnline. The value there is that the earlier you have access to the odds, the better price you are likely to get. The NFL is one of the most bet on league's in the world in terms of overall handle. An example of how important BetOnline is in the industry is the fact that they release some of the earliest NFL odds.
A lot of other online sports betting sites end up copying their lines but after they've been bet into place by the people that had access to the early lines. Meaning you're getting a worse price than the people who got the opening line. As mentioned with some of the other offshore sportsbooks for gamblers in Georgia, the better the price of the line, the more profit you stand to make. You can be sure that will be the case with BetOnline.
Pros
Fast payouts
Large betting limits
Great software making for bettor user experience
Competitive odds
Cons
Reduced juice not available on all leagues
Prop bets market not as big as some competitors
5. BetAnySports: Reduced Juice Wagering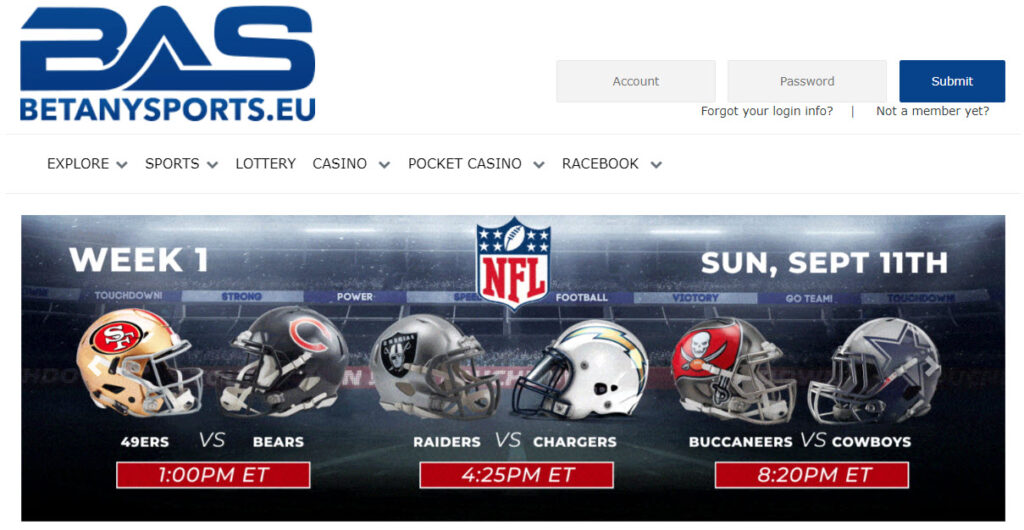 How much you pay for your bets doesn't just determine how much profit you make. It also has a huge effect on how much you need to win to turn a profit. At the average sportsbook, you pay -110 to make a bet. What that means is that in order to make a profit, you need to win at least 53% of the bets you make.
At BetAnySports, thanks to their reduced juice, the average odds are -105 which is 50% better than -110. What it also means is that instead of having to win 53% of your bets to make a profit, you only need to win 51.5%. Some of you might look at this and think "Less than 2%, that's not that big of a deal".
While you might be right when it comes to a small number of bets, the majority of people aren't opening their accounts to make a few bets. In the long run, it means you have to win more over the course of several seasons. Those margins add up the more you bet and if you want to play as much as possible, then having percentage points in your favor will be key to that.
Due to the reduced wagering model, BetAnySports isn't able to offer some of the generous bonuses that their competitors do. That is the one drawback of the reduced juice model. However, for most serious sports bettors, the reduced juice outweighs the deposit bonuses.
Pros
Reduced juice lines on sides and totals
-105 juice among industry's best
Quick payouts have helped earn trusted reputation
Cons
Welcome bonus not as generous as some competitors
Interface is not as up-to-date as some competitors
6. BetUS: Best VIP Service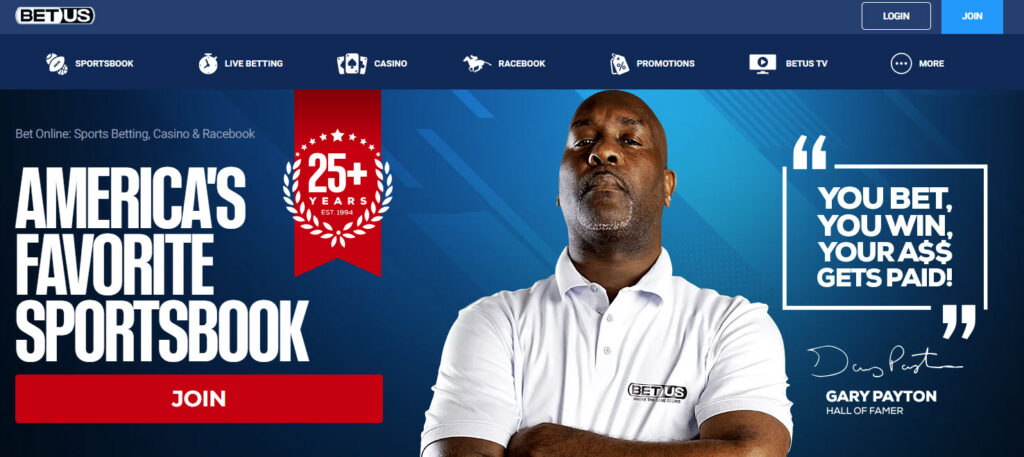 When you spend money at any establishment, you expect to receive VIP service for your continued loyalty. If you are a big depositing player, not just in terms of volume but longevity, you can expect to get red carpet service at BetUS. That type of treatment isn't only reserved for big players as their customer service departments are one of the biggest in the industry.
One of the other perks of signing up with BetUS is they have a very interactive marketing department. Their website has links to shows that they do on social media platforms. These shows are both entertaining and insightful. They provide you with the latest news in terms of betting odds on your favorite leagues as well as free picks. Make sure to check out BetUS if you're looking to gamble online in Georgia.
Pros
Some of the best bonuses in the industry
Bonuses on reload deposits after initial signup bonuses
VIP customer service team
Esports betting hub with live streams available
Cons
Play through requirements on bonuses higher than some competitors
Early lines not available
7. WagerWeb: Best Top Bonuses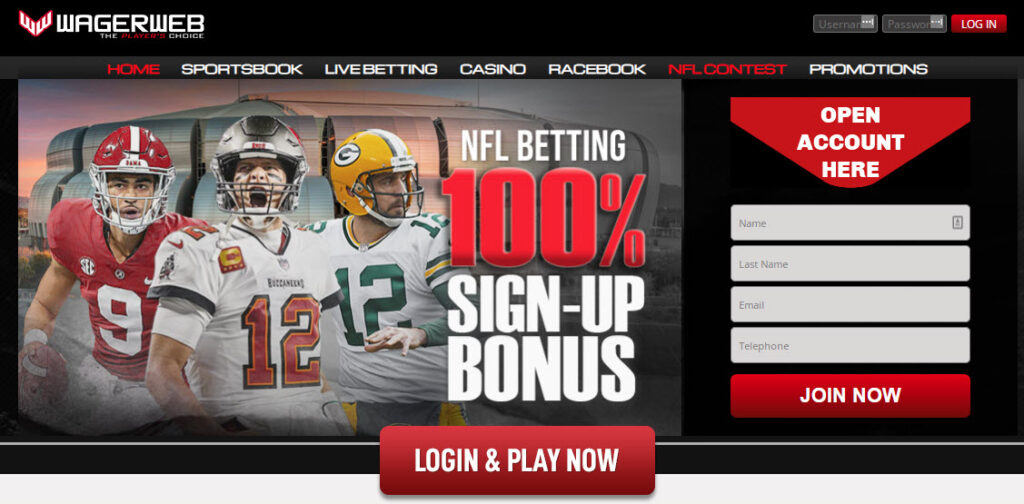 Trust is a big part of the decision-making process when deciding what online sports betting sites you want to sign up at. Longevity goes a long way in that department and WagerWeb is one of the most trusted names in the industry for that reason. They launched back in 1994 and have built a solid reputation in the online sports betting market.
They did that by offering some of the most competitive lines while also paying out their customers in a very timely manner. They also offer reduced juice and some very competitive bonuses. With the amount of experience they have, you will be getting a top-notch experience in every aspect of your betting journey.
On top of the fantastic sportsbook, they also have a wonderful casino and a racebook as well. The casino is known for having some of the best bonuses available in the online gambling market.
Pros
Reduced juice odds available
Fast payouts
Good selection of bonus offers
Cons
Only one free non-crypto withdrawal per month
Betting limits are lower than some competitors
8. JustBet: Great for Live Betting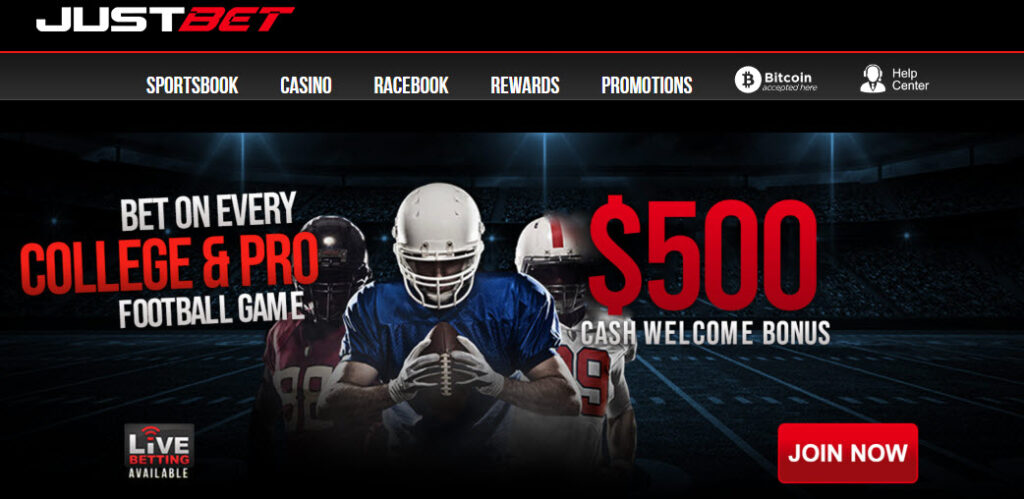 Live wagering is still relatively new but it's clear to see if it is a big part of the future of online gambling. Let's start with the fact that making a live wager is really only possible online. It's also a new market which means more options.
A great example of that is the fact in the past, after the start of the second half in most sports, there would be no more available wagers. Live betting has completely changed that, giving you action up to virtually the last minute of the game. JustBet is way ahead of the curve with the amount of live bets that they offer.
Of course they also offer competitive sign up and reload bonuses as well as a fantastic loyalty program. They are a sister site of Bookmaker.eu which is one of the most trusted names in the business. All in all, JustBet has everything that bettors in Georgia need to get action on their favorite teams.
Pros
Early betting lines for access to better odds
Great live sports betting market
High betting limits
Good welcome bonus
9. Everygame: Slick Mobile Experience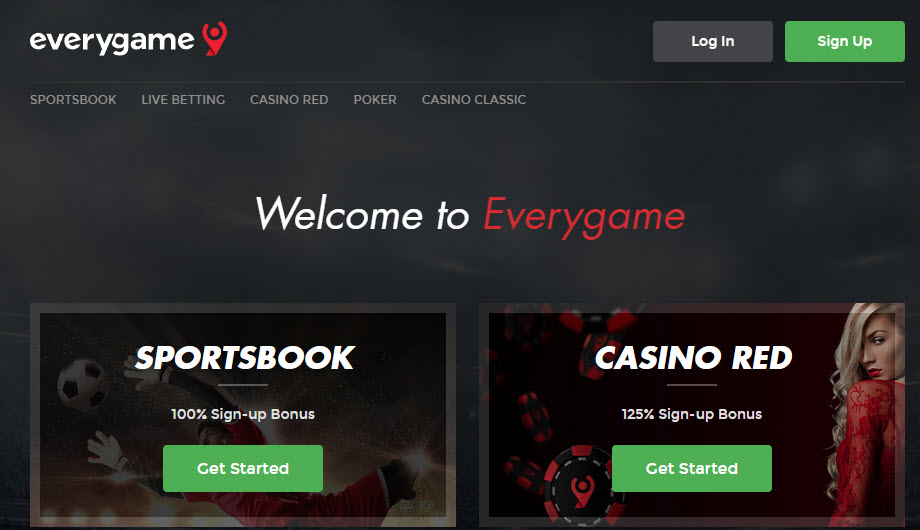 The world we live in has gone mobile for a while now. There aren't many things that you can do on your laptop or personal computer that you can't do on your mobile phone. Online sports gambling is no exception and some betting sites are a little more advanced in that department than others.
This is very important if you like to play casino games. Everygame has a ton of casino options as their name would suggest. Not every online gambling site's casino is compatible with mobile but again, Everygame is ahead of the curve in that department.
On top of regular casino games, Everygame has a poker room as well. With their super competitive welcome and reload bonuses, this is the place for you if you like a slick design with competitive odds.
Pros
Betting market is bigger than most competitors
Offers sports leagues that a lot of competitors do not
Mobile interface is very modern
Cons
Account verification process slower than some competitors
Bonuses not as big as some competitors
10. GTBets: Best for Competitive Bonuses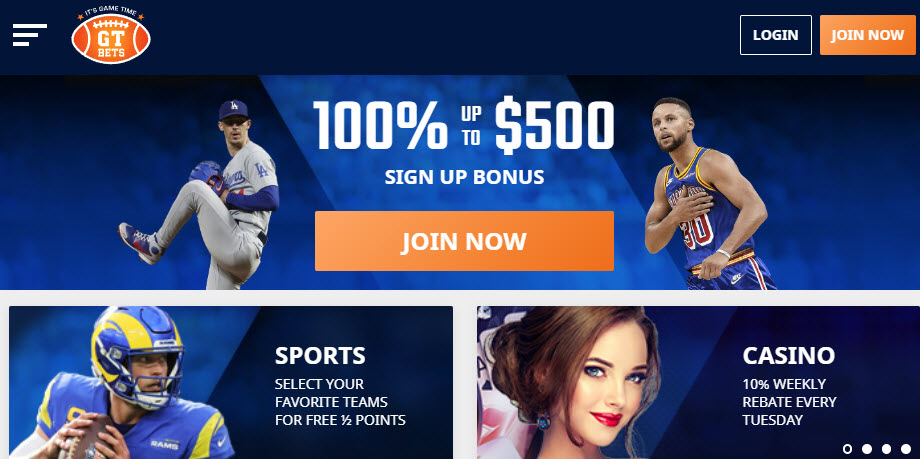 For a lot of customers, getting the biggest possible bonus is the determining factor in terms of where they decide to sign up for an online betting account. GTBets have some of the best sign-up bonuses in the industry.
They have some very interesting promotions, especially their interactive favorite team bonus. You can essentially get a better line on your favorite team when wagering on the spread. On top of that, GTBets also offers reduced juice on certain spread bets as well. If you're in Georgia, GTBets offers you a great gaming experience.
Pros
Earn a half point on your favorite team when betting spreads
Some reduced juice available
Customer service available 24/7
Cons
Play through requirements on bonuses higher than some competitors
Withdrawal fees are higher than some competitors
Is Online Sports Gambling in Georgia Legal?
Our readers in Georgia regularly ask if they are allowed to bet on sports in their home state. The simple answer is yes, Georgia residents can absolutely become sports bettors, as long as they sign up at an offshore sportsbook.
At the moment, lawmakers in Georgia are making a strong push to legalize sports betting. Despite these legislative attempts, there are still a lot of details to be worked out which means that legalization won't happen before 2023. In order to make online gambling legal in Georgia, voters would need to decide on the upcoming midterm elections if they want online gambling in Georgia to be legalized. Unfortunately for sports betting fans who gamble online in Georgia, the last legislative session of the year ended in Georgia without lawmakers being able to come to an agreement that would offer legal betting options locally from state-regulated sportsbooks.
The fight isn't over and there are Georgia lawmakers working on a constitutional amendment that they believe is the best path to legal gambling in the state. In the meantime, you can sign up with an offshore sportsbook which will allow you to get started betting on sports while in Georgia. Our experts have done the groundwork for you and have provided a list of the top online betting sites for those of you in Georgia.
With that said, we advise you to take your time and review the features each of these online sportsbooks has to offer. since each of these online betting sites provides a unique experience for prospective bettors.
Latest News and Developments in Georgia Sports Betting – When Will Sports Betting be Legalized?
Due to the fact that the last legislative session ended without lawmakers coming to an agreement, online gambling in Georgia will not be legal before 2023. There is good news however as lawmakers along with local sports franchises in Georgia are continuing to make the push for legalization. There are still a lot of details to work out and although some lawmakers feel like a constitutional amendment would be the best path to gambling expansion, that doesn't necessarily make it the fastest.
SR 135 which is the Georgia online gambling bill that sought to provide legal sports betting options via an amendment was eventually gutted and replaced. Now lawmakers have a tough choice to make. If they truly believe the path to legalization for online wagering has to come via an amendment, the earliest they would be able to make that happen would be November 2024. That would mean that legalization and gambling expansion might not happen until 2025 which is not what sports betting fans in Georgia want to hear.
Another Path to Legalizing Sports Betting In Georgia is Possible
Of course as sports betting fans, the best path to legal sports betting options is the fastest one. It's not quite that simple in a conservative state like Georgia so it's understandable why those in government have chosen to go the route of seeking an amendment. Although speed is not their priority, those seeking to make online gambling legal in Georgia understand how much potential tax revenue they could make.
It's not all bad news though as there is another path to legalization. The problem for the men and women that have been fighting the good fight, it would mean starting over again from scratch. As badly as they want online gambling legalized, that is a tough pill to swallow for no other reason than this is not the only issue on their respective plates.
Local Franchises In Georgia Eager to Legalize Sports Betting
Sports are a big deal in Georgia and the amount of money it generates makes legalizing online gambling in Georgia a no-brainer to some. Not everyone is okay with change and as you would expect in a conservative state like Georgia, some oppose the idea. The thing is money talks, and as far as the sports scene in the state of Georgia, there's a ton of money. Hopefully, that means that effective sports betting legislation is not far off.
Before we even get to the professional franchises, college athletics in Georgia are huge. Not every state allows wagering on college athletics so it remains to be seen if that will be allowed in Georgia when legalization does happen. What we can say is considering the University of Georgia is one of the powerhouses in the SEC, it's hard to imagine a sports betting market in the state that didn't allow wagers on college football programs.
As far as the local franchises, they've made their stance very clear; they want legal online gambling in Georgia as soon as possible. In fact, all of the owners of the professional sports teams in Georgia have come together to push for legalized online gambling in Georgia as a group. The Braves of the MLB, Falcons of the NFL and Hawks of the NBA have a lot of combined financial power. Add to that Atlanta FC of the MLS and now you've got all of the major sports franchises in the state saying they are in favor of legal sports bets.
Georgia Sports Betting Updates
April 2022: Both SB 142 and SB 135 fail to go through after local lawmakers don't vote on the first one and replaced the second one with a different bill.
March 2022: SB 142 and SB 135 are amended by Rep. Ron Stephens. The amendment makes them eligible for passage in the last session of 2022.
March 2021: Senate Passes SB 142. The Georgia Senate easily passed the sports betting constitutional amendment bill. This sends the bill to the Georgia House, where it faces a more difficult journey forward. SB 142 must be voted on by the Georgia legislative session before they close but that didn't happen. As a result, the bill died and the issue of legal sports betting was closed for 2021. HB 86 also dies after being postponed multiple times.
February 2021: SB 142 is introduced to the Senate by Georgia lawmakers which would allow for a constitutional amendment. This would allow voters in Georgia to decide if they want legal sports betting.
January 2021: HB 86 is introduced to the House by Georgia lawmakers. This bill would give the Georgia Lottery authority to manage legal sports betting
As was the case in 2021, the 2022 Georgia legislative session closes without a vote on SB 142 by lawmakers which results in the bill being killed for a second time. SB 135 is also stripped and replaced by another bill on the House floor.
How to Bet on Sports in Georgia
With the current situation in Georgia, in order to bet on sports, you will need to sign up with an offshore sportsbook. We've actually made that really easy for you with the 100+ ratings we have of the top offshore betting sites.
You'll find that the top-rated offshore online betting sites have been servicing customers in Georgia for a very long time and offer multiple types of gambling. All you need to do on your end is decide what perks are most important to you before registering at one of the sportsbooks we recommend.
Compare the Best Georgia Betting Sites & Sportsbooks
| Sportsbook | Rating | Online Since | Payment Methods | Read Review |
| --- | --- | --- | --- | --- |
| Bookmaker | A+ | 1996 | Credit Card, Bitcoin, P2P, Crypto | Bookmaker.eu Review |
| Heritage Sports | A+ | 2001 | Credit Card, Bitcoin, Cashiers Check, Bank Transfer, P2P | Heritage Sports Review |
| Bovada | A+ | 2011 | Credit Card, Bitcoin | Bovada Review |
| BetOnline | A+ | 2001 | Credit Card, Bitcoin, Crypto, Cashiers Check, Bank Transfer P2P, | BetOnline Review |
| BetAnySports | A | 2002 | Credit Card, Bitcoin, Electronic Check | BetAnySports Review |
| BetUS | A | 2000 | Credit Card, Bitcoin, Bank Transfer, P2P | BetUS Review |
| WagerWeb | A | 1994 | Credit Card, Bitcoin, Cashiers Check, Bank Transfer, P2P | WagerWeb Review |
| JustBet | A | 2000 | Credit Card, Bitcoin, P2P, Crypto | JustBet Review |
| Everygame | A | 1996 | Credit Card, Bitcoin, Skrill, Neteller, Bank Transfer, P2P | Everygame Review |
| GTBets | A | 2011 | Credit Card, Bitcoin, Crypto | GTBets Review |
Features to Look for at the Best Georgia Sportsbooks
In Georgia, all the best sportsbooks share a variety of attributes that set the apart from the competition.
Fast Payouts
Nobody wants to deposit money at an offshore sportsbook if they aren't certain they can get it back in a timely manner. One of the key components to these offshore sportsbooks getting a top rating for us is how fast they payout their customers. You can be sure that all of the sites that have a high rating with us take getting your money to you quickly very seriously.
Another feature you can count on with the online gambling sites that get a good rating from us is that they have several ways to pay you. You can either request your funds via bank transfer depending on your financial institution and the sportsbook you pick. Those of you that want your money as fast as possible without having to deal with the bank can get your sportsbook winning via cryptocurrency. The best part about that is you can also deposit via cryptocurrency as well which has a much higher success rate than credit cards.
Competitive Wagering Odds
When making any bet, the price you pay has a lot to do with your decision-making process. You might want to bet on your favorite team but if the price you're being offered is too high, you're unlikely to go through with it. That scenario usually happens with a lack of competition in the market. There are hundreds of offshore sportsbooks which means that the best ones have no choice but to offer the most competitive lines. That's good news for you because it's such an essential part of maximizing your profits.
Mobile Friendly Betting Options
If you're unfamiliar with the current sports betting landscape in the U.S, then you'll be aware that among the states that have already legalized, it has not been possible to maximize profits without mobile betting as an option of course due to offshore sportsbooks not having brick and mortar locations in Georgia, mobile wagering is available. Let's face it, why would you want to drive to make a legal sports bet on your favorite team when you can just do it on your phone?
High-Quality Customer Service
The top-rated online gambling sites understand how important the customer service aspect of their business is. For that reason, you can expect most of them to have service 24 hours a day and 365 days a year. Depending on where you decide to register, you can communicate with them via phone, live chat or email.
Bonuses and Promotions
All of the sportsbooks that receive a top rating from us provide customers with amazing sign up bonuses. It doesn't end there though as they also provide customers with reload bonuses as well which is one of the perks of playing with offshore online gambling sites. With so much competition in the market, they are constantly trying to one up each other to the benefit of sports betting fans. Make sure you read the terms and conditions of any promotion you take regardless of what sportsbook it is.
FAQ – Online Sports Betting in Georgia
Is sports betting legal in Georgia?
Lawmakers in Georgia have introduced several gambling bills but none have passed as of yet. Legalization in Georgia may have to wait until 2024. Until then, Georgia residents can use offshore sportsbooks online to bet on their favorite professional teams.
Is online sports betting legal in Georgia?
There are no online sportsbooks operating legally out of Georgia at the moment. With that said, Georgia residents can legally bet using offshore sportsbooks.
When will sports betting be legal in Georgia?
Georgia lawmakers tried to get sports betting included on the November 2022 ballot but failed. Lawmakers in Georgia believe that a constitutional amendment is the best path to legalization. If that is indeed the case, then that wouldn't happen until 2024.

There are other ways to get it done before 2024 but that would require starting from scratch which may not be an option for most of the politicians involved.
What are the best sportsbooks in Georgia?
Our team of experts have compiled a list of the best sportsbooks to use for Georgia residents. After careful analysis, they ultimately decided that BetOnline, Bookmaker, Bovada and Heritage Sports are the best of the bunch.

We have narrowed it down to a top ten so that you have more choices beyond the ones we've outlined here.
Is it safe to play with sportsbooks in Georgia?
Yes, it is safe to use offshore sportsbooks in Georgia. Due to the fact that these sportsbooks fall outside of U.S jurisdiction, they are safe to use for multiple forms of gambling, including mobile sports betting.
What are the main distinctions between regulated and offshore sportsbooks?
Regulated sportsbooks in the United States fall under the authority of state law which is why legal sports wagering isn't available in all 50 states at the moment. Lawmakers in Georgia are planning a constitutional amendment that would get sports betting legalized in their home state.

Legal options for placing bets on sports are still out there. Offshore sportsbooks are not based in the United States and therefore do not fall under U.S jurisdiction. For that reason, you are able to use these sites to place your bets as a Georgia resident.