The Best Wyoming Sports Betting Sites – How and Where to Place Sports Bets in Wyoming
Shawn West has been involved with college basketball, NFL and college football and MLB since he left his job as bank vice president two decades ago. He lives in North Carolina with his wife, children, two dachshunds and a variety of turtles.
Betting on sports has been legal in Wyoming since September 2021, and residents have made use of it. The Wyoming Gaming Commission reports that the state's gambling revenue has averaged a million dollars a month since last fall.
Despite the legalization, there are no retail sportsbooks in the state. Wyoming is one of just two states in the U.S. to offer legal sports betting online only, with a handful of licensed operators so far.
Sports fans may have other gambling interests too, however. Online sports bettors may also want to bet on horses, play a hand of poker, or bet on casino table games. None of those are available on the state-sanctioned sportsbooks. To get all of your gambling needs in one place, offshore sportsbooks are the top option. Since they are located outside the jurisdiction of state law, they don't need to be licensed by the Wyoming Gaming Commission or abide by the state's restrictions on gambling offerings.
The Best Sports Betting Sites for Wyoming Bettors
Top-Rated Online Sportsbooks for 2023
Our blue-ribbon panel of betting experts evaluated dozens of offshore sites that offer a sportsbook and compiled the following list of the 10 best sports wagering operators available to Wyoming bettors.
Is sports betting legal in Wyoming?
Wyoming joined the rush of states making sports betting legal in recent years, passing a sports betting law that went into effect in September 2021. The sports betting legislation has paid dividends, as sports bettors at licensed online sportsbooks in Wyoming are generating revenue of about a million dollars a month, according to early 2023 figures. While there are state-sanctioned sports betting sites, many gamblers opt for offshore sportsbooks, which can also offer a large menu of other betting options, such as online poker, casino games, racebooks, and entertainment betting markets, not available at Wyoming sites.
Comparison of the Best Wyoming Sportsbooks
You want to know which sportsbooks the experts like, but you also need to know why they like one over another. So we asked the members of our blue-ribbon panel to show their work. Here are in-depth looks at each offshore book in our top 10 with pros and cons lists of what they do well and what needs work. That way, you can decide which one is the best fit for your own preferences and priorities.
1. Bookmaker: The Top All-Around Online Sportsbook in Wyoming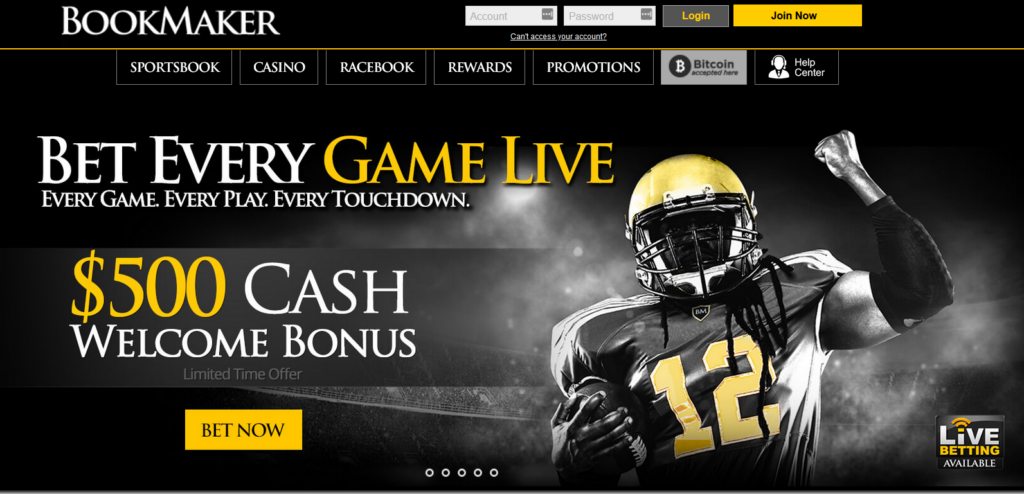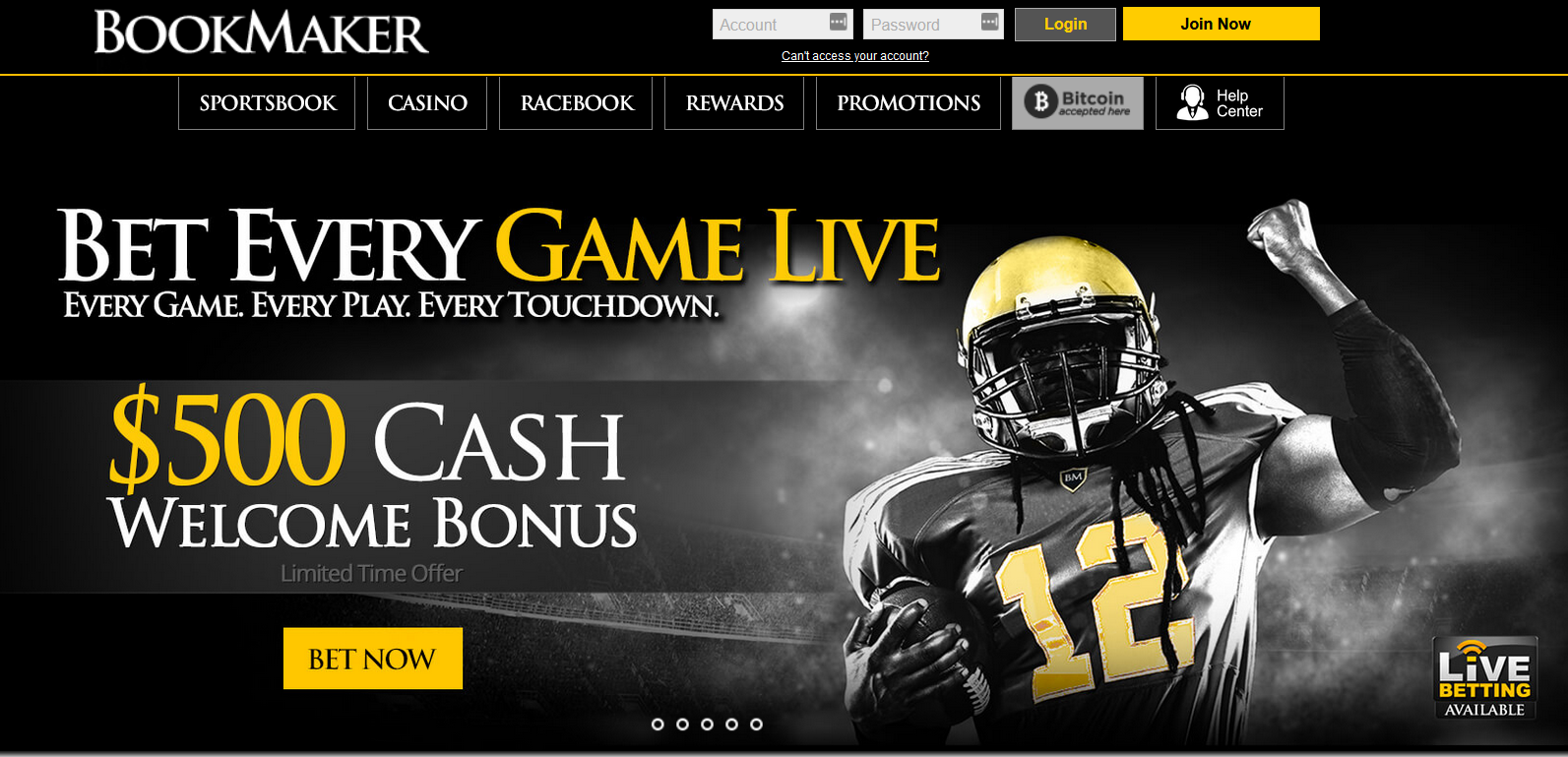 Bookmaker.eu got the nod as the top overall online sportsbook available to bettors in Wyoming. The site caters to all gamblers, large and small, new and experienced, high rolling and cautious. The site has some of the highest betting limits around, which will appeal to customers who like to bet big. It also has extremely low minimum bets, to allow risk-averse bettors to start small.
Bookmaker also does customers right in a variety of other ways. It is one of the earliest sites to publish lines and odds, and it has a reputation for never shutting down a gambler on a roll. The user interface is also easy to navigate, allowing rookies to find their way and experienced bettors to get their money down without a lot of unnecessary clicking and hunting.
Pros
All gamblers are welcome, regardless of experience, bankroll, or appetite for risk
Has some of the highest betting limits as well as low minimum bets
Outstanding loyalty program that gives rewards to all customers, not just high rollers
Doesn't shut down bettors who get on a hot streak
Cons
Doesn't have a live online poker room
Lower welcome bonuses than some sports betting sites
2. Heritage Sports: Top Red Carpet Treatment for Wyoming Bettors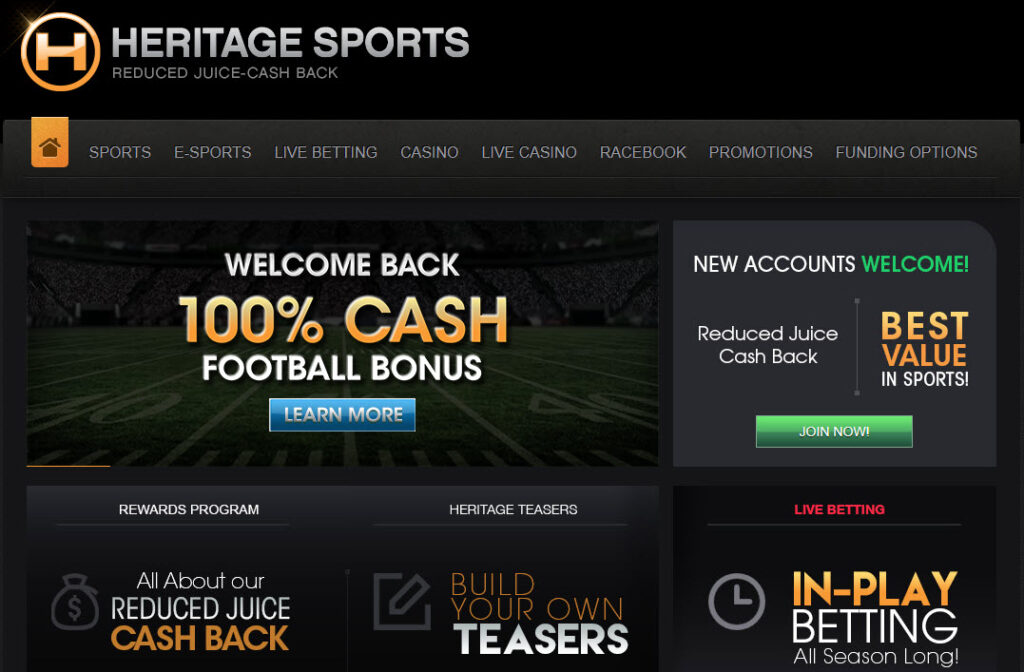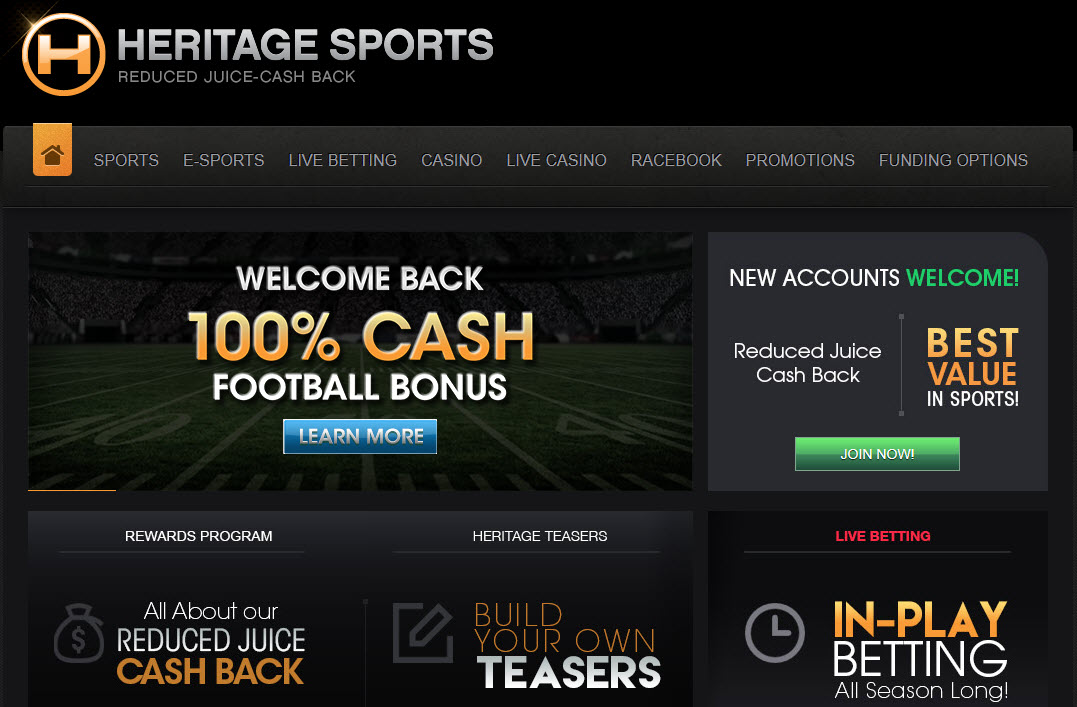 Heritage Sports may have been slotted in second place in our ranking of the 10 best sportsbooks for Wyoming customers, but the site earned the top spot from our panel of experts in two important areas.
Our experts cited Heritage Sports for treating their customers better than any other site. Heritage Sports started as an invitation-only site for high rollers and bigwigs. Even though it's now available to everyone, Heritage Sports still knows how to give the red carpet treatment with generous promotions and top-shelf customer service.
Heritage Sports also earned recognition for being the best offshore sportsbook for live betting, thanks to its quick, responsive user interface.
Pros
Offers reduced juice lines on many games
The best site for live betting on games in progress
Treats customers better than any other Wyoming sportsbook
Has a cashback rebate program
Cons
Doesn't offer a live online poker room
Welcome bonuses are relatively low
3. Bovada: Best Mobile Sportsbook in Wyoming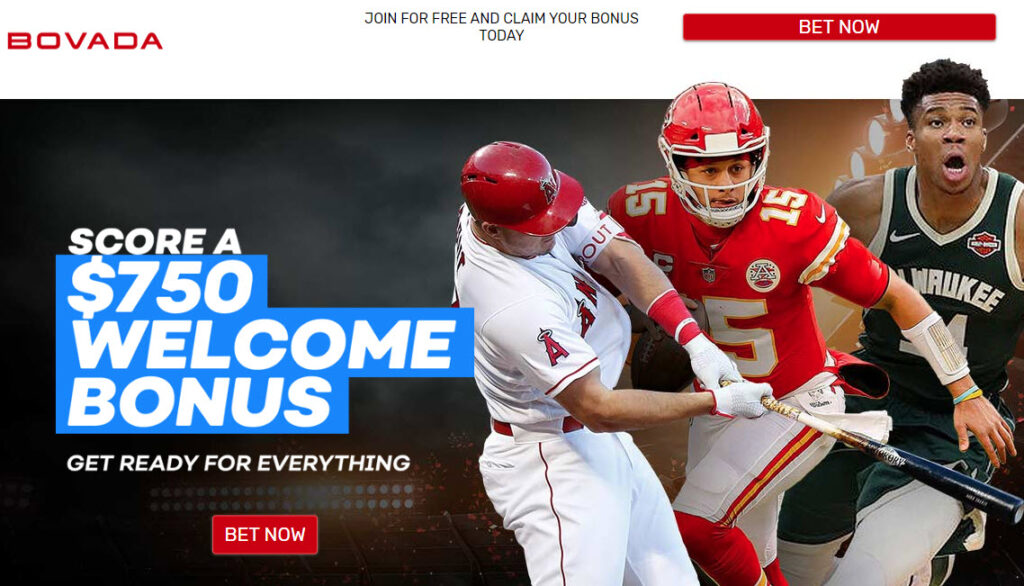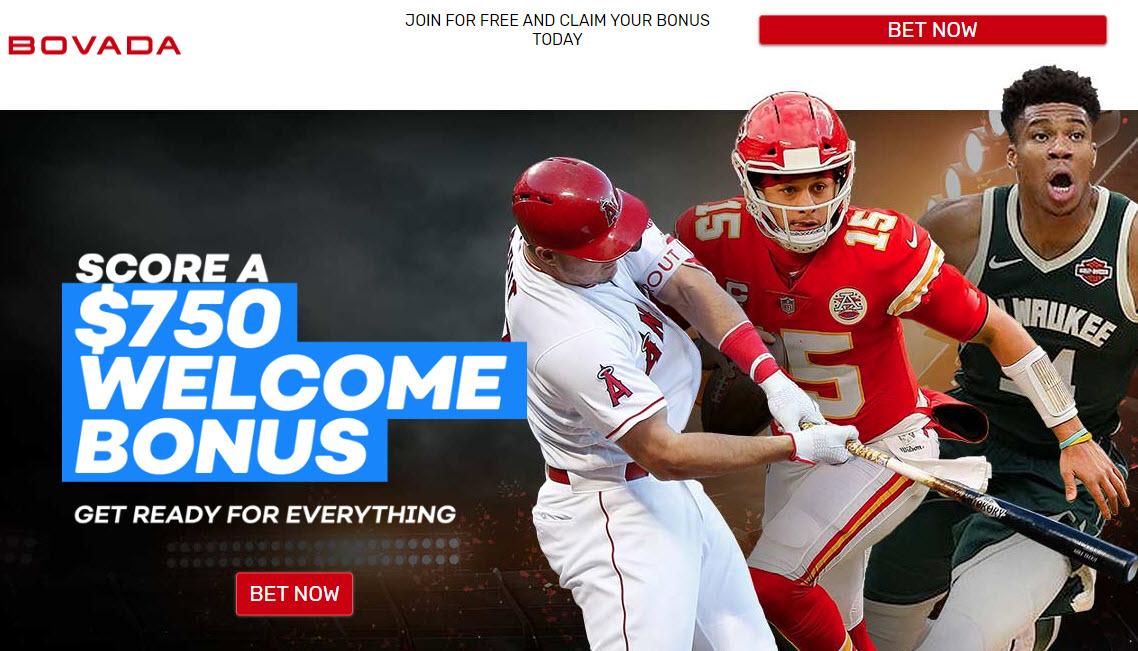 Bovada came in third place in our rankings of top online sportsbooks, but it has a large number of very loyal customers who also love the other services Bovada provides. In addition to one of the best sportsbooks in the world, Bovada has a full-casino experience with a racebook, an online casino with a vast library of slot and table games, and the busiest poker room in the U.S.
Bovada's sportsbook is also outstanding, offering a menu of prop betting options larger than any other offshore sportsbook. It also has several easy-to-win props with very favorable odds, to get you started with a near-sure-thing win or two.
Our panel of experts took special note of Bovada's mobile interface. The number of gamblers using their phone or tablet to bet has risen steadily, and now the majority of bets are made using mobile devices. Bovada made sure not to treat their mobile site like an afterthought, as many casino sites do. It is every bit as functional, attractive, and user-friendly as the main site.
Pros
Largest menu of prop betting options of any offshore sportsbook
America's busiest live poker room
The best mobile sportsbook site in Wyoming with all the functionality of the main site
Online casino, poker room, and racebook offer a full casino experience
Cons
Betting limits aren't as high as other top-rated sites
Lines and odds are published relatively late
4. BetOnline: Offers Bettors Variety With Opinionated Lines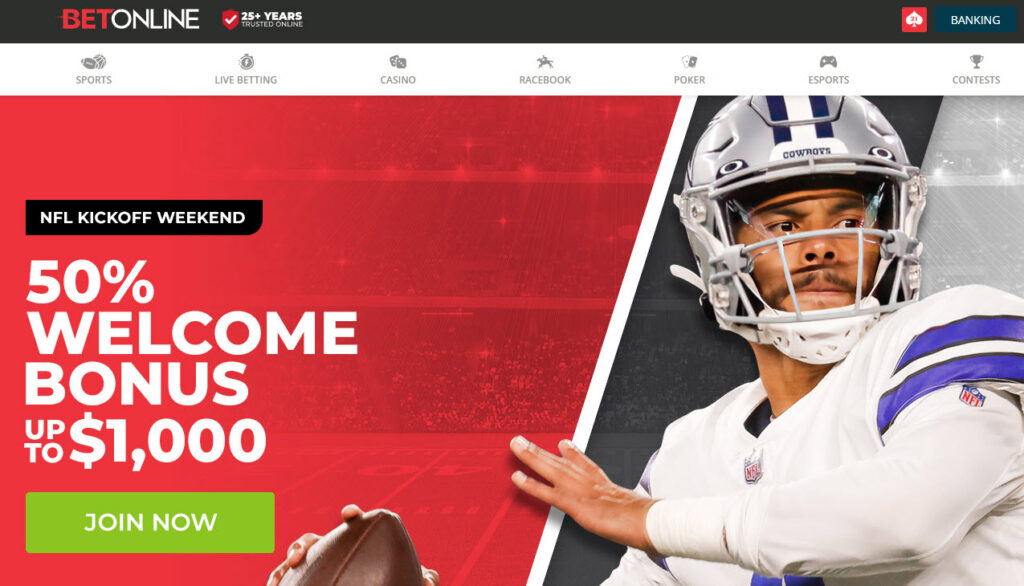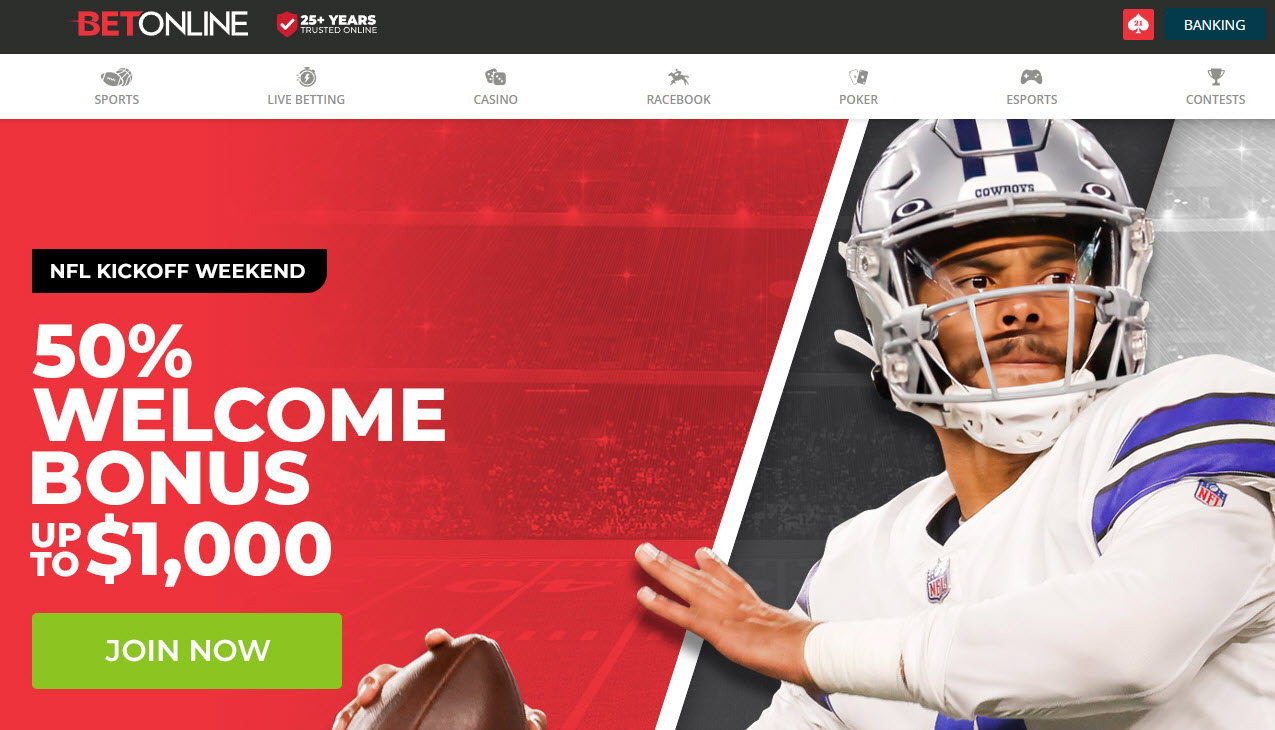 If you shop around different betting sites, chances are, you'll notice that lines tend to be very similar from one site to another. When a gambler finds different lines on the same game, it can often be the opportunity to turn a profit, so bettors are always on the lookout for variety. And no site offers more variety in betting lines than BetOnline.
Normally, lines on either side of a point spread or totals cutoff are the same. The industry standard is -110 / -110. BetOnline offers opinionated lines, however, one of the few sites in Wyoming to do so. That means the lines are not the same on both sides of the cutoff: -112 / -108 perhaps, or -113 / -107.
Pros
Opinionated lines offer variety and a chance to profit
Betting limits are very high
Welcome bonus matches first deposit at 50%
Extra perks for crypto users, including 100% deposit match
Cons
Only offers reduced juice on NHL bets
Offers limited menu of prop bets
5. BetAnySports: Best Reduced Juice in WY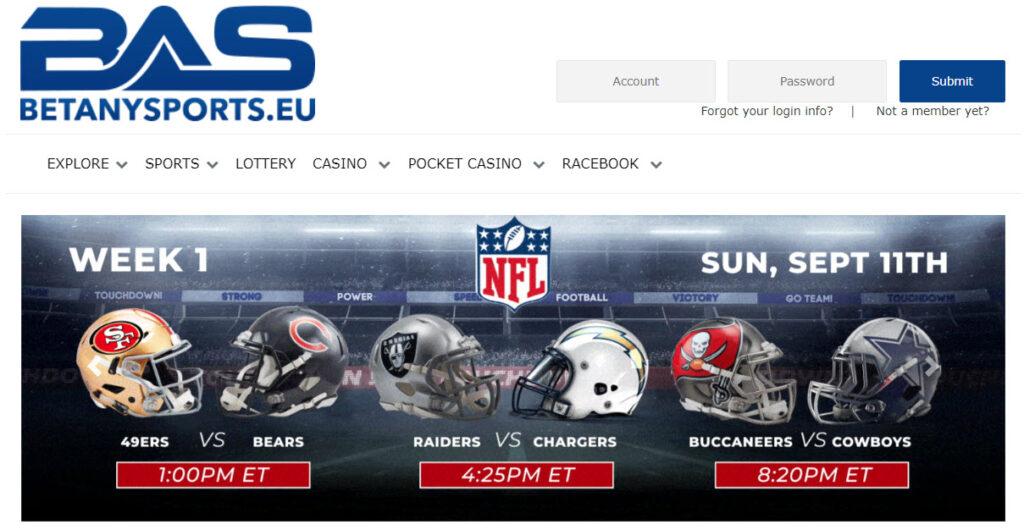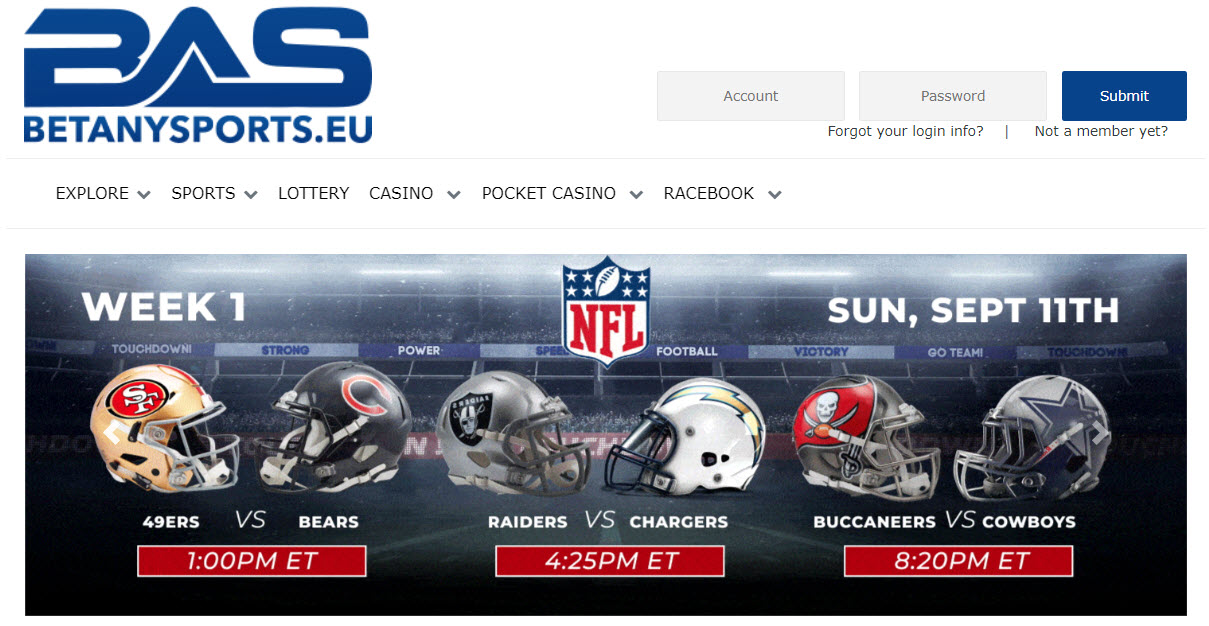 BetAnySports is next on the top 10 list, and it earned special notice from our panel of experts for giving Wyoming gamblers the most value. They do that by taking the lowest house edge. The edge is the advantage built into the odds that helps make sure a sportsbook turns a profit. For instance, odds on either side of a cutoff are usually set at -110 / -110, meaning you have to bet $110 to win $100. The extra $10 you risk is the house edge.
BetAnySports has the biggest reduced juice in the state, however. It sets the odds at -105 / -105 instead, essentially cutting its house edge in half and meaning you risk less on every bet, making it easier to turn a profit. BetAnySports also has very gambler-friendly moneylines.
Pros
Offers more value to betters than any other sportsbook
Most generous reduced juice in the state
Also has gambler-friendly odds and moneylines
Payouts are on time and in full
Cons
Site and user interface are bare bones
Welcome bonuses and promotions are lower than other sites
6. BetUS: Pays the Highest Bonuses in Wyoming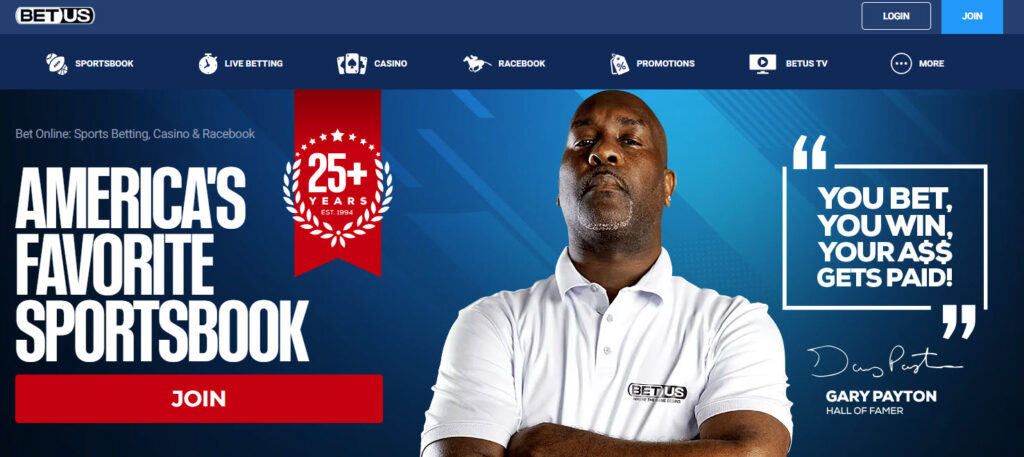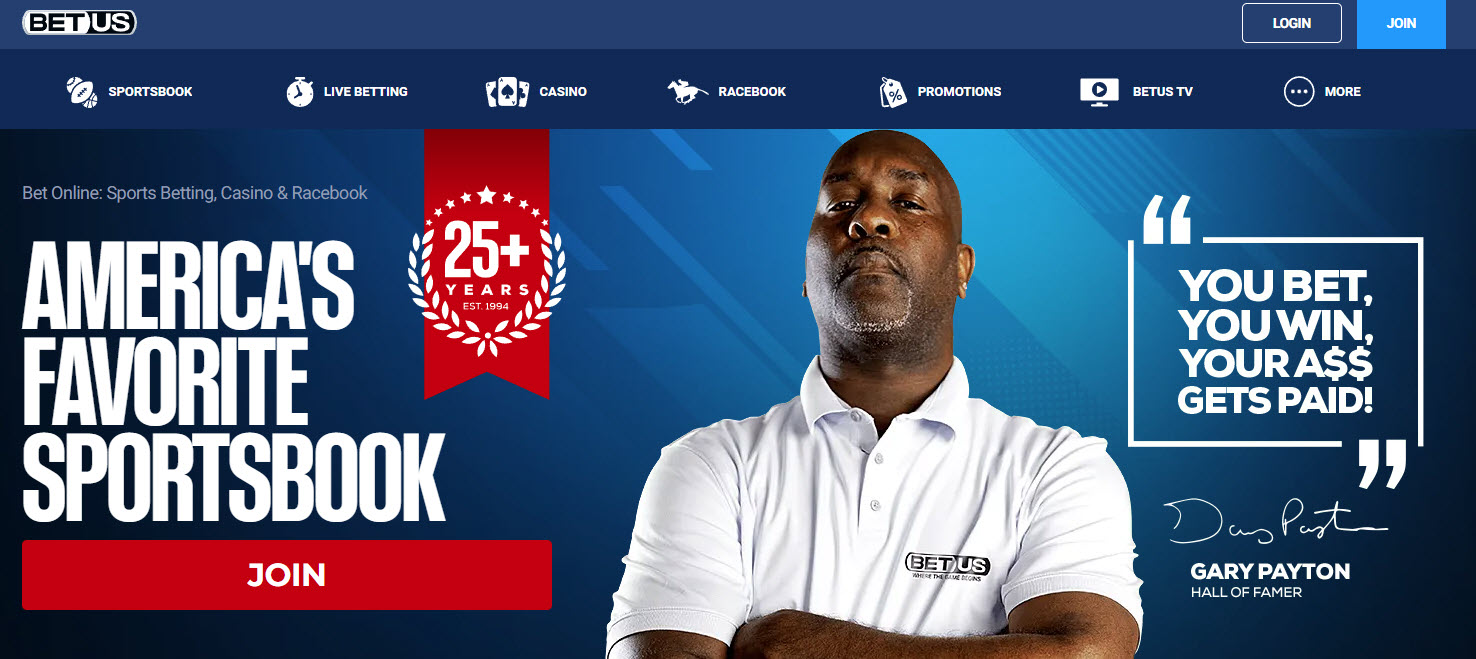 Winning bets may be the fun way to earn money at sportsbooks, but the easiest way is to have the site just give you cash. That's what BetUS does, and they do it more than any other site available to Wyoming bettors. Our experts crowned BetUS as the home of the highest welcome bonuses in the state. They'll match your first deposit at 250%, up to $2,500, meaning that when you put money into your account, BetUS puts twice as much in. So you'll triple your money before you place your first bet.
BetUS also has a creative, entertaining marketing and promotions department with weekly podcasts and videos. And their site upgrade gives them a state-of-the-art user interface.
Pros
Highest welcome bonuses in Wyoming, allowing you to more than triple your money
Site has gone through an upgrade and has a new, high-quality user interface
VIP program is one of the best you'll find
Creative promotions and weekly videos and podcasts
Cons
Deposits have high play-through and rollover requirements attached
Odds and lines are published later than other sites
7. WagerWeb: Same-Day Payouts for Bitcoin Users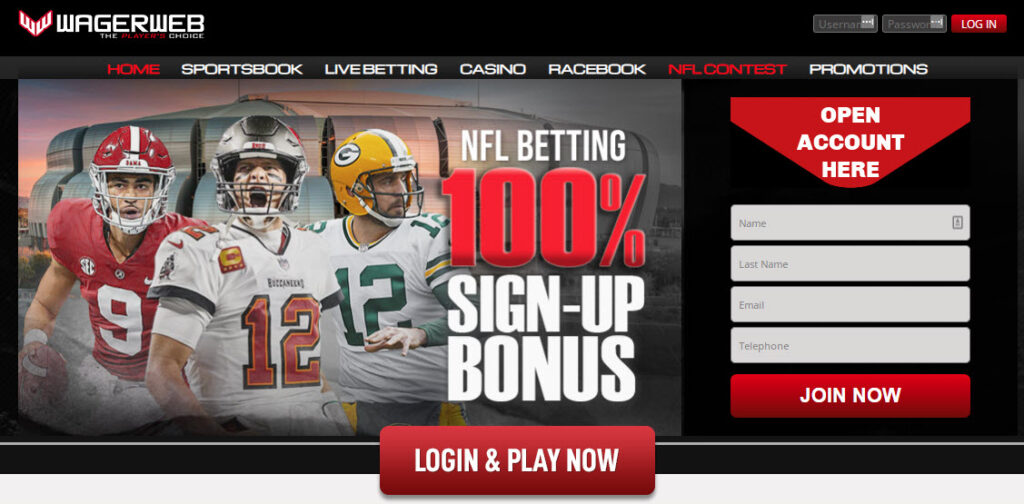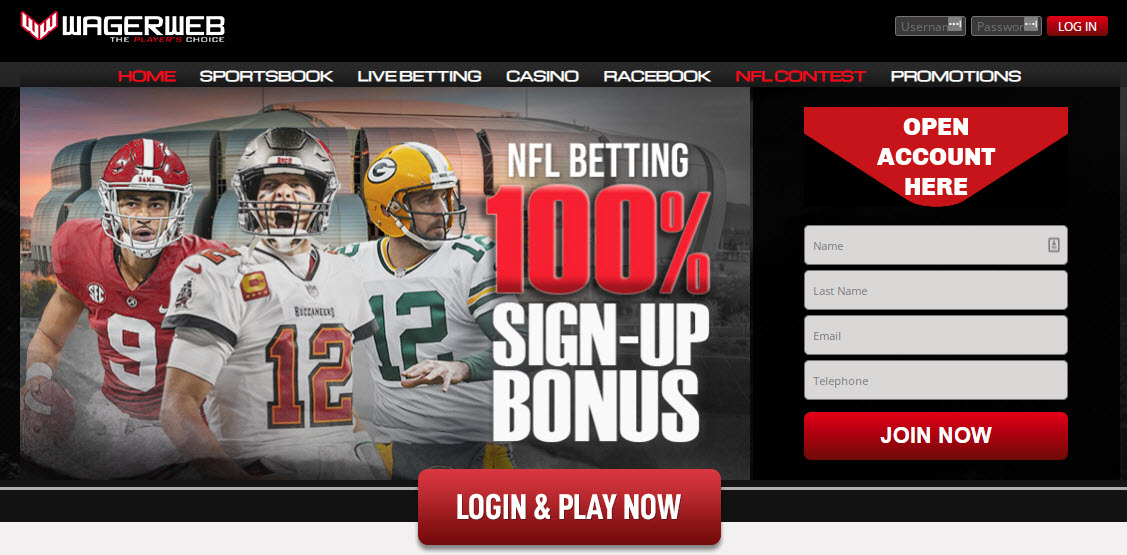 Trust is one of the most important things an offshore sportsbook can offer. It takes a leap of faith to send your money to an offshore gambling site and feel that it will be kept safe and secure. WagerWeb has a track record longer than just about anyone. It started in 1994 and has been treating bettors fairly and paying out on time and in full for nearly 30 years.
They aren't an antique, however. They have kept up with changes in the industry, including offering same-day payouts and other perks for crypto-currency users. WagerWeb also is a partner with Heritage Sports, the No. 2 site in our rankings.
Pros
Has built a reputation for trust and security over three decades
Cashback rebate program for racebook and online casino
Same-day payout for Bitcoin users
Has many of the same characteristics as second-ranked Heritage Sports
Cons
Free withdrawals are limited to one a month
Low betting limits
8. JustBet: Caters to All Types of Gamblers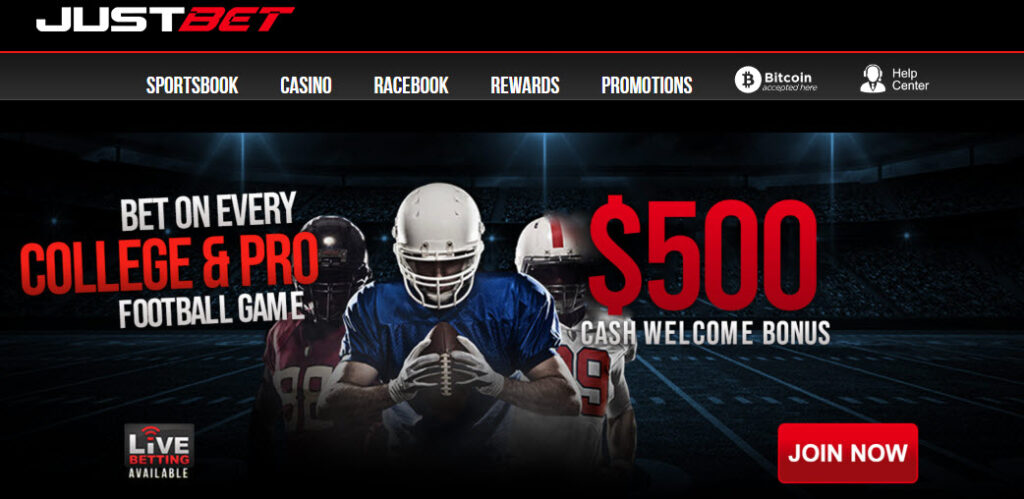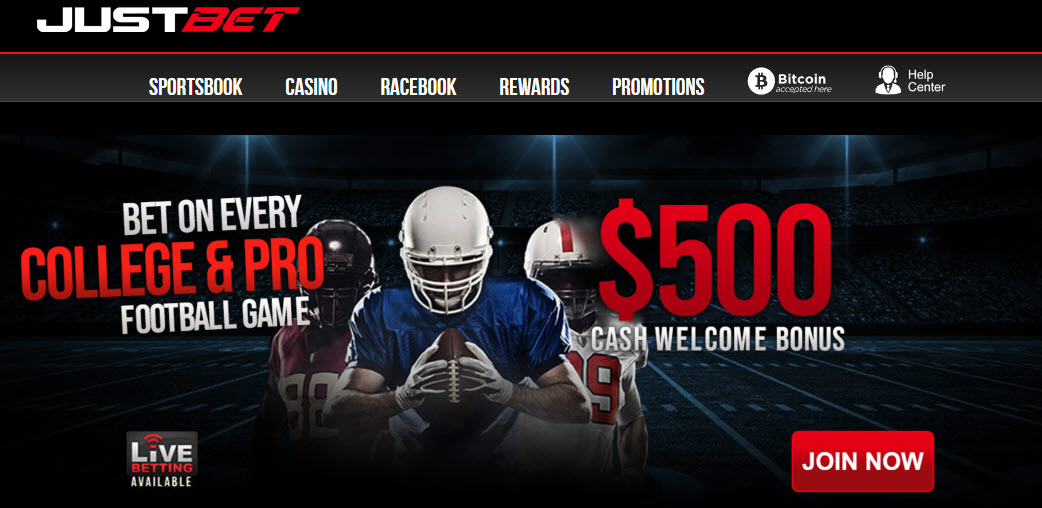 You may not be familiar with JustBet, but it offers a very similar gambling experience to its better-known sister site, Bookmaker.eu, which was voted the best all-around sportsbook in Wyoming by our expert panel.
Like Bookmaker, JustBet caters to all experience and risk levels, with high limits, low minimums, and user-friendly software. Its user interface is also tailor-made for live betting. It is minimalist, allowing users to find their bets quickly and get them placed.
Pros
Uncluttered user interface makes it fast and easy to place bets
High betting limits, low minimums
Among the first sites to publish lines and betting odds
Similar user experience to top-rated Bookmaker
Cons
Doesn't have reduced juice lines
Doesn't offer a live online poker room
9. Everygame: Largest Menu of Different Sporting Events and Leagues From Around the World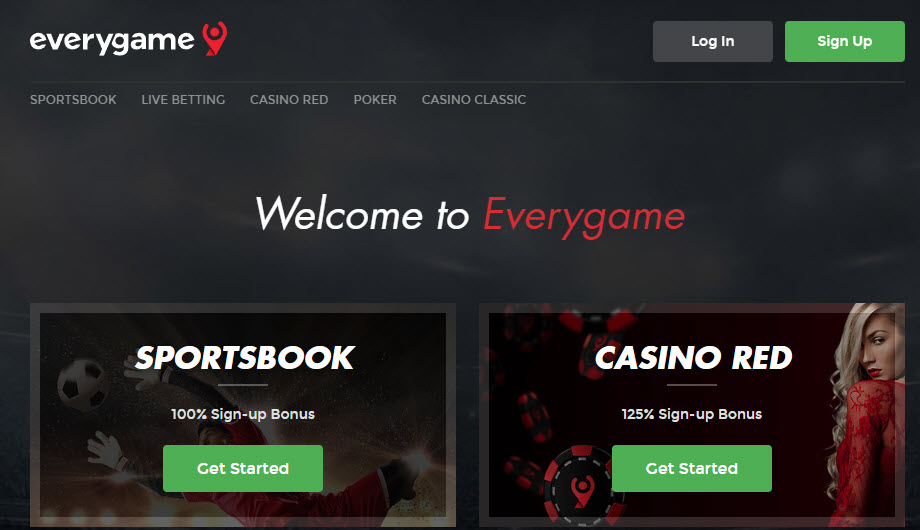 Everygame was cited by our experts as the top sportsbook in two important categories. It was founded in the early 1990s and is the oldest online sportsbook still in operation, giving users 30 years of dependable operation. So you can trust that they'll protect your information and treat you right.
Everygame also has the most global offerings of any site. It offers games and sports leagues from around the world.
While the site has plenty of experience in the business, it's not old and outdated. It just went through a site upgrade and has a slick, attractive user interface.
Pros
More games, leagues and teams from around the world than any other site
The top mobile casino site in the state
The longest-running online sportsbook still in operation
Software is cutting-edge and attractive
Cons
Account verification process is complicated and can be time-consuming
Bonuses aren't as high as other sites
10. SportsBetting.ag: Large Bonuses and High Betting Limits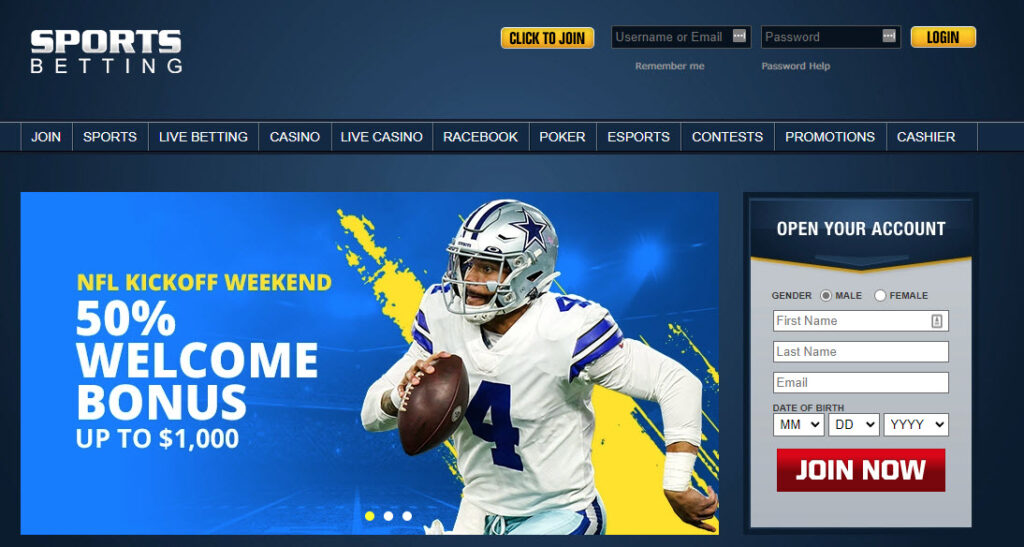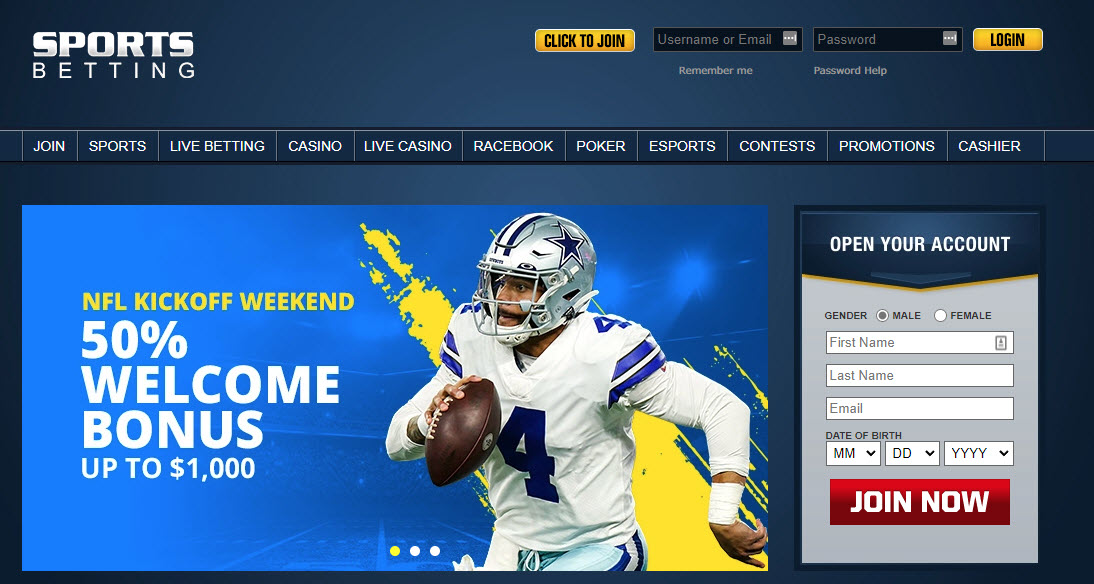 SportsBetting.ag is a partner site with BetOnline and has many similarities to that top five sportsbook. The site focuses on performance over appearance, and, in fact, uses an old version of the BetOnline interface. But, what it lacks in graphics and snazziness, it makes up for in speed.
SportsBetting has a down-to-business approach that allows you to get your bets placed quickly and easily. They also offer high welcome bonuses and high betting limits, going up to five figures on NBA and NFL games.
Pros
User interface is fast and responsive
Mobile site is also efficient, with bets taking less than 10 seconds to be placed
High deposit limits
Betting limits are in high five figures for NFL and NBA games
Cons
Site does not put a premium on appearance and looks outdated
Casino game library doesn't have as many titles as other online casinos
Our Rating Methodology
Sportsbook operators can set themselves apart from the competition in a number of ways, so our expert panel weighed a wide variety of factors while compiling the ratings. They looked for sites with generous promotions, both for new online sports bettors and existing customers. They evaluated each site's customer service and also took into account online reviews of each site.
| Sportsbook | Rating | Online Since | Payment Methods | Read Review |
| --- | --- | --- | --- | --- |
| Bookmaker | A+ | 1996 | Credit Card, Bitcoin, P2P, Crypto | Bookmaker Review |
| Heritage Sports | A+ | 2001 | Credit Card, Bitcoin, Cashiers Check, Bank Transfer, P2P | Heritage Sports Review |
| Bovada | A+ | 2011 | Credit Card, Bitcoin | Bovada Review |
| BetOnline | A+ | 2001 | Credit Card, Bitcoin, Crypto, Cashiers Check, Bank Transfer, P2P | BetOnline Review |
| BetAnySports | A+ | 2002 | Credit Card, Bitcoin, Electronic Check | BetAnySports Review |
| BetUS | A | 2000 | Credit Card, Bitcoin, Bank Transfer, P2P | BetUS Review |
| WagerWeb | A | 1994 | Credit Card, Bitcoin, Cashiers Check, Bank Transfer, P2P | WagerWeb Review |
| JustBet | A | 2000 | Credit Card, Bitcoin, P2P, Crypto | JustBet Review |
| Everygame | A | 1996 | Credit Card, Bitcoin, Skrill, Neteller, Bank Transfer, P2P | Everygame Review |
| SportsBetting | A | 2002 | Credit Card, Bitcoin, Crypto, Cashiers Check, Bank Transfer, P2P | SportsBetting Review |
Wyoming's History of Gambling Laws
In the late 1800s, Wyoming was a part of the Wild West, which meant that towns were filled with saloons featuring all kinds of vices, from alcohol to brothels to gambling. The state went hard in the other direction in the early 20th century, passing the McGill Act, which banned all forms of gambling, calling it evil.
As the state approached the 21st century, things shifted back in the other direction. In 2000, a lawsuit that would take five years to resolve was filed by the Arapaho Tribe. Eventually, the native American tribe won, paving the way for four tribal casinos in the state. The state has also had an off-and-on relationship with horse racing. Betting on ponies was legal, but the interest in doing so faded, and the state's last track closed in 2010, only to see the market revived a few years later.
The biggest step came two years ago when the state passed a law in legislative session legalizing the sports betting industry in the state. Four companies were granted online sports betting licenses, and currently, Wyoming is one of two states that allow online sports betting only—there are no in-person retail sports betting outlets.
Timeline of Gambling
2021: Wyoming passes a law legalizing online sports wagers. Legal sports betting began later that year and there are now four licensed sportsbooks.
2016: The state reviewed online gambling and considered sports betting legalization, but no sports betting legislation was proposed at the time.
2014: Two tracks reopen offering horse betting.
2013: The state becomes one of the last (46 out of 50) to legalize a lottery.
2010: The last horse racing track in the state closes.
2005: After a series of victories in court, the Northern Arapaho tribe wins in appeals court, paving the way for a casino.
2003: The state passed a law allowing racetracks to install instant racing terminals, which allow for virtual race betting.
2000: The Northern Arapaho tribe sued the state for the right to create a casino.
1901: The McGill Act banned all forms of gambling in Wyoming
Features the Best Sportsbooks Should Provide
Online sports bettors have their choice of offshore sites available, and, as our reviews showed, the top sites differ in many ways. But there are some characteristics that all sports betting operators need to have. Here's a look at some non-negotiable must-haves.
Competitive Gambling Odds
Betting odds and lines should make sense and give a gambler a fair shot at making money. They should be in line with the competitive market of online gambling and have similarities to odds offered at other sites. The payout should reflect the relative probability of a bet succeeding.
Multiple Betting Markets
There should be a wide range of ways to bet. All major sporting events should be offered, including the major U.S. sports as well as foreign leagues and events. The sports betting market should also include a variety of different betting methods, including spreads, moneylines, props, game parlays, futures, and more.
Banking Methods
There should also be a variety of banking options available, both options for withdrawing your winnings and deposit options. Traditional payment methods such as credit cards, debit cards, and wire transfers should be offered, as well as more modern methods such as e-wallets and cryptocurrency. Fees and delays should be kept to a minimum.
Promotions & Bonuses
Top sites should offer rewards to customers for signing up and for betting loyally. Promo codes and bonus codes should offer a flexible set of welcome benefits for new customers, including a deposit bonus that matches a percentage of what you initially funded your account. These deposit matches should also continue for future "reload" deposits. Other promos should include risk-free bets, bonus bets, loyalty points systems, and cashback rebates.
Live Betting & Event Streaming
Rooting for your bet while watching a sporting event is great, but continuing to bet on the event while it's in progress is even better and is a fast-growing trend in the industry. Live betting should be available at the best sites, and the interface should be fast and efficient. The site should also offer live streaming of events, so you can watch the action as you bet on it.
It doesn't matter how many great options a site offers if they're impossible to find. User interfaces should be easy and efficient and make it easy to find the bets you want to make without a lot of clicking. There should be intuitive menus and shortcuts available.
Mobile Site Quality
Back in the day, the mobile version of a site was an afterthought, but now, more bets are placed by phones and tablets than computers. Mobile sportsbooks should have all the functionality of a full-blown computer site and be just as attractive. Many sites offer sports betting apps. If mobile apps aren't available, the mobile-optimized version of the site should be easy to read and reliable, with no glitches or slow-loading pages.
Customer Support Options
If you need help, it should be easy to get. Customer service should be professional and responsive without long wait times. It should be offered 24/7 in multiple languages, and you should be able to reach it in several different ways, including phone, online chat, and email.
Safety & Security Features
Security and safety are critical when you are sending your financial information overseas. If any site had breaches or other security issues, it was immediately removed from consideration by our experts.
Popular Sports to Bet on in Wyoming
While offshore sportsbooks allow you to bet on college and professional sports teams around the world, it's always fun to root for the home team. And while Wyoming doesn't have any teams in the highest level of pro sports, there is still a wide range of teams in the state.
Football
There are no NFL teams based in Wyoming. The Denver Broncos are the closest team. But there are professional teams in the state, including the indoor football Gillette Mustangs, and the semi-pro Wyoming Knights.
Basketball
There hasn't been a pro basketball team in the state since the Wyoming Wildcatters in the defunct CBA. They folded in 1988.
Baseball
MLB contracted several minor league teams a few years ago, replacing them with collegiate summer leagues, and Wyoming's teams, including the wonderfully named Casper Ghosts, were no more. But the state plays a big role in the collegiate Independence League with teams in Laramie (the Gem City Bison) and Casper (the Spuds).
Hockey
There are also hockey teams in the state, including the junior Yellowstone Quake.
College Sports
College betting is almost as popular as professional sports, and Wyoming is home to a Division I college team in the Wyoming Cowboys. They play at the highest level of college football and basketball, competing in the Mountain West Conference. The football team has been to bowls each of the last two years and three of the last four. The basketball team participated in March Madness last year.
Other Sports Betting Options
There are other sports betting options in Wyoming, with the most popular likely being rodeo. Pari-mutuel betting on roping events is actually legal in the state.
How to Create an Online Sports Betting Account
You are only a few minutes away from having an account with any number of offshore operators. All you need is a phone or computer and information about whatever banking options you plan to use.
Step 1. Sign-Up With Your Chosen Sportsbook
Choose one of the sportsbooks we recommended in our top 10 and click the Create Account button. Fill out the registration form.
Step 2. Verify Your Account Details
Most sites have a simple verification process. They may text a code to your phone, which you then enter online to prove you're really associated with that number.
Step 3. Deposit Funds
Next, you need to fund your account. Choose a deposit method from the list on the cashier page. Enter your financial information, deposit amount, and the promo code for whatever welcome bonus you want to claim.
Step 4. Begin Placing Your First Bets
Start browsing the sports, games, and betting markets available. Good luck!
Wyoming Betting Guides
FAQs – Online Sports Betting in Wyoming
Is sports betting legal in Wyoming?
Sports betting is legal in Wyoming, as of 2021. However, state-licensed sports betting sites and sports betting apps cannot offer other gambling options, such as poker, casino games and horse racing. To do all that in one place, you would need a site run by offshore operators, like the 10 we recommended. 
Does Wyoming allow online gambling?
Wyoming allows online sports wagering. The Wyoming Gaming Commission licenses four providers to offer online sportsbooks and mobile sports betting apps. Unlike offshore sites, they are not allowed to offer other gambling options like poker and casino table games online. 
Is mobile sports betting legal in Wyoming?
Mobile betting on sports is legal. But the sites licensed to offer it only have sports betting options. Many gamblers also like to bet on horse races, entertainment markets or play casino games. None of that is available with a state-licensed sportsbook operator, only offshore sportsbooks.  
What is the gambling tax in Wyoming?
Gambling gets taxed at both ends in Wyoming. The sportsbooks get taxed at 10 percent of gross proceeds. Bettors also get taxed on their gambling winnings, which count as income and are fully taxable and must be claimed on state income taxes. 
How do I place a bet in Wyoming?
You can use any online sports betting site you would like in Wyoming. There are locally-regulated operators like DraftKings Sportsbook, or you can use offshore online betting sites. Offshore sites offer a broader range of bet types and offer more professional sports from around the globe.
A sports betting bill in North Carolina, which had not made any progress for almost two months, will likely be discussed and possibly voted on by the entire Senate this week. Earlier this week, the Senate Committee on Commerce and Insurance reviewed the sports betting bill and gave it a positive assessment, recommending it to

---