Indiana Horse Racing Betting – The Best Racebooks in Indiana 2023 Compared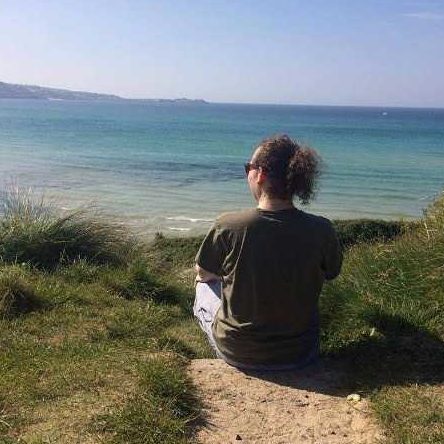 David is a freelance sports journalist who comes from West Midlands. He specializes in sports content, both written and visual. With an impressive record in pre-fight predictions, David is quickly becoming recognized in his field for his in-depth fight analysis and impressive contender & fight history knowledge.
Indiana has a deep history attached to horse racing, and the Hoosier State is the home of countless thoroughbred and quarter-horse races at its horse tracks each year. Although Indiana presents many on- and off-track betting facilities to wager on horses, Indiana residents have begun to favor online gambling over the years; people remain persistent in utilizing the services of online betting sites because of the wide range of types of bets allowed and bonuses offered.
We've created an extensive guide covering the best offshore horse racing betting sites, how to bet on races at Indiana horse tracks as well as international races, and specific information horse racing enthusiasts will find helpful.
The Best Indiana Sportsbooks in 2023
Indiana Betting Guides
In addition to covering the top online horse race betting sites, our industry experts have covered all other forms of gambling, too, including the best all-around sports betting sites in Indiana.
Ranking the Top 10 Betting Sites for Horse Racing in Indiana
Reviewing the Best Online Horse Race Betting Sites in Indiana
Horse racing enthusiasts attempting to discover the best Indiana horse racing betting sites can uncover the top 5 operators as rated by our dedicated review team below. Unlike the top 10 rated Indiana horse racing betting sites above, the top 5 rated bookies are accompanied by a short guide explaining why the benefits of these sites outweigh the negatives.
1. Bovada: Best Overall Horse Racing Betting Site in Indiana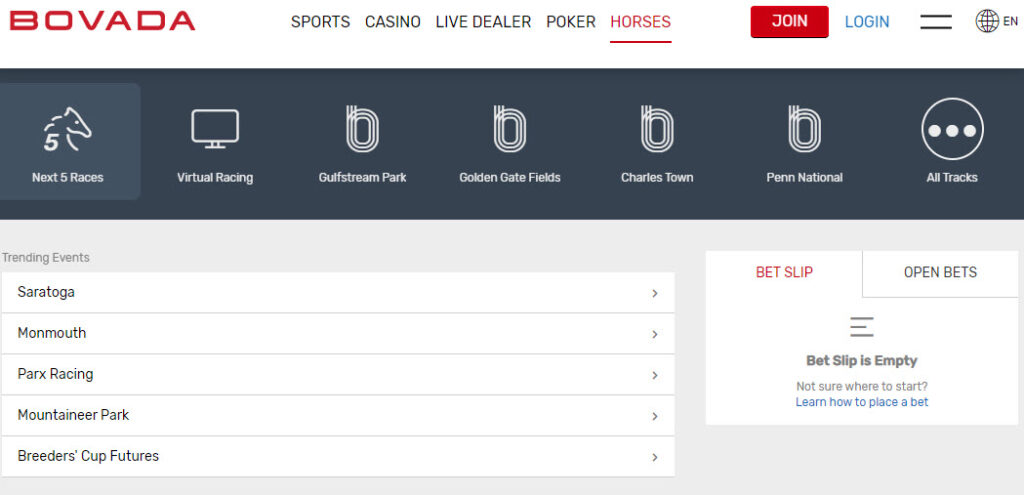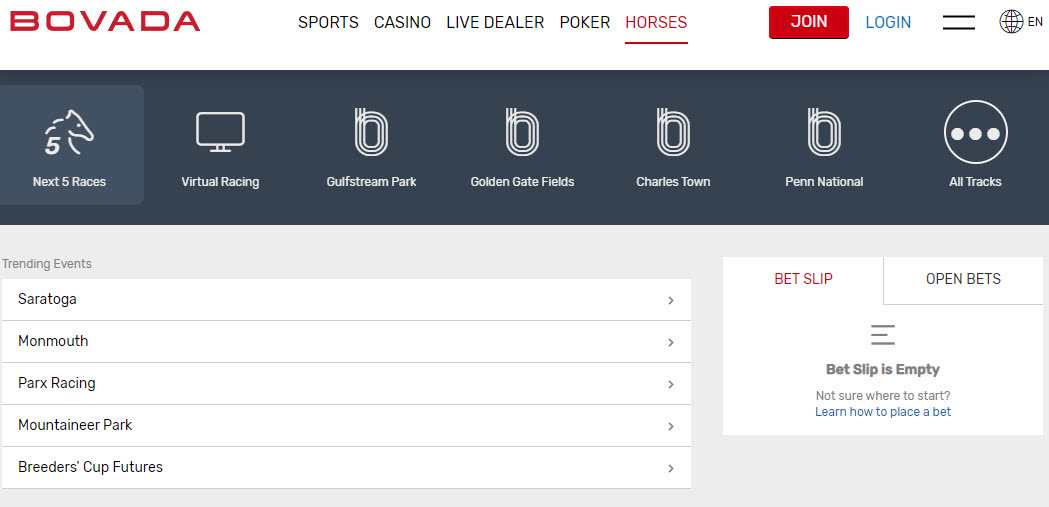 The Bovada brand is one of the most established, reputable, and trustworthy sports betting operators in North America. Sitting firmly within the sports betting industry for nearly twenty years, Bovada is not only the most aesthetically pleasing Indiana horse racing betting site, but its overall site design seems to work effortlessly whether you're using a desktop computer, a laptop or a mobile device.
However, Indiana residents aren't just drawn to Bovada for its useability and presentation, as this operator offers some of the most competitive horse racing betting odds. Value for money is found with Bovada's horse racing underdogs, where customers regularly find outstanding wagers of value when looking beyond the favorites.
In conjunction with Bovada's mobile app dedicated to horse racing and online sports betting without packing its services altogether, it's difficult to challenge this operator where they could potentially improve as most, features work flawlessly.
New customers from the Hoosier State are welcomed with open arms at Bovada with low minimum deposits of $10 and speedy payouts. And despite its limited international horse racing coverage, its U.S. coverage is exceptional. We recommend this operator as the best online Indiana horse racing betting site available.
Pros:
Extensive racing coverage for North America
Competitive horse racing odds 
Low minimum deposits  
Dedicated sports betting mobile app 
Cons:
Lack of international horse racing coverage
2. BetOnline: Respected Indiana Racebook with Unique Horse Betting Features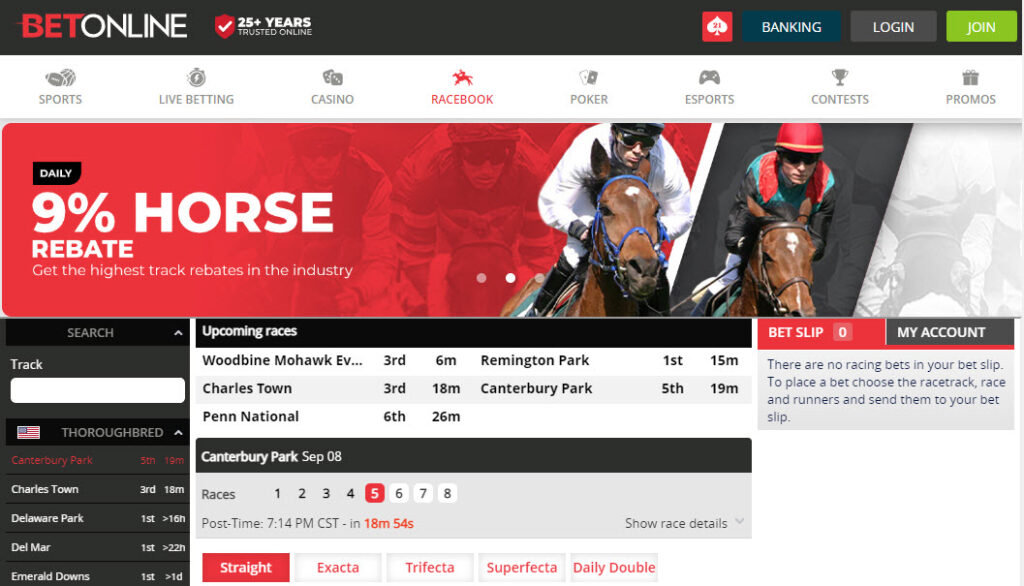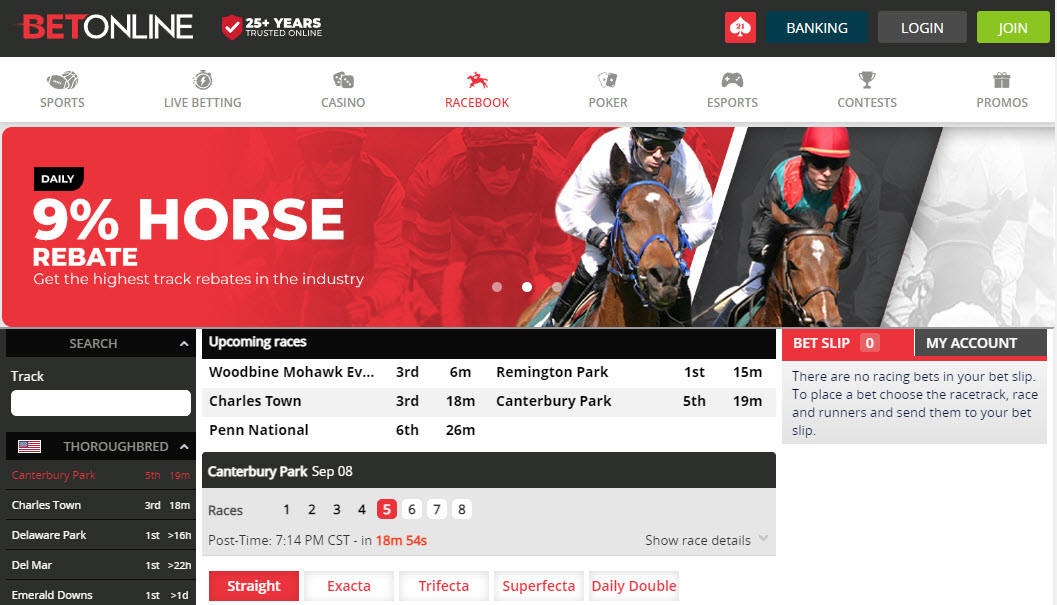 In Indiana, the online horse racing betting experience doesn't get much better than with BetOnline. Avid Indiana horse betting goers shouldn't look past this operator. For more than twenty-plus years, BetOnline has excelled as a notable racebook, and with this longevity, it's received some of the highest betting volumes globally. With such an extensive track record within the industry, it's no surprise that BetOnline presents an incredibly respected racebook as of 2023 and will undoubtedly continue to provide top-tier service for decades.
With unique features specifically designed for its racebook, BetOnline stands tall above the competition in this regard. Customers utilizing the horse racing betting services can enjoy a multi-view setting, which allows you to fixate on multiple events and place a wager at any time. Event research is imperative for horse racing bettors, so BetOnline assists punters with its interactive form guide.
Our team of devoted online racebook experts discovered more than 600 racetracks at BetOnline, from local Indiana racetracks to major horse racetracks like Churchill Downs and Belmont Park. Another valuable tool for Indiana horse bettors is the conditional wagering tool, as you can set the desired set of odds you'd wish to bet, and your wager won't be placed until the price is reached.
Outside of the horse betting racing features and because they're a leading U.S. bookmaker, BetOnline has the basics covered, like welcome bonuses, 24/7 customer service, multiple banking options, speedy payouts, and a fully optimized website operational on desktop and mobile devices.
Pros:
Multiple tools for horse betting
Extensive national and international horse betting coverage 
Horse racing form guides 
3. Bookmaker: Well-Experienced Racebook for Indiana Horse Racing Bettors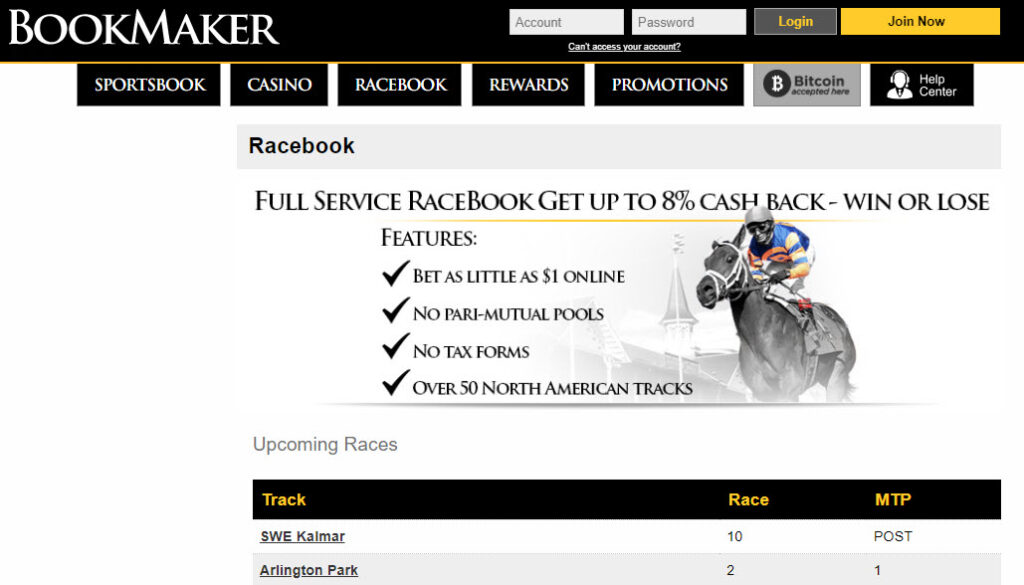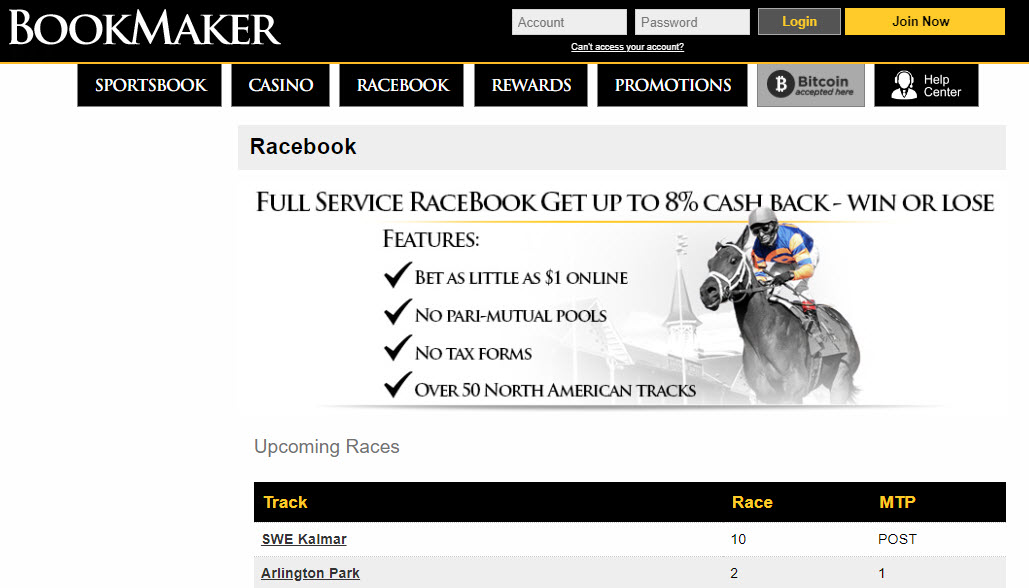 With over 100 racetracks for national and international horse racing betting, Indiana residents will be pleasantly surprised with the available markets at Bookmaker. And as this horse racing betting operator presents some of the highest betting limits in North America, it's the home of many professional handicappers who seek a bigger payday. And don't forget its early-released betting lines and low minimum wagering limits for bettors who are more conservative with their bets.
Bookmaker has close to 30 years of experience in the business. Our racebook reviewers expected nothing less than perfection when analyzing this operator's services, and we can vouch they come close to achieving it.
With an extensive racebook and multiple horse betting-specific features, Bookmaker has paid much attention to its Indiana horse racing betting services. Their website is easy to navigate and lag-free, with plenty of bonuses and promotional offerings for avid horse bettors.
Most racebook sites present 40-80 racetracks, but with more than 100 options at Bookmaker, horse bettors are never short of options. However, we shouldn't neglect Bookmakers' overall product, as this operator excels in all areas, including its sportsbook, casino, and racebook.
Pros:
Early released horse betting odds
High wagering limits
Low minimum wagering requirements
Horse betting rebates
More racebook experience than most
Cons:
The loyalty program isn't available for winning bettors
Lower bonuses than some competitors
4. Heritage Sports: Excellent Horse Racing Betting Rebates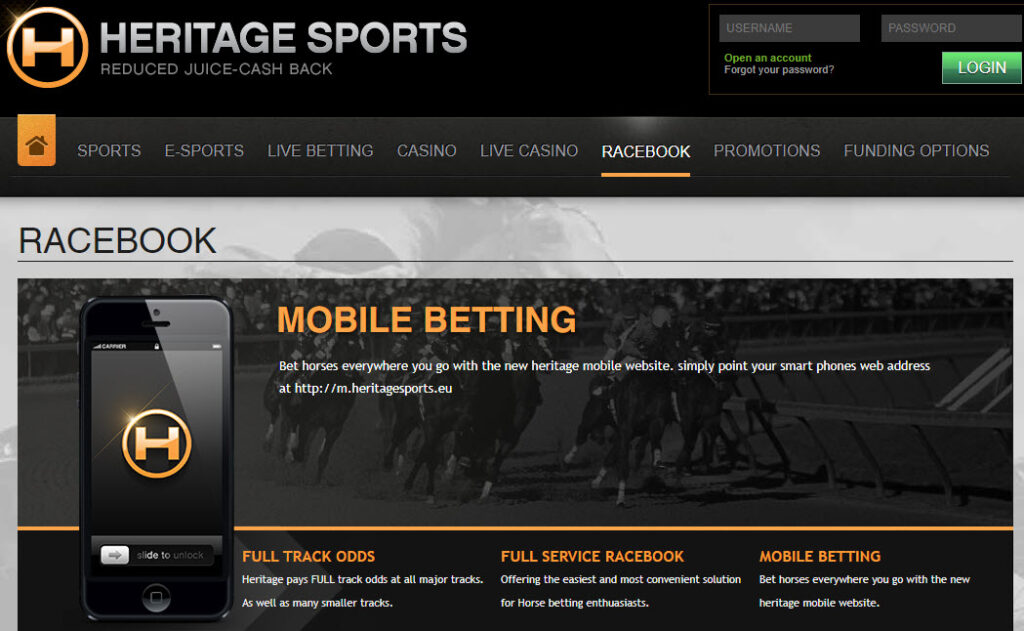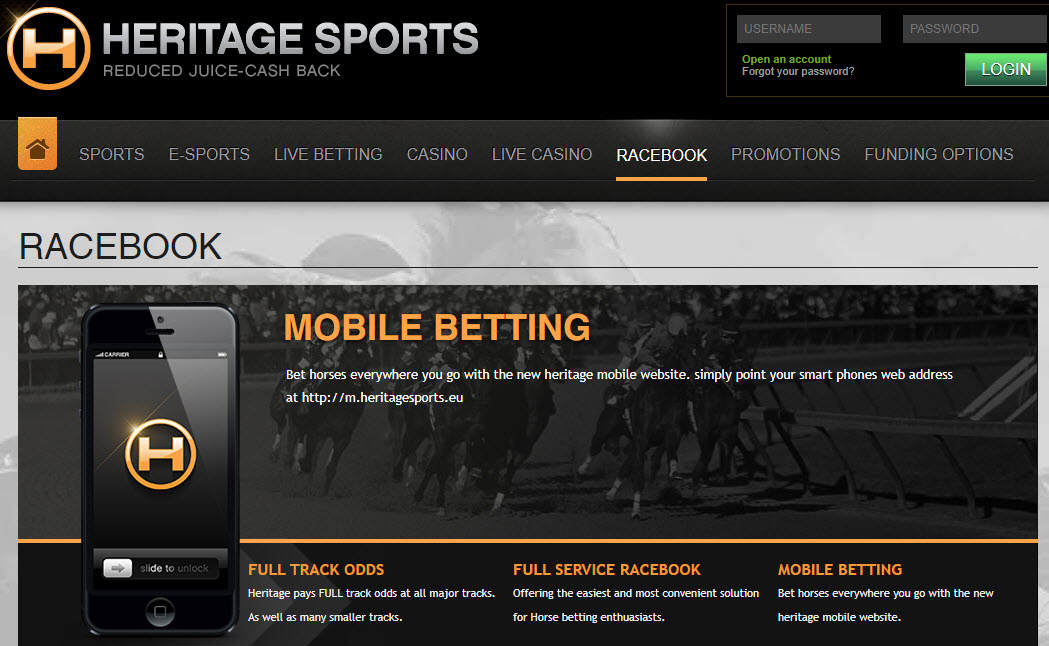 With an extensive selection of horse racing tracks, cash rebates, highly competitive odds, and decades of experience delivering racebook, sportsbook, and casino services, Heritage Sports sailed into our top five rankings without much hesitation.
Exotic horse wagers at Heritage Sports have high limits of $200, putting their rivals to shame. In addition, these higher-than-average betting limits transition to their win, place, and show wagers, where bettors can wager up to $1,000 on some events.
Boasting more than 60 thoroughbred and harness racetrack betting markets, Heritage Sports presents a vast choice of Indiana horse racing betting options. Combining these factors with its reputation as one of the best sportsbooks, racebooks, and casinos in the U.S. is a no-brainer situation for Indiana residents seeking an ideal Indiana horse racing betting site.
Pros:
Horse betting rebates
Live betting on horse events
Easy-to-use racebook with an optimized site on iOS and Android devices
High betting limit on win, place, show, and exotic bets
Cons:
Racebook is restricted to U.S. and Canada only
Sign-up bonuses could be higher
5. BetAnySports: Competitive Odds With 9% Rebates on Horse Wagers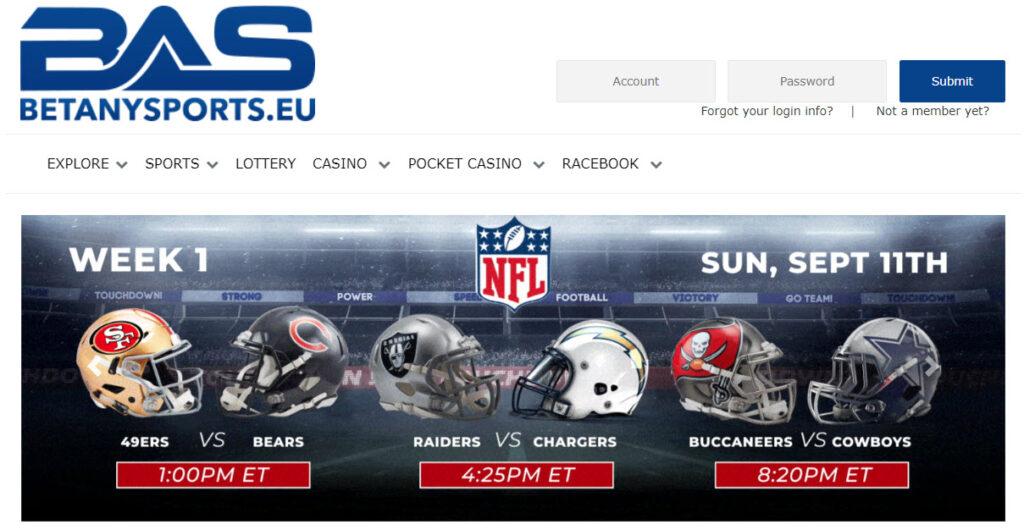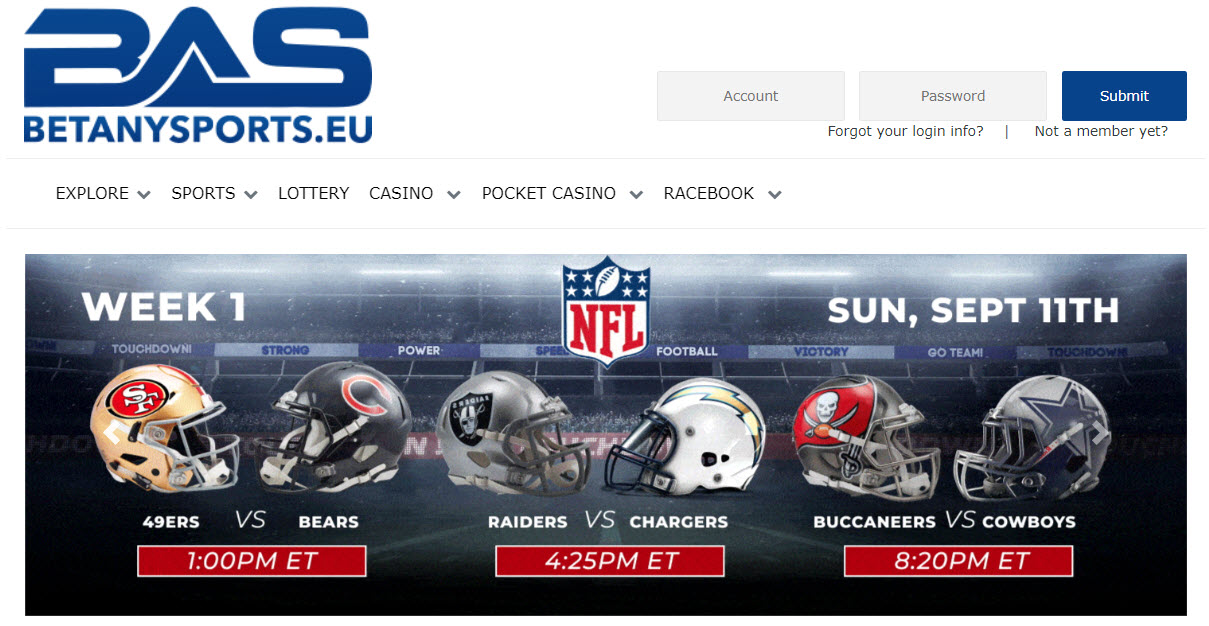 While you can certainly bet on any sport at BetAnySports, you can also bet on any horse, as this Indiana bookmaker has racetrack betting coverage from the U.S. and international racecourses. With a 9% rebate program for horse wagers, the racebook competition cannot compete with BetAnySports in this area. It's also worth mentioning that the 9% rebate is awarded to customers whether they win or lose and customers will also find 10% rebates on specific events, further extending the overall value punters can find from using the services of BetAnySports racebook.
With a name like BetAnySports, we shouldn't need to tell you how extensive the sports betting and racebook market coverage is when using this operator. They've given a lot of attention to their market selection, and horse bettors will rarely struggle to find the horse racing betting event they desire.
BetAnySports presents multiple reasons why they're among the best Indiana horse racing betting sites. Its overall product covers vital positives from our expert's criteria, such as exceptional customer service, competitive odds, experience within the industry, a faultless site on desktop and mobile devices, various banking options, as well as bonuses and promotions for new and loyal customers.
Setting themselves apart from the bookmaking competition, BAS delivers a one-of-a-kind rebate service that positions them as a top contender for horse racing betting in Indiana, plus, they also offer great odds, outstanding customer service, decades of experience, and a website that supports both mobile and desktop versions.
Pros:
9% horse racing rebates – win or lose!
Decades of racebook experience
Extensive choice of local and international racetracks
Cons:
Bonuses aren't as high as some rival horse race betting sites
Best Indiana Online Horse Race Betting Sites Compared
All top-rated Indiana horse racing betting sites mentioned in our guide provide exceptional service and are worthy of your custom. However, if you're wondering how these operators reached our top five rankings, you can discover more about our expert teams deciding factors below.
Horse Racing Odds
Horse racing is an age-old tradition in many parts of the world, but if you're trying to make a buck on an event, horse racing odds are the most imperative aspect of your time spent wagering.
Horse racing bettors must ensure the racebook they're using doesn't provide low or inconsistent odds that affect their long-term betting value. Shopping for odds is essential to compare your horses' prices against other sites. Our experts only recommend Indiana horse racing betting sites with highly competitive odds.
Horse Racing Betting Markets
Each Indiana horse racing betting site will offer a variety of markets to approach, and the sites that don't give their customers a diverse selection of bets to choose from, simply won't cut the mustard. All of the horse racing betting sites highlighted in our guide will at least offer the following horse betting markets:
Win
Place
Show
Exacta
Quinella
Trifecta
Superfecta
Our top-rated horse racing betting sites will also give punters horse betting-specific markets and features such as daily doubles and Pick 3,4,5 and 6, as well as interactive form guides, live streaming capabilities and trackside odds.
Horse Racing Betting Promotions
Welcome bonuses are great, but our team wants to find the top Indiana horse racing betting sites that offer a little more. Promotions, rebates, loyalty rewards, and long-term incentives are imperative for a racebook provider to succeed.
Other Key Features of the Best Online Horse Racing Sites
Besides good horse racing odds, market diversity, and horse betting promotions, a top online betting site must also have:
A user-friendly design 
Live streaming capability (especially for high-stakes races)
Horse racing-specific tools
How to Choose the Best Indiana Horse Racing Betting Sites
Our expert advice on the top-rated Indiana horse racing betting sites can give you nothing more than guidance; ultimately, the decision is yours. Each operator will present different perks and incentives that cater to customers' personal preferences, but when making your decision, you should consider the following.
Brand Recognition
Newcomers to the world of online betting can utilize brand recognition as a simple method to discover the most trustworthy and reputable Indiana horse racing betting sites. For a racebook to earn brand recognition, it must be a trusted betting service source for multiple years.
For customers who implement a lot of research before registering with a bookmaker, brand recognition will be easy to find, as the operator will have a lot of legitimate reviews from sites like ours (Bookmakers Review) that have tried and tested the available services.
Payment Methods
One of the best advantages of utilizing one of the best offshore horse racing betting sites is the vast selection of banking options available. Most of the operators in our guide provide a range of deposit/withdrawal methods, such as bank cards, wire transfers, cryptocurrency, and e-wallets.
Safety & Security
Perhaps the most crucial feature of any online sports betting site is safety and security. It would be best if you chose an operator licensed by a reputable regulator and that their sites present various encryption tools to protect your data and banking information.
Speed & Design
Nobody wants to run into page loading issues or site lag when utilizing an online racebook, especially if you need to place a last-minute wager and rely on site functionality to assist you quickly. You need to find an online horse racing betting site that's responsive, fast, and presentable so that you can simply navigate through its racebook.
Customer Service
The customer service department within a consumer-based business is of the utmost importance, and this shouldn't be overlooked when looking for the best Indiana horse racing betting sites. You'll probably never need to call an operator regarding a serious issue, but it's better to be safe than sorry. Customers shouldn't settle for an operator that doesn't provide 24/7 customer support, email support, live chat, and telephone options.
Is horse racing betting legal in Indiana?
Since 1993, when the Riverboat Casino Act spearheaded the legalization of casino licenses and pari-mutuel betting, Indiana has continued to evolve regarding its legalities surrounding horse racing betting. In 1994, Hoosier Park debuted as the first racetrack in Indiana, thus becoming the trailblazer for a bright future in the Indiana horse racing betting scene.
Outside of the legalized pari-mutuel wagering that takes place at racetracks in the Hoosier State, residents of Indiana can bet at one of several off-track betting locations dotted around the state, as well as a few select sports bars since sports betting's legalization in 2019.
In Indiana, the minimum gambling age is 18 years old. Online horse racing betting was also legalized in Indiana.
How to Bet on Horse Races in Indiana
Indiana residents have several options regarding horse racing betting – Off-track betting locations such as sports bars and casinos, on-track betting at local racecourses, and offshore horse racing betting sites such as BetOnline or Bovada.
It doesn't matter which of the aforementioned methods you choose; the methodology is the same, as all you need to know is which horse you're betting and how much you'd like to stake.
How Horse Racing Betting Works in Indiana
There is minimal complication surrounding horse racing betting, even for the inexperienced. You simply need to select a horse from a race card and place your bet with an off-track betting location, on-track bookmaker, or by using a betting slip at one of the top-rated offshore horse racing betting sites in Indiana.
The race cards will be identical to whichever approach you take, but the best odds are always found by using an online bookmaker.
Indiana Horse Racing Odds Chart
The chart below shows how much you would get from different $2 bets (the minimum wager at most race tracks) at different fixed odds, which we present as American and fractional odds.
Fractional odds are the more commonly used of the two, which is why the American odds are in parentheses.
This table also includes the implied odds, which is the winning percentage associated with the price of the offered odds.
| Horse Racing Odds | Payout from a $2 Wager | Implied Probability of Winning |
| --- | --- | --- |
| 1/5 (-500) | $2.40 | 83.33% |
| 1/4 (-400) | $2.50 | 80% |
| 1/3 (-300) | $2.60 | 75% |
| 1/2 (-200) | $3.00 | 66.67% |
| 4/6 (-150) | $3.33 | 60% |
| 1/1 (-100) | $4.00 | 50% |
| 2/1 (+200) | $6.00 | 33.33% |
| 3/1 (+300) | $8.00 | 25% |
| 5/1 (+500) | $12 | 16.67% |
| 10/1 (+1000) | $22 | 9.00% |
| 50/1 (+5000) | $102 | 1.96% |
The History of Horse Racing in Indiana
As highlighted at the beginning of our guide, Indiana boasts a rich horse racing history. Dating back to the 18th century, Hoosier State summer fairs would host quarter and thoroughbred racing. Still, during this time, there wasn't an active horse wagering scene as the prohibition prolonged the time it would take for horse betting to become legal.
Indiana Horse Racing – A Timeline History
1800 – No legal horse wagering was allowed during this time; however, horse racing events were held during Indiana state and summer fairs.
1993 – The Riverboat Casinos Act began a wave of horse wagering bills, as casino licenses and pari-mutuel betting was authorized.
1994 – Hoosier Park racecourse opened its doors, and official horse racing events began in 1995.
2002 – Indiana Grand racetrack opens.
2007 – Indiana Grand and Hoosier Park transition from racetracks to racinos.
2019 – American legislature lifted PASPA laws, and sports betting is legalized in Indiana, thus giving Indiana more freedom to provide horse racing betting.
Comparing Betting at the Racetrack with Online Horse Racing Betting
Wagering inside an Indiana horse racing venue is incomparable to betting on horses online. Of course, the methods of placing a wager are similar, but the experience and advantages are two separate entities.
At a racecourse, knowledgeable horse experts can visually judge their horses during pre-race parades, and naturally, the live in-person thrill of watching a race provides more excitement. However, the horse racing betting odds at the track are often lower than what you can find online, and the opportunities to shop for your odds are limited at the track.
Wagering with an offshore horse racing betting site, allows customers to pick from hundreds of events locally, in the U.S., or on an international level. Simulcast machines cannot deliver these extensive offerings, as top-rated sites such as Bovada and BetOnline can sometimes allow players to bet on a new race every 5-10 minutes daily.
Other Types of Gambling in Indiana
The best Indiana horse betting sites recommended in our guide don't solely provide horse odds. These operators are well-established online sportsbooks that offer coverage for countless American and international sports leagues. Whether you're looking to place bets on the NFL, NHL, MLB, NBA, College Sports, MMA, and many other sports, you'll be sure to find it with one of our top 10 rated betting sites.
Customers registering with the aforementioned offshore operators will also have a great selection of casino games, from table games such as blackjack, poker, or baccarat, to slot machines, roulette, and live dealer casinos that provide a realistic online casino experience.
The Best Site for Horse Racing Betting in Indiana
Regarding Indiana horse racing betting, residents of this beautiful state are presented with many viable and trustworthy options. While on and off-track betting is available, the most utilized method of horse racing betting is by joining an offshore gambling site such as the operators we've recommended on this page.
Each avid horse racing bettor will ultimately have to decide which Indiana horse racing betting site most suits their needs, but our team of experts believes that BetOnline and Bovada present the best horse racing betting features, highly competitive odds, and overall services that make them the best sites for wagering on horse races in Indiana.
FAQ – Indiana Horse Racing Betting
Is horse racing betting legal in Indiana?
Yes, Hoosier State residents can wager on horse racing at the track, off-track betting locations, retail sportsbooks, or at an Indiana online horse racing betting site.
What is the big horse race in Indiana?
The Indiana Derby, held annually in July, is the biggest horse race in the Hoosier State and is hosted by the Horseshoe Indianapolis racecourse in Shelbyville, Indiana.
Are there horse races in Indiana?
Yes, the Horseshoe Indianapolis and Hoosier Park racetracks in Indiana host many horse races throughout the year.
Can you bet on the Kentucky Deby in Indiana?
Yes, of course, you can bet on the biggest race of the year at one of the top online horse race betting sites. You can also find events at other major racetracks, like the Belmont Stakes.
Where can I bet on horse racing in Indiana?
Retail sportsbooks located inside casinos offer horse betting, as do racetracks in the state. The best place to bet on horses in the Hoosier State is a top-rated offshore sportsbook.