Online Gambling Alabama – Legal at AL gambling sites?
Online gambling in Alabama is not legal at the moment. There has been a push to legalize sports betting but that initiative has barely gotten off the ground, which is why players opt for offshore Alabama sports betting sites.
In fact, most forms of gambling in Alabama are not legal including the lottery. Alabama is one of eight states in the country without a lottery. Even the few land-based gambling options in the state are among the most limited in the country.
There are three tribal casinos in the state but none of them have traditional slot machines or table games. They have electronic bingo machines which resemble slots. As for table games, they are not legal in Alabama which means no blackjack, roulette, craps or poker.
It is important to understand the landscape of gambling in Alabama to know when it might become legal. With the current state of affairs, it appears that Alabama is at least a few years away from any form of gambling being legal according to local lawmakers.
That said, Alabama online gamblers have been using offshore sportsbooks for decades to satisfy their gambling needs. In this guide, we will go over the best online betting sites in Alabama according to our betting. They will give you an overview of the services, like online sports betting and online casino games, that each of these sites has to offer as well as what you should consider according to the type of player that you are.
The Best Sportsbooks in Alabama
Alabama Betting Guides
For Alabama bettors that are looking for more ways to gamble online, we suggest checking out one of our other in-depth online betting guides which will cover everything that bettors need to know about wagering in Alabama.
Best Alabama Online Gambling Sites 2023
In this guide, we will give you a summary of what each of these brands does well. There will be a more in-depth overview of all of these sites in our BMR reviews which we will provide a link for later in this guide. There you will get a much broader look at not only the ten recommended sites by our experts but you will also get a look at which ones to stay away from.
The reviews include ratings from A+ to F to make things easier for you. In the end, the best online gambling site in Alabama is a matter of your personal preference and this guide serves to help you make that choice.
Here are the top ten online gambling sites in Alabama as per our experts:
The Best Alabama Gambling Site Reviews
We've provided a summary of what each of these online gambling sites has to offer. Some excel in certain areas versus others which we have highlighted. Please review each of these brands carefully before you register for an account.
We do want to mention that signing up for multiple accounts is also a good idea if you are unsure of what brand you like best. You may discover that having more than one account is useful because there may be features that you like about one site that the other does not offer and vice versa.
Just like there's no one site that's better than others because of personal preference, there is also no rule that says you must be loyal to one brand. In fact, most professional gamblers have multiple accounts so they can compare odds and shop for lines so it might not be a bad idea for you to follow that example until you settle on the right brand for you.
1. Bookmaker.eu: Alabama Players Have Access to VIP Service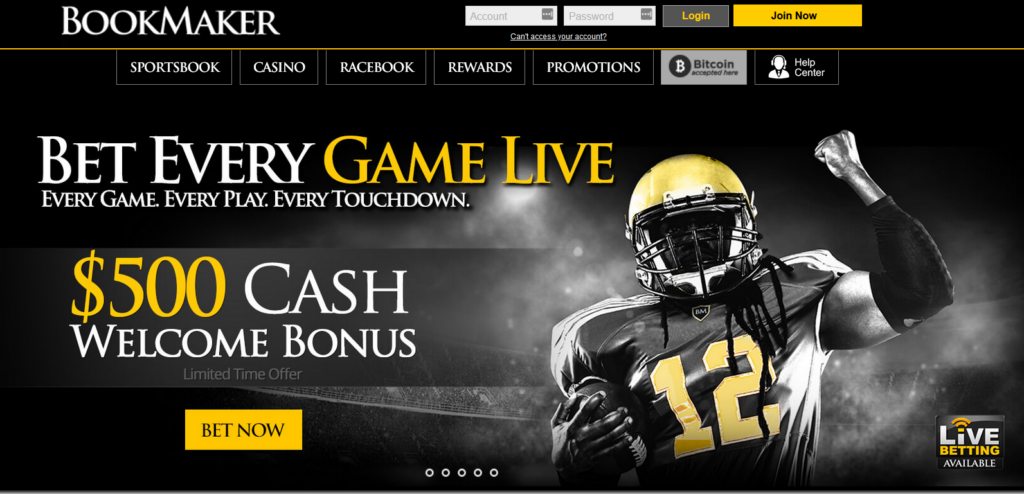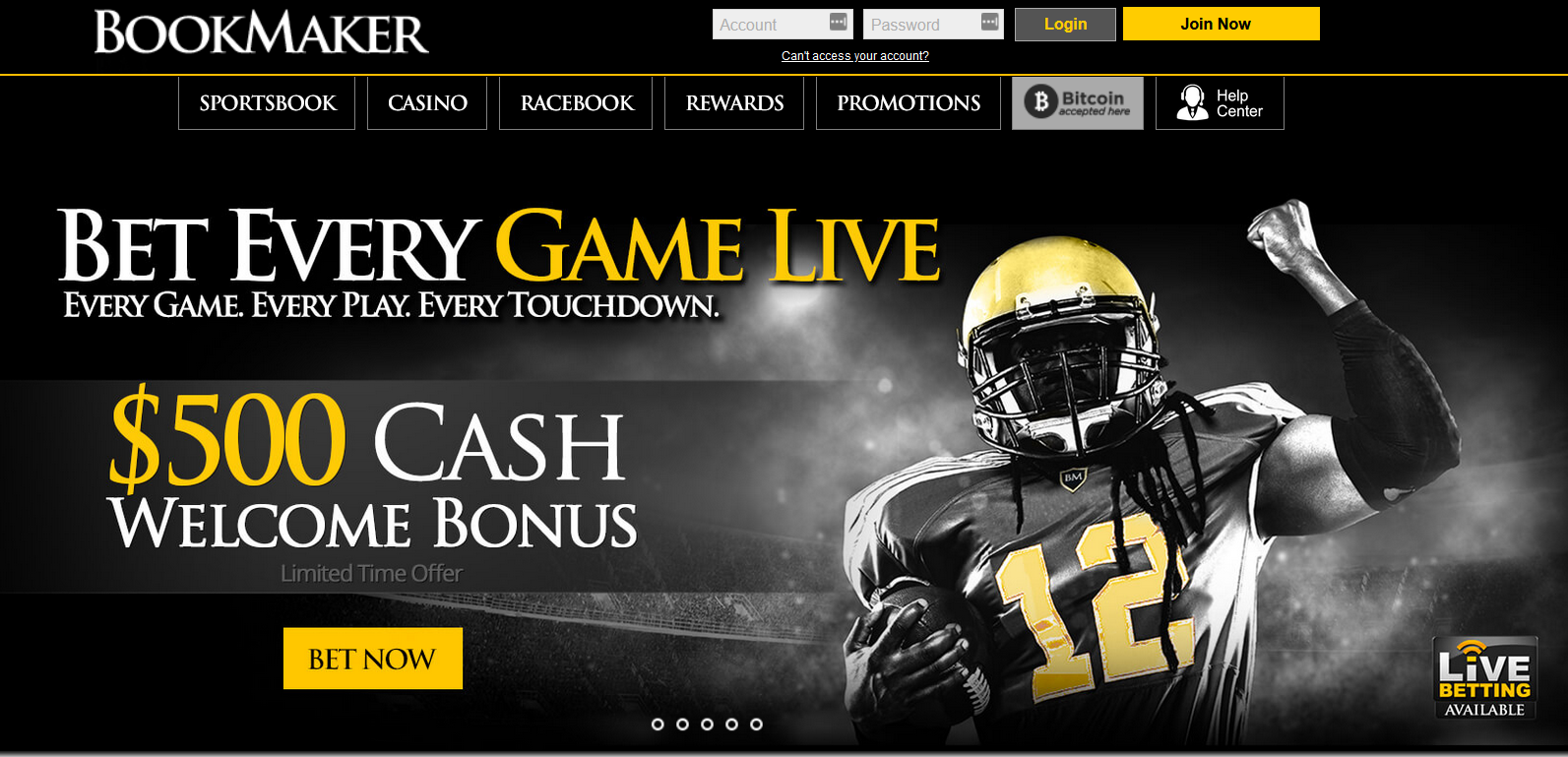 Sharp Action Welcomed at Bookmaker
Bookmaker.eu is known as a place where sharp action is welcomed. That's important for you because it means it provides a level of service that the most high-maintenance customers are happy with. It also reassures you that no matter how much you win, you will be paid. If that was not the case, sharp players would never play there.
Great Casino Bonuses Available
While the sportsbook attracts sharp players, the casino offering is excellent as well. When you sign up at Bookmaker, you are eligible for a 100% bonus on slots up to $500. There's also a blackjack promo that offers 100% up to $250. This is a great deal as most online casinos restrict bonus use on blackjack. The fact that Bookmaker offers bonuses on a game like blackjack shows its commitment level to customer satisfaction.
Their reload bonuses are separated by the tiers from their loyalty program and are known as Gold, Platinum and Diamond. In the Gold section, you can get 25%, the Platinum section offers 30% and the Diamond section offers 50%. There are also bonuses for specific days of the week which is a nice touch. Alabama online gamblers that sign up with Bookmaker are guaranteed to get some of the best overall offerings in the industry.
Pros:
Loyalty program available
Great bonuses in both the sportsbook and casino
Sharp action welcome
Cons:
Fees for cashouts
No online poker offering
2. Heritage Sports: Save Money When You Bet With Heritage Sports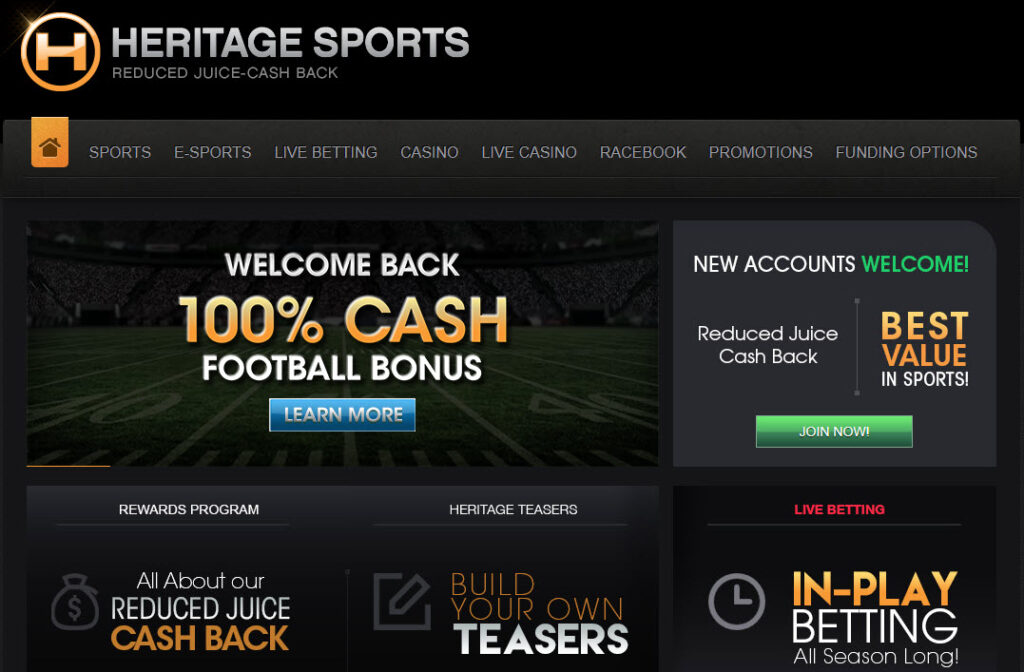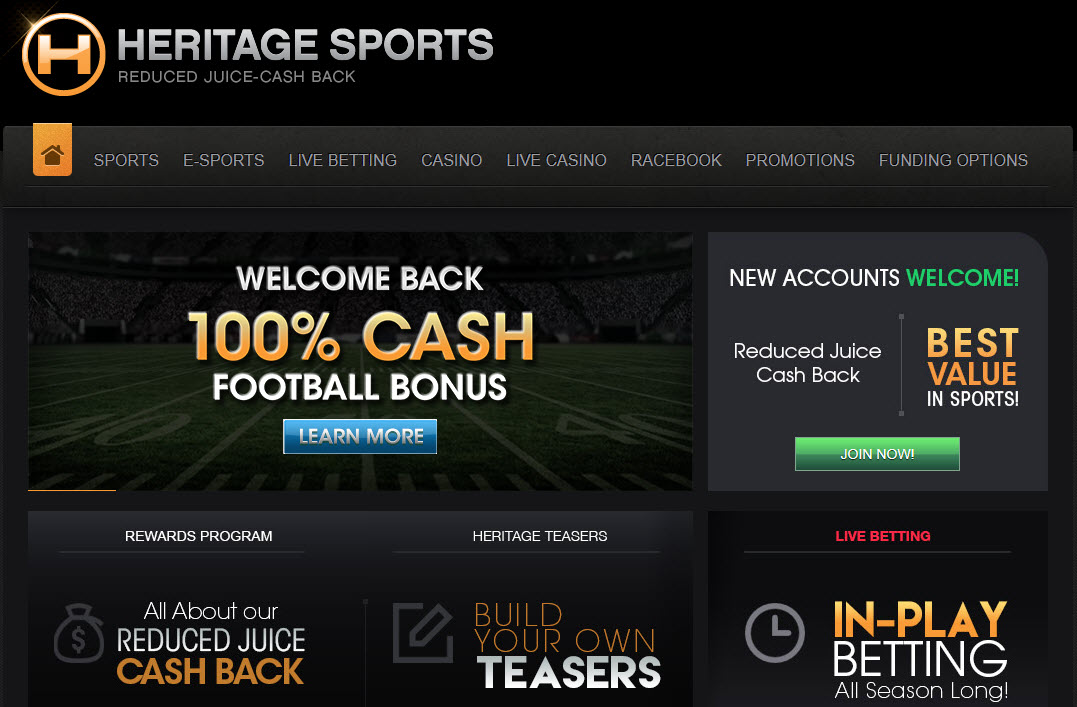 Save Money Across All Betting Services
Although Heritage Sports' reduced juice model saves you money when betting on sports, a closer look at the overall offerings shows that these savings are available across the board. When betting on sports, you get a reduced juice line of -108. With the industry standard being -110, Heritage Sports saves you 20% on spread and total bets.
In the casino, you can get 8% activity on your action from the previous month. The maximum you may receive is $2000 and that bonus comes with a 4x play-through. This bonus is credited into accounts on the first of every month. There's another great casino promo called Risk Free $100 where you get a $100 rebate on our net losses.
If you choose to claim the Risk-Free $100, that amount will be deducted from your 8% monthly rebate which makes sense. That bonus has a minimum weekly betting requirement of 25 wagers to qualify and comes with a 4x playthrough.
Pros:
Save 20% on sports bets with reduced juice
Several great casino bonuses to choose from
Live dealers available
Cons:
No reload casino bonuses
No poker offering
3. Bovada: Poker Room is Always Busy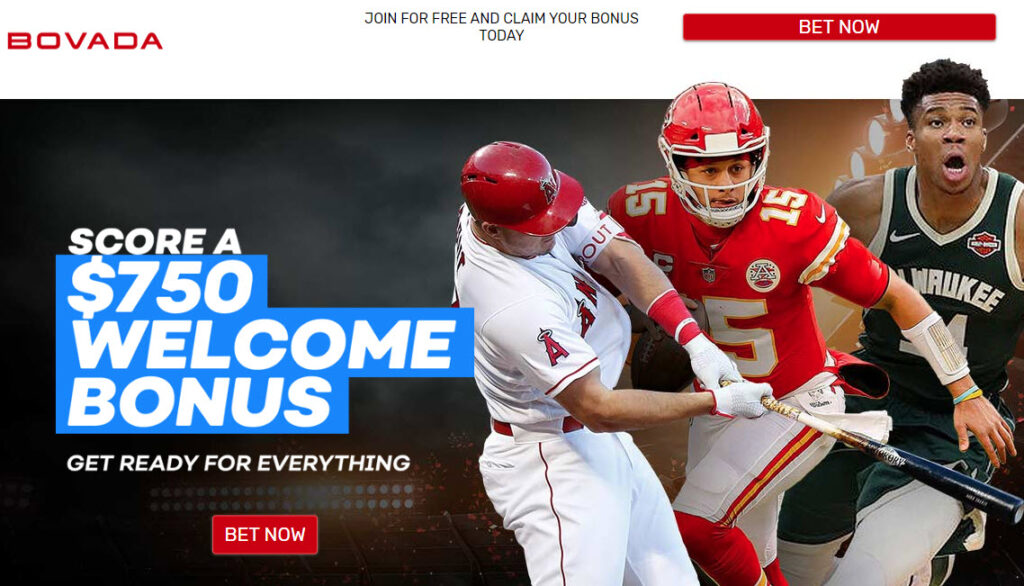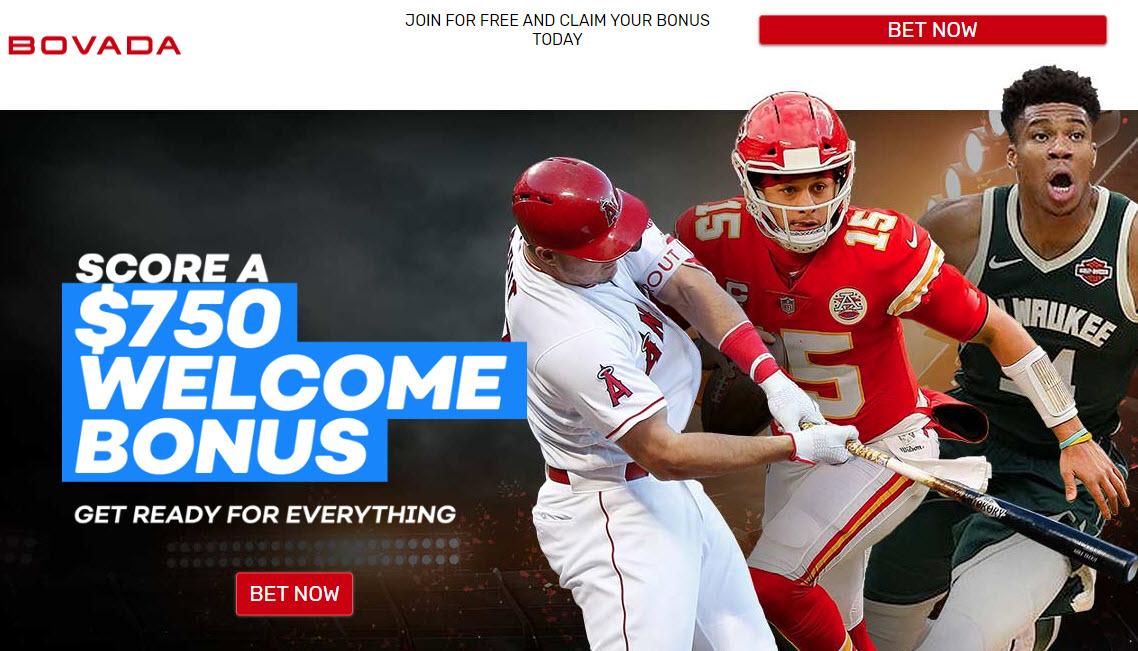 Great Place for Poker Players
Bovada Casino is part of the busiest poker network in the U.S. which is the reason this site claims to be America's busiest poker room. With the number of customers it has in its sportsbook, racebook and casino, it has more customers than the typical stand-alone poker website.
Add to that all of the players that come looking for poker action specifically, they truly are the busiest poker room in the country.
A Ton of Casino Bonuses to Choose From
Bovada Casino has a lot of bonuses for every type of casino player. They have a bonus where you can get a 100% bonus match that comes with 25 free spins. There's also a bonus where you can get 177% that comes with 77 spins on a game called Platinum Lightning Deluxe. There's also a welcome bonus that Alabama online gamblers really seem to enjoy.
The bonus is earned over the course of three deposits where you can get 100% up to $1000 which would potentially earn up to $3000 in bonus money. There are specific bonus code available for your first deposit.
One of the Most Competitive Odds Markets
Bovada's brand has been built on the back of their sportsbook and as you would expect, they have one of the most competitive odds markets. You can bet on everything from sports, politics and entertainment. Everything from who will win at the next Oscar's to odds on the next POTUS are all available.
Where Bovada Casino really stands out with their odds is their props market. Considering they offer odds on non sporting events, you can be sure that their props market on spotting events is one of the best in the online gambling industry. Bovada is one of the top brands in the industry for all of these reasons which is why they are so popular among Alabama online gamblers.
Pros:
America's busiest poker room
Great prop bets to choose from
Great mobile interface
Cons:
Sharp bettors are limited
Odds posted later than some competitors
4. BetOnline: Consistent Service Across Multiple Offerings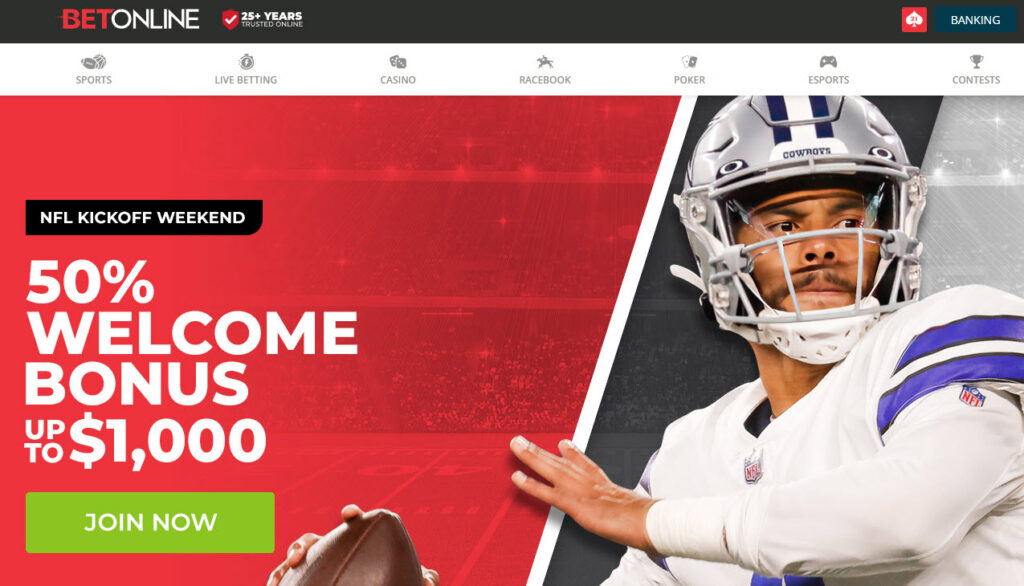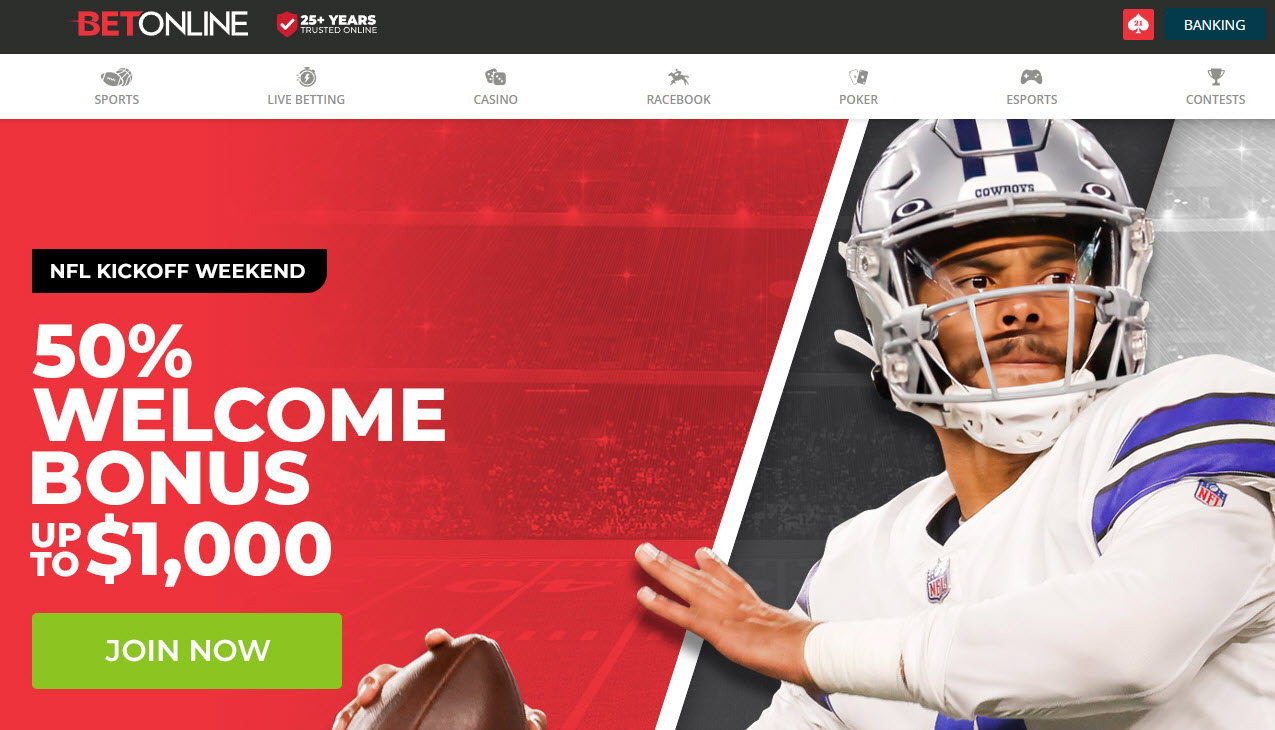 Horse Racing Fans Get Great Rebates
Horse racing enthusiasts in Alabama love the racebook rebate offered by BetOnline. Most websites that offer horse racing use the same providers so the user experience is quite similar across several brands. What usually separates them is the savings and odds being offered. At BetOnline, you can get a 9% rebate for online wagers at the racebook.
This is an important distinction because if you call in to make the same wager, the rebate is only 5%. This is a very smart way to encourage horse racing bettors to login to the website and make these wagers themselves. Anyone with horse racing betting experience can attest to the fact that making a wager over the phone is not the most efficient way to get your bet in when you're short on time. BetOnline has a very easy to use betting interface on both their desktop and mobile platforms.
One of the Best Poker Tournaments
The Championship Poker Series is one of the best online poker tournaments in the industry. In Alabama. The more active you are in the tournament, the more free tickets will be sent to you that gets you even more action. This tournament has over $2 million in prizes which keeps players active throughout which is why it's so popular among Alabama poker players.
Early Odds A Big Perk For Alabama Sports Bettors
Early odds is the difference between getting the best available price and getting a price after the sale ends. Most sportsbooks copy their lines from other shops known as market setters who are the ones who release the line first. Being a market setter for any sports exposes you to sharp action. If you sign up to play at BetOnline in Alabama, you will have access to the best prices on some of the biggest betting markets in the world like the NFL.
Pros:
Fantastic poker tournament with up to $2 million in prizes
Great bonuses across multiple offerings
Free $25 free bet in the racebook
Cons:
Anonymous tables not available in the poker room
Higher rollover requirement than some competitors
5. BetAnySports: Huge Savings Across Several Offerings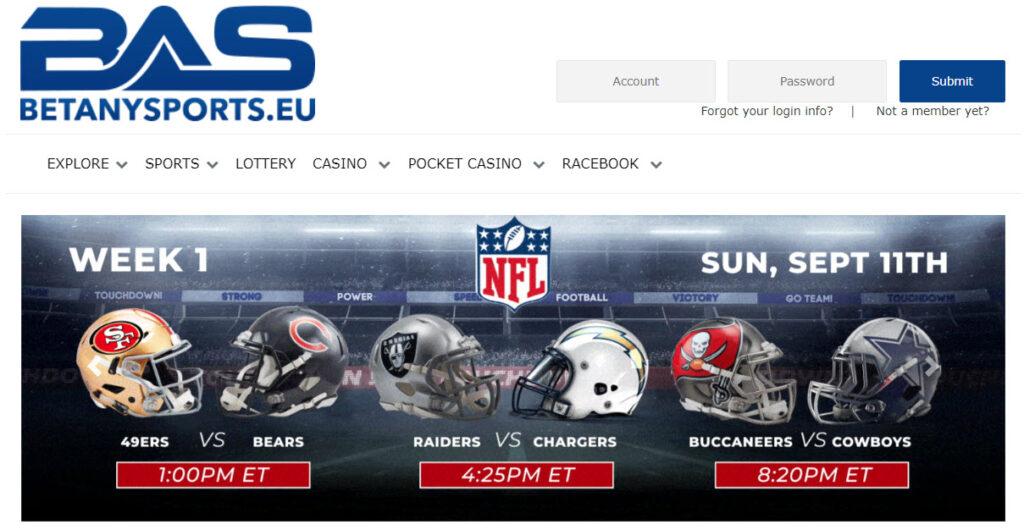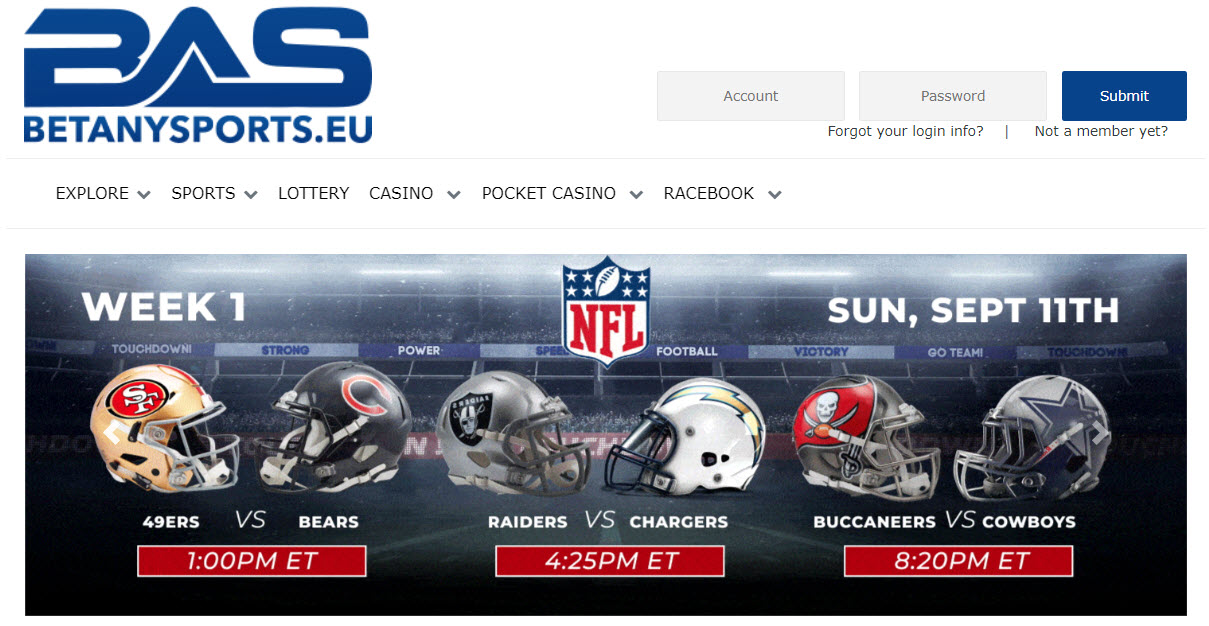 Save Money with Multiple Platforms
BetAnySports charges 5% juice which is 50% less than industry standard. That means that your money has more betting power when wagering on sports. If you do choose to use the reduced juice option, that will limit your ability to claim a bonus. Most reduced juice sportsbooks limit the amount of bonus you can receive.
The thing that makes BetAnySports one of the best online gambling sites is the fact that they offer savings across multiple gambling platforms. For example, if you enjoy betting on horses, you can get rebates of 5%, 10% and 25%. If you choose the 5% option, you will be credited that bonus daily (10:00 a.m.). If you go with the 10% rebate, it will be credited to your account every 7 days. Lastly, there's the 25% rebate bonus which is credited every 30 days.
All of these rebate options are a sign of the overall service that you can expect at BetAnySports. As we've already mentioned, the best online gambling site is a matter of preference and with so many great options available, BetAnySports makes sure they appeal to a wide variety of players.
Pros:
Horse racing bonuses available in the form of rebates
Save 50% on juice when betting on sports
Cons:
User interface not as modern as other brands on this list
Less bonuses than competitors
6. BetUS: Largest Bonuses in Alabama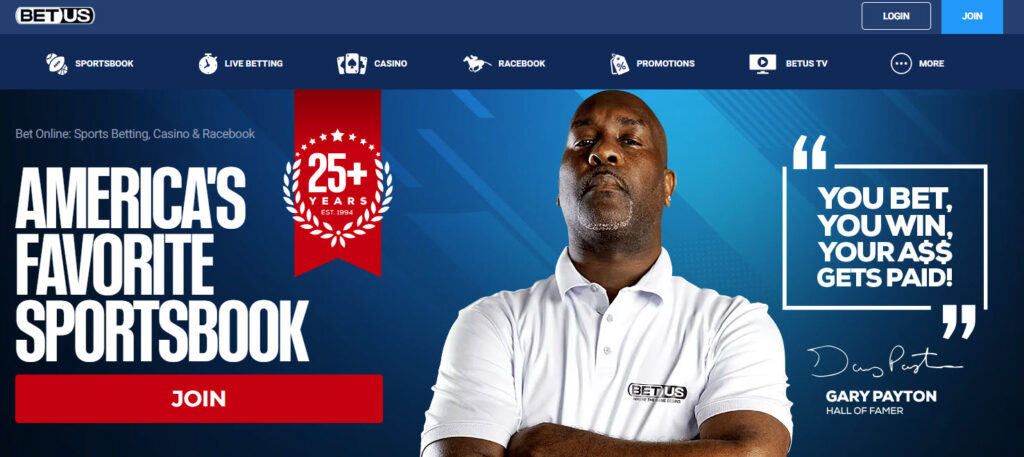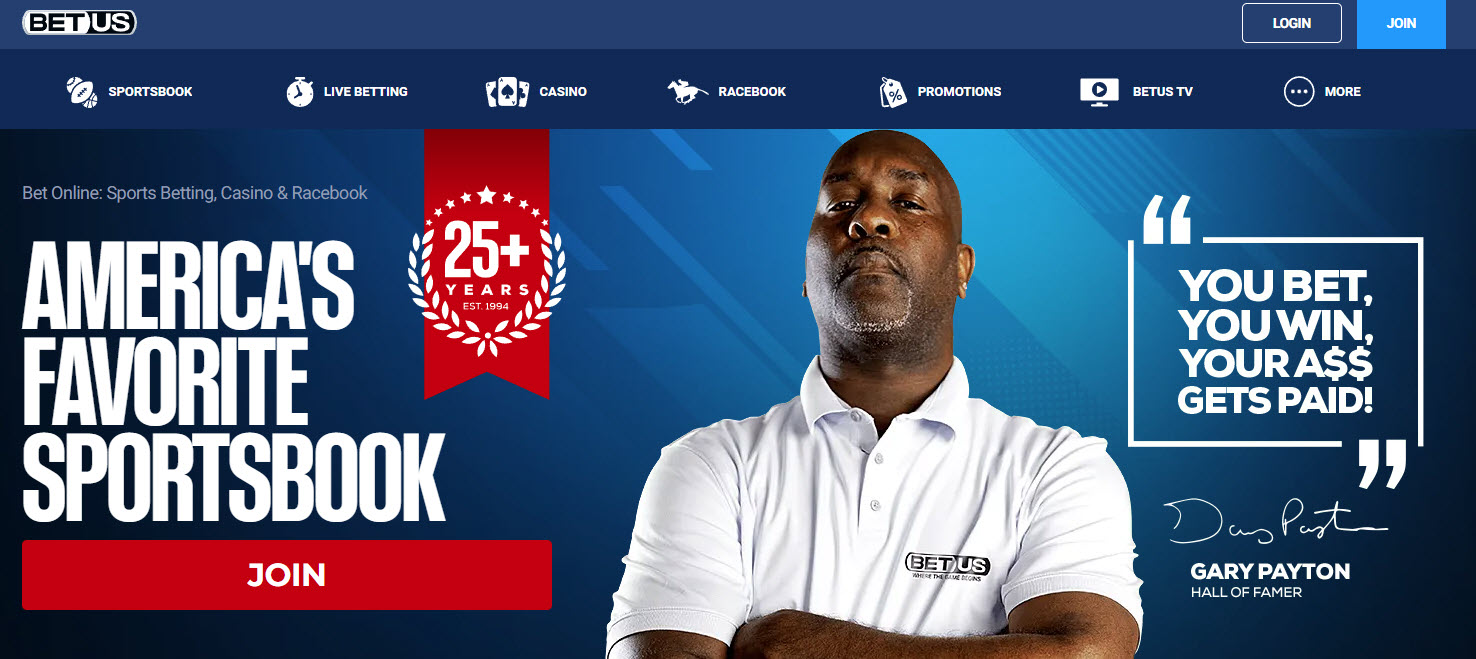 Best Bonuses in Alabama
If bonuses are the most important thing to you, then BetUS has you covered. It has the best variety of bonuses and usually has the most generous offers as well. There's a sign-up bonus of 125% that is valid in both the sportsbook and the casino. The biggest part of the bonus which is 100% is for the sportsbook while 25% of it is for the casino.
If you want a casino-only bonus, you can get 150% up to $3000 which is one of the best casino bonuses you'll find on any online gambling site in Alabama. Most promos, regardless of gambling service (sports, casino, poker), come in the form of free play or free chips. BetUS has upped the ante by offering cash bonuses as well. You can also get 10% cash plus a 20% bonus.
Get More for Depositing Crypto
As is the case with all online gambling sites, crypto is the preferred method for deposits and withdrawals. BetUS incentivizes its players to deposit Bitcoin, Bitcoin Cash or other altcoins with huge bonuses. The best of the bunch is the 200% crypto signup bonus where 150% of it is for sports and 50% of it is for the casino.
If you want a bonus that is specific to sports, you can get a 100% crypto bonus with a maximum of $2500. If you prefer the bonus to be for casino only, you can get 250% up to $5000. No matter what type of gambling you choose to do at BetUS, they will provide you with the industry's best bonuses.
BetUS is known for two things in the gambling industry; big bonuses and an elite customer service team. If bonuses are important to you, then BetUS will satisfy your needs with a big variety of promos. It offers welcome bonuses, reload bonuses, bonuses specific to their casino as well as cash bonuses. The majority of all industry bonuses come in the form of free play which is not the same as cash. When you make a wager with free play, win or lose, the amount you risk is gone. With cash, if you win, you get the risk amount back plus your profit which makes a huge difference to the amount of betting power you have.
Alabama online gamblers especially love BetUS' customer service team. If you are a regularly depositing player and speak to an agent you like, you can request for them to be your personal account manager. The benefit of that is you will have someone on the inside providing you with crucial information that you might not even know you need. They can help you with deposits, withdrawals and keep you up to date with any new specials. These personal account managers go above and beyond for their customers.
You'll notice when you log in to BetUS' main page, some Hall of Fame football and basketball players. This is because they also have a multimedia section as well as a YouTube channel where a lot of these former great players give you advice about the game they used to play. In fact, BetUS' Youtube page has game previews and free picks on NFL, NBA and NCAA football and basketball. BetUS offers Alabama gamblers a very modern and entertaining betting experience.
Pros:
VIP Customer service without having to spend VIP money
Some of the industry's best bonuses
Loyalty program available
Cons:
Playthrough requirements higher than other brands on this list
No poker offering
7. WagerWeb: Crypto Makes Betting Online Easier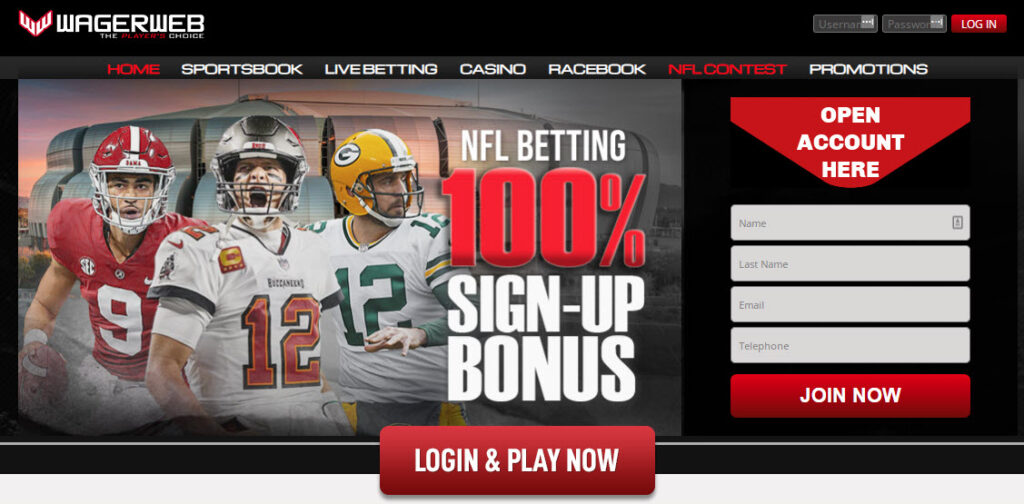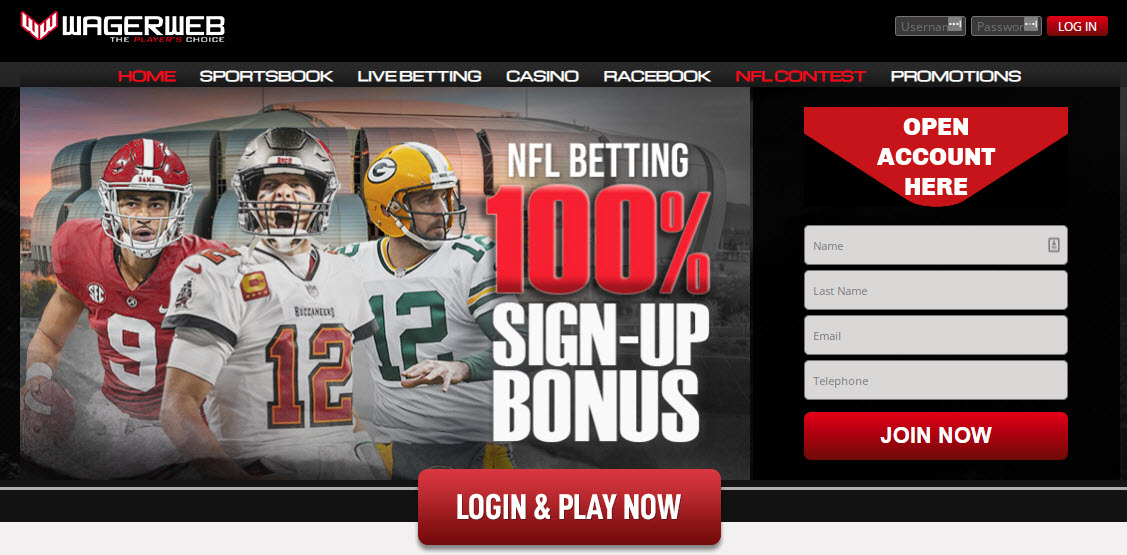 Most Online Gambling Sites Pushing Crypto
The push in the online gambling community towards the use of crypto is not unique to WagerWeb. In fact, if it were possible to survey all of the sites in this guide, they would overwhelmingly vote in favor of crypto as the best way to deposit and withdraw money from your account. The reason for that is crypto transactions are much easier to complete than credit cards which are the most popular way for players to fund their accounts.
These online gambling sites realize that the convenience of credit cards is hard to beat so they aren't trying to convince you that crypto is better for that reason. The online gambling community prefers crypto because it eliminates the need for approval from your bank. Although legalized wagering is gaining steam in the U.S., it is far from the norm as online gamblers in Alabama can attest to. Over in the U.K for example, where gambling has been legal since the early 1960s, you can deposit and make withdrawals on certain credit cards
That may happen in the United States one day but don't expect that to be anytime soon which means credit card transactions used for gambling still come under heavy scrutiny. WagerWeb has done a great job of incentivizing players to choose crypto by providing better promos and faster payouts.
Nice Bonuses for All Players
While you get better bonuses when you use cryptocurrency with WagerWeb, non-crypto users still have access to great bonuses. The welcome bonus for new players is 50% up to $500. As for the reload bonuses, players are eligible for 30% up to $500. If you deposit via crypto, you are eligible for higher bonus percentages. Please make sure to thoroughly review the terms and conditions before claiming any bonuses.
Pros:
Great perks for crypto users
Welcome and reload bonuses available
Cons
Sharp action may be limited
Interface could use an upgrade
8. JustBet: User-Friendly Mobile Betting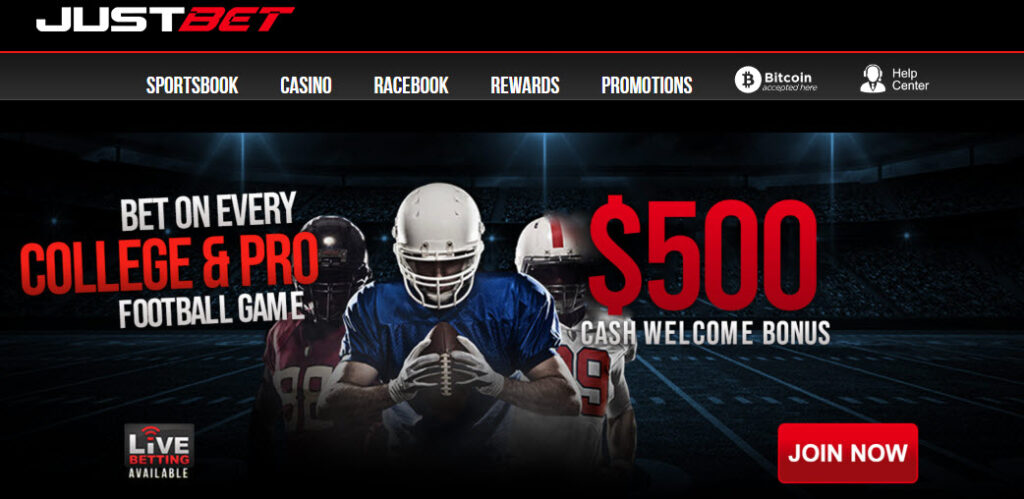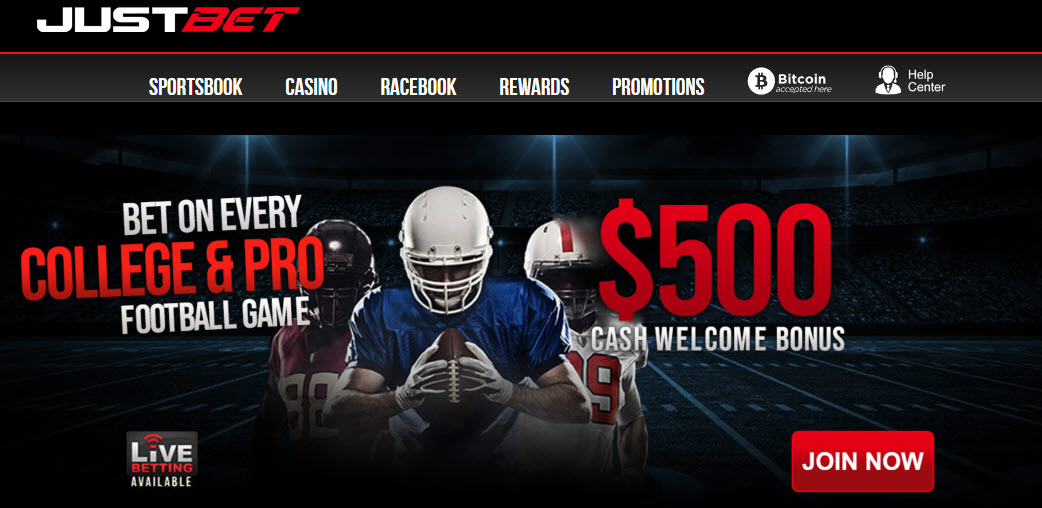 Big Betting Limits If Attracts VIP Players
Online gambling sites protect themselves by putting maximum betting amounts on different events. The NFL usually has the biggest betting limits for Alabama online gamblers followed by the NBA. Even with those sports, the betting limits get even smaller when dealing with bets that are on anything other than the full game. Halftime and quarter bets usually have lower limits.
JustBets understands that by offering higher wagering limits than most of their competitors, they will be attracting VIP players that can really do damage to their bottom line. The fact that they are ok with that is something that should give you confidence as a player. That means that regardless of how big you win, they will pay you out in a timely manner because they are used to dealing with larger transactions anyway.
User-Friendly Mobile Platform
Mobile betting is the future of the online betting community. More than 80% of sports betting handled in the U.S. comes from mobile wagers. When you take a closer look at the top ten states in the country when it comes to bets taken, most of them are well over the 90% mark in terms of mobile betting percentage.
JustBet understands this offers Alabama online bettors a user-friendly mobile platform that allows their players to get in on the action no matter where they are. Their mobile interface makes live betting a breeze. As popular as mobile betting has become, live betting is also starting to take up a larger portion of the sports betting market share. Live betting and mobile platforms go hand in hand so it's nice to see JustBet be ahead of the curve in both aspects of the industry.
Pros:
Bigger betting limits
Strong mobile platform allows for easy live betting
Cons:
Professional players not welcomed
9. Everygame: Alabama Bettors Love the Savings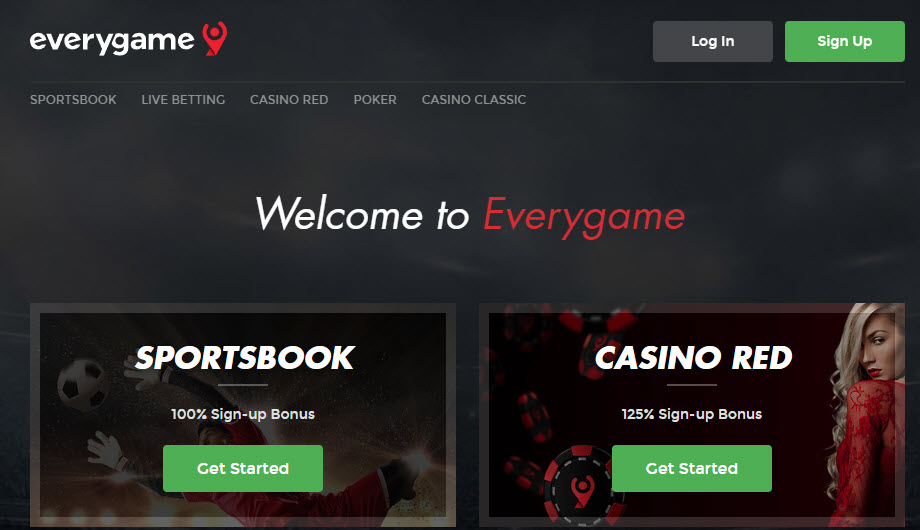 More Action With Less Money Spent
Everygame is another site that offers reduced juice to its players in its sportsbook and also offers rakeback in its poker room. Alabama players love the savings they get while playing with Everygame compared to the competition. You have access to reduced juice while betting on sports while also saving money if you enjoy playing the online casino games as well.
If you enjoy playing poker, they have an excellent rakeback bonus which is similar to a cashback bonus in sports betting. The major difference is that the rake you pay in poker is not optional since it is how poker rooms make a profit from hosting cash games and tournaments. The rakeback bonus at Everygame is a generous 36% of the rake you've contributed while playing in the poker room.
Pros:
Decades of industry experience
Top online casino offering
Cons:
Identity verification process is not the fastest
10. SportsBetting: High Betting Limits and Great Bonuses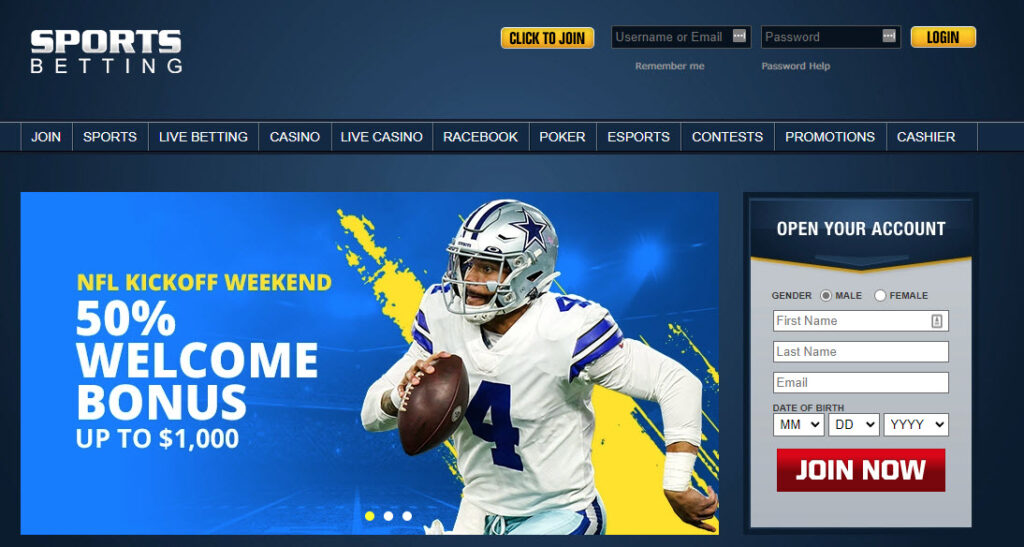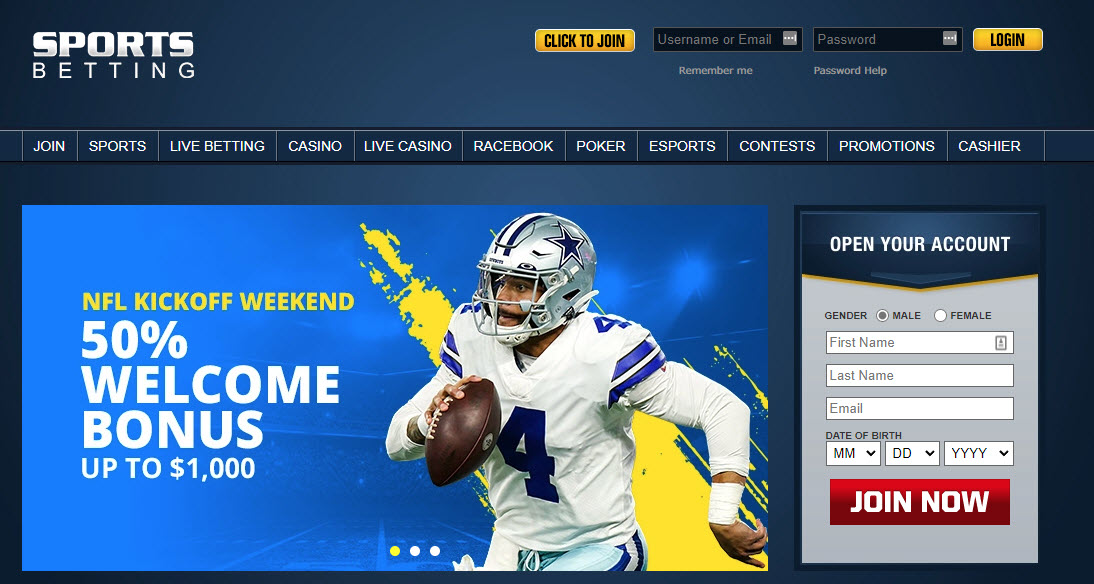 Consistent Service Across Several Offerings
SportsBetting.ag is a brand that has been in the business since the early 2000s. They offer a wide variety of betting markets and a nice selection of props as well. In their casino, they offer live dealer games which are hugely popular with Alabama online casino players. Considering there are no table games available at the three in-state Alabama casinos, live dealers offer an experience that can't be found locally.
As for the bonuses, you can do something that appeals to you no matter your playing style as SportsBetting has generous bonuses on all of their gambling offerings. They offer welcome bonuses, reload bonuses as well as rebates which are sure to please a wide variety of players in Alabama.
Pros:
Strong all-around offerings across several gambling services
All withdrawal options free of charge
Cons:
$50 minimum credit card deposit
Alabama Online Gambling – The Top Sites Compared
Below you will find a chart that has links to our in-depth offshore sportsbook reviews. You will also get the opportunity to compare each of these offshore gambling sites from a different perspective to help you choose the right one.
| Sportsbook | Rating | Online Since | Payment Methods | Read Review |
| --- | --- | --- | --- | --- |
| Bookmaker | A+ | 1996 | Credit Card, Bitcoin, P2P, Crypto | Bookmaker.eu Review |
| Bovada | A+ | 2011 | Credit Card, Bitcoin | Bovada Review |
| Heritage Sports | A+ | 2001 | Credit Card, Bitcoin, Cashiers Check, Bank Transfer, P2P | Heritage Sports Review |
| BetOnline | A+ | 2001 | Credit Card, Bitcoin, Crypto, Cashiers Check, Bank Transfer P2P, | BetOnline Review |
| BetAnySports | A+ | 2002 | Credit Card, Bitcoin, Electronic Check | BetAnySports Review |
| BetUS | A | 2000 | Credit Card, Bitcoin, Bank Transfer, P2P | BetUS Review |
| WagerWeb | A | 1994 | Credit Card, Bitcoin, Cashiers Check, Bank Transfer, P2P | WagerWeb Review |
| JustBet | A | 2000 | Credit Card, Bitcoin, P2P, Crypto | JustBet Review |
| Everygame | A | 1996 | Credit Card, Bitcoin, Skrill, Neteller, Bank Transfer, P2P | Everygame Review |
| Sportsbetting.ag | A | 2002 | Credit Card, Bitcoin, Crypto, Cashiers Check, Bank Transfer P2P | SportsBetting Review |
Is online gambling legal in Alabama?
Online gambling is not legal in Alabama. Online gamblers in Alabama turn to online betting sites that are located outside of the United States.
These sites do not fall under federal and state jurisdiction. This allows them to offer online casino gambling, online sports betting, horse racing betting, and more.
Online Sports Gambling in Alabama
The advantage to gambling online on offshore sites in Alabama is that you have access to sports, poker, horse racing and casino games in one account which is not possible at a regulated site. There are no regulated online gambling sites available in Alabama.
Offshore Gambling
Before PASPA was struck down in 2018, all online gambling in the U.S. was conducted via offshore sites. Even with more than half of the states in the country having legalized gambling in some form, the use of offshore sportsbooks is still prevalent because these sites have decades of industry experience. They also offer all gambling services under one roof eliminating the need to have several accounts.
Payments at an Online Gambling Site in Alabama
To be included in this list of top online gambling sites in Alabama, payment options have to meet certain criteria. If it is difficult to deposit or withdraw money from your account, that would mean automatic disqualification for our betting experts when putting this list together.
Deposit Options:
Most major credit cards (Visa, Mastercard, American Express)
Bank transfers, wire transfers, P2P transfers (peer to peer)
Digital Wallets
Cryptocurrencies
Withdrawal Options:
Cryptocurrencies
Bank transfers
P2P transfers (peer to peer)
Credit cards are the most popular way to deposit online. If you choose to deposit this way, at some point before you can request a cashout, you will have to complete an identity verification process. We strongly recommend that you complete that process as early as possible as it will get you access to better service for both deposits and withdrawals.
The following are reasons to complete the identity verification process as soon as possible:
High deposit limits

Every online sportsbook has daily, weekly and monthly deposit limits for credit cards.

Faster payout

The process of confirming your identity can take a few hours or a few days depending on how busy the sportsbook in question is. There's no reason to delay your payout when you can have this process completed long before your first withdrawal request.

Overall better user experience
The registration process should be the time that you also complete the identity verification. That way once you've signed up and funded your account, the only thing left to do is get action on your favorite game.
Online Gambling Laws in Alabama
All forms of online gambling are prohibited in Alabama. There are no regulated online betting sites available in the state. Alabama residents use offshore sites in order to gamble at online casinos and participate in online sports betting.
Advantages of Online Gambling Alabama Sites
With an offshore site, you can have one account that offers all online gambling services. Regulated sites are not an option in Alabama however if they were, you would have to open a different account for each type of gambling service.
Accessibility and Convenience
Since there are no regulated gambling sites in Alabama, the only accessible ones are located offshore. The fact that they offer all forms of gambling in one account makes offshore sportsbooks the most convenient option.
Lots of Gambling Options
A look at the gambling options available at offshore sites that Alabama gambling fans are currently enjoying:
Mobile betting
Live betting
Early odds on major sporting events
Casino games
Racebooks for races held at horse racing tracks and greyhound tracks
Racebook
Poker Room
Esports odds
Odds on sporting events from around the world
Odds on entertainment events like the Grammys and the Oscars
Odds on political elections
Bonuses and Promotions
In this guide, we have given several examples of the amazing bonuses you will have access to while gambling online in Alabama. That said, bonuses are not for all players. Due to the cashout restrictions, many customers rarely take bonuses which is a decision that makes sense for them according to their playing style.
Before you claim any bonus, we suggest you carefully review the terms and conditions. If you are an inexperienced player, the recommended sites in this guide all have excellent customer support teams that can walk you through which bonus is best for you.
The Best Alabama Gambling Sites
Our betting experts could not agree on one site because like everyone reading this guide, they all have different playing styles and priorities when betting. Here are the best online gambling operators according to our team of experts:
Bookmaker.eu
Heritage Sports
Bovada
BetOnline
Each of these sites allow you to gamble money online with a wide range of betting markets, including online slots, betting on professional or college sports, poker and other types of gambling. These sites all over a wide range of games, safe payment options (including debit cards, credit cards, bank wire transfers and even crypto) and plenty of bonuses.
Alabama Online Gambling FAQs
Does Alabama have gambling casinos?
Currently, the only land-based gambling options are electronic bingo machines, which can be found at the state's three tribal casinos which are located on Native American land.
What is the legal gambling age in Alabama?
The legal gambling age for in-person betting is 21. If you are betting online at an offshore sportsbook, the legal age is 18.
Can you play real money poker online in Alabama?
You can play poker online for real money in the state of Alabama, in addition to engaging in multiple other forms of gambling, simply by using an offshore casino site or sportsbook.
Why is it illegal to gamble in Alabama?
Gambling is illegal in Alabama due to the state's gambling laws and sports betting legislation. The only exceptions to this are tribal casinos (because they are located on tribal land, and thus only need to follow Federal law) and offshore gambling sites (because they are located outside of the United States, they only need to follow their country's gambling laws). These are the only two ways to engage in legal sports betting online or other gambling on other online gaming options.
Is Alabama going to legalize gambling?
There is currently no timetable for online betting in Alabama. According to reports, gambling legislation in Alabama is a couple of years away.
What app can I bet on in Alabama?
You can use any mobile betting app that is offered by an offshore sportsbook to place bets in Alabama, as these legal sportsbooks do not need to follow the state's gambling laws.