Iowa Sports Betting – 2023's Highest-Rated Online Sportsbooks
Sports bettors in Iowa have been able to enjoy legal online sportsbooks since 2019. The state now has 18 different online sportsbook operators that are licensed for bets through an app or in-person betting at select retail locations.
But did you know there are also plenty of offshore sites where you can win real money from Iowa? In this guide, we show you where to find the best offshore sportsbook, what makes them the best sites, the betting markets and bonuses they have to offer, and the state's history of legalizing sports betting.
The Best Sports Betting Sites for Iowa Bettors
Top-Rated Online Sportsbooks
At Bookmakers Review, we grade online sportsbooks based on an important set of criteria for creating a quality online gambling experience. Our top 10 sites are all from places where online betting is legal, so you can join these sites too from Iowa.
Is sports betting legal in Iowa?
Yes, the sports betting industry has successfully been operating in Iowa since 2019. They have recently added an 18th sports betting operator for online wagering, and ‌retail betting is continuing to increase with licensed sportsbooks making deals with the casinos throughout the state.
Users must be at least 21 years old in Iowa to bet on sports legally. The only real sports betting rule is that there are no betting markets for high school games. Professional sports and college sports are fine.
We will show you below where to find the best offshore sportsbook and offshore sites for more gambling options, including online action on international sports.
Comparing the Top Iowa Sportsbooks
We have included a full review of our top 10 sportsbooks, focusing on the quality of their sportsbook experience, including the pros and cons of using each. These are some of the best choices you will find in the sports betting industry. You can expect to find your favorite teams, college teams, college sports, things like second chance bets and much more with these offshore sportsbooks.
1. Bookmaker: Best Value for Early Lines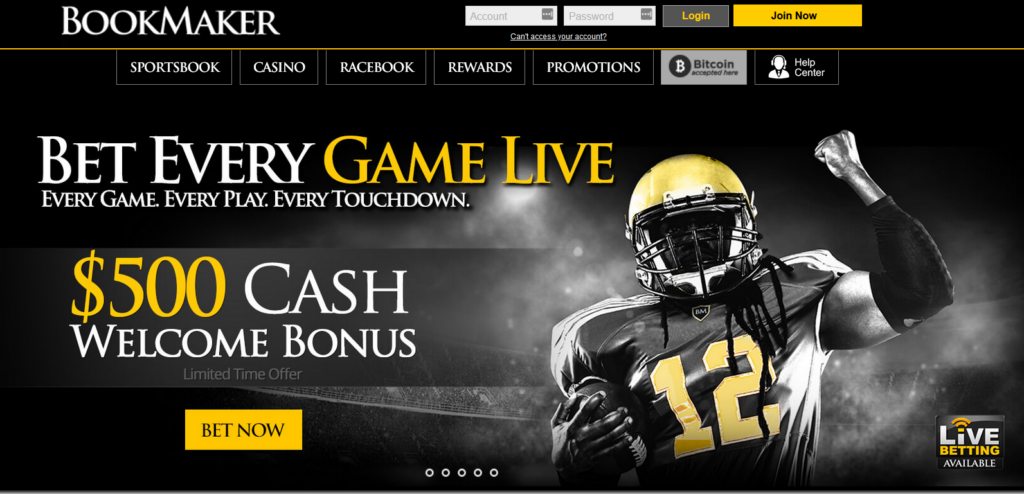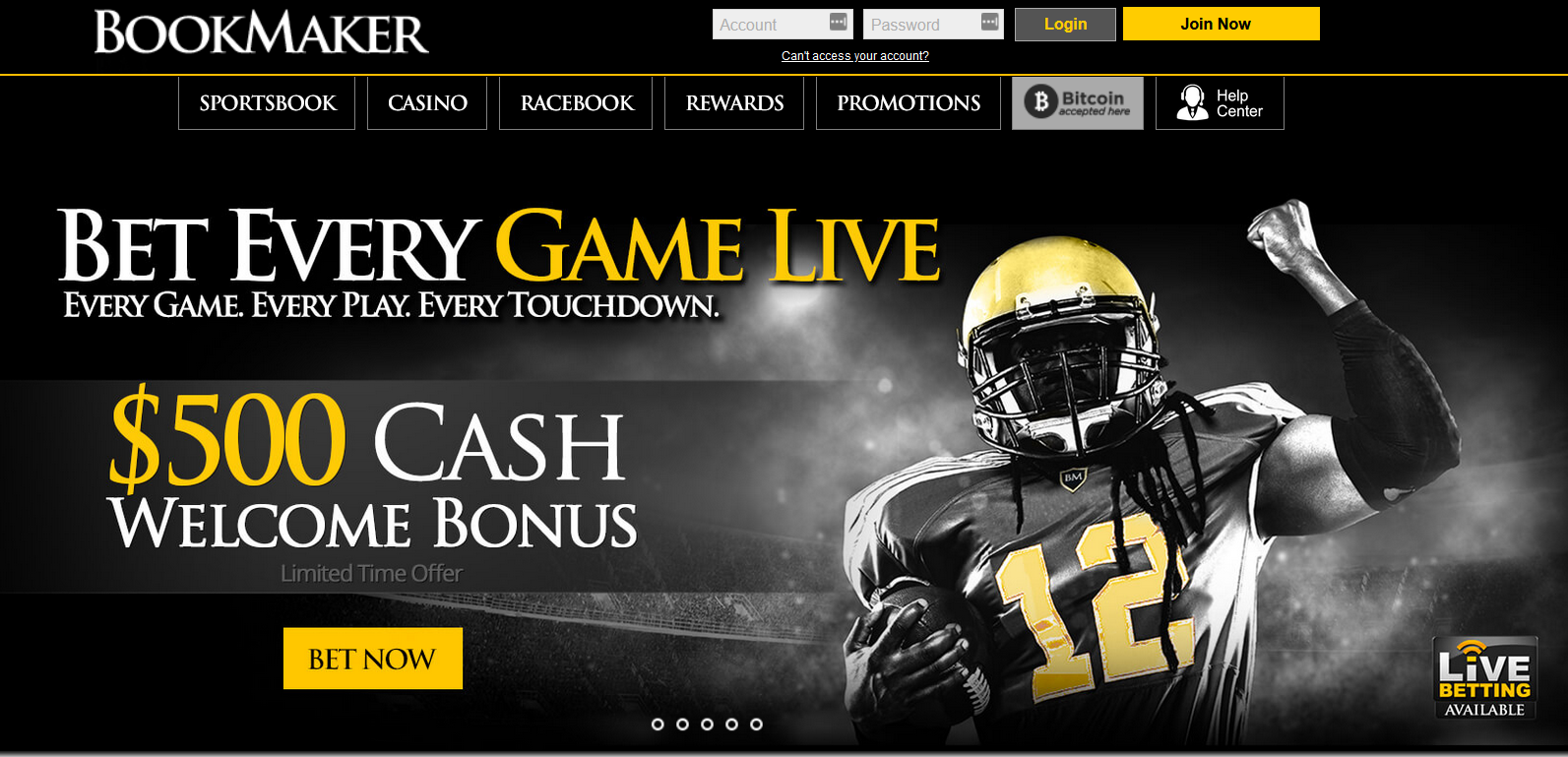 Bookmaker.eu has earned its reputation as being the site where the line originates. That is why sharp bettors love using it, as you get the earliest betting lines around. This is a great way to get value betting on your favorite teams before the public shifts the market to a much different number by game time. Sharp bettors also enjoy not getting limited at Bookmaker for consistently winning their bets. You also get high limits at Bookmaker.
There is also a great reward program that has three tiers where you get more cashback and better deposit bonuses as you move up to the third tier, which is reserved for recreational accounts only. That may be the only way you could say Bookmaker limits very successful players, but you can always contact the great customer support team to find out if your account will qualify for the highest reward tier.
Bookmaker has a ton of sports and leagues, good live betting and solid prop selections on a huge variety of games.
Pros
Earliest sports betting lines
Very good loyalty program
Great site to do live betting
Some unique props on popular markets
Winning players are not limited
Cons
Does not have a poker room
Bovada has better player prop bets
2. Heritage Sports: Good Live Betting Markets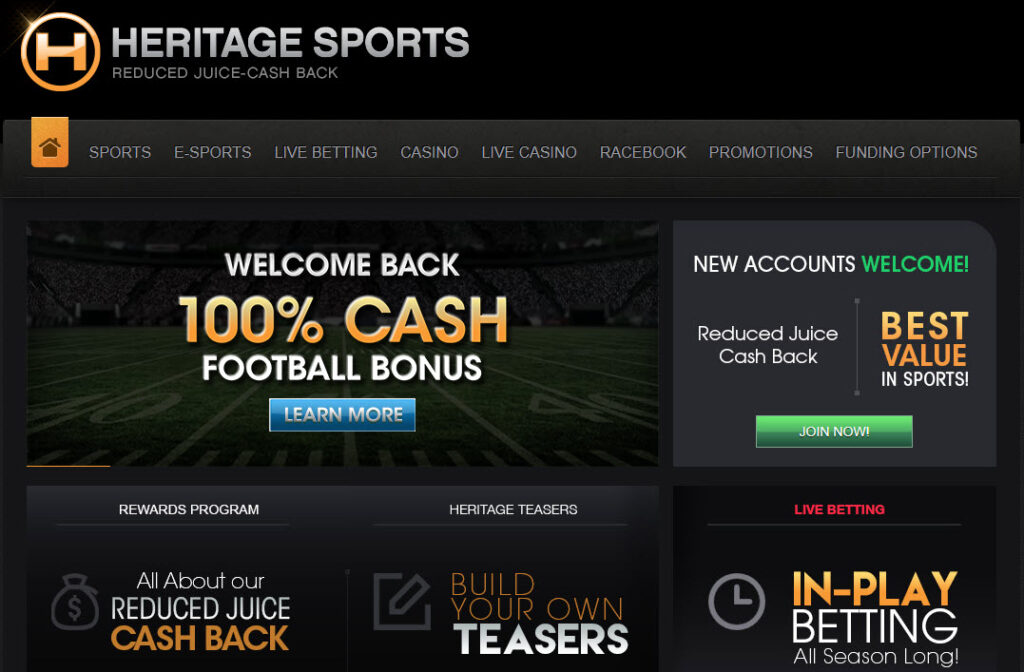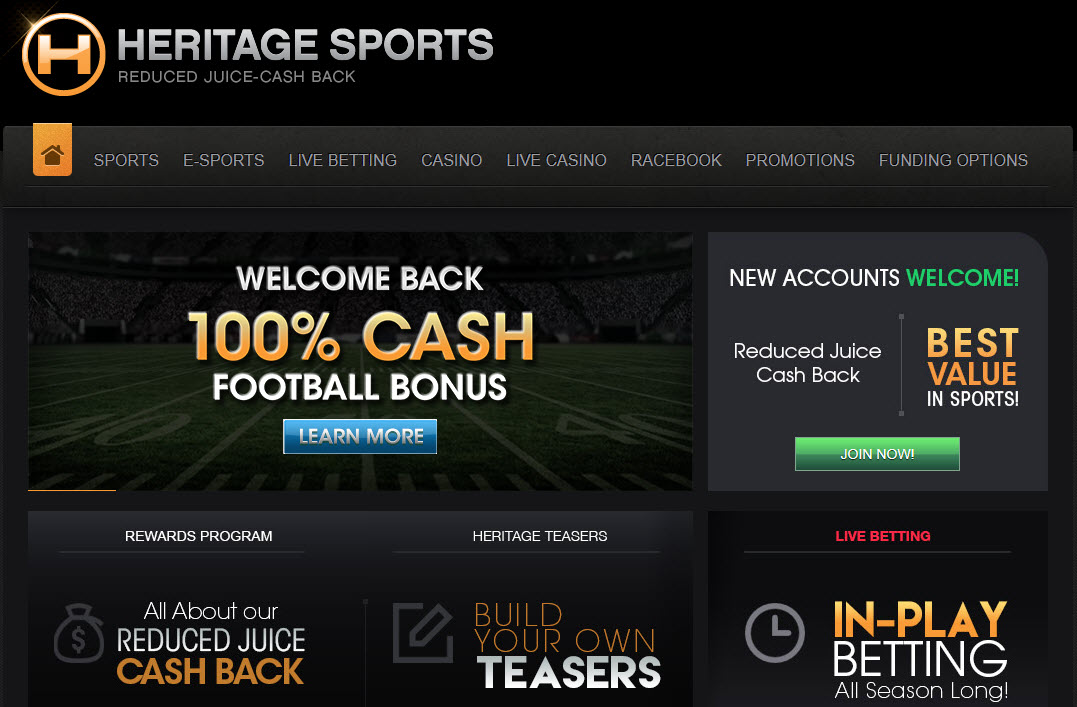 You can get a great sports betting experience at Heritage Sports. They may not get the lines up as early as Bookmaker, but they do a good job of getting early lines for MLB games (the night before) and NFL games (Sunday night a week in advance). The mobile site is also ideal for placing live bets on a variety of international markets and popular leagues.
But what Heritage Sports may do better than anyone is offer cashback and reduced juice. You can get both instead of having to choose one over the other. You can get -108 lines instead of the traditional -110, and you can get a quarterly rebate on your total betting volume on the sportsbook. The bonus funds can be used anywhere you want on the site.
Heritage Sports also has some fun perks like a free birthday parlay (worth up to $500) and getting your every eighth deposit for free. These perks and the cashback make up for what is a smaller welcome bonus than most sites.
Pros
Ideal site for live betting 
Great cashback and unique promotions
Reduced juice (-108) available 
Casino games are free to try
Sportsbook bonuses can be used on any section of the site
Cons
Only poker is video poker
Lines are put up later than at other online betting sites
3. Bovada: Our Favorite Prop Builder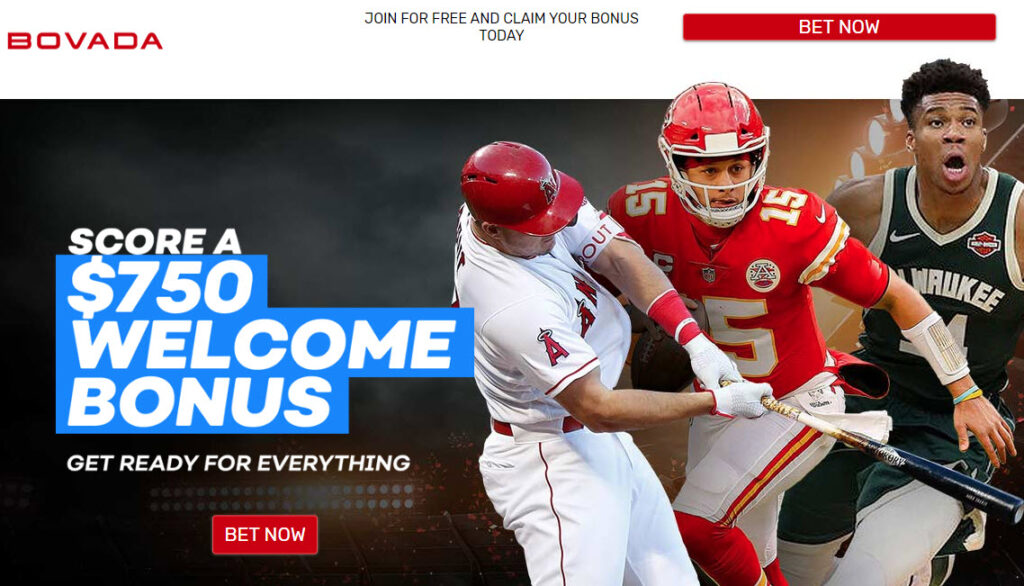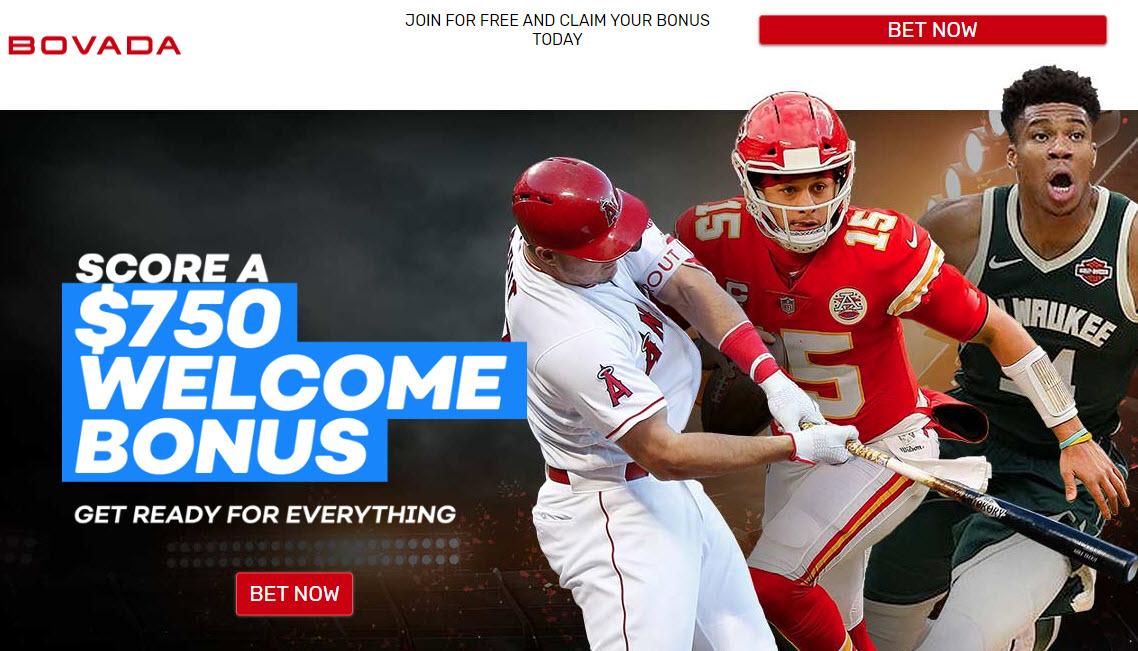 Bovada has a very good site design and is one of the best mobile sites for adding to your home screen to use like an app on your mobile device. The sports section is well organized, with an A-Z listing of the many available sports markets, including some non-sports stuff like Bovada's original lottery-style number games and some entertainment markets like the Oscars or presidential elections.
The prop builder at Bovada is arguably the best in the business. You can easily jump between leagues and games to build your bet slip for a parlay or play your favorite picks as singles. The site makes good use of drop-down menus.
The sign-up bonus at Bovada is big for crypto users as you can get a 75% bonus up to $750 in bonus bets for the sportsbook. There is a lack of ongoing promos for returning users, but this is made up for a bit by a very good reward program where your points never expire. Those points can be redeemed for a variety of bonus bets or even poker entries. The poker tournaments at Bovada are a massive draw for those who like online poker to go with their sports betting.
Pros
Elite prop builder
Good welcome bonuses for crypto users
Great selection of sports and leagues
Points never expire in reward program
Great for poker players
Cons
Not many ongoing promos
Certain withdrawal methods take a long time to complete
4. BetOnline: Opinionated Lines and Poker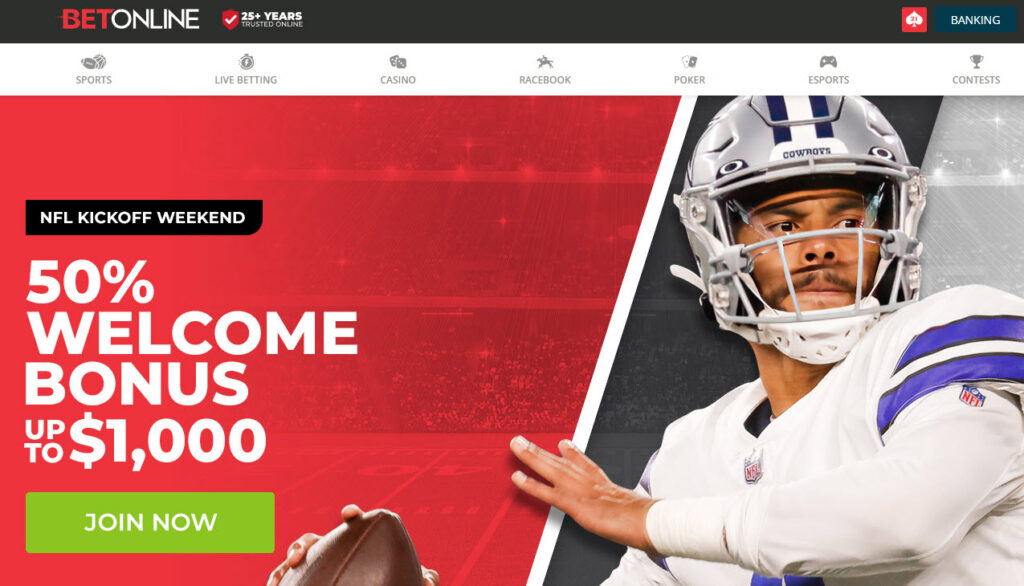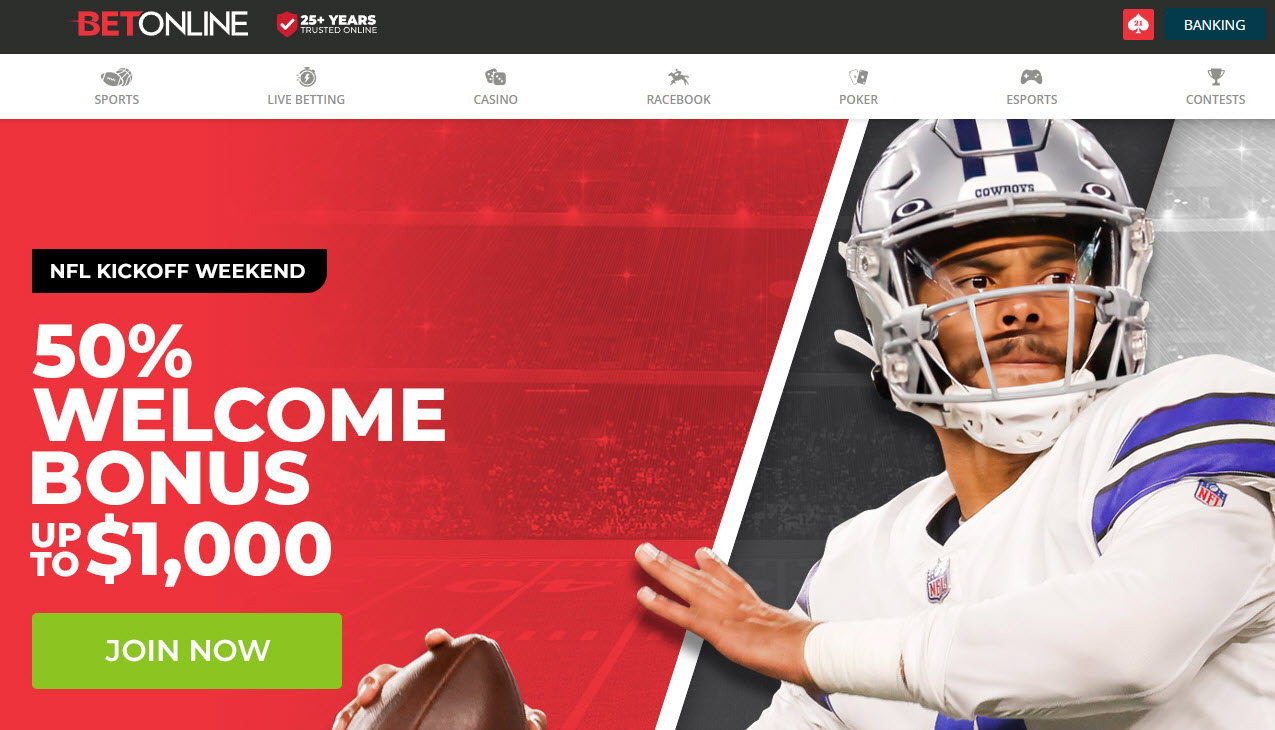 With BetOnline, you will find a sportsbook that has opinionated lines on many different markets. So, instead of getting -110 odds on both sides, you may see options of -113 vs. -107 at BetOnline. You can use these picks in parlays too, as BetOnline has a fairly robust parlay and same-game parlay setup for more betting versatility.
BetOnline has a wide range of sports and leagues covered from all over the world. You get a decent prop builder to make your picks, and you will always get high limits and fast payouts to enjoy from a site with diverse payment methods.
For those who like poker and casino games, BetOnline is a big draw in those areas with hundreds of slots (many exclusives) and the best poker tournaments outside of Bovada. BetOnline also has generous sign-up bonuses for new users.
Pros
Generous sign-up bonuses
Opinionated lines on sportsbook
Hundreds of casino games available
Good racebook
Cons
Prop bets offering is not as wide as at other sites
Reduced juice is only available for NHL lines
5. BetAnySports: Best for Reduced Juice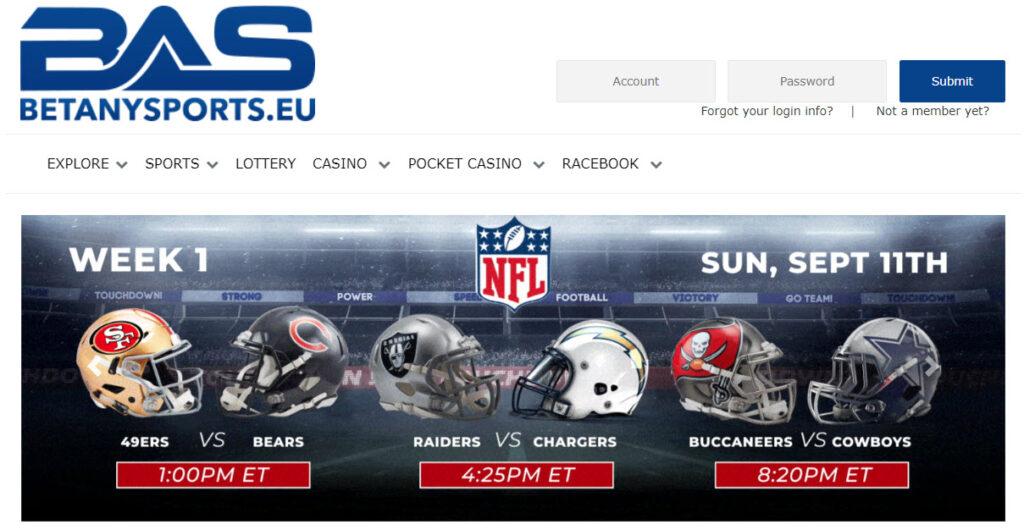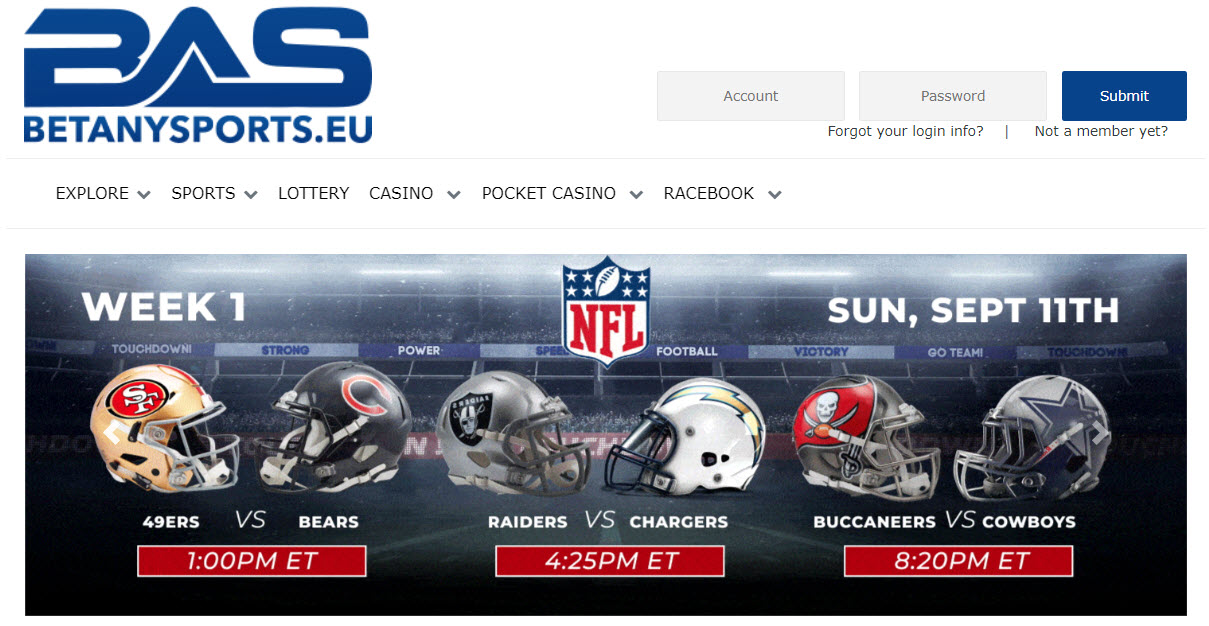 BetAnySports is another A+ rated online sportsbook from Costa Rica. We do have to warn you, the site can be confusing at first as the sportsbook offers multiple lines despite many of the same games being included in each. Some will have different odds too, including some of the best reduced juice you will find anywhere with -105 lines.
You just have to get over the learning curve of using the site, which is not as flashy as our first four entries on this list. But if you give BetAnySports a chance, you will find a functional sportsbook with a great prop builder for a wide variety of markets.
BetAnySports also does a very good job at offering casino game variety and it is the only site with a dedicated lottery section. Do not expect big bonuses, as the site runs on a smaller budget than BetOnline or Bovada, but this is a quality all-around gambling site.
Pros
Best reduced juice (-105) around
Very good prop builder
Many sports and leagues available 
Live betting markets on a variety of games
Unique lottery section
Cons
Site design can be confusing
Small bonuses compared to other betting sites
6. BetUS: Unique Sign-up Bonuses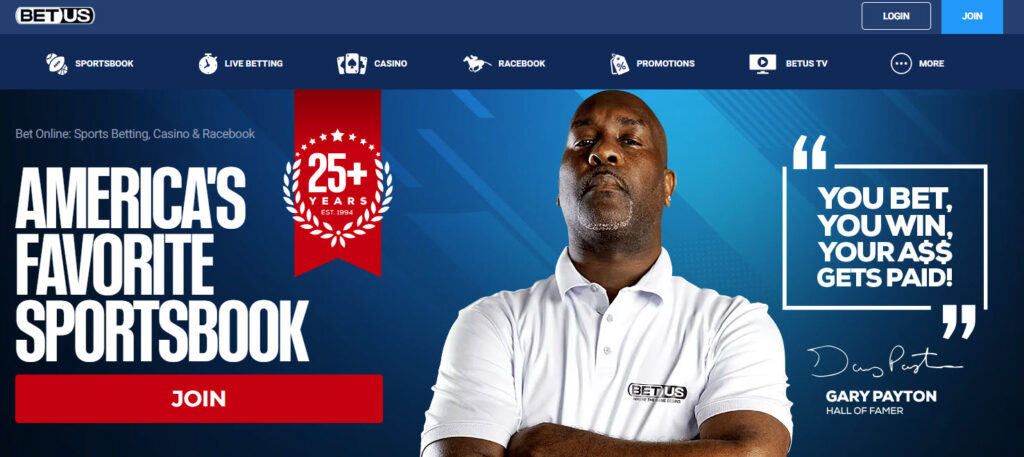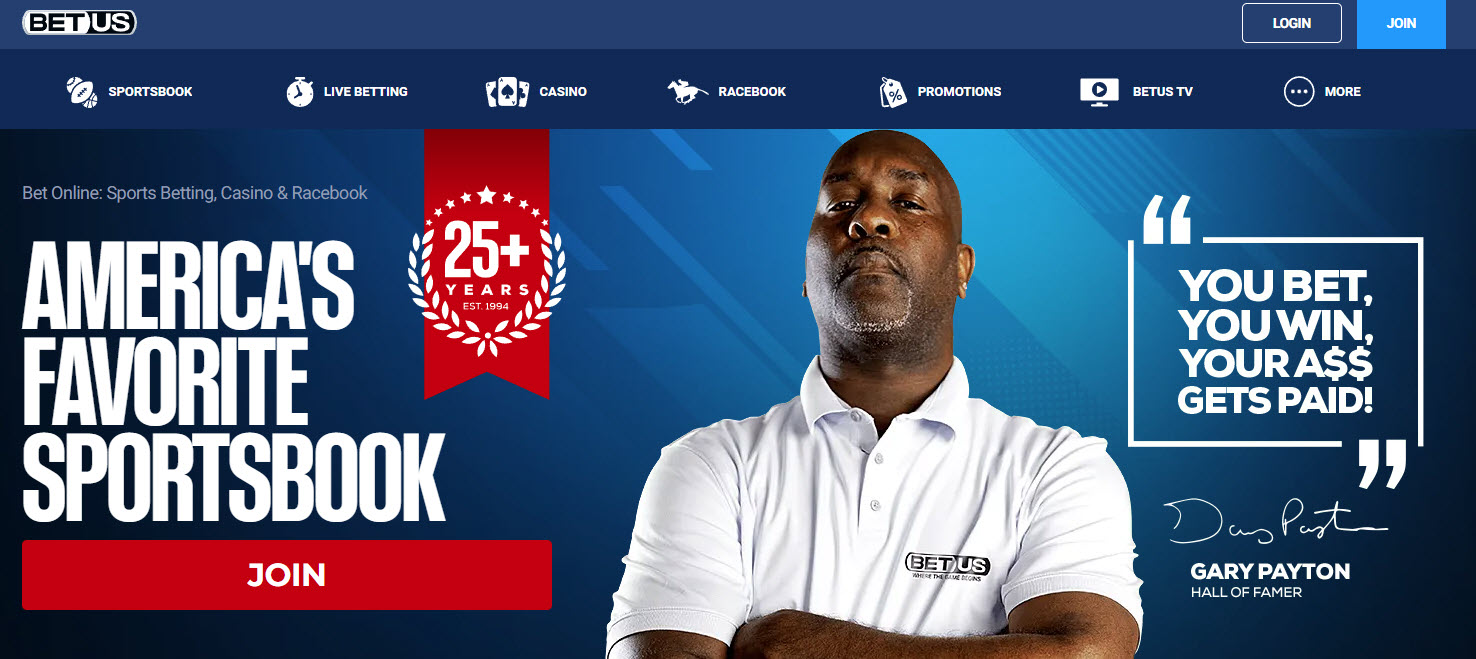 Since 1994, BetUS has crafted a very good model for what an online gambling site should look like. They cater to users with helpful gambling guides and the best original content with expert picks and analysis for just about all sports with their BetUS TV service, which is their exclusive YouTube channel.
As for the gambling itself on the site, you get a functional site with a decent prop builder, a wide variety of sports, live betting and a very good casino section. But the rollover requirements are unfortunately some of the highest around, which takes away some of the glory of the welcome bonus that offers more than 100% of your initial deposit.
Pros
BetUS TV is great addition for expert picks
Informative gambling guides available
Unique sign-up bonuses
Casino has demo versions
Plenty of racetracks on racebook
Cons
Does not do poker tournaments
Prop builder is not as impressive as at other sites
High rollover requirements on bonus money
7. WagerWeb: Strong Crypto Bonuses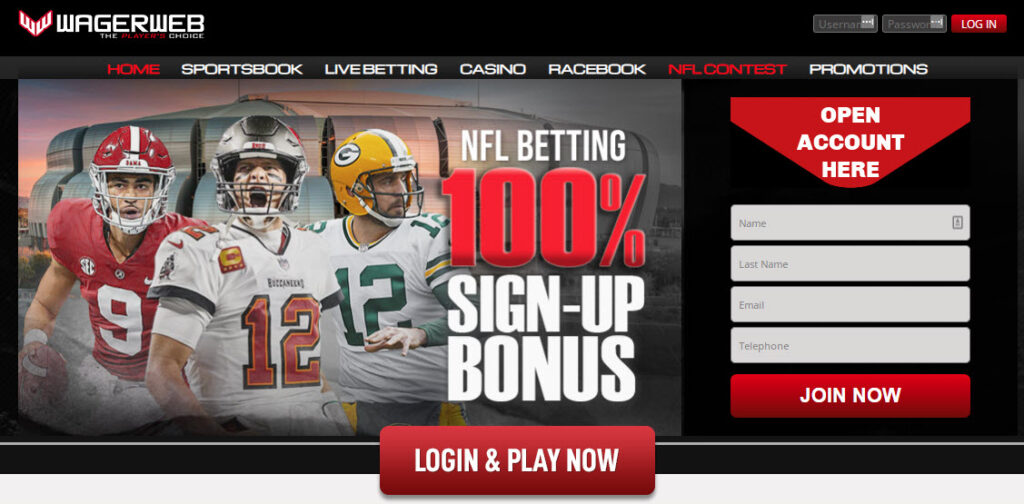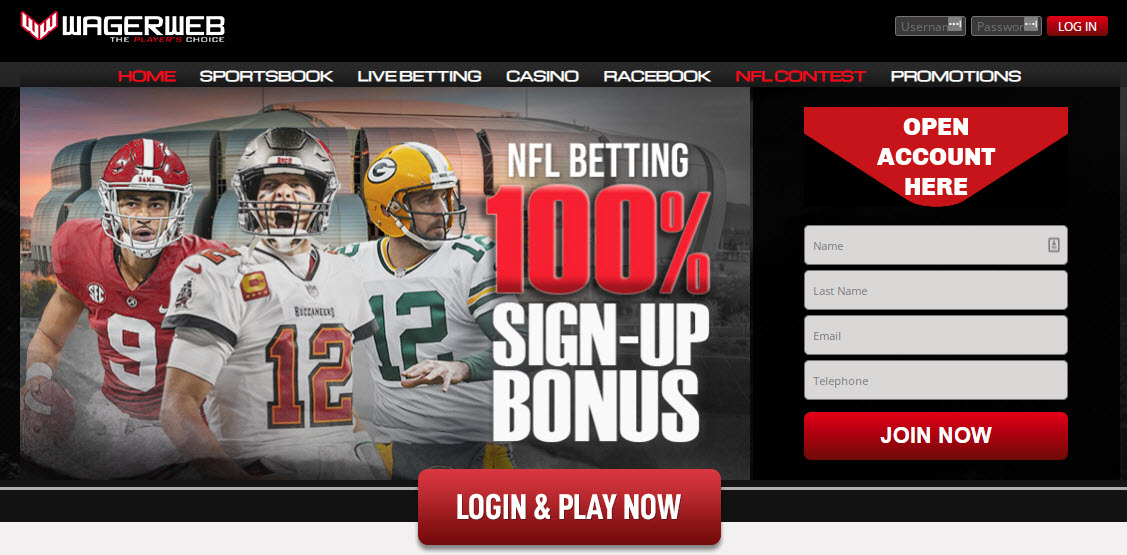 WagerWeb is a very solid online gambling site with true parlay odds, cashback bonuses, esports betting and a free weekly NFL contest. It models itself largely after Heritage Sports, so you get elite live betting too on a good mobile site.
The bonuses are very good for crypto users, though we much prefer the way bonuses are done at Heritage Sports since they are less dependent on users using MoneyGram or Bitcoin, and you can get every eighth deposit for free instead of every 10th at WagerWeb.
Pros
Free NFL weekly contest
True parlay odds and cashback sportsbook
Good esports coverage
Great bonuses for crypto users
Cons
Non-crypto users do not get good bonuses
No poker tournaments
8. JustBet: Good Reward Program Bonuses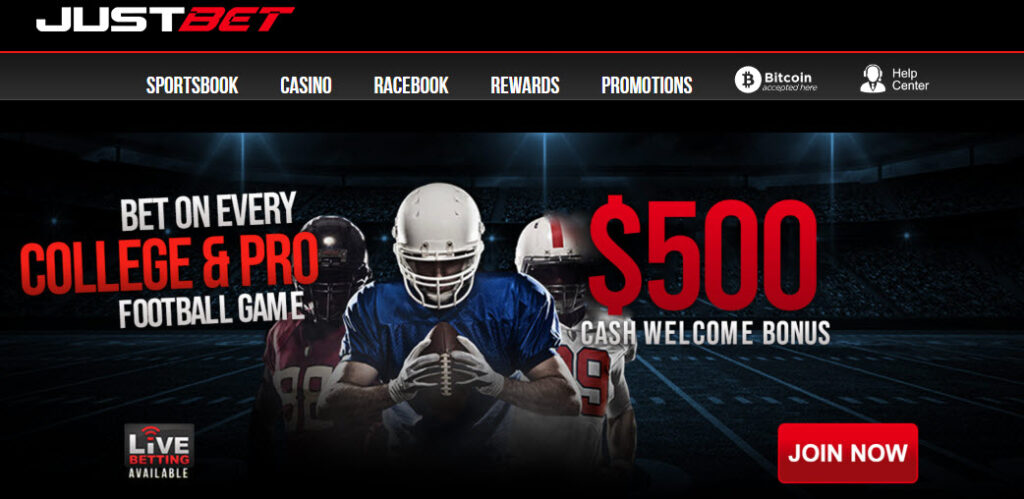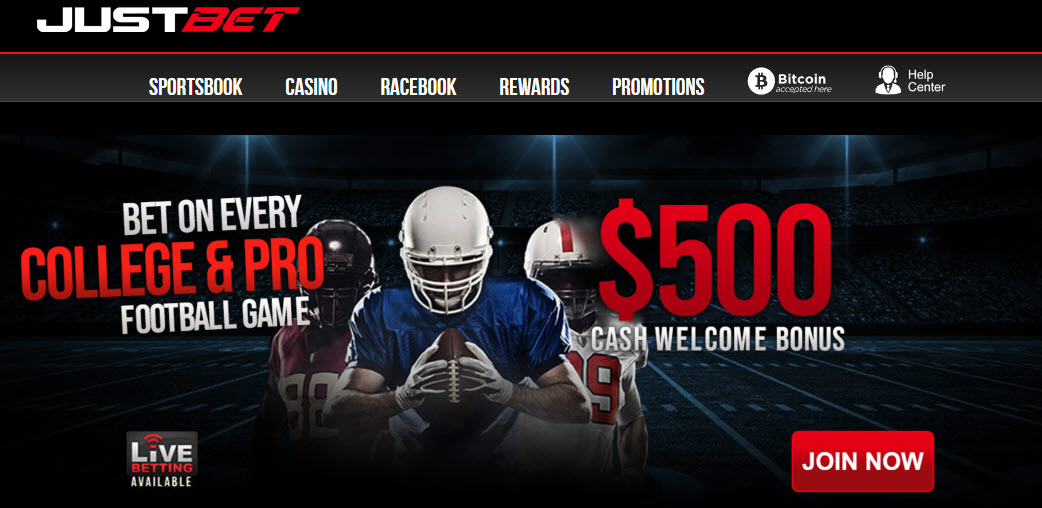 JustBet is Bookmaker.eu's sister site, so that means it copies a lot of what makes Bookmaker great. You get the earliest sports betting lines, a racebook with no pari-mutuel pools, a variety of live betting markets, some casino offerings, and a three-tier reward program built on cashback and great reload bonuses.
Our placement of Bookmaker at No. 1 and JustBet at No. 8 is squarely due to versatility. JustBet does not improve on the Bookmaker model by offering something different like a poker room or lottery games or even a flashier site, despite being several years newer in the industry.
Fans of Bookmaker will be fans of JustBet, but the reason to use an account at both at the same time is hard to figure out unless you just want to take advantage of the sign-up bonus. It is not a huge one, but it is worth up to $500 in bonus money.
Pros
Same early lines as Bookmaker
Great reward program
Competitive odds
Wide variety of sports available
Good racebook with dozens of tracks
Cons
Other sites on this list offer more prop options
No live poker room
9. Everygame: Quality Web Design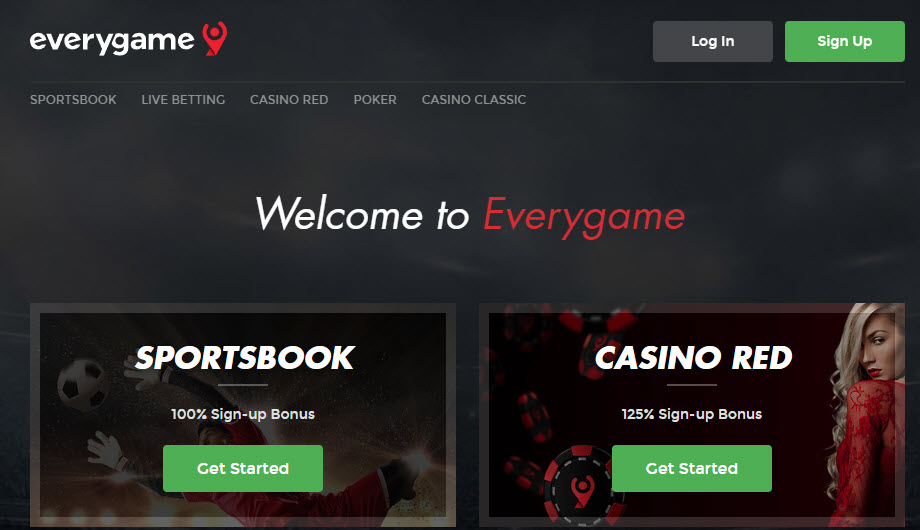 Everygame is an online sportsbook from Antigua that was long known as Intertops before its rebranding. The new name is fitting, as they do have just about every game available on the sportsbook. But the site does lack a dedicated racebook section.
The casino is really where the site design shines at Everygame, and they have a wide variety of casino games and variants available. You can get the best sense of the superior site graphics and sound there. You also get access to free poker software to play tournaments and cash games, one of the few options on our list with this feature.
Everygame is more for the casino player with a casual interest in sports betting rather than the other way around, but it is worth checking out.
Pros
Excellent site design, both on desktop and mobile
Poker tournaments available
Niche betting markets like South African Powerball
Cons
More for casual sports bettors
No dedicated racebook section
10. SportsBetting.ag: Unique Sports Promos and Contests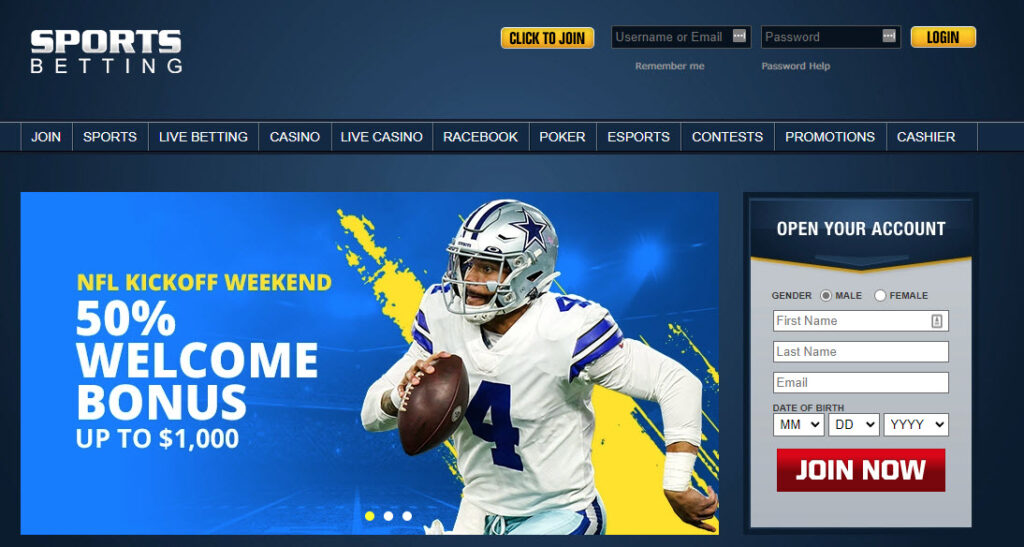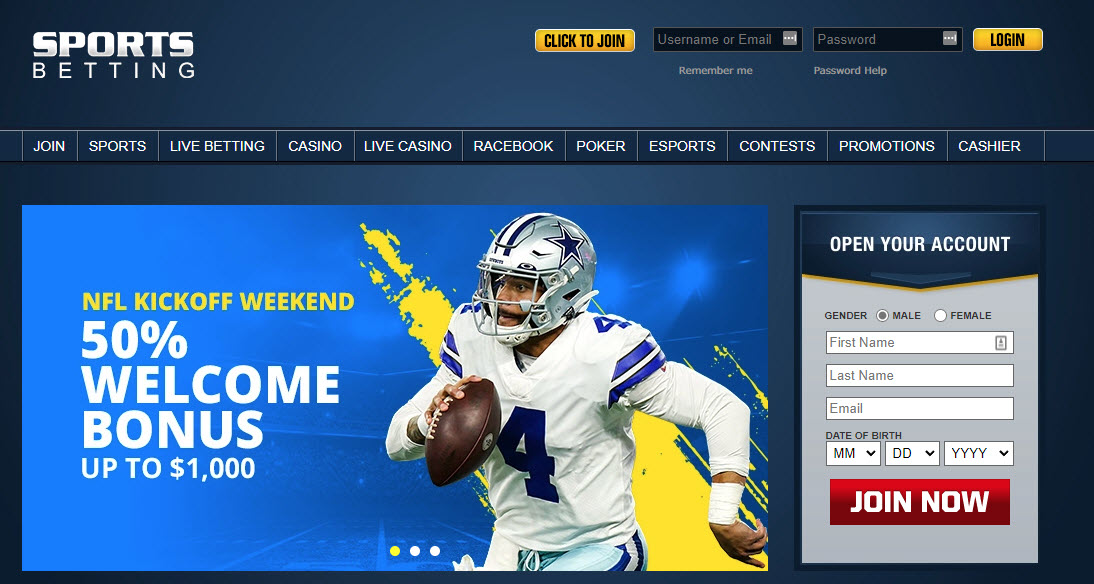 Maybe the name is a giveaway, but SportsBetting is a sister site to BetOnline. They are not lying with the name, though. You get plenty of sports betting here with international markets, live markets and a prop builder. The welcome bonus is generous, the ongoing promos are unique and the payouts are always fast.
We just run into the same problem here as JustBet in that SportsBetting does not improve on the BetOnline model. It has the same advantages, the same flaws (no casino game demos and a mediocre prop builder) and you likely will not enjoy the site design more than what BetOnline has to offer.
Pros
Unique sports promos
Free and paid sports contests
Play in poker tournaments and cash games
Tons of casino games
Cons
Not the best prop builder
No demo versions on casino
Our Rating Methodology
When it comes to the way we rate the top sportsbooks, we look at a lot of the features we judge for top online casinos and poker sites too. That includes things like ‌customer service, variety of games offered, bonuses and promotions, security features, and the banking methods available. For the sportsbook, we also look at competitive odds and sports betting options like parlay capability and round-robin betting.
We get into our rating methodology in more detail later in the guide.
| Sportsbook | Rating | Online Since | Payment Methods | Read Review |
| --- | --- | --- | --- | --- |
| Bookmaker | A+ | 1996 | Credit Card, Bitcoin, P2P, Crypto | Bookmaker Review |
| Heritage Sports | A+ | 2001 | Credit Card, Bitcoin, Cashiers Check, Bank Transfer, P2P | Heritage Sports Review |
| Bovada | A+ | 2011 | Credit Card, Bitcoin | Bovada Review |
| BetOnline | A+ | 2001 | Credit Card, Bitcoin, Crypto, Cashiers Check, Bank Transfer, P2P | BetOnline Review |
| BetAnySports | A+ | 2002 | Credit Card, Bitcoin, Electronic Check | BetAnySports Review |
| BetUS | A | 2000 | Credit Card, Bitcoin, Bank Transfer, P2P | BetUS Review |
| WagerWeb | A | 1994 | Credit Card, Bitcoin, Cashiers Check, Bank Transfer, P2P | WagerWeb Review |
| JustBet | A | 2000 | Credit Card, Bitcoin, P2P, Crypto | JustBet Review |
| Everygame | A | 1996 | Credit Card, Bitcoin, Skrill, Neteller, Bank Transfer, P2P | Everygame Review |
| SportsBetting | A | 2002 | Credit Card, Bitcoin, Crypto, Cashiers Check, Bank Transfer, P2P | SportsBetting Review |
History of Gambling Laws in Iowa
Iowa became the 11th state and the first in the upper Midwest to legalize sports betting in 2019. This came on the heels of 2018's pivotal Supreme Court ruling on PASPA being unconstitutional, paving the way for states to decide if they want sports betting or not.
On May 2019, Iowa Governor Kim Reynolds signed sports betting bill SF617 to legalize online sportsbooks and retail sportsbooks in person in the state. By mid-August 2019, the betting platforms were live and operational in the state. Users initially had to register at a retail casino to do online betting, but that rule ended on January 1, 2021, making it much easier during the pandemic to sign up for online sports betting in the state using remote registration.
Since then, roughly 18 online operators have been taking bets in the state. Unibet left the market in December 2022, but Tipico Sportsbook recently filled that void as another sportsbook option for Iowa users.
In February 2023, Blackbird Bend Casino became the first tribal casino in Iowa to have in-person retail sports betting at kiosks.
Timeline of Sports Gambling in Iowa
The following timeline shows the key events that led to legal sports wagering in the state of Iowa:
February 2023: The Blackbird Bend Casino becomes the first tribal casino in Iowa to feature in-person retail sports betting.
December 2022: Unibet leaves the Iowa sports betting market.
January 2021: Starting on January 1, the in-person registration requirement for online betting ends, leading to more remote registration with sports betting operators. More than $2 billion are bet on sports in Iowa for the year.
August 2019: Iowa becomes the 11th state to launch legal sports betting, with retail and online platforms available to local sports bettors.
May 2019: Gov. Kim Reynolds signs bill SF617, which legalizes sports betting and daily fantasy sports (DFS) in the state of Iowa.
2018: Supreme Court overturns PASPA, allowing states to vote to legalize sports betting.
Features of the Best Online Sports Betting Sites
In the following sections, we are going to look at some of the criteria that went into our grades for finding the best sports betting markets for Iowa users.
Competitive Betting Odds
Sports betting is a competitive marketplace with so many of these online sportsbooks offering the same games and leagues from around the world. This is why competitive odds matter, and some sites do a better job than others of providing boosted odds or reduced juice, such as BetAnySports (-105 lines) and Heritage Sports (-108).
The better the odds, the more likely you are to stick with that site for your sports betting needs, but it is a good idea to have an account with multiple sportsbooks to ensure you are getting the best price for your picks.
Wide Variety of Betting Markets
On any quality sportsbook, we expect a wide range of professional sports, college sports, and international sports as well as many different betting markets (singles, parlays, round robins, futures, live bets, etc.).
Withdrawal & Deposit Methods
It should be a quick and easy process to get money in and take winnings out of your account. We prefer ‌sites that offer a variety of banking methods, including credit cards, debit cards, bank transfers, eWallets and crypto. The more deposit options, the better. We also make note of the processing times and fees associated with different deposit methods.
Promotions & Bonuses
The bonus money one gets from an online sportsbook is always a big deal. In fact, it could be one of the best reasons to sign up for a site as you get that big bonus right away for your first deposit in most places.
But the best sportsbook bonuses may be for returning customers, who can get additional deposit bonus offers and reload bonuses, bonus bets and join a loyalty program to accumulate more points and raise their loyalty level with points that can be redeemed towards other perks.
Live Betting & Event Streaming
The push towards live betting is inevitable as more people use their mobile devices to live bet on games they are watching. You can hedge a pregame bet or make a valuable bet after gaining an observation from the game you are watching. Live betting is also just fun, especially as a way to spice up a game that has not been as exciting on TV. It is important for a site to offer several live betting markets, especially for the most popular markets like NFL and NBA.
Event streaming is also on the rise, with sites like TVG and TwinSpires doing a good job of showing live horse races. You also can start streaming select NFL games with an app like Caesars. It is less likely to see live event streaming on ‌offshore sites as they will have a harder time securing licenses with the major leagues, but you can see some European soccer matches on some right now. You can also stream esports contests if that is of your interest.
User Interface
A good user interface is very important; with so many sports available on these mobile sportsbooks, we need to be able to find what we want quickly. Some of us procrastinate and are only ready to bet just before a game starts, so that is why a good user interface matters to quickly find our bets to build parlays or play singles. It also helps to have the deposit section well designed with quick access to depositing money into our accounts and requesting withdrawals.
It is also important to have a section where we can check in on our active bets to see how they are doing.
Mobile Site Quality
Whether you are using mobile apps like FanDuel or DraftKings or doing your mobile wagering on an offshore site like Bovada or Bookmaker, you want a quality mobile experience. This includes being able to quickly place live bets in time before the next play, as live betting is one of the fastest-growing aspects of mobile sportsbooks. You want a lag-free experience with a site that can handle the traffic of a live event.
Customer Support Options
Once in a while, you may have a dispute over the way a sports bet was settled if there was a stat correction or player health issue. This is why having a good customer support section is vital. We look at the best ones providing 24/7 support with the best variety of contact methods, including a form to send a message through the site, an email address, a phone number to call and talk to a person, or live chat with an agent.
Security Features
Security is always going to be crucial when you are sending personal and financial info to these sites to win real money. You must be able to trust that your connection is secure, the data is encrypted, and you should never be asked by text to share your password or account details. With the sites we chose for our top 10, we are confident in their experience in the industry and that they are providing the best security to keep our private data safe.
What Types of Sports Bets Can Be Placed in Iowa
At the best offshore sites, you will find a good mixture of bet types to choose from. We go over some of the most popular bets in the following sections.
Moneyline
The moneyline bet is when you wager on a team to win the game outright. The margin of victory does not matter. You just have to pick the correct winner.
Parlays
These are a very fun but challenging form of betting. It is when you include multiple bets on the same bet slip. Every leg on the parlay must hit for you to win the bet. You can do same-game parlays with multiple picks from the same game, and you can build larger parlays that combine multiple games and/or sports in one bet slip.
There are also sites that offer parlay insurance bets where if only one of your legs loses, you can still get some cashback in the form of bonus bets.
Spread Betting
Spread betting is an attempt to wager on the right side of the margin of victory in a game. You can bet on an underdog –denoted by a "+" in front of their point total– and that team must be able to win or not lose by more than their spread total for you to win the bet.
Betting on a favorite –denoted by a "-" in front of their point total– means the team must win by at least that many points to win the bet.
Betting on the spread differs greatly from the moneyline because the final scoring margin matters more than who just merely wins or loses the game.
Futures
Futures bets are for markets that will not be decided until well into the future. Common futures bets are for player awards for the season (Most Valuable Player) and which team is going to win the championship that season.
Proposition Bets
Proposition bets are commonly referred to as prop picks in the sports betting industry. Player props are the most popular, but there are also usually game props and team props for games.
Here are some examples of different prop bets available for an NFL game:
Player props: Over/under on player passing yards, rushing yards, receiving yards, passing touchdowns, interceptions, sacks, receptions, etc.
Game props: Over/under on total yards, will there be overtime, will there be a safety scored, which team will have more first downs, spread by half, highest scoring quarter, etc.
Team props: Over/under on points scored for one team, field goals made by one team, turnovers by one team, etc.
Totals Betting
Totals betting is when you bet on the over or under for the total points or goals scored in a contest. You could also usually bet on the over/under for the total for just one team in the game instead of both teams.
A teaser is a bet on the spread or total where you tease the betting line by about 6 points in your favor. For example, instead of betting on the Cowboys as a 7-point favorite, you could tease them to a 1-point favorite, making it easier to win (but for less profit).
A pleaser moves in the other direction from the betting line. Now, instead of betting on the Cowboys as a 7-point favorite, you would be betting on them as a 13-point favorite, making it harder to win (but for more profit).
Round Robin Bets
A round-robin bet is when you take a parlay and break it down into smaller parlays, playing every combination possible to increase your chances of getting a win. For example, you can have a 6-leg parlay where all six legs must hit to win. But if you do a round-robin on those six legs by playing every 3-leg combination in a round-robin, you will have a series of parlays on the same ticket.
Iowa Retail Sportsbooks
There are many options for legal sports betting using a legal sportsbook (licensed) from the state of Iowa. There are also physical sportsbooks found at casino locations if you want to do in-person sports betting. You just have to visit the casino sportsbooks at places like Isle Casino Hotel Waterloo, Catfish Bend Casino, Casino Queen Marquette, or Diamond Jo Casino.
Here is a full list of the 18 licensed sportsbooks operating in Iowa:
Bally Bet Sportsbook
Barstool Sportsbook
Betfred Sportsbook
BetMGM Sportsbook
BetRivers Sportsbook
Betway Sportsbook
Caesars Sportsbook
Circa Sportsbook
ClutchBet Sportsbook
DraftKings Sportsbook
Daily Racing Form Sportsbook
Elite Sportsbook
FanDuel Sportsbook
Hard Rock Sportsbook
PointsBet Sportsbook
Q Sportsbook
SuperBook Sportsbook
Tipico Sportsbook
How to Create an Online Sports Betting Account
Those looking to join offshore sites to do online betting will want to follow the simple instructions we have laid out below. Creating your online sports betting account can be done in a matter of minutes regardless of which site you end up choosing to join.
Step 1. Sign-Up With a Sportsbook
Pick the site you wish to join and go to it. Begin creating your account like you would at any site by clicking "join" or "register" or the like. One of the first steps will be to give your account a password. You want to choose something that is not in use on any other site.
Step 2. Verify Your Details
Your account will need to be verified to complete this sign-up process. Make sure you provide accurate information, including your name, address, email and a phone number you can be reached at.
Step 3. Deposit Your Funds
Your account will need to be funded with money before you can use it in most cases. Before doing so, be sure to read the terms and conditions of the welcome bonus, otherwise known as the sign-up bonus for new users. This is usually based on the amount of your initial deposit, so you will want to be sure of the amount you wish to deposit. When ready, head to the deposit or cashier section to choose from the many deposit methods to fund your account.
Step 4. Place Your Sports Bets
Your account is ready for sports wagering. Head to the sportsbook section and begin placing your bets. Remember to budget, have fun, and do not bet more than you can afford to lose.
Iowa Betting Guides
FAQs – Sports Betting in Iowa
Can I bet in Iowa?
Yes, sports betting is legal in every form in Iowa since laws were passed in 2019 to legalize in-person sports wagering and online sports betting. The only requirements are for bettors to be at least 21 years old, and they must be within the state of Iowa when placing bets.
Does Iowa allow online sports betting?
Yes, you can bet on sports (professional and college) using mobile apps in Iowa. You just have to be at least 21 years old and within state borders when placing your bets on a variety of sites with available sports betting markets.
What sportsbooks can I use in Iowa?
Those living in Iowa can use offshore sportsbooks such as Bookmaker, Bovada, BetOnline, BetAnySports and Heritage Sports. You can also choose from more than 15 state-licensed operators, including FanDuel, DraftKings, BetMGM, Caesars, BetRivers and Tipico Sportsbook.
Can you mobile sports bet in Iowa?
Yes, online sports betting has been legal and operational in Iowa since August 2019, the same time as retail sports betting started. You can bet on professional and college sports, but not on high school sports. Live mobile betting is allowed too.
How do I place a sports bet in Iowa?
You can bet using the top offshore betting sites, like those reviewed in this guide. You can also go to licensed sportsbooks like FanDuel, DraftKings, BetMGM, Caesars and BetRivers. If you prefer to bet in person, you can do so at retail locations, at licensed casinos in Iowa.