North Dakota Sports Betting – Which are the best ND betting sites & sportsbooks?
Shawn West has been involved with college basketball, NFL and college football and MLB since he left his job as bank vice president two decades ago. He lives in North Carolina with his wife, children, two dachshunds and a variety of turtles.
Since then, the state has spent a great deal of time trying to find loopholes in that prohibition. North Dakota now has racetracks that allow betting, OTB parlors, as well as several tribal casinos controlled by North Dakota's native tribes that have table games, slots and poker games. Three of them allow betting on sports, thanks to a 2021 compromise when a bill that would have legalized sports betting throughout the state was under consideration.
Now the state is once again taking a run at legalizing sports betting. One of the legislature's first acts of 2023 was voting for a bill legalizing sports gambling in the State House. It now moves on to the state Senate, which has voted down similar bills as well as a poker legalization bill, in the past. If the Senate passes it, the measure will then be sent to voters, who would vote in a referendum on whether sports betting should be legalized. That would come in November 2024.
While the state continues to loosen its gambling restrictions, residents looking to bet on sporting events online still have a long wait before companies based in North Dakota will be able to take their wagers. Until then, North Dakotans can either cross the border and go to other nearby states that are more lenient toward sports betting or they can use an offshore sportsbook. These sites are not located in the United States and thus are outside the jurisdiction of North Dakota state law or U.S. federal regulation regarding gambling. They offer gamblers a way to bet on sports, as well as horse racing, online casino games, and even poker.
Of course, it can be tough to tell which offshore sportsbooks are well-run and a safe place to put your money, and which may not be as reliable. Luckily, we're here to help. We assembled a blue-ribbon panel of gambling experts, who looked at dozens and dozens of offshore gambling sites, evaluating each of them on several factors. They came up with a list of the best ones available to North Dakota residents. So here's a look at the top online sportsbooks in North Dakota.
The Best North Dakota Sportsbooks in 2023
North Dakota Betting Guides
If you're looking for online wagering on horse races or online casino games, fear not, as our industry experts have covered all forms of gambling in the Tar Heel State.
Top 10 North Dakota Sports Betting Sites 2022 
After a thorough examination of hundreds of offshore sportsbooks, our experts settled on a ranking of the top 10 sites. Each site in the rankings is located outside the United States, meaning they aren't required to abide by North Dakota state law.
Everyone in the top 10 has a sterling reputation, built over years, of being reliable and trustworthy and treating customers fairly. They also pay out quickly and in full. Every site in our rankings has a number of options for sports gambling, including parlays, teasers, live betting, props, spreads, and moneylines, on all major professional and collegiate sports in the U.S. as well around the world:  
Each sportsbook in the top 10 is based offshore, so they must follow the laws of their home countries, not those of the United States or North Dakota. That means they can offer gambling options that might not be legal yet in the state.
The Best North Dakota Sportsbooks Reviews 
Our experts are confident that any of the top 10 sites will provide an outstanding experience for gamblers in North Dakota. But you have your own preferences, needs and priorities in mind when it comes to gambling. So, to help you find the best match for you, we offer breakdowns of the top-rated sites, including lists of what they do well and where they could improve.
1. Bookmaker: Best All-Around Sports Betting Site in North Dakota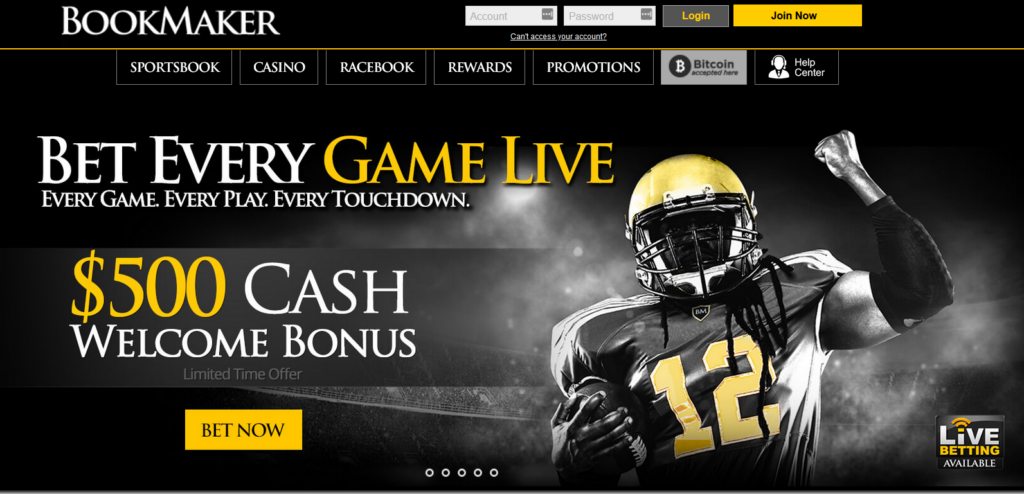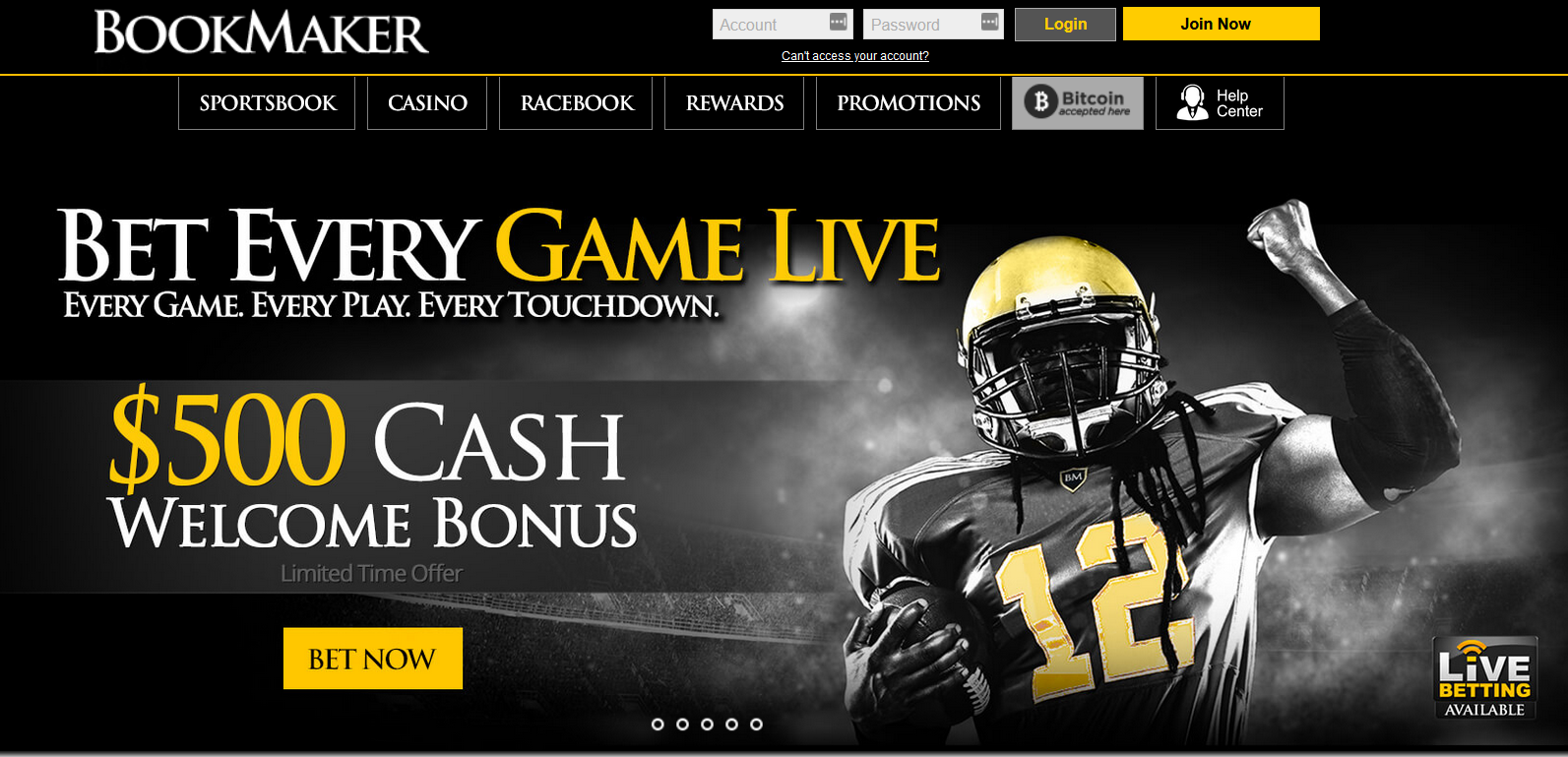 Bookmaker.eu was our experts' pick as the best overall online sportsbook available in North Dakota. The main reason that it was the choice as the best all-around choice is that it appeals to such a wide range of gamblers. Experienced gamblers and rookie bettors will feel just as comfortable playing at Bookmaker, and it is open to all sizes of bets and bankrolls.
It features the highest betting limits around, and Bookmaker makes sure to have its lines and odds posted earlier than anyone else, both of which will appeal to professionals and high rollers. They also have a reputation for never shutting down a bettor on a hot streak, as many sites and in-person casinos have been known to do.
Bookmaker also has some of the lowest minimum bets in the state, so cautious newcomers can get a feel for things before risking real money. There's even a free casino that allows rookies to practice and learn the games before they start betting.
Bookmaker is also very user-friendly, making it easy for everyone to navigate, find games they want to bet on, and get their betting slip filled out and submitted. That appeals to newcomers who need help finding their way around, as well as experienced gamblers who want to get their money down quickly.
Its spot in the rankings is based on Bookmaker's sportsbook, but the site also has a racebook and online casino. There's also an outstanding loyalty program, which also appeals to all levels of gambler. Regardless of how large your bets are, you can earn loyalty rewards through Bookmaker's program.
They offer newcomers a flexible set of welcome bonuses, highlighted by matching the first deposit at 25% for up to $500. Customers who use cryptocurrency get rewarded with higher bonuses and same-day payouts.
Pros:
Caters to all experience levels
Highest betting limits as well as the lowest minimum bets
Loyalty program offers rewards regardless of bankroll size
Flexible welcome bonuses
Cons:
Professional bettors are excluded from the loyalty program
Doesn't have a live online poker room
2. Heritage Sports: Best for Live Betting in ND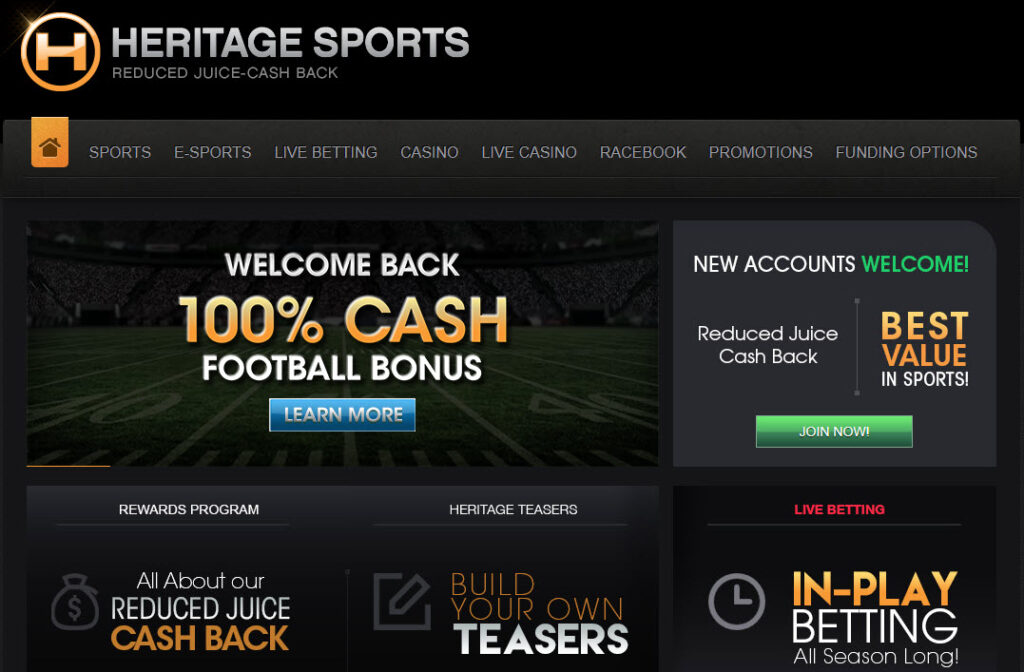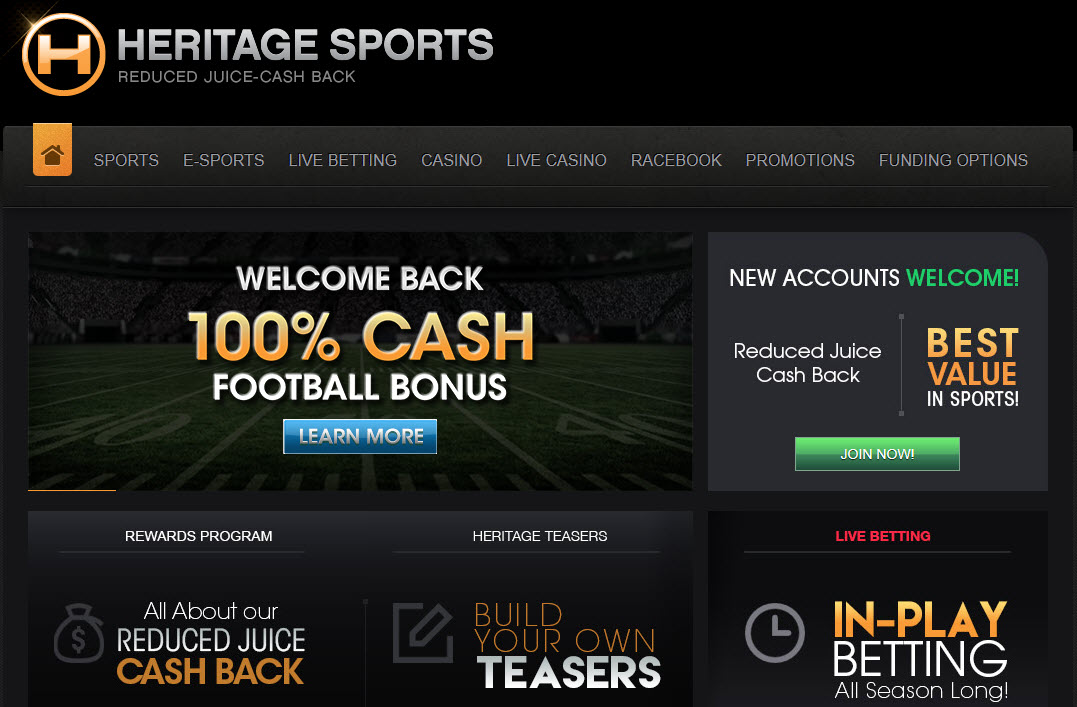 Heritage Sports finished at No. 2 in our top 10 rankings, and two is also the number of areas where it impressed our experts as the best in the state.
First, Heritage Sports distanced itself from the competition at VIP service for customers. That goes back to the early days of the site when it was invitation-only for elite high rollers. They eventually opened their doors to everyone, but they still treat their customers like royalty and give red-carpet treatment to every bettor that comes through their doors.
Second, Heritage Sports is the top live betting site in North Dakota. They were one of the first to offer the opportunity to bet on games while they're going on, and the rest of the competition is still playing catch up to Heritage Sports' interface.
Heritage Sports also earns bonus points for offering reduced juice on lines at its sportsbook. Instead of using the industry standard odds of -110 on either side of a point spread or totals cutoff, Heritage Sports sets them at -108. That seems like a small difference, but it gives gamblers a small discount on every bet, which adds up over time and will make a difference in your profit margin.
Heritage Sports also has welcome bonuses for new users and offers a cashback rebate program for loyal customers already on the books. In addition to the sportsbook, there's an online casino that also features a live dealer section.
Pros:
Offers reduced juice on betting lines at the sportsbook
The best site for live betting in North Dakota
Gives all customers VIP treatment
Cashback rebate program
Cons:
Welcome bonuses are smaller than competitors
Doesn't have an online poker room 
3. Bovada: Best Mobile Platform in ND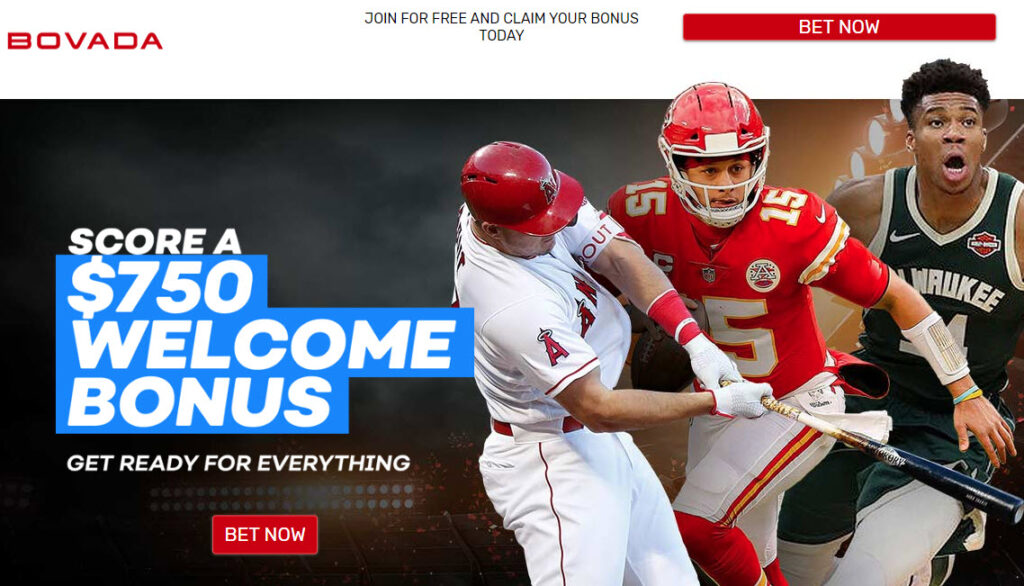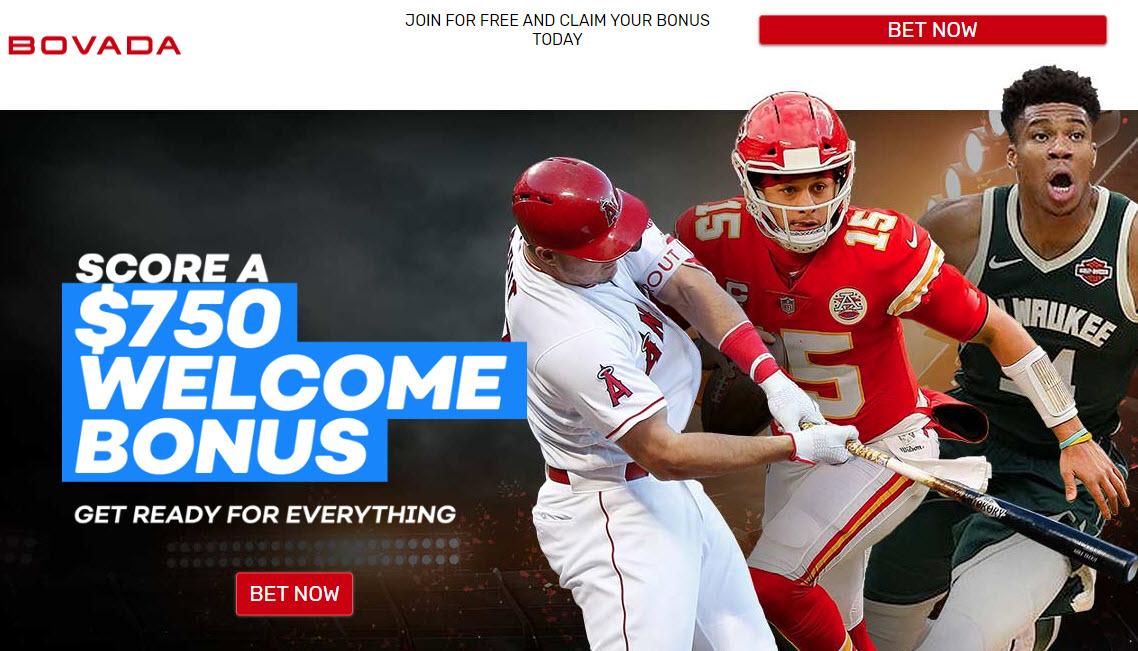 Bovada finished No. 3 in our rankings and No. 1 in the hearts of its large army of devoted customers. There were two areas where Bovada impressed our panel.
First, it is home to the busiest live online poker room in the country. That didn't figure in our sportsbook rankings, but it helps explain Bovada's popularity and customer loyalty—they love the total casino experience offered at Bovada. The site also features an elite racebook and a deep menu of casino games.
The second category where our experts were blown away by Bovada was its mobile betting interface. With more customers using phones and tablets to place their bets, a site's mobile platform is critically important. And Bovada's mobile site has all the functionality as the main site and offers the same betting experience.
While the other aspects of Bovada's online casino experience are enticing, the sportsbook is worthy of the No. 3 spot on its own merits. It has a wider menu of prop bet options than any other sportsbook. That includes a selection of low-risk prop bets to help newcomers get a few wins to get their momentum going in the right direction.
Bovada also has a flexible set of welcome promotions when new customers register for an account.
Pros:
Sportsbook has more prop bet options than anyone else
Busiest online poker room in America
Top mobile betting interface in North Dakota
Offers full casino experience with sportsbook, racebook, live poker room and online casino
Cons:
Betting limits are lower than at other sites
Odds and lines aren't published as early as competitors
4. BetOnline: Best Opinionated Lines in North Dakota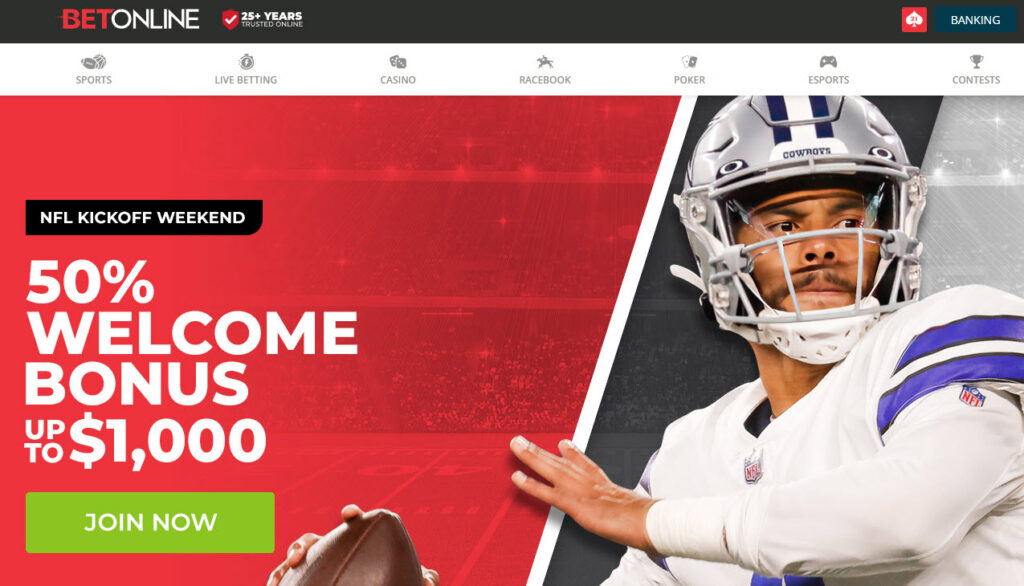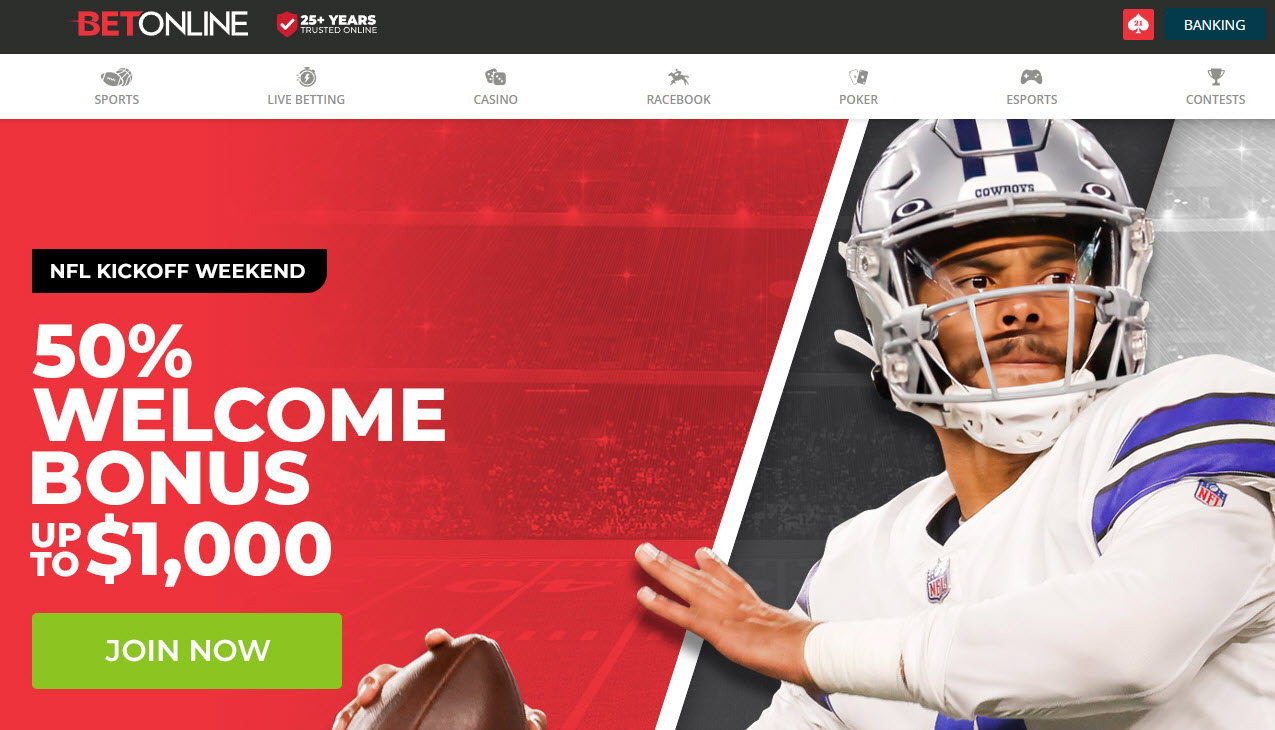 BetOnline rounds out the top four in our rankings. It offers a full casino experience, including the third-busiest online poker network in America. There's also an extensive online casino and a racebook, in addition to the sportsbook, which earned the No. 4 spot in the top 10.
BetOnline's sportsbook is one of the very few to offer opinionated lines. A quick primer: opinionated lines are a cousin of reduced juice lines. Reduced juice discounts the betting lines on either side of a cutoff (like point spreads or over/under totals), setting them at -108 or -105, instead of the industry standard of -110.  Opinionated lines also stray from the industry standard, but unlike reduced juice, they don't have the same odds on each side of the cutoff. For instance, betting on a favorite at -1.5 points might have moneyline odds of -113, while the underdog at +1.5 has a -107 moneyline. Or they could be -112/-108, but they are not the same on the two sides of the cutoff. In other words, BetOnline will have different lines than the competition, and that offers an opportunity for a clever gambler to turn a profit. 
BetOnline has an optimized platform for mobile betting, and it offers new users a welcome bonus that matches their first deposit at 50%. Users of crypto get their bonus doubled, to a full match at 100%.
Pros:
One of the few sportsbooks to offer opinionated lines
Betting limits are higher than most competitors
Welcome bonus matches 50% of first deposit, 100% for crypto users
Mobile site is attractive and easy to use
Cons:
Doesn't offer reduced juice except on hockey games
Fewer prop betting options than other sites
5. BetAnySports: Best Reduced Juice in ND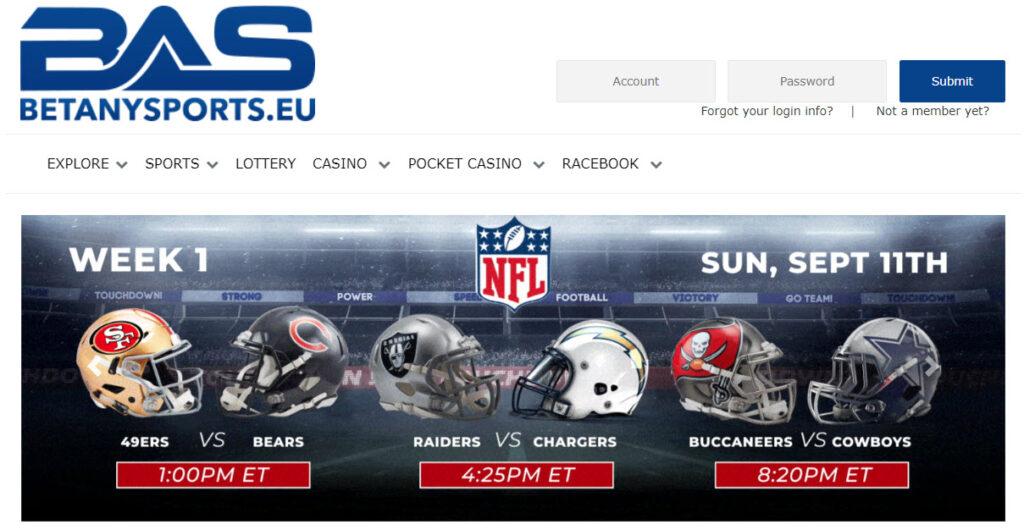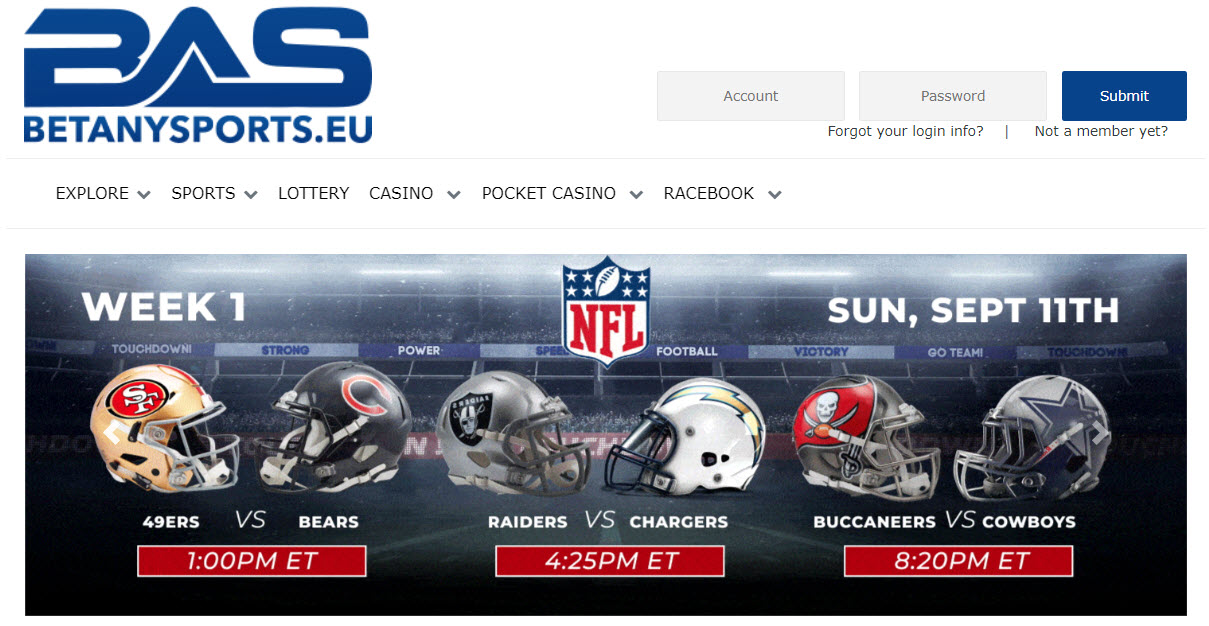 Coming in fifth place is BetAnySports, which is the most recent sportsbook to get an A+ rating from our panel of experts. They gave it the promotion —up from a grade of A— on their most recent review, making it a handful of offshore sportsbooks to earn the highest possible grade we can give.
BetAnySports is the most cost-effective site you'll find in North Dakota. For gamblers looking to break even, any little edge can be the difference between earning and losing money, and BetAnySports pulls out all the stops to tip the scales in favor of the bettor's pocketbook. They offer the most gambler-friendly odds and lines you'll find., including the steepest reduced juice in North Dakota.
Across the industry, the standard is to set odds on either side of a cutoff at -110. Most sites that give reduced juice will set the lines at -108 instead, essentially giving gamblers a 20% discount when they lose a bet. BetAnySports goes even deeper, however, setting lines as low as -105, which basically cuts their house edge in half. The difference may seem small, but it adds up over time and can be the difference between treading water and building a bankroll. 
Since BetAnySports is surrendering profit by putting more money in your hands, it needs to cut costs elsewhere. That means lower welcome bonuses and promotional offers, such as reload bonuses and loyalty points programs than some competing sites.
BetAnySports also goes with a simple user interface, cutting costs by avoiding some of the bells and whistles of other sportsbooks. Of course, because it's so sparse, it makes it easier to find what you need when you're using the site.
Pros:
Sportsbook has the best reduced juice in North Dakota
Odds on moneylines, props and futures are also very gambler friendly
Simple interface makes it fast and easy to use
Payouts are fast, easy and in full 
Cons:
Interface is not as user friendly
Bonuses and promotional offers are lower than the competition 
6. BetUS: Best VIP Service in ND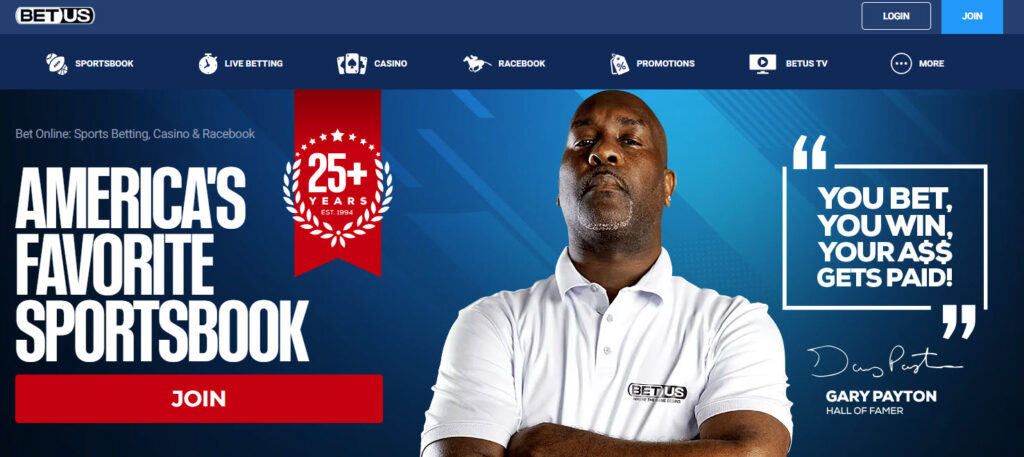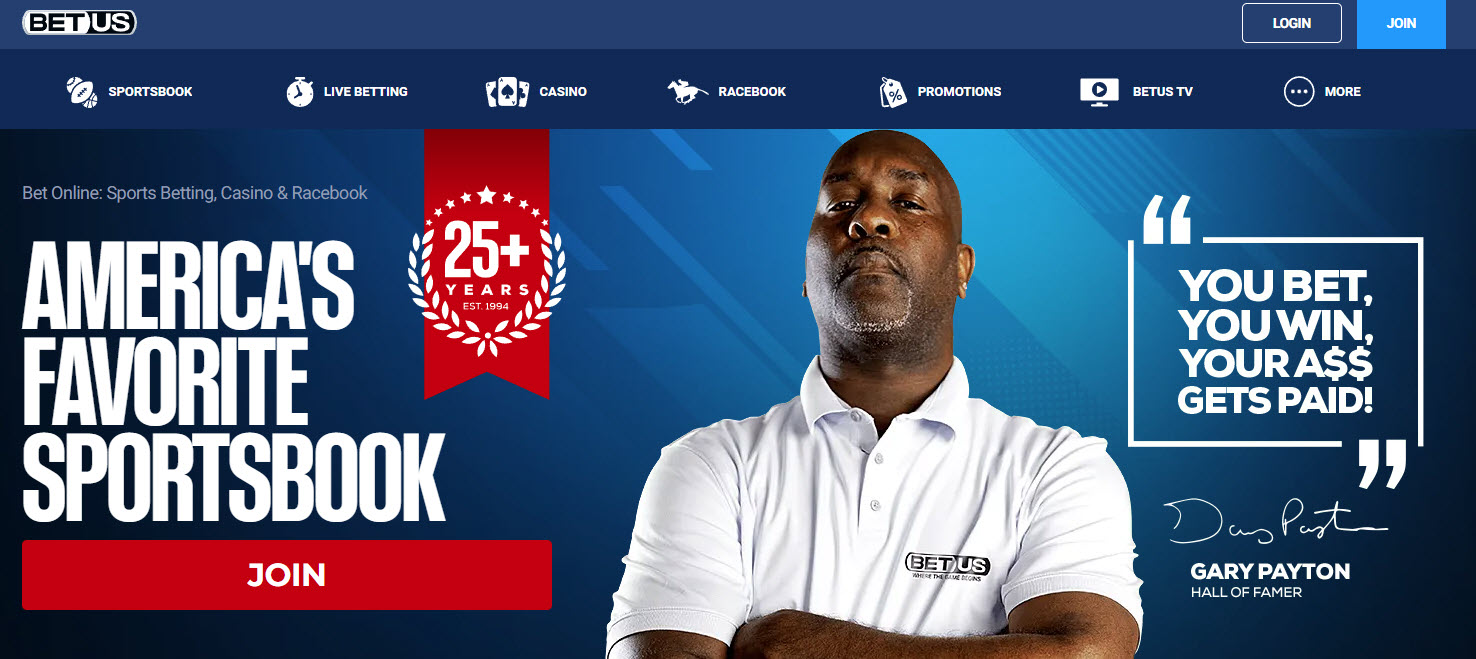 Why wait until you win some bets to start earning money? BetUS makes sure you start off deep in the black with the biggest welcome bonuses in North Dakota.
Before you place your first bet, you've already more than doubled your bankroll at BetUS. That's because, while some sites match 25% or 50% of your first deposit, BetUS matches it at 125%. That means they're putting more money into your account than you are. If you deposit $1,000 to fund your account, they'll throw in another $1,250 to put your balance at $2,250, right from the jump.
And that's just at the sportsbook. BetUS has a separate first-deposit matching bonus for the online casino, which has a maximum of $625.
BetUS also offers outstanding VIP service for customers already on the books. They offer large reload bonuses, as well as other perks, like free sports bets and free casino plays. They also keep things fresh with an active creative team that has a presence on social media and weekly podcasts previewing big games. They also have regular videos on BetUS TV.
They've also recently upgraded their site, so you can trust that it is completely safe and reliable when you start gambling there.
Pros:
Matches first sportsbook deposit at 125% with a separate bonus for the online casino
Creative team has video previews and weekly podcasts
VIP service for loyal customers
Website is regularly upgraded
Cons:
Odds and betting lines are published later than elsewhere
Heavy rollover requirements attached to bonuses
7. WagerWeb: Leader in North Dakota Bonuses and Promotions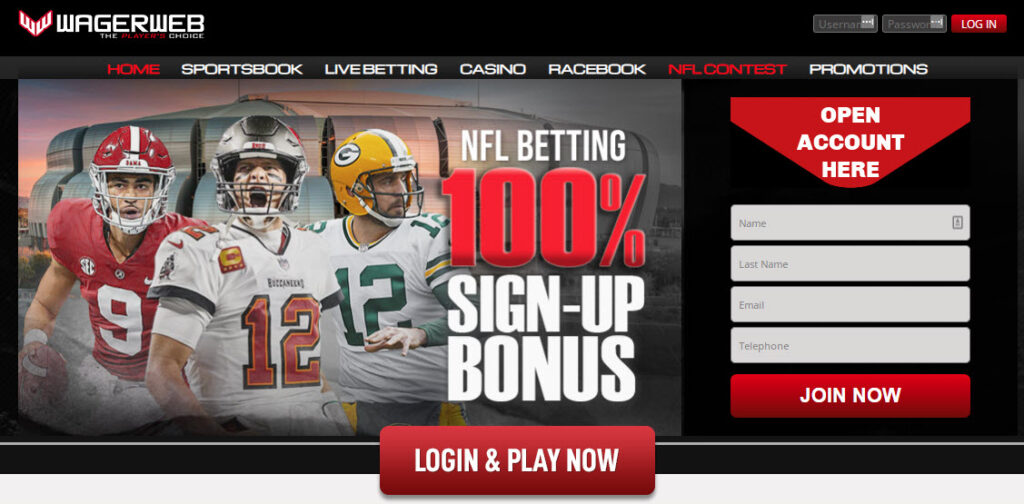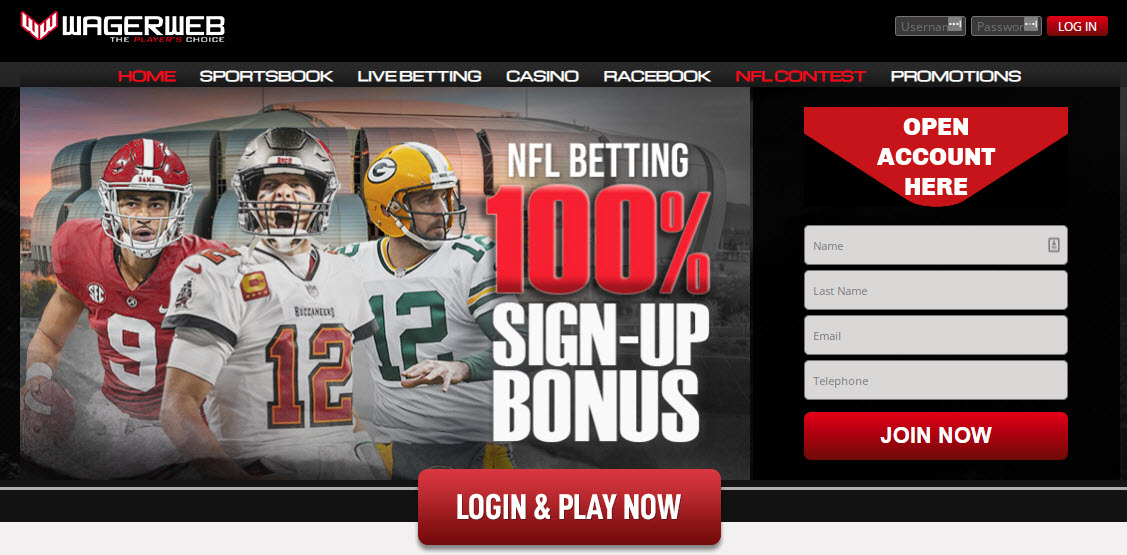 WagerWeb has its roots back in the earliest days of online gambling, and, in fact, the earliest days of the internet itself. The site began operation in 1994 and has a nearly 30-year track record of treating customers right. When you're sending money to an offshore sportsbook, it helps to know that it will be a safe and secure place to store your money, and few sites out there can match WagerWeb's history of providing just that for gamblers. You can count on them paying out on time and in full because they've been doing it for decades.
Of course, that doesn't mean you'll be dealing with some relic from the early days of the web. WagerWeb has kept up with the industry and offers an outstanding gambling experience. Their sportsbook has reduced juice lines set at -108 on many games. They are a partner site of Heritage Sports, which took second place in our top 10. Both sites have state-of-the-art user interfaces, give customers elite treatment and pay out generous bonuses.
WagerWeb's promos include a welcome bonus that matches your first deposit at 50%. The racebook and online casino offer cashback rebate programs as well.
Pros:
Long track record as a dependable, trustworthy provider
Large welcome bonuses
Partner site with No. 2 rated Heritage Sports
Cashback rebates at racebook and online casino
Cons:
Only one free withdrawal per month
Betting limits are relatively low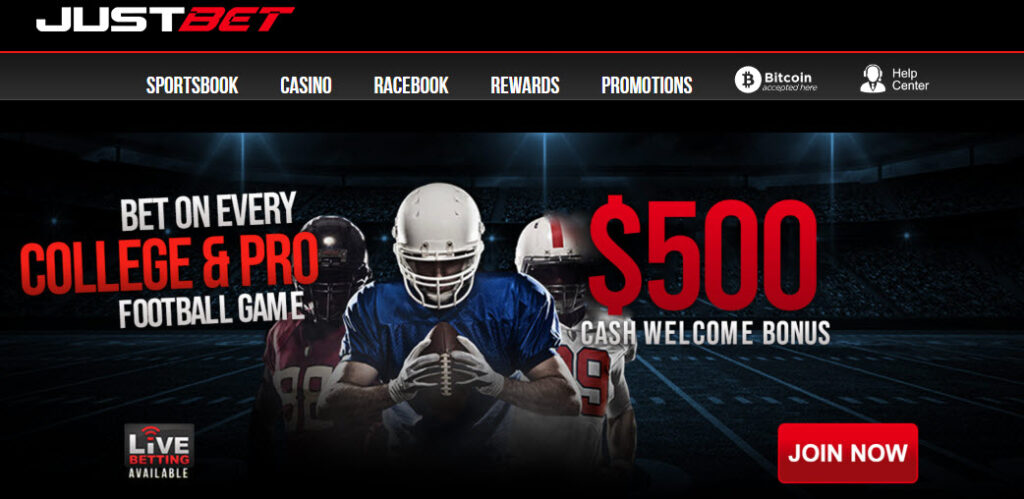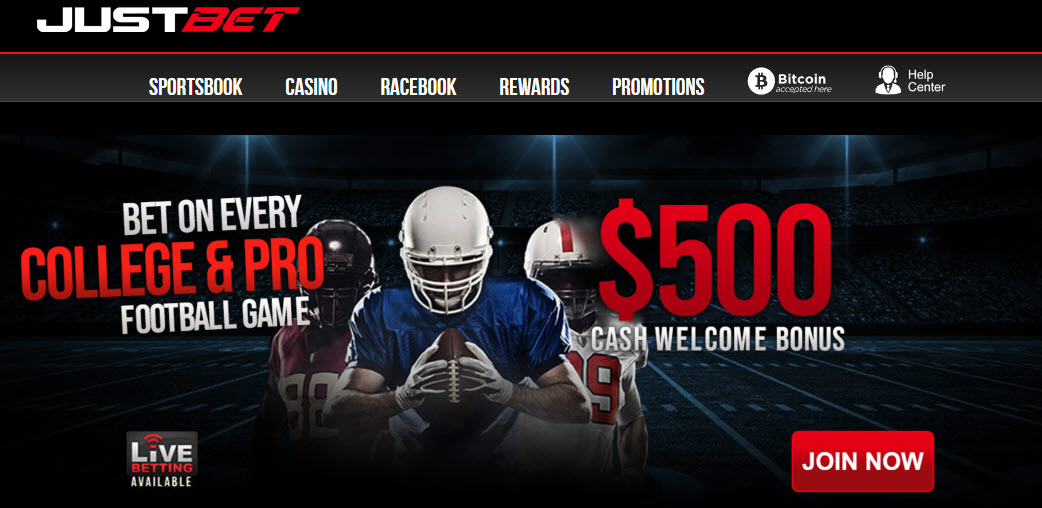 JustBet isn't the top rated in our rankings. It just looks like it. The site is a sister of Bookmaker.eu, which did finish at the top of our 10 best sportsbooks in the state, and the two sportsbooks have plenty of similarities. It may not have the name recognition of Bookmaker, but it's a diamond in the rough that is more than worthy of its own spot in our top 10.
Like Bookmaker, JustBet has something for all customers, no matter what level of experience or risk tolerance they come in with. For the big-spending pros, they have some of the highest betting limits in the state. For the cautious newcomers, they have extremely low minimum bets, to allow newbies to get their feet wet. JustBet also has user-friendly software that makes it easy to find your way around, even if you aren't used to navigating an online sportsbook.
JustBet has a user interface that seems tailor-made for live betting. When you're betting on games that are in progress, speed is of the essence. You want to get your bet placed and money down before the odds change and JustBet has a sparse, uncluttered interface that makes it easy to find your betting markets and get your bet slip filled out and submitted asap.
Pros:
Fast, easy-to-use live betting interface
High betting limits and low minimums cater to all risk tolerance levels
Lines and odds are published early
Shares many features with partner site Bookmaker
Cons:
No reduced juice lines
Doesn't have an online poker room 
9. Everygame: Best Mobile Casino Gaming in ND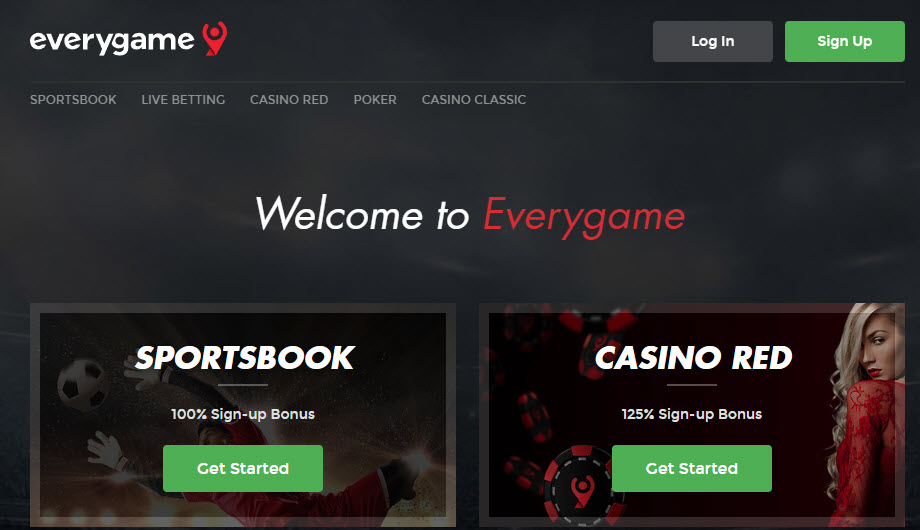 You need to be able to trust an offshore sportsbook, and Everygame has earned that trust over decades. Internet gambling's OG, Everygame is the longest-running gambling site in the industry, with nearly 30 years of history as a trustworthy, dependable sportsbook.
But you get the best of both worlds with Everygame. Yes, they've been around since the early 1990s and have a long track record, but their website is also run by state-of-the-art software, thanks to a recent rebranding and upgrade. They now have a cutting-edge user interface that has a slick user experience few sites can match.
Everygame's long time in the industry also means that they have access to sporting events around the world. You'll find far-flung leagues and games on Everygame that aren't available at other sites. Whether you're looking for an obscure sport from Europe, Asia or Australia, or the top games and leagues from around America, it's all available.
There's also a full casino experience outside of the sportsbook. Everygame's casino combines six different gaming networks in one place, meaning they offer a more diverse library of online casino game titles and variations than any other site. It also was the choice of our expert panel as the best casino gambling mobile site in North Dakota, thanks to the recent software upgrade that also rebuilt their mobile site into one of the newest and fastest around. Everygame also offers a live dealer section, a live online poker room and a racebook.
Pros:
Impressive library of international games
Top casino gaming mobile site in North Dakota
Deepest and most varied library of casino game titles
Oldest, most reliable gambling site in the world
Cons:
Account verification process takes a long time
Bonuses are relatively low
 10. GTbets: Wide Variety of Promotional Offers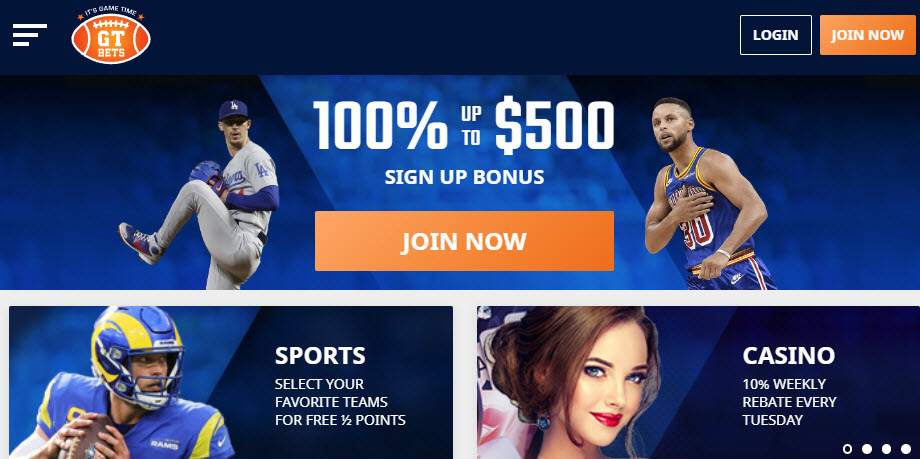 GTbets rounds out our top 10 sportsbooks in North Dakota. It might be the most creative site on our list, with a marketing department that always has a new offer for its customers as well as some of the most interesting betting markets you'll find.
Nothing makes gamblers happier than getting cash bonuses, and GTbets always seems to have a wide variety of promotional offers for its customers. In fact, it has so many different offers at any one time, that the site sends out a weekly email to customers listing everything that they're eligible to collect this week, including reload bonuses, loyalty programs as well as plenty of other perks.
GTbets extends this generosity to new customers, with a welcome bonus that matches your first deposit at 100%. Other sites do that as well, but GTbets takes it one step further, matching your second deposit at 50% as well.
The betting experience at GTbets is also an interesting one. All football games, college and professional, have reduced juice lines. GTbets sets its odds for all football games at -109 on either side of a point spread or over/under totals cutoff. The industry standard is -110, so you get a little extra on each bet you make, which adds up over time. They also have one of our panel's favorite betting perks, which gives you an extra half point on the spread when you bet on your favorite team. So, if you register as a fan of the Chiefs, and they're favored by 7 points, you can get them at -6.5
GTbets also has a statistics section to help you research the teams before placing your bet.
Pros:
Matches first deposit at 100% and second at 50%
Reduced juice on all football games, NFL and college
Gives your favorite team an extra half-point on the spread
Weekly email lists all current promotional offers and bonuses
Cons:
Live betting interface isn't as easy to use as that of other sites on this list
Has high rollover requirements attached to bonus money
Is it legal to bet on sports in North Dakota?
One of the most common questions we hear from readers is is "Is online sports betting legal in North Dakota?" The answer is "It depends."
The state has loosened its gambling laws over the years. The state constitution explicitly outlaws all gambling, but over the following 135 years or so, politicians have poked holes in that prohibition. There are in-person casinos that allow sports betting, as well as casino games and poker. Currently, the state is pushing to legalize sports betting, but the law has failed to pass in previous attempts.
One of the first actions the state legislature took in 2023 was to pass a sports gambling bill in the House. It still needs to pass the Senate and then get approved by the voters in a 2024 referendum, so it'll still be a couple of years at the earliest before the path is cleared to bet on sports in the state.
That doesn't mean you need to wait until then, though. You can bet on sports in person, or cross the border into a more gambling-friendly neighboring state. Or you can go to an offshore sportsbook. The 10 sites we rated for you all have reputations for being safe and reliable. And they are all located outside the jurisdiction of North Dakota gambling law as well as U.S. federal statutes.
Latest North Dakota Sports Betting News and Developments
North Dakota has been loosening its restrictions on gambling over time. Currently, in-person betting at casinos and racetracks is legal, and the state has a bill under consideration that would legalize sports betting.
Legal Timeline of Betting in North Dakota
1889: North Dakota becomes a state, and its state constitution specifically bans gambling
1977: The state passes its first law legalizing any form of gambling by making charitable gambling (such as church bingo games) legal
1987: Gambling on horse and dog races is made legal
1990: Pari-mutuel wagering on races is legalized
1992: Casino gambling on tribally owned land is legalized in the state
2002: Lottery games are made legal, although the state only allows multi-state games such as Powerball or Mega Millions
2005: Poker is legalized, but only in person at casinos
2021: A state law that would have legalized poker passes the House but is soundly defeated in the state Senate
2021: Gambling on sports is legalized, but only in person at three tribal casinos
2023: The North Dakota House approves a bill legalizing sports betting. It moves on to the Senate and, if approved there, would be presented as a referendum to votes in November 2024
North Dakota Sports Betting Teams
North Dakota is home to a number of sports teams, although most of the pro teams are at the minor league level. There are several hockey teams, including the USHL's Fargo Force and the NAHL's Minot Minotauros and Bismark Bobcats. Bismark is also home to an indoor football team—the Bucks, and the state has several collegiate summer league teams in baseball, as well as the independent American Association's Fargo RedHawks.
North Dakota is also home to the University of North Dakota and North Dakota State University, which have Division I teams in several sports, including basketball, as well as two of the top FCS football programs in the nation.
Review of Sports Betting in North Dakota
North Dakota's State House has passed a bill that would legalize sports betting, but it still has a long way to go. The House has passed similar bills in the past, only to have them voted down in the Senate by wide margins. This one still needs to survive the Senate vote, and then it would go to the voters for a Nov. 2024 referendum. So there's still a long road before the state will allow you to bet on sporting events. Until then, your best option is to go to a trustworthy offshore sportsbook to get your sports betting action.
Offshore sports betting sites are located outside the U.S., meaning they aren't subject to North Dakota or U.S. federal laws regarding gambling. So they can legally take bets from North Dakota residents and pay out in cash. Our experts looked at hundreds of sites, in addition to the top 10, and have given ratings to the offshore betting sites listed in the BMR Sportsbook Rating Guide. 
Key Qualities of the Best Sportsbooks in North Dakota
To come up with our list of the 10 best sportsbooks in North Dakota, our experts looked at several factors.
Trust
Offshore sportsbooks need to be reliable, trustworthy and dependable. They need a reputation for treating customers fairly. That can only happen over time. All of the sites in our top 10 have a years-long track record —and many of them decades-long— of paying out on time, in full and without headaches.
Fast Payouts
The best sportsbooks should get you your money when you want it. Since the sportsbooks in our rankings are all offshore, withdrawals are a bit more complicated, as multiple nations are involved. That can cause delays and fees, but those should both be kept to a minimum. The best sites have a smooth payment process with quick, easy and secure transactions. And, customers who use cryptocurrency should get their money even faster—on the same day at many offshore sportsbooks.
Competitive Betting Odds
Betting odds and lines should be published well in advance of a game or match's start time. The betting odds should be fair, allowing gamblers the chance to turn a profit.
Selection of Markets
Sports betting sites all offer point spreads, moneylines, and point totals. The best sportsbooks have a deeper menu of betting markets, including: 
Game props 
Player props 
Alternate lines 
Same game parlays 
Live Betting 
Futures 
Parlays 
Teasers 
Pleasers 
Progressive parlays 
Reverse bets 
If bets 
Round robins 
Mobile Betting Interface
The best betting sites are just as easy to use from a phone or tablet as they are on a computer.
The mobile interface should be easy to read and navigate. Pages should load quickly and not crash. It should be fast and easy to find games and markets and get your betting slip filled out and submitted. Some sportsbooks may also offer a separate downloadable app for betting.
Sportsbook Banking Methods Available
The best sites have a variety of banking options for deposits and withdrawals. Those include: 
Visa 
MasterCard 
Discover 
American Express 
Bitcoin and other cryptocurrencies
E-checks, P2P transfers, wire transfers, and e-wallets. 
Responsive Customer Service
The best sportsbooks in North Dakota will be able to respond quickly to problems, issues and questions. Customer service should be available in multiple languages, 24 hours a day, 365 days a year. The people helping you should be helpful and competent, and you shouldn't spend too much time on hold. Contact methods should include phone, live chat, or email. 
Competitive Bonuses 
The top sportsbooks offer generous welcome bonuses as well as: 
Reload bonuses 
Rebates 
Loyalty programs 
Odds boosts 
Risk-free bets 
Contests 
Compare the Best North Dakota Betting Sites & Sportsbooks
| Sportsbook | Rating | Online Since | Payment Methods | Read Review |
| --- | --- | --- | --- | --- |
| Bookmaker | A+ | 1996 | Credit Card, Bitcoin, P2P, Crypto | Bookmaker Review |
| Heritage Sports | A+ | 2001 | Credit Card, Bitcoin, Cashiers Check, Bank Transfer, P2P | Heritage Sports Review |
| Bovada | A+ | 2011 | Credit Card, Bitcoin | Bovada Review |
| BetOnline | A+ | 2001 | Credit Card, Bitcoin, Crypto, Cashiers Check, Bank Transfer, P2P | BetOnline Review |
| BetAnySports | A+ | 2002 | Credit Card, Bitcoin, Electronic Check | BetAnySports Review |
| BetUS | A | 2000 | Credit Card, Bitcoin, Bank Transfer, P2P | BetUS Review |
| WagerWeb | A | 1994 | Credit Card, Bitcoin, Cashiers Check, Bank Transfer, P2P | WagerWeb Review |
| JustBet | A | 2000 | Credit Card, Bitcoin, P2P, Crypto | JustBet Review |
| Everygame | A | 1996 | Credit Card, Bitcoin, Skrill, Neteller, Bank Transfer, P2P | Everygame Review |
| GTbets | A | 2011 | Credit Card, Bitcoin, Crypto | GTbets Review |
FAQ – Online Sports Betting North Dakota
Is sports betting legal in North Dakota?
It is not legal to place sports wagers in North Dakota, on collegiate teams or professional sports teams. Until the proposed sports betting bills make progress, North Dakotans can use offshore online sportsbooks.
Can you bet online in North Dakota?
North Dakotans do not have any locally-regulated options for online betting. Instead, you can use an online sports betting site that operates offshore, as they are not bound by the same rules and regulations as a local book.
Does North Dakota allow DraftKings?
As a North Dakotan, you can not use DraftKings Sportsbook for real sports wagering; however, you can use the site to play daily fantasy sports.
Can I get a VPN to gamble?
All of the online sports betting sites that we have reviewed accept players in North Dakota and all over the United States without restrictions. For that reason, you do not need to use a VPN to access them.
What sportsbooks are legal in North Dakota?
There are no locally-regulated sportsbooks like FanDuel Sportsbook in North Dakota. Sports betting legislation has passed the House but has not yet passed the Senate. Sports bettors in North Dakota typically use offshore sites instead.