Tennessee Horse Race Betting – The Best Racebooks in Tennessee 2023 Compared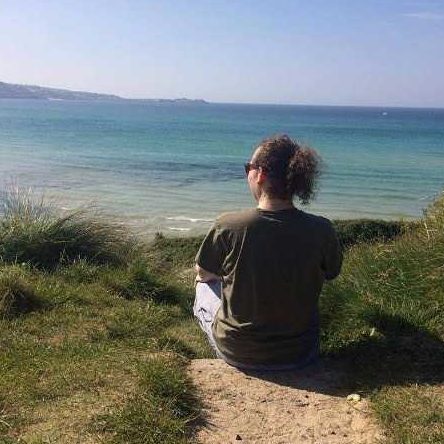 David is a freelance sports journalist who comes from West Midlands. He specializes in sports content, both written and visual. With an impressive record in pre-fight predictions, David is quickly becoming recognized in his field for his in-depth fight analysis and impressive contender & fight history knowledge.
The horse racing industry in Tennessee isn't thriving like it once was, but it is still the sixth-biggest state for wagering on horse racing in North America. Notably, Tennessee shares a border with Kentucky, where you'll find Churchill Downs; Churchill Downs is the home of the Kentucky Derby, one of the biggest events in horse betting.
Our guide will explore the best online horse race betting sites in Tennessee. We also cover everything Volunteer staters need to know about wagering on horse racing, including the types of bets available and how you can claim some bonus funds to bet on your first race.
The Best Tennessee Sportsbooks in 2023
Tennessee Betting Guides
In addition to covering the top online horse race betting sites, our industry experts have covered all other forms of gambling, too, including the best all-around online sportsbooks in Tennessee.
The Top 10 Betting Sites for Horse Racing in Tennessee Ranked
Our team of experts has used their ranking system to compile a top-10 list of the best betting platforms for horse racing in Tennessee. Below you can find the unique offerings that make each top-rated horse racing betting site a cut above the competition. 
Reviewing the Best Tennessee Horse Racing Betting Sites
Our team of devoted experts has compiled a list of their top-five rated horse racing betting sites in Tennessee using strict criteria. It wouldn't be wise to select a betting site randomly, so be sure to use our short reviews below, as they'll assist you in making an informed decision.
1. BetOnline: Best Online Horse Betting Site in Tennessee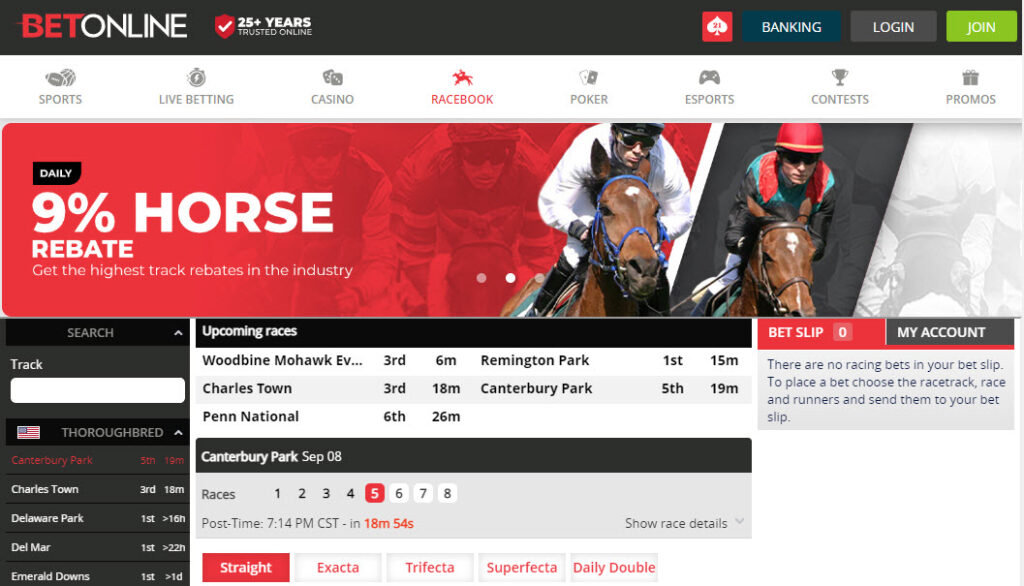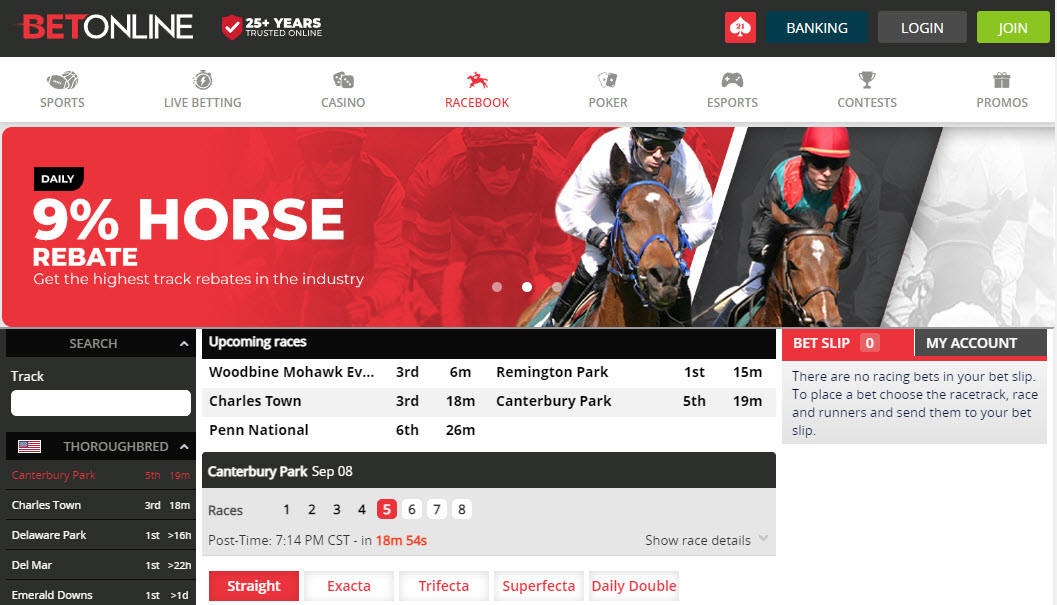 For residents of the Volunteer State, an online horse racing betting experience doesn't get much sweeter than what's found at BetOnline. With over twenty years of experience within the industry, BetOnline has evolved into a top-tier racebook, sportsbook, and casino. Ranking in the top 50 most popular online betting sites worldwide, the track record of providing excellent wagering services at BetOnline is flawless, which translates to its racebook.
Horse bettors can discover more than 600 racetracks from local and international events. In addition, the horse racing-specific features are crucial factors in making this operator the best horse racing betting site in Tennessee. Such features like the conditional wagering tool, which allows you to pick a price range as your bet will automatically be placed once the odds become available, as well as its multiview option that gives customers the ability to browse the horse racing markets while placing multiple bets freely, are evidence that BetOnline pays attention to the minor details.
With excellently priced odds and regular updates to its racebook features, BetOnline also ticks the basics you'd expect from a leading operator. Welcome bonuses, various payment methods, fast payouts, innovative site design, desktop and mobile versions, and a 24-hour customer service team can all be found at BetOnline.
Pros:
Horse-specific wagering tools 
Horse racing form guides 
Over 600 race tracks from national and International events  
Speedy cryptocurrency withdrawals
Cons:
Charges fees on credit card deposit
No live streaming
2. Bovada: Extensive Market Coverage of U.S. Horse Racing Events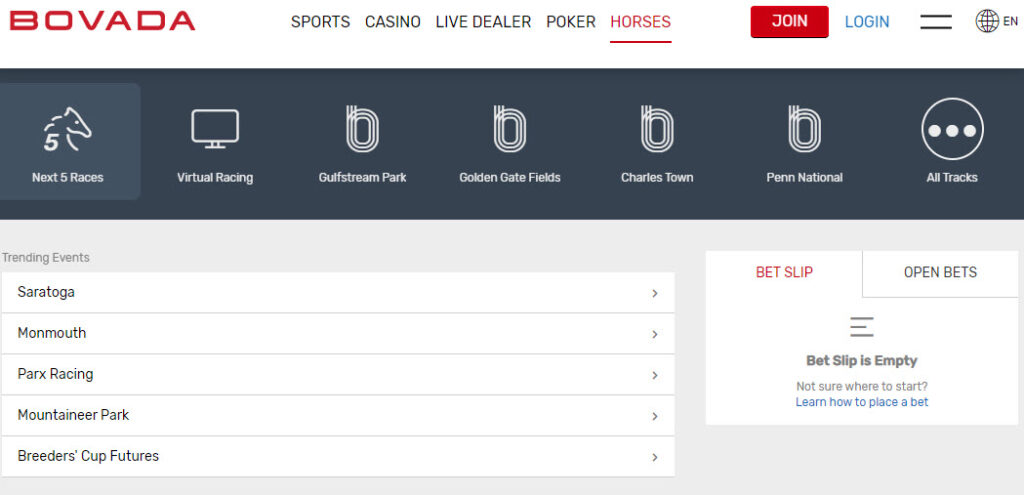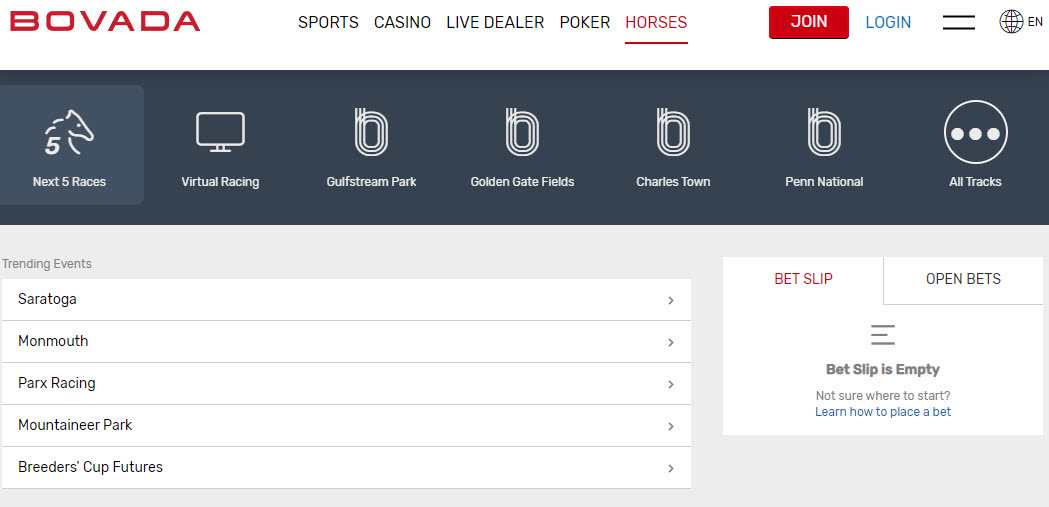 It's rare not to find Bovada sitting atop the best sportsbook, racebook, and casino services in North America, and Tennessee residents are no exception. Bovada is one of the most respected and trustworthy racebooks in the Volunteer State, with a long-standing reputation for its competitive odds, attractive site layout, and value for money.
Bovada primarily focuses on the U.S. horse racing markets, and while you will find international coverage, it's not as diverse as other sites in this field. Bets include win, place and show, as well as all the exotic wagers you desire. In an attempt to better the competition, Bovada presents some of the best-priced underdog odds, where players will struggle to find a better value on non-favorite horses.
The functionality and layout of Bovada's mobile site and desktop are notable, as users can simply browse between the sportsbook, racebook, or casino without being cluttered or confusing to navigate. And if you're a new customer to Bovada, you'll find low minimum deposits of $10 and fast payouts through various banking methods, in addition to various welcome bonuses.
Pros:
Extensive U.S. horse racing markets 
Competitive horse racing odds, specifically for underdogs 
Low minimum deposit of $10  
Great mobile-optimized site
Cons:
Lack of international horse racing coverage
3. Bookmaker: Offers Odds on Over 100 Horse Tracks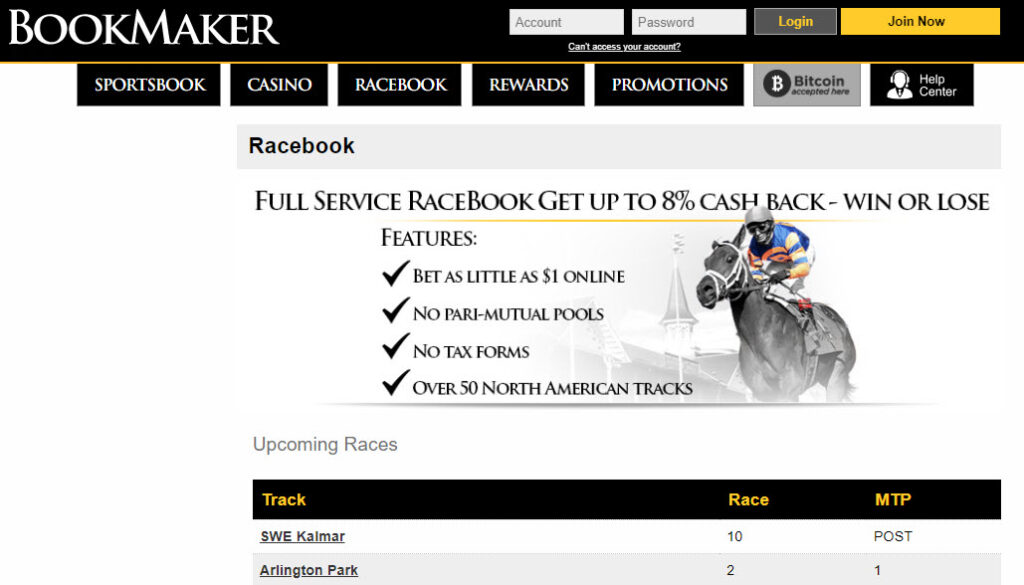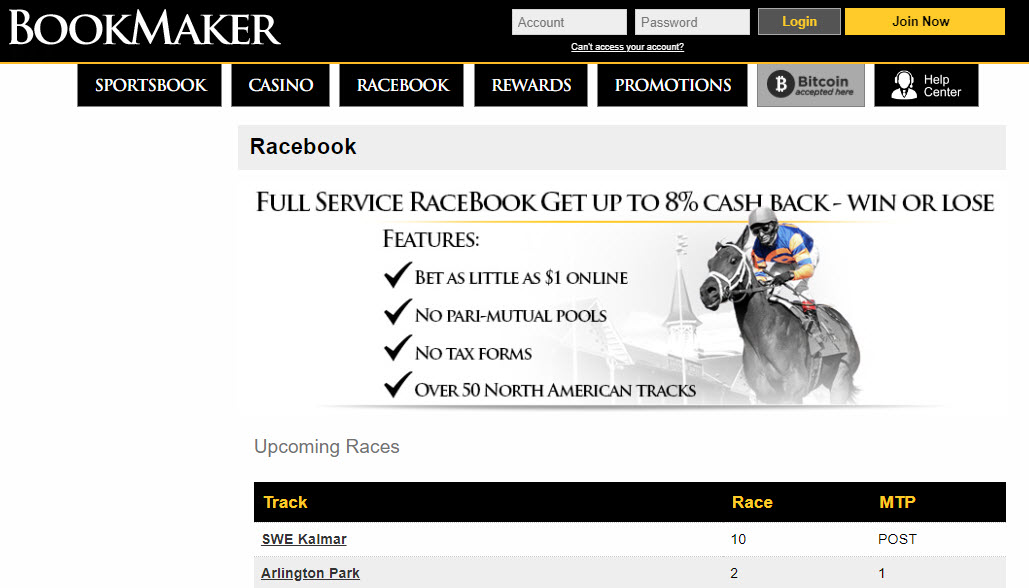 Market selection will never bother Tennessee horse racing bettors at Bookmaker.eu. With more than 100 racetracks available for North American and international events, residents of the Volunteer State will always find what they need with such a vast choice of markets.
Furthermore, this operator presents more extensive betting limits than any other operator, thus drawing attention from sharp bettors and pros looking to place large wagers. We also shouldn't neglect the early released horse betting lines at Bookmaker, allowing bettors to get in on the action sooner rather than later.
Boasting more than 25 years of experience within the industry, our expert racebook team wasn't surprised when Bookmaker ticked all the boxes required to position them as a top-ranked online betting operator.
Behind its extensive market selection and horse-specific betting tools, Bookmaker delivers all of the features you expect for a top-ranked Tennessee racing betting site. Their desktop and mobile sites work flawlessly without lag, and you'll find a wealth of bonuses and loyalty incentives, excellent customer service, and a great selection of banking options.
Pros:
Early released lines
High betting limits
Features lines on more than 100 racetracks
Horse betting rebates
Cons:
The loyalty program excludes professional bettors
Bonus offerings could be higher
4. Heritage Sports: Great Horse Racing Betting Rebates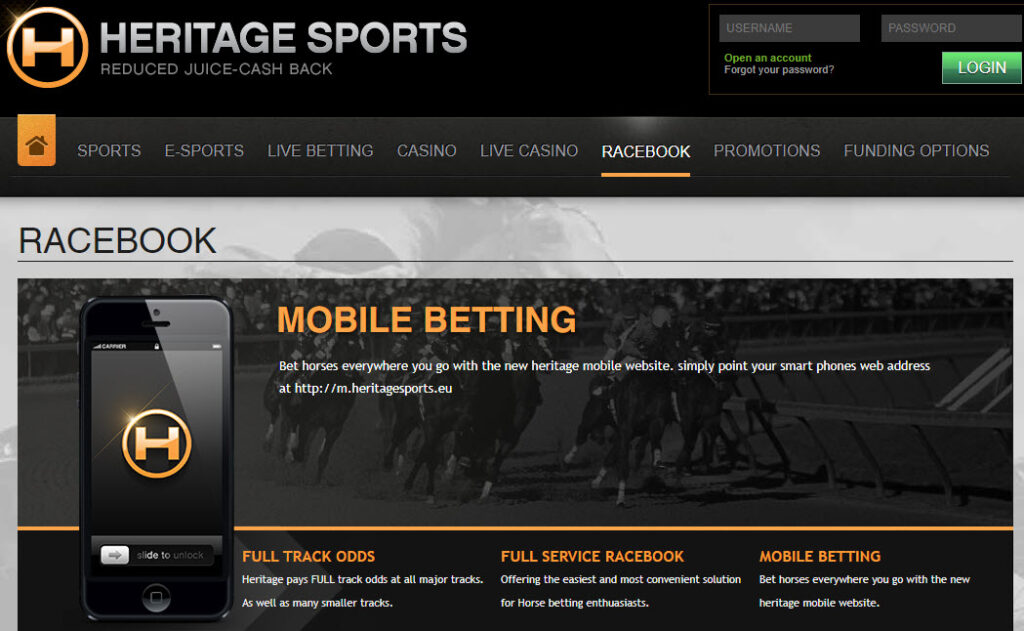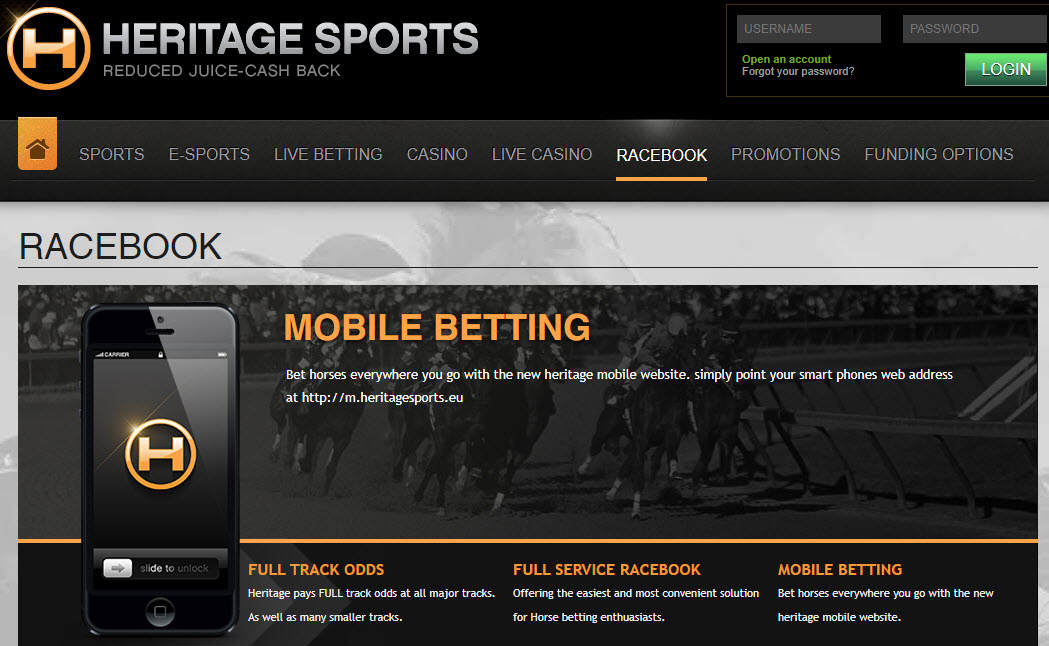 Another well-experienced and established offshore betting site and racebook arrives in the shape of Heritage Sports. With more than 25 years of skin in the business, they've always been respected as a top-shelf operator. Behind such a vast customer base, you'd expect more complaints, but it's a rare occurrence to witness bad reviews from this racebook as they continue to keep pace with the best horse racing betting sites in Tennessee.
Rebates, generous bonuses, live horse racing betting, excellent value, and customer service are five factors that sum up Heritage Sports well. And with over 60 U.S. thoroughbred and harness racetrack markets available, the betting options won't be an issue for Tennessee horse racing enthusiasts when using Heritage Sports.
Bettors who enjoy exotic wagers will be pleasantly surprised with the $200 betting limit on their props, as most rival sites cannot compete in this regard. In addition, betting limits for common wagers such as win, place, and the show can be up to $1,000.
Of course, with a reputation as respected as Heritage Sports, you can be confident that features such as welcome bonuses, customer service, banking options, and promotions are all prioritized for their customers.
Pros:
Cashback rebates
Live betting on horse events
High betting limits on win, place and show
Experienced racebook, sportsbook, & casino of over 25 years
Cons:
Racebook is restricted to U.S. and Canadian residents
Welcome bonuses could be higher
5. BetAnySports: 9% Rebates on Horse Bets, Win or Lose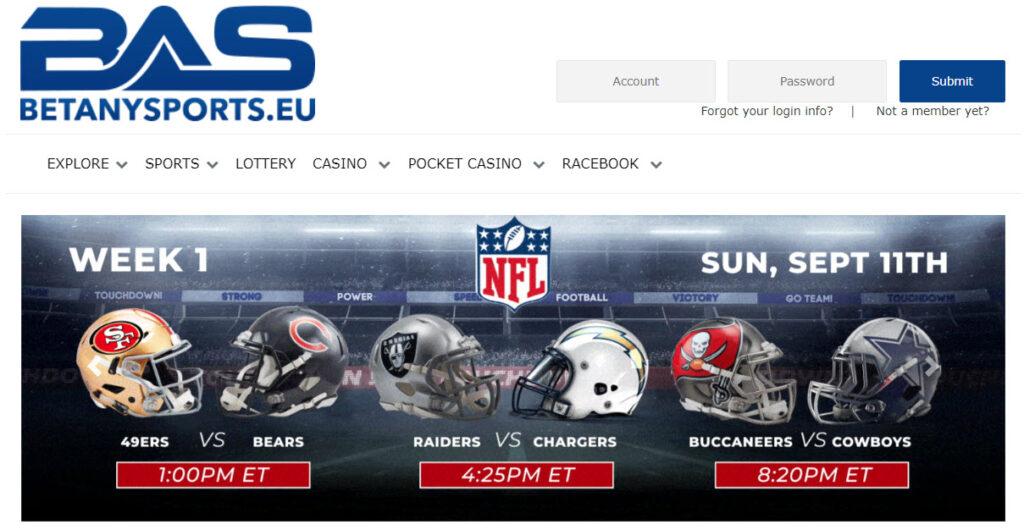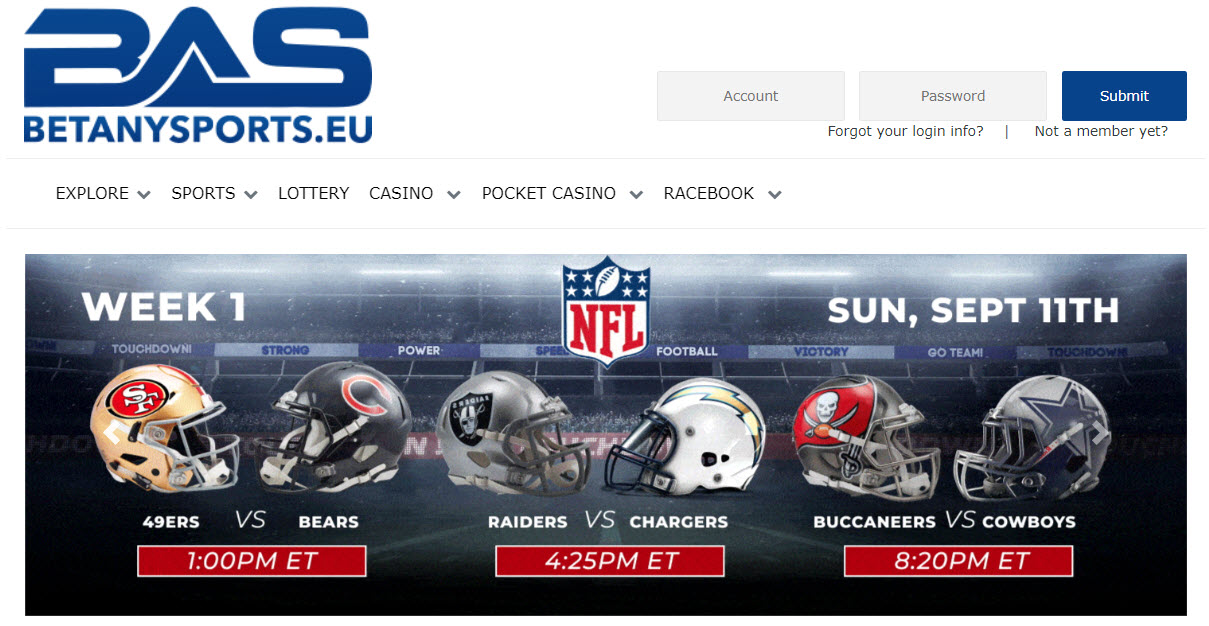 As the branding suggests, wagering on any sport at BetAnySports is no problem. This offshore operator has been providing an excellent service for Tennessee horse racing bettors for years with extensive race track coverage for both U.S. and international racecourses. 
One of the most attractive horse racing betting features at BAS is the 9% rebate program. Our experts couldn't find another operator matching this rebate percentage, and whether you win or lose, the rebate is awarded, as well as 10% rebates for selected horse racing events.
The desktop and mobile site at BAS works effortlessly no matter what device you're using. As this operator continues to climb the rankings as a top-rated gambling provider, many of its standout features, such as competitive odds, customer service, experience, multiple payment options, bonuses, and promotions, all translate to its racebook.
Pros:
9% horse racing rebates – win or lose 
10% rebates on popular horse racing events  
Decades of experience as a racebook in Tennessee
Vast choice of U.S. and international race tracks    
Cons:
Bonuses aren't as high as some competitors
No live streaming
Comparing the Best Sites for Betting on Horse Racing in Tennessee
Our team of experts compiled the reviews found in this article through careful research. Each operator must reach a specific criterion, thus allowing us to choose the best Tennessee horse racing betting sites. Of course, some operators perform better than others, but each site provides its unique reasoning as to why they've received a top-rated ranking.
We'll look closely at some factors we consider when choosing the best horse racing betting site and which racebooks excel in those areas.
Horse Racing Odds
Horse racing betting odds are the simplest to test and one of the most imperative aspects of a top-rated horse betting site. When placing horse wagers in Tennessee, you'll always want the best bang for your buck, which is achieved by finding the best available prices.
Finding the best price on every horse race can be brutal, as you'd need to open an account with most racebooks in Tennessee to achieve this. While it's possible, some players find it easier to register with an operator that regularly competes with the horse odds market. They'll always be close even if you aren't getting the best available price.
With that said, we recommend signing up for multiple sportsbooks, specifically those mentioned in this article. It would heighten your chance of keeping your long-term profits the highest they could be.
Our top-rated Tennessee racebooks are all market leaders regarding odds; otherwise, they wouldn't be in our rankings.
Horse Racing Betting Markets
When discussing market coverage, there are two sides. One is the number of covered races, and the second is the range of bets you can place on each race.
Regarding the range of bets, the best Tennessee horse racing betting sites should always cover the following:
Win
Place
Show
Exacta
Quinella
Trifecta
Superfecta
Our top-rated horse racing betting sites will also need to give customers horse-specific markets and features such as daily doubles and Pick 3, 4, 5 and 6, interactive form guides, live streaming capabilities, and trackside odds. 
In terms of market volume and races covered, we like to see operators that cover events in the following locations:
United States
United Kingdom
New Zealand
Australia
Asia
South Africa
France
Germany
Horse Racing Betting Bonuses & Promotions
Welcome bonuses are great, but our team wants to find the top Tennessee horse racing betting sites that offer a little more. Promotions, rebates, loyalty rewards, and long-term incentives are imperative for a racebook provider to succeed.
While looking for the best horse racing odds, market diversity, and horse betting bonuses and promotions are essential, our experts also look for other crucial features like:
A user-friendly design 
Live streaming on race day
Horse racing-specific tools 
Choosing the Best Tennessee Horse Racing Betting Sites
While an operator needs to provide the best horse racing features, as highlighted above, the extensive process of finding the best horse racing betting sites in Tennessee doesn't stop there. Covering the generic aspects associated with a betting site is also crucial to our ranking system, and you can find some of these below.
Brand Recognition
Brand recognition can be viewed from multiple perspectives, but mostly it's reliant on the operator's reputation and how much we trust their brand. All of the horse racing betting sites we recommend in this list are reputable and trustworthy.
Payment Methods
Making deposits and withdrawals from a betting site must be simple. Our experts like to see a range of banking options and an operator that is prompt on payouts. 
Safety & Security
One of the primary methods for testing a horse racing betting site's security is to research its current license. All of our top-ranked betting sites are fully licensed, proving they're under inspection and must adhere to strict betting practices and banking procedures.
Speed & Design
A site's usability and functionality can make or break its position in our top 10 rankings. Sites presenting a desirable interface are tremendous, but they should also be simple to use, and this should also translate to their mobile site. All of our top-rated Tennessee horse racing betting sites have a completely optimized mobile site.
Customer Service
The best Tennessee horse racing betting sites must excel in their customer service. At the very least, our experts look for multiple contact points, whether by phone, email, live chat, or a physical address.
Is horse racing betting legal in Tennessee?
The short-form answer is yes. Horse racing betting is legal in Tennessee. That said, wagering at physical racetracks isn't permitted. And for this reason, you won't find live tracks offering the ability to wager on horse racing in Tennessee. This stems from a horse racing bill known as the 1987 Racing Control Act that was repealed in 2015. This act saw lawmakers remove the legalization of live horse racing.
Bettors in Tennessee can still wager on a horse by utilizing an offshore online betting site. This has been true since 2019, when sports betting was legalized in the state. So long as you are 18 years or older and are a resident of the Volunteer State, you're eligible to use top sites like BetOnline or Bovada to place your horse wagers.
How to Bet on Horse Races in Tennessee
As we previously highlighted, bettors interested in horse racing betting can only place wagers online. So, whether you're looking to involve yourself with horse racing action in Tennessee, Memphis, or Nashville, your only option is to rely on the services of a top-rated online racebook. Once you've found one of the best horse racing betting sites in Tennessee, you'll want to register for an account and make an initial deposit. Once your account is funded, you look for a wager to bet on. Most top-ranked racebooks in our guide will provide a list of races available for any given day. Simply use this information to select a race of your choice.
Once registered with a reputable and trustworthy racebook such as BetOnline, Bovada, Heritage Sports, Bookmaker, or BetAnySports, you can begin wagering on some of the most popular racing events, like the Kentucky Derby.
Tennessee Horse Racing Odds Chart
This odds chart will show you how payouts look, as well as the win probability. The usual track minimum is $2, so we will use it in these examples.
| Horse Racing Odds | Payout from a $2 Wager | Implied Probability of Winning |
| --- | --- | --- |
| 1/5 (-500) | $2.40 | 83.33% |
| 1/4 (-400) | $2.50 | 80% |
| 1/3 (-300) | $2.60 | 75% |
| 1/2 (-200) | $3.00 | 66.67% |
| 4/6 (-150) | $3.33 | 60% |
| 1/1 (-100) | $4.00 | 50% |
| 2/1 (+200) | $6.00 | 33.33% |
| 3/1 (+300) | $8.00 | 25% |
| 5/1 (+500) | $12 | 16.67% |
| 10/1 (+1000) | $22 | 9.00% |
| 50/1 (+5000) | $102 | 1.96% |
The History of Horse Racing in Tennessee
Tennessee's horse racing history is deep-rooted, dating back to 1804 when the first official TN horse event was held in Gallatin. The sport gained significant popularity during the 19th century, and in 1839, the state hosted at least ten well-known racetracks. In addition, there were a minimum of 20 jockey clubs. However, horse racing gambling was banned in 1905. This ultimately removed the sport's primary income, and by the 20th century, horse racing began to dwindle.
Tennessee Horse Racing – A Timeline History
1804 – The first official horse race in Tennessee took place.
1839 – The Volunteer State had 10 thriving active racetracks that hosted events.
1905 – A horse racing bill in Tennessee banned wagering on the sport.
1941 – The Iroquois Steeplechase made its debut and is still the lone example of legal horse racing in Nashville, Tennessee.
Other Forms of Gambling in Tennessee 
The best horse racing betting sites in Tennessee in our guide are perfect for beginning your wagering journey. However, horse racing isn't the only attraction you can find with these operators. Sites like BetOnline, Bovada, Heritage Sports, Bookmaker, and BetAnySports offer their customers a diverse choice of sports. So, if you'd like to take a crack at online sports betting, you'll find various bet types from sports leagues such as the NBA, NFL, NHL, MLB, UFC, and much more.
Furthermore, our top-rated sites also provide a wide range of online casino games and poker. The best horse racing betting sites we recommend also present a fully loaded casino lobby where you can play slots, roulette, blackjack, poker, and much more.
The Best Site for Horse Racing Betting in Tennessee
Although Tennessee doesn't really have any active race tracks, residents of the Volunteer State can still get involved with the action by using the best online racebooks highlighted in this guide.
Our recommended Tennessee horse racing betting sites are worth checking out. You'll find that each one brings something unique to the table.
For example, Bovada has one of the best mobile sites. BetOnline is the best all-rounder, and Bookmaker is great for high betting limits. It comes down to personal preference, but you can additionally register with these sites and test their services for yourself.
FAQ – Online Horse Race Betting in Tennessee
Can you bet on horse racing in Tennessee?
Yes, while there are not many active horse tracks in Tennessee, you can use online betting sites to bet on events at race tracks all over the world.
Can you bet on Kentucky Derby in TN?
Yes, offshore sportsbooks offer wagering on horse races all over the world, including the biggest events in the industry like the Kentucky Derby, Belmont Stakes and more.
How do I place a bet in Tennessee?
All of the best horse betting sites in Tennessee make it easy to fill out your bet slip. You will be able to select from a wide range of bet types on race day; simply make your picks and hit "place wager."
Can I bet on TVG in Tennessee?
No, as of August 2022, TVG no longer offers any online gambling services in the state of Tennessee.
Where can I bet Kentucky Derby in Nashville?
You can bet on the Kentucky Derby and other popular horse racing events at any of the top offshore sportsbooks and racebooks that we covered in this review. In-person betting is not available in TN.