Online Gambling in Utah – Legal at UT Gambling Sites?
Shawn West has been involved with college basketball, NFL and college football and MLB since he left his job as bank vice president two decades ago. He lives in North Carolina with his wife, children, two dachshunds and a variety of turtles.
There are many good reasons to go to Utah. However, gambling is not one of them. Utah has taken the strongest stance against all forms of gambling of any state in the union. While the U.S. in general appears to be moving toward more forms of legal gambling — with many states legalizing sports gambling and many others at least debating the prospect of doing so — Utah is standing firm against the practice. There are no gambling venues in Utah, not even tribal casinos. In fact, the state has even introduced new online gambling laws to help prevent online sports betting sites from opening since the Supreme Court overturned PASPA.
So, if you're in Utah and want to gamble, your options are limited. You can leave the state; there are gambling-friendly states bordering Utah on all sides. Idaho to the north estimates that 20% of their lottery tickets are sold to Utah residents who have crossed the border to buy them. Colorado to the east and Arizona to the south have environments less hostile to gambling, and, of course, there's Nevada to the west.
If you don't want to leave the state, the only other gambling option is one of several Utah betting sites that are not located inside the United States. These offshore sites are subject to the laws of the country where they are based, not those of the state of Utah or of the U.S. federal code. That means that they can offer online gambling without any legal trouble and payout in cash.
Of course, not all offshore betting sites are created equally. Just like in any industry, there are some that are poorly run, treat customers badly and have shaky infrastructure that could present an online security risk. Others, however, have been doing things the right way for many years and give a fair, entertaining, safe gambling experience.
How do you tell them apart? Well, that's a job we can help with. Our group of gambling experts has looked at more than 100 online gambling sites and compared them across a wide spectrum of factors. We weighed all the pros and cons of each and came up with a ranking of the 10 best online betting sites available to Utah residents. The sites in our rankings offer sportsbooks, racebooks, online casinos, and many even have live online poker rooms.
The Best Utah Sportsbooks in 2023
Best Utah Online Gambling Sites 2023
So, with that all said, here they are: The top 10 online betting sites available in Utah, ranked by our blue-ribbon panel of experts.
Each of these offshore betting sites has a reputation developed over years, for being safe, fair, and reliable. They're also known for providing an outstanding gambling experience. They offer plenty of variety in betting markets including teasers, props, and live betting on sports, as well as casino games, live dealer games, poker, and racebooks.
Each of the sites in our rankings is based offshore. That means they don't have to abide by Utah's strict laws against gambling or by U.S. federal regulations. Utah may not like it (and based on their history of legal moves against gambling, they don't) but they can't do anything about it.
The Best Utah Online Gambling Sites Reviewed
All of the top 10 sites would be an excellent choice for your gambling needs. Picking the site that is right for you is a personal decision. Some of the factors that impressed our expert panel may not be important to you, while you would put a much higher weight on other things. To help you match up each site's strengths and weaknesses to your own needs and preferences, we offer an in-depth breakdown of each site in our rankings.
1. Bookmaker: Favorite Gambling Site for Sharp Bettors in Utah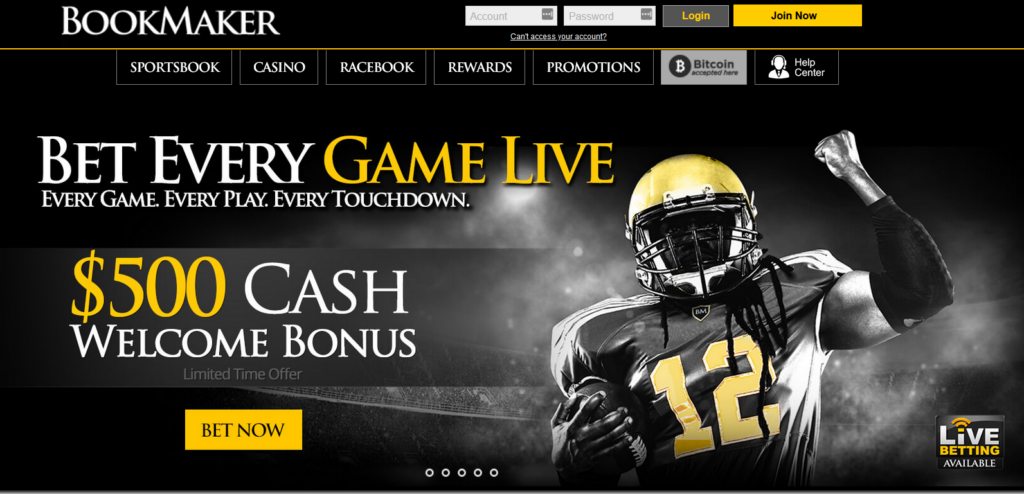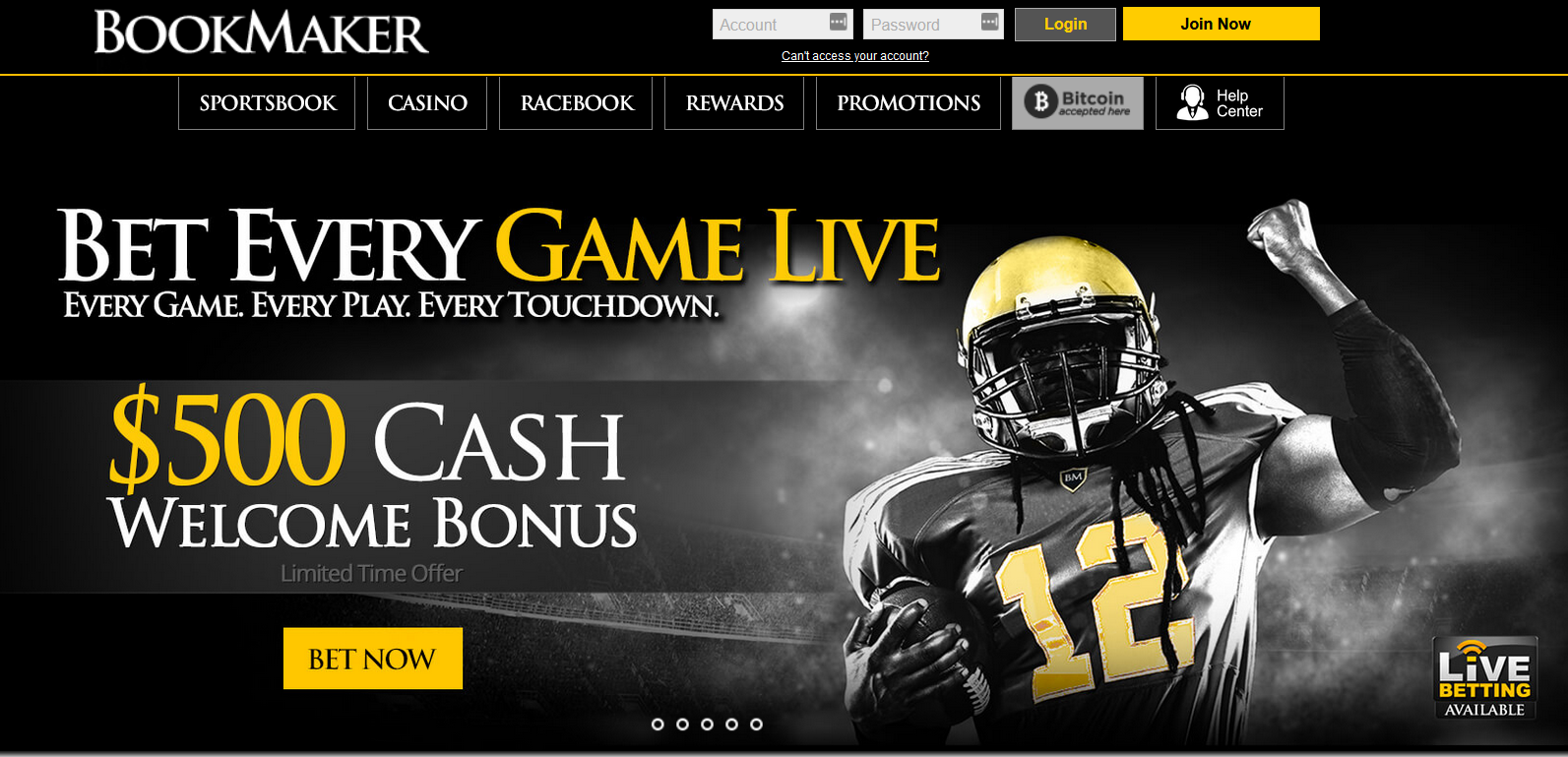 Bookmaker.eu was the choice of our expert panel as the best all-around online gambling site in Utah. The site has a reputation for being able to cater to all levels of gamblers, from first-timers betting small dollar amounts for fun to high-rolling veterans who are looking to make a living at gambling.
There's plenty for experienced gamblers to like. Bookmaker is consistently one of the earliest to post odds and lines, allowing bettors to get their money down. It also features the highest betting limits in the state.
There's also plenty to make newbies feel welcome. The site also offers extremely low minimum bets, allowing inexperienced gamblers to get their feet wet. There's even a free casino to let people practice at casino games before they start risking their money. The site also has a very user-friendly interface that makes it easy to find your way around.
Bookmaker has a good variety of welcome bonus promos and one of the top loyalty programs is in Utah.
About the only thing that can be held against Bookmaker is the lack of a live online poker room. Although gamblers looking to play poker will find plenty of video poker options in Bookmaker's casino, as well as hundreds of other casino game titles.
Pros: 
Appeals to all experience and risk tolerance levels
Lines and odds post very early
Outstanding loyalty program and flexible welcome bonus options
High betting limits and low minimums
Cons: 
Loyalty program not available to professionals
No live online poker room 
2. Bovada: Utah's Biggest Menu of Gambling Markets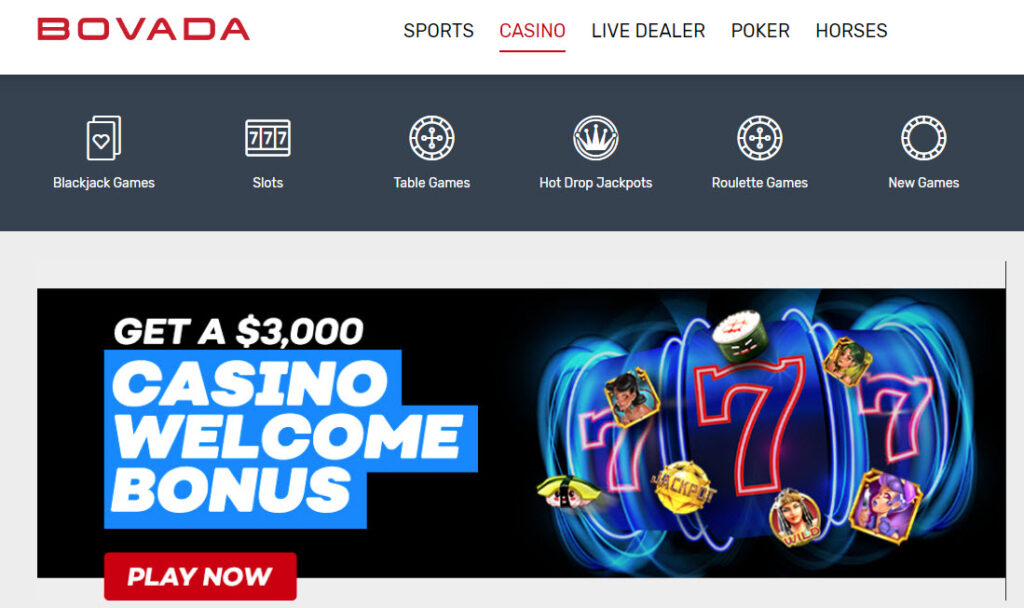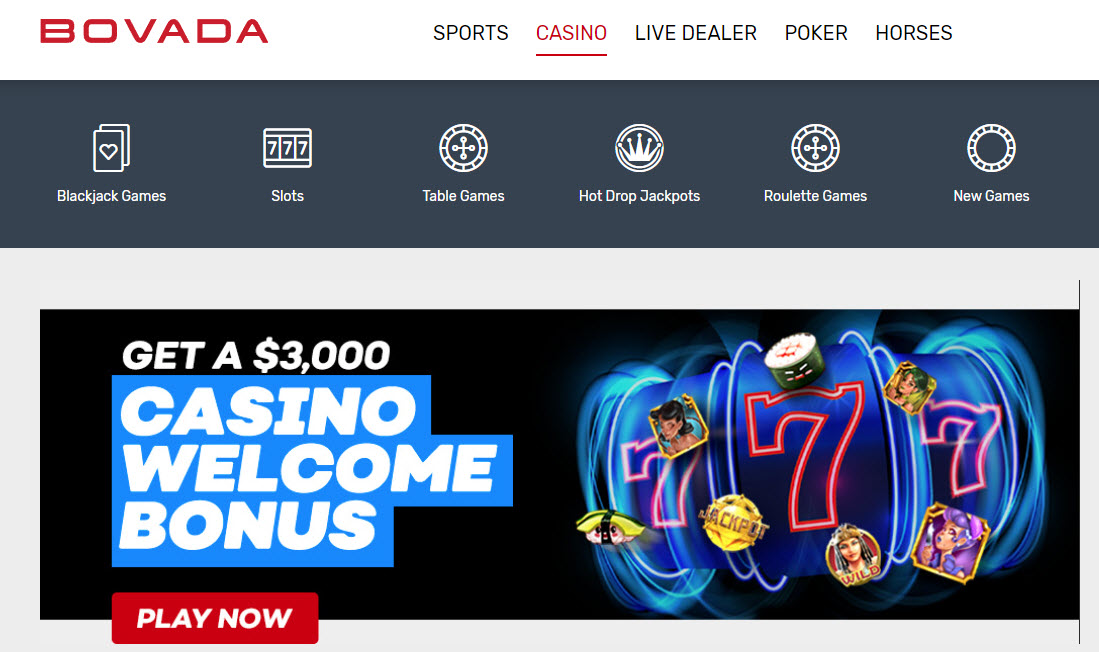 Bovada might be the most fun online betting site in Utah, at least based on its loyal group of followers who have made it one of the most popular. One reason Bovada inspires such loyalty is that it provides an outstanding full-casino gambling experience.
Bovada has the largest menu of betting options in Utah, and it seems to do everything well. There's a racebook, a sportsbook that is among the best in the state, and a large and varied offering of online casino games. Its poker room is also the busiest one in the entire country.
The sportsbook goes with a "more is more" approach when it comes to prop betting choices. No other site offers more, including some low-risk bets that are essentially like an additional welcome bonus, since you're so likely to win. They also have fun with some of their novelty betting markets, including politics, entertainment, and virtual racing featuring horses, as well as animals ranging from dogs to camels.
Bovada's user interface is slick and attractive, while also easy to navigate, and it was our experts' pick for the best mobile betting platform in Utah for gamblers looking to place bets on phones or tablets.
Bovada offers large welcome bonuses, although they have high rollover requirements, which is one of the few black marks on the site's resume.
Pros: 
Huge menu of prop bets  
Busiest poker room in the U.S.
Mobile platform is slick and user friendly
Online casino has large variety of games
Cons: 
Limit are lower than many competitors
High rollover requirements on bonus money
3. BetOnline: Most Reliable Payouts in Utah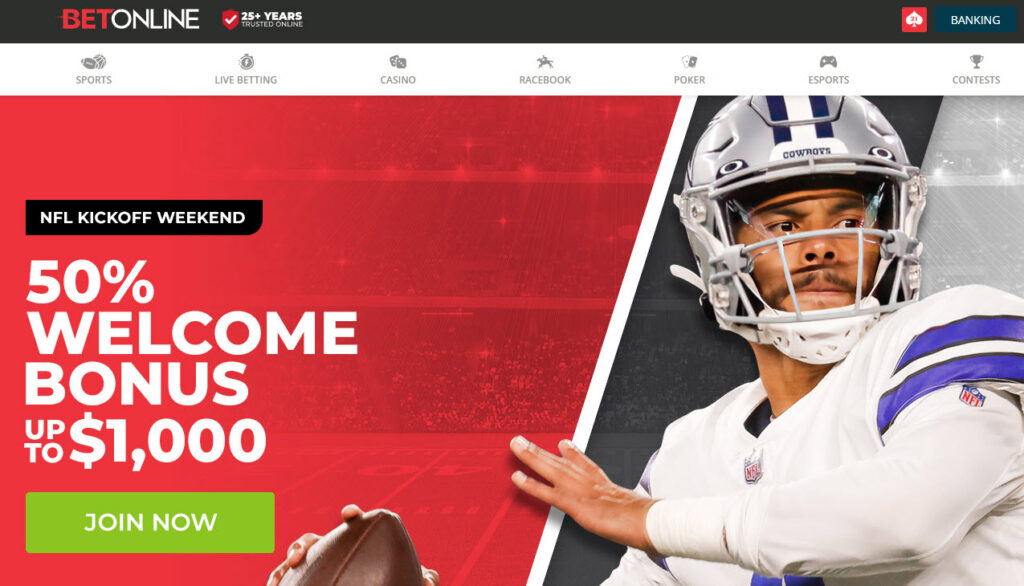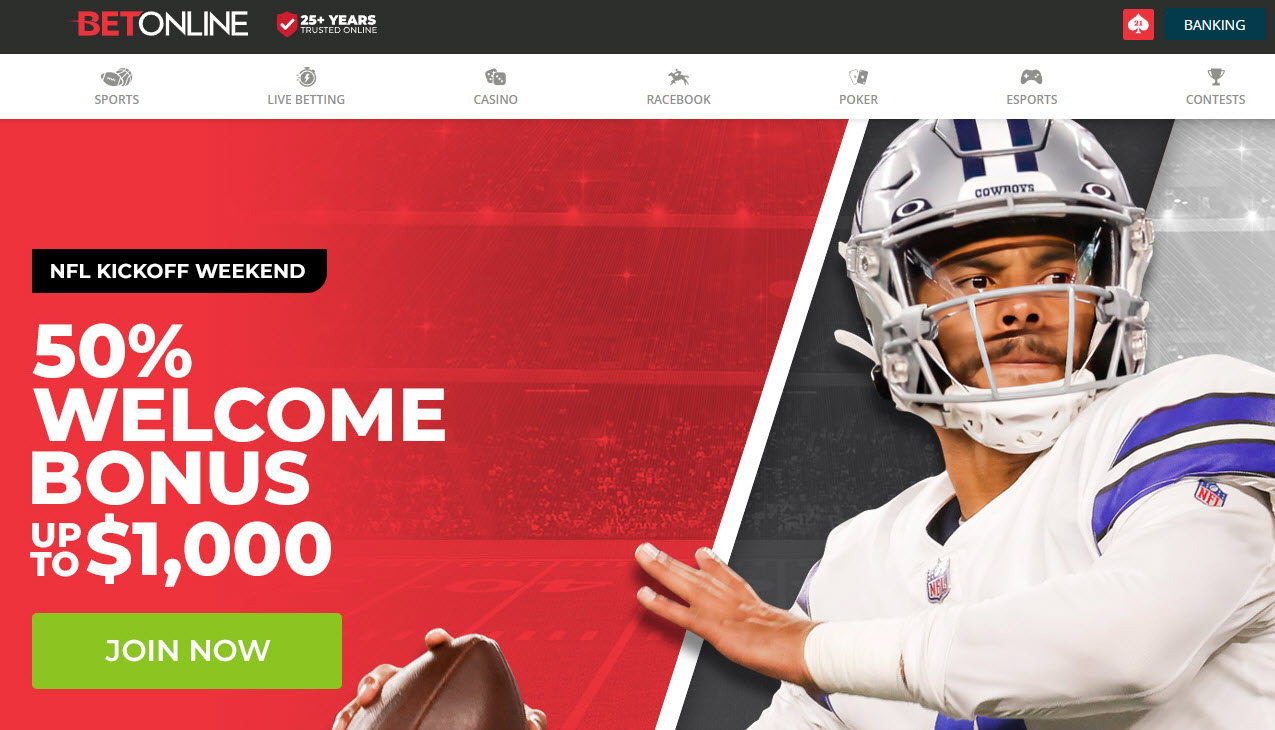 BetOnline came in third in our rankings and impressed our blue-ribbon panel on a number of different fronts. Like our top-rated site, it is able to cater to all levels of gamblers — experienced and brand new, risk-adverse and high-rolling. It has high limits and some of the most favorable betting odds in the state. Its sportsbook offers opinionated lines that give bettors the chance to make a little extra money if they manage them well.
The user interface makes it easy for first-time gamblers to find their way around. There's also a wide variety of betting options, including novelty markets, which seem to appeal to newer bettors. There is a politics betting section, show business awards show markets, and much more.
BetOnline also impressed our experts by paying out faster than any other site in Utah. The process is easy, with no hops to jump through to get your money, and there are no surprise fees or delays.
BetOnline has a mobile site that offers all the functionality of the main site on your phone or tablet, and it has an outstanding customer service department with short hold times. There's also an online casino and the third busiest poker room in America.
Pros: 
Most favorable lines and odds
Fastest payouts in the state
High betting limits
User interface is easy to use
Cons: 
Some types of withdrawals have fees
Some poker players have registered complaints with the poker room
4. Heritage Sports: Great for Live Gambling in UT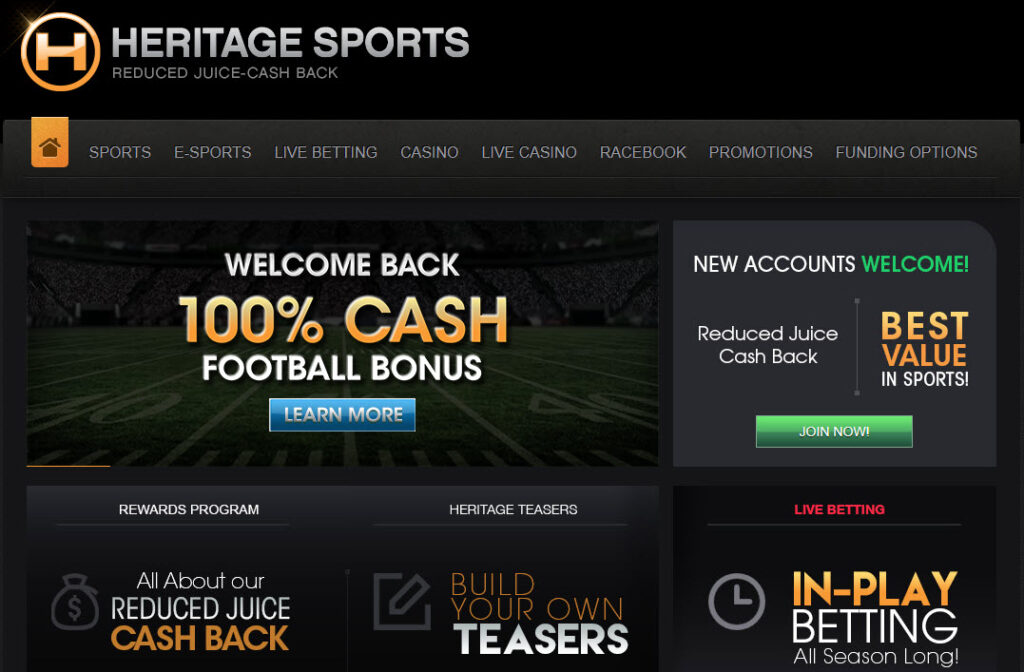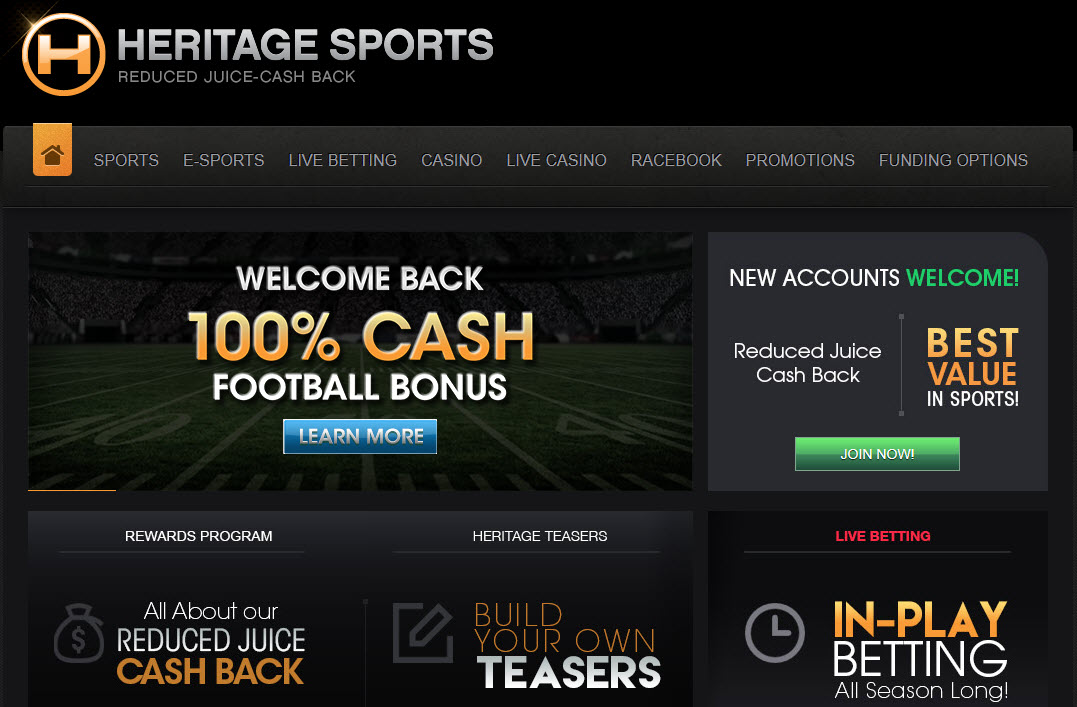 Heritage Sports knows how to treat customers. It began as an elite invitation-only betting site but eventually opened to all customers. They still give gamblers the VIP treatment, however, with world-class customer service, a cash-back rebate program for loyal customers, and an array of different welcome bonus promotions. It also has a history of paying out quickly and in full.
While the red carpet treatment is nice, the actual gambling environment is also outstanding. It has one of the best sportsbooks in Utah, a racebook, and an online casino that has a nice variety, including many different online slot machine games. There's also a live dealer section in the casino. Additionally, they have other intriguing betting sections available, such as one devoted to Esports. Their novelty betting markets include entertainment and religious betting (such as odds on the next pope).
Live betting has exploded in popularity, and most other sites have been playing catch up to Heritage Sports, which was one of the first books to embrace it. They still have the best live betting interface in the state. Pages load fast, and it's easy to find markets and place bets quickly.
Heritage Sports also has a site that's optimized for mobile betting, so you can get the full experience on your devices.
Pros: 
Top choice for live betting in Utah
Cash back rebate program for loyal customers
Elite-level sportsbook with reduced juice lines
VIP treatment for all customers
Cons: 
Welcome bonuses are smaller than other sites
Doesn't offer online poker
5. BetAnySports: Lowest House Edge in UT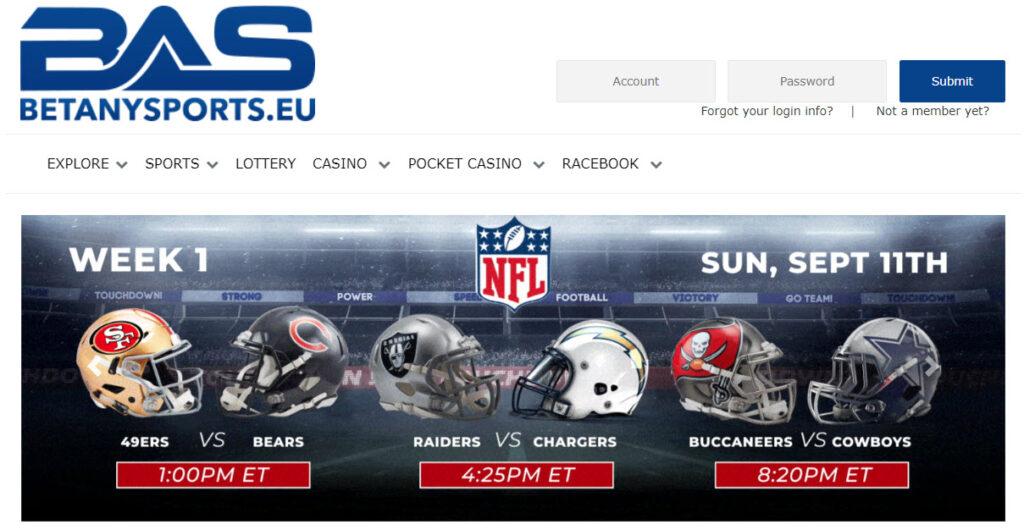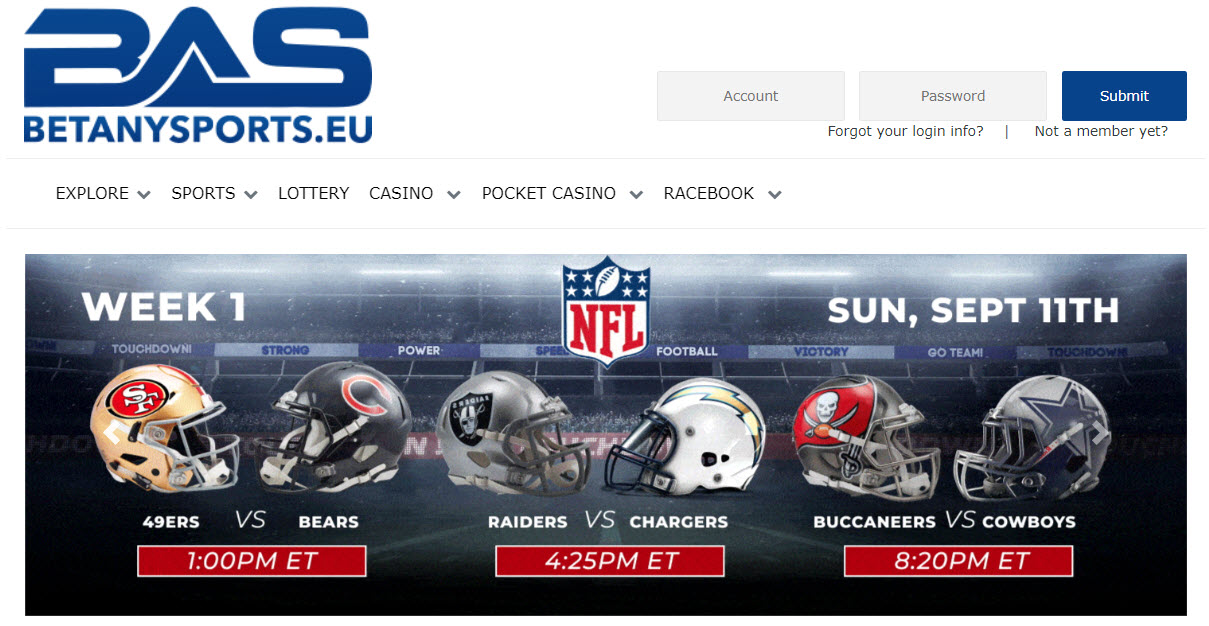 BetAnySports recently got a bump in its grade from our panel of experts, who improved it from an A to an A+. A big reason it now earns the highest possible rating is that it gives the most value to gamblers of any online betting site. It takes the lowest house edge of any of the books in our ratings, which gives bettors a better chance of turning a profit over the long haul.
The house edge is the source of the old saying that the house always wins. That's because the odds are always in favor of the bookmaker. If you add up the odds for every possible option on a given bet, you'll see that they don't equal 100%. The difference between the combined odds and 100% is the percentage the house can expect to make.
Like every other betting site or in-person casino, BetAnySports takes a house edge, but theirs is smaller than everyone else's. That means they're leaving more money out there for you to win.
BetAnySports has the most favorable lines in its sportsbook, as well as the most generous reduced juice in the state. Reduced juice refers to the odds on either side of a point spread or over/under cutoff. At most sites, those odds are set at -110 / -110, but BetAnySports' reduced juice means that the odds are -105 / -105. That means instead of having to risk $110 to win $100 on a bet, you only have to risk $105. That may not seem like much, but it adds up over time.
While BetAnySports is best known for its sports betting, it also offers a racebook, a lottery section, and an online casino that uses multiple different gaming networks, assuming casino players of a wide variety of games.
Like low-cost providers in every business from airlines to grocery stores, BetAnySports lowers its prices by cutting expenses elsewhere. They offer lower welcome bonuses than most other sites, and their user interface doesn't have all the slick, stylish features of other gambling sites. While it may be bare bones, it is still easy to use with a simple, uncluttered layout.
Pros: 
Online casino has multiple networks and large variety of games
Reduced juice and favorable lines make it the best site for value 
Offers a racebook and lottery section
Live betting platform is uncluttered and simple to use 
Cons: 
Not as stylish or attractive as other sites' user interfaces
Welcome bonuses are relatively low
6. BetUS: Biggest Bonuses in Utah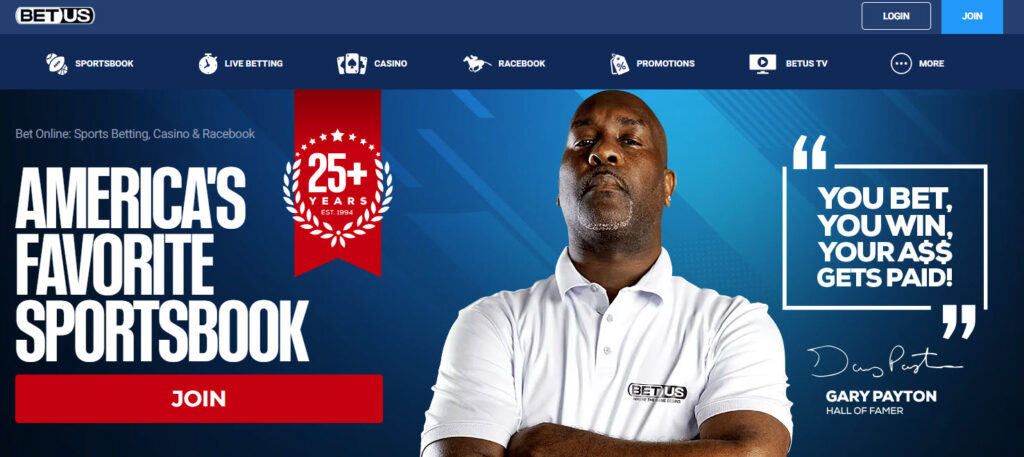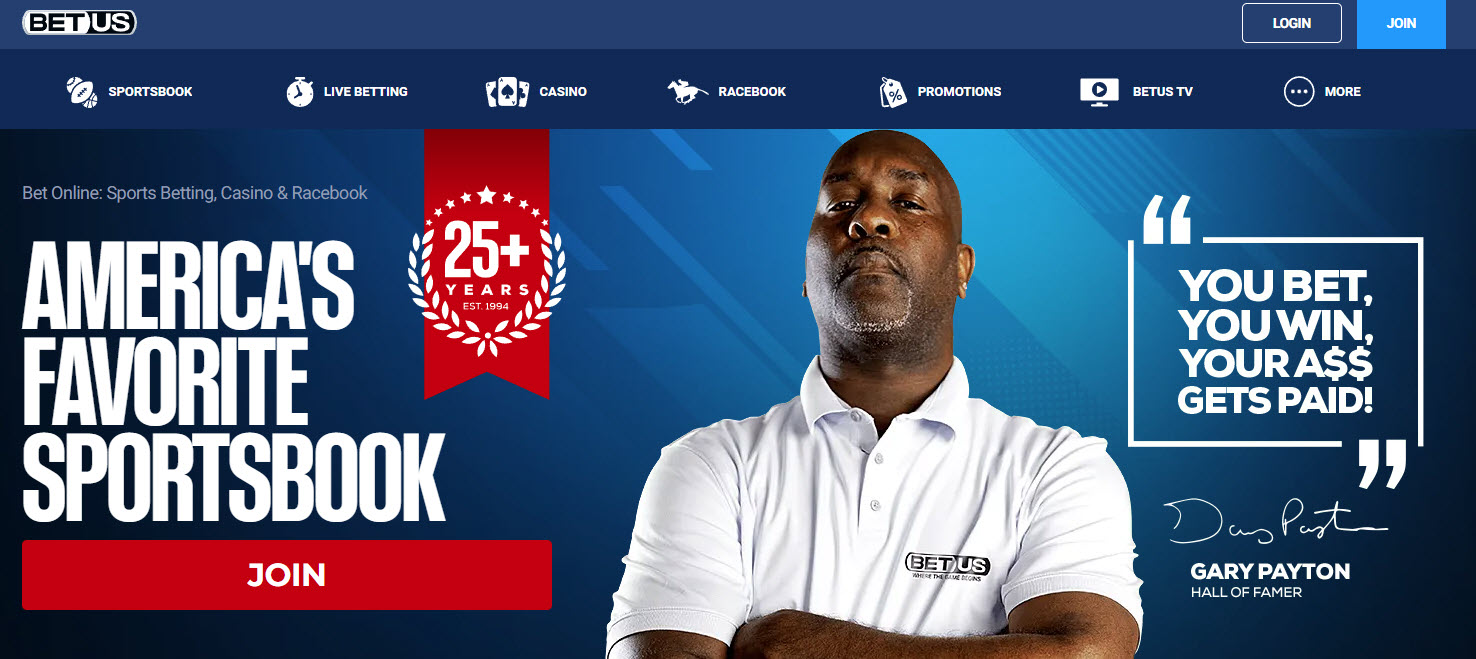 If you're looking to make money gambling, one of the most reliable ways is to have it just given to you for signing up. Welcome bonuses are one of the most popular ways that gambling sites attract customers, and the best bonuses in the state can be found at BetUS. They also have some of the best ongoing promotions to keep their current customers loyal and betting.
BetUS's welcome bonuses guarantee that you'll more than double your money just by signing up for an account. They match your first deposit at 125%. So if you deposit $400, they'll give you a $500 welcome bonus on top of that, so you'll have $900 to spend. They cap their bonus at $2,500 to use at the sportsbook and an additional $625 for the casino. There are rollover requirements attached to both bonuses—10x for the sportsbook bonus and 30x for the casino.
BetUS has ongoing promotions, including reload bonuses and a VIP program.
BetUS also has an entertaining online personality, including a social media presence, weekly podcasts with ex-athletes as hosts, and BetUS TV, which airs video analyses of big games and upcoming events.
Pros: 
The largest welcome bonuses in Utah
Entertaining marketing, including podcasts and videos
Has a sportsbook, racebook, online casino, and Esports, including Madden football
Live streaming for many games, including Esports 
Cons: 
Rollovers on bonuses are high, up to 30x
Late to publish betting lines and odds
7. WagerWeb: Most Dependable Site in Utah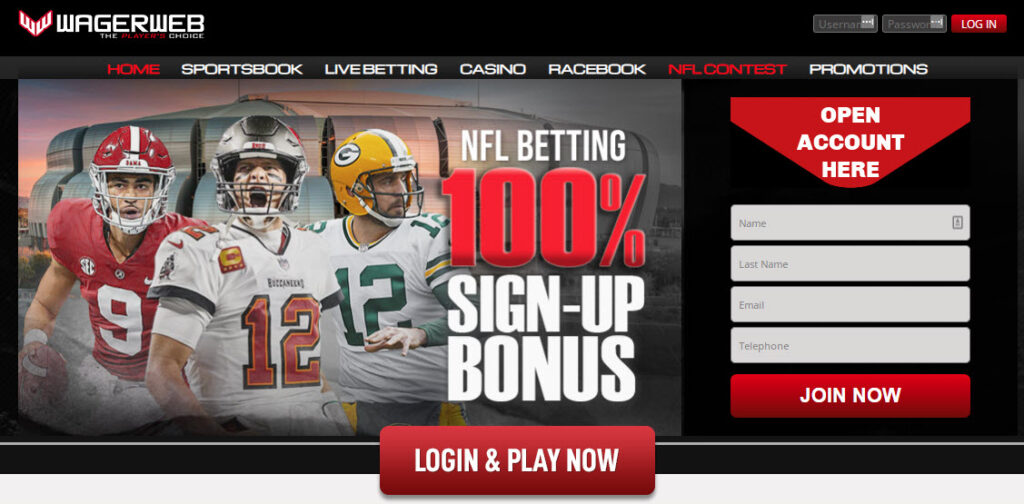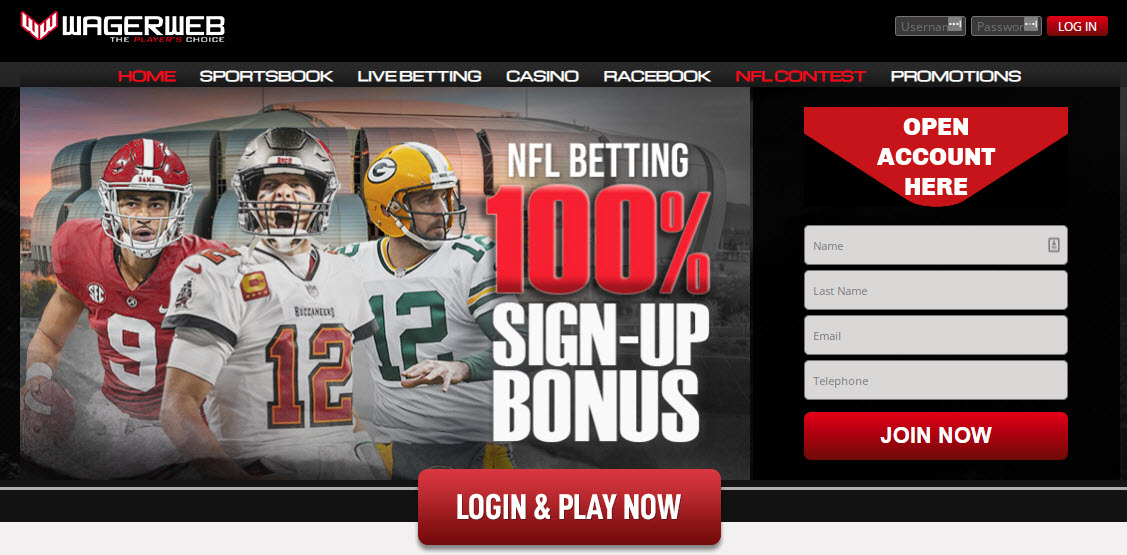 On the internet, newer is usually better, but, when you're looking for someone to handle your money, you might want a site that's been around the block and proven itself to be reputable. WagerWeb has a long history of being trustworthy and safe. How long? WagerWeb has been around since 1994, and for the last 28 years, it's been taking bets, and paying winners, on time and in full. They offer a dependable, secure betting platform and can be trusted to treat you fairly.
It is a partner of Heritage Sports, which you'll find near the top of our rankings. WagerWeb offers many of the same benefits that impressed our panel of experts at Heritage Sports, including 10% cash-back rebates, reduced juice lines, and bonuses with low rollover requirements.
WagerWeb's rebate gives cash back for your racebook and online casino activity. Their sportsbook is also outstanding.
If you use crypto, WagerWeb offers same-day payouts.
Pros: 
Similar to A+ rated top five site Heritage Sports
Low rollovers on bonus money
Long history of building trust with gamblers
Rebate programs for sportsbook, racebook, and online casino
Cons: 
Can only make one withdrawal a month without fees
Betting limits are lower than elsewhere 
8. JustBet: Fast & Efficient for Live Betting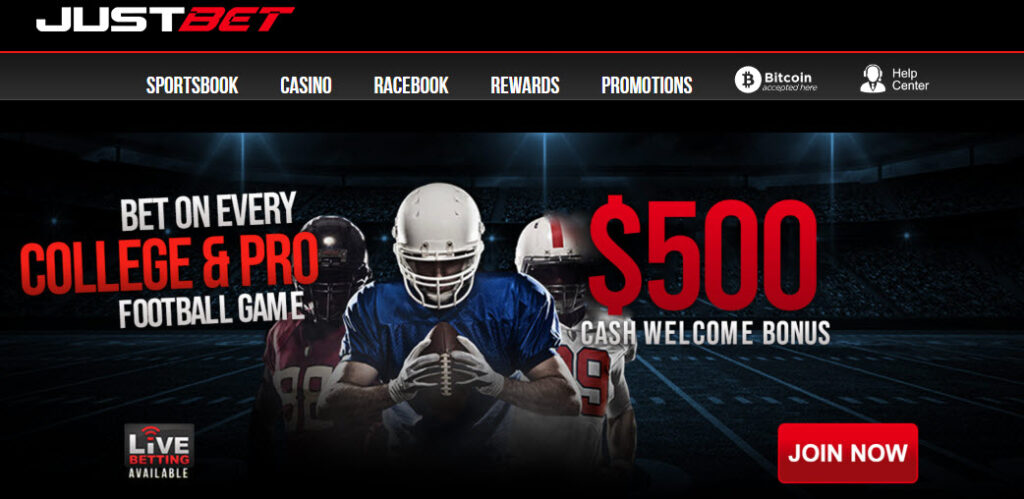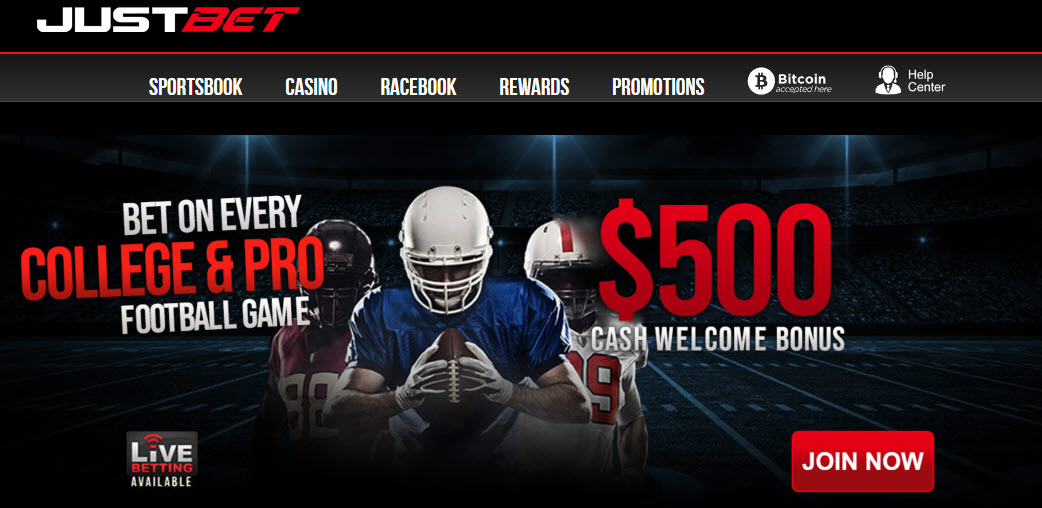 JustBet is also a partner of one of our top-rated sites. Its sister site is Bookmaker.eu which took the top spot in our rankings.
Like Bookmaker, JustBet has extremely high betting limits for high-rolling bettors, as well as low minimums for cautious first-timers. It offers some of the earliest lines and odds published in the state, and it has a user-friendly interface that everyone will find easy to navigate.
JustBet gets you started with a welcome bonus offer, matching your first deposit up to $500.
If you plan on engaging in live betting, JustBet is an excellent choice. Pages are quick to load and easy to navigate. It uses a minimalist approach to its layout, so pages are uncluttered, making it easy to find the important information you need to make a bet. Speed is essential when betting on in-progress sporting events, and JustBet makes it easy to get your bet down quickly, before the odds change or the game takes a turn.
JustBet's mobile platform is also ideal for live betting, offering a betting experience very similar to the full-blown site. It also offers outstanding mobile platforms for the online casino and facebook.
Pros: 
Easy to manipulate user interface and get best placed quickly
Shares many characteristics of top-rated Bookmaker 
Among the highest limits and earliest published lines in Utah
$500 welcome bonus
Cons: 
Rollover requirements on bonuses are high
Doesn't have a live online poker room 
9. Everygame: Best Mobile Casino Games in UT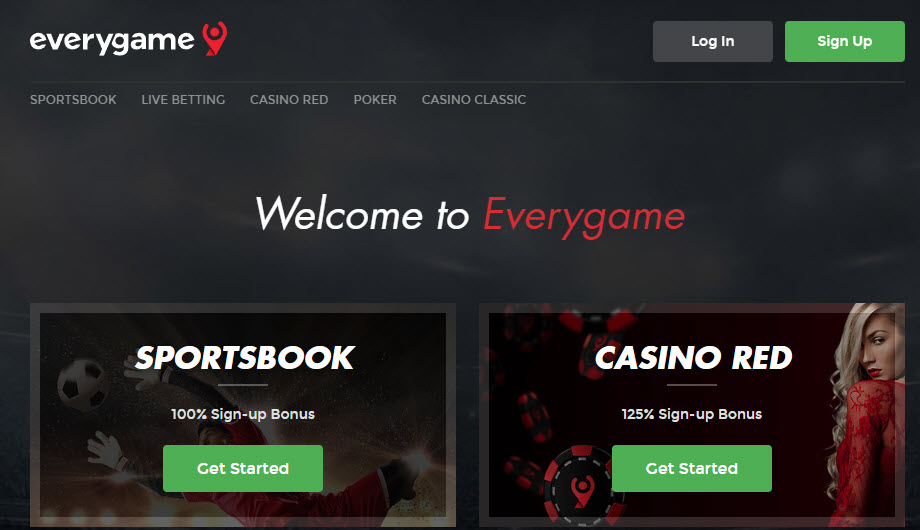 As we said, when you're gambling real money, you want to find a site with a track record of reliable service. You won't find a track record as long as the one at Everygame, which is the oldest gambling website on the internet.
Originally known as Intertops, Everygame has gone through a rebranding that includes a name change as well as an extensive update to the site that included an upgrade to the software. So it gives you the best of both worlds—a long track record you can trust and depend on to keep your money and information safe, a history of payouts on time and in full, and one of the most cutting-edge sites out there.
Everygame's mobile interface is attractive and also user-friendly. And you won't find a better casino experience on a mobile device anywhere. Everygame Casino also has the largest casino game selection. The mobile platform also works well for the other areas of the site as well, including a sportsbook that has the widest scope of games and leagues from around the world.
Pros: 
World's oldest gambling site means a track record of trust and security
More casino games and worldwide sporting events than any other site
Optimized mobile casino is the best in Utah
State-of-the-art user interface
Cons: 
Some delays in account verification
Bonuses aren't as large as other sites
10. GTbets: Weekly Bonuses for Loyal Customers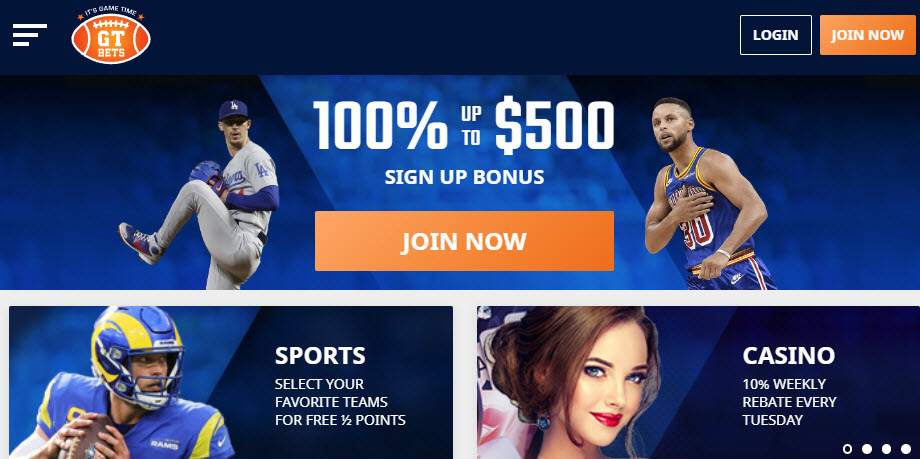 GTbets is a fun site that has creative ways of setting itself apart from the crowd. In addition to its welcome bonus, GTbets keeps the generosity flowing with an ever-changing set of ongoing promotions and offers. They send out a weekly email listing all the new promotions customers can take advantage of over the next seven days.
GTbets also has some creative betting perks, including the "Favorite Team" feature in its sportsbook. You get an extra half-point on the point spread in favor of your favorite team when you bet on their games. That means, if your team is giving three points in an upcoming game, you can bet them at -2.5.
The site also offers reduced juice on all college and pro football games and its moneyline odds are more generous than most other sportsbooks.
There's also an online casino that includes a live dealer section, a racebook, and a fully optimized mobile platform.
Pros: 
Ever changing set of bonus offers that are updated weekly
Reduced juice on all football odds
Favorite team feature gives you an extra half point
Generous moneyline odds
Cons: 
Can only make one withdrawal a week with a $5,000 cap
Bonuses have high rollovers attached
Legal Status of Online Gambling in Utah in 2023
One of the most common questions we get is: "Is online gambling legal in Utah?" The short answer is "No."
We're not going to pull any punches here: Utah doesn't want you to gamble in their state. Some of its earliest settlers were Mormons, whose religion is opposed to all kinds of gambling, and the state is still majority Mormon. As a result, they have some of the fiercest anti-gambling laws in the United States. It's the only state in the lower 48 where there is a full ban on gambling; Utah doesn't even have a state lottery.
Some states have considered legalizing different forms of gambling, and many already have legal types of gambling. Utah is one of the few that is not moving in that direction at all. In fact, Utah's representatives in Congress have introduced legislation — which didn't pass — attempting to make internet gambling illegal throughout the U.S.
Utah residents looking to gamble will need to cross the border, into Idaho, Colorado, Arizona, or Nevada, where the practice isn't as frowned upon. Or they can use offshore sportsbooks. Those sites are outside the jurisdiction of Utah state law and U.S. federal laws regarding gambling.
Payments at an Online Gambling Site in Utah
Depositing funds in your online betting site account is easy to do and only takes a few minutes. Payment methods available at the top-rated sites include:
Credit and debit cards (Visa, MasterCard, Discover, American Express)
Bank transfer, wire transfer, P2P transfer
Digital wallet providers like Skrill and Neteller
Bitcoin, Bitcoin Cash, Ethereum, and other cryptocurrencies
Using offshore sportsbooks means your money will be going back and forth across national borders, which can make transactions difficult. Some types of transactions may have delays or come with a fee attached.
To make the process as smooth as possible, many gamblers opt for cryptocurrency, which is made for international transactions online. Many sites encourage the use of crypto by offering additional bonuses or same-day payouts for users of Bitcoin and other cryptocurrencies. Popular forms of crypto include Bitcoin, Litecoin, Ethereum or Bitcoin Cash.
Online Gambling Laws in Utah
Utah is opposed to all forms of gambling and has developed the nation's strongest laws against it. And unlike much of the nation, the state doesn't seem to be softening its stance toward legalization.
Advantages of Offshore Gambling Sites in Utah
The only way to gamble in the state of Utah is to make use of offshore sportsbooks. These online betting sites offer several benefits, including the following.
Vast Amount of Gambling Options
Offshore sites offer a full casino experience including sportsbooks and racebooks. Many sites have a live dealer casino section and a live online poker room. Some offshore gambling sites also have niche or novelty betting markets such as lotteries, esports betting, entertainment bets, or virtual racing. Betting markets include point spreads, moneylines, point totals, prop bets, and live betting for in-progress events.
Less Hassle and More Privacy
Offshore betting sites allow you to bet from home or from wherever you happen to be, thanks to mobile-optimized platforms offered by most sites. You have complete privacy and anonymity. The sites in our top 10 are also secure and safe, protecting your personal information.
Online Casino Bonuses
Online betting sites offer all kinds of promotions and bonuses, which is an advantage they have over brick-and-mortar casinos. Among the bonuses and other promotions you'll find at online gambling sites are:
Welcome bonuses
Deposit matching
Reload bonuses
Free bets
Risk-free bets
Rebates and cash back
Odds boosts, profit boosts, and parlay boosts
Reduced juice
Loyalty programs
Online Gambling in Utah – Key Takeaway
The only way to gamble in Utah is to use one of our top-rated offshore sportsbooks. Of course, these offshore gambling sites are more than just online sportsbooks. You can bet on races and sports, and play poker and all your favorite casino games all in one place, and, if you're using one of our top 10 sites, you can do it knowing that you're using some of the safest, most dependable sites around.
FAQs – Legal Status of Gambling Sites in Utah 2023
Can I gamble online in Utah?
Utah passed a ban on gambling for companies and providers under the jurisdiction of state law in 2012. However, offshore betting sites are outside of that jurisdiction, in Costa Rica, Panama and other countries. For bettors using an offshore site, the online gambling age required at these sites is 18.
Can I play online poker in Utah?
The only way to play poker online in the Beehive State is with an offshore casino, like the online casino options in our review above. We recommend Bovada as a stand-out online poker site.
What kind of online gambling is legal in Utah?
The only way to gamble in the state is to use an offshore sportsbook. The offshore online casino sites are not subject to the strict gambling laws in Utah; this allows them to offer online sports betting and tons of casino gaming options including hundreds of slot games, card games and your favorite table games.
Is there any gambling in the state of Utah?
There is no in-person or online gambling in Utah. There are no tribal casinos or other land-based casinos, retail sportsbooks or even a state lottery. Your only legal options for all forms of gambling, including casino-style games such as poker or slots, are offshore sites. You can also enjoy sports betting with these sites as well.
Why does Utah not allow gambling?
Utah has a contentious and sparse history of gambling. This is due to the state's overwhelming Mormon population, which views gambling as immoral.
In what can only be described as a seminal pact between adversaries, Governor Newsom has signed a bill into law that both the California Native American tribes, as well as cardroom operators, support – no additional cardrooms in the state for two more decades. In turn, this collaboration between Native American tribes and gambling hall

---