Online Poker in Georgia – Is It Legal?
The top online poker sites in Georgia have all of the action you're looking for. In the last few decades, Texas Hold'Em has become the most popular form of poker but true enthusiasts are looking for more than just what is trendy.
They also want to get the best bonuses available and know which are the most reputable offshore poker sites for winning money online from poker and other casino games. This guide will help you accomplish that.
We will dig deeper into the various poker rooms suggested by our experts below. They have chosen these sites based on the networks they use, the reliability of their software, the variety of their poker options, deposit and withdrawal options and speed as well as reputation.
Georgia Betting Guides
For Georgia bettors looking for more ways to bet online, we suggest checking out our online betting guides which will cover different aspects of betting online in addition to the best online gambling sites to place bets with.
The Best Online Poker Sites for Georgia
These are the four sites as chosen by our expert poker players. These operators have been accepting poker players from Georgia for years and are known within the industry for their consistency and reliability.
1. Bovada: Known in the Industry as America's Busiest Poker Room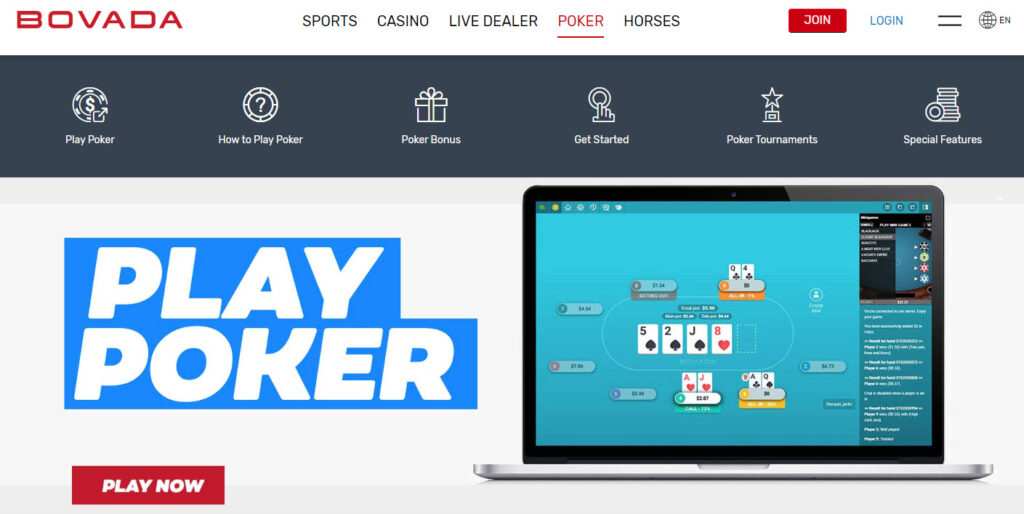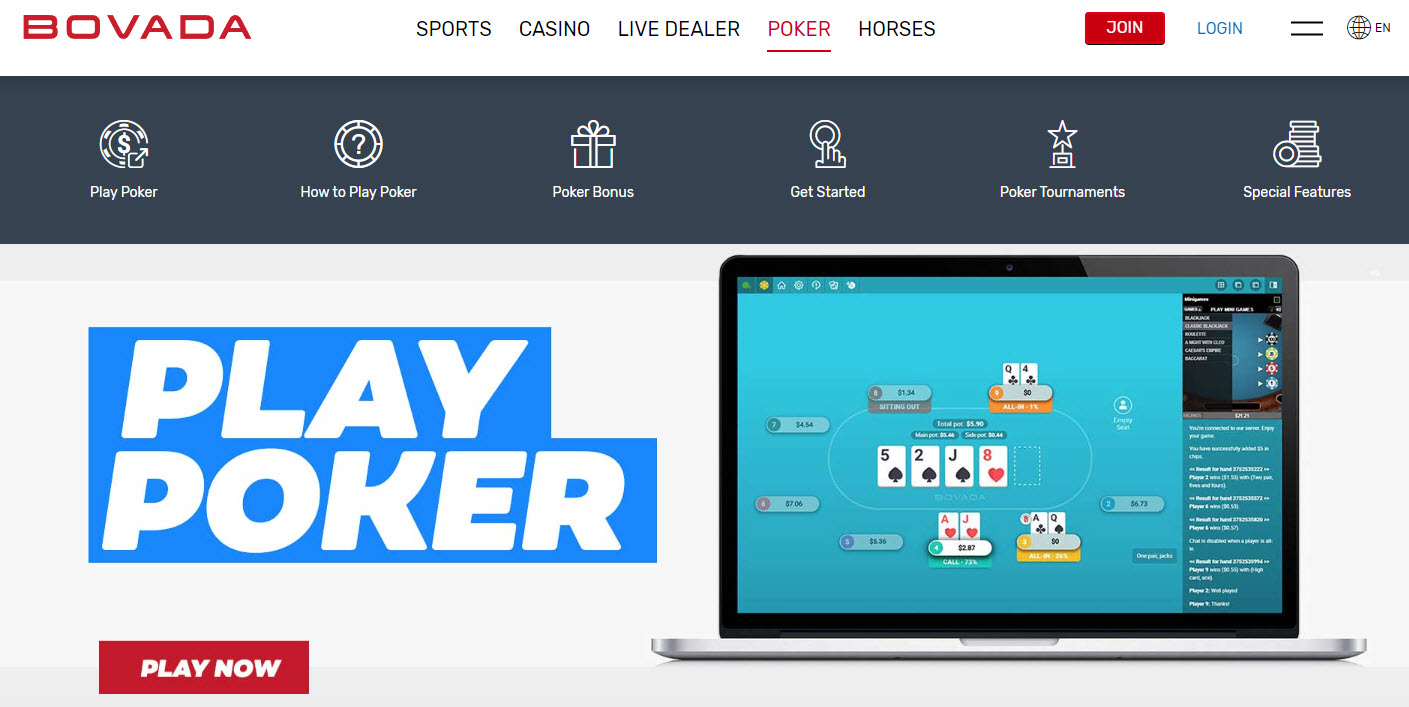 Bovada's poker offering is one of the most trusted platforms in the industry. From the variety of games to the authentic gameplay, it has been a favorite of poker players in Georgia for many years now. One of the main features of a poker room is traffic. This is what makes or breaks your overall experience as you need people to play.
Bovada boasts some 1400+ players per hour which is a huge number. That means at any time of day or night, you can get in on some poker action. As part of the Pai Wang Luo poker network, which is known as the largest poker provider in the U.S, you can be guaranteed some high-level play on Bovada's poker offering.
Anonymous Tables a Great Feature
One of the things that new poker players want to avoid at all costs are professionals. In fact, as a beginner, you want to try and stay away from seasoned players, especially at big limit tables. In the past, those players with a lot of experience would go hunting for what they refer to as "new fish" so they can try to make what they would describe as easy money.
With the anonymous table feature, Bovada has gone a long way in solving that issue. It's also good to know that while you are gaining experience, you aren't being targeted. Most pros like to use something called HUD (heads-up display) which allows them to see statistics about their opponents. It has to be said that more and more sites are following Bovada's lead by limiting the use of HUDs. Another indication of their place as leaders in the online poker market.
Fantastic Signup and Reload Bonuses
Georgia poker players can enjoy a 100% signup bonus of up to $500. The bonus code is "PWB500" to activate the promotion. There are no play-through requirements to unlock the bonus. Instead, you have 30 days to clear the bonus amount which is granted to you in increments. You get $5 for every 150 rewards points you earn while playing
Pros:
Biggest network of poker players in the U.S
Reputation as industry leader
HUD's not used
Cons:
Poker app not optimized for multiple table play
2. BetOnline: Great Sign-Up Bonus for GA Poker Players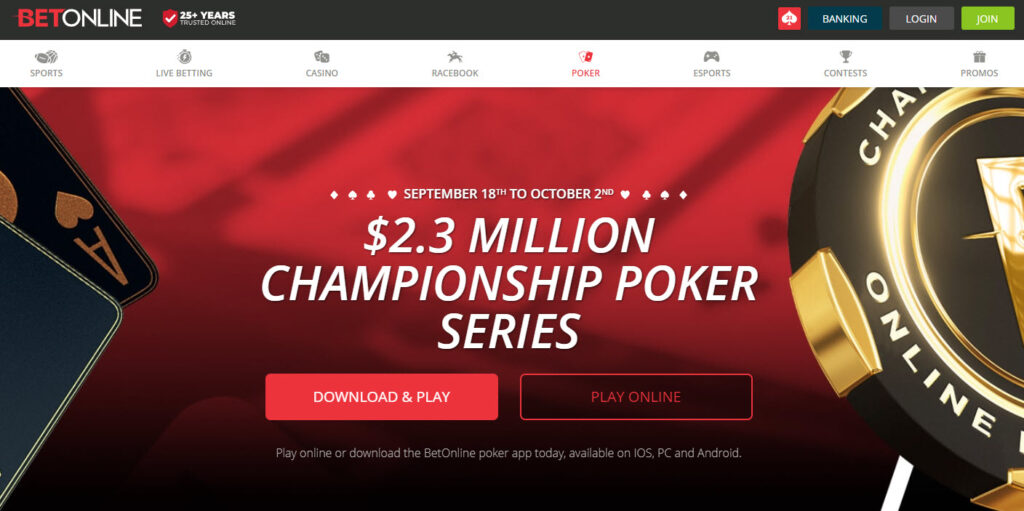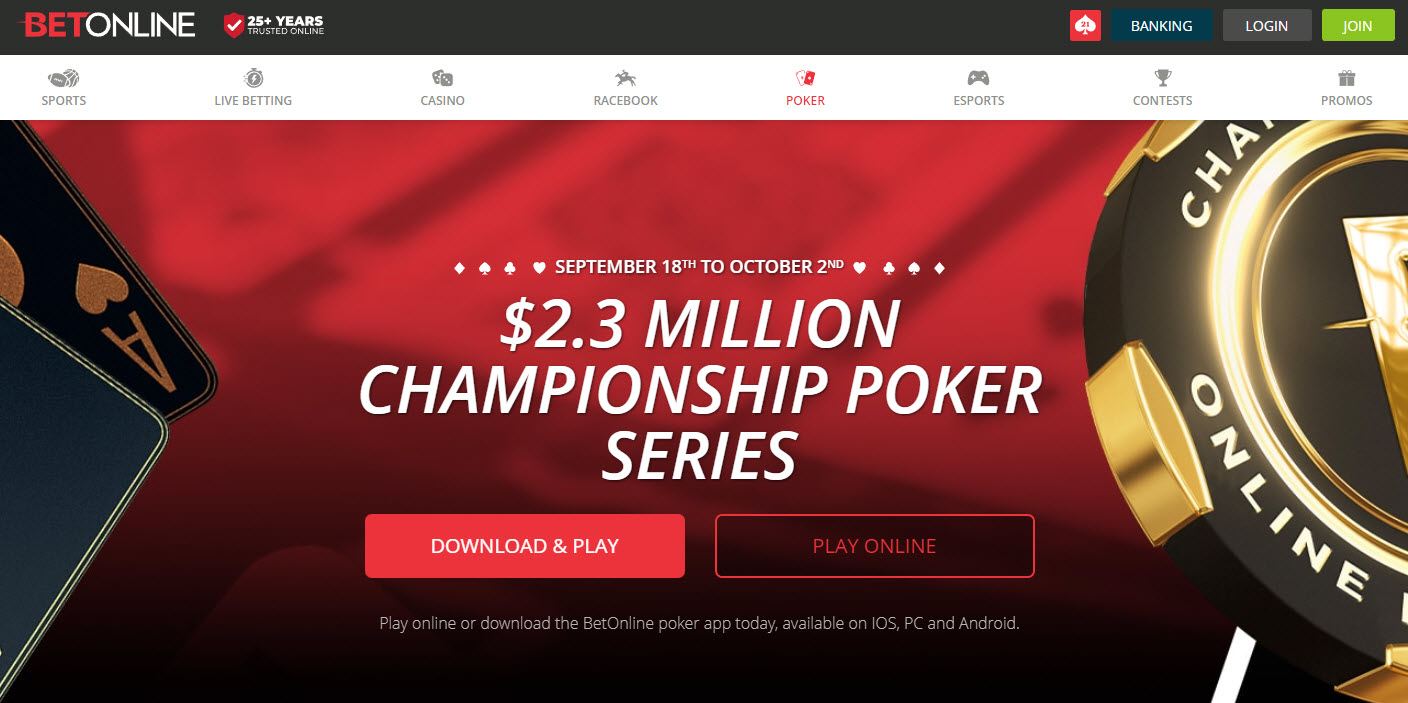 Having been around since the 1990's, BetOnline got involved in online poker specifically in the last ten years.
Championship Online Poker Series
To give you an idea of how good the tournaments that BetOnline has to offer are, you need to look no further than their signature Championship Online Poker Series. This is a month-long event that offers some of the best poker tournaments anywhere online. This tournament has attracted players from all over Georgia with over $2 million in guaranteed prize pools.
Throughout the series, you will be rewarded with free tournament tickets. There is a daily "All-In Shootout" which gathers players that played in some of these special tournaments from the previous days. Based on that, players are given personalized starting stacks based on the number of events played.
This is truly an innovative feature that gives you an idea of all of the fun that can be had while playing poker at BetOnline. These daily "All In Shootouts" start at noon, eastern standard time and reward surviving players with progressive prizes awarded in tourney money. There are 100 players awarded on a daily basis as well as other promotions.
Mobile App User Friendly
The mobile app is free to download to your iOS or Android device. There is a QR code or download the necessary file by accessing the mobile version of the site from your phone's web browser.
Pros:
Amazing tournaments
One of the busiest poker rooms in the country
Cons:
Anonymous tables not available
3. Everygame: Excellent Rakeback for Online Poker Players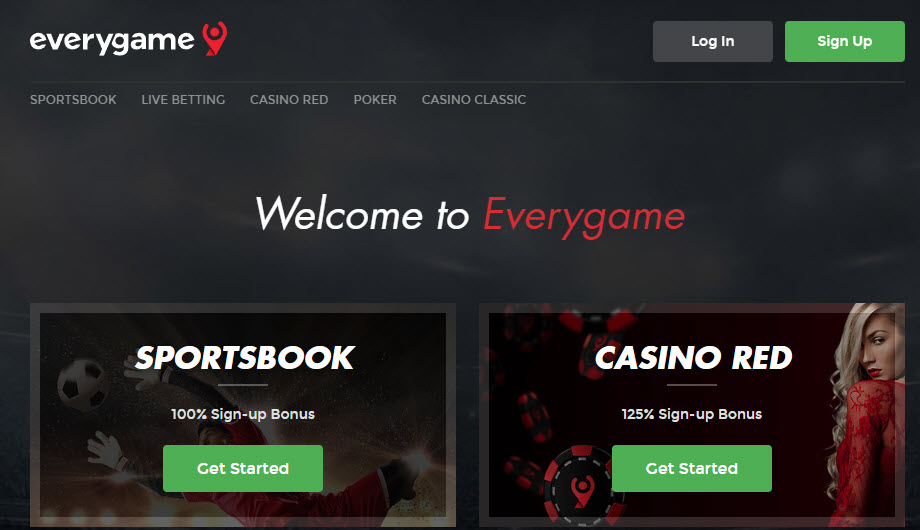 36% Rakeback Promotion
To understand why Everygame is right for you as an online poker player in Georgia, we need to explain one of the perks that they offer in the form of rakeback. Let's start with the fact that all poker rooms everywhere take a rake which is how they make money. Rake can be explained as the amount charged by the poker room per pot. That amount fluctuates based on the number of people involved in the hand in question and the type of game being played as well.
Now that you understand that, it will be easier to see why the "rakeback" that Everygame offers is similar to the cashback offered by sportsbooks but applied to poker play. In essence, Everygame will kick back a percentage of the rake that you contributed. Since the most active players contribute to the overall rake, you should expect that your rakeback will be based on how much you play.
Other Bonuses Offered
The rakeback promotion gives you 36% of your rake back into your account which is a big number. That's just one of the many bonuses that Everygame offers to their poker players in Georgia. There's also the 200% welcome bonus up to $1000 for new players.
Everygame also awards player points that can be exchanged for chips that can be used on existing promotions.
Pros:
Rakeback of 36%
200% Welcome bonus
Great loyalty program
Cons:
Not as much traffic as some competitors
4. SportsBetting.ag: High Betting Limits and Great Bonuses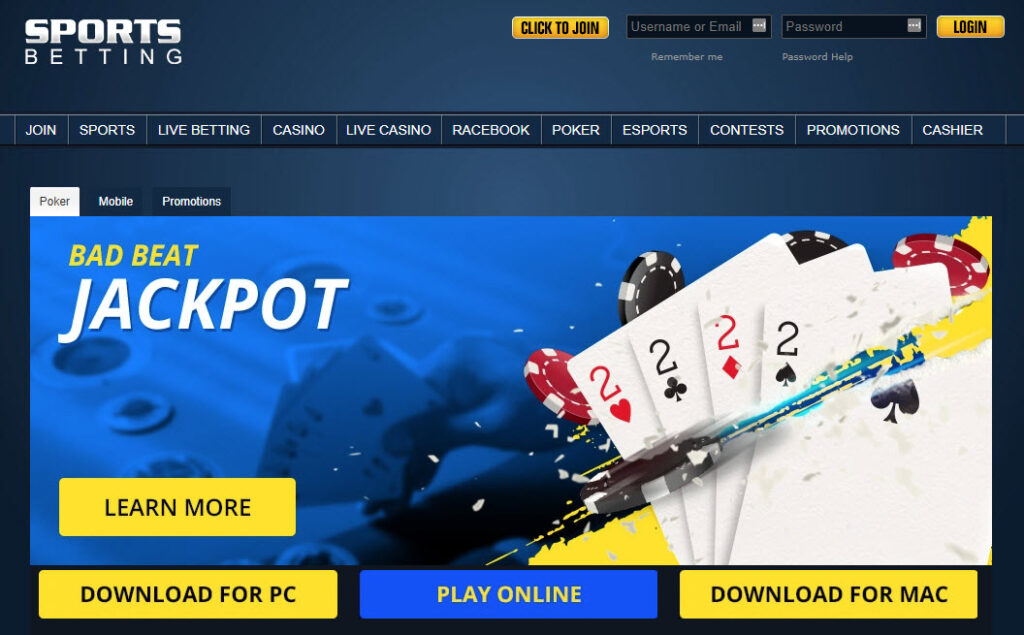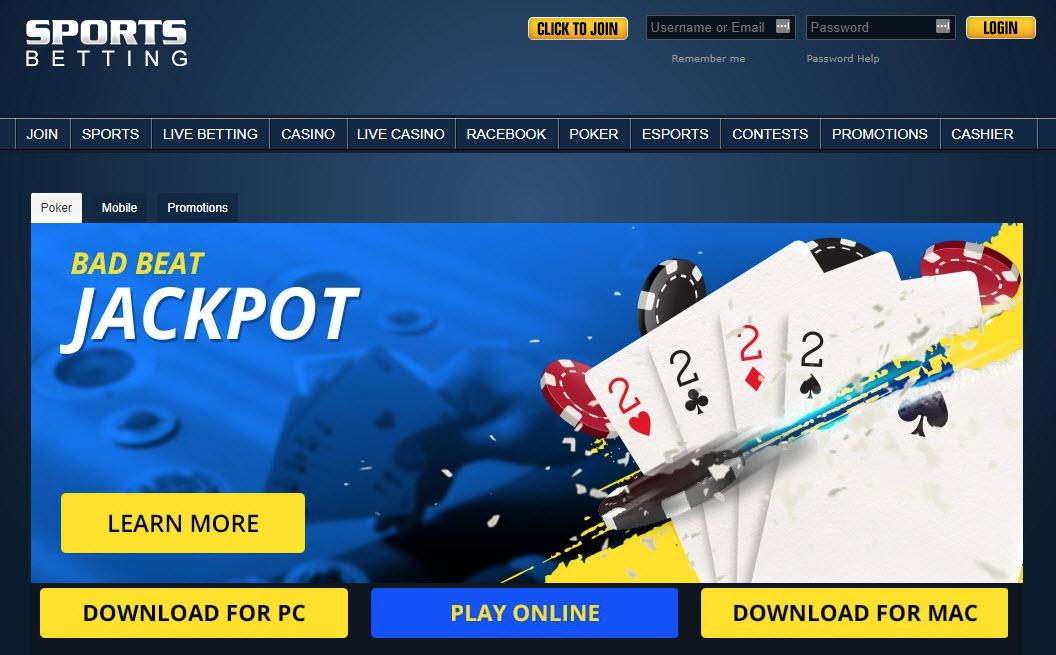 SportsBetting.ag poker uses the same software as BetOnline. While it isn't as busy as the aforementioned brand, that might be a positive based on your level of experience. You are less likely to come across sharp players looking to prey on individuals with less experience.
Lots of Money To Spread Around
They have a great first deposit bonus of 100% up to $2500. This bonus clears at a rate of about $5 for every $15 in cash games you play. This is essentially a rakeback promotion over 30% rakeback that you have 60 days to clear. New players also receive tickets to $5000 worth of freerolls. Their poker room boasts about $250,000 in tournaments every week.
Instant Play Options Still Available
Instant play is an option that is not available at most poker rooms the way it was in the past. Not only does Sportsbetting.ag still provide the option, it is on par with the download version. The only major difference is how much of the screen it takes up on your mobile device.
Bonuses Reward You For Game Play
As you've already concluded at this point, poker bonuses are a little bit different than the ones you receive for other forms of online gaming. At SportsBetting.ag, players can receive 100% up to $1000. You have 30 days to release as much of the bonus as you are able to by playing poker and entering tournaments.
As a result, you get $10 for every 5000 comp points you earn while playing. The comps points are awarded when you buy into a cash game or enter a tournament.
Pros:
Over 30% rakeback
Great welcome bonus
Tons of tournaments
Cons:
System not as modern as some competitors
HUDs used
Is online poker legal in Georgia?
In the next sections, we will discuss the legality of poker and poker variants.
Video Poker
There is no online gambling in Georgia, so there are no official online poker sites for legal gambling.
Georgia poker players have been playing poker at offshore sportsbooks for years for both online sports betting and casino gaming. These international poker sites offer traditional poker and many poker variants, weekly tournaments, and more.
Casual Poker
Casual poker games among groups of colleagues where money is exchanged are permitted in essence, if you are earning a profit from hosting a poker game, that would be illegal.Hosting regular tournaments where you play poker for money among friends, or profiting in any way from private card games, is illegal.
Private pokers rooms that offer cash prizes violate Georgia's gambling laws.
Poker Laws in Georgia
Gambling in all forms is not legal in Georgia for now due to the state's strict gaming laws, except for the state-run lottery. There aren't even any tribal casinos operating in the state, despite the push for them to be established.
There is an ongoing conversation among lawmakers on both sides of the aisle about legalization that has been going on for the last few years trying to overturn the state's anti-gambling law which disallows the operation of commercial casinos in the state. Bills have been introduced and one was passed in the Senate but did not make it to the House.
Senators who are in favor of legalization are continuing to work on the bills in order to get it passed in the House so that it can be included on a future ballot. Until then, Peach State residents remain subject to some of the strictest gambling laws in the United States.
Georgia Poker – In-Person
There are no sanctioned poker rooms in the state of Georgia.
Online casinos are the only options that residents have if they're looking for a poker game.
Georgia Gambling Timeline
January 2021: Georgia lawmakers HB 86 is introduced to the House. 
February 2021: Georgia senators introduced SB 142 to allow for a constitutional amendment to allow sports betting. The amendment would let voters decide if sports betting should be legalized in the state. 
March 2021: The Georgia Senate easily passed the sports betting constitutional amendment bill. This sends the bill to the Georgia House. However, the Georgia legislative session closed before SB 142 could be voted on. As a result, the bill died. HB 86 also dies after being postponed multiple times. 
March 2022: Rep. Ron Stephens amended both SB 142 and SB 135. Now, they're eligible for passage in 2022's last session.
April 2022

: Georgia House lawmakers failed to vote on SB 142 before the end of the legislative session thus killing the bill. SB 135 is stripped and replaced before making it to the House floor. 

January 2023: Georgia lawmakers state there will be more efforts to legalize sports betting in the state starting with the new year.
Play Online Poker in Georgia
Online poker gambling in Georgia is really easy. You can sign up for an account and one of the recommended offshore sites and begin playing in minutes. There are several ways to fund your account and get paid out as well.
Most online poker platforms accept payment via credit card, bank wire, or cryptocurrency. Receiving your poker winnings can be done via bank wire, ewallet, or crypto as well.
Our poker experts recommend sites like Bovada and BetOnline that have some great poker rooms to choose from with lots of active players. You can play tournaments with an initial deposit of just a few dollars and try for your chance to win a big pot. There's also the option to play cash games for modest amounts or big money if that's what you're looking for.
Tips for Online Poker Real Money Georgia
Poker is a game of strategy, patience and discipline. Most of you reading this already know that but in the heat of the moment, the temptation to go with your "gut feeling" is always present.
When choosing a site to sign up with, we advise you to stick with the ones we have suggested.
We have given you a list of tips to remember while playing:When choosing a site to sign up with, we advise you to stick with the ones we have suggested.
Of course, you are free to make your own decision and if you decide the sites recommended by us are not for you, please make sure you do your homework to see what other players have to say. Not all poker rooms are created equal.Your strategy in a new poker environment should be cautious. The first thing you are trying to figure out is what type of players are at your table.
Are the players tight or loose? (As in do they only play strong hands or will they just play anything.)
Is there a lot of bluffing going on?
Play only the top 10 hands to start
This is just a good strategy in general. Unless you're a veteran player, you really should not be calling to start unless you are holding a top 10 hand.
Don't Get Emotional
This is crucial to your overall success. You are going to lose hands that you should have won. This is part of the journey. One thing to keep you balanced in these unavoidable scenarios is to remember all of the times you won when you really shouldn't have. We conveniently forget about these moments. This piece of advice will save you a lot of money in the long run.
Don't Bluff for the Sake of Bluffing
This is one of the most overused moves by new poker players. Bluffing is very situational and should only be used by veteran players applying a specific strategy.
Bankroll Management
This isn't just a poker strategy, this applies to all forms of gambling. Pick an amount of money that you are comfortable with possibly losing. Do not go over that amount. This is called chasing losses and is something you should avoid at all costs.
Variations of Poker
The best poker rooms available to players in Georgia offer the following variations:
Texas Hold'Em
Texas Hold'Em has become the most popular version of poker.
There is limit poker and the more popular no-limit variation.
Omaha High
Omaha High is probably the second most popular form of poker and is similar to Texas Hold'Em.
The main difference with Hold'Em is that you get four "hole cards" instead of two and your hand has to consist of two cards from your hole cards and three cards from the board.
Omaha has several variations
Five Card Draw
Poker in its original form.
This is available at all online poker rooms.
Seven Card Stud
Before Texas Hold'Em started appearing on ESPN, this was the most popular form of poker.
Other variations include:
Omaha Hi/Lo
5 Card Omaha
5 Card Omaha Hi/Lo
6 Card Omaha
6+ Hold'Em
7 Card Stud Hi/Lo
7 Card Stud Low (Also known as Razz)
Showtime Hold'Em
Split Hold'Em
Swap Hold'Em
Not all of these games will be available in every poker room. There are still more variations yet but these are the most popular among them. Similar to sports betting, we advise players to stick with the games they are familiar with when playing for money.
If you would like to explore other games to see if there's a variation that you prefer, we suggest playing at tables that have very small limits. Most of the top online poker sites in Georgia have free tournaments that you can enter. This is the perfect place to practice a game that you aren't as familiar with to see if it's right for you.
Tournaments vs. Cash Games
Speaking of tournaments, that is one of the features you will enjoy the most at any of the sites recommended by our poker experts for online gambling in Georgia. They will have poker tournaments scheduled hours or even days in advance that you can register for. There's also the option of playing in simultaneous tournaments. The same can be done with cash games as well.
The main difference between the cash games and tournaments is that tournaments have an entry fee with the top ten players usually splitting the pot after the poker room takes their cut of course. Most tournaments have the option to buy back in if you've lost early on. There is usually a cut-off time for re-buys. When the poker tournament is finished, the amount of chips you have is not what you win. Your winnings are pre-determined by your finishing position in the tournament. These amounts can be seen as soon as you are registered.
As far as cash games, there is usually a minimum buy-in as well. The main difference is that you aren't splitting anything. In a tournament, the amount of money you have at the end isn't yours. In a cash game, you keep what you make. There is no limit to the number of times you can re-buy into a cash game.
Playing Poker in Georgia
Offshore sportsbooks are the only option available to poker players in Georgia while state lawmakers continue the back and forth regarding legalization that has been going on for the last few years now. The best option out there for anyone in Georgia looking to play poker online is Bovada.
Their reputation in the online poker space precedes them and it's also a place where you are more likely to turn a profit. Sometimes when playing at dedicated poker sites, you run into individuals that spend most of their time playing poker specifically.
You will certainly find that at Bovada's poker room as well. The difference is you will also get sports betting fans that are in the poker room to pass the time until their game is ready to start or because they just want to try poker for a change. That is where you can take advantage and make yourself some nice profits.
FAQ – Georgia Online Poker
Is online poker legal in Georgia?
The state of Georgia has not yet legalized online gambling of any form but the conversation has been underway for a few years. You can, however, legally play online poker with an offshore sportsbook as they are not required to follow state laws.
Is sportsbook gambling legal in Georgia?
Offshore sportsbooks are legal to use in Georgia for betting on both professional sports and college sports, in addition to specialty games.
What gambling apps are legal in Georgia?
Any mobile gambling app that is operated by an offshore sportsbook are legal for Georgia residents to use.
Can I play Bovada poker in Georgia?
You can play poker with Bovada in Georgia. In fact, Bovada is one of our top-rated online poker sites for Georgia residents.
Can you play slot machines in Georgia?
You can not play slot machines at a land-based casino in Georgia. You can, however, play virtual slot machines with an offshore gambling site.