Louisiana Horse Racing Betting – The Best Racebooks in Louisiana 2023 Compared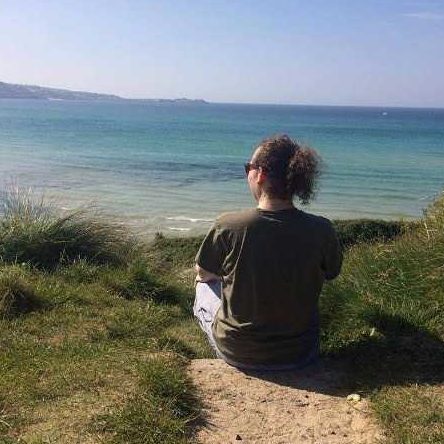 David is a freelance sports journalist who comes from West Midlands. He specializes in sports content, both written and visual. With an impressive record in pre-fight predictions, David is quickly becoming recognized in his field for his in-depth fight analysis and impressive contender & fight history knowledge.
Louisiana is a vibrant state brimming with culture in multiple facets. From the food, jazz, Mardi Gras, New Orleans Pelicans basketball, and New Orleans Saints football, it's forever been a must-visit destination for North Americans and international travelers alike. However, many people don't realize that the Pelican State is a breeding ground for horse racing enthusiasts.
Today, we will go over the local horse racing and the best Louisiana sports betting sites that offer racebooks in the state. To accomplish this, we've provided a comprehensive guide on horse racing betting sites and local race tracks in Louisiana, plus a deeper dive into the state's gambling laws.
Top-Rated Horse Racing Platforms
Ranking the Top 10 Betting Sites for Horse Racing in Louisiana
Our team of experts has conducted an extensive research process on Louisiana horse racing, and the results of our review system have been laid out with a top 10 betting sites list for horse racing in Louisiana.
Is horse racing betting legal in Louisiana?
The state supports horse racing betting in Louisiana, but players must be 18 years of age or older. Current laws provide both avenues of horse betting, whether at the track or online.
Horse racing betting is overseen by the Louisiana Gambling Commission but is separate from sports betting. Betting on-site is recognized at the following tracks:
Fairground Racecourse
Delta Downs
Evangeline Downs
Louisiana Downs
Reviewing the Best Louisiana Horse Racing Betting Sites
We've separated the top-five-ranked Louisiana horse racing betting sites and compiled a list of in-depth assessments below. Bidding Louisiana horse racing bettors can utilize these reviews to understand which operator best suits their needs, from bonus options, banking methods, customer service, market selection, and more.
1. BetOnline: The Best Horse Racing Betting Site in Louisiana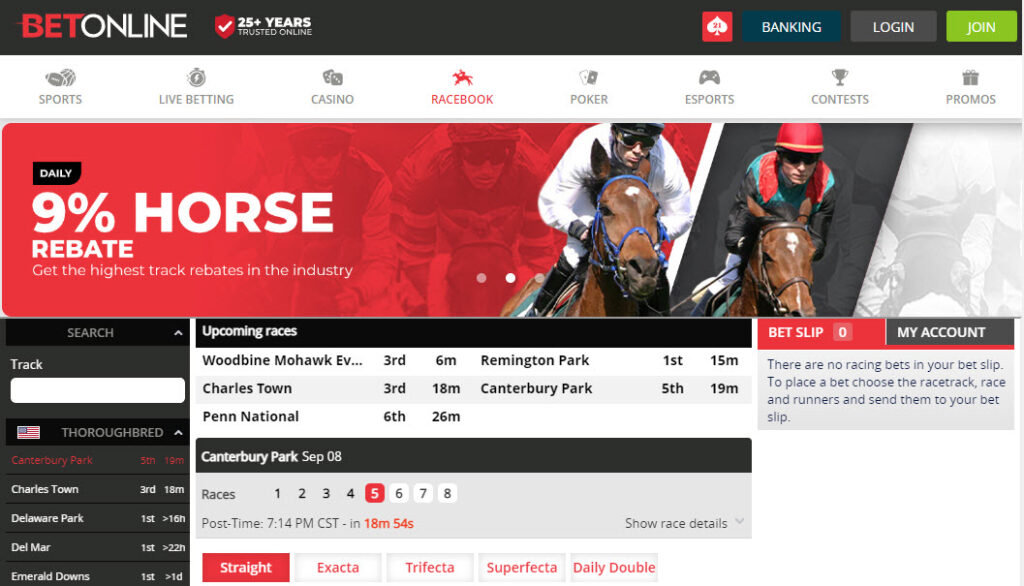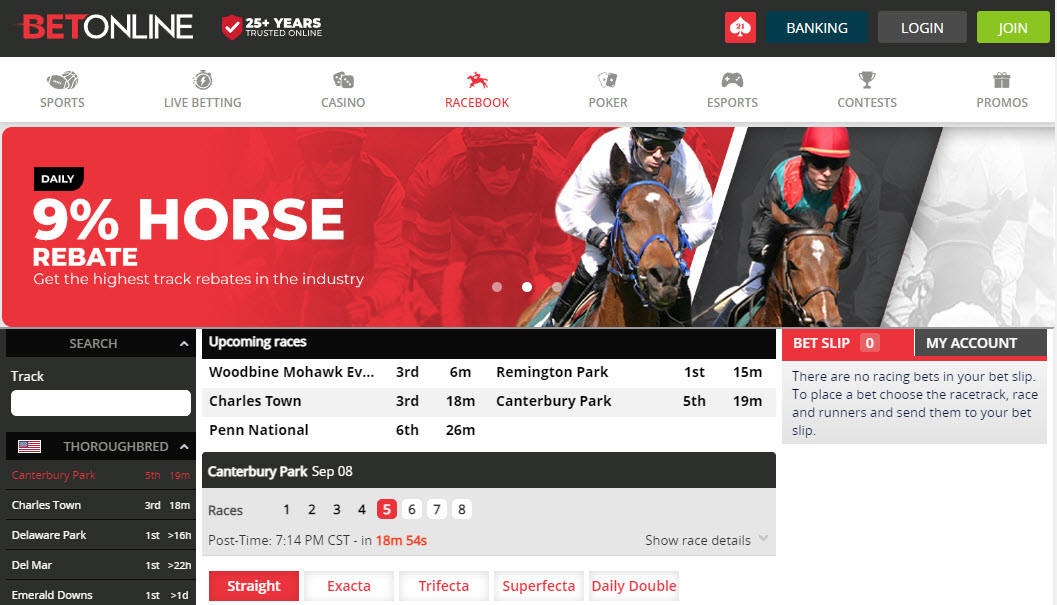 Most renowned for its sportsbook offering, don't be deterred from BetOnline if you want to wager on the ponies. While this horse racing betting site isn't a dedicated portal for ponies wagering, it's an all-rounder in online betting and offers some of the best services for horse racing betting.
With an established reputation exceeding twenty years, BetOnline presents a diverse selection of racetracks from both national and international horse racing tracks – more than 600. Furthermore, the site layout is attractive, simple to navigate, and with a dedicated page for its racebook, there are no issues locating a long list of tracks and a list of races for each given day.
When you've entered your desired race card, bettors will find all the horse racing betting favorites, such as straight, exacta, trifecta, superfecta, daily double, and pick bets. Informative data such as morning odds prices are also displayed to give bettors an estimated look into future potential horse prices.
Horse-racing-specific tools created strictly for horse bettors are a nice touch, with features like the conditional wagering tool that allows you to select a price range you desire, and an auto-bet will be made once the odds have been reached. Not forgetting the multiview tool enabling players to search various markets and place multiple bets.
Pros
Horse-specific betting tools
Early betting lines
Features action on over 600 racetracks
Generous $1,000 welcome bonus applies to racebook
Cons
Credit card deposit fees
No live streaming
2. Bovada: Most Attractive Horse Racing Betting Mobile Site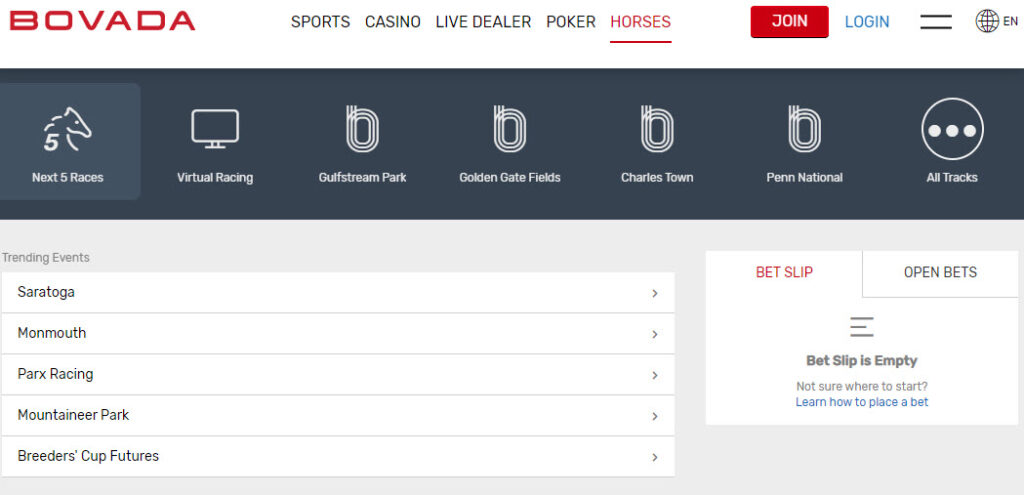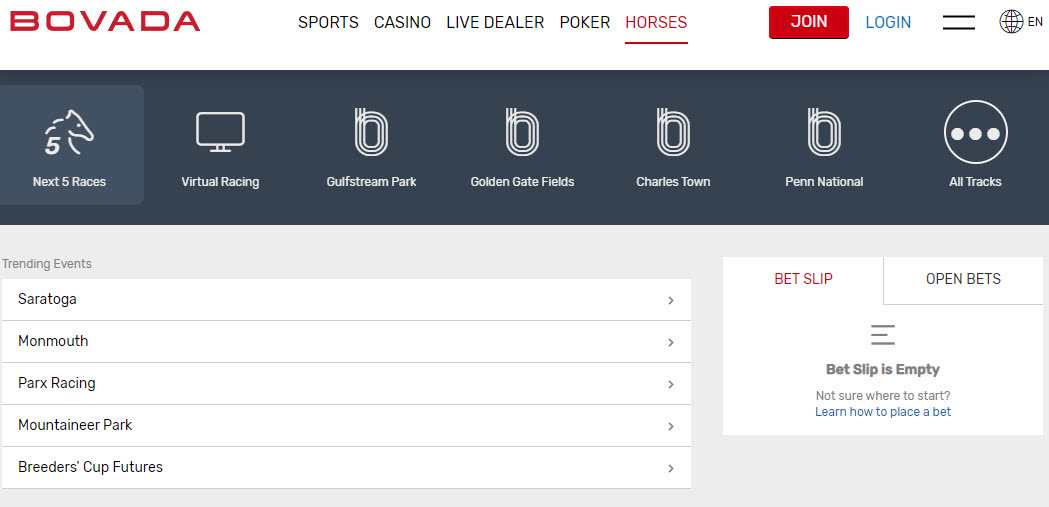 Bovada is a pioneer within the gambling industry, and its operations have stood the test of time. While this bookmaker is predominantly known for its sportsbook services, many are surprised to discover its excellent horse racing betting in Louisiana.
Regarding functionality and layout, there aren't many racebooks able to compete with Bovada in this area. They present a fully optimized mobile site that gives customers access to a standalone racebook, thus avoiding cluttered pages and confusion with alternative wagering services you may not require.
U.S. horse racing meetings are a specialty at Bovada as horse racing bettors will find all the major and regular events from the Pelican State, such as the Louisiana Downs. Furthermore, the offered prices are usually competitive, and although recreational bettors can keep margins tight on betting favorites, this oppositely delivers excellent prices on underdogs.
Pros
Horse racing-specific promotions
Extensive U.S. horse racing markets
Competitive racing odds for outsider horses
Low minimum deposit of $10
Cons
More horse-racing-specific tools would be nice
No live streaming of horse racing events
3. Bookmaker: An Extensive Selection of U.S. & International Tracks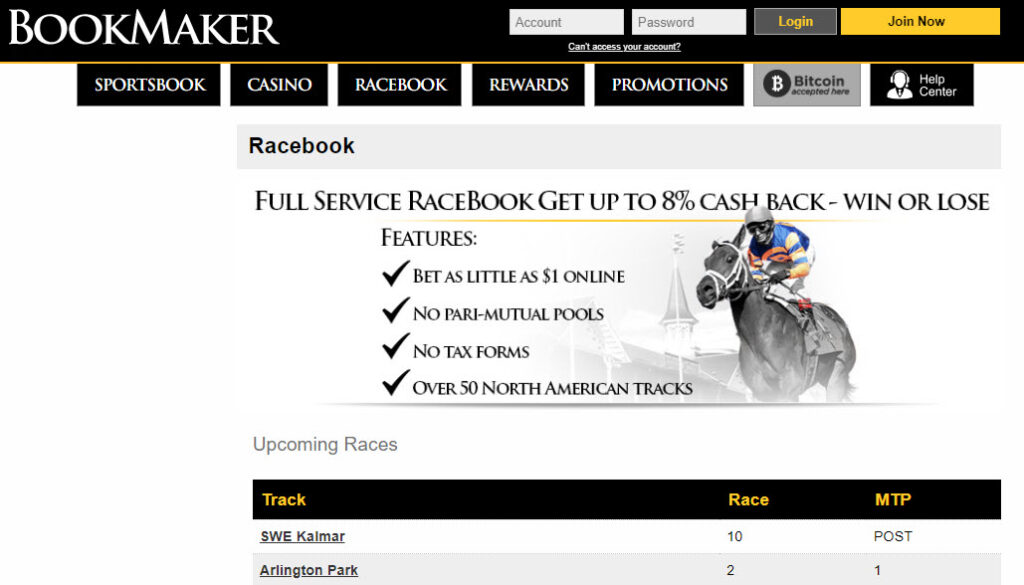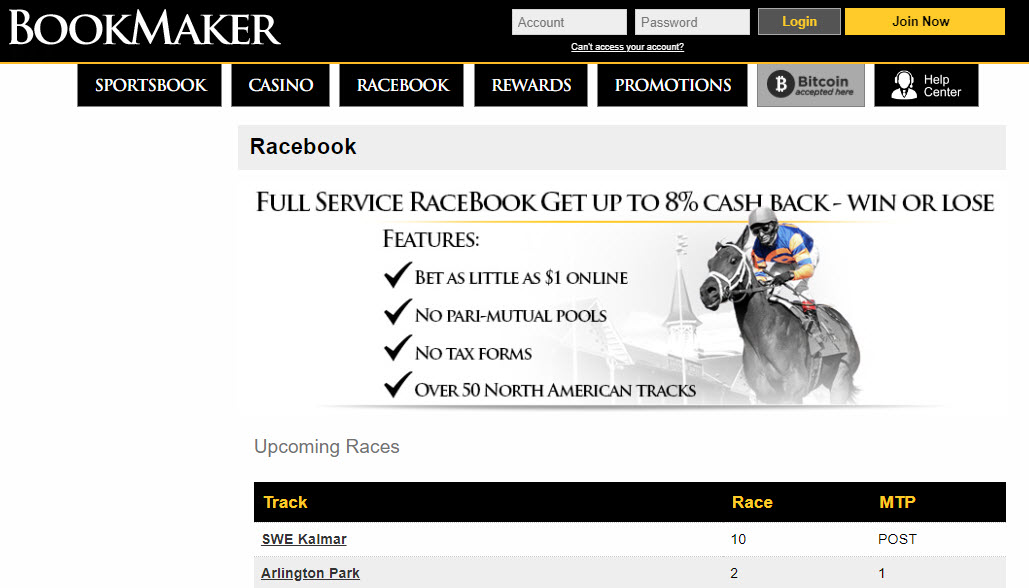 Bookmaker.eu boasts more than 100 horse racing tracks from U.S. and international racetracks to wager on. Horse bettors from Louisiana using this racebook will rarely be stuck for options when reviewing the race cards.
As one of the oldest gambling sites available in North America, Bookmaker owns some core values that other operators cannot match. For example, high betting limits are commonplace, and a company policy doesn't suspend or limit winning bettors. This puts Bookmaker in a unique category as the only racebook in the United States that welcomes profitable players.
Aside from its decades of experience and notable reputation within the industry, Bookmaker offers horse-specific betting features, early released lines, and competitive fixed odds, and does an excellent job of providing customers with responsive customer service, an operational and easy-to-use site, and a variety of banking options with speedy payouts.
Pros
Early released horse betting odds
Some of the highest betting limits in North America
More than 100 national and international racetracks
Horse betting rebates
Cons
The loyalty program does not include professional bettors
Welcome bonuses aren't as high as some rival sites
4. Heritage Sports: A Great Racebook with Horse Betting Rebates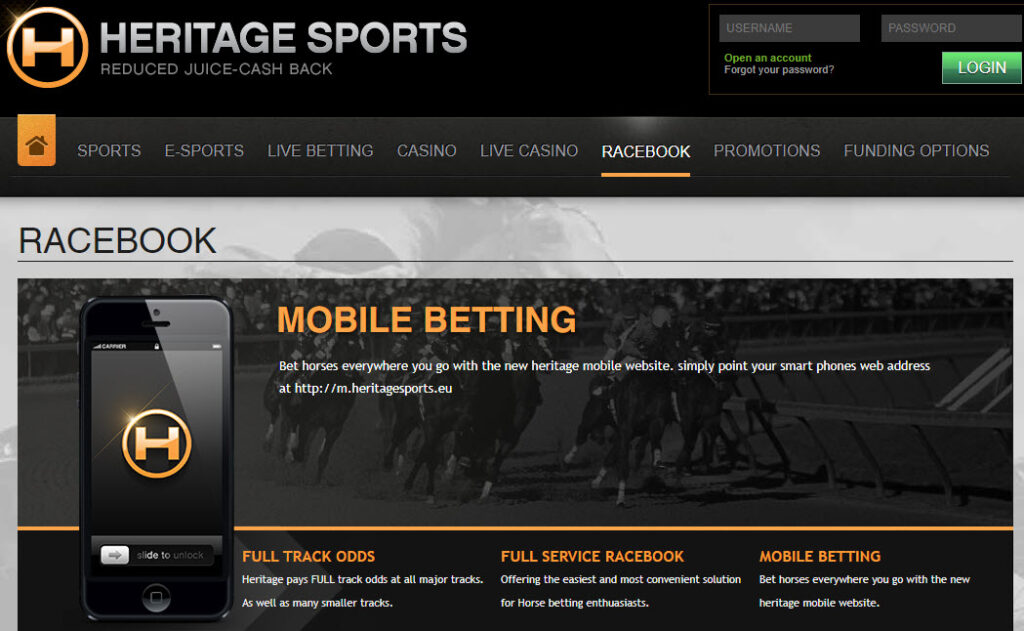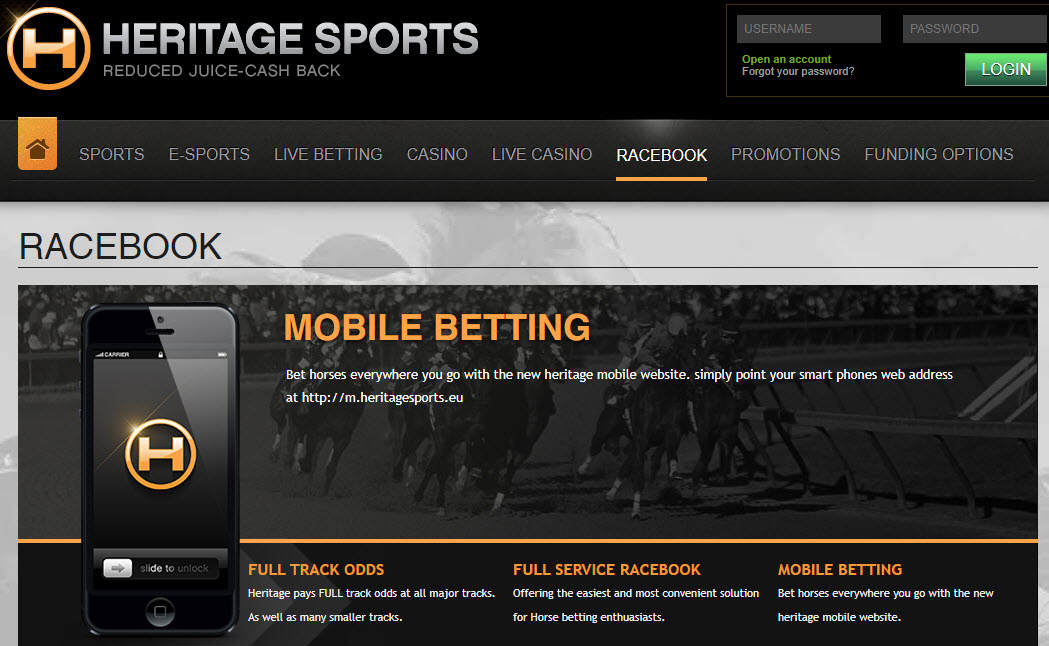 You'll notice a common theme among our top-five rated horse racing betting sites in Louisiana: experience. And with an experienced sportsbook, racebook, and online casino such as Heritage Sports – boasting 25 years within the industry – you cannot go wrong.
Often leading the pack in a race as a top online gambling operator in Louisiana, it should come as no surprise that the racebook at Heritage Sports provides an excellent service. With more than 60 U.S. thoroughbred and harness racetracks to choose from, horse racing betting markets are aplenty.
While Heritage Sports offers various horse racing betting bet types, finding a $200 betting limit on exotic wagers was a delightful perk. Furthermore, betting limits for singles, such as win, place, and show bets, can go as high as $1,000.
Pros
Horse betting rebates
Great option for live betting
High betting limits
Excellent racebook, sportsbook, and casino
Cons
Welcome bonuses aren't as high as some competitors
5. BetAnySports: Cashback Rebates on Horse Wagers, Win or Lose!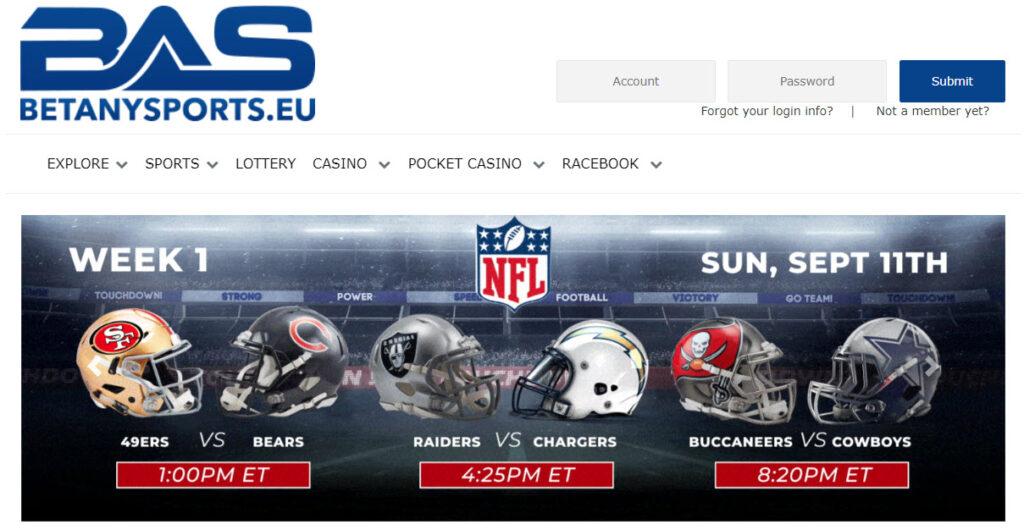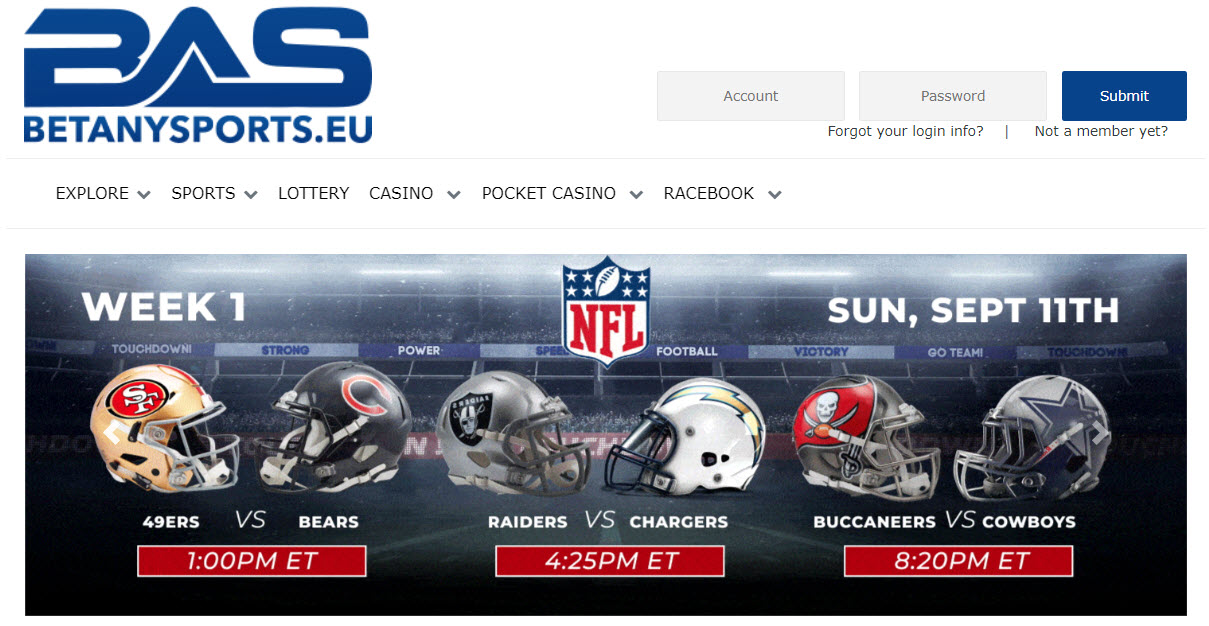 BetAnySports, or BAS, was recently awarded an A+ rating from our team of experts. This operator is a well-established sportsbook with a great casino but is also making strides with its horse racing betting services in Louisiana.
Behind an extensive horse racing betting coverage of U.S. and international race tracks, bettors seeking overall value can't go wrong with BetAnySports's 9% rebate offering. This is the largest rebate percentage of all its competitors, and it's notably awarded whether you win or lose.
The BAS landing page is pleasant, and the site's functionality provides a simple-to-navigate experience. When paired with great customer service, competitive odds, and varied banking options, it's easy to see how this operator has reached our rankings as a top Louisiana horse racing betting site.
Pros
9% horse racing rebates
Specific horse events have 10% rebates
A wide choice of U.S. and international racetracks
Cons
Welcome bonuses could be higher
Offers no live streaming of horse races
The History of Horse Racing in Louisiana
Louisiana owns a deep horse racing history dating back to the 1800s. We've compiled a timeline below to give you a brief look into the history of horse racing in Louisiana.
Louisiana Horse Racing – A Timeline History
2011 – The Louisiana Derby purse reached a record-breaking $1 million.
1974 – Harrah's Racetrack opens its doors and breaks an attendance record in Louisiana with 15,000 people.
1940 – The Louisiana Racing Commission opens to focus on illegal bookmakers and corrupt practices.
1898 – The first Louisiana Derby race is held, still the highest-profile race in the state.
1852 – Fair Grounds Race Course becomes the first race track to open in Louisiana.
Comparing the Best Sites for Betting on Horse Racing in Louisiana
Our team of dedicated racebook experts has spent countless hours reviewing each positive and negative aspect of Louisiana's available horse racing betting sites. And after reading our reviews, you'll notice some of the key features we look for in every operator.
That said, we want to highlight the specific tools, features and services you should look for when attempting to discover the most valuable horse racing betting site. Use the headings below to familiarize yourself with what makes or breaks an online racebook.
Horse Racing Odds
One of the most important aspects when looking into an online horse racing betting site is the value on offer. The odds you receive for each bet are imperative in gaining an advantage and succeeding long-term as a profitable bettor. Line shopping is important, and you should always look for the best available price on each wager you place, but to make life simpler, you need access to the top Louisiana betting sites that provide competitive odds.
Distinguishing the sites that present the most valuable betting odds isn't easy, as you'll find the best price for one race, and the next day another site will be the best. However, the Louisiana horse racing betting sites that reach our top 10 rankings regularly offer the most competitive prices. You can ensure you're not receiving the best available price; you'll be close to it.
Horse Racing Betting Markets
Market coverage is a double-edged sword, as casual horse bettors won't complain about the basic range of bets that should include win, place, and show bets. However, more experienced horse bettors or those who want to discover a wider variety of bet types should look for operators that provide a selection of markets such as exacta, trifecta, superfecta, and daily doubles. Pick bets have also become popular prop wagers that allow customers to include multiple bets throughout multiple races, similar to a traditional parlay.
The horse racing betting sites reaching our top rankings will cover all of the above and more. Recreational bettors will likely overlook this factor, but for our die-hard bettors, variety in a site's market coverage can decide whether or not an operator's services are worth utilizing.
Horse Racing Betting Bonuses & Promotions
Horse racing betting site promotions and welcome bonuses are a significant part of our vetting process. Most operators utilize welcome bonuses to attract new customers, but we also consider the terms and conditions surrounding the bonus and whether or not the rollover requirement is respectable. In addition to welcome bonuses, we want excellent offers for returning customers; these promos can include enhanced odds or betting lines, reload bonuses, rebates, and horse betting-specific offers.
Aside from the aforementioned factors we consider when looking for the best Louisiana horse racing betting site, our experts also consider the following:
Special horse racing features
A user-friendly design with up-to-date software
Live betting & streaming
Choosing the Best Louisiana Horse Racing Betting Sites
Some racebooks undoubtedly provide greater services than others, and some crucial factors can be used to separate the best from the rest. Below are some key aspects you should consider before selecting a Louisiana horse racing betting site.
Brand Recognition
Brand recognition is a major player, as the opinion of others can ruin an operator's reputation. Nobody wants to use an untrustworthy brand, and multiple ways exist to judge these sites.
Our experts look for a positive reputation, but we also want fast banking options that pay out quickly and on time, as well as the best offers and promotions. Our top 10 horse racing betting sites excel in these areas, and we wouldn't accept anything less.
Payment Methods
The process of depositing and withdrawing must be made simple. We like to see betting sites that present a wide selection of banking methods, and those without fees are also given extra points.
Safety & Security
Perhaps the most crucial of them all, an operator must always keep their customer's accounts safe and secure. Ensure that your site has SSL certificates, is licensed, and can deliver ring-fenced bankrolls.
Speed & Design
Bouncing from page to page without lag or crashing pages is important for a horse bettor. An operator's mobile or desktop site should be fast and smooth to provide a seamless browsing experience.
A site landing page's presentability and design are other key aspects. A cluttered online horse race betting site with too many promotions can slow down, whereas simplicity often increases speed. Bovada is a prime example of a site that's functionality, speed and design are perfect for online wagering.
Customer Service
The best online horse race betting sites in Louisiana must provide a point of contact for customers experiencing issues. Live chat is the most approached method for customer complaints, but having a landline phone number is also important. Some betting sites provide only email addresses or contact forms, but these drawn-out processes with limited options for customer support are red flags.
Louisiana Horse Racing Betting Guide – How to bet on horse races in Louisiana?
Even the most novice of internet users will find betting on horses in Louisiana simple, but for those wanting to understand a little further, we'll highlight a few factors you should be aware of.
Firstly, online betting sites like those mentioned in this guide feature hundreds of tracks so they can allow bettors to select from horse races worldwide. Before jumping into your first bet, understand the race type and whether it's a flat or a jump race. American racetracks often focus on flat racing, but harness racing is another popular option. Europe slightly differs, as you'll find a variety of flat and jump races.
You'll then need to select a horse racing betting market. Which offshore racebook you choose will dictate how many choices you have in this regard, but most online horse betting sites will have win, place, and show wagers.
Once you've studied a horse's form or have a tip on which horse to bet on, you simply enter your stake and confirm the bet. Remember to shop for the best odds, and we recommend registering with more than one of the best LA horse betting sites.
Comparing Betting at the Racetrack with Online Horse Race Betting
The thrill of watching a live horse race in person is an experience that cannot be matched, especially if it's a big race like the Belmont Stakes, or when you've got a wager or two to cheer on. However, for horse racing fans looking to place regular wagers, there are many positives to using online horse betting sites as opposed to betting at the track.
The variety of races to bet on, dedicated horse racing betting tools, bonuses, competitive odds, and live streaming of multiple races simply won't be possible when visiting a single track.
Other Types of Gambling in Louisiana
One of the best attractions about the top-ranked racebooks in this guide is that you can wager on more than just horse races.
All of the top operators provide online options for sports betting, including sports wagering on the NFL, MLB, NHL, NBA, NCAA, MMA, golf, tennis, motorsports and much more.
In addition to operating online sportsbooks, most online horse betting sites also provide an online casino. Customers can place a horse wager, a bet on the NFL, and then jump into the casino with hundreds of slots, table games, and even live dealer poker.
What is the best site for horse racing betting in Louisiana?
Our team of online gambling site experts has positioned BetOnline and Bovada as the best Louisiana horse racing betting platforms. This is because of the overall services offered by betting market depth, competitive prices, horse racing-specific tools, and site basics like functionality, customer service, and promotions.
However, we cannot pick the best horse racing betting site in Louisiana for you. Personal preference will determine which site you believe offers the best services, and each customer will place one feature above another. For this reason, we recommend you try and test a handful of our top-rated sites, or even all of them, over time.
FAQs – Online Horse Race Betting in Louisiana
Is horse racing betting legal in Louisiana?
Yes, residents of Louisiana can legally use horse race betting sites or visit Louisiana Downs Casino & Racetrack for in-person pari-mutuel betting. 
What is the big horse race in Louisiana?
There are not many major races in the state; however, the Louisiana Derby is the highest-profile race in the state. This historic horse racing event takes place in March of every year at the Fair Grounds Race Course with a $1 million purse.
Are there horse races in Louisiana?
Yes, Louisiana is the home of several racetracks, including the Fair Grounds Race Course, where the popular Louisiana Derby is held each year.