Kentucky Sports Betting Sites – Legalization & Updates – Sportsbooks Reviewed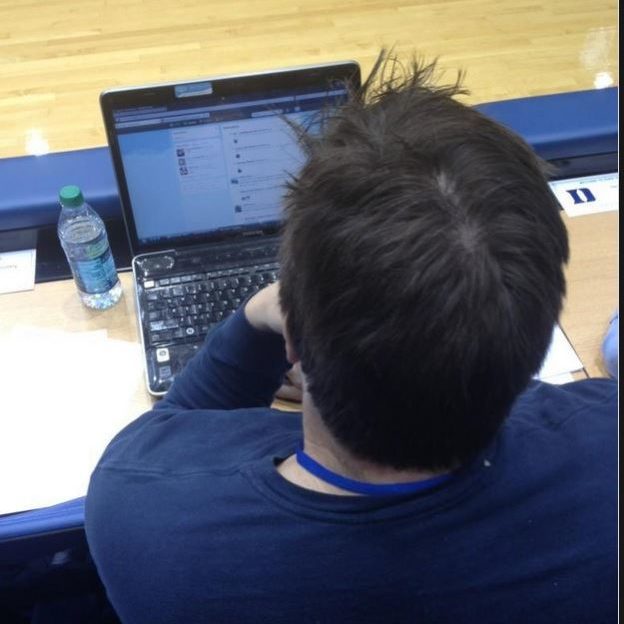 Shawn West has been involved with college basketball, NFL and college football and MLB since he left his job as bank vice president two decades ago. He lives in North Carolina with his wife, children, two dachshunds and a variety of turtles.
As of September 2023, sports betting is now available in the state of Kentucky. On September 7, 2023, local retail sportsbooks went live, followed by online sports betting on September 28. Kentucky residents can now place their bets online and in person with one of the few regulated sportsbooks.
That doesn't mean those are the only options for Kentuckians seeking online sports betting options, as there are a number of offshore sportsbooks and apps that have long been catering to residents in the U.S., including Kentucky, the best of which are covered in this guide.
Is sports betting legal in Kentucky?
One of the most common questions we get is "Can I bet on sports in Kentucky?" The answer is "it depends." If you're looking to go to a casino or other retail sports betting provider in the state and bet on a big game or if you want to find a local company that offers online sports gambling, then we have bad news for you.
Other than horse racing, which should come as no surprise that it is legal in the home of Churchill Downs Racetrack, there are currently no state-regulated options for in-person sports betting or online sports betting. That means no retail sportsbooks or online sportsbooks, no physical or online casinos and no video poker games.
Sports betting has been legalized in Kentucky, however, there are currently no regulated online sports betting operators available in the state nor are there any retail locations offering in-person wagering at this time. It's likely that it will take time before the first regulated sports betting sites start accepting legal bets from Kentucky residents.
Offshore sportsbooks such as the ones in our 10 best online sportsbooks in Kentucky are available to residents of the state. There is no Kentucky state law or U.S. Federal regulation prohibiting Kentuckians from using them to bet on sports, races or casino games and from winning money on them, if you are of the legal betting age required by the sportsbooks (18). The offshore books are not subject to Kentucky's laws or the U.S. Federal government's legislation on gambling.
Legal Timeline of Online Kentucky Sports Betting
Kentucky's legal timeline of betting traces the evolution of gambling practices in the state from its earliest horse races in 1787 to the recent legislative efforts to regulate sports betting and online gaming in 2023. Over the centuries, Kentucky has witnessed various shifts in its betting landscape. This timeline provides insight into the complex history and legislative developments that have shaped the betting industry in the Bluegrass State.
September 2023: Six facilities owned and operated by Churchill Downs begin taking in-person sports bets on September 7.
July 2023: The Kentucky Horse Racing Commission makes a significant announcement by revealing the official launch dates for sportsbooks in the state. Retail operators will kick off their operations on September 7, while online operators are set to start on September 28. This declaration marks a pivotal moment in the state's gambling industry, eagerly anticipated by both businesses and bettors.
February 2023: Republican Representative Michael Meredith takes a proactive step by introducing House Bill 551. This bill's primary goal is to legalize and regulate live sports betting in Kentucky, along with permitting users to create online betting accounts. Additionally, the bill seeks to empower the Kentucky Horse Racing Commission with the authority to regulate gaming establishments. It reflects the state's push for structured and controlled gambling activities.
2023: In a notable move, House Bill 106 is introduced with the support of legislators Derrick Graham, Cherlynn Stevenson and Rachel Roberts. If approved, this bill would pave the way for the legalization of online sports betting and online poker in Kentucky. Notably, the bill also addresses the regulation of fantasy sports, which currently operate in a legal gray area. This legislative initiative underscores the state's efforts to modernize its approach to gambling.
2022: For the third consecutive year, a bill related to gambling is proposed in the state. This time, the bill successfully passes the state house but faces challenges in garnering sufficient Republican support to advance through the state senate. The legislative process highlights the ongoing debates and complexities surrounding gambling legislation in Kentucky.
2021: Despite previous attempts, the legislature introduces another gambling-related bill. However, this bill fails to pass due to "additional priorities" related to the COVID-19 pandemic, signaling the impact of public health concerns on the state's legislative agenda.
2020: Against the backdrop of the COVID-19 pandemic, a state law proposal emerges with the aim of legalizing a range of gambling activities, including sports betting, daily fantasy sports and online casinos. However, the proposal does not gain traction, partly due to the pandemic's disruptions and a shift in legislative priorities during this challenging time.
1988: A significant milestone in Kentucky's gambling history is marked as the state initiates the Kentucky state lottery. This introduction adds a new dimension to the state's gambling offerings, expanding beyond traditional forms of betting.
1984: The practice of simulcasting the Kentucky Derby to tracks around the nation begins. This development broadens the reach and popularity of the iconic horse racing event, establishing it as a nationwide phenomenon.
1911: The Kentucky Derby undergoes changes in its betting format, introducing a live betting window and reducing the minimum bet from $5 to $2. These alterations enhance the accessibility and appeal of wagering on this prestigious race.
1908: Pari-mutuel betting machines make a return, offering a more systematic and organized way for bettors to place their wagers on horse racing events.
1889: In response to the urging of bookmakers, pari-mutuel wagering machines are removed from the Kentucky Derby. This decision reflects the ongoing debates and negotiations between different stakeholders in the betting industry.
1886: A dispute over licensing fees leads to bookmakers boycotting the Kentucky Derby for one year. This historical incident showcases the occasional challenges and conflicts that have shaped the betting landscape in Kentucky.
1875: A momentous occasion takes place as the first-ever Kentucky Derby is held, laying the foundation for the state's enduring association with horse racing and betting.
1787: The earliest horse races in Kentucky are held, marking the nascent stages of the state's long and storied history in horse racing and gambling
As Kentucky continues to grapple with the complexities of modern gambling, from live sports betting to online casinos, the legal timeline of betting in the state reflects the ongoing efforts to adapt to changing times while preserving its rich heritage in horse racing and betting traditions.
Kentucky Sports Betting Sites 
BMR experts have selected 10 preferred sites for online gambling, ranking them in order of preference. Each site in the top 10 has a long reputation, built over years, of providing safe, trustworthy service.   
BookMaker – The best overall online sportsbook in Kentucky
Heritage Sports – Top choice for live betting  
Bovada – Deepest menu of prop bets in KY
BetOnline – Competitive lines and quick payouts 
BetAnySports – The best reduced juice in KY  
BetUS – Biggest bonuses in the state
WagerWeb – Crypto users get same-day payouts   
JustBet – Something to like for experienced bettors and rookies
Everygame – Most sporting events from around the world
GTbets  – Get a little extra help when betting on your favorite team
Top Kentucky Sports Betting Sites for KY Players  
Our panel of experts has made their picks of the top 10 online sportsbooks in Kentucky. However, we're sure that any of the sites in the top 10 will give you reliable service, treat you fairly and offer a wide variety of betting options on your favorite professional sports teams, college sports and more. So the final choice is up to you.
1. Best Kentucky Betting Site Overall : Bookmaker.eu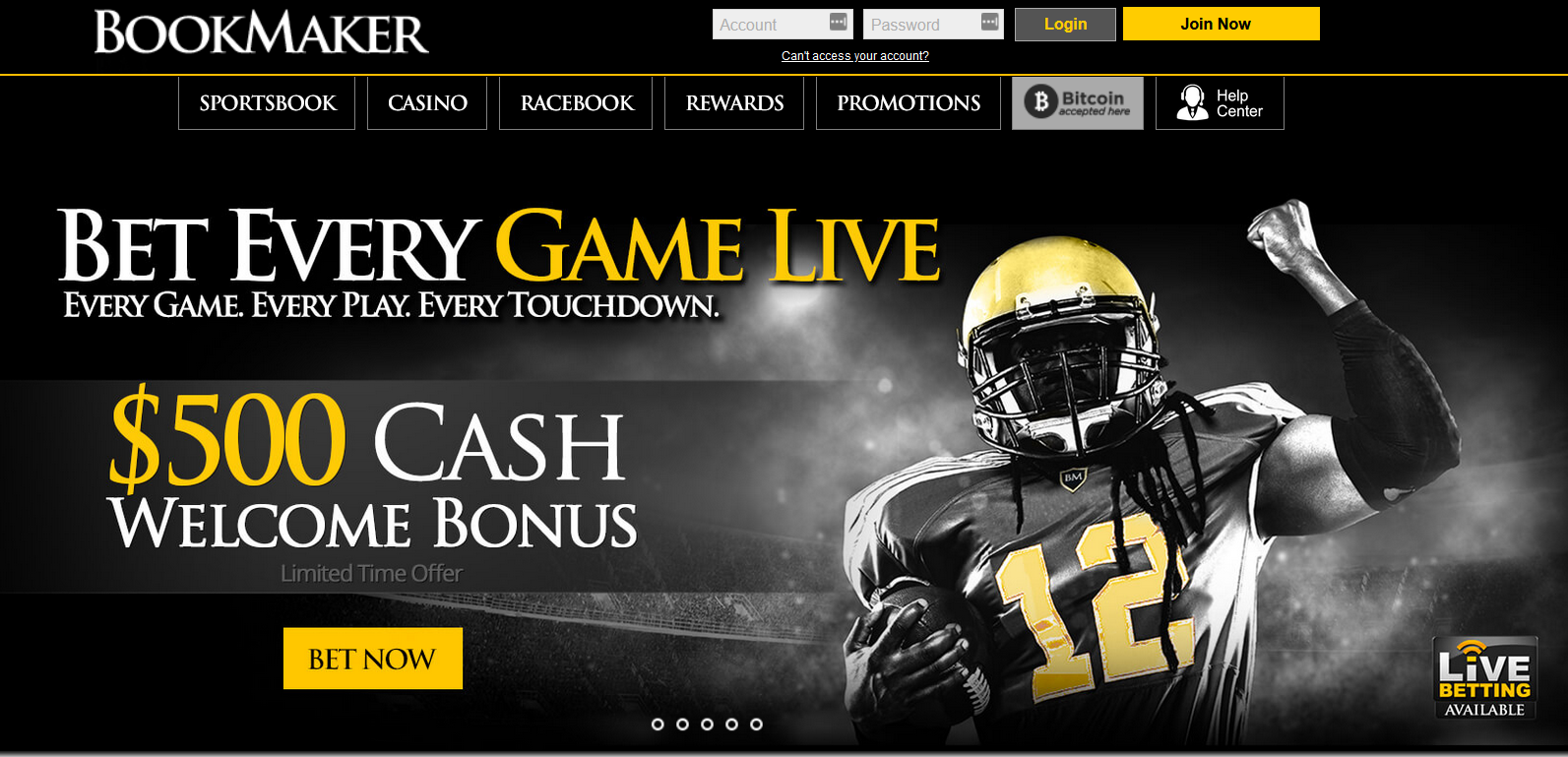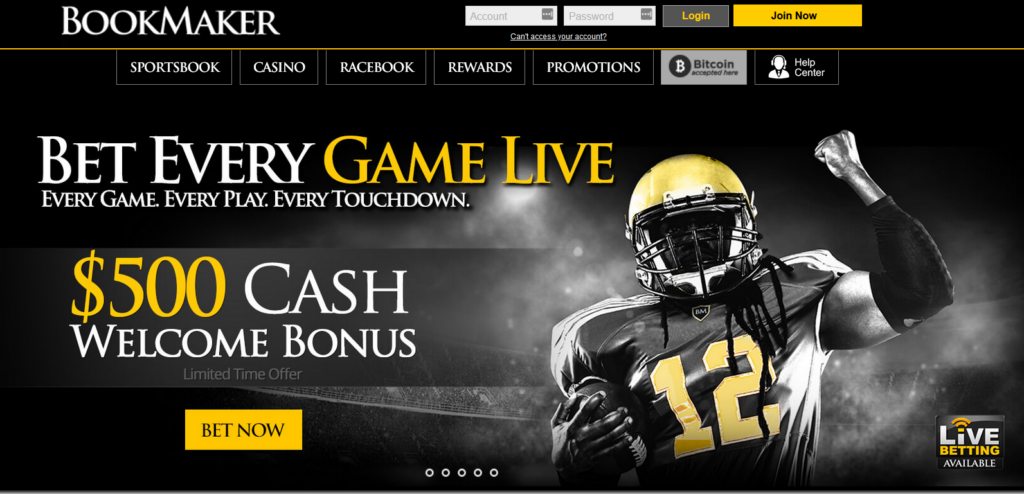 Highlights:
High limits and low minimum bets

Years of service make it a safe, reliable sportsbook
Flexible welcome bonuses
BookMaker.eu finished in the No. 1 spot in our top 10 and is our panel's choice as the best overall online sportsbook in Kentucky. One of its major strengths is that it has something for everyone—whether you're a longtime gambler, a high roller, more cautious with your money or brand new and unfamiliar with how an online book works, you'll find BookMaker fits your needs.
While its world-class sportsbook is what placed it atop our list, you'll also benefit from its other offerings, including a racebook and an online casino packed with games.
BookMaker is located in Costa Rica, which means they are subject to that nation's laws regarding gambling, not those that regulate Kentucky companies or places under the jurisdiction of U.S. Federal laws. They've also been around for a long time and they've built an outstanding reputation for dependable service and secure handling of financial transactions. Plus, they pay out quickly and in full. 
BookMaker has flexible welcome bonuses, which allow you to find one that suits you. One of the most common choices is the 25% cash bonus up to $500. Gamblers who use cryptocurrency get special treatment, including extra bonuses on deposits and same-day payouts. BookMaker's loyalty program is also one of the best around.
2. Top Kentucky Betting Site for Live Betting: Heritage Sports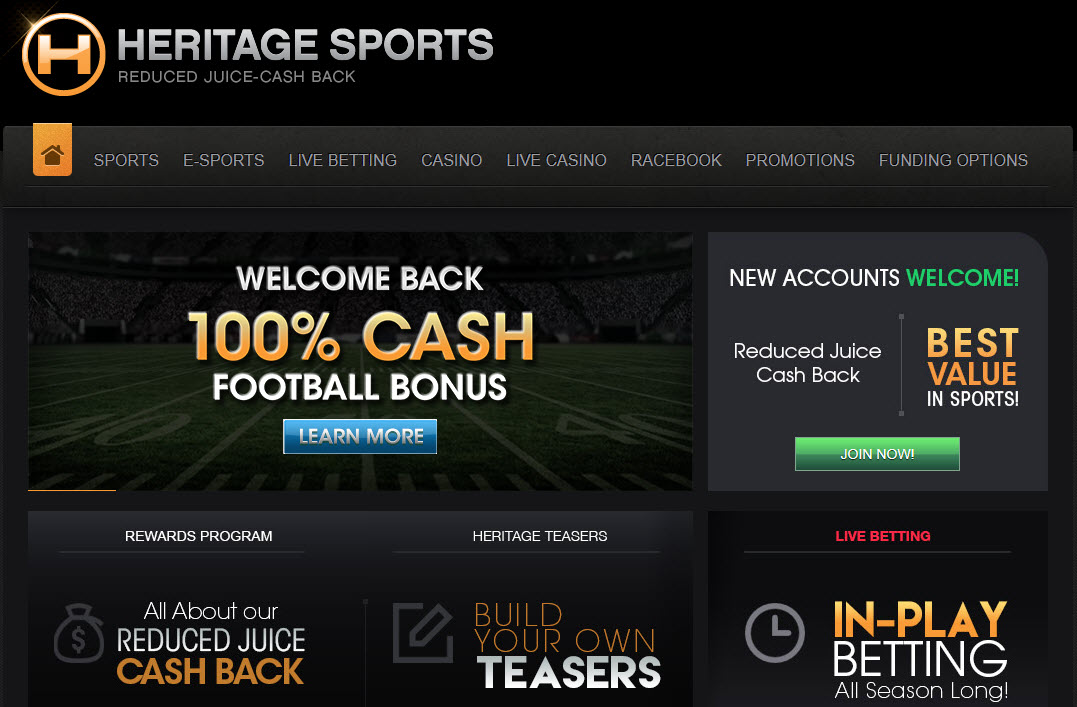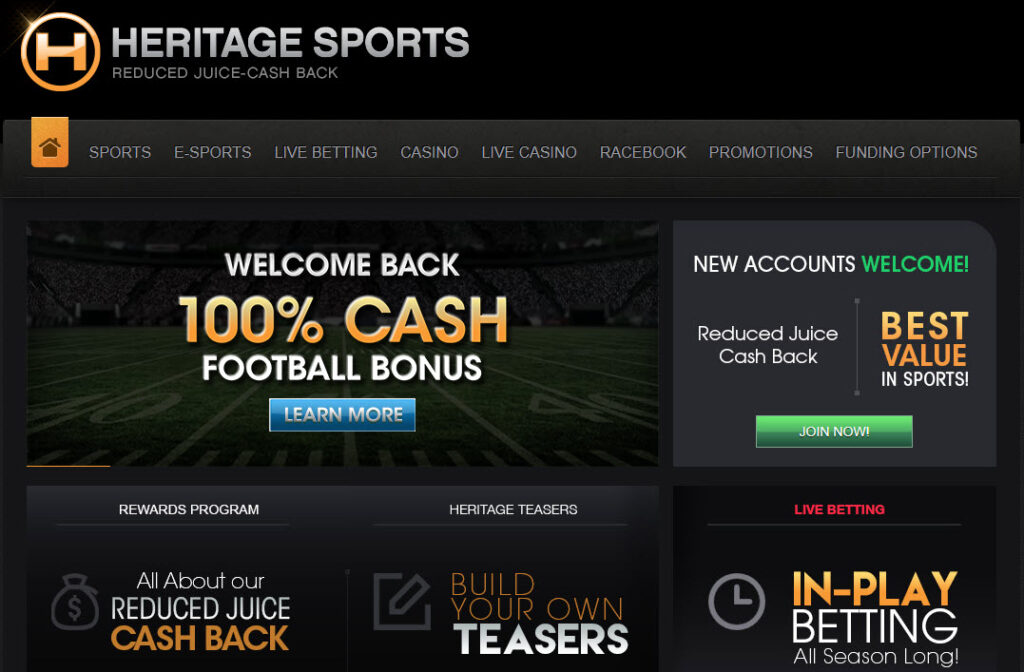 Heritage Sports comes in second in our rankings of the top online sportsbooks available to Kentucky gamblers.
Heritage Sports earned special recognition from our panel of experts as being the best option in Kentucky for live betting. One of the most popular recent trends in gambling is betting on games and matches while they're in progress. Heritage Sports was one of the pioneers in live betting, offering it before most competitors and its live betting interface is still one of the best in Kentucky.  
The sportsbook also knocks a few points off the odds on either side of a spread or line—a practice known as reduced juice. Instead of offering odds of -110, which is the industry standard, Heritage Sports sets odds at -108. That's a small saving on every bet that adds up and is the equivalent of a 20% discount over the long run. It also makes it easier for you to turn a profit while betting on sports.
Heritage Sports' bonuses and cash-back rebate program for loyal customers are also worth a mention. There's no live online poker room, but they have an online casino with a deep menu of games, including live dealer games.  
Pros:
Reduced juice betting lines make it easier to profit  
Live betting interface is the best in Kentucky
Cash-back rebates for loyal customers
Nice variety of prop betting options
Cons:
Welcome bonuses aren't as big as at some competitors
No live poker room  
3. Best Kentucky Sports Betting Site for Mobile Platform: Bovada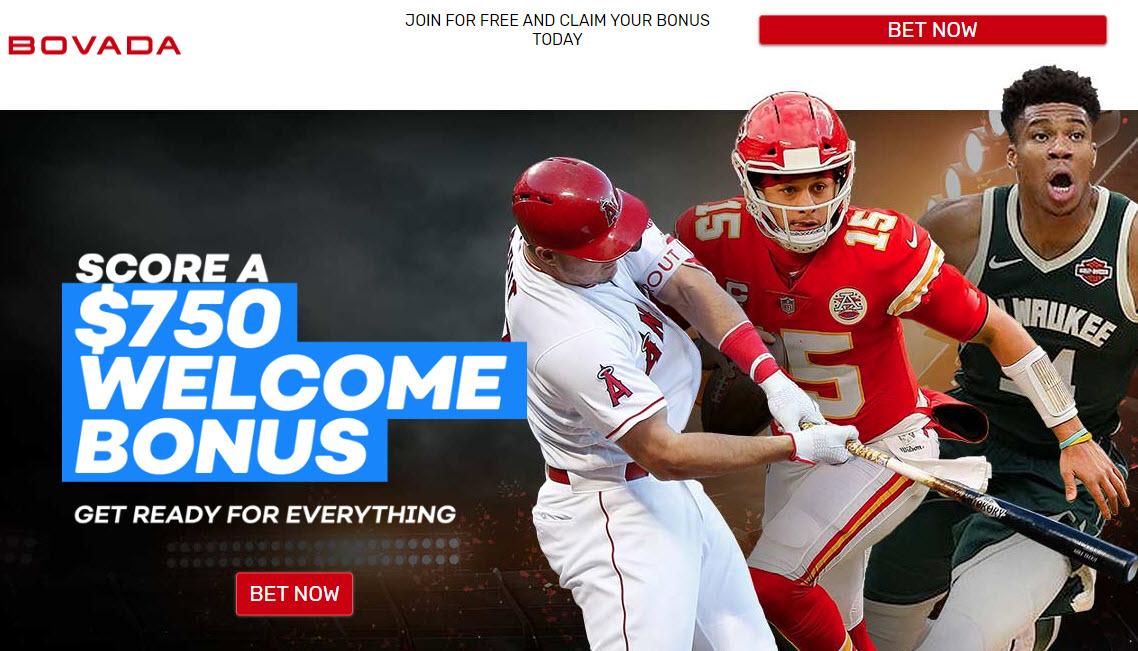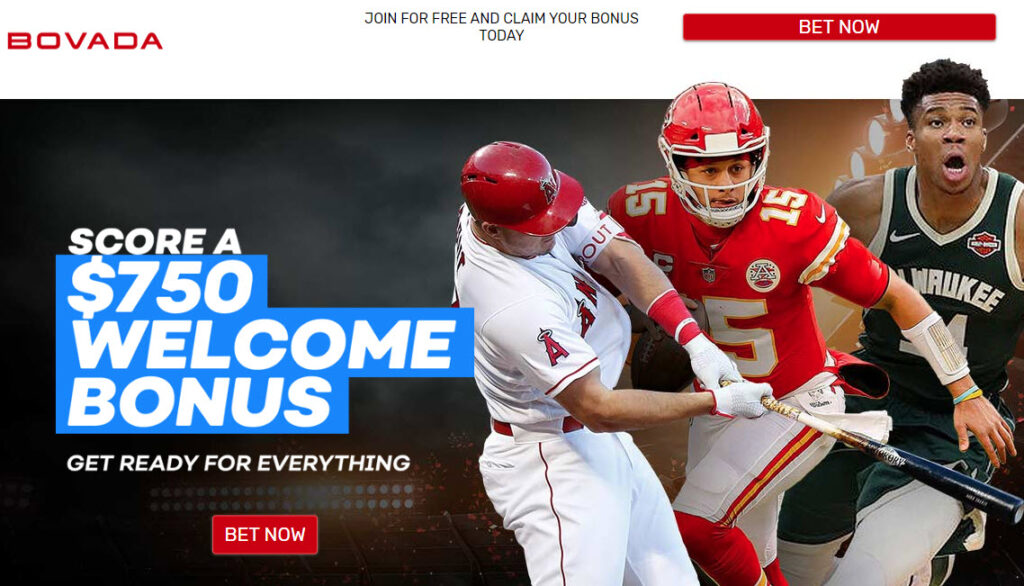 Bovada has a cult-like following among its biggest fans, thanks to a high-level full casino experience. 
These rankings are based on each site's online sportsbook and Bovada has one of the best ones in Kentucky. You can also take care of all your online wagering needs in one spot at Bovada, including a world-class racebook, a huge menu of online casino games and America's busiest live online poker room.  
The sportsbook has more prop bet offerings than anyone else. It also offers you the opportunity to suggest prop bets for them if you can't find the one you want. 
Bovada's user interface is optimized for all platforms, which means you get the same gambling experience on your mobile device as you would on the full-blown Bovada site. Plus there is a nice variety of promo codes at Bovada for customers who register for their first account.
Pros:
Biggest variety of sports prop bets available in KY 
The busiest poker room  in America 
Mobile platform as good as the main site and the best in Kentucky 
Several different options for welcome bonuses  
Cons:
Limits aren't as high as elsewhere 
Not as timely in releasing odds and betting lines 
4. Best Kentucky Sports Betting Site for Opinionated Lines: BetOnline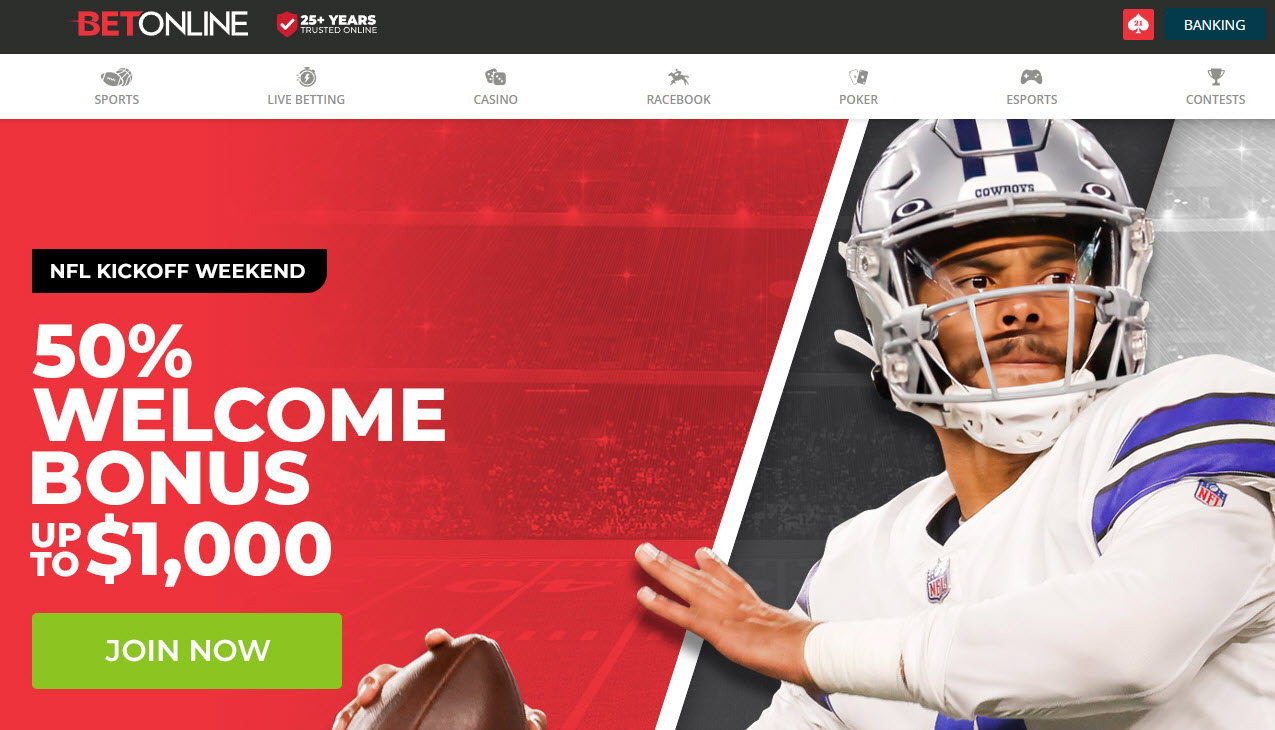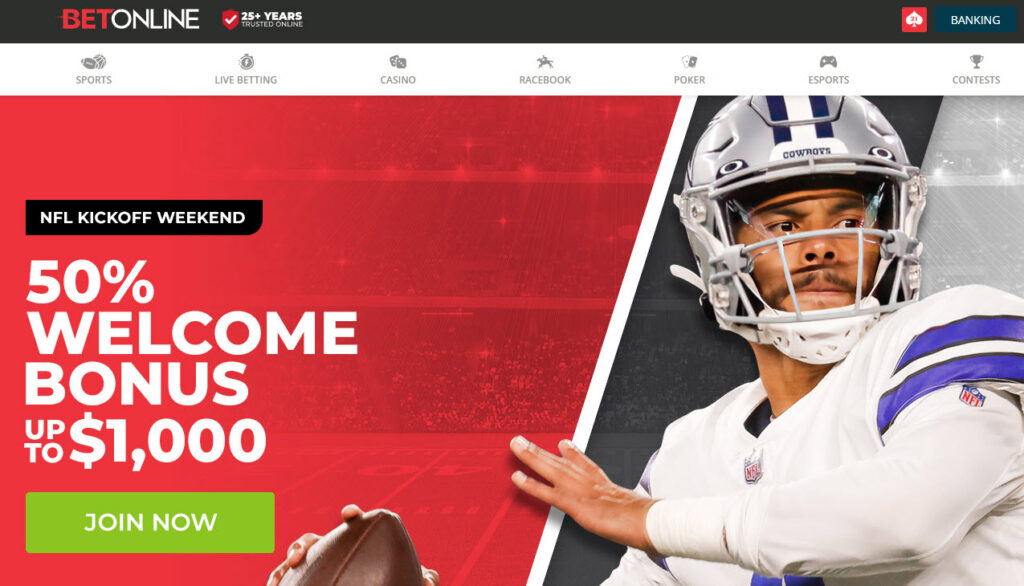 We've discussed how reduced juice can help save you money and adds up over time, making it easier to profit while gambling on sports. That involves cutting lines on either side of a spread or total cutoff amount from -110 to -108 or -105.  
Another tweak to the standard lines is known as an opinionated line. They're less common, but they give savvy gamblers a chance to earn extra money if they are on the right side of the line. And BetOnline is the home of opinionated lines in Kentucky.
Here's how they work: Instead of odds on either side of the cutoff being -110/-110, BetOnline sets different odds on either side of the cutoff: -113/-107 for instance, or -112/-108. That means you'll find different betting lines at BetOnline than at its competitors and differences give you the room to find value if you pick correctly.
BetOnline has more than just sports value. It is a member of the third-busiest online poker network in America. It also has a racebook and an online casino. And if you plan on betting via phone or tablet, you'll find BetOnline's mobile platform to have the same experience as the full-blown site, since it's optimized for mobile sports betting.
BetOnline's welcome bonus is 50% of your first deposit, but if you deposit crypto, it doubles to a 100% match up to $1,000 in bonus funds.  
Pros:
Best source of opinionated lines in the state, offering the opportunity to find value
Highest betting limits in the state 
50% welcome bonus that doubles for crypto users
Mobile-optimized site for both phone and tablet
Cons:
No reduced juice lines except for NHL games
Limited prop betting menu
5. Best Kentucky Sports Betting Site for Reduced Juice: BetAnySports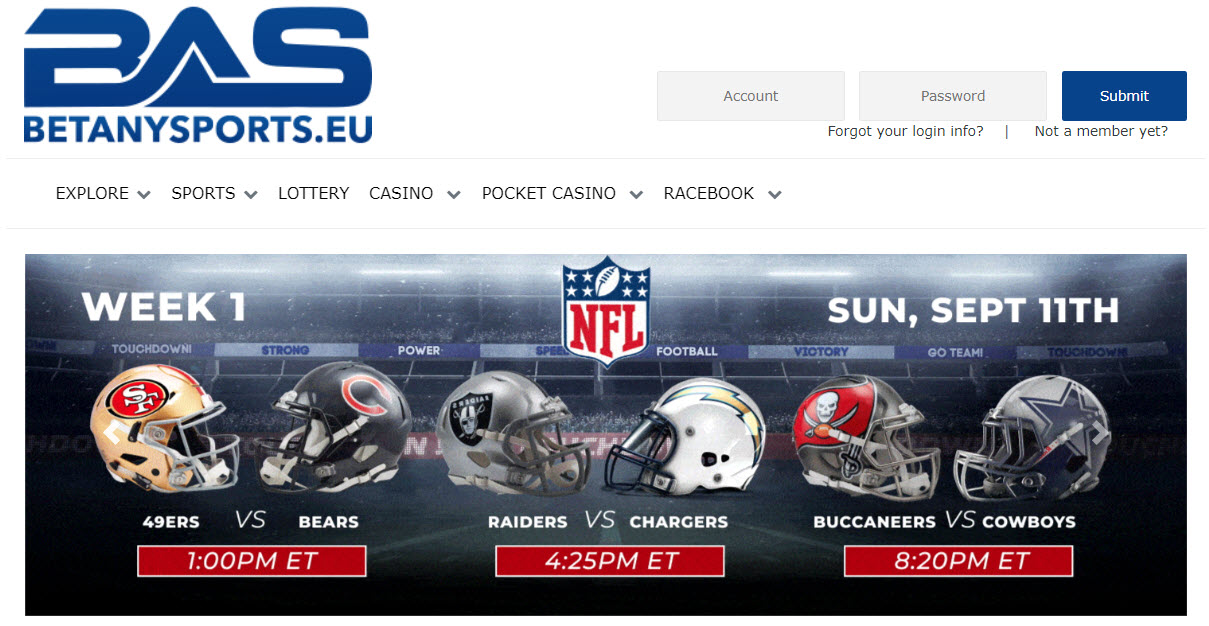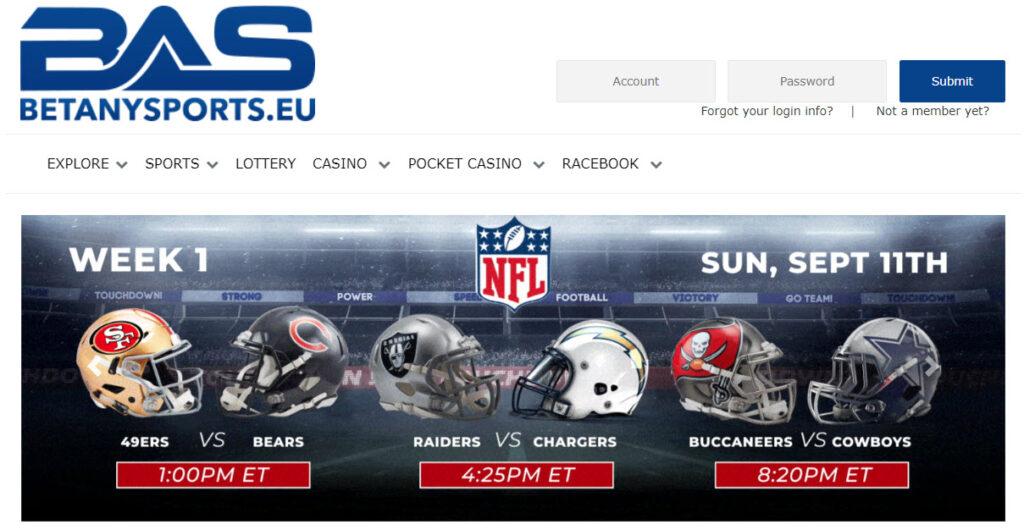 BetAnySports is Kentucky's leader in reduced juice lines, making it the best-value online sportsbook in the state.
Reduced juice refers to lowering lines on either side of a spread or total cutoff, which is the equivalent of giving gamblers a discount. It's a small bump to your profit margin but can build up over a number of bets.
BetAnySports sets lines at -105, which is basically a 50% discount compared to sites that don't offer reduced juice. That lowers the percentage of bets you'd need to win to about 51.5%.  
More profit for you means less for the sportsbook and, like many low-price providers in other industries, BetAnySports cuts overhead elsewhere in order to offer value to its customers. Promo offers for people opening new accounts and ongoing promotions for loyal customers are lower than competing sites and BetAnySports' user interface is more bare-bones, making it more difficult to navigate.
While the platform focuses on sports betting, there is also a BetAnySports casino with an impressive selection of games available.
Pros:
Bets reduced juice in the state makes it Kentucky's value leader in online sportsbooks
Odds on other types of bets (moneylines, props and futures) are also extremely favorable  
Live betting interface is one of the best in the state
Fast, easy payouts  
Cons:
Not as user-friendly as other sites due to the scaled-down user interface 
Bonuses and promotions are low  
6. Best Kentucky Sports Betting Site for VIP Service: BetUS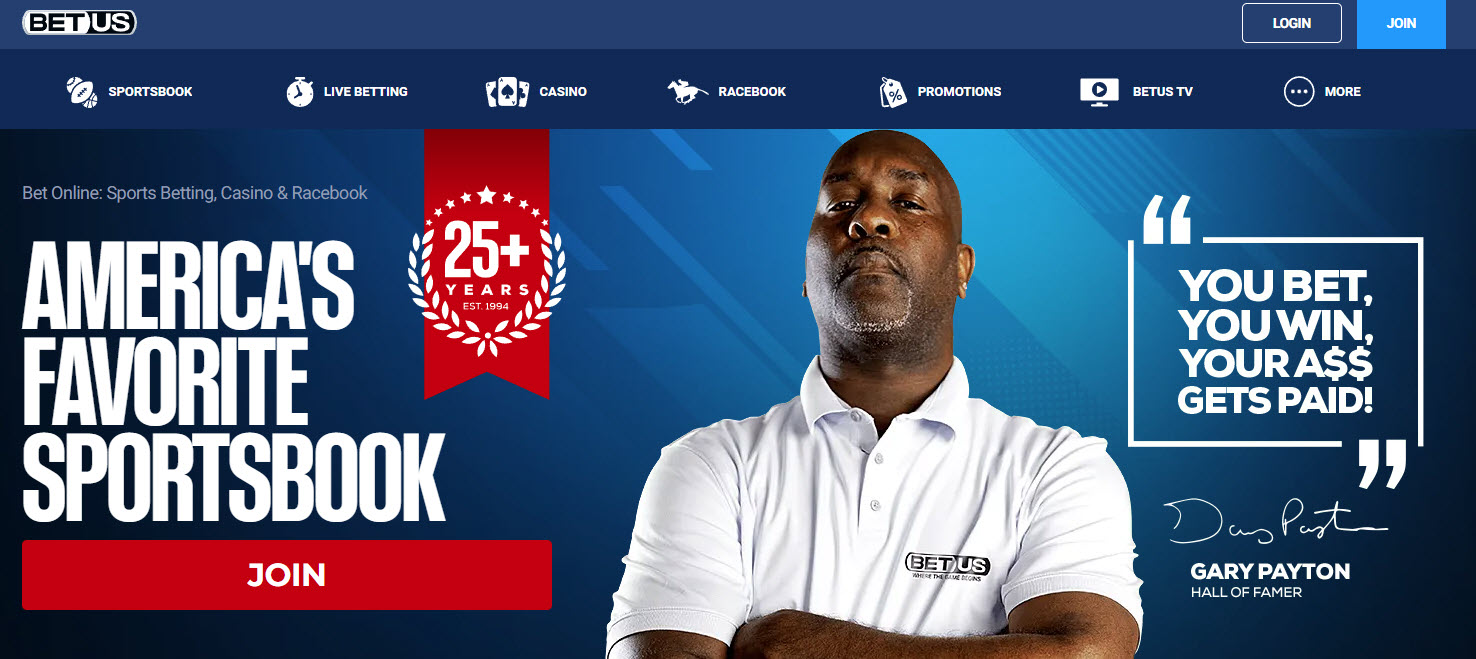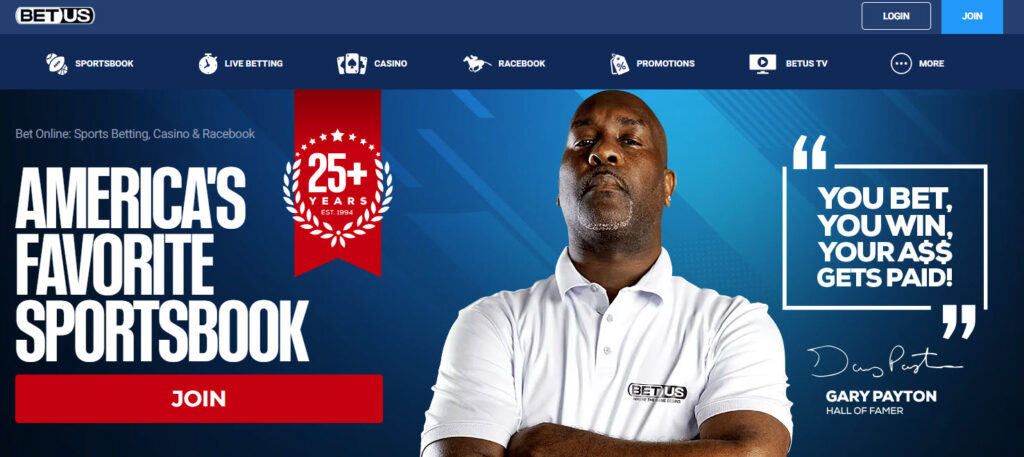 BetUS gives bettors the chance to earn money before they place their first bets. That's because it offers the most generous bonuses in the state. New customers get their first deposit matched and then some—BetUS offers a 125% deposit match up to $2,500. That means you'll more than double your money just by putting it into your new account. The casino at BetUS offers its own match, up to $625, as well.
Their generosity doesn't stop once BetUS has landed you as a customer. They also have the best VIP service in Kentucky, with reload bonuses topping the list of promotions and perks, that include free sports bets and free casino game plays.  
The site has gone through an extensive overhaul and is now one of the most reliable and secure places to gamble. They also have a strong social media presence and a creative team that produces podcasts featuring former athletes and other video content on BetUS TV, which breaks down upcoming games and gives analysis and predictions.
Pros:
Opening deposit match of 125%, plus additional casino bonus
Video previews, podcasts and social media marketing give the site personality
One of the best VIP programs in Kentucky 
Revamped website is dependable and safe
Cons:
Odds and betting lines are not available as early as elsewhere 
High play-through and rollover requirements attached to bonus money
7. Best Kentucky Sports Betting Site for Bonuses and Promotions: WagerWeb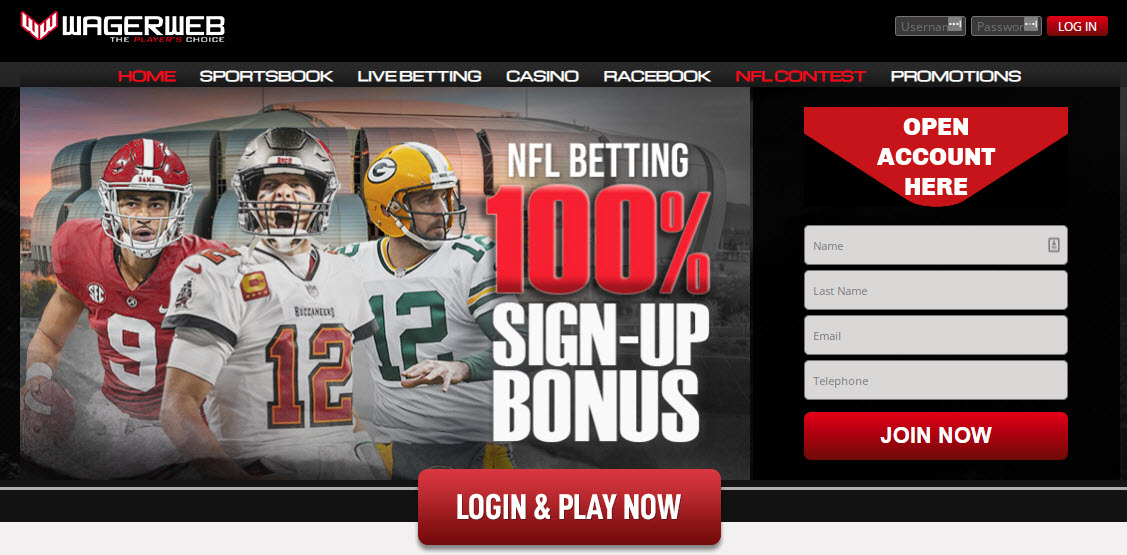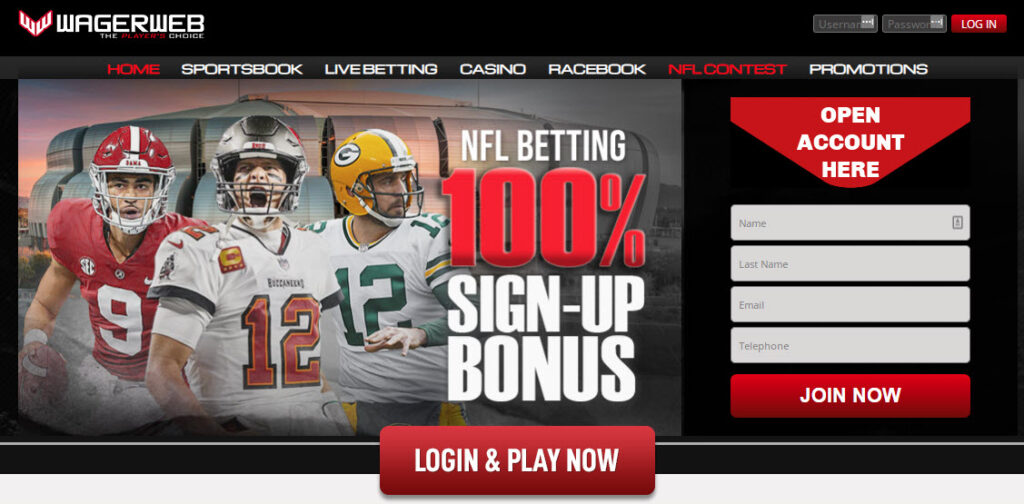 Dependability and trustworthiness are important when you are sending your money and financial information to a gambling site based offshore. It also takes a leap of faith from betting sports fans to count on them to pay out in full when it comes time to collect their gambling winnings. And that type of reputation can only come from years and years of reliable operation.
WagerWeb also has some of the best promos in Kentucky. Loyal customers can take advantage of rebate programs in the racebook and online casino. It also has a 50% cash bonus on your first deposit.
The sportsbook offers reduced juice with -108 lines. WagerWeb is a partner of Heritage Sports, which is in second place in our top 10. The two sister sites are very similar, including a top-notch user interface, dynamic casino sections and a variety of bonuses.
Pros:
Among the best top bonuses in Kentucky  
Racebook and online casino have a loyalty rebate program
Nearly 30-year history of trustworthiness and stability 
Cons:
Free withdrawals limited to one per month 
Relatively low betting limits make it not ideal for professionals or high rollers 
8. Best Kentucky Sports Betting Site for High Rollers: JustBet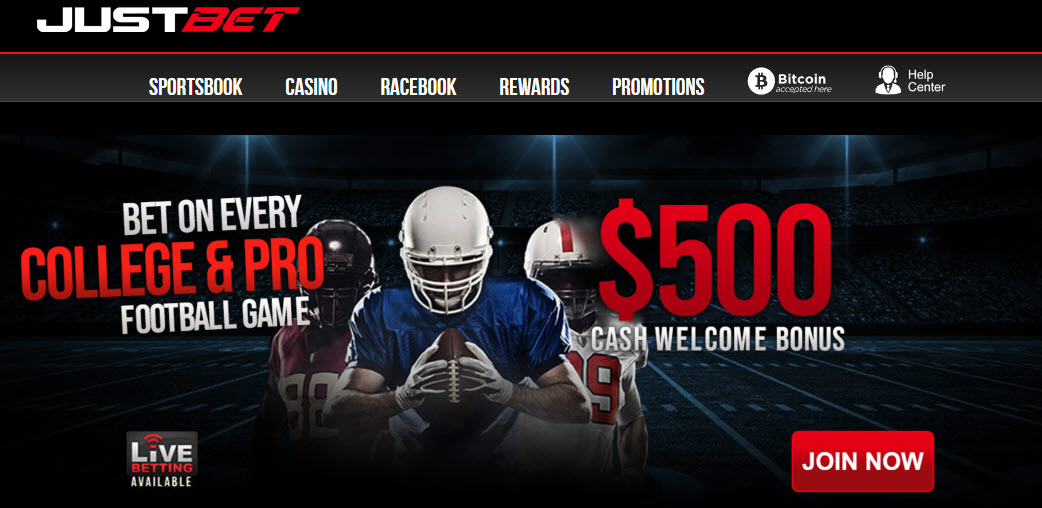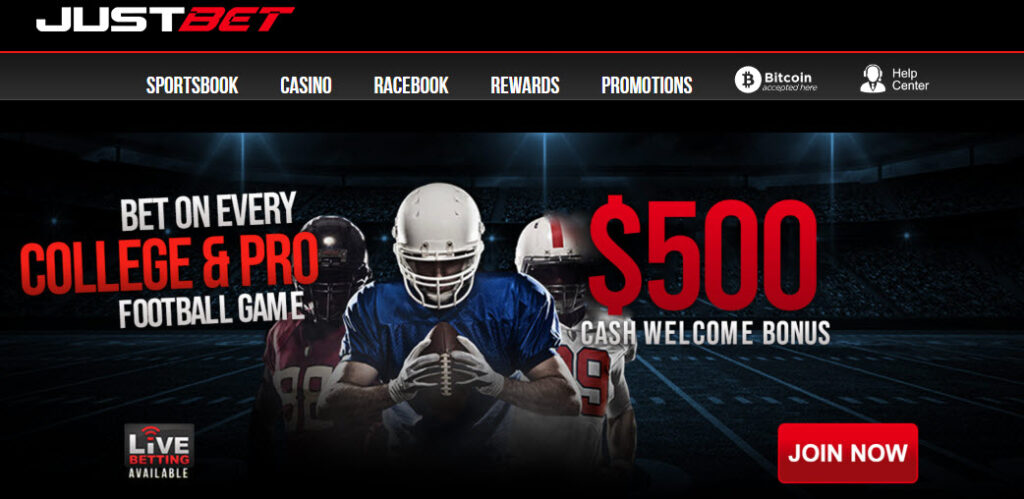 Not as many gamblers have heard of JustBet, but it shares many of the same characteristics as its better-known sister site and is more than worthy of its own spot among the 10 best sports sites in the state. 
It caters to high rollers and more frugal gamblers, as well as experienced bettors and newcomers, both through its betting options and sportsbook promos. It also has some of the earliest lines in the state, some of the highest limits and low minimum best, just like BookMaker.  
JustBet was also one of the earliest sportsbooks to embrace live betting and its live betting interface is still the envy of other sportsbooks. It is easy to use and allows you to place your bets quickly, which is essential when you're live betting and odds are changing continuously.
Pros:
Outstanding for live betting, with a fast, efficient interface
Early lines in Kentucky 
High limits and low minimums cater to all levels of gambler
Welcome bonuses are very generous  
Cons:
Does not offer reduced juice on any betting lines 
No live online poker room  
9. Best Mobile Casino Gaming in KY: Everygame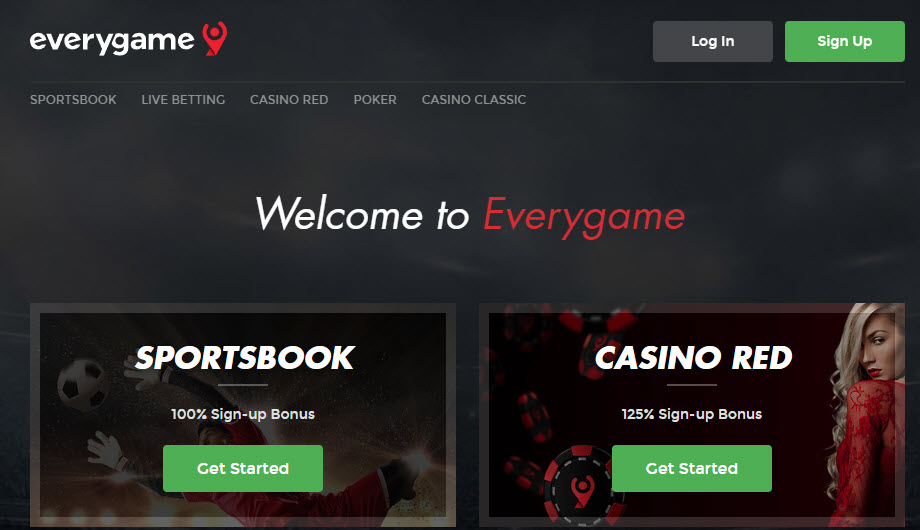 It began its days as Intertops, but, despite the rebranding, Everygame still gets the honor of being the oldest online sportsbook. That means three decades of payout out to winners in full and on time, without requiring anyone to jump through a lot of hoops. It also means a reputation for treating bettors fairly.
Everygame has customers from around the world and not just Kentucky, which makes it fitting that the sportsbook features a global menu of sporting events. There are games, matches and obscure sports from Europe, Asia and Australia, as well as all events, large and small, from the United States. Users also have their choice of promo codes at Everygame that they can take advantage of.
While its sportsbook earns Everygame a spot in our top 10, gamblers will enjoy several other benefits. Its casino is large and varied, with six different casino gaming networks, all in one place. Its mobile site for the casino is also the best in the state, offering the same functionality to people playing on their phone or tablet as the full-blown site. It also has an online poker room and racebook.  
Pros:
Has a very diverse set of sports offerings from around the world as well as the United States.
Mobile interface, particularly for casino games, is a leader in Kentucky 
Widest variety of casino games, with a half dozen different networks 
Has an online poker room  
Cons:
The account verification process can take longer than other sites
Bonuses aren't as large as elsewhere   
Kentucky Sports Betting Teams  
Kentucky's sports history is highlighted by college basketball blue blood and one of the biggest events on the sports calendar.
Kentucky is known for its historical horse racing, which has long considered Churchill Downs its capital and the legendary track has hosted the Kentucky Derby, the most famous horse race in the world, every spring for nearly 150 years.
The state has had professional teams in the ABA and early football leagues, as well as men's and women's soccer teams, but the most recognizable teams in Kentucky are at the collegiate level, which means college sports betting is popular among Kentucky residents.
University of Kentucky: The Kentucky Wildcats basketball program is a highly popular team with Kentucky sports fans and bettors nationally. They are the winningest college basketball team in college basketball and have won eight NCAA Tournaments, most recently in 2012.
University of Louisville: The University of Louisville Cardinals are Kentucky's cross-state rival and have won three NCAA titles, most recently in 2013. Despite not making a tournament appearance since 2019, they remain a significant team in college basketball.
Both schools also have Power Five football teams, Kentucky in the SEC and Louisville in the ACC, both of which usually have a fairly strong overall college football season.
There are six other Division I college teams in the state that have college football teams and college basketball teams: Bellarmine, Eastern Kentucky, Morehead State, Murray State, Northern Kentucky and Western Kentucky.
NFL Teams Popular in Kentucky: While Kentucky doesn't have its own NFL team, several teams are popular among Kentuckians for betting. These include the Cincinnati Bengals, Dallas Cowboys, Indianapolis Colts, Kansas City Chiefs, and Tennessee Titans.
Other Professional Teams: Kentucky also has professional sports teams like Louisville City FC, Racing Louisville FC, the Louisville Bats, and the Bowling Green Hot Rods. These teams offer additional betting opportunities for sports enthusiasts in the state.
Review of Sports Betting in Kentucky
Unless Kentucky's legislature has a sudden change of heart and things move far more quickly than expected, if you want to gamble on sports in Kentucky, you'll need to travel to a neighboring state or use an offshore sportsbook site or mobile betting app. At the moment, that's the only way to legally place a bet on a sporting event.
These online sports betting sites are not subject to Kentucky state law or U.S. Federal code and the ones on our top 10 online sportsbooks in the state have outstanding reputations for treating gamblers fairly. We didn't stop there. Our experts looked at dozens and dozens of online sports betting operators and have assigned 100+ ratings to the offshore betting sites listed in the BMR Sportsbook Rating Guide. 
A+ rated sites have offered their services to Kentucky residents looking to place bets on sports for years. They are highly recommended for the fairest treatment and best online gambling experience. 
Registering for a new account at one of our top-rated sites is fast and easy. The whole thing takes a couple of minutes to register, deposit money, collect your sign-up bonus and start betting. 
| Sportsbook | Rating | Online Since | Payment Methods | Read Review |
| --- | --- | --- | --- | --- |
| BookMaker | A+ | 1996 | Credit Card, Bitcoin, P2P, Crypto | BookMaker Review |
| Heritage Sports | A+ | 2001 | Credit Card, Bitcoin, Cashiers Check, Bank Transfer, P2P | Heritage Sports Review |
| Bovada | A+ | 2011 | Credit Card, Bitcoin | Bovada Review |
| BetOnline | A+ | 2001 | Credit Card, Bitcoin, Crypto, Cashiers Check, Bank Transfer, P2P | BetOnline Review |
| BetAnySports | A+ | 2002 | Credit Card, Bitcoin, Electronic Check | BetAnySports Review |
| BetUS | A | 2000 | Credit Card, Bitcoin, Bank Transfer, P2P | BetUS Review |
| WagerWeb | A | 1994 | Credit Card, Bitcoin, Cashiers Check, Bank Transfer, P2P | WagerWeb Review |
| JustBet | A | 2000 | Credit Card, Bitcoin, P2P, Crypto | JustBet Review |
| Everygame | A | 1996 | Credit Card, Bitcoin, Skrill, Neteller, Bank Transfer, P2P | Everygame Review |
| GTbets | A | 2011 | Credit Card, Bitcoin, Crypto | GTbets Review |
Key Qualities of the Best Sportsbooks  in Kentucky
In order to be considered one of the best sportsbooks in Kentucky, a site needs to demonstrate a number of different traits:  
Strong Reputation
Offshore sportsbooks have to be trustworthy and their customers demand to be treated fairly. That means paying out in full, on time and easily. The best sportsbooks have reputations built up over years — some over decades.
Quick and Easy Payouts  
Whether you won it, deposited it or earned it as a bonus, at some point you might want to withdraw your money to spend it somewhere other than the sportsbook. When you do, it should be easy to get. The best sportsbooks allow you to withdraw money quickly. Offshore sportsbooks mean that your money will need to cross national borders to reach your wallet, but the approval and processing of payments shouldn't have long delays or huge fees. The best sites should have quick and secure transactions. If you use cryptocurrency, you should get your money even faster on the same day at many offshore sportsbooks.
Competitive Betting Odds  
Betting odds on the sporting events you are placing money on should be fair and make sense. The best sportsbooks have competitive betting odds.  
Wide Selection of Betting Markets & Betting Options  
Just about every sports betting site has point spreads, moneyline bets and point totals. You want the best sportsbooks to provide a much wider menu of betting markets, however, including: 
Game props  
Player props  
Alternate lines  
Same game parlays  
Live betting  
Futures  
Parlays  
Teasers  
Pleasers  
Progressive parlays  
Reverse bets  
If bets  
Round robins  
You will also want to look for sportsbooks that offer a wide variety of different sports betting markets. You can expect to find popular American sports such as football, basketball and baseball at any online sportsbook, but where some sportsbooks truly shine is their selection of more niche sports betting markets, including esports, horse racing, auto racing, rugby, cricket, snooker and many other niche offerings. You will also want to seek out an online sportsbook that offers a nice selection of international sporting events that you can bet on.
Mobile Betting Interface  
The top betting sites in Kentucky are just as easy to use on a phone and tablet as they are on a computer, whether that is with a mobile sportsbook app or a mobile site. A sportsbook's mobile site should give you a similar, if not identical, experience to the full-blown website.
It should be easy to browse and find the sports, games, markets and bet options you want with your chosen online sportsbook app or mobile-optimized online sportsbook. Pages should load quickly and the process of placing a bet should be fast and easy. Some sportsbooks may offer a separate online sports betting app, while others will have a site optimized for mobile betting on your device's browser.
Sportsbook Banking Methods Available  
There should be plenty of banking options available to deposit and withdraw money. The best sportsbooks will accept the following for credit card and debit card transfers:  
Visa  
MasterCard  
Discover  
American Express  
Bitcoin and other cryptocurrencies should also be accepted, as well as e-checks, P2P transfers, online bank transfers and e-wallets. One benefit of using online sports betting sites is you can use non-traditional payment options. Many in-person sports betting locations like casinos require cash.
Responsive Customer Service  
When problems or confusion occur, the best sportsbooks will offer multilingual customer service 24 hours a day, 365 days a year to customers in Kentucky. You should be able to get support via a variety of methods, including phone, live chat or email. 
Competitive Bonuses  
The best books offer a generous welcome bonus to new customers. They should also have:  
Reload bonuses  
Rebates  
Loyalty programs  
Odds boosts  
Risk-free bets  
Contests  
Kentucky Betting Guides
Browse our guides below to learn about the other forms of gambling available to you in the great state of Kentucky.
Kentucky Sports Betting – FAQs
Is DraftKings allowed in Kentucky?  
You can only use DraftKings for daily fantasy sports in the state of Kentucky for now. To wager on sports, you can use an offshore sportsbook instead, like Bovada.
How do I bet on sports if I live in Kentucky? 
While in-person and online sports betting is now legal under the state's sports betting laws, there are currently no state-regulated sports betting operators available in the state. Due to this, many residents opt to place their sports wagers with offshore sportsbooks.
Is Caesars Sportsbook legal in Kentucky?
There are currently no legal sportsbooks available in Kentucky. Despite the fact that in-person and online sports betting has been legalized, there are currently no legal sportsbooks accepting bets in the state.
What gambling is legal in KY?
Pari-mutuel betting on horse racing and playing the state lottery are the only locally offered forms of gambling to residents who are of the legal gambling age until legal sportsbooks begin operating in the state. Offshore sites offer a variety of different online gambling options.
Will FanDuel come to Kentucky?
Despite the fact that sports betting legislation has legalized sports betting state, there are currently no regulated online sportsbooks available in Kentucky. Instead, players can use highly-rated offshore sportsbooks to place sports bets today.
Per Nevada Gaming Control Board data, the state achieves $2 billion in adjusted gross revenue, joining an elite group. October's $68.1 million contribution underlines offshore sportsbooks' success, affirming Nevada's robust sports betting industry and its positive trends. Silver State Strikes Gold The state that is home to North America's gambling mecca, Las Vegas, now joins

---