Online Poker in New Mexico – Is it Legal?
There is no online gambling of any kind in New Mexico, though there is live in-person poker available at five poker rooms spread out across the state. Three of the five poker rooms are located in Albuquerque. While most of the states that have not yet legalized online gambling seem to be working towards changing that, there is no movement whatsoever in New Mexico on that front.
Until online poker legislation is introduced, New Mexico players seeking a great online poker experience continue to use offshore sportsbooks. Due to the fact that these sites are located abroad, they do not fall under state or federal jurisdiction.
At the same time, the added bonus of playing at an online betting site is access to most online gambling services in one account. You'll be able to play poker, bet on sports, get some action in the casino on the slots or table games or even bet on horses at the racebook. Whatever you fancy, offshore sites have you covered with great offerings.
In this guide, we'll provide you with the best New Mexico betting sites for playing poker, according to our betting experts, who have carefully chosen these brands according to a strict set of criteria. Ultimately, this is a guide and the final decision as to which is the best online poker site in New Mexico is a personal choice that only you can make.
The Best New Mexico Sportsbooks in 2023
New Mexico Betting Guides
New Mexico residents who are looking to get acquainted with the betting options available in their state will benefit from the guides that our team has assembled below. We cover online sports betting in New Mexico, horse racing, gambling sites and more. 
The Best New Mexico Online Poker Sites
The brands in this guide were chosen by our betting experts based on their reputation and quality of service. Although we will provide a summary of what these brands have to offer, you will also get access to links to our in-depth reviews. There, you will find reviews of 100+ offshore betting sites ranked from A+ to F.
Not only will you be able to see the reviews for our top betting sites, but you can also go beyond that and review the poorly graded ones so you know who not to sign up with.
While there are poker-only sites online, they are home to a lot of pro and semi-pro players. If you are a recreational player, which most are, then you'll enjoy your experience on the online gambling sites we recommend far more.
On top of that, if you do like betting on sports or casinos, you can't do that on a dedicated poker site; using an offshore casino site gives you a wide range of options. There are several reasons to play at these offshore poker sites, which we will go into detail about as this guide unfolds.
Here are the top online poker sites in New Mexico, according to our betting experts:
New Mexico Online Poker Sites Reviewed
In the last twenty years, poker has exploded to the point that it is essentially the only form of gambling that is regularly televised on TV. No longer is it a game played in shady, smoked-filled card rooms littered with dingy poker tables. It is a game played by people from all walks of life, and offshore sportsbooks have had to adjust their business models accordingly.
We say offshore sites specifically because these brands offer several betting services under the same roof. They've added poker to their portfolios over the last decade, and some of them have grown to be industry leaders in that space. Below we have the top poker betting sites in New Mexico, according to our experts.
1. Bovada: America's Busiest Poker Room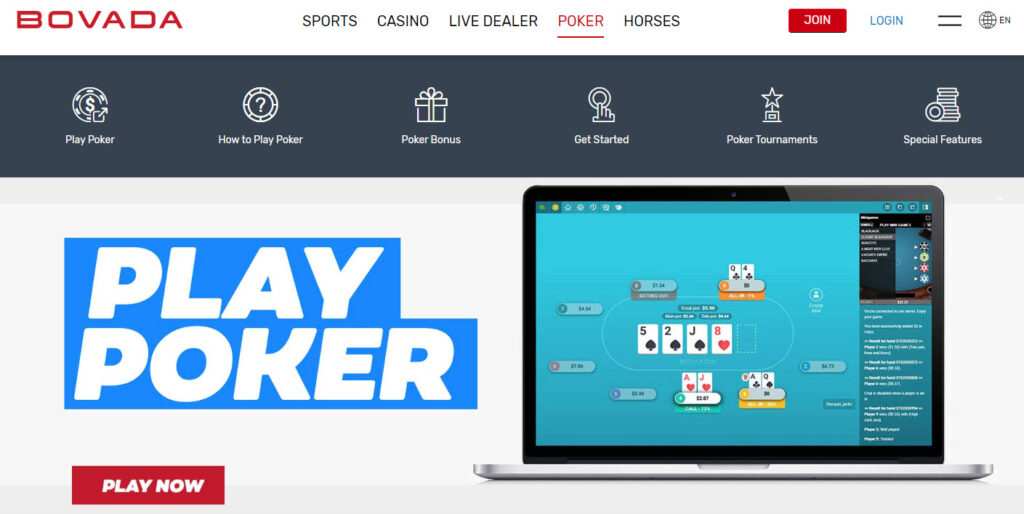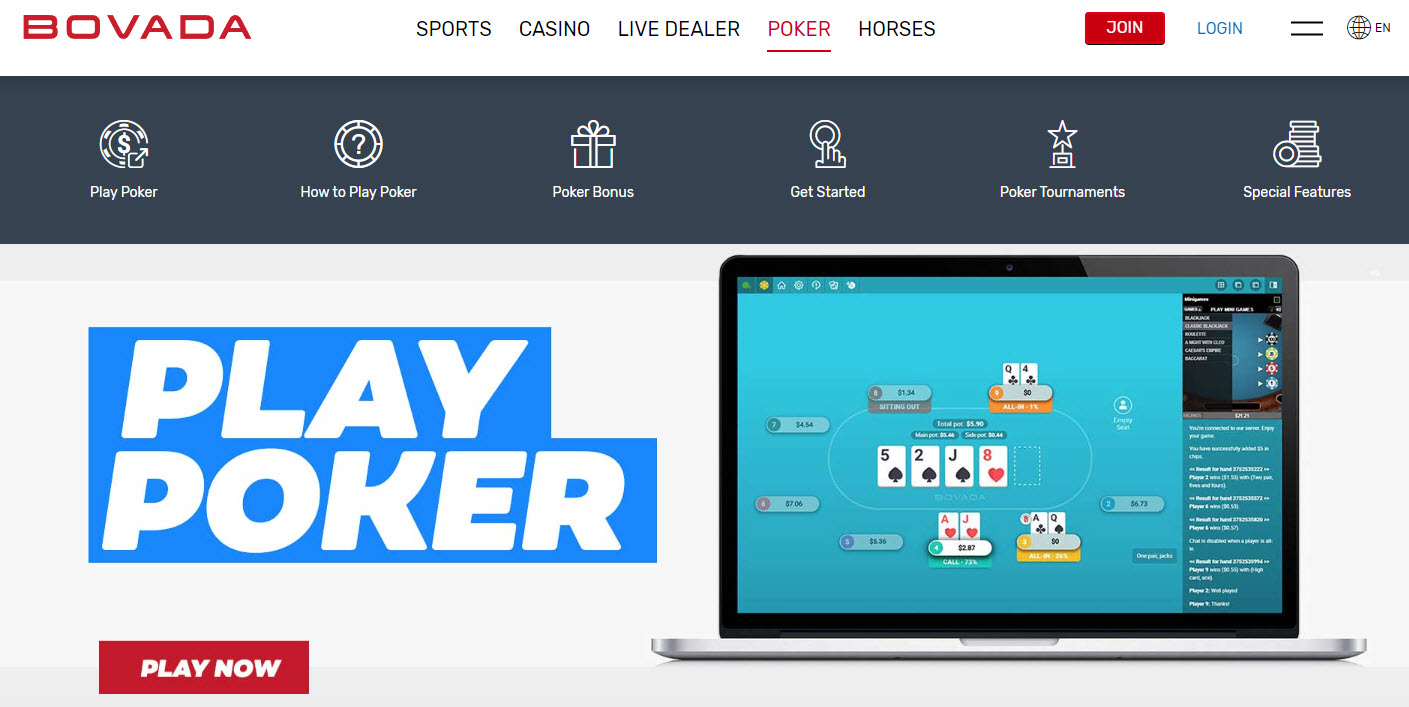 Busiest Poker Network in the Country
Bovada Poker is part of the Paiwangluo Poker Network, which is the busiest U.S.-facing poker network in the world. This is the reason why Bovada makes the claim of being "America's Busiest Poker Room." With how much poker action the site sees, it's more than just a slogan.
The PaiWangLuo Poker Network services twelve countries around the world, with the U.S. and Australia being the two biggest. With the major time difference between the markets they service, anytime you log in to your Bovada account, there should be plenty of action in the poker room. Add the international presence Bovada has, and New Mexico poker players that sign up with them are getting an excellent experience while playing poker online.
Sharp Players Less Frequent
When playing at a poker-only website, you will find that the level of competition is significantly higher than when playing at an offshore sportsbook. That is because a lot of players that signed up at Bovada to play sports will try their luck in the casino with slot games and visit the poker room from time to time. This is beneficial to you as a player because one of the secrets of poker is how good you need to be to win.
You don't need to be good at poker to win money, and your gambling history doesn't always factor in. You just need to be better than the other people at the table. At a poker-only site, the chances of that are a lot smaller than at a sportsbook where not every player is there specifically to play poker. 
HUDs Not Allowed
HUD, which stands for heads-up play, is a technology that tracks poker players' gameplay. The information collected is displayed for you in the form of statistics. These stats break down a player's habits and show how they have performed in certain situations. In other words, it's basically a scouting report on your opponents.
While that is a great tool, it can also be a dangerous one depending on who has access. Pro poker players, for example, use HUDs to spot weaker players. With all of the experience they have under their belts, they are able to analyze these statistics to exploit weaknesses.
Bovada does not allow the use of HUDs, which is a benefit to all recreational players. This means that everyone at the table is virtually anonymous and everyone gets a fair chance to win money. While an amateur can beat a pro on any given hand, over the course of time, those odds are clearly in the pro's favor. Bovada protects you from this scenario by not allowing the use of HUDs.
Pros:
Busiest poker network in the country
Protection for amateur players
Cons:
Mobile version doesn't have multi-table option
2. BetOnline: Big Sign-Up Bonus for new WI Poker Players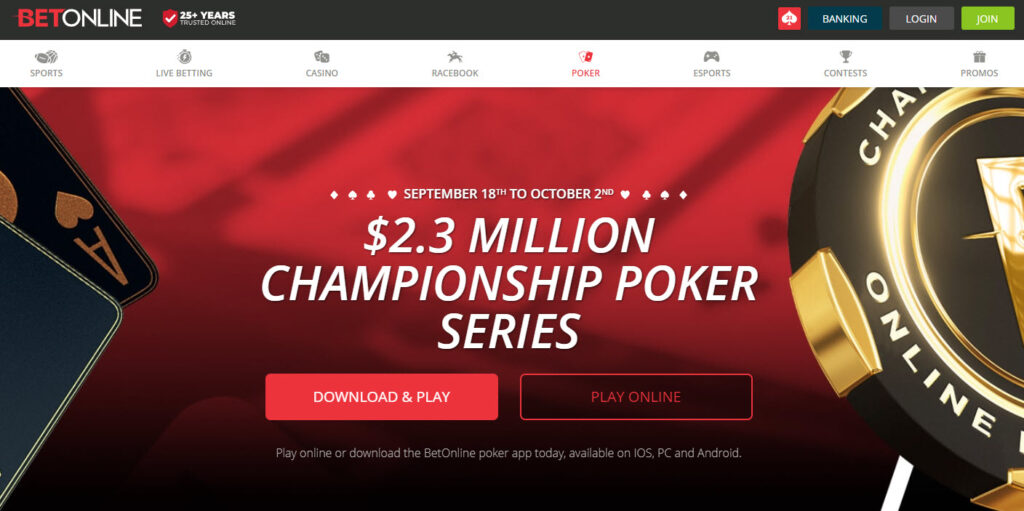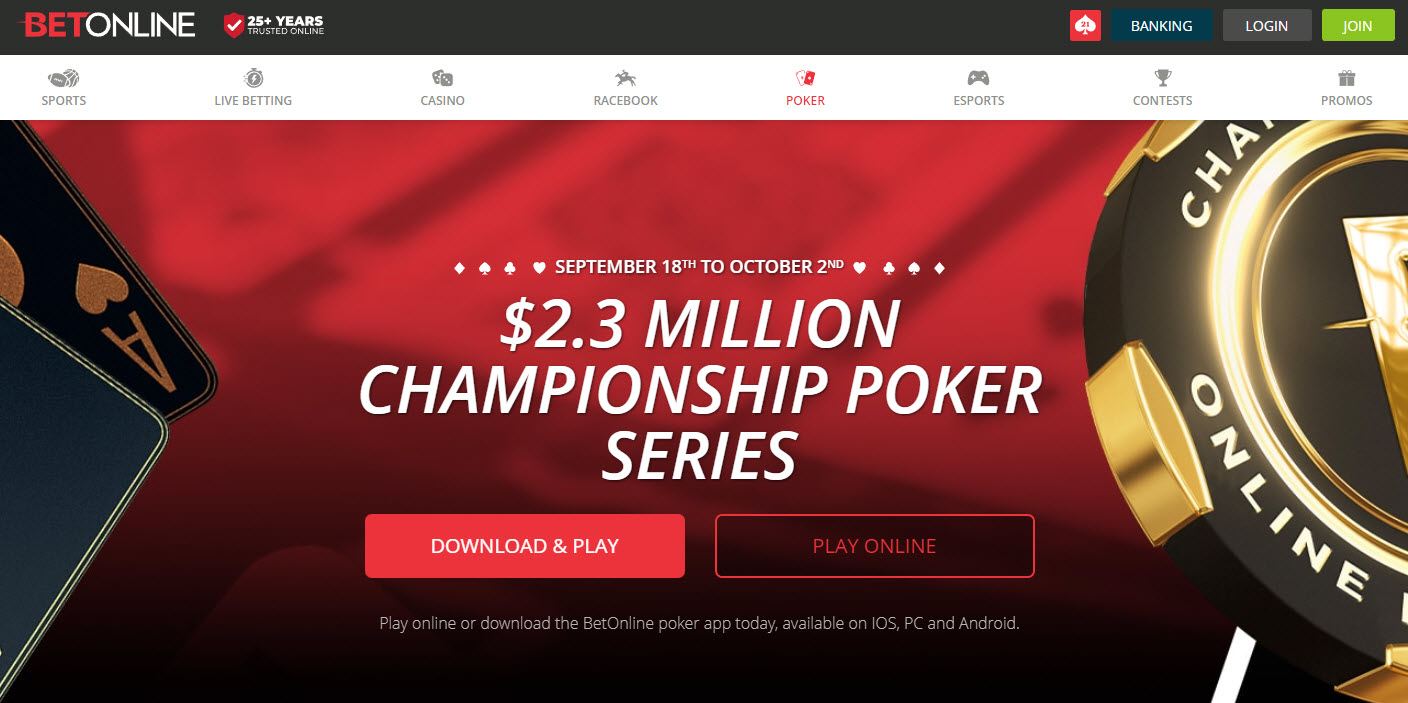 Great Industry Reputation Across Multiple Services
BetOnline's reputation in the industry has been built on the back of its sportsbook. They are also known as a brand that is consistent across all of its offerings including poker. They have one of the industry's best poker tournaments, where you can get a ton of opportunities to play for free based on previous activity.
As with all offshore sites, you'll have access to BetOnline's casino, racebook and sportsbooks as well. In the sportsbook, you'll benefit from BetOnline's early NFL odds. Many of the top online sportsbooks copy BetOnline's NFL odds, which is a common practice in the industry. Every sport has a handful of sportsbooks that set the line, meaning they release the odds before everyone else. This leaves them open to sharp action who bet the line, forcing oddsmakers to move it accordingly. That's where the other sportsbooks come in and copy the line on their sites.
Essentially, anyone playing at a site that copies the line is getting the worst of the price. As a BetOnline customer, you will be getting the best available price before the line gets adjusted to the "proper" price. Of course, lines do not always move significantly from where they open.
That said, oddsmakers aren't right all the time. They put out the line they believe is correct and the action they receive dictates the "proper line." In the end, the market dictates the odds you receive as much as oddsmakers do. When you decide to try your luck over at BetOnline's sportsbook, you know they pride themselves on competitive odds in the biggest markets.
Poker Tournaments Offer Lots Of Action
The BetOnline Championship Poker Series is one of the best online poker tournaments in the industry. With a prize pool of over $2 million, it's easy to see why New Mexico poker players get so excited about it. The more you participate in the tournament, the more free tournament tickets you get.
Essentially, BetOnline's Championship Poker Series consists of several tournaments over a few weeks. The more you play, the more rewards you receive, which gives you valuable playing experience. When you get these free tournament tickets, you will be entered into additional tournaments where your starting stack will be based on your previous activity in the series.
Pros:
One of the industry's best poker tournaments
Welcome bonus for new customers
App available for poker product
Cons:
Anonymous tables not available
Some deposit methods have fees
3. Everygame: Best Rakeback for Online Poker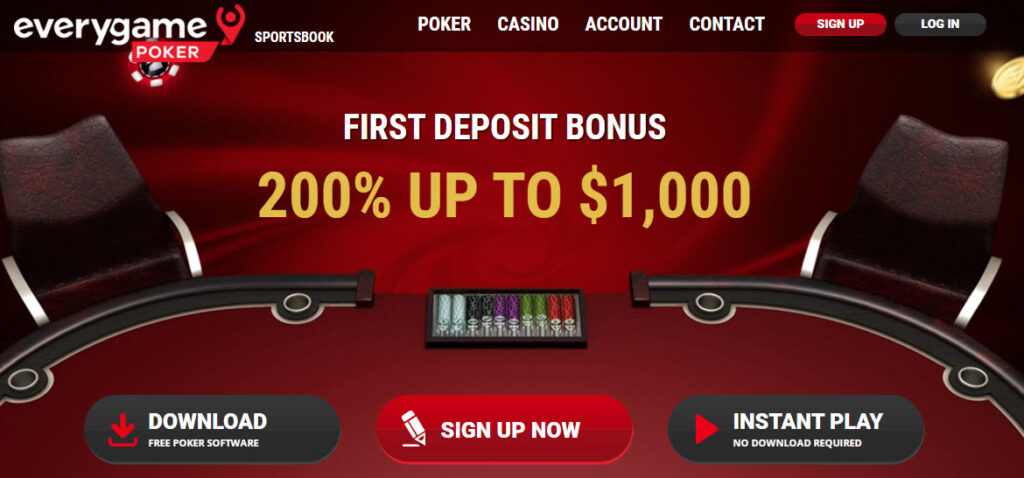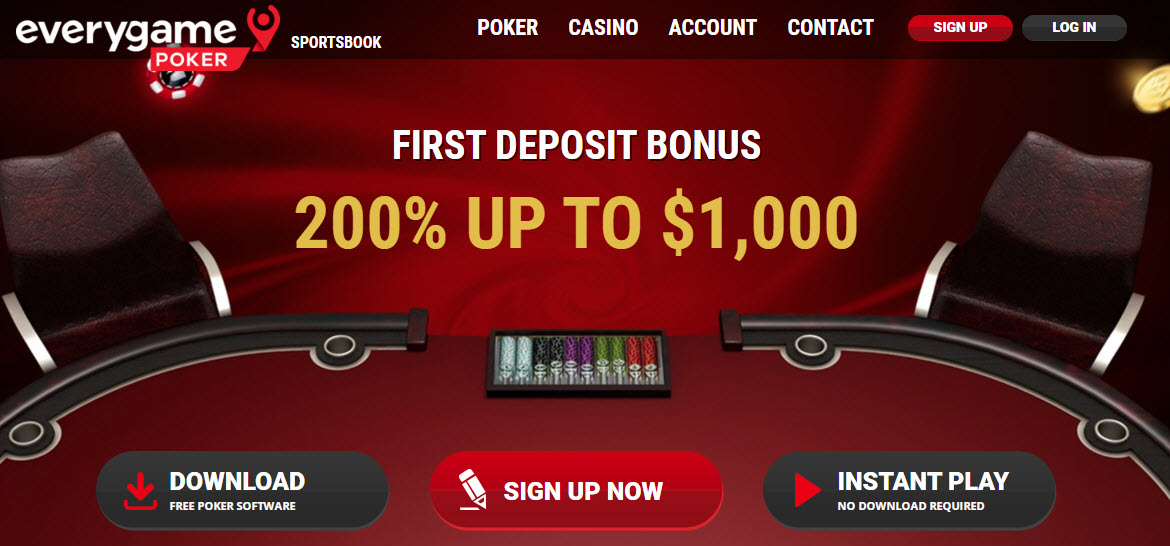 Rakeback Promotion Gets You Extra Action
Poker is a game where you are winning and losing money among the players at the table. Since you aren't losing money to the poker room, the way that they make a profit is by charging something called a rake. The rake is a percentage of each pot that the poker room will take for hosting the game. The rest of the money goes to the winner of the hand.
New Mexico poker players with accounts at Everygame get a rakeback promotion, which is similar to cashback in a sportsbook. Everygame offers their poker players 36% of the rake that they've put forth in the form of a bonus that comes with a required playthrough. Rake is something that is paid by every player at the table and it's nice to know that Everygame gets you some of that money back, which gets you even more action at their tables.
Generous Welcome Bonus
Everygame offers some really nice welcome bonuses for poker players in New Mexico. You can get 200% up to $1,000 as a new player at Everygame. That is up there with some of the most generous bonuses in the gambling industry. Please make sure you understand the terms of conditions of any poker welcome bonus before claiming it, especially what wagering requirements are needed to complete the bonus.
Pros:
200% Welcome Bonus
Among the most generous rakeback offers
Cons:
Not as much traffic in poker room as competitors
4. SportsBetting: Great Bonuses Get You More Action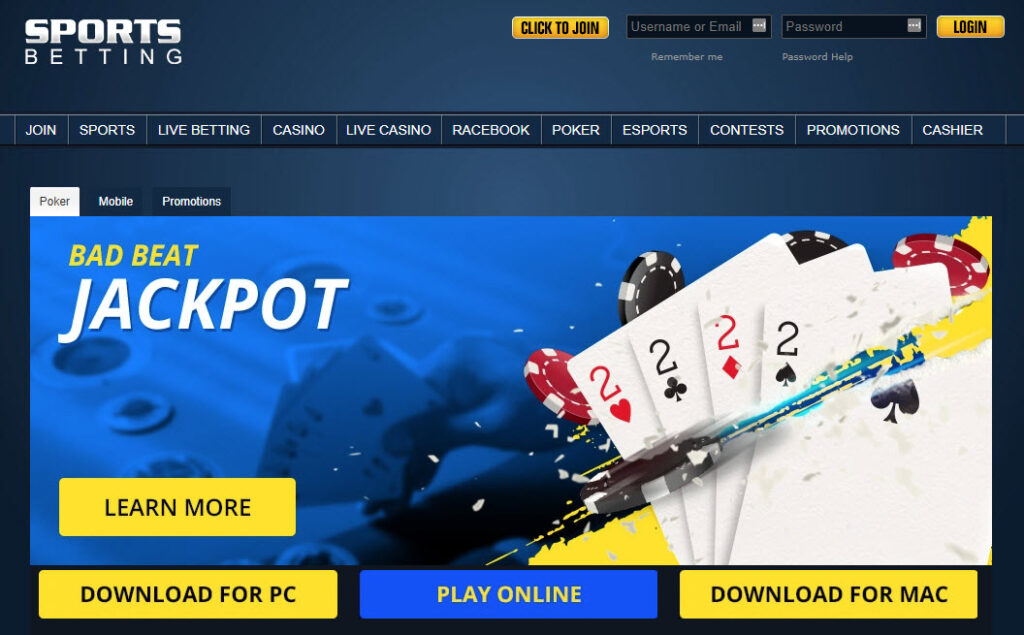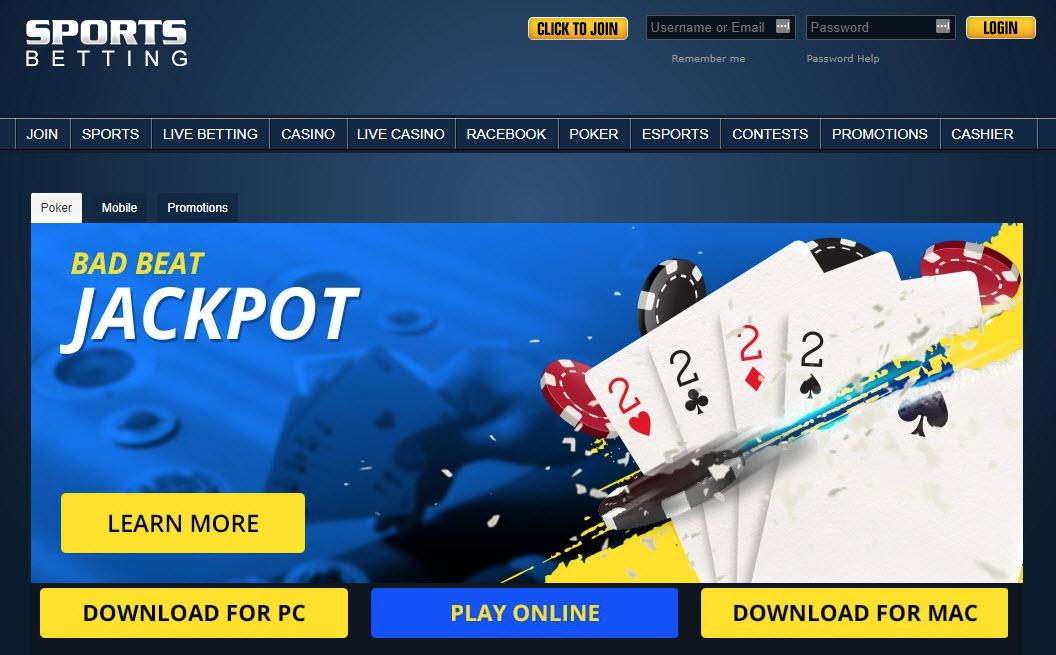 A Lot of Bonuses to Choose From
SportsBetting has a few different bonuses to choose from to get their players started on the right foot. New Mexico poker players are very happy with the strong selection of bonuses available to them at SportsBetting. One of the best bonuses they offer is the 100% up to $2500. If you choose to claim that bonus, you can get $5 in bonus money for every $15 in cash games you play.
Most poker players tend to play in tournament settings, so if you don't have much experience in cash games, we suggest you play some low-stakes games just to get started. There's a different level of strategy required to play cash games. It doesn't make sense as a player to claim a bonus for a type of game you are unfamiliar with playing.
There's another bonus available where you get 100% up to $1000. That bonus may be worth a try and you have 30 days to clear it. For those of you that prefer the rakeback promotions, SportsBetting offers that as well. Whatever your preference, you will find a bonus that suits your needs at this sportsbook provider.
Pros:
Many bonus options for all player
Offer great variety of tournaments
Variations of Poker
The best poker rooms available to players in New Mexico offer these variations:
Five Card Draw
Five-card draw is the original form of the game and has been played at poker tables for more than a century. Each player starts with five cards. You can get rid of as many as 3 cards. To make a hand, you can take as many cards from the deck as needed.
Seven Card Stud
This was the most popular variation of poker before the rise of Texas Hold'Em.
Players start with two cards that are face down. There is one more card face-up before the first round of betting begins.
After that, each player gets three more cards face up and another face down. There is a round of betting in between. The last betting round starts after the last down card has been dealt out.
The best 5 card hand wins
Omaha High
The second most popular variation of poker.
Players start with four hole cards.
You must use two of your hole cards and three more from the board in order to make a hand.
The betting rounds have the same order as Texas Hold'Em (flop, turn, river)
A hand is made using two of your hole cards and three cards from the board.
Texas Hold'Em
Texas Hold'Em is by far the most popular variation of poker. In this version, players start with two hole cards.
The first round of betting starts before cards are dealt. This is referred to as "pre-flop."
After the first round of betting comes the flop. The flop involves three cards being dealt. After the flop, the second round of betting starts.
After the second round of betting is finished comes the turn, which means one more card is dealt. After the turn, the third round of betting starts. The last card is then dealt on the board, which is known as the river, and the final round of betting happens.
You can use any combination of your hole cards and the board cards to make the best possible 5-card hand.
Other Versions of Poker
Omaha Hi/Lo
5 Card Omaha
5 Card Omaha Hi/Lo
6 Card Omaha
6+ Hold'Em
7 Card Stud Hi/Lo
7 Card Stud Low (Also known as Razz)
Showtime Hold'Em
Split Hold'Em
Swap Hold'Em
Is it legal to play online poker in New Mexico?
Online poker is not currently legal in New Mexico due to the lack of online gambling legislation introduced to the state. 
Poker players in the state use offshore online casino sites which are not located in the U.S. and operate under their own gambling laws. These sites do not fall under state and federal jurisdiction.
New Mexico Poker Laws
Under the current gambling law in the state of New Mexico, all legal forms of gambling are controlled by tribal casinos.
Some land-based casinos in the state do have poker rooms that offer a range of poker games; however, social poker games and other forms of social gambling are illegal.
Residents of New Mexico can not host their own real-money poker games, nor can they use popular U.S.-based online poker sites that are legal in other states. Charity poker events are also prohibited because charitable gaming isn't allowed.
Without traveling to one of the state's tribal casinos, New Mexico residents' best option for real money games is playing online poker games at an offshore site.
There are no laws against casual poker games in which no money changes hands.
New Mexico Poker – Live and In-Person
With online gambling being illegal in New Mexico, the only options are in-person poker rooms and offshore sportsbooks.
If you are looking to get in on some brick-and-mortar poker action, here are the poker rooms located in the state:
Isleta Casino – Albuquerque, NM
Sandia Poker Room – Alburquerque, NM
Route 66 Casino – Alburquerque, NM
Buffalo Thunder – Santa Fe, NM
Inn of the Mountain Gods Casino – Mescalero, NM
How to Play Online Poker in New Mexico
Funding Your Account
One of the most important criteria our betting experts made sure was part of their decision-making process was the ability to deposit and withdraw money from your account. While the most popular payment methods are credit cards, the best way to do so is via cryptocurrency. While we realize that many people reading this may not be familiar with using crypto, all of the brands in this guide can walk you through the process easily.
There's a specific reason that crypto is better than other payment methods, and that is because there is no third-party interference. When you try to deposit with a credit card, if it doesn't go through, it's usually because you either do not have sufficient funds or it was denied by the bank/credit card company. With crypto deposits, there is no third party to worry about. If you have the available funds, the transaction will go through.
Due to the fact that credit cards are still the most popular way to deposit, it has to be pointed out that you will need to complete the customer identification process if that's how you're depositing into your account. All reputable poker betting sites will have a rule that you can only fund your account with a card that is in your name. You will need to prove this by confirming your identity. You can send proof of ID in the form of a passport or driver's license. You will also need to provide a recent utility bill as proof of residence.
All of the sites in this guide have several ways for you to deposit depending on your region. Some of the options include bank transfers and person-to-person transfers as well.
Tips for Online Poker Real Money New Mexico
Basics of Tournament Play
Most poker players play tournaments as opposed to cash games. Because poker is a game of skill, exciting tournaments are where players like to show those skills off; on top of that, they can lead to a bigger payday depending on the pot limit. The World Series of Poker tournament has really helped to popularize the game all around the world. The beauty of playing in online tournaments is you can buy in for as low as $1 or as high as $5,000. Either way, all players in the tournament begin with the same amount of chips.
Tournaments can involve one table with ten players or they can have hundreds of players all playing at multiple tables simultaneously. The goal in any big tournament is to make it to the "final table," which usually means you are part of the prize pool. Most tournaments pay the top ten places according to the order in which they finish.
In terms of the blinds in a poker tournament, they increase incrementally in predetermined intervals that range from every 15-30 mins depending on the tournament. Some tournaments have blinds that increase significantly faster than that. The reason behind the blinds constantly rising is to prevent people from playing too conservatively in the hopes that they can just hang around until the final table. Raising the blinds forces the action, which is part of the strategy involved when playing in tournaments. The last player left is of course declared the winner.
Cash Games Require a Different Strategy
Cash games require a different strategy altogether compared to tournaments. First of all, in a tournament, if you buy in for $1, you will still have starting chips that are the equivalent of $1000-$1500 depending on the tournament. In a cash game, if you buy in for $1, you have $1 worth of chips you can play with. Obviously, the minimum buy-in is directly related to the size of the blinds, meaning you can't buy in for $1 in a game where someone else can buy in for $100. The minimum and maximum buy-in amounts are relative to the blinds.
Blinds in a cash game do not rise like they do in a tournament. Cash games are inherently more aggressive for this reason and the fact that you have unlimited buy-ins. In a tournament, there may be the option to buy back in, but even that has a time limit. In most tournament settings, there is no buy-back option. Once you lose in a tournament, you're done. In a cash game, as long as you have money, you can buy in as many times as you want.
Since there's no fear of being eliminated, and the blinds stay the same, you usually have way more people participating in hands when playing a cash game. You also get to see a lot more post-flop action because people tend to call with more marginal hands in a cash game than they would in a tournament.
These are just the basics of playing in cash games. The best way to understand all of the nuances is to play in as many of them as possible. Even if you have a big bankroll, we suggest starting off with lower-stakes games and working your way up.
Playing Poker in New Mexico
There are five poker rooms in New Mexico where you can play live games. Two of them are in Albuquerque, one is in Santa Fe and another one is in Mescalero.
There are no regulated online poker sites in New Mexico, however, you can play poker via an offshore sportsbook. These brands are based outside of the U.S., so they do not fall under state or federal jurisdiction.
FAQs – New Mexico Online Poker
Is online poker legal in New Mexico?
Online betting is not legal in New Mexico. Players in New Mexico can play online poker at offshore betting sites like Bovada, BetOnline, Everygame and SportsBetting.
Can you play online poker in New Mexico?
You can play online poker and other online card games in New Mexico via an offshore sportsbook operator. Simply revisit our review above to find a site to get started.
Can you play online poker on an app in New Mexico?
Some betting operators feature poker apps, but most will provide something very similar, which is a mobile version of their site that is fully compatible with your phone or tablet. 
Can you make real money playing online poker in New Mexico?
You can indeed make real money while playing online poker in New Mexico. Playing online poker is a resident's best shot at real cash winnings, aside from visiting one of the state's tribal casinos. 
Do you need a VPN to play online poker in New Mexico?
Fortunately, poker players do not need a VPN to play online in New Mexico. All of the online sports betting operators in our reviews accept residents of the state.