Betting on Horse Racing in New Jersey in 2023
Horse racing has been a popular pastime throughout New Jersey's rich gambling history since the 19th century. While New Jersey may not be a staple in the horse racing industry, fans can catch live events at several horse racing tracks around the state.
But betting on races held all over the world has become very popular in New Jersey. It is legal and available at many different online sites from licensed providers regulated by the state to offshore sportsbooks and horse racing betting sites that are also legal to use in the Garden State.
In this guide, our horse racing experts will give you the best options for online betting sites for New Jersey users, how to get started with betting on horse racing, and where you can still see horse racing in the state.
The Best New Jersey Sportsbooks in 2023
Ranking the Top Racebooks in New Jersey
With plenty of options out there for New Jersey betting sites, we were able to narrow the list down to our top seven selections based on how they graded out for a quality online horse racing betting experience.
Reviewing the Best New Jersey Horse Racing Betting Sites
From our top seven racebooks, we provide a detailed review of the pros and cons of our top four selections for bettors in New Jersey. All of these online horse race betting sites are located in overseas in locations such as Costa Rica, where online wagering has been legal for years.
1. Heritage Sports: Great Live Betting Site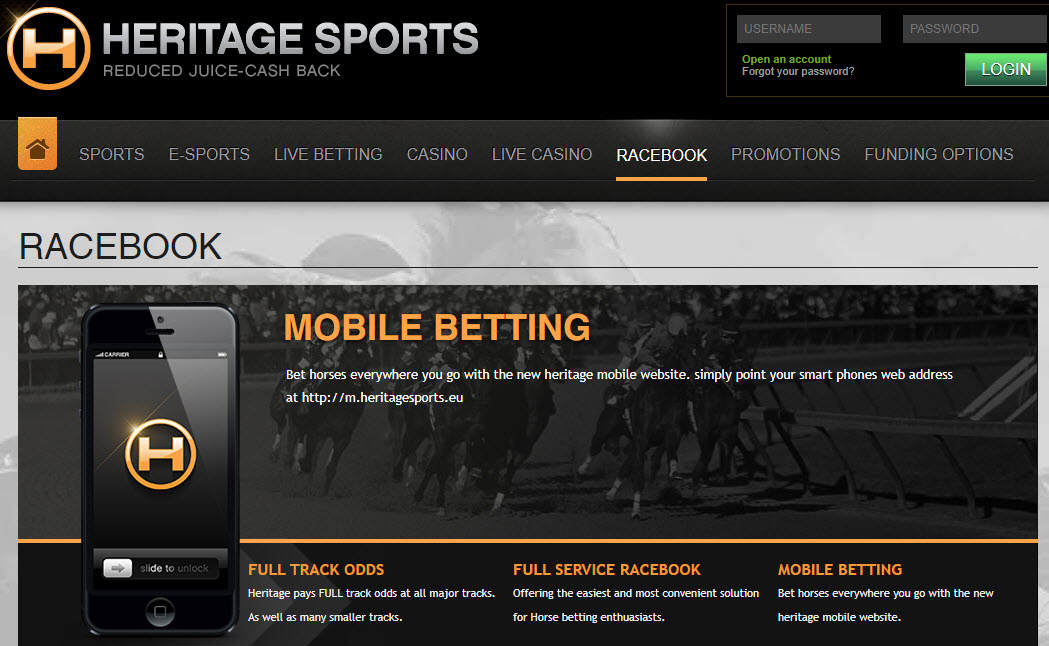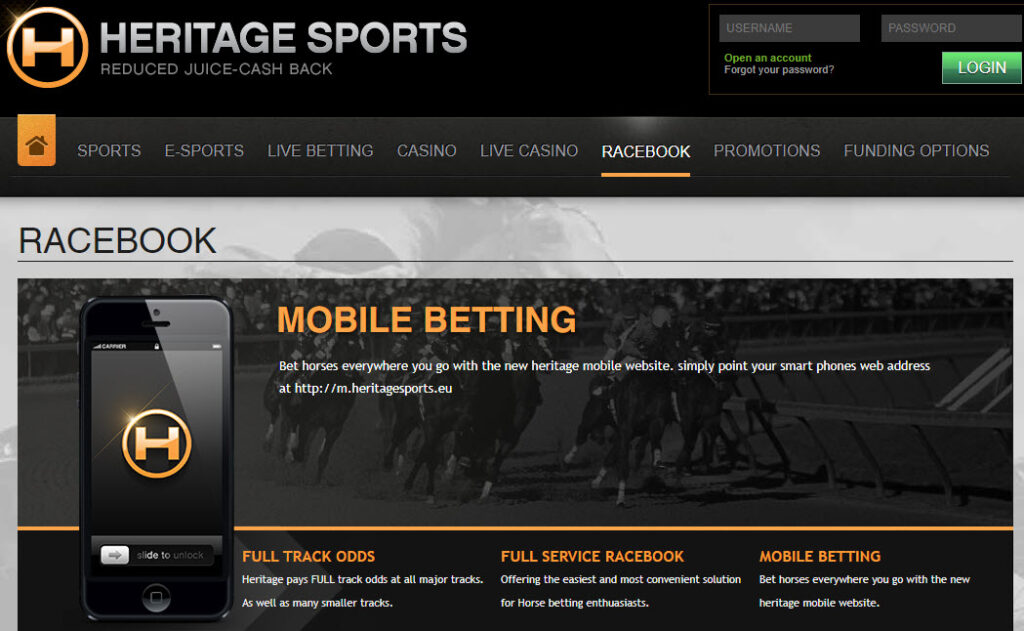 Heritage Sports was once a VIP site that required an invite to join, but it is now open to all users from New Jersey and other U.S. territories. Those looking to use it for the racebook will be happy to know it has a good design with tabs that make it easy to select your wager type (Win/Place/Show, exacta, trifecta, Pick 3, Daily Double, etc.). You will also see some extra information on the trainer and the jockey of each horse along with the jockey's weight.
Racebook users will get up to 8% daily rebates on your volume of bets. The maximum bonus is $2,000 and this only carries a rollover requirement of 4x. All bonus money at Heritage Sports is eligible to be used anywhere on the site, which is not the case for every competitor as restrictions usually apply.
Pros:
Get as much as 8% daily rebates on racebook
One of our favorite mobile sites
Great cashback programs for each section of site
Advanced jockey and trainer info for races
Cons:
No live streaming of races
Rebate is only for Major Tracks
2. BetAnySports – Cash Back Racebook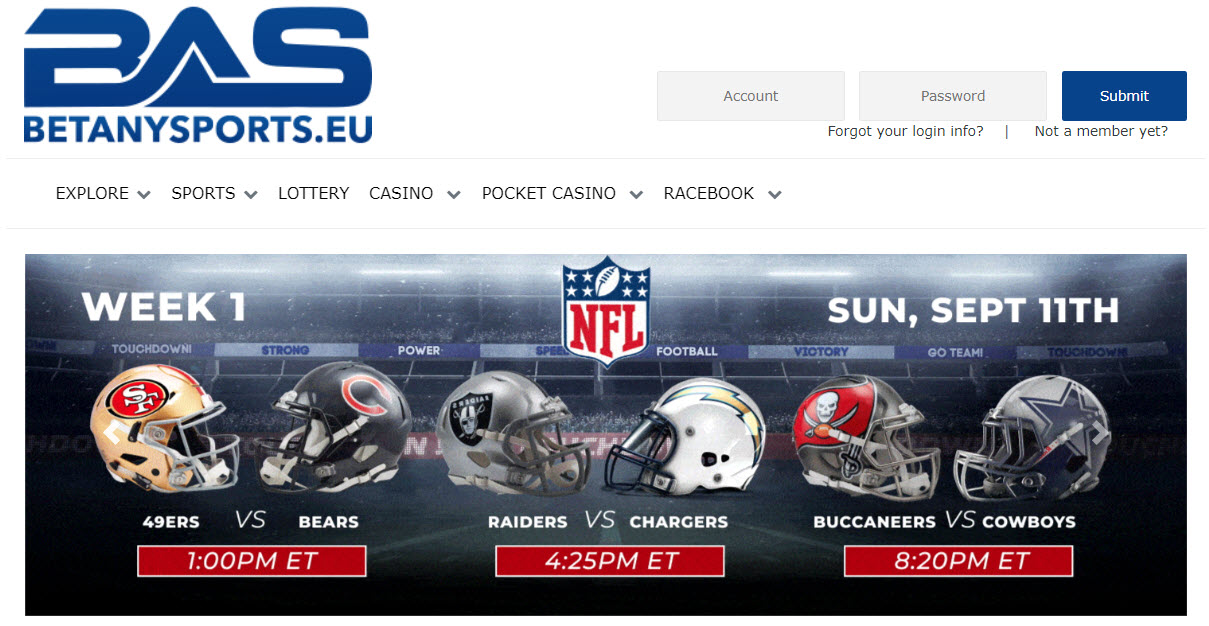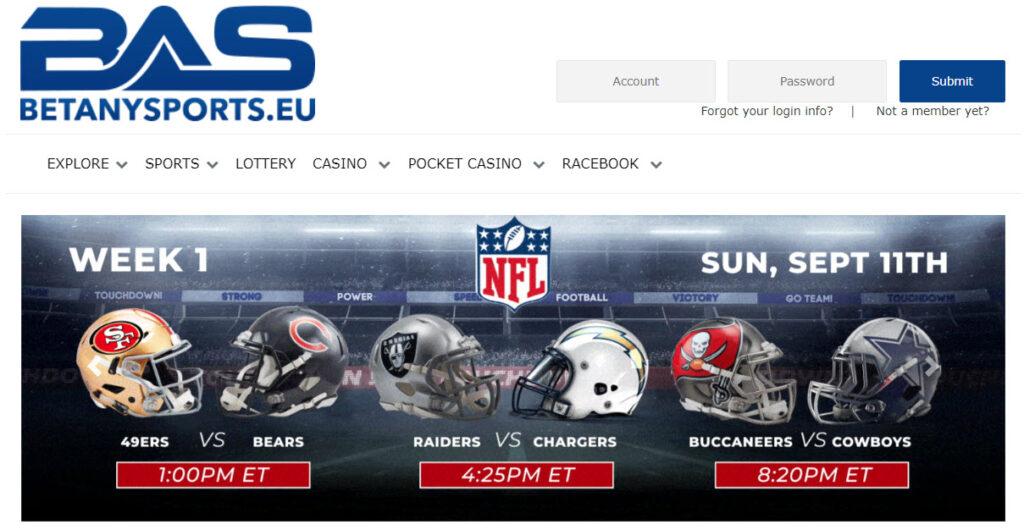 BetAnySports is another one of our A+ graded online horse racing betting sites located in Costa Rica. We like the site for its efficient design that makes it easy to use regardless of which section you play in. It is also the only site that offers lottery drawing games and the best reduced juice (-105) in sports betting.
The racebook looks similar to what Heritage Sports has, with its use of tabs for the bet type and the added information on trainer and jockey. They also offer tracks from around the globe for most of the thoroughbred races you'll want to bet on. There is no limit on the daily racebook rebate promo, which can earn up to 6%. Do read the terms and conditions for what types of races are ineligible for this and other promotions.
Pros:
Great prop builder in sportsbook
You'll get the highest limits on the most popular races (Triple Crown)
Exclusive lottery drawing access
One of our favorite online casinos
Cons:
Smaller online horse betting rebates (6%) than competition
Fixed-odds racing bets are ineligible for cash-back program
3. SportsBetting: First Horse Wager Is Free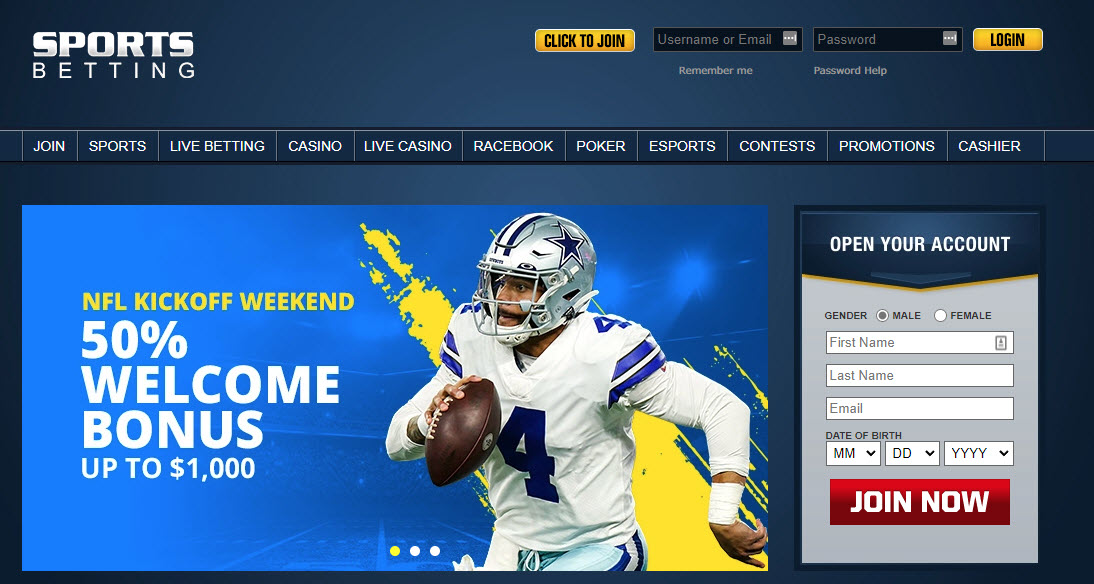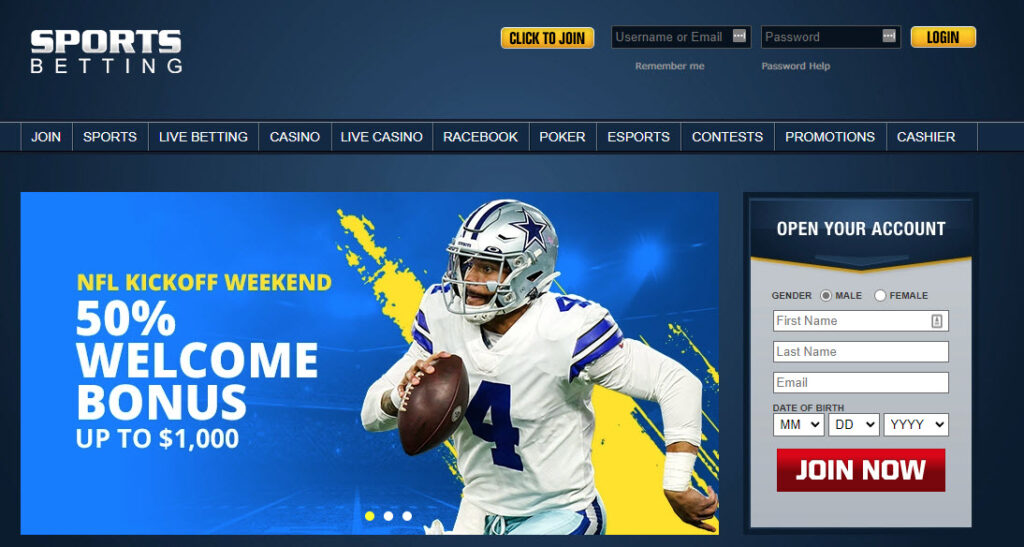 SportsBetting.ag offers a solid racebook experience for users both new and experienced with horse racing. For those new players, they explain horse racing on their site, so you can read that guide first to understand how their odds and tracks work. You'll also get a risk-free bet offer on your first horse bet. If your bet loses, you will be reimbursed up to $25.
For experienced horse racing fans, you can expect up to 9% daily rebates on your exotic horse racing wagers. Any Win/Place/Show bets can get 4% daily rebates if you use the internet to place your wager. This is higher than most rival racebooks, which tend to offer 3% on W/P/S bets and 8% on exotics.
The racebook design is good, though we wish there was a little more information on the jockey besides their name.
Pros:
Get your first horse race bet for free ($25 value)
Up to 9% daily rebates on exotic wagers
High limits
Great site for poker tournaments
Cons:
Most withdrawal methods carry fees
Limited jockey info
4. BetUS: Good for Promos and Expert Analysis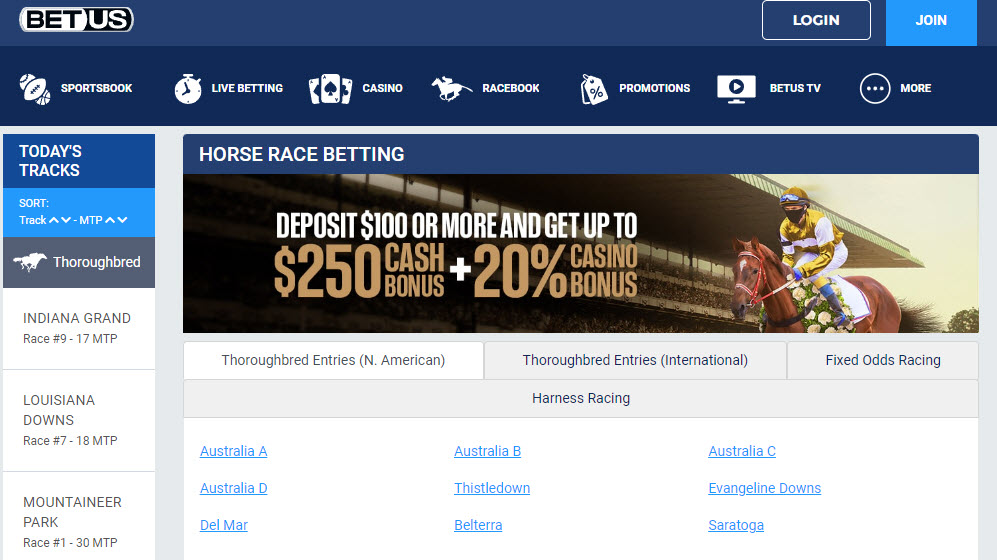 Now in its 29th year in the industry, BetUS provides users in New Jersey with an all-engrossing online gambling experience. If you want an online sportsbook with solid props and live betting, you'll get it. If you want an online casino packed with newer games the competition doesn't have, they have them, including demo versions that are free to play.
The racebook has all the major races as well as tracks from Australia and Europe. While there is no daily racebook rebate like at the competitors, there is an ongoing promotion at BetUS where, if the horse you bet to win finishes in second or third place, you can get up to $10 back.
BetUS also has its own TV service through YouTube, where you can watch original content and get expert analysis and predictions for just about all sports markets, including horse racing.
Pros:
Helpful guides available on horse racing
Visit their YouTube channel for expert analysis on horse racing and more
Many exclusive casino games rivals won't have
Get money back if your horse finishes 2nd or 3rd
Cons:
Bonus money comes with high rollover
Lacks daily racebook rebates
How We Compared the Best Online Horse Race Betting Sites in New Jersey
In reviewing these offshore betting sites, there are certain features we look for to judge if the site is worthy of joining or not. Features specific to the racebook are what we will focus on the most here, but there are other factors that should be present at any quality online gambling site.
We go over both sets of features in the next two sections.
Elements of a Quality Racebook
The following list looks at what we look for in a good horse racing betting site:
Fair limits: Many of the racebooks will offer the same racetracks, but we like to see high limits in place for any of the major events like Triple Crown races or Breeders' Cup.
Variety in horse race betting markets: Most of the racebooks are going to offer competitive odds on the same races, but we think they can separate themselves by the types of wagers you can place. The win/place/show bets are an industry standard, but there should also be more exotic wagers (exactas, trifectas), daily doubles and the option to box wagers.
Live betting: As live betting continues to grow in popularity, expect it to be offered at more sites for horse racing despite the fact that it is hard to do since the duration of the race is so fast. The best providers will have racing simulcasts available.
Live streaming: This is more popular at sites like TwinSpires and TVG, but the future of horse race betting is likely to include more wagering on simulcast races. This feature gives the players a chance to watch the race they bet on, which can be exciting.
Racebook promotions: Most of the quality racebooks offer daily rebates on your horse racing wagers, win or lose. You can usually expect to get 3-to-5% back on normal wagers and around 6-to-9% on exotic wagers. Some racebooks will also offer you money back if your winning horse finishes in second or third place.
Design matters: We like to see a site that is optimized for use on a small screen where it will be easy to read all the race information and build our bet slips quickly before a race starts. Some racebooks have great designs with tabs or drop-down menus.
Other horse racing information: For horse racing junkies, it is nice when the site offers detailed information on each race, including the name of the owner and jockey information (name and weight). Some jockeys do in fact win at a higher rate than others, so this is good for research purposes.
Other Elements of a Good Online Gambling Site
Regardless if you are betting on horses or just trying to play casino games online, there are certain metrics we like to judge a site's quality by:
Brand recognition: Companies that have decades of experience are going to get a boost in their rating, as we think that adds to their reputation of being trustworthy and providing customers with a reliable gambling experience.
Variety of transaction methods: There are many ways to move money these days, including newer methods like P2P apps, eWallets and cryptocurrency banking options. But some users also want old-school methods like credit cards, checks, and wire transfers to be options as well. The more options a site has for making transactions, the better its grade will be.
Fast and timely payouts: When we win, we usually want our money as quickly as possible, so sites with a good reputation for fast payouts will get a big boost.
Customer service: Sites that offer 24/7 customer service get top priority, and a variety of contact methods (email, live chat, phone number, etc.) is also important to have.
Is it legal to bet on horse racing in New Jersey?
Yes, anyone at least 18 years of age in New Jersey can legally bet on horse racing at racetracks, at an off-track wagering facility or using an online betting platform.
How Horse Racing Betting Works in New Jersey
For anyone new to betting on horse racing, the important things to learn first are the types of bets available to you and how the odds work, because this will be different than betting on a basketball or football game. Fortunately, we go over this information next.
What are the different types of horse racing bets?
Here are some of the types of bets you can place on horse races:
Win: If you pick the winning horse, you win the bet.
Place: If your horse finishes in first or second place, then you win the bet, but it will be a smaller payout than a Win wager.
Show: If your horse finishes in first, second, or third place, then you win the bet at a smaller payout than Win or Place.
Exacta: Moving into exotic territory, now you must choose the horses that finish first and second in order. The payout is much better than any W/P/S bet.
Trifecta: Same as the Exacta, but now your goal is to pick the top three horses in order.
Superfecta: If you really think you have this race figured out, then correctly predict the top four finishing horses in the correct order and you'll win big.
Daily Double (AKA Double Wager): You have to pick the winner in two consecutive races to hit a Daily Double.
Pick 3/4/5/6: Just like with the Daily Double, you must correctly pick the winning horse in three, four, five, or six consecutive races.
New Jersey Horse Racing Odds Explained
For horse racing bettors, it is crucial to understand the odds. If you frequently place sports bets, you may be used to seeing odds like -110 or +105, but in horse racing, they are presented as fractional odds like 7/3 or 6/1.
If you bet $30 on a horse with 6/1 odds to win, then you win six times every dollar bet, giving you a return of $210 ($30 times 6 equals $180 plus a $30 stake back).
The best way to learn these odds is to think in terms of probability. If a horse has 7/3 odds, then for every seven failures, there are three chances of success, producing an implied probability of 30.0%. The 6/1 bet from earlier only has a 14.3% implied probability of hitting.
If you want to figure out the implied probability for any fractional odds X/Y, simply divide the denominator (Y) by the sum of the numerator and denominator (X + Y). For example, 1/5 odds would have 83.3% implied probability, a heavy favorite.
With these numbers in mind, the following chart shows some odds, the payout for a $2 wager, and the implied probability of success.
| Horse Racing Odds | Payout from a $2 Wager | Implied Probability of Winning |
| --- | --- | --- |
| 1/5 (-500) | $2.40 | 83.33% |
| 1/4 (-400) | $2.50 | 80% |
| 1/3 (-300) | $2.60 | 75% |
| 1/2 (-200) | $3.00 | 66.67% |
| 4/6 (-150) | $3.33 | 60% |
| 1/1 (-100) | $4.00 | 50% |
| 2/1 (+200) | $6.00 | 33.33% |
| 3/1 (+300) | $8.00 | 25% |
| 5/1 (+500) | $12 | 16.67% |
| 10/1 (+1000) | $22 | 9.00% |
| 50/1 (+5000) | $102 | 1.96% |
Next, we will cover the two main types of odds found in horse racing.
Fixed Odds Betting in New Jersey
Sports bettors should be familiar with fixed-odds wagering. Any time you bet on that spread or total with -110 odds for a game, you are locked ("fixed") into that price at that number, regardless of what happens between now and the game.
But in horse racing, the odds will be presented as fractional odds. If you bet $100 on a horse with 6/1 fixed odds, then you would win back $700 ($600 plus the $100 stake returned).
When betting with fixed odds, the site you are using will automatically show you the total amount you can expect to win given your wager size.
Pari-Mutuel Betting in New Jersey
With an event like horse racing, where the ranked order of finishers is what matters, pari-mutuel wagering (also known as pool betting) is often used. All bets are placed in a pool, the house removes their cut known as the vig, and any winning bet is paid from that remaining pool of cash.
A site like JustBet does not use pari-mutuel wagers for its horse racing platform. They are exclusively fixed odds. Unlike fixed odds, pari-mutuel bets mean you will not know exactly how much you can win. It depends on what the other bettors wager on that race.
New Jersey Horse Racetracks
There are three notable racetracks still operational today in New Jersey:
Freehold Raceway: Located in Freehold, it was established in 1853 and runs harness races every weekend during a season that runs from August through May.
Meadowlands Racetrack: Located in East Rutherford at the Meadowlands Sports Complex, there are thoroughbred and harness races throughout the year, including the Hambletonian.
Monmouth Park: Located in Oceanport, it is home to the Haskell Invitational each year.
The History of Horse Racing in New Jersey
The following timeline shows some of the key horse racing moments in the Garden State:
2007 – Monmouth Park hosted the Breeders' Cup for the first time.
1984 – An electrical fire destroyed the main building at Freehold Raceway, and a new building would not be ready until 1986.
1981 – The Hambletonian, the first leg of the Triple Crown in harness racing, is held at the Meadowlands Racetrack for the first time, and it has been held there every year since.
1976 – The Meadowlands Racetrack opens in East Rutherford.
1968 – The first running of the Haskell Stakes was held at Monmouth Park.
1953 – The first-ever photo of a triple dead heat (three horses finishing at the same time) was taken in a harness race at Freehold Raceway.
1946 – Thoroughbred racing returns to Monmouth Park after a 53-year hiatus.
1939 – Horse racing is legalized again in New Jersey.
1894 – Parimutuel betting on horses is banned in the state.
1870 – Monmouth Park holds its first races.
1830 – Freehold Raceway, America's oldest racetrack, starts hosting horse races.
New Jersey Horse Racing Betting Apps
There are many apps and mobile sites available for horse racing bets in New Jersey. While you cannot use the popular TVG app, 4NJBets is freely available to use in its place.
New Jersey players cannot use TwinSpires either, but you can freely bet on horse racing at other sites we have mentioned above. DraftKings is also launching a standalone horse race betting app soon called DK Horse with the help of Churchill Downs.
How to Start Betting on New Jersey's Horse Racing Sites
Every site has a simple process to sign up and start betting on horse races today.
On your computer or mobile device, go to the site you are trying to join.
Look for the button to create your account. It will usually say "Join" or something to that effect.
Type in your personal details such as your name and email and remember to pick a unique password you do not use anywhere else. Some sportsbooks are starting to require two-factor authorization.
Head to the "Deposit" section so you can fund your account with the deposit method of your choice.
Locate the site's horse racing section, which will usually be under "Racebook" or "Horses."
Find the races you wish to bet on and start building your bet slip.
Enter the amount you want to risk.
Submit the bet, wait for the result, and find out if you're a winner or not.
Other Types of Gambling in New Jersey
New Jersey is very open to gambling, fortunately. In addition to horse racing, residents can expect legal access to online casino games, sports betting, and the state lottery.
What is the best site for horse racing bettors in New Jersey?
Our whole top four is worth checking out, but if forced to pick one site, then it would be Heritage Sports. You get a top-notch racebook to go along with one of the best online sportsbooks in the business. Limits are fair and the site is easy to use, with a great cashback reduced juice program.
FAQ – Legal Status of Online Horse Race Betting in New Jersey
Is horse racing betting legal in New Jersey?
Yes, players can wager on their favorite horse in person or using an online horse race betting platform. The best place for fixed-odds horse race betting is an offshore site, like Heritage Sports.
Are there horse races in New Jersey?
Yes, there are several big horse races held throughout the year in New Jersey, including the Haskell Stakes, Jersey Derby, The Hambletonian Stakes and the United Nations Stakes. 
How many racetracks are there in New Jersey?
There are three main racetracks in New Jersey: Freehold Raceway, The Meadowlands, and Monmouth Park. 
What is the major horse race in New Jersey?
The Haskell Invitational Stakes is the biggest horse racing event held in New Jersey. It takes place annually at Monmouth Park Racetrack.
What is the minimum gambling age in New Jersey?
To wager on horse racing events in person or using a horse race betting site, you must be at least 18 years old.
Per Nevada Gaming Control Board data, the state achieves $2 billion in adjusted gross revenue, joining an elite group. October's $68.1 million contribution underlines offshore sportsbooks' success, affirming Nevada's robust sports betting industry and its positive trends. Silver State Strikes Gold The state that is home to North America's gambling mecca, Las Vegas, now joins

---