Online Poker in Arizona – Is it Legal?
As we move into 2023, poker remains a popular pastime among Americans. But there are not many states that have legalized internet gambling platforms that offer real money poker.
The Grand Canyon State is not on the short list of states with legal online poker, but that does not mean it is explicitly illegal for you to play real money games online. In fact, there are several good offshore options for those seeking online poker tournaments, cash games, and video poker games in Arizona.
These offshore sites have exciting bonus offers for new users and offer multiple forms of gambling, including online sports betting and tons of niche markets.
Our guide is going to direct you to the best sites open to Arizona users for online poker, how to get started playing on them, and where you can still go in person to play poker cash games in the state. That's right, you do not have to visit neighboring Las Vegas, Nevada to enjoy the poker scene. You can do it right within the boundaries of the state.
The Best Sportsbooks in Arizona in 2023
Arizona Betting Guides
If understanding all about Arizona betting sites is what you're looking for, take advantage of this and other guides for Arizonans.
The Best Arizona Online Poker Sites
When it comes to offshore casinos, we always have a wide range of quality options to choose from, full of exciting table games and online slots. When it comes to online poker games or especially online poker tournaments, users have fewer options.
But we have come up with our top three options that will provide you with the best online poker experience possible in Arizona. These poker sites are all reputable and located offshore, so they are not regulated by the state, but you are free to join them today and start winning real money.
Bovada – Enjoy tournaments on the top poker network for Americans
BetOnline – Large variety of poker tournaments 
Everygame – Excellent poker software and tournaments
Arizona Online Poker Sites Reviewed
In our in-depth reviews below of our top three offshore poker sites, we will note what you can expect from the casino poker games they offer and much more.
1. Bovada: Enjoy Tournaments on the Top US Poker Network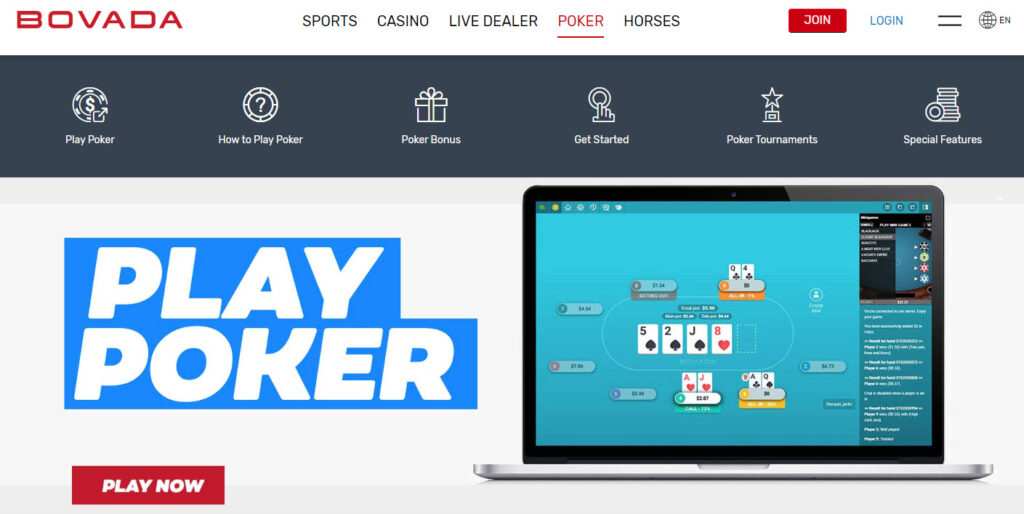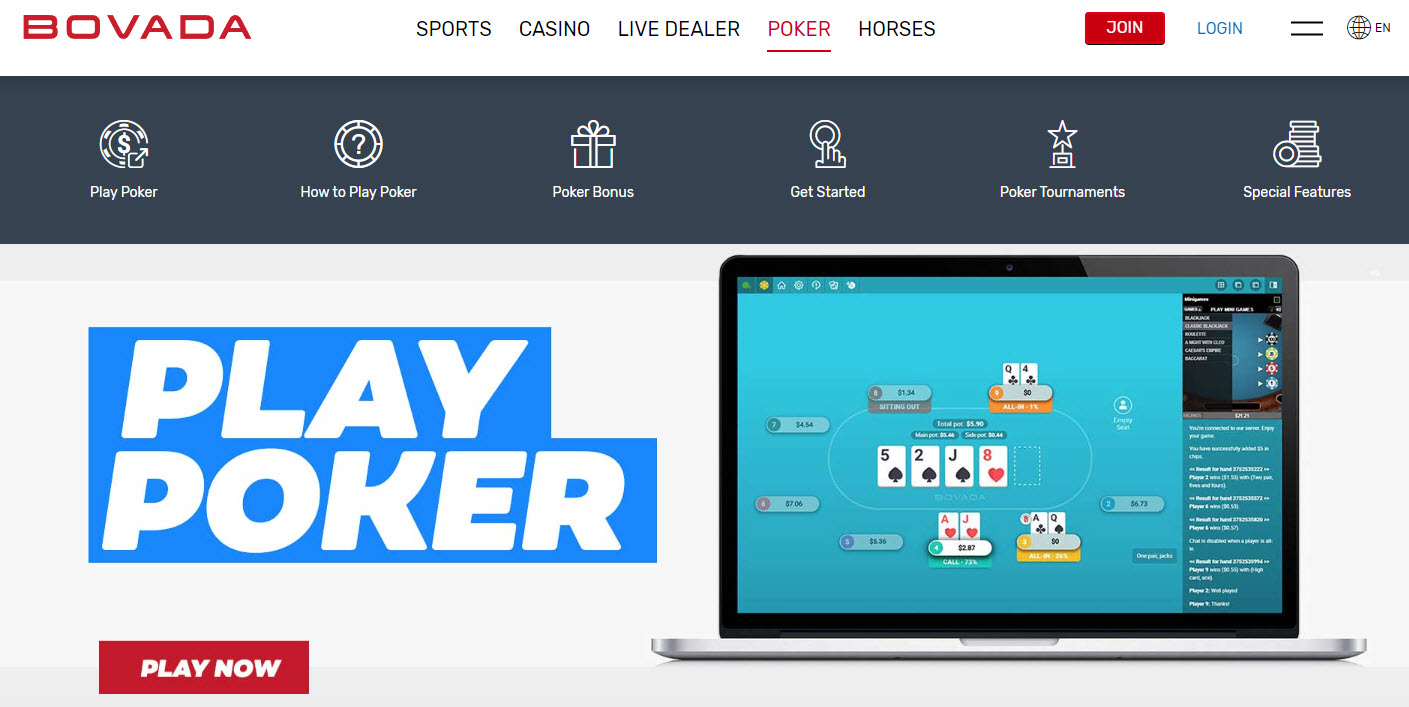 Bovada Poker has existed since 2004, which is a big part of the reason it is one of the most popular offshore poker sites for American players. It also is the only one of the top six online poker networks in the world that accepts players in the United States, which is why the PaiWangLuo Poker Network is No. 1 in traffic among poker players in the United States.
Bovada is home to some of the biggest poker tournaments online, as well as a good mixture of multi-table tournaments and single-table tournaments. You can play popular games such as Omaha and Texas Hold'em. There is also a special Jackpot Sit-and-Go designed for three players where the winner can earn 1000 times their buy-in. There is also a Zone Poker cash game for fast-paced players where you can get new hole cards at a new table immediately after you fold.
Bovada also has a very cool feature called Incognito Mode that allows users to play completely anonymous tables so that users do not pick up on your playing style.
The casino section also features eight variants of video poker if that is more your speed in addition to the usual selection of casino games (blackjack, slots, roulette, etc.).
Bovada also has a fantastic sportsbook and some generous welcome bonuses, especially if you use crypto on your first deposits. New users looking to play can get a welcome bonus worth up to $500, serving as a 100% match of your initial deposit.
Pros:
Home to thousands of players in the United States
Solid welcome bonus worth up to $500
Play anonymous poker using incognito mode
Offers $100K Guaranteed High Roller Tournament
Cons:
Loyal users will not be treated to as many ongoing promotions
Could offer more video poker variants
2. BetOnline: Large Variety of Poker Tournaments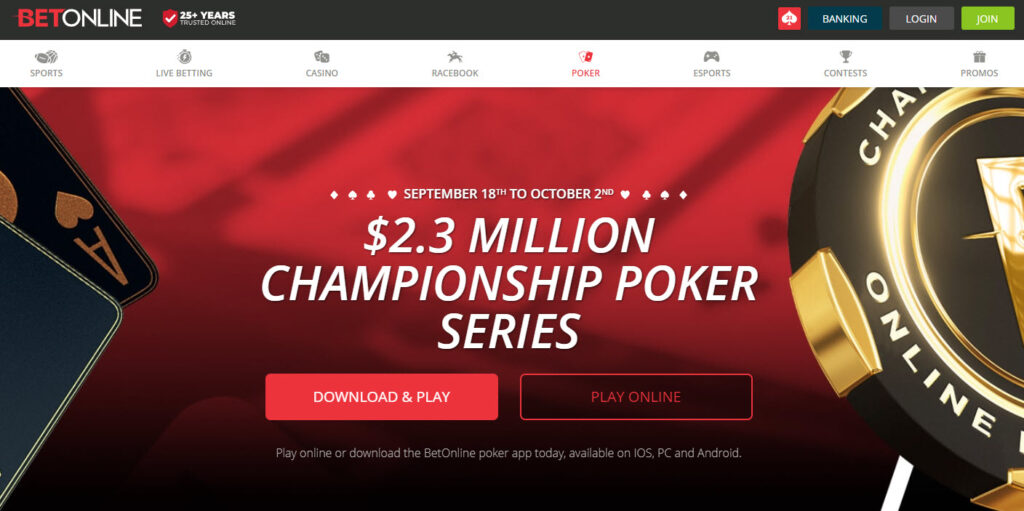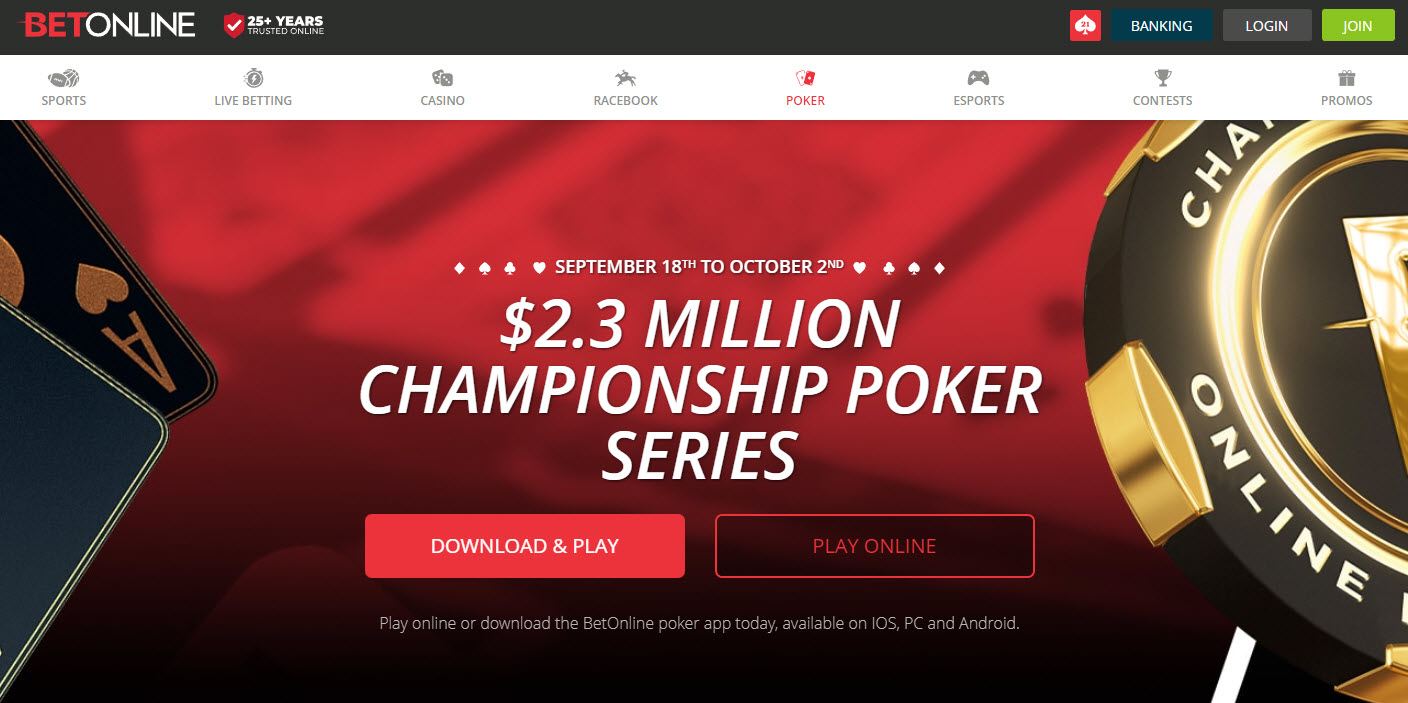 The closest rival to Bovada when it comes to offering big tournaments on a busy network of American users is BetOnline. It belongs to the Chico Poker Network, which also houses SportsBetting and Tiger Gaming, to rank No. 3 in traffic among users in the United States.
BetOnline will let you send in your own ideas for tournament suggestions, but they already have the largest selection as is (bounties, satellites, and guaranteed tournaments all available weekly). All you need is an account, download some software, and you'll be ready in minutes to play poker cash games and tournaments.
The casino section is also loaded with hundreds of unique games and a solid video poker section with industry standards like Jacks or Better and Aces & Faces.
BetOnline has plenty of great promotions for existing users, huge bonuses, high limits, and one of the best online sportsbooks and racebooks.
Pros:
Very sizable welcome bonuses for new users
Impressive library of casino games, including video poker
Plenty of ongoing promotions 
Pitch your own tournament suggestions
Cons:
Bovada has more users playing at any given time of day
Does not anonymous poker
3. Everygame: Excellent Poker Software and Tournaments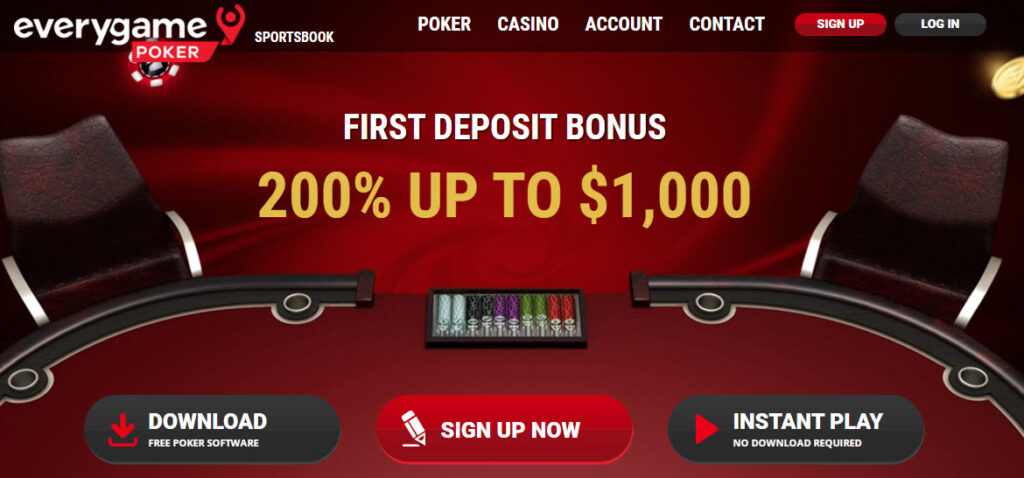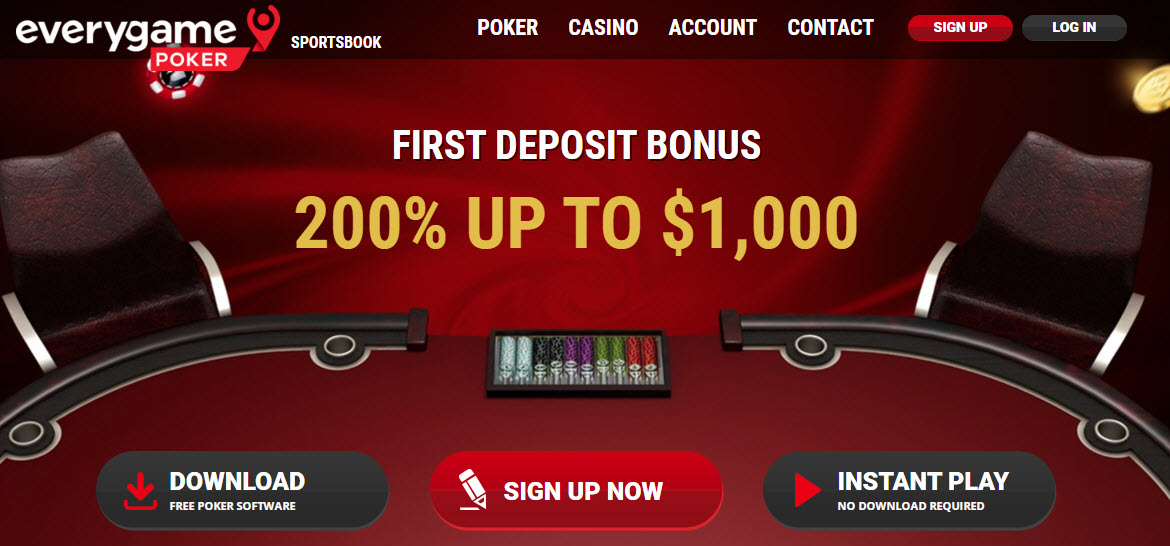 Poker fans will enjoy the Antigua-based Everygame since they have poker tournaments and slick software to play casino games and poker with. The software is a free download once you create your account.
There are not as many users on Everygame as the more popular poker sites, but they still hold regular tournaments with sizable prizes. They also have Sundowner tournaments and the popular poker games you'd expect to see with Omaha and Texas Hold'em games. There are also video poker games in the casino section and demo versions are included.
The bonuses at Everygame last 90 days instead of the standard 30, which is nice. Everygame also prides itself on having the best rakeback rate. The rake is the fee players pay to enter these tournaments, so a percentage of that money is given back to the players, and Everygame reportedly has the best rakeback rate at 36%.
Pros:
Best rakeback rate (36%)
Plenty of banking methods available 
Free-to-play versions of casino games 
Best site design and software of any site on our list
Bonuses last longer than with some competitors
Cons:
Less traffic than what's found at Bovada and BetOnline
Can you play online casino poker in Arizona?
When Arizona passed a bill to legalize online sports betting in 2021, online casino games such as poker cash games and slots were not included. This is why you can join a site like FanDuel and bet on the sportsbook in Arizona, but you cannot play casino games through the same company.
Online poker is not legal in Arizona, but that does not necessarily mean it is illegal or a crime to partake in it anyway. There is no widespread proof of people getting into legal trouble for playing through the use of an offshore site like one of the three we just reviewed.
Arizona Poker Laws
As mentioned, online poker is not legal in Arizona, but what does that mean for other things like video poker or hosting a casual poker game in your residence? Next, we look at what the law says about that.
Video Poker
If you enjoy video slots, then chances are you will enjoy video poker, which is a popular option at these online gambling sites. It is a very fast-paced, stripped-down version of regular poker, and the games are run by a random number generator just like the video slots. You do not need any real skill or experience to click your way through a series of video poker games and win some money. You mostly just need to know what winning hands look like and what cards to hold onto.
Since this is an online casino game, it is not legally available on any site regulated by Arizona's gaming commission, but you can play video poker games online, free or for real money, on offshore sites.
Casual Poker
Arizona is just like most states in that it is perfectly fine to host a casual poker game in your private home with friends. There are just certain things you cannot do like advertise the game publicly so that anyone can join, charge an entry fee to get into the game, and the banker cannot take a cut just for hosting the game.
As long as you are meeting those conditions, it should be no problem to play poker with your friends for some real cash in the Grand Canyon State.
The Future of Arizona Poker Laws
At the start of 2023, you still need barely more than one hand to count the number of states that have fully legalized online casino gaming and poker. The process is slow, but the good news is that there has been much progress around the country in the last decade, especially in the last five years.
There is no bill currently in progress to legalize online poker in Arizona, but it could come down the road now that the state is entering its second full year with online sports betting. A portion of people who bet on sports will certainly have an interest in other forms of gambling, so it would only be logical to see a push toward this very soon as states continue to see the revenue stream that is possible with online sports betting.
But for now, if you live in Arizona and you want to play online poker, you are going to have to join an offshore site like the ones we have reviewed. Just make sure you choose a reputable site like the ones we graded highly, and you should have no problem playing online poker today.
Arizona Poker – Live and in Person
While a drive to Las Vegas may be loads of fun, those in Arizona looking for something closer in person are in luck with all the tribal casinos located throughout the state in places like Tucson and Phoenix. Several of these casinos have card rooms with real money tables and some even have tournaments.
Here are some of those casinos with poker rooms hosting real money tables:
Talking Stick Resort (Scottsdale, AZ) – 47 tables plus tournaments
Desert Diamond Casino West Valley (Glendale, AZ) – 36 tables plus tournaments
Casino Del Sol (Tucson, AZ) – 10 tables
Desert Diamond Casino (Tucson, AZ) – 8 tables
Gila River Casino – Lone Butte (Chandler, AZ) – 30 tables plus tournaments
Hon-Dah Casino (Pinetop, AZ) – 4 tables plus tournaments
How to Play Online Poker in Arizona
There is a very simple process for getting started with one of the top poker sites. We are going to walk you through the steps, which will be roughly the same no matter which site you ultimately choose to join.
Step 1: Create Your Account
Once you have picked a site, visit its page and begin the process of creating your account by clicking on a "join" or "create account" button.
Step 2: Fill Out the Form
You can expect to be asked for personal information such as your name, email, address, and phone number. You should also select a unique password you do not use on any other site. Be sure to enter valid information if you want to have a hassle-free experience when it comes to getting paid and verifying your identity.
Step 3: Deposit Funds into Your Account
You might be able to play casino game demos for free if they are available, but generally speaking, you need money if you want to win money. Head to the deposit section of your new account and choose the banking method of choice to add funds. Before you do that first deposit, read over the welcome bonus and the first-deposit bonus associated with that. You may need to enter a promo code first to get the bonus.
Step 4: Now You Can Play Poker
Now that your account is live and funded, you are ready to start playing poker, betting on sports, playing casino games, or doing anything else the site offers. For poker, there may be a download option first for some free software, especially if you are on your desktop. But within minutes you'll be able to start playing poker and win real money. Remember to pace yourself and have fun.
Tips for Online Poker Real Money Arizona
If you are new to the online poker scene, then just remember that everyone started in your position before they became a veteran. It just takes some time and patience, and we wanted to provide you with some tips before diving into action.
Be sure to bet responsibly and not above your means
Carve out a monthly budget for your poker habit if you need to
Start small as you gain experience
Remember there will be variance both ways, good and bad
Losing streaks end, so do not chase losses when gambling
Winning streaks end, so do not get overconfident 
Get used to losing
If playing against familiar players, pick up on their habits and use it against them
Research the odds of different hands hitting to provide logical support to your decision making
Try video poker games for free before playing real money poker
Try different casino poker games to find your favorite style (Omaha, Texas Hold'em, etc.)
Take advantage of bonuses offered at these offshore sites
Read the table limits before you start wagering money online
FAQ – Real Money Poker Online in Arizona
Is online poker legal in Arizona?
Online gambling was not legalized alongside online sports betting in Arizona. There are no real money poker sites that operate locally in Arizona. Many players use offshore sportsbook operators instead because they offer multiple forms of gambling, including online poker games.
Can I use a VPN to play online poker?
No, you do not need to use a VPN to play online poker. Offshore online poker sites offer poker to residents of Arizona and the United States with no restrictions.
Do you have to live in a state to play online poker?
As you read above, offshore sites offer online casino gambling to residents all over the United States. You can sign up and play for money online today, whether you reside in Arizona or Rhode Island.
Are poker rooms legal in Arizona?
Yes, there are poker rooms located in several land-based casinos across the state of Arizona. However, online gambling and online poker rooms are not currently allowed to operate in the state.
Can I play Americas Cardroom in Arizona?
Americas Cardroom is known for offering online poker games; however, they are not a licensed operator. For the best online casino gambling experience, you should stick with online gaming providers that are licensed and trustworthy, like Bovada.