Massachusetts Sports Betting – Best Legal Sportsbooks in MA
With the new year, a new era has begun when it comes to Massachusetts sports betting. On January 31, 2023, the locally-regulated market went live in the Bay State allowing residents to enjoy in-person sports betting.
But for those bettors who do not feel like leaving the comfort of their homes to place their wagers, they can do so with the best offshore sports betting sites in Massachusetts.
Best Massachusetts Sports Betting Sites 2023
Our experts took the time to sign up for an account and go through the same process any new prospective bettors looking to gamble online in Massachusetts would have to. In doing so, they have provided us with what they believe are the ten best offshore sportsbooks for you to use based on a wide variety of key factors.
As mentioned previously, there are certain features that are mandatory in order to qualify for this list. This way, we can be sure to recommend the sites that consistently provide the best user experience possible. Please take your time and go through this list as there are certain features that might appeal to you more than others.
BookMaker – Sharp action welcome
Heritage Sports – Among the most competitive odds in the industry
Bovada – Prop bets market among the industry's best
BetOnline – Early NFL lines available
BetAnySports – Reduced juice available on the top sports leagues
BetUS – Most competitive bonuses
WagerWeb – Customers who use crypto get fast payouts
JustBet – Early odds available
Everygame – Promotions are always new and exciting
GTbets – Several bonuses to choose from
Is it legal to bet on sports in Massachusetts?
Sports betting was legalized in Massachusetts in 2022 but has not been fully launched as of yet.
There have been a few complications with setting a launch date because the Massachusetts Gaming Commission is having to fix an issue with temporary gaming licenses.
Until that is worked out and in-person wagering at a retail sportsbook is accessible, sports betting fans in Massachusetts can place their wagers via offshore sportsbooks that fall outside of the jurisdiction of state and federal law.
The Best Massachusetts Sportsbooks Reviews
Here are our top ten sports betting sites in Massachusetts as recommended by our betting experts. We also have a more in-depth review of each of these offshore sites available here on our site as well.
1. BookMaker: Best for Large Betting Limits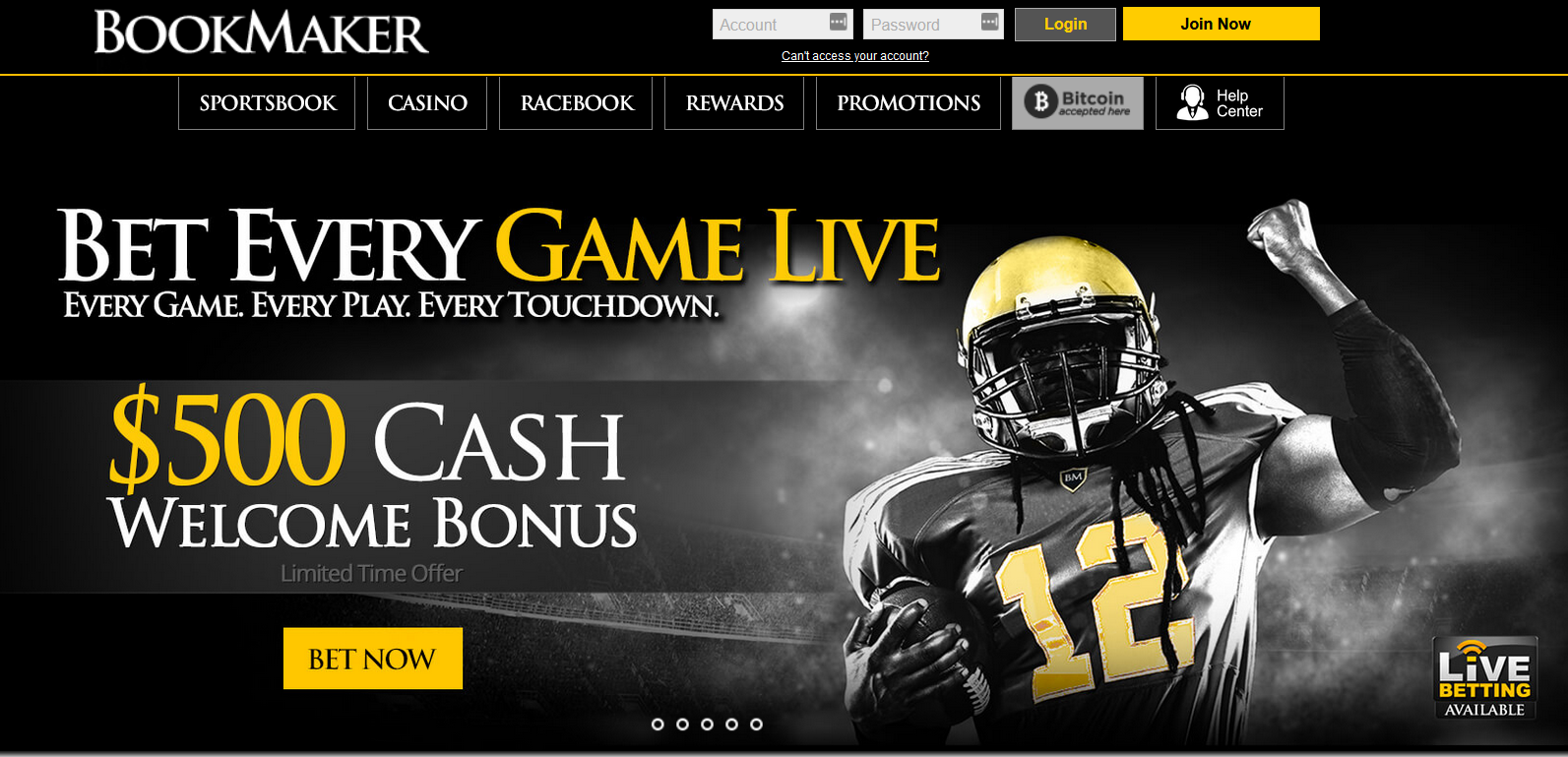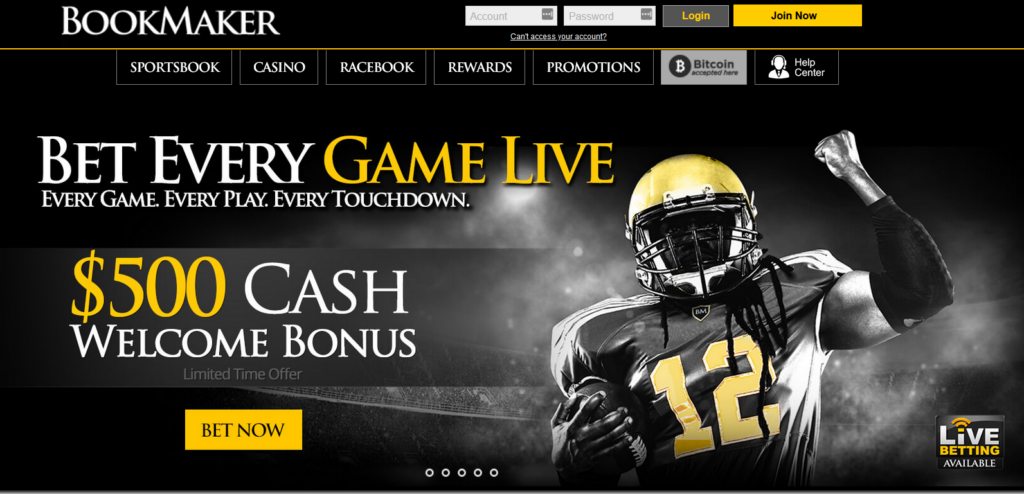 When it comes to gambling online in Massachusetts, BookMaker has been the preferred choice for a long time. Part of that reason has to do with tenure as they've been in the online betting and casino space since the late 1990s. To last this long in a space where reputation is everything, it goes without saying that BookMaker is a name online sports bettors in Massachusetts have been using for decades.
For obvious reasons, a lot of online sportsbooks do not accept action from sharp players. BookMaker accepts all action which is another reason they are the first choice for many online sports bettors. Sharp bettors expect early lines and BookMaker provides that service which is one of the many benefits you'll be able to take advantage of once you sign up for an account.
A sports bet is a price that you're being offered on a sporting event. If you want to make a profit, getting the best available price is really important. While all of that is very obvious, the process of getting the best price is not as straightforward. First of all, you need to know how to get access to the best prices.
The reason BookMaker customers enjoy some of the best odds in the industry is that they release them early. This will be very important to you in the long run as the prices change according to how the market is betting. Getting access to these prices early will help you make a profit over time.
BookMaker does have a welcome bonus for new customers. They also have several reload bonuses for existing customers and a loyalty program. You do get better bonuses for depositing with cryptocurrency at BookMaker so make sure you consider that as an option as well. The deposit and withdrawal process is much easier when using crypto as well.
Credit card deposits do get bonuses on reload deposits. You will have access to all of these bonus codes upon signing up with the site. There is also a great refer-a-friend program that will reward you for recommending them to your friends who like to bet on sports in Massachusetts.
Pros:
One of the most trusted online sportsbooks
Early odds get you best prices
Reload bonuses on future deposits
Cons:
Some payout options come with fees
2. Heritage Sports: Best for Live Betting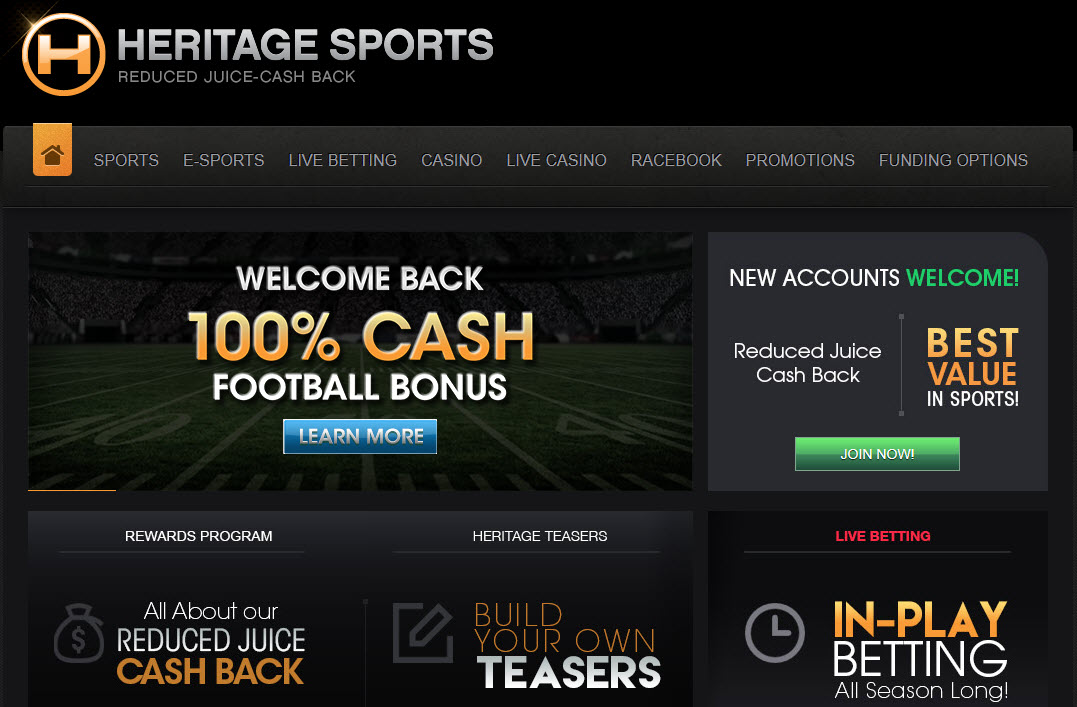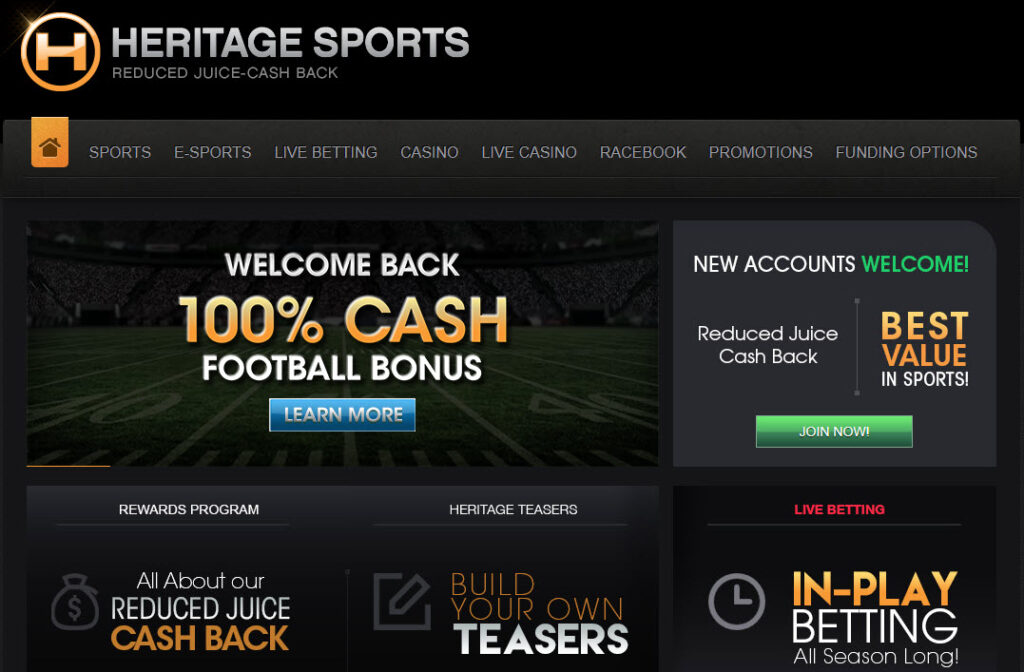 Heritage Sports ranks high among offshore sportsbooks for Massachusetts sports enthusiasts due to its unique features, competitive bonuses, and a well-rounded sportsbook. The platform offers a generous welcome bonus that significantly amplifies initial deposits, providing users more resources to place their bets. Additionally, the sportsbook covers a wide range of sports, including football, basketball, baseball and more, making it an all-inclusive platform for sports betting.
Moreover, the platform extends beyond sports betting and houses a fully equipped online casino. Here, users can indulge in numerous table games and slots, further enriching their betting experience. Not to forget, Heritage Sports is renowned for its rebates program. It offers a cashback incentive on all bets, win or lose, setting it apart from many competitors. This makes betting on Heritage Sports not only exciting but also rewarding.
Pros:
Savings due to reduced juice model
Great live betting market
Cons:
Not as many bonuses as some competitors due to reduced juice model
3. Bovada: Best for Mobile Sports Betting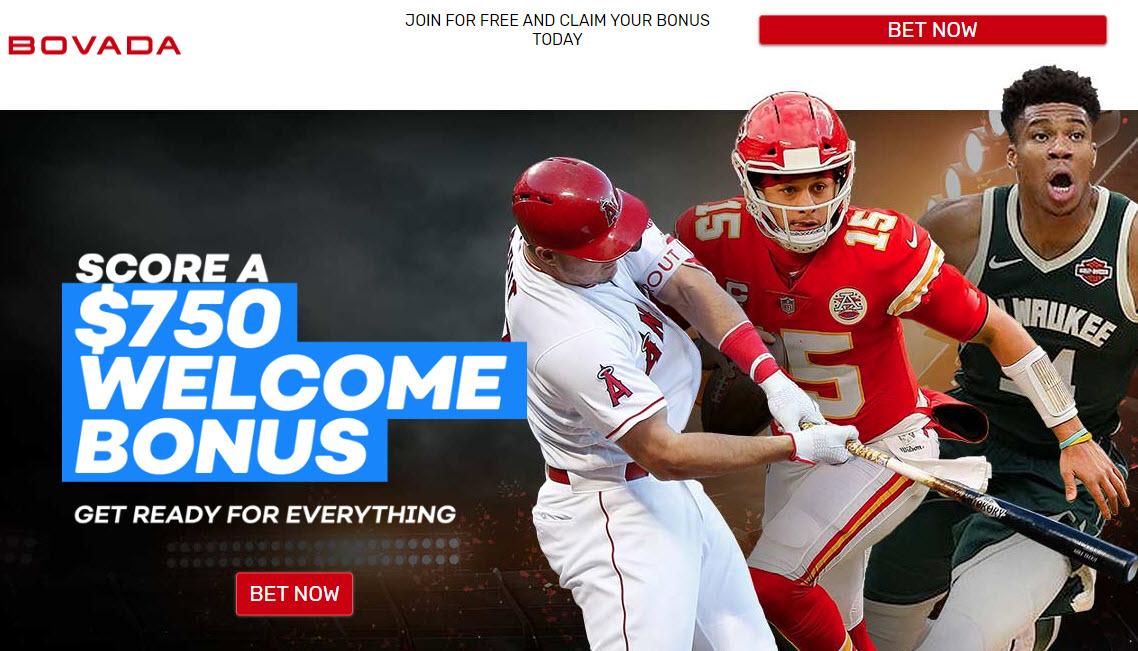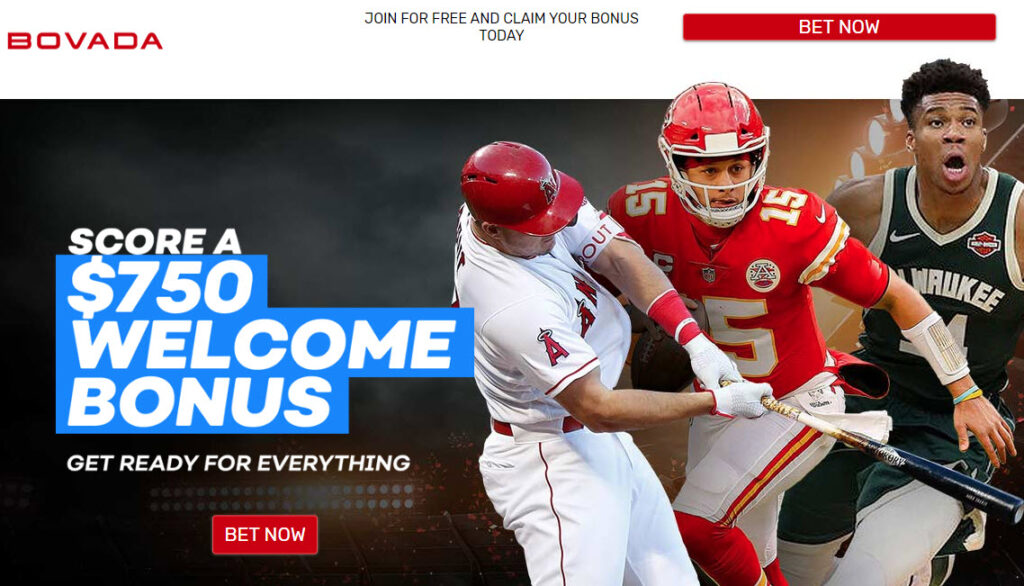 We know at this point that mobile internet use accounts for at least 50% of all online traffic. That means that online sportsbooks have had to adjust to the times and make their platforms more mobile-friendly. Some have been quicker than others and this is one of the features online sports bettors in Massachusetts love about playing at Bovada.
Their mobile offering includes everything in one with no download required. Not only can you bet on sports, but you can also access the casino and poker room as well from your mobile device all with a very user-friendly interface. Bovada has done a fantastic job making their mobile version so similar in quality to the desktop version. That is not as common as it should be in the industry.
Another underrated feature of your online sports betting experience is the around-the-clock service. Not all sites offer 24-hour service which is another benefit of signing up at Bovada. You can reach them via chat and email and their response time is very fast. Things can happen that you will want real-time assistance, such as if you need help claiming one of Bovada's promos.
Due to the time difference in some markets, you may have games going off really early or late and it can be frustrating to have to wait several hours for answers. Our betting experts remarked that they were able to get questions answered no matter the time of day. In situations where emails were sent, their customer service department provided quick and concise responses.
Pros:
Customer service available 24/7
Mobile offering as good as desktop making for better user experience
Cons:
Odds not released as early as some competitors
4. BetOnline: Best Opinionated Lines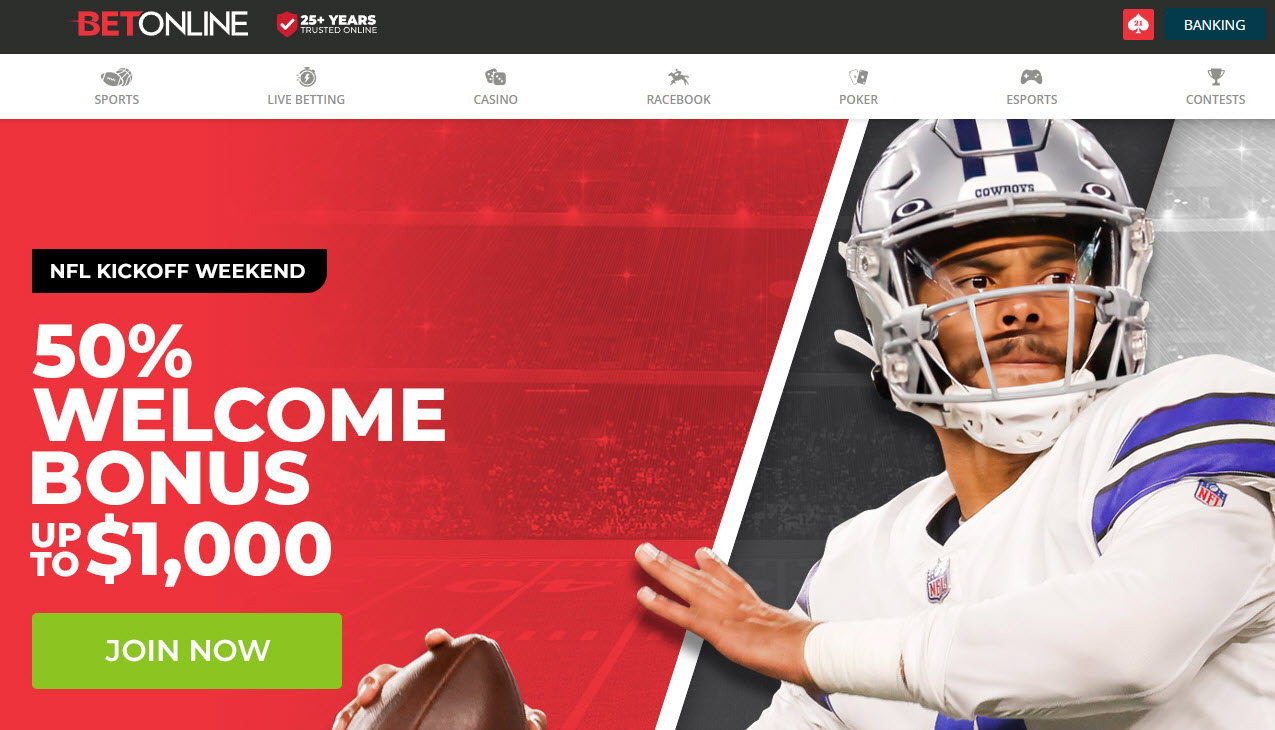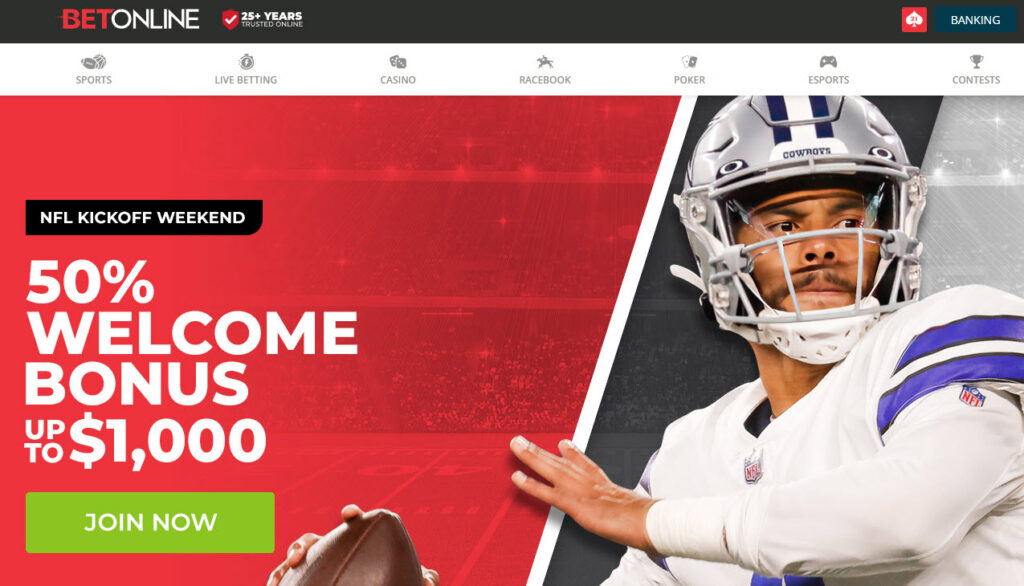 As a market leader in the industry, BetOnline has been providing online bettors in Massachusetts with some of the best-priced odds available. Known as market setters in the NFL, you will get access to prices the competition will end up copying once you've already done your betting.
For less experienced players, all you have to do to understand this concept is compare the NFL lines offered at BetOnline early in the week with what the closing line is at other sites. You'll quickly see that you'll consistently have access to better odds than the rest. BetOnline is also known for its generous bonus offerings, especially for new players. They offer an impressive $3,000 welcome bonus for new members, making it one of the most attractive options for first-time online gamblers.
Not only will you have access to great prices at BetOnline, but you'll also be able to bet on just about any league in the world and play tons of casino games. BetOnline has built its reputation on being able to offer more betting options than its competitors. Options are always the name of the game in any market and it'll be hard to find any sportsbook available to Massachusetts gamblers that have a wider selection than this company.
The NFL, NBA, MLB, NHL, EPL, MLS and more, a wide variety of sports and the top leagues in the world can be found here. Sports aren't the only thing you can wager on either. Do you know who will win at the Oscars? How about who will be the next POTUS? Well, you can bet on that and more with the entertainment and political betting options available at BetOnline.
Pros:
One of the industry's top betting markets
Long-standing reputation as an industry leader
Quick payouts
5. BetAnySports: Best Reduced Juice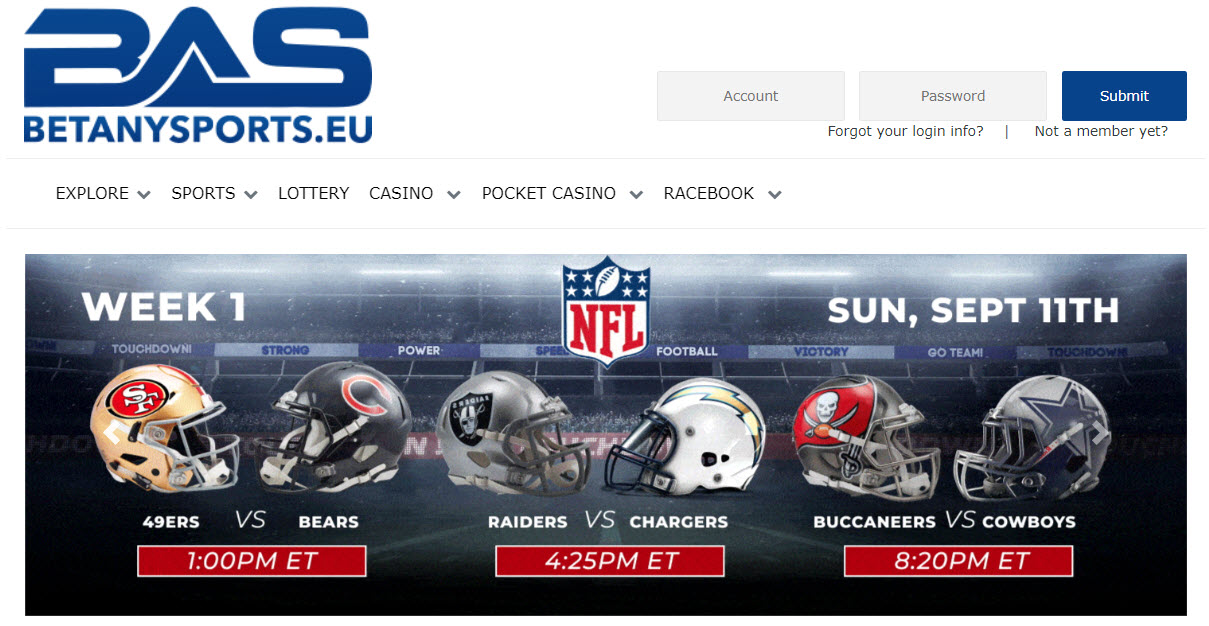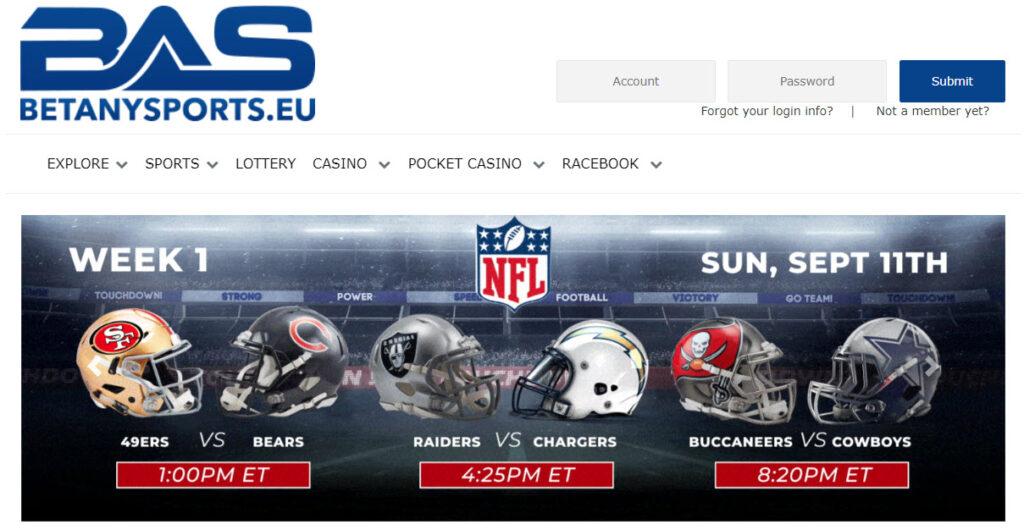 BetAnySports distinguishes itself as a top offshore sportsbook in Massachusetts primarily due to its generous bonuses and extensive reduced juice options. Upon signing up, users are welcomed with a 55% bonus on deposits, a feature that significantly enhances their betting experience. The sportsbook also offers a reduced juice program that allows bettors to place bets at odds lower than the traditional -110, maximizing their potential returns.
The BetAnySports Casino also stands out as an additional attraction. It features a wide variety of games including slots, table games, and live dealer games, catering to the diverse tastes of its users. The casino also offers numerous promotions that provide players with an opportunity to win big.
As for the sportsbook, it offers a wide range of sports to bet on, from popular choices like football and basketball to niche selections like esports and horse racing. BetAnySports also provides an abundance of betting options, including money lines, spreads, totals, and more. The platform is user-friendly, ensuring that both seasoned bettors and beginners can navigate easily.
Pros:
Reduced juice model means lots of savings
Fast payouts
Cons:
Fewer bonuses due to reduced juice
6. BetUS: Best VIP Service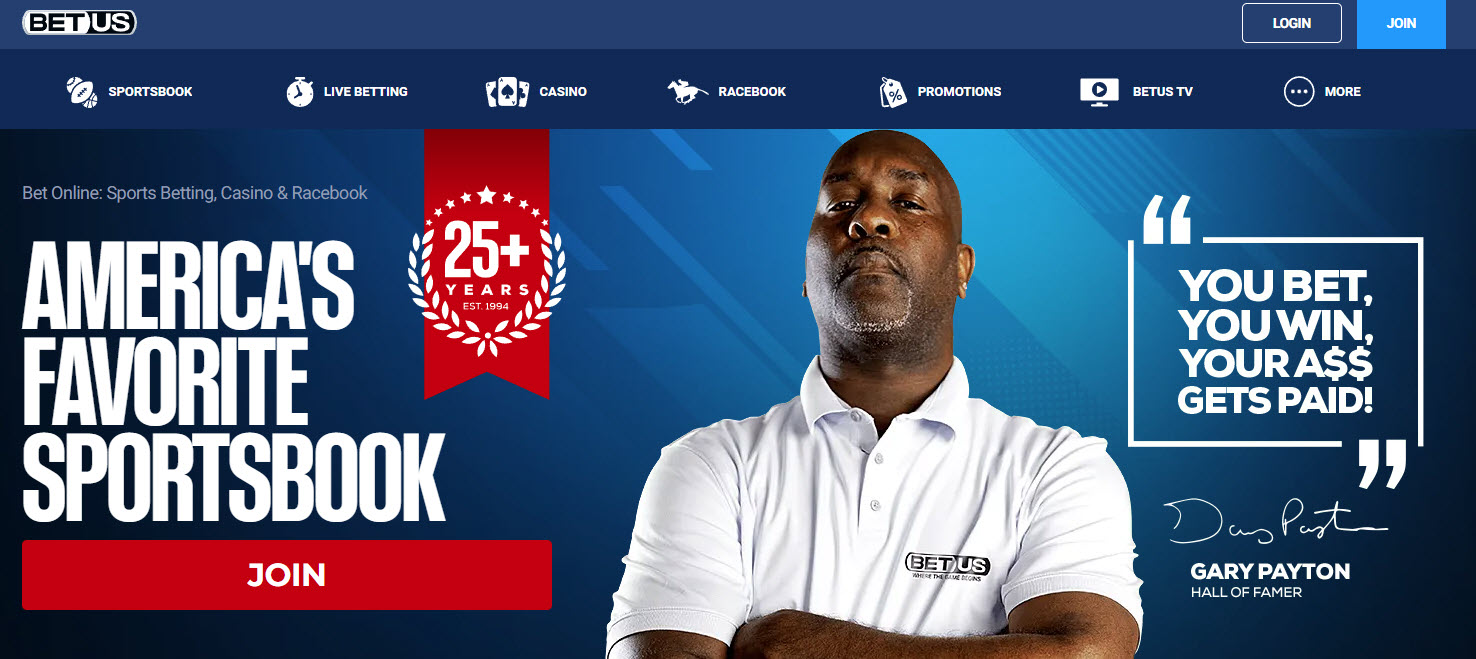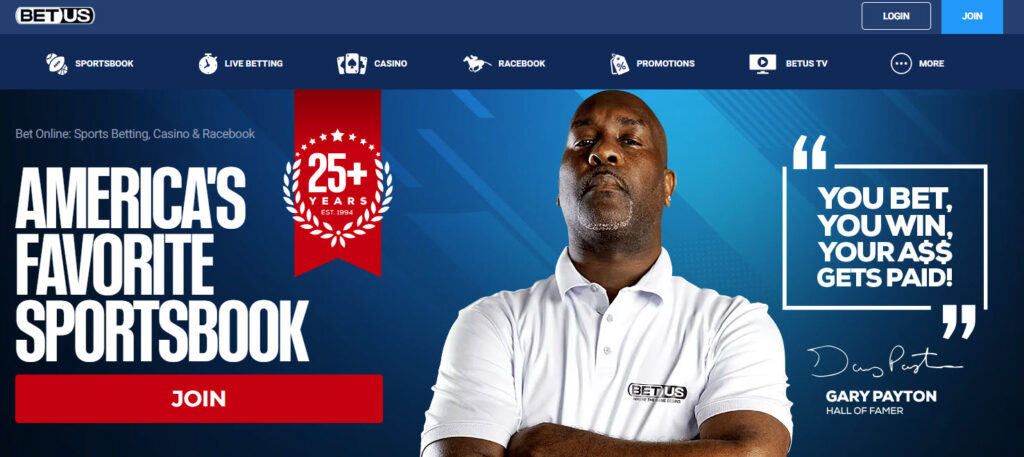 BetUS has earned its reputation with sports bettors in Massachusetts with its generous bonus structure as well as its amazing customer service team. You won't find more competitive bonuses anywhere in the online sports betting space. All bonuses, regardless of the site you're dealing with come with terms and conditions. Please make sure you go over them before claiming any bonuses.
Due to the number of bonuses available at BetUS, you need to make sure you are choosing a promotion that lines up with how you'd like to wager. From welcome offers to reload bonuses, one thing we can guarantee is you will get a ton of action for the money spent at this offshore betting site.
Customer service is the other feature that really stands out at BetUS. Truth is, if everything is going well, you'll hardly need to interact with customer service. For those of you who like to have someone you can speak to directly at a sportsbook you sign up with, BetUS does offer personalized customer service for VIP customers. Regardless of what type of customer you are, just know that this brand prides itself on customer satisfaction.
Pros:
Generous bonus offers
Top-of-the-line customer service
Cons:
Bonus terms do carry higher playthrough requirements than some competitors
7. WagerWeb: Fast Payouts Available for Crypto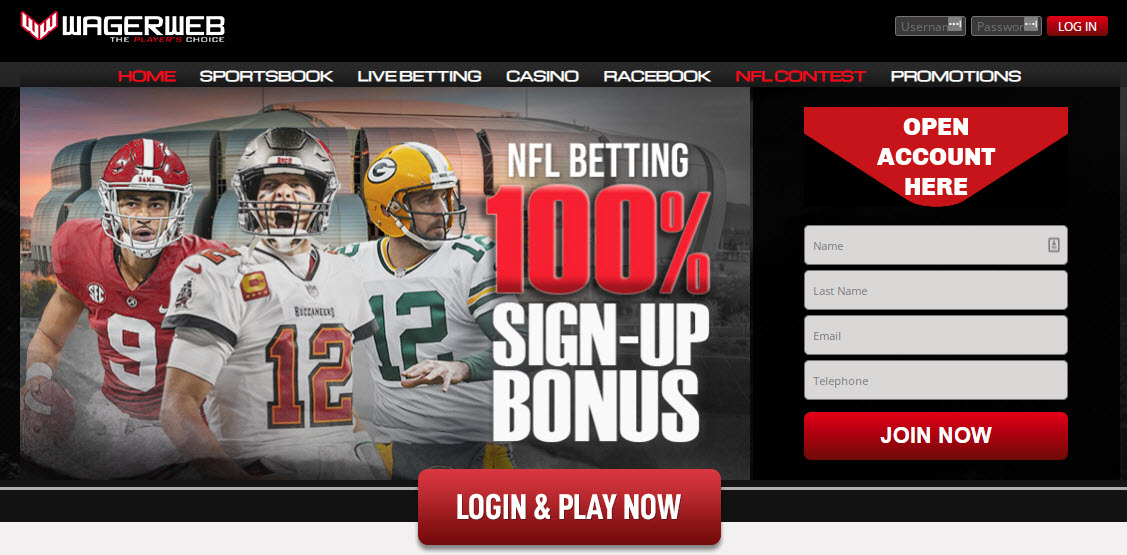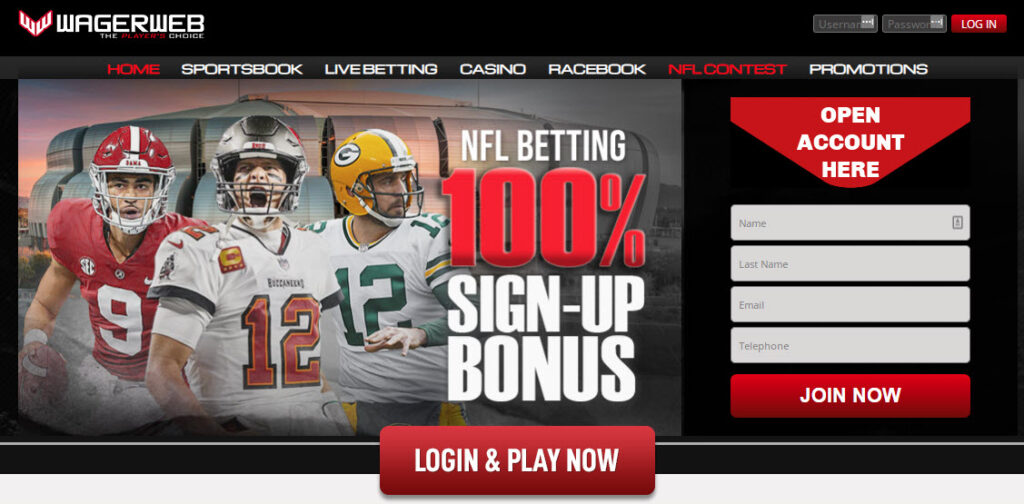 WagerWeb stands as a top offshore sportsbook in Massachusetts, boasting an array of alluring features that attract novices and seasoned gamblers alike. Key among these is its competitive bonuses, which include a 50% cash bonus for first-time deposits and a 5% cash back bonus on all casino play. The generous welcome bonus provides an immediate boost to your bankroll, giving you a head start in your betting journey.
The brand's robust casino platform is another draw. It offers an extensive selection of games, including blackjack, roulette, and numerous slot games. The high-definition graphics and immersive sound effects provide a realistic casino experience right from your device, making it a favorite among Massachusetts residents.
WagerWeb shines in its sportsbook offering, covering a wide array of sports including football, basketball, baseball, and more. It stands out with its Bitcoin transactions, offering speedy, secure, and anonymous payments. The Bitcoin-friendly sportsbook ensures quick deposits and withdrawals, providing a seamless betting experience. The comprehensive sportsbook, coupled with the convenience of Bitcoin transactions, places WagerWeb as a preferred choice for offshore betting in Massachusetts.
Pros:
Fast payouts for crypto users
Cashback bonus available
Mobile platform is great
8. JustBet: Higher Wagering Limits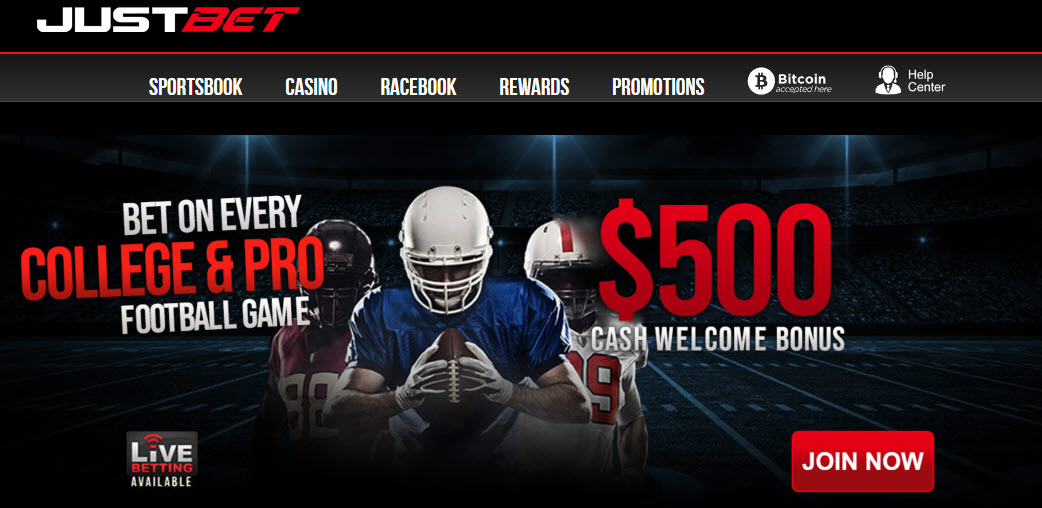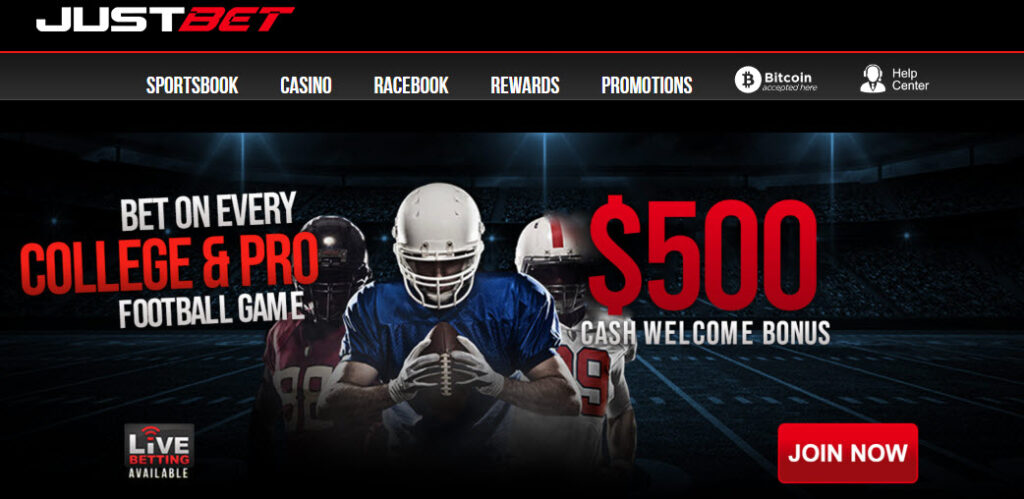 Most online sportsbooks have a maximum amount allowed per bet. That amount varies by sport but also by the type of bet. For example, it is industry standard that proposition bets have a much lower max bet than regular bets on money lines, sides or totals. The average online betting site for players in Massachusetts limits straight bets at anywhere from $2500 to $5000 depending on the league and sport.
At JustBet, you can bet as much as $50,000 on NFL sides and $20,000 on totals. This amount is available from Thursday to Sunday which is when the NFL week kicks off. You can also wager up to $10,000 on NBA and MLB sides and totals with money lines capped at $5000. Hockey wagers are capped at $5000.
Furthermore, JustBet encourages both new and seasoned bettors with enticing bonus offers. For new users, they offer a generous welcome bonus that matches a percentage of your initial deposit, effectively increasing your betting capital. For regular bettors, JustBet offers a loyalty program featuring various rewards and cash bonuses. There are also sport-specific bonuses during major league seasons, along with periodic promotions on high-stakes games.
Pros:
HIgher wager limits than most competitors
Good bonus options available
Cons:
Sharp action not always welcomed
9. Everygame: Slick Mobile Experience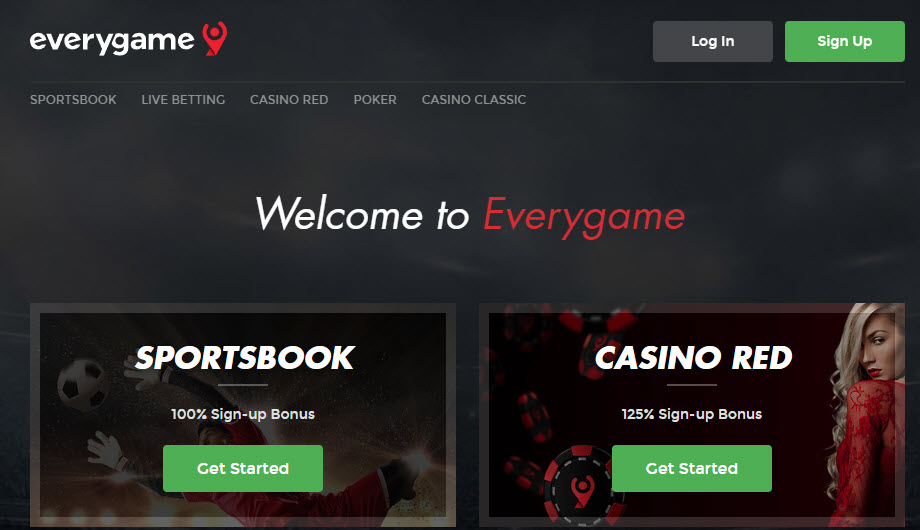 Everygame first launched their mobile site over 20 years ago. Considering many of their competitors are only recently updating their mobile offering to meet bare minimum requirements, it's safe to say that they have a leg up on the competition in this department. For this reason, every part of the mobile experience is slick.
Everygame is an attractive offshore sportsbook for Massachusetts residents due to its comprehensive selection of sports betting markets. The sportsbook offers a variety of betting options, ranging from popular American sports like basketball, football, and baseball to international sports like soccer, cricket, and rugby. Additionally, Everygame's sportsbook is known for its competitive odds and innovative betting features, such as live betting and mobile betting, making it a top choice for both novice and experienced punters.
Everygame also offers an impressive casino section, featuring a wide array of games, including slots, table games and video poker. The casino is renowned for its high-quality graphics, seamless gameplay and fair play. Furthermore, Everygame's poker offerings are exceptional, with a variety of poker games and tournaments available for players of all skill levels.
This offshore sportsbook also offers lucrative bonuses and promotions, such as welcome bonuses, reload bonuses and loyalty rewards, adding to its appeal among Massachusetts bettors.
Pros:
One of the best mobile offerings
Good for live wagering
Cons:
Bonus terms and conditions less competitive than some peers
10. GTbets: Best for Competitive Bonuses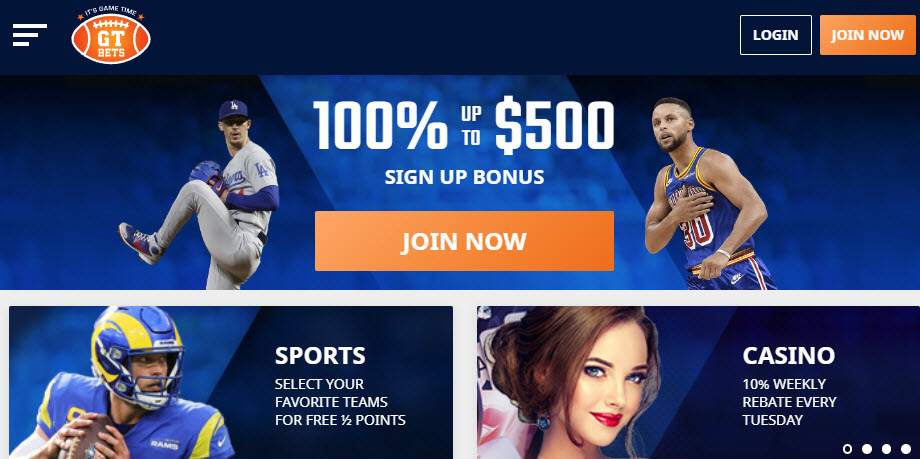 If you're looking for great bonuses to top off your deposits, GTbets has Massachusetts bettors getting more action for their deposit money. Most online sports betting sites in Massachusetts offer free play bonuses. When you bet free play, the money you risk is deducted and if you win, you get the winnings put into your balance.
This differs from betting your own cash in the sense that when you make a cash bet, you get the money you risked back plus the profit. This is where GTbets customers see the real advantage of signing up for an account because their bonuses come in cash. That means that when you bet with a GTbets bonus, you get the risk amount and the winnings back like you would on a normal bet.
Of course, like with any site, GTbets does offer a generous welcome bonus. The difference with them is their reload bonuses are also quite generous. In fact, GTbets probably has the biggest referral bonus in the industry. The signup bonus is 100% up to $500 and comes with a required playthrough.
The reload bonus is 50% up to $250 which is a great deal. Finally, with the referral bonus, you get $400 which is significantly more than what the competition offers. You'll have a very hard time finding any online sportsbook that offers more than $100 for a referral. It goes without saying that if you're looking for a great offer, GTBets has a bonus that will appeal to you.
Pros:
Cash bonuses give your wagers more value
Several bonuses to choose from
Cons:
Odds not as competitive as others
Fewer markets than some competitors
Latest Massachusetts Sports Betting News and Developments
Bill HB5464 which legalized sports betting in Massachusetts had an issue with how it was worded and as a result, it has delayed the ability of the Massachusetts Gaming Commission to set a launch date. This is a problem that should be fixed relatively easily with some lawmakers saying it only requires a legislative fix.
Until this issue is sorted out, the MGC will not be announcing a launch date with the possible complications that may arise from this misunderstanding over temporary licenses.
While that is being sorted out by lawmakers, anyone looking to make an online sports bet in Massachusetts can do so at an offshore betting site.
Massachusetts Sports Betting Updates
In recent months, Massachusetts has witnessed significant developments in the realm of legal sports betting. From legislative debates to licensing challenges, the journey toward legalized sports betting in the state has been an eventful one. As we delve into this timeline, we will uncover the key milestones that culminated in the official launch of mobile sports betting on March 10, 2023, offering Massachusetts residents exciting opportunities for sports wagering:
March 2023: As of March 10, mobile sports betting is officially available for Massachusetts residents at the three following casinos: MGM Springfield, Encore Boston Harbor and Plainridge Casino.
February 2023: The Massachusetts Gaming Commission (MSG) announces March 10 as the official date for the launch of the mobile sports betting market in the state.
January 2023: First licenses are issued with the start of the new year. Retail sports betting launched on January 31st, while online sports betting is expected to launch in early March.
November 2022: Mobile sports betting operators can now start applying for licenses to operate within the state.
September 2022: During a Massachusetts Gaming Commission meeting, on September 15th, members discuss a language error in HB 5164 that did not put a cap on how many operators can apply for a temporary license. Also, the qualification standards are low enough for a host of operators to meet the requirements.
September 2022: The Massachusetts Gaming Commission receives a notice of intent to apply for a sports betting license from 42 operators. There are only 15 licenses available in the state. On September 6, the local Gaming Commission meets to talk about possible timeframes to green-light the launch of online sports betting in the Commonwealth.
August 2022: The Massachusetts Gaming Commission meets with stakeholders to discuss possible launch dates for retail sports betting in the state. They identify eleven operators interested in acquiring a sports betting license, which is more than anticipated.
August 2022: A sports betting bill is announced by Ron Mariano. The bill passes by a 36-4 vote and is signed by Governor Baker only nine days later.
July 2022: Massachusetts Governor Charlie Baker announces that he wants to sign a potential sports betting bill after the legislative session. Both the House and Senate went into the final weekend trying to work out their differences via a committee meeting.
June 2021: Massachusetts lawmakers introduce a sports betting bill that would allow both in-person and online sports betting in the state.
January 2021: Massachusetts Governor Charlie Baker includes language legalizing sports betting in his budget proposal for the upcoming fiscal year.
July 2020: The Massachusetts House approves a bill that would allow sports betting in the state, but the bill is not taken up by the Senate before the end of the legislative session.
January 2019: Massachusetts Governor Charlie Baker files a bill that would allow sports betting in the state, but the bill does not advance out of committee.
May 2018: The U.S. Supreme Court strikes down PASPA, the federal ban on sports betting, opening the door for states to legalize and regulate sports betting.
2016: Massachusetts lawmakers pass a daily fantasy sports bill, legalizing and regulating daily fantasy sports in the state.
In the ever-evolving landscape of sports betting, Massachusetts has made strides in creating a regulated and exciting environment for its residents and visitors. With the launch of mobile sports betting in March 2023, Massachusetts takes its place alongside states that have embraced this popular pastime. As we reflect on this timeline, it is evident that sports betting in Massachusetts has evolved from an idea into a reality, promising a dynamic future for sports enthusiasts and the state's economy alike.
Massachusetts Sports Betting Teams
Massachusetts is in the heart of the New England area, one of the true hotbeds of sports in the country. All of the professional franchises in the New England area have won a championship in the not-too-distant past so you better believe that local fans have enjoyed betting on their favorite team over the years.
With the financial power in Massachusetts, there's no doubt that it will be one of the most powerful sports betting markets in the country once a launch date has been set. All of the state's fan-favorite teams are covered below:
Boston Red Sox (MLB): The Red Sox are one of the most iconic baseball teams in the United States and play their home games at Fenway Park in Boston.
New England Patriots (NFL): The Patriots are a highly successful NFL team, known for their dynasty under coach Bill Belichick and quarterback Tom Brady. They play their home football games at Gillette Stadium in Foxborough.
Boston Celtics (NBA): The Celtics are a storied NBA franchise with a rich history of championships. They play their home games at the TD Garden in Boston.
Boston Bruins (NHL): The Bruins are a well-established NHL team known for their passionate fan base. They also play their home games at the TD Garden.
New England Revolution (MLS): The Revolution represents Massachusetts in Major League Soccer and play their home matches at Gillette Stadium.
Boston College Eagles: Boston College competes in the Atlantic Coast Conference (ACC) and has teams in various sports, including football, basketball and hockey.
Boston University Terriers: Boston University is a member of the Patriot League and competes in a wide range of sports, including hockey, basketball and soccer.
Harvard Crimson: Harvard University, located in Cambridge, fields teams in the Ivy League in sports such as football, basketball and ice hockey.
Northeastern Huskies: Northeastern University, based in Boston, participates in the Colonial Athletic Association (CAA) and has competitive hockey and basketball programs.
UMass Minutemen and Minutewomen: The University of Massachusetts, with its main campus in Amherst, has teams competing in the Atlantic 10 Conference, including football, basketball and hockey.
Holy Cross Crusaders: The College of the Holy Cross in Worcester is a member of the Patriot League and fields teams in sports like college football, basketball and soccer.
When you talk about the New England Patriots of the NFL, Boston Red Sox of the MLB, Boston Celtics of the NBA or Boston Bruins of the NHL, what you have is some of the most iconic franchises in all of sports in one region. Add to that the plethora of NCAA sports available to college sports betting fans and the financial potential of this market is limitless.
How to Bet on Sports in Massachusetts
In order to get started with betting on sports online in Massachusetts today, you can do so at any one of the top offshore sportsbooks as recommended by our expert gamblers. Offshore sites are not under U.S. jurisdiction so you can get started immediately.
While we've recommended ten sites here for you, we have reviews on over 100 sites in our BMR Sportsbook Rating Guide.
Rest assured that if they're on our list of recommended sites it's because they have good odds, competitive bonuses and pay customers in a timely manner. Those are the bare minimum requirements before we would ever advise anyone in Massachusetts to sign up.
Compare the Best Massachusetts Betting Sites & Sportsbooks
Below is a list of sports wagering operators and their history, payment methods, ratings and a link to their individual reviews.
| Sportsbook | Rating | Online Since | Payment Methods | Read Review |
| --- | --- | --- | --- | --- |
| BookMaker | A+ | 1996 | Credit Card, Bitcoin, P2P, Crypto | Bookmaker.eu Review |
| Heritage Sports | A+ | 2001 | Credit Card, Bitcoin, Cashiers Check, Bank Transfer, P2P | Heritage Sports Review |
| Bovada | A+ | 2011 | Credit Card, Bitcoin | Bovada Review |
| BetOnline | A+ | 2001 | Credit Card, Bitcoin, Crypto, Cashiers Check, Bank Transfer P2P, | BetOnline Review |
| BetAnySports | A+ | 2002 | Credit Card, Bitcoin, Electronic Check | BetAnySports Review |
| BetUS | A | 2000 | Credit Card, Bitcoin, Bank Transfer, P2P | BetUS Review |
| WagerWeb | A | 1994 | Credit Card, Bitcoin, Cashiers Check, Bank Transfer, P2P | WagerWeb Review |
| JustBet | A | 2000 | Credit Card, Bitcoin, P2P, Crypto | JustBet Review |
| Everygame | A | 1996 | Credit Card, Bitcoin, Skrill, Neteller, Bank Transfer, P2P | Everygame Review |
| GTbets | A | 2011 | Credit Card, Bitcoin, Crypto | GTbets Review |
BookMaker, Heritage Sports, Bovada, BetOnline and BetAnySports each have earned an A+ rating, our highest possible rating, from our team of industry experts.
Key Features of the Best Massachusetts Sportsbooks
These are the characteristics our experts were looking for when making a list of offshore sportsbooks for Bay Staters:
Trustworthy Reputation
This is everything to offshore sportsbooks. They realize that some customers in the U.S. can be a little bit hesitant to send money to an offshore company. For this reason, their reputation is everything. All of the recommended sites on our list have impeccable reputations in the industry.
Quick and Secure Sportsbook Payouts
Being able to get your money fast and securely without much hassle is essential to a good user experience when gambling online. Customers in Massachusetts who have been betting on niche and popular sports using the sites that we suggest have been enjoying fast payouts for decades.
Competitive Betting Odds
This is important in any market so you can bet this was taken into heavy consideration by our betting experts. Not every sportsbook can offer reduced juice but that doesn't mean they won't have competitive odds. There are several factors that determine a sportsbook's ability to deliver competitive odds and the list we have provided you have those bases covered.
Abundance of Betting Options
The size and diversity of a sportsbook's betting market is a big part of its reputation. You can have all of the bells and whistles but if they don't have the event you want to bet on what's the point? All of these offshore sites on this list will give you access to the biggest betting markets in the world, including professional sports teams and college teams.
Mobile-Friendly Sports Betting Interface
With more than half of internet traffic coming from mobile wagering, it only makes sense that online gambling sites change with the times. Being able to bet on the go with the plethora of options at your disposal is essential these days.
Many online sports betting operators will offer either a standalone mobile sports betting app or a fully-optimized mobile sportsbook site that can be accessed on your preferred mobile devices.
Sportsbook Banking Methods
Of course, when you win you expect to get your money as fast as possible. Well in order to win, you'll need to be able to deposit money first. Options are the key here and all of the top online sports betting sites in Massachusetts have a ton of deposit options to help customers fund their accounts, such as bank wire transfers, debit cards, credit cards and even crypto.
Helpful Sportsbook Customer Service
We all need help sometimes and it's reassuring to know that your new sportsbook has agents that are not only available to help you but knowledgeable as well. Our experts took these things into consideration when creating their top ten list.
Sportsbook Promos & Bonuses
Some sportsbooks offer better sports betting bonuses, such as new-user bonuses and deposit bonuses, than others so it really depends on how important bonuses are to you. If you're wondering why anyone wouldn't want a bonus, remember that they come with terms and conditions which almost always include a minimum playthrough amount before cashing out. Always read the terms and conditions of any bonus before accepting. As long as you do that, you'll be able to fully enjoy some really great promotions that these sites offer customers.
What are the differences between regulated and offshore sportsbooks?
Regulated sportsbooks fall under state jurisdiction. Each sports wagering operator must apply with the state governing body that oversees local sports betting. Once they go through the approval process, they receive online sports betting licenses. From then on, they can offer sports betting to anyone located in the state as long as they meet age requirements.
Offshore sportsbooks are not located in the United States and therefore do not fall under U.S. jurisdiction.
These entities are subject to sports wagering regulations in their home markets and they operate as legal sportsbooks. They can accept customers from the U.S. as long as they meet the age for legal gambling in their home state.
Massachusetts Betting Guides
Uncover the best opportunities in the Bay State and elevate your betting experience today with our extensive Massachusetts gambling guides.
FAQs – Online Sports Betting in Massachusetts
Is sports betting legal in Massachusetts?
Sports betting has been legalized in Massachusetts but the legal sports betting industry has yet to take off in the state. In the meantime, you can find all of your favorite sports betting options at one of our highly rated offshore sportsbook operators.
Can I gamble online in Massachusetts?
Legal sports betting in Massachusetts has not been fully launched yet. Gaming regulators still have some things to work out before full sports betting implementation is possible. Offshore online sportsbooks are still an option until then.
What apps can you bet on in Massachusetts?
You can bet with many mobile sportsbooks or stand-alone sportsbook apps as a Massachusetts resident. However, we highly recommend that you use a mobile app or mobile site of one of our top picks for the best sportsbooks as they provide many benefits over their competitors.
What sportsbook can I use in Massachusetts?
Because legal Massachusetts sports betting is available, residents are able to use any licensed or offshore sportsbook to bet on sports, with our top ten picks being their best options. The top five sites are BookMaker, Heritage Sports, Bovada, BetOnline and BetAnySports.

Is it safe to play with sportsbooks in Massachusetts?
Yes, it is safe for you to make wagers in Massachusetts with an offshore sportsbook. A few of the ones in our review have been around since the 1990s, which should help any bettor feel more secure.
North Carolina is one of the next states to climb aboard the sports betting bandwagon, and it will likely occur by the self-imposed June deadline. Also, a new sports betting committee was formed in the last meeting to move things along. First Half of '24 The deadline for the launch of sports betting in North

---