Nebraska Horse Racing Betting – The Best Racebooks in Nebraska 2023 Compared
Nebraska is still home to several racetracks that hold live events throughout the year. But like many states across the country, interest in the industry has decreased over time.
The Cornhusker State is hoping that the building of racinos (casino games in the racetracks) will lead to another boom in what was once one of America's favorite sporting industries.
But Nebraska residents are allowed to wager online on horse races in addition to visiting the tracks to place bets. With so many offshore sportsbooks available as well, you have no shortage of options to bet on horse races from around the world in 2023.
We have prepared a detailed guide to show you which are the best Nebraska sports betting sites to join for horse racing, what makes a quality racebook, and some tips on how to read the odds and get started as a horse racing bettor today.
The Best Nebraska Sportsbooks in 2023
Nebraska Betting Guides 
We have a page that will provide you with a more in-depth review of each of our top-rated Nebraska gambling sites in addition to other comprehensive guides for each of the state's online betting markets for bettors in Nebraska State that want to learn more.
Ranking the Top 10 Racebooks in Nebraska
Some sites do horse racing better than others, so we have prepared a top 10 list of offshore sites that are eligible for all Nebraska users to join today.
Bookmaker.eu – Highly reputable racebook
Heritage Sports – Great site for live betting 
BetOnline – Highest daily racebook rebate (9%)  
Bovada – Best for virtual races 
BetAnySports – Fun cash back racebook 
BetUS – Good horse racing promotions  
WagerWeb – Racebook cashback similar to Heritage Sports 
JustBet – Racebook similar to Bookmaker's 
Everygame – Best site design and offers poker tournaments 
SportsBetting – Get your first horse race bet on the house 
Reviewing the Best Nebraska Horse Racing Betting Sites
Instead of just taking our word from a list, we defended our choices with a review of the top five racebooks below. These sites are all based in Costa Rica and have received an A+ rating from our experts.
1. Bookmaker.eu: Highly Reputable Racebook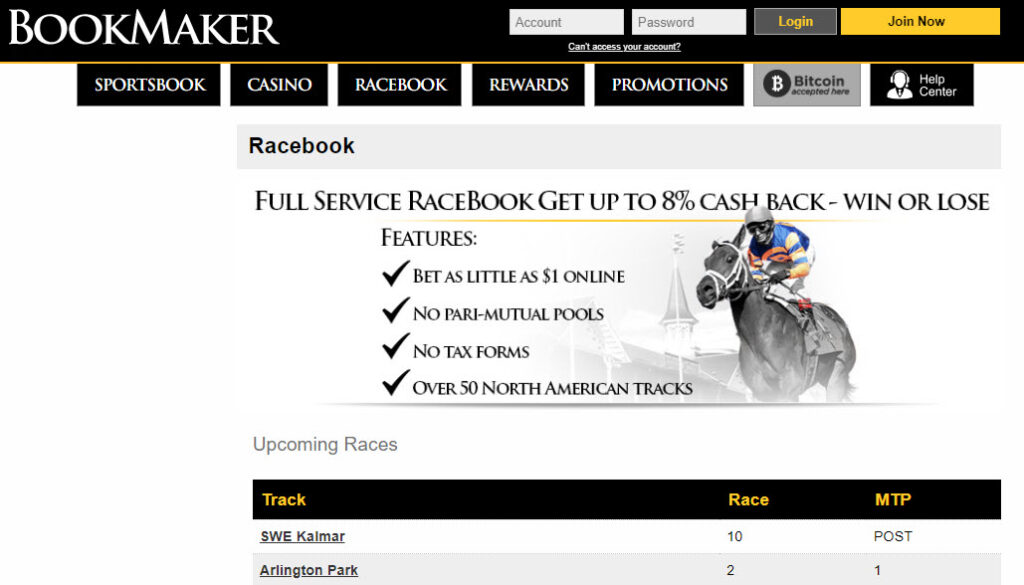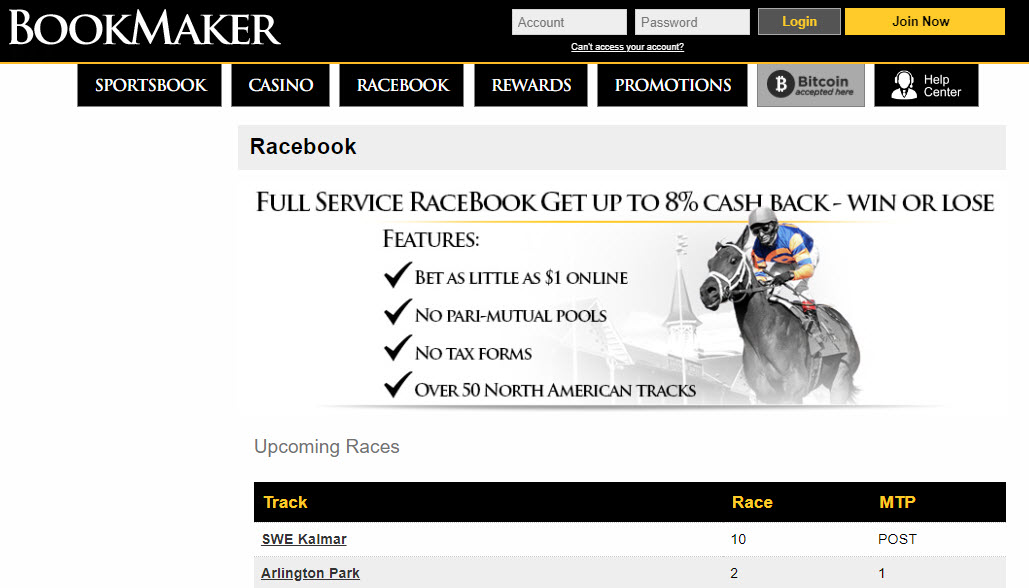 Our top-ranked racebook hails from Costa Rica with a reputation for being where lines originate in the sports betting industry. If you join Bookmaker.eu, you can expect high limits, fast payouts, and one of the best loyalty programs in the business.
The racebook has many tracks from around the world in addition to all the big horse races each year. Bookmaker does not use pari-mutuel pool betting as all races are fixed odds.
Bettors can expect to receive 3% rebates on Win/Place/Show bets and up to 8% on more exotic wagers as part of the racebook promos. There are no upper limits on these rebates nor is there a minimum weekly volume to qualify for the rebate. Bookmaker is welcoming of all players regardless of your experience level.
Pros: 
No limit on racebook rebates
Longstanding reputation
All fixed odds betting
Cons: 
No live streaming of races available
2. Heritage Sports: Great Live Betting Site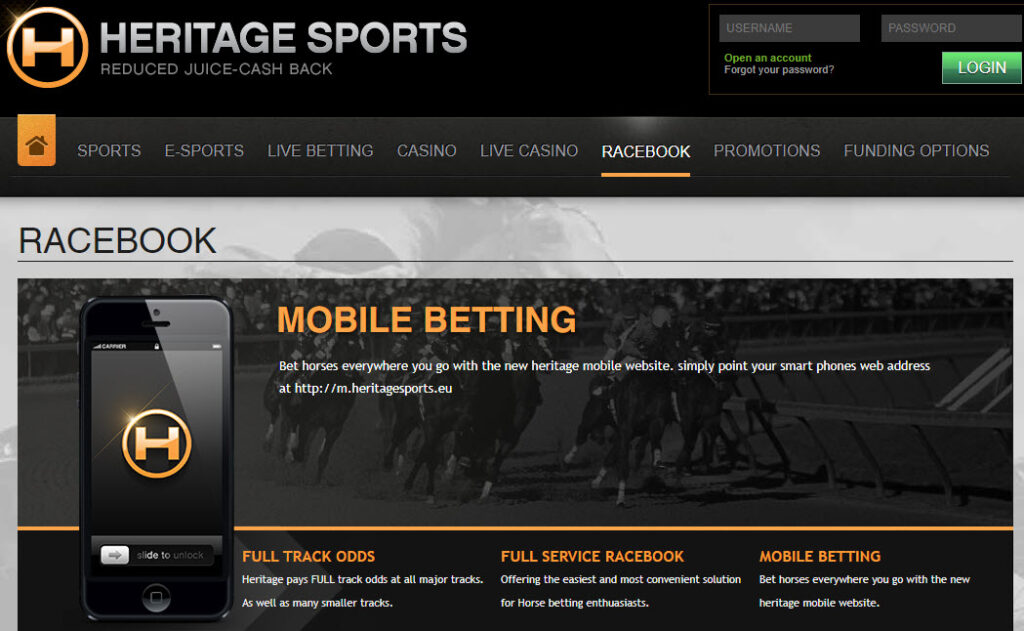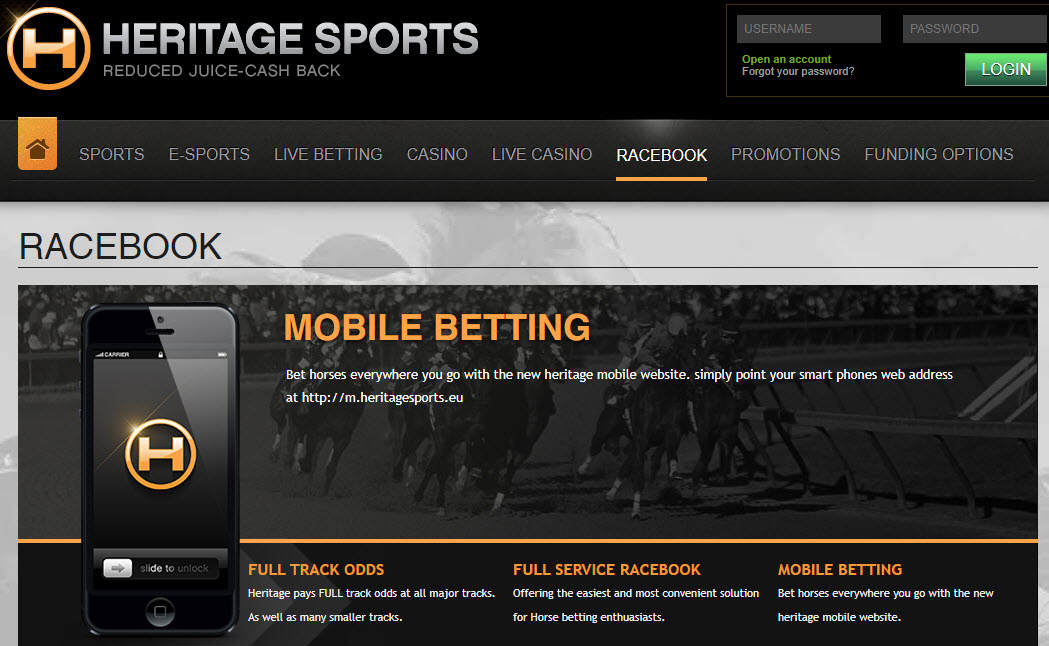 Heritage Sports does not have the largest bonuses among the competition, but you get a great reduced juice and a cash back promo no matter which section of the site you use. The racebook has plenty of global thoroughbred tracks and the site design makes it easy to place your wagers.
At Heritage Sports, you can get up to 8% cash back (max limit of $2,000) on your daily horse racing wagers, and the rollover requirement is reasonable at 4x. The site also offers users some of the more unique perks in the business, such as a free parlay for your birthday or every eighth deposit is on the house (taken as an average of the previous seven deposits).
Pros:
Daily cash back up to 8% in the racebook
One of the best mobile sites
Unique perks for loyal users
Get extra info on each race
Cons:
Not all tracks qualify for cash back program
Does not do any live streaming of horse races
3. BetOnline: Highest Daily Rebate on Horses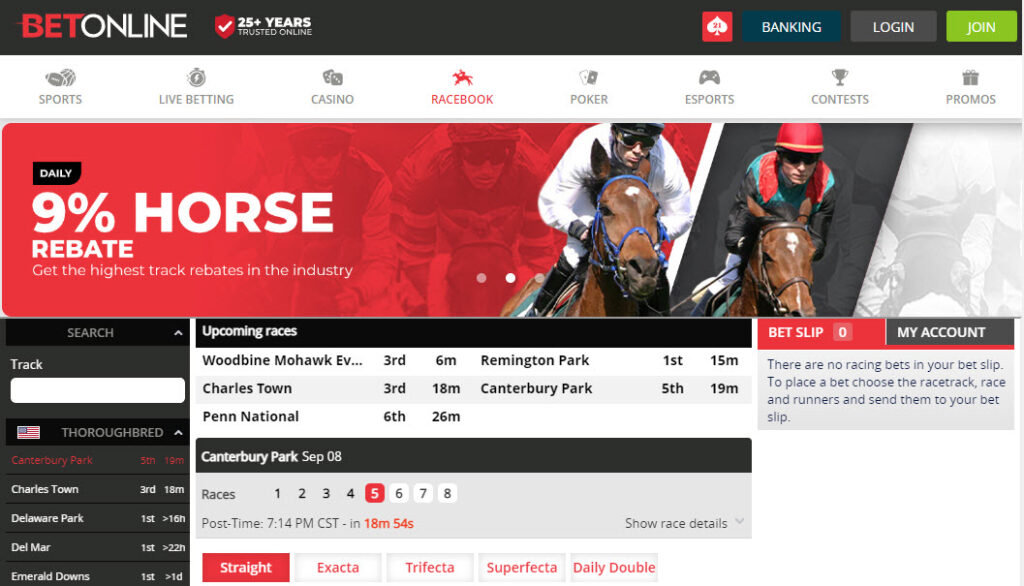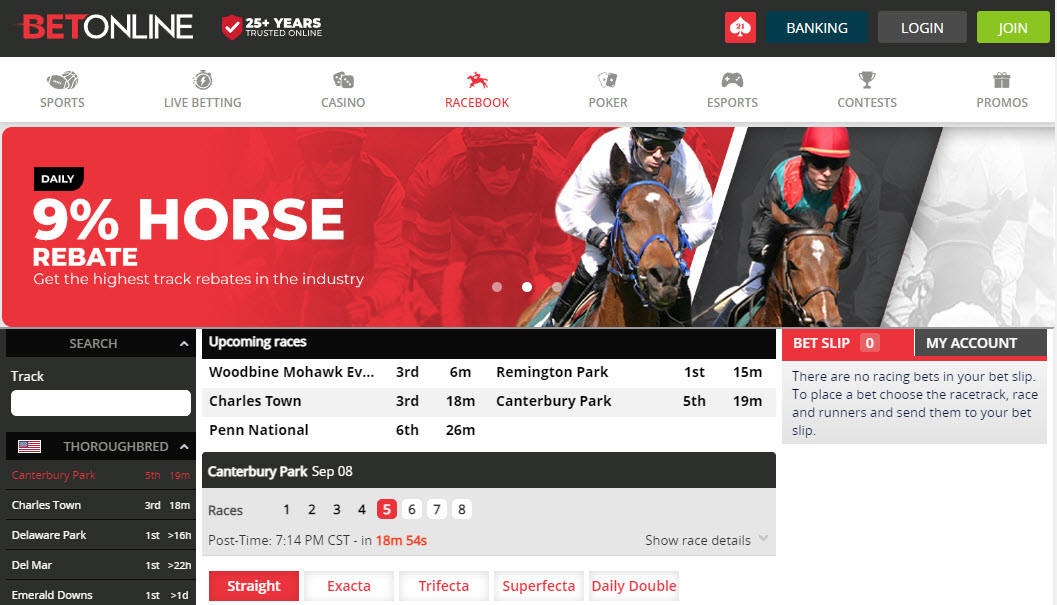 With BetOnline, you are treated to one of the best all-around online sites in Costa Rica. You will find a sportsbook with opinionated lines and plenty of props, a casino with the largest library of games, and one of the busiest poker networks in the country.
The racebook at BetOnline is well designed with tabs for selecting your type of bet (Straight or Exotic) and extra information such as the jockey's weight and trainer's name. The daily rebates on horse races are 4% for straight wagers and 9% for exotic, which are higher than the usual numbers of 3% and 8% at their competitors. You also can try your first horse race bet for free with a risk-free promo worth $25.
The welcome bonuses at BetOnline are very nice with up to $1,000 matched on your first crypto deposit, but you should know that these bonus funds cannot be used in the Racebook section.
Pros: 
Daily racebook rebate is the highest in industry at 9%
Try your first horse racing bet risk free ($25 value)
High limits, fast payouts
Exciting contests (many are free to enter)
Cons:
Sign-up bonus cannot be used with the racebook
Lacks any live streaming
4. Bovada: Best for Virtual Races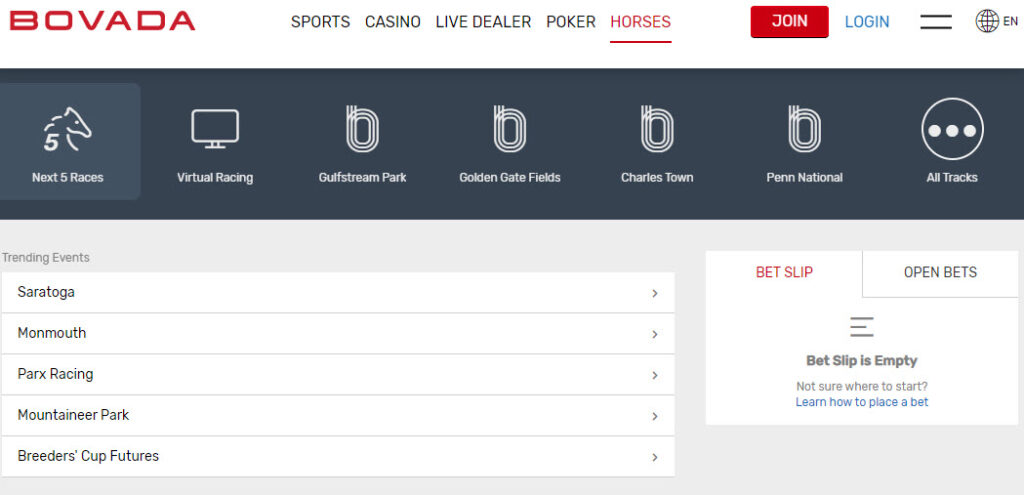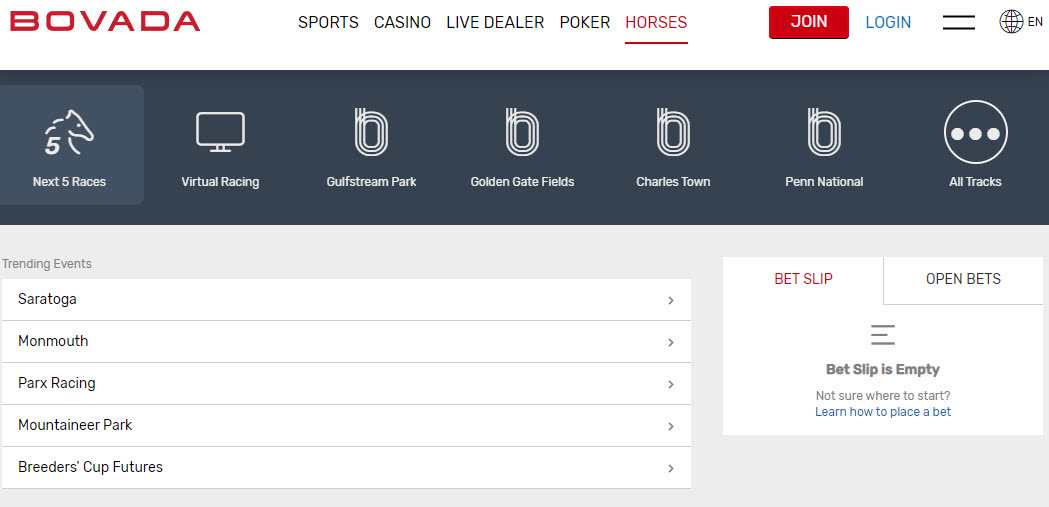 Bovada is a very popular offshore site from Costa Rica. It runs on the busiest poker network for American players while also offering one of the best prop builders in its sportsbook. They also have a solid selection of casino games, and each section of the site is well sorted, making it easy to find what you're looking for.
The racebook is in the conversation for the best design as you can just use drop-down menus to build your bet slips from a variety of races on tracks from all over the world. Bovada is also the best when it comes to virtual racing, which are fun events that you can watch after you place your wagers. They provide virtual races for horses, camels, greyhounds, and even supercars.
One surprising omission from Bovada's racebook is the lack of daily rebates promos like you can get at our top three sites (Bookmaker.eu, Heritage Sports, and BetOnline).
Pros:
Simplistic design in racebook works great
A top choice for fans of poker, prop bets, and crypto
Bet and stream virtual races
Cons:
Doesn't offer the live streaming of horse races like TwinSpires or TVG
No horse race rebates like top competitors have
5. BetAnySports: Fun Cash Back Racebook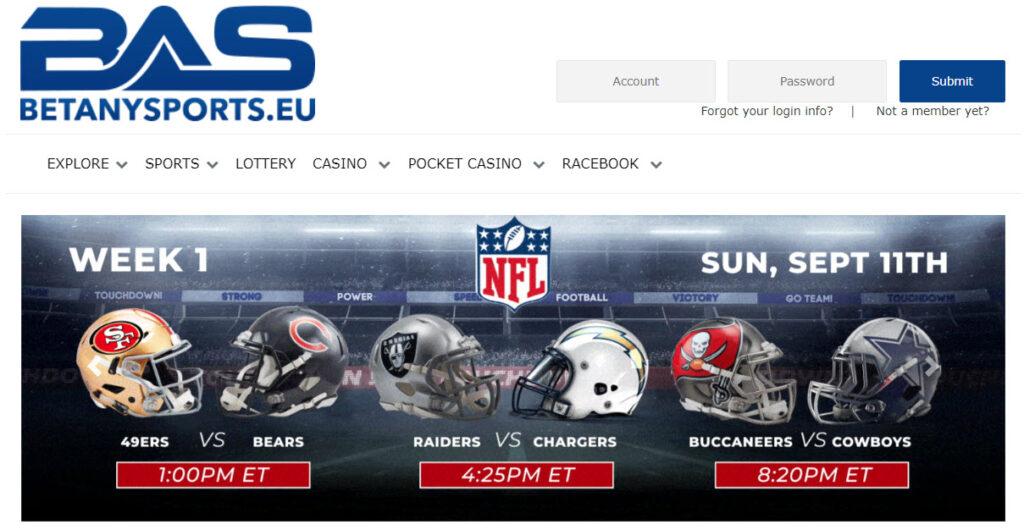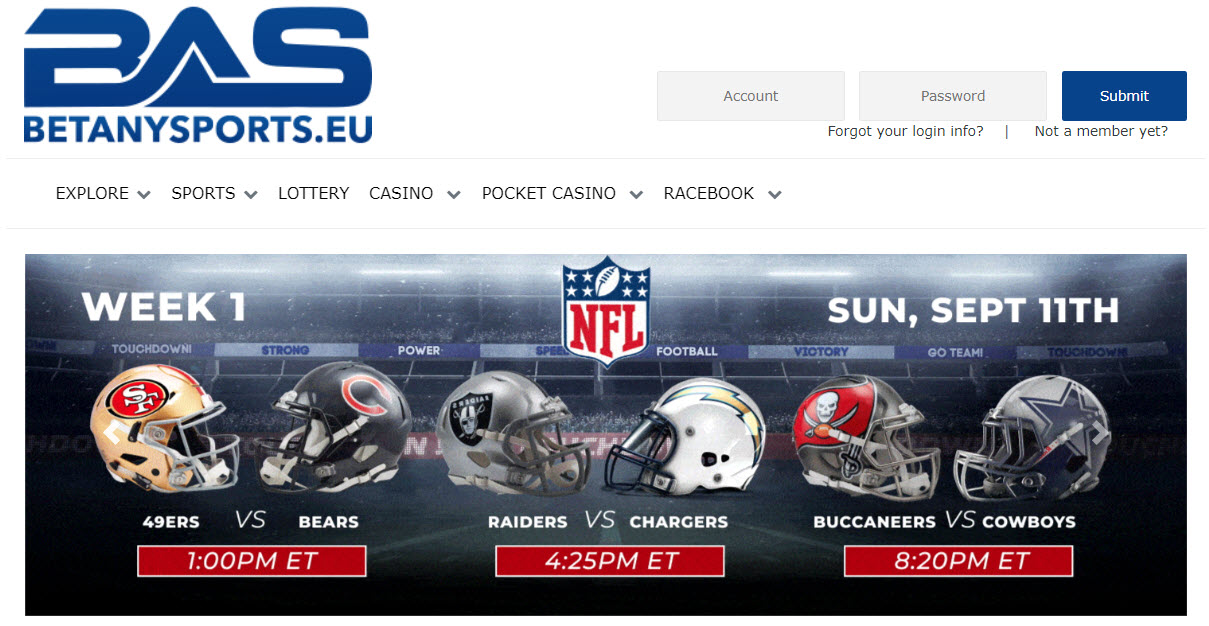 BetAnySports is yet another A+ rated online gambling site from Costa Rica. The site design is simple but functional. It is the only site on our list where you can play state lottery drawings and win higher payouts than you'd get at a retailer. They also have seven different casino options with a variety of different games, including 3D slots and video poker. They also do live dealer games.
The racebook has a lot of the tracks you'll see at competitor sites. There is no limit on how much you can receive in daily rebates (up to 6%) on horse races. There are some restrictions on which types of races qualify for the rebate promos, so be sure to read those terms.
Pros:
Offers a good variety of tracks
Very high limits on the most popular of races
Only site offering lottery drawings
Great variety in casino selection
Cons:
Maximum racebook rebate (6%) is among the lowest in our list
Any fixed-odds bet is not eligible for the cash-back program
How We Compared the Best Sites for Horse Racing in Nebraska
You may be wondering what we are looking at when we rate an online gambling site. While this is centered on horse racing, we are going to explain some of the criteria that went into our grades for the racebooks as well as some general features that we expect to see from any quality online gambling site.
Elements of a Quality Racebook
The following list is just some of the metrics we grade for a quality racebook: 
Competitive odds: It does pay to have accounts with different sites in case one offers better prices than the other, though most of the horse races will have similar odds. But the limits may differ on how much you can bet at each site, so keep that in mind.  
Variety in horse race betting markets: Beyond the standard win/place/show bets, we like to see racebooks that have a large number of exotic wagers from trifectas to daily doubles to quinellas as the chance to box bets to make them more likely to hit. 
Live betting: This may not be possible for most sites with how quickly a horse race usually ends, but it likely will be adopted at some sites in the future as live betting gains more and more steam. 
Live streaming: This is easier to feature than live betting as it's just a video stream of a race. U.S.-based sites like TwinSpires and TVG already have live streaming, and we'll probably see the offshore sites adapt to including it in the near future. This goes hand in hand with live betting as people want to watch sports and bet on them on the fly. 
Racebook promotions: Most of our top sites with the exception of Bovada will offer daily rebates on horse races (3-to-5% for regular wagers and 6-to-9% for exotics). There is usually no limit on these too, which is nice. There are other promotions like at BetUS where you can get $10 back if the horse you bet to win finishes second or third. 
Design matters: It should be easy to put together a parlay or any bet on a horse race, so we like a site that makes good use of drop-down menus or tabs to make those wagers quickly.   
Other horse racing information: It's not standard at every site, but some go the extra length and give you the horse owner's name, info on the jockey like their name and weight, and this is just bonus information that hardcore horse racing fans will eat up as some jockeys do win more often than others.
Other Elements of a Good Online Gambling Site
Whether it's a racebook or a sportsbook or an online casino, there are quality benchmarks we look for these sites to hit:
Brand recognition: It is not a coincidence that many of the sites we highly promote have been around since the 1990s or early 2000s. We think experience matters in this industry and that is reflected well in the grades. 
Variety of transaction methods: We want to see high credit card acceptance, a plethora of crypto options, and also more modern methods like P2P apps and eWallets. Most sites do a good job of providing these different methods for deposits and withdrawals, though some do a better job than others when it comes to charging fees or imposing limits on them.   
Fast and timely payouts: Sites that do not pay out customers on time will never get a good grade from us. This is always very important.  
Customer service: Like with payments, we are looking for a variety of options. Some people prefer traditional phone calls and some just want a live chat. But perhaps the most important element is to have 24/7 customer service. 
Is it legal to bet on horse racing in Nebraska?
Yes, horse race betting has been legal for decades in Nebraska. You can do it at brick-and-mortar sportsbooks at the tracks for live races, for simulcast races, or you can join an offshore site and place wagers on horse races from around the world. You just need to be at least 18 years old.
How does horse racing betting work in Nebraska?
You are going to want to educate yourself with the different types of bets that you can place on horse races and understand how the odds work as this does differ a bet from betting on traditional sports. But we have you covered in the next few sections.
What are the different types of horse racing bets?
Here are the types of bets you will make on horse races:
Win: As straightforward as they come. Pick the winning horse.
Place: To increase your chances of winning but lowering your payout, your horse just needs to finish first or second.
Show: Same idea as Place, but now your horse just has to finish first, second, or third to hit the wager. The payout is again smaller.
Exacta: Now considered an exotic wager, you are trying to pick the horses that finish first and second in the correct order. This will win more money than any W/P/S wager.
Trifecta: Even tougher, try picking the horses that finish first, second, and third in the exact order to hit the bet.
Superfecta: If you really want a huge payout on something hard to do, try picking the top four horses in the exact order.
Daily Double (AKA Double Wager): Now in parlay territory, you are trying to pick the winner of successive races at a track.
Pick 3/4/5/6: Like with the Daily Double, you need to pick the winning horse in three, four, five, or six consecutive races.
Nebraska Horse Racing Odds Explained
It is essential to understand how odds work when betting on horse racing. While regular sports bets will display American odds like -110 or +125, you will see fractional odds in horse races like 7/2 or 8/1.
If you bet $20 on a horse with 8/1 odds to win, then you win eight times every dollar bet, which would give you a return of $180 ($20 times 8 equals $160 plus a $20 stake).
The easiest way to understand these odds is to think of the numbers as probabilities. If a horse has 8/3 odds, then for every eight failures, there are three chances of success, producing an implied probability of 27.3%. That 8/1 bet from earlier only has an 11.1% implied probability of success.
To calculate any implied probability with fractional odds X/Y, just divide the denominator (Y) by the sum of the numerator and the denominator (X and Y). For example, 3/5 odds would have 62.5% implied probability, a considerable favorite in a race.
Now you can figure out the payout and probability on any given odds. Here is a chart showing a few select odds, their payout on a $2 bet, and the implied probability for each.
| Odds | $2 Bet Payout | Implied Probability |
| --- | --- | --- |
| 1/5 (-500) | $2.40 | 83.3% |
| 1/4 (-400) | $2.50 | 80.0% |
| 1/3 (-300) | $2.60 | 75.0% |
| 1/2 (-200) | $3.00 | 66.7% |
| 1/1 (-100) | $4.00 | 50.0% |
| 2/1 (+200) | $6.00 | 33.3% |
| 3/1 (+300) | $8.00 | 25.0% |
| 5/1 (+500) | $12 | 16.7% |
| 10/1 (+1000) | $22 | 9.0% |
| 50/1 (+5000) | $102 | 2.0% |
There are two main types of odds used in horse racing: Fixed odds and pari-mutuel (pool) odds. We explain them next.
Fixed Odds for Horse Racing Betting in Nebraska
Most sports bettors are already familiar with fixed-odds betting. When you bet on the spread at -110 odds for a basketball or football team, you are locked into that price no matter what happens ahead of the game.
Horse racing prefers to use fractional odds. But if you bet $100 on a horse that is 5/1 and it is fixed odds, then you will win $5 for every $1 bet. In this case, it would be $500 won plus your $100 stake back for a return of $600.
Pari-Mutuel Betting in Nebraska
When ranked order matters like it does in horse racing, you will often see pari-mutuel wagers, or pool betting, being used. With a pari-mutuel system, all the wagers go into a pool, the house takes their cut (the "vig"), and the winning bettors are paid from that pool of money.
Some sites like Bookmaker.eu and JustBet do not have pari-mutuel wagering and will only take fixed odds bets where you are locked into a price and you know exactly how much you'll win on the wager. With pari-mutuel betting, you'll have a rough estimate on how much you'll win based on the odds of the horse and the amount of your wager.
Nebraska Horse Racetracks
There are six main racetracks in Nebraska that are all scheduled to hold events in the 2023 season:
Fonner Park (Grand Island, NE)
Legacy Downs (Lincoln, NE)
Horsemen's Park (Omaha, NE)
Columbus Exposition & Racing (Columbus, NE)
Fairplay Park (Hastings, NE)
South Sioux City (South Sioux City, NE)
The History of Horse Racing in Nebraska
Nebraska may not be synonymous with horse racing in the way Kentucky is, but the Ak-Sar-Ben racetrack, which is just Nebraska spelled backward, was a top 10 track in the country during the 1980s when it was at its peak.
The following is a timeline of some notable horse racing events in the Cornhusker State: 
1887: The first horse race of record occurs in the Wild West of Nebraska.
1935: Pari-mutuel horse race betting is legalized in the state with the creation of the Nebraska Racing Commission to serve as overseer.
1954: Fonner Park is opened in Grand Island.
1966: A booming horse racing market in Nebraska sees 161 days of racing per year spread out over seven tracks.
1987: Nebraska thoroughbred tracks begin to offer pari-mutuel wagering on simulcast races.
1995: Ak-Sar-Ben horse track closes after a successful run that started in 1919 and almost lasted the rest of the 20th century. The rise of greyhound and horse racing in nearby states and casino gambling in Missouri led gamblers to other states instead of making the trip to Omaha.
2001: With interest dwindling in the industry, Nebraska still holds 100 days of horse races in the year.
2015: The 100 days of horse races are cut in half to about 50 race days per year.
2020: Fonner Park became one of the premiere horse racing tracks to still hold events through the COVID-19 pandemic as many other tracks canceled races. It accounted for 40% of the horse racing wagers from TVG users in April.
2020: Voters overwhelmingly approve the expansion of "racinos." A racino is a racetracks that offer casino gaming.
2023: Work is still underway to launch these new racinos that will hopefully increase the number of races and bring more revenue into the state.
Virtual Horse Racing Betting in Nebraska
If there isn't a horse race going on live anywhere in the world and you still want to bet on something, you could always try the virtual racing section found at Bovada. These are little virtual races that you can watch on the site and bet on the winner of, similar to a video slot game that uses a random number generator to determine the winner. They not only have virtual horse races, but you can also bet and watch virtual races involving camels, greyhounds and supercars.
Nebraska Horse Racing Betting Apps
TwinSpires and TVG are two of the most dedicated horse racing apps in the US, but you will not be able to apply for an account at TVG if you live in Nebraska. It is on the list of prohibited territories. Unfortunately, the offshore sportsbooks we reviewed lack their own native app that is downloadable on your phone's app store, but if you just visit their mobile sites, it's basically the same experience you would get from an app. Just bookmark the site for quicker access.
How to Start Betting at Horse Racing Sites in Nebraska
No matter which racebook or mobile sportsbook app that you choose to sign up for, they all follow an easy sign-up process. Here is a short guide to registering at a racebook to bet on horse racing:
Using your preferred device, visit the site you wish to join.
Find the "Join Now" or similar link to begin creating your account.
Enter your information (name, email, address, phone number, etc.) and always choose a strong password.
Find the "Deposit" section and add money to your account using the method that works best for you.
Find the "Horses" or "Racebook" link on the site.
Check out the active races and begin placing your bets (Win/Place/Show, exotic, etc.)
Place a wager amount on your bet.
Submit the bet slip and wait for the race to end to see if you won.
Other Types of Gambling in Nebraska
There may be legal sports betting in the near future in Nebraska, but for now, gambling options are a bit limited outside of horse racing. You can play Daily Fantasy Sports, some slot machines in person at tribal casinos, bingo, and the state lottery.
But if you use one of the offshore sportsbooks we reviewed, you should have access to practically all forms of online gambling.
What is the best site for horse racing bettors in Nebraska?
We think our entire top five list is worth your time to explore which one you will deem is the best when it comes to betting on horse races in Nebraska. If you like the additional component of virtual racing, then Bovada should be your choice. If you like a good cash-back program, then try out Heritage Sports or Bookmaker. If you want the highest daily rebates, then check out BetOnline.
FAQs – Legal Online Betting on Horse Races in Nebraska
Can I bet online in Nebraska?
Despite the fact that retail sports betting was legalized, there are currently no legal options for state-regulated online sports bets. Casino gambling must also be done at tribal casinos. So, for any online casino-style gambling and sports betting, you will need to use offshore online sportsbooks as these are your only legal options for online and mobile wagering for all available forms of gambling in the state. 
Can you bet on horse racing in Nebraska?
Yes, horse racing bets are legal to make in Nebraska, including bets at the six racetracks, which also offer simulcast betting even when there are no live events at the track. Advanced deposit wagering is also legal in Nebraska.

Oddly enough, a popular American-based horse racing site like TVG does not allow Nebraska bettors to participate in wagering on horse races. However, you can use offshore sites for this as these sites accept wagers from bettors in Nebraska.
 
Can you legally bet on sports in the state of Nebraska?
You can legally bet on sports with a state-regulated sportsbook under the state's gambling laws. However, there are currently no regulated sportsbooks operating in the state. You can also bet online with an offshore gambling site.
Are there horse races in Nebraska?
Yes, while there used to be 100 days of horse races in Nebraska 20 years ago, that number is about half of that now. The state is required to run at least 52 days of horse racing per year, and the Nebraska Racing and Gaming Commission released a schedule in October 2022 of 59 days of thoroughbred racing at Nebraska racetracks in 2023.
How many racetracks are there in Nebraska?
Nebraska is home to six different licensed racetracks:

-Fonner Park
-Legacy Downs
-Horsemen's Park
-Columbus Exposition & Racing
-Fairplay Park
-South Sioux City

All are seeking to add casino games to become racinos, a combination of a racetrack and casino.

What is the major horse race in Nebraska?
Of the 59 race days scheduled for the 2023 season in Nebraska, Fonner Park is the biggest racetrack with the most spectators and the most races.
Can you bet on the Kentucky Derby in Nebraska?
Most offshore racebooks offer betting lines on the Kentucky Derby, making it convenient to enjoy betting on this important horse race.
What is the minimum gambling age in Nebraska?
In order to participate in any of the available forms of gambling, you must be at least 18 years old in the state of Nebraska. Online sports betting, online horse betting, and online casino games offered by offshore sites also require you to be at least 18 years of age.