Arkansas Sports Betting – Best Legal Sportsbooks in AR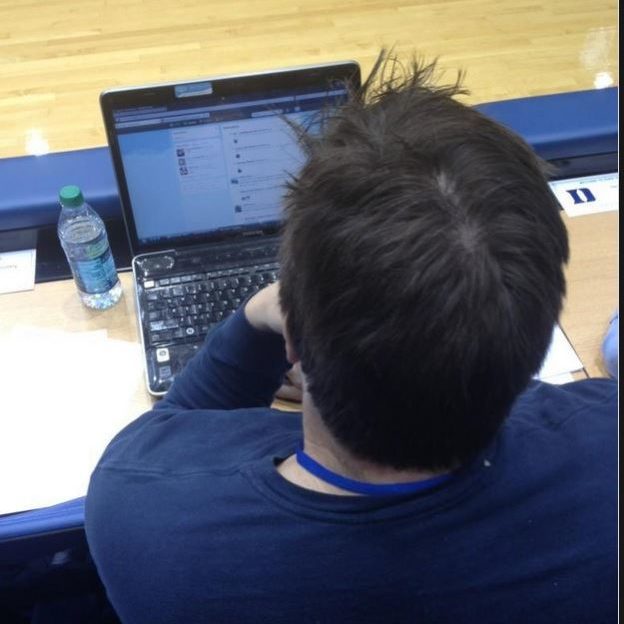 Shawn West has been involved with college basketball, NFL and college football and MLB since he left his job as bank vice president two decades ago. He lives in North Carolina with his wife, children, two dachshunds and a variety of turtles.
Arkansas has seen a remarkable turnaround in its attitude toward gambling. For a long time, this state had the strictest stance on sports betting in the United States, with no legal gambling other than betting on horse racing and greyhound racing.
But starting in 2018, the legislature paved the way for broader gambling expansion and, eventually, legal online gambling. We will cover the top Arkansas sports betting sites in this guide.
The Best Online Sports Betting Sites in AR in 2023
Top-Rated Online Sports Betting Sites for 2023
There are hundreds of offshore sportsbooks to choose from. How do you decide which ones you can trust and which will be the best place to gamble on sporting events? Luckily, you don't have to make this decision alone. Our panel of gambling experts has looked at all the top sportsbooks available to Arkansas bettors and came up with the following ranking of the 10 they recommend most highly
Is sports betting legal in Arkansas?
We get asked all the time if it's legal to bet on sports in Arkansas. The confusion is understandable since the answer to that question just recently changed along with the state's sports betting laws.
The state made it legal to bet on sports at retail sportsbook locations when it approved casinos in 2018. The state further expanded its gaming industry by legalizing online sports betting in recent years, too. While sports bettors have their choice of the major sportsbooks that have been licensed by Arkansas, those sites can only provide sports betting and have limited odds and promos. If gamblers want to get better deals, play poker or online casino games, they can still use offshore sportsbooks, which have all of those gambling needs in one place and have been serving Arkansas residents and paying out real money for years.
Comparison of the Top Online Sportsbooks
Our panel of experts put together detailed reviews of each sportsbook in the top 10, with pros and cons lists, to help you select the one that's the best match for you.
1. BookMaker: The Experts' Choice for Top All-Around Sportsbook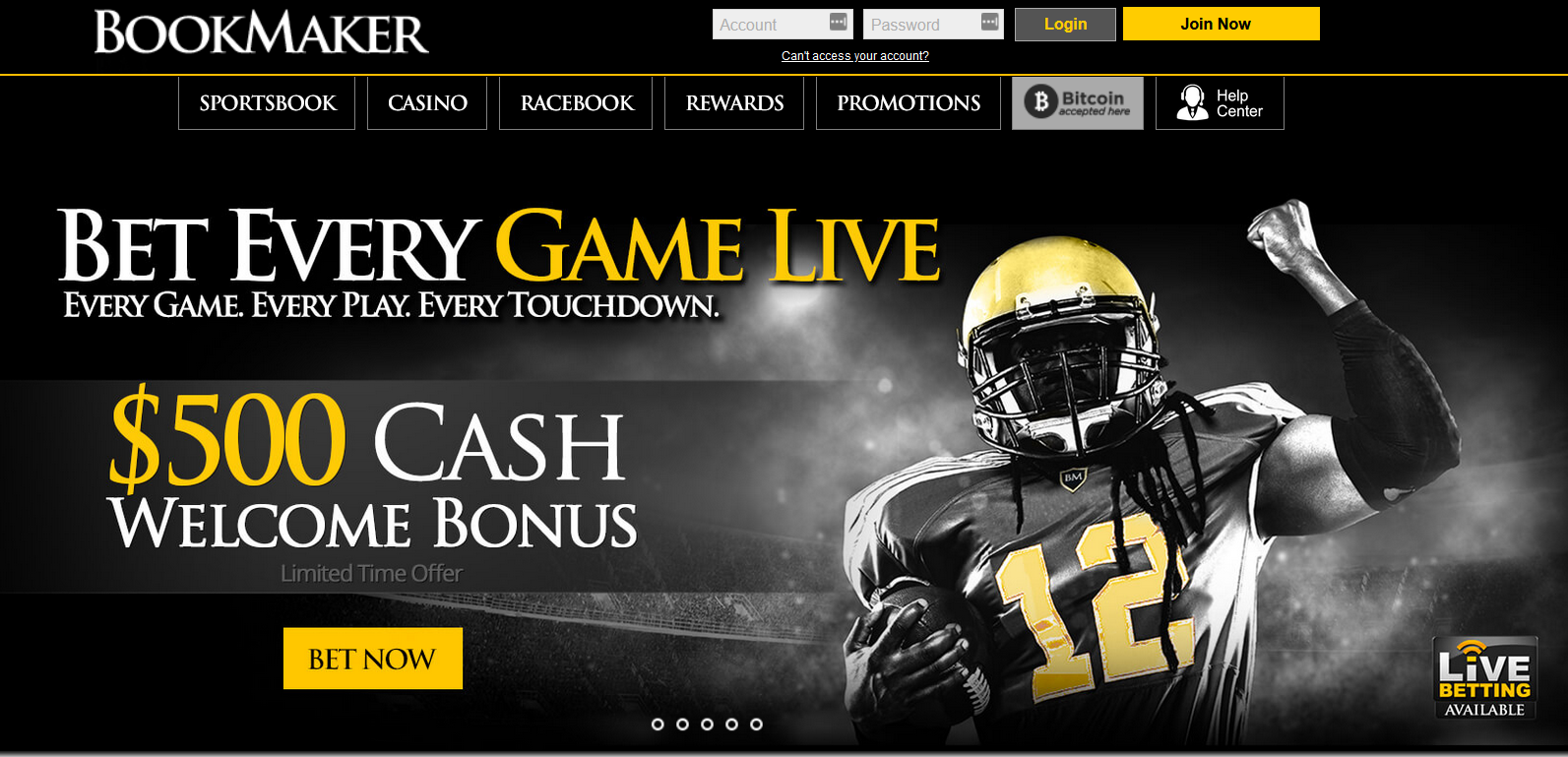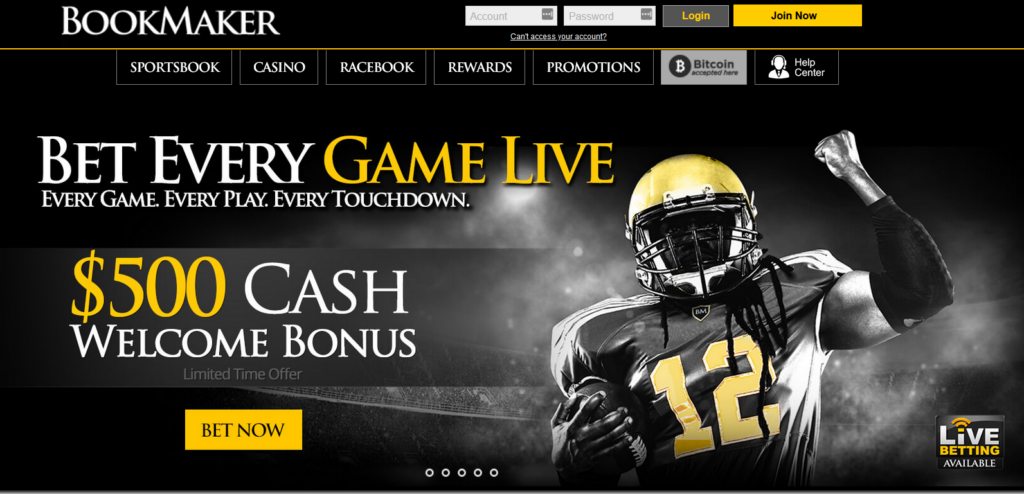 Our experts chose Bookmaker.eu as the top sportsbook available to Arkansas bettors. They were impressed by BookMaker's ability to appeal to sports bettors of all types, regardless of their bankroll size, appetite for risk or experience with sports betting. 
BookMaker has the highest betting limits on all major sports in Arkansas, which means that high rollers and professionals will be able to bet big. They also have low minimum bets –as low as $1– so newcomers and more risk-averse players will be able to be more cautious and everyone in between will be able to place online sports bets that they're comfortable with as well.
BookMaker is the first site to release its odds and lines each week and many competing sites end up copying what they've set. BookMaker also has the reputation of never shutting down a gambler on a roll. Its user-friendly interface makes it easy to find your betting market and place your bet quickly.
BookMaker also features a variety of bonuses that cater to new and existing players, keeping them engaged with the platform. The rewards program allows regular players to earn perks and reload bonuses just for wagering.
Pros:
Appeals to all experience levels, bankrolls and appetites for risk
Has the highest betting limits, as well as low minimum bets
Boasts one of the best loyalty programs
Never shuts down a gambler on a roll
Cons:
No live online poker room
Welcome bonuses are relatively low
2. Bovada: Largest Variety of Betting Options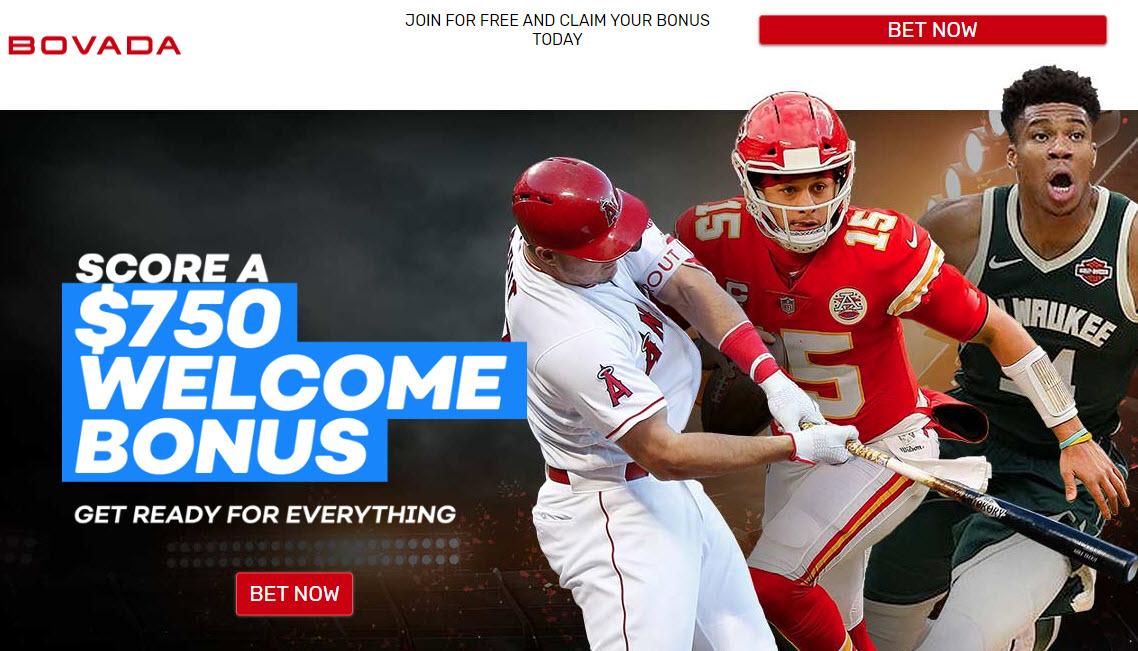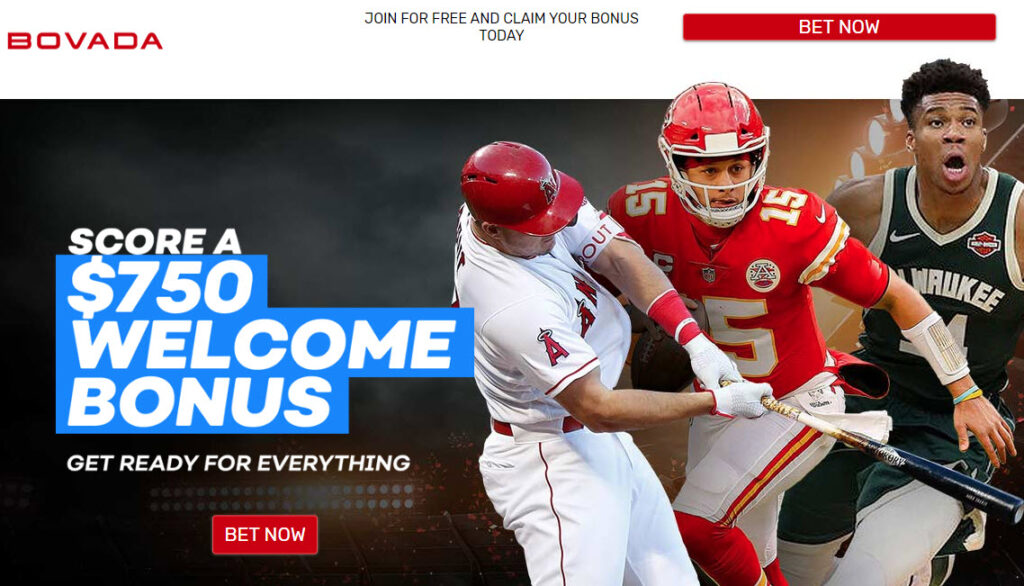 Bovada took the No. 2 spot in our top 10 with its full casino experience that also offers a huge online casino, America's busiest online poker room and a racebook, in addition to its full-service sportsbook.
Customers looking for a wide range of promotions and online wagering options will find it at Bovada. The sportsbook offers more, different ways to bet than any other site in Arkansas. No other site has a deeper menu of prop betting options on athletic events, including some low-risk props designed to give customers a few easy wins to get them started.
Bovada also has the best mobile interface of any Arkansas sportsbook. Customers on their phones or tablets can do everything that is also available on the full-blown site and the mobile site is just as stylish and easy to use.
Pros:
The biggest selection of prop betting options
Has America's busiest live online poker room
The best mobile betting site
Has a highly-rated online casino, poker room and racebook
Cons:
Betting limits are not as high as some competitors
Lines and odds are posted relatively late
3. BetOnline: Top Spot for Opinionated Lines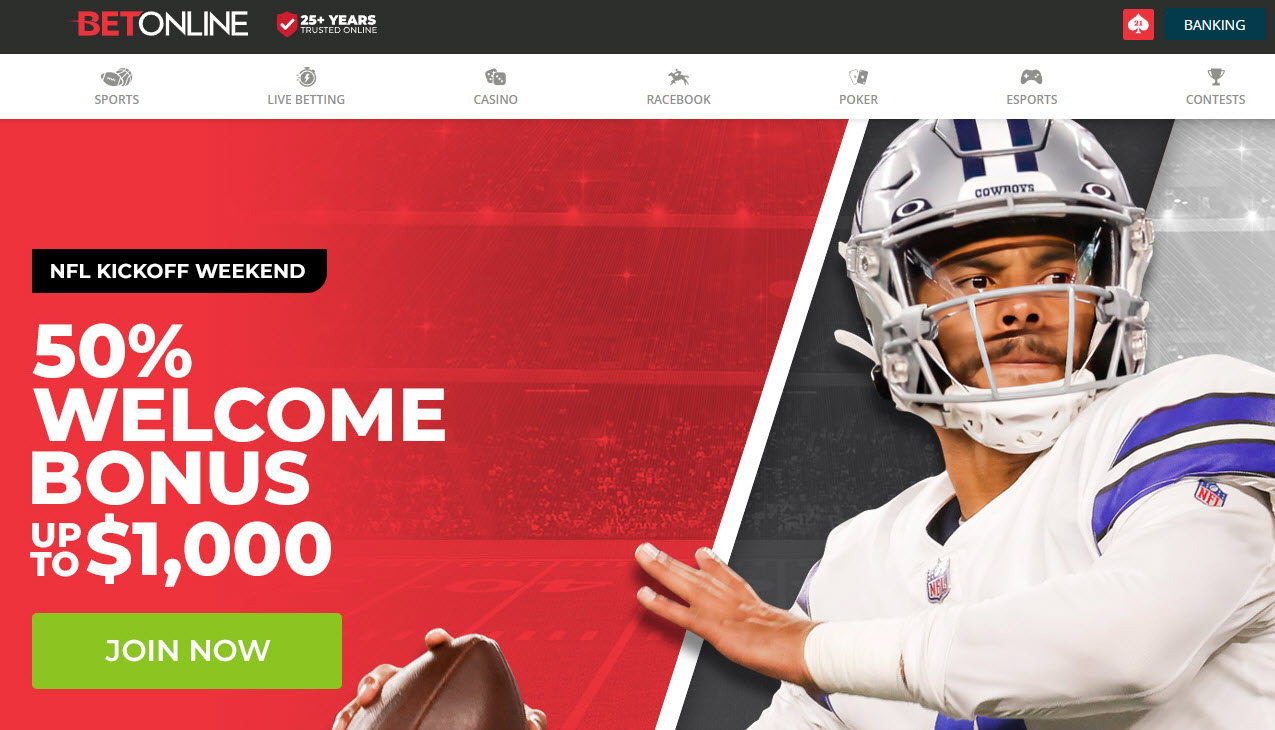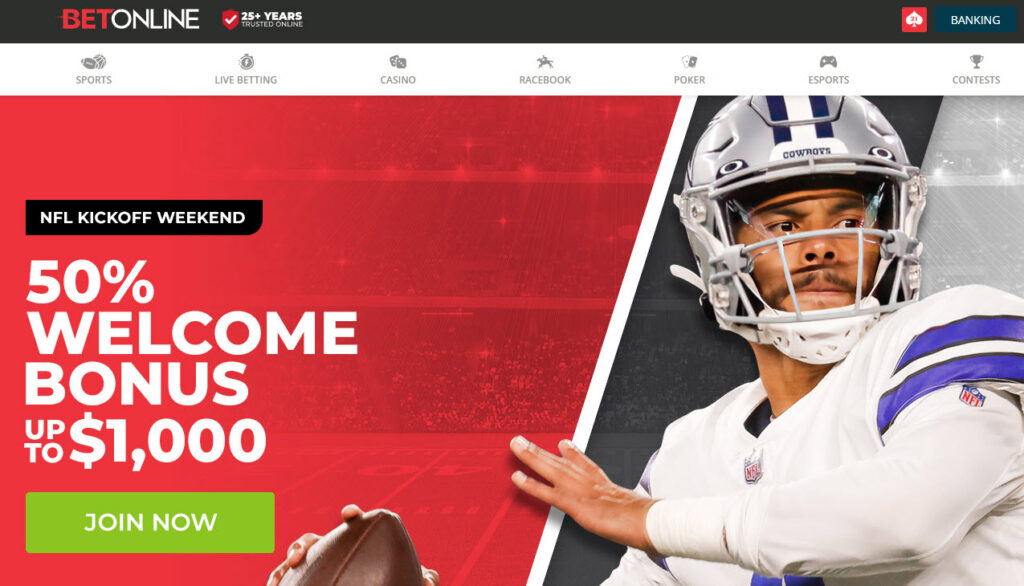 BetOnline earned special recognition from our experts for being the top site in Arkansas for opinionated lines on sporting events.
What exactly are opinionated lines? Normally, sportsbooks set the lines on either side of a 50/50 proposition, such as a game with a point spread or an over/under point total, at -110/-110. So, whether you take the underdog and get points or the favorite and give points, you have the same odds.
With opinionated lines, the odds are different on either side of the cutoff. It could be because of the early betting activity or some other reason that BetOnline's oddsmakers think the spread or over/under doesn't represent a true 50/50 wager. Regardless of the reason, opinionated lines mean the opportunity to profit. Any time a site has different lines than its rivals – and opinionated lines assure that will be the case – savvy gamblers have an opportunity to shop around and find value.
The competitive betting odds coupled with the 100% free play bonus offer an exceptional way for players to get more value out of this sportsbook.
Pros:
One of a handful of online sports betting operators that offer opinionated lines
Sets very high betting limits
Welcome bonus matches first deposit at 50%
Crypto users get 100% deposit match
Cons:
No reduced juice, except on NHL games
Relatively narrow range of prop bets offered
4. Heritage Sports: Best Sportsbook for Live Betting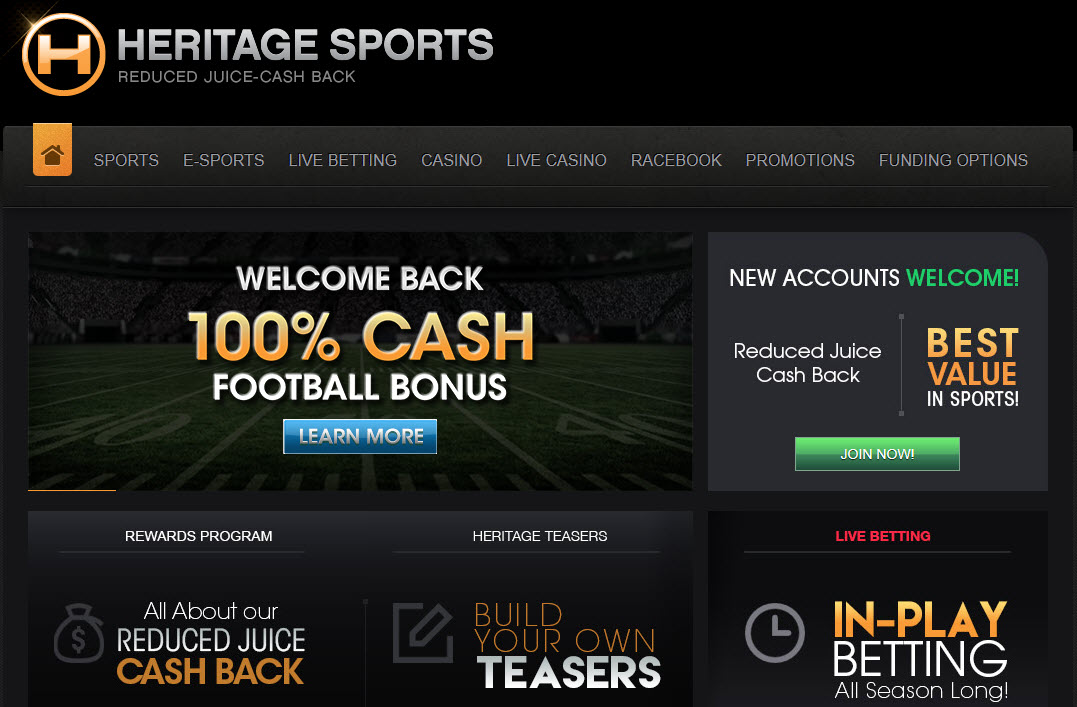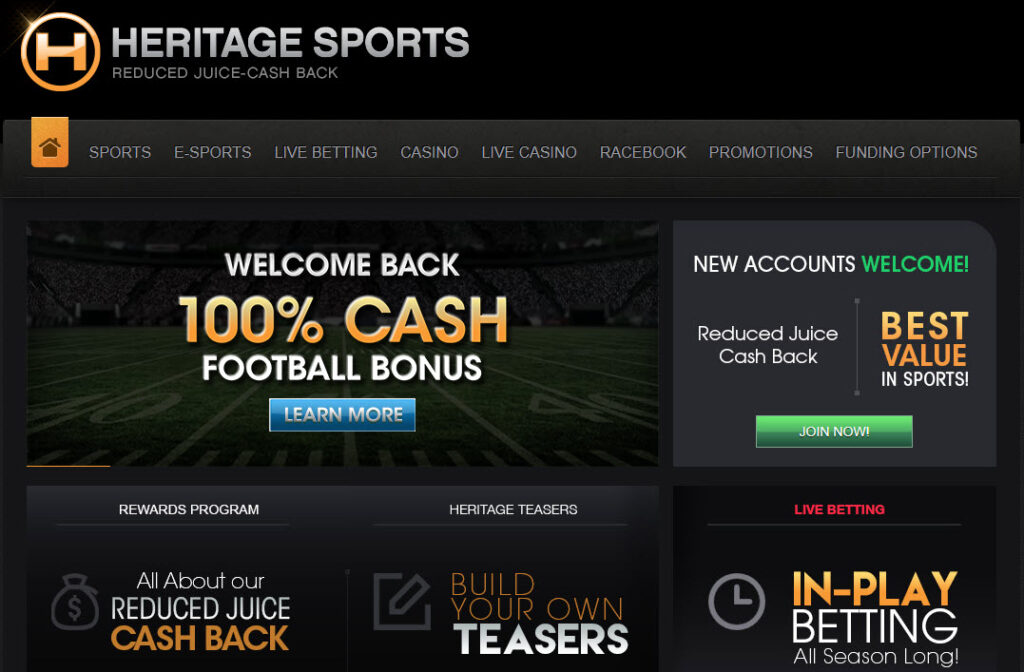 Heritage Sports finished near the top of our rankings, but they did earn the nod in a pair of important categories, according to our blue ribbon panel of experts.
Back in the day, you needed an invitation to even play at Heritage Sports. They catered to the elite gambler –the type that likes to be pampered. Over time, Heritage Sports opened its doors to all comers, but it still remembers how to treat a customer like a VIP and everyone that plays at Heritage Sports still gets that red carpet treatment. They have outstanding customer service and generous promotions, including a cashback rebate program.
In addition to being voted the best VIP service in Arkansas, Heritage Sports also was recognized for having the best live betting experience in the state. Its live betting interface is quick, responsive and easy to use. That allows you to get your bet placed fast, which is essential when betting on a game that is currently in progress.
Pros:
Offers reduced juice lines
The best live betting experience for sports betting
Gives all customers the best red-carpet service
Cashback rebate program for loyal customers
Cons:
No live poker room
Welcome bonuses aren't as high as other sites
5. BetAnySports: The Most Generous Reduced Juice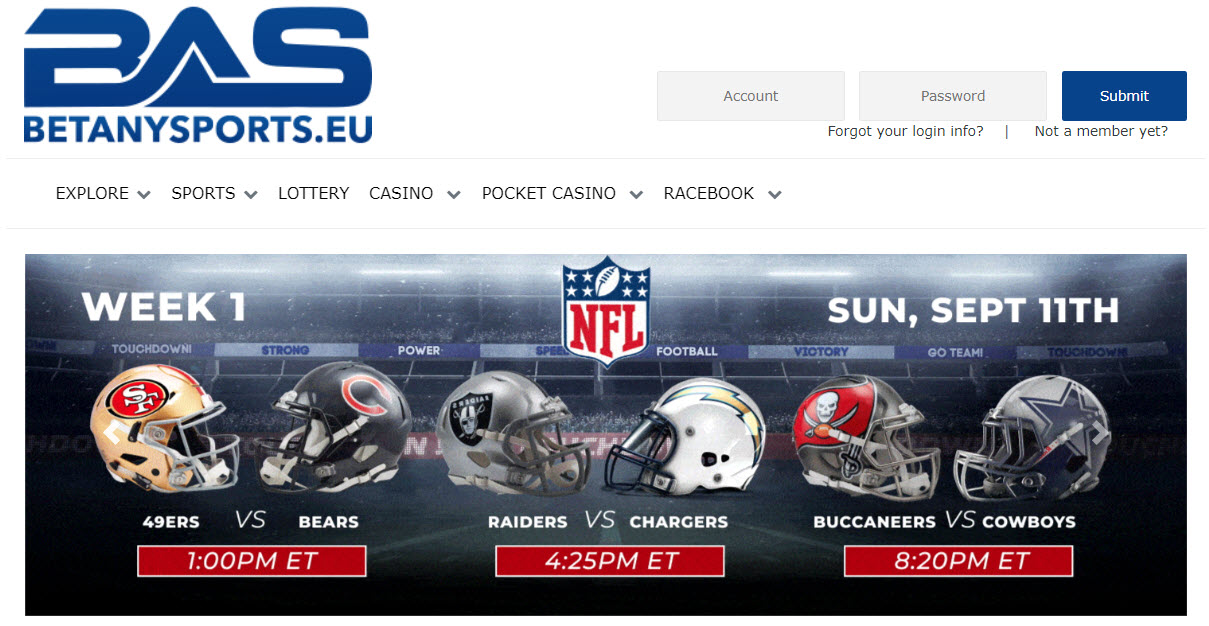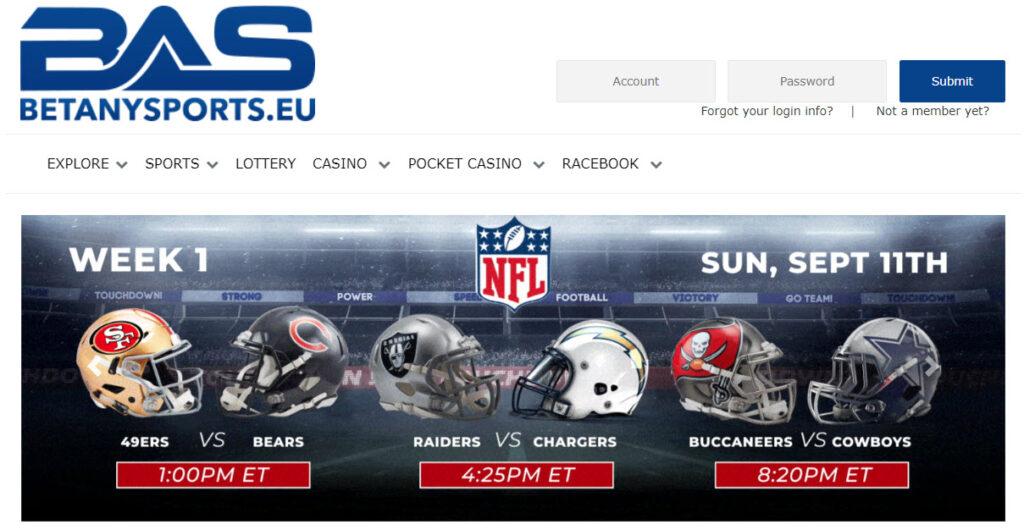 BetAnySports also placed in the top half of our top 10, thanks to the best reduced juice in the state and that means that Arkansas gamblers will get more value from this site than any other.
What is reduced juice and why does it give bettors value? Again, it is related to lines on either side of a spread or totals cutoff. The industry standard is to set the odds at -110/-110. That means you risk $110 to win $100, regardless of which side you take. The extra $10 you risk on what is supposed to be a 50/50 bet is the house edge, guaranteeing a profit for the sportsbook over the long run. Reduced juice cuts that edge, essentially giving gamblers a discount. Many sites offer reduced juice of -108/-108, meaning you only risk $108, saving $2 on every $100 bet. BetAny Sports sets its odds at -105/-105, cutting their house edge in half. It may not seem like much, but it builds up over time and makes it significantly easier for gamblers to come out ahead.
BetAnySports also has favorable odds and lines on most other sporting events as well and when it's time to withdraw the money you made, BetAnySports is known for making that process easy and fast, plus they pay out in full.
To pay for their reduced house edge, BetAnySports cuts costs elsewhere. The user interface doesn't have a lot of bells and whistles while the bonuses and promotions are relatively low.
Pros:
The most generous reduced juice
Gambler-friendly lines and odds on most sports bets
Pays out on time and in full
Cons:
User interface is plain and sparse, not as user-friendly as competitors
Welcome bonuses and promotions are low
6. SportsBetting.ag: High Betting Limits and Large Bonuses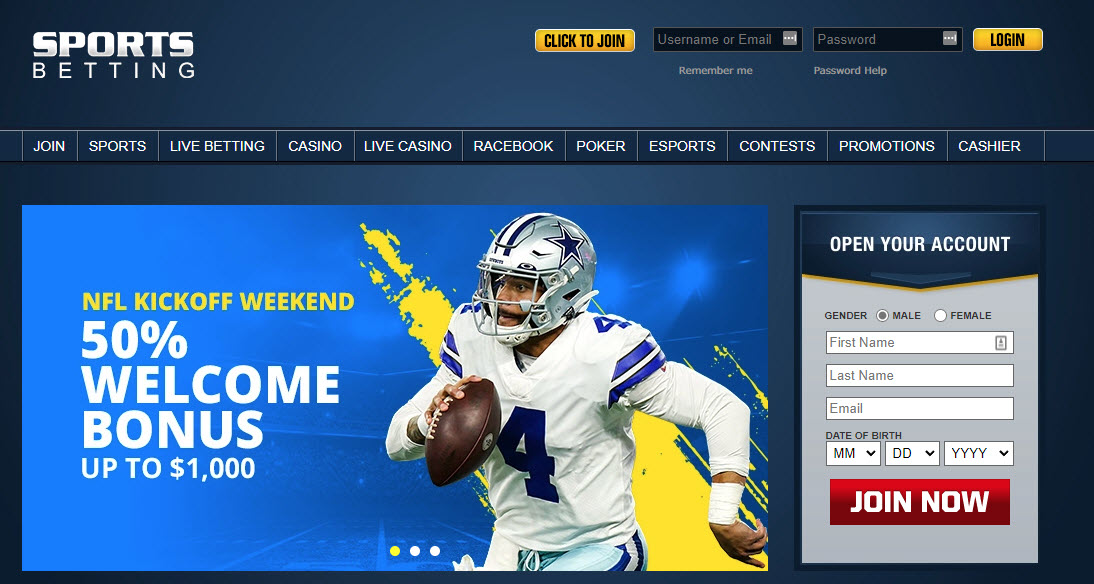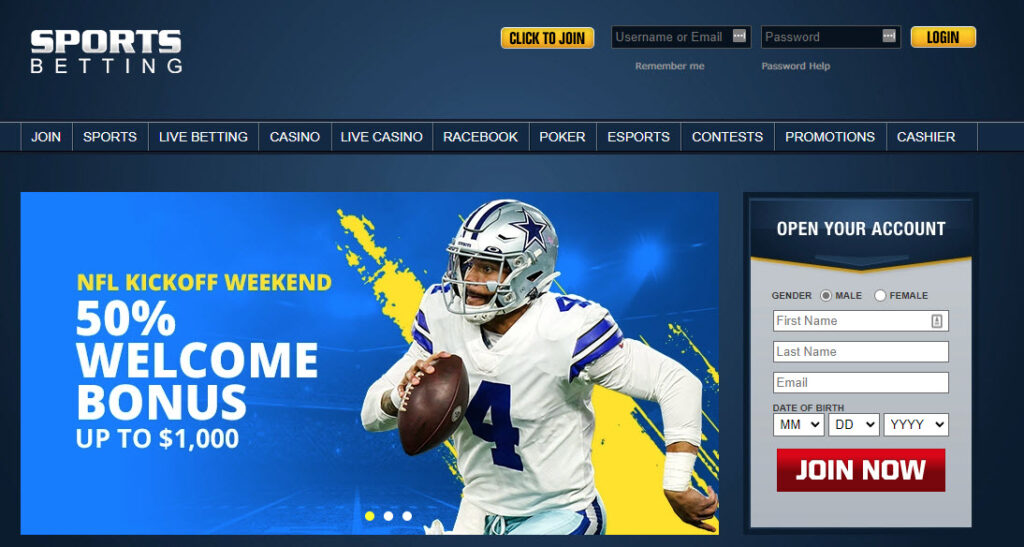 SportsBetting.ag finished a few spots below its sister site: BetOnline. Both sites have similar gambling experiences and share many positive characteristics, including high betting limits, generous welcome bonuses and perks for users of cryptocurrency.
SportsBetting differentiates itself from its partner site by putting a priority on performance. The site emphasizes speed and efficiency, allowing bettors to quickly choose their sports, games and markets and place their bets. Our experts were able to place bets using a mobile device in less than 10 seconds.
SportsBetting's speed focus means that there aren't a lot of stylish graphics or other perks. The user interface is sparse and, in fact, is an older version of BetOnline's. Even though there are not many bells and whistles, players still have several bonus offers at their disposal.
Pros:
Puts emphasis on speed and performance
Great mobile site allows bets to be placed within 10 seconds
Offers high deposit limits and welcome bonuses
Betting limits go into five figures for NFL and NBA games
Cons:
Site is retro and plain compared to some other online betting sites
Online casino has narrow selection of games
7. JustBet: All Levels of Gamblers Will Feel Welcome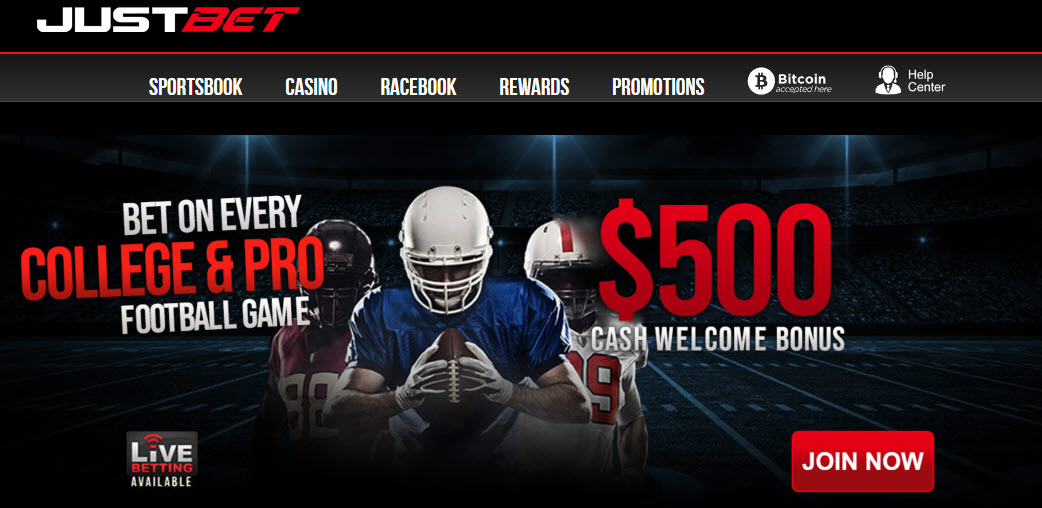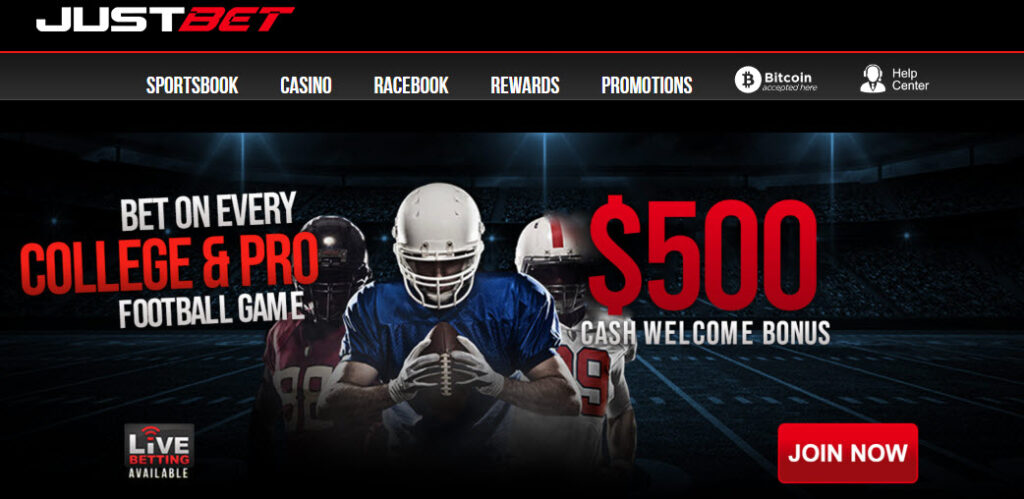 Next on the list is another sister site of an A+ graded sportsbook. JustBet is a partner site of Bookmaker.eu, which was chosen by our experts as the No. 1 overall sportsbook available in Arkansas.
Like its highly-rated sister, JustBet welcomes all experience and risk levels. It sets betting limits high and minimum bets low, so everyone will be able to find a bet that suits their appetite for risk. It has a fast, easy-to-navigate user interface, which makes it a good site for live betting on sports.
JustBet offers the opportunity to bet on a wide variety of sports, including obscure international sports and leagues not offered by every site, including Uzbekistan soccer, tournaments in Kuwait, rugby and cricket.
Pros:
Fast, easy-to-use interface
High betting limits and low minimums
One of the earliest sites to post lines
Wide range of international sports and leagues
Cons:
Doesn't have reduced juice lines
No online poker room
8. WagerWeb: Bitcoin Users Get Same-Day Payouts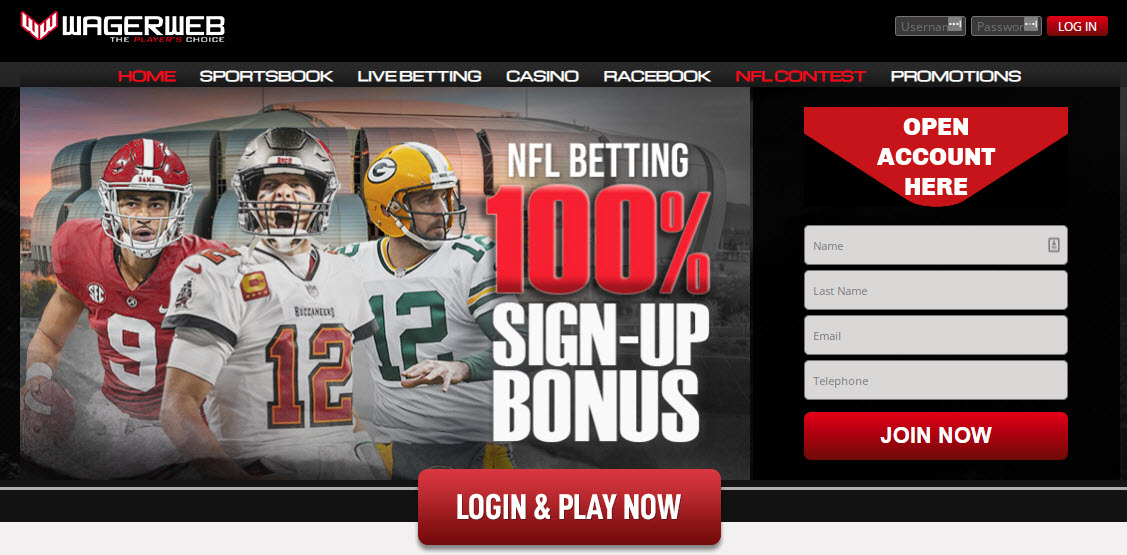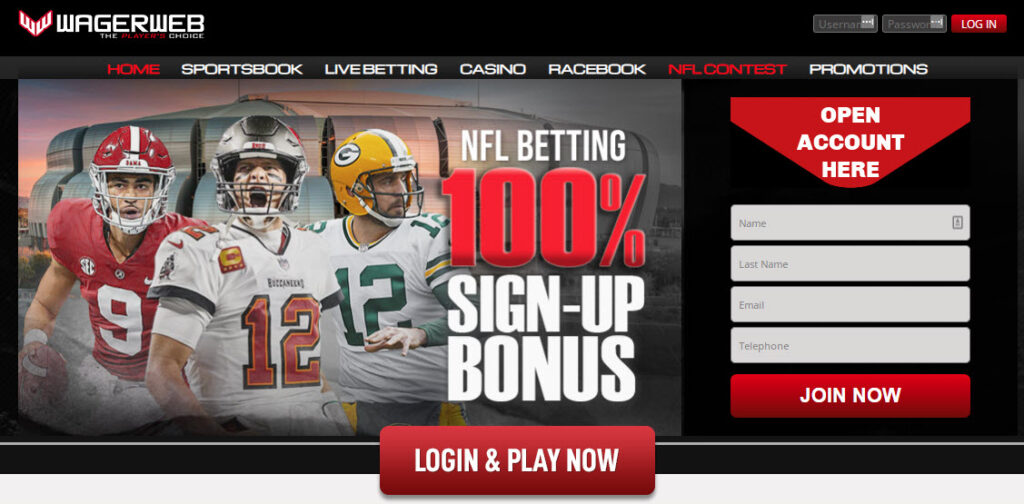 Another pair of sister sites both found their way into our top 10, as WagerWeb comes in at No. 8. It is affiliated with Heritage Sports, which was our No. 4 sportsbook in Arkansas. Both sites treat customers very well and both are outstanding options for live betting, with more than 50 betting options available on big games.
WagerWeb has one of the longest track records in the business. It started in 1994, making it one of the oldest online sportsbooks still in operation. You don't last that long unless you treat customers fairly and pay out in full, on time and without any headaches. You're getting nearly 30 years of trust and dependability when you send your money to WagerWeb.
The site isn't old and out of touch, though. They've evolved with the changing industry and, in fact, offer bonuses to users of cryptocurrency, including same-day payouts for Bitcoin users.
Pros:
A long track record of trust and security
Cashback rebate program for racebook and casino
Same-day payout for Bitcoin users
Cons:
Only allows one free withdrawal a month
Customer service isn't available 24/7
9. Everygame: One of the Longest-Running Online Sportsbooks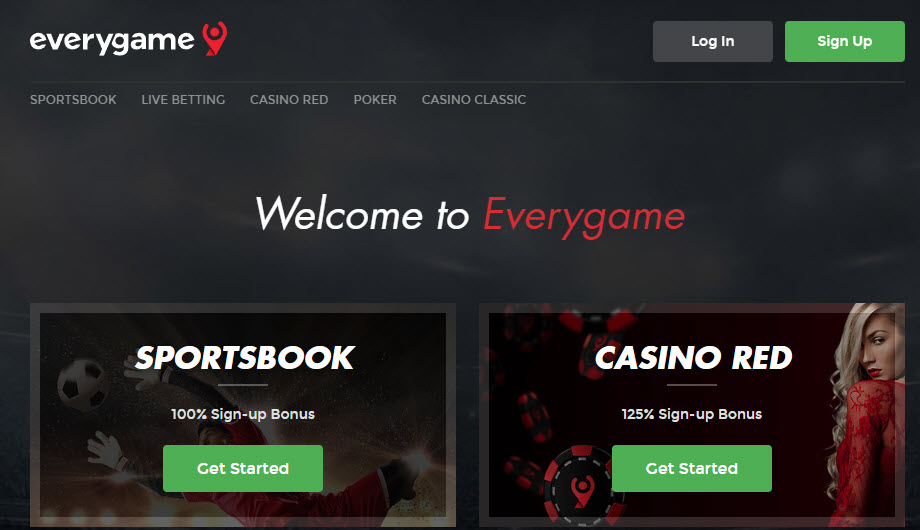 Everygame is another pioneer of online gambling. Its roots go back to the 1990s and the early days of the web. For three decades, they've protected customers' money and information and paid out when winning gamblers needed their money.
The site isn't stuck in the 90s, though. A rebrand and software upgrade give it a slick new look and identity that makes it one of the most exciting and stylish gambling experiences you'll find. It also runs smoothly and efficiently.
Everygame offers more sports, leagues, teams and games from around the world than any other site, with the opportunity to bet on everything from the biggest U.S. team sports to foreign snooker, table tennis, darts and volleyball. This platform is also home to some of the highest welcome bonuses in the industry.
Pros:
Biggest selection of games, leagues and teams from around the world
Three decades offering speedy, full payments
The best mobile casino site
Brand new cutting-edge operating software
Cons:
Doesn't have international horse racing
Bonuses are lower than at other sites on this list
10. BetUS: The Highest Bonuses in Arkansas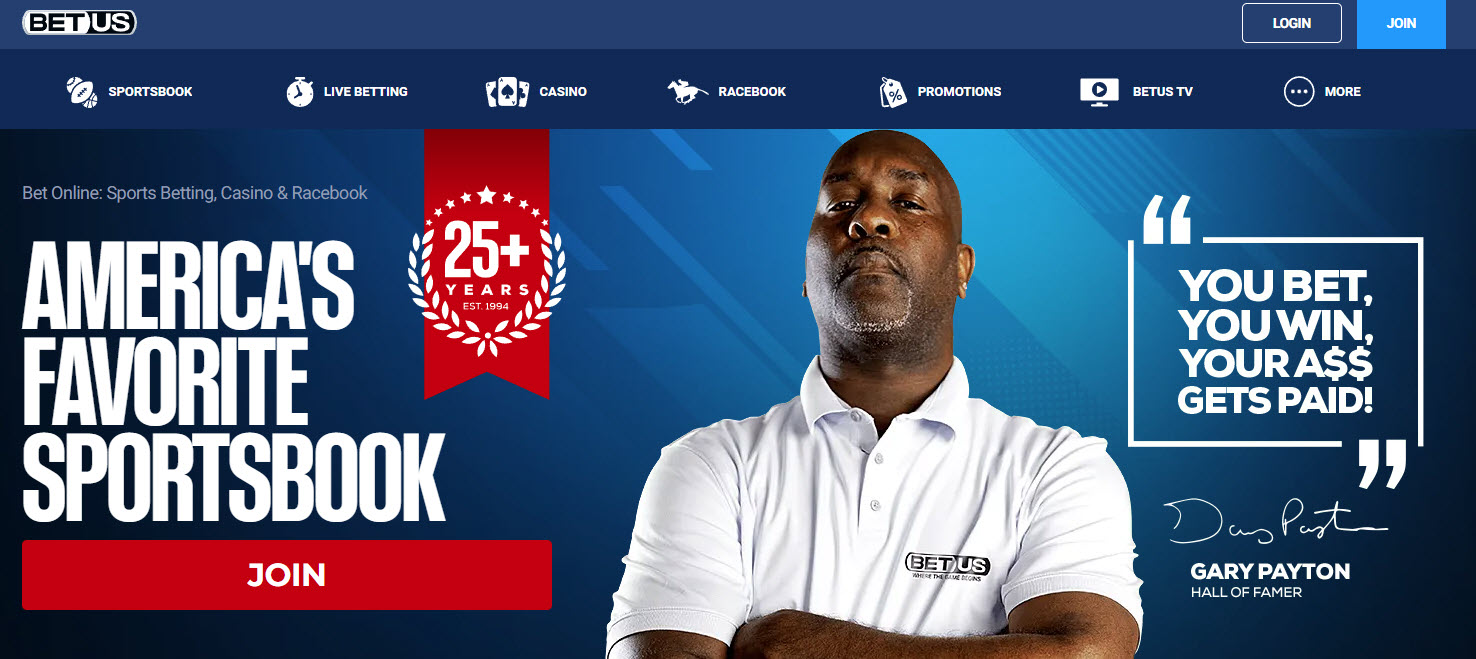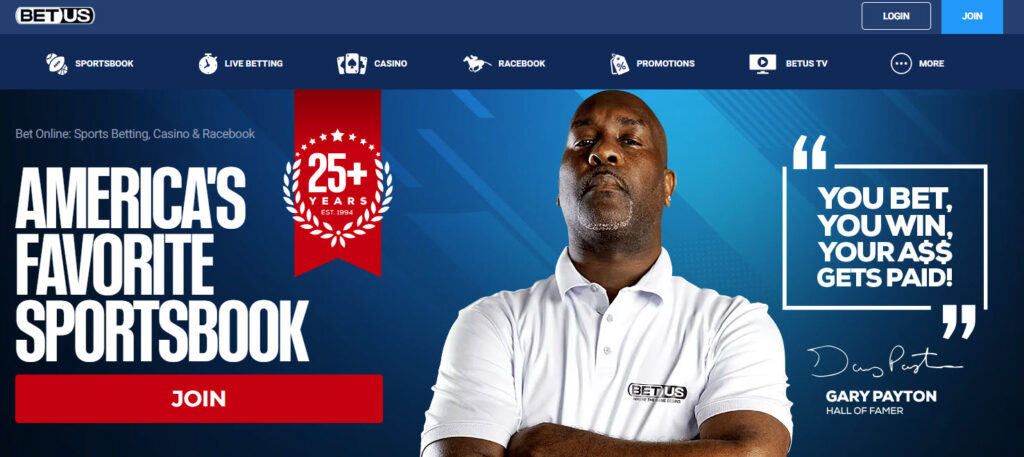 Competition among online sportsbooks is fierce and sites are willing to pay to land a customer and to keep a customer betting with them. And no one pays as much as BetUS.
Our experts crowned BetUS as the home of the best bonuses in Arkansas. Their welcome bonus will match your first deposit at over 100%, meaning when you make your first deposit, you immediately more than double your money, before you place your first bet. And if you use cryptocurrency, they'll match your deposit up to 250%, with a maximum of $2,500. That means you'll more than triple your money right off the bat.
BetUS doesn't forget about customers once they're on the books. They have a variety of promotions and also have a creative marketing team that produces weekly videos and podcasts with analysis of big upcoming sporting events.
Pros:
The highest welcome bonus, which can more than triple your money
Fast, responsive user interface
Loyalty program is one of the best in Arkansas
Weekly podcasts and videos with picks and analysis for upcoming games
Cons:
Bonus money has high rollover requirements
Odds and lines are published relatively late
BMR's Rating Methodology
Our experts gave a thorough evaluation of dozens of online operators to come up with their recommendations of the 10 best. Among the areas they concentrated on, were the various betting options available — did the sites offer a wide range of online sports betting markets, in terms of sports, teams and the online sports betting options available? They also looked at promotions and bonuses paid by each site, the quality of customer service, the banking options available, the user interface and more. They even took customer opinion into account by looking at online reviews of each betting experience.
| Sportsbook | Rating | Online Since | Payment Methods | Read Review |
| --- | --- | --- | --- | --- |
| Bookmaker.eu | A+ | 1996 | Credit Card, Bitcoin, P2P, Crypto | Bookmaker.eu Review |
| Bovada | A+ | 2011 | Credit Card, Bitcoin | Bovada Review |
| BetOnline | A+ | 2001 | Credit Card, Bitcoin, Crypto, Cashiers Check, Bank Transfer, P2P | BetOnline Review |
| Heritage Sports | A+ | 2001 | Credit Card, Bitcoin, Cashiers Check, Bank Transfer, P2P | Heritage Sports Review |
| BetAnySports | A+ | 2002 | Credit Card, Bitcoin, Electronic Check | BetAnySports Review |
| SportsBetting.ag | A | 2002 | Credit Card, Bitcoin, Crypto, Cashiers Check, Bank Transfer, P2P | SportsBetting.ag Review |
| JustBet | A | 2000 | Credit Card, Bitcoin, P2P, Crypto | JustBet Review |
| WagerWeb | A | 1994 | Credit Card, Bitcoin, Cashiers Check, Bank Transfer, P2P | WagerWeb Review |
| Everygame | A | 1996 | Credit Card, Bitcoin, Skrill, Neteller, Bank Transfer, P2P | Everygame Review |
| BetUS | A | 2000 | Credit Card, Bitcoin, Bank Transfer, P2P | BetUS Review |
The History of Gambling Laws in Arkansas State
Since its earliest days of statehood, Arkansas has gone back and forth on the subject of gambling, going from one extreme to the other. The first state constitution, in 1874, banned gambling, referring to it as a prohibition on all forms of "lotteries."
Before 20 years had passed, people in the state were already looking for loopholes based on the definition of a "lottery." Horse tracks began opening in the late 1890s, with betting following closely behind and then the first casino in 1905. Within two years, a law banning horse racing was passed.
In the 1930s, horse and dog racing returned after being legalized once more in the state, but, by the end of the 1960s, a statewide gambling crackdown resulted in the last casinos closing.
The pendulum has swung back in favor of broader gambling expansion since the turn of the millennium. In 2005, the state allowed tracks to put in gambling machines, turning them into "racinos." An actual state lottery was started in 2008. More recently, the state has turned its attention to the retail sports betting market.
The state legislature has debated the matter for much of the 2010s and early 2020s, with the governor going back and forth on his support of legal sports bets. The progress has been slowed somewhat by the legislative calendar, as lawmakers only meet in odd-numbered years. Despite delays, Arkansas approved daily fantasy sports in 2017 and put Amendment 100 up for referendum the following year. Voters approved it, paving the way for four licensed casinos to open in the state. The law also allowed for each of them to also serve as a retail sportsbook. 
In 2021, the legislature expanded sports betting by passing a law legalizing online sports betting. Sportsbooks are working with casino partners to offer Arkansas residents the chance to bet on sports online. It has proved to be remarkably popular, with monthly betting revenue topping $30 million.
Arkansas' Timeline of Gambling
Arkansas' gambling landscape reveals a dynamic trajectory characterized by a series of legal, social and legislative shifts. From early prohibitions to contemporary allowances, the state's journey through the realm of gambling unfolds as a testament to evolving attitudes and regulatory adjustments.
The following timeline maps key milestones that have shaped Arkansas' stance on various forms of gambling, offering insights into its historical and modern relationship with games of chance and wagering.
2022: The first online sports bets are placed on legal sportsbooks licensed by Arkansas.
2021: Lee Johnson introduced a bill to allow legal online betting. After a debate and lawsuit, it was limited to online sports betting only. The bill eventually passed and was signed into law by Governor Asa Hutchinson.
2019: Oaklawn casino takes the first legal sports bets signaling the start of in-person sports betting in the state.
2018: Voters approve Amendment 100, allowing full casino ‌and sports betting in Arkansas. Four casinos are approved to begin operation.
2017: Daily fantasy sports are declared legal within the state.
2008: A state lottery is started.
2005: The Local Option Horse Racing and Greyhound Racing Electronic Games of Skill Act is passed, allowing for racetracks to offer electronic gaming machines, signaling the return of "racinos" to the state.
1967: A statewide crackdown on gambling results in the last racinos and casinos, in Hot Springs, closing.
1935: Arkansas legalizes betting on horse and greyhound races.
1907: A law is passed banning horse racing.
1905: The state's first casino opens at Oaklawn.
1874: Arkansas' state constitution includes a gambling ban, prohibiting "lotteries."
Arkansas has come a long way from a full gambling ban written into its constitution, as you can see.
Features to Look for in the Top Online Sportsbooks
Each of the offshore sportsbooks we recommended has different specialties and strengths, but certain aspects are common to all the top sportsbooks in our rankings. Here's a look at some of the important factors that the best sports betting sites are expected to offer.
Competitive Sports Betting Odds
Odds should be fair and give gamblers a reasonable chance to make a profit. The odds offered on any sports bet should reflect the expected probability of the event actually occurring.
Betting Markets
The top sites should offer a wide range of markets, with online casino games, poker and race betting available in addition to sports wagers. Within the sportsbook, there should be a variety of sports, events and betting options available, including spreads, lines, props and futures.
Banking Methods
There should be a selection of deposit methods and withdrawal methods for conducting financial transactions available. Traditional payment methods like debit cards, credit card payments (American Express, Visa, Mastercard) and bank transfers should be offered, along with newer methods like e-wallets and crypto options, including Bitcoin, Bitcoin Cash and Ethereum.
Bonuses & Promotional Offers
Sites should compete for your business, both as new customers and to keep you loyal to them. They should offer a deposit match bonus that pays a bonus based on a percentage of your initial deposit. There should be a flexible set of bonuses available by promo code and ongoing user promos should include VIP points programs, risk-free bet or bet insurance and cashback rebates.
Live Betting & Event Streaming Available
Live betting is a market that has exploded in popularity. The top sites have a well-developed live betting interface, as well as live streaming of events to allow customers to track their bets and determine what bets to place next.
User Interface
The user interface is critically important since it determines a customer's betting experience. It should be easy to navigate, responsive and fast with no glitches or technical problems. Shortcuts should be available and menus should make intuitive sense and be well organized.
Mobile Site Quality
Mobile wagering has become a bigger business than betting using a laptop or other computer, so sportsbooks should pay close attention to their mobile sports wagering interface. It should have all the functionality of the full-blown site and be just as attractive and easy to navigate. Mobile bets should be able to be placed quickly. Many sites offer an online sports betting app that can be downloaded to your device to make it more convenient to bet online.
Customer Support Options
Customer support should be easily accessible and available, ideally 24/7 and in a variety of languages. Customers should be able to reach customer service by phone, live chat or email.
Site's Security Features
A site's security features are also critically important since they will be handling your money. Any site that didn't have an unblemished security record was dropped from consideration for our rankings.
Popular Sports to Bet on in Arkansas
Arkansas straddles the southeast and southwest United States, meaning it is part of two different sports hotbeds. It is located in the heart of SEC country and just next door to Texas, home of the Friday Night Lights. Football is king in the state, but it's also home to a top NCAA basketball team as well as plenty of baseball talent. While the state doesn't have any teams in the four major sports, it is home to several pro teams in minor leagues as well as top college competition.
Types of Sports Bets Available in Arkansas
Popular sports bets include bets on individual games, either with point spreads or moneylines. Gamblers can also bet on individual players' performances or a team's performance in an individual statistical category or for part of the game with prop bets. Longer-term bets are also available in the futures market. Multiple bets can be combined in parlays, with the promise of higher payouts but also higher risk.
Arkansas Teams to Bet on
Arkansas is a short drive away from pro teams in the four major leagues, but it's also home to some top-level college sports teams.
Arkansas Professional Sports Teams
The state is home to a pair of minor-league baseball teams: the Arkansas Travelers and the Northwest Arkansas Naturals. Both are Double-A teams, with the Travelers associated with the Mariners and the Naturals with the Royals. The state borders Memphis, home to the NBA Grizzlies. For those that enjoy football betting, the NFL's Tennessee Titans are also located to the east, with Texas, home to teams in every major sports league, to the West.
College Sports Teams in Arkansas
Arkansas is home to five Division I college teams. By far the most well-known and successful college program in the state is the Razorbacks of the University of Arkansas. Also known as the Hogs, they've won national titles in college football and college basketball as well as annually competing for bowl games and March Madness berths. The school is also home to a baseball powerhouse and a track and field dynasty.
Niche Sports in Arkansas
Arkansas' warm weather makes it an attractive spot for most outdoor sports. The state has hosted golf tournaments, tennis tourneys, horse racing and auto races at various pro and amateur levels. It has also hosted indoor sports such as boxing and MMA.
How to Create an Online Sports Betting Account
The process of creating an online sports betting account is fast and easy. It takes just a few minutes, from start to finish, to register with one of the online sports betting operators we recommend.
Step 1. Sign-Up: Choose one of the sportsbooks from our top 10, go to their site and click on the button to open a new account.
Step 2. Verify Your Sportsbook Details: Fill out the registration form and verify your identity, usually by responding to a code texted to your phone.
Step 3. Deposit Funds: Fund your account by choosing one of the deposit methods listed on the site's cashier page. Enter your financial information and deposit amount. Don't forget to enter the promo code to collect your welcome bonus.
Step 4. Place Your Wagers: Place whichever bets you would like to place.
That's it. You're ready to go.
Arkansas Betting Guides
You've come to the right place if you live in Arkansas and are new to online gambling. Our team has put together a variety of helpful guides that will enhance your knowledge of the various forms of accessible online betting.
FAQs – Arkansas Online Sports Betting
Can you bet on sports in Arkansas?
You can bet on sports in Arkansas in several ways. You can bet in person at one of the state's casinos or you can enjoy some online wagering, either at a sportsbook licensed by the state government or an offshore betting site, if you are of the legal gambling age.
What gambling is legal in Arkansas?
In-person gambling is legal at one of the state's casinos. It is legal to bet on horse races at a track or off-track betting parlor. Online betting on sports has been legal for the last year. Offshore sportsbooks are outside of the jurisdiction of state law and offer all forms of gambling.
Can I gamble online if I live in Arkansas?
You can gamble online at a state-licensed sportsbook. If you want to also play online poker or casino games for the chance to win real money, the only option currently available is to use an offshore sportsbook like the ones in our top 10.
What sportsbook can I use in Arkansas?
Arkansas was eager to usher in legal sports betting after PASPA was overturned. There are several sportsbooks operating in the state now, but they operate out of retail casinos. The most convenient way to place sports wagers is using an offshore sportsbook. 
Can you bet on Bovada in Arkansas?
Bovada is based in Costa Rica. That means it is not subject to Arkansas state law or U.S. federal gambling law. It only needs to follow the gambling laws in its country. That means Bovada can accept bets from Arkansas residents and pay out cash winnings.
The Keystone State remains a thriving gaming hub, with a 7.5% revenue boost in August compared to the previous year, driven by ongoing growth in Pennsylvania sports betting and other gambling activities. Online Gaming Boosts Revenue According to the Pennsylvania Gaming Control Board, the state's gaming companies reaped a whopping $457.2 million in total revenue

---