Best Real Money Alabama Online Casinos 2023
There are no commercial casinos in Alabama. The three in-state casinos are all tribal and are owned and operated by the Poarch Band of Creek Indians. These casinos are located in Montgomery, Wetumpka, and Atmore. They are equipped with electronic bingo machines instead, which are similar to slot machines.
Alabama has some of the most restrictive gambling laws in the country. In fact, Alabama is one of only eight states that does not have a state lottery. In terms of casino games, roulette, poker, craps, and slots are all prohibited in the state. The reason for that is that under the Alabama constitution, most forms of gambling are not legal. There was a constitutional amendment to allow electronic bingo parlors. Even those have come under the scrutiny of the Alabama Supreme Court.
With so many restrictions, Alabama casino bettors are better off with offshore Alabama betting sites which offer a wide range of casino games such as Super Slots and card dealer games. These online betting sites are not located in the U.S. and do not fall under state or federal jurisdiction. In this guide, we will review each of these brands to help you pick the best online casino in Alabama for you.
Best Alabama Online Casinos
Alabama Betting Guides
If you're looking for more ways to gamble online in Alabama but you are not sure where to start, we recommend checking out one of our other online betting guides which will cover the various betting markets available in the state.
Best Alabama Online Casino Betting Sites 2023
2023 Best Alabama Online Casino Reviews
The ten online sports betting sites highlighted in this guide were chosen by our betting experts. They chose these sites based on their reputations and the services offered. For Alabama casino bettors, these sites have been providing all forms of gambling services for decades.
With the legalization of gambling in Alabama being a few years away at the very least, we will go into detail as to why offshore sportsbooks are the best option for Alabama casino players.
With so many sites to choose from, we will highlight the main differences between each and what they have to offer. We will also give you insight as to what our betting experts took into consideration when making this list. Later on in the guide, we will also provide you with links to more in-depth reviews of each of these brands.
1. Bookmaker: Alabama Casino Players Enjoy Overall Services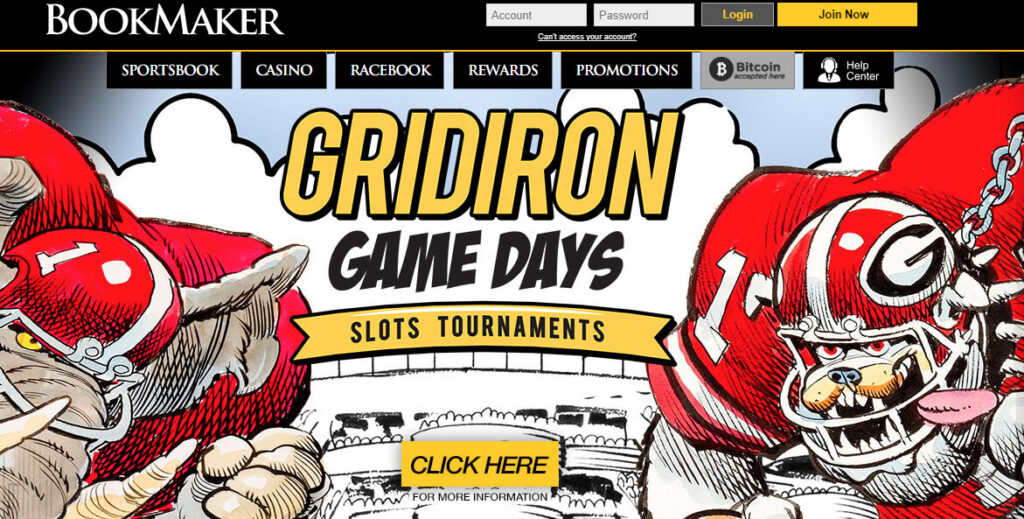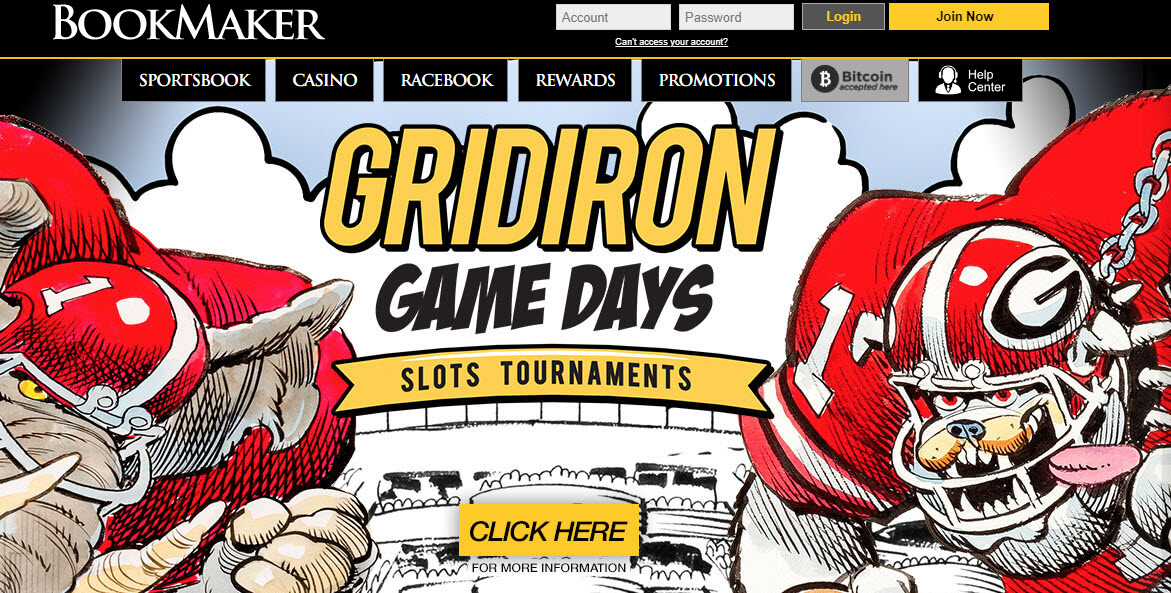 One of the Best Reputations in the Industry
Bookmaker is a brand that has built a reputation for consistent service across all of their offerings. Their brand is most well known for their sportsbook but Alabama casino players have been enjoying their casino as well. Their library of games is very impressive and includes some of the most popular titles in the industry.
Good Selection of Casino Bonuses
Bookmaker stands out from the crowd with its selection of casino bonuses. When you sign up, you will be eligible for a 100% bonus of up to $500 on slots. The promo code to redeem that bonus is "SLOT500." There's also a blackjack bonus where you can get a 100% bonus of up to $250 using the code "CASINO250." The minimum deposit amount to qualify for both bonuses is $25.
Bookmaker separates their reload bonuses into three tiers known as "Gold" "Platinum" and "Diamond." In the Gold section, you can receive 25% up to $300. In the Platinum section, you can receive up to 30% up to $400. Finally, there's the Diamond section where you can get 50% up to $500.
If that isn't enough, there are also bonuses for specific days. On Tuesdays, if you deposit $100 or more, you can receive 100% on blackjack or video poker. To claim the bonus, you can click on Black-n-Jack inside the cashier. The promotion is known as Black-N-Jack Tuesdays.
On Wednesdays, if you deposit $300 or more and receive 5 free spins on one of their selected slot games. After making your deposit, claim the bonus through the casino department. They will apply the free spins to your account.
Pros:
One of the best reputations in the online gambling industry
Casino bonus selection among industry's best
2. Heritage Sports: Heritage Casino Offers 8% Rebate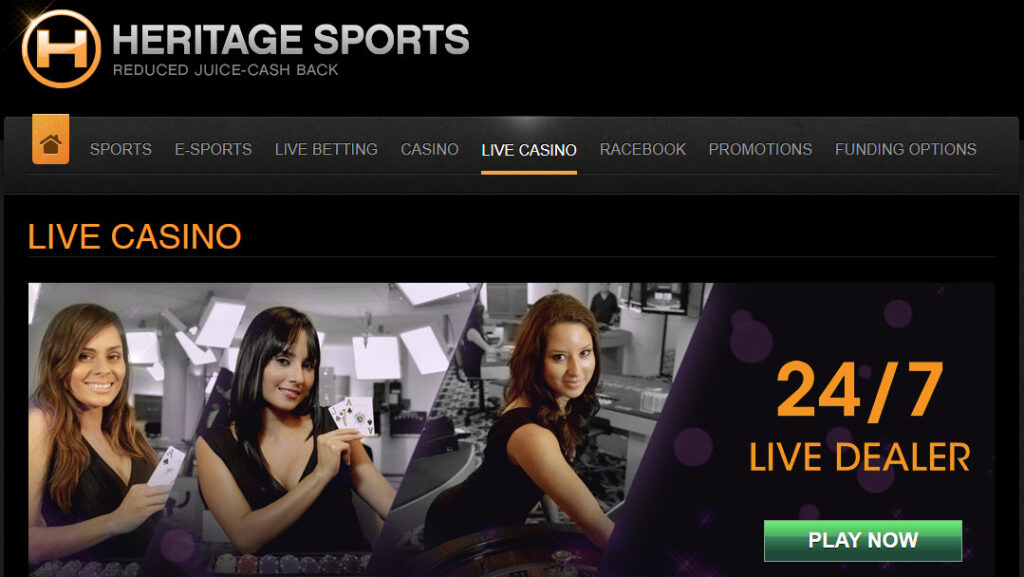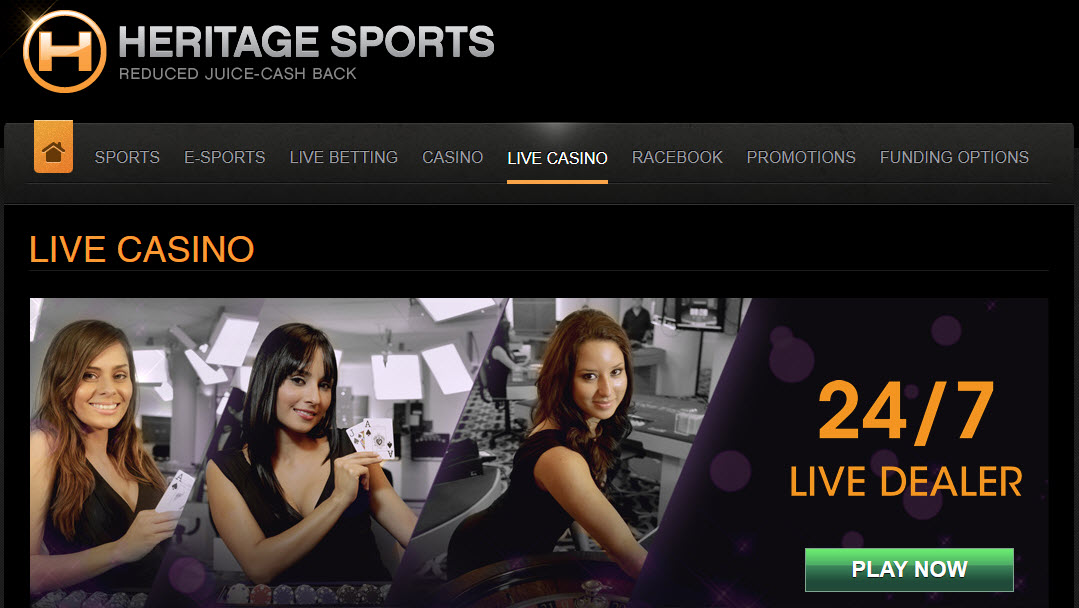 Several Different Casino Rebates
When you open an account at Heritage Sports, your money goes a lot further than at most online casinos. Heritage Sports is known in the online gambling community for saving players money through their reduced juice model. They also offer cashback which you wouldn't expect from a brand that already offers reduced juice.
Heritage Sports online casino offers 8% cashback which is awarded at the beginning of the month. The amount you receive is based on your net losses from the previous month. The maximum amount you can receive is $2000 and the rebate bonus comes with a 4-time play-through.
There's another fantastic bonus called the Risk-Free $100. With that bonus, you will get a $100 rebate on your net losses every week in the casino or the live dealer casino. The one catch to that bonus is that if you claim it, that amount will be deducted from the 8% monthly casino rebate. It comes with a 4-time play through and there is a minimum weekly requirement of 25 wagers to qualify.
Take Advantage of Reduced Juice
One of the best parts of playing at an offshore betting site in Alabama is that you get to enjoy more than one offering per account. While Heritage Sports does a fantastic job with its casino platform and the bonuses that come with it, its bread and butter is sports wagering.
When you do decide to venture over to the sportsbook, you will enjoy their reduced juice betting model of -108. With the industry standard being -110, every time you make a bet on a side or total at Heritage Sports, you will be saving 20% compared to the competition's price. Heritage Sports is a brand that allows its players to get more action for the money they spend.
Pros:
Casino platform has a monthly rebate bonus
Cons:
Reload bonuses not casino specific
3. Bovada: Great Selection of Bonuses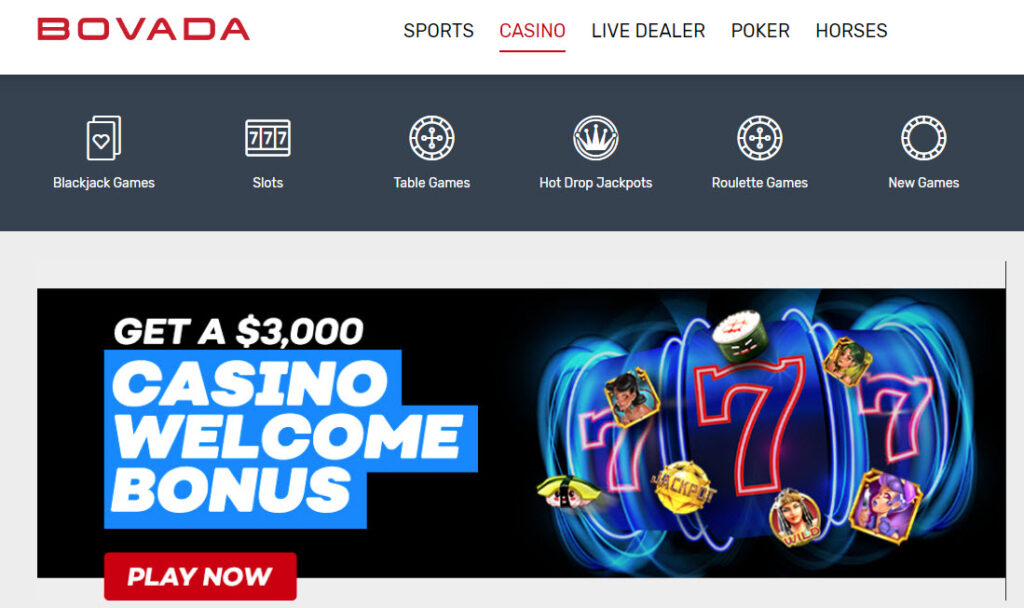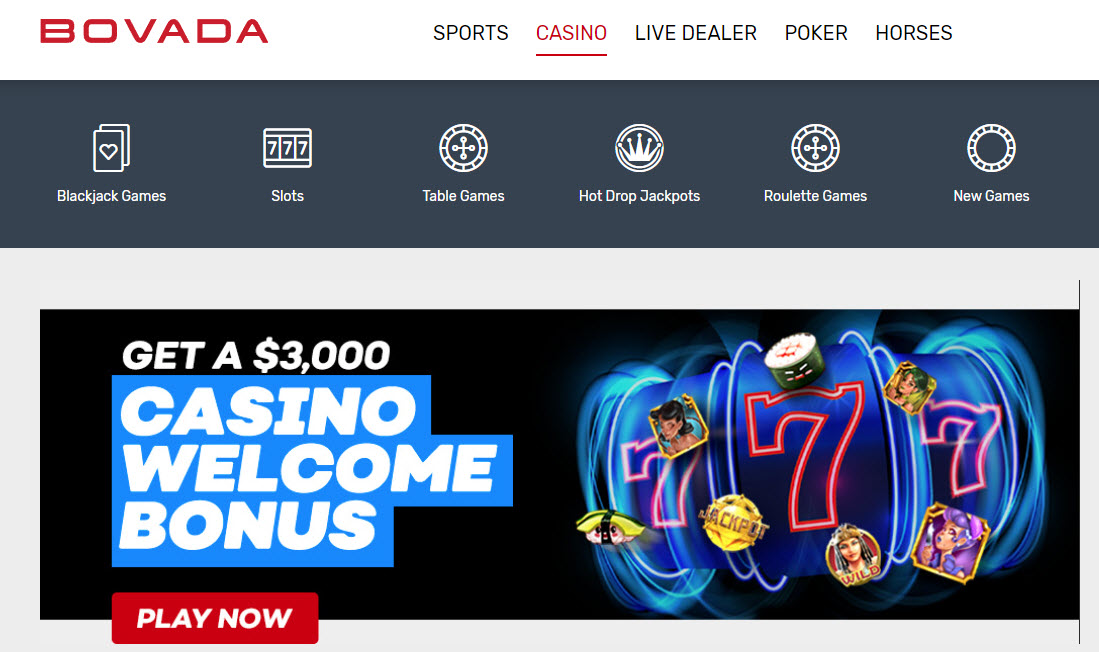 Quality Gambling Services Across the Board
Bovada Casino is a brand committed to innovation and they tend to offer new bonuses on a regular basis. They have been in the online gambling business for decades and one of their claims to fame is that they have the busiest poker room in the country. This is due to the fact that they are a part of the biggest U.S facing poker network in the world. Bovada Casino is home to over a dozen brands and is one of the biggest perks of being a Bovada customer in Alabama.
Bonuses for Every Type of Casino Player
Bovada Casino sometimes combines bonuses across offerings like its "BIGLEAGUES" bonus where you get a 100% deposit match that comes with 25 free spins. It also has game-specific bonuses like the SpinBonus which gets you 177% and 77 free spins on Platinum Lightning Deluxe. There's another where if you use bonus code "FREEBANDITS," you can get 30 free spins on Cash Bandits 3.
All of these bonuses come with varying degrees of play-through requirements. One of the best bonuses they offer is the sign-up bonus where you can earn up to $3000 across your first three deposits. You must use the bonus code "CAWELCOME100" on your first deposit and "BV2NDCWB" on your second and third deposits to qualify.
Pros:
Several bonuses to choose from
America's busiest poker room
Cons:
Odds not released as early as some competitors
4. BetOnline: Casino Library Has Over 500 Games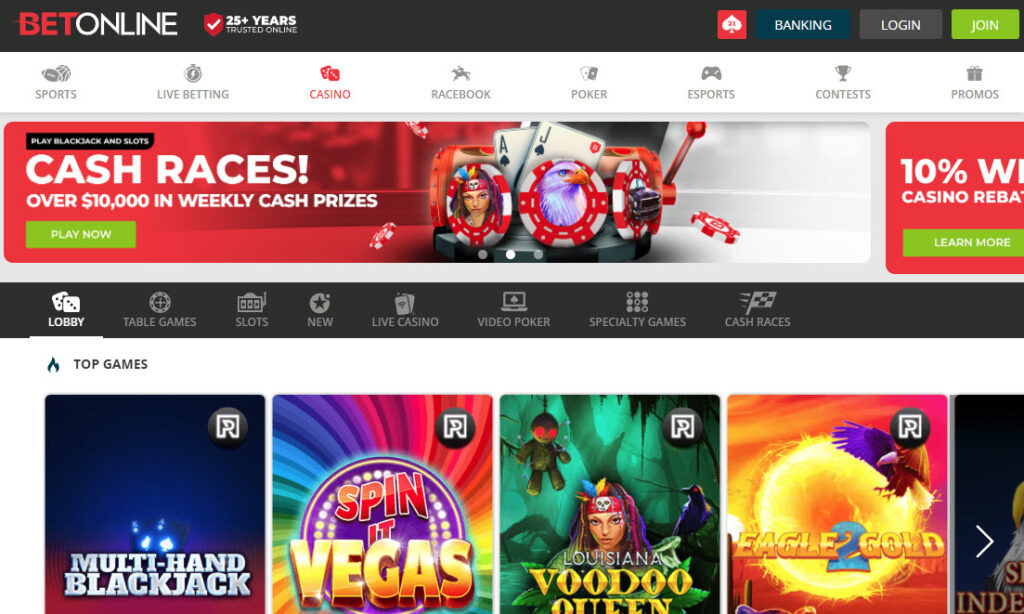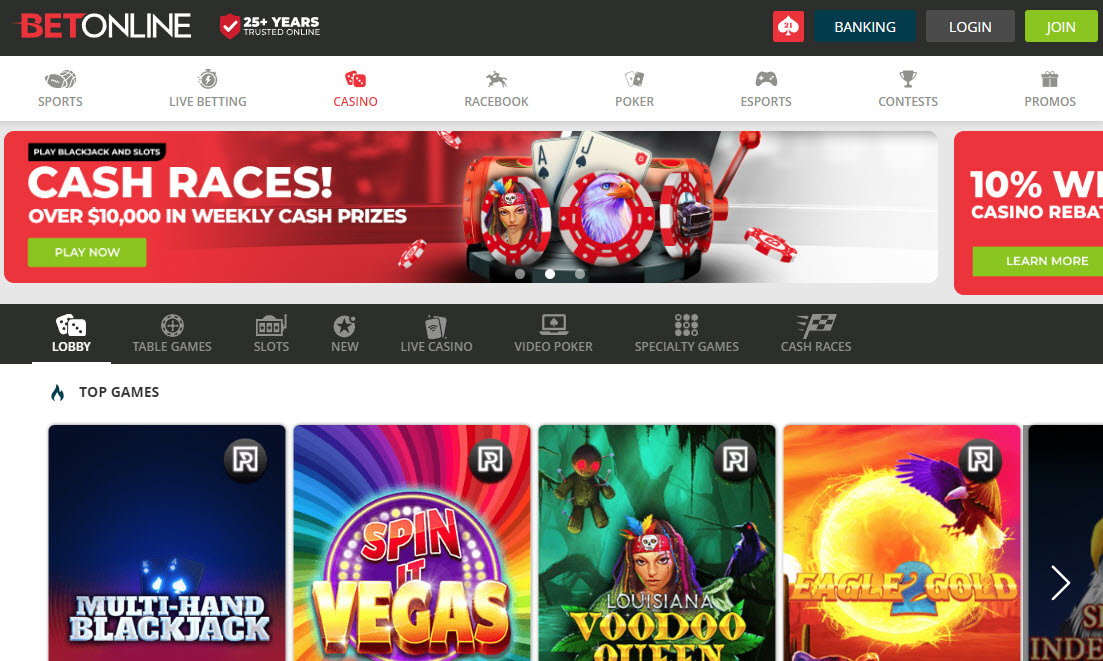 Over 500 Games to Choose From
Online casinos get their games from third-party providers. At the bottom of the page on most online casinos, you'll find a list of their game providers. Each of these providers specializes in a different type of slot game which we will cover in more detail later in this guide.
In order to provide customers with a strong variety of games online casinos need to acquire as many game providers as possible. BetOnline has managed to satisfy Alabama casino players with over 500 games to choose from at their online casino. That gives them one of the biggest game libraries in the industry. BetOnline does a good job of separating the slots by type which makes it easier for customers to navigate.
Strong Mobile Offering Lets You Enjoy Casino On the Go
Mobile betting is by far the most popular form of betting in the U.S. With that in mind, developing mobile platforms has been a huge focus in the online gambling industry. The best way to know how good a mobile platform is would be to compare it to the user experience on the desktop. BetOnline has one of the best mobile platforms in the industry.
This allows players to get action in the casino without having to sacrifice the user experience. All of the games in the casino work really well on the mobile platform which is one of the perks Alabama casino players seem to enjoy the most.
Pros:
Game library has over 500 titles
5. BetAnySports: Casino Portals A Nice Touch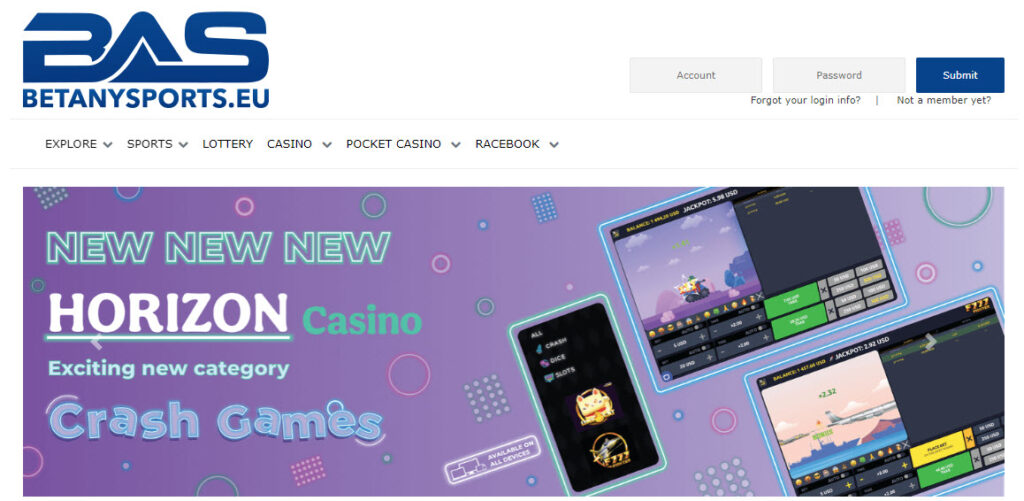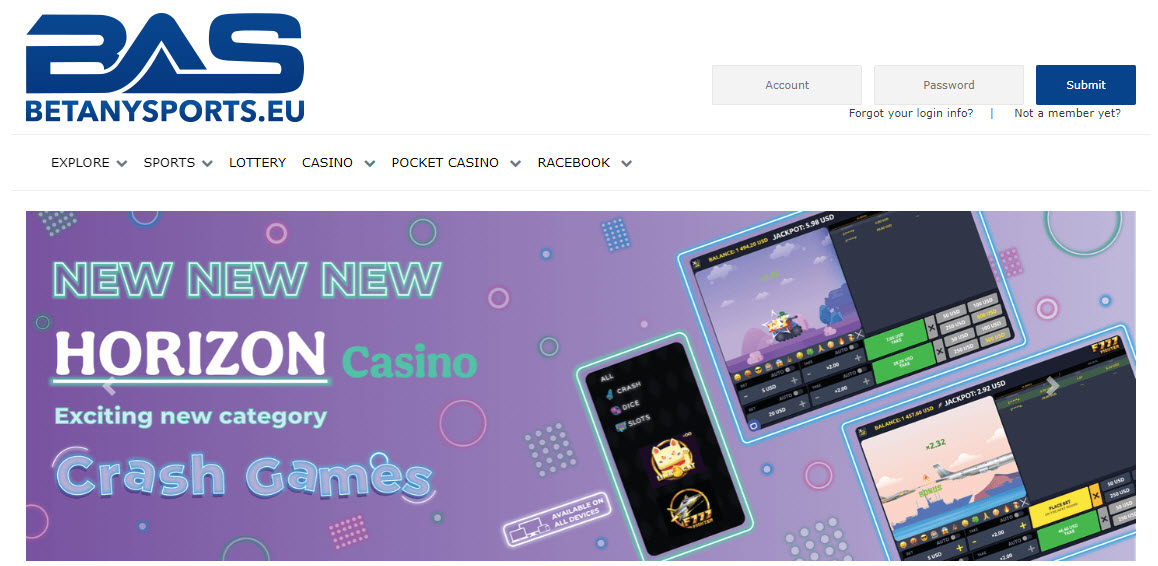 Casino Portals Offer Something Different
BetAnySports has done an excellent job of making its casino offering unique. They have it separated into three portals, each offering their Alabama casino players something different. In the first portal, they have the Grand Casino. There you will find over 90 slot games. They have everything from 3 to 5 reel slots with a lot of the classic titles online casino players in Alabama have come to expect.
Next, you have the Bonus Casino which as the name suggests, you will find the best bonuses that BetAnySports has to offer. Finally, there is the Jackpot Casino where you'll find an amazing selection of 3D games as well as progressive jackpot slots.
Get Bonuses On Your Schedule
One of the key features that impressed our betting experts the most about BetAnySports bonuses is that you can choose the frequency. Most online casinos offer some form of rebate and BetAnySports is no different. What is different about how they do it however is how often you can get the rebate.
If you choose to get your rebate every 30 days, you are entitled to 25%. If you prefer to receive the bonus once every 7 days, the rebate will be 10% of your net losses from the previous week. Finally, if you want to receive the rebate on a daily basis, you will get 5% off. The daily rebate can be requested at 10:00 AM every day.
Pros:
Lots of third-party game providers
Rebate comes in different forms
Cons:
Certain restrictions on free cashouts
How to Compare the Best Alabama Online Casinos
There are a number of key factors that you should keep in mind when choosing an online casino to use.
Learning About Game Providers
There are so many slot games available now that it isn't practical to try and learn about each title. Instead, you can research individual game providers and the type of slots they offer. For less experienced players, the normal scenario will be that you find a game you like and you check out who the game provider is. Once you've done that, you will likely find a lot more games that have similar qualities to the ones you're enjoying. Most experienced casino players look for game providers instead of individual titles when looking to sign up at an online casino.
What are the right bonuses for you?
Choosing the right bonus has a lot to do with your playing style. Players that do not cashout out on a regular basis will be the ones that enjoy bonuses the most. That does not mean that bonuses prevent you from cashing out. When you accept a bonus, you are restricted from cashing out at your leisure.
The reason for that is that all bonuses come with required playthrough also referred to as rollover requirements. Until you have risked the amount stated in the terms and conditions of that bonus, you will not be able to request a withdrawal.
Casino bonuses either come in the form of a percentage that is added when you deposit money online or in the form of a rebate, where you get a certain percentage of the money you've played back in the form of a bonus.
This is another example of how your playing style affects which bonus is best for you. If you aren't sure how much action you plan on putting forth, then a deposit bonus might be the right bonus for you. On the flip side, if you know that you will be playing a lot, then you might want a rebate on all of the action you put forth.
What games are available with online casino apps?
Below we have listed the games that can be found at online betting sites in Alabama. You can play slots and table games and all of these offshore sportsbooks offer video poker as well. While table games are not available at in-person casinos in Alabama, you can play all of the classic games at an online casino.
Slots
Many of the most popular slots are available:
Three Reel Slots
The basic form of the game is also known as classic slots. While these might seem outdated today, the casino industry was essentially built on the back of these machines. In order to win, a player must land on three similar symbols.
Five Reel Slots (Video Slots)
These slots are the most common slots found in land-based and online casinos. The main difference with these machines is that, unlike the three reel slots, you no longer pull the arm to place a bet, you now simply press a button.
These machines were also made to be seen and heard in the sense that they catch the eye of players from a distance, enticing them to want to sit down and play. These machines also have better odds for the player and higher payouts as well.
Six and Seven Reel Slots
Although these machines would seem like the natural evolution of slots, they are actually still considered to be exotic with the five-reel still more standard. These machines payout more than you would expect. Some game providers at online casinos have really been able to do some interesting things with the winning combinations available on these machines.
Progressive Slots (Progressive Jackpot)
Progressive jackpots are a favorite of online casino players in Alabama because each wager you make contributes to a jackpot that is available to everyone playing the game. The catch here is that you have to max bet in order to contribute to the progressive jackpot. This means more money spent and of course, your chances of winning are less than the traditional five-reel slot. Depending on the size of the casino, these jackpots can have payouts of up to six figures.
Interactive Slots
These machines which are known in the industry as iSlots have taken over in terms of popularity. They take players and involve them in the game they are playing by incorporating a storyline for the game in question that unfolds as you play. This is a much more engaging way of playing slots that customers in Alabama truly enjoy. These machines have more of a traditional video game feel to them which is much more exciting than standard slot machines.
Table Games
There are a number of table games, including:
American Roulette
There are two versions of roulette, American and European. The major difference between the two is that the European version of the game has slightly better odds. It is not available in most online casinos but there are a few exceptions.
The American roulette wheel is numbered from 1-36 with zero (0) and double zero (00). You can bet on any single number or combination of numbers. You can also bet on red or black, odds or evens, and sets of numbers that are marked on the board. The numbers are divided into rows and columns which can be wagered on as well.
Live Dealer Games
Dealer games are the closest thing you can get to an in-person casino experience at online casino sites. Some offshore gambling sites offer a range of games that have a real dealer and offer real time gaming with other players; most often, this is available with poker. Unfortunately, dealer games are not available at all online casinos.
Alabama Online Casino Bonus Offers
We've provided a brief description as to what each of these bonuses is and the type of player that they might appeal to. Always remember to familiarize yourself with the terms and conditions of any bonus before agreeing to it.
Welcome Bonus
As the name indicates, this is your introduction to the casino and the bonuses they have to offer. A welcome casino bonus is designed to entice new signups. This will usually be the biggest type of bonus you receive from online casino sites.
Free Spins
This type of casino bonus gives players the opportunity to try out various slots depending on the terms and conditions. They can also be specific to one slot or exclude specific slots as well. An example of this would be progressive jackpot games which will rarely be included in these free spin offers. These bonuses may be given on their own or as part of an overall casino bonus package.
Reload Bonuses
A reload casino bonus is the same as a deposit match bonus that you may get as part of a welcome offer but it is for repeated deposits. A lot of times, even though these bonuses don't give you as much as a welcome bonus, they generally have more favorable terms and conditions. At most of the top online casinos in Alabama, you can ask for these bonuses instead if you feel they are better suited to your style of play. Speak to a customer service agent about the availability of these reload bonuses.
Loyalty Program
As you deposit and play in the casino, you will accumulate points as part of the loyalty program that you can redeem for free play and a wide range of other casino bonus offers.
Casino Bonus Terms and Conditions
One thing that gamblers need to know is that every single bonus they receive at an online betting site will come with terms that will either restrict their gaming abilities or the ease at which they can withdraw their money online.
Offshore casino sites offer generous bonuses to keep gamblers happy using their platform; these bonuses allow players to get back free money whether that is in the form of cash or free bets.
Some of these bonuses, like free spins, can only be used when playing online slots. Most offshore casino sites also have playthrough requirements on their bonuses.
This means that you will have to spend a certain amount of your own money playing before you can make a withdrawal. Usually, you can still access hundreds of games with your bonus; however, some of the site's key features, like live dealer tables, may be ineligible.
Finally, deposit match bonuses and welcome offers are the most enticing promotions you'll find at online gambling sites. A deposit match bonus usually comes with a minimum deposit or some kind of playthrough requirements before you can withdraw the funds.
When comparing online casino gambling bonus offers, make sure you read the terms and conditions so you know if you'll be able to put the bonuses toward your favorite games.
Land-Based Casinos in Alabama
There are no commercial casinos in Alabama.
There are three land-based tribal casinos that are owned and operated by the Poarch Band of Creek Indians on tribal land. These tribal casinos are equipped with electronic bingo games which are similar to slots and these American tribe-operated casinos are your only in-person gambling option in the state. Native tribes are able to operate land-based casinos even in states where gambling is illegal because they are only required to abide by Federal gambling laws and not state laws.
Table games are not legal in Alabama so there is no roulette, blackjack, craps, poker, or any of the classic table games you would usually see at a brick-and-mortar real money casinos.
The three casinos are:
Wind Creek Casino & Hotel Montgomery
Wind Creek Casino & Hotel Wetumpka
Wind Creek Casino & Hotel Atmore
Best Alabama Online Casino
The best Alabama online casino is a matter of personal preference. This is the beauty of online casinos in Alabama as they cater to several types of playing styles. Our betting experts did however narrow the field down to what they believe are the best online casino sites in the state: Bookmaker, Heritage Sports, Bovada, BetOnline, and BetAnySports.
FAQs – Alabama Real Money Online Casinos
Which online casino has the best payouts in Alabama?
The payout structure for online casinos is standard across the board so no casino has better payouts than the rest. It is the same with brick-and-mortar casinos as well. They all have an industry standard payout structure for all games.
What are the three casinos in Alabama?
There are three tribal casinos that are located in Montgomery, Atmore, and Wetumpka. These are the Wind Creek Casino and Hotel Wetumpka, Wind Creek Casino and Hotel Atmore and Wind Creek Casino and Hotel Montgomery.
What are the biggest casinos in Alabama?
The biggest casino in Alabama is the Wind Creek Wetumpka Casino & Hotel. The gaming floor is 85,000 square feet and the casino is equipped with 2520 gaming machines. This selection of games is the most comprehensive in the state.
How old do I need to be to play at Alabama casinos?
The legal gambling age to play at a land-based casino in Alabama is 21. The gambling age to play cash games with offshore casino sites is 18.
What app can I bet on in Alabama?
You can use any offshore mobile casinos or mobile-optimized sites as a resident of Alabama to play your favorite casino games. We recommend the offshore sites in our top-picks for the best Alabama online casinos in our casino review above as they will provide you with the best possible betting experience. You can, however, play Daily Fantasy Sports (DFS) with the popular Daily Fantasy Sports apps, like DraftKings or FanDuel.