Online Poker in Nebraska – Is it Legal?
Poker is an American classic card game, but not all states embrace it from a legal standpoint. Some are still holding onto antiquated views on gambling in 2023, but for those in the Cornhusker State, there may be a brighter future than in some places in this country when it comes to playing at online poker sites.
For now, you should understand the legal status of gambling in the state of Nebraska, and what other choices you have to play poker online today to win real money.
In our guide, we will show you the three best Nebraska betting sites to play online poker, tips for those new to the game, and why you should feel comfortable with using an offshore sportsbook that offers online poker options in Nebraska.
The Best Nebraska Sportsbooks in 2023 
Nebraska Betting Guides
We have dedicated guides for each of the online gambling markets available in Nebraska in addition to a more in-depth look at Nebraska's top gambling sites which we recommend you read if you want to learn more.
The Best Nebraska Online Poker Sites
We can recommend plenty of great online betting sites that are located offshore, but the list does get smaller when it comes to a quality online poker experience. Tournaments are not a common feature at all of these sites, but we found some of the best that hold poker tournaments as well as some that are great for video poker if that is more to your liking.
Bovada – Tournaments on the No. 1 poker network for Americans
BetOnline – Plenty of poker tournament options
Everygame – Great downloadable poker software
Nebraska Online Poker Sites Reviewed
If you want to know more about each site's poker offerings as well as the other features that make them a great choice to join for Nebraska players, then read on for our in-depth reviews of our top three.
1. Bovada: Tournaments on the No. 1 Poker Network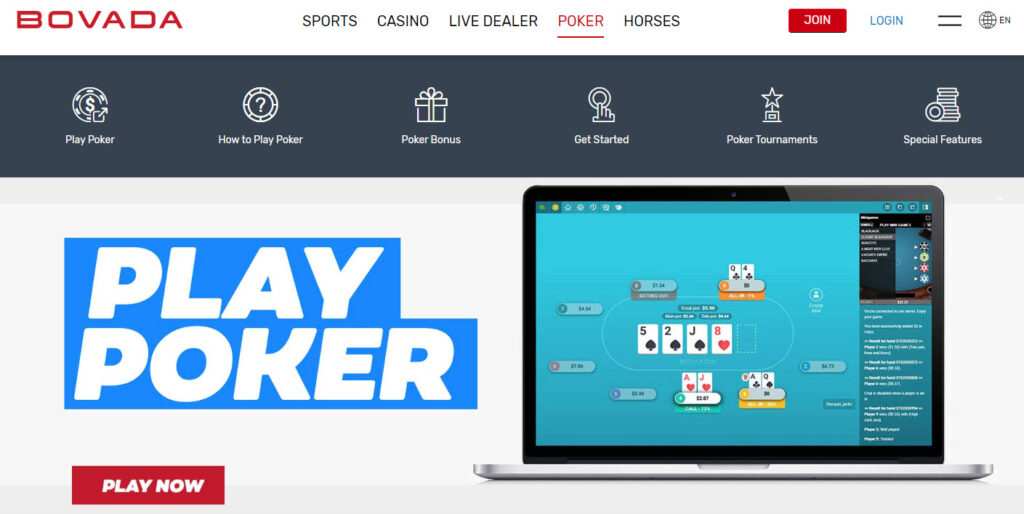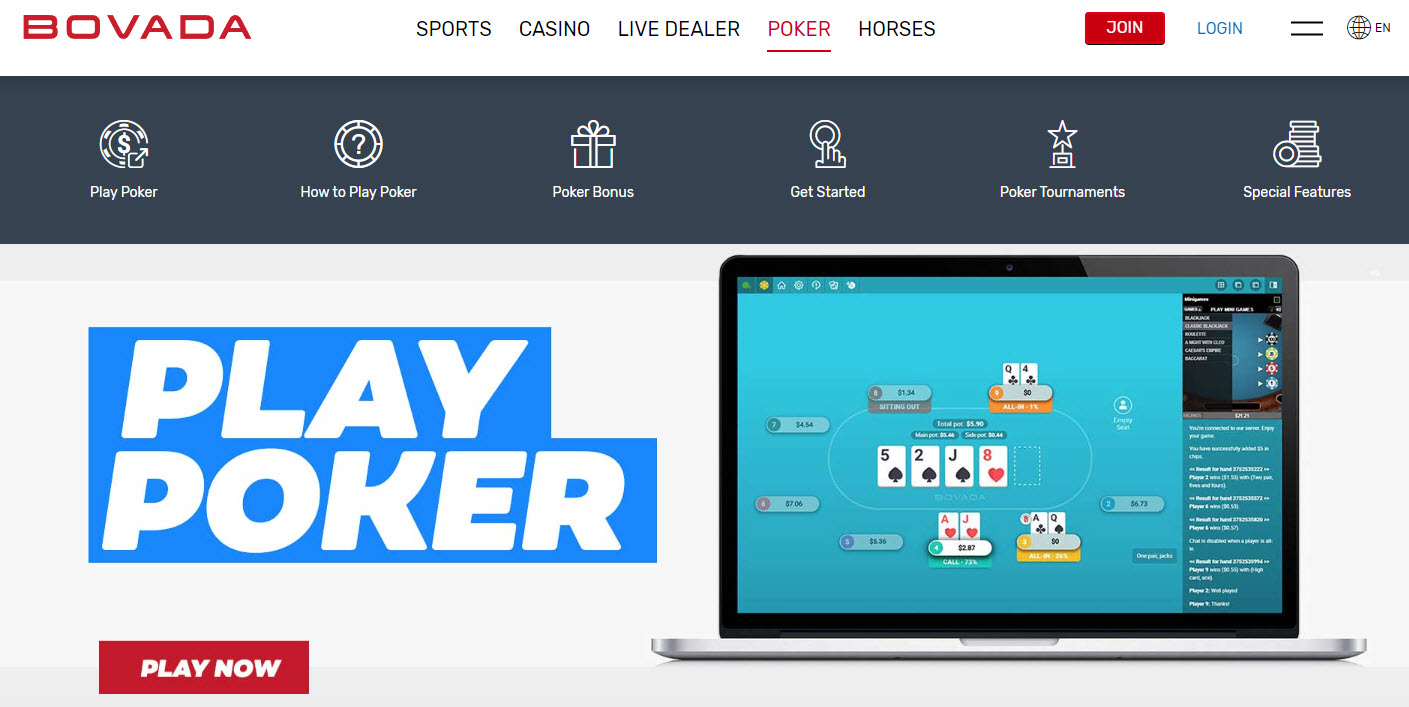 Part of what makes Bovada so popular and our No. 1 poker site for Nebraska users is that it belongs to the PaiWangLuo Poker Network. This network has the highest traffic of American poker players, so you can expect plenty of tournament options for both single-table and multi-table games.
Bovada's largest poker tournament is the $150K Guaranteed, which runs every Sunday. They also have Jackpot Sit & Go tournaments with $120,000 as the top prize. You can play in cash games (Hold'em, Omaha, Omaha Hi/Lo) if tournaments aren't your style. You can also play video poker, if that's more your thing, in a casino section that has other table games and several blackjack variants.
Bovada is still offering new users a Poker Welcome Bonus worth up to $500. It is a 100% match of your first deposit if you use a promo code.
Pros:
No. 1 poker network for American users
Poker Welcome Bonus is worth up to $500
Incognito mode and anonymous tables help you keep an edge over competition
Cons:
Ongoing promotions are lacking for returning users
2. BetOnline: Plenty of Poker Tournament Options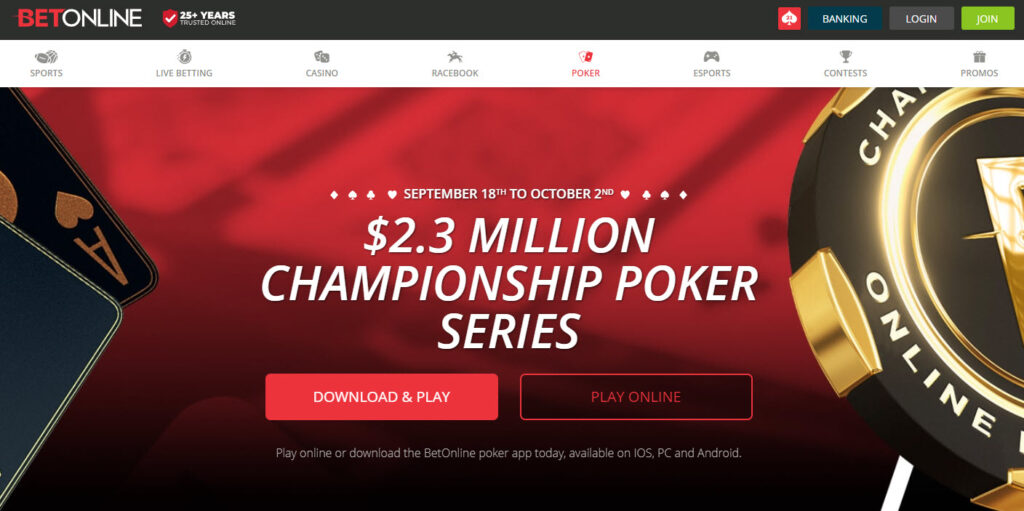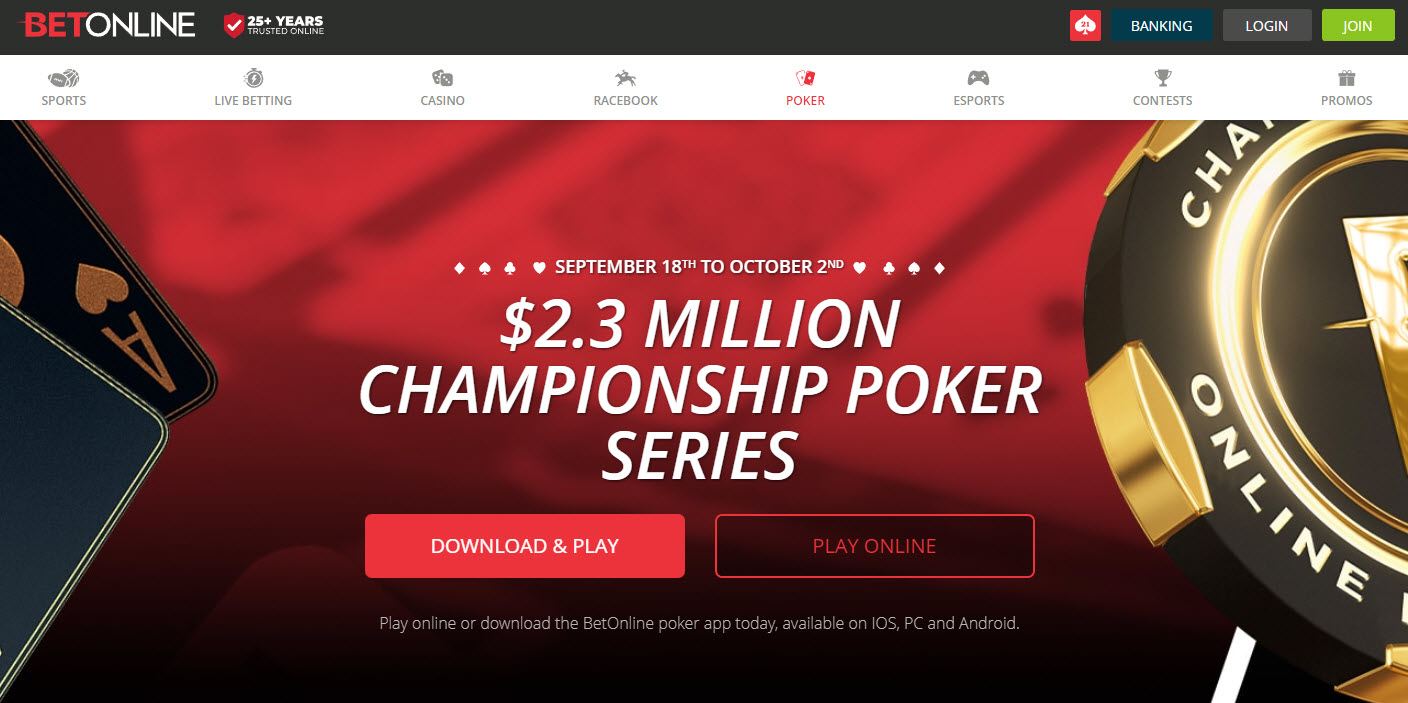 We can be honest that there are not a ton of great options for online poker tournaments for Nebraska users, but BetOnline is absolutely one of the best. There are weekly tournaments available, and you can even send in suggestions for your own tournament ideas.
BetOnline, along with SportsBetting and Tiger Gaming, belongs to the Chico Poker Network, which ranks No. 3 in traffic among American poker players. You just have to do a little download of free poker software and within minutes of creating your account, you can start playing poker tournaments and cash games with BetOnline.
Players of all experience levels should feel welcome at BetOnline. There are different types of tournaments, including bounties, satellites, and guaranteed tournaments. Players are also given free plays from time to time, one of the several promos specific to the poker section.
Fans of video poker will love the selection at BetOnline, with popular games such as Aces & Faces and Jacks or Better available. You also get access to the largest overall library of casino games on any site on our list.
Not only is BetOnline a top-two choice for poker tournaments, but you also get an elite sportsbook, racebook, and the online casino games we mentioned, and the payouts are among the quickest in the business. You can also expect high limits.
Pros:
Some of the most generous welcome bonuses
Downloadable app for poker product
Good variety of promotions
Suggest your own poker tournament idea
Cons:
No. 3 in traffic compared to Bovada's No. 1 poker network
Lacks the anonymous tables found at Bovada
High rollover requirements
3. Everygame: Great Poker Software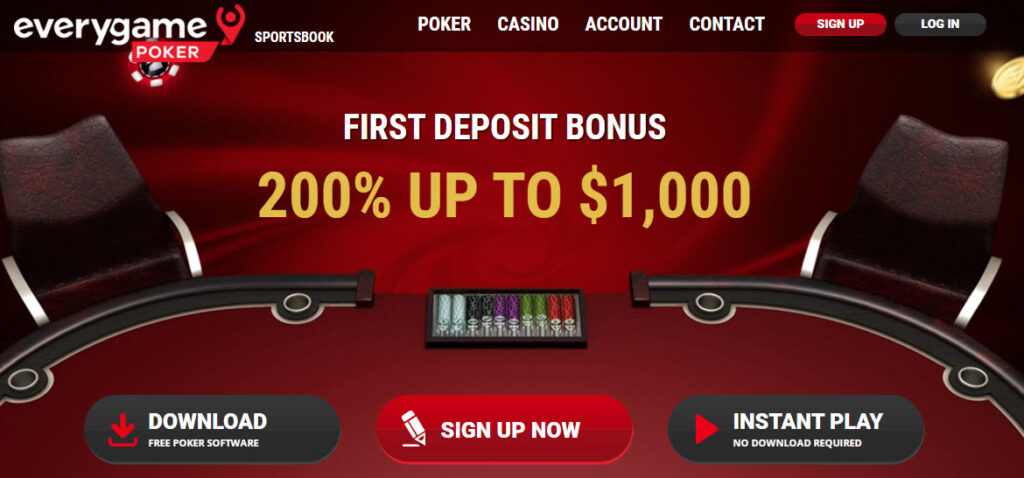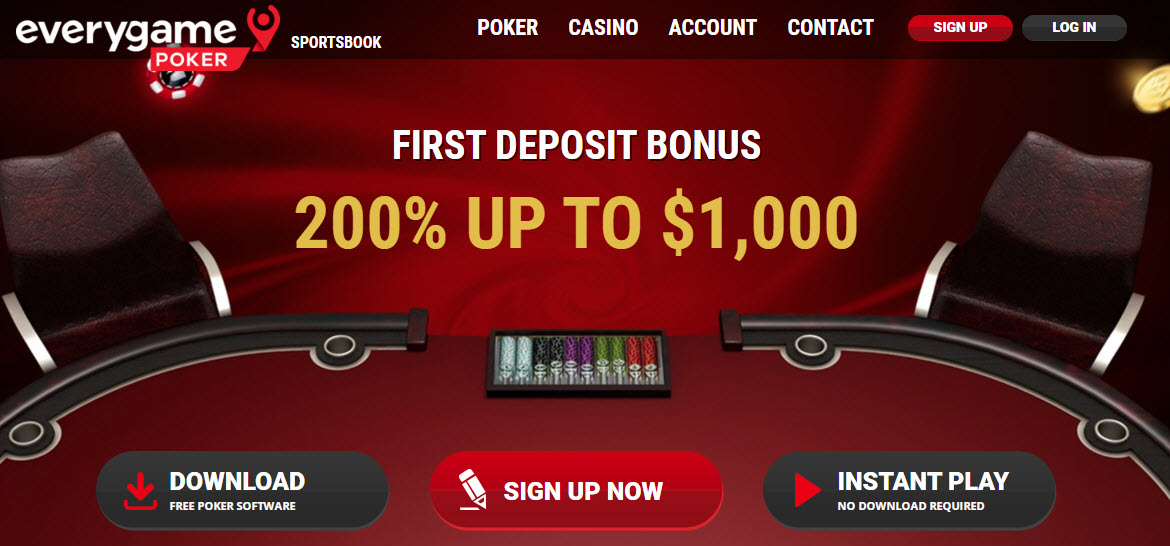 The Antigua-based Everygame is one of the best choices for poker players, and arguably the best choice for anyone who can appreciate a stylish site with great graphics and interface.
The downloadable poker software is free and looks nicer than what you'll find at Bovada and BetOnline. There just are not as many users in this network as those ones, so the tournaments lack the huge prizes found at those sites. But you can still play in Sundowner tournaments and cash games (Omaha and Texas Hold'em).
Everygame has an argument for the best video poker section with both a wide variety of games and free demo versions to try out.
Everygame's bonuses will last for 90 days instead of the usual 30 days we see at other sites, so that is a good advantage to the site if you are more of a grinder gambler. The other area where Everygame excels is the rakeback rate. Since you pay a fee to enter these poker games, the rakeback rate is the percentage you are rewarded back as you play more poker at the site. Everygame's rakeback rate is allegedly the best in the industry at 36%.
Pros:
Best rakeback rate (36%) in the industry
Beautiful software and web design
Great poker promos
Cons:
Lacks the huge tournament prizes found at Bovada and BetOnline
Is online poker legal in Nebraska?
You probably could have guessed by now that online poker is not legal in Nebraska. There are no locally-regulated online gambling operators offering any form of poker.
But does that mean it is illegal to play online poker from an offshore sportsbook if you are in Nebraska? To the best of our knowledge, there is no law against that. There is no record of anyone getting in trouble in Nebraska for playing a poker tournament on Bovada or BetOnline.
Those sites are offshore, but they are located in countries where online poker and gambling have been legal for quite some time. It is fine for those sites to offer those services because it is legal in their local jurisdictions. They are playing by the rules of their territory. This is why you can join them from here and play online poker without getting in trouble.
Instead, Nebraska is more likely to pass a law to legalize online poker, but more on that below.
Nebraska Poker Laws
Clearly, online poker is not legal in Nebraska, but what about things like video poker or just hosting a casual poker game in your home? Let's look at what the law says about those.
Video Poker
Fans of video slots are likely to be fans of video poker, which comes in many different variations and can be found on just about any online casino site. The games run on a random number generator just like video slots. The game is a lot more fast-paced than regular poker, and anyone can pretty much click through a game without needing nearly as much skill as a regular poker game.
These games are not legal in Nebraska, but you can count on finding them at the online betting sites we detailed above, including some free demo versions of them at Heritage Sports, where you can practice without spending real money.
Casual Poker
For many other states, casual poker gaming in a private residence among a group of friends is totally fine as long as you meet a group of conditions. You can't have someone serving as a bank and profiting from the game or charging people an entry fee because these factors are what cross the line into unlawful gambling. You can't promote the game online and welcome anyone to join in.
But when it comes to Nebraska, it does not seem to be legal in any way to host a casual poker game with your friends that involves real money. Once the money is on the table, it becomes either a Class I misdemeanor or a Class II misdemeanor, depending on if it exceeds $300 or not because of the state's strong attitudes toward gambling.
Of course, how would anyone know if you are sitting in your home playing poker with your friends? The FBI isn't going to kick the door the moment someone slaps a $20 bill on the table. As long as you are smart about what you're doing with your friends, it should be fine to get together for the occasional poker night in Nebraska. Just don't share the game on social media.
Instead of hosting illegal games, you could visit one of the many offshore poker sites we've reviewed. These online sites are regulated outside of the United States and follow all of the regulations where they operate in order to provide legal gambling options for players all over the world.
The Future of Nebraska Poker Laws
A few years back, you could have said that online poker had little chance of becoming legal any time soon in Nebraska.The Supreme Court overturned PASPA in 2018, though, and changed the landscape of American gambling laws.
Legal sports betting came to Nebraska fairly quickly but the same cannot be said for playing online poker games or wagering on sports online. However, Senator Justin Wayne has authored some bills to help the process along, starting with his "Games of Skill Act" that was proposed in January 2020.
This bill would reclassify things like sports betting and poker as games of skill and not merely games of chance, or gambling, which would make them exempt from the anti-gambling laws in the state. While these things do have an element of chance, the law would define them away from that, effectively making these gambling activities legal by not considering them to be forms of gambling.
The bill did not specifically state online poker, but it did reference popular poker games such as Omaha and Texas Hold'em.
While the bills have not yet passed, it is a step in the right direction, and Senator Wayne seems to be devoted to this issue. With the state already legalizing the addition of racinos, there is at least some movement toward a pro-gambling future in Nebraska.
If this can continue with the support of the people and other lawmakers, then perhaps sometime in the near future, there can be legal online poker (and sports betting) that is regulated by the state of Nebraska.
Things are looking better now than they did just four years ago. But until the day finally comes, you will have to join an offshore sportsbook if you want to play online poker in Nebraska today.
Nebraska Poker – Live and in Person
One could argue poker is still best played at a table in front of people as you try to read each other and figure out who is bluffing. You lose that experience online, but unfortunately, Nebraska is not a state with poker rooms to visit. The tribal casinos don't have them, and it does not sound like the new casinos will include them either. Maybe sometime down the road, it will happen.
Until then, you could either drive to a neighboring state or just settle for the online poker offerings at the international poker sites we reviewed above that have tournaments and the best selection of video poker games. There are also other online gaming opportunities like online slots and roulette in these online casinos.
How to Play Online Poker in Nebraska
Using an offshore site to play poker is simple. Just follow our guide and you'll be playing in minutes no matter which site you choose.
Step 1: Go Create Your Account
After deciding which of the top online poker platforms you want to join, visit their page and start the sign-up process by clicking on a "join" or "create account" button.
Step 2: Enter Your Information
To register for any online casino, you can expect to enter personal info such as your name, email, address, and phone number. You should always choose a password that would be difficult to hack. There may be further identification needed down the road if you want to get paid in certain methods, but for now, just the general details should be enough to get your account created. You can trust these sites with your personal and financial info as they are reputable companies that just so happen to be located in a place like Costa Rica instead of in Nebraska.
Step 3: Fund Your Account
You have to spend money to make money. Add some cash to your account by going to the deposit section where you can choose from a variety of banking options (credit/debit cards, wire transfers, crypto, vouchers, etc.) to fund your account.
Before you make that first deposit, you will want to read about the site's welcome or sign-up bonus, which usually gives you a nice bonus for your first deposit. It may require a promo code to get the bonus, so be sure to read about the terms and conditions on those before making that first deposit.
Step 4: Start Playing Poker
You have an active account with money, so you are ready to play online poker games or bet on sports or play casino games, or whatever you wish. When it comes to poker, some sites will require you to download software first, but it is free and quick to install. You may want to get familiar with how the games work before you start betting big money, but remember to bet responsibly and have fun.
Tips for Online Poker Real Money Nebraska
Anyone new to something could use some pointers to get started. You should be viewing this as a fun activity rather than your new occupation, so start small and keep your cool.
Never bet more than you can afford to lose
Budget for online poker if necessary
Understand variance and that there will be bad nights no matter how sound your strategy is
Do not chase losses on those bad nights
Learn when to quit
Learn when to bluff
Try out demo versions of games at online poker platforms before playing them with real money
Figure out which style of poker is your favorite game to play and try mastering that one
Research the odds of certain hands hitting so that your decision-making is consistent and logic
FAQs – Playing Real Money Poker Games Online in Nebraska
Is online poker illegal in Nebraska?
Nebraska has not yet passed any bills to legalize online poker in the state. The only legal option is to join an offshore site like Bovada, BetOnline or Everygame if you want to play online poker tournaments to win real money as a Nebraska resident.
Can you gamble online in Nebraska?
Yes, but it's in a very limited form since there is no bill passed as of 2023 to legalize any regulated online sports betting or casino games in Nebraska. So, your choices are really limited to Daily Fantasy Sports (DFS) on DraftKings and FanDuel or horse racing. You cannot even buy lottery tickets online in Nebraska. You must visit a retailer in person.

This is why people end up choosing offshore sportsbooks and offshore mobile apps on their mobile devices.
Can you play poker in Nebraska?
Yes, but the only real way to do it is to join offshore casinos like our reviewed, reputable sites from this guide:

• BetOnline
• Bovada
• Everygame
• Heritage Sports
• BetAnySports

Each of these sites operates online poker platforms with a variety of games and weekly tournaments to choose from.
What gambling is allowed in Nebraska?
In-person sports betting is legal in Nebraska under the state's new gambling laws, but there are currently no retail sportsbooks operating in the state. There's also casino gambling available at tribal casinos in the state, and the state lottery. Horse race betting is also legal in-person. For online gambling, you will need to use an offshore site.
Where can you gamble in Nebraska?
If you are looking for a card room to play poker in person in Nebraska, then you are out of luck. None of the tribal casinos have a poker room, and it does not appear that the new establishments that are being built will have one either. But you will be able to play plenty of slot machines and some table games at those new casinos.
Is Bovada legal in Nebraska?
Luckily Bovada is perfectly legal in Nebraska. In fact, it is one of our top-rated online poker sites for bettors in Nebraska State.