North Carolina Online Poker – Is It Legal?
In June 2023, North Carolina approved a law that regulates online sports and horse-race betting, leading to increased competition for tribal casino sportsbooks. Regardless of Governor Roy Cooper's signature, the bill will take effect. While this signifies a significant transformation in the state's gambling landscape, the regulation of activities like poker remains uncertain, with no specific timeline for potential changes.
Poker enthusiasts in North Carolina may have limited options, as only one out of the three tribal casinos in the state offers poker games. However, individuals interested in online sports betting can still explore offshore websites as a viable alternative.
If you're someone who prefers playing online poker to playing in land-based casinos, you're in luck. There are tons of online betting sites that offer major poker tournaments, all kinds of table games, and tons of great online poker bonus deals.
There are several online casinos on which residents of North Carolina can play traditional poker, Texas Hold'em, and many other types of poker all from the comfort of their own homes. However, we must point out that the best option is to sign-up with a reputable and trustworthy offshore sportsbook as they have been offering the top online poker rooms in the last decades.
The Best North Carolina Online Poker Sites
Residents of North Carolina have an extensive list of poker sites to choose from. All of these offshore sportsbooks allow residents to bet and play poker online with real money, while many also offer cash games, tournaments, and more.
After analyzing and reviewing dozens of online poker sites, we have compiled a list of our top choices below.
North Carolina Online Poker Sites Reviewed
We understand that the choice of which North Carolina online poker site you go for will take time and patience, therefore we have completed a detailed review of the best sportsbooks that offer online poker rooms.
There are many factors to consider when comparing these sites like payment methods and bonuses available, hence, we hope you find these reviews helpful.
1. Bovada: Best for Mobile Platform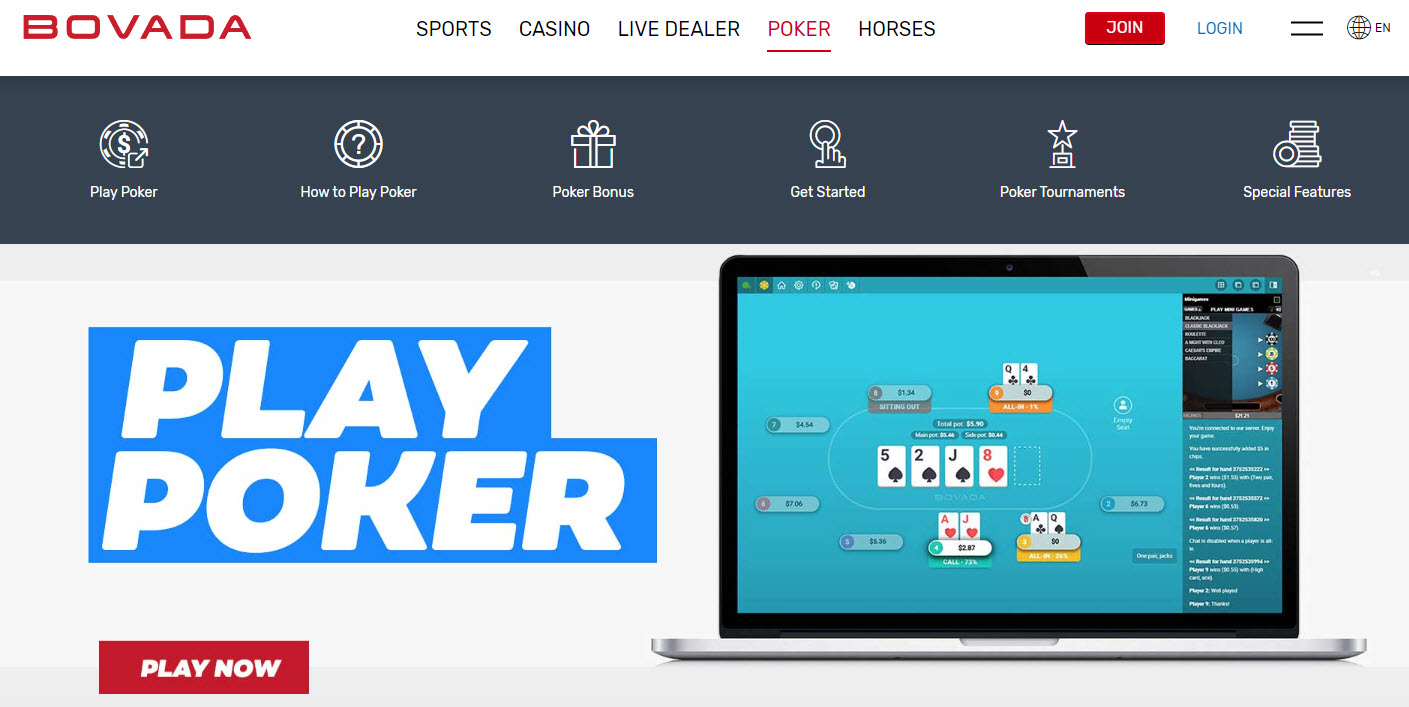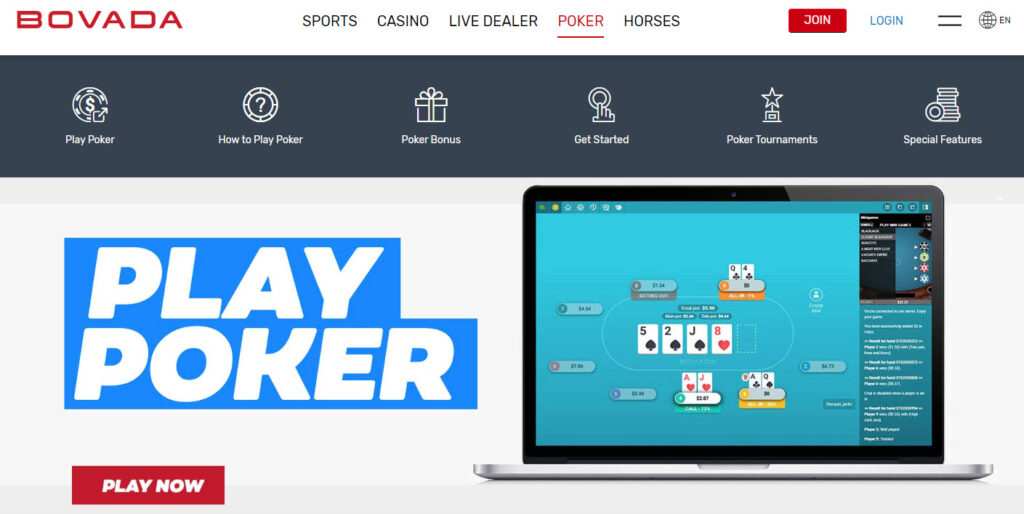 Bovada is widely known as the busiest online poker room in the United States as it has hosted the most amount of traffic in the last couple of years, compared to competitors. This makes it ideal for residents of North Carolina as you can get access to some of the best promos in the industry.
The reach and popularity of Bovada Poker have grown and this is no surprise considering the level of care and attention to detail that is put into every aspect of the site. From the layout to the thrilling poker tournaments available, this site truly has it all.
One of the best perks of playing online poker at Bovada's comprehensive casino is the anonymous table feature. With an average of 1,400+ players per hour on their site, it wouldn't be shocking if you came across a professional player using a HUD (Heads-Up Display). Another great aspect is the many Bovada promo codes that are available to both new and existing users.
Pros:
App compatible with Android and iOS systems
High attention to detail
Multiple poker options available
Cons:
Multi-table play not available on poker app
2. BetOnline: Best Sports Bets Opinionated Lines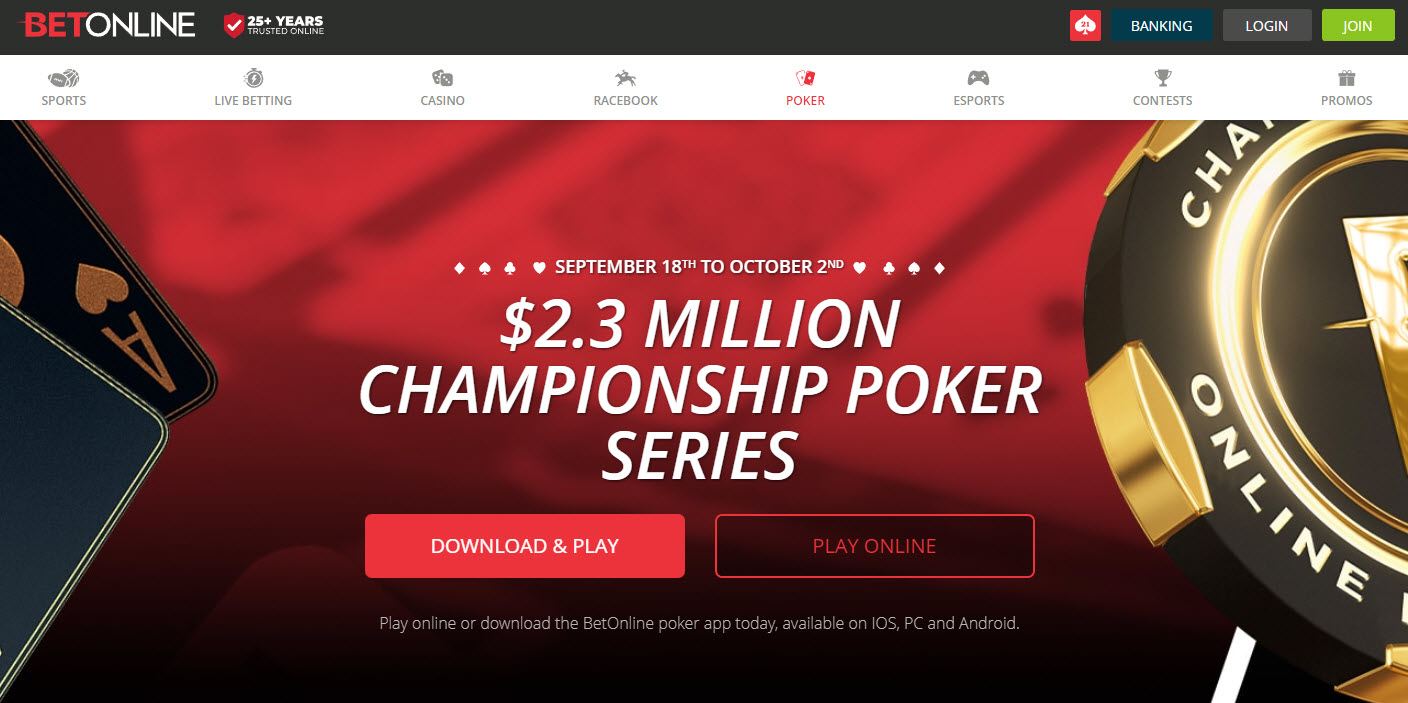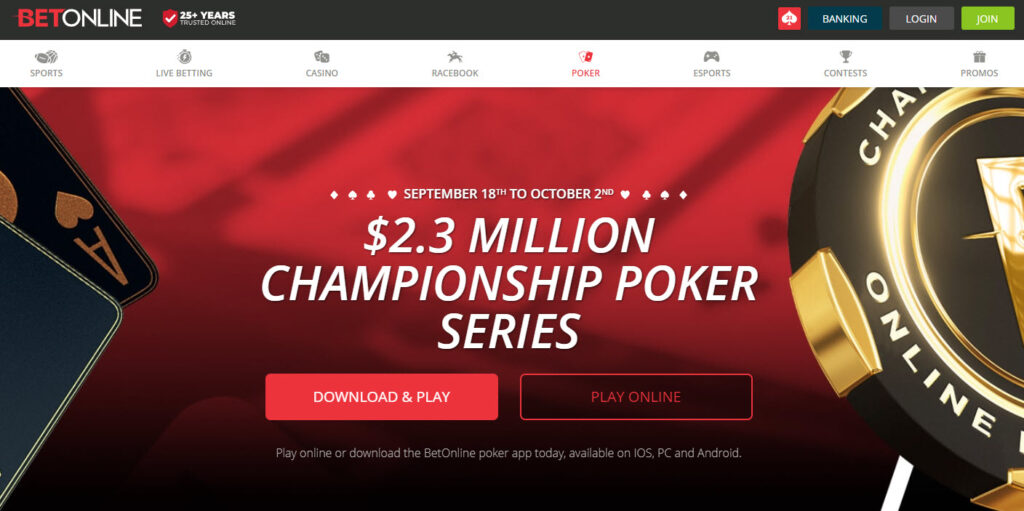 BetOnline is another highly reputable online betting site with one of the most impressive online poker platforms in the United States. Not only does this site have an endless selection of thrilling online poker games, but it also offers various promotions and bonuses unique to this site alone.
For example, some of these include turbo Tuesday, which allows customers to boost three deposits of their choice, as well as monthly prize giveaways worth up to $1,000,000.
BetOnline's live casino section is also a major attraction for players, adding greatly to the excitement of the online poker experience.
Pros:
Extremely generous bonuses and promotions
Live casino section
Cons:
High minimum deposit requirements
3. Everygame: Slick Mobile Experience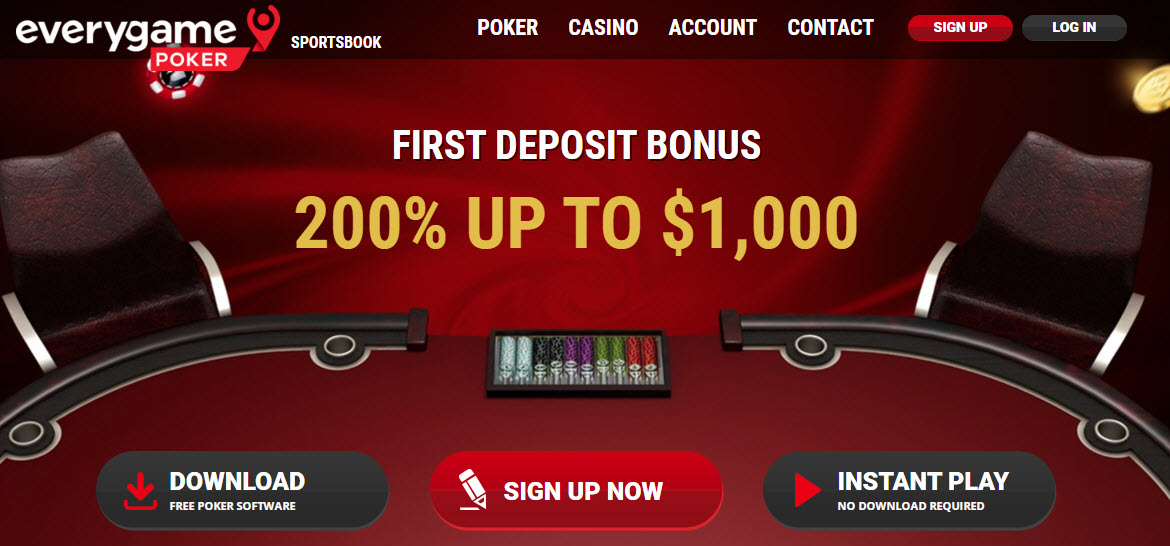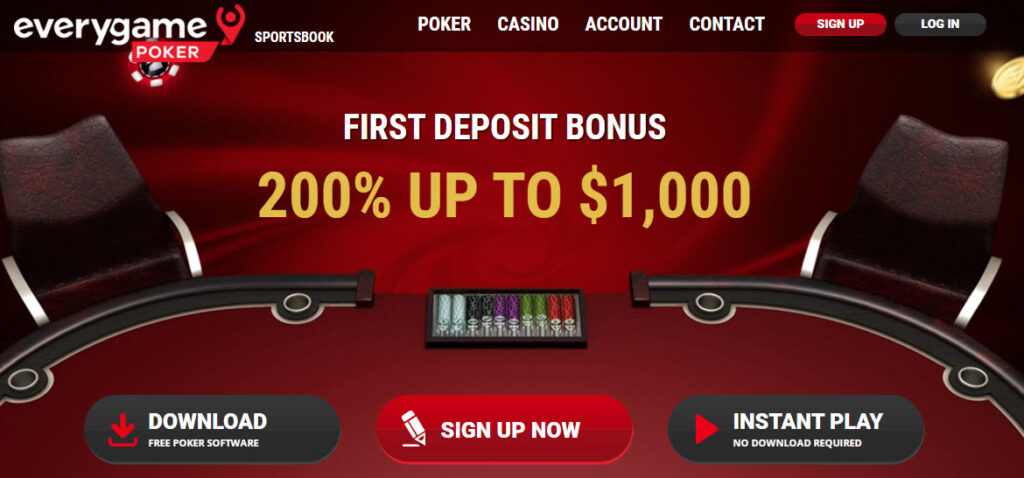 Everygame is also one of the most popular online poker sites in the United States, and it is no wonder considering the amount of high-quality poker games it has to offer its customers. Not only this but it also offers several extremely generous bonuses to its poker players, including a 200% first deposit bonus up to $1,000. Players can also take advantage of an Everygame promo code in order to gain a variety of perks. For poker players who want a more diverse online gambling experience, the Everygame Casino features a wide variety of the most popular online casino games.
Additionally, Everygame also has a 24/7 live chat function, meaning customers can always find any information they are looking for or find the answers to any questions they may have instantly at any time of the day.
Pros:
24/7 live chat function
Generous bonuses
4. SportsBetting: Our Choice for Competitive Bonuses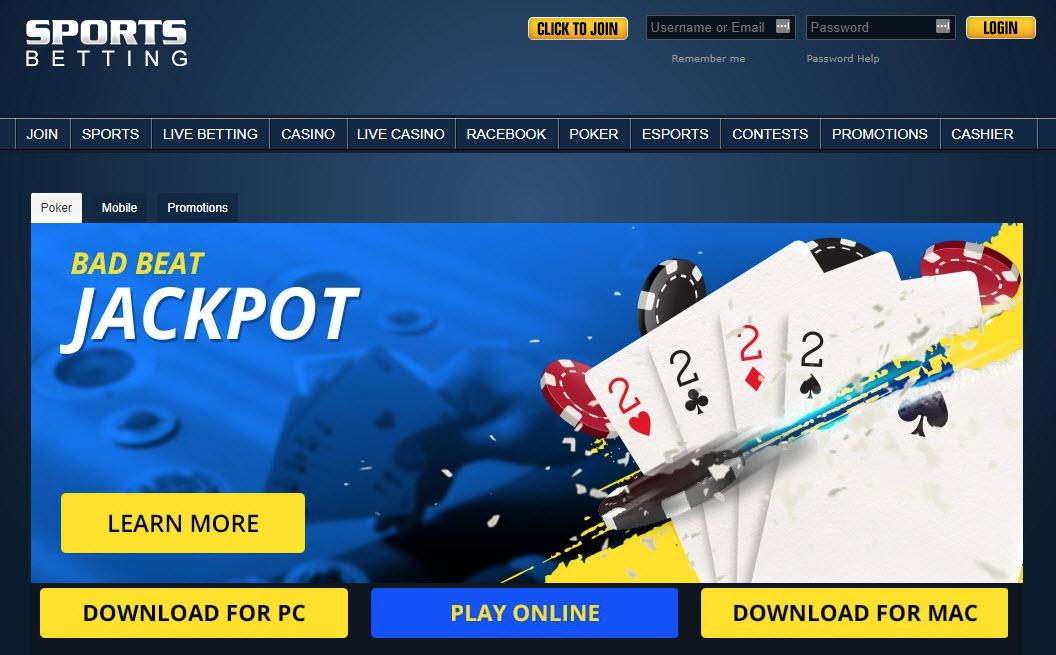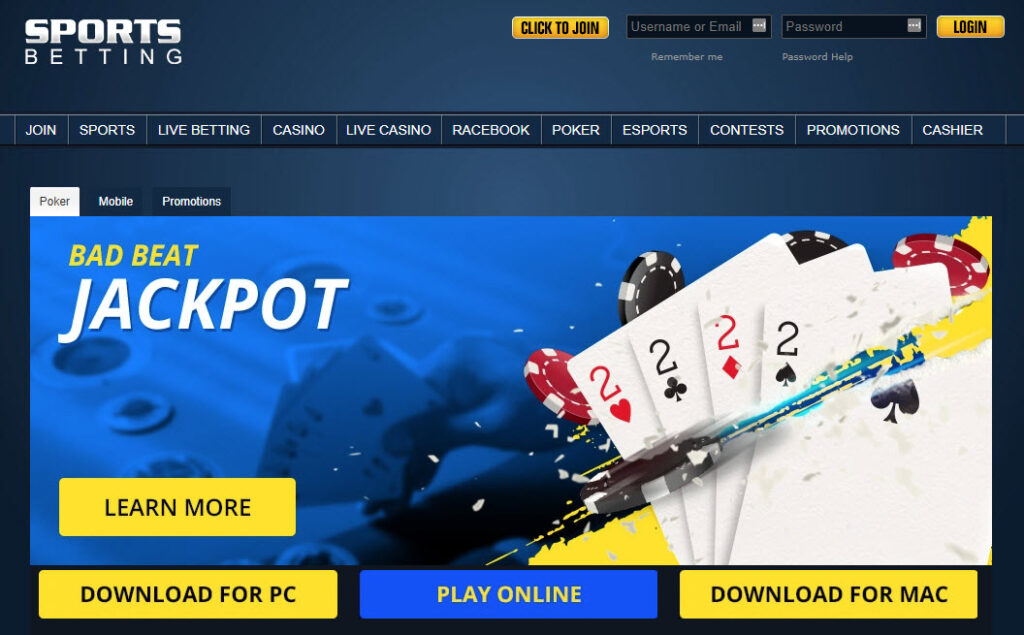 SportsBetting is an extremely user-friendly online poker site with a strong focus on both the sportsbook and online casino aspects of its platform.
Customers of this site can not only avail of the endless selection of thrilling online poker games on offer, but they can also benefit from the incredibly generous bonuses and promotions available such as the $3,000 bonus, which offers customers 100% up to $1,000 on their first three deposits. Furthermore, the live casino section of the site is also a highly attractive feature and allows customers to play video poker.
Pros:
Video poker section
Endless poker and casino games to choose from
Generous bonuses for new and existing customers
Is online poker legal in North Carolina?
Online gambling is not legal in the state of North Carolina, and therefore there are no legislated online poker sites operating in the state. However, residents of North Carolina can play poker online at reputable online casinos that are located offshore and have provided this service for decades and are legislated by other governments. Many of these sites are operated in Costa Rica, where online gambling is legal, and also offer slots, table games and sports betting in North Carolina.
North Carolina Poker Laws
Commercial poker has not been allowed for several decades in North Carolina much to residents' disdain, and although there are some exceptions, this doesn't look to be changing any time soon. Currently, Harrah's Cherokee is the only place in North Carolina where residents are allowed to gamble and play poker legally.
Casual Poker
One thing that's interesting about North Carolina's gambling laws is that there are no exceptions made for casual poker.
While no one has ever been arrested for setting up a poker table in their living room, real money poker games at home are considered illegal gambling by the state.
North Carolina Video Poker
Video poker is a highly enjoyable means of playing poker online and is becoming increasingly popular nowadays. It is generally played from a gaming kiosk and is essentially a mix of slots and 5-card poker, as the video poker machine draws cards at random from a virtual deck.
There are several video poker variants available to players, including Deuces Wild, Caribbean Stud, and Joker's Wild among many others. These are available on various online poker sites and are generally easier to play than traditional poker.
North Carolina Poker – Live and in Person
As previously mentioned, if you are a resident of North Carolina and wish to play poker with real money in person then your only option is Harrah's Cherokee. This is the only place in the state in which you can gamble and play poker legally. However, residents can play online poker at offshore sportsbooks.
Making North Carolina Poker Online Deposits
In order to begin playing poker on an online poker site, you will first need to fund your account by making a deposit. Thankfully, all of the sites we reviewed accept a wide range of payment methods including various cryptocurrencies, like Bitcoin, Bitcoin Cash or Ethereum.
Playing Legal Online Poker North Carolina
There are currently no online poker sites based in the state that are available to residents of North Carolina. However, poker players can play at online betting sites located offshore. There are many options available, with many of these sites offering different bonuses and incentives to join. For example, some online poker sites will offer welcome bonuses to new customers such as a 100% deposit match bonus up to a certain value.
Tips for Online Real Money Poker Games in NC
Check out our tips and tricks below on how to win in online poker in North Carolina.
Choose your starting hands wisely – It is important to start with the right hand in any game of poker.
Master your bluffing – Learn how to bluff and persuade players with a better hand than you to fold.
Start small – Play with small bets in the beginning and build your way up to the bigger bets.
Learn the game – Learn about the odds of winning with certain hands and your poker experience will be much better
Playing Online Poker With Legal Poker Sites in North Carolina
The experience of playing online poker in North Carolina for the first time has never been easier, and residents can register an account with any online poker site they like and begin playing in minutes. The sign-up process is incredibly straightforward nowadays, as we have outlined in our guide below:
Step 1: Start the Registration Process
Step 2: Complete the Registration Form
Step 3: Make the First Deposit
Once your account is registered, you can now log in and make your first deposit and join the tables with other online poker players. You will be offered a welcome bonus or deposit bonus code on most sites, which will usually be a deposit match bonus. Be mindful because some promo codes or bonus cash offers will automatically be applied and some will need manual activation.
Most online casinos accept a number of banking methods including credit cards (Visa, Mastercard, American Express), debit cards, bank wire transfers and even crypto options.
Keep in mind that bank transfers will take the longest amount of time before your funds will show as being available in your account.
Playing Poker in North Carolina
If you are interested in playing poker in person in North Carolina, then you do not have a large selection of options to choose from. There are a few commercial casinos in the state; however, Harrah's Cherokee Casino is currently the only place in which residents of North Carolina can legally play poker for money in the state.
FAQs – Legal Status of Online Poker in North Carolina
Can I gamble online in NC?
There are no online betting sites licensed by the state of North Carolina. North Carolinians have been using the best sportsbooks, located offshore, for years. An offshore casino offers players the chance to play for real money online while playing online casino games. There is a wide range of games available including online poker tournaments, hundreds of slots and sports betting.
What gambling sites are legal in NC?
Any offshore sites are legal for poker enthusiasts in North Carolina to use. We recommend using one of the online sites we have chosen as the top North Carolina poker sites for your online sports betting and casino-style gambling and other online games.
What gambling apps are legal in NC?
Any mobile gambling apps that are operated by an overseas company are legal for North Carolinians to use. There are no state-regulated gambling apps in the state due to North Carolina's gambling laws.
Can you play poker for money in North Carolina?
Yes, residents of North Carolina can play online poker for money at any of the offshore sites we've covered here. These sites offer North Carolinians plenty of table games and online slots, for a full online casino gambling experience.

North Carolina sports betting is also available at the sites we've covered in our online poker guide. This is because offshore gambling sites only answer to the regulatory body where they are based, so they can offer many forms of gambling to US residents.
Where can you gamble in North Carolina?
There are currently three tribal casinos in North Carolina, Harrah's Cherokee Valley River Casino & Hotel in Murphy, Harrah's Cherokee Casino Resort in Cherokee, and Catawba Two Kings Casino in Kings Mountain. Residents of North Carolina are free to gamble in these tribal casinos once they are over 21 years of age.
Maverick Carter, LeBron James' manager, admitted to making 20 illegal bets on the NBA with Wayne Nix, a former minor league pitcher. The extensive investigation uncovers connections between Nix and sports figures, with Carter clarifying his involvement and denying any charges. Yasiel Puig faces trial in January.

---