North Dakota Online Poker – Is It Legal?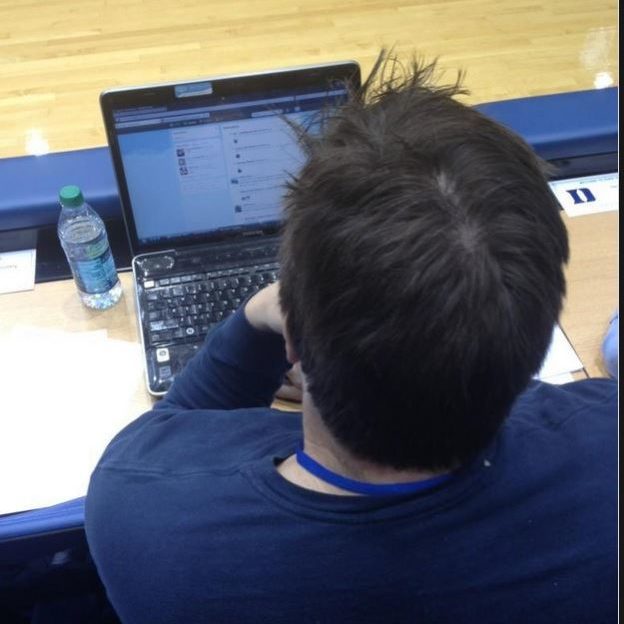 Shawn West has been involved with college basketball, NFL and college football and MLB since he left his job as bank vice president two decades ago. He lives in North Carolina with his wife, children, two dachshunds and a variety of turtles.
Like most states in the U.S., North Dakota state law is vague when it comes to the issue of poker. The state certainly considers one of the most popular card games in the world gambling, based on the definition of gambling in the state's legal code. And no less an authority than the North Dakota state constitution banned all forms of gambling back in 1889 when North Dakota first became a state. Since then, however, several loopholes in that ban have popped up, and that puts poker, along with many other types of gambling, in a grey area in the state.
You can play poker legally for charity. Bets must be small—a dollar at a time—and charitable organizations can hold up to two events a year that involve poker gambling. You can also play poker at any of the land-based casinos across the state. And you can play poker socially, in a home game, as long as the stakes are low. State law says bets must be below $25 for at-home poker games.
If you want to play for higher stakes, tribal casinos are your only in-person option. And state law does not address online poker games. That means that in order to play online poker and win real money, you'll need to go to an offshore gambling site.
Offshore sites have live poker rooms with just about every variation of the game, including Texas Hold'em, Caribbean stud, and others. Best of all, when you win at poker in an offshore sportsbook, the payout is real money that you can cash in. They don't need to worry about grey areas and loopholes in North Dakota law, because they follow the laws of the country where they are based, not the ones where their customers are. So they're outside the jurisdiction of North Dakota's regulations.
There are a lot of them, though, and not all of them are equal when it comes to quality, security, and fairness. Luckily, we've been working on just that problem. We've assembled an expert panel of gamblers and tasked them with looking at the hundreds of offshore gambling sites to evaluate which online poker rooms are the best places to play.
The Best North Dakota Online Poker Sites
Our panel went to hundreds of sites and visited their online poker rooms with a critical eye. They evaluated and reviewed them in several important areas and settled on the top four live poker rooms that they recommended for online poker and betting in North Dakota.
Each site has poker rooms with tables for gamblers with a wide range of different experience levels and appetites for risk. They also all have long track records of safe, reliable play and quick, complete payouts.
North Dakota Online Poker Sites Reviewed
Our experts did more than just return a list of four recommended sites. Since there are a number of different factors that make one online poker room better than another, they broke down each of the top sites, listing what they did best and where they fell short. Here are their in-depth evaluations of why each site landed where it did in our top four, complete with lists of pros and cons for each, so you can decide which site is the best match for you.
Regardless of which one you choose, our panel is confident that you'll be happy with any of the top four online poker rooms they've recommended.
1. Bovada: Most Popular Poker Room in the U.S.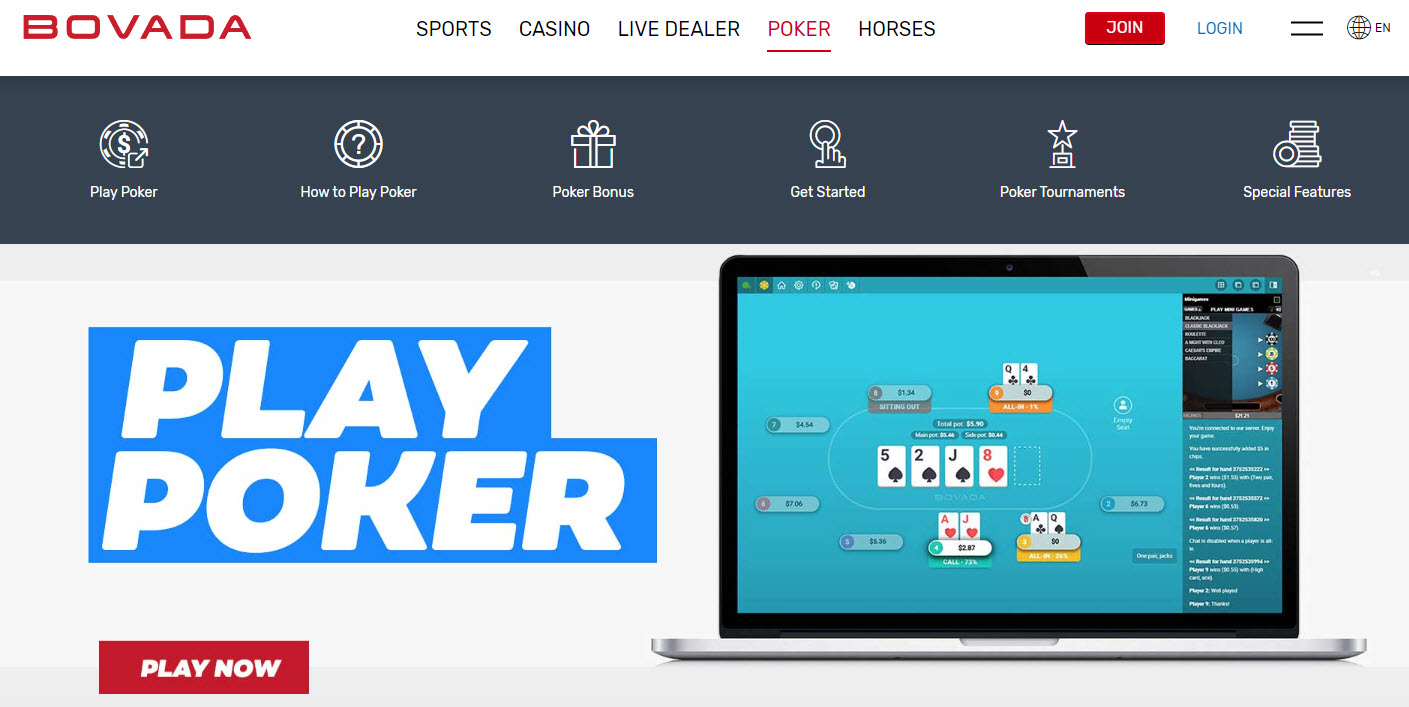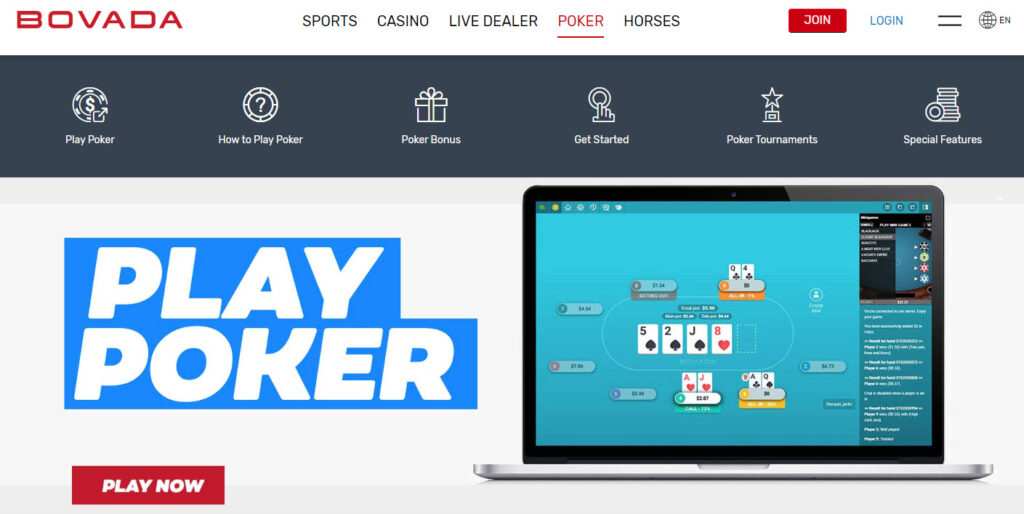 Bovada was the choice of our expert panel as the top overall poker site in North Dakota. They aren't alone in thinking that. Bovada's poker room attracts a large crowd of gamblers. The site offers more than $2 million in guaranteed prizes each week and has the busiest schedule of multi-table tournaments in the country, with more than 100 tournaments every week.
Bovada's poker room is the busiest one in the United States. They are a member of the PaiWangLuo network, which is the world's sixth busiest poker network. None of the five poker networks that are busier accept players from America. BoDog and Ignition Poker are also part of the PaiWangLuo network. With customers from around the world, poker games are starting at all times of the day and night, meaning you'll always be able to find a game to join.
Bovada has all the variations of poker that gamblers might want to play, including Texas Hold'em, draw poker, Omaha, and Omaha Hi-Lo. And they also have a range of options for their tournaments, including sit 'n' go, knockout, turbo, and fast fold. You'll also find zone poker, quick seats and anonymous tables at Bovada.
The bonus for new poker customers matches your first deposit at 100% up to $500. And there's no rollover requirement on the bonus money. In addition to the welcome bonus, there are a wide variety of promo codes at Bovada that users can take advantage of. Bovada's loyalty points program includes the poker room as well as Bovada's sportsbook, casino, and racebook.
Pros:
America's busiest poker room
More than $2 million in prize money each week
Dedicated app for poker product
No rollover requirements on bonus money
Cons:
Rake is relatively high
Welcome bonus isn't as high as other sites
2. BetOnline: Best Welcome Bonuses for Players in North Dakota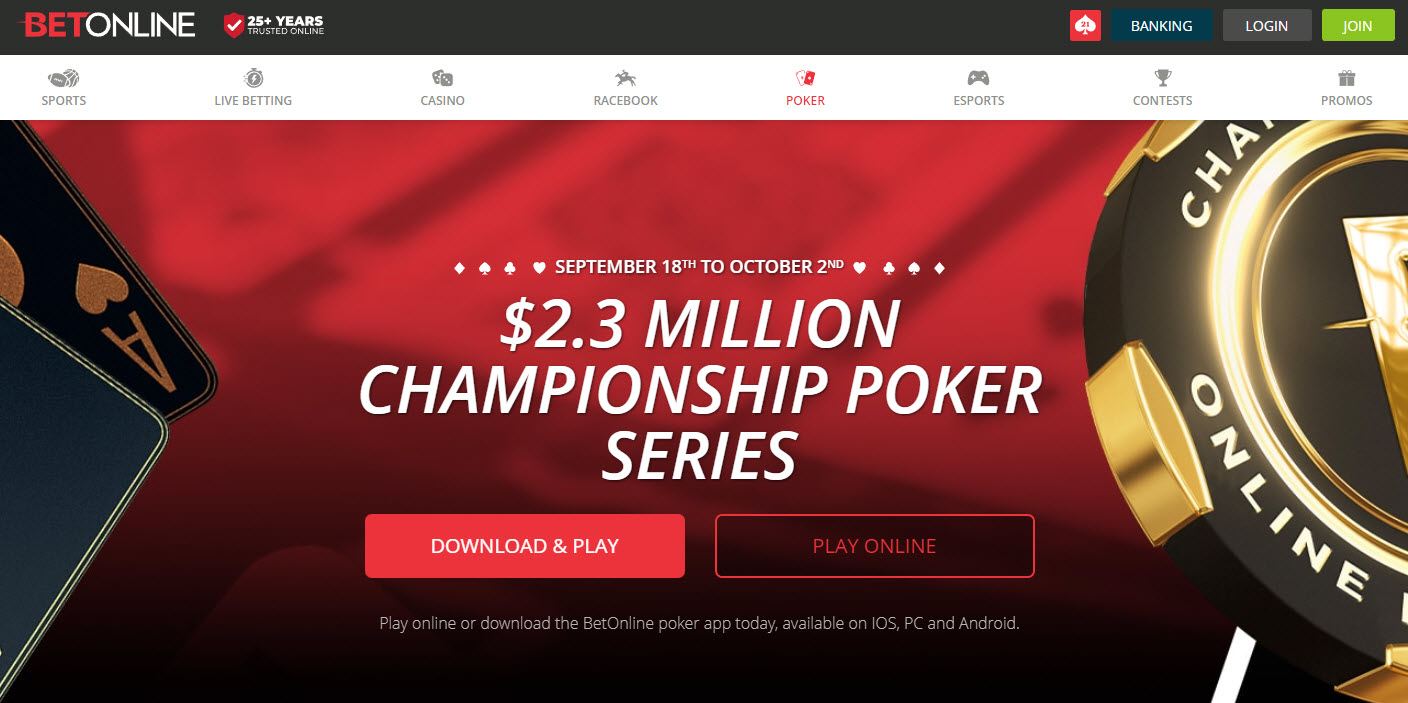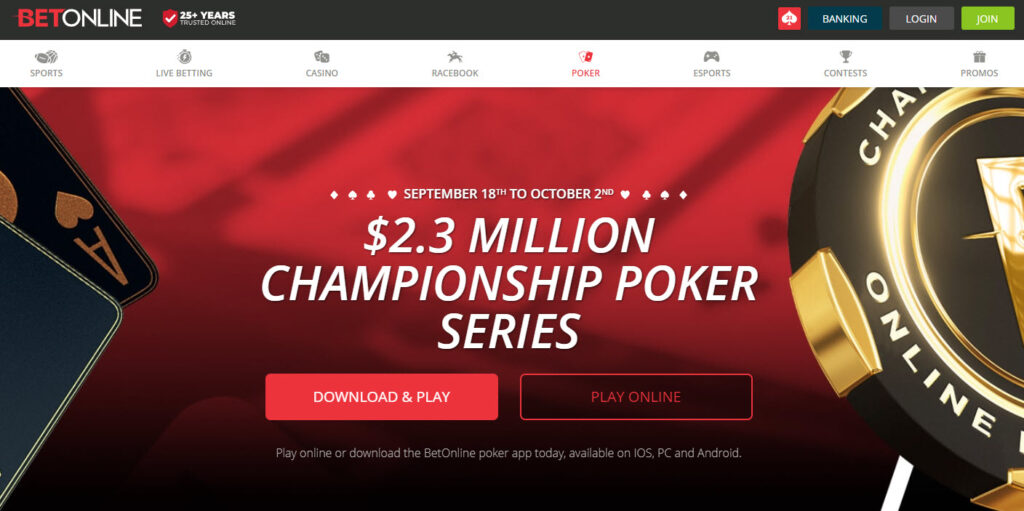 BetOnline is also part of a busy poker network, which helped earn it the No. 2 spot in the rankings. The site is a member of the Chico Poker Network, along with SportsBetting and Tiger Gaming. Chico is one of the world's busiest poker networks and the third-busiest that includes American players. About half of the players on the network are from America, and it has better liquidity than most other networks, featuring a million dollars a day in poker tournament prizes.
BetOnline offers North Dakota's biggest welcome bonuses for poker players, matching first deposits up to $1,000, with reload bonuses up to $350.
There are a number of different poker rooms, giving customers a variety of different skill and experience levels as well as betting limits. The tournament buy-ins are extremely low, and BetOnline has tournaments that allow re-entry.
The tournament schedule includes a wide range of variations, including bounty-limited tourneys, shootouts, progressive bounties, rebuy frenzies, sit 'n' gos, and Omaha tournaments, among others. They offer poker games with plenty of variations including Texas Hold'em, Seven Card Stud, Mississippi Stud, and more.
Pros:
Welcome bonuses are the largest for online poker in North Dakota
Selection of reload bonuses and other loyalty promos
Offers a million dollars in tournament prize money daily
America's third busiest poker room with good liquidity
Cons:
Doesn't offer a VIP loyalty points program
Some users have complained about the poker room
3. SportsBetting: Highest Limits for Online Poker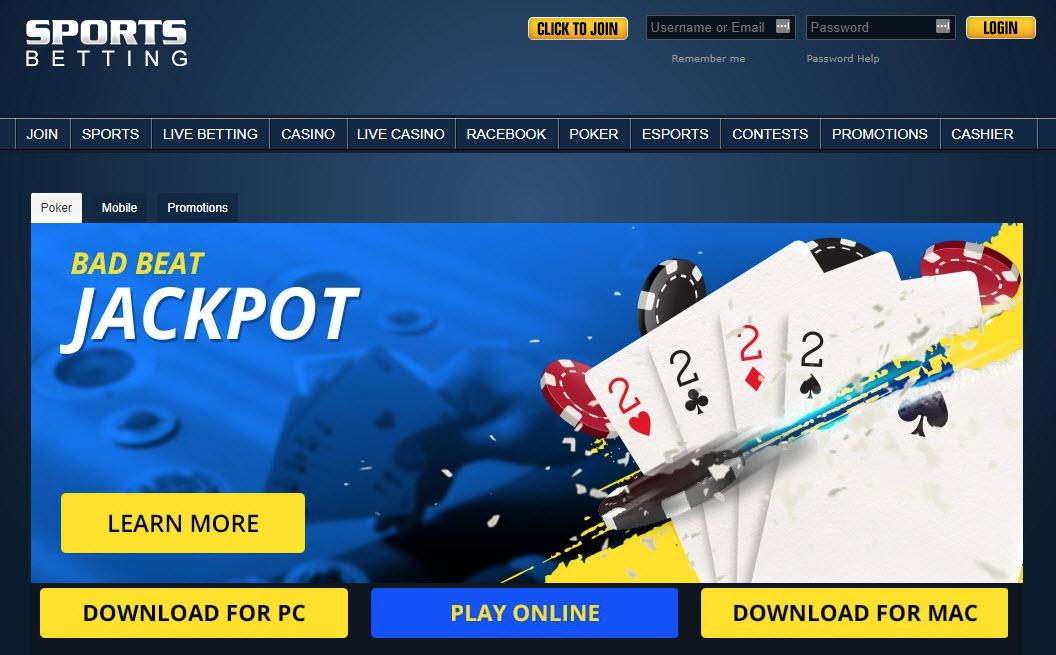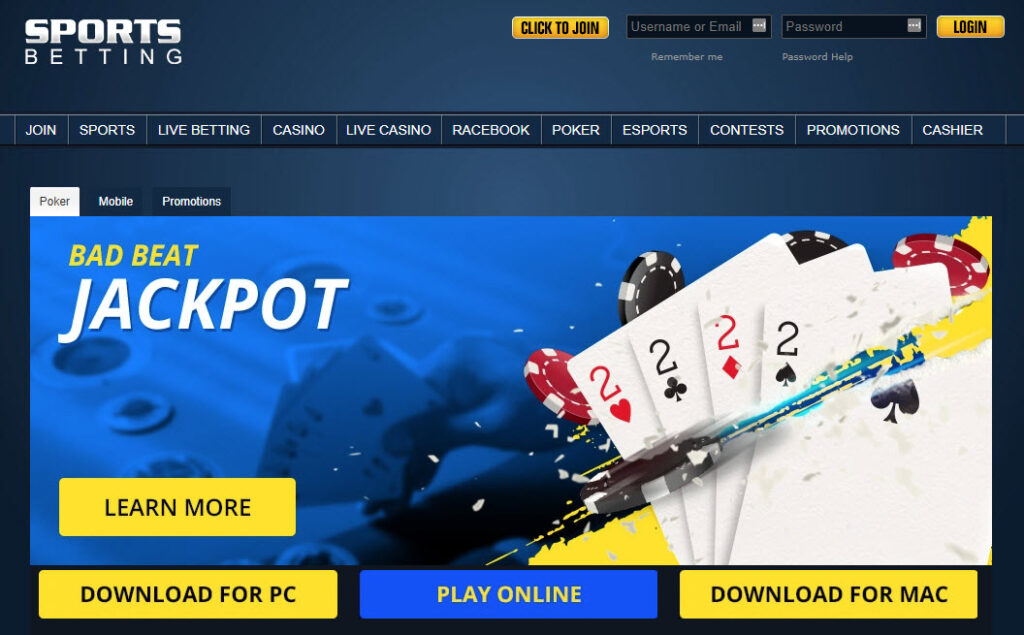 SportsBetting is part of the same online poker network as its sister site, the No. 2 ranked BetOnline. Both sites are part of the Chico poker network, which is the third busiest network in the country.
Both sites have similar poker room experiences. SportsBetting has a wide variety of variations, both in tournament play and individual games. It also has high liquidity, with millions of dollars in prizes. And there's also a busy schedule of tournaments.
SportsBetting's poker room software recently went through an upgrade, as did BetOnline's. So it is one of the most polished and stylish poker rooms you'll find, and the site runs lightning fast, with no delays, glitches or pages crashing.
SportsBetting has more than just a poker room. There's also a full online casino, sportsbook, racebook, and esports betting. So you can take care of all your gambling needs in one convenient place. They even give you the chance to bet on novelty markets like the Eurovision song contest, Powerball drawings, and the closing price of the stock market.
Their rakes are also lower than most other online poker rooms. To further add to the value, SportsBetting.ag also features a variety of generous bonuses to users.
Pros:
Lower rakes than most other rooms
Third-busiest poker network in the country
Recently upgraded software creates fast, stylish poker experience
Also has online casino, sportsbook, racebook, and novelty markets
Cons:
Interface not as user-friendly as other sites
Charges fees for credit card transactions
4. Everygame: Best Rakebacks in North Dakota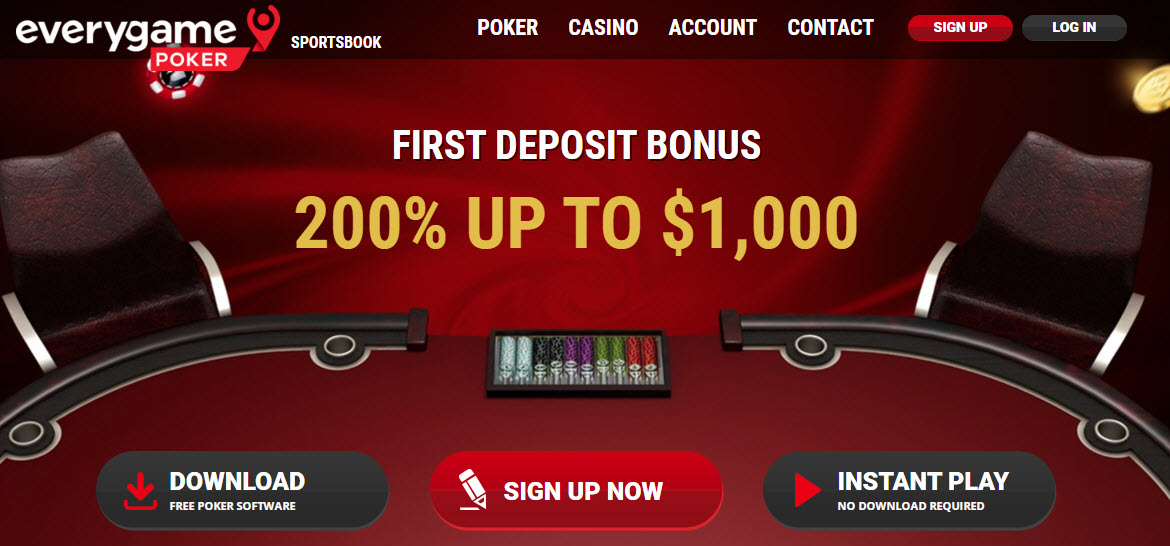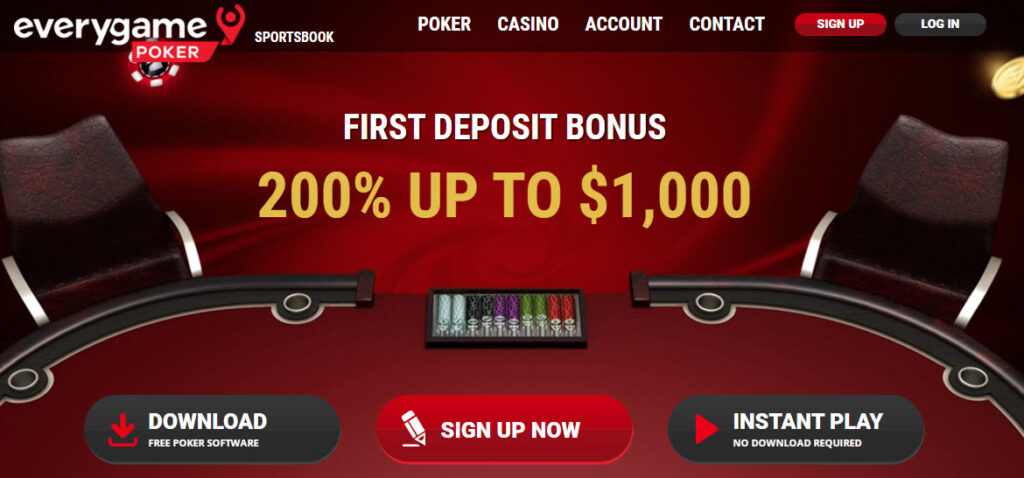 Everygame rounds out our list of top online poker rooms in North Dakota. Our expert panel was impressed by the site's high rakebacks.
What does that mean, exactly? The fee that poker players are charged to play in games or tournaments is called the rake. Obviously, no one wants to pay high fees, so poker players want to find a site that has low rakes.
Many sites offer a rebate or refund of some of that fee, putting the money back in the hands of the gambler. That's known as a rakeback. (i.e. You're getting some of your rake back.) A site with high rakebacks is refunding more of that money to you and keeping less of the rake. So poker players want sites with high rakebacks.
Everygame has the highest rakebacks in North Dakota, refunding up to 36% of your rake. That's not the only money that they give you. Their welcome bonus will match your first deposit at 200%, up to $1,000. That means you'll triple your money before you play your first hand. The welcome bonus also includes 25 free plays in their online casino.
And there are still more refunds coming. Everygame's cashback rebate program returns a percentage of your poker losses. Plus, there is a wide variety of promo codes at Everygame that players can take advantage of. As for the poker play itself: Everygame is on the Horizon Poker Network, which offers a busy schedule of tournaments and individual games, including sit 'n' go, freerolls, and ring games.
Pros:
The highest rakeback rate, at 36%
Welcome bonus matches 200% up to $1,000
Cashback rebates on poker losses
Free casino plays are part of welcome bonus
Cons:
Poker network isn't as busy as other sites
Not as many different poker variations
Is online poker legal in North Dakota?
One of the questions we get asked most often from readers is, "Is online poker legal in North Dakota?" The answer is "It depends."
In-person poker has been made legal in the state in certain situations, such as charity poker games, poker at native American tribal casinos, and small home games. But there are no laws addressing the legal status of online poker in the state.
That means that the best bet for online poker is to use offshore sportsbooks. Every site in our top 10 is located somewhere other than the United States. That means they are outside the jurisdiction of the U.S. federal code or North Dakota state law. So they can offer the chance for North Dakota residents to play online and win money.
Video Poker
Video poker is a computer simulation of the card game. There are no actual physical cards dealt out. It uses a random number generator to determine the virtual "cards" in your hand. Some players complain that it's not the same experience as actually playing a hand of poker, and others say that it's closer to playing slots than poker. Although it is a popular game, whether it's an alternative to live poker or a separate game altogether.
Bovada and BetOnline, offer video poker games in their online casinos, in addition to their live poker rooms. And many other well-known and highly thought-of offshore gambling sites that don't have live poker rooms offer video poker in their online casinos. That includes Bookmaker, Heritage Sports, and BetUS who were not included in our rankings because they don't have live rooms.
Casual Poker
Playing poker with friends is legal in North Dakota, as long as you don't bet too much. State regulations say that no individual player can bet more than $25 in order for the game to be considered permissible.
North Dakota Poker Laws
Poker is legal in person at charity events, casinos operated by Native American tribes and in small home games. You can also play at online casinos located offshore. Here's a quick look at North Dakota's history of gambling laws in the state.
Land-Based Gambling Venues in North Dakota
There are a number of poker rooms where you can play in person in North Dakota. Here are some of the more popular ones:
Spirit Lake Casino in Fort Totten has five tables and daily tournaments.
Blue Wolf in Fargo doesn't have as many tournaments, but the ones it hosts are generally for large jackpots.
4 Bears Casino in McKenzie County has eight tables and offers No Limit, Tahoe Hi-Lo, Omaha Hi-Lo and Texas Hold'em
Dakota Magic in Hankinson has seven tables, including high-limit tables
Sky Dancer in Belcourt has six tables and holds tournaments four days a week.
King Pin in Fargo has six tables and hosts a few tournaments each year.
All of these poker rooms are located at tribal casinos because there are no commercial casinos currently operating in North Dakota.
Tips for Online Poker With Real Money in North Dakota
If you're a newcomer to this polarizing game of skill, here are a few tips on playing online poker:
Stick to reputable sites – Unfortunately, not all offshore gambling sites are safe to play. You may find it tough—or impossible—to get your winnings from some, or you may find that your money wasn't secure at others. When we compiled our rankings of the top online poker rooms in North Dakota, we started out by eliminating any sites that had any questions about their reputation. Every site in our rankings has a long history of secure, dependable operation.
Have a strategy before you begin playing – Don't just wing it. Make a plan and stick to it. Our recommendation for new players is a tight aggressive approach—be selective about which hands you play, but once you decide to play a hand, try to take control of the betting action.
Be selective – An underrated key to poker is learning when to play and when to pass it up. You shouldn't play every hand you're dealt. Pick and choose then times when you feel most comfortable about your chances of winning.
Don't be led by emotion – Don't react to other players, early losses, or even early wins. Stick to your strategy and bet with your head.
Master bluffing – It's an art, but you'll want to be able to execute a successful bluff. Just don't do it too often.
Be responsible – Know when it's time to call it a day. Don't bet more than you can afford to lose.
How to Play North Dakota Online Poker
The process for registering for an account at an online poker room at one of the best sportsbooks in North Dakota is fast and easy. It's only a few minutes to complete the process. Here's how to get started.
Step 1: Register for the Poker Site
Once you've chosen the poker site you're going to play, click the 'Join Now' or 'Register' button on their page.
Step 2: Enter Your Personal Details
Create a user ID and password, then fill out their registration form. You may need to verify your identity by responding to a code sent to your phone.
Step 3: Make Your Initial Deposit
Next, deposit funds in your new account so you can bet. This is also when you would enter a promotional code if your welcome bonus requires one. Choose a payment method and enter your information.
Step 4: Join a Poker Ring Game or MTT
That's it. You're ready to start playing. Find a room or poker table with players that seem to match your experience and skill level and one with a betting limit suitable for your appetite for risk. You can play on your computer or use their mobile app or mobile-optimized site to play cash games on your phone or tablet.
FAQs — Legality of Online Poker in North Dakota
Can I play online poker in North Dakota?
There are no locally-regulated internet poker providers or online gambling sites in ND. For that reason, online poker players must visit offshore poker sites to participate in cash games and tournaments.
Can you gamble online in North Dakota?
There are no locally-regulated online gambling sites in North Dakota; however, players from all over the United States can access online poker games and other online casino games at offshore sites.
Does North Dakota allow DraftKings?
You can play daily fantasy sports using DraftKings; however, you are not allowed to use the site for real-money online gambling. There are no locally-operated online poker sites in the state.
What kind of gambling is legal in North Dakota?
North Dakota has several tribal casinos operating around the state as well as a lively horse racing industry. For online sports betting and casino gaming, players must use offshore sites.
Is Bovada legal in North Dakota?
There are no laws that prevent North Dakotans from registering with offshore poker sites like Bovada. Because these sites follow the online gaming laws in the jurisdictions where they are located, they are able to offer online sports betting and online casino gambling to U.S. players.
Per Nevada Gaming Control Board data, the state achieves $2 billion in adjusted gross revenue, joining an elite group. October's $68.1 million contribution underlines offshore sportsbooks' success, affirming Nevada's robust sports betting industry and its positive trends. Silver State Strikes Gold The state that is home to North America's gambling mecca, Las Vegas, now joins

---