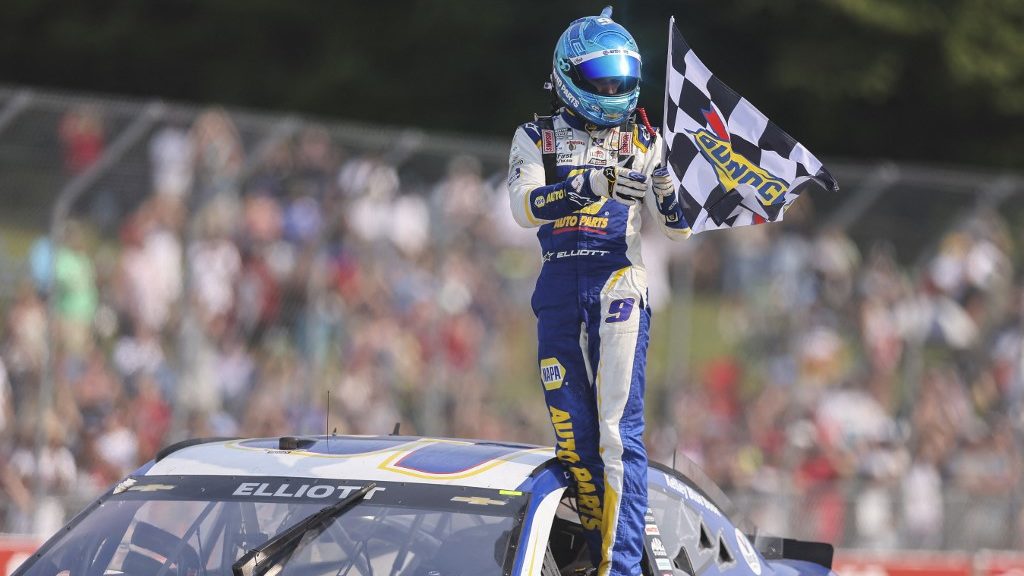 Chase Elliott, driver of the #9 NAPA Auto Parts Chevrolet, celebrates after winning the NASCAR Cup Series. James Gilbert/Getty Images/AFP
NASCAR has taken another step aimed at increasing its profile in the exploding US legal sports betting scene. Last week, America's preeminent racing league, NASCAR, signed on with BettorView, an in-venue sports betting marketing and technology platform. It represents just the latest partnership the stock car racing series has signed and the first league that BettorView has aligned with.
In a statement, the company said: "
BettorView is "off to the races" with our NASCAR partnership
, as we work to enhance the impressive amount of innovation and advancements already accomplished by NASCAR in sports betting."
Javier Vargas, COO of BettorView echoed those sentiments saying: "We're excited to bring our marketing and technology solutions to NASCAR and its partners, as the only multichannel solution of its kind in iGaming. BettorView is proud to assist NASCAR in its ability deliver measurable ROI [return on investment] to sportsbooks, with an emphasis on new user acquisition and increased betting activity."
A Bit About BettorView​
BettorView is a relatively new and somewhat unrecognizable name within the growing US legal sports betting scene. It is self-described as "a high growth technology start-up that drives engagement via sports betting content across its product offerings."
BettorView quietly is available on about 1000 in-venue screens across the US
and provides digital content marketing in those jurisdictions along with on-screen touch technology including stats, analytics and odds that benefit the wagering public and enhance the viewership of sports fans using their proprietary technology. Their brand ambassador focus should serve the company well as they try to further develop their own niche in the US legal sports betting scene.
BettorView chief executive Seth Schorr explained his company's angle when he said: "Since its inception, the vision for BettorView has been to enhance and reimagine sports fans' in-venue experiences with our technology and industry expertise."
What BettorView Can Provide to NASCAR​
BettorView will develop and display unique, customized NASCAR content
in most, if not all markets that currently have a legal sports betting platform and will likely grow at the same pace as the industry itself. It will provide dedicated, specifically developed content to NASCAR bettors display that unique content on their screens to better the overall NASCAR experience.
"This collaboration will allow us to deliver NASCAR-specific content to a massive number of people actively engaged with sports betting," NASCAR's managing director for sports betting, Joe Solosky, said. "NASCAR's handle is increasing at a healthy rate and this partnership will deepen our connection with this growing audience on a national scale."
What NASCAR Brings to BettorView​
NASCAR could be BettorView's ticket to an increased profile within the broader US legal sports betting scene. It isn't out of the question that other leagues will see what BettorView is bringing to NASCAR and will want to get in on their action.
NASCAR has been on the cutting edge of sports betting since the 2018 Supreme Court's decision to overturn its blanket ban on sports betting.
Partnering will the forward-thinking league is a coup for the technology provider.
BettorView chief executive Seth Schorr commented that: "As a gaming and venue operator, it's exciting to partner with NASCAR, whose long-term strategy in the gaming space is as innovative, as it is focused on serving its fans and sportsbook partners alike."
NASCAR Hasn't Been Shy​
As mentioned,
NASCAR hasn't been shy about trying to advance its league within the legal sports betting industry
. BettorView boosts the NASCAR offerings to not only betting aficionados but also the general stock car racing fan.
BettorView joins Sportradar, NASCAR's integrity partner BetGenius, its data supplier, Penn National Gaming, BetMGM, and WynnBET, NASCAR's Authorized Gaming Operators, IMG Arena their worldwide broadcasting partner, and EquiLottery and LEAP their lottery and virtual gaming partners.
Look for NASCAR to keep advancing their product among the sports betting public and for BettorView to perhaps become a more prominent name within the broader US scene. Everyone is looking to get a leg up, and BettorView may just provide leagues, sportsbooks and markets around the country that opportunity.