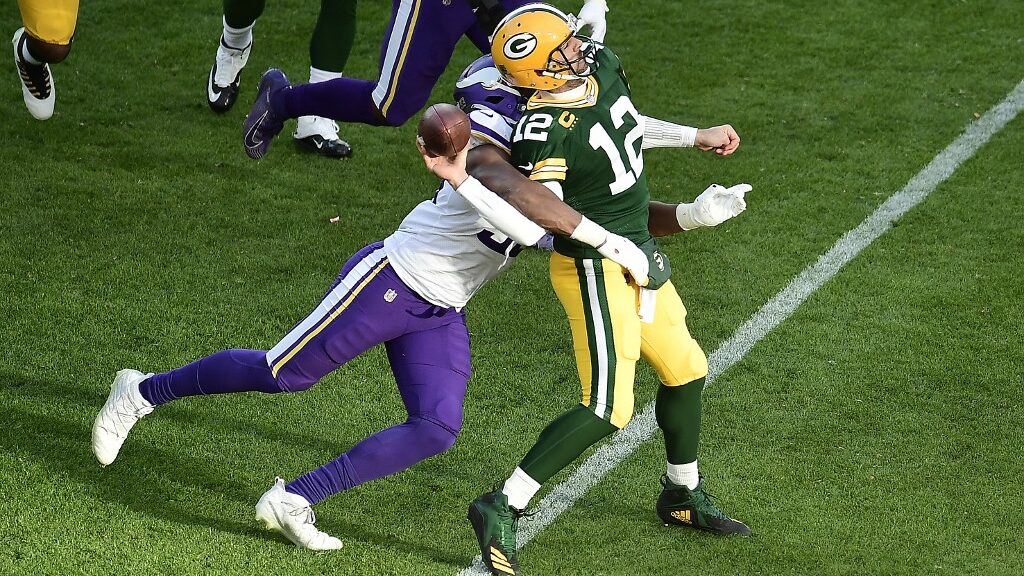 With the 2022 NFL regular season almost here, we look at the best NFL odds for over/under win totals for each of the eight divisions.
Many of the top-rated sportsbooks have stayed consistent on these numbers throughout the summer, but after a few injury situations in the preseason, we can now confidently pick our best value bets with the games starting this week.
PLAY NOW: $25,000 Free-To-Play NFL Contest: BMR's 2022 Pick'Em Pool Opens for Registration
---
My Favorites
---
AFC West: The Best Race in Years
Teams:
Few divisions have ever looked this stacked going into a season with all four AFC West teams having a good chance at winning records and even the playoffs. It will be hard for any team here to pull away with 12 wins if these teams live up to the hype.
The Chiefs are trying to become the third team in NFL history to win a division at least seven years in a row, but the competition has never been this stronger. They also lost Tyreek Hill, who has such rare speed and clutch playmaking ability that he has been worth a couple of extra wins per season to Patrick Mahomes and company.
Will the Broncos Ride?
Russell Wilson makes the Broncos a contender, but I don't see it working out as masterfully as when Peyton Manning joined the team in 2012 and it was the No. 1 seed.
For the Raiders, 9-8 is more than doable, but it is so hard to trust a fourth team in a division to do that.
My best pick is going to be the Chargers going over 10 wins as the defense improves, Justin Herbert challenges for the MVP, and head coach Brandon Staley gets his first division title in the NFL's best division race in a long time.
AFC West Pick: Los Angeles Chargers Season Wins Over (-150) at Bovada
---
NFC West: Seattle's Nightmare
Teams:
This was an excellent division last year with three teams making the playoffs and the Seahawks slipping to 7-10 after the first injury of Russell Wilson's career. But the defending champion Rams may have an easier path to the playoffs if the Cardinals do not figure out how to stop imploding in the second half of every season, and if Trey Lance is a dud in taking over the quarterback job for the 49ers.
Reminder: Kyle Shanahan is 35-16 (.686) with Jimmy Garoppolo as his starter and 8-28 (.222) with all other quarterbacks.
QB Controversy in San Francisco?
It would be easy to say the Rams could win 11 games after gaining confidence from last year's Super Bowl win, but the team that is really in a bad spot is Seattle. Not only are Russell Wilson and Bobby Wagner gone, signaling an official rebuild in Seattle, but this team has to play 10 games against the vaunted NFC West and AFC West divisions.
Those seven opponents could all be playoff-caliber teams, and here is Seattle with Geno Smith at quarterback and a roster with someone named Poona Ford having the highest cap number in 2022.
Head coach Pete Carroll has never won fewer than six games as a coach, but the Seahawks should not be any better than 5-12 this year.
NFC West Pick: Seattle Seahawks Under Season Wins 5.5 (-120) at Bovada
---
AFC South: Time for the Titans to Fall
Teams:
This is an interesting division as the Titans look like a great regression candidate after trading No. 1 receiver A.J. Brown, losing top pass-rusher Harold Landry to a torn ACL, and a ridiculous 8-3 record against winning teams last year that won't be repeated against such a tough schedule again in 2022.
My pick is for the Colts to win the division with Matt Ryan in town, but the problem with picking the best win totals bet in this division is that every side I like for each team has odds of -135.
Texans, Post-Watson Debacle
So, as confident as I am in the Titans stepping back from 12-5, I am less confident they will win fewer than nine games for the first time since 2015. The Jaguars always could surprise with a new head coach but probably not.
For as much as I ripped the promotion of Lovie Smith in Houston, Over 4.5 wins is such a low bar after the team was right there last year (4-13) with Davis Mills as a rookie quarterback. Mills impressed in multiple games and should be better this year, so give me the Texans to hit the over.
AFC South Pick: Houston Texans Season Wins Over 4.5 (-135) at Bovada
---
NFC South: One-Team Race
Teams:
How does Tom Brady do it? He leaves the AFC in 2020, and within three seasons, the AFC is a battlefield with about 12 teams realistically competing for seven playoff spots, and even his AFC East finally has good Miami and Buffalo teams.
Meanwhile, the NFC is loaded with teams you could never trust in January (Packers, Cowboys, Vikings, 49ers), and the NFC South is starting Baker Mayfield, Marcus Mariota, and Jameis Winston at quarterback this season – Brady's new Three Stooges.
Yet, even if the division is a cakewalk for retirement-minded Tampa Bay, the win totals are a tougher call.
The Three Stooges
Mayfield should be good enough to break the streak of 5-win seasons in Carolina, but it is hard to see that number not flirting right on the line of 6 or 7 wins. I do not believe in Matt Rhule as a head coach in the NFL.
But the team I am fading as a winner this year is New Orleans. Losing Drew Brees and Sean Payton and replacing them with Jameis Winston and Dennis Allen has to have more consequences than barely missing the playoffs. The Saints likely do not fall completely apart because of the defense, but no better than 8-9 is the right call. Take the under 8.5 wins for New Orleans.
NFC South Pick: New Orleans Saints Seasons Wins Under 8.5 Wins (+110) at Bovada
---
AFC North: Return of the Ravens
Teams:
The Bengals were the NFL's surprise division winner last year and rode that to a Super Bowl appearance, but it is hard to see them improving on that in 2022. Zac Taylor is not trustworthy as a head coach yet, and the Ravens should be much improved after having a historic number of injuries and close losses late in the season after an 8-3 start.
Baltimore lost six straight games to finish 2021, even losing by one point each to the Packers (top seed) and Rams (eventual champions) with backup quarterback Tyler Huntley. With Lamar Jackson back, this team should win 11 games again.
New Era in the Steel City
Steelers coach Mike Tomlin has his work cut out for him to avoid his first losing season now that Ben Roethlisberger has retired. The Browns will have to get by without Deshaun Watson as he serves his 11-game suspension. The schedule is going to be really tough for backup Jacoby Brissett.
My favorite pick is for the Ravens to get back to business and win at least 11 games to hit the over. Lest we forget, Lamar Jackson is 37-12 as a starter and the regular season has not been hard for his Ravens squad.
AFC North Pick: Baltimore Ravens Season Wins Over 10 (-160) at Bovada
---
NFC North: Green Bay Sliding Back to the Pack
Teams:
The NFC North could be a serious two-team race again with the Packers trading away Davante Adams and the Vikings adding an offensive-minded coach in Kevin O'Connell, a fresh set of eyes Minnesota badly needed.
It could still be lean years for the Bears and Lions, though each line looks risky if you assume some second-year progression for quarterback Justin Fields and what Dan Campbell is growing in Detroit.
Sounding the Skol Horn?
As much as I like the Vikings to get to 10 wins and the playoffs, there is always that concern of another Kirk Cousins-led team finishing within a game of a .500 record. He has done it his whole career outside of 2019, but O'Connell should be good for this team.
Under Matt LaFleur, the Packers have known nothing but 13-win seasons, becoming the first team in NFL history to win at least 13 games in three straight seasons. It won't happen in four straight, and I think it's a fair bet to say they won't win 12 games either as Aaron Rodgers has arguably his weakest receiving corps yet. I'll take under 11 wins for the Packers this year.
NFC North Pick: Green Bay Packers Season Wins Under 11 (-110) at Bovada
---
AFC East: Patriots Finally Have Competition
Teams:
We have been waiting for this division to look different after two decades of dominance from the Patriots. The Bills have taken control after a 47-17 win in the playoffs against the Patriots, and Buffalo has the highest expected win total and best Super Bowl odds going into this season. However, going 13-4 or better is difficult.
I love the Dolphins to flourish under rookie coach Mike McDaniel. This should be a 10-win playoff team, but the AFC is ridiculously loaded this season. Proof of that is we are barely talking about the Patriots, who can very well win nine games and miss the tournament for Bill Belichick.
The Jets Are Still the Jets
Then we have the lowly Jets, who could be an underdog in each of their first 10 games before the schedule lightens up after Thanksgiving. The under is so enticing there, but in the end, I am going to trust my gut and back the Dolphins to go Over 9 wins.
AFC East Pick: Miami Dolphins Season Wins Over 9 (-125) at Bovada
---
NFC East: No Repeat Winner in Division Since 2004
Teams:
Say what you will about the NFC East, but there has been a new division winner every year since the Eagles had a four-year run of things in 2001-04. I like that to continue with the Eagles overtaking the Cowboys, who are due for some regression after way too much reliance on takeaways and beating up on a weak division last year.
The division looks better, even if the upgrades in Washington and New York may be marginal at best. The Giants have a shot to get over if Brian Daboll can fix Daniel Jones, but I do no trust Washington to fix Carson Wentz. In fact, that would be the best pick if you could get the Commanders under 8.5 wins, but most sportsbooks are sitting on 8 right now.
High Flying Eagles
But the team that looks to take the biggest leap is Philadelphia after adding A.J. Brown to the receiving corps. He should be a great fit and can take Jalen Hurts to the next tier. The Eagles also have a favorable schedule, making their over 9.5 wins one of the easiest NFL picks and best values as we kick off the 2022 season.
NFC East Pick: Philadelphia Eagles Season Wins Over 9.5 (-160) at Bovada
*The line and/or odds on picks in this article might have moved since the content was commissioned. For updated line movements, visit BMR's free betting odds product.