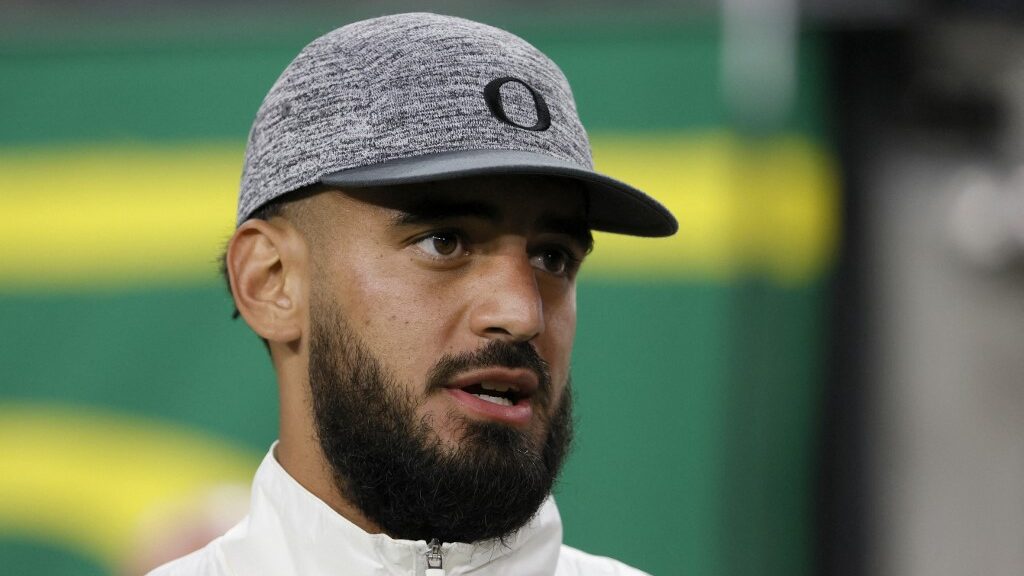 The Atlanta Falcons traded their longtime starting quarterback Matt Ryan to the Indianapolis Colts this offseason and then picked up Marcus Mariota in free agency.
Whether or not Mariota starts for the Falcons in 2022 remains to be seen as the rebuilding franchise could select a rookie QB from the draft, but if that's the case, Mariota would still get an equal chance to prove himself during camp as a reliable starter. However at this point, it doesn't matter who ends up leading the team at QB, the Falcons are likely to struggle this season on offense with limited weapons.
The Falcons Lost Both Top Receivers
The Falcons have a lot of needs on both sides of the ball and target help is a big one. With Calvin Ridley set to miss next season due to gambling and Russell Gage now with the Tampa Bay Buccaneers, the Falcons' top target is second-year tight end, Kyle Pitts.
The Falcons were also able to re-sign hybrid player Cordarrelle Patterson, but even with these two options, the Falcons managed to win just seven games last season. That being said, top-rated sportsbooks have predicted Atlanta's win total heading into the 2022 NFL Draft with Mariota listed as their starting quarterback: 5 (Over -110, Under -110).
Falcons' 5-Win Projection NFC South Comparison
Tampa Bay Buccaneers: 11.5 (Over -110, Under -110)
New Orleans Saints: 7.5 (Over -140, Under +120)
Carolina Panthers: 6 (Over -110, Under -110)
Atlanta Falcons: 5 (Over -110, Under -110)
Of course, the Falcons could draft a talented rookie wideout to boost their odds, but it won't help much as rookies usually take at least a full season to adjust to the NFL. Not to mention that the Falcons' offensive line could use some help as well.
Arthur Smith Benched Mariota in 2019
Mariota is no stranger to the Falcons coaching staff nor the starting quarterback position. The 28-year-old started for the Tennessee Titans during the 2019 season when Arthur Smith was the team's offensive coordinator.
Join Now: $1,000 BMR 12-Week All Sports Challenge
But Mariota's time in the spotlight didn't last long after he was benched in favor of Ryan Tannehill that season, which ultimately led to him playing for the Las Vegas Raiders as Derek Carr's backup. Over the last two seasons, Mariota has played in 11 games, completing 60% of his passes for 230 yards, a touchdown and an interception.
Many have questioned Smith's decision to sign the quarterback he previously benched.
"He has learned a lot from then," Smith said via AtlantaFalcons.com. "He was one of the few guys out there who has won a playoff game as a starter. He has grown as a football player. He has been through a lot of systems, too. We went through multiple systems together in Tennessee and we expect to get the best version of Marcus Mariota."
Of course, Smith knows Mariota is no Matt Ryan, but that doesn't mean the less experienced QB doesn't have certain strengths that he brings to the table, which is what Smith plans to focus on.
Read More: 2022 NFL Draft First Round Props That You Should Bet Now
"Some people have a hard line with their system and guys that fit," Smith said. "In my experience, and the way my mindset works, there are certain core principles we won't move away from, but you have to tailor your offense to the strength of your team. When you get players, like we did with Cordarrelle Patterson last season, we tried to find creative ways of using him.
"He's not the same player as Matt Ryan, so we'll try to play to Marcus' strengths."
The Falcons were able to find CP's strengths in utilizing him as both a running back and wide receiver. By doing so, CP posted career-highs through the air and on the ground. We'll see if the Falcons can unlock Mariota's full potential as well if he ends up being the team's 2022 starter.