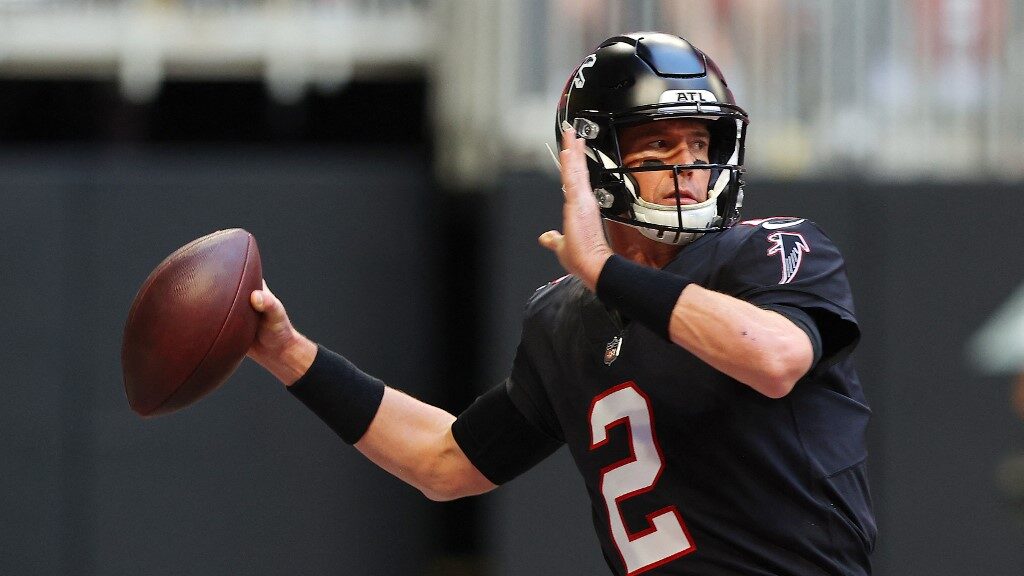 The quarterback-less Indianapolis Colts got a lot better earlier this month when they traded for Atlanta Falcons' Matt Ryan. In exchange for the four-time Pro Bowler, the Colts sent the Falcons a 2023 third-round NFL pick––making it quite the bargain deal.
Of course, Ryan may not be the younger thriving 2016 MVP QB that took Atlanta to the Super Bowl, but he's still got a lot left in the tank to get the job done.
Colts Get an Odds Boost With Matt Ryan
The Colts have been on the search for a quality starting quarterback ever since Andrew Luck retired in 2019. They had a chance with Philip Rivers, but that didn't last long as he retired in 2020. And that's when Indy traded the Philadelphia Eagles for Carson Wentz.
Join Now: $1,000 BMR 12-Week All Sports Challenge
Wentz, who lasted only one season, connected on 322 of 516 attempts (62.4%) for 3,563 yards in 2021. He threw for 27 touchdowns to just seven interceptions. With Wentz at the helm, the Colts finished short of a playoff run with a 9-8 regular-season record, putting them second overall in the AFC South.
In comparison, Ryan completed 375 of 560 attempts (67%) for 3,968 yards, while tossing 20 touchdowns and 12 interceptions. The Falcons went 7-10 and finished third in the NFC South. But keep in mind that these numbers came from a Falcons team with a weak offensive line and limited options to throw to since Julio Jones and Calvin Ridley were not around to target.
Ryan, who will turn 37 before the 2021 season and enters his 15th NFL career season, offers a lot more experience and stability to the Colts' offense.
Since his first start in 2008 as the Falcons' No. 3 overall pick out of Boston College, no other QB in the league has played in more games than him (222). He remains the franchise all-time leader in wins (120), passing yards (59,735), passing touchdowns (367), interceptions (170), completions (5,242), and attempts (8,003). Not to mention that his 42-game winning drives in the 4th quarter are tied for the most in the NFL with L.A. Rams' Matthew Stafford.
With all that said and with Wentz out the door and Ryan now front and center, the Colts' Super Bowl odds moved from +3500 to +2500 at some of BMR's top-rated sportsbooks.
The Colts Get a Guy Who Wants to Win
After the Colts dealt Wentz to the Washington Commanders and before they traded for Ryan, the only two quarterback options left on the depth chart were Sam Ehlinger and James Morgan. That sent the Colts looking for an answer.
"We knew there was going to be a little panic mode going in just knowing we had some question marks at the position," Indy's general manager Chris Ballard recently said during an interview on the Pat McAfee Show. "But we also knew there were going to be some options out there and if we were just patient and let the thing play out, we thought it would work out for us. We feel like we got a little lucky with getting Matt Ryan in the building."
Ballard made the comparison of going after Ryan to when they sought after Rivers.
READ MORE: Early Value on 2022 NFL Draft Props Market
"Talking to Matt, it was a lot like when we talked to Philip," Ballard said. "You're getting a guy that wants to win, is driven to win, we think he's got a lot left in his career, he's really smart, takes care of his body, does all the right things and we think he's going to add a piece to us that's going to help us."
Ryan will be the Colts' fifth Week 1 quarterback starter and, hopefully, a longer answer than one season.