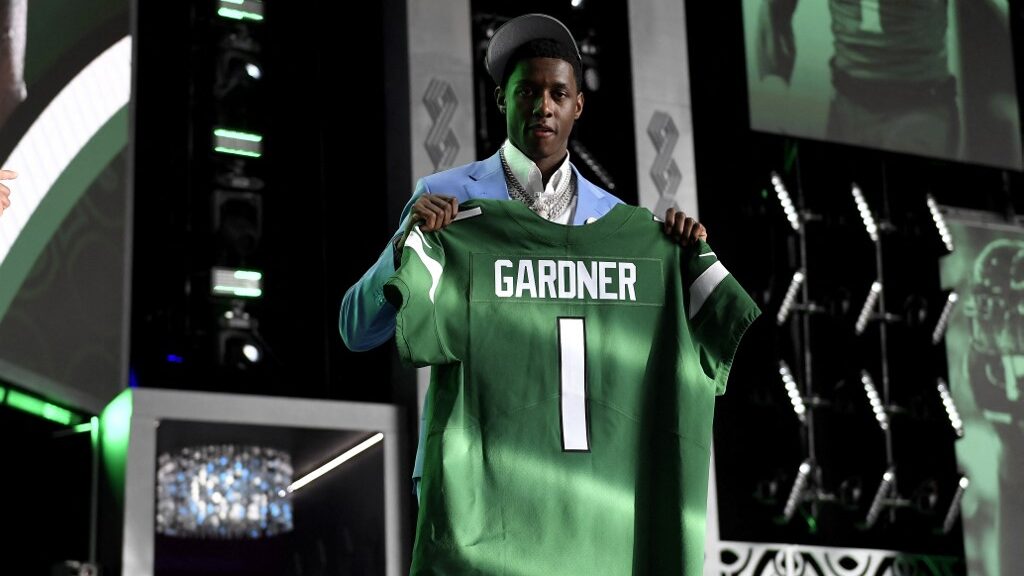 The New York Jets have never missed the playoffs 12 seasons in a row, but they are in danger of achieving that this year. Could a successful draft be the key to a bounce-back season and perhaps, a shot at a Wild Card in the AFC?
The first year for head coach Robert Saleh and quarterback Zach Wilson did not go well with a 4-13 record, and expectations are still going to be low in a deep conference and a division where the Jets could finish last again in 2022.
Historically Bad
Since 2016, the Jets have the worst record in the NFL (27-70) and they have been outscored by 817 points or 313 more points than the 31st-ranked Giants. Tough times for New York football.
After looking at the NFL odds, many of the top-rated sportsbooks have the Jets with an over/under of 5.5 wins. The Jets have been outscored by at least 80 points in six consecutive seasons. Only three teams in NFL history have had streaks longer than that.
Is it time for the Jets to get back to breaking their fans' hearts in December and January instead of September and October?
PLAY NOW: $25,000 Free-to-Play NFL Contest: BMR's 2022 Pick'Em Pool Opens for Registration
---
The Notable Changes for 2022
---
No power moves for the Jets as they return the same trio:
General Manager: Joe Douglas
Head Coach: Robert Saleh
Quarterback: Zach Wilson
However, Wilson's development and a draft haul that included four selections in the top 36 picks will be the key to deciding if this regime is successful or not.
The Extensive 2022 Draft Haul
It is rare for a team to have two top 10 draft picks in the same class, let alone the 26th pick on top of that. That was the position the Jets found themselves in the 2022 NFL Draft after some past wheeling and dealing.
They used the No. 4 pick on corner Ahmad "Sauce" Gardner out of Cincinnati. He did not allow a receiving touchdown in three seasons in college. Saleh never got to coach the young version of Richard Sherman in San Francisco, but the hope is the 6'3" Gardner can grow into a similar lockdown corner like that for the Jets.
High Expectations for Garrett Wilson
With the 10th pick, the Jets made Ohio State's Garrett Wilson the second wide receiver off the board in a draft that saw six wideouts go between picks No. 8 and No. 18. This is going to be maybe the most scrutinized pick of the draft with these teams hoping they got the best guy for them, but that always depends on things like scheme, talent fit, and your quarterback's level of play.
Wilson peaked in his junior year last season with:
70 catches
1,058 yards
12 touchdowns
He considers winning 50/50 balls his greatest strength as a receiver, though scouting reports are not high on his route running.
He also might be the only player to run a 4.38 40-yard dash and get labeled as having "deceptive speed" despite not looking anything like Wes Welker. This will be another interesting pick for a team that has not nailed a wide receiver pick in a long time.
Defensive/Offensive Help
Finally, the Jets did not ignore the defense in the first round as the 26th pick was used on Florida State defensive end Jermaine Johnson. The Jets really need the help at edge rusher and Johnson had 11.5 sacks last season after transferring from Georgia and getting more snaps. He should see the field a fair amount this year.
The Jets also used the 36th pick to snag a likely starting running back in Breece Hall from Iowa State. He rushed for 3,941 yards and 50 touchdowns in college and is the cousin of former NFL great Roger Craig.
The Jets have not had a 1,000-yard rusher since Chris Ivory in 2015, so Hall could bring some stability to the backfield for the length of his rookie contract. At least he better do so given he was the first running back taken in this draft.
But when it comes to the Jets and the draft, it feels like there should always be this disclaimer about their history:
The Jets are the franchise that drafted: quarterback Ken O'Brien over Dan Marino, wide receiver Al Toon over Jerry Rice, and running back Blair Thomas over Emmitt Smith. Those players they missed went on to retire as the all-time leading passer, receiver, and rusher in NFL history.
The Jets had four first-round picks in the 2000 draft and turned that into one All-Pro selection (John Abraham) and zero Hall of Famers in a draft infamously known for Tom Brady going with the 199th pick.
Is it too soon to point out that the Jets drafted Sam Darnold in 2018 when quarterbacks Josh Allen and Lamar Jackson were available?
These were drafts set decades apart with different owners and decision-makers, but if any franchise does not deserve the benefit of the doubt when it comes to nailing a draft, it is the Jets.
---
Zach Wilson: Your Mom's Favorite New QB?
If you pay attention to offseason gossip, then you may have noticed some eyebrow-raising headlines involving Zach Wilson this summer. The kind of stories you would expect to see in an American Pie reboot if it involved a star quarterback and his mom's best friend.
While the legacy of Broadway Joe may be alive and well in New York, the Jets need to start seeing better quarterback play this season. Remember, most stars at the position show you star potential in their first or second season as a starter. Wilson clearly did not do it last year, so start the clock:
Wilson joins Rick Mirer and Ryan Leaf as the only three quarterbacks since the 1970 merger to go their first 13 NFL games without throwing for 300 yards or more than two touchdowns or finishing with a passer rating of 100.0 (min. 10 attempts per game).
Wilson finished 2021 with the highest rate of bad throws (23.8%) and the only quarterback under 70% in on-target throws according to Pro Football Reference.
Wilson's 28.2 QBR was the second lowest in the league and the eighth-lowest season by any quarterback since 2006 according to ESPN.
Wilson's -10.3% Completion Percentage Above Expectation is the second-lowest season since 2016 according to Next Gen Stats, only leading C.J. Beathard's -10.8% in 2017.
The headlines on the field are not the most encouraging so far either. Wilson suffered a non-contact injury in the team's first preseason game last week. He avoided the dreadful ACL tear, but his meniscus tear and bone bruise could keep him out of the season opener.
---
More Bad News for Offensive Line (And Wilson)
Injuries have already not been kind to the Jets. Left tackle Mekhi Becton, the 11th pick in the 2020 draft, was limited to one game last season after a knee injury. His 2022 season is already over after suffering a fracture in his kneecap during an August practice. The Jets have a fair backup plan in acquiring veteran tackle Duane Brown, but this is terrible news for Becton and the hope that Wilson would have a young, franchise left tackle.
Wilson sure could use the protection too when he had the highest pressure rate (30.6%) of any quarterback in 2021. He could stand to get rid of the ball faster too as he was one of only three quarterbacks to hold it for an average of 3.0 seconds according to Next Gen Stats.
Some of this should come naturally with experience, but the Jets may need to adjust the play calling too.
---
Better Weapons At Least
It also is fair to say that the Jets did not surround Wilson with a quality supporting cast last season. The line was bad, the defense was terrible, the running game was often abandoned early, and the receivers had too many drops and games missed.
Things should be better this year in the receiving corps:
Rookie wide receiver Elijah Moore flashed potential while leading the team with 538 yards, and he should be even better this year.
Free agent Corey Davis may have been on his way to 1,000 yards if he did not get injured and limited to nine games for core muscle surgery. The veteran returns for his second season in New York.
The aforementioned pick of Garrett Wilson should help this year with the Jets not bringing back Keelan Cole (Raiders) or Jamison Crowder (Bills).
The tight ends are still not a strength, but they were upgraded with C.J. Uzomah (Bengals), Tyler Conklin (Vikings), and third-round rookie Jeremy Ruckert (Ohio State) replacing Ryan Griffin (Bears) and Tyler Kroft (49ers).
Most position groups look better for the Jets this season than they did last season, but the only way this works for a good record is if Wilson takes the biggest leap forward. Fans who want him to succeed are going to point to Josh Allen needing a third season in Buffalo to break out.
Given the way Wilson has started his career, there is a strong chance we'll be back here next year making that Allen comparison as Wilson looks at 2023 as his year.
---
Saleh's Defensive Fixes
Some of the defense's problems in 2021 were the result of bad luck. Defensive end Carl Lawson was hoping to be a key piece to the pass rush, but he ruptured his Achilles during a practice last August and missed the whole season. Hopefully, he can play at a high level this year because the Jets lack a dominant edge rusher.
Linemen Quinnen Williams and John Franklin-Myers were the only Jets to have more than 3.0 sacks in 2021. They had 6.0 sacks each as Williams' production has not really topped that in three years despite being the No. 3 overall pick in 2019. It may be safe to say he will never live up to that draft status.
Blitzing Woes
The Jets were not big on blitzing and finished 2021 with the sixth-lowest pressure rate (21.4%) according to Pro Football Reference. Nine of the 10 defenses with the lowest pressure rate on opposing quarterbacks missed the playoffs last year, though the Rams did win the Super Bowl.
However, it is a bit different when Aaron Donald and Von Miller are making those pressures in crunch time of playoff games. The Jets have no one even close to that level on the roster.
---
Refocused Secondary
No one really stood out in a secondary that lost notoriety ever since the Jamal Adams trade. It was a very wise trade for the Jets to get all those picks, and it is no surprise to see them start to target the secondary with their offseason moves.
The aforementioned selection of Ahmad Gardner with the No. 4 pick should hopefully give the Jets a top corner in a couple of seasons as he develops. But the Jets also poached safety Jordan Whitehead after four seasons in Tampa Bay. In 2021, Whitehead allowed only 5.4 yards per target in coverage and no touchdowns for his best season yet.
The Jets also signed corner D.J. Reed, who played for Saleh in San Francisco, but he really rose to prominence last year in 14 starts for the Seahawks. Reed allowed just 47.7% of his targets to be completed and just 5.8 yards per target.
The secondary should be better for the Jets in 2022. The pass rush should be better. The passing game should be better. How much better? We should temper expectations since it is the Jets.
---
Prediction
As always, look at the 2022 NFL schedule. The Jets could steal a game from the Browns or Steelers early in the season as those teams try to get settled at quarterback. The Jets probably won't go 0-6 in the division for the third year in a row and could steal a game from Miami.
In their final three home games, the Jets will host the:
After that, they'll travel to Seattle for New Year's Day. If they fail to clean up during that stretch to hit the over, then we might be looking at the team with the worst record in the NFL this year.
But my pick is that the Jets avoid that fate and finish 6-11 to hit the Over 5.5 wins. Picking a team to finish 6-11 after a 4-13 season is still not showing much confidence in them. The bar remains low, but when it comes to your NFL picks, the Jets seem like a safe enough pick to do the bare minimum to show progress and that Saleh and Wilson will deserve a third season together.
NFL Pick: New York Jets Over 5.5 Season Wins (-170) at Bovada (visit our Bovada Review)

New York Jets Over 5.5 Season Wins

(-170)
*The line and/or odds on picks in this article might have moved since the content was commissioned. For updated line movements, visit BMR's free betting odds product.
---
On the Last Season of "The Jets": New Regime, Same Results
---
With the Jets starting over with a defensive-minded coach in Robert Saleh and a green quarterback in Zach Wilson, there were expectations that the offense would struggle while the defense would show some improvement.
While the offense did struggle to shake off the stench from the Adam Gase era, Wilson arguably protected the ball better than expected. He did throw 11 interceptions in 13 starts, but seven of those came in his first three games, including a four-piece disaster against Bill Belichick's Patriots in Week 2.
Wilson only threw two picks in his final 212 passes, including none in his final five starts, and he lost one of five fumbles on the season.
From Bad to Worst
The surprising part was that Saleh's defense allowed the most yards and points in the NFL in 2021 while only creating 14 takeaways. The 504 points allowed are a franchise record after setting that record in 2020 with 457 points (in 16 games). Three of Saleh's four years as San Francisco's defensive coordinator were not stellar, but things were never this low for him before.
The 2021 Jets are the first defense in 40 years to allow at least 28 passing touchdowns and 28 rushing touchdowns in a season.
If you told someone Gase still coached the team in 2021, it would have been hard to disbelieve them. Even a little bit of close-game fortune helped the Jets register multiple wins against playoff teams for the second year in a row.
The Jets beat the top-seeded Titans 27-24 in overtime in a game where Tennessee was missing its receivers and its kicker missed a game-tying field goal late in overtime.
Highlight of the Year
In Week 8 against the Bengals, the Jets had the highlight of their season when unknown backup quarterback Mike White led an 11-point comeback in the fourth quarter to beat Cincinnati 34-31. White passed for 405 yards against a team that made it to the Super Bowl.
But in typical Jets fashion where nothing gold lasts long, White was injured against the Colts, then threw four picks in an ugly loss against the Bills. The Jets finished 0-6 in division games for the second year in a row.
On the bright side, Saleh looks like a much better hire than Urban Meyer was for Jacksonville. As for whether the team will ultimately regret not getting Trevor Lawrence in the 2021 draft, that remains to be seen.