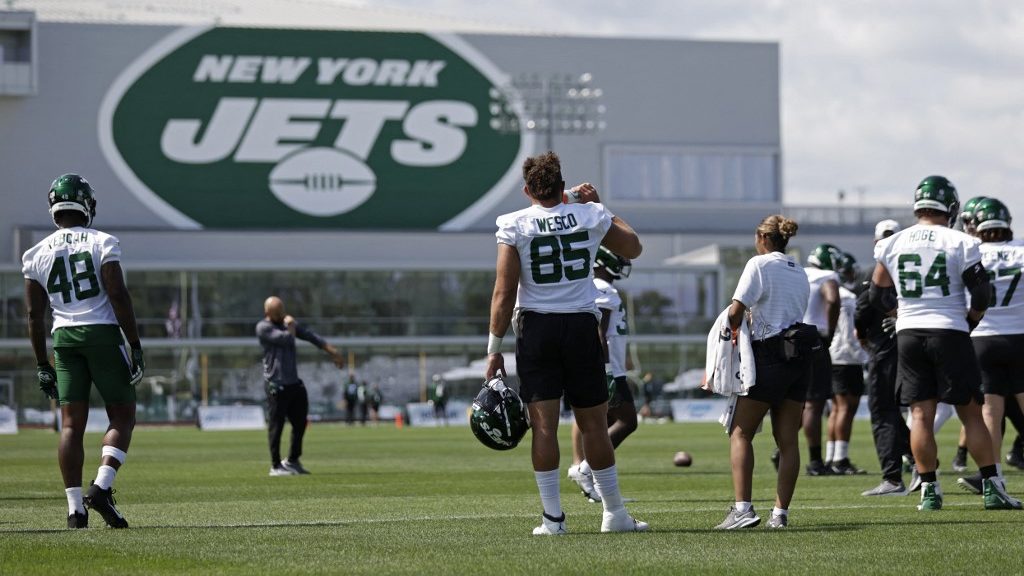 The New York Jets are no strangers to bad seasons. You could argue this football team is Broadway's longest running tragicomedy show. But even for the Jets, 2020 was beyond the pale. Head coach Adam Gase saw his offense sink to new lows as the Jets averaged a league-low 15.2 points per game in what was the NFL's highest-scoring season on record at 24.8 points per game. Gase was fired and replaced with San Francisco defensive coordinator Robert Saleh.
Third-year quarterback Sam Darnold, save for a nifty 46-yard touchdown run against Denver, had his worst season yet. He was traded to Carolina after the season. For months, it looked like the Jets were going to land the No. 1 pick and use it on Clemson phenom Trevor Lawrence, but Gase's parting gift of two wins no one wanted after an 0-13 start put the kibosh on that. Jacksonville lost 15 straight games to get Lawrence with the first pick. The Jets settled for BYU quarterback Zach Wilson with the second pick.
Many of the top sportsbooks have the Jets with an over/under of 6.0 wins. The only other time in franchise history the team lost this many games, the 1-15 Jets rebounded to 9-7 in 1997 behind veteran head coach Bill Parcells. Is Saleh the defensive coach the team has been searching for, and is Wilson the franchise quarterback the team has basically been searching for since Joe Namath left?
On the Last Season of JETS: Tank for Trevor Goes Awry
As the head coach of the Dolphins, Adam Gase had a bad habit of winning close games and getting blown out. If he wasn't winning a game by the skin of his teeth, he was losing by 17-plus points. He seemed to carry that over to the Jets in 2019. In going 7-9, five of the wins were by no more than seven points while seven of the losses were by at least two touchdowns.
For 2020, the Jets did not field an impressive roster by any means, but it was hard to imagine the offense would get even worse. The Jets were dead last in yards, points, first downs, and third down conversion rate. Even on the rare occasions when the Jets would reach the red zone, they were the worst offense there too, scoring a touchdown 42.1% of the time.
Forget lucking into a close win, the Jets could rarely keep a game close enough to steal in 2020. In the first eight games of the season, the Jets had seven losses by multiple scores. The lowest margin of defeat was an 18-10 game against Buffalo. The only fourth-quarter lead the Jets had in the first half of the season was against Denver, a team ravaged by injury that had to start Brett Rypien at quarterback. That was the game where Darnold injured his throwing shoulder, but the Jets still allowed him to finish the game, a 37-28 loss.
With the Jets at 0-11, a winless season felt inevitable. At the very least, it would lead to the firing of Gase and drafting of Trevor Lawrence, perceived as a generational talent, with the first pick. Against the Raiders in Week 13, the Jets seemed to put together a fourth-quarter comeback that was going to lead to the first win of the season.
However, defensive coordinator Gregg Williams called the most absurdly aggressive defense he could against a Hail Mary, which the Raiders exposed for an easy 46-yard touchdown pass to win the game with five seconds left. Williams was fired for the call, but it sure felt like the Jets were all in on the tank to get the top pick. Throw in a 40-3 loss to Seattle and the Jets were 0-13, just three games away from joining the 2008 Lions and 2017 Browns as the only teams to finish 0-16.
But Gase evidently had other plans. As a 17.5-point underdog against the Rams, the Jets shockingly played a competent game that only featured one total turnover. The Jets were outplaying the playoff-bound Rams, and after a Jared Goff-led comeback came up short, the Jets found themselves in the win column after the biggest upset of 2020.
The biggest win of Gase's New York career could go down as one of the costliest in franchise history given the draft implications. A week later, the Jets did it again to the Browns, opening up a 20-3 lead before holding on for the win. By upsetting the Rams and Browns in December, the Jets finished 2020 with more regular season wins against playoff teams than 13 teams in the NFL, including Tampa Bay (1-5 vs. playoff teams). There is no Jared Goff on the schedule this year, and they should not count on a team's wide receivers being ravaged by COVID like Cleveland, but the Jets seriously had some good wins after one of the worst starts to a season in NFL history.
However, the Jaguars never won another game after Week 1, so that 2-14 finish by the Jets only yielded the No. 2 pick in the draft. The Jaguars are moving forward with head coach Urban Meyer and Lawrence as his quarterback. The Jets had to look elsewhere. Now we wait to see if it was the missed opportunity of a lifetime or a blessing in disguise. For a franchise that let Bill Belichick get away and once drafted Ken O'Brien over Dan Marino, Al Toon over Jerry Rice, and Blair Thomas over Emmitt Smith, what could possibly go wrong for the Jets?
The Notable Changes for 2021
By getting a new head coach and quarterback, the Jets made the power moves that either spark a successful run or ignite the franchise's latest dumpster fire. No one probably saw two AFC Championship Game appearances right away after the Jets hired Rex Ryan and drafted Mark Sanchez in 2009, but that happened. The Jets also have not returned to the playoffs since those years, so these moves really need to work to reenergize the fanbase after such a dismal decade.
Unfortunately, Robert Saleh is not inheriting a team that has as much talent as the one that Ryan took over. Saleh also lacks the pedigree and track record of defensive success that Ryan built in his days at Baltimore before taking a head coaching job. While Saleh has gained experience under the Pete Carroll and Kyle Shanahan coaching trees, he only had one standout defense in his four years of a coordinator with the 49ers, the 2019 Super Bowl team that was a third-and-15 away from probably winning a championship.
But that lead did not hold, and last year, Saleh's defense battled a lot of injuries and did not have the performance it needed for the team to be successful. Most competent offenses had little trouble with Saleh's defense, including a blistering performance by Buffalo's Josh Allen, who passed for 375 yards and four touchdowns. Now the Jets will have to deal with Allen twice a year in the division.
Who are the new additions to help bolster Saleh's defense in New York? Defensive end Carl Lawson turned heads as a fourth-round rookie in 2017 with 8.5 sacks for the Bengals. He has not had many sacks in the three years since, but he tied for fourth in pressures (44) last season. The 2020 Jets did not have any defenders in the top 50 in pressures according to Pro Football Reference. Former first-round pick Sheldon Rankins joins the defensive line after being demoted to a backup in his last seasons with the Saints. Linebacker Jarrad Davis (Lions) is another maligned first-round pick looking for redemption on his second contract.
Not a new player in the traditional sense, but linebacker C.J. Mosley returns to the lineup after opting out of 2020 (COVID) and missing 14 games in 2019 with a groin injury. He signed a five-year deal worth $85 million with the Jets, so they certainly want to start seeing a return on that. Still, Mosley leading the front seven is a far cry from the talent that Saleh had to coach in San Francisco.
This is not to say the 42-year-old Saleh did not deserve the job. The NFL has been struggling to find quality, young head coaches, and one of the first steps to find them is to give someone their first opportunity. Many coaching success stories have been unforeseen and a matter of the right timing with the right players around. All I would point out is that Saleh is not coming with a highly innovative defense or track record of great success. He also may not be the best match to oversee the development of a young quarterback, but that will fall on the offensive coaches he has added to his staff.
Mike LaFleur, brother of Green Bay head coach Matt, is a first-time offensive coordinator in the NFL. He has followed Kyle Shanahan since 2014 from Cleveland to Atlanta to San Francisco where he last served as the passing game coordinator on the same coaching staff as Saleh. If the Jets are to mimic the Shanahan offense, then expect a lot of screens and short passes designed to get YAC in an offense that will live on pre-snap motion, play-action passes, and outside zone runs. Wilson is also more than mobile enough to run all the boot-action plays the Shanahan offense is famous for.
Unfortunately, the Jets not only lack a tight end as good as George Kittle, but Chris Herndon has yet to improve on his 2018 rookie success. He is really a JAG (Just Another Guy) at the position until proven otherwise. The Jets also lack a fullback as good as Kyle Juszczyk, but they did bring in Tevin Coleman from San Francisco to add familiarity in a backfield that will likely run by committee.
As for the wide receivers, the Jets did their share to improve that group. It is still not going to be a Pro Bowl cast, but Wilson should be inheriting a better group than Sam Darnold ever had there. Corey Davis was signed for $37.5 million from Tennessee after his best season yet in 2020. Keelan Cole is also a capable receiver from the Jaguars. Jamison Crowder has never cracked 850 receiving yards in a season, but he remains a reliable option in the slot. The Jets can still try to get Denzel Mims, the 2020 second-round pick, involved more as a deep threat, but they also added slot receiver Elijah Moore in this year's second round. Moore will challenge Crowder's target share.
The Jets can feel satisfied after drafting left tackle Mekhi Becton in the first round a year ago. They double-dipped with their other first-round pick this year and added left guard Alijah Vera-Tucker. Right tackle Morgan Moses (Washington) should be an upgrade over last year's stop-gap solution George Fant. The wideouts and line should be better, but most importantly, Gase is gone. Now it is up to this staff to get Wilson comfortable and playing well.
He was a three-year starter at BYU where he did not face the greatest competition, but his sophomore season was not nearly as good as the junior year when he peaked with 33 touchdowns to three interceptions. Wilson does improvise plays enough to where he may be compared to Russell Wilson in the NFL, but the offense he is expected to run works best with a quarterback who plays on time, so this will be an interesting development to watch.
Look for the Jets to try to insulate Wilson with a good running game and surplus of play-action plays. In college, Wilson only had four games where he threw more than 35 passes and BYU lost all of them. On the other hand, Darnold was 14-1 at USC when he threw more than 30 passes, so maybe this is not that relevant for pro success.
But given his college history, it would be very surprising to see Wilson have a prolific passing season as a rookie. Then again, the Jets have not had a 4,000-yard passer since Joe Namath in 1967, so any quarterback doing anything significant for this franchise would come as a shock to the system.
Regression Alert: 2-14 Teams
The 2020 Jets are the 34th team in NFL history to finish exactly 2-14. Among 2-14 teams, the Jets are tied for the sixth worst scoring differential at minus-214 points, a fitting amount. How does a 2-14 team fare the following year? Adjusting for strike seasons, these teams won 32.8% of their games the next season, or about 5.3 wins in a 16-game season. Fifteen of the 33 teams won at least six games the next season and only seven won at least seven games. The most popular outcome was in fact 6-10, done eight times.
The 2012 Colts and 2013 Chiefs were the only teams to finish with double-digit wins, turning a 2-14 record into 11-5. But both teams underwent significant changes with the Colts drafting Andrew Luck No. 1 overall and hiring Chuck Pagano, while the Chiefs brought in head coach Andy Reid and acquired Alex Smith. Saleh may be an unknown like Pagano, but Wilson does not enter the league with the pedigree or success of Luck.
Still, it is comforting to know that of the 15 teams that went from 2-14 to six wins or better, all but one of them made a change at head coach and/or primary quarterback. The only team that did not was the 1979-80 49ers, but that worked out fine since it was Bill Walsh and Joe Montana, and Montana did take over as the quarterback late in that 1980 season, leading to a Super Bowl the following year.
In the old days, you would probably just pick the Jets to improve to 5-11, still a work in progress, and be done with it. But as we enter the 17-game era, about half of those 5-11 teams will now finish 6-11 and the rest will finish 5-12. Either way, Vegas probably set a good line that will make this a challenging NFL pick for the over/under. It should be considered one of the most likely totals to push.
Prediction
If Wilson is one of the good rookie quarterbacks, then betting the over six wins should pay off easily. But I see more reasons to believe he will not be one of the instant successes, nor does New York have the defensive studs in place to win a lot of games that way.
Home games against the Bengals and Jaguars could be the best shots the Jets have all year at being spread favorites, even though Joe Burrow and Lawrence are perceived to be better quarterback prospects than Wilson. Losing that game to Jacksonville in Week 16 could be extra painful given what happened last year, so there is some extra motivation to perform in that one. But otherwise, the Jets will hope to match up well and win games against the Panthers, Broncos, Texans, Eagles, and it is not unreasonable to split with Miami or New England in the division.
That is why setting the bar at six wins makes a lot of sense as the schedule is filled with plenty of games against so-so competition to make it realistic for the Jets to hit that while avoiding a disaster like last year. Maybe let Wilson get some preseason reps under his belt before you pull the trigger on this bet. But unless he is dominant in those outings, I would feel good about betting the under on the Jets, the team with the longest playoff drought in the NFL.
2021 Jets Over/Under Pick: Under 6 wins (-105) with Bovada (visit our Bovada Review)
*The line and/or odds on picks in this article might have moved since the content was commissioned. For updated line movements, visit BMR's free betting odds product.