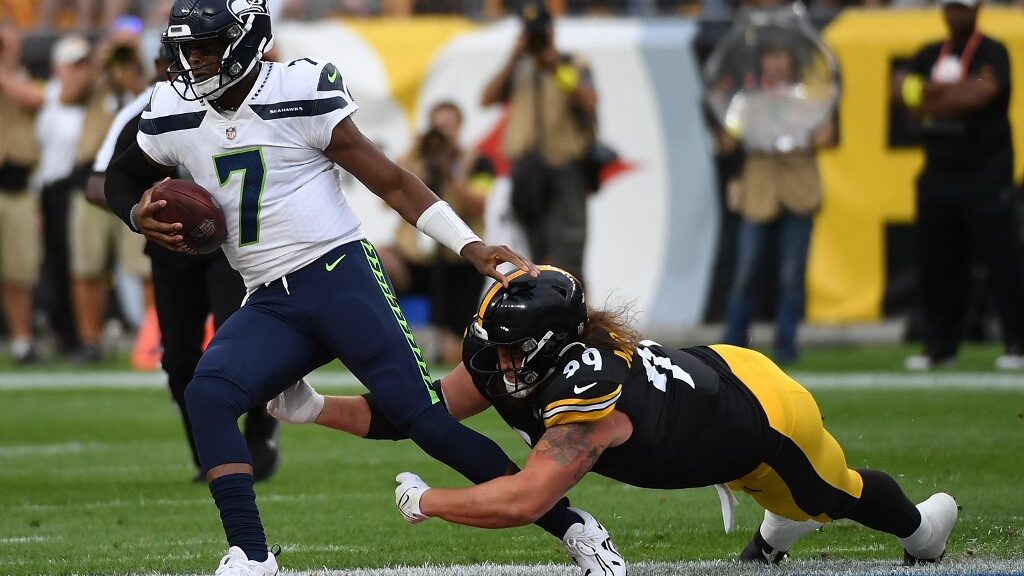 The Seattle Seahawks have won more games than all but four NFL franchises in the 21st century. That level of relevancy is about to be seriously tested as the team moves into a rebuilding season without Russell Wilson, the best quarterback in franchise history.
Wilson was traded to the Denver Broncos in a blockbuster move after spending 10 seasons in Seattle. The first major injury of his career led to a 7-10 finish, his first losing season with the Seahawks.
Head coach Pete Carroll has won at least seven games in every season as a head coach except for his 1994 debut with the New York Jets when he finished 6-10. That streak is on the line as the NFL odds at many of the top-rated sportsbooks have Seattle with an over/under of 5.5 wins for the 2022 season.
---
The Notable Changes for 2022
---
Proof the Seahawks are in a rebuild: no player on the roster from Super Bowl 49 is still with the team. Most players on the 2022 roster were not even in the league during that 2014 season. Russell Wilson and linebacker Bobby Wagner were the final pieces from those back-to-back Super Bowl teams.
Now the Seahawks embark on arguably the NFL's worst quarterback competition for 2022.
The Wilson Trade
There had been growing speculation in recent years that the Seahawks could move Wilson, but it was still shocking to see it go down in March. Going into his age-34 season, Wilson departs for Denver with the Seahawks receiving:
Two first-round picks
Two second-round picks
A fifth-round pick
Three players
This was a bad draft to need a quarterback, so it was not surprising to see the Seahawks hold onto their picks and not use them to make a big move. But it is a shock that the Seahawks did not trade for Baker Mayfield as someone like that, with a chip on his shoulder looking for redemption with Carroll, would have been a better fit.
Trading in the division for Jimmy Garoppolo from San Francisco is also an option, though teams usually frown on trading with division rivals.
Who Won This Trade?
Make no mistake about it: this trade makes Seattle immediately much weaker as a team, and only nailing future drafts and finding the next quarterback is going to get them back to relevancy.
The Seahawks did get backup quarterback Drew Lock from Denver in the trade. They also got defensive lineman Shelby Harris and tight end Noah Fant. While Fant is not going to be a stud for them, he is a little upgrade to the anonymous players the Seahawks have trotted out at tight end in recent years.
---
Geno Smith: Really, In This Economy?
Smith has been a journeyman who only made five starts since 2015, but three of those were for Seattle last year. Things did not go horribly wrong, but if he starts full-time, he will throw more interceptions than Wilson usually did and he will take even more sacks. Smith's sack rate was 12% last year in limited action. Wilson never had a season over 11% and was usually under 10%.
There will also be a big difference in accuracy no matter which quarterback wins the job. Smith is a 58.8% passer in his career. DK Metcalf and Tyler Lockett make for one of the best wide receiver duos in the league, but Lockett had just 47 yards against the Steelers and Saints when Smith was the quarterback last year.
Is Drew a Lock at Starting QB?
Lock is considerably younger than Smith and may offer more upside, but there was little to feel good about from his three years in Denver that just got worse. He is 4-12 in his last 16 starts. He is also a sub-60% passer, which is worse than Smith given the way that average has shot up in recent years and most of Smith's starts were in 2013-14 for the Jets.
In the pocket, Lock might take fewer sacks than Wilson, but he tends to throw deep passes without much accuracy or logic. He struggles to take the easy throws and move offenses. He led the league with 15 interceptions in 2020, his only full-time starting season.
While Metcalf is physically gifted, he had a down year in 2021 without breaking 1,000 yards despite playing all 17 games. Lockett is a great receiver, but those touch passes and perfect rainbows that Wilson would drop into him are just not going to be there with Lock as the quarterback.
Again, Mayfield or Garoppolo would provide a lot more confidence in this Seattle offense working. But when it is between Smith and Lock, the Seahawks do not seem to have a winning move to play.
---
2022 Draft Shows Plan, But Does It Work?
In the first post-Wilson draft, the Seahawks seemed to have a plan to bolster the offensive line instead of taking a chance on a quarterback like Kenny Pickett.
It makes sense, and with the No. 9 pick in the 2022 NFL Draft, the Seahawks picked left tackle Charles Cross out of Mississippi State. He expects to slide in as a Week 1 starter. The Seahawks also drafted tackle Abraham Lucas in the third round, a potential starter down the road.
With their second pick in the early portion of the second round, the Seahawks selected Michigan State running back Kenneth Walker. He was a transfer from Wake Forest before he rushed for 1,636 yards and 18 touchdowns with the Spartans last year.
Limiting Mistakes
With the Seahawks having one of the best wide receiver duos in the league and getting Noah Fant at tight end, beefing up the backfield made sense even if this was a high pick to do so. But with Rashaad Penny's durability issues, Walker is a logical fit for a team that has always wanted to run the ball more anyway.
But is Carroll's vision for an offense that is built around a running game and limiting mistakes really that feasible in 2022 when your competition is between Geno and Lock?
Keep in mind, that the Seahawks just went 7-10 in a season where they had the:
Fewest giveaways (13)
Averaged 5.0 yards per carry on the ground
Ranked 31st in pass attempts
Subtract Wilson, and this offense will see more sacks and giveaways. This offense will lose an edge in close games with the downgrade at quarterback. The running offense that was so dominant over the final six games is unlikely to sustain itself over a full season unless one of these quarterbacks plays the best they ever have in the NFL.
There is also the fact that Seattle has not had a top 10 scoring defense since 2016.
---
What to Expect from the Defense?
Seattle's leadership void extends to the defense after saying goodbye to longtime linebacker Bobby Wagner, a likely Hall of Famer. Wagner now plays for the rival Rams.
The Seahawks also have a new defensive coordinator after firing Ken Norton Jr. following a four-year stint where the defense failed to be great. New coordinator Clint Hurtt has been with Carroll in Seattle since 2017, serving as an assistant coach and defensive line coach. This is the first time he will be a coordinator at any level.
But where is the talent coming from? The Seahawks lost a promising young corner in D.J. Reed, who left for the Jets in free agency. The Jamal Adams trade is one the Seahawks are still paying for after the safety notched zero sacks in his second season while also missing five games again.
Pass Rushing Weakness
The Seahawks do not have a dominant pass rusher. Veteran Carlos Dunlap led the team with 8.5 sacks and he is now with the Chiefs. Rasheem Green had his best season with 6.5 sacks before departing for the Texans.
This is where the Shelby Harris trade can help, but unless second-round rookie Boye Mafe is a godsend, the Seahawks are going to have another weak pass rush after ranking 26th in pressure rate in 2021.
---
Prediction
In 2008-09, the decline of the Mike Holmgren era gave way to the Pete Carroll era in 2010. The Seahawks finished 4-12 and 5-11 in those two seasons prior to Carroll's arrival.
It feels like 2022 could be one of those seasons as these are not your older brother's Seahawks anymore. Too much leadership is gone, and the most talented players left are not going to move the needle with the void left at quarterback.
There are at least five winnable games on the schedule with the:
Falcons
Lions
Giants
Panthers
Jets
But when you have a Smith or Lock at quarterback, any winnable game becomes a coin flip. The NFC West division still looks great, they are going to miss Wilson's poise against San Francisco, and good luck beating Wilson and the Broncos on opening night. That's at least a home game as the Seahawks later have to travel to play the:
L.A. Chargers
Tampa Bay Buccaneers
Kansas City Chiefs
There are going to be some blowouts this year.
With Carroll's fondness of close games and Metcalf's talent, the Seahawks should not be an excruciating watch in 2022. But things are going to be noticeably worse until the quarterback situation is resolved, and for your NFL picks, I do not see the Seahawks doing better than 5-12 this season. Take the under 5.5 wins.
NFL Pick: Seahawks Under 5.5 Season Wins (+110) at Bovada (visit our Bovada Review)

Seahawks Under 5.5 Season Wins

(+110)
*The line and/or odds on picks in this article might have moved since the content was commissioned. For updated line movements, visit BMR's free betting odds product.
---
On the Last Season of "The Seahawks": The End of an Era
---
Seattle's 2021 season got off to an odd start as Russell Wilson was hitting big plays, but the offense under new coordinator Shane Waldron was not converting third downs or closing out games. The Seahawks blew a 14-point lead in the fourth quarter at home in an overtime loss to the Titans in Week 2.
But everything turned in a Week 5 game on a Thursday night with the Rams. Wilson followed through on a normal pass in the third quarter or something he had done thousands of times in his career. But, this time, his finger caught a piece of Aaron Donald, and it dislocated his finger.
Wilson left the game injured, the Seahawks lost, and a 2-3 start turned into 2-5 after backup Geno Smith lost his next two starts in low-scoring games against the Steelers and Saints that would have been winnable with Wilson.
First Serious Injury for Wilson
It was the first serious injury of Wilson's career as he had never missed a start before. After years of worrying about Wilson's scrambles and off-time plays leading to an injury, it was just a simple deep throw from inside the pocket that messed up his 10th season.
Wilson had surgery and rushed his return so that he only missed three games. But that was likely ill-advised as the Seahawks lost his next three starts, scoring just 28 points in the process. At 3-8, the Seahawks were an afterthought in the playoff race. Seattle won four of the last six games with Wilson posting more familiar stats, but it was too little, too late as the team finished 7-10.
The Expected Regression
Seattle's offense finished 23rd in third-down conversion rate, the lowest ranking for any of Wilson's 10 seasons. Only five offenses had fewer drives reach the red zone than Seattle.
Finally, the expected regression in close games hit hard in 2021. The Seahawks went from 29-29-1 in games decided by 1-to-7 points in Wilson's first seven seasons to an unsustainable 16-5 in 2019-20.
Last year, that record dropped to 2-5, and it was the only season in Wilson's career where he did not lead any fourth-quarter comebacks and did not have multiple game-winning drives. The 2021 Seahawks were 1-7 at game-winning drive opportunities, an inglorious end to the Carroll-Wilson era.