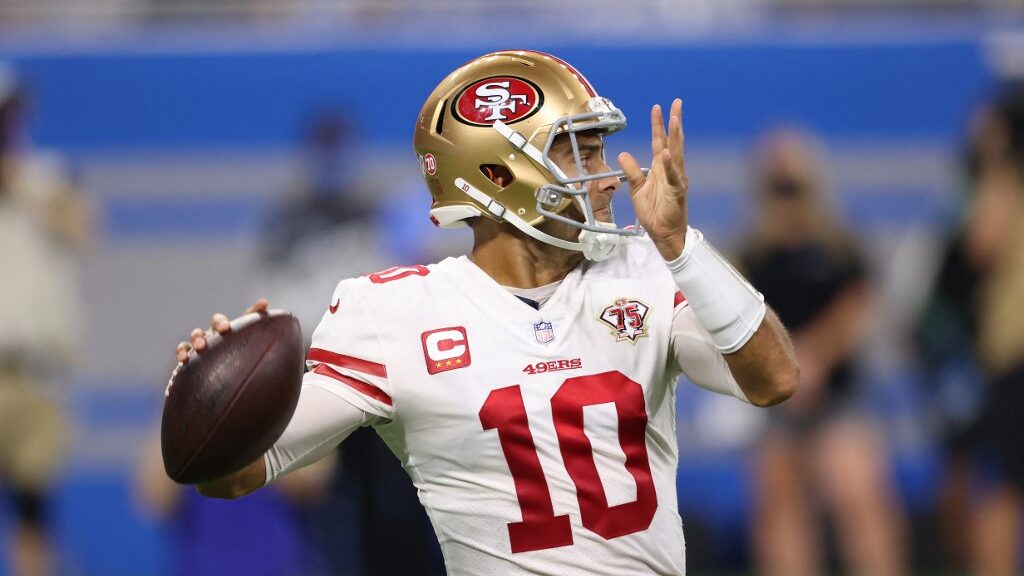 It was presumed that Jimmy Garoppolo had played his last snap in San Francisco when the 49ers traded up nine spots with the Miami Dolphins to snag quarterback Trey Lance at No. 3 overall in the 2021 NFL Draft.
Instead, Garoppolo entered the 2021 season as the team's starter while Lance spent the season developing behind him. But after eight seasons front and center, the Niners are finally expected to move on from Garoppolo and this offseason makes things a bit easier to do so as his no-trade clause expires on March 16.
This means that the team can trade the vetted quarterback to any team without his prior approval after that date. Nonetheless, the Niners are going to work closely with Garoppolo to find his future home.
Collaborative effort
"I'm told that's not a huge factor because whether a trade agreement is reached before that or after that, it'll be a collaborative effort to find Garoppolo's next destination," NFL Network's Mike Garafolo reported on Sunday, January 13.
As to where Garoppolo may land, remains to be seen but there are a handful of teams that will be on the search for a QB this offseason.
Garafolo added, "Now you can connect the dots to the quarterback-needy teams such as the [Houston] Texans and the [New Orleans] Saints, but those talks haven't really begun in earnest. They will soon though."
Top Landing Spots for Garoppolo
However, the Texans, nor the Saints, are considered the favorite landing spot for the 30-year-quarterback.
According to the oddsmakers, the Pittsburgh Steelers(+450) are the No. 1 favorite to seek a trade with the Niners:
Pittsburgh Steelers (+450)
Washington Commanders (+500)
Tampa Bay Buccaneers (+600)
Denver Broncos (+600)
Carolina Panthers (+750)
Miami Dolphins (+800)
Houston Texans (+1050)
Green Bay Packers (+1100)
---
Steelers (+450)
With Big Ben officially retiring, a starting quarterback is a top need for the Steelers next season. They currently have Mason Rudolph next in line, but it's been concluded that he's meant to be a backup in the league. Garoppolo would be a huge step up and provide veteran leadership that the Steelers need at the position. Of course, they could turn to the draft but with an already strong rushing attack paired with elite receivers and a sturdy defense, bringing in a veteran quarterback over a rookie would put them in a much better spot next season and beyond.
---
Commanders (+500)
The Washington Commanders (+500) aren't too far behind the Steelers. Similar to Pittsburgh, Garoppolo would have a handful of weapons to work with, a solid offensive, and one of the best front sevens in the league. Thus, the addition of Garoppolo would give Washington a real shot at the division next season.
---
Broncos and Buccaneers (+600)
The next two teams on the list are tied at +600.
The Broncos are here because they will, indeed, be looking for a quarterback trade. But Garoppolo doesn't appear to be the top candidate as they have been linked to pursuing either Aaron Rodgers or Russell Wilson ahead of Garoppolo. Nonetheless, you can't rule out Jimmy G. considering he would be an upgrade for this offense as well.
And of course, the Bucs will want to invest in their next franchise quarterback after Tom Brady announced his retirement. But while Brady's retirement was deemed official, there are reports saying he could come back out for another run at a championship next season and is very welcome to do so. So, we'll see what happens once the new league starts in a few weeks.